The last few months have been hectic to say the least! I've been travelling lots and haven't had chance to sit down and share much of anything with you guys around these parts. Now that I'm finally at home for a little while, I thought I'd share some of my favourite 'warmer weather looks' so far this year to hopefully kick start some spring/summer inspo for anyone that might be in the market for some!
I'm currently writing this on a Saturday evening, home alone, with a cup of tea close by! I couldn't feel more content in this moment. After a crazy few weeks, it feels nice to be back in Manchester and slowly getting back into a routine again. I find this time of year really exciting in terms of styling as the possibility of spring/summer events start to loom and digging out my sandals out of storage/dusting them off is always a thrilling moment! Sometimes it's the little things in life (like the changing of seasons) that hold the unique ability to shift us out of a stale mindset. We are suddenly presented with a new way of looking at our surroundings – they appear fresh once more and it starts to feel like maybe we can start over again too…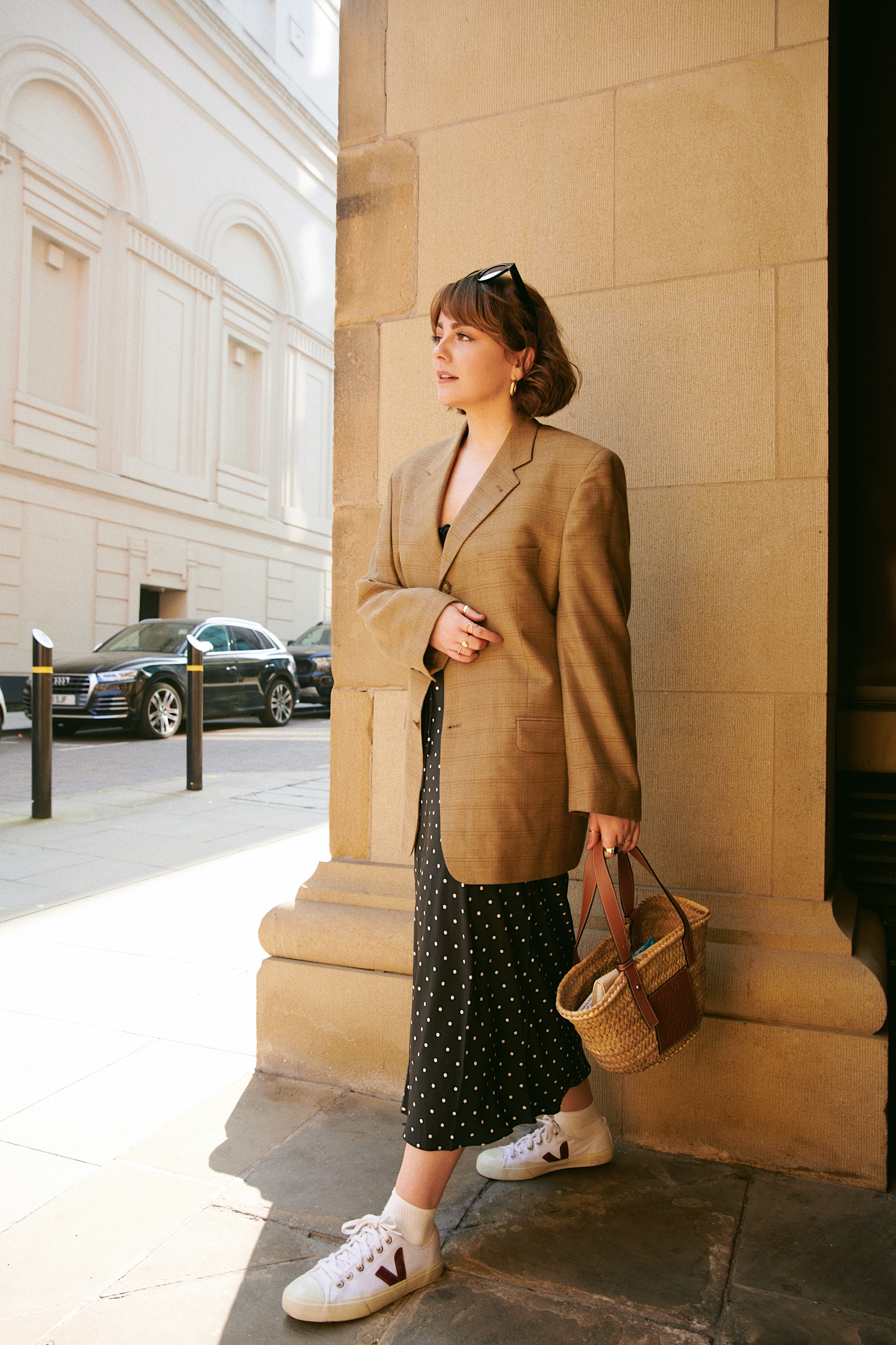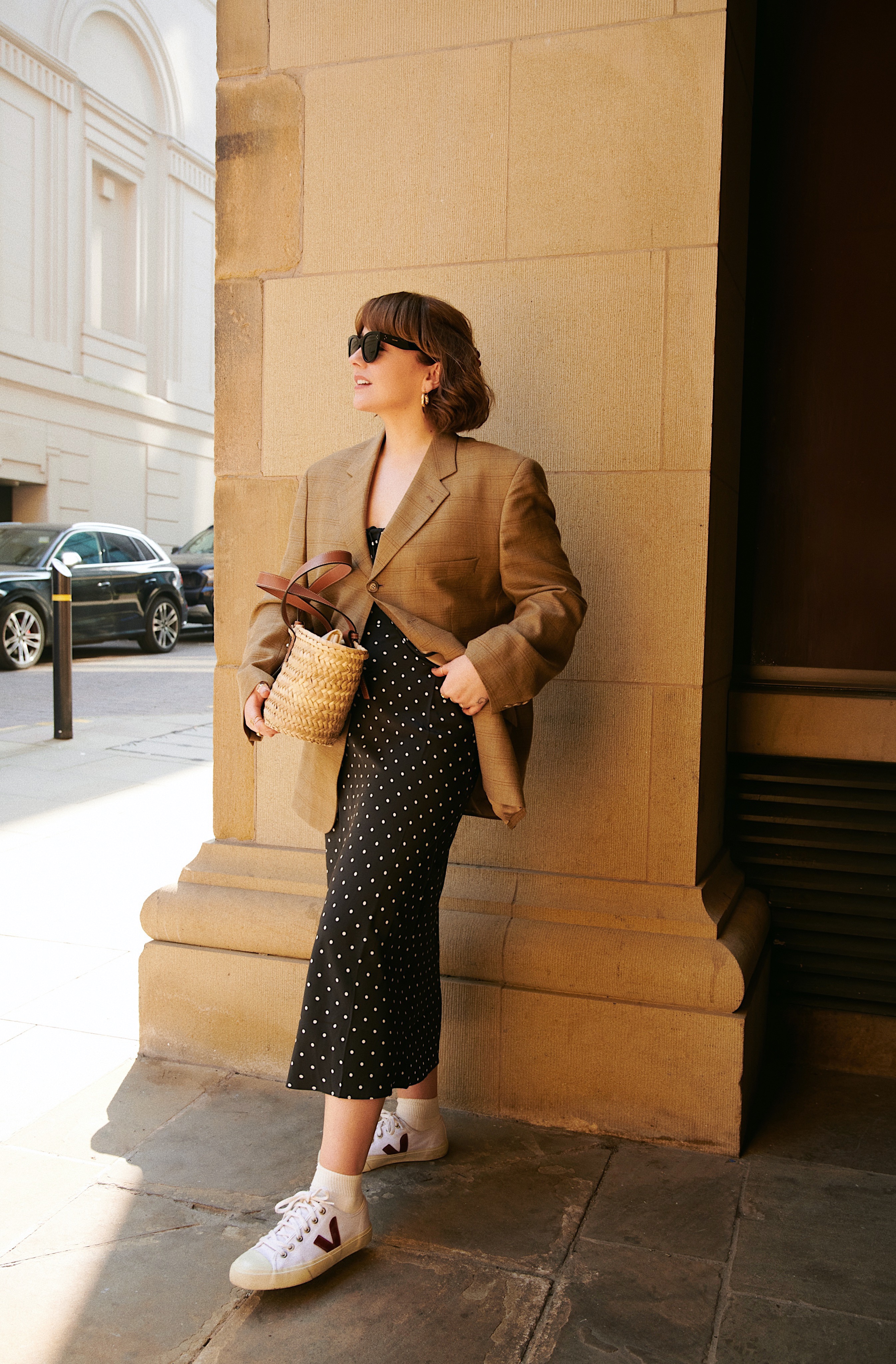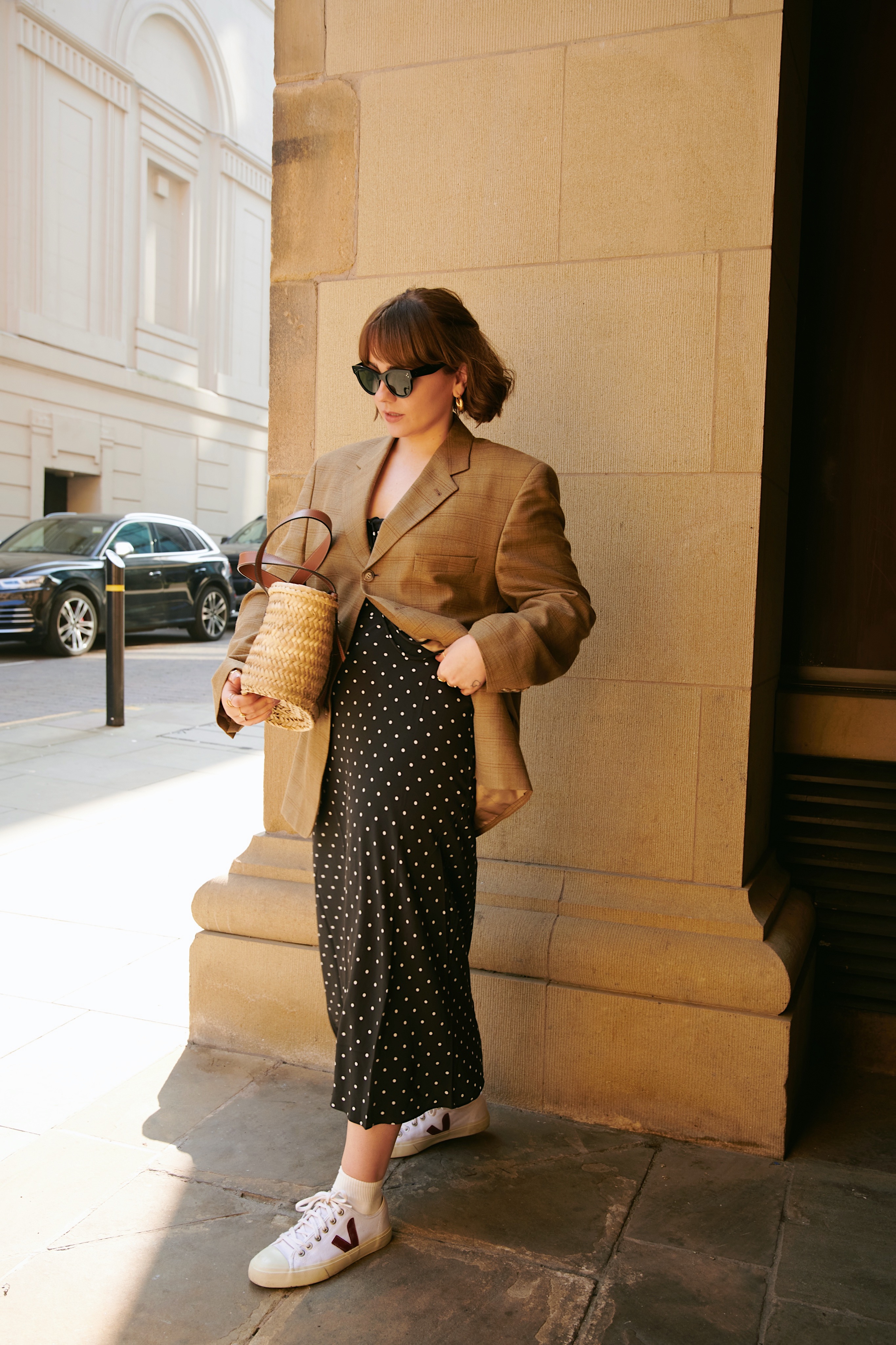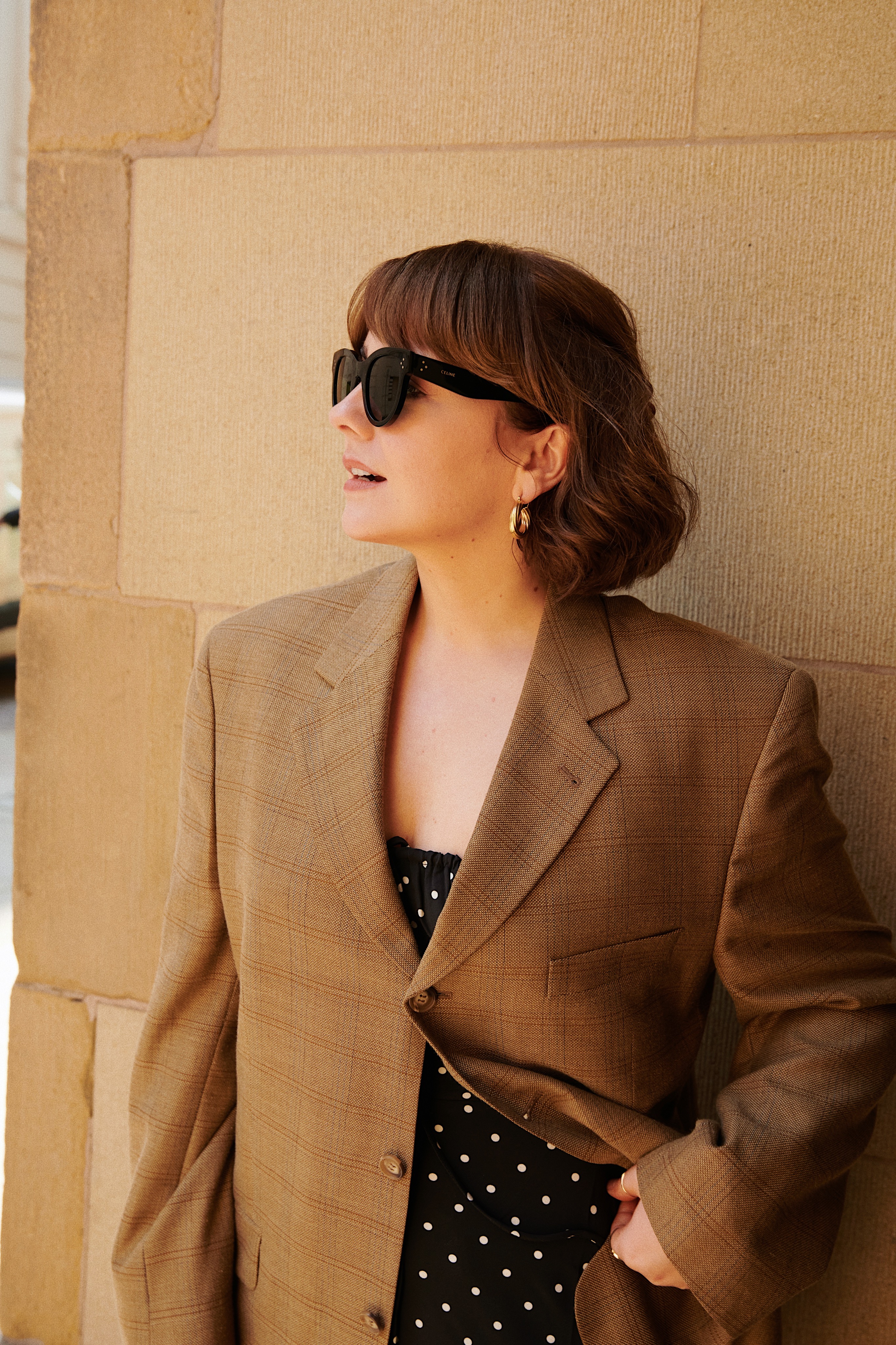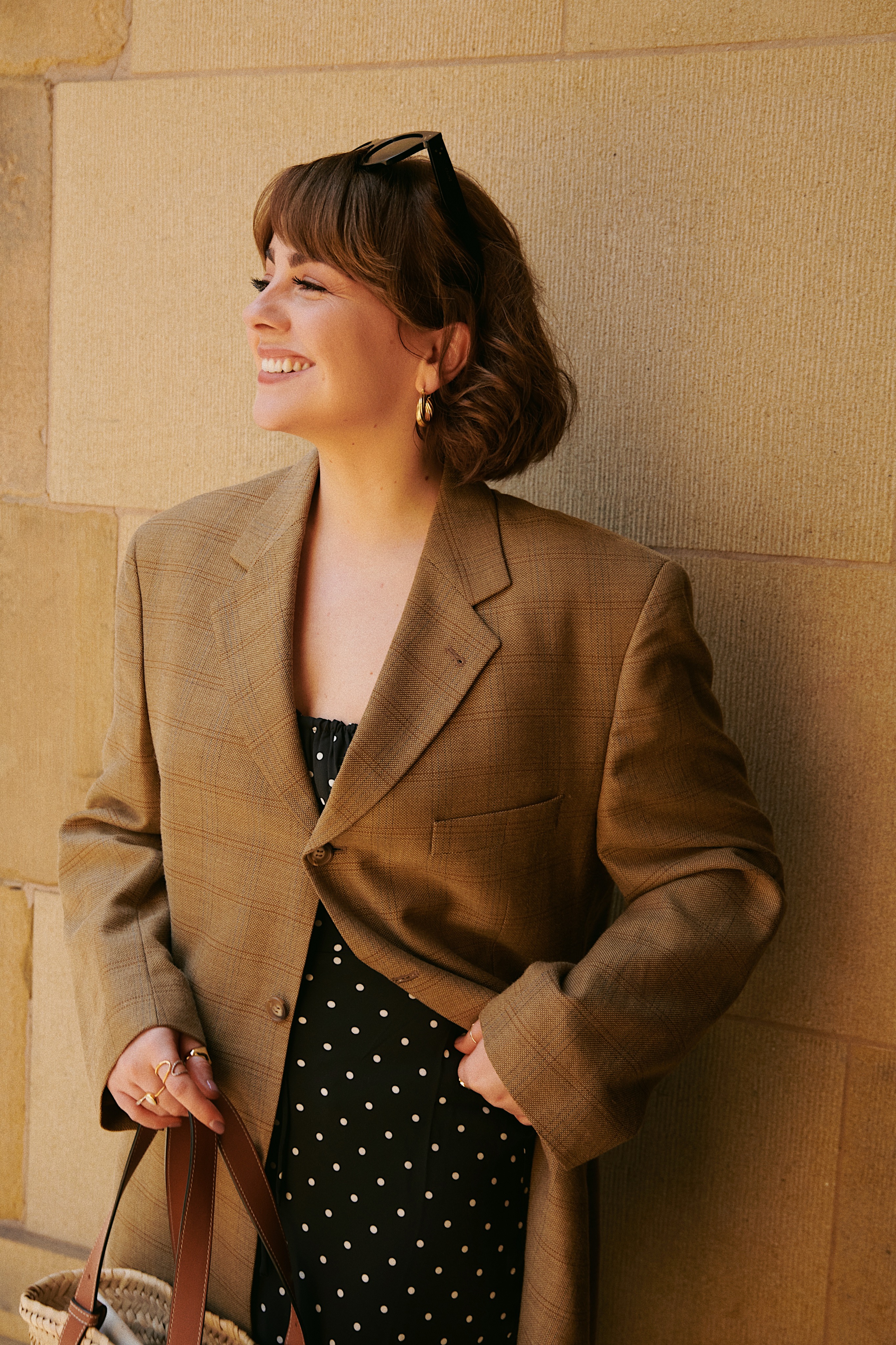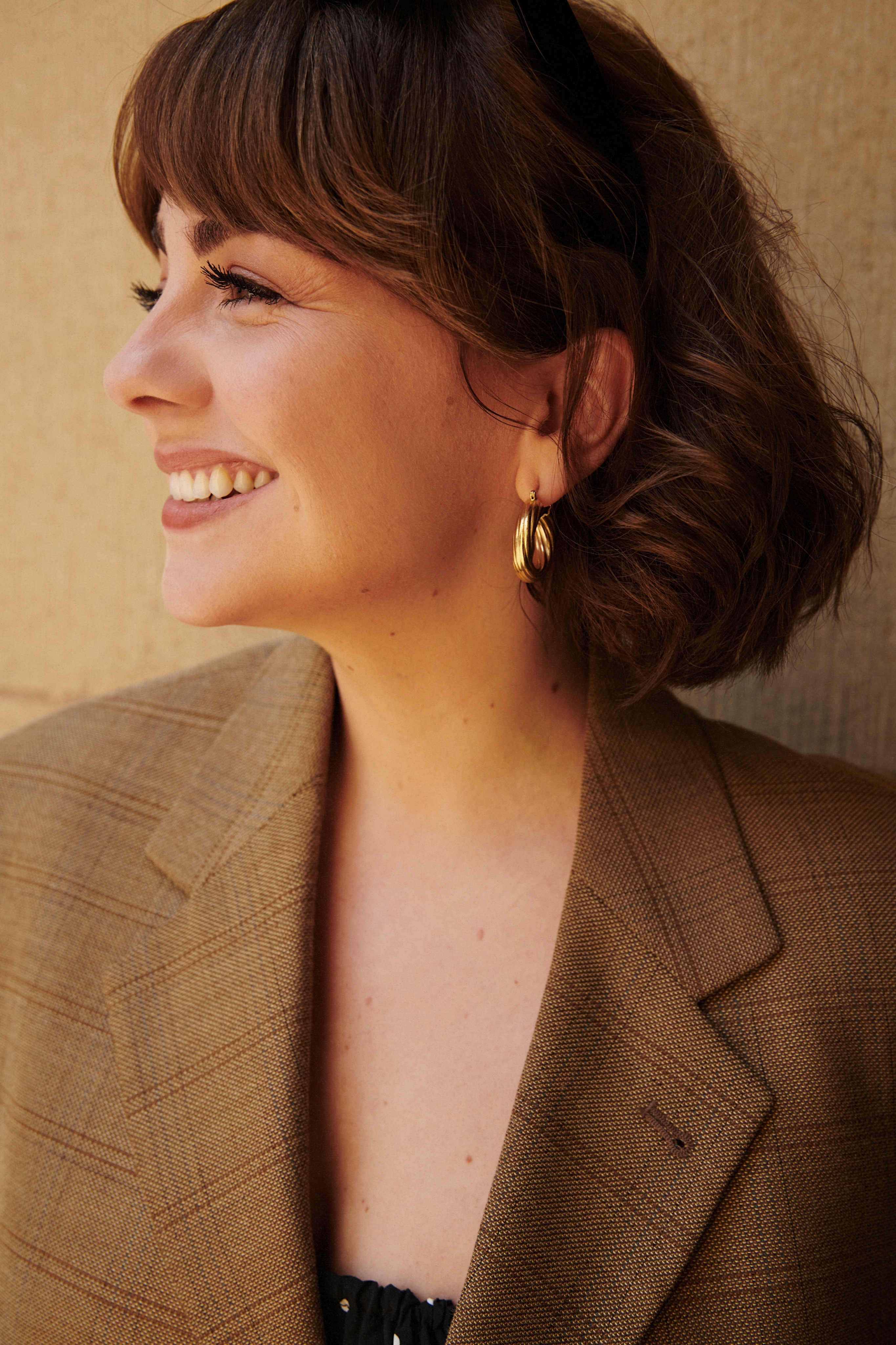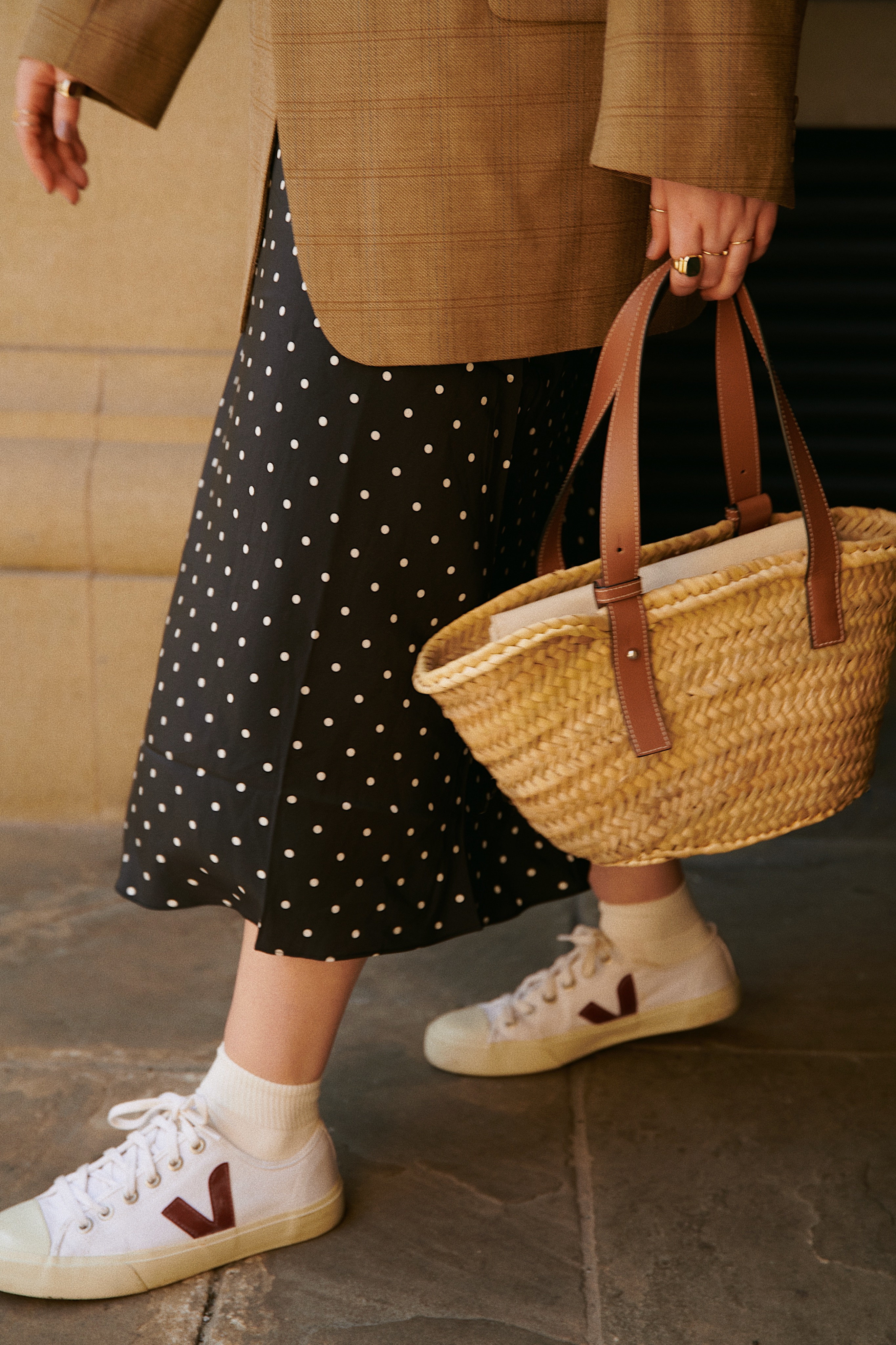 If you know anything about me by now it's that I love me some Realisation Par pieces at this time of year – I succumbed many moons ago to the cult allure of this brand and I've been religiously checking the website for new designs ever since. They might be 'basic' or even overpriced to some, but I can't argue with the fact that I wear mine year after year, and they make me feel great! 
One thing I will mention is that I always size up as I do find them to be quite small fitting on the whole and I prefer my slip dresses to be on the floatier side. I'll also say that they are the type of dresses that show every lump and bump as they are super thin/delicate but that also makes them ideal layering pieces! I often wear mine with shirts over the top or oversized blazers like I'm wearing above. It really just depends how confident I'm feeling on the day, but generally if I'm not on holiday then I'll be pairing them with some kind of cover up just to be safe. The most recent addition to my collection is this polka dot beauty and I'm smitten with it. It's the perfect Nineties style slip with a subtle polka dot print that's super easy to style all year round…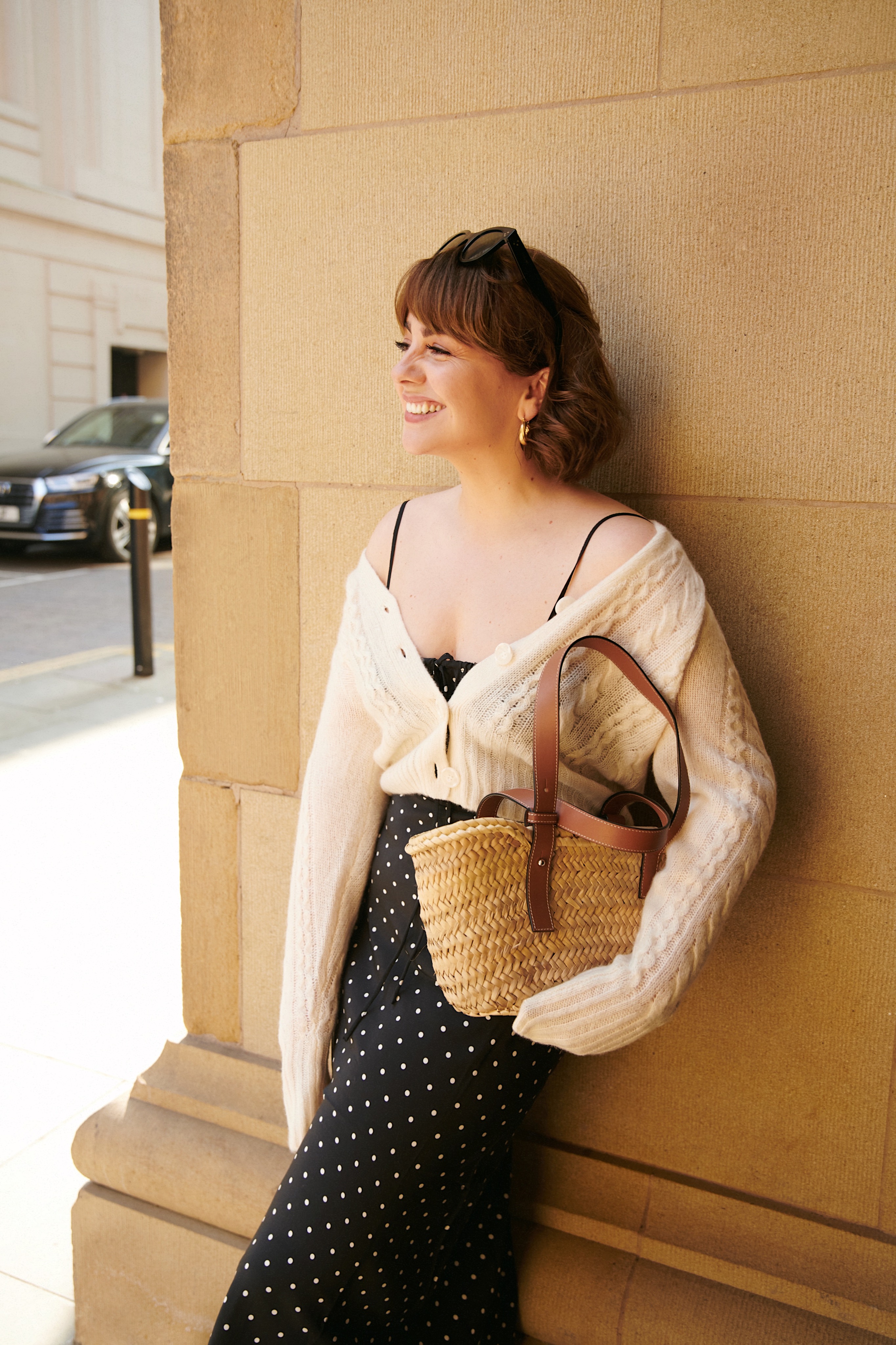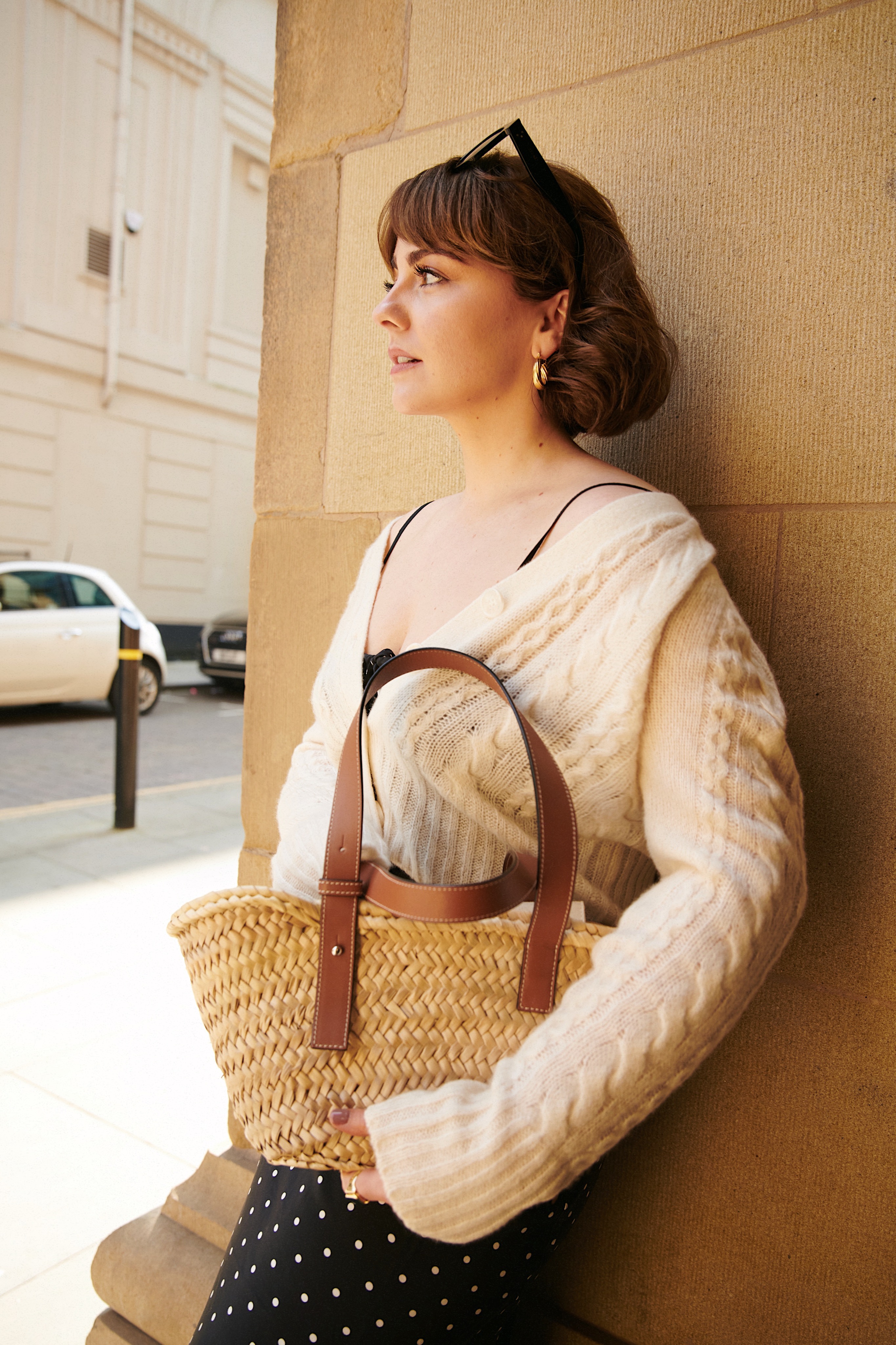 I also LOVE how this style of slip dress looks with a cardigan worn slightly off the shoulders – this one is by Me+Em who are another brand I particularly love at this time of year. They always have such great spring/summer collections and I generally just really enjoy how they style everything on their website too. I'm currently on the hunt for a pair of really great striped trousers and these ones are high contenders! They have a special way of creating pieces that feel cool and modern whilst also still being very classic and timeless…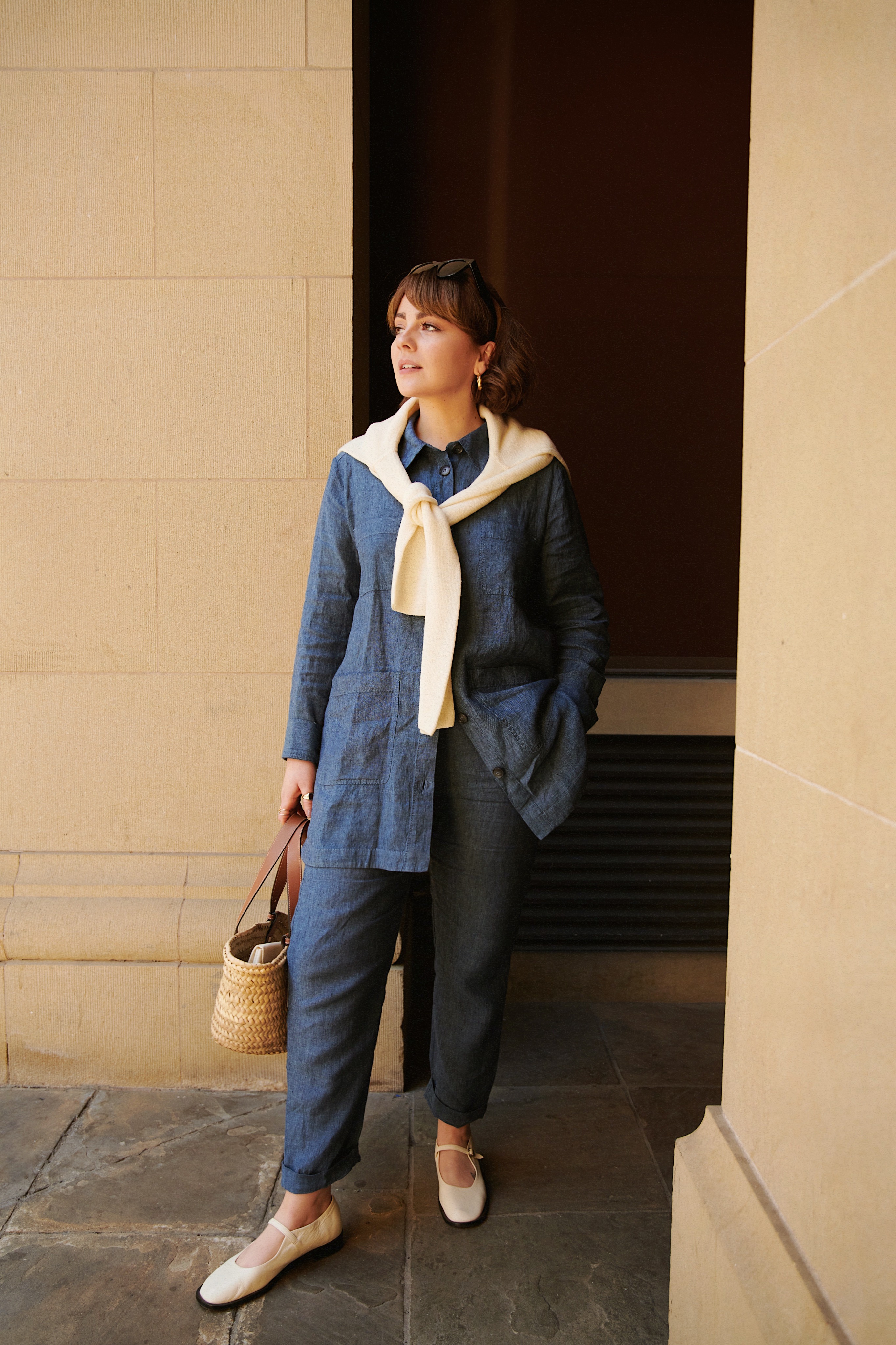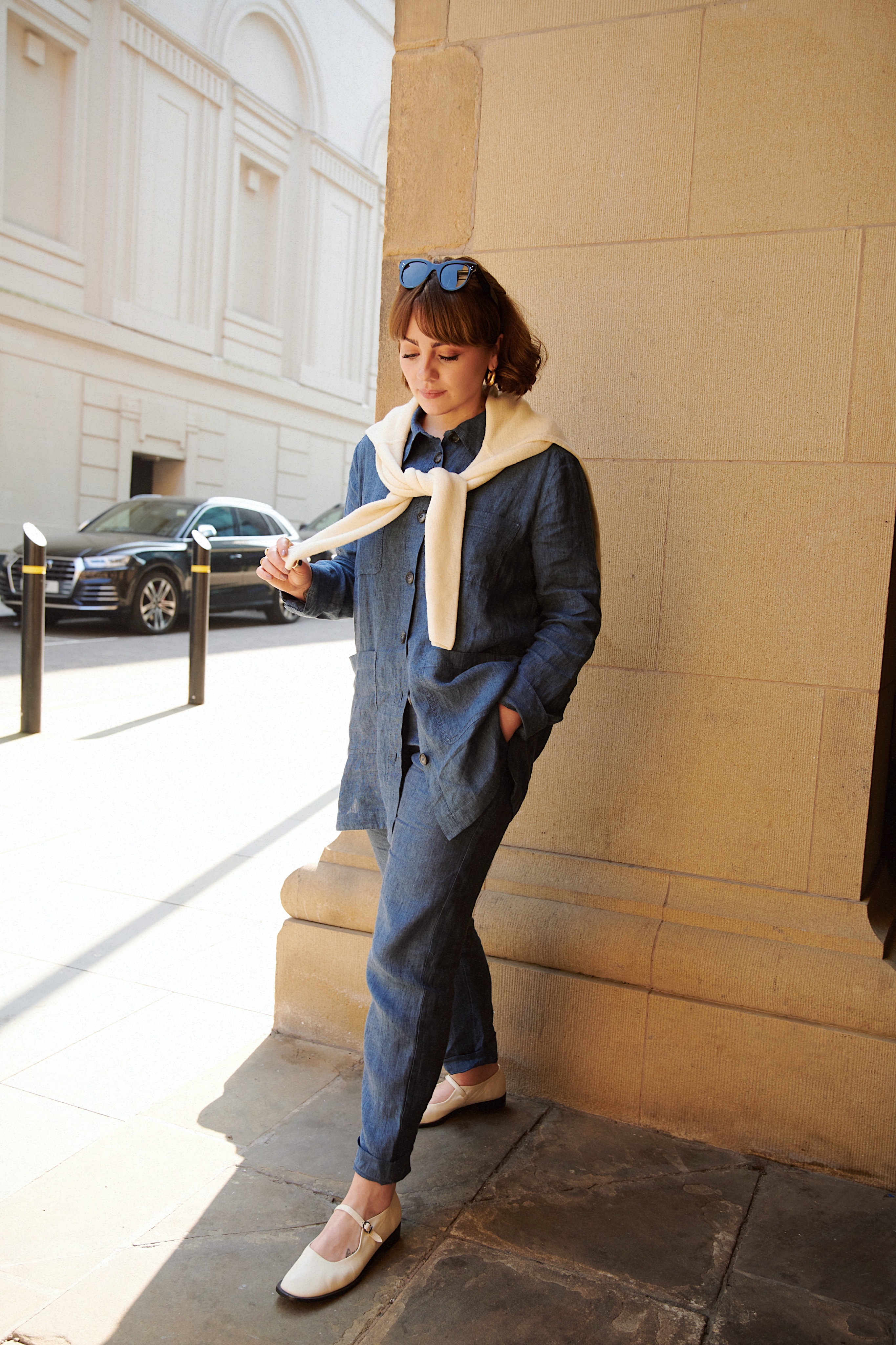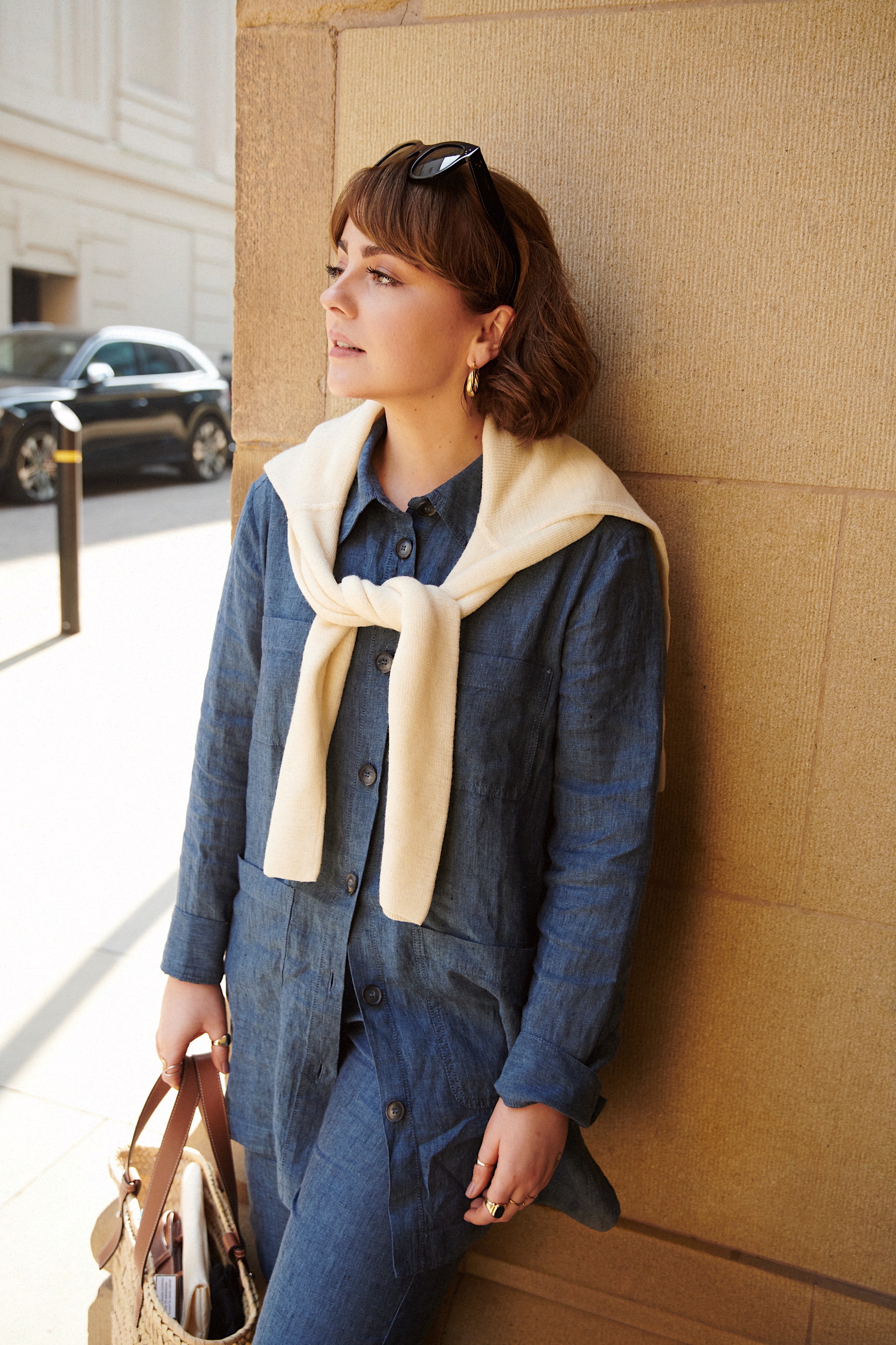 Moving onto this blue linen look that I'm very excited about! It's actually two separate pieces that were kindly sent by Brora Cashmere – they are part of their new spring collection and already feel like classic staples I'll be pulling out year after year. Brora Cashmere are one of those brands that have been around for ages and have something for everyone but possibly get overlooked amongst the sea of highstreet and fast fashion that often fill our social media feeds. They are actually a brand that my Gran loved! My mum recently stumbled across an old cashmere cardi that was my Grans and the label read Brora Cashmere which felt like a very sentimental moment as I'd just been excitedly showing my Mum this new two piece I'd been sent by the very same brand…
I love matching separates because they extend to so many different outfit possibilities aside from looking great worn together! The trousers are so so comfortable – I love how they look with just a plain white shirt or T-shirt for a really simple spring look. The shirt also looks great over slip dresses and feels sturdy enough to wear as a jacket on warmer days/evenings. They are both made from such a gorgeous indigo linen and are really easy to wash! I went for my usual size in both pieces and I'd say they are slightly on the generous side which I really like – I think having them fit a little loose really makes them look high end/very luxurious. They also do a jumpsuit in the same material if an all in one kind of situation is more your thing!
---
Photographs taken by Catherine Booty 
Look one: Dress – Realisation Par, Blazer – Estete vintage, Cardigan – Me+Em, Trainers – Veja, Bag – Loewe, Sunglasses – Celine (baby Audrey style) 
Look two: Two piece – Brora Cashmere, Shoes – Tenflats, Jumper – Arket (old)
SHOP THE LOOKS