Hope you're all well and having a nice start to the week, whatever that looks like for you! I'm finding it pretty hard to stay motivated with content at the moment, but I'm just trying to be gentle with myself and take each day as it comes. Some days are more productive (cleaning/organising and planning new content), and other days I just have to succumb to the low moods and spend the day curled up with a book or snoozing on the sofa. However, one thing I have been consistently enjoying is taking more time with my beauty routine – the days have felt longer and less urgent, so I've really been trying to destress and unwind with a little help from some of my favourite products. I really love learning/reading about products so I thought I'd run through all of the 'comforting beauty' products I've been using recently in the hope that it might spark some self care amongst you wonderful lot during the uncertain weeks ahead too! It's easy to neglect what our bodies need when we are anxious or worried, but taking that time to pamper yourself physically can really make a huge difference mentally…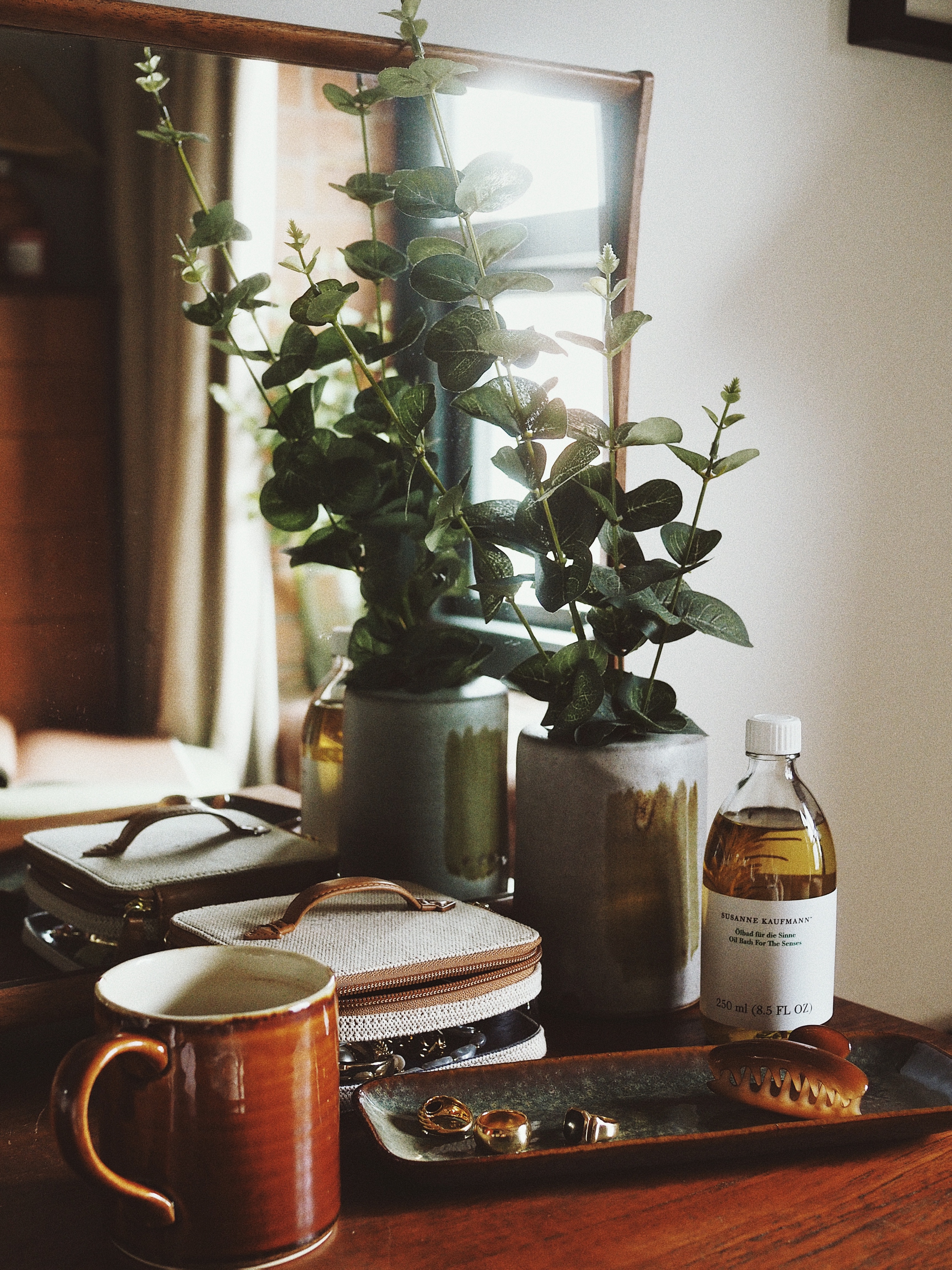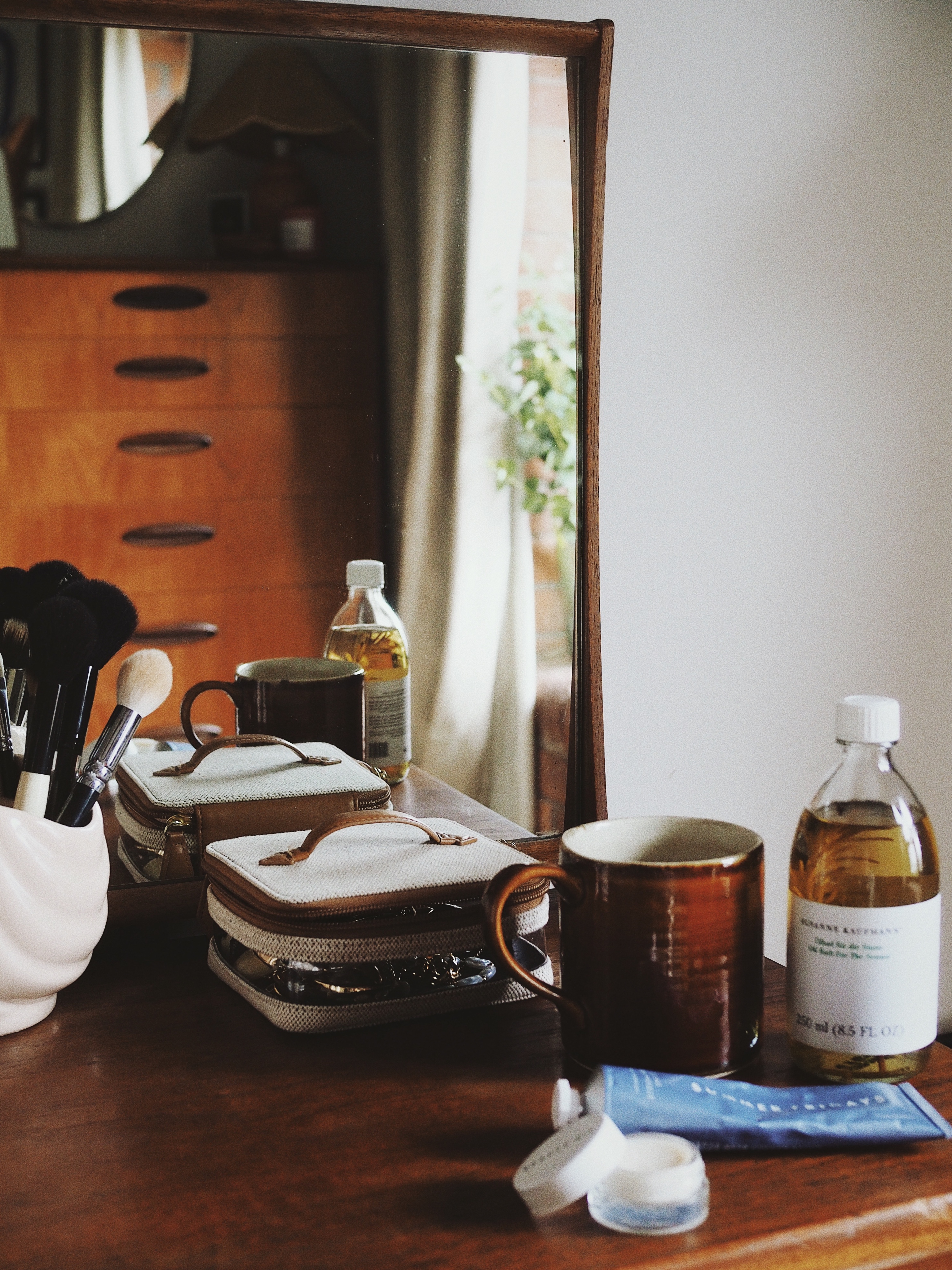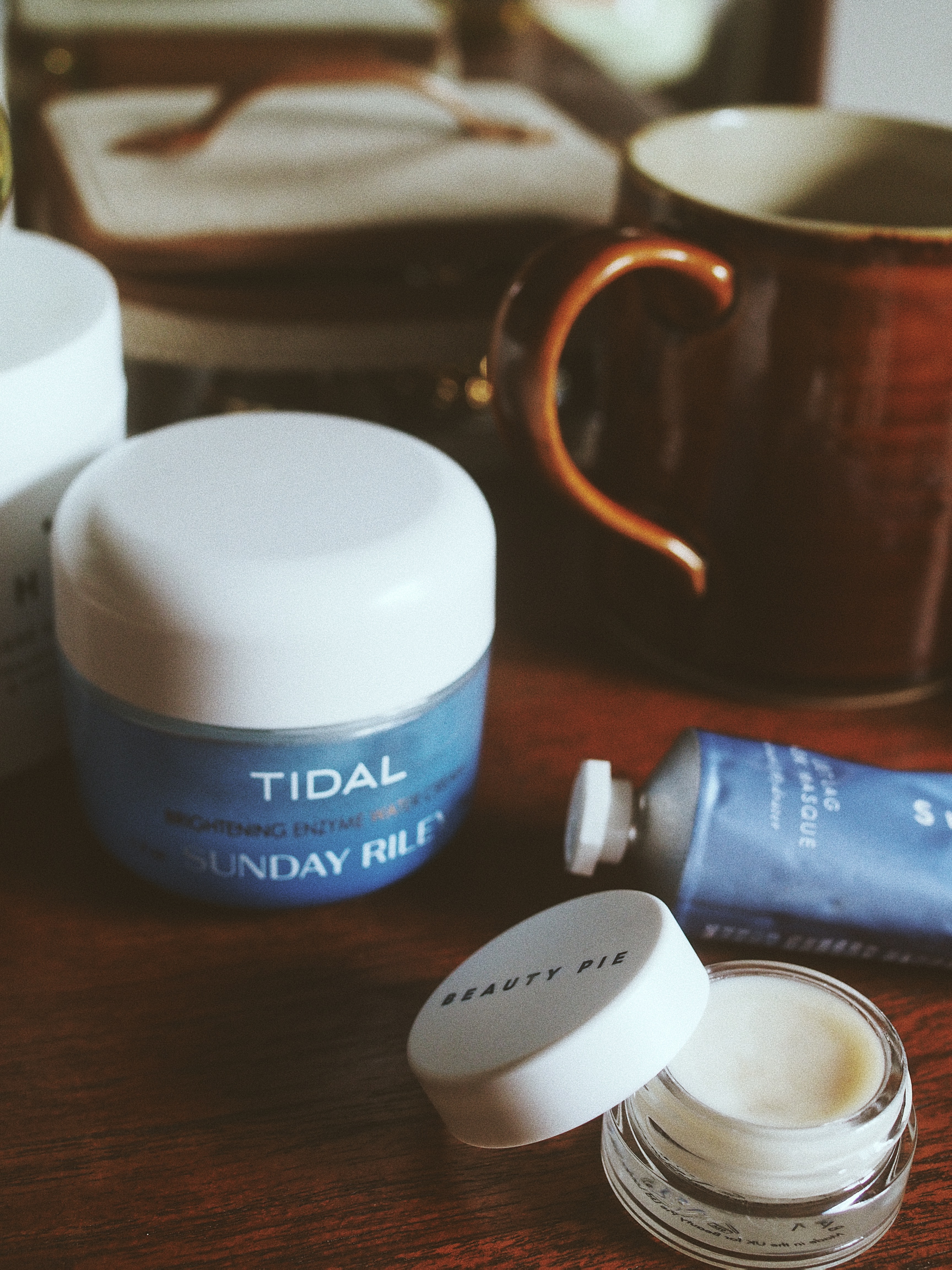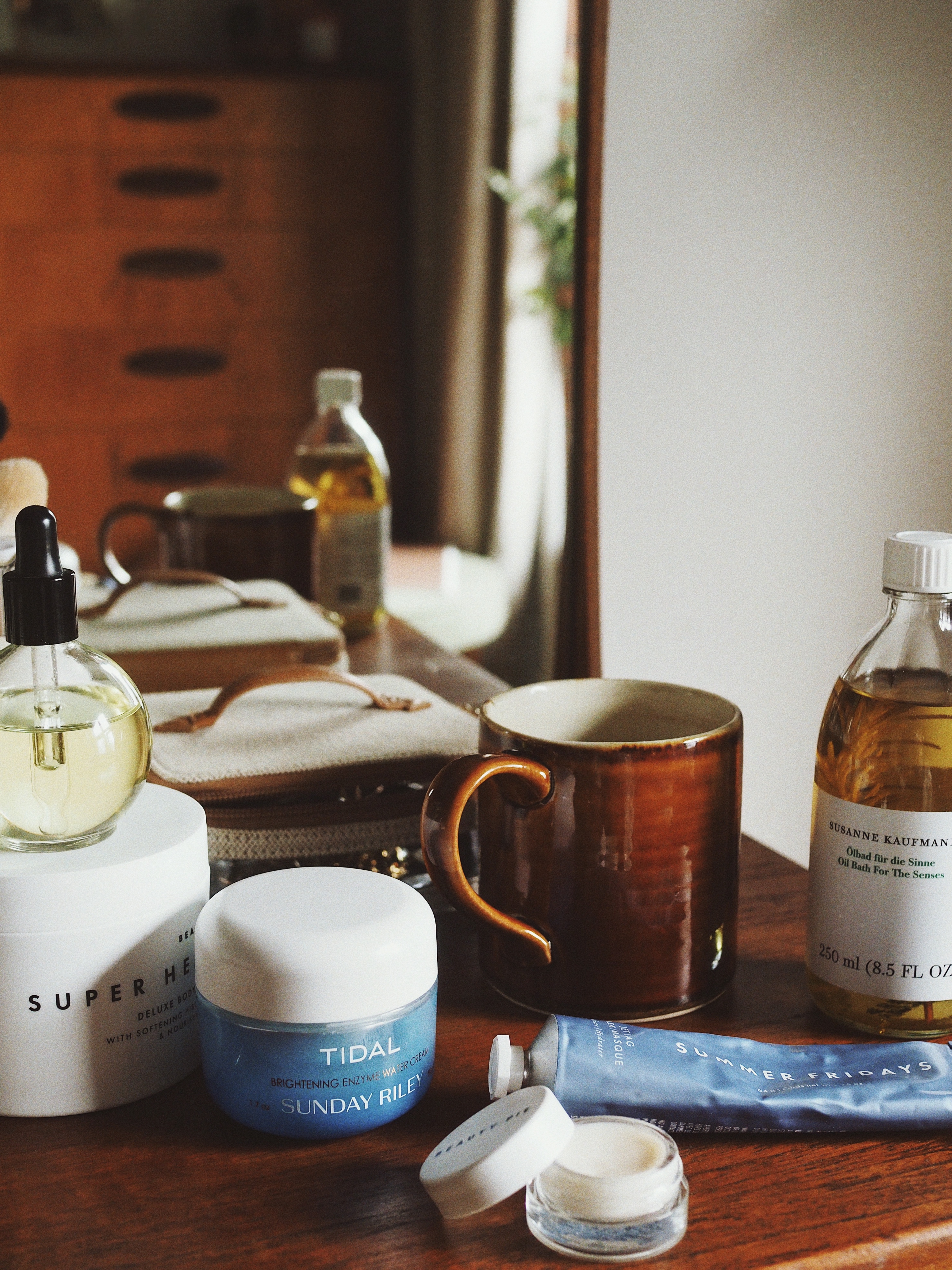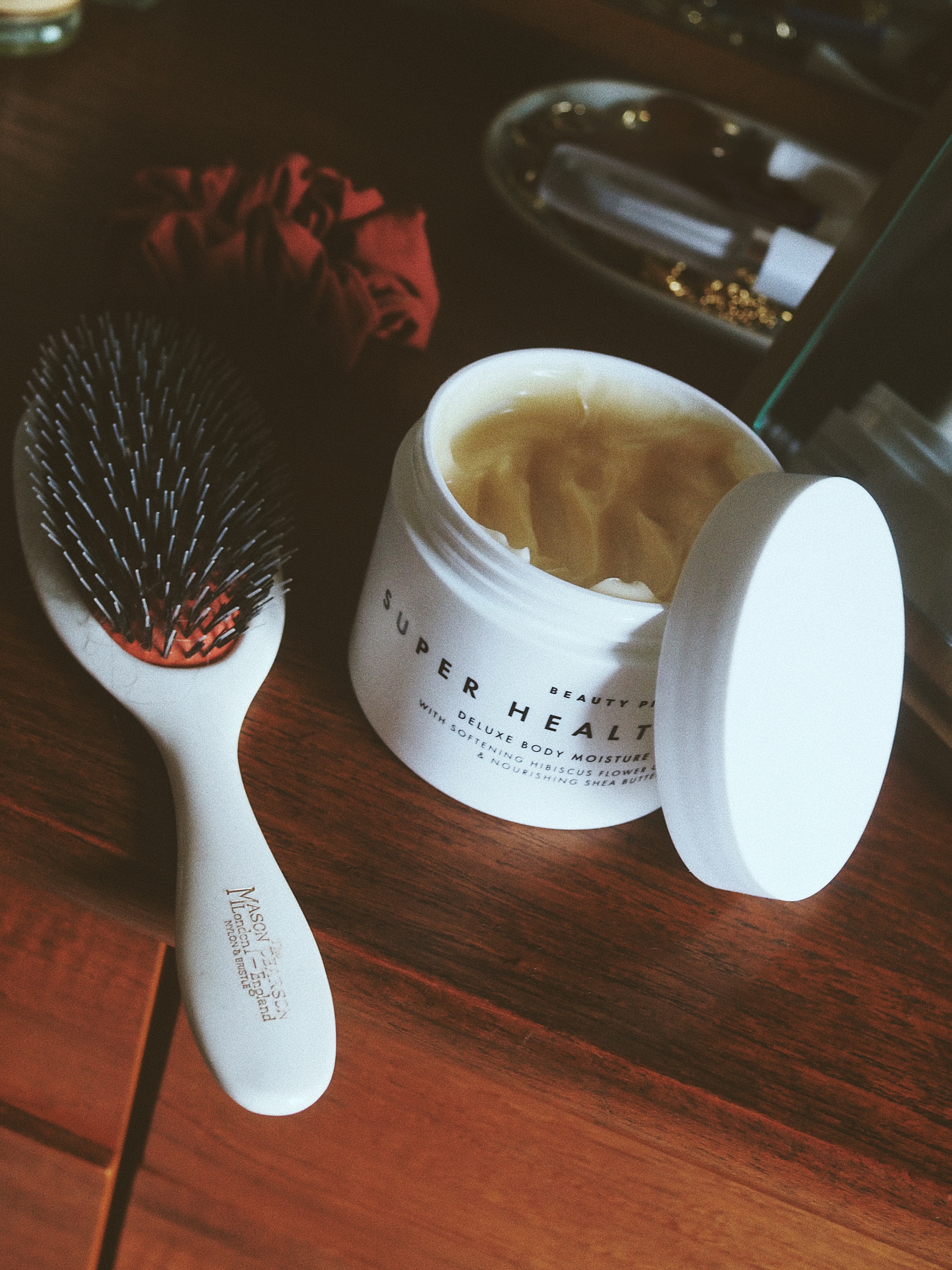 Staying nourished from the outside in… 
BEAUTY PIE BODY MOISTURE CRÈME – I'm new to the Beauty Pie hype (and only recently set up an account with them) but I'm so so impressed already! Everything I've tried has been such beautiful quality, and really up my street in terms of how gentle/natural everything smells. I've been using the body cream after showering with the body polish in the evenings and I feel like it's been leaving my skin super smooth and well nourished. I love listening to a podcast and just taking that extra time in the evening to massage a product into my skin – it really just helps to prep me mentally for bedtime and encourages me to focus on soothing my body/switching off my mind. Also, if you're like me and you love a really thick lip balm that smells delicious whilst staying put – the Beauty Pie lip balm is the one! It's oil infused and smells like Shea Butter which is one of my all time favourite skincare ingredients.
---
SUNDAY RILEY TIDAL WATER CREAM – This is one of those products that I've seen around for ages but have never actually tried out until recently when I was kindly sent a sample to try. It's a water cream which really packs a punch with ingredients such as hyaluronic acid and resurfacing papaya enzymes. On days where I haven't really felt like doing any make up or skincare, I feel like reaching for this gives my skin exactly what it needs to stay hydrated throughout the day. It's got a real 'earthy' scent which takes some getting used to, but I really feel like it's a product I will be reaching for a lot throughout spring/summer. It's also very light and refreshing which makes it perfect for applying beneath make up too.
---
SUMMER FRIDAYS LET LAG MASK – One of my all time favourite masks! I can't be without this one in my collection, and I always recommend it as one of those masks that offers fast results if you're skin is really in need of an instant pick-me-up. It's such a nourishing formula but it also gently exfoliates too. I use this mask once/twice a week and I really feel like it keeps my skin in check and balances everything out. Sometimes I'll put it on in the evenings whilst I'm watching a film for a few hours, other times I'll just sleep in a thin layer of it and wake up to extra glowy skin. You only need to keep it on for a minimum of ten minutes but I feel like the longer the better with this one! 
---
SUSANNE KAUFMANN BATH OIL – A luxurious bath oil that's really been helping me relax and unwind whenever I have a bath (lets face it, there's no set bath time at the moment). It's delicately scented and has anti inflammatory properties as well as being aromatherapeutic. I use it sparingly as I want to make it last as long as possible, so I love treating myself to a bath with this when I'm feeling hormonal or particularly stressed out. You definitely don't need to spend a lot on bath oils, but this one is incredible if you're in the market for something indulgent that really delivers. Susanne Kaufmann have fast become one of my favourite skincare brands and I really recommend looking into their products if you've been thinking about it – the masks are some of my absolute favourites!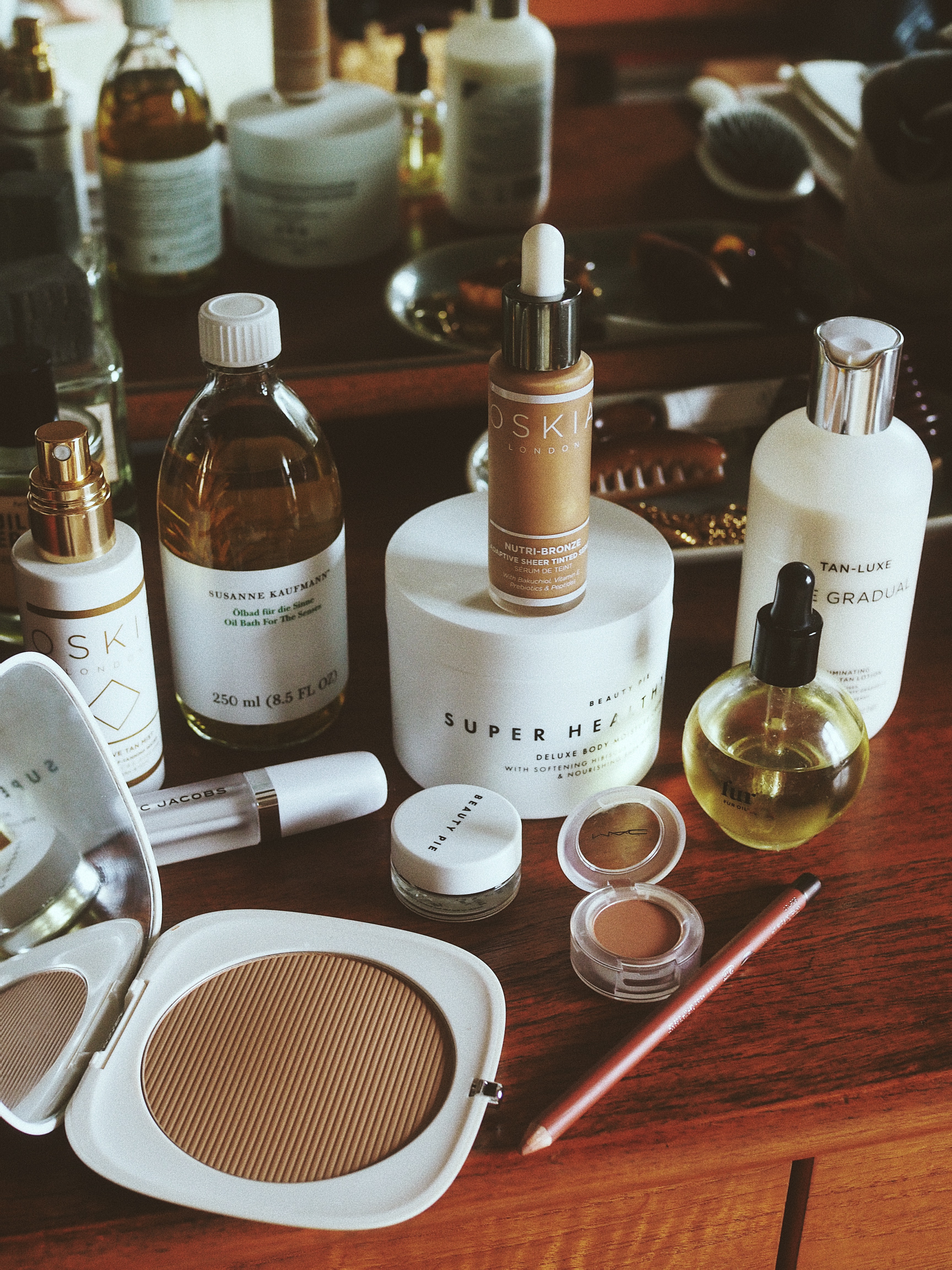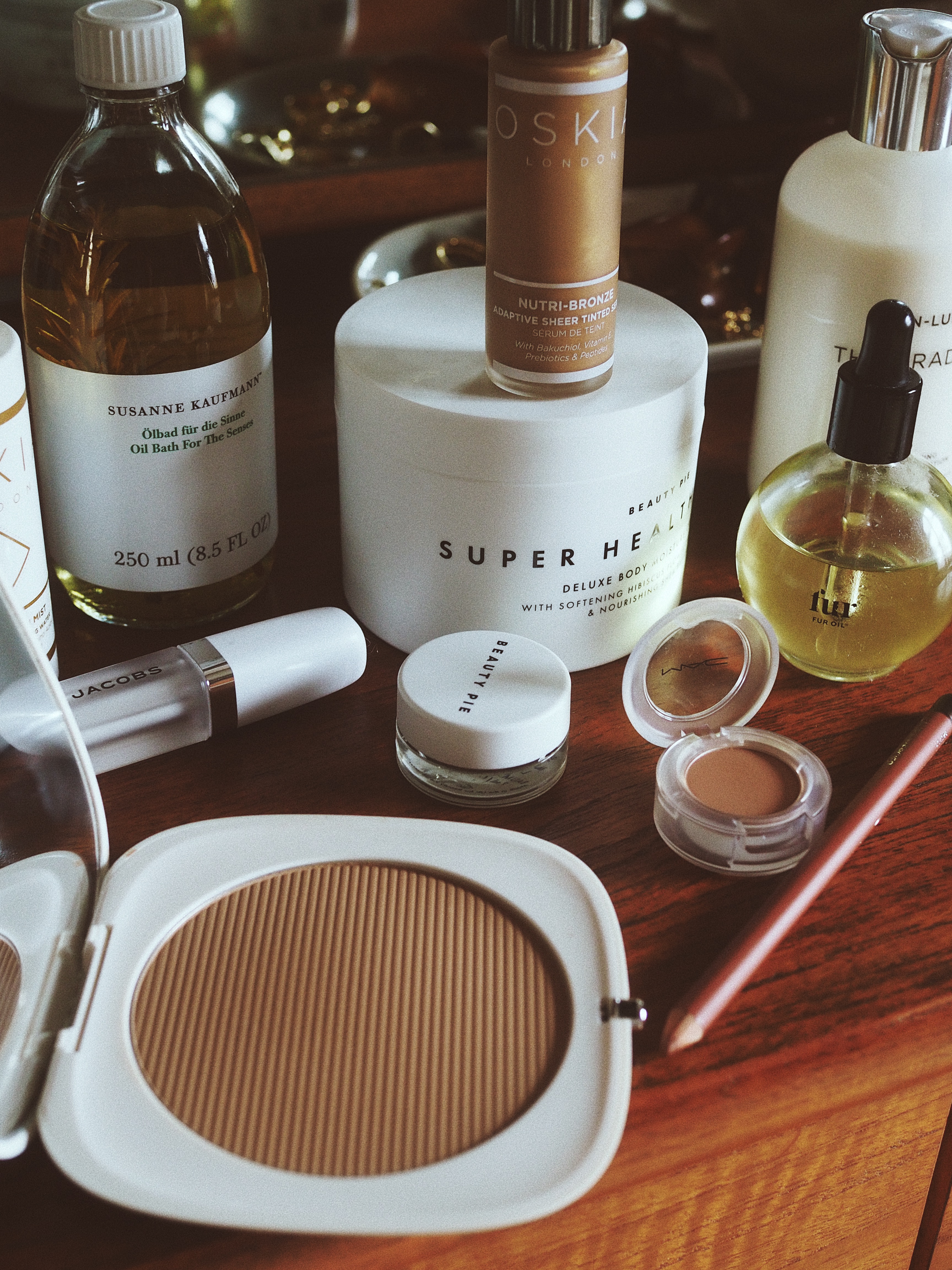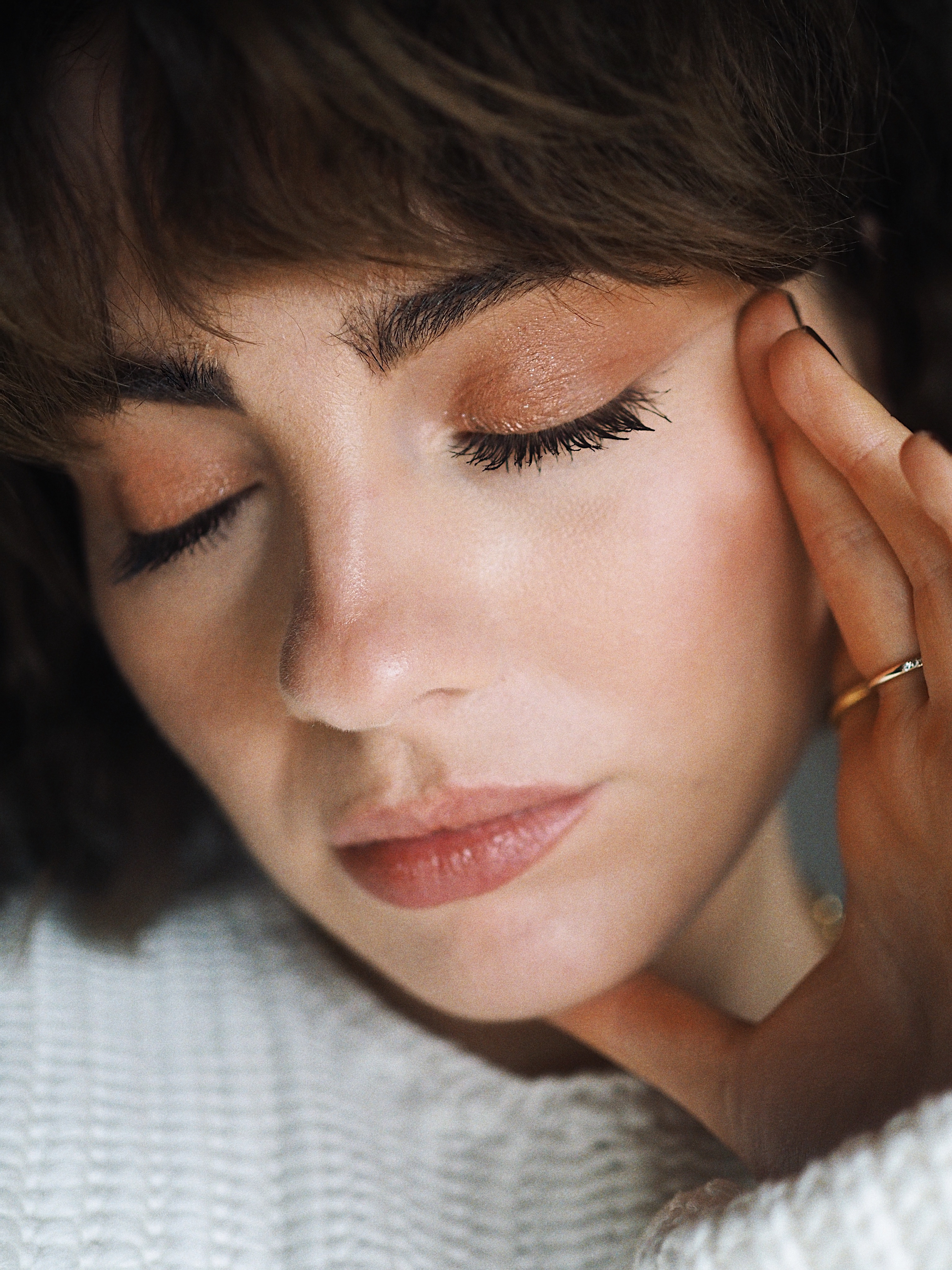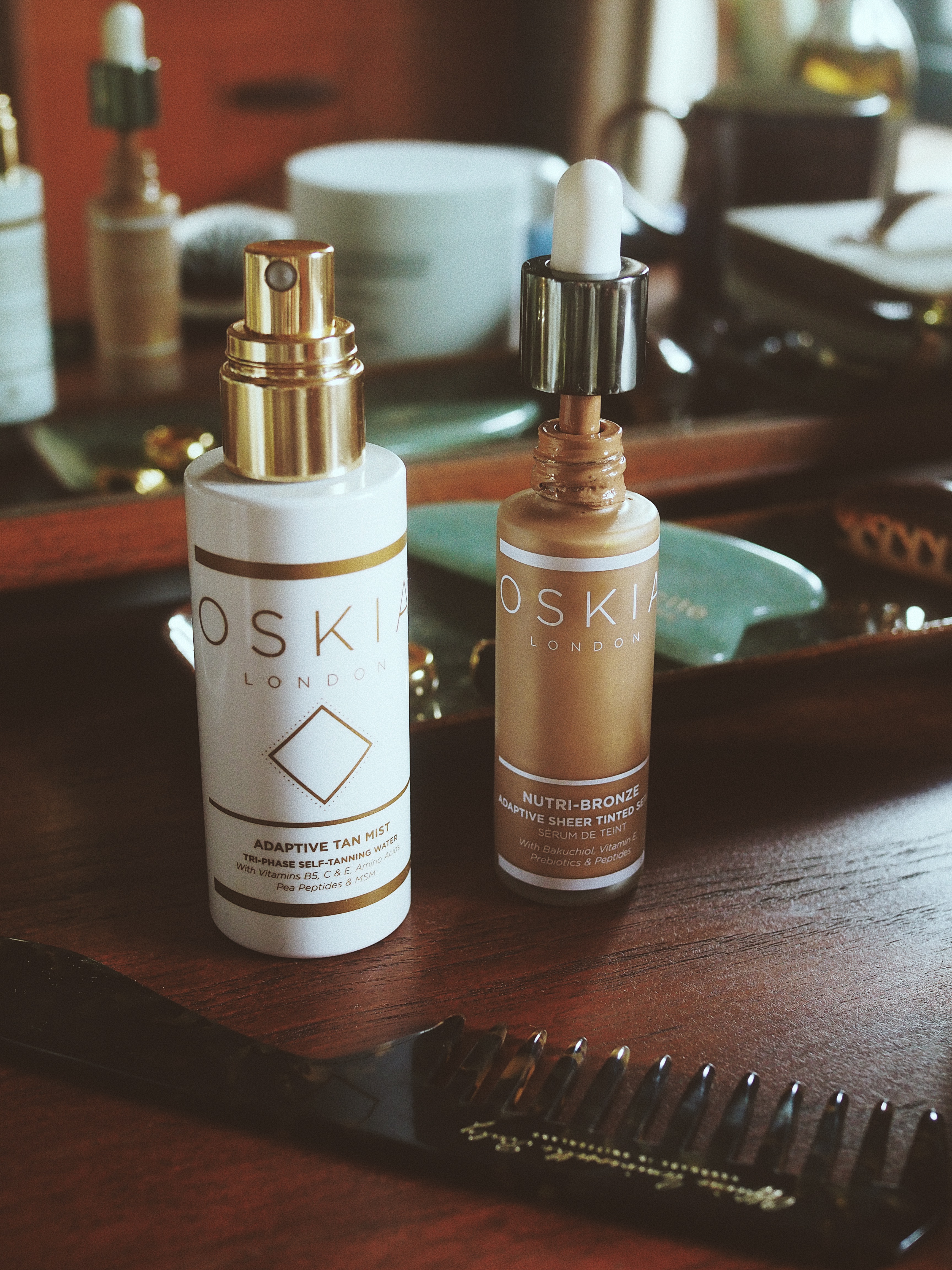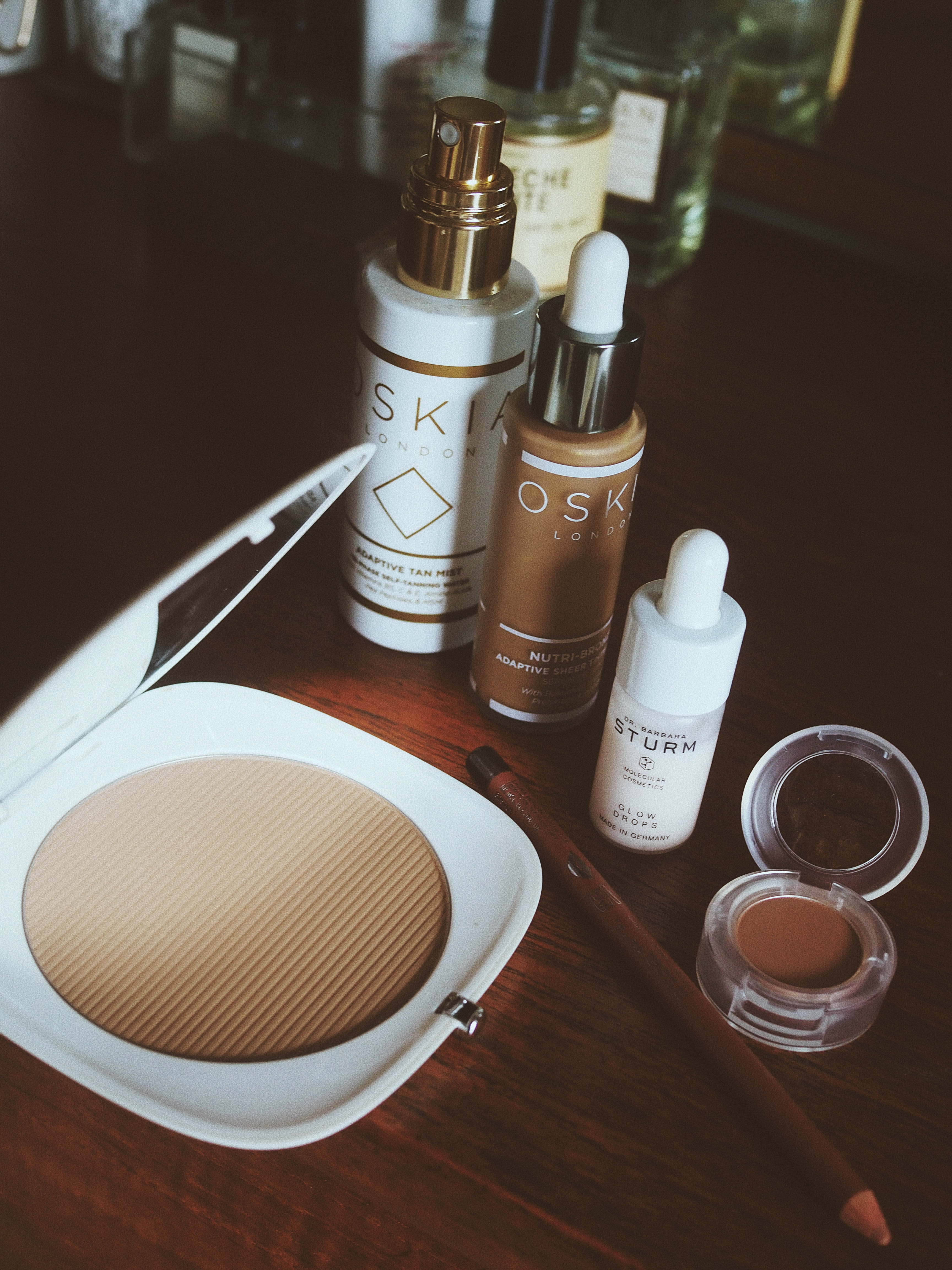 Staying bronzed whilst staying indoors… 
OSKIA NUTRI BRONZE TINTED SERUM – Oskia is another one of my favourite skincare brands and I'm a long time fan of their Renaissance Cleansing Gel which is one of those hero products I find myself repurchasing time and time again! I also received a sample of their new tinted serum a few weeks back and I've found myself reaching for it almost daily whilst working from home. It gives such a gorgeous bronzed glow to the skin whilst also doubling up as powerful serum that really hydrates the skin whilst I'm getting on with my day. It includes my favourite (Hyaluronic Acid) for long lasting hydration, milk peptides to boost collagen, and Vitamin E to help protect your skins defence barrier. All in all, it's been the ideal product for me to reach for in the morning, and if I find myself lacking in motivation to apply the perfect WFH make up – I just reach for this and it's the ultimate mood booster when my skin is feeling flat…
---
OSKIA ADAPTIVE TAN MIST – I also wanted to mention this product as I'm a big fan of applying a facial tanning mist in the evening (post skincare routine) and then waking up to 'fresh off the plane' from somewhere hot style skin. I use this every couple of days to keep my skin topped up and it really just perks up my complexion/makes any blemishes or marks appear less obvious (with minimal effort on my behalf)…
---
TAN LUXE GRADUAL LOTION – Hands down the best gradual lotion I have ever used. If you're feeling in need of a boost but don't want to commit to a fake tanning session, this is your guy! I use it in the evening when I've had a shower and exfoliated – it gives such a natural finish and really doesn't give that lingering biscuity smell that a lot of fake tans do. You can build it up over time but I find that even just one application makes me feel as though I've had a few days sitting on a beach somewhere beautiful…
---
MARC JACOBS COCONUT BRONZER – On those days where I've felt like making a bit of effort with my make up, I've really been into a bronzed/peachy nude/summery sort of affair. I've been loving the Marc Jacobs coconut bronzer to warm up my skin – I'll normally go in with a big fluffy brush after applying a bit of concealer wherever I need it. It's such a natural colour and really pairs well with the new Mac eyeshadow in the shade 'Paint By Umber' that I've become addicted to. I saw someone wearing it over on Instagram recently and it's the exact shade I've been looking for. It's such a gorgeous warm peachy colour that I just love to sweep over my lids before adding a bit of mascara. It's fool proof and I also feel like it will suit all skin tones beautifully! I've then been loving the Laura Mercier lip liner in the shade 'Chestnut' to tie everything together. I recently watched a make up tutorial over on Youtube where Hilary Duff used it and immediately had to pick one up. I can confirm it's the lip liner I've been searching for for the past decade, and I'm thrilled that Lizzie McGuire was the one to inspire me…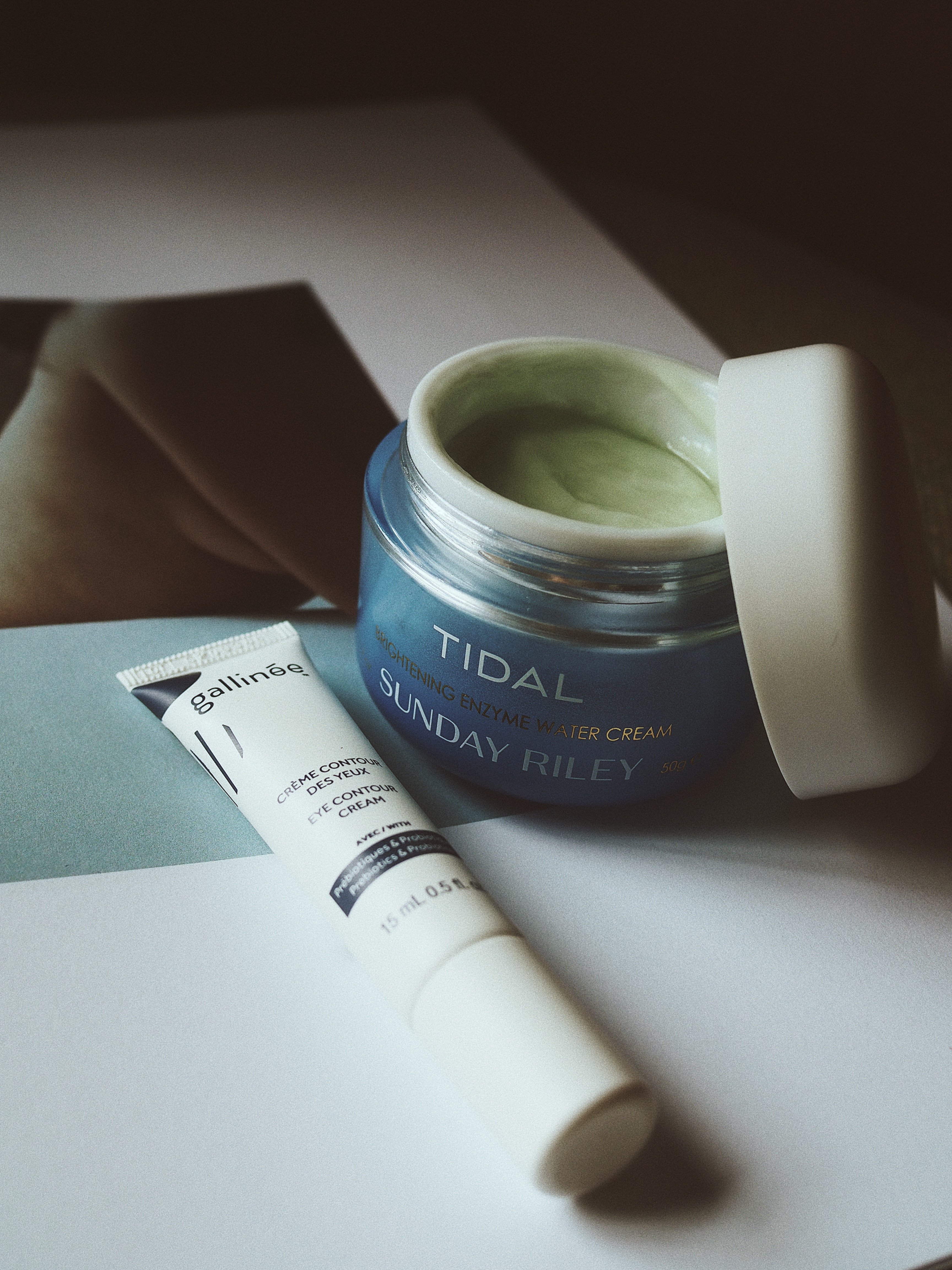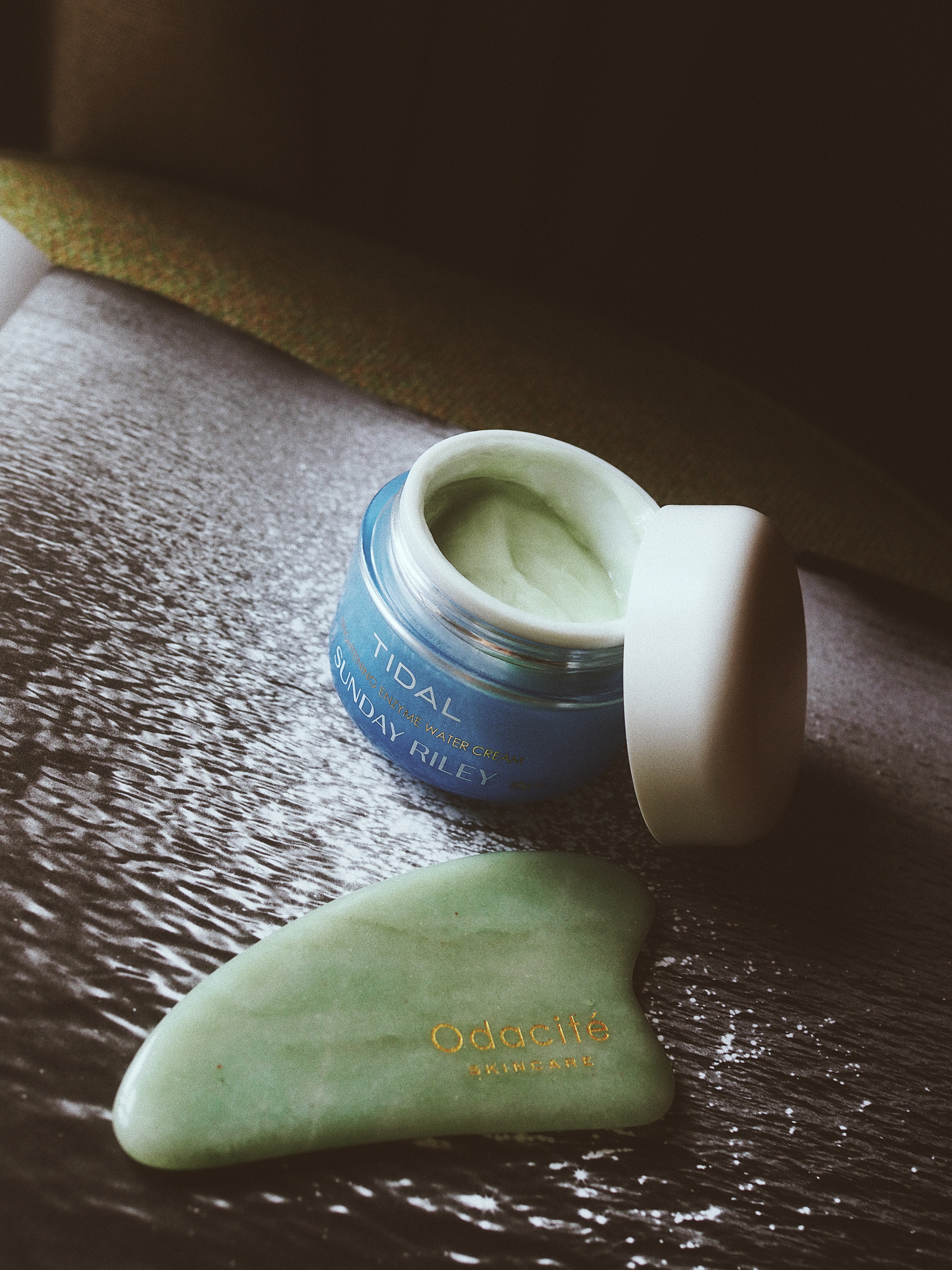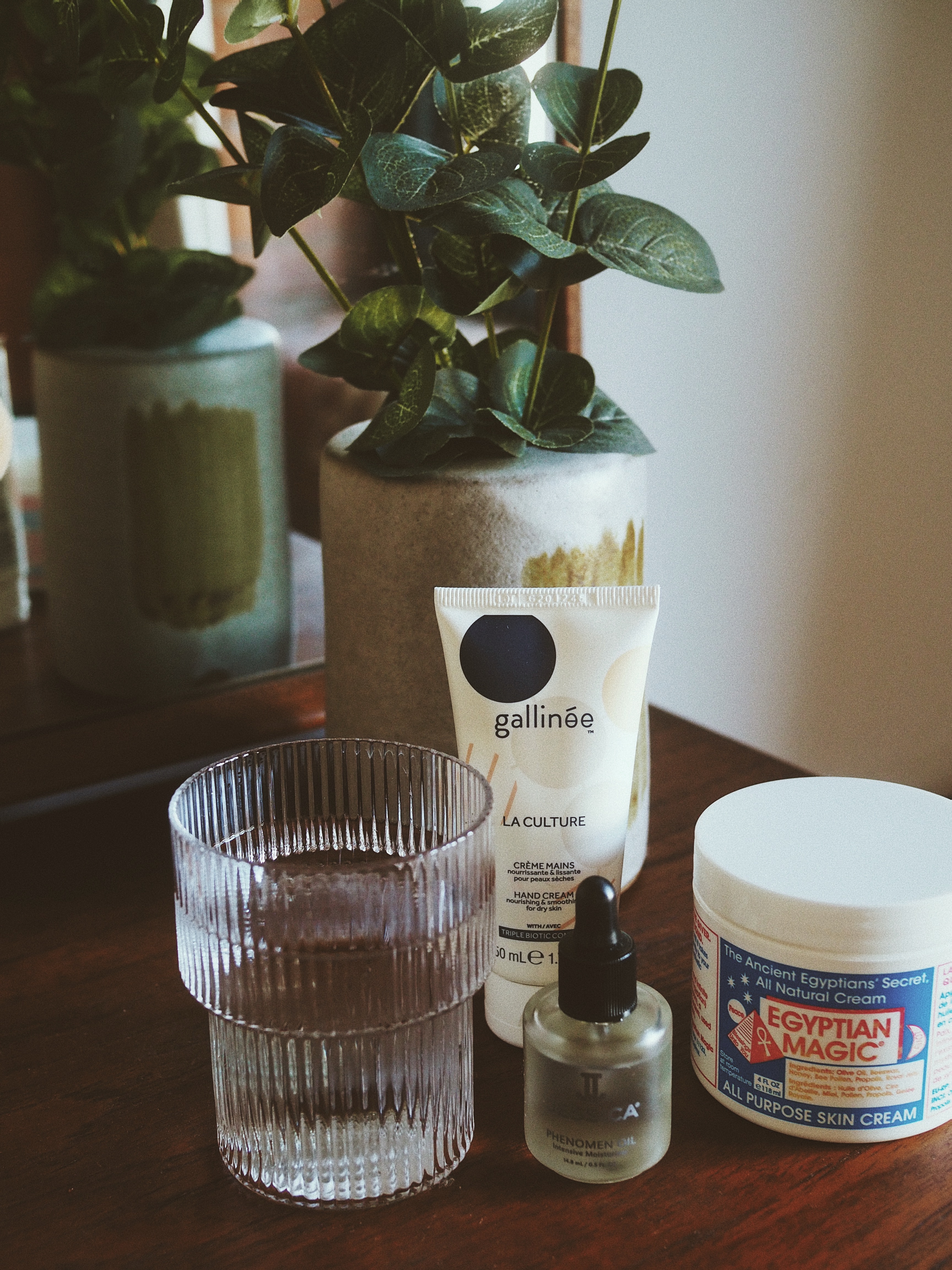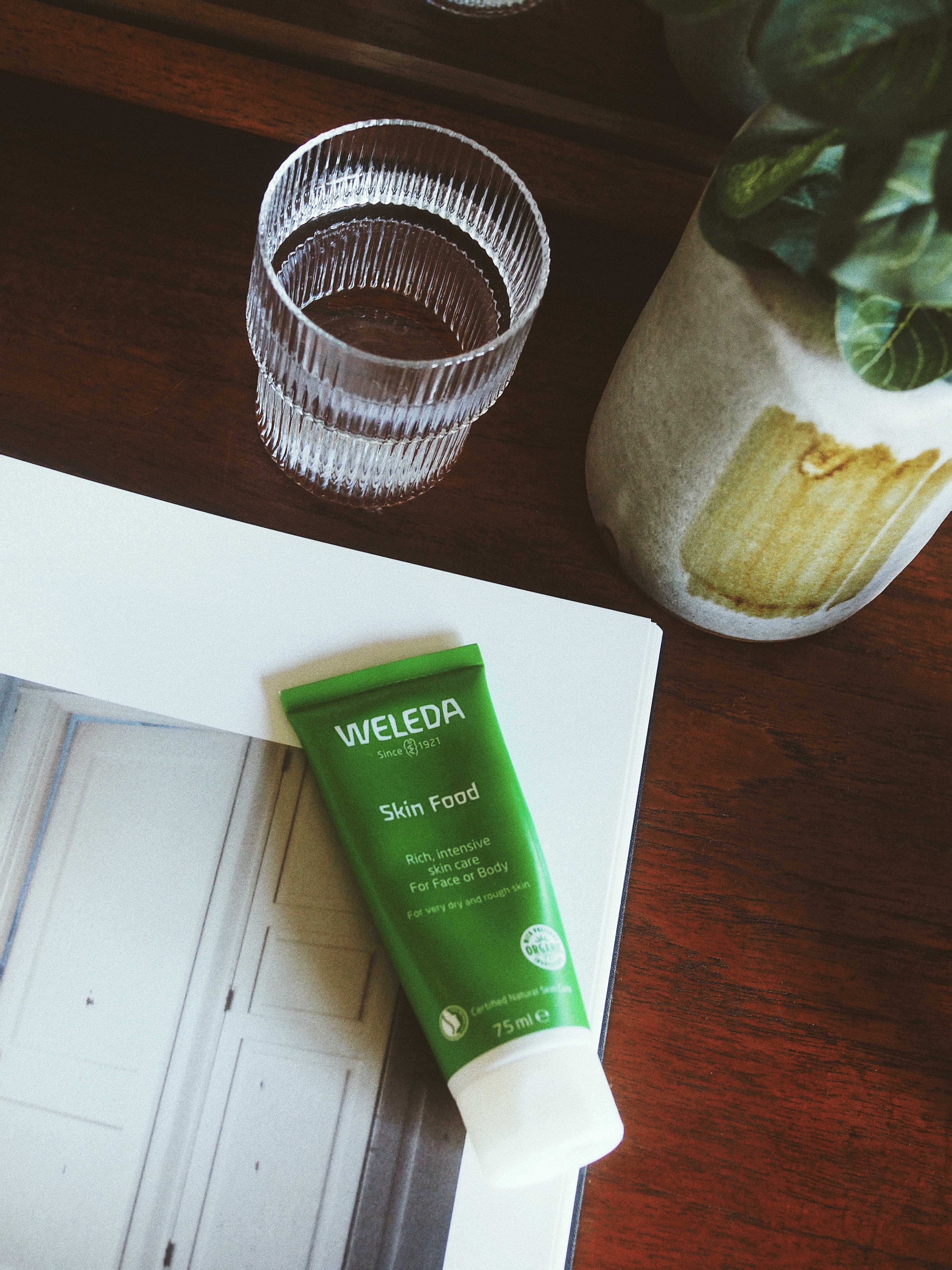 Taking advantage of the extra time…
OCADITÉ GUA SHA – At first glance, I thought this might be another one of those expensive beauty tools that I buy on a whim (and then ends up collecting dust in a bedside drawer), but I've been really surprised at how much I've been using it! The Gua Sha facial massage is actually a ritual that has been used for centuries in traditional Chinese medicine, and is meant to be successful in improving the overall appearance of the skin. After some research, I finally decided to invest in this Ocadité beauty a couple of weeks back and I've absolutely loved using it during the evenings after applying a face oil. You can look up the massage techniques online but they are all super simple and really help to decrease puffiness and work any products you've applied deeper into the skin. I really love how cool it feels on the skin and it's definitely encouraging me to massage my facial area more (which can only ever be doing good things)…
---
FUR BODY OIL – One of the best smelling oils I've ever come across and one that really works! I like to use this on my bikini line when I get out the shower and it keeps it looking smooth and none irritated. I get laser hair removal on my bikini line so it comes in useful for soothing that area and preventing any ingrowing hairs too. You can use this anywhere on your body/hair so it's also a lovely one to pack for future travels… 
---
EGYPTIAN MAGIC CREAM – I wanted to include a few 'dry skin saviours' since we have all been washing our hands/using cleaning products way more regularly than we might have done a few weeks back. I first stumbled across this magical product when I started getting laser tattoo removal a few years ago – the healing process is very sore/itchy but this soothes it like nothing else I've found. I've been applying it all over my hands before bed and then laying a thick hand cream on top. You can use it anywhere on your body and it really is a great staple to have in your beauty collection.
---
WALEDA SKIN FOOD – A nourishing vegan treatment that can be used anywhere on the body that needs some TLC. I love using this as a foot cream during the spring/summer months, but it's also proven to be an incredible heavy duty hand cream. I sometimes apply it to any dry patches on my face too and it works really well at improving them overnight!
---
GALLINEE PREBIOTIC HAND CREAM – If you're after something lighter to apply to your hands throughout the day then I couldn't recommend the Gallinee hand cream more! It's such a beautiful lightweight formula that's free from any nasty stuff and helps to strengthen the skins microbiome. I use this several times a day at the moment and a little bit really goes a long way.
---
JESSICA PHENOMEN OIL – If you're looking for the queen of all cuticle oils then look no further. This Jessica oil smells like Marzipan and is never too far away from me when I'm working at my desk. It smells delicious but it's packed full of moisturising ingredients too. I'm normally rubbish at remembering to apply cuticle oil but I've been doing it a twice a day recently and it's been nice to take the time to just slow down and focus on small tasks that make me feel better throughout the day…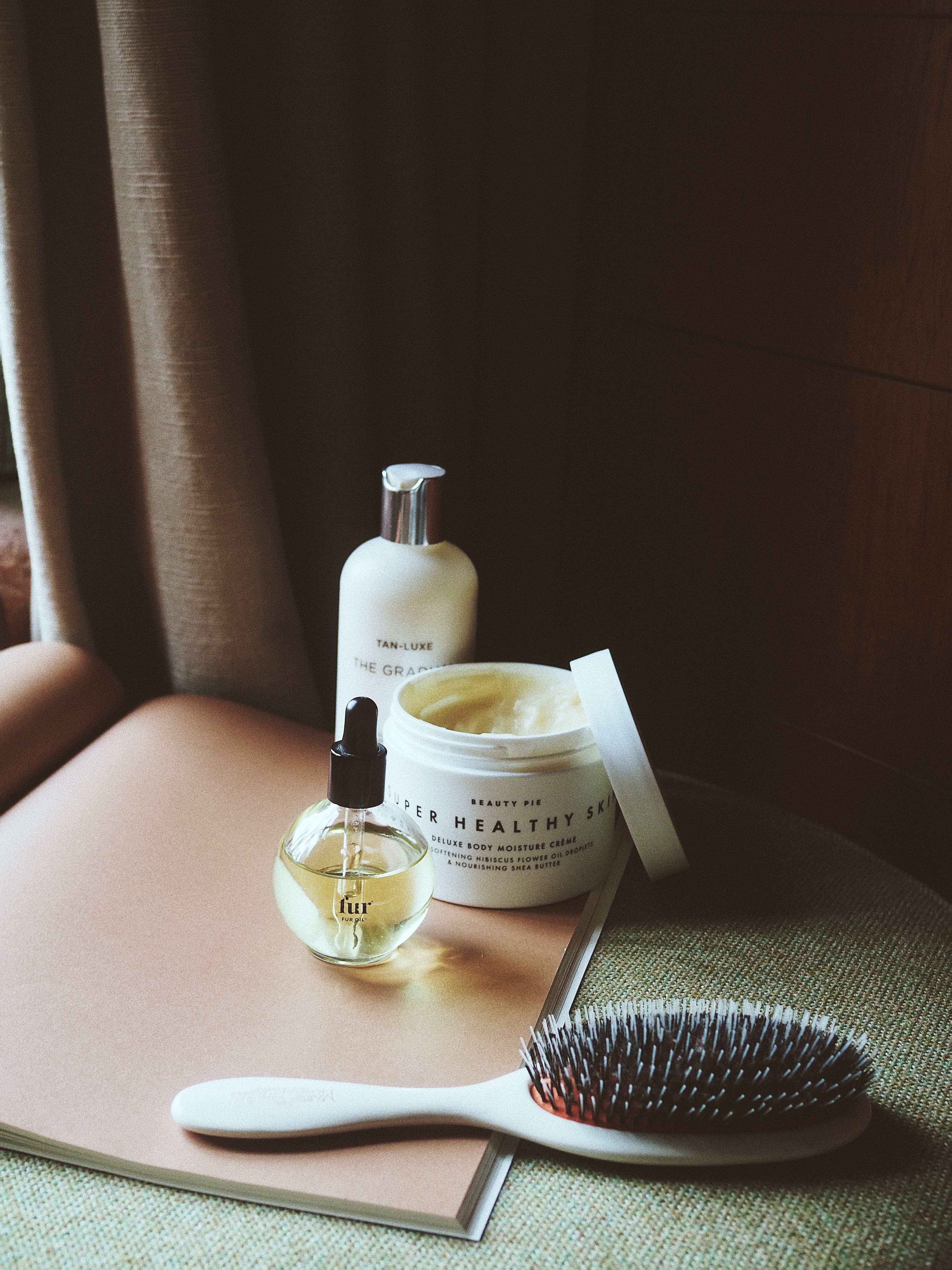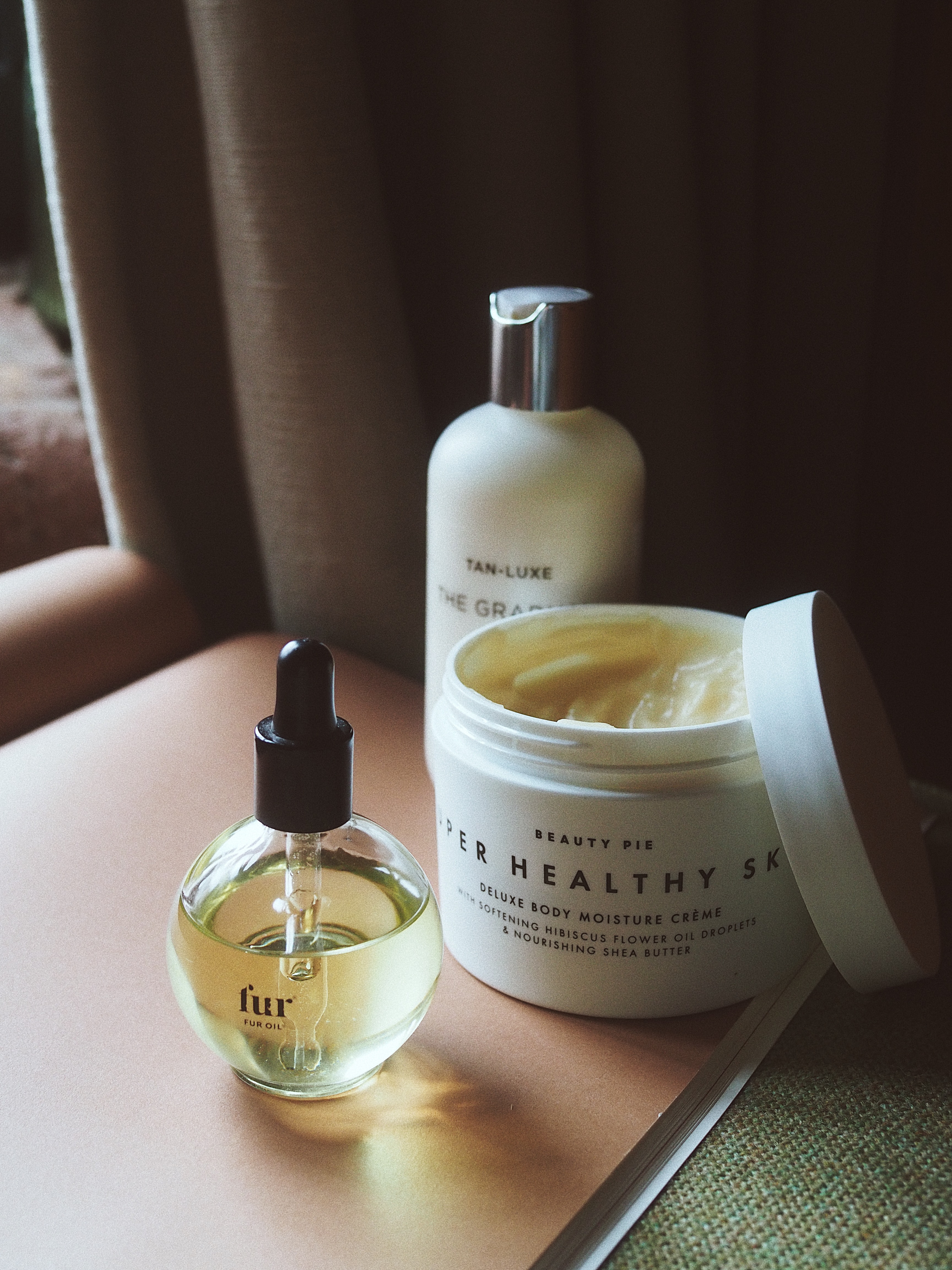 ---
Photographs taken on an Olympus EPL9, at home