This year has been very rewarding for me in terms of skincare! I feel like I've really hit a sweet spot with my skin routine, and have finally figured out the sort of products it really needs, rather than succumbing to an overly fancy routine full of products that end up irritating it. Like most people, my skin definitely goes through phases, and I'm not unfamiliar with the odd break out (especially when the monthly hormones strike)…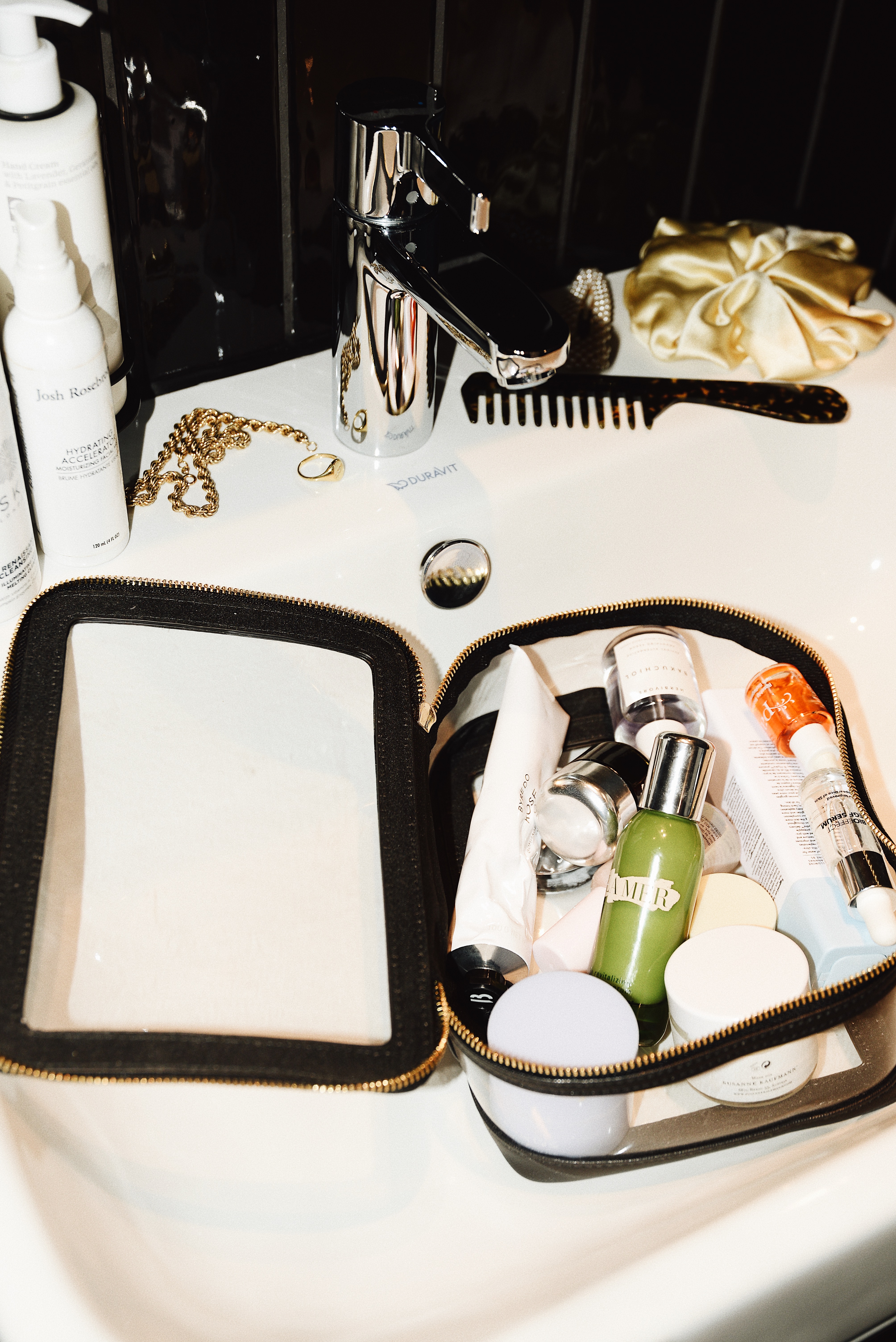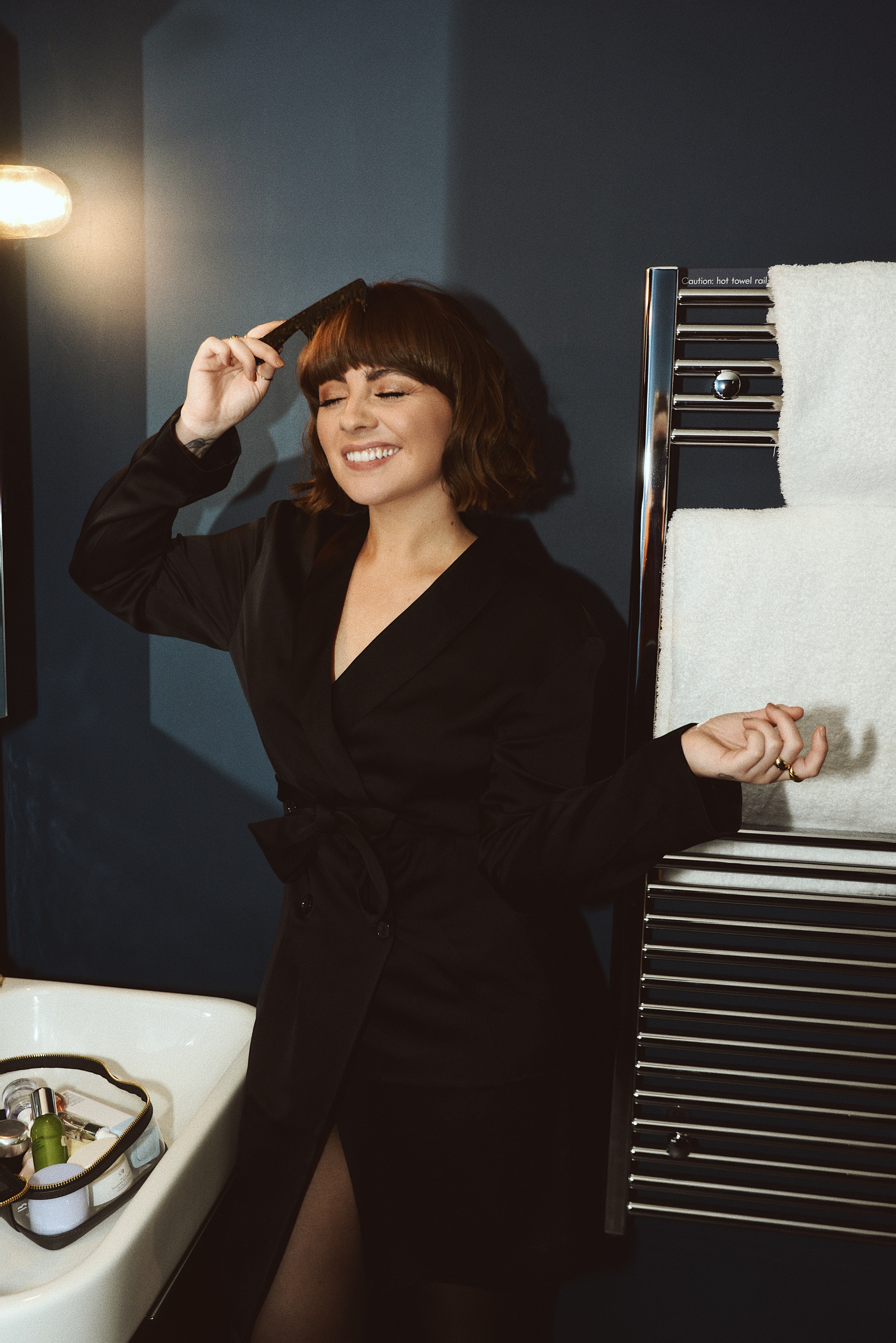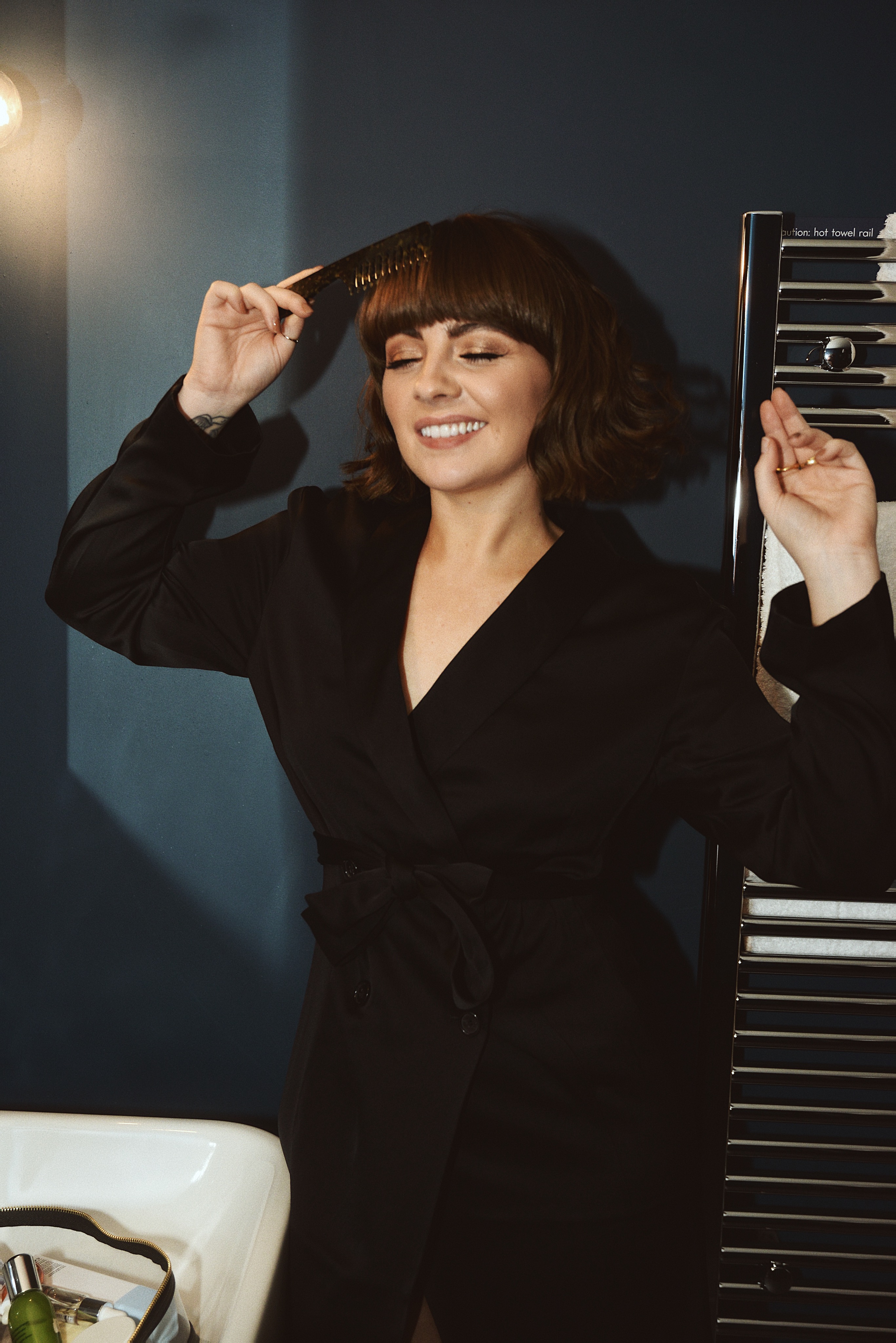 As I'm now closer to thirty than twenty – I've found that serums are truly my best friend. I love add lots of light layers of various serums to skin (both morning and night), and I've found that the results have been clearer/plumper skin with less texture. Looking after my skin in this way means that I don't often feel the need to reach for a heavy moisturiser (something that was breaking me out for years), or heavy oils that tend to contain lots of ingredients that my skin reacts negatively to.
I wanted to share a little roundup of the 'winter hero' skincare products that my face has been loving over the past few months as I've really found myself being passionate about skincare again lately! I've always loved products, but now that I'm seeing positive results, I really enjoy taking that little bit of extra time to take care of my skin and protect it against the harsh winter weather…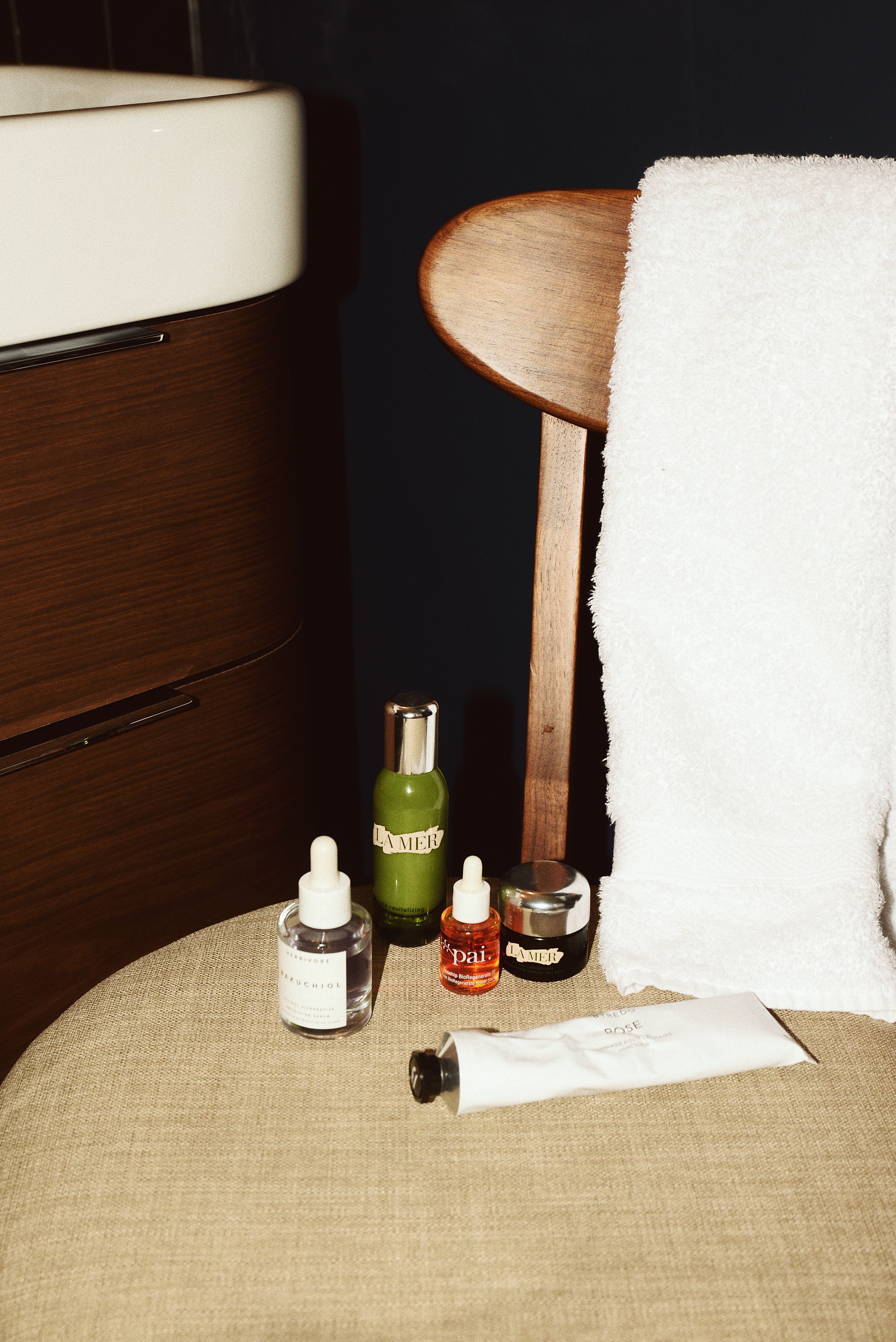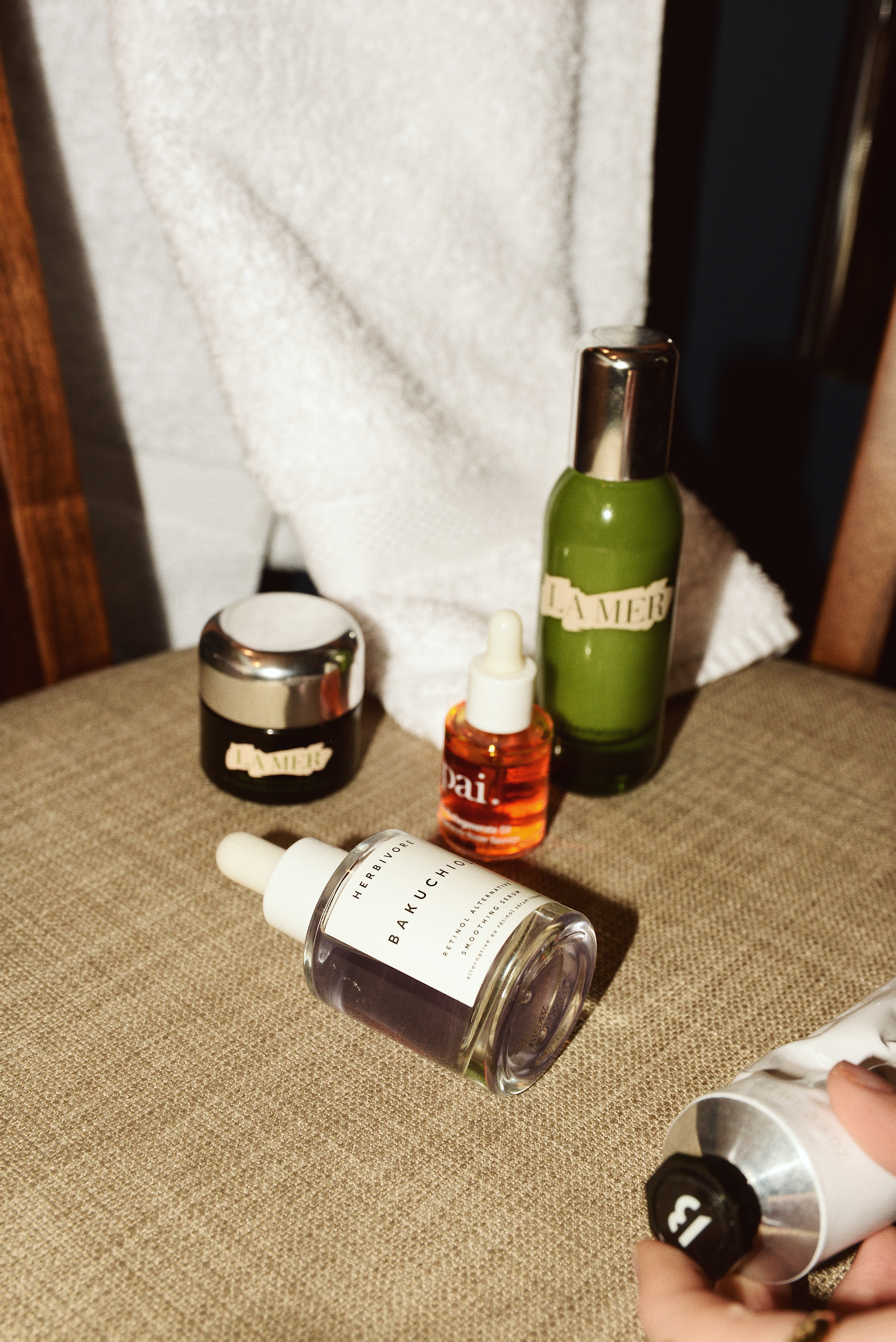 I've really been loving the Pai Rosehip Oil again after a few years without it in my collection. I recently got this mini version in a set and I'd forgotten just how beautiful it is. It's perfect for soothing sensitive skin and I love to pat it on top of my serums as an extra hydrating step in the evening.
The La Mer Hydrating Serum has also been a favourite as of late – La Mer are obviously very pricy, and I definitely don't think everyone needs luxury skincare to have great skin, but this is definitely a treat for the winter time if you wanted something indulgent. I've also found the La Mer Eye Concentrate to be amazing for my laughter lines/any winter dryness around the eyes. I find that my make up goes on way smoother when I use it too!
I also have to give a huge shoutout to the Herbivore Bakuchiol Serum because I'm pretty sure this is why I've been more confident in my skin lately. It's marketed as a 'Retinol alternative' that's suitable for sensitive skin – something which I was definitely skeptical about to start with. It contains an ingredient that derives from the Babchi plant that claims to act in a similar way to Retinol but without the accompanying irritation that people often experience with Retinol. I can't tell you enough how great this has been for my breakouts and unwanted skin texture – I've hardly had any spots since using it, and I wouldn't be without it in my collection now.
The Byredo hand creams & scrubs are also an absolute treat to use if you're in the market for some luxurious hand care products. I have the rose hand cream with the matching scrub and it makes such a difference during the winter months. I'm a huge fan of Byredo in general and think they are home to some of the most beautiful scents around!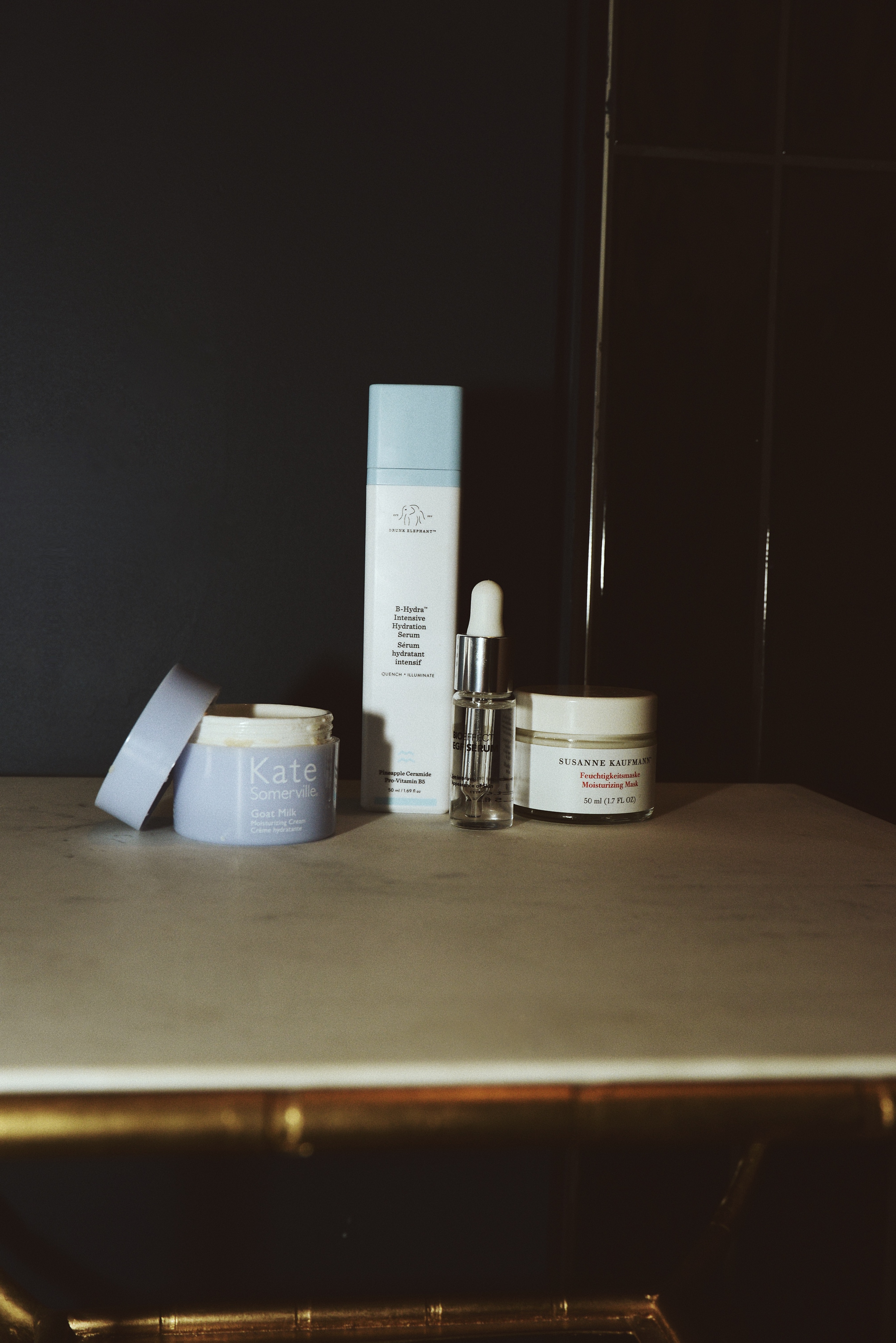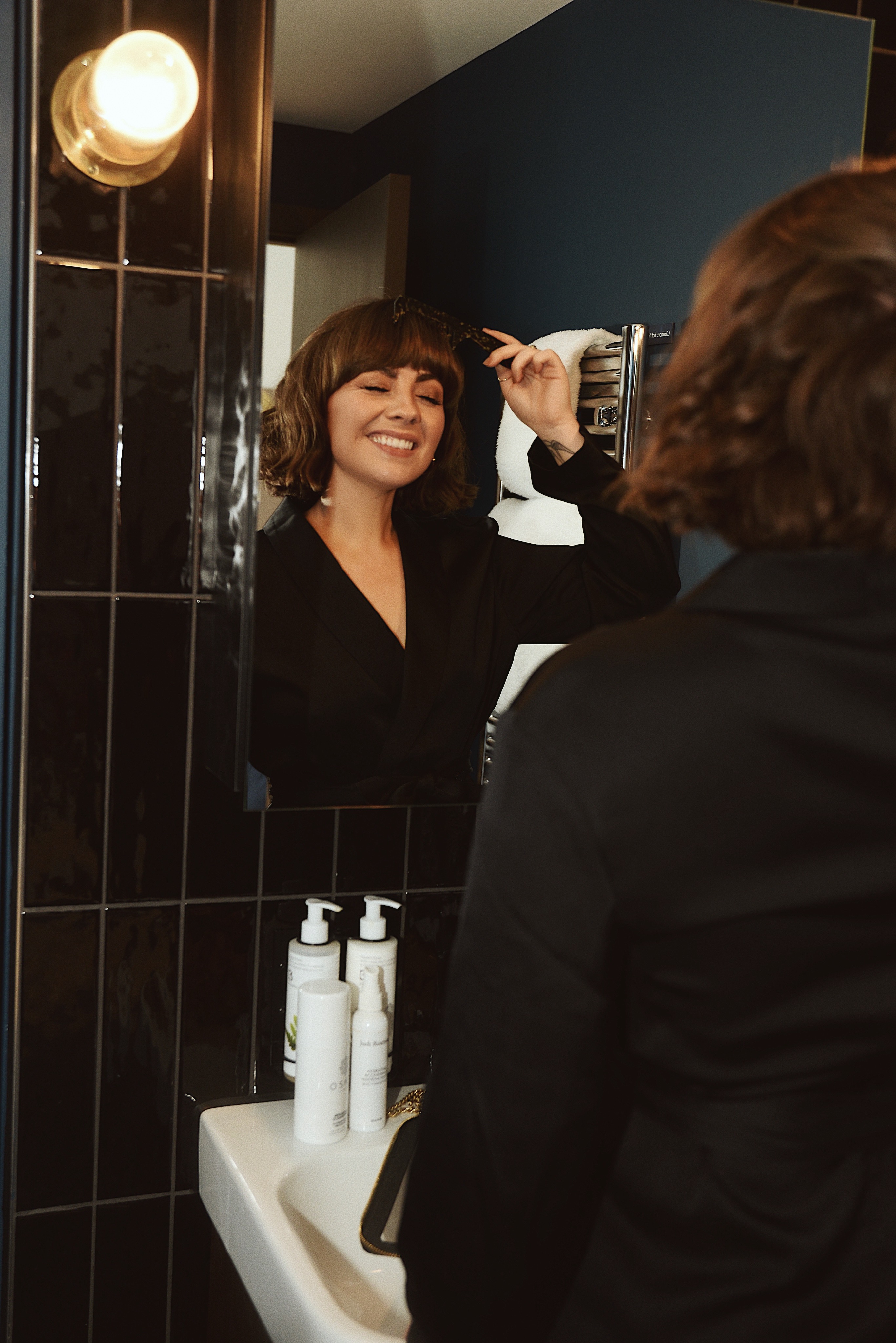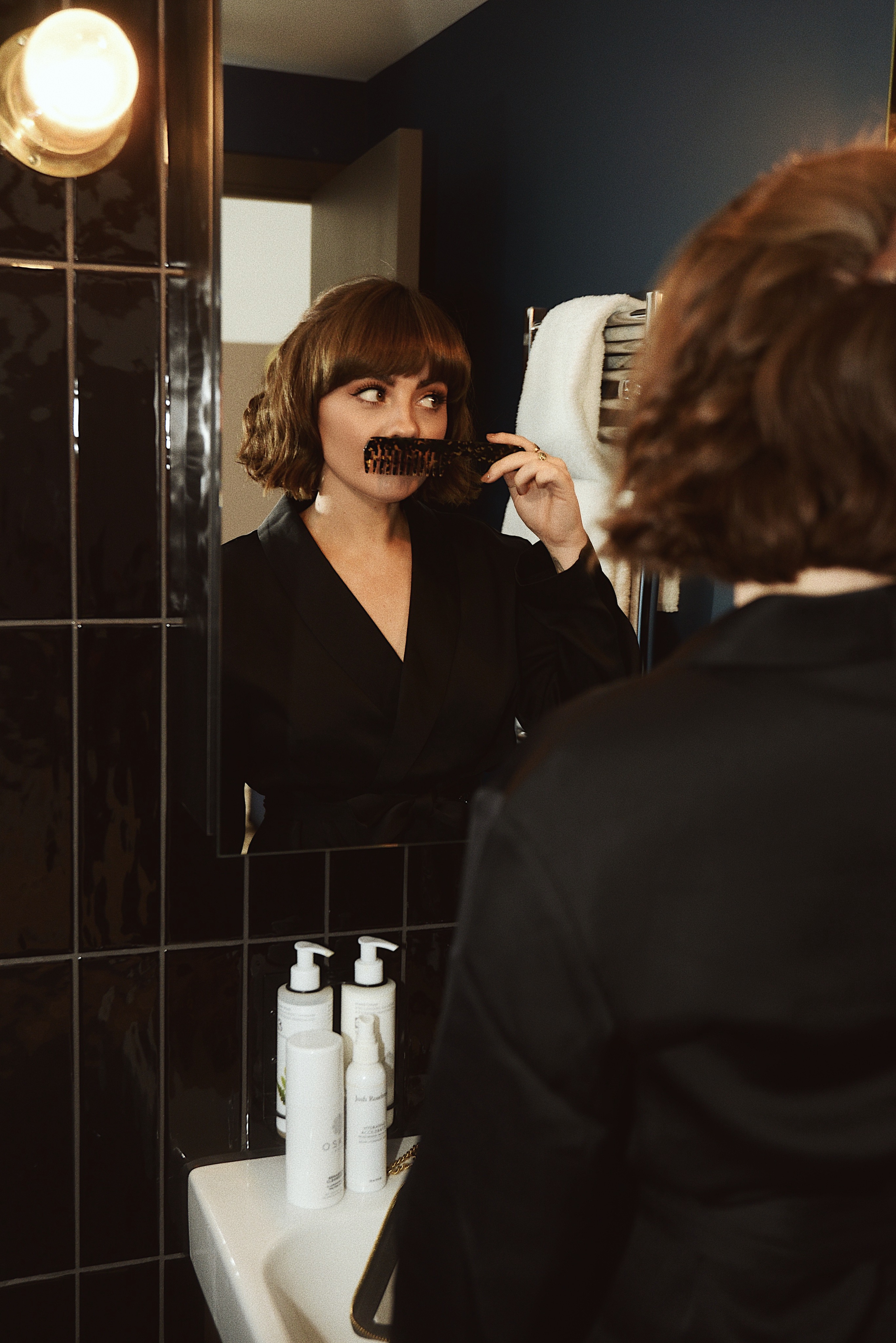 I mentioned earlier that I'm staying clear of heavy creams at the moment as they tend to upset my skin. I am still using moisturisers but I much prefer gel type creams, or using a really gentle moisturiser a couple of nights a week if it's a heavier emollient type formula. The Kate Somerville Goat Milk Creme has been an incredible discovery for me this year, and it really feels like exactly the type of moisturiser my sensitive skin can get along with. It's light enough to wear all year round, and I just make sure I'm adding extra hydrating serums at this time of year to keep my skin feeling healthy.
Speaking of serums – the Drunk Elephant Hydration Serum is a fab one and a perfect alternative to the La Mer one I mentioned above. It's ideal for thirsty skin in the depths of winter and full of vitamin B5 and pineapple ceramides to maintain moisture for longer.
Another serum that's rocked my skincare world this year has been the Bioeffect EGF Serum – I received a sample of this and immediately bought the full size after finishing it. It changed the appearance of my skin after just the small sample size, and it genuinely feels like one of those miracle products for me. It's such a gentle serum and feels so lovely to apply each day, it's just a shame it's so pricey! Overall, it's completey changed the overall radiance and appearance of my skin. My face feels smoother, more even, and hydrated all day long. 
This wouldn't be a winter skincare post without a moisturising mask! The Susanne Kaufmann Moisturising Mask is my absolute favourite right now. It's just a really simple/nourishing mask that's not strongly scented and brings my skin back to life when it's in need of a little TLC.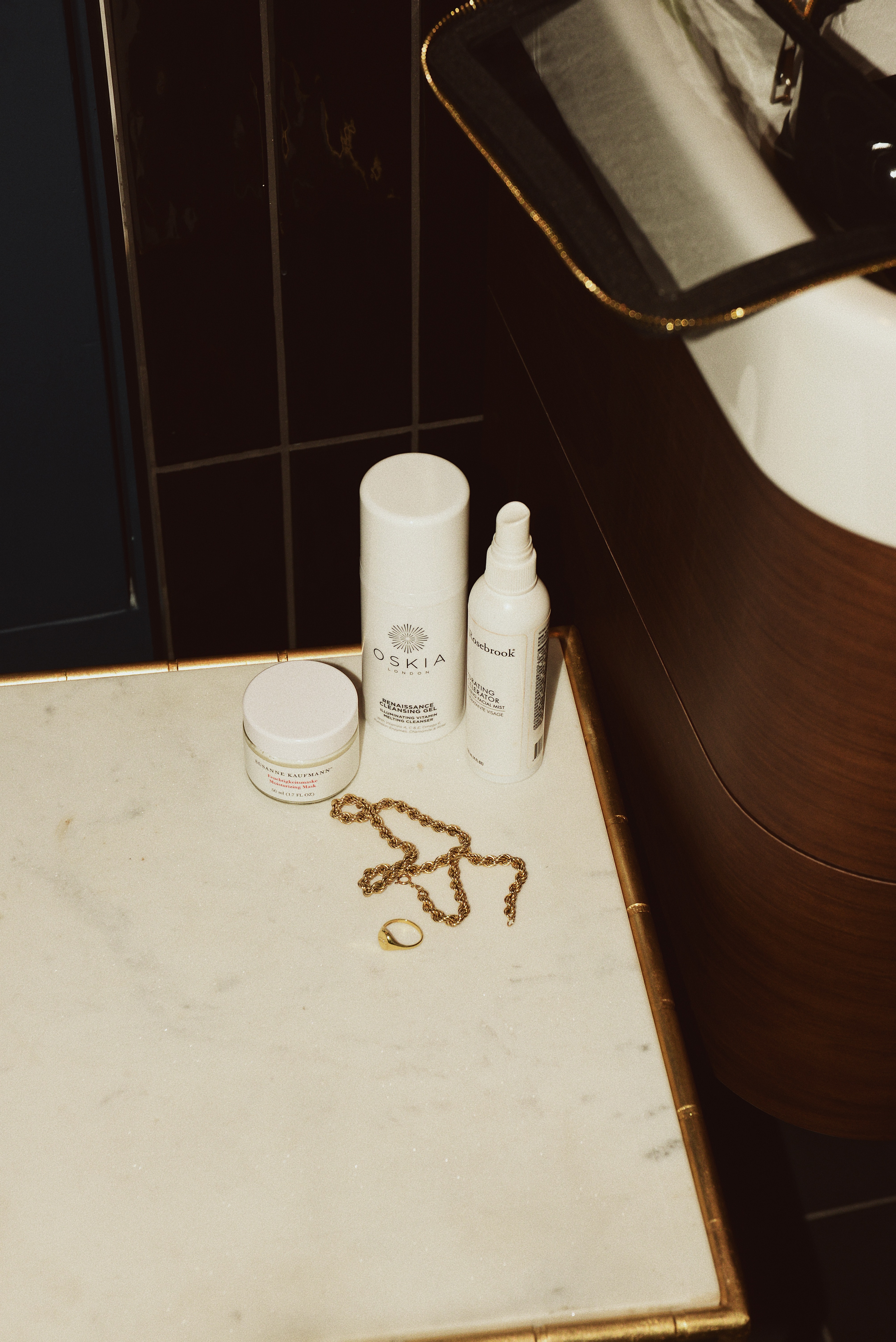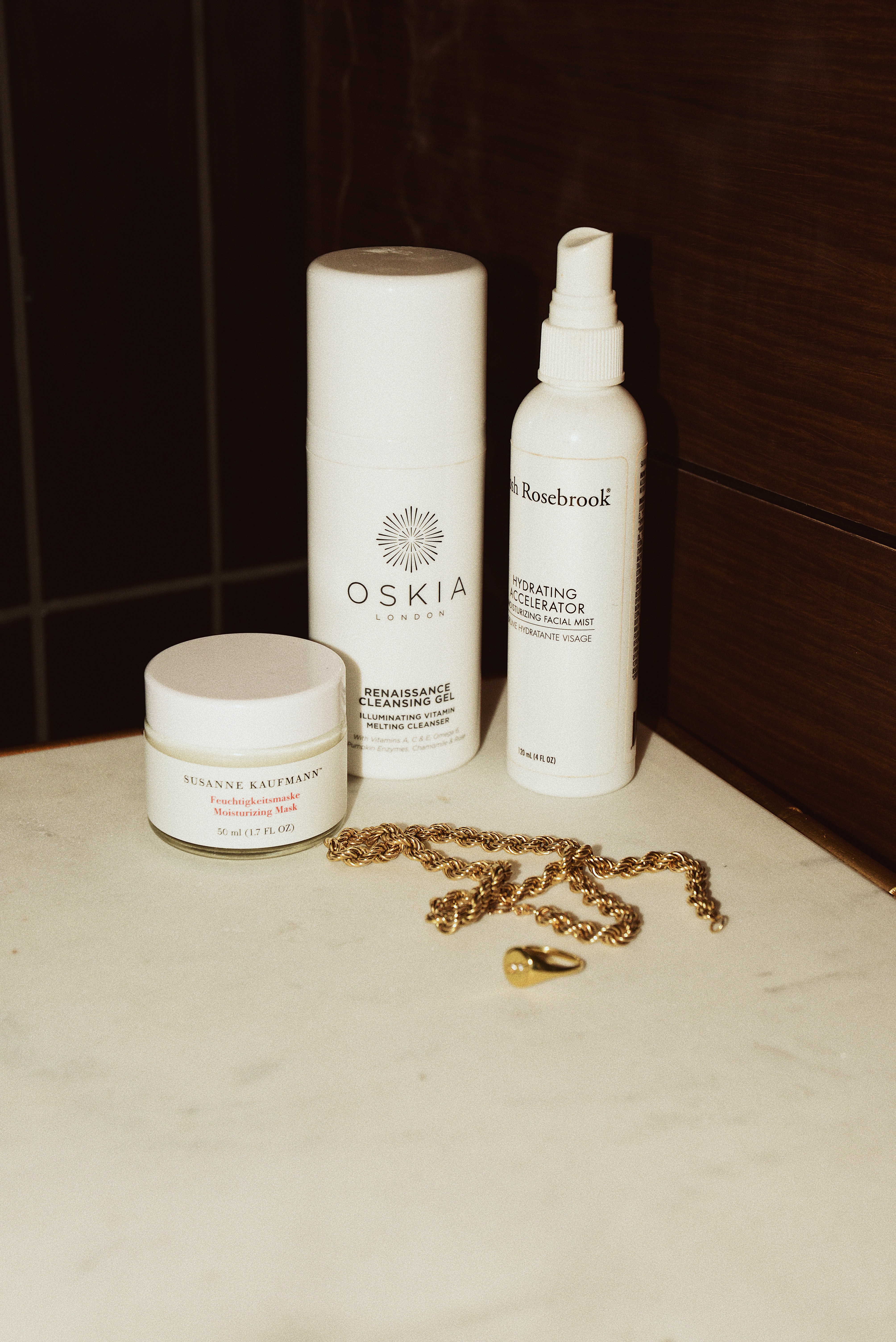 The Oskia Renaissance Cleanser is one of those cult products that comes in and out of my life. I much prefer using it during the winter months because it feels extra luxurious and will remove my festive make-up with ease. I love to massage it over the top of my make-up in the evening, wait for a couple of minutes, and then wipe across my face with a warm flannel.
The Josh Rosebrook Facial Mist is always the first thing I spritz onto my face after cleansing! It just gets rid of that 'tight' feeling that sometimes happens after we cleanse our skin. It provides the perfect base for my skincare to go on top, and I just generally enjoy using it throughout the day/whenever my skin needs a little pick-me-up.
For lips that feel wind beaten and chapped, the Kiehls Buttermask for lips is a total dream. It contains coconut oil and wild mango butter that helps soften the skin whilst you sleep. I like to use it as a last step in my evening skincare routine and I can't remember the last time I had chapped lips!
The Glossier Skin Futuredew is a recent addition to my collection and a product that has been raved about. You're meant to use it as the last step in your skincare routine and it's supposed to give the appearance of dewier skin throughout the day. It sort of feels like a primer type product but one that has a lot of skincare properties as an added bonus! I love using this when my skin feels flat and dull – it just gives my make up a 'lived in' quality that I really love.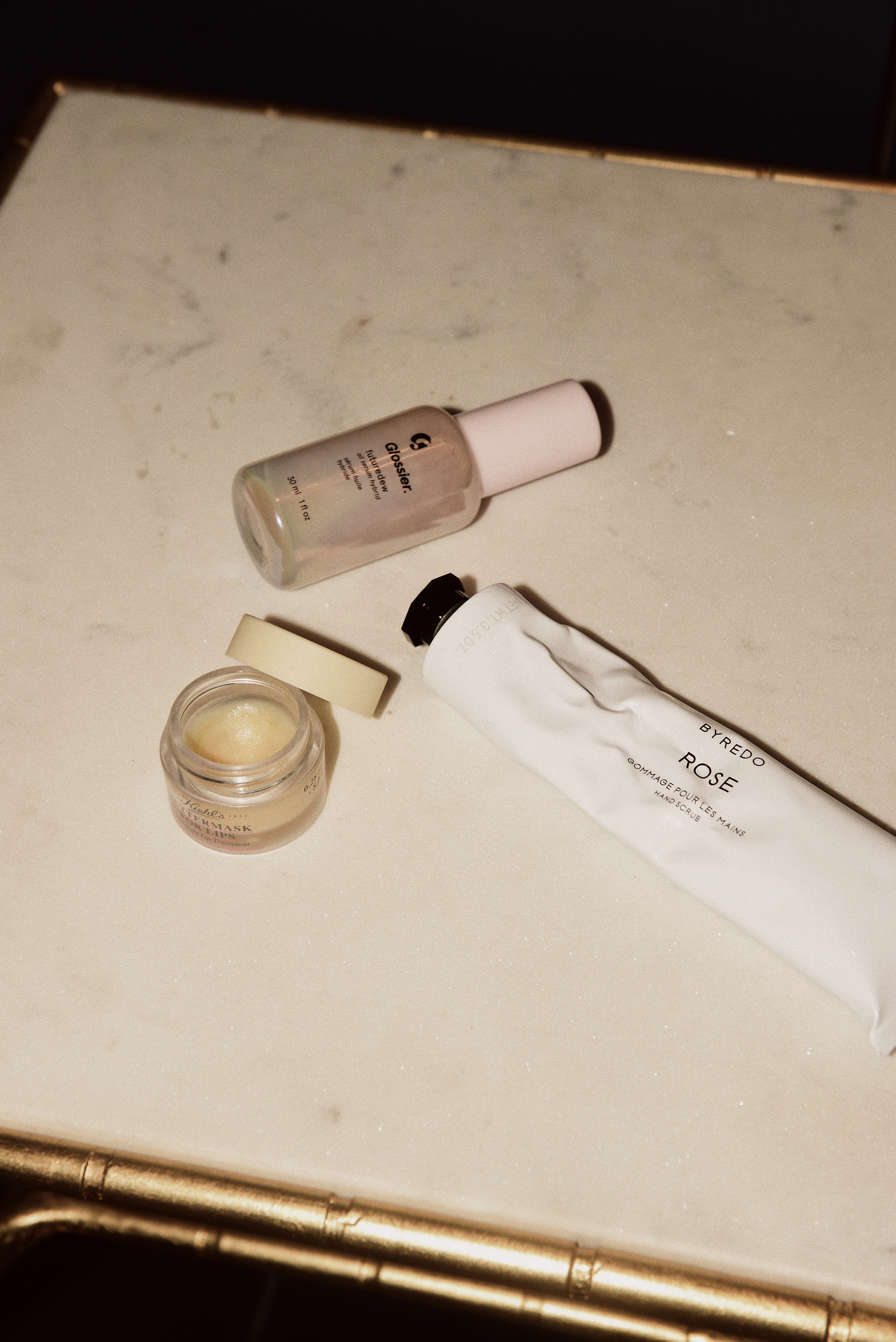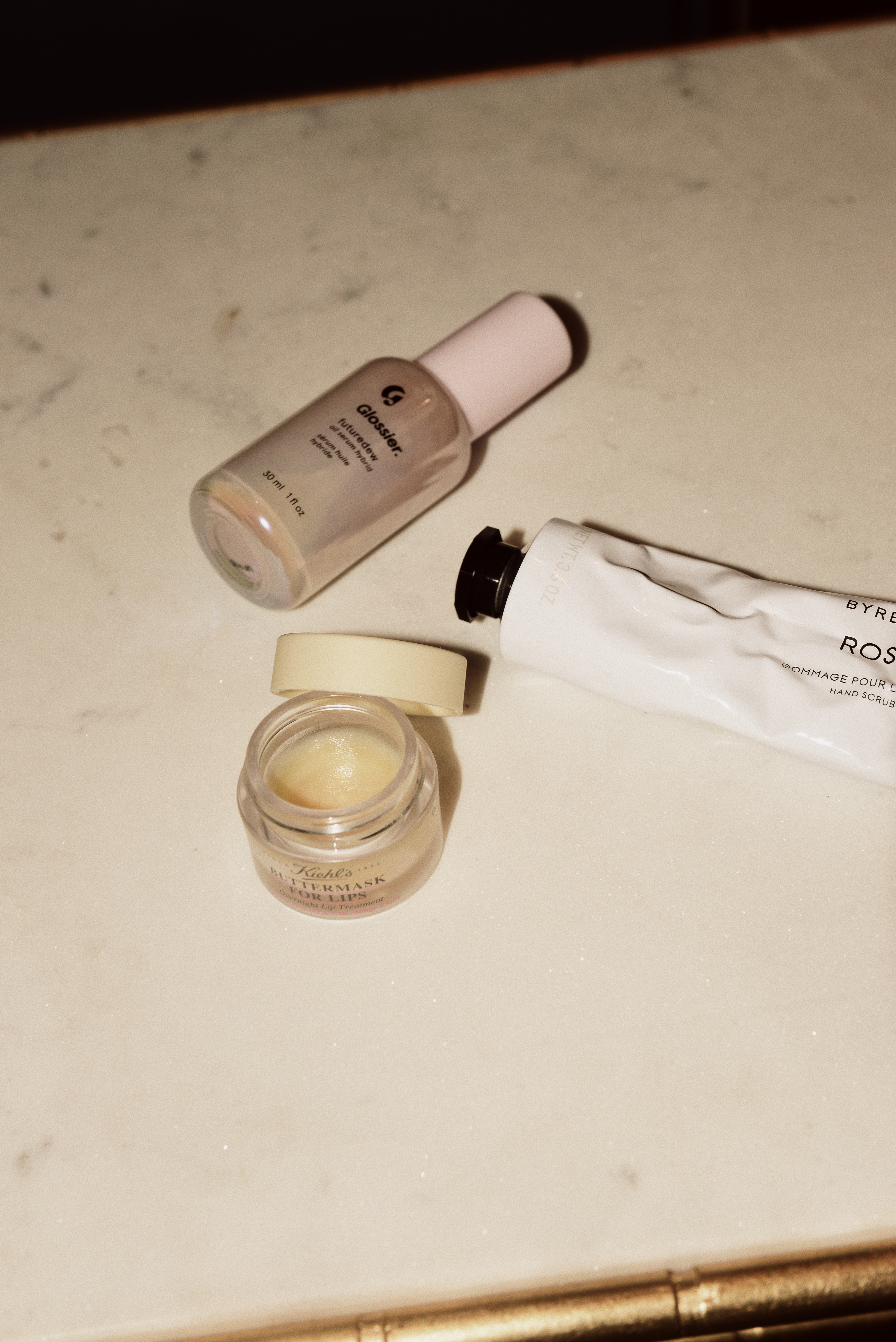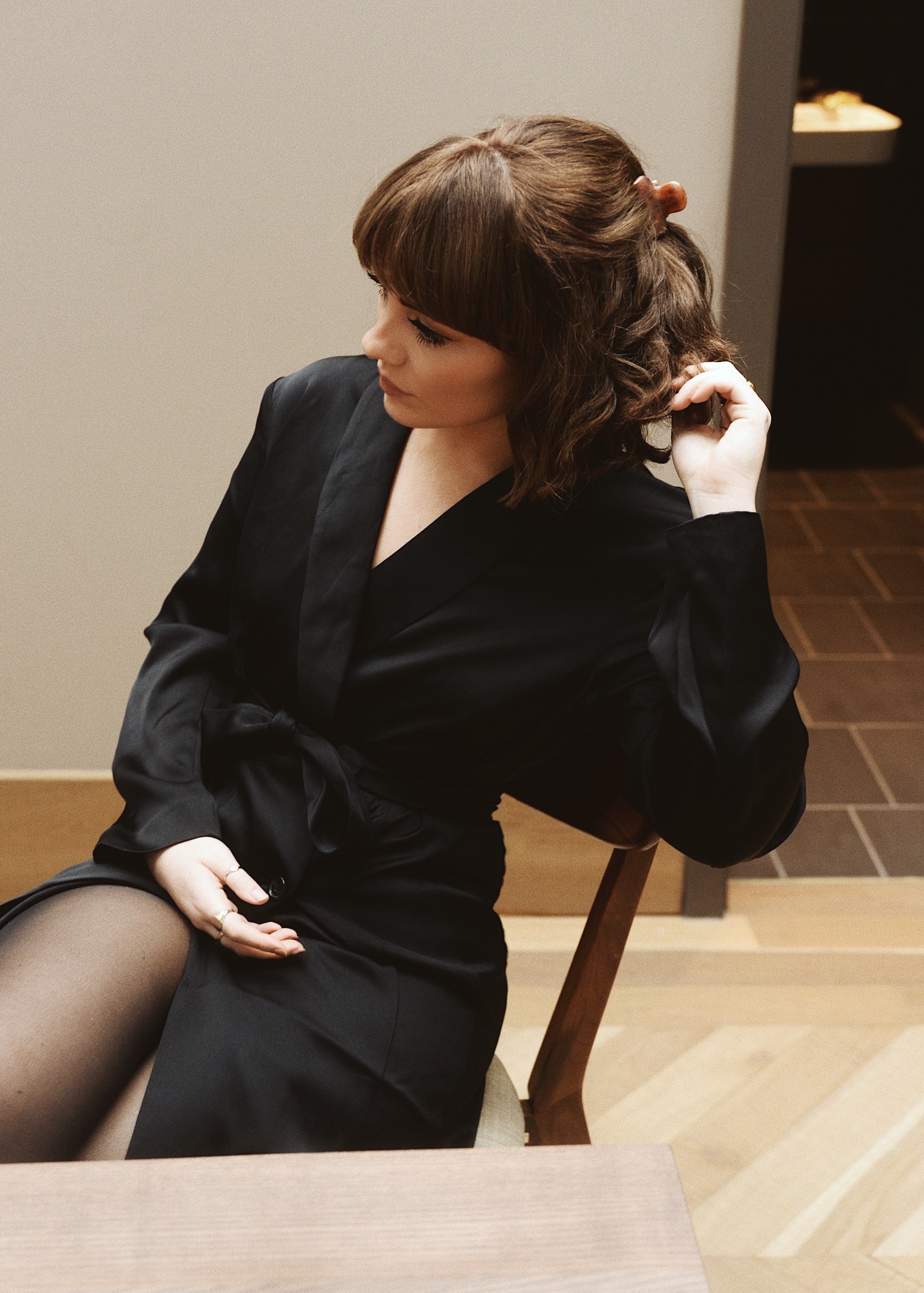 ---
Photographs taken by Catherine Booty, Location: The Native Hotel 
Blazer Dress c/o – Arket