I really hope you're all well and looking after yourselves! Last week was very up and down for me, but I'm excited to start fresh this week and get stuck into some new blog posts. Luckily, I shot quite a bit of content before we went into lockdown, so I do have a few 'outdoor' outfits to share with you guys. Beyond that, I'm just planning to get creative at home and I'm actually looking forward to the challenge of shooting lots of different stuff within a small space. I'm really enjoying all the wholesome/make shift content that's going around – it's just proof that you don't need fancy locations or high tech equipment to create something that people will enjoy and engage with…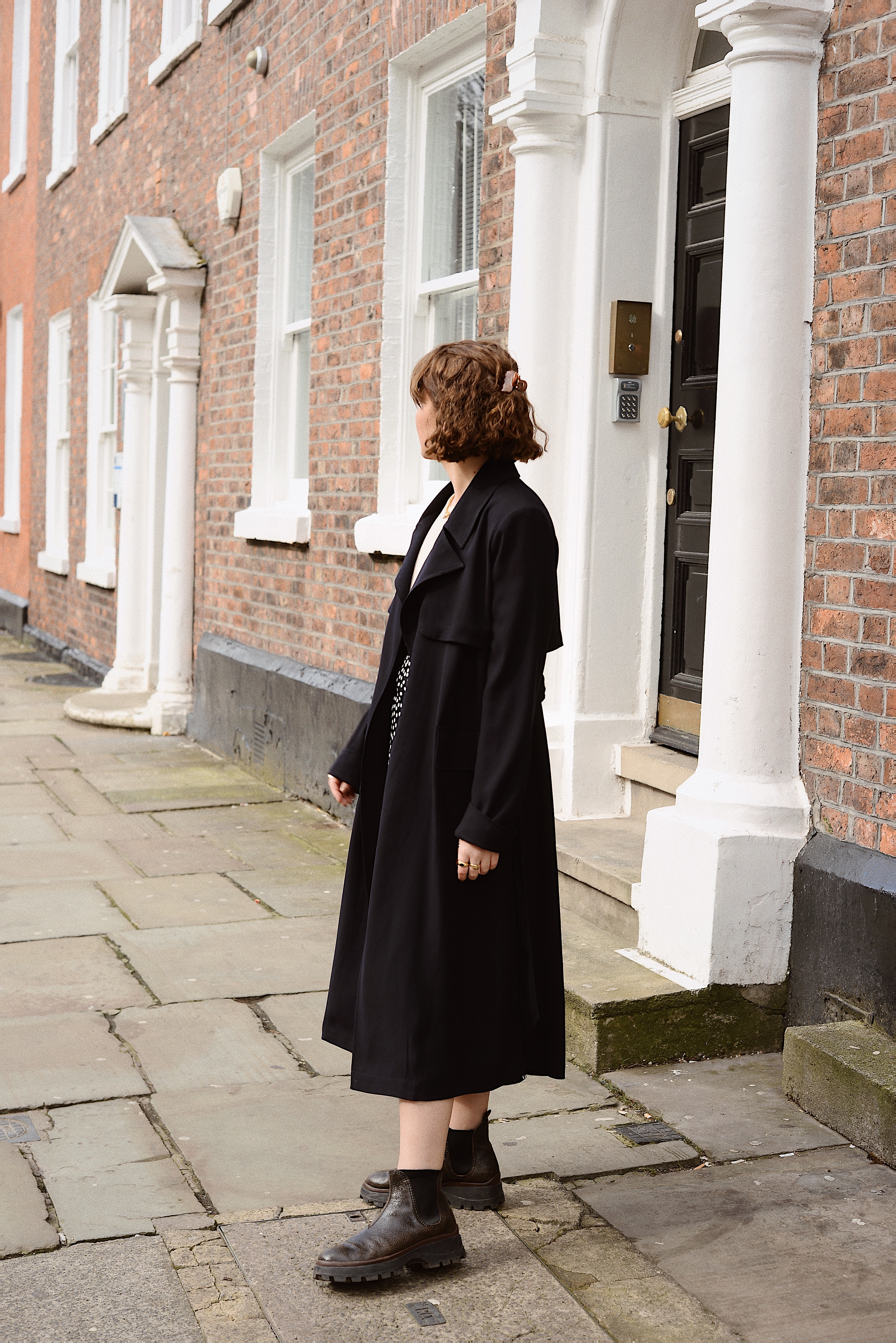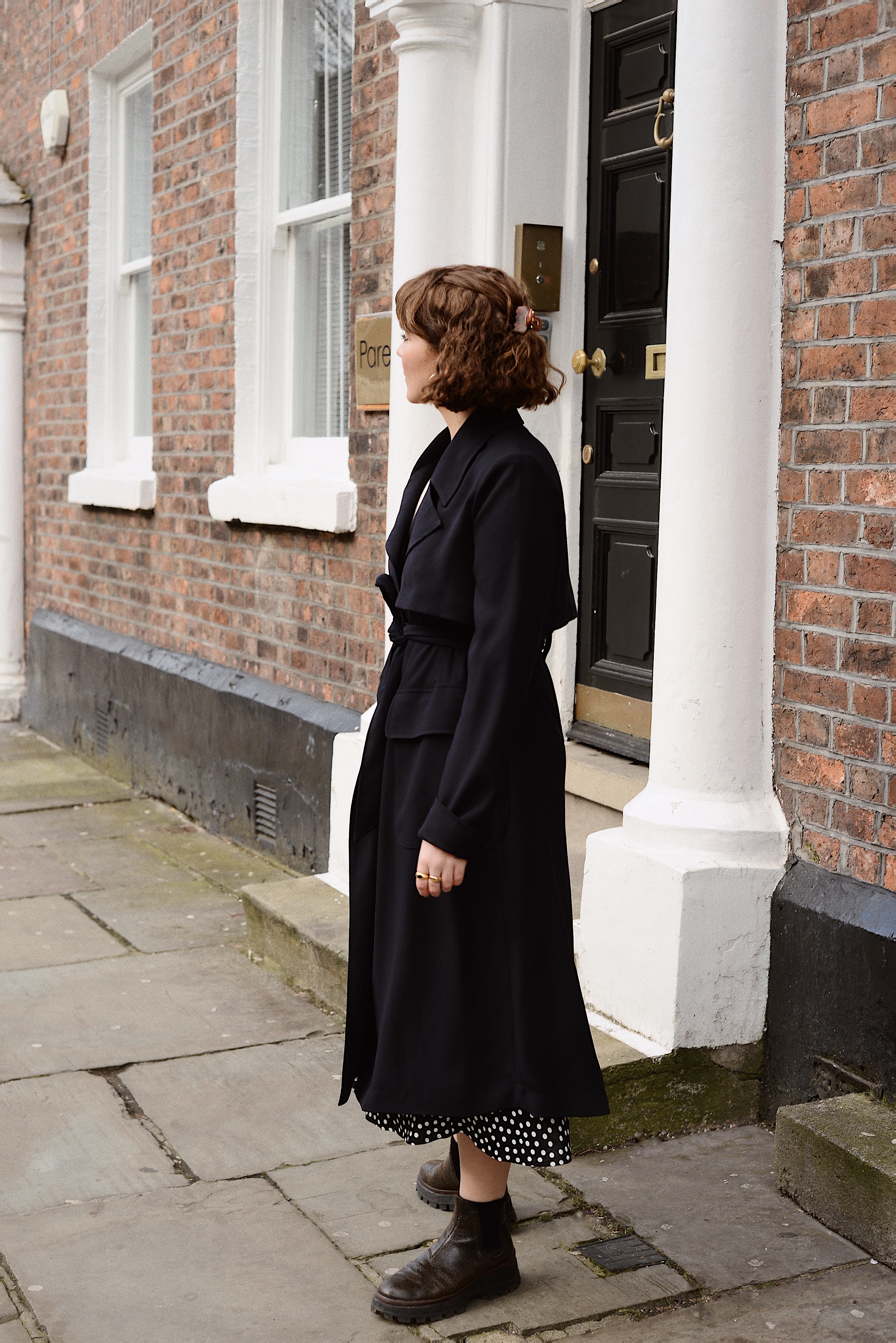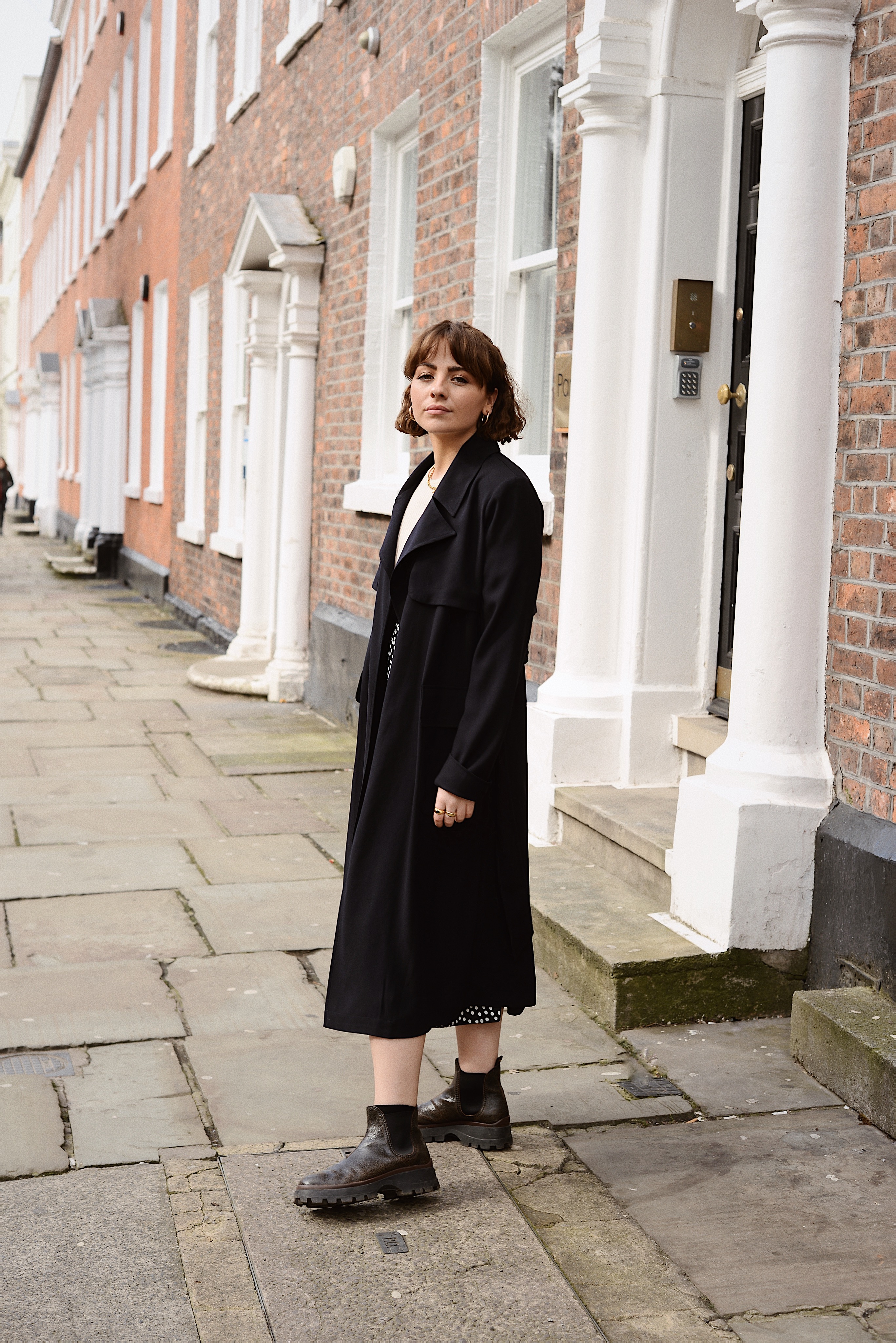 Last week was super sunny which was wonderful, but it also felt slightly bittersweet. This is a time when I'd usually be planning out spring content, but I just haven't felt much excitement towards my wardrobe at the minute. I think a lot of people are feeling a similar way right now, and are experiencing washing machines stuffed with loungewear and pyjamas at the end of the week rather than their usual spring attire… 
With pretty much all my spring/summer plans either being cancelled or 'up in the air', I just haven't been shopping for spring/summer pieces because it just seems a bit pointless at the moment. Plus, I think a lot of freelancers/self employed folk are worried about money at the moment, so it seems wise to be more considerate with spending until the rest of the year becomes a bit clearer. However, I am very fortunate to be sent pieces every now and then by brands that I work with/genuinely love, so I will still be sharing a few 'new in' pieces from time to time over the next few weeks.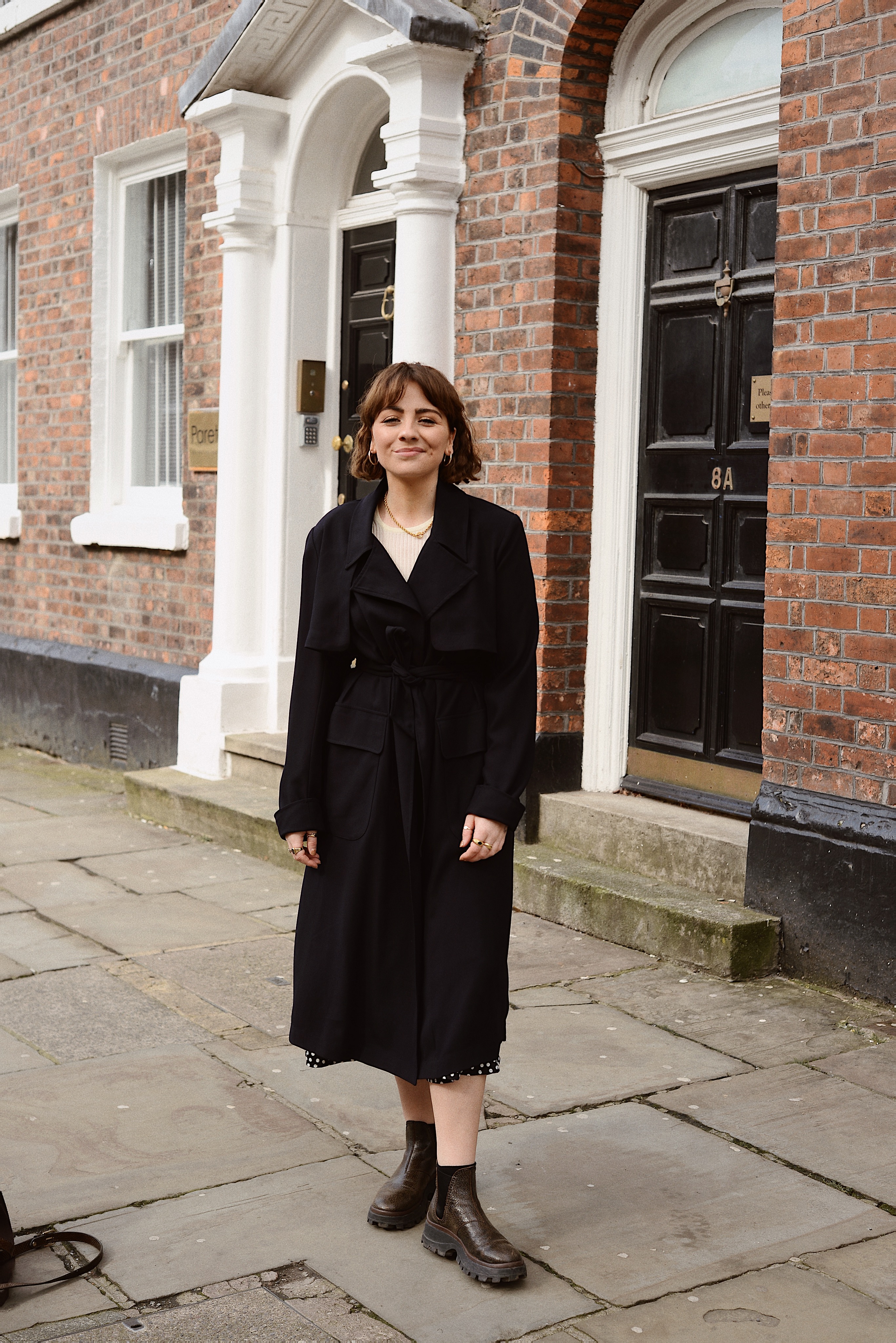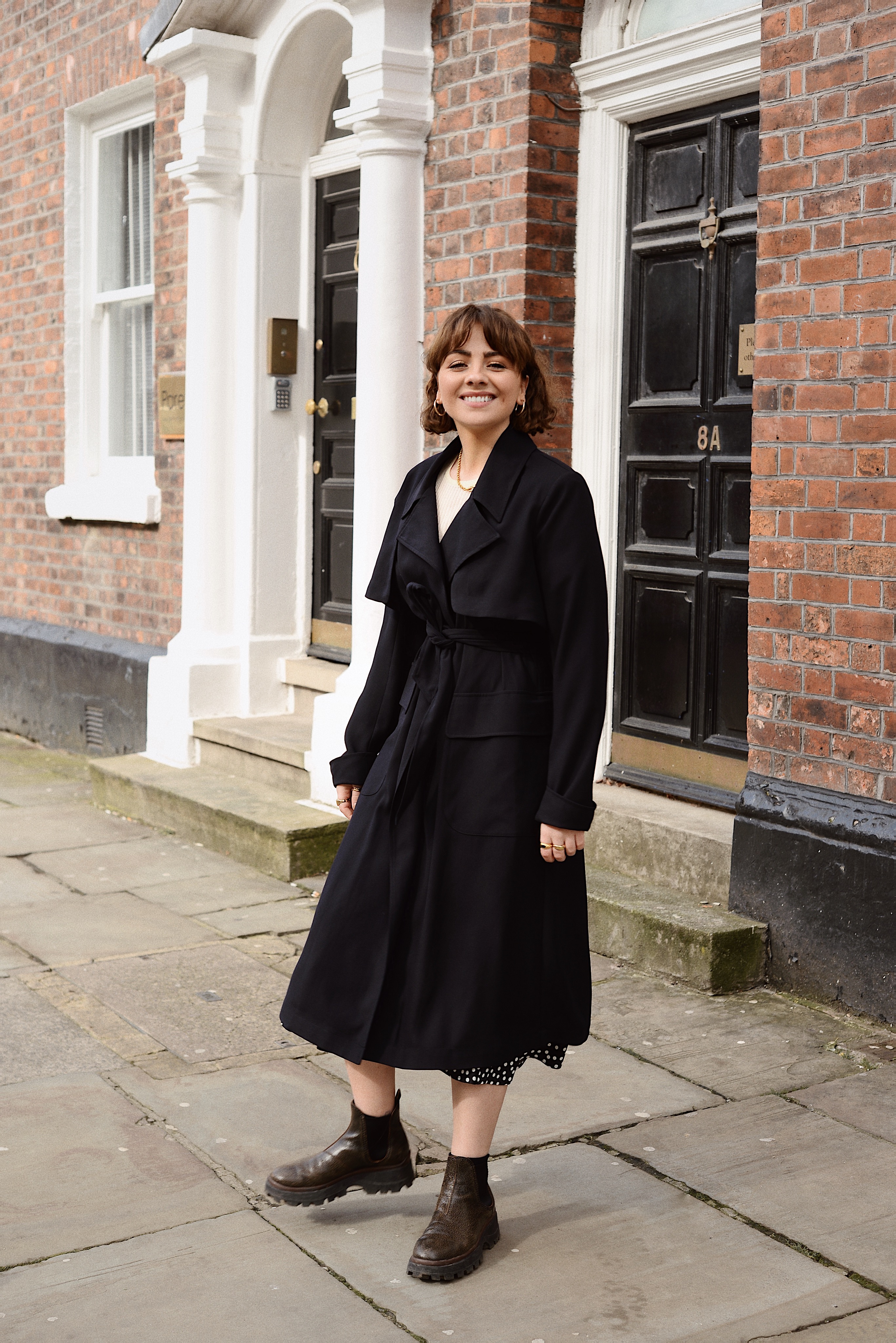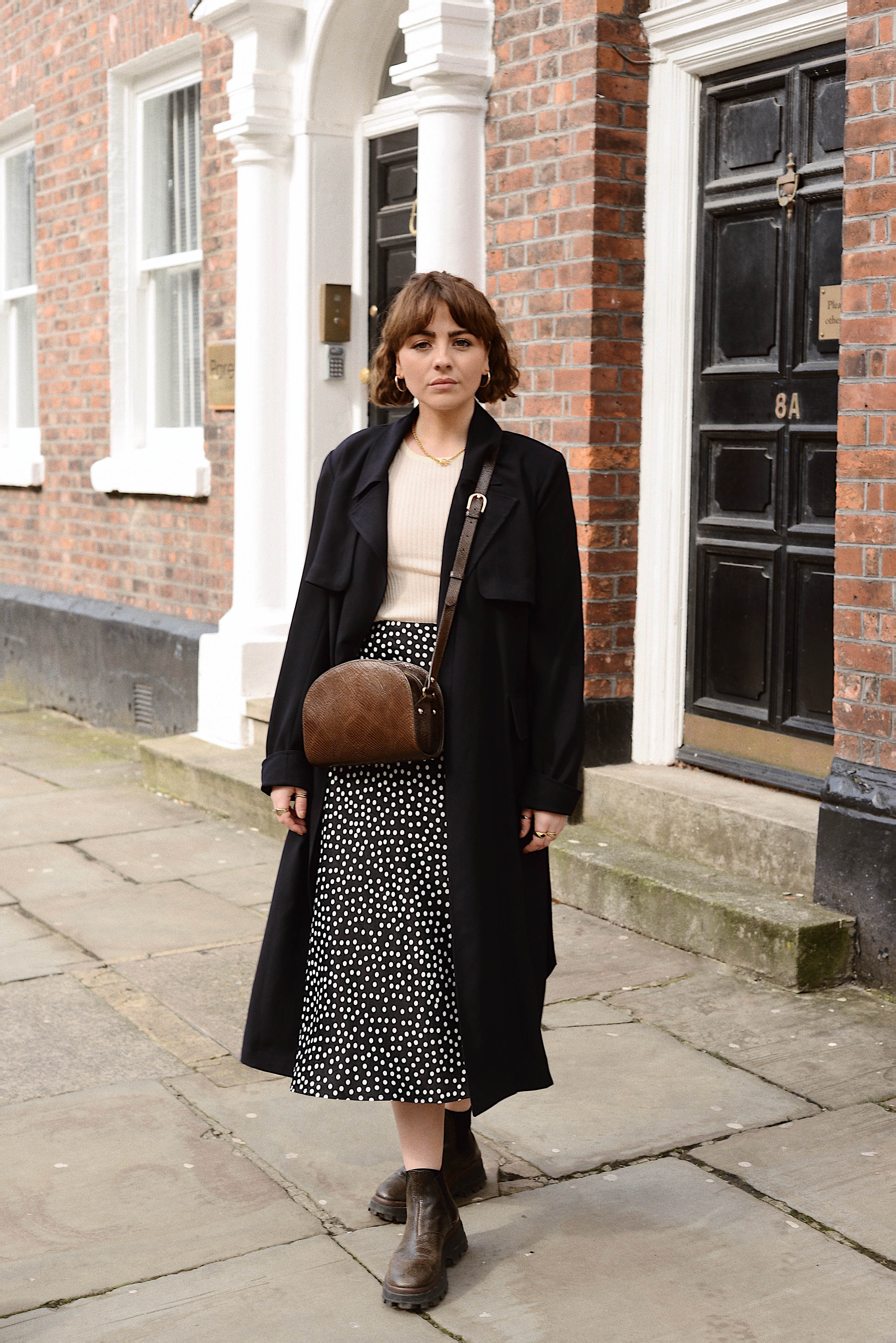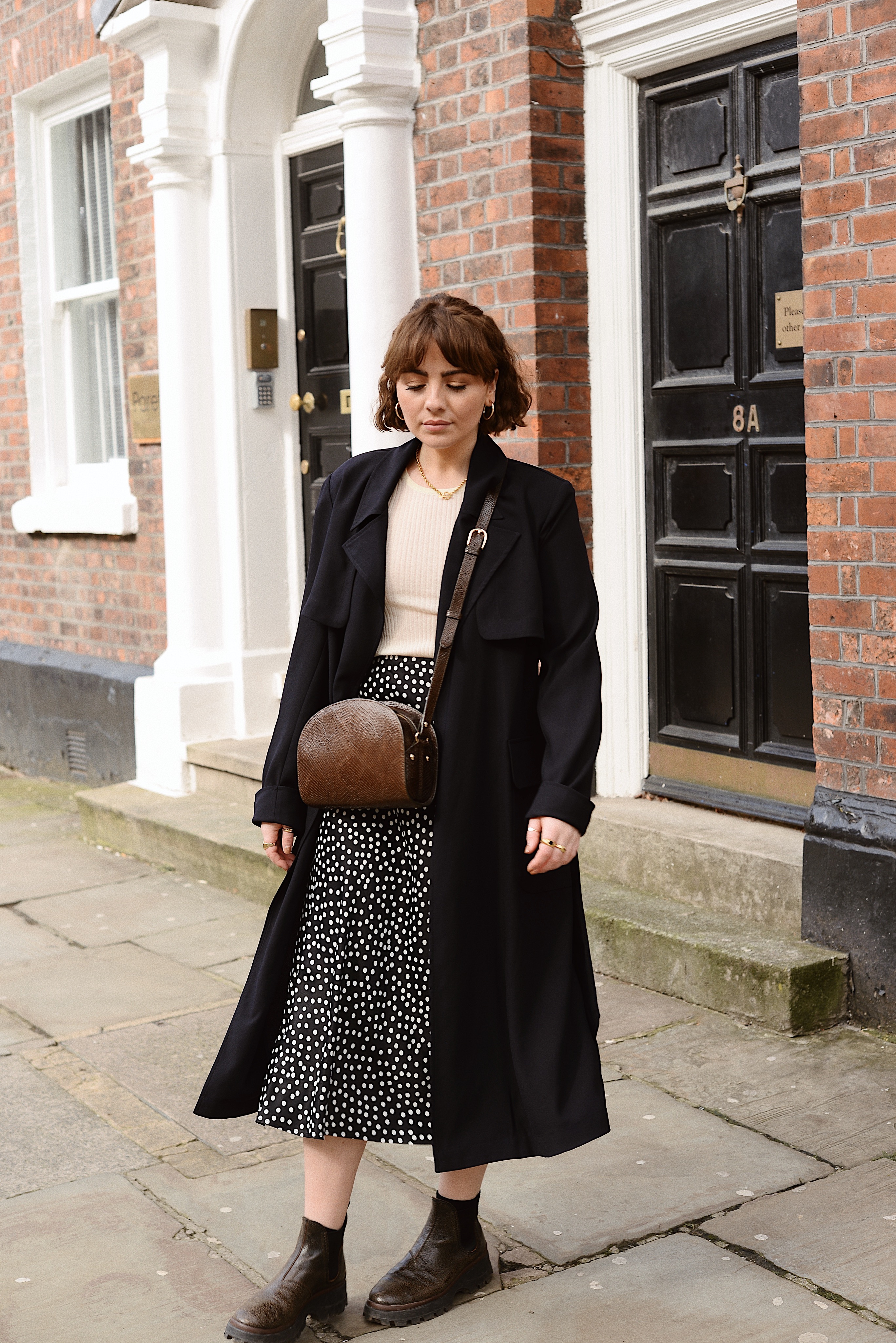 I picked out this polka dot midi skirt and cream tank top from And Other Stories a couple of weeks back and I'm so impressed with the quality and how they fit/look together as a simple spring outfit. This sort of look is pretty much the backbone of my spring/summer wardrobe each year – I never really switch up what I wear because I'm more concerned with being comfortable when the weather is warmer. I like midi skirts in spring because you have a small window of time to wear them with chunky boots and jumpers which I love – there's something about it that feels very British…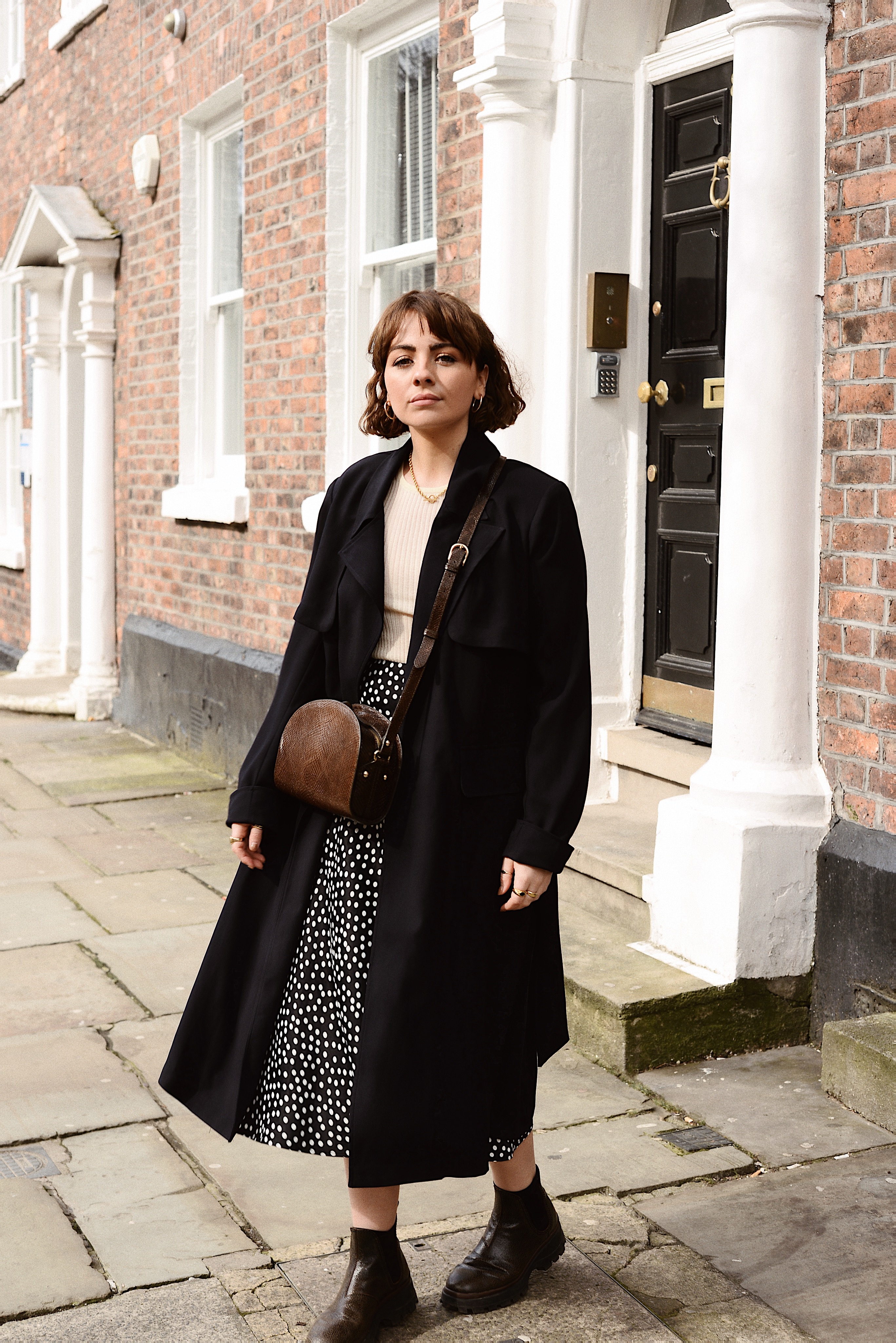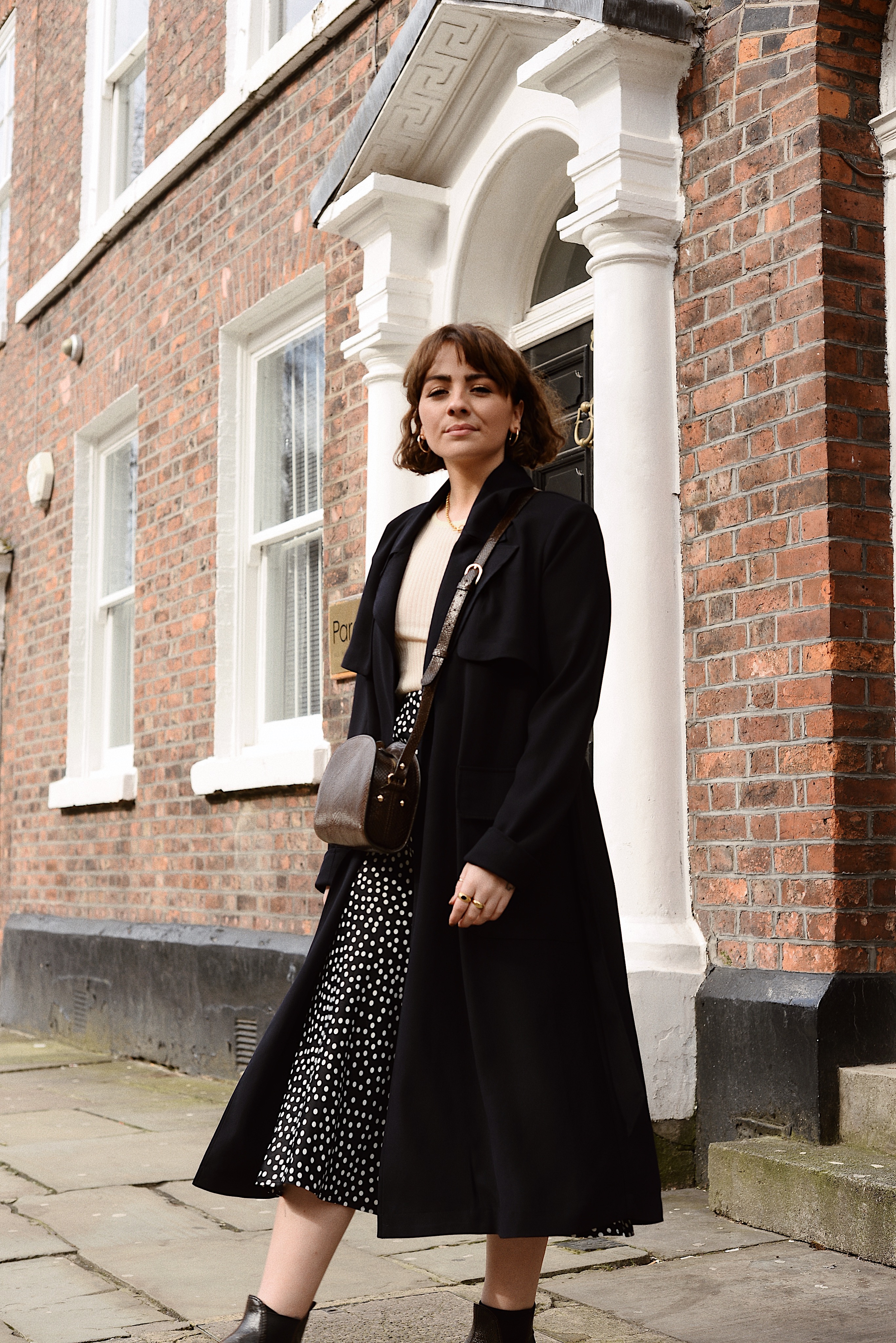 I also love how this navy Finery trench coat looks over the top – it's such a simple design and I really love how the elegance of the trench contrasts with the chunky stomping boots. Most of the trench coats I own are quite boxy/traditionally masculine style fits, so it's really nice to have a piece like this to work with for a change. It's quite fitted so it's perfect for warmer days because you can't really fit a big jumper underneath – it lends itself perfectly to a simple tank top or T-shirt and some layered gold jewellery.
Writing this blog post has actually made me a little more excited about the everyday/mundane things that 'me from a few weeks ago' would be thrilled about. The prospect of throwing on a nice outfit and walking to brunch on a perfect spring/summers day in the city…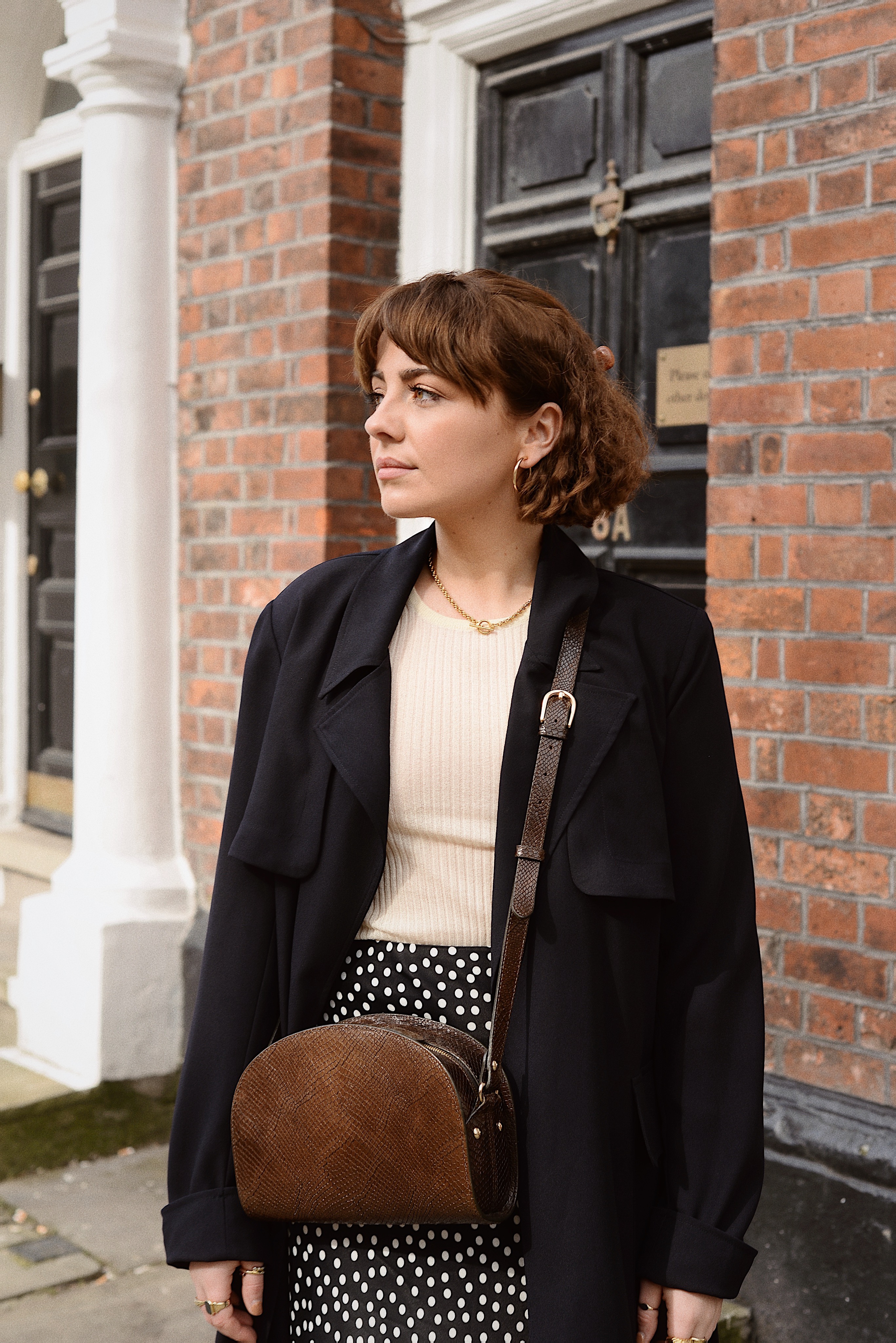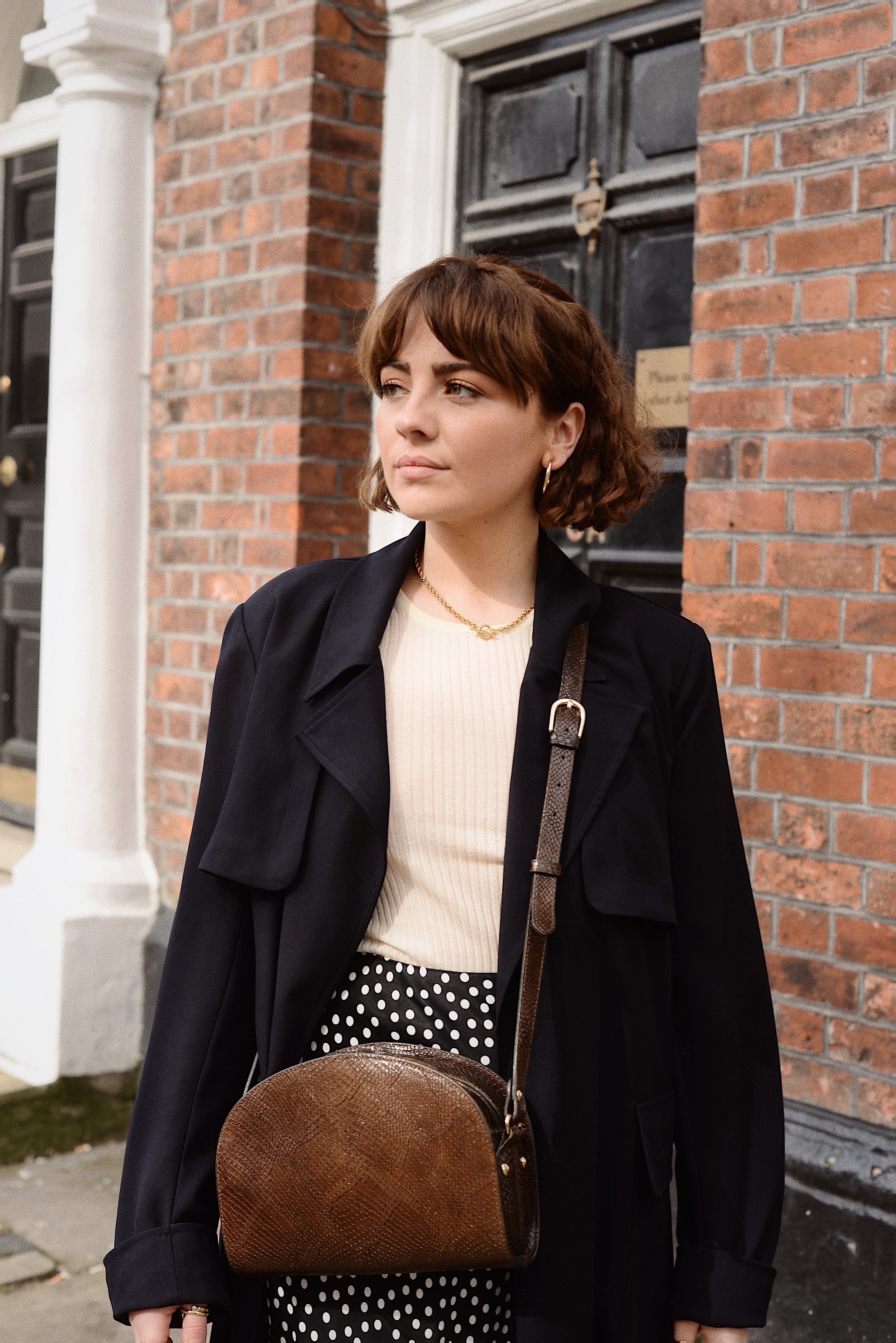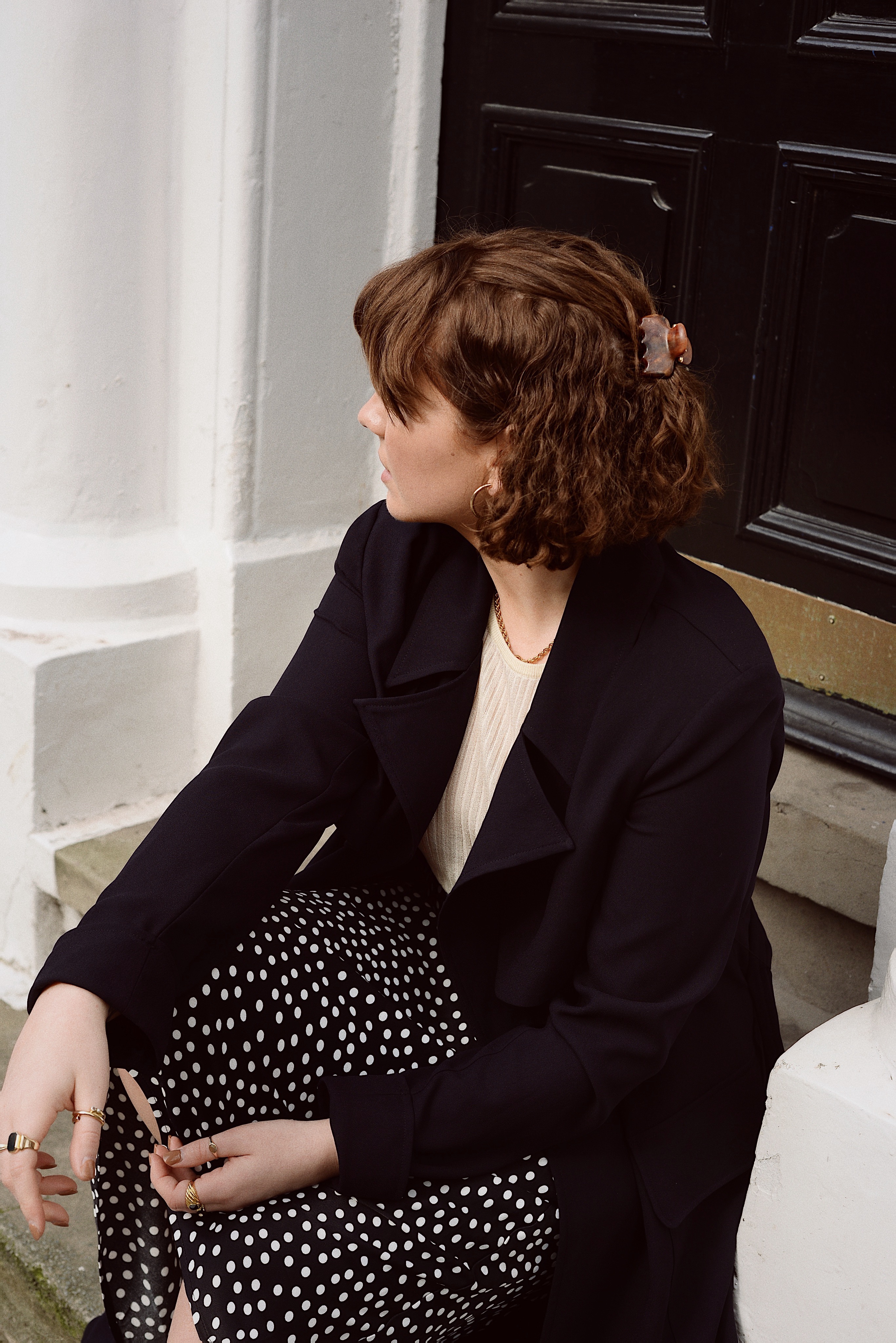 ---
Photographs taken by Catherine Booty 
Trench Coat c/o – Finery, Tank Top c/o – And Other Stories, Skirt c/o – And Other Stories, Boots – Miu Miu, Bag – A.P.C (similar style here)
SHOP THE LOOK