The recent mini heatwave has had me clearing out my empty beauty products, and making way for some new spring/summer beauty essentials to get my skin in tip top condition. It was a longgg winter of central heating induced scales, and a general lacklustre complexion. I've mentioned before that my skin always looks it's best throughout the warmer months, I find that my routine can be a little less product heavy, and generally less high maintenance. I thought I'd run you through a few of the things that can be found on my messy bathroom shelf – the things that are keeping my face a little less winter bound, and a little more summer is just round the corner…
House Of London | Jade Face Roller  – You've probably seen a lot of these on Instagram, and I must admit, I didn't really get what all the fuss was about at first. A lot of beauty fads come and go, but there was something about the Jade face roller that kept it firmly on my wish list. It promises to give your face a mini work out, keeping puffiness at bay, and generally just soothing the stresses of the day. I like to use this whenever I have some extra time to devote to my skincare – I gently pat some oil into my face, and then use the roller for a good 3-5 minutes. It claims to help drain toxins, but even if it's a case of style over substance, I've been loving the cooling/relaxing benefits of having it around (especially good if you pop it in the fridge). I've never had a facial in my life (on the To Do list for this year), so this is the perfect tool to encourage a little me time…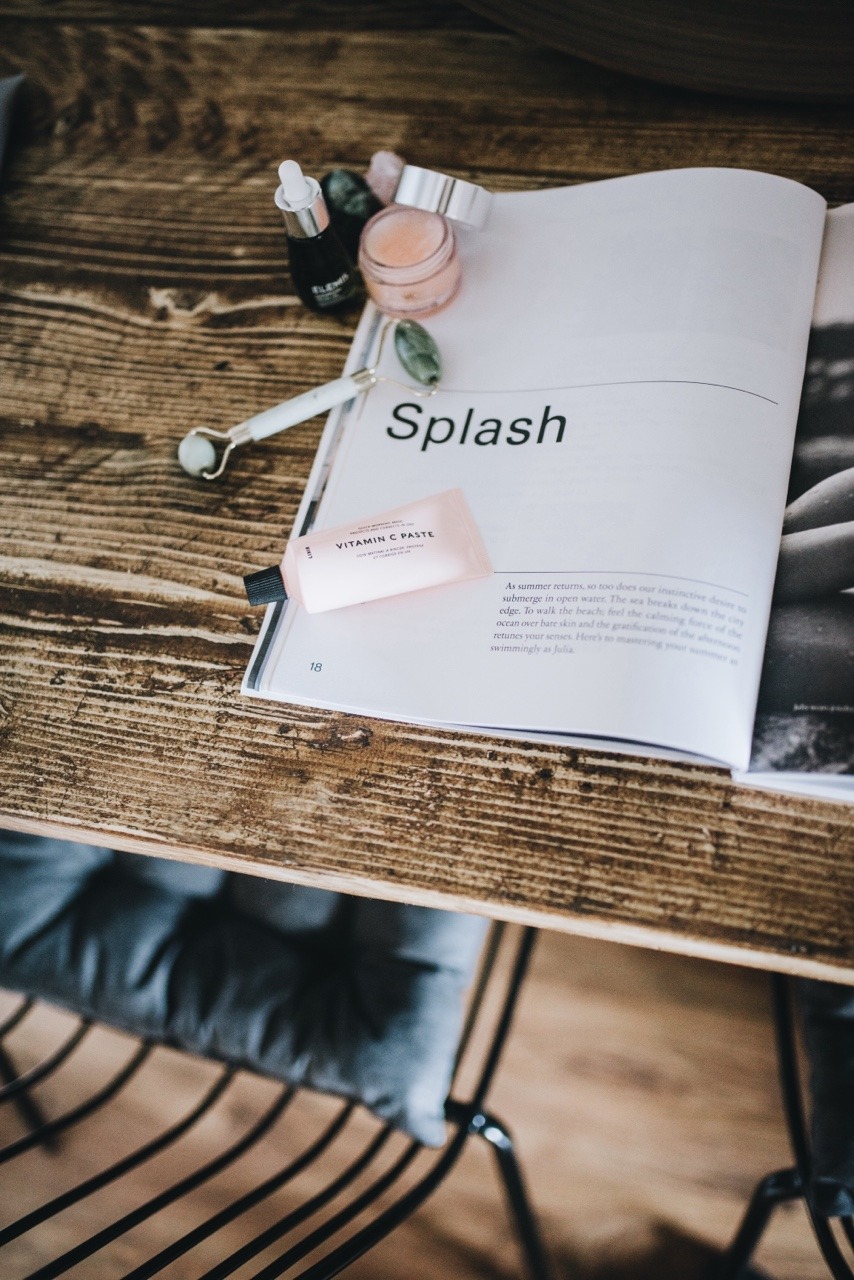 Elemis | Superfood Facial Oil  – If you're looking for an everyday facial oil, then look no further than this one. It's lightweight enough to use morning and night, and really packs a punch when it comes to plant based superfoods – it contains anti-oxidant and omega-rich Broccoli, Flax Seed and Daikon Radish feed the skin for a healthy, radiant glow. I got sent this again recently and have been using it with my Jade roller for extra dewy results. It's become a little evening ritual, and also a great time to stick a podcast on and switch off for a while…
LixirSkin | Vitamin C Paste  – LixirSkin are another brand that are having a moment on social media recently, and are so much more than aesthetically pleasing packaging in my opinion. I love this because it's one of those quick fix products that anyone can incorporate – it's essentially a little face mask that you leave on for a couple of minutes before washing off with a clean flannel/muslin cloth. My skin immediately feels more even toned after using this, making it one of those addictive products that I naturally reach for each morning.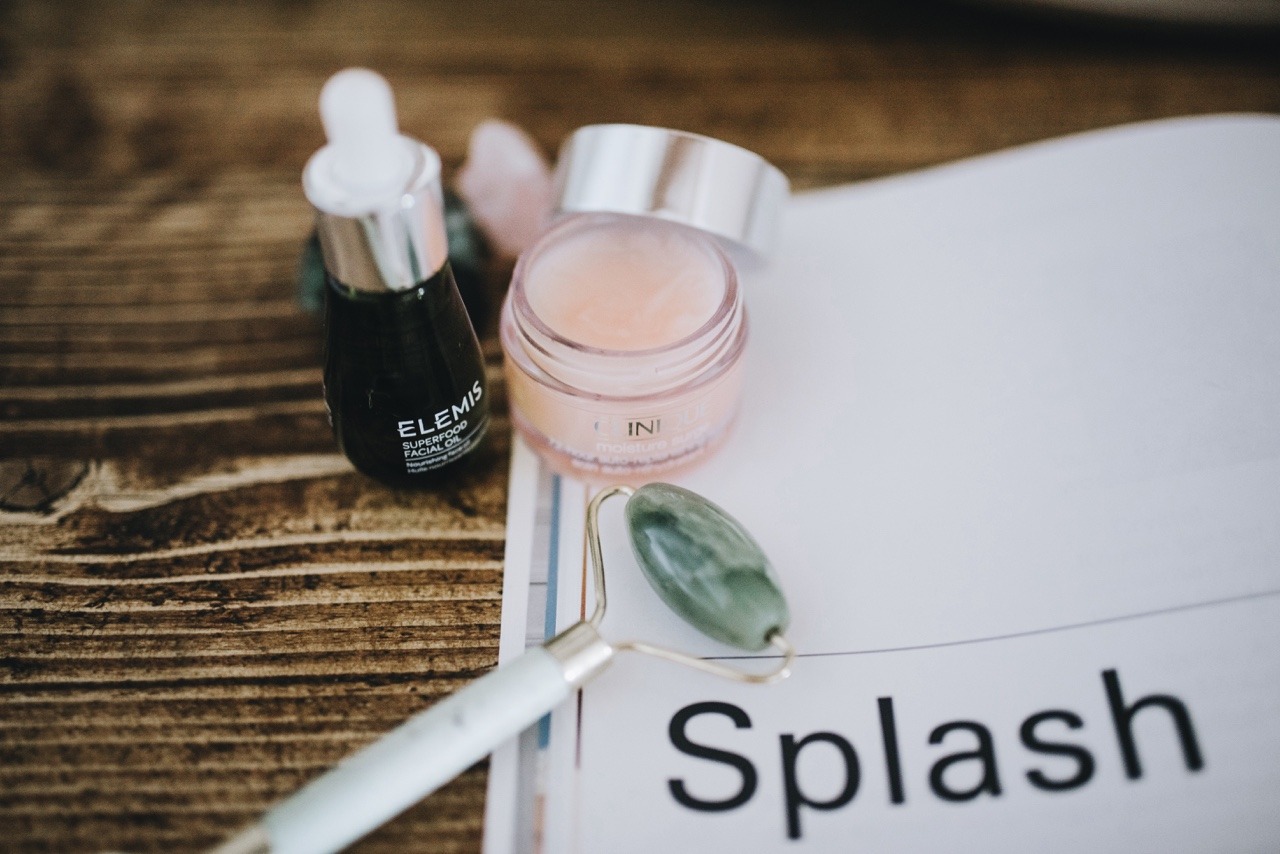 Clinique | Moisture Surge – This is a product I picked up recently after trying it out in Boots and immediately becoming a fan. It was the cooling/gel formula that sucked me in – I wanted something light for daytime use now that the weather is warming up, and this baby promises to hydrate for a whopping 72 hours. I bought the smaller version so that I could leave it in my make up bag for some upcoming trips – it's the perfect priming base for everyday! It contains Hyaluronic Acid, and leaves my skin feeling soothed and plump.
Tata Harper | Lip & Cheek Tint In 'Very Popular' – I get a lot of questions about the lip colours I like to wear, and this little pot has been my go-to as of late. I love anything that's fuss free that I can apply with my fingers, and this colour is perfect for a rosy glow. I dab it on my lips with a bit of lip balm on top, and then pat any access onto my cheeks to bring the look together. Again, it's perfect for travelling if you're conscious of luggage allowance, and it's also made from an all natural, vegan formula.
Bioderma | Sensiblo Eye Contour Gel  – I'm a big fan of Bioderma in general, and they have kindly sent me the odd little package of products to try out over the last couple of years. I love this little eye product for when my eyes are feeling sensitive – it doesn't irritate them or make them watery. It's a really light cream that doesn't compromise on hydration and smoothing fine lines. I like to use this one in the morning and then use a slightly thicker eye cream before I sleep.
Murad | Rapid Age Spot Correcting Serum – I'm all about the damage/age rewinding products at the moment, and a serum is a great way to add an extra layer of skincare magic. I love Murad products in general, so I knew this serum would be right up my street – I just layer it underneath my moisturiser in the morning, and it has a wonderful orangey scent that perks up my tired senses. It's definitely been helping to brighten my overall skin tone, and it also contains Vitamin C, an ingredient that I'm more conscious of including into my routine these days. Vitamin C is great for keeping the skin looking youthful, and it's also said to help protect the skin from environmental damage.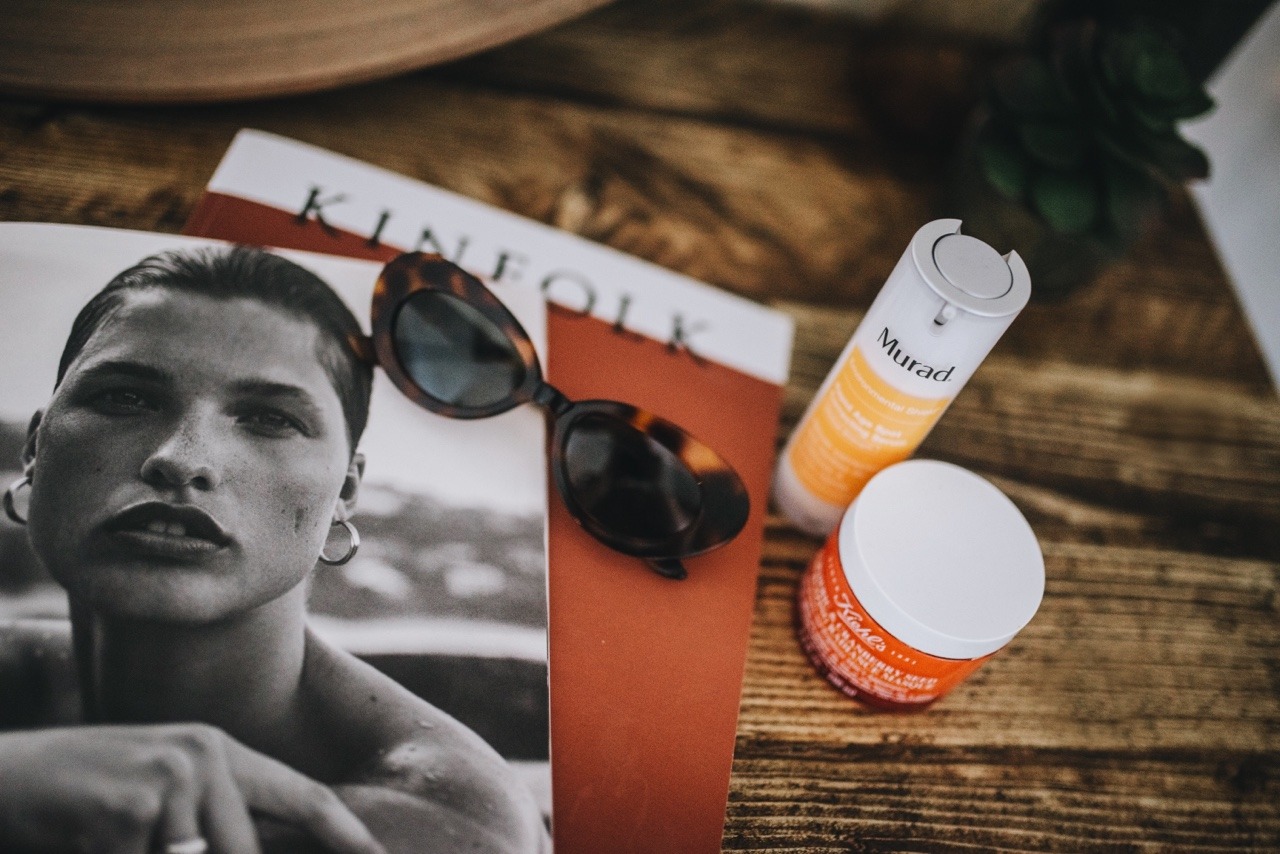 Kiehls | Tumeric & Cranberry Seed Radiance Mask  – I've featured this item heavily over on my Instagram stories, and it's a mask that I've been using religiously since it came into my life last year. It's a great quick fix if you don't have the time to sit with a mask on for more than five minutes – it dries super fast, and leaves the skin looking brighter and smoother than before use. The smell isn't the greatest with this one, it smells very natural, but to me, that's the sign of a great face mask that's about to do some good.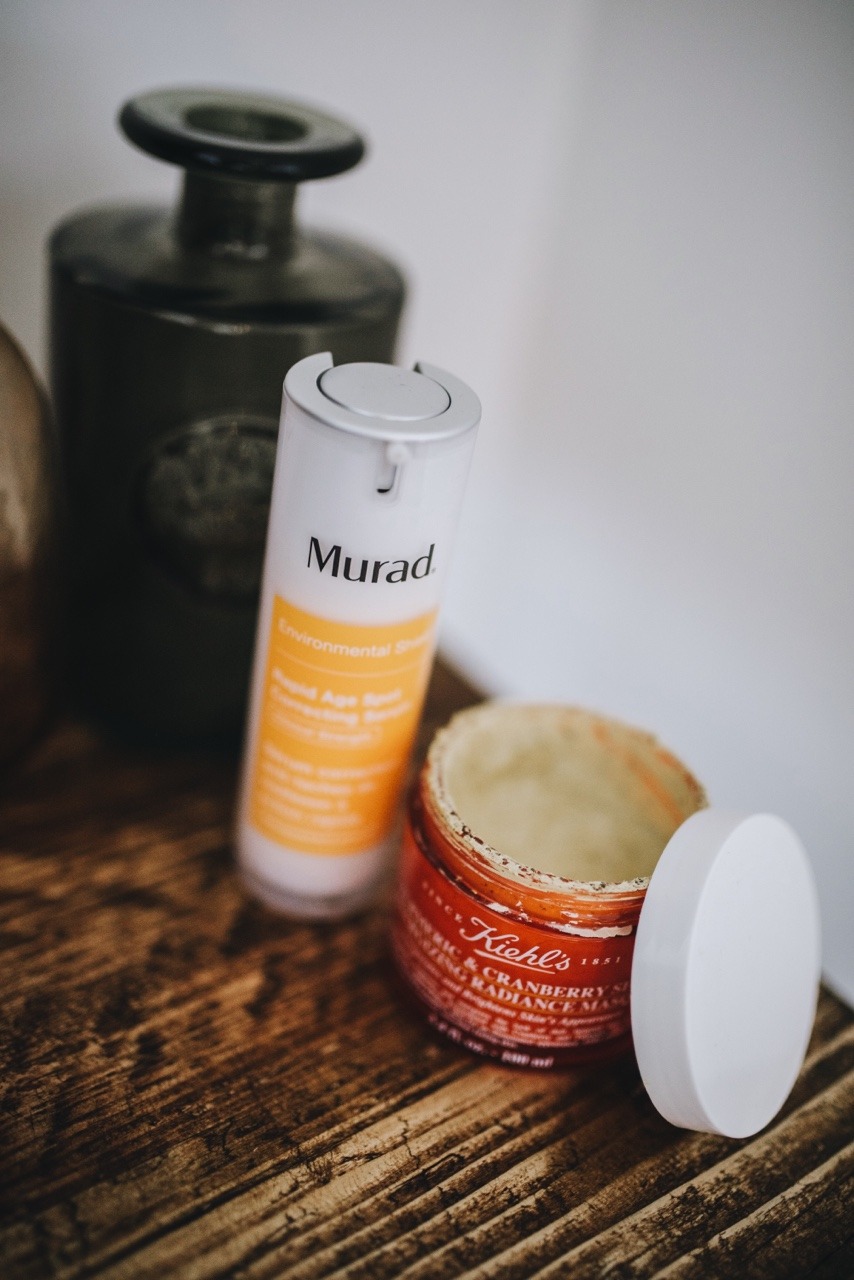 La Roche-Posay | Cicaplast B5 Repairing Balm – I picked this up a few weeks ago after hearing good things, and now I won't be without this magical stuff. It's a really thick cream consistency, and can be applied on the body, face, and lips. I guess it's similar to the Elizabeth Arden Eight Hour Cream, but with a bit of of extra science behind it. This one is perfect if you have sensitive skin – I've loved using it on any dry patches, and especially as a hand cream throughout the day. It's helping to get rid of my winter skin, and rejuvenate it for the warmer months ahead.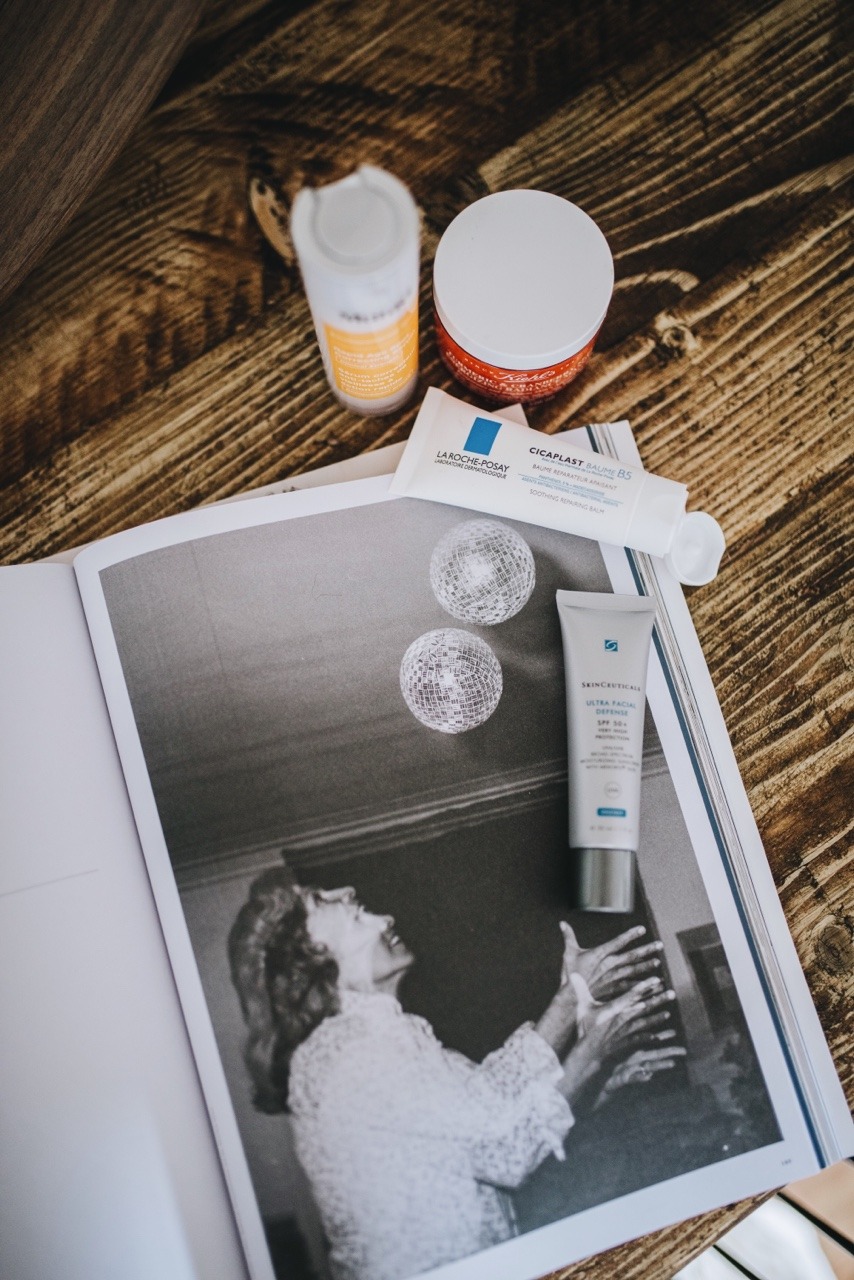 Skin Cueticals | Ultra Facial Defence SPF5o – I mentioned that I'm gravitating towards anti ageing products at the moment, and trying to be a little more conscious about the ingredients list of any new purchases. I guess I'm just reaching the age where I'm starting to put a little bit more thought into my skincare routine, and select products that have anti ageing properties where appropriate. One of the kindest things you can do for your skin is to wear an SPF everyday – this one happens to be the best one I've ever come across. It's such a lightweight/non greasy formula, and I don't find my make up sliding down my face at the end of the day. It's also a great compact size for travelling, and will definitely be coming on holiday with me this year…
Alice x
SHOP MY SPRING BEAUTY ESSENTIALS