This is something I've wanted to put together for a while now – the majority of outfits I document on here are relatively casual, and it's no secret that I live in vintage Levi jeans for the majority of the week. However, on the rare occasion that I want to get dolled up and feel my best – my fight to quit the denim usually fails. I'm very much a jeans and a nice top kind of girl, and probably always will be. If you're anything like me then your 'date nights' are usually quite impromptu – I thought I'd break down two of my fail-safe combinations that I opt for when I'm heading out the door for a slightly fancier affair than worn loungewear and Netflix… 
LOOK ONE: THE SILK CAMI
It's all about the layering at this time of year – especially if you don't know what kind of date you have in store. The British weather is just as unpredictable as the restaurant air con that you could be encountering – I always wear a something light under my jacket. A silk cami is ideal because it fits under a multitude of layers without ever making you look bulky – it also looks like lingerie which can be very pretty in a date situation. Particularly when paired with some masculine bottoms like some jeans, or black high waisted trousers to toughen things up.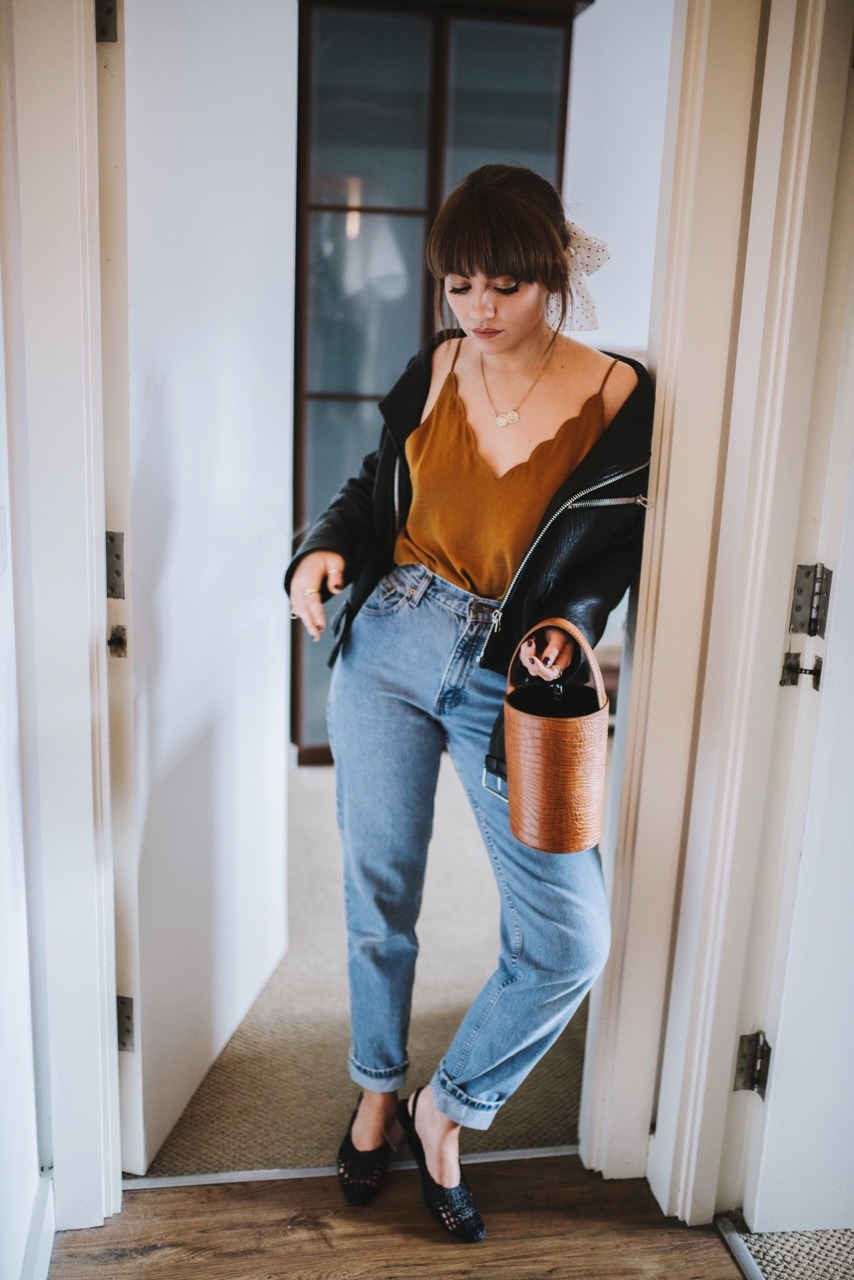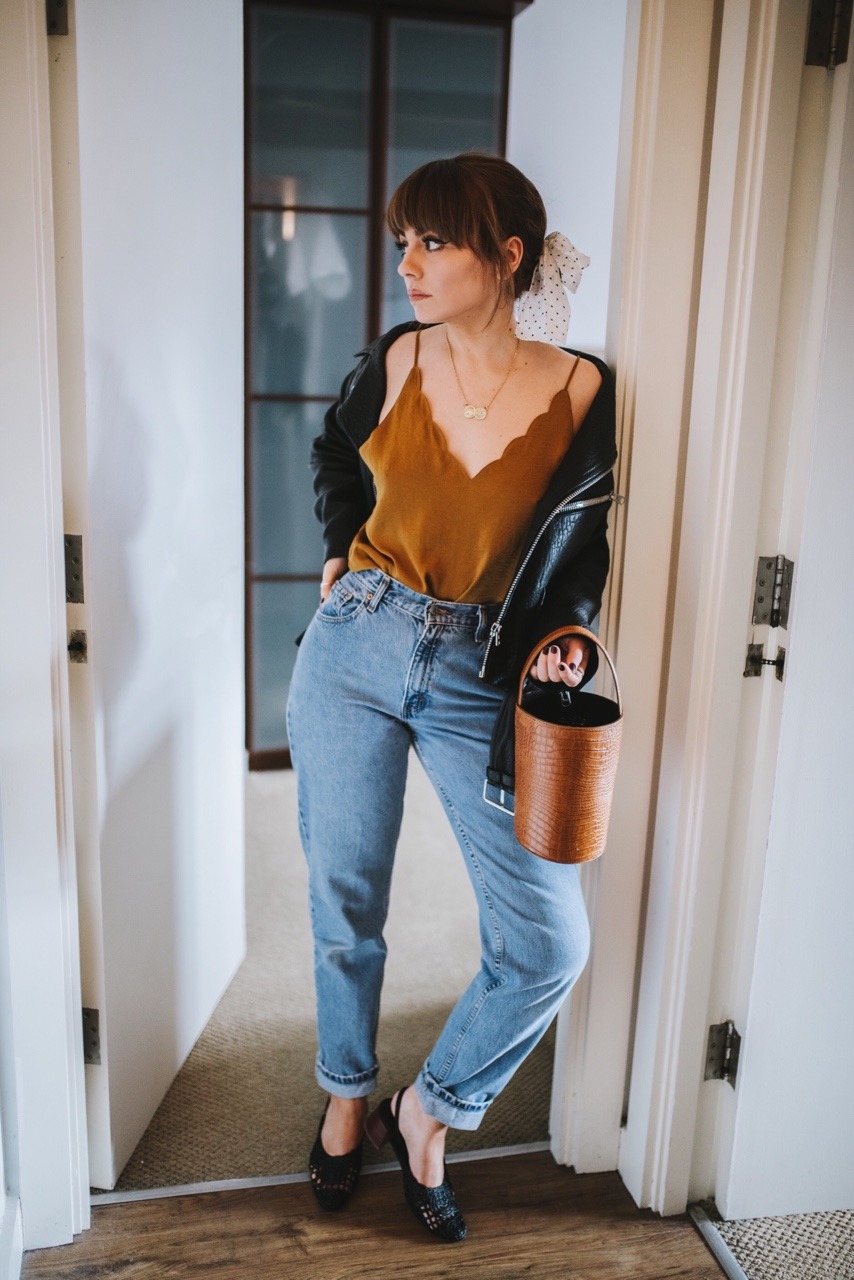 A silk cami has never been more appropriate – the contrast of denim combined with silk/satin creates a playful look that doesn't take itself too seriously. A cami suits everyone in my opinion, they come in an array of colours and prints, so there's an option for everyone…
If you're heading out straight after work, you can wear the cami layered over a T-shirt with a blazer thrown over the top for a cute daytime look. Failing that, they are literally the easiest clothing option to tuck discreetly into your work bag so you can make the old switcharoo before you leave (or even in the back of a taxi in true romcom style)…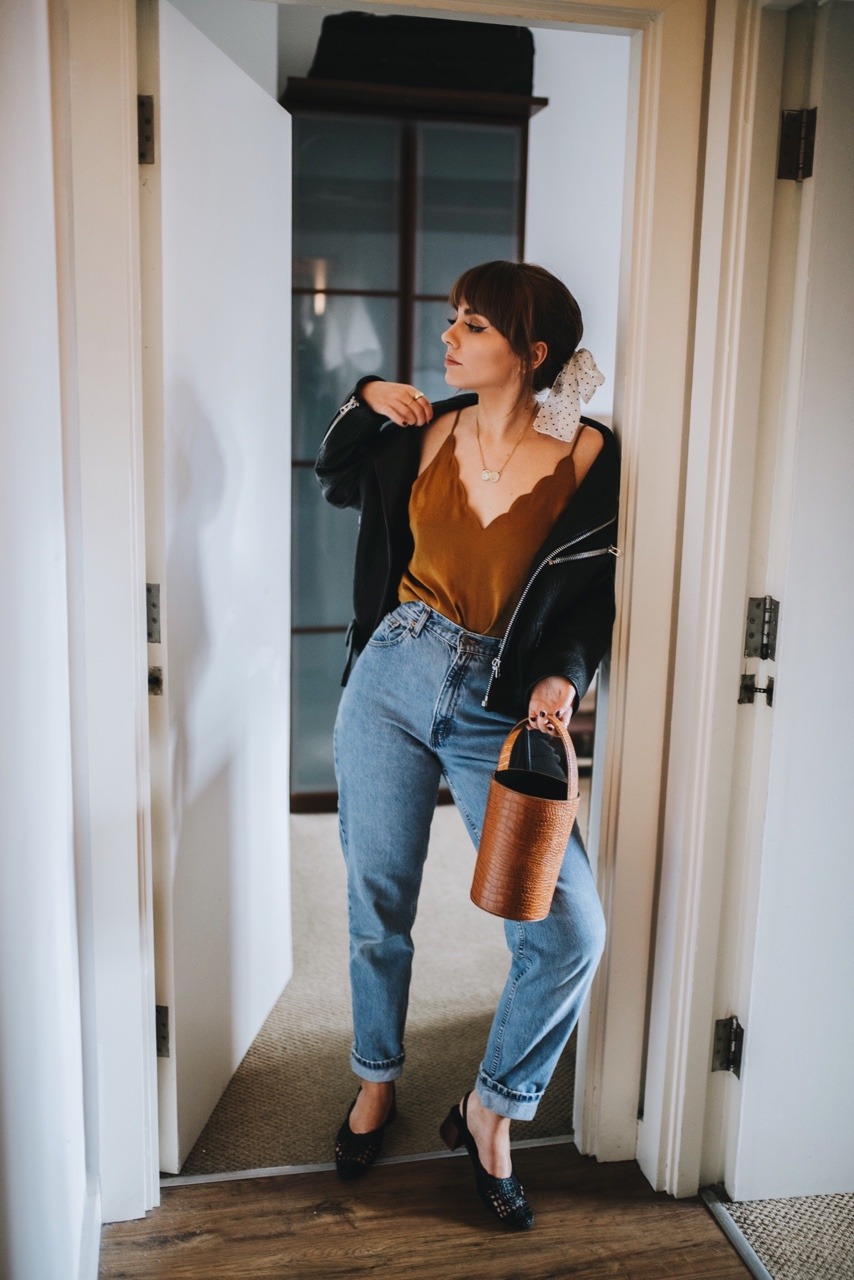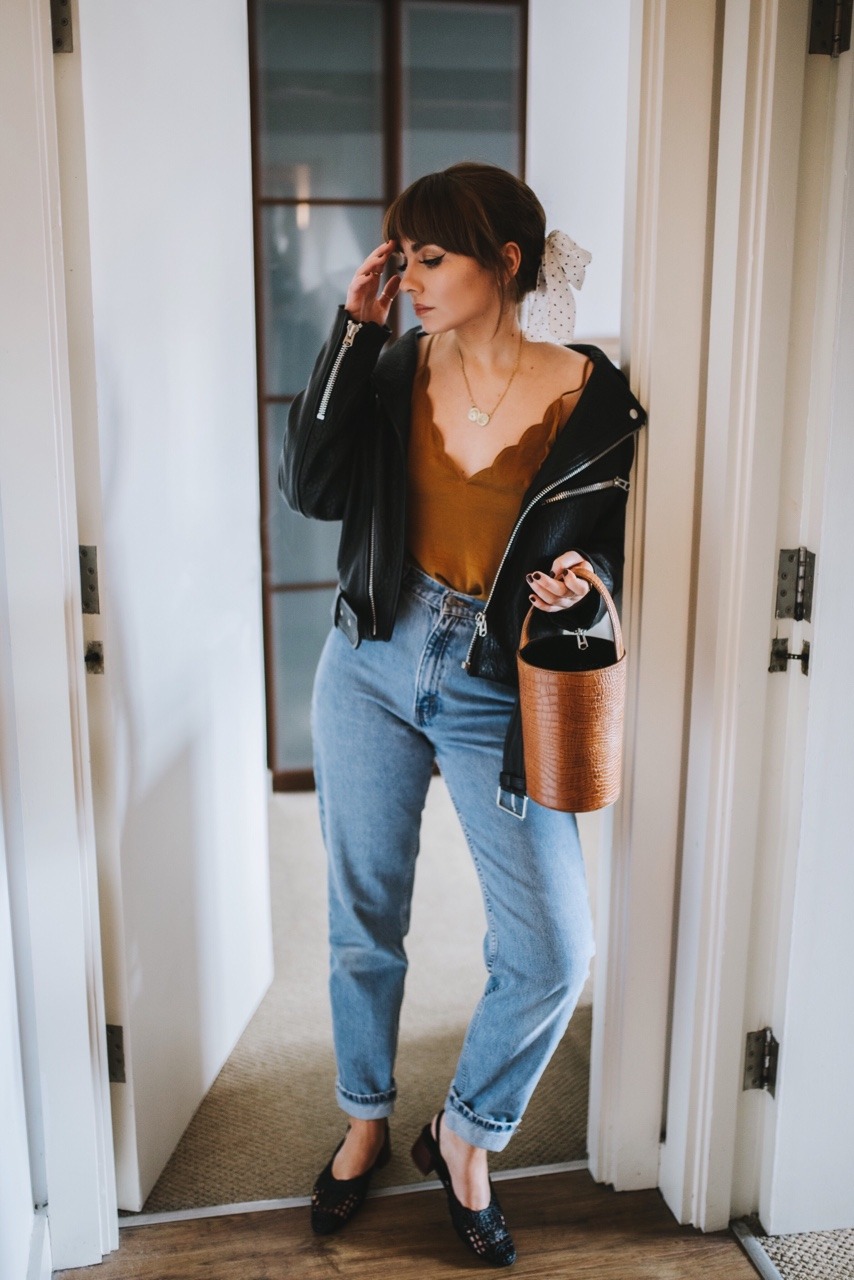 A leather jacket is an absolute staple for me when it comes to dressing up – it's just one of those pieces that makes me feel good. After years is searching, I finally found this And Other Stories one late last year. It's the perfect body fit, and I love how it looks layered over pretty much everything. It's still available online, and I can't recommend it enough if you're after that vintage style leather jacket – it's pricey, but it's perfect. I know I'll be wearing this for years to come, and there's no need for me to own another black leather jacket in my collection with this one around…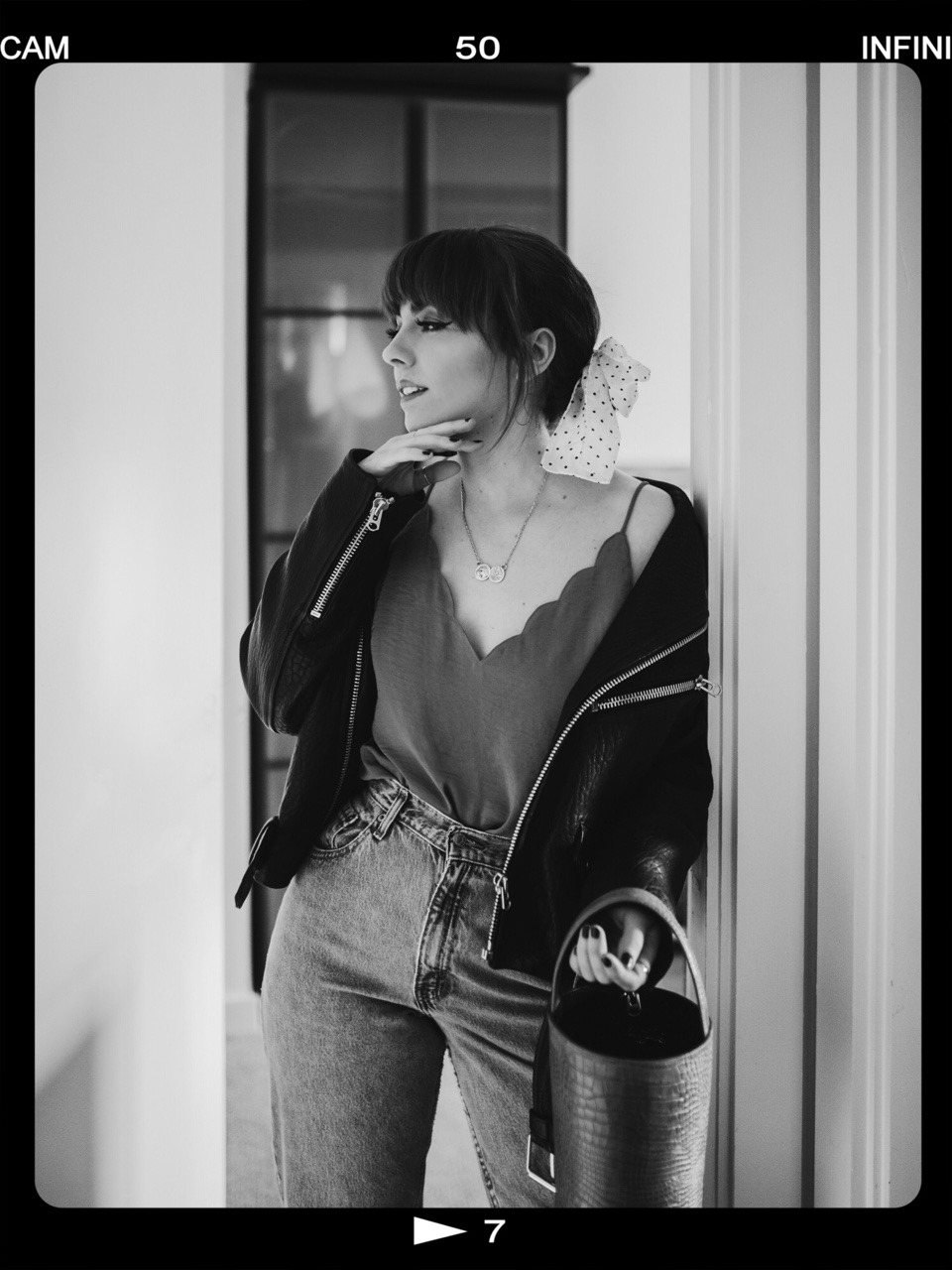 When I'm wearing something stereotypically tough like a leather jacket, I like to mix in feminine accessories to create that juxtaposition of aesthetics. Polka dot hair bows are my jam, I collect vintage scarfs, and then just cut them to size. I love the Eighties vibe they give off with gold hoops, and they just make you look like you've made a bit of an effort, when in reality, it takes two seconds to secure…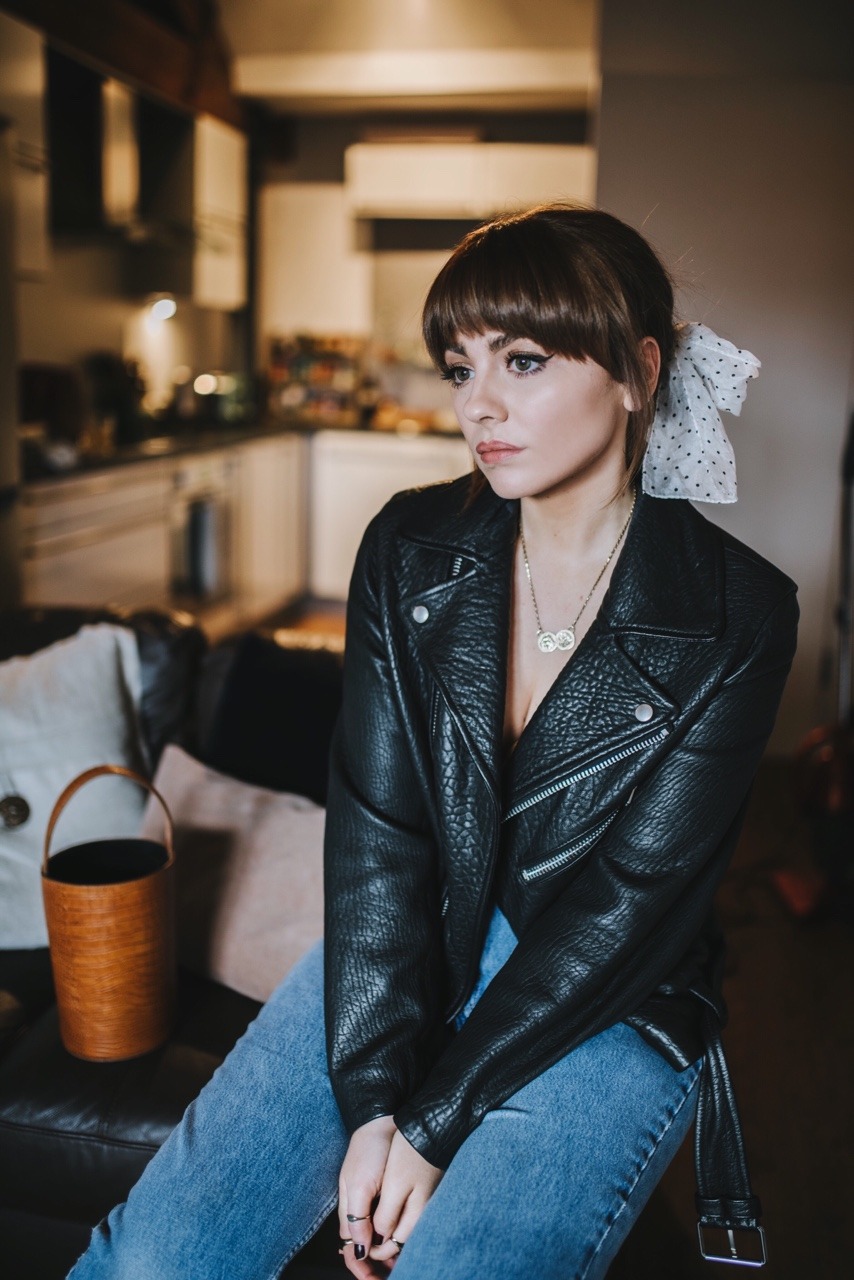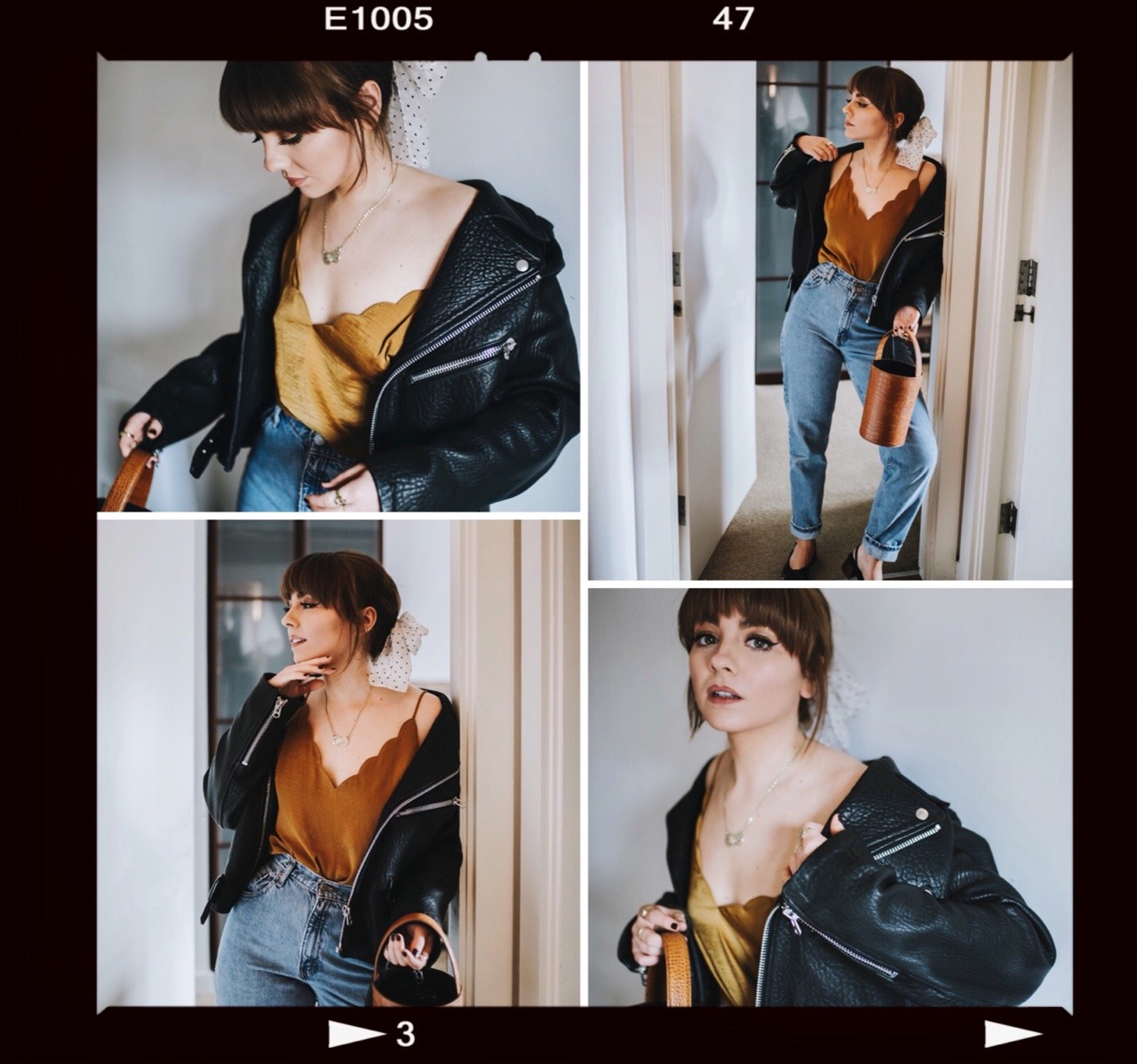 I'm obsessed with these Mango woven shoes too – I've been itching to wear them since I bought them a couple of months ago. Again, they add that playful edge to the outfit, and elongate the legs if you're wearing a mom style pair of jeans. They are super comfortable too – there's nothing worse than wearing risky shoes and then regretting it half an hour into the evening. I'm all about comfort when it comes to my shoe collection – I won't buy a pair of shoes unless I know I'll get my wear out of them.
Think footloose and fancy free when it comes to date night dressing…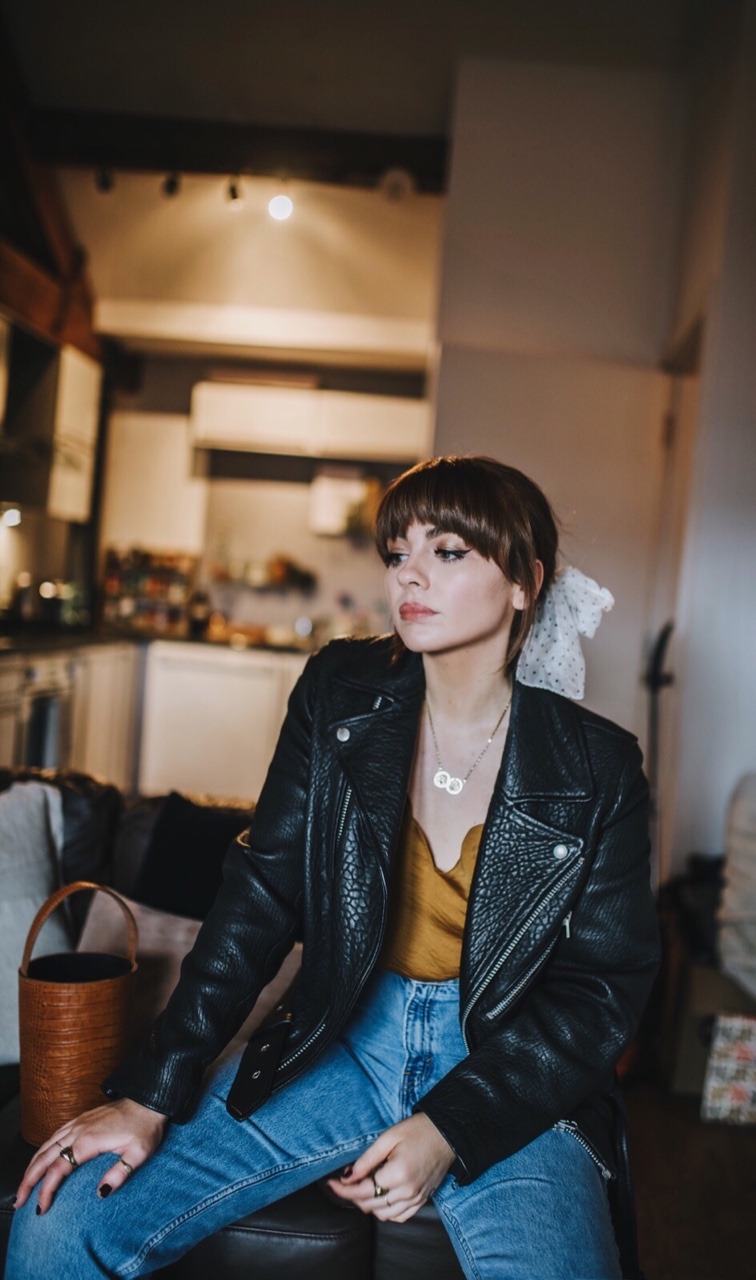 Cami – Topshop (similar here)
Leather Jacket – And Other Stories
Jeans – vintage Levi (similar here)
Necklace – Mikaela Lyons
Bag – Marais USA
Shoes – Mango
SHOP THE LOOK 





                
                


                    
                    
                


            
LOOK TWO: THE LINEN BLAZER
Linen is perfect for spring summer, and it's also a material that happens to be kinder to the environment. I love wearing linen all throughout summer – I can be usually find in creased shorts with a basket bag in hand. I've kind of learnt to love that linen is imperfect and really does crease like a b**ch, it adds character to an outfit, and I'm never one for looking overly polished anyway…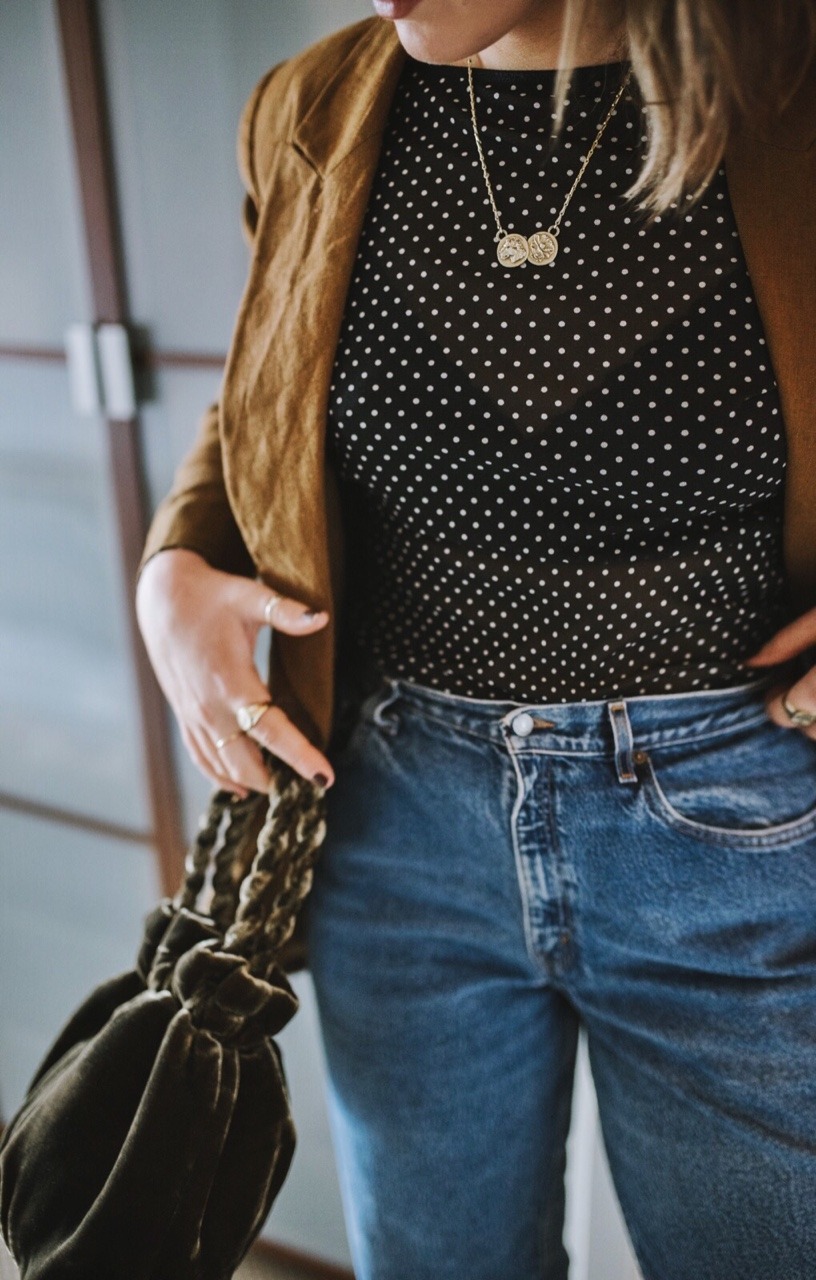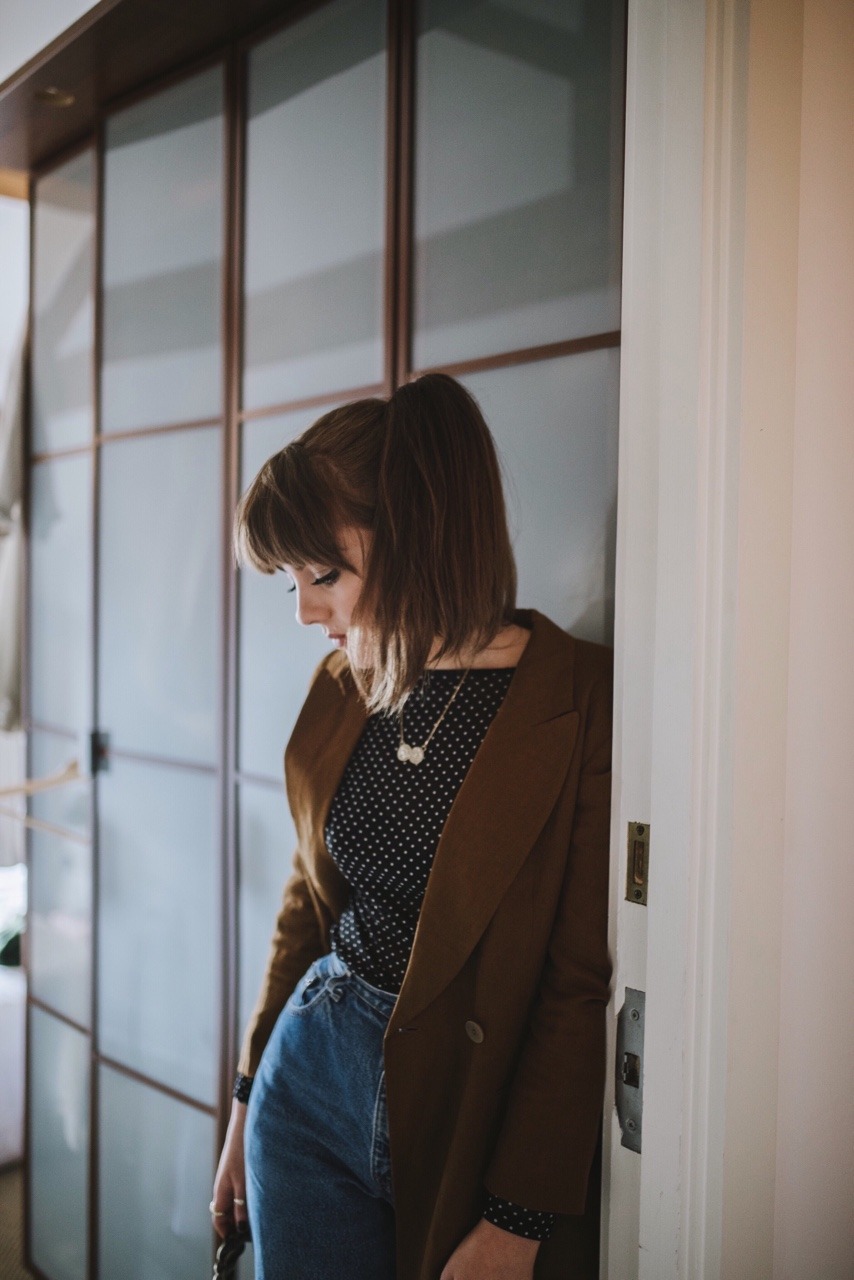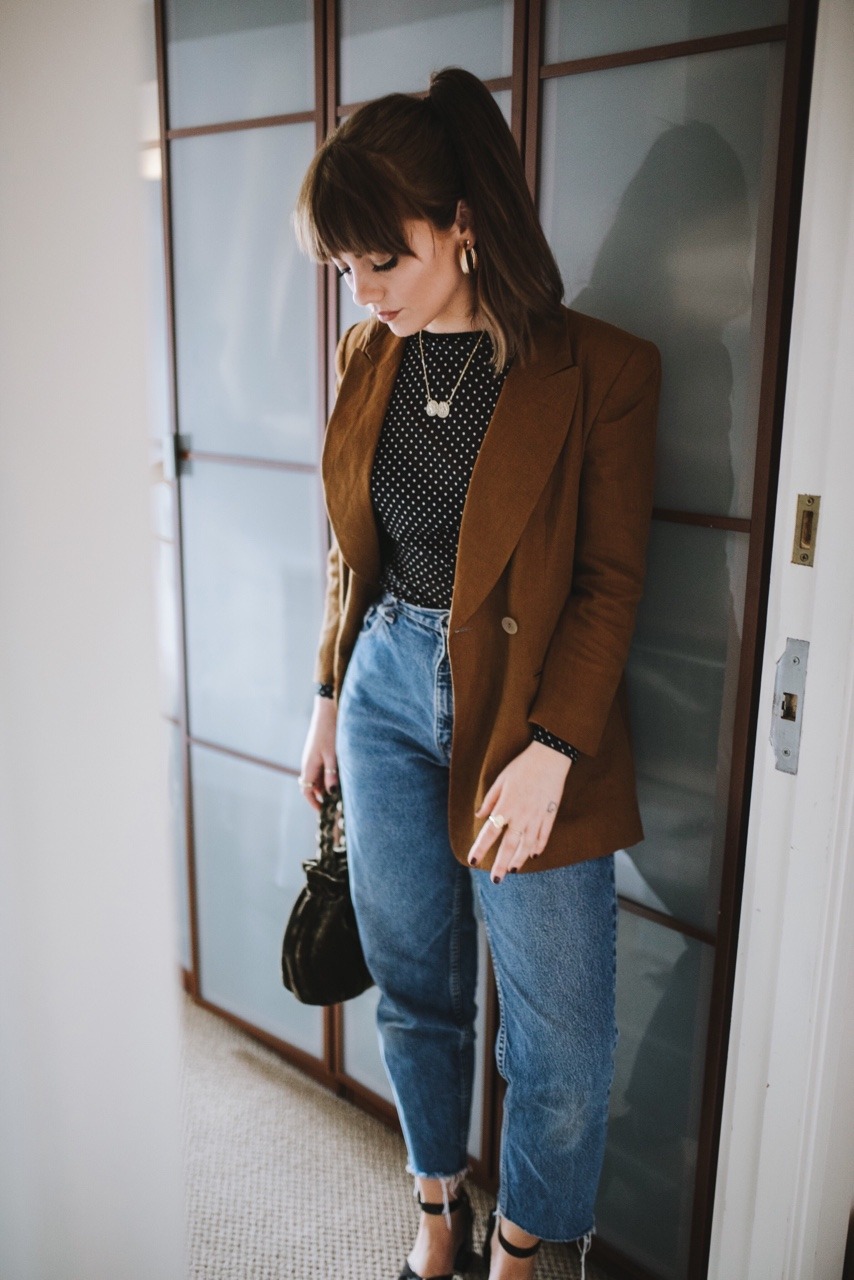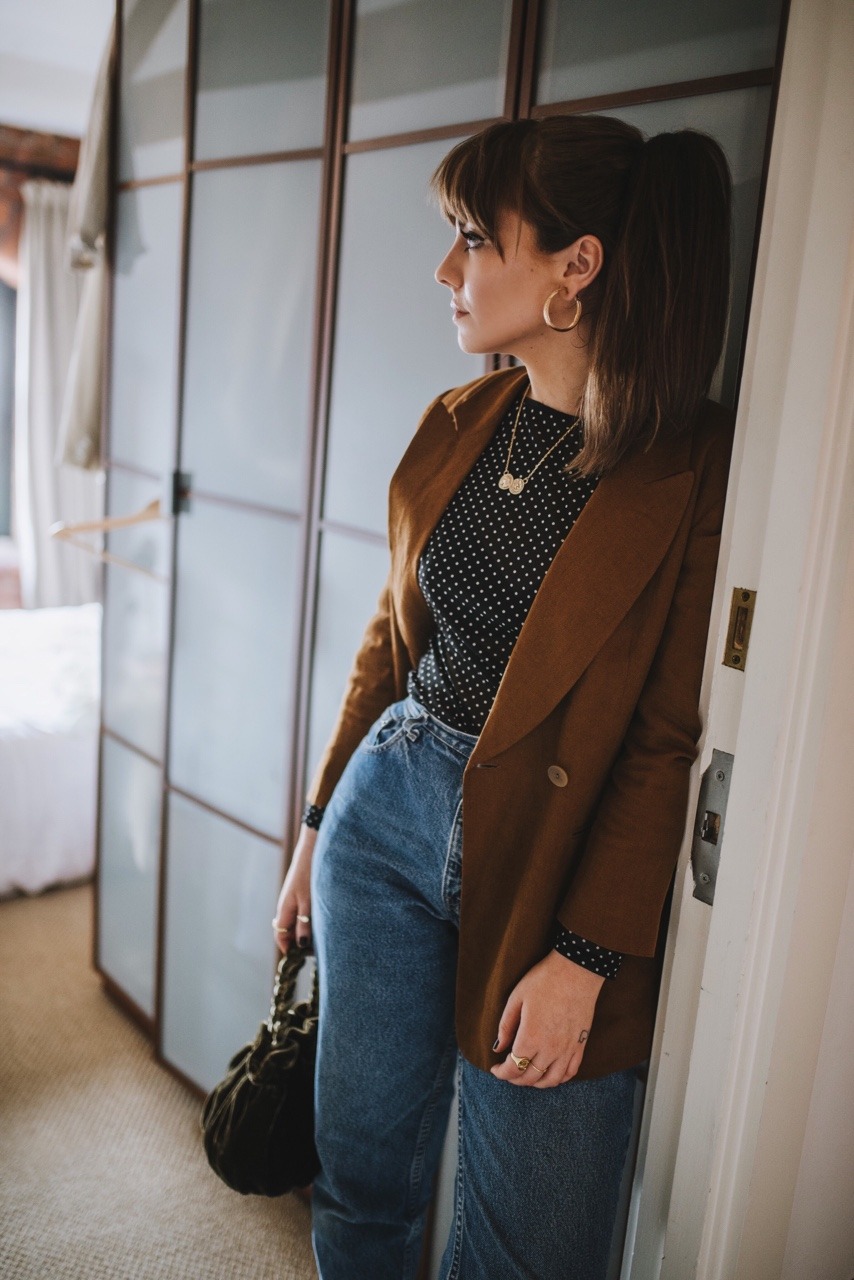 This outfit is one of my current favourites because I just adore the tan colour of the blazer against the olive bag – it's such a versatile look, and you can really dress this one up, or keep it more casual like I've done here. The patent heels give me the extra height I need in a pair of boyish jeans like this, and the mesh top adds a hint of sexy beneath the tailored blazer. Most of my dressier looks usually end up being a combination of fitted and oversized pieces – that way I never find myself feeling uncomfortable or overdressed…
Although, I don't really think overdressed is a thing – wear whatever the hell you want, and wear it well…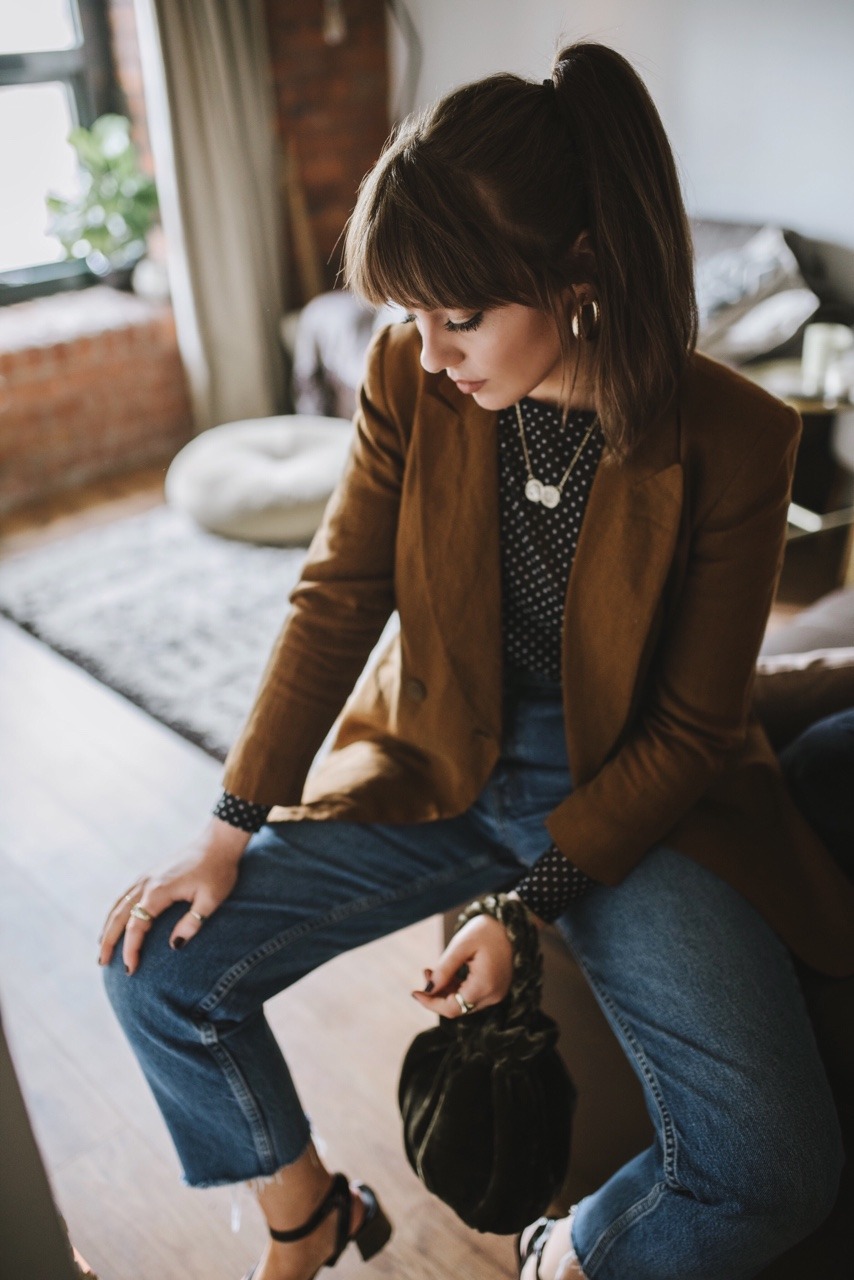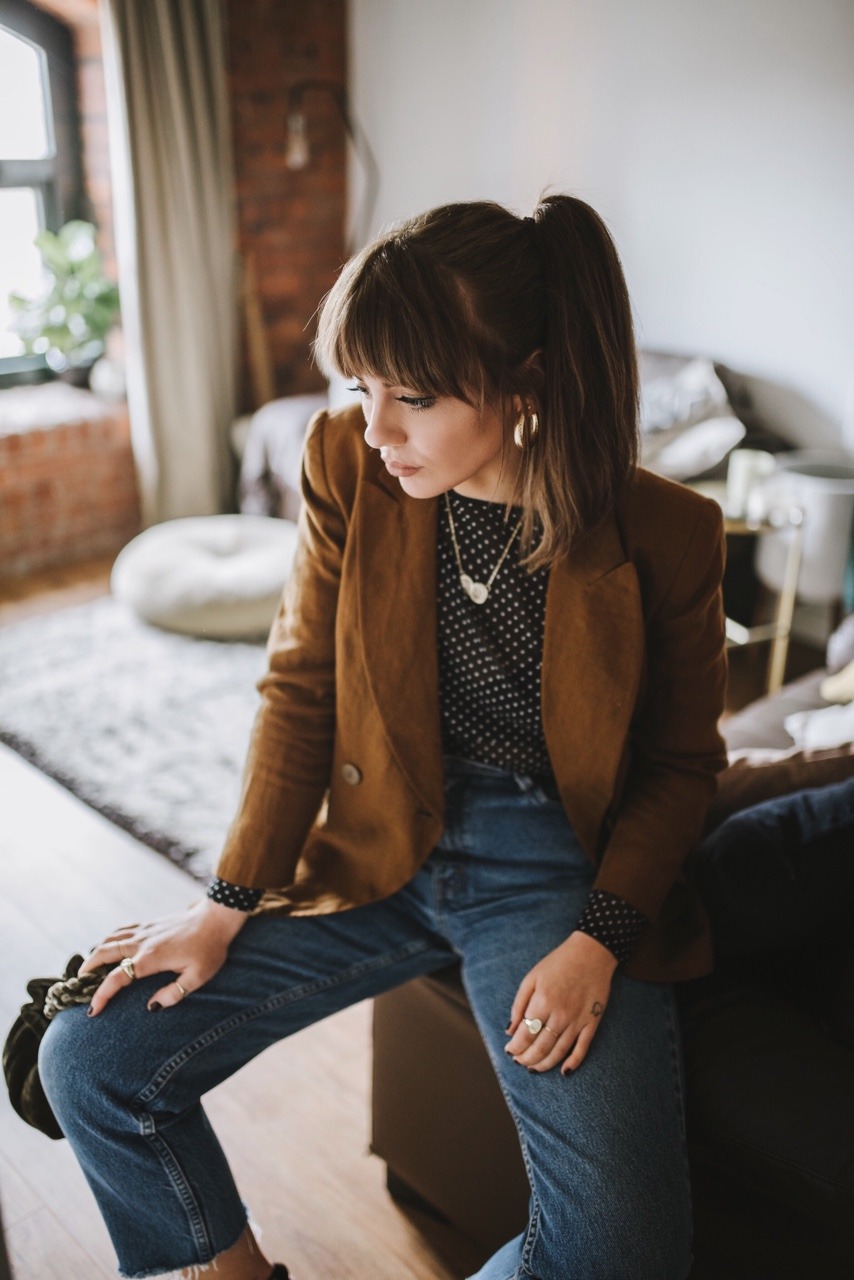 I picked up this little Staud bag just after Christmas – it seemed strange to invest in velvet at the start of the year, but this very much feels like a spring/summer bag to me. I wanted a slightly fancier bag for evenings out, and this little gem had been on my wishlist for a long while – Staud bags are some of my absolute favourites, and don't break the bank as far as designer bags go…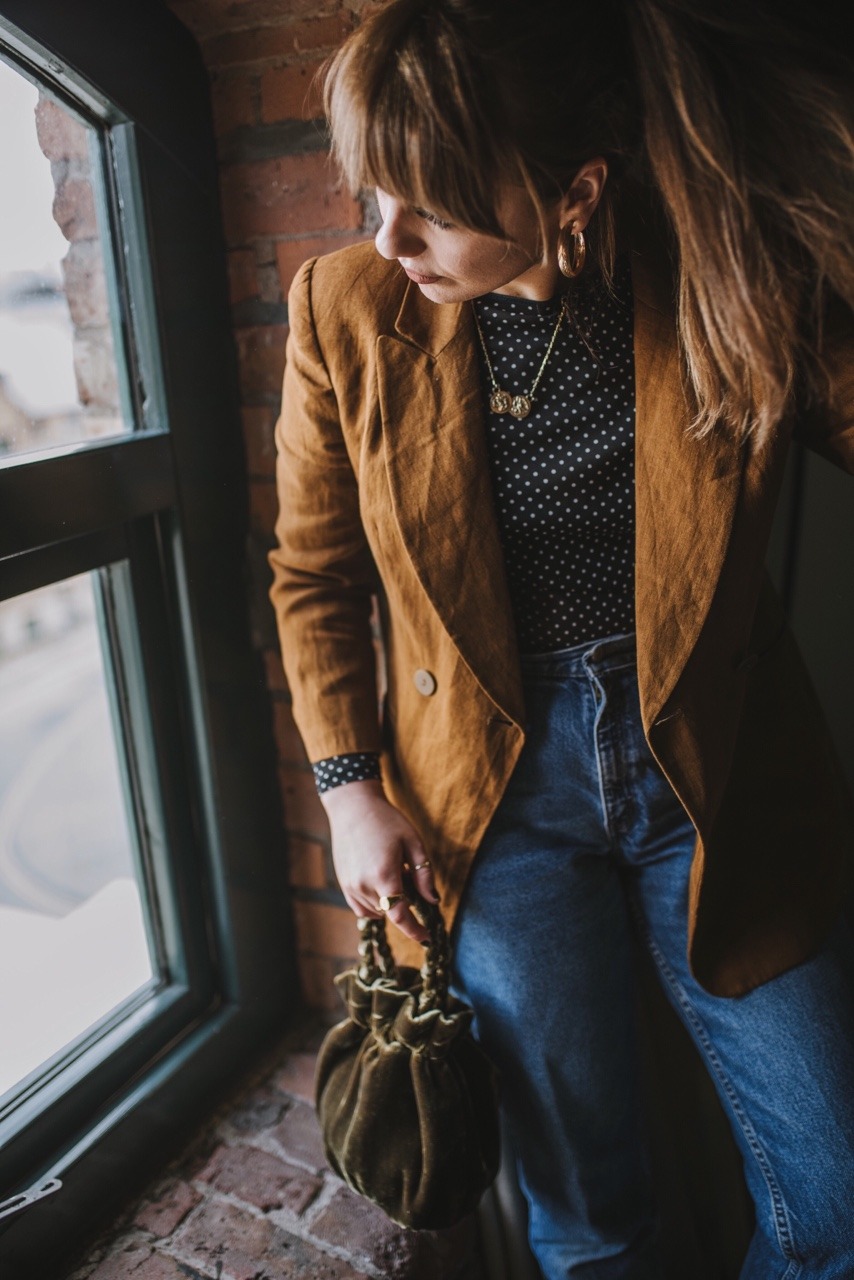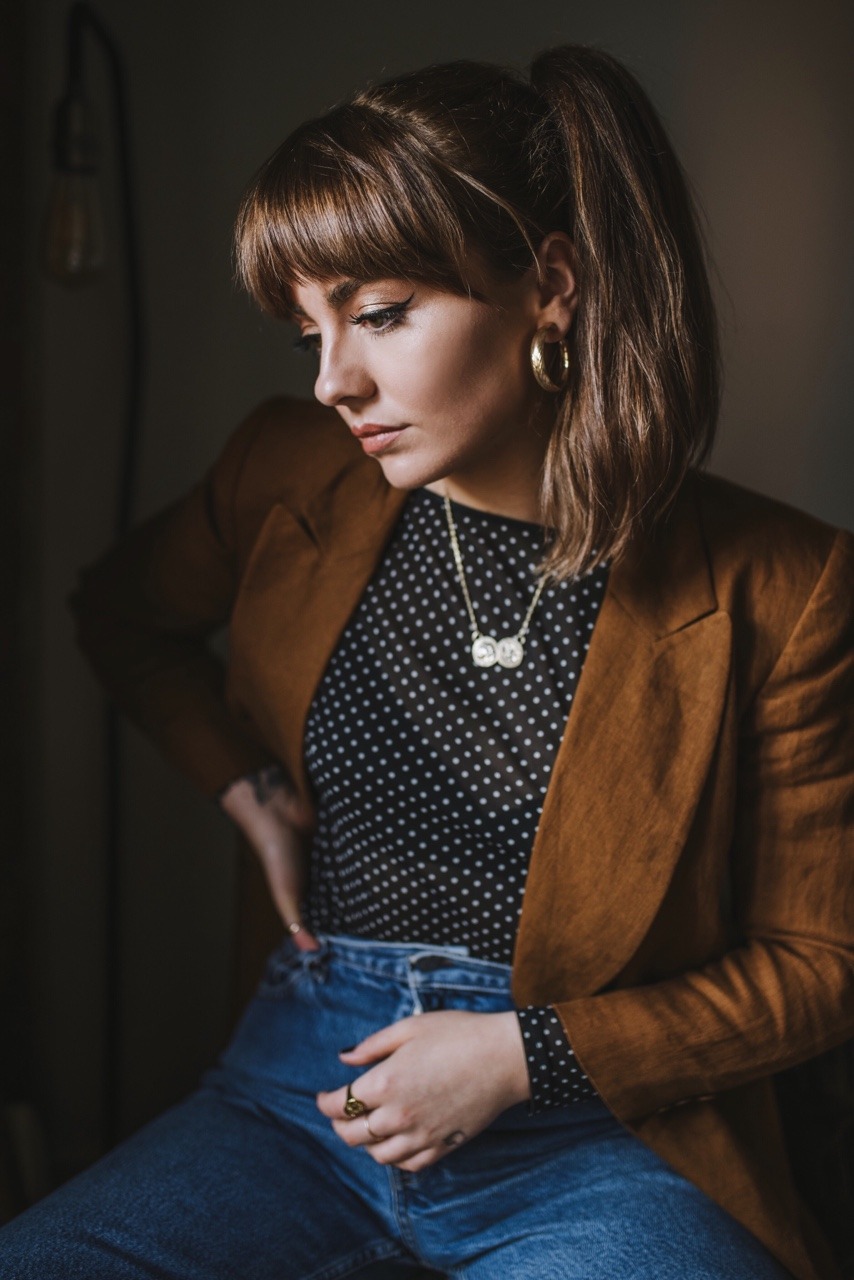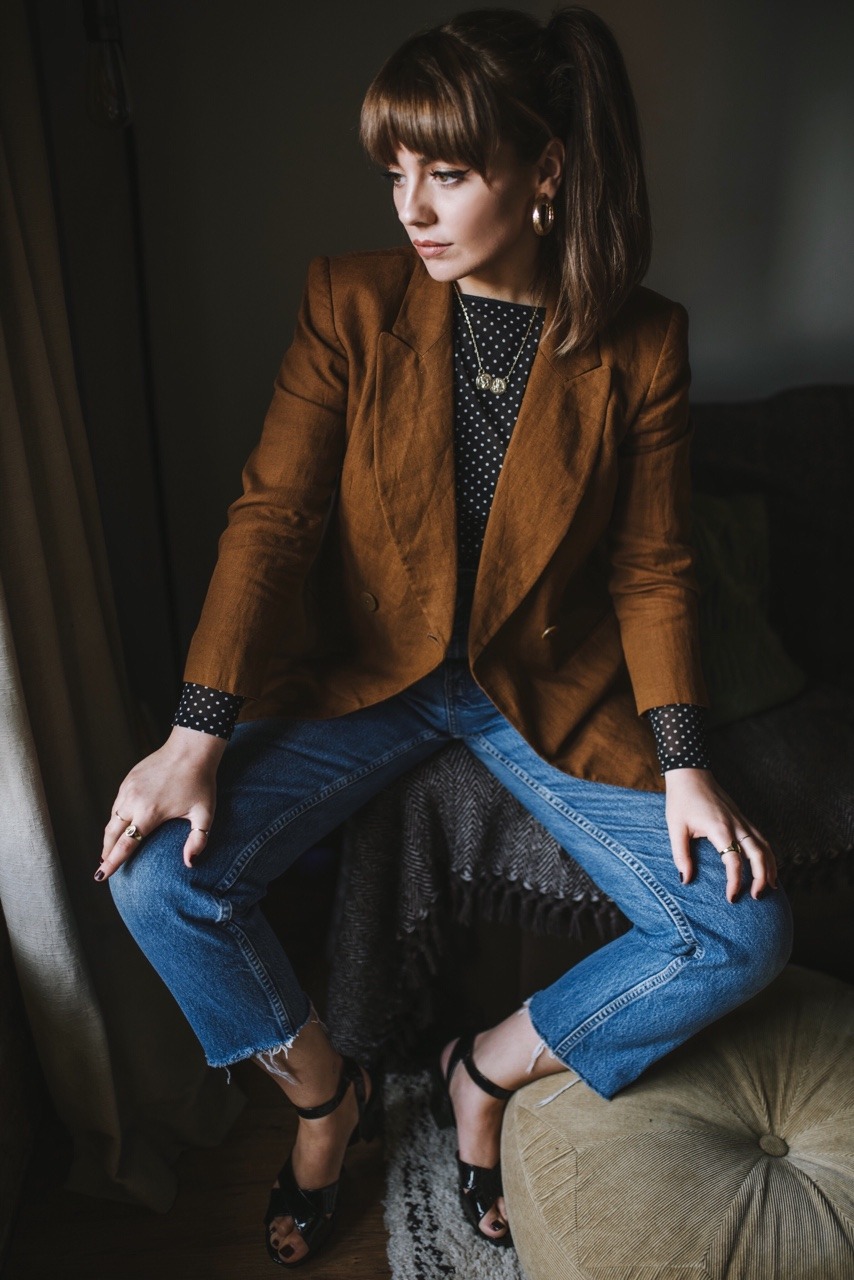 It's the perfect little bag for all kind of events – I'm picturing it with a midi dress and sandals for some kind of summer wedding or special event. The way the light catches the velvet is just so beautiful, and it also comes in a few different colours if khaki olive isn't your thing. It reminds me of a little nineteen twenties bag – something in the way I carry it makes me feel different, more elegant somehow. The perfect date night bag if ever there was one…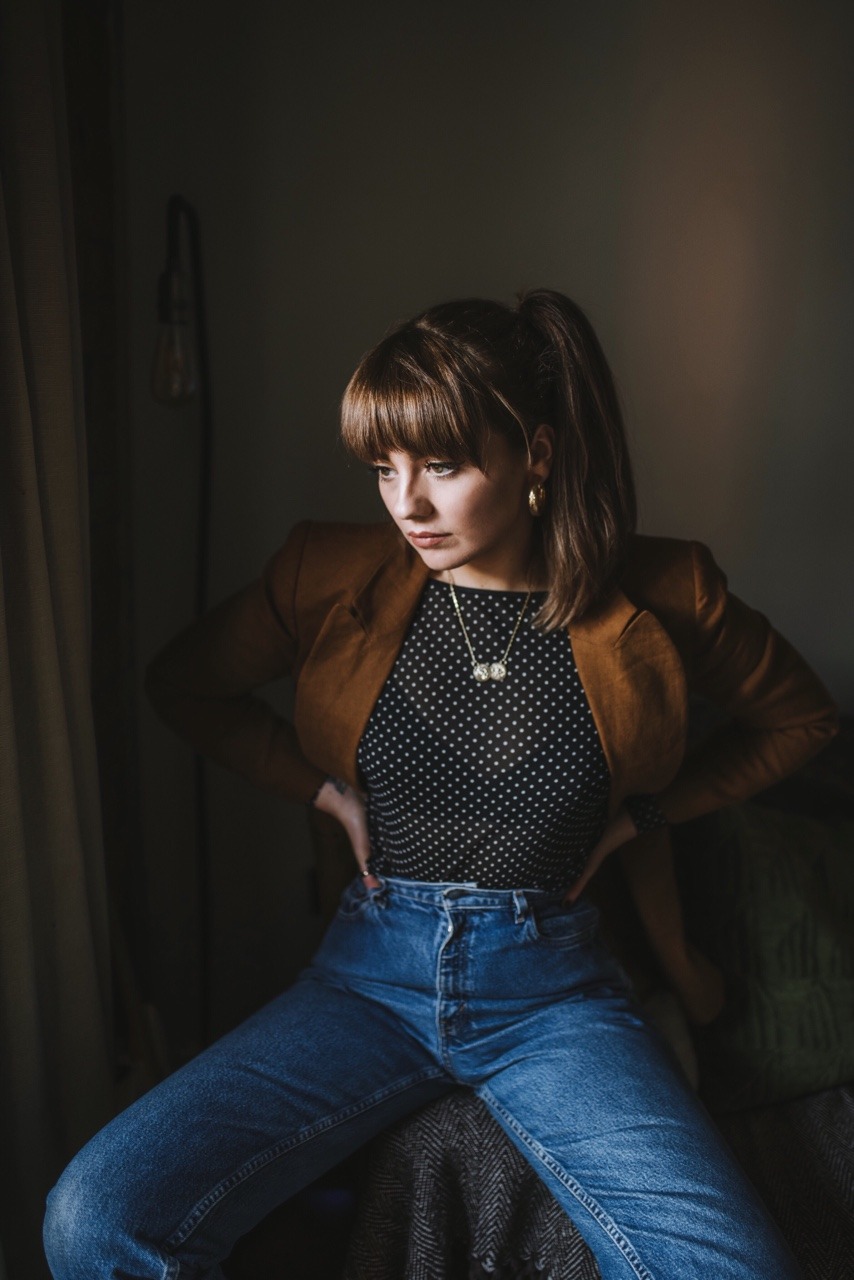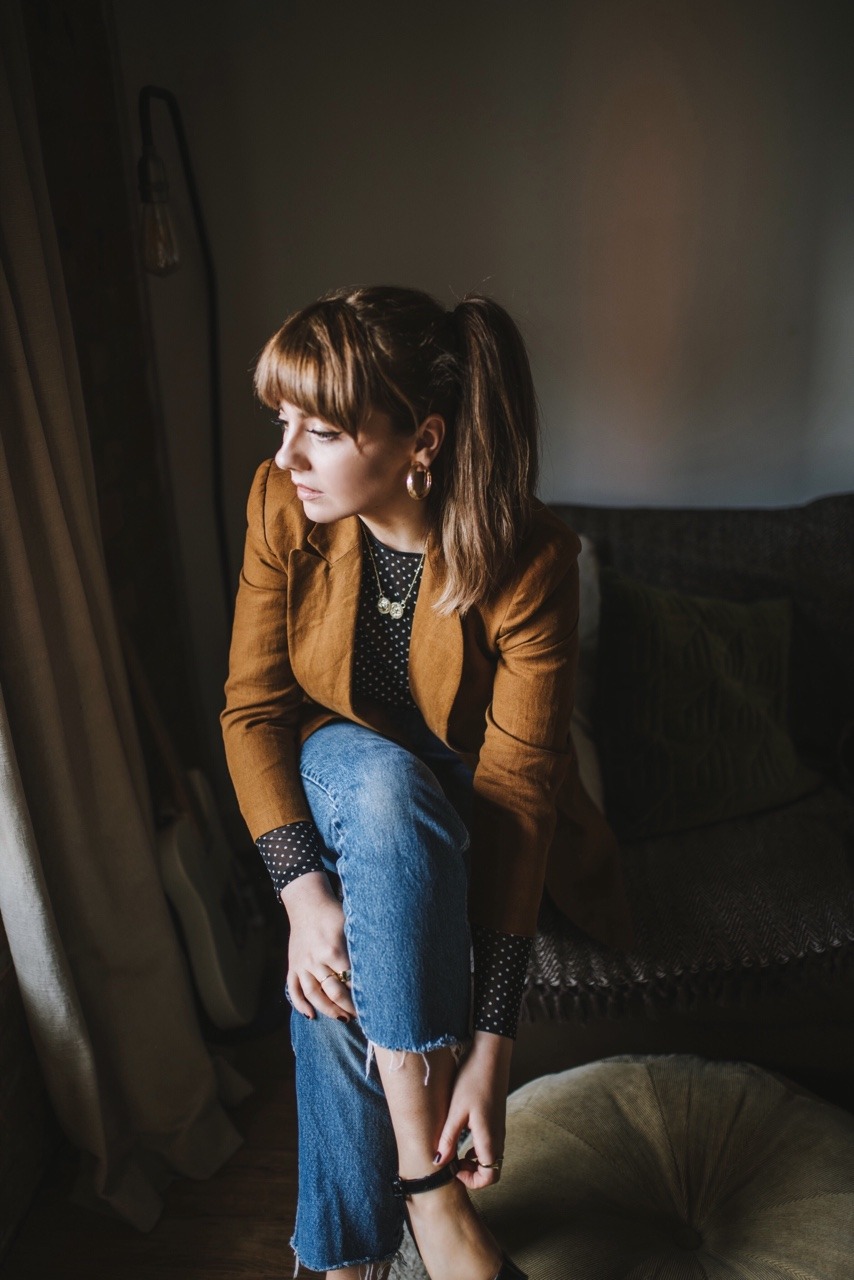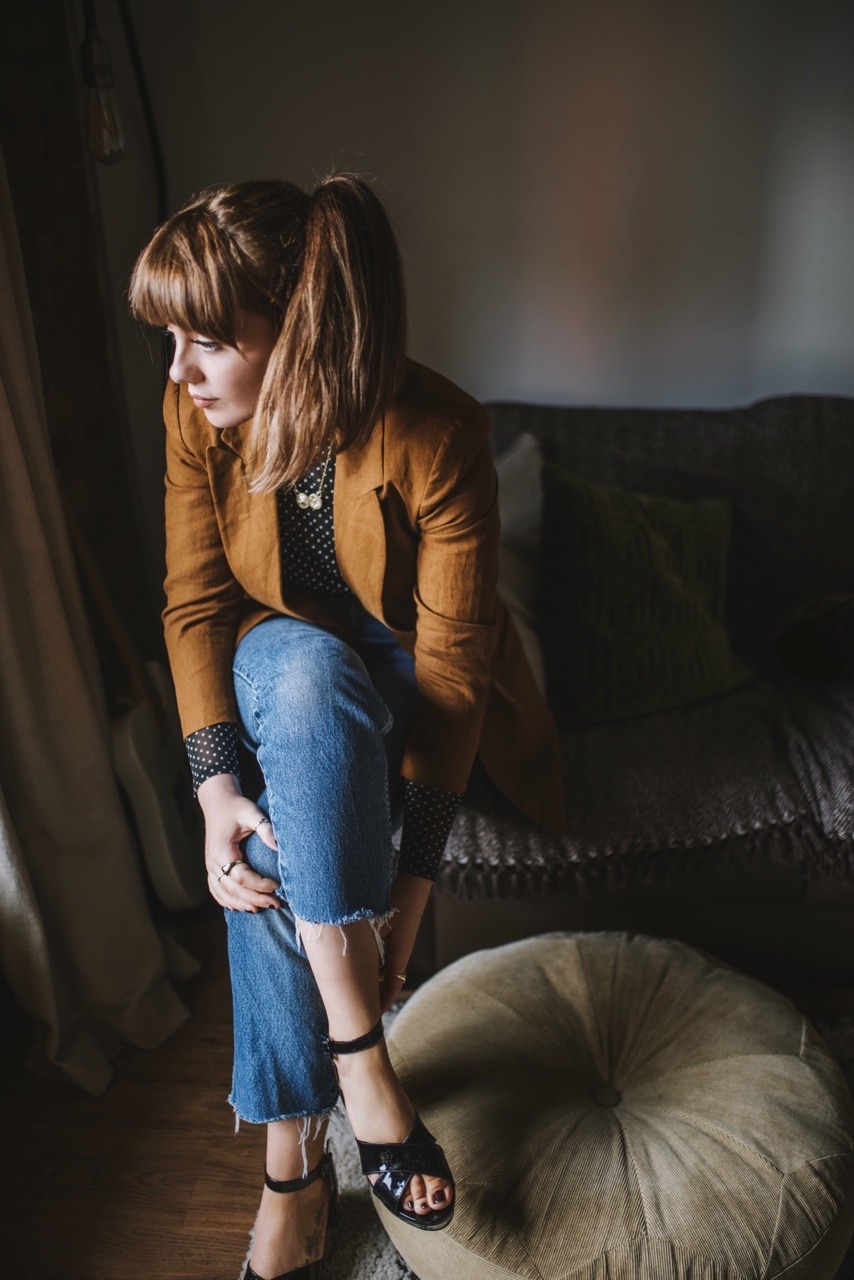 Most of what makes me feel good lies in the subtle details of the outfit – the gold jewellery, a new nude lip shade, or a spritz of perfume that really sets the mood for the look I've picked out…
My favourite thing to do make up wise at the minute is to just add cream eyeshadow and blend with my finger – it gives the lids a glowy, almost sweaty look that I just can't get enough of. My go-to right now is 'Bette' by Charlotte Tilbury  – it's the most perfect bronze shade, and it's fuss free definition that really just enhances the eyes without looking like you've spent too long looking in the mirror. And similar to the bag, it's magic when it catches the sunlight…
Alice x
---
Photographs by Adriana
Blazer – Beyond Retro
Polka dot top – vintage
Jeans – vintage Levi 
Heels – ASOS (old)
Necklace – Mikaela Lyons 
Bag – Staud
SHOP THE LOOK