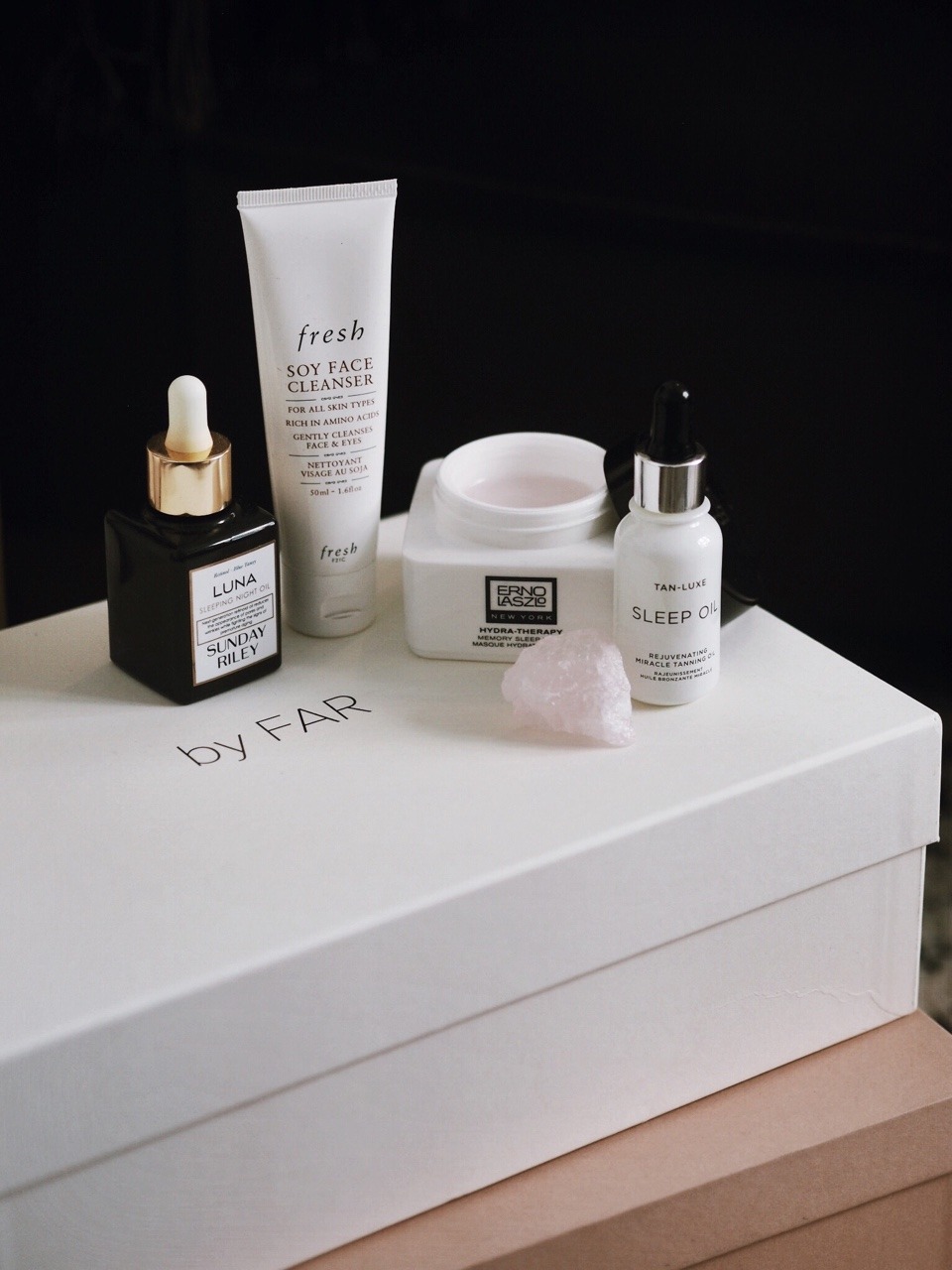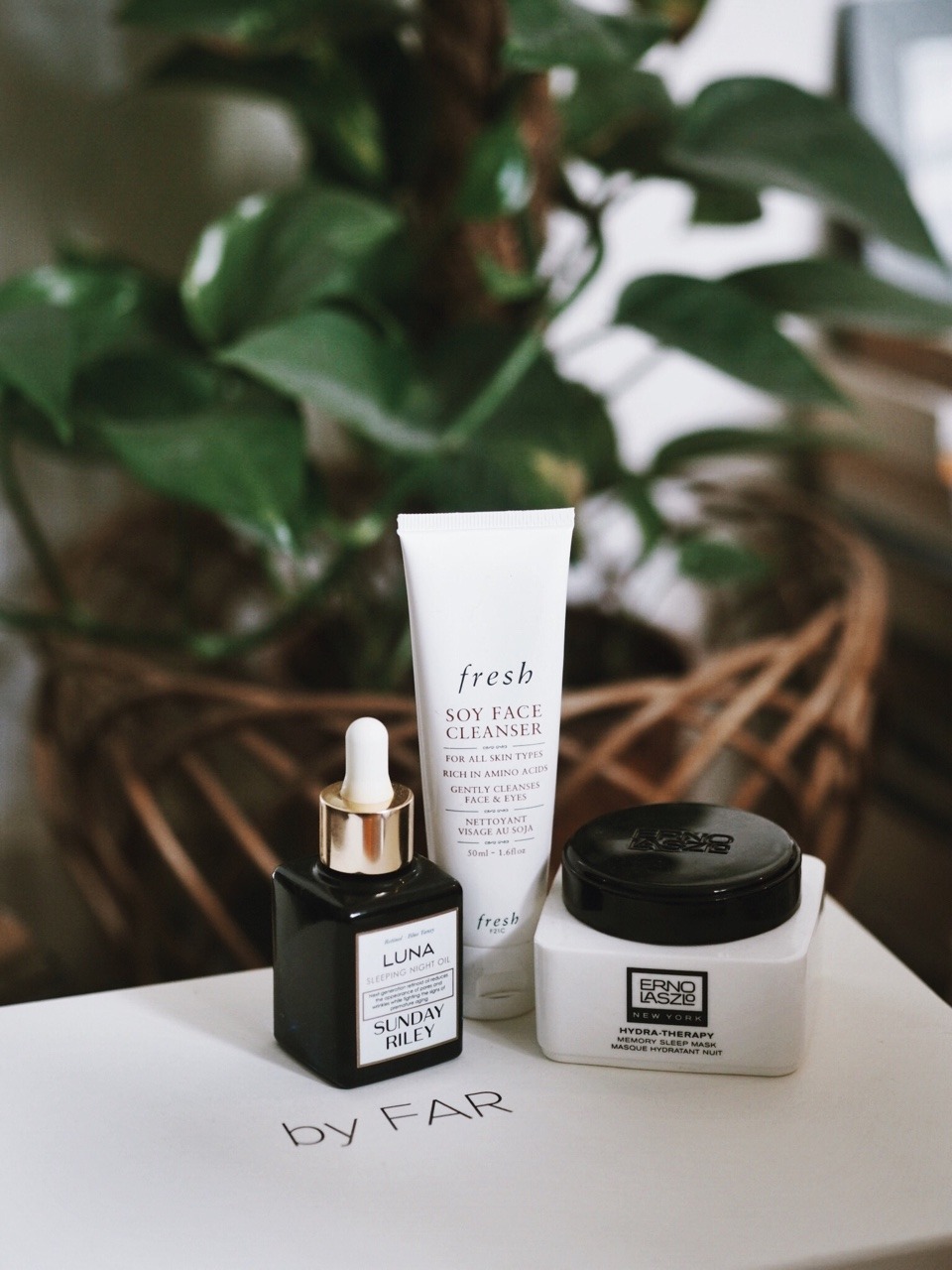 I've recently introduced a few new products into my skincare routine that I thought were worth a mention – it's approaching that time of year when my skin tends to act up and have a bit of a seasonal breakdown. This year however, I feel like I've really started to get to grips with the kind of ingredients that work in harmony with my skin, rather than irritate the hell out of it and encourage another expensive skincare binge. There really isn't much worse than investing in products that just don't work for you, so I thought I'd share a few that have definitely been worth the pennies, and are continuing to transform my skin and make me feel confident…
SUNDAY RILEY – LUNA SLEEPING NIGHT OIL 
Sunday Riley seem to be one of those cult brands that leave people divided – some people swear by their products, whilst others deem them a waste of money and find that they are too strong/the products break them out etc. I have just finished my first bottle of Good Genes and I'm still not sure what to make of it – did it make a difference to my skin? absolutely! It made it plumper, more radiant/smoother looking, and I loved applying it before make up. Do I think I could achieve the same result with a product half it's price? Probably. Good Genes also really stung me to start with, which I was told would happen until my skin got used to the active ingredients, but it also ended up meaning the product wasn't enjoyable to use for a long time. Luna oil however, has felt like it's been doing my skin all kinds of good from the first application – it seems strange to be putting a dark bluey/green oil all over you face (it kind of resembles food colouring), but my skin instantly feels soothed and hydrated like never before. I don't think it's the type of product you need to use every night due to the high retinol content – I've been applying it over cleansed skin around 2-3 times a week, or as and when I feel I need it. My pores look more refined, and my make-up has been a joy to put recently! I've found that I have way less blemishes and it's even faded some of the scarring I had on my cheeks too. Yes, it's ridiculously expensive for a skincare product, but it's a huge bottle and a little really does go a long way…
Fresh are one of those brands that I have Instagram to thank for – I've seen so many bloggers tag them in images and rave about this cleanser in particular. I have their caramel lip balm which I use religiously, so was keen to test out some of their skincare products. I bought the cleanser in the small size so that I could test it out before getting the standard tube – it's also doubled up as a nice little travel cleanser! It's got a really mild cucumber scent to it, and removes all the rubbish from my face after a long day. It's the kind of cleanser I've been reaching for when I just want something really gentle and soothing – I feel like every skin type could get on board with this one. It's just a really welcome addition and also contains Amino acid which always help to make my skin feel healthy and renewed.
ERNO LASZLO – HYDRA THERAPY MEMORY SLEEP MASK 
A skincare brand that I had never heard of until I was kindly sent some samples a few months back – they have now become some of my most used products. This mask is honestly like nothing else I have ever tried before, and I've been through my fair share of masks! I happen to be a big fan of sleep masks in particular – I like a product that works away whilst you sleep, and I still get excited that my skin might dramatically transform overnight with each skincare label promise. I'm a sucker for anything that feels cooling and nourishing before I hit the pillow – this mask has a jelly like consistency and helps to restore skins moisture overnight. It basically does exactly what it says on the tin, and looks really pretty too – it's that millennial pink colour (v on trend), and I always look forward to using it in the evenings. I use this twice a week to keep my skin smooth and hydrated – alternating between this and Luna Oil is proving to be a lifesaving remedy for all my previous skin woes. Granted it's another spendy product, but it really does last and it hasn't disappointed me like some other high end masks that I've invested in.
I have pretty much managed to avoid all fake tanning products until this year – I hadn't realised that there were so many amazing gradual tanning products that could give my skin that natural sun induced glow, but without any of the nasty skin damage. The Clarins face drops and the Charlotte Tilbury bronze and glow mask are two of the best I've stumbled across this year, and now this dreamy sleep oil that transforms my skin overnight. I think it's definitely the most natural that I've found so far – no mess, no streaks, no nasty fake tan smell. I just massage a couple of drops onto clean skin around two times a week to add a bit of life back into my dull looking skin. The colour is so natural and it really makes my skin appear more even, which has me reaching for my foundation less throughout the week. I'd really recommend testing out a skincare product with a little fake tan in it if, like me, you can sometimes look a bit washed out and your natural complexion tends to be uneven. Discovering a few great ones this year has really helped to boost my confidence, and it also means I don't feel obliged to put on even the tiniest amount of tinted moisturiser before a sweaty gym trip (that is when I eventually bribe myself back into some sort of exercise routine)…
Alice x
SHOP MY SKINCARE