I always find answering haircare related questions quite tricky because my routine differs depending on how I'm styling my hair every few days. I naturally have extremely thick and curly hair so sometimes I'll wear it in it's 'natural state' and other times I'll gravitate towards heat styling if I want a more polished look. I'm also incredibly impatient when it comes to hair styling which is why you'll often see me with it tied back in a scrunchie or a hair claw (sometimes a person just doesn't want to spend half an hour under the heat of a hair dryer). 
With this in mind, I thought putting everything together in a detailed blog post might be helpful for anyone with a similar hair type/who just happens to be interested in what products I rely on from one look to the other. Without further ado, an extensive breakdown of everything balanced on my bath caddy and cluttered around my vintage dresser…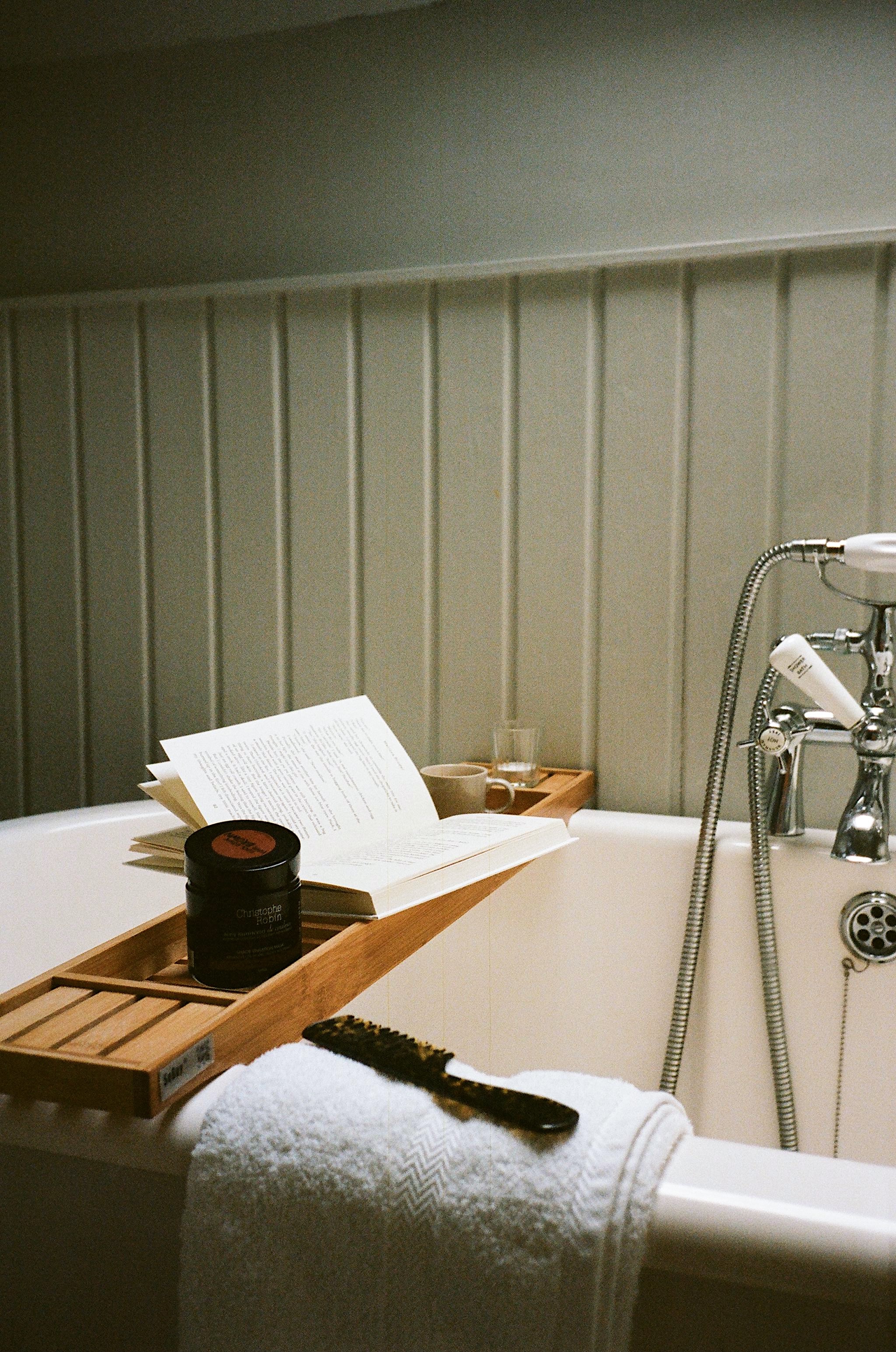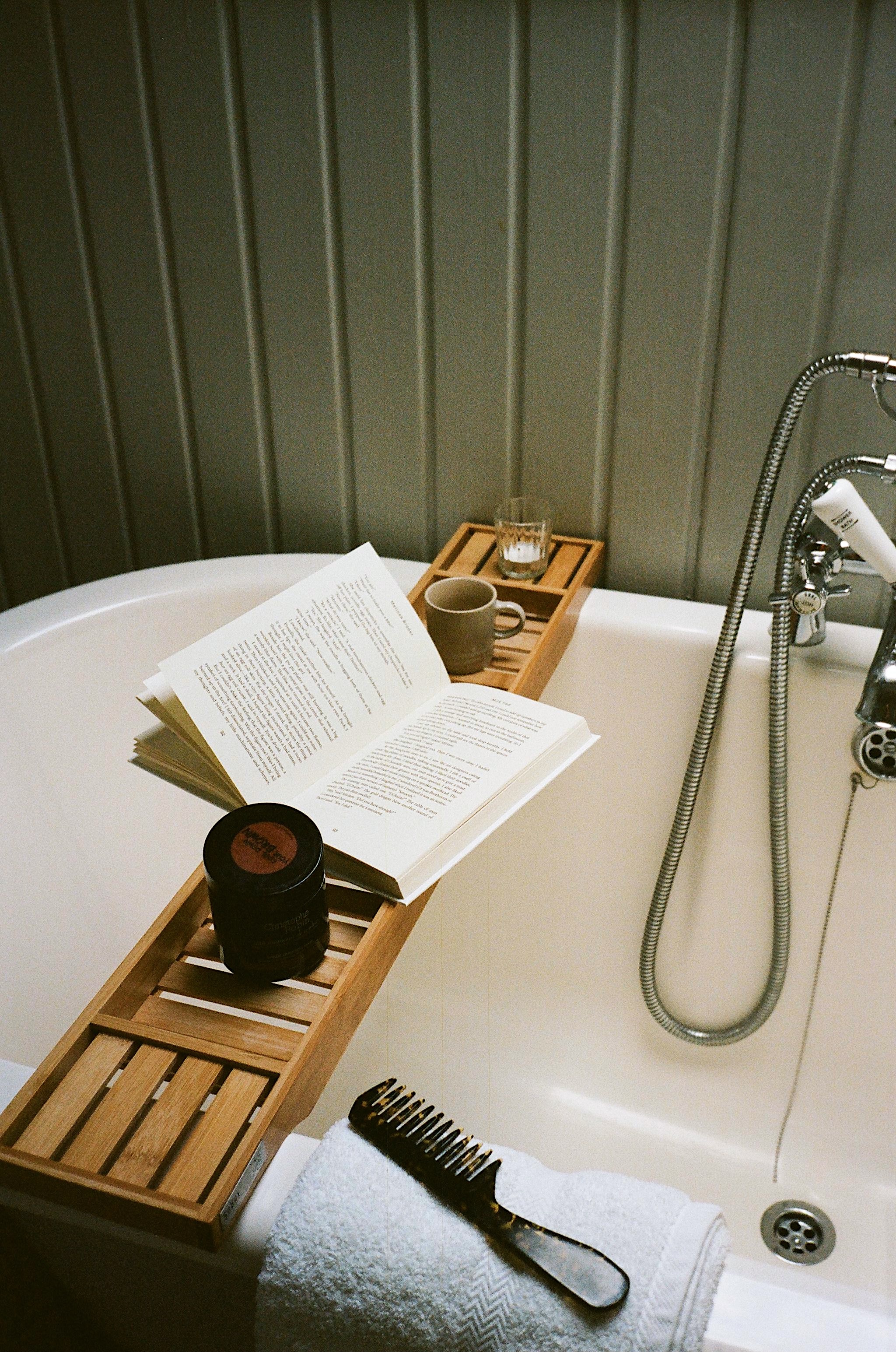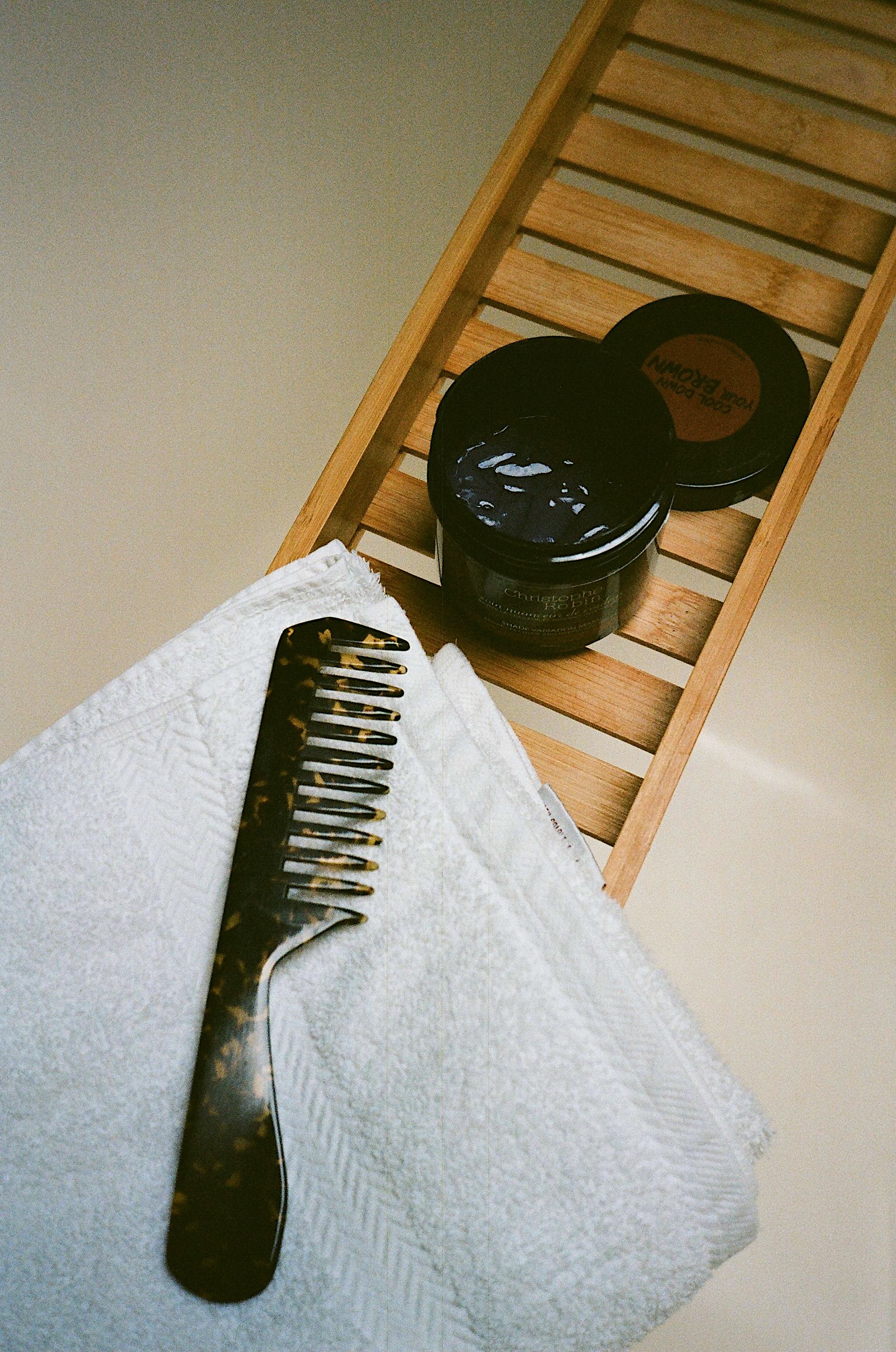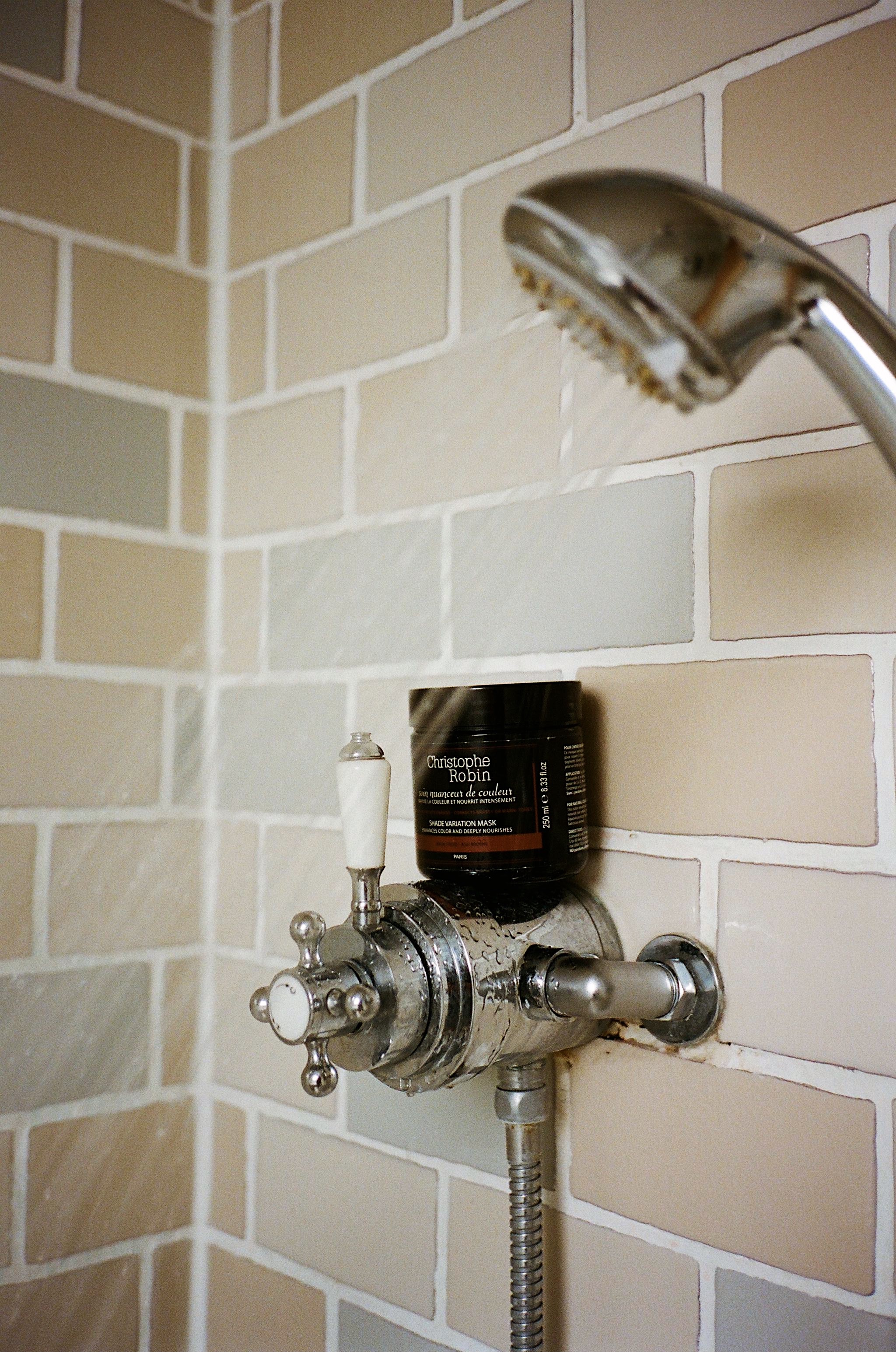 General Haircare & Maintenance
My hair type: Short, thick, naturally curly & colour treated. 
I have the type of hair that really rewards me if I stick to a good routine and take care of it. I try to drink as much water as I can and keep a relatively healthy diet, but when it comes to great hair, great products really do make the world of difference. My hair is colour treated so I always use a shampoo & conditioner that have some some sort of colour protection or super hydrating element. I'd say I wash my hair every two to three days depending on what I have planned that particular week – if I wash my hair too much it becomes dry and brittle very quickly. Aside from a simple shampoo and condition, I also do a hair mask at least once a week to really give my hair some extra TLC. It's usually some sort of deep conditioning mask as dryness is generally my main concern, otherwise it's a toning mask to stop my hair fading to a coppery/brassy colour which it has a tendency to do (especially during the summer months). I've shouted about my love for the Christophe Robin Shade Variation mask many many times and it's the only toning mask I've used for years now! It's the product I rely on to make my colour last between salon appointments, and it also makes my hair considerably smoother and more manageable whenever I use it. Also (when I'm masking), I'll often brush the mask through my hair with something like a wet brush so that it disperses the product evenly and I have less of a job when I get out the shower. I was also recently sent a scalp massaging style brush which works really well for this too and transforms the masking experience into more of a luxurious little ritual.
Once I'm out the shower, I'll always spray through my hair with a detangling/conditioning spray that also includes a level of heat protectant. I usually can't brush through my hair until I've done this step as my curls tend to fuse together and become very tangled as soon as they get wet. I'm also quite an avid user of hair oil because my hair is like a big sponge that just soaks it all up without getting greasy. I'll often sleep with a bit of extra hair oil in overnight if I know it's hair wash day the next day – I've tried so many of the years so I'll link my absolute favourites below along with everything else I've mentioned! The last thing I've started doing for my hair over the past few years is using silk scrunchies when I sleep and a silk pillowcase. It's definitely a luxury step that might not feel necessary for everyone, but it's made a huge difference to not only the condition of my hair but also the state in which I wake up in. My hair is just much more manageable the next day when I've been sleeping on silk (who do I think I am?) – especially if I've newly styled it and I want to make it last for a few extra days.

                
                


                    
                    
                


            
My favourite (and most used/trusted) haircare brands include: Christophe Robin, Living Proof, Aveda, Kérastase, Unite, Ouai, Kiehl's, L'Oréal Professional, Shu Uemura, Davines & Briogeo.
---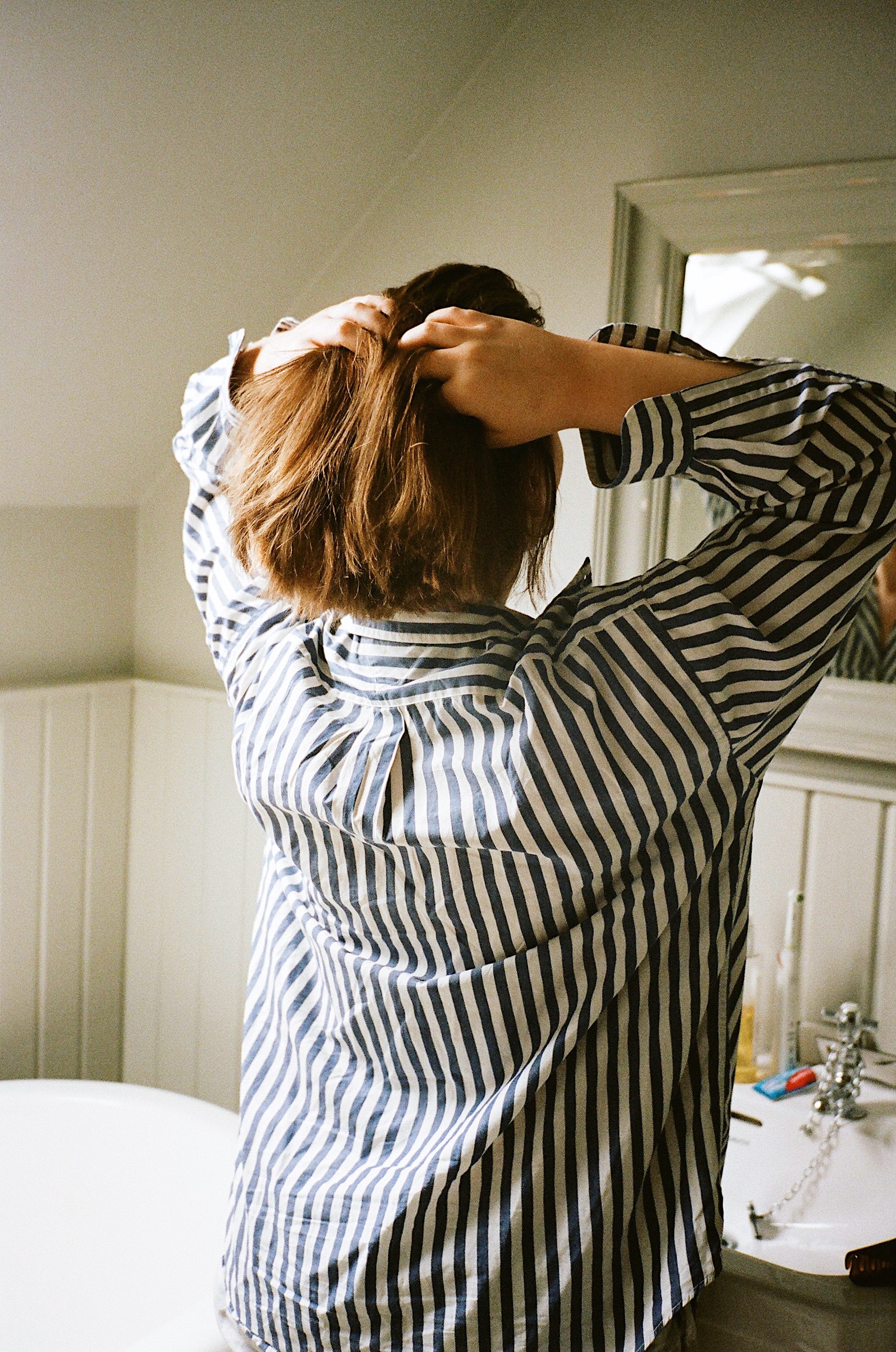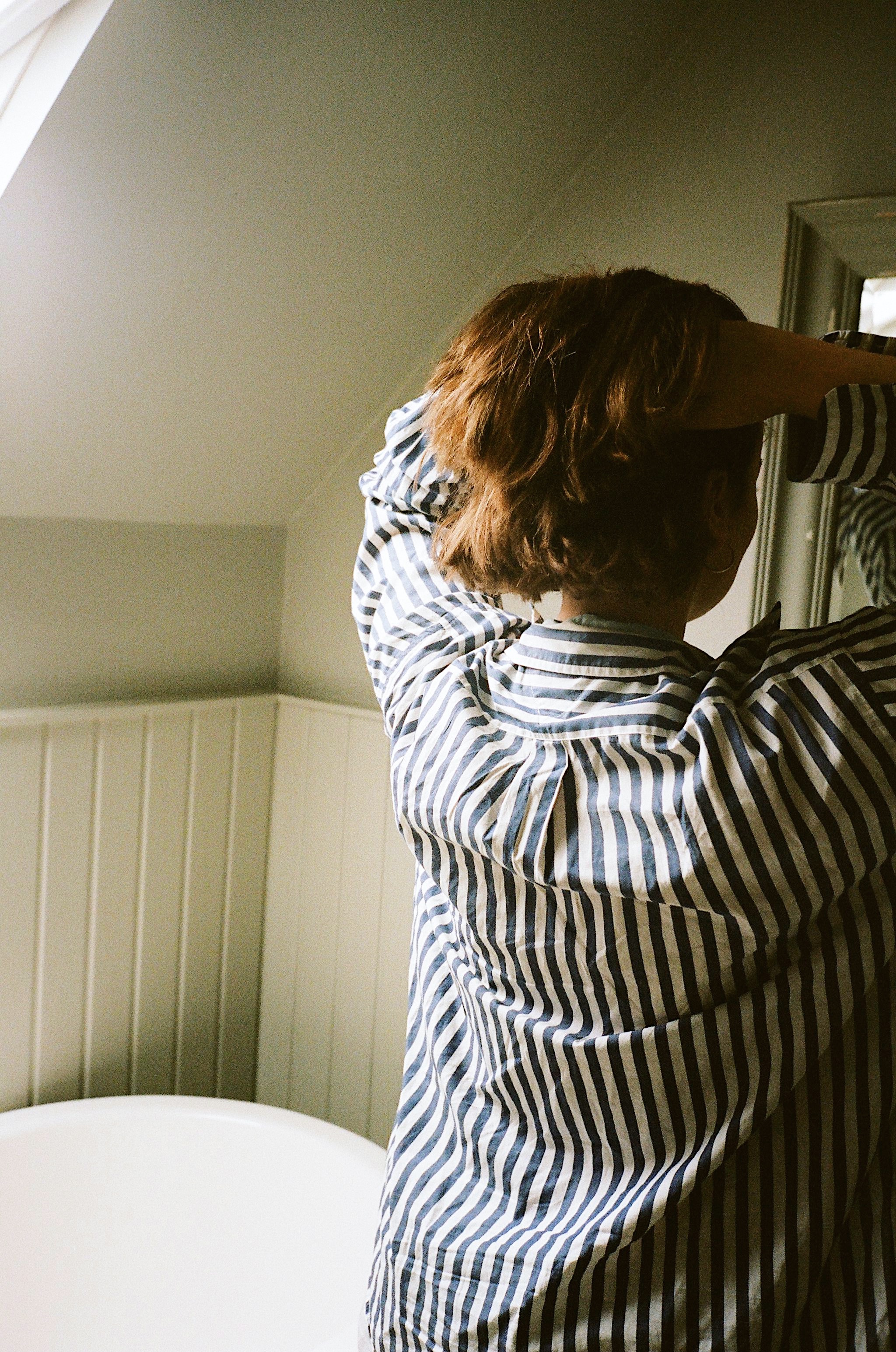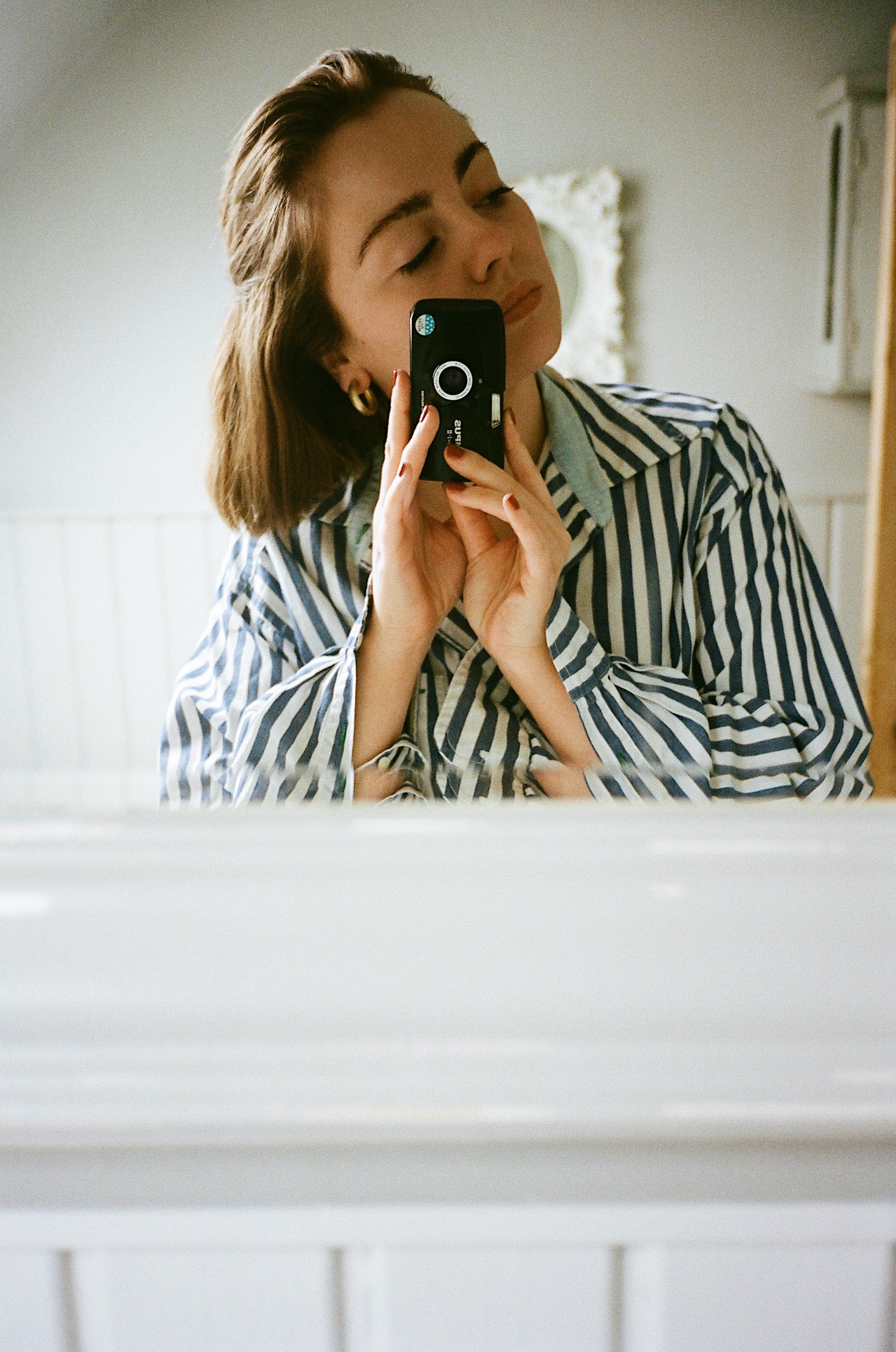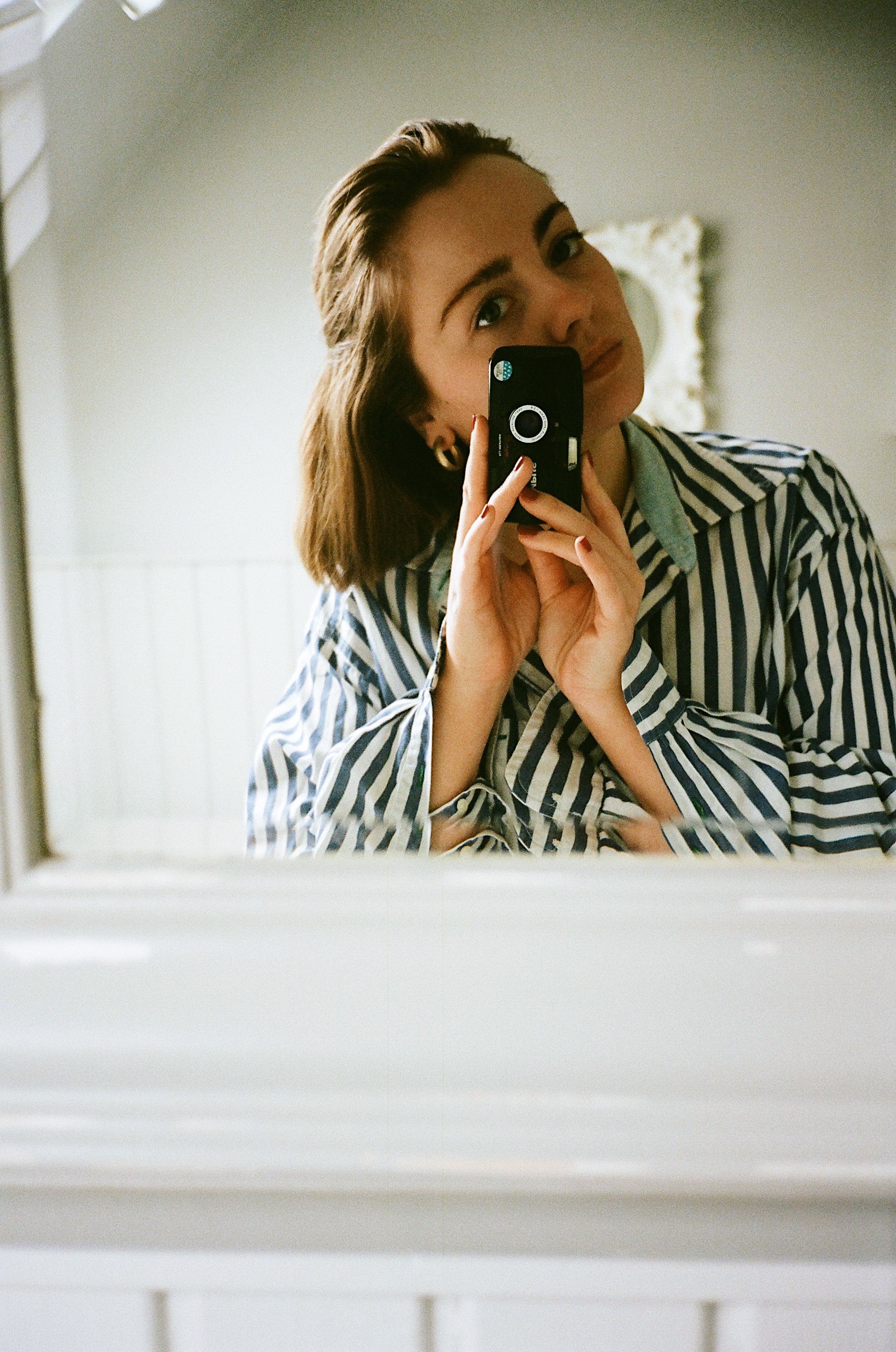 Heat Styling Tools & Accessories
As someone with very thick/curly hair, I realised the importance of finding the appropriate hair brush at a very early age. I'd often find it impossible to use some of the thin plastic hair brushes that my friends had, and I'd grimace whenever a hairdresser would attempt to brush through my hair with a thin toothed plastic comb…
I definitely get my hair from my Gran, and she would always use Mason & Pearson hairbrushes and often she would buy us one for Christmas every couple of years. A bristle hairbrush is LIFE when you have thick hair – not just for 'dressing' my hair and smoothing it out if I'm wearing it up, but it's also the only way I can brush through my hair more extensively with something like a Denman brush  afterwards (a popular brush for those with curly hair). My advice would be to always invest in quality hairbrushes and look after them so they last well! I recently got sent the Hershesons 'everyday essential' brush so I've been mainly reaching for that at the moment because it's such a great brush and definitely a more affordable bristle brush option on the market (I love the colour of it too). They also sent their Almost Everything Cream along with it which has become a firm favourite for scrunching into my natural curls on days when I diffuse my hair. It's about ten different things in one product so it's a great place to start if you're feeling overwhelmed by the intense amount of products out there. I then always have to have a couple of good quality combs in my collection! I can't really style my fringe without one, and I pretty much always have an emergency floating around in my bag somewhere. I always have a wide tooth comb which I mainly use for brushing through my curls, and then a thin tooth comb for anything fringe related.
When it comes to heat styling tools – I've had the Ghd Air hairdryer for a few years now and I love it. It's the one my hairdresser uses and it's quite powerful which means less time spent blasting my hair with heat. I also have the Ghd diffuser that fits onto the hairdryer and is such a great size! I then have hair straighteners and a curling wand both by Ghd so you could definitely say they are my go-to brand when it comes to all things heat styling. I've used their products since I was a teenager and I just find them to be great quality – they can feel expensive when you're investing in a few items but they really do last. I think I had my first pair of Ghd straighteners for well over a decade! I'd love to try out some of the Dyson hair products because they look so fun to use, but the price points are rather eye-watering so it's just not a brand I'm prepared to delve into at the moment. If any of you have any experience/recommendations when it comes to Dyson then definitely let me know! I'm always down for trying anything that makes hair styling more enjoyable and less time consuming… 

                
                


                    
                    
                


            
---
Styling Naturally Curly Hair vs Heat Styled Curly Hair
As I mentioned earlier, sometimes I'll wear my natural curls and other times I'll want a neater/glossier sort of vintage style wave that feels a bit more put-together and less 'beachy'. My natural curls are very unruly and frizzy which is a kind of undone look that won't always match the outfit I want to wear or the occasion that I've been invited to. It's obviously fine to wear your hair however you please and I'm a big advocate for embracing the natural frizzy/curly look but it's all about choice and confidence too. I style my hair depending on how I feel each week and that's a choice I'm lucky to have and one that has the power to boost my confidence… 
Styling My Natural Curls
So when it comes to my natural curls, it's very much a journey that I'm continuing to figure out year after year! I'm not a follower of things like The Curly Girl Method because I don't wear my hair naturally curly a hundred percent of the time so it seems silly to commit to creating the perfect natural curls when I'm not fully committed to that look. However, I do try and keep my hair in good condition and avoid any products with sulfates or alcohol in them. I'm basically always trying to be as gentle as possible when I do anything to my hair but every scalp and head of hair is different so what works for one curly headed person, might not work for another. It's very much a journey of trial and error, and I've had many occasions where my natural curly hair resembles a freshly groomed Pomeranian… 
I'll shampoo & condition as usual and then I'll get out of the shower and then immediately spray my hair with some heat protectant/detangling product before brushing my hair into the shape I want it to 'set' – essentially just styling it back into it's bob shape with my fringe combed forwards. I'll then start scrunching my hair towards my scalp so that my curls start to appear and take shape. Then I'll add whatever curling cream I'm using and scrunch again so that the curls continue to define and bounce upwards. I'll let it sit for a while like this if I have the time (usually 15/20 minutes) and then I'll start diffusing my hair until it's half dried but still a little bit damp. I never fully dry my hair with a diffuser otherwise we get seriously close to Pomeranian territory and my curls would be ruined which would mean starting the whole process all over again. When my hair is sort of half dried, I then usually clip half my hair up for that half up/half down look that I feel suits my face shape best. I'll then scrunch some more curl defining cream through my hair if it feels like it needs it – other times a bit of oil does the trick and helps to condition/get rid of any diffuser induced frizz. I then have two options with my fringe – I can blow dry it forward and curl it under with the straighteners how I usually do, or I can try and make it blend it with my naturally curly look a bit better by spraying it with some salt spray and then diffusing it for a few seconds. My fringe doesn't go as curly so sometimes I'll do this just to give it a more textured/messy look that suits my natural curls – if there's any bits that are sticking up then i just use the straighteners to curl them under which I've found works well! 
Creating Curls With a Styling Wand
When it comes to creating a curly look with my Ghd tools – I'll blow dry my hair as soon as I get out of the shower (with heat protectant). I don't do anything fancy when I blow dry my hair, I just blast it with the hairdryer and use my bristle brush until it's pretty much dry. I don't mind the very underneath sections being a bit damp as they tend to curl up a bit and create some natural volume underneath which I really like because it looks more 'natural' and less squeaky clean. I'll then clip some of my hair up with a hair clip to create that half up/half down look, before curling all the straight hair I can see with my curling wand. I'm really quick at doing this kind of look now and try not to focus on it looking too even or perfectly curled – I'd rather just create texture that looks as natural as possible. Then I'll usually just mess up the curls a little with my hands and curl any bits that have been missed before spraying it with lots of texture spray. I'll often use curl cream to scrunch up the back of my hair and the underneath sections that are half dried because I can never be bothered to attempt curling the back of my head.
I'll then just blow dry my fringe forwards using a comb and then curl it under with the straighteners. I usually add texture spray to my fringe too to create more volume and a less 'freshly washed' look. I then add hair spray to lock everything in and I find that it falls nicely throughout the day and still maintains a nice vintage wave shape. I could wear my hair fully down if I wanted to but I just feel more confident when some of it's clipped up because of how thick and unruly it is – it also means that I don't have to heat style every section of my hair which saves me precious time when getting ready in the morning. Every now and then, you might see me with it looking quite straight and worn tucked behind my ears – sometimes I'll wear it like this when it's just been blow dried straight but I can't be bothered to style it, or when I want to wear a hat of some kind. I quite like how it looks when it's not curly if I'm wearing a summer hat or a beanie in the winter months! I'd say my hair is almost a bit seasonal in that way, I tend to switch up the way I wear it to suit the temperature or the situation I'm in…

                
                


                    
                    
                


            
---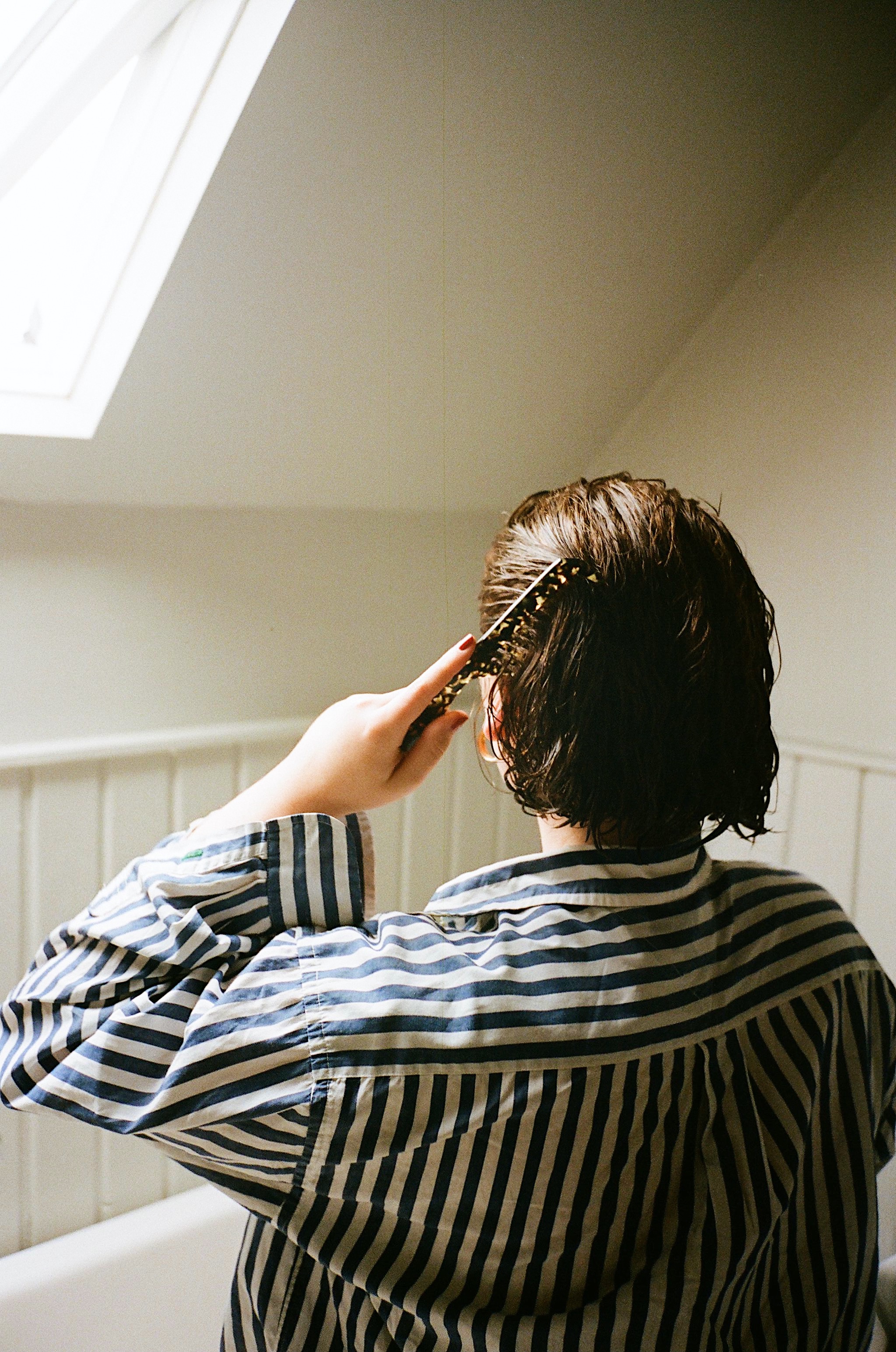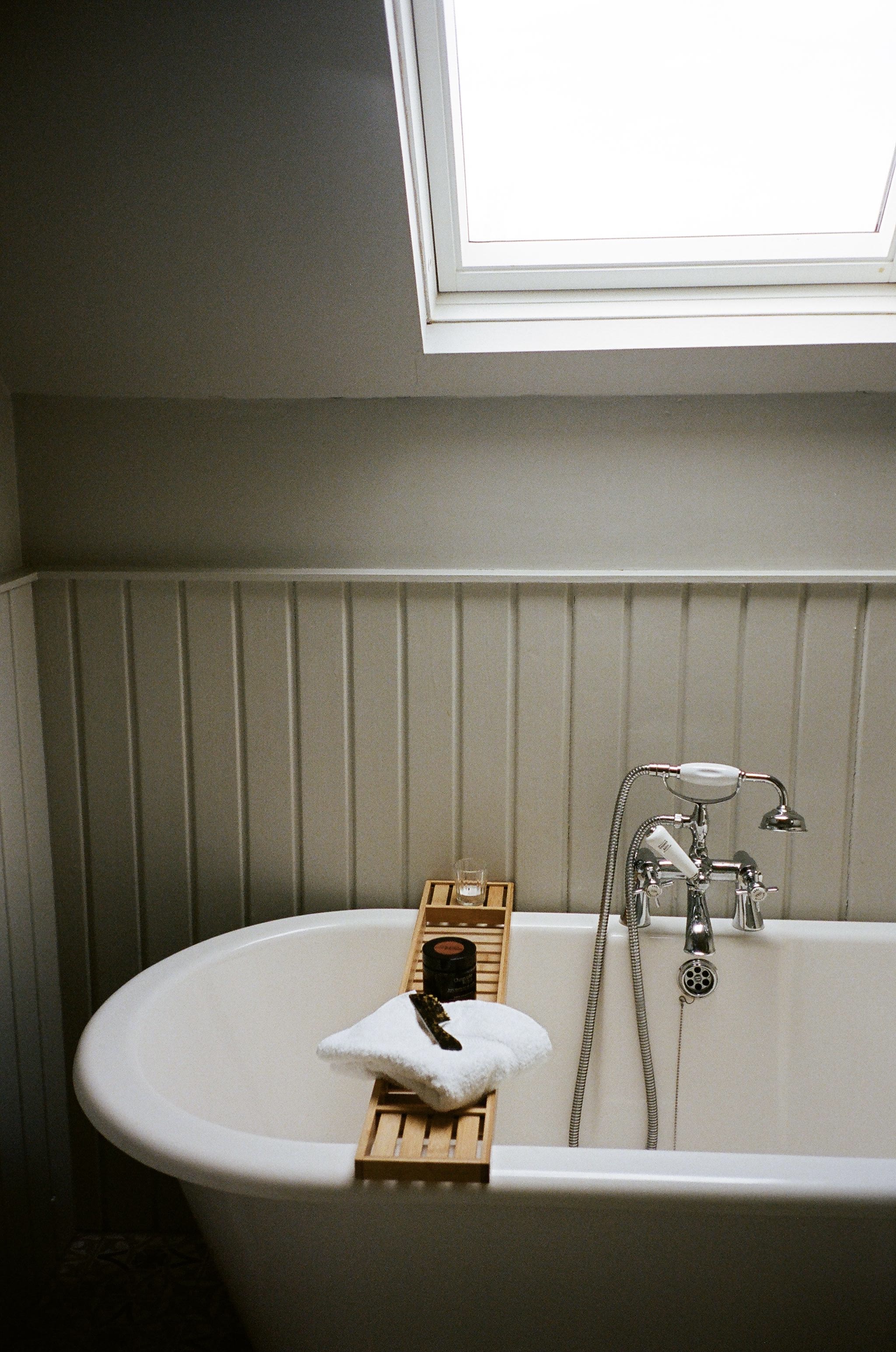 ---
Photographs taken on film