My beauty posts tend to be a bit few and far in-between – this is mainly because I don't like to share anything on my blog that I haven't tried and tested for a good few weeks, and partly because I'm a creature of habit. Anything that makes it's way into my beauty cabinet gets used up until the very last drops – I hate having an excess of products that just get wasted, so I try and keep my beauty routine as streamline as possible. I very much have a handful of brands that I trust when it comes to new products, but I'm always open to discovering new things. I'm pretty sure everyone and their cat has heard about Glossier by now, and I've featured a lot of their products over on Instagram stories over the past six months. I thought it was about time I did a little roundup of my favourites so far…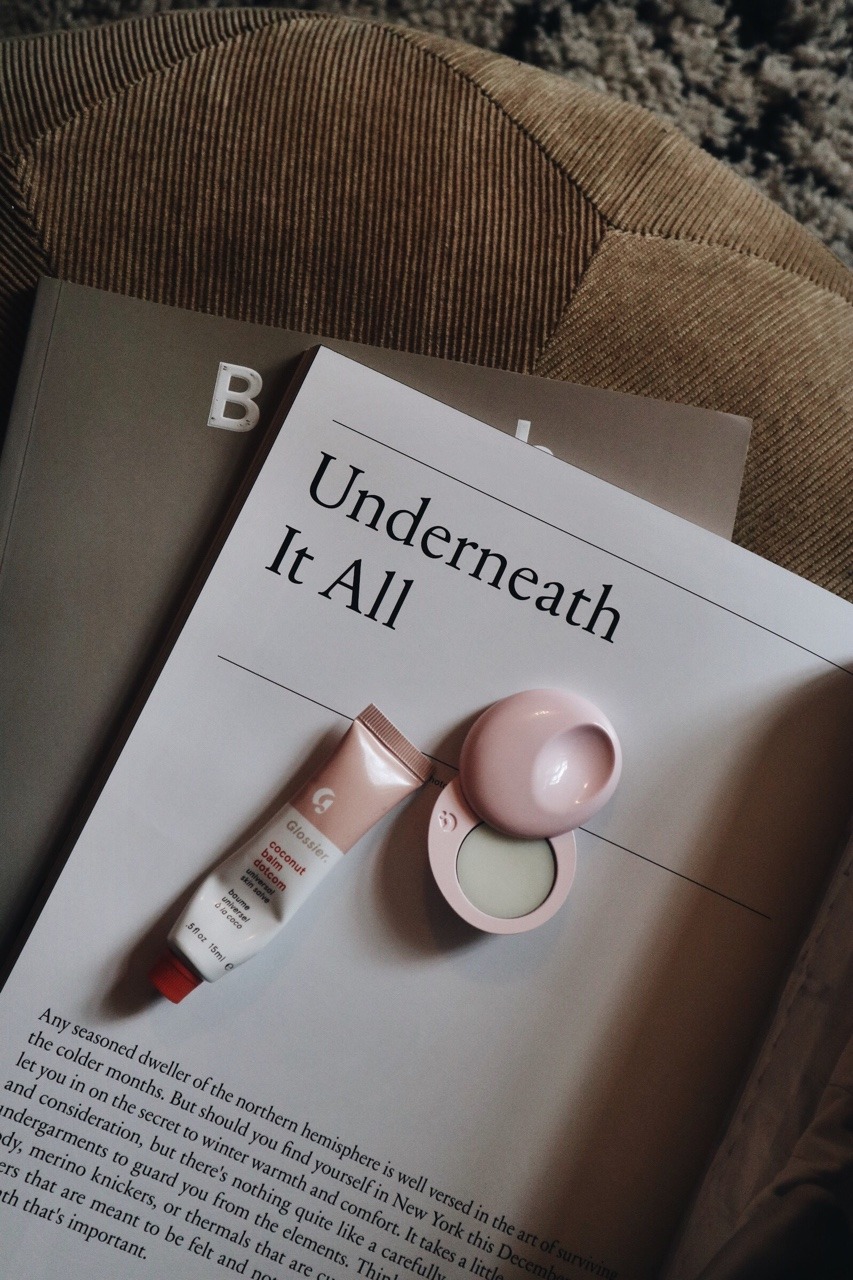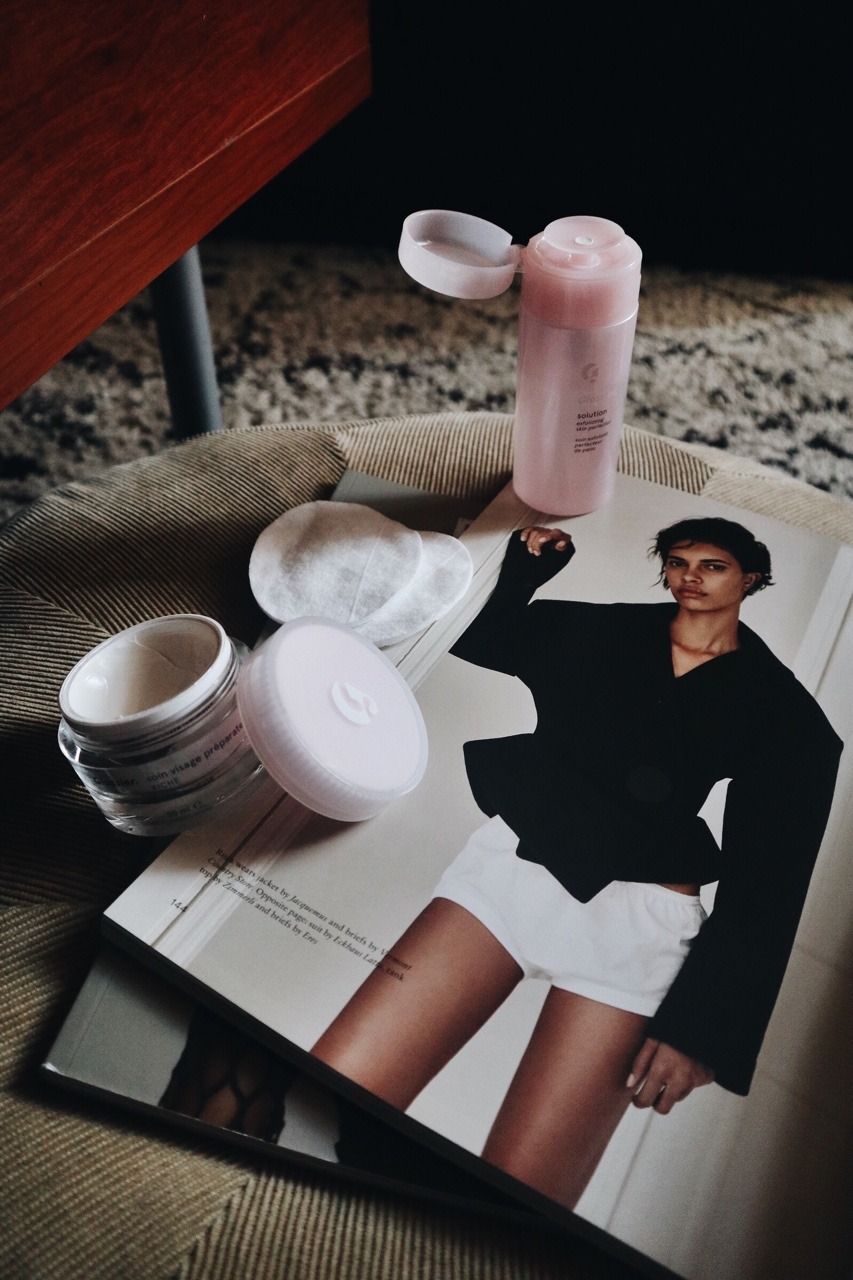 The Coconut Balm Dotcom – this product is a great place to start if you want to dip your toe into the millennial pink world that is Glossier. It's the universal balm product that everyone needs to carry around with them – I've tried a couple now, and my favourite has to be the coconut scent! It's like a little bit of summer whenever I apply it to my lips, small areas of dry skin, or cuticles if I'm feeling extra fancy…
Glossier 'You' Solid Perfume – this happens to be my newest Glossier purchase, but I really wanted to include in anyway. I have to say that the perfume is definitely worth the hype surrounding it – I have the original version and it's become the one I reach for daily. It's got a really earthy/woody scent that's perfect for everyday, and you can usually get a little sample of it at check out if you're creating an order for something else. I thought the solid perfume would be perfect for my handbag whilst I'm travelling – sweaty train journeys to London are becoming more frequent, so it's nice to have a couple of products with me to freshen up…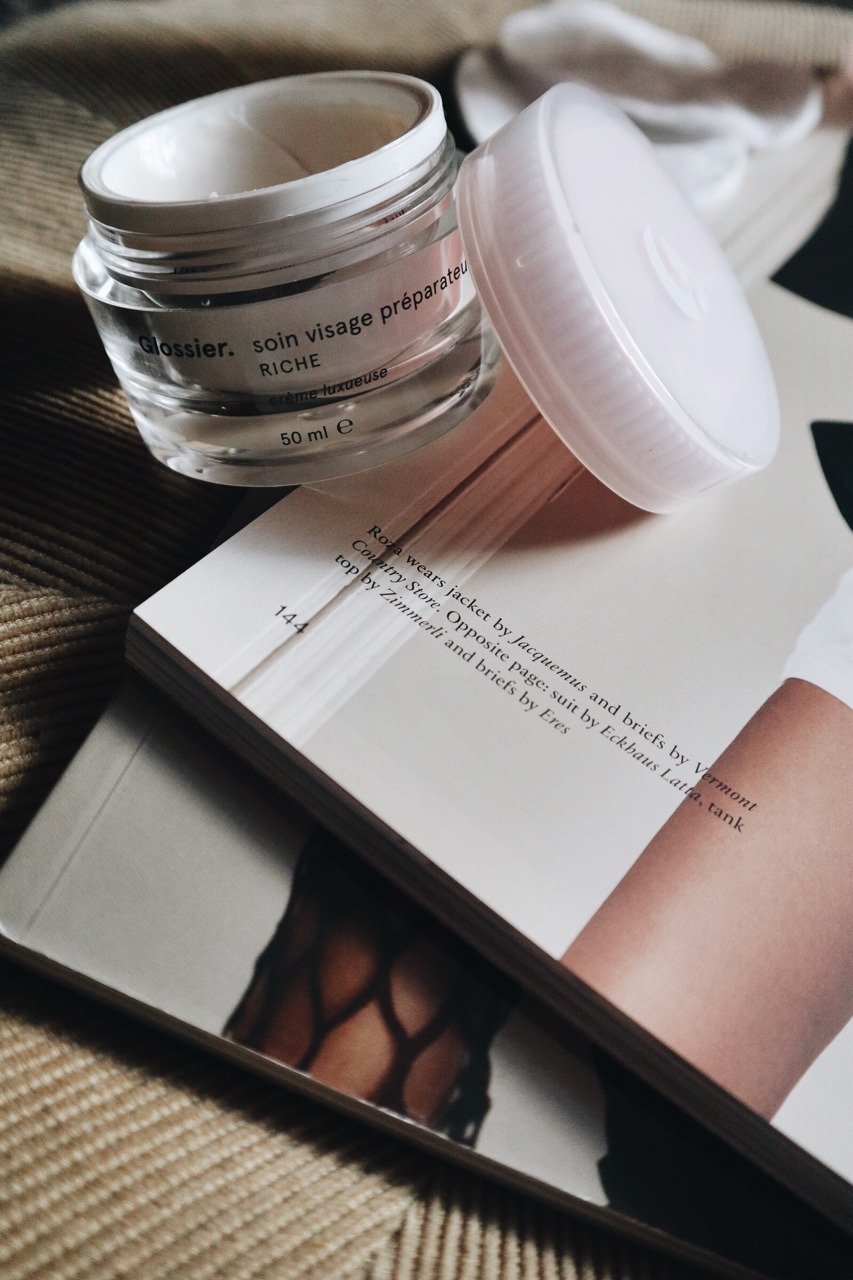 The Solution – everyone has been raving about this over the past few weeks. I try my best not to get sucked into hyped up products, but this really has been a dream to use. I put some on a cotton pad every evening and sweep it over my cleansed face. I'll then usually follow with a serum, and an extra hydrating moisturiser for added overnight relief. I did mention over on Instagram stories that it had made my eye are a little bit sore when I initially started using it – this was because when I was applying my eye cream afterwards, it was spreading the solution to my delicate eye area. Now I apply my eye cream first, and then The Solution – I haven't had any issues since doing it this way, and it's really smoothed out the overall texture of my skin. Particularly my cheeks – I've felt really confident in my skin lately and I definitely think this has had something to do with it. It kind of reminds me of the Pixi Glow Tonic for anyone who's ever used that before, but much quicker and more effective in terms of results…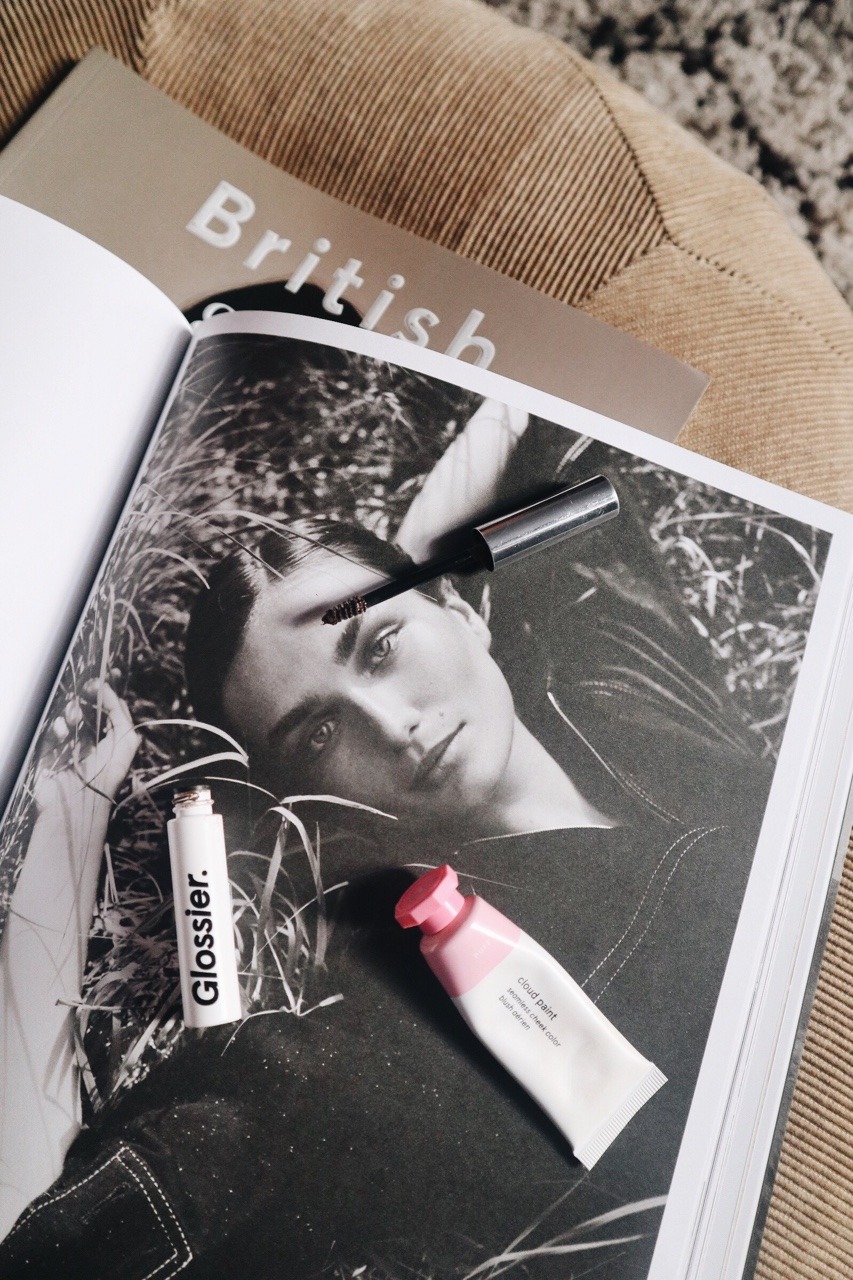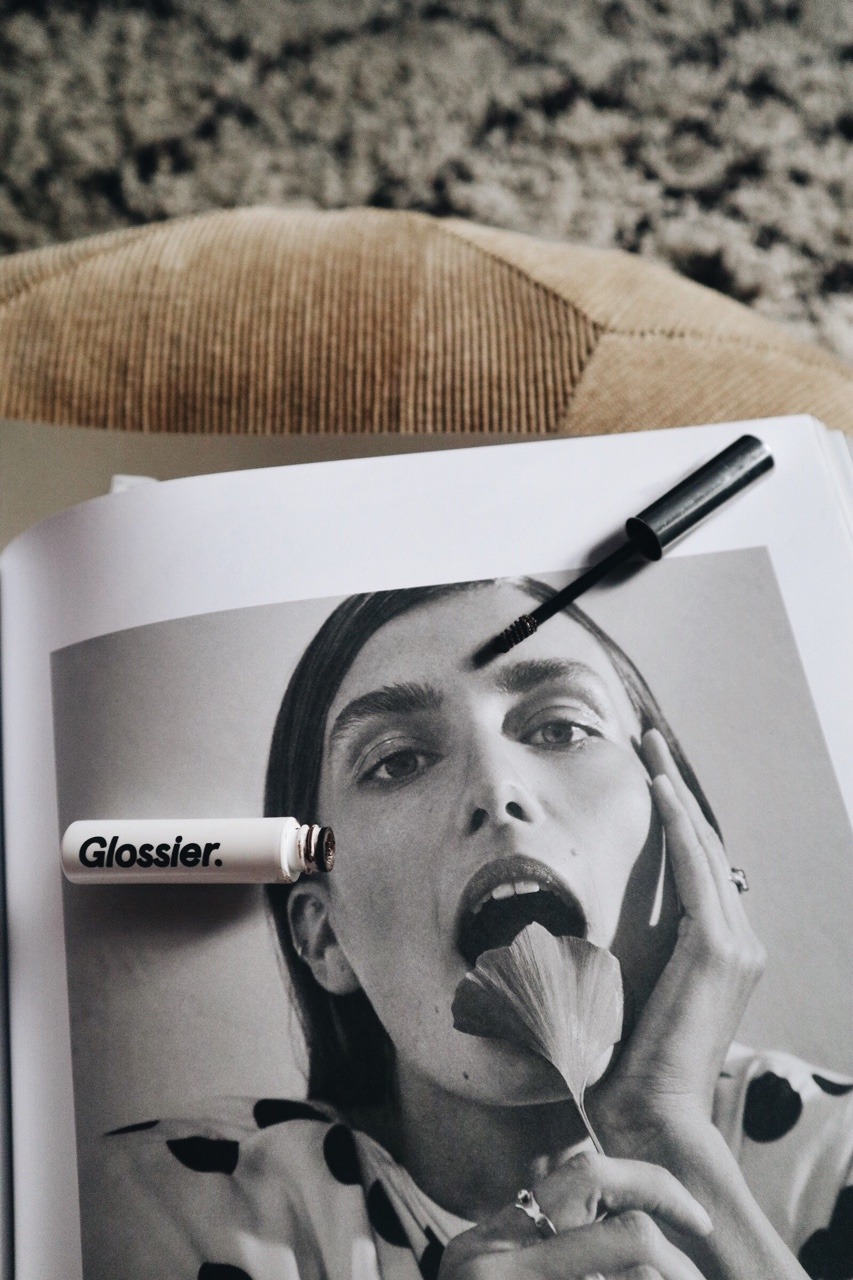 Priming Moisturiser Rich – I love, love, love this face cream. It's been a life saver on those bitter cold mornings when I feel like I really need to protect my skin. It smells like Sudocrem if anyone remembers that – I'm sure anyone who suffered from breakouts will remember slathering themselves in it as a teenager! It's a really comforting/nostalgic scent, and I really enjoy using it as part of my morning routine. It feels really thick and luxurious to use, but doesn't make my make-up slide around my face once applied.
Boy Brow – the hero product that you've probably read a million reviews on already. It's a great product for anyone who just wants a subtly enhance the natural eyebrows they already have – if you're someone who likes a lot of product in your brows, this probably isn't the one for you. This is another one that I like carrying around with me for those on-the-go touch ups – it makes my eyebrows look fuller, and adds a bit of texture to any sparse areas.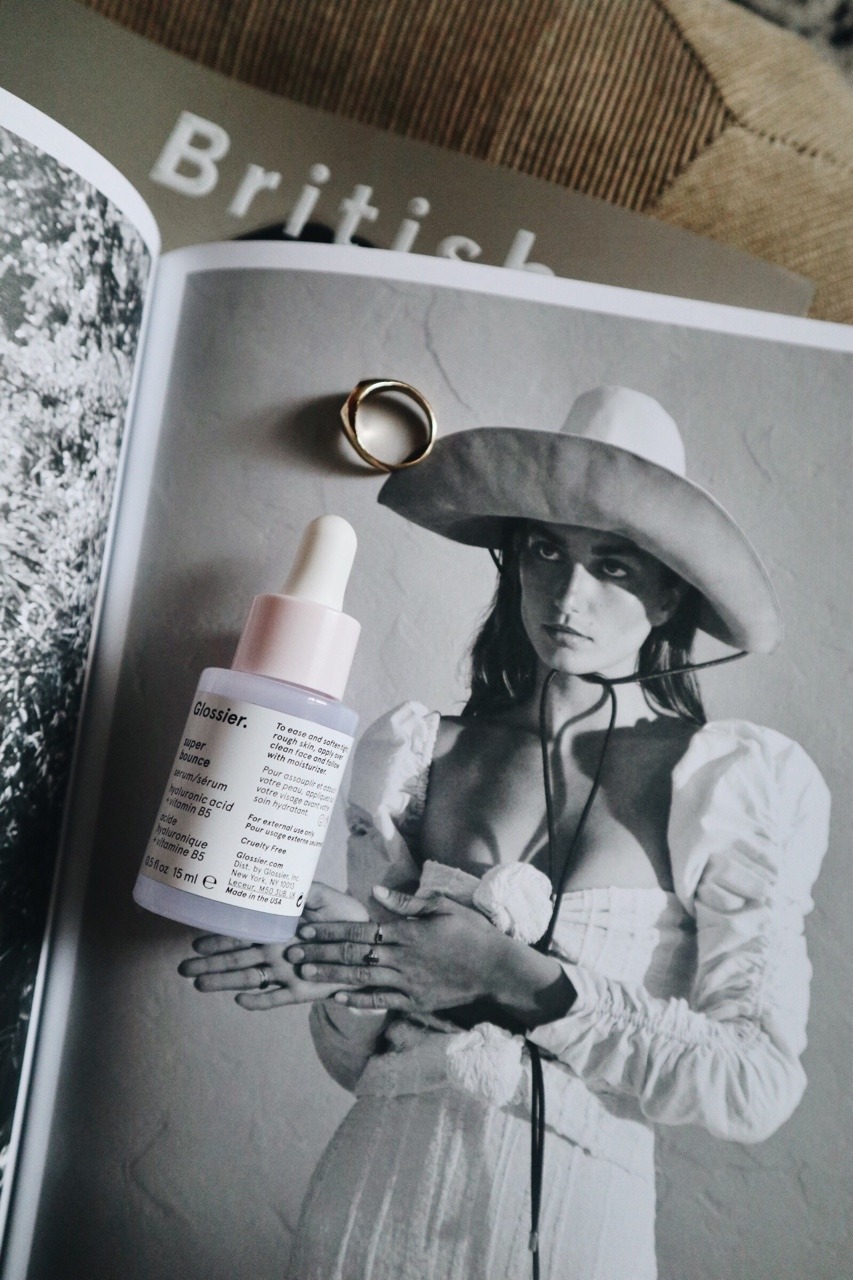 Cloud Paint – I'm a big fan of cream blush because it creates such a natural look. It's that effortless flush of colour to the cheeks that can really make your face look alive and brighten your features. I love patting a bit of this into my cheeks whenever my complexion looks a bit lacklustre – don't be put off by the bright pink colour, a little goes a very long way so this will last you ages!
Super Bounce Serum – the perfect serum for anyone who's feeling dehydrated. This really helps to keep my skin looking plump, and it's also the perfect size for travelling too. I keep this in my make up bag so it's always with me, and I like to apply it before my daily moisturiser. This in combination with the Priming Moisturiser Rich is the absolute dream combo. I'd say the only downside to this is the amount of product that you actually receive – the bottle is quite small (15ml) but again, it's the perfect travel companion to keep you looking your glowy best…
Alice x
---
Magazines featured | Unconditional | British Girls
SHOP GLOSSIER