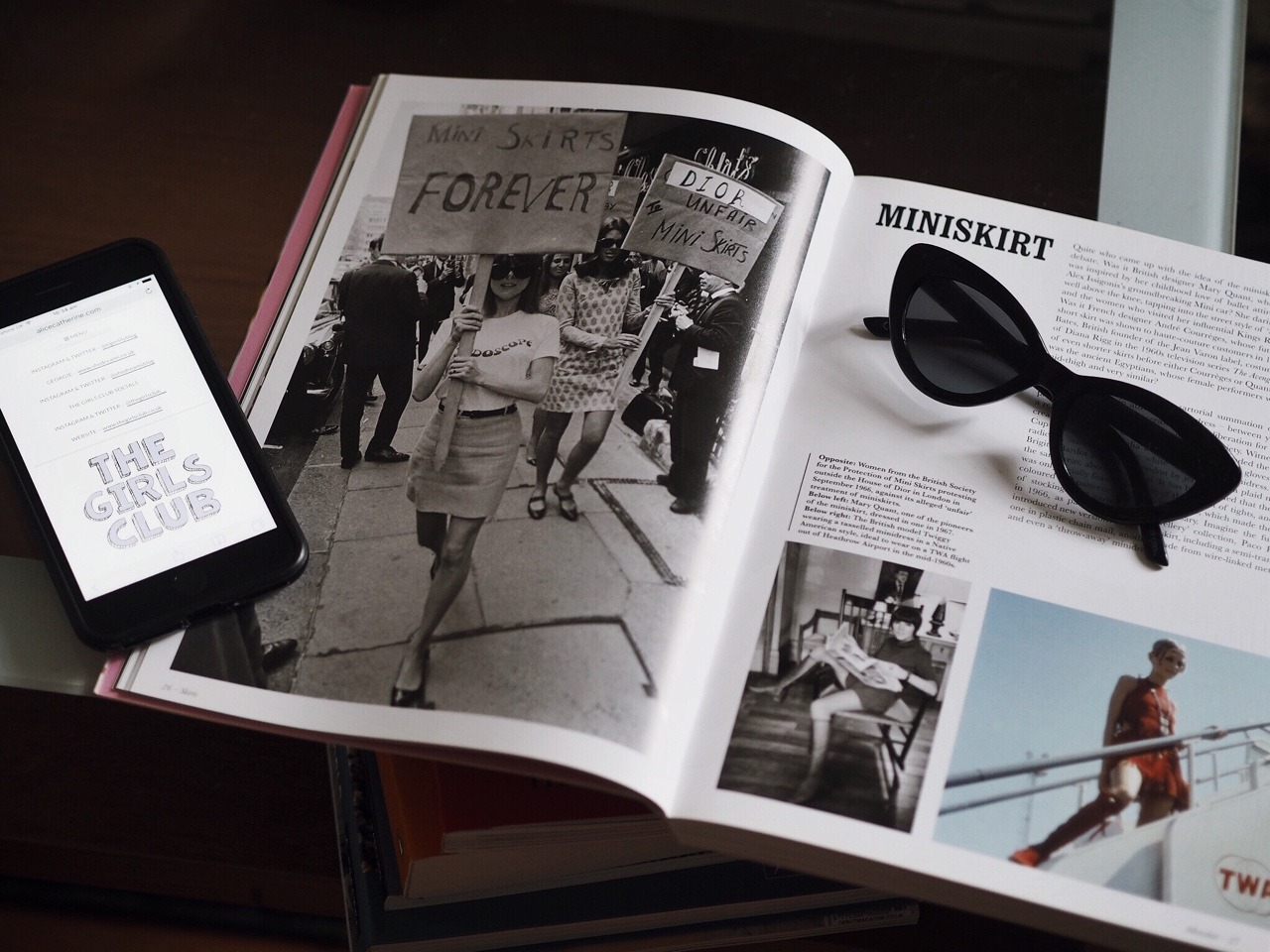 I was always obsessed with Rookie growing up – Tavi Gevinson in particular was someone who stuck out to me as paving her way a little differently through the fashion and blogging world. Rookie Mag offered (and still does) an online world for young writers, creators, and photographers to have their work displayed and to feel part of something. It always struck me as a place where multiple stories were told and all representations and backgrounds were welcome. In this sense, they were constructing the message that fashion and creativity doesn't have to exclude anyone – that it's actually cool to be embarrassing and awkward and enthusiastic about the things that bring you joy. In recent years, websites like the Lenny Letter have inspired me in similar ways – Lena Dunham in general doesn't shy away from difficult topics, and always writes about fashion from a more relatable stand point. I know not everyone is a fan of this, but I personally love reading about the psychology behind how we like to dress, basically anything that delves a little deeper and connects people of all kinds…
Of course, I write lots of posts just focused on what I'm wearing, and I do love just reading about just straight up fashion, but as someone who enjoys writing and loves to read other peoples work, sometimes it's refreshing to see people putting themselves out there. Really delving into a topic and encouraging others to do the same. After all, the online world can be down right intimidating, and I always admire anyone who can utilise their internet space in a positive or different way. This brings me nicely into the next instalment of Girls Support Girls – I was recently contacted by The Girls Club, a group of blogger gals united with the same ethos as this very series. I instantly connected with their values towards blogging, and thought that a lot of you guys would be interested to hear more about them. I get a lot of emails from girls who are struggling to find the confidence to start blogging, or feel as though the blogging world can be an intimidating place to break into – The Girls Club offer a platform to encourage and inspire anyone who has the blogging itch to just start. I spoke to the girls this week to find out what inspired them to start and where they see their online space developing…
ABOUT THE GIRLS CLUB
We're The Girls Club, a group of three creatives wanting to bring attention to the powerful females we see gracing our social media. We as a club want to focus on the incredibly talented woman we have surrounding us, whether that's independent business women creating brands, photographers empowering us, or writers discussing important feminist issues. We want to cover EVERYTHING. We want you to think of The Girls Club as a place you can come to be your true self, get creative, and make some really bad-ass content.
As bloggers, we know how hard it is to be established, get yourself out there, and have others accept you. Which is why here at The Girls Club we want all forms of creatives to get involved and not shy away from your expressive side! It's a big world out there and finding a place to make friends and support each other is important when trying to keep a float of the negativity that sometimes surrounds the blogging world. We want to have zero negativity surrounding what we do, we simply want to share the love.
We all had a mutual love for blogging, which is what made us think about starting a website together. Then, we thought, 'how could we make it different and more impactful?'. Then came The Girls Club, our new baby! A place to call ours and yours, a place where we can shine a light on everybody and use it as a hub of pure creativity and female empowerment!
In the future we want to publish our work AND yours, by working together whether it be with brands or not. We plan to do photo shoots, styling work and YouTube videos which will include working with our favourite brands and bloggers. We have opportunities for you all to get involved with, and have your name on the site for everyone to see and adore. It's not just about us, it's about you and showing the world how us as woman can be self established, hard working business women!
If you're a photographer, stylist, videographer, writer, brand, literally anything creative, then we would love to hear from you. You can get involved easily by getting in contact with us through our site, simply head to the 'Join The Club' section and fill out the quick and simple form! We are so eager to get you involved, so don't be shy! You can also read much more about us and what we do through the website – www.thegirlsclub.co.uk
We have recently worked with CARBS, a woman-run company that creates hand made pieces for the bright and colourful. We think it's so important to bring talent like this to light, and share the amazing creations with the world. That is just one of the many examples of what we want to achieve here on The Girls Club! We will soon be working with many more brands and if you'd like to get involved with that process, then please do get in touch. Remember, it's all about sharing the love and keeping things real. We are all about finding new creatives, we want to shout about you all!
WHO RUNS THE CLUB?
The Girls Club is run by three bloggers. Each of them with their own talent to bring to the site. CJ specialises in portrait photography and writing, India focuses on sustainable fashion and is huge on vintage, and Georgie is your dream blogger with impeccable writing and creative in all fields. All three of them huge on feminism! Which is why The Girls Club is mainly focusing on that, as well what ever other fun and creative musings we can find! 
INDIA – www.trashedvintage.com
INSTAGRAM & TWITTER – @india_pixie
INSTAGRAM & TWITTER – @tigerlilyblog
GEORGIE – www.shedreams.co.uk
INSTAGRAM & TWITTER – @shedreamsblog
THE GIRLS CLUB SOCIALS
INSTAGRAM & TWITTER – @thegirlsclub__
WEBSITE – www.thegirlsclub.co.uk
---