I spent all of last week in beautiful Sicily, in the little hilltop town of Taormina to be precise! Positano, Puglia and Lake Garda had all been high on my Italian wish list, but we finally settled on Taormina after a couple of weeks of researching. We left booking a summer getaway until the very last minute, so neither of us knew what to expect. We arrived in the middle of the night, groggy from the flight, and unable to see much of the landscape around us. On the first morning, I woke up around 5am and pushed open our balcony shutters to find a pastel pink sunrise waiting for me. I was instantly filled with excitement, a sudden feeling that this was a place I was going to fall deeply in love with…
WHERE WE STAYED | HOTEL VILLA DIODORO
I've had tonnes of questions about where we stayed, so thought I'd start off with the obvious. We stayed at Hotel Villa Diodoro after looking at a few different places that we weren't overly keen on. We both knew we wanted this holiday to be particularly special (as we haven't had a proper sun filled getaway together in a few years), so finding a good location was important. A lot of places were booked up, so we snapped up a room at Hotel Villa Diodoro after skimming through a few images online and hoping for the best. I have to say, it was way more grand and beautiful than I thought it would be – I'm used to quite shabby chic little abodes – so this definitely felt like a notch above the rest. Our room had a private little balcony, and everything we needed for the week ahead. The pool was amazing and looked right out onto mount Etna which the town is famous for – an active volcano that's visible from a lot of places around Sicily. The bright yellow towels and umbrella's made it feel like we were living inside a David Hockey painting from the get go…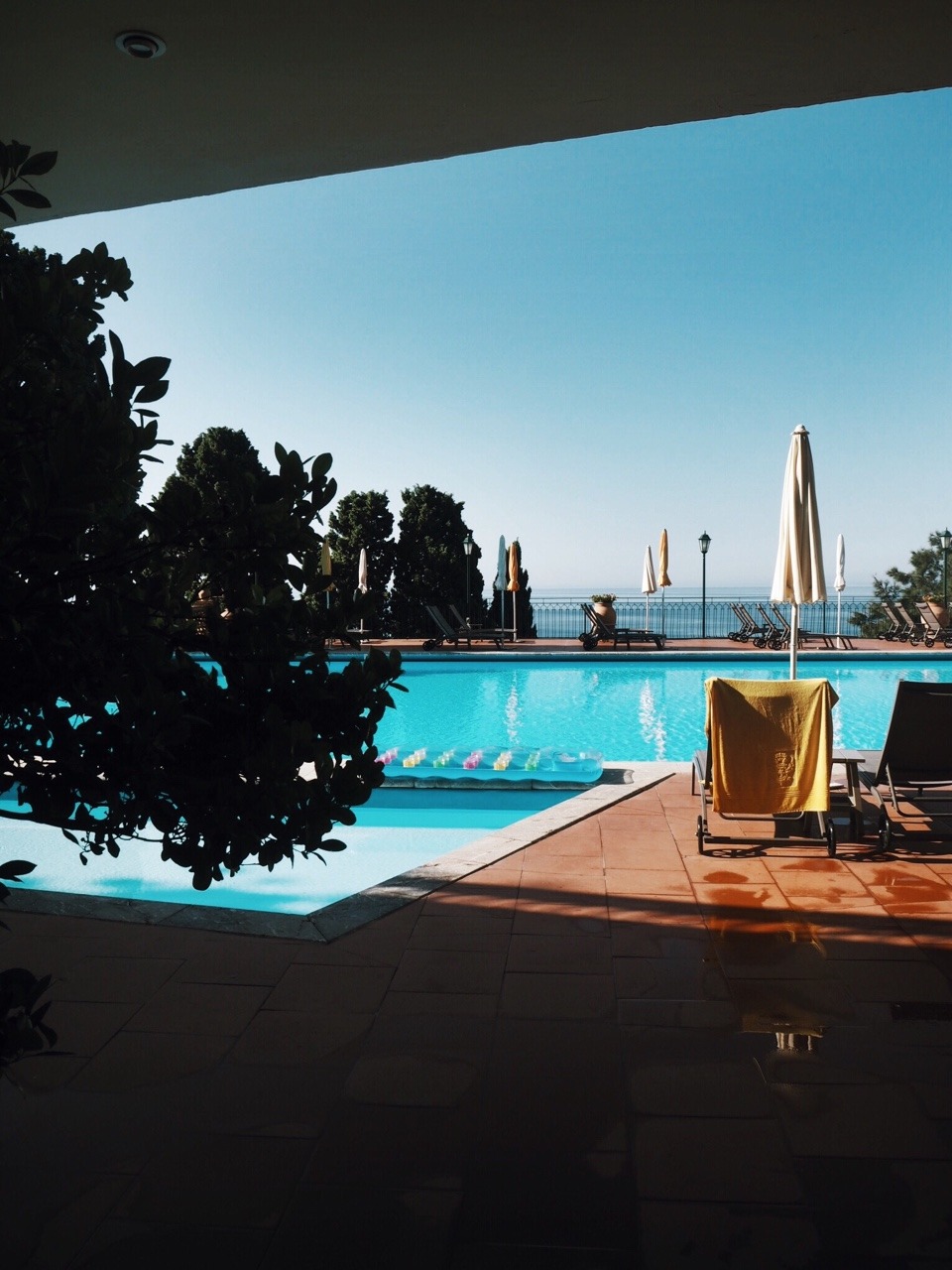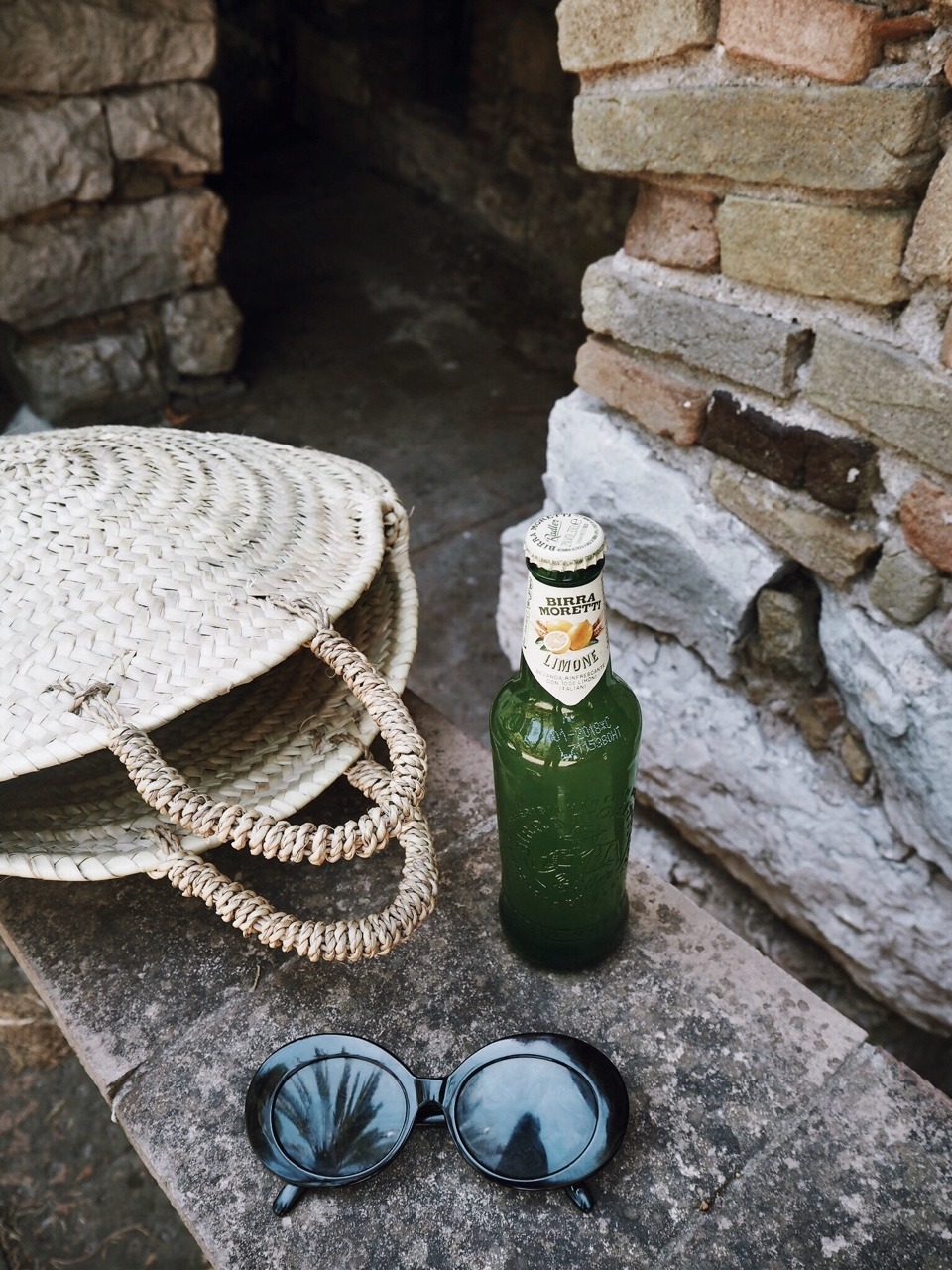 Location – Hotel Villa Diodoro, Taormina
One slight niggle was that you do have to opt for half board (when booking with Thomson) which has never appealed to me, but we just ate our breakfast at the hotel most mornings and abandoned the offer of an inclusive dinner. I'm not one of those people that likes to spend too much time confined in a hotel/resort, I'd much rather experience the local atmosphere and not have one set menu to choose from. The breakfast was great however – I mainly just stuck to scrambled eggs and watermelon because I knew that we would be indulging in the evenings! There was also SO much space around the hotel including lots of hidden gardens that were amazing for shade seeking or getting through a few chapters of a good book. Literally three minutes up the road and we were already in the town center – I always love to stay central/where the buzz is whenever night falls. We were so close to so many quirky little restaurants and wine bars – all tucked away in little alley ways that lit up with lanterns and fairy lights after sunset. As previously mentioned, we booked really last minute as we both just needed a getaway, but I have absolutely nothing bad to say about Diodoro and would definitely go back!
---
WHAT TO SEE | TAORMINA CENTRO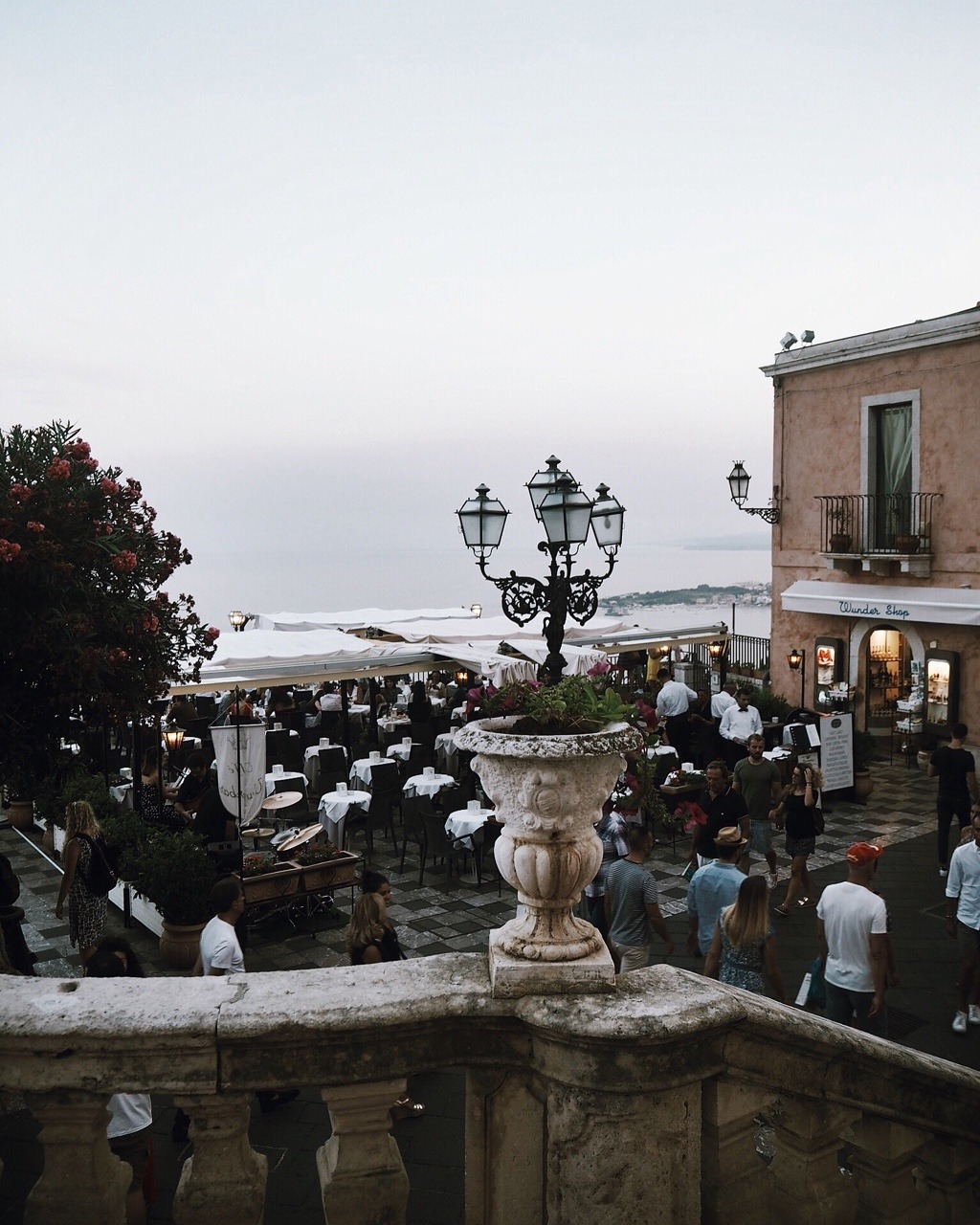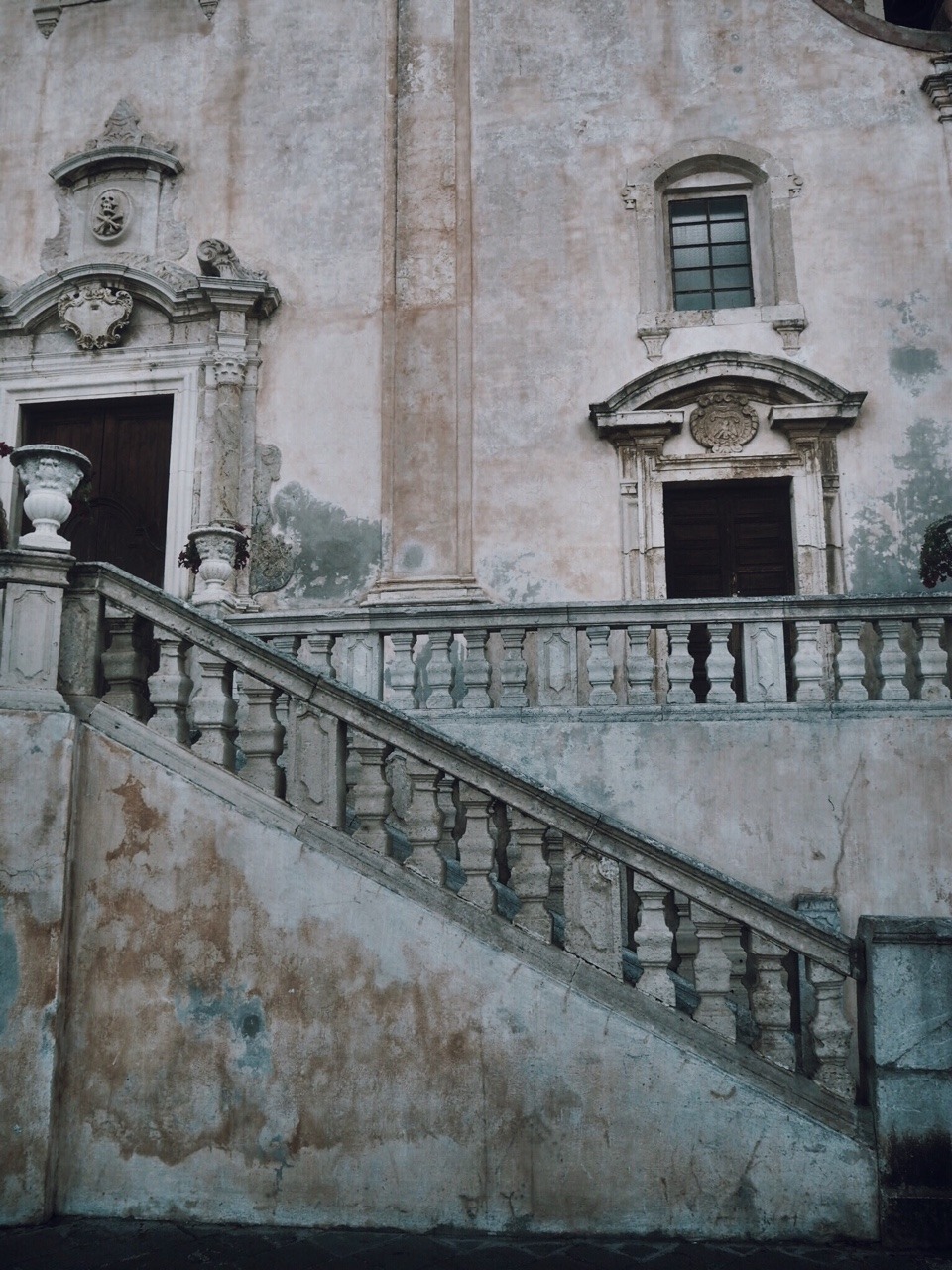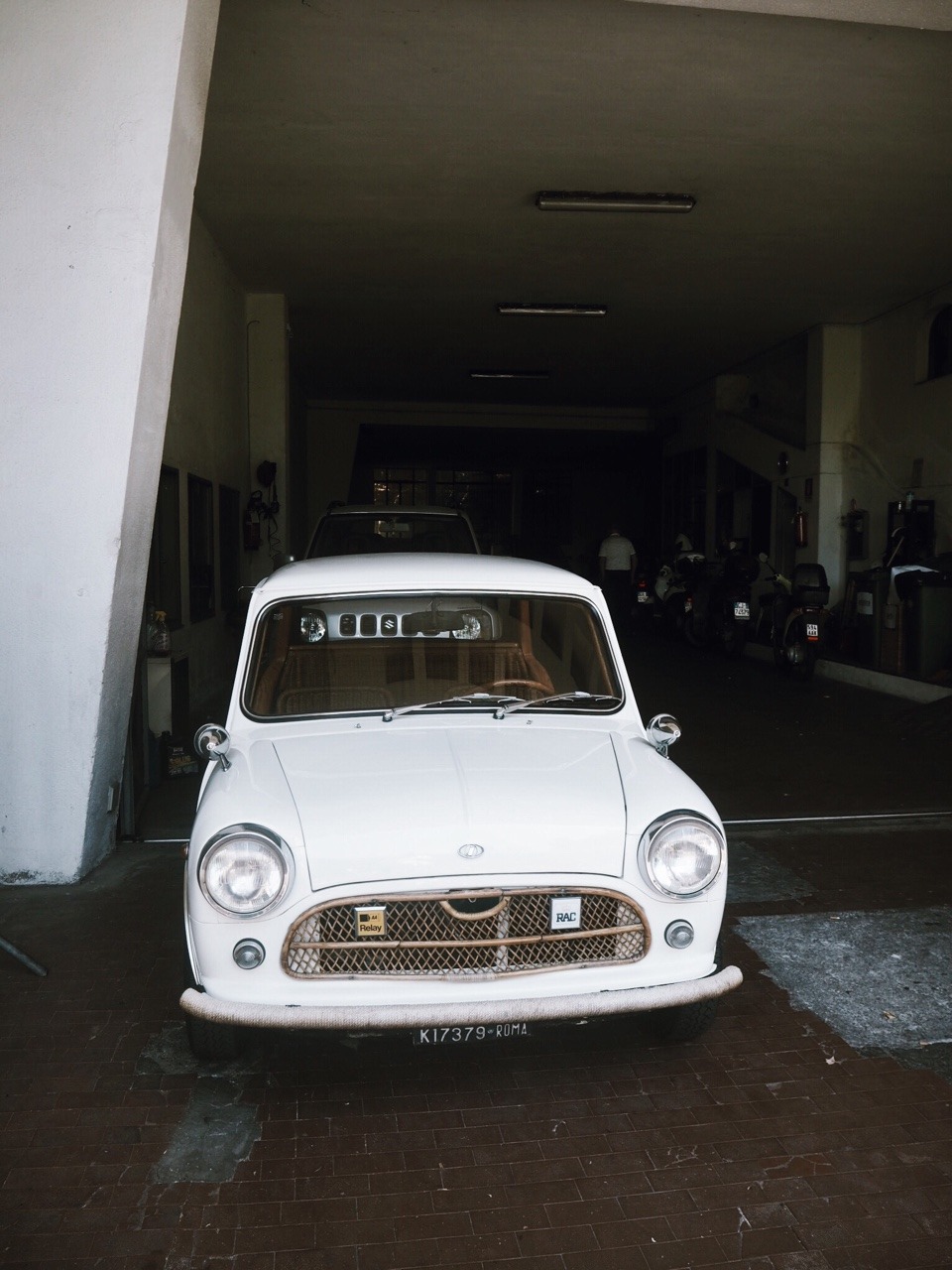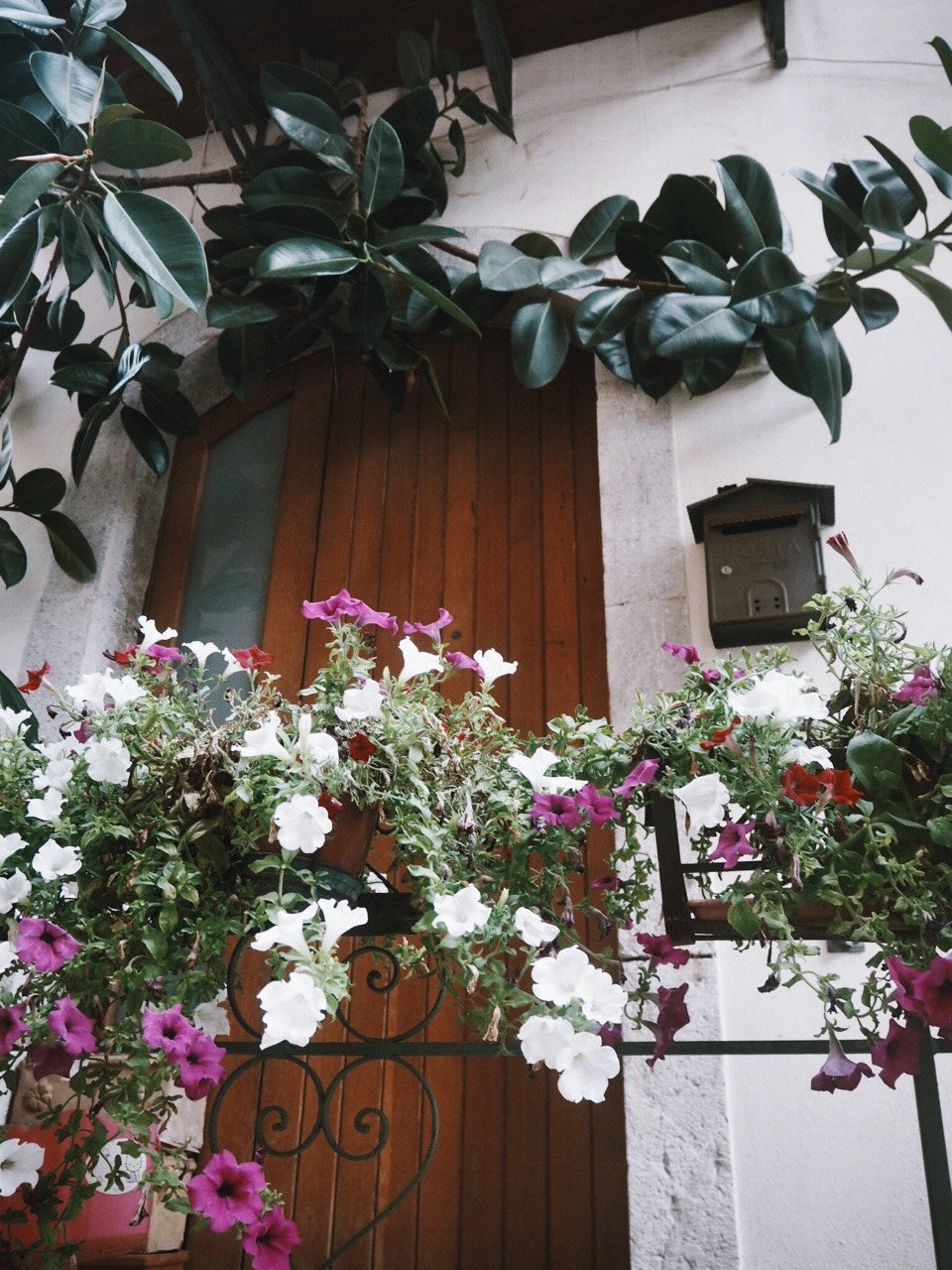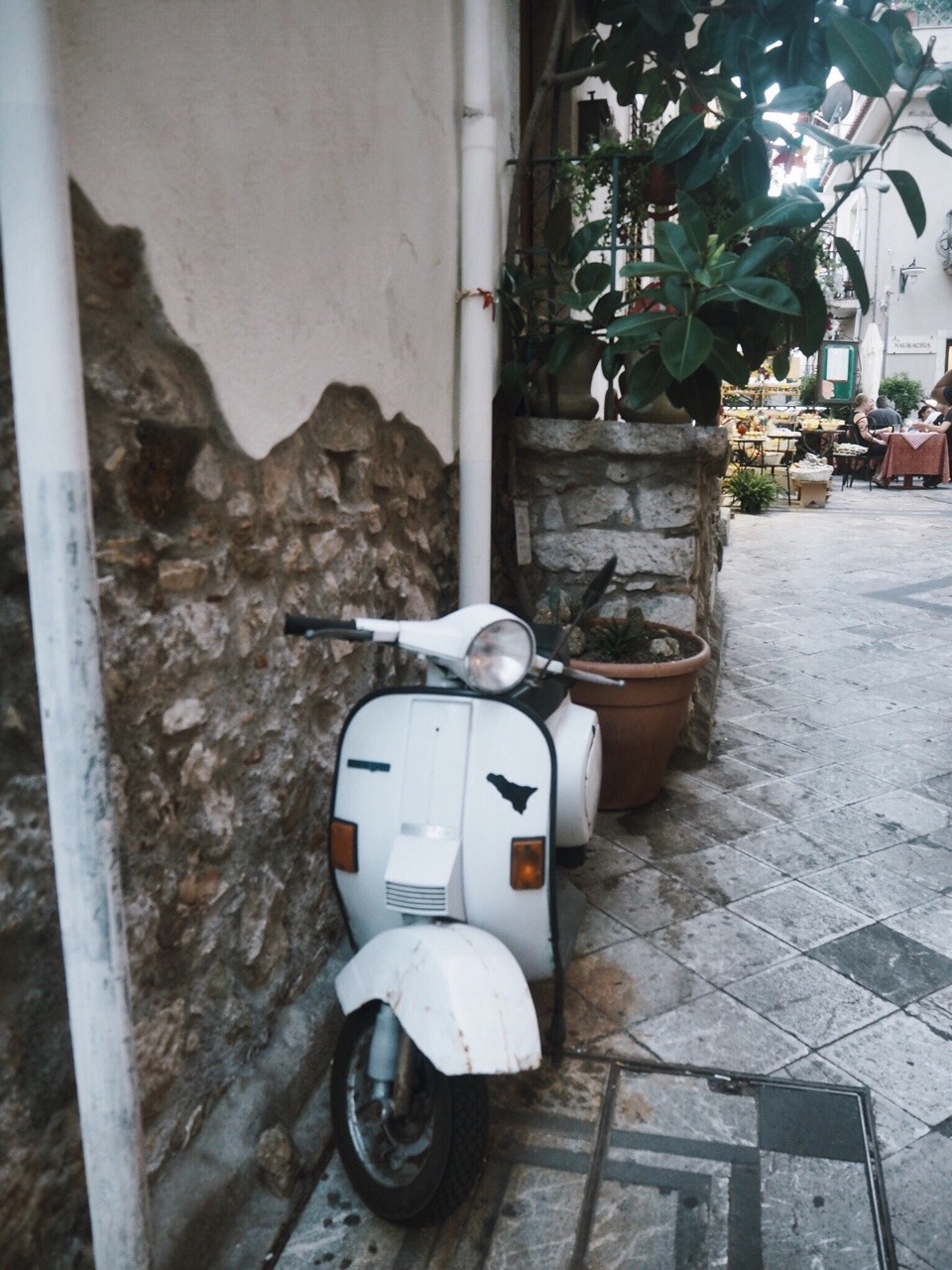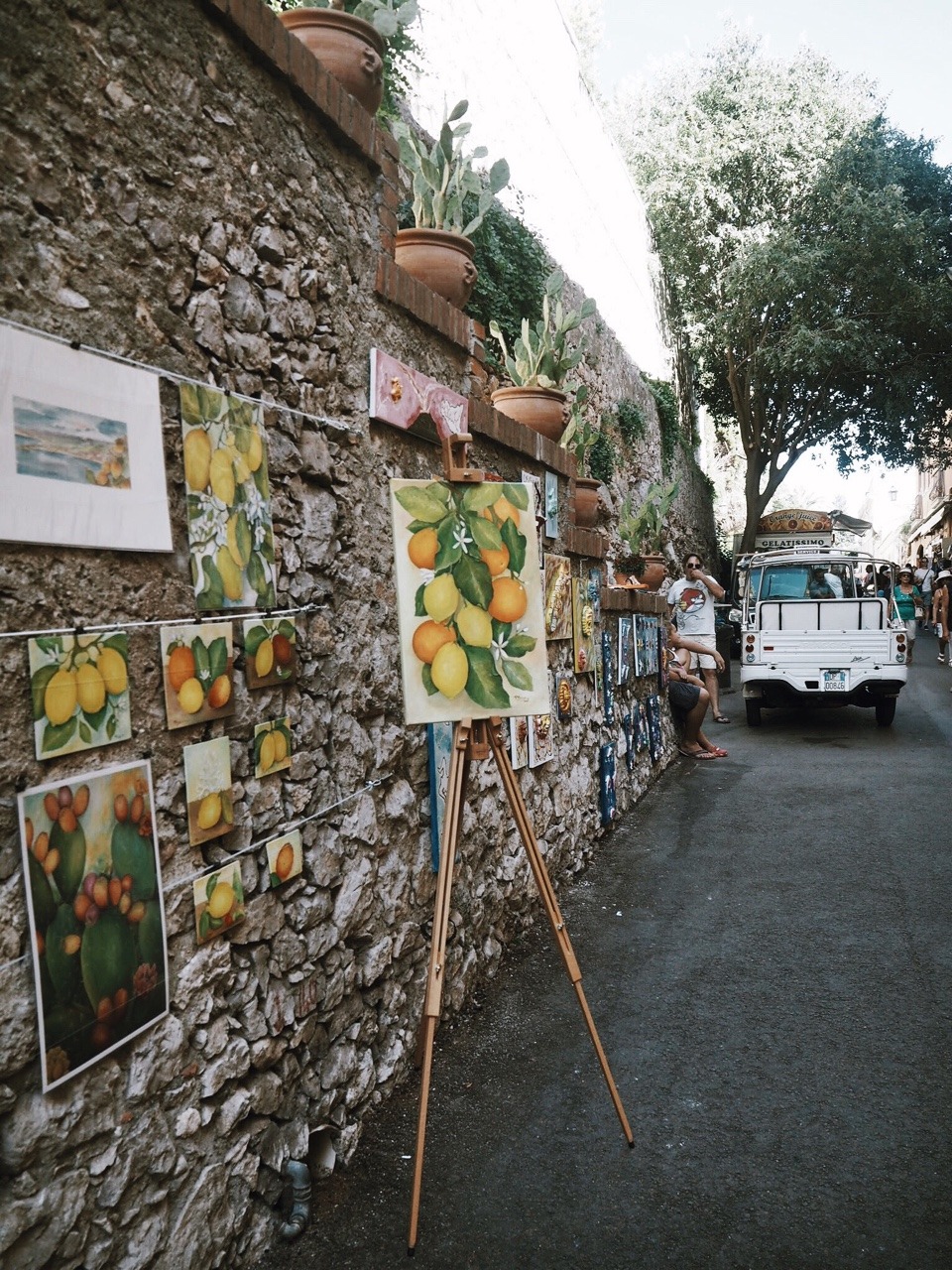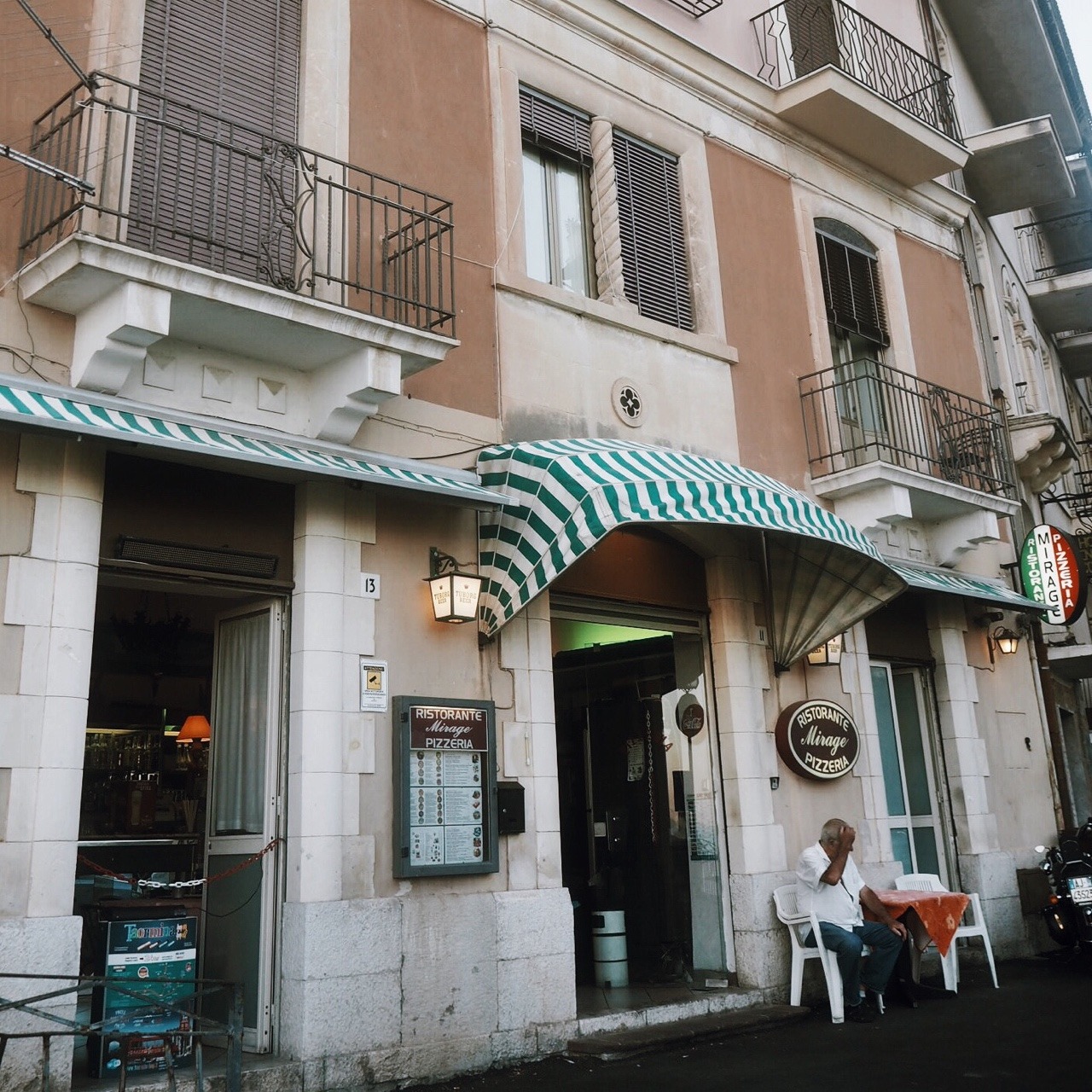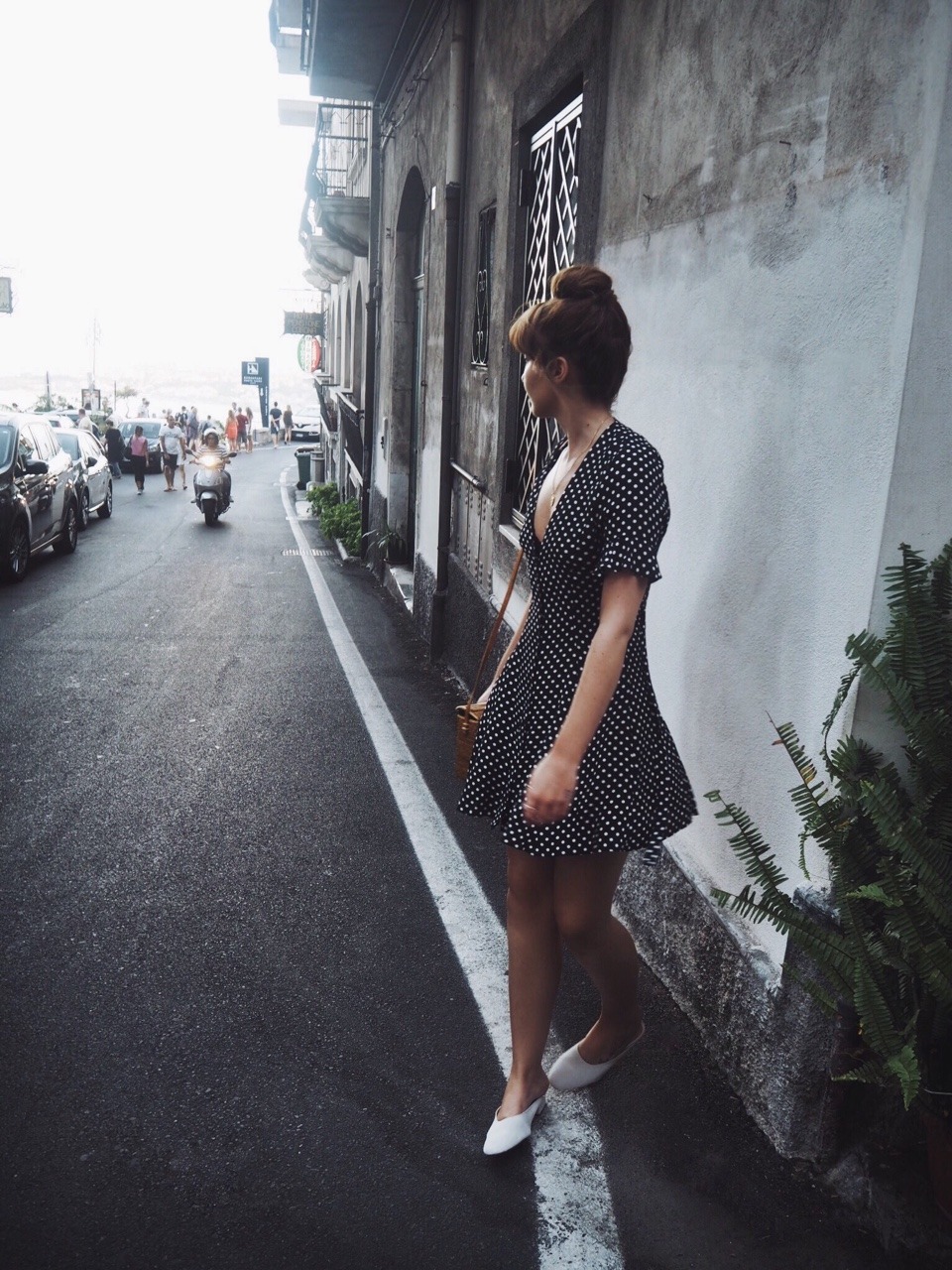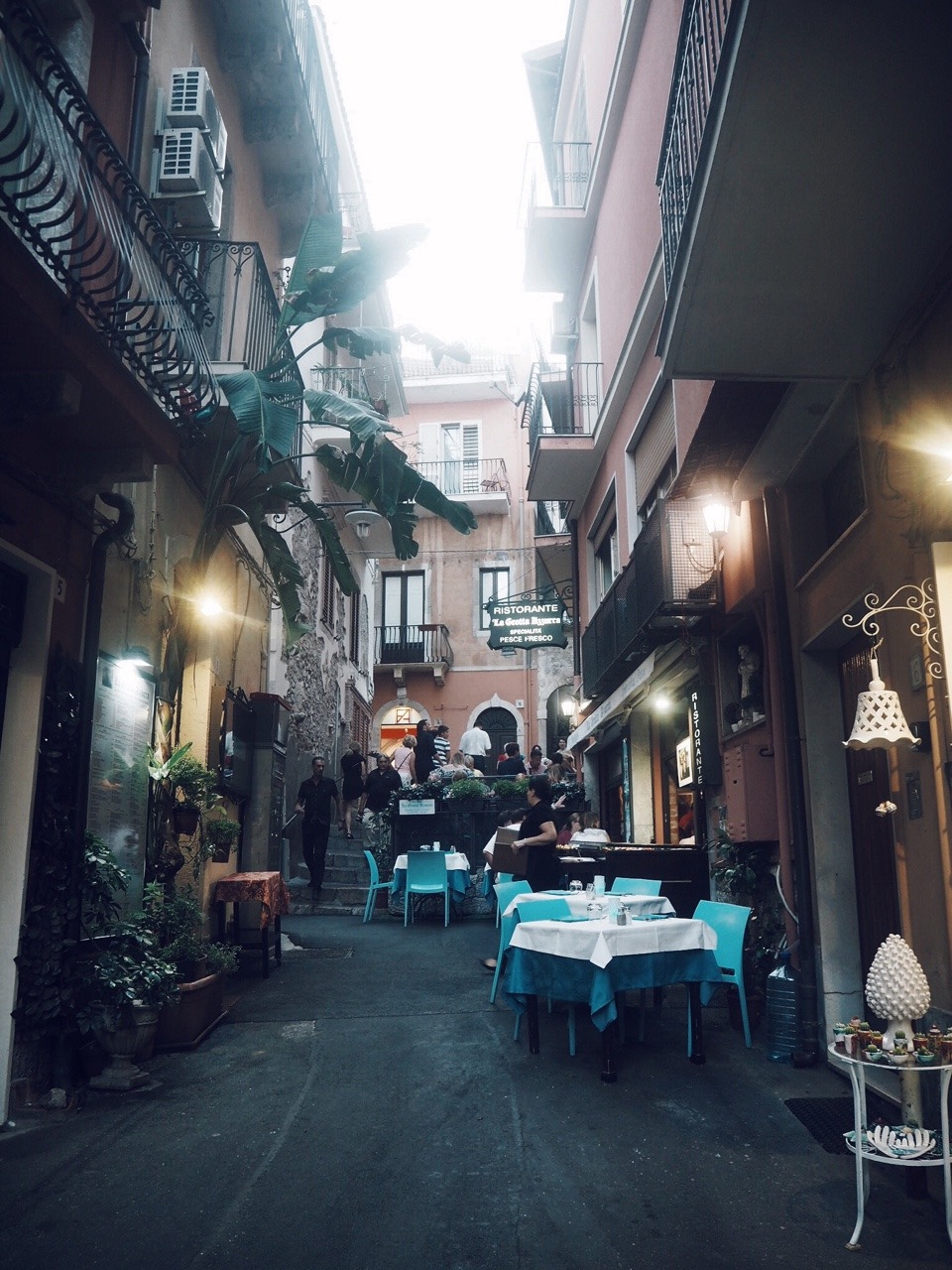 You only have to google central Taormina to fall in love, but when you get there it's like living inside an actual postcard or some kind of water painting. We couldn't get over how ridiculously scenic everywhere you looked was – particularly the main square which looks out onto the sea front and is all lit up like a ridiculously perfect fairytale in the evening. The town aesthetic kept reminded me of Baz Luhrmann's Romeo And Juliet wherever we wandered (no Leo in sight though unfortunately). I'd definitely suggest staying central (but not too central) if you ever want to pay a visit to Taormina – our hotel was a few minutes out of the centre that gets quite busy, although we did decide to stay in peak season, which is always worth bearing in mind. The centre is packed full with restaurants, cafes, street food, and endless little shops selling pasta and homemade olive oil. You could really spend hours wandering down the little side streets and just getting lost…
---
BEST PLACES TO EAT AND DRINK
WUNDERBAR CAFE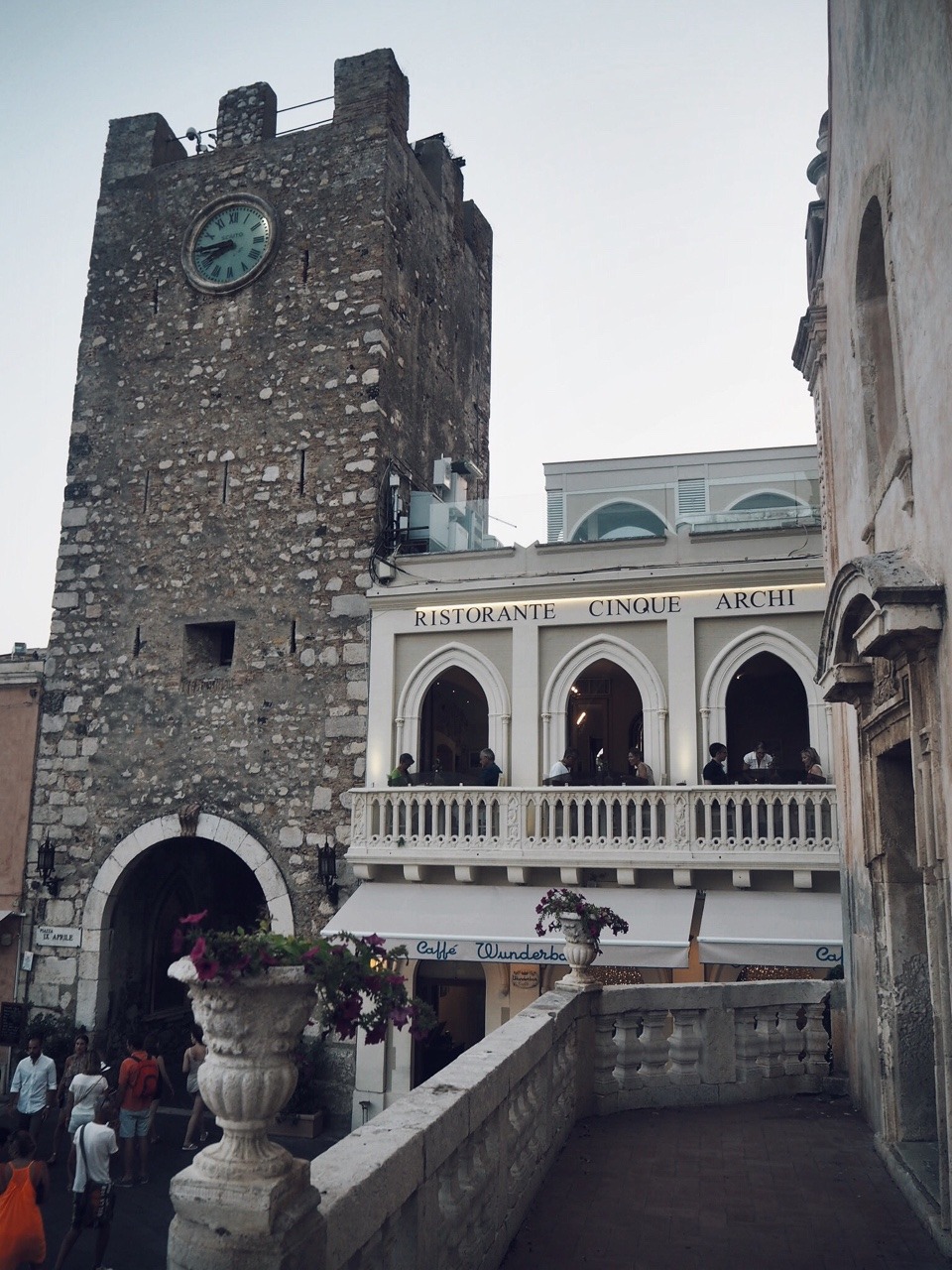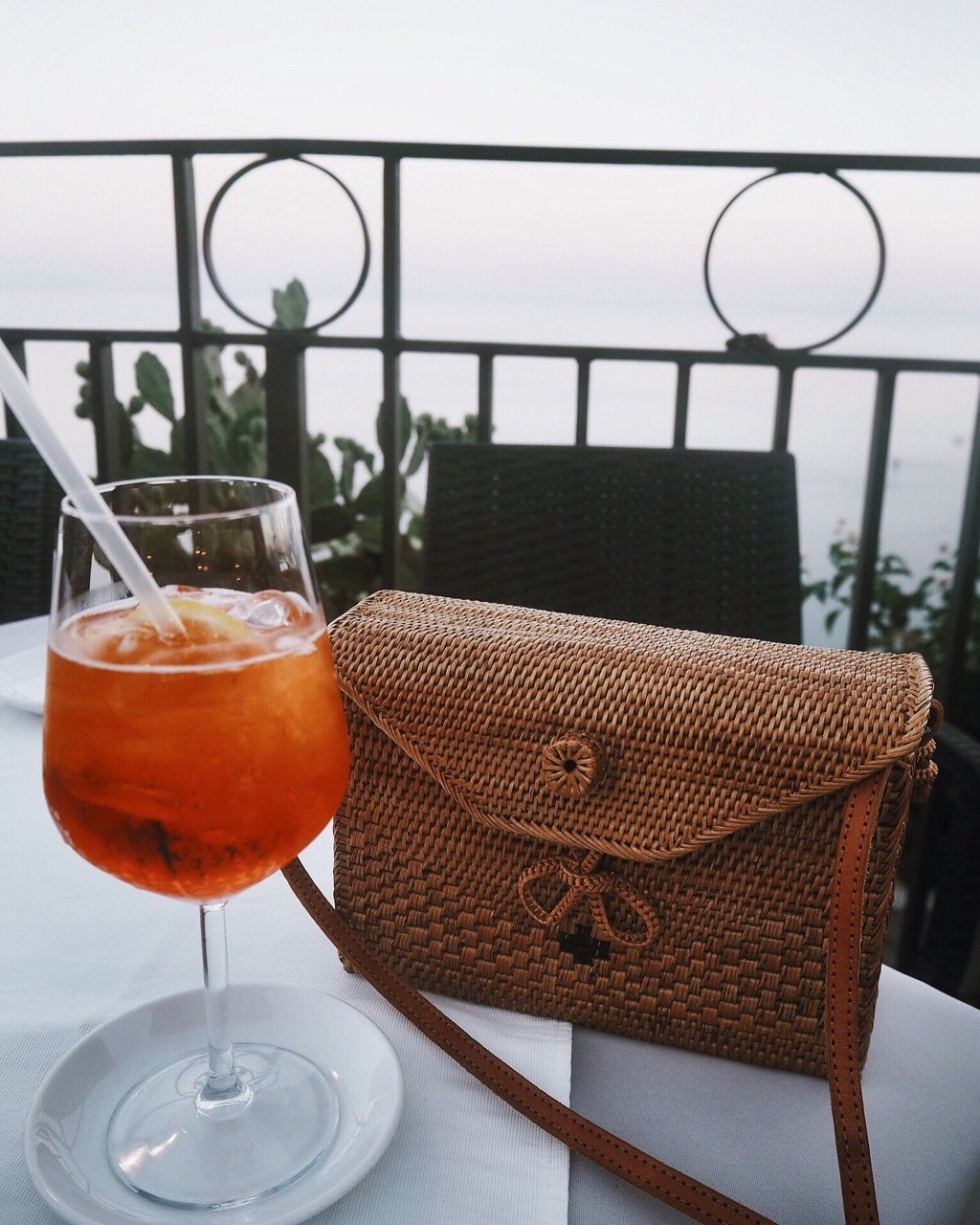 Location – Wunderbar Caffe, Taormina 
The first thing to note about the food is that you literally can't go wrong – everything we tried was amazing, meaning we didn't waste a single penny on disappointing dishes (the worst). We are both real foodies so it was exciting to walk around and try out all the local treats – one place that we found ourselves heading back to a couple of times was Wunderbar Cafe. It's located in the main square an hard to miss! It's the best place we found to stop for cocktails, and you get given lots of table snacks whenever you order a drink. I mean who can say no to table snacks? I was instantly sold, and although we didn't have a proper meal there, we did have crepes one night and coffee too! All absolutely delicious and well worth the money – If only I could transport myself for drinks there once a week in some kind of teleporter…
---
RISTORANTE BARONESSA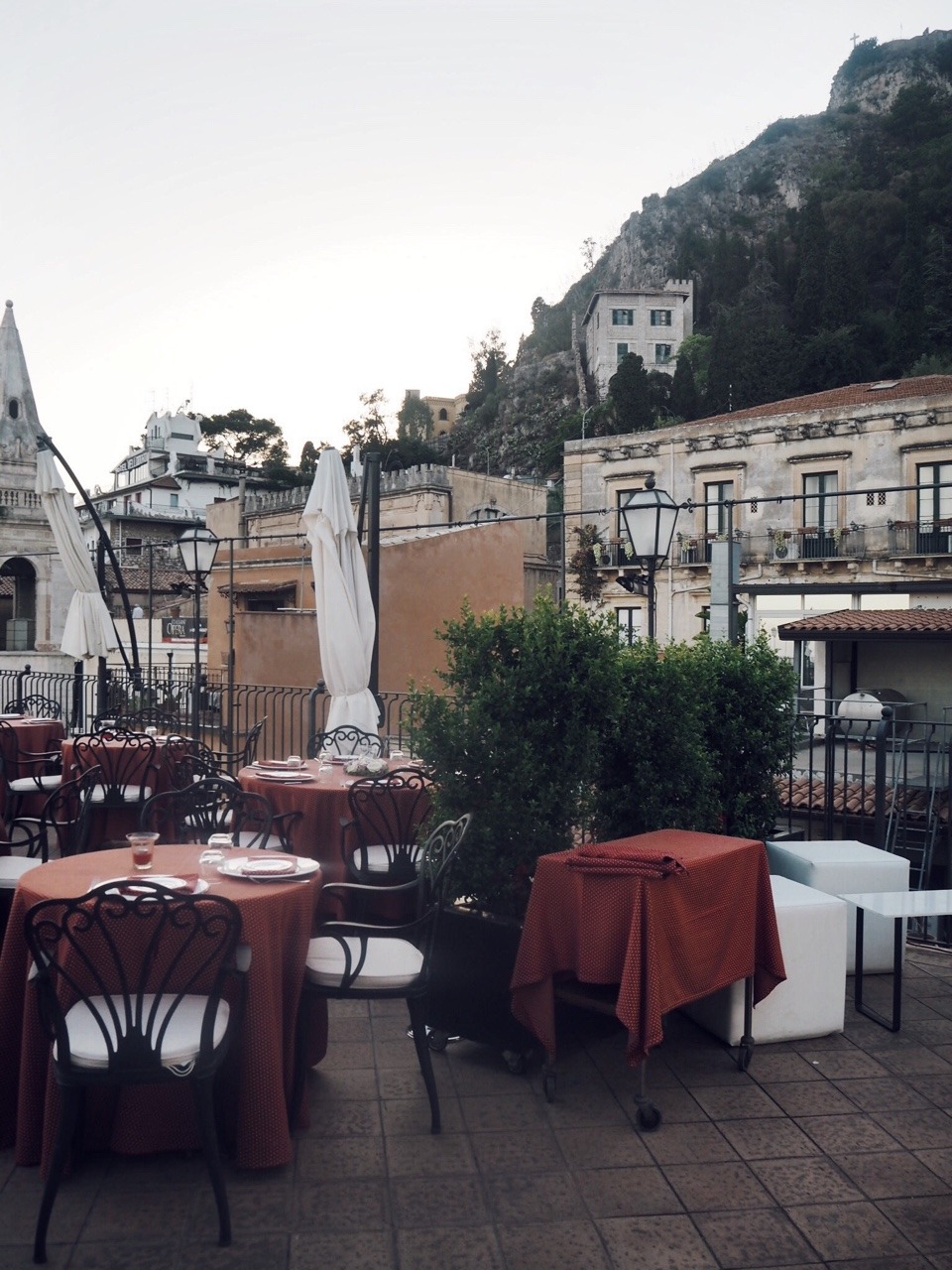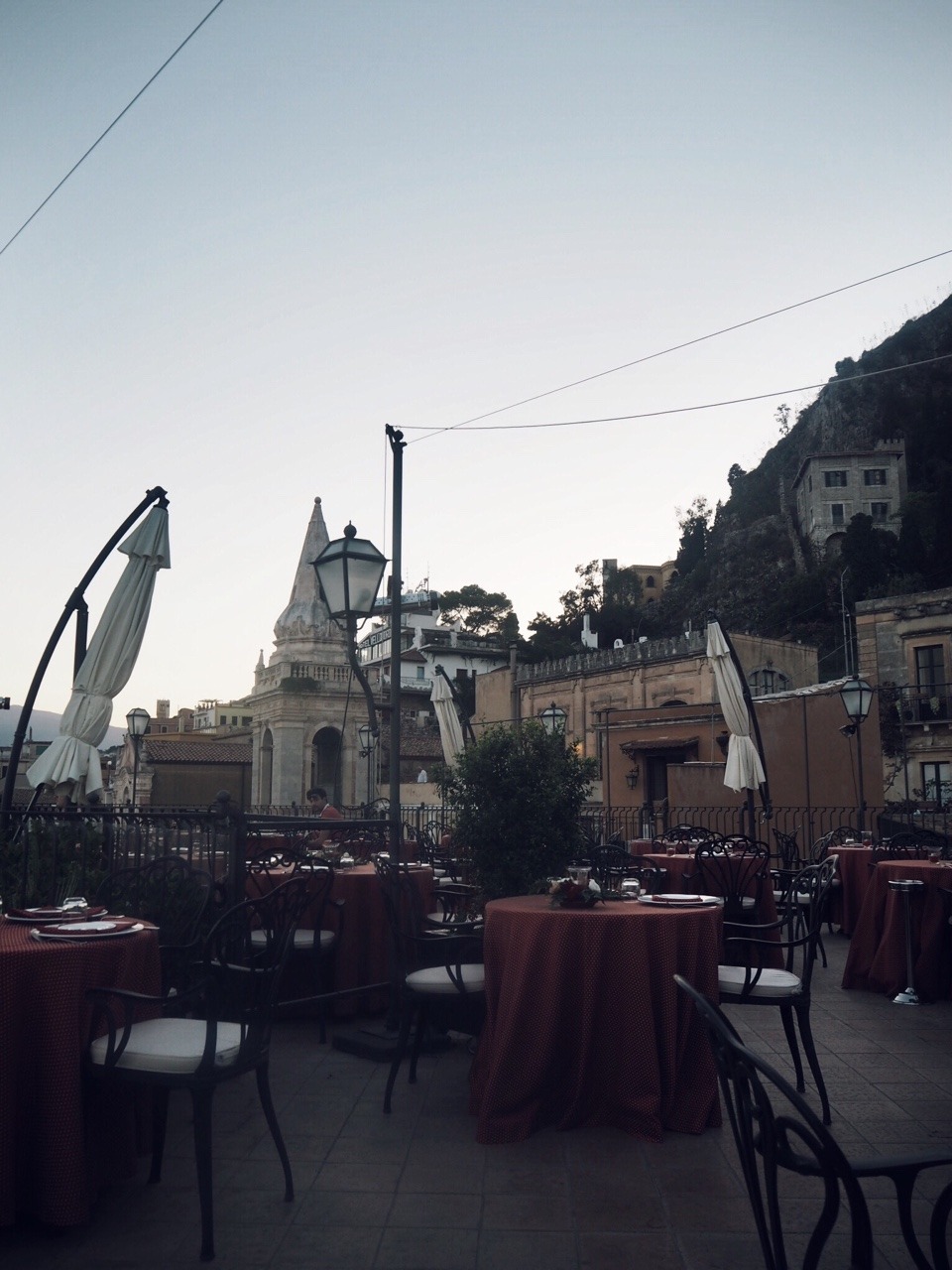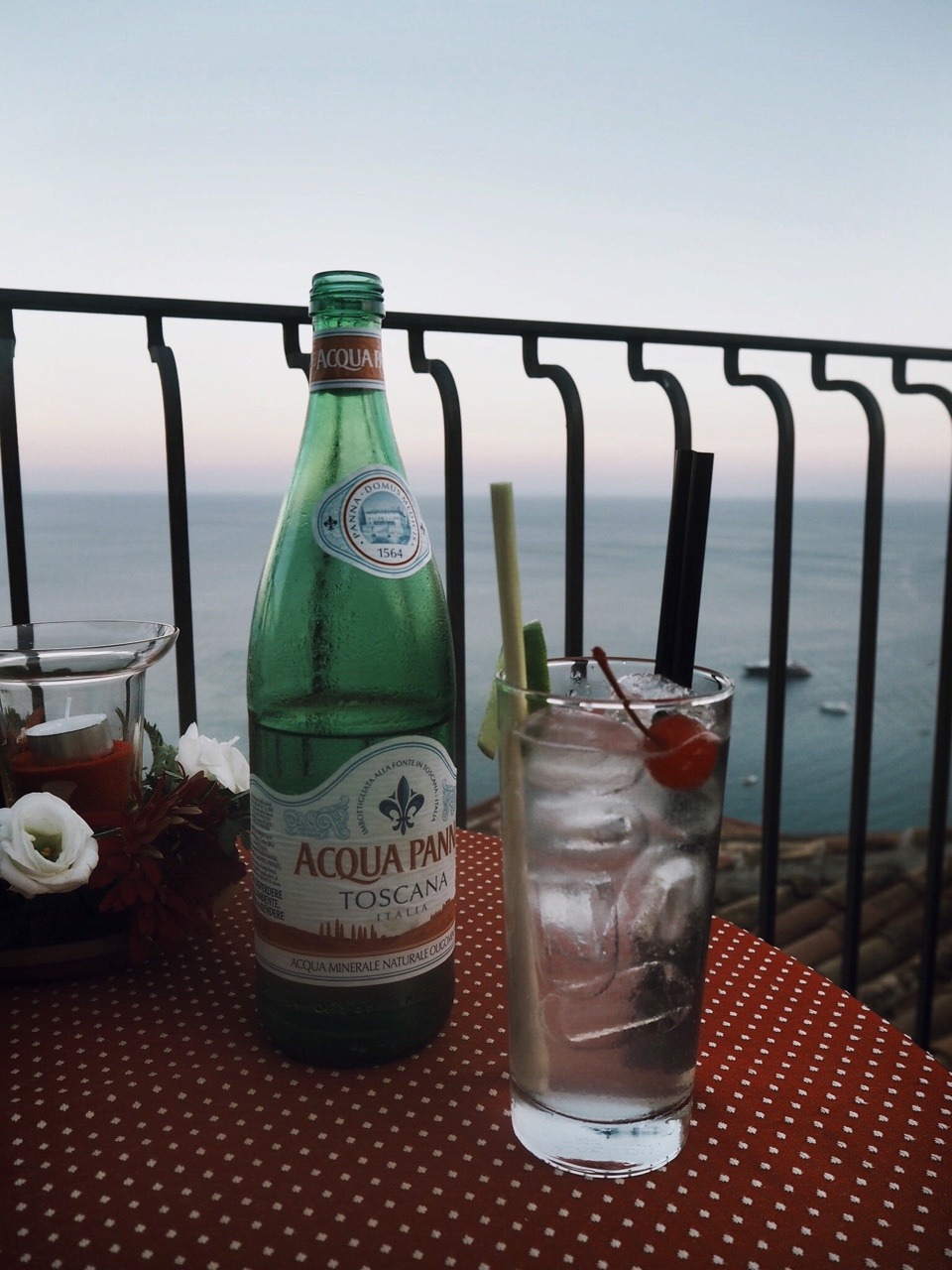 Location – Ristorante Baronessa, Taormina 
We noticed this little rooftop restaurant whilst exploring the centre one evening, and decided to book ourselves a reservation as a little holiday treat. It looks out onto the sea and Mount Etna, making it the ideal spot for an anniversary dinner or special dinner with friends, or simply just a 'treat yourself' moment. The atmosphere, food and service were all the best I've ever experienced. It really felt like we were sat on our own private balcony being waited on – something which made us both feel rather fancy indeed. Definitely a step up from ordering food to our little Manchester abode, and a memory that I will treasure forever…
---
BAM BAR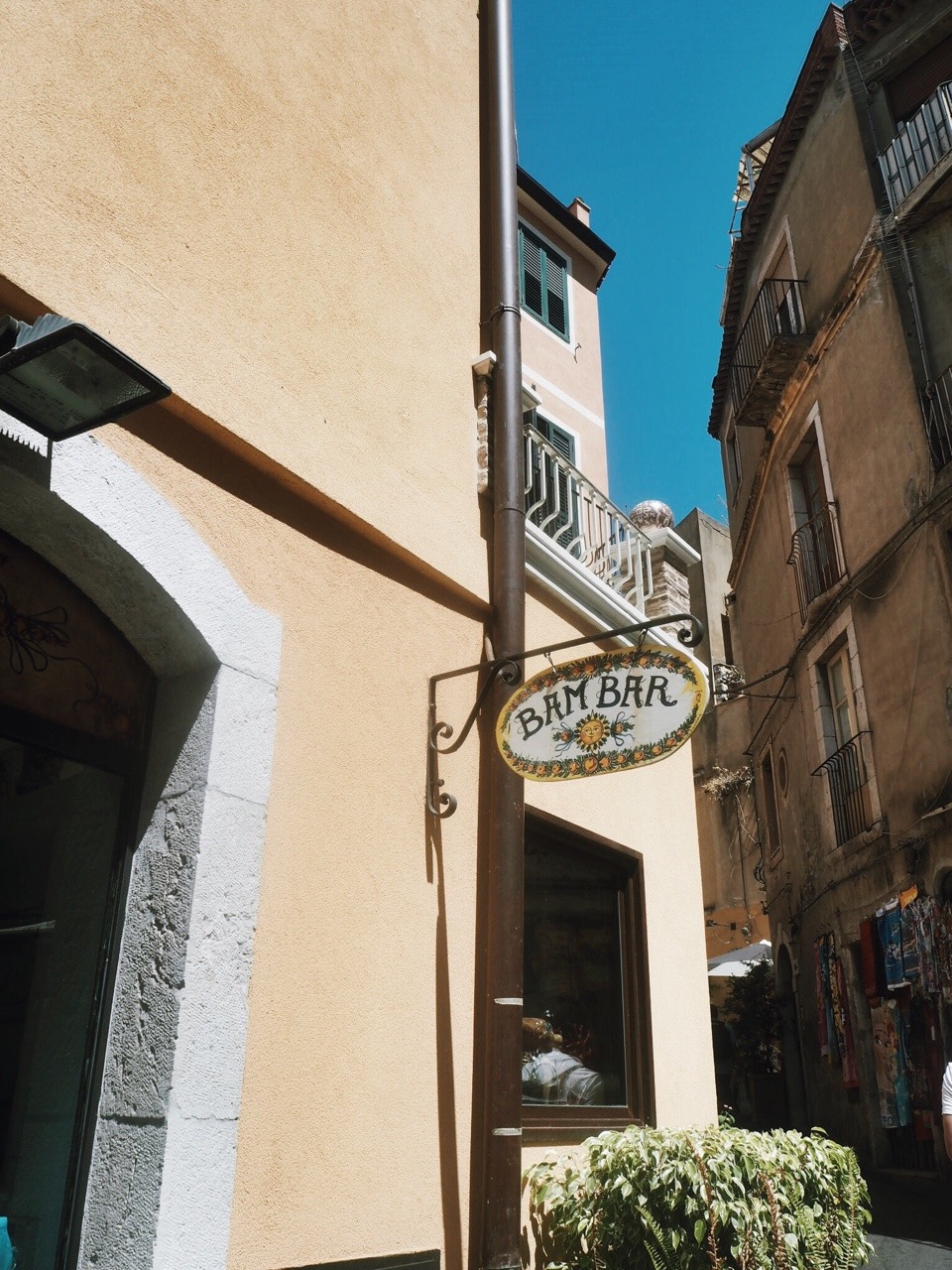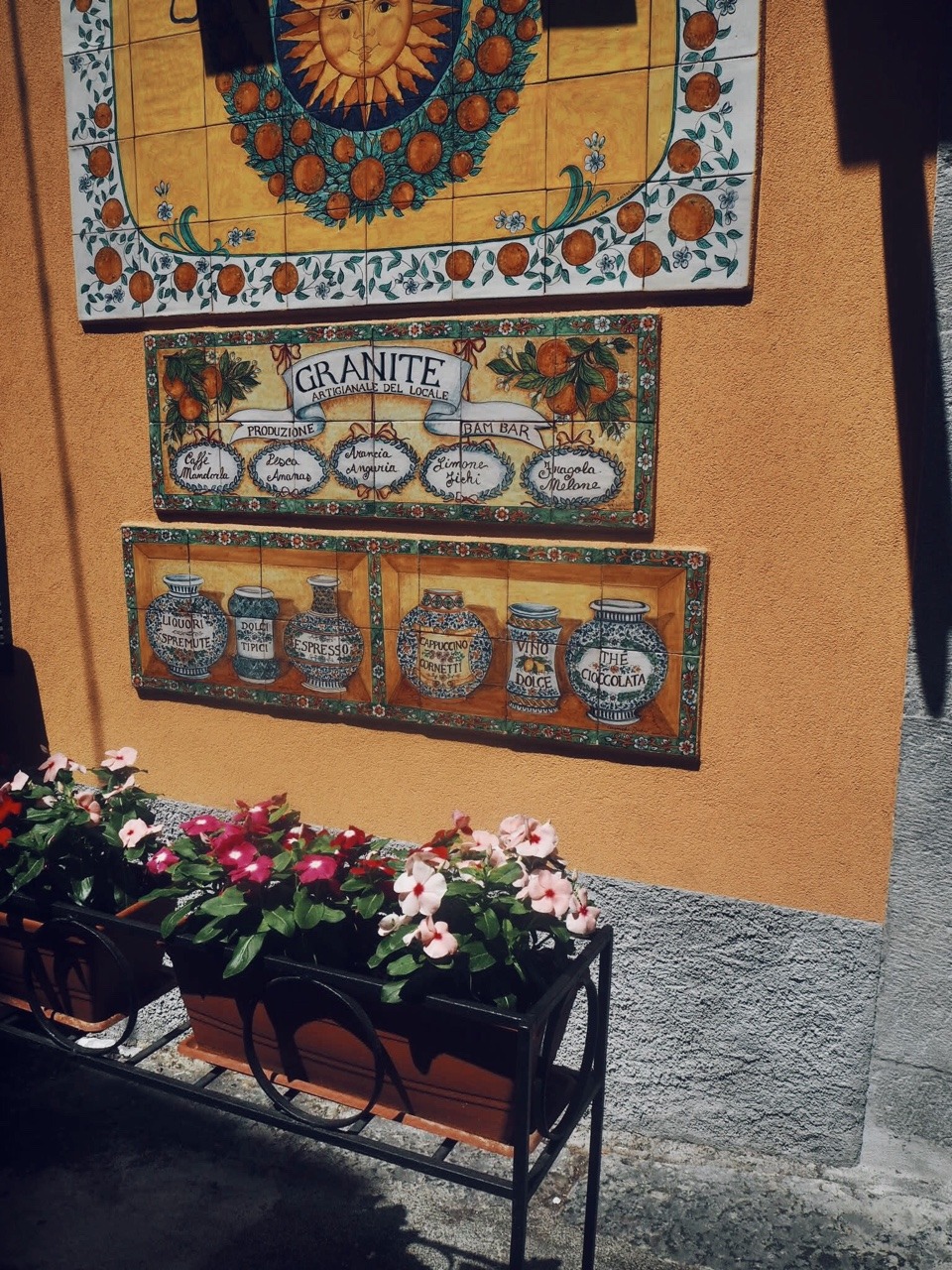 Location – Bam Bar, Taormina 
Bam Bar always seemed to have a buzz around it – best for Granita and drinks whether it's cooling off from the midday heat, or stopping by for evening drinks. The two restaurants opposite were also really great, I think this area in general was one of my favourites – it was definitely lively when we visited, which is kind of nice when you're in a brand new area as a couple. Everyone seemed really friendly and the ancient theatre ruins are only a stones throw away if you wanted to have pre opera drinks…
---
STREET FOOD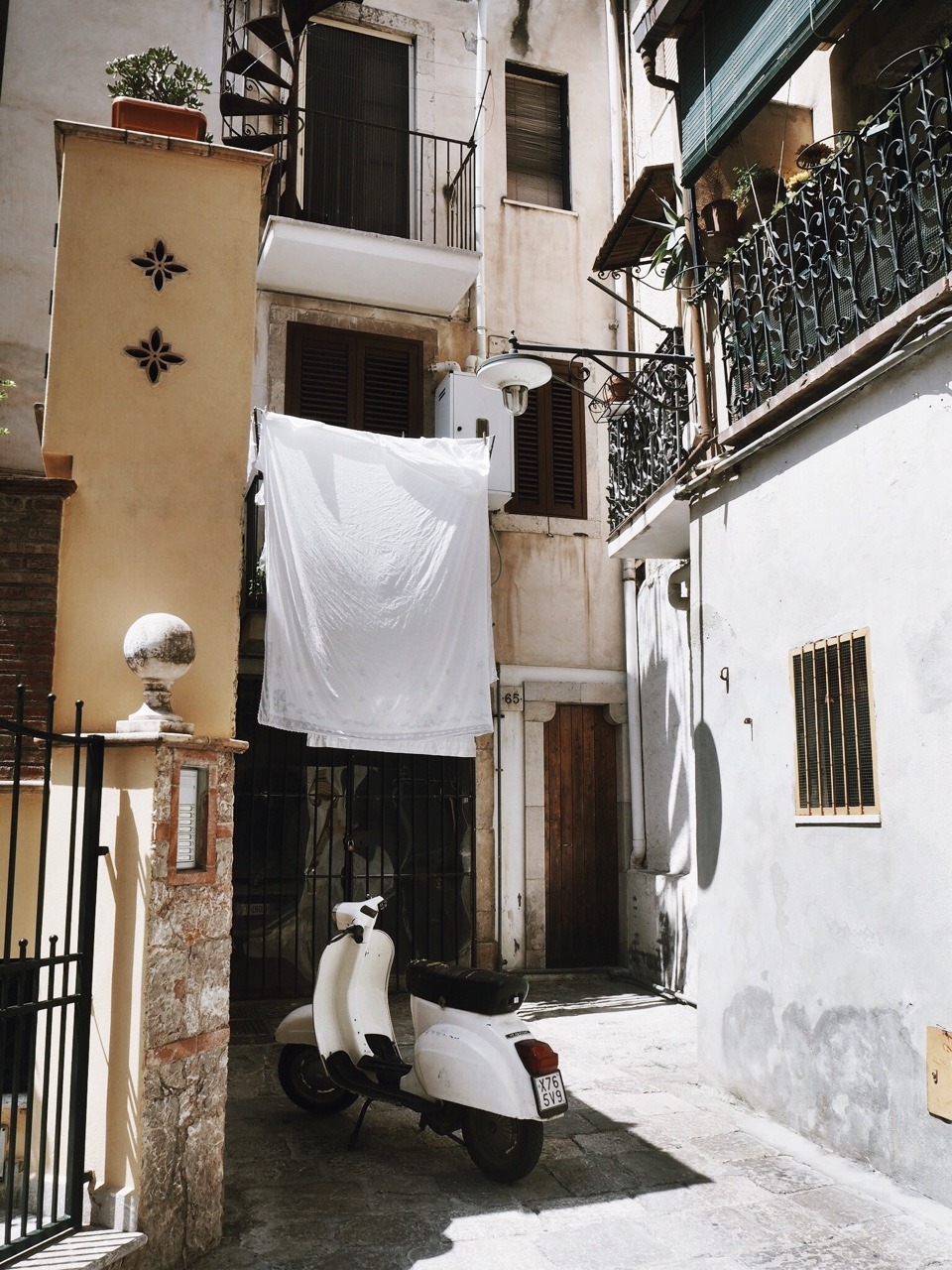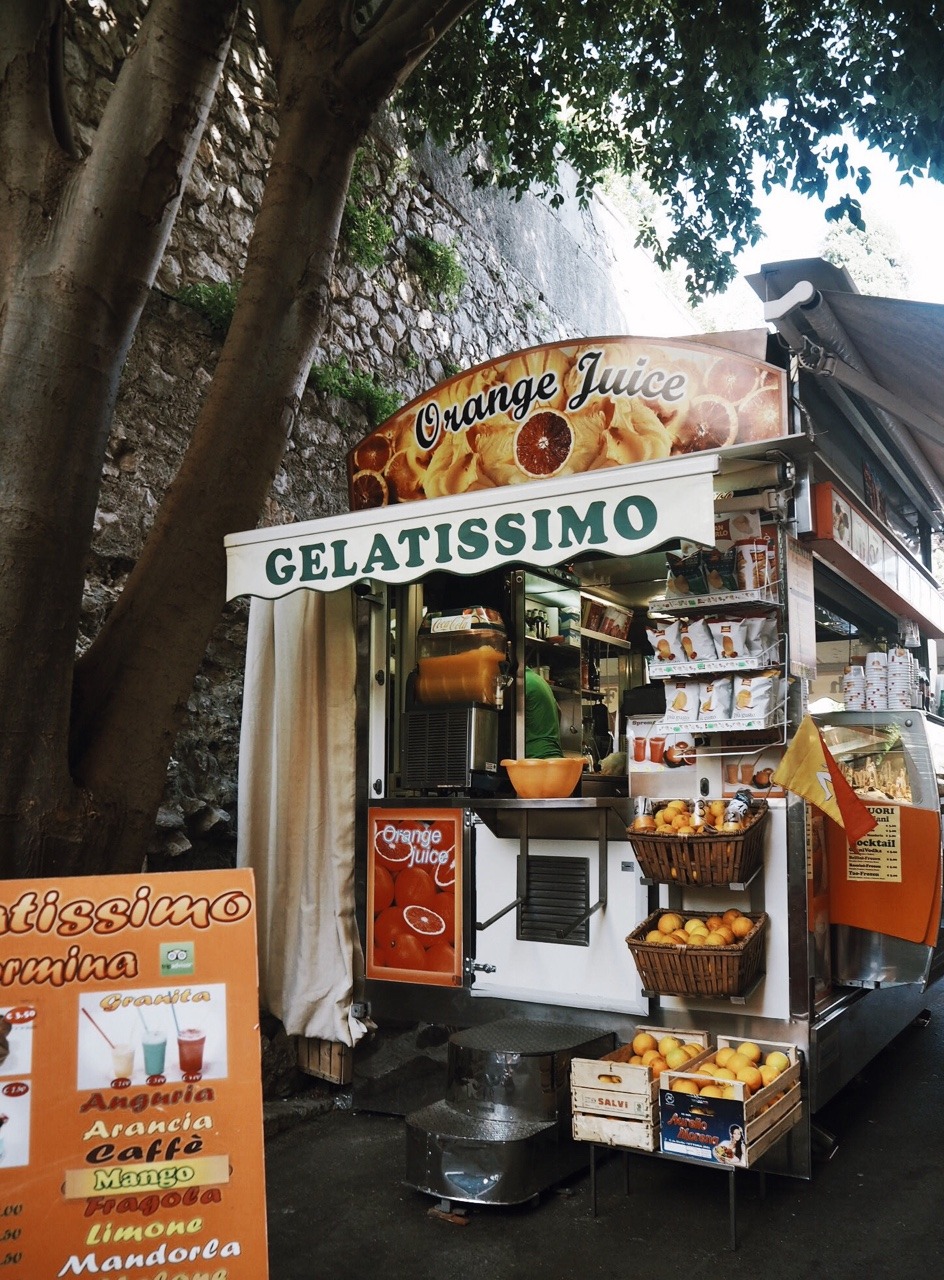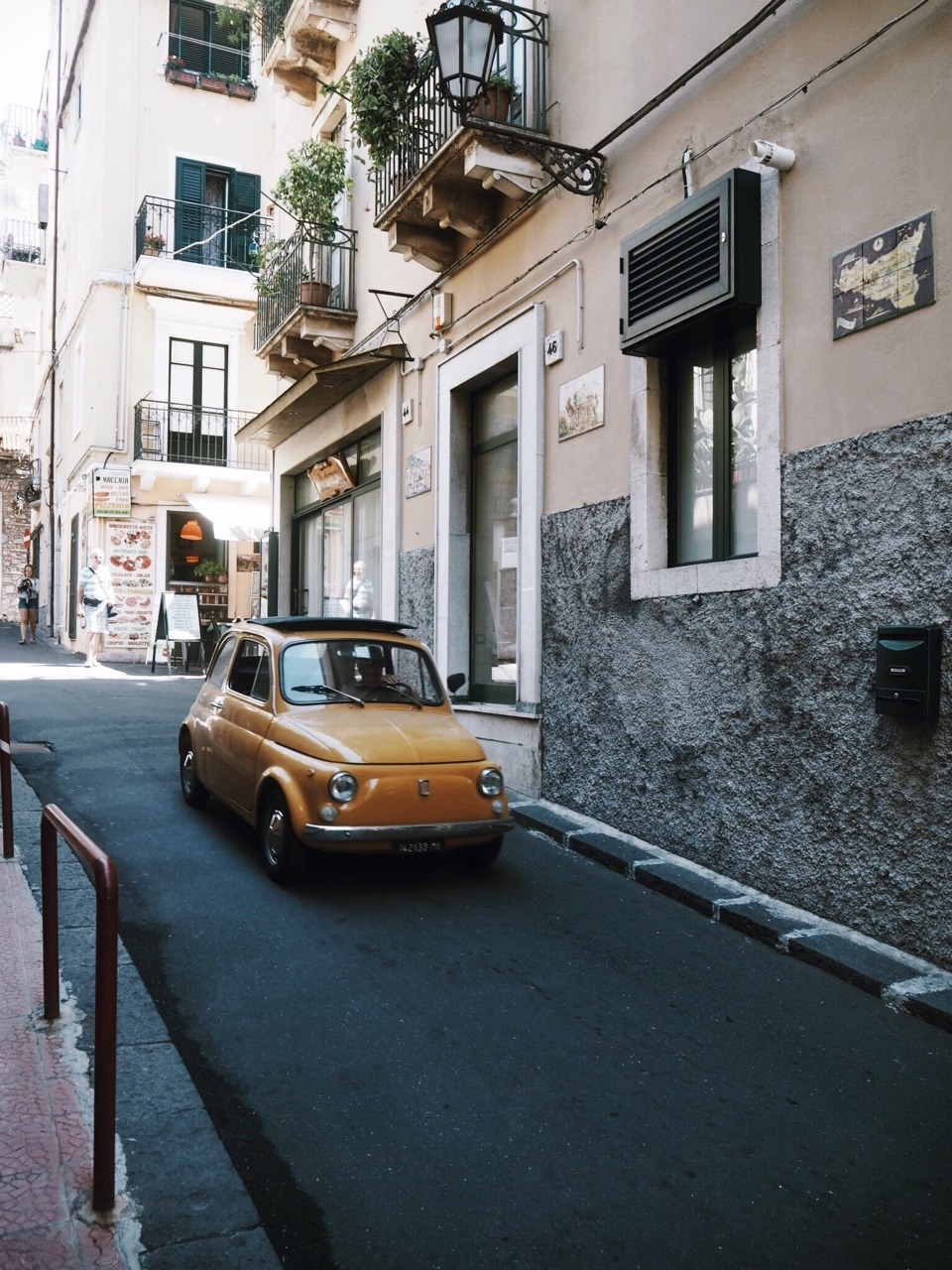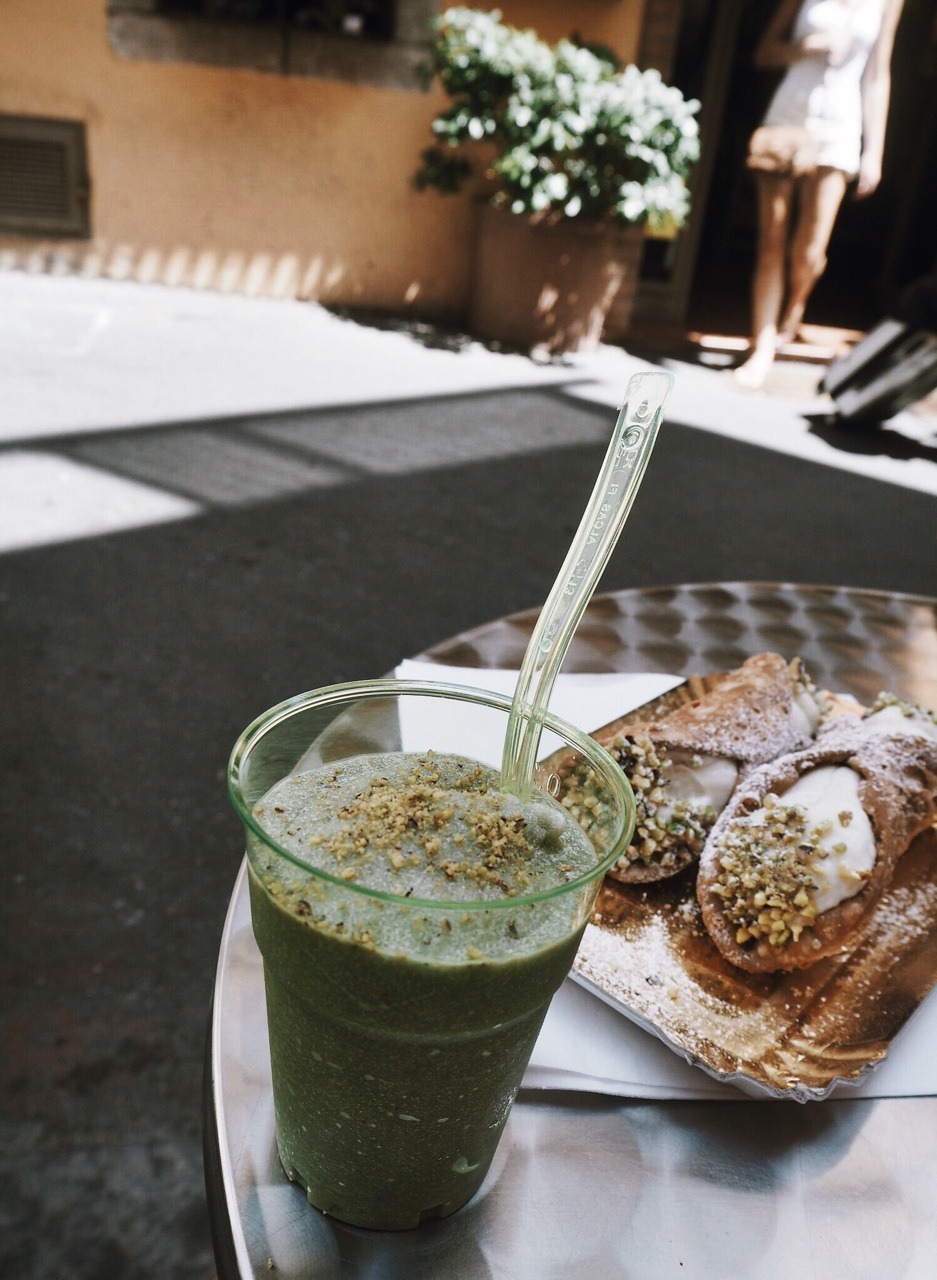 We found some of the best Cannoli just wandering around the streets of Taormina – there's some many little stands selling ice cream, pastries, and granita in every different flavour imaginable! Theres also lots of freshly squeezed juices available at your fingertips – the perfect way to hydrate and add a bit of health into your holiday diet. In fact, we managed to eat so healthily whilst out there, crepes and pastries aside, all the fish, salads, and vegetables were incredible. I didn't really have much pizza and pasta whilst I was there (shock horror), I love salads and grilled tuna or swordfish when I'm somewhere hot, as I find them much lighter to eat. Taormina literally caters to everyone – we even spied some gluten free options!
---
ACIENT THEATRE RUINS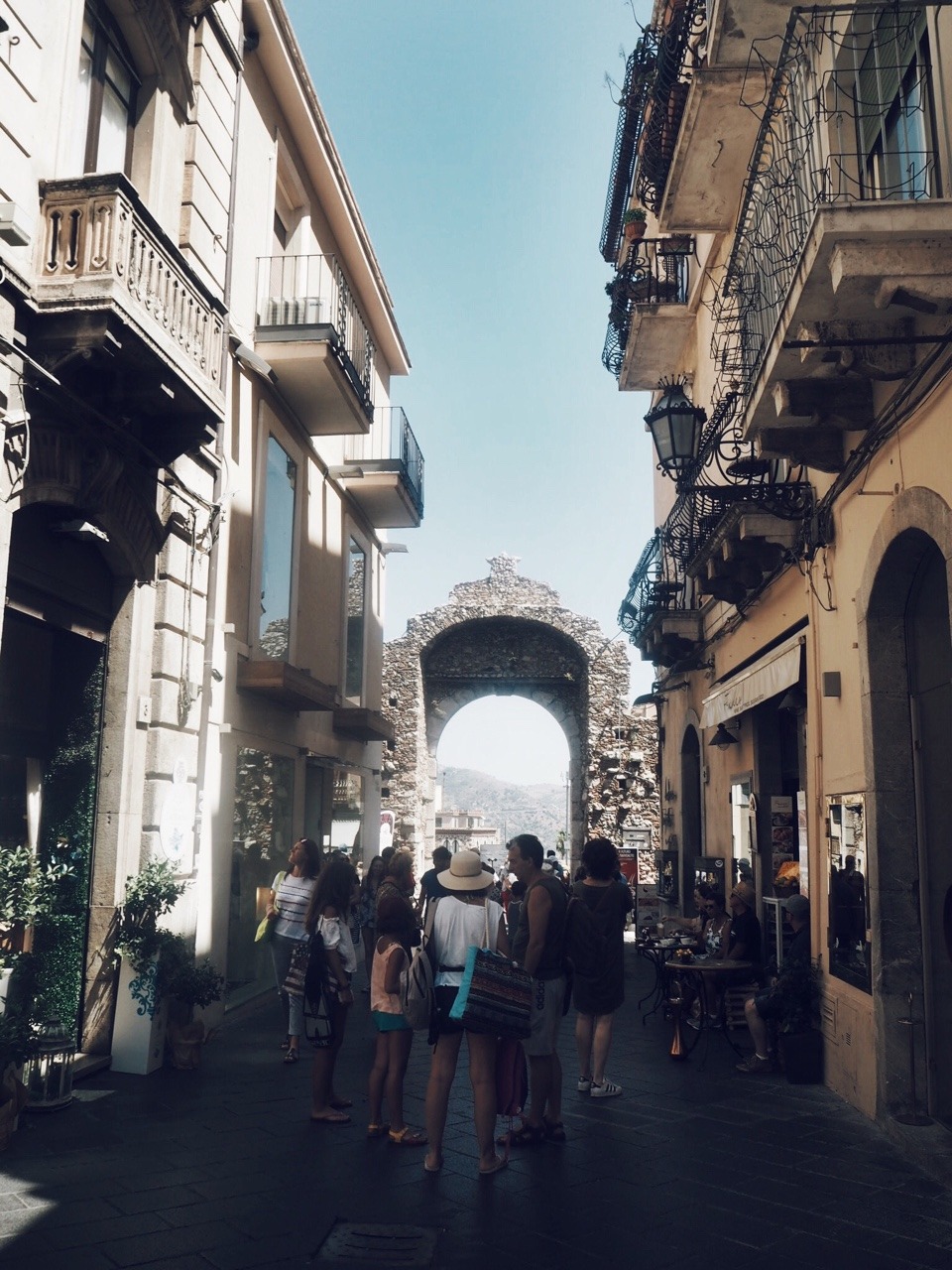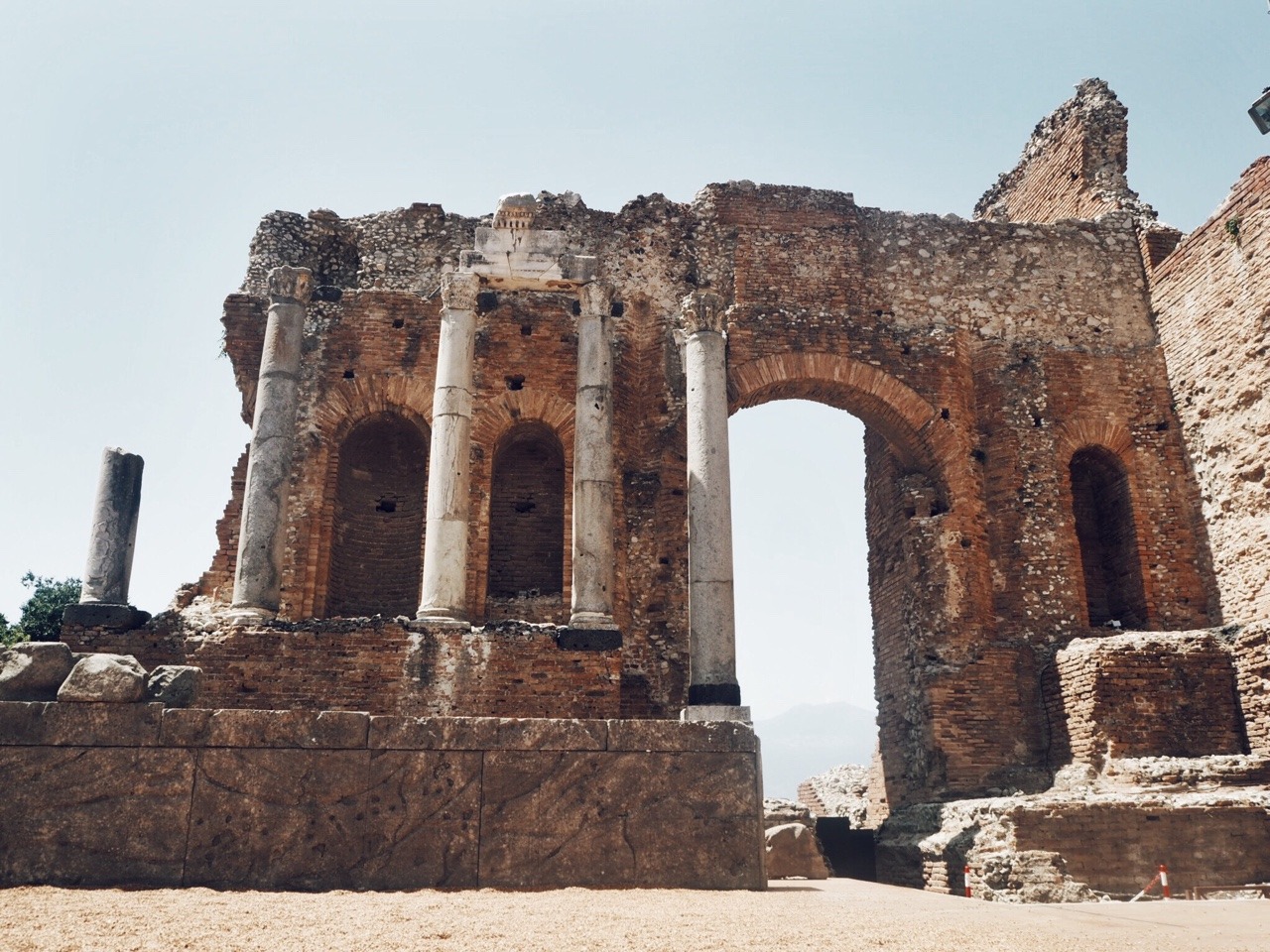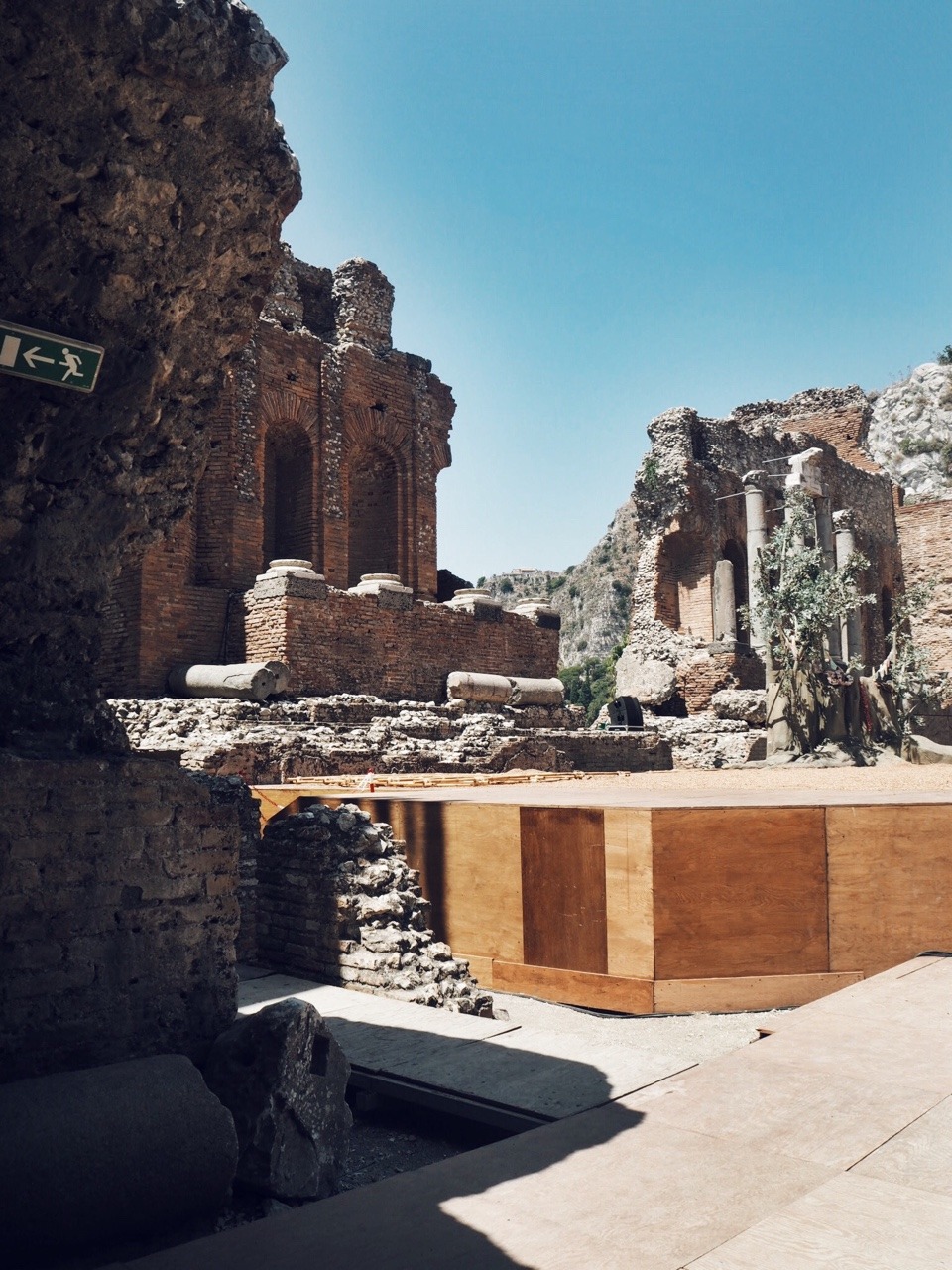 There's lots of historic sites to see in Taormina – we had heard lots about the ancient theatre ruins, and I was really keen to pay them a visit whilst we were in town. We paid just five euros to get inside, and although parts of it were very beautiful, I have to say that I was a bit disappointed by how modernised the space had become. The theatre is now used to host numerous different concerts and operas (which is amazing), but because we were witnessing it in the light of day (as ancient ruins), it just kind of took away from the experience and dulled the atmosphere. Luckily, it's so cheap to see that neither of us felt bothered by this when we left – I think it would be really cool to go again, but maybe to watch something there in the evening time instead…
---
MOUNT ETNA TREKKING TRIP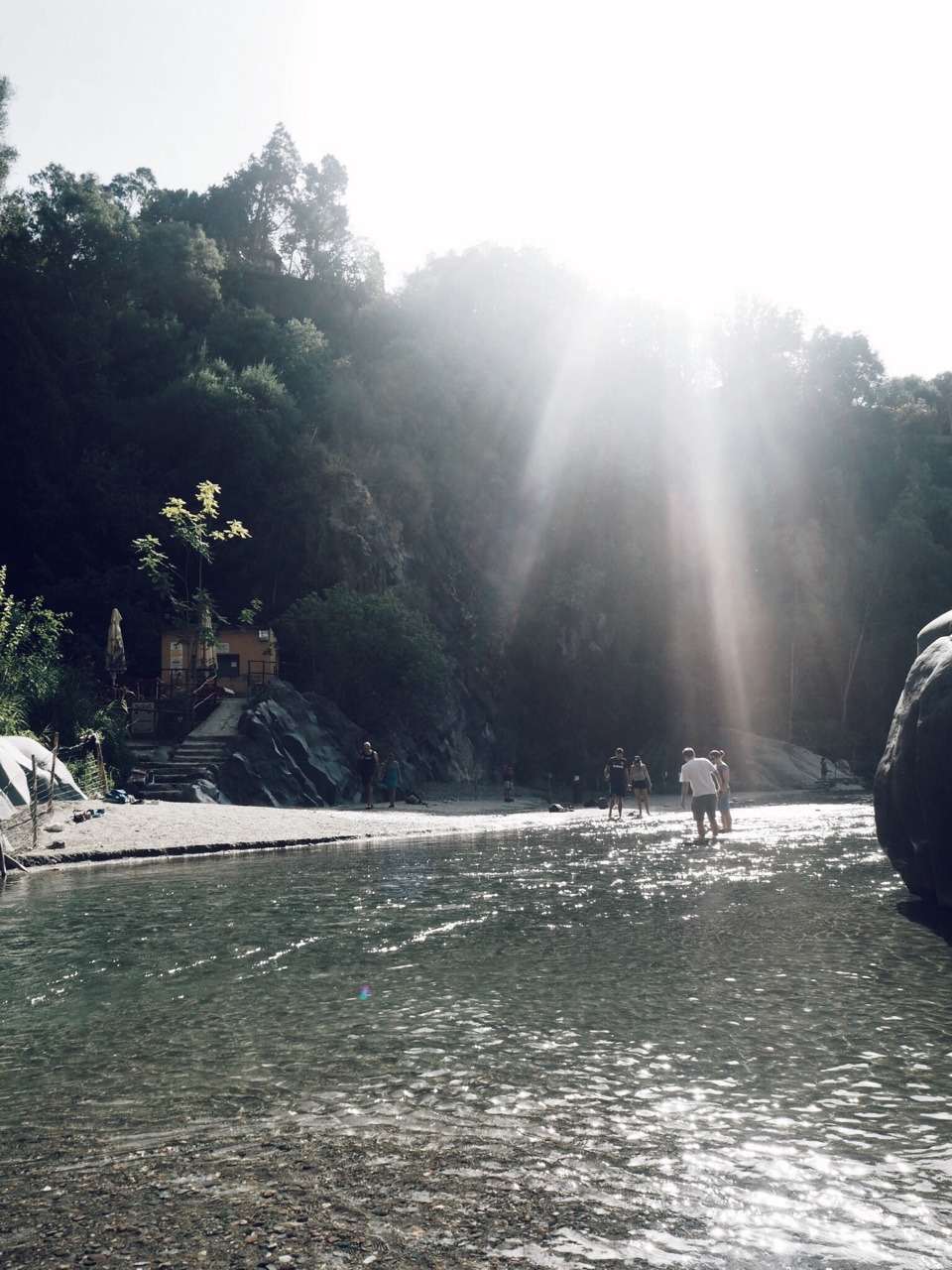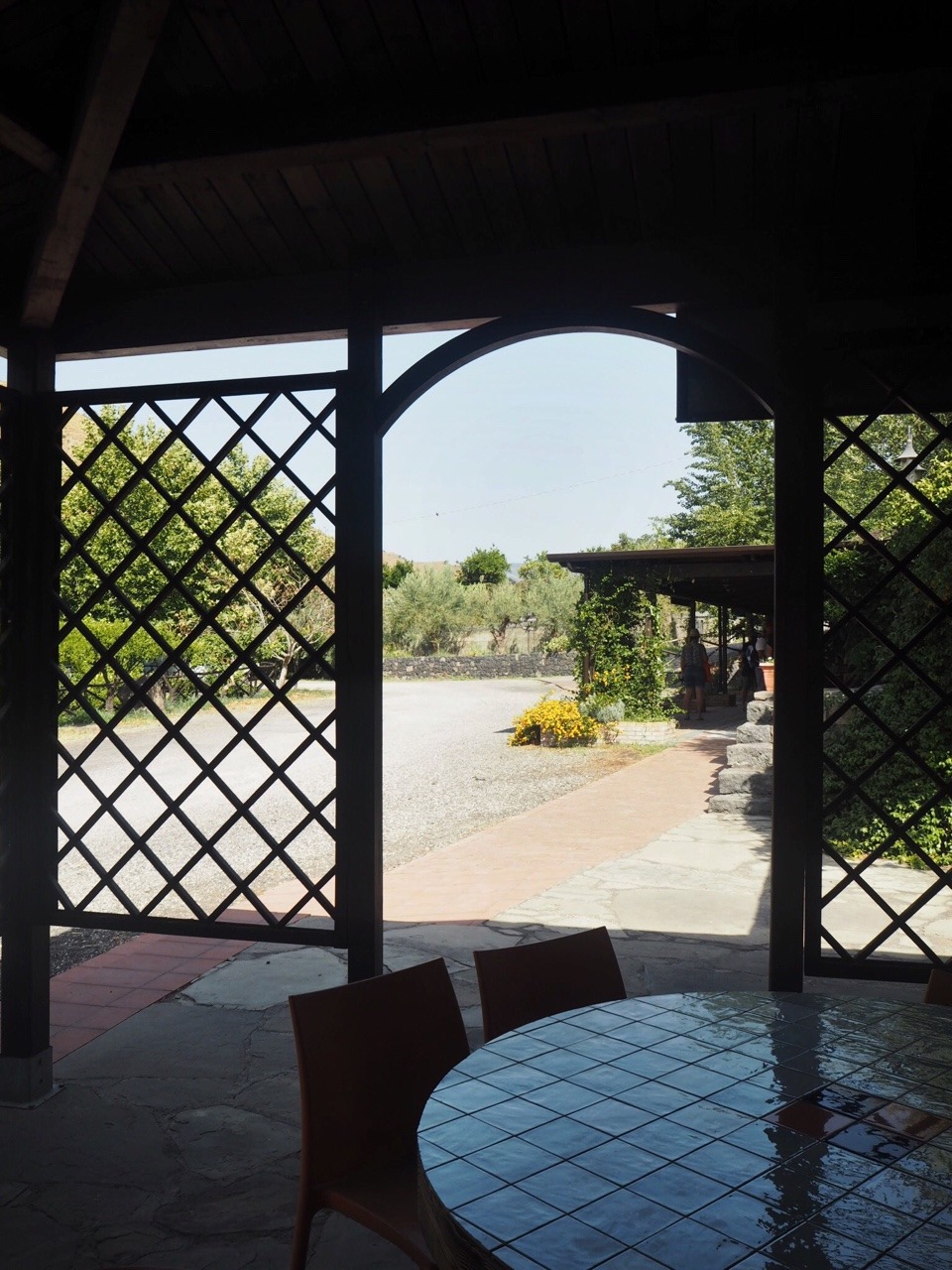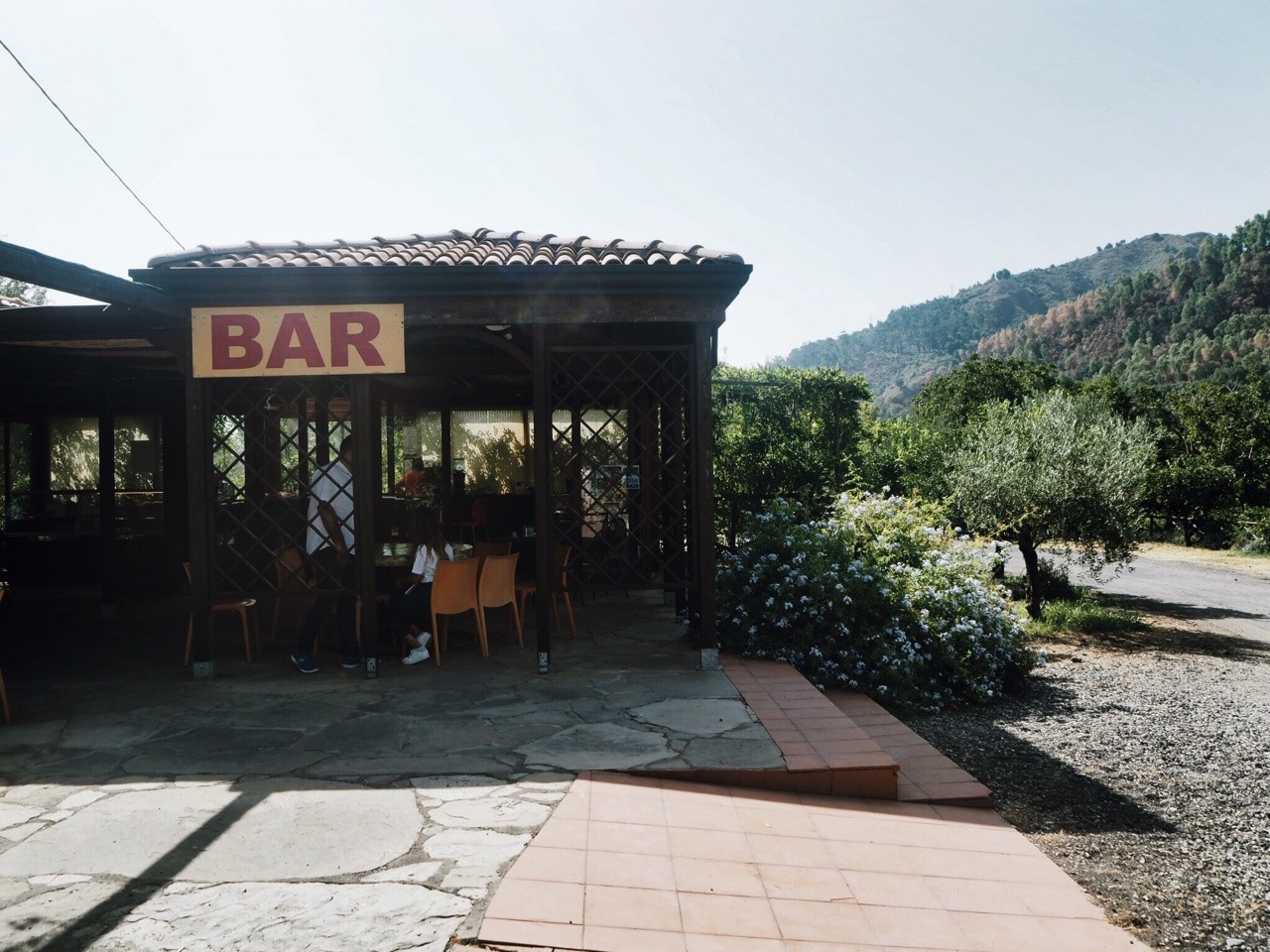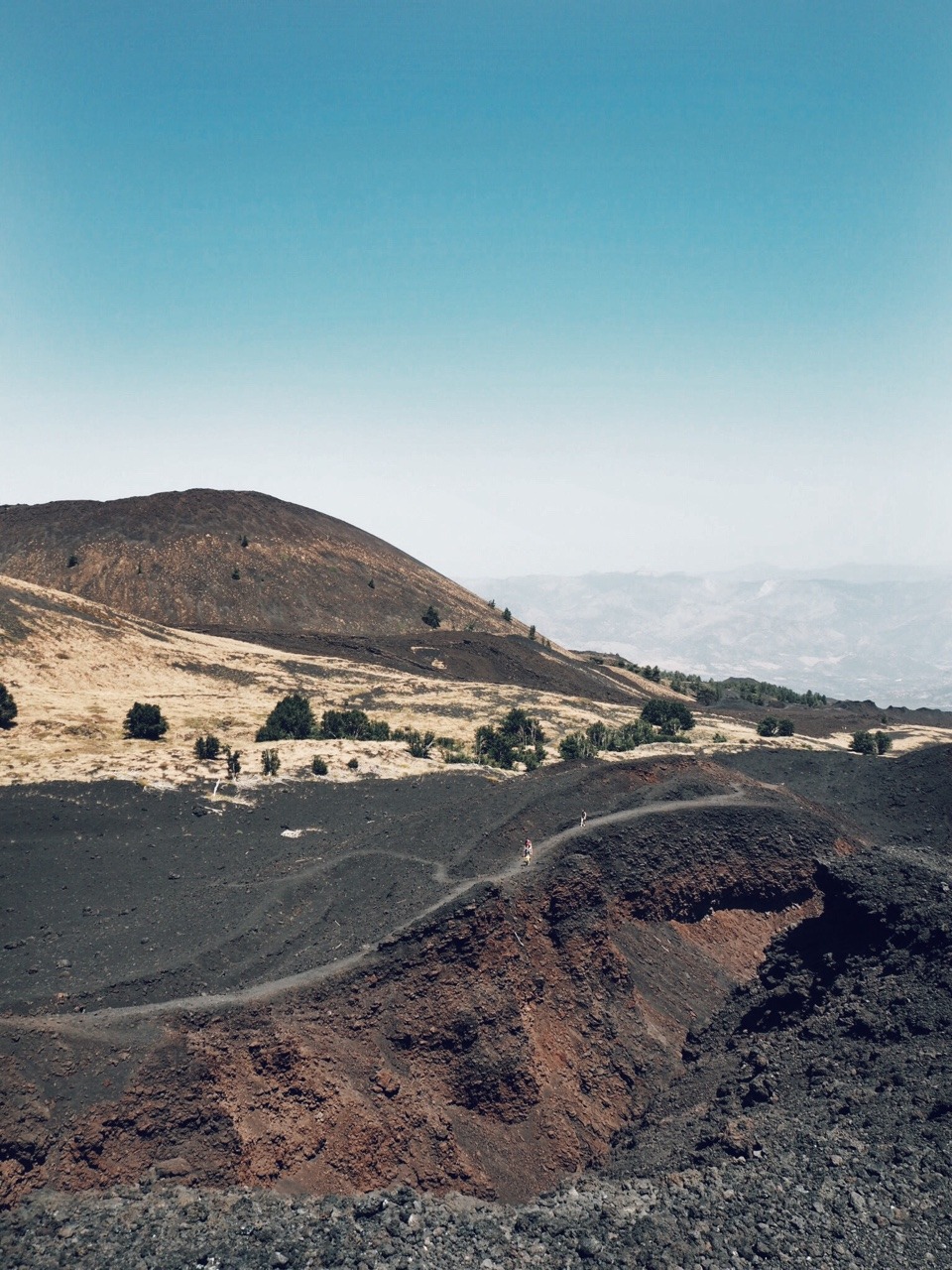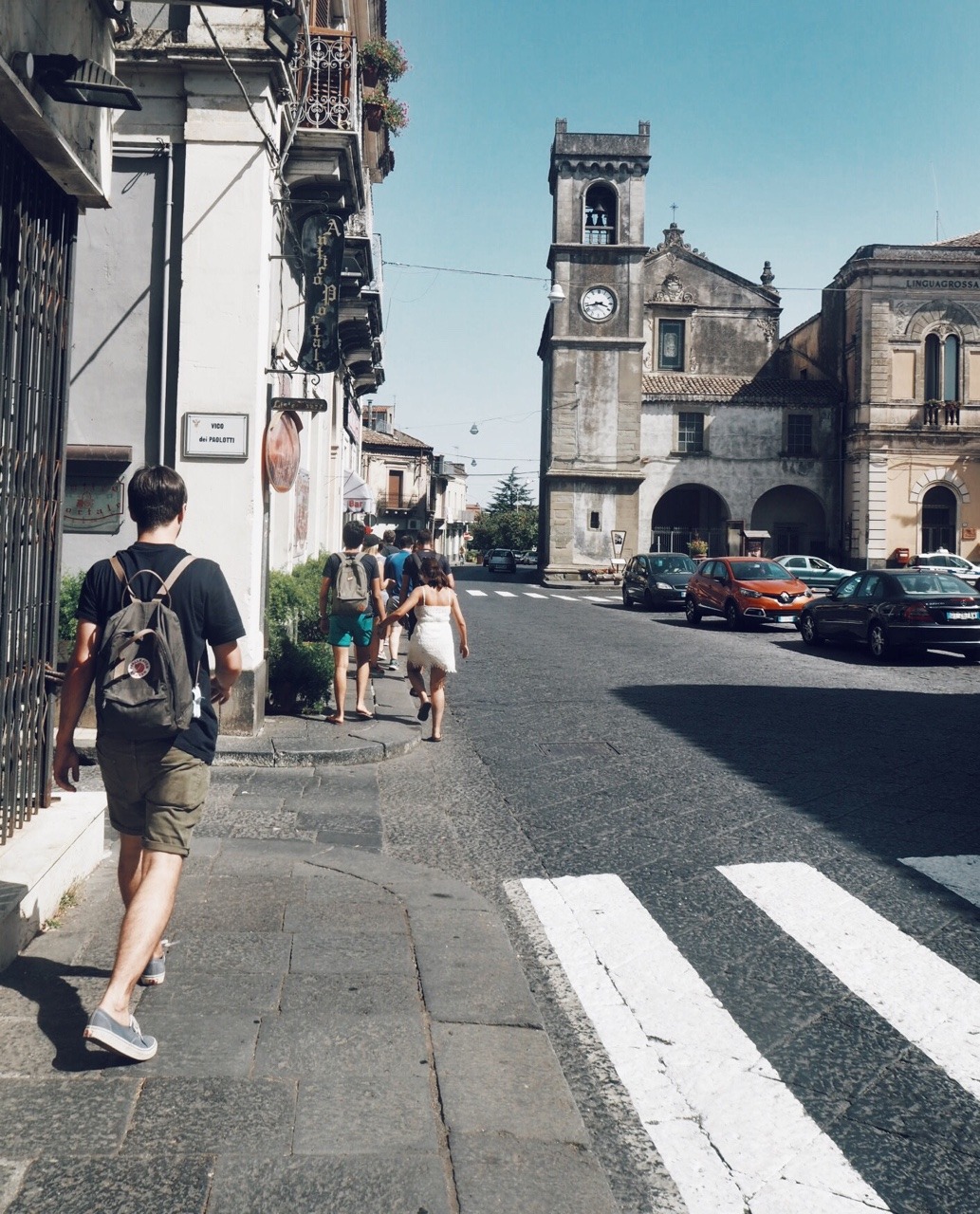 You can see Mount Etna as soon as you land at Catania airport – I mean, I could literally see it through the plane window and was instantly intrigued by its presence. There's lots of different ways to experience Etna – most travel places in the centre offer an array of different options, including by quad bike, horseback, cable car, and trekking. We went into a little travel shop located in the centre of Taormina (there's a few of them around and you can book all your trips here), and were recommended the trekking trip as you get to stop off at the Alcantara Gorge on the way. We got picked up in down by a little bus that took us to the river where we stopped for around forty minutes before heading over to a little bar in the middle of nowhere to sample some local produce. After this, it was straight up to Mount Etna to begin the trekking tour, and boy oh boy was it a trekking tour…
We definitely didn't realise that the trek would be so long – just over two hours in total in the middle of a sweltering heatwave. It was all kinds of hell, and of course I didn't take any sports shoes with me, so ended up sliding around in the volcanic dust in some ill fitting rented shoes. I feel like we tackled it with a good sense of humour and a backpack full of water bottles – I wouldn't go up there again unless it was on a quad bike or by cable car, but I'm SO glad that I did it looking back. I'm not the most active person in my day to day life, so I really get a kick out of pushing myself out of my comfort zone whenever I'm somewhere new. After the climbing and endless sweating was finally over, we got back on the bus to stop off in the little town of Linguaglossa which is located on the northern side of Mount Etna – here we were given a little insight into the towns history, as well as getting to sample more local sweet treats and of course, more granita. All in all it was a very long day, and although we saw lots of amazing things, I would definitely recommend one of the other modes of transport up Etna, unless you plan on visiting when it's not high summer!
---
BEACHES & BOAT TRIPS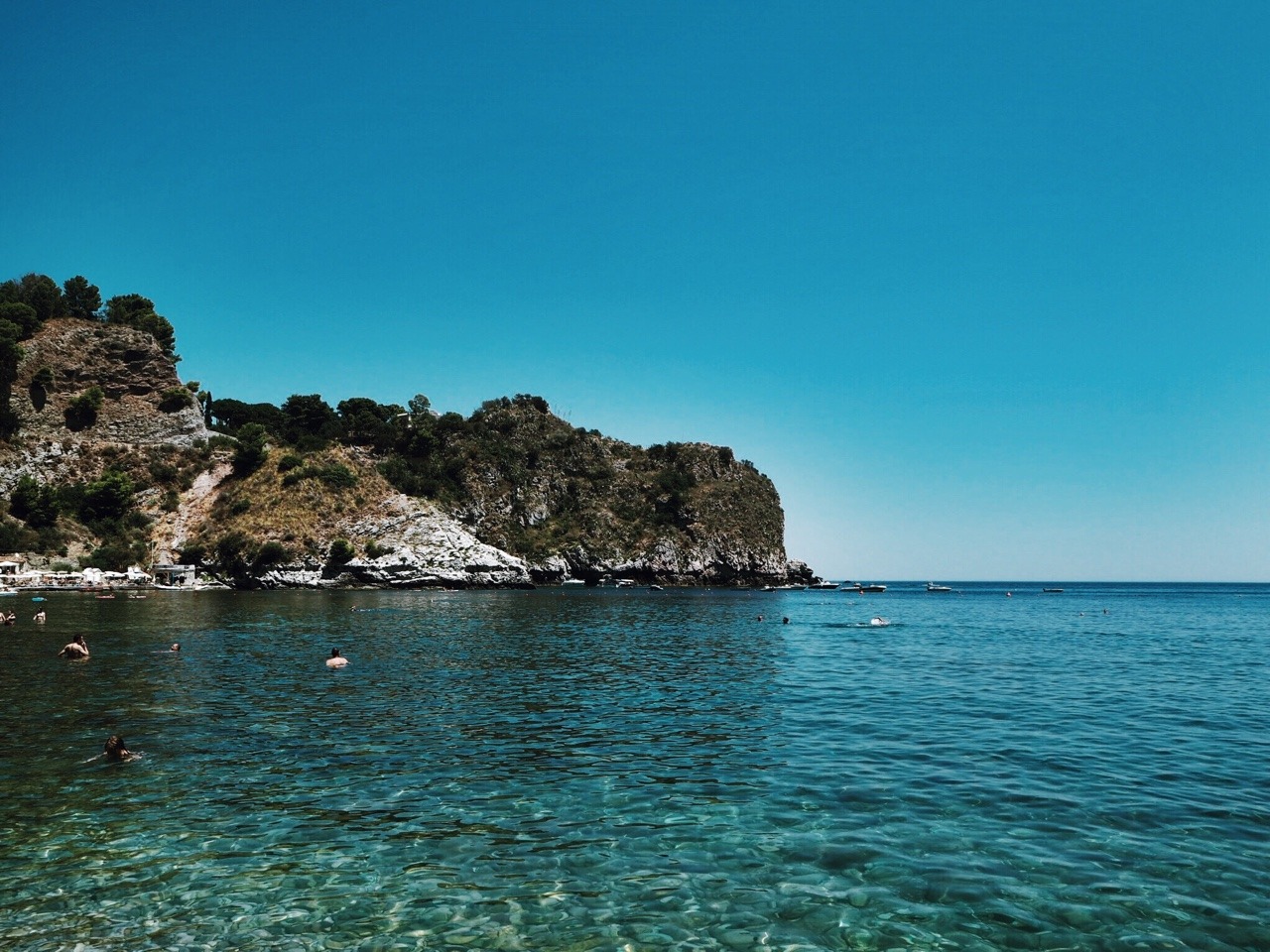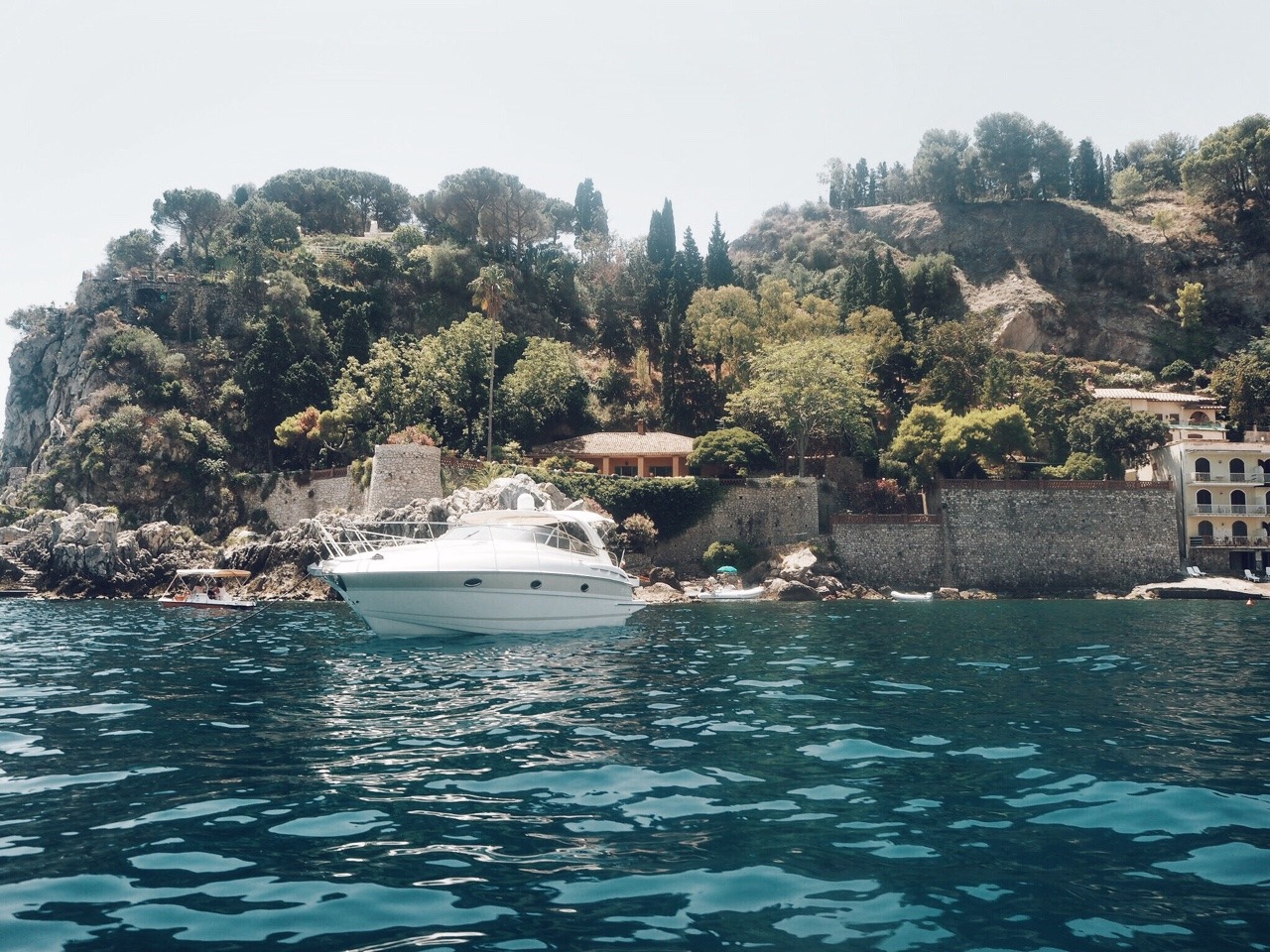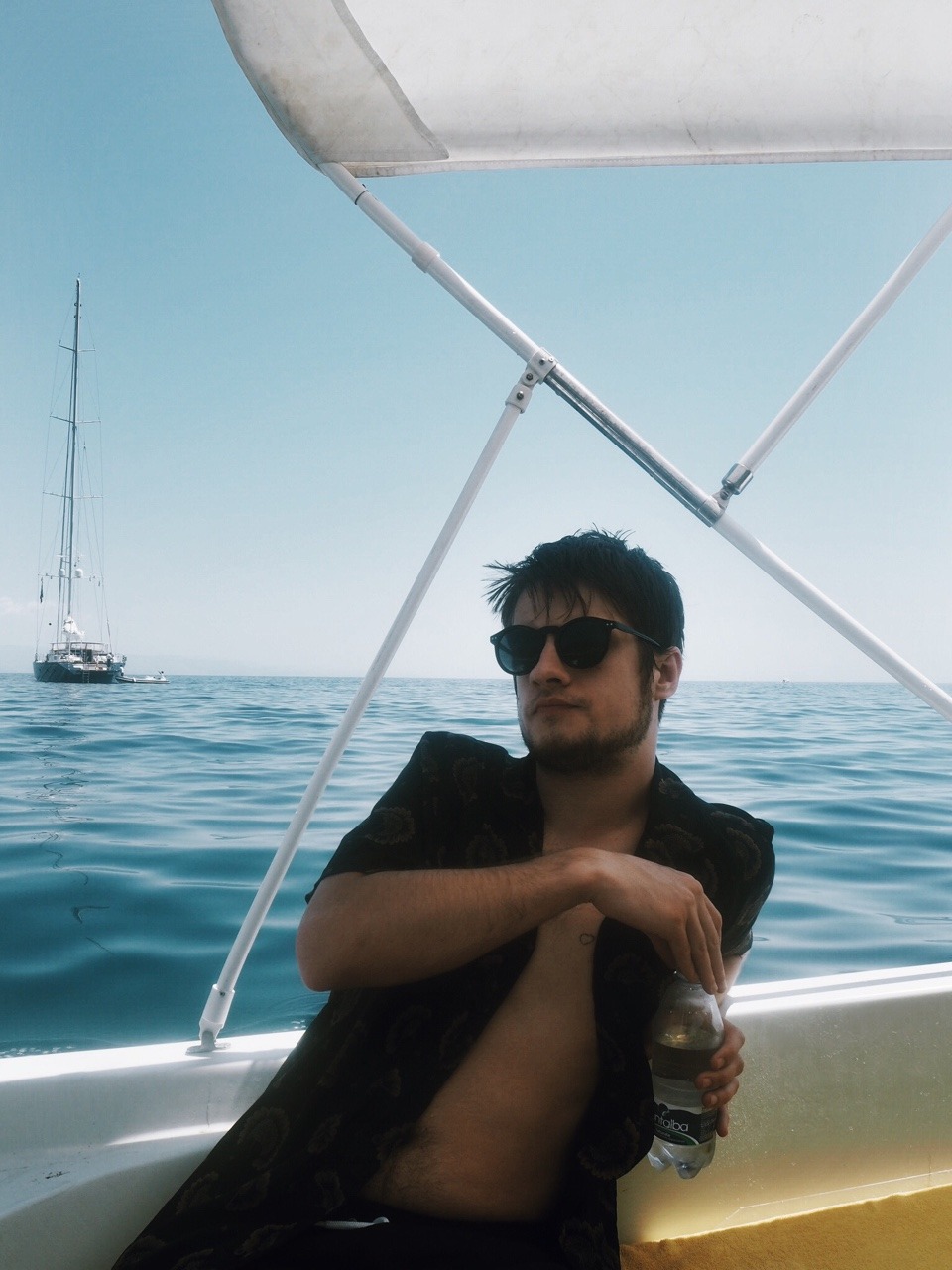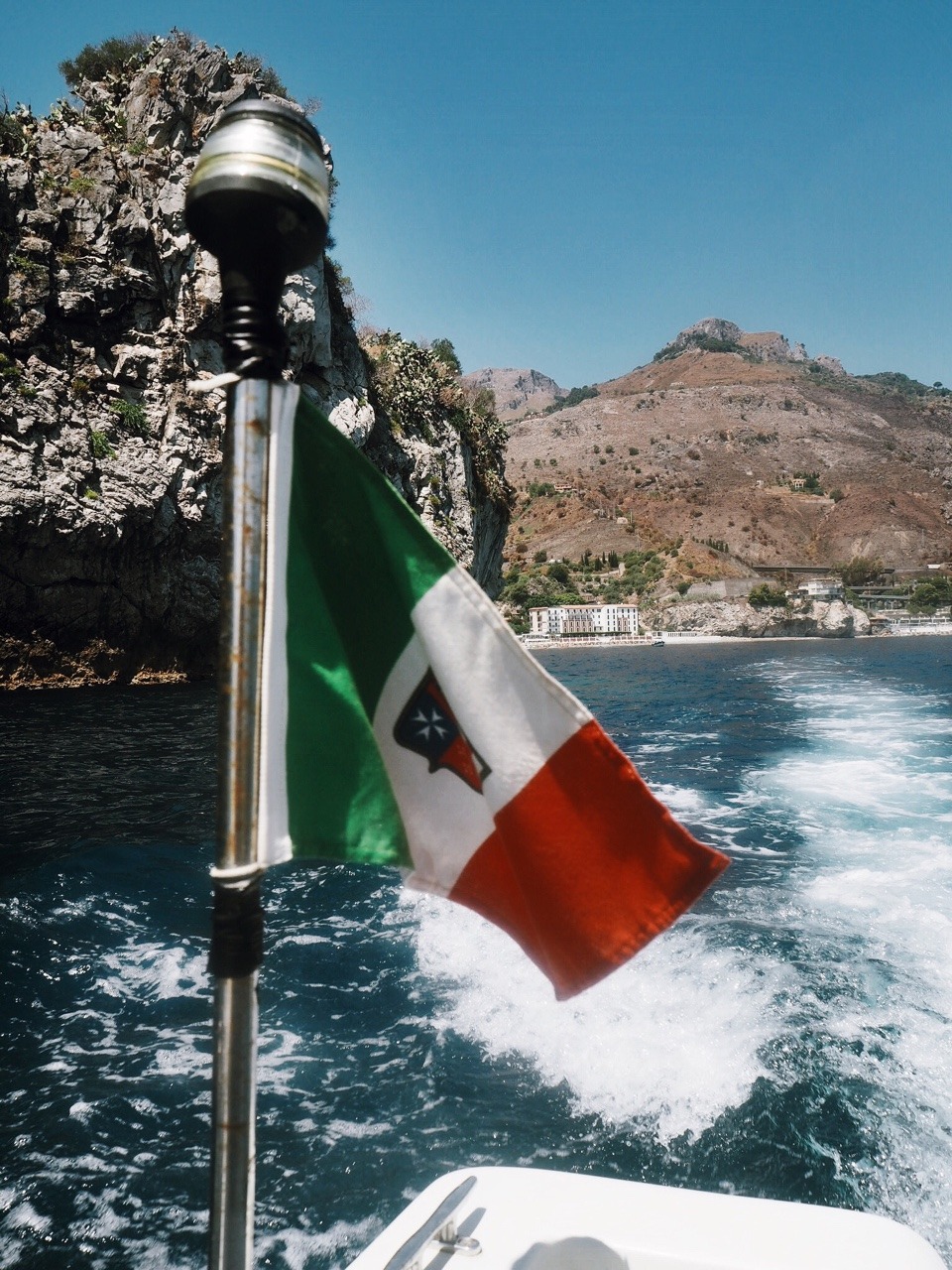 We visited two different beaches – one was a private beach owned by a sister hotel that could be reached by an organised shuttle bus if you are staying at Diodoro. We loved this beach as it wasn't too busy, and there was a little boat that you can hire to take you around the coastline of Taormina. It was just twenty five euros each and I think most beaches always have something like this on offer – we got to swim in the open water and explore some beautiful caves, as well as having our own little boat ride for an hour.
The other beach we visited was Isola Bella – this one was reachable by walking into the centre and catching a cable car, really simple to suss out when you're there! You could arrange to do water-sports on the beach or go scuba diving, but it was so so hot that neither of us wanted to do much but cool off in the sea. I'd also suggest talking water shoes with you if you visit Isola Bella, as the beach is really rocky, particularly in the water, a pair of shoes are essential if you want to swim out and explore a little. This beach gets VERY busy, so would definitely suggest heading their early to avoid the midday rush of people eager to cool off.
All in all, it was an absolutely incredible holiday and I couldn't be more happy with how it turned out – I feel like Taormina is definitely a place you could stay for two weeks and easily fill your time with various activities and site seeing. If I had to change one thing then it would be to swap the Mount Etna strip for the Stromboli and Panarea trip that I was really keen to go on – unfortunately most of the trips only run on certain days, so if you're only staying in Taormina for a week, my advice would be to research your trips before you go, and book them on the first night! It doesn't take long at all, and it's good to get it out the way so that you can relax and look forward to them! I had the most beautiful week in the sunshine with my best friend, and would endlessly recommend Taormina for anyone in need of a little escape from reality – I challenge anyone not to fall in love with it's beauty and charm…
Alice x
---
All Images taken on the Olympus Pen EPL7