Hello! I hope you're all doing well this week and looking after yourselves! I thought I'd kick start the week by sharing an autumn/winter mood-board of sorts…
I feel like there's never more temptation to 'buy new' than at the start of a new season! With that in mind, I've really been trying to hone in on some key elements of my autumn/winter style. I think spotting patterns in terms of what you like and what you're drawn to in your wardrobe can be really useful when it comes to more sustainable outfit building (looks that you're likely to repeat year after year). I love to make Pinterest boards at the start of a new season, as well as make lists of things that I spot online that I feel like I want to purchase. Instead of making impulse purchases, I wait a while and then take a look back at the images/lists of items and see what they all have have in common. Chances are there's a common thread, and chances are they are all stay close to a similar look/aesthetic that I can already achieve with what's already hanging in my wardrobe!
I've broken some of these patterns down into categories below for you in the hope that it's helpful if you're feeling a bit frazzled in terms of what to wear in the coming months. With so many different styles to be found online and so many trends being thrown at us constantly, sometimes it can be fruitful to sit back and examine what we are personally drawn to. I found this exercise really helpful so I'd definitely recommend it if you're feeling a bit stagnant when it comes to your personal style…
Love, 
Alice x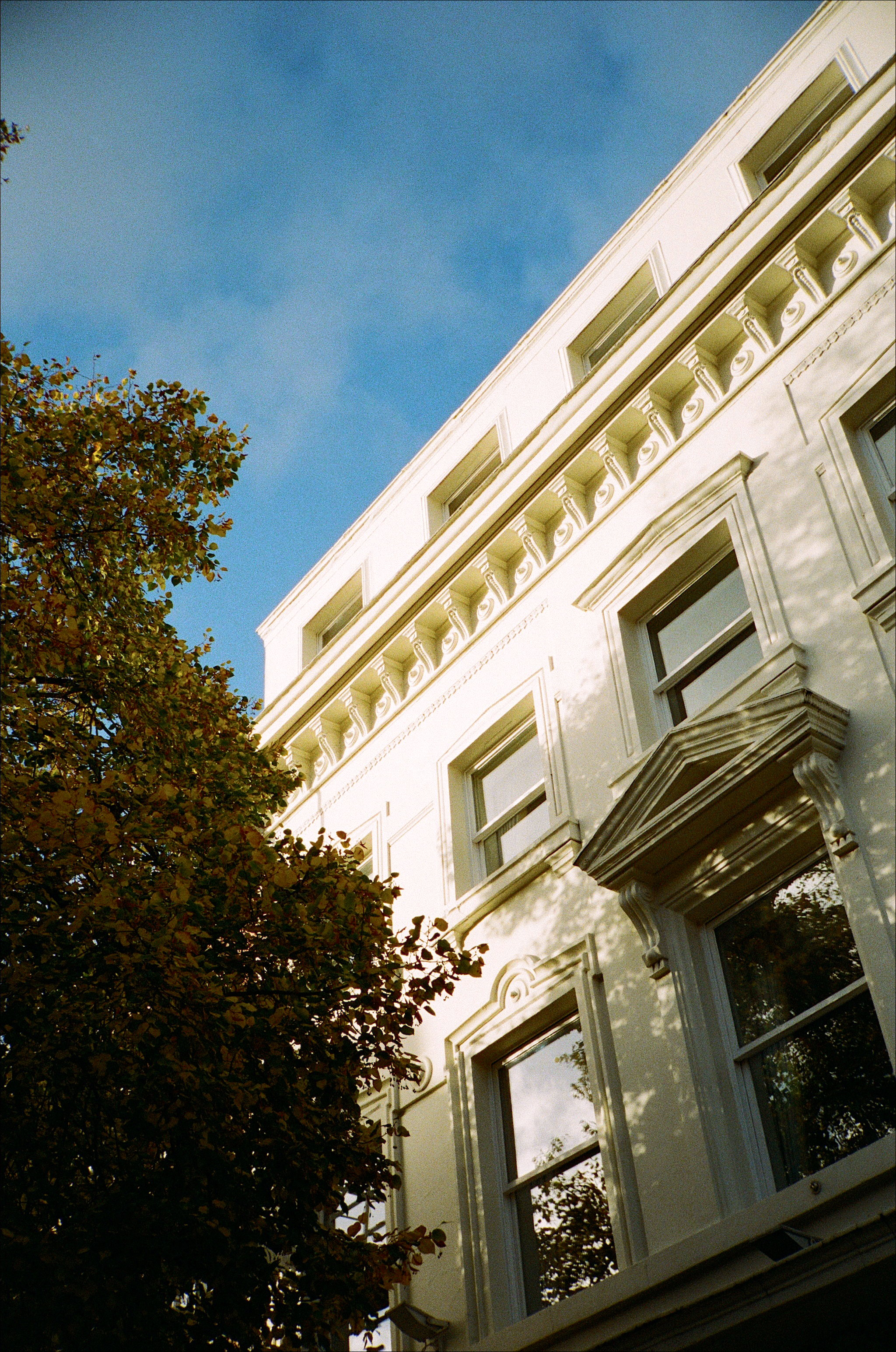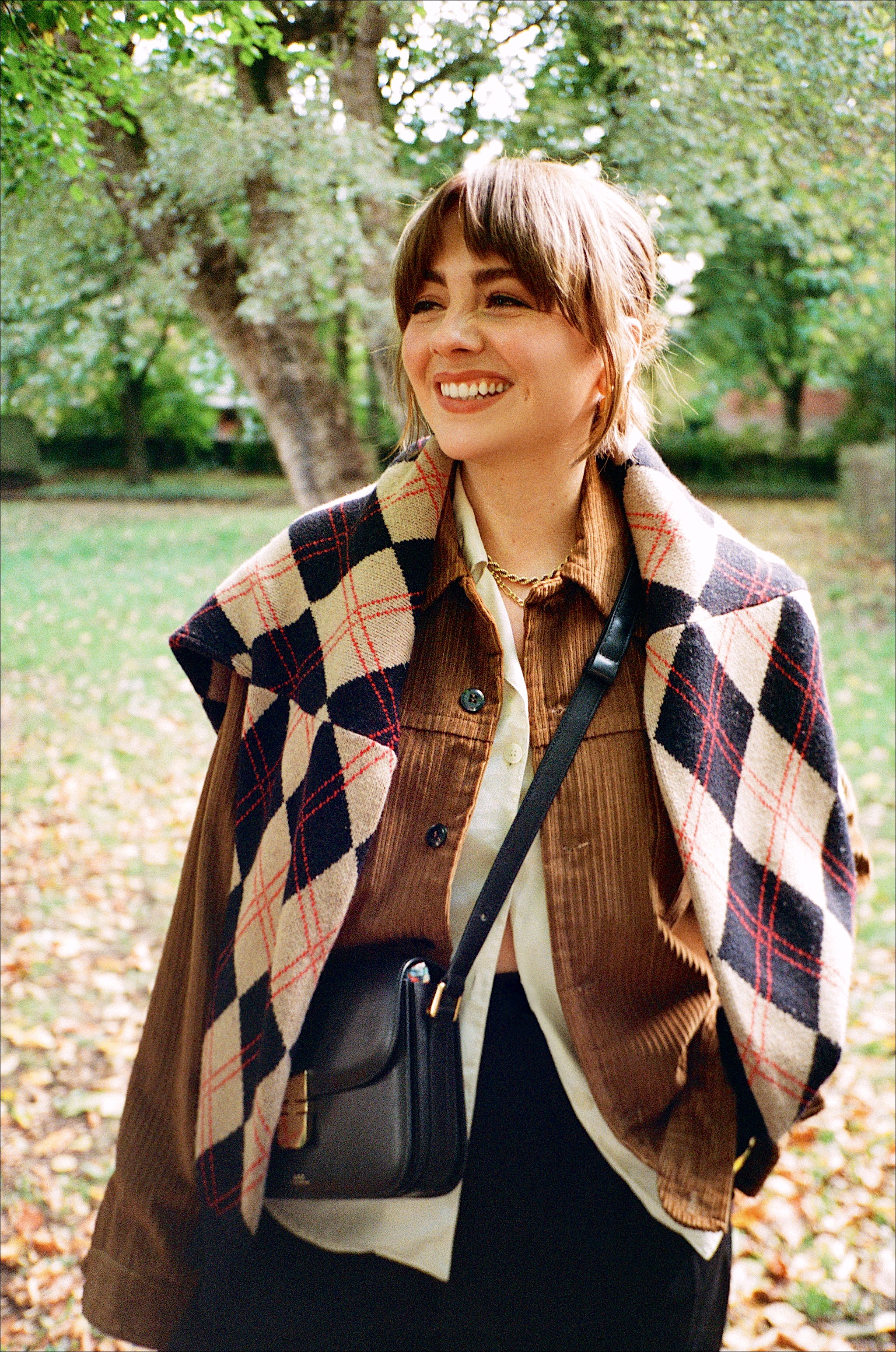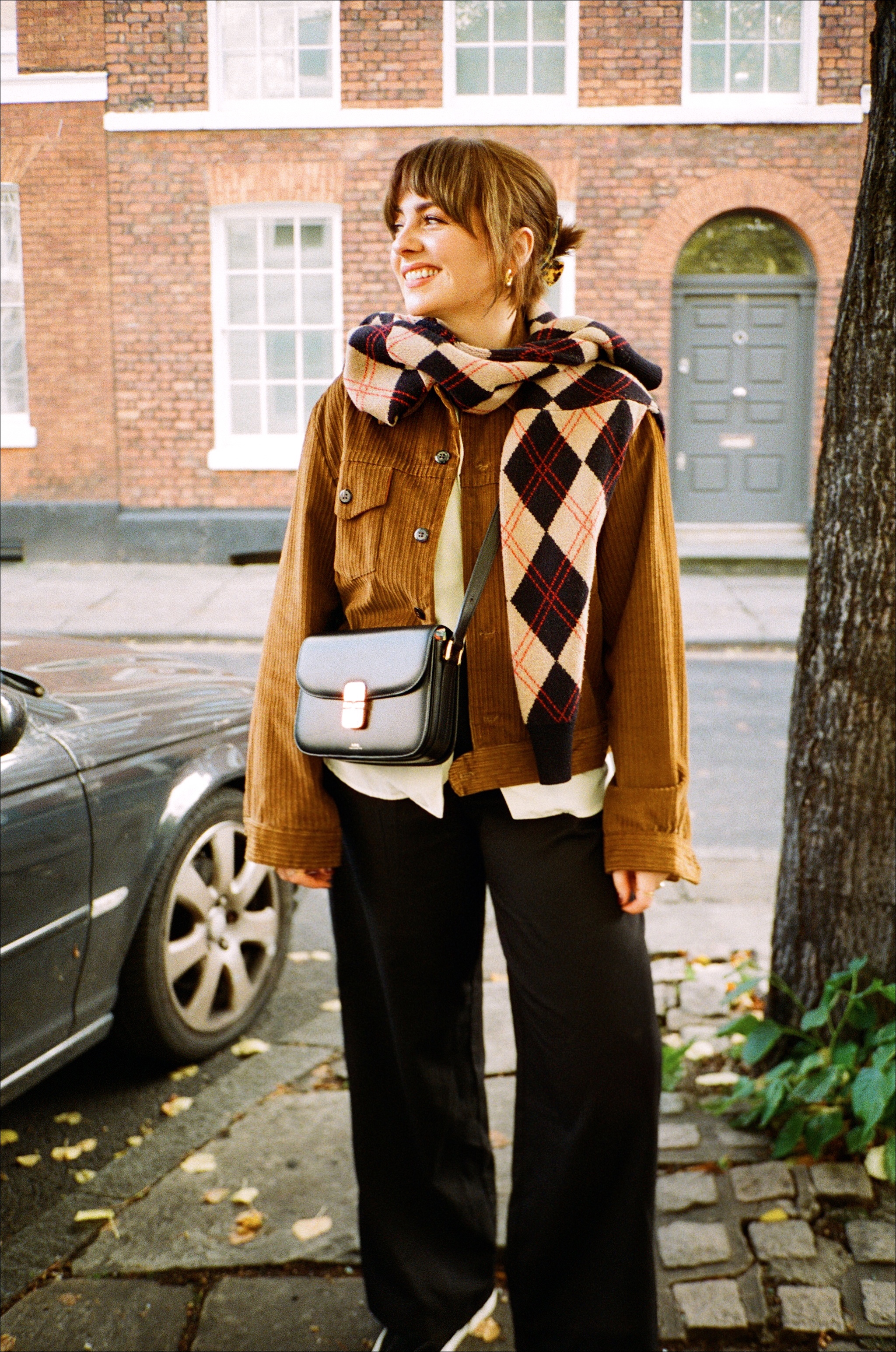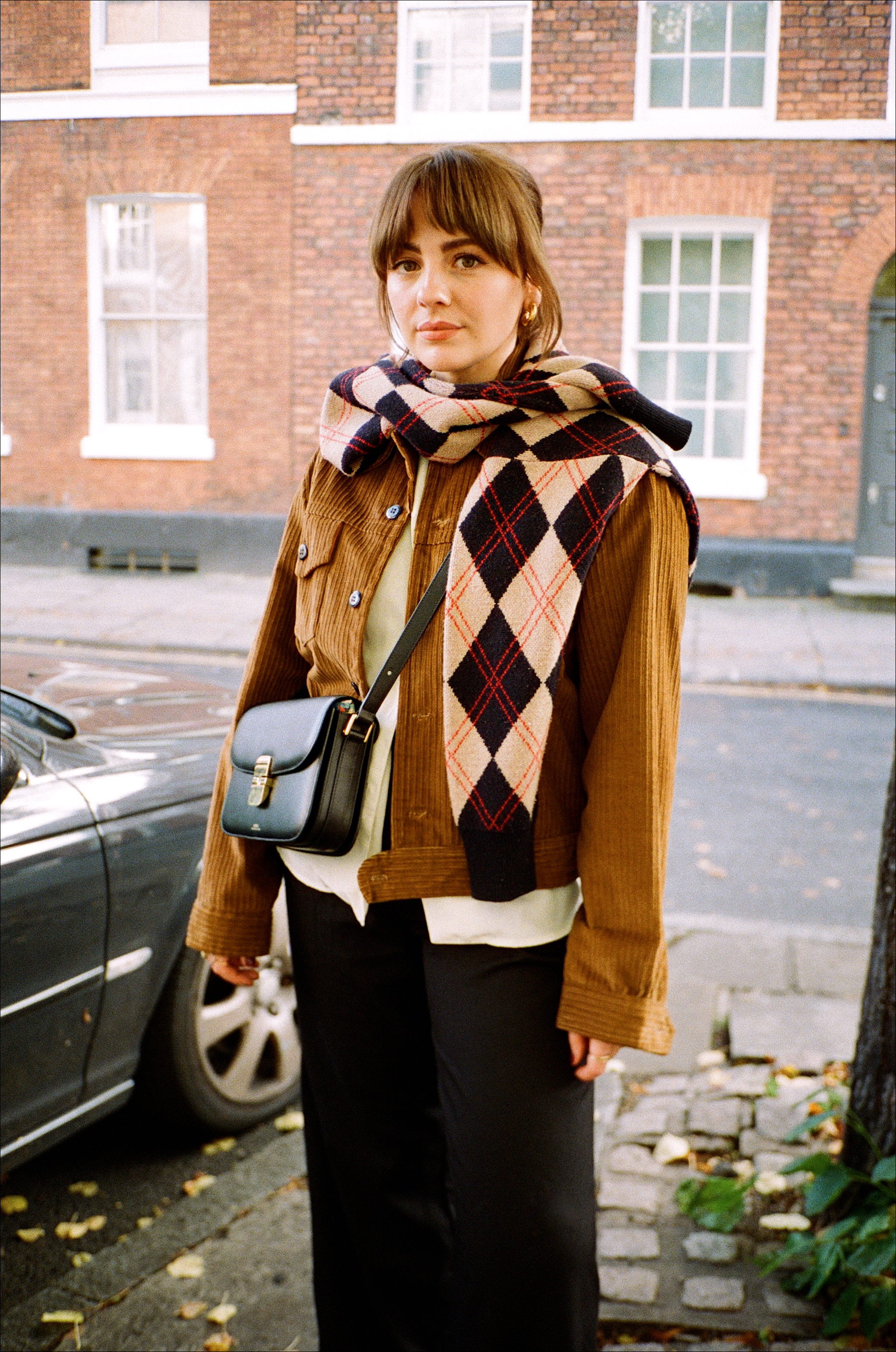 ---
BROWN CORD
I'm a big fan of brown cord at this time of year and there's many different ways you can implement it into a look! Historically for me, I'm most comfortable in a pair of brown cord trousers or a brown cord statement jacket of some kind. This year, I've been spotting lots oversized brown cord trench coats that I've really been drawn to. As someone who loves both an oversized trench and a brown cord jacket as two solid separate pieces – the lovechild was bound to catch my eye.
This one by Musier is beautiful – I think I definitely want something in this dark brown shade with this type of length or longer. It's the type of piece that would bring all of my printed dresses to life by throwing it over the top with some chunky boots and a little cross body bag. Equally, you could be wearing jeans and a t-shirt underneath and it's automatically going to elevate. I love that it's a deep shade of brown because I think this makes a nice base for adding print and colour else wear in your outfit. Especially as the weather cools down, it would look so great with various different hats and scarfs layered over the top…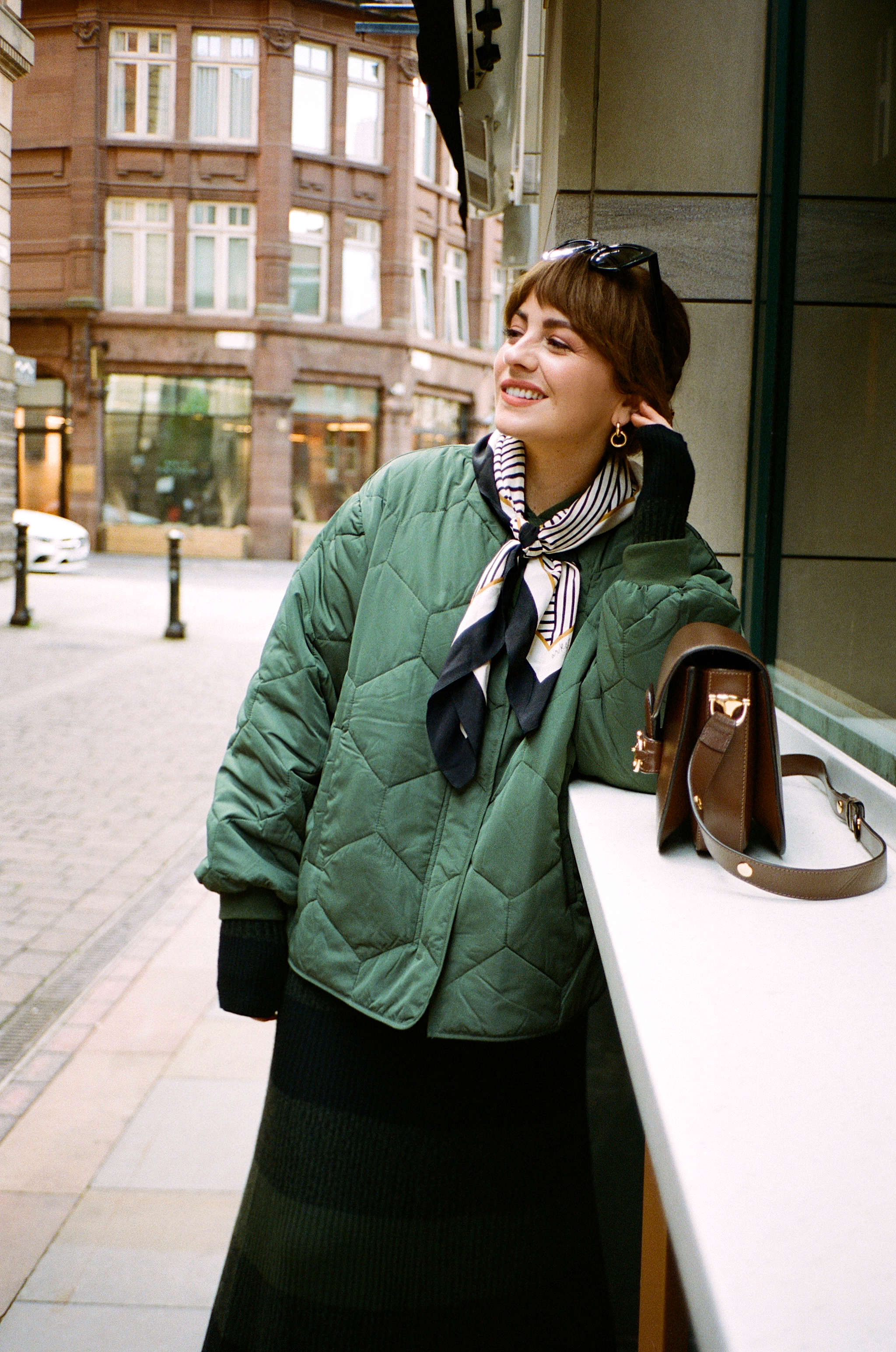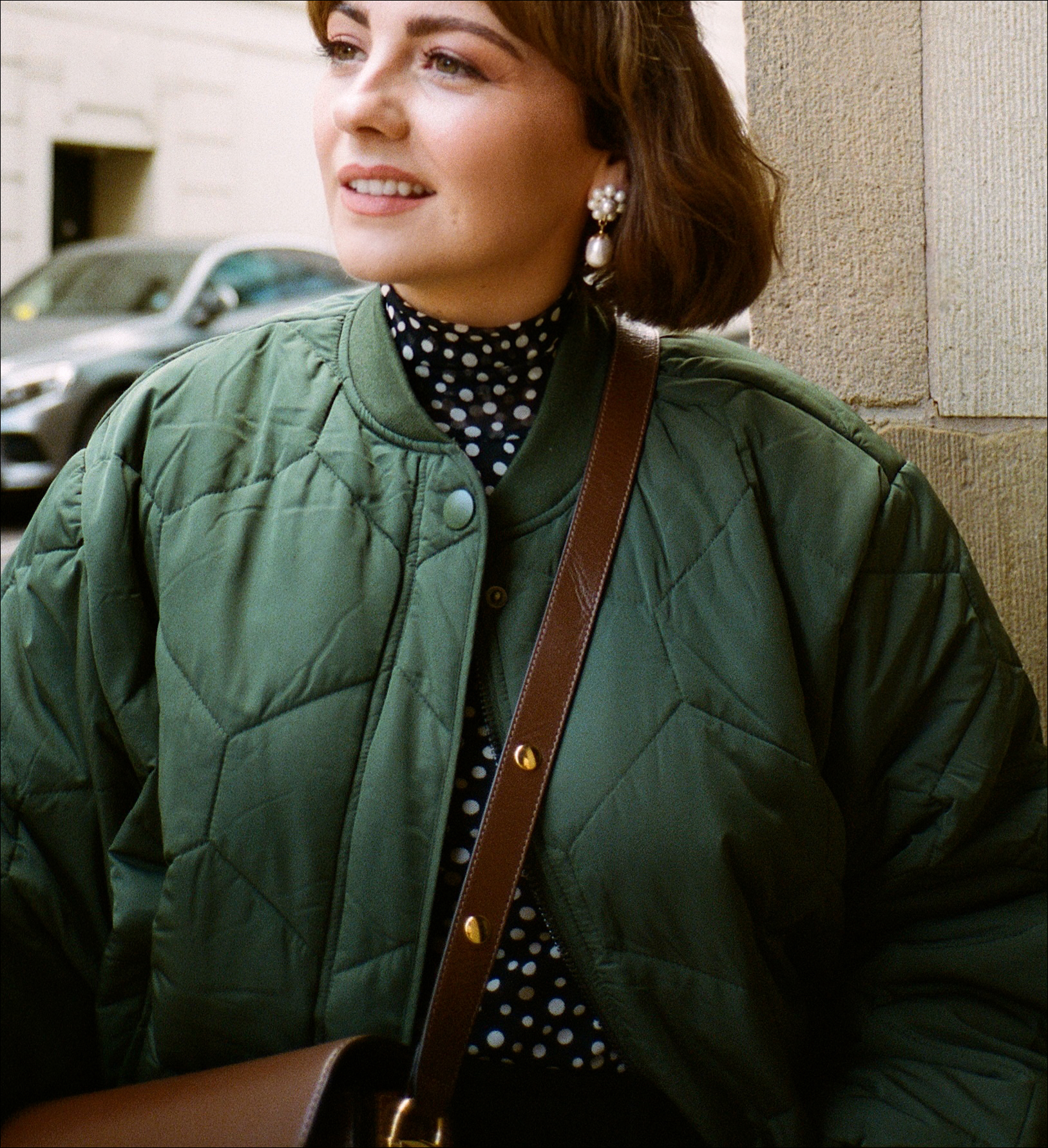 ---
PUFFER COATS
Love them or hate them, the practical puffer coat ain't going anywhere! It's also possible (I promise) to wear one without looking like you're off to horse-riding lessons. There's so many modern takes on this traditionally quite 'uncool' piece that it's personally become a winner for me and an extremely versatile one at that. I have a few puffer coats/jackets in my wardrobe – a couple of shorter/cropped styles and then a couple of longer ones…
I find the longer styles to be the perfect 'rainy weekend coats'. I live in Manchester so there's really no coat more practical for a cold rainy weather forecast. Recently, I've been playing around with ways that I can make my puffer style pieces a little more chic and put-together. Rather than being the absence of personal style because there's just so much material once you have them on and they can kind of take over, there's definitely ways that you can accessorise them and take them up a notch! I've been adding silk-scarfs to mine which I think is the perfect juxtaposition – it's cosy but classic or Parisian chic meets practical outdoor attire. I've also been layering some of my printed long sleeve tops underneath and a pair of more 'fancy' earrings. Again, it's the juxtaposition that I think makes an outfit more interesting because it's not necessarily following the rules, it's blurring the categories when it comes to evening wear and outdoor wear which is something I've been having a lot of fun with…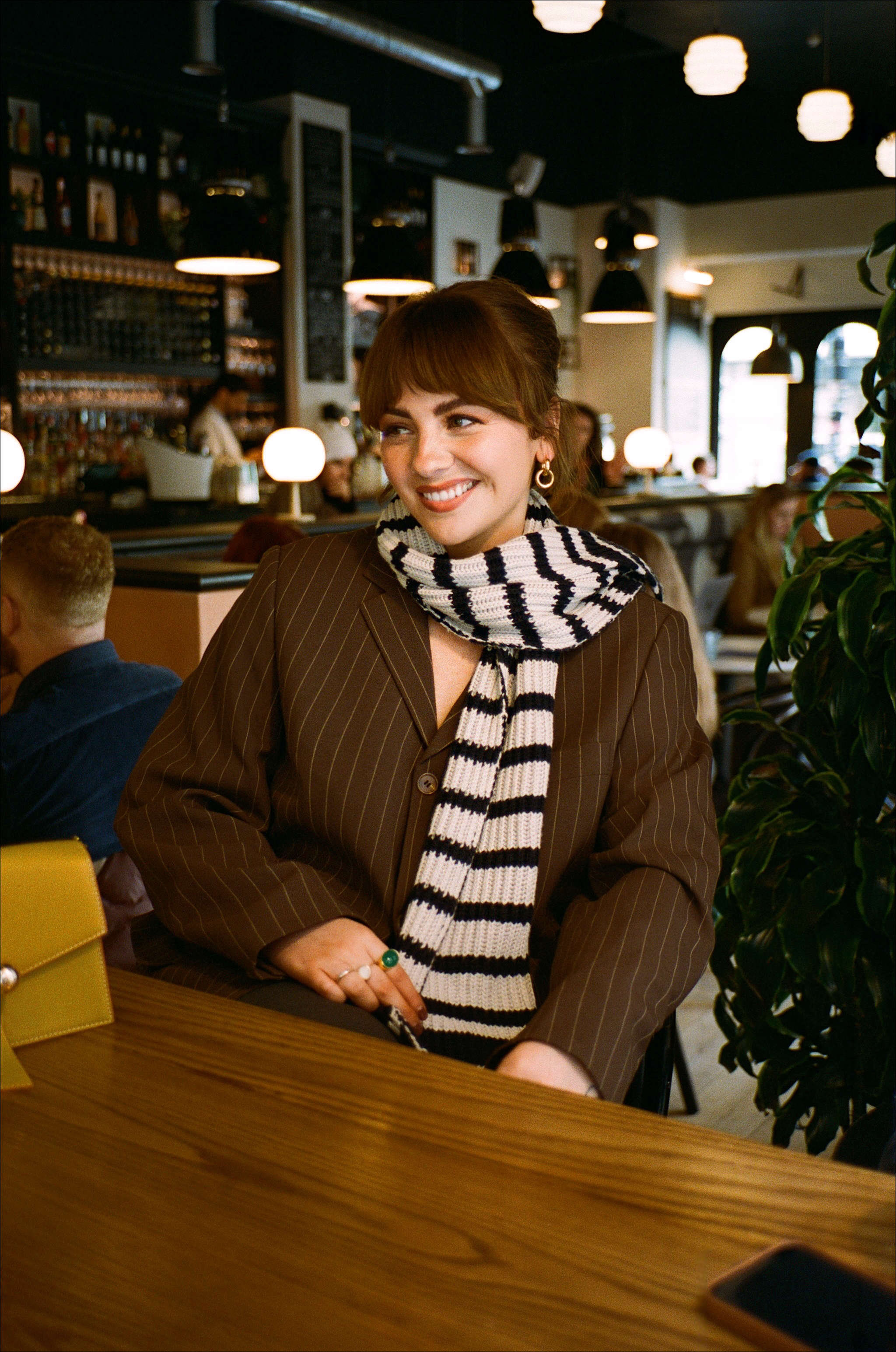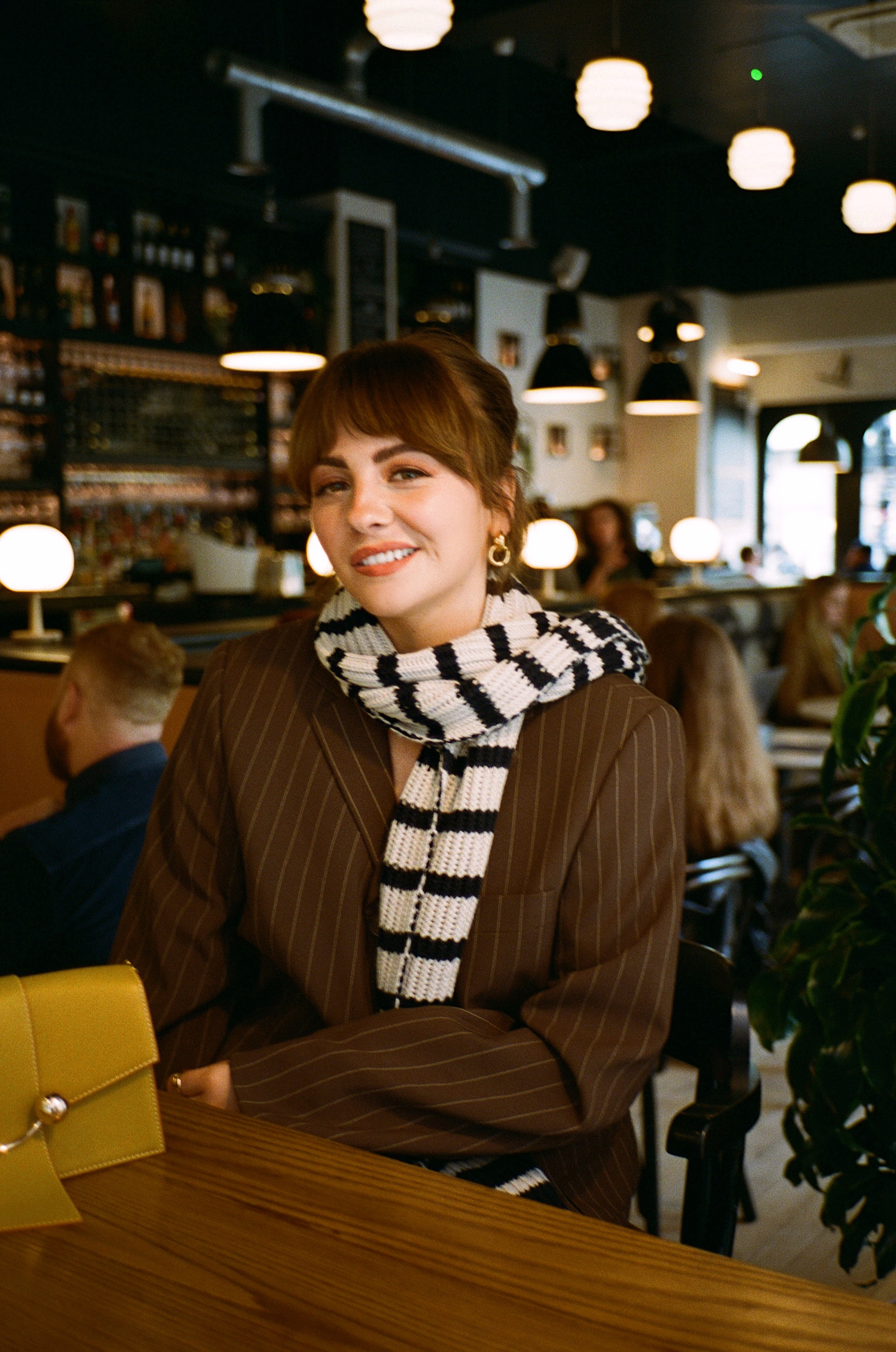 ---
DOUBLE STRIPES
Yep, I've reached the point in my love affair for stripes where a mere single dose is no longer enough! Only delicious servings of double stripes will do. Although there's tonnes of noughties/nineties style pinstripe pieces around at the moment with the rise of the Y2k trend – I've always been a fan of pinstripes because they are versatile and classic. I think traditionally a lot of us associate them with boring office attire, but with the right silhouette, I think they can look really effortless and cool.
I got this brown pinstripe blazer tailored at the start of the year and I love how it looks with a more bold striped scarf. I think this is definitely the way to go when it comes to figuring out the right double stripes formula – try mixing different sized stripes and play around with different colours and tones. A fun thing to do would be to get all of your striped pieces out in front of you and see what automatically fits together. Chances are there's some new outfit combinations just waiting to happen…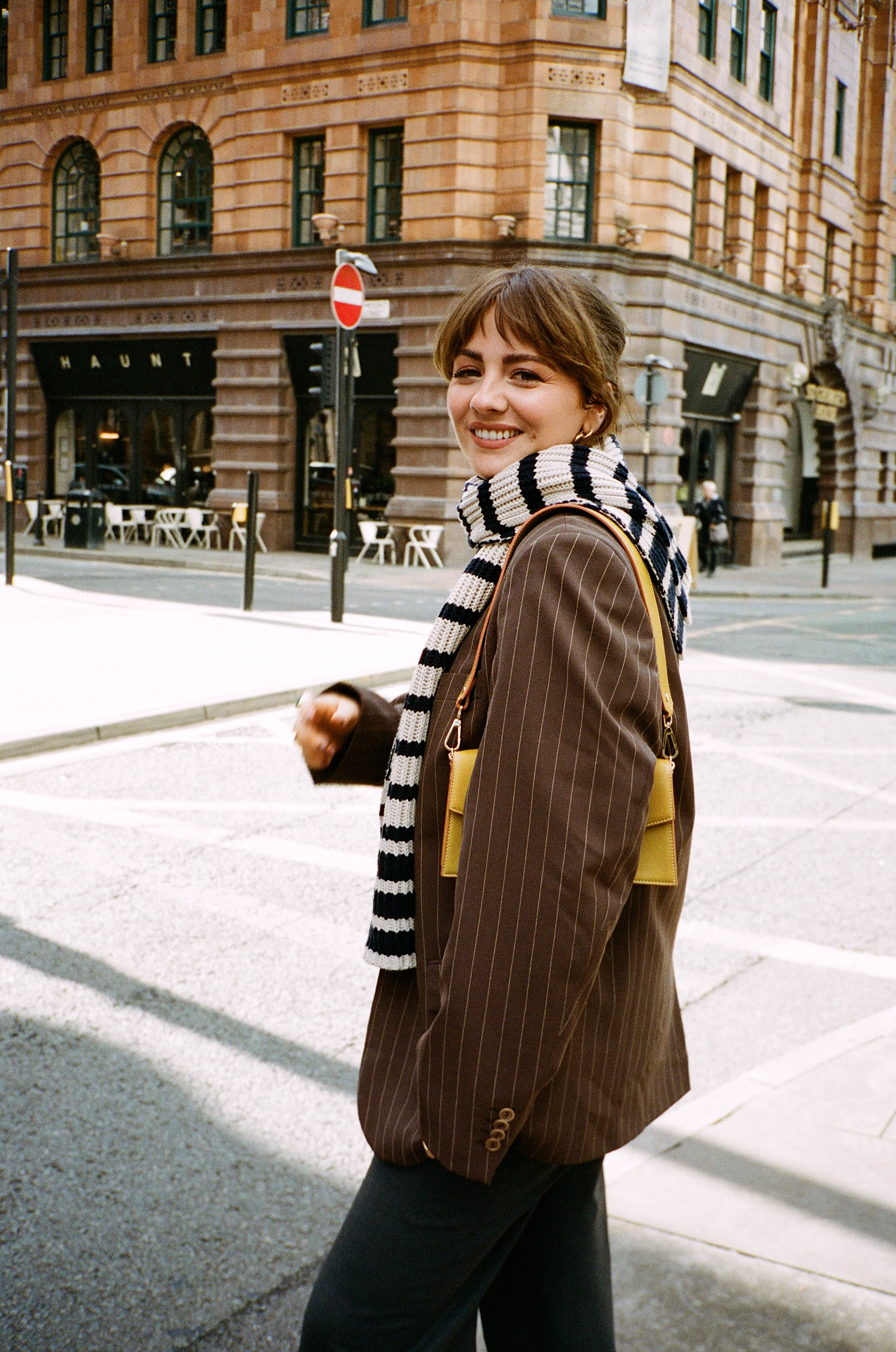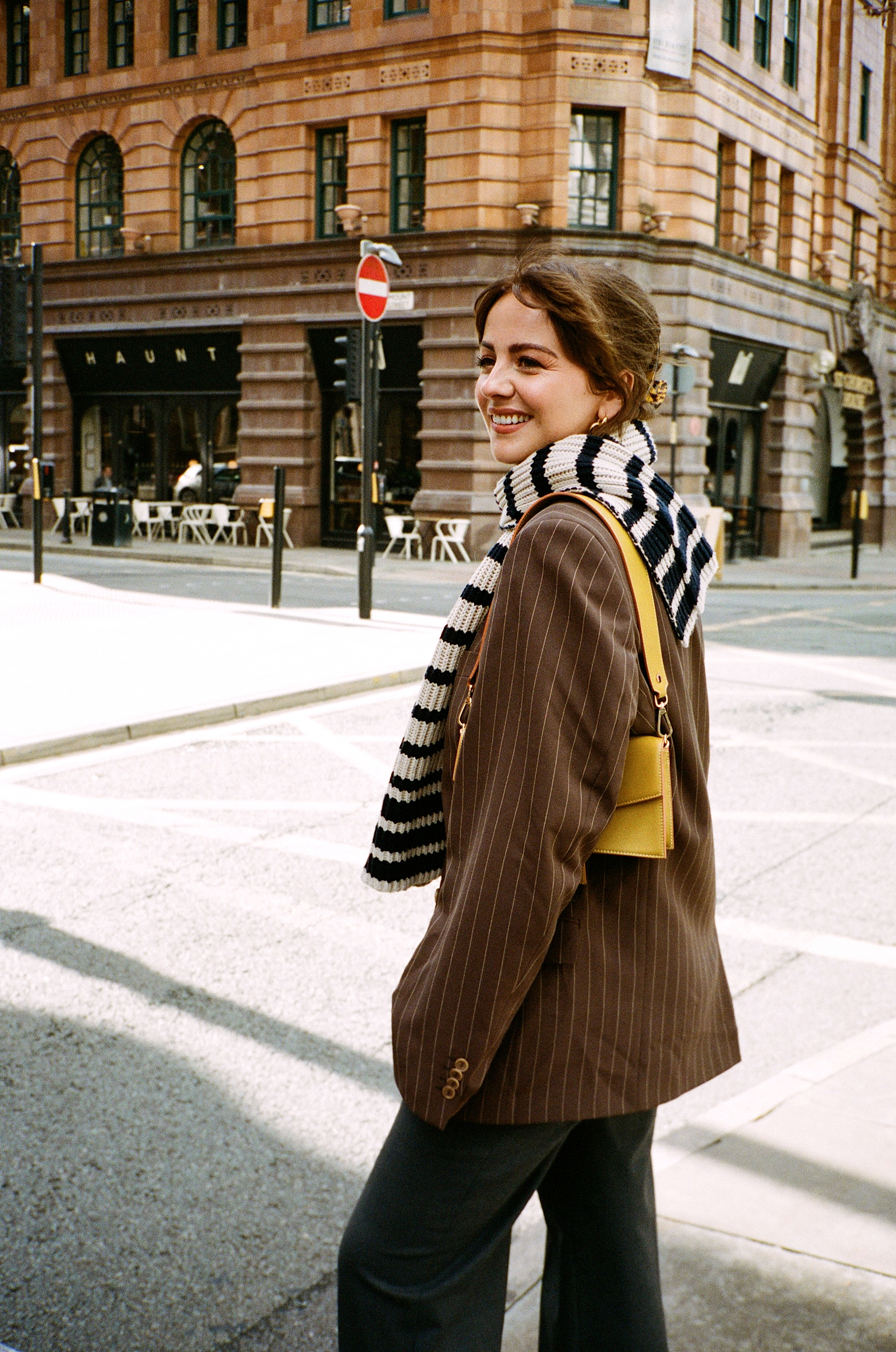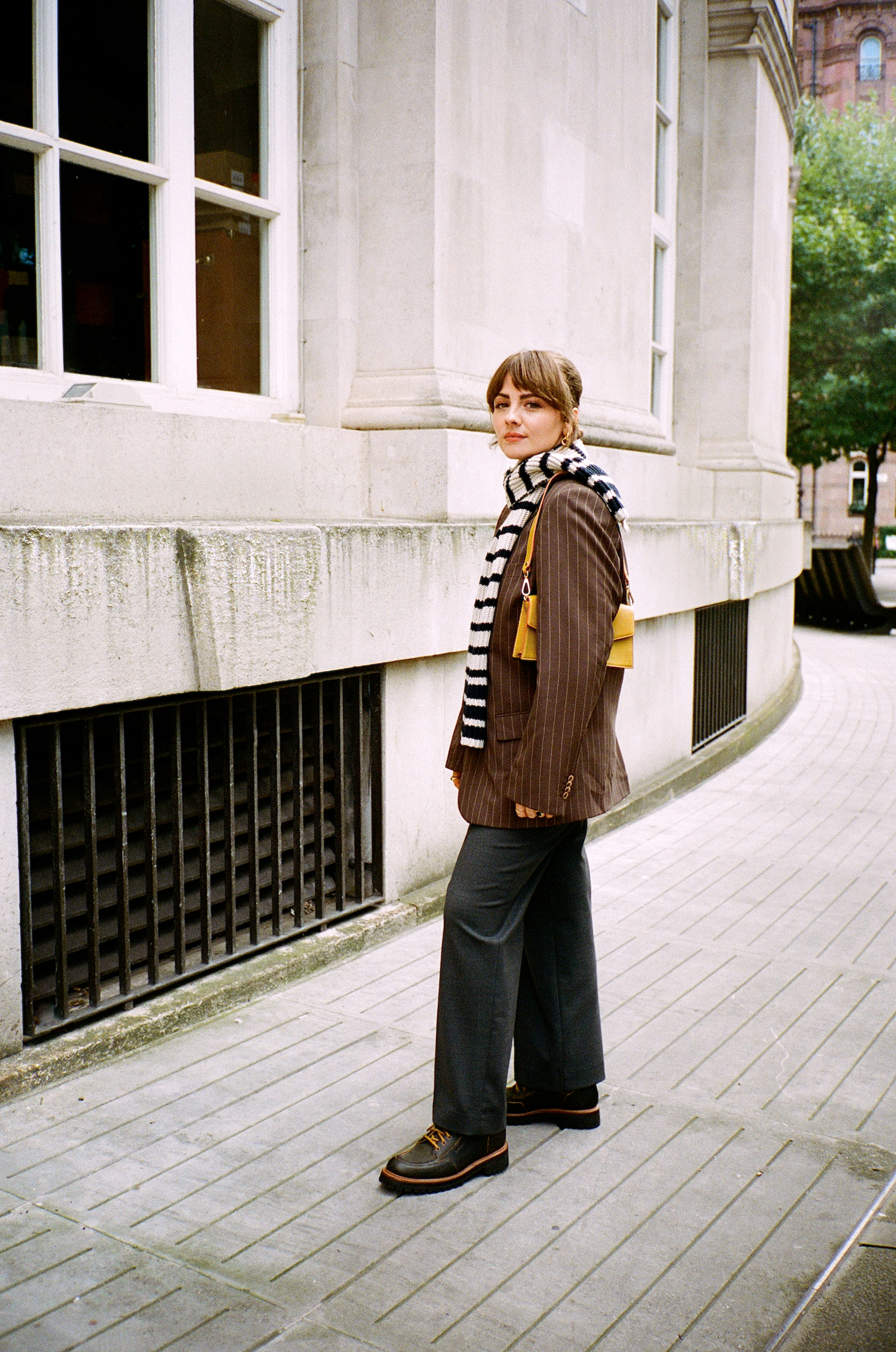 ---
POPS OF COLOUR
It's no secret that I'm not a huge fan of sporting bright colours within my outfits. However, I've always been drawn to those warmer tones and I definitely have colour within my wardrobe! I love greens, blues, reds, yellows, rusty oranges – all toned down with neutral pieces and different prints/textures that make them feel wearable and personal to me…
Sometimes I get lazy and just throw on the same formula, so I've really been trying to make an effort to play around with the more 'fun' pieces in my wardrobe. The colourful/statement pieces that perhaps deserve more airtime, and have fallen to the wayside since the pandemic diluted my wardrobe and tricked me into thinking only elasticated joggers mattered. Whether it's a sunshine yellow bag or a striped jumper with a colour running through it, it's nice to experiment with colours that you're naturally the most drawn to and make them part of your everyday uniform.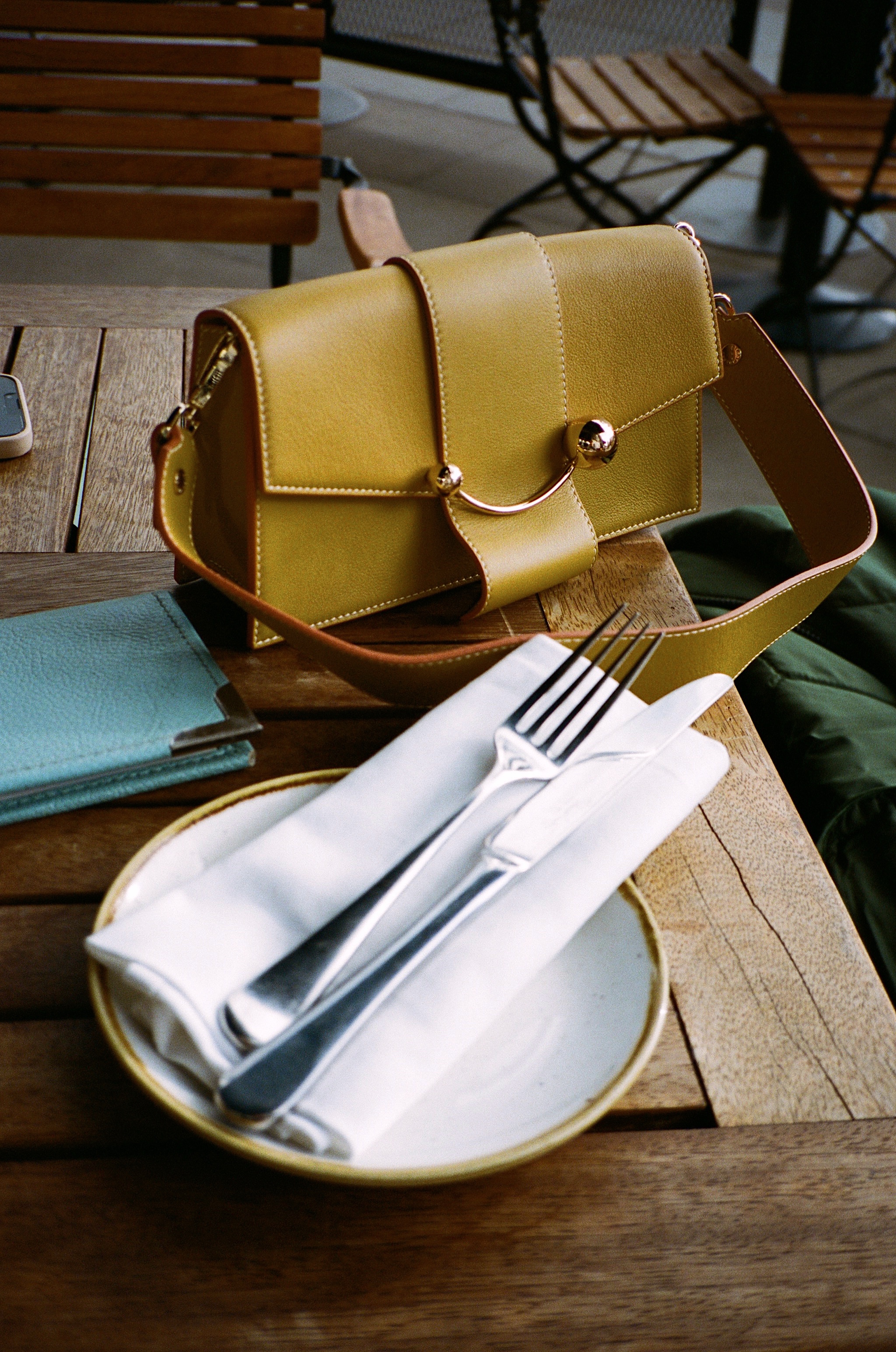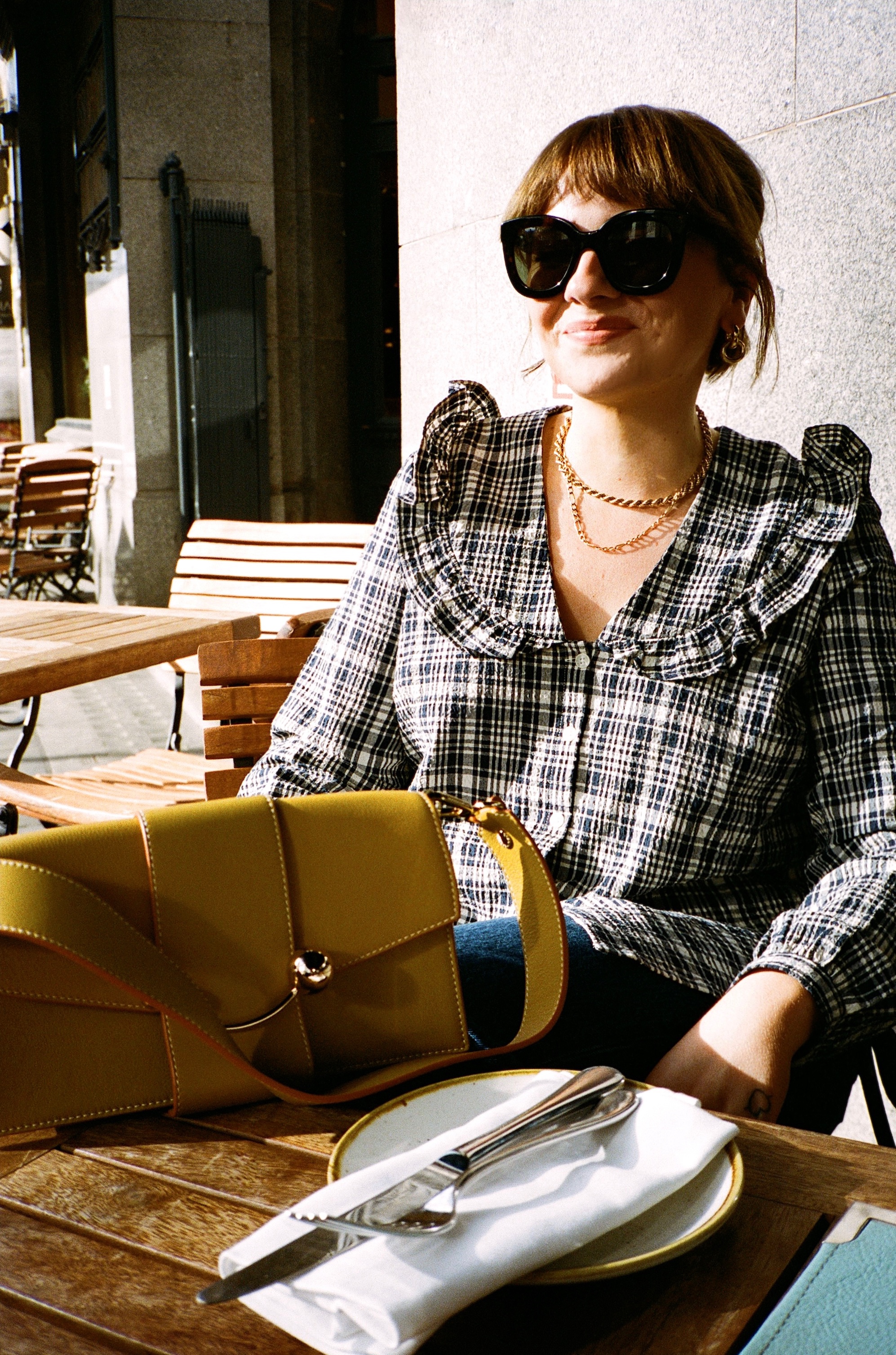 ---
LONG DENIM SKIRTS 
As someone who no longer feels at home in shorter skirts, I'm always happy when longer skirts have a little boom in popularity! I find a midi or maxi length skirt to be the most flattering on me and I love how they look with chunky footwear. It's a silhouette that I have lots of fun playing around with, and It's cool to see so many modern takes on this classic design…
I found the below blue denim one via Etsy and it fits like a glove! I love how vibrant the blue is – it gives a real Parisian feel to any outfit and can be easily dressed up or down. It's styled for the daytime here but I'm excited to wear it with some platform heels and socks for a fancier occasion. I also recently got this black denim one c/o Free People and I can confirm the hunt for the perfect black denim skirt is over! I'm taking it away with me on a little trip to the countryside this week so there will be plenty of styling ideas coming your way soon…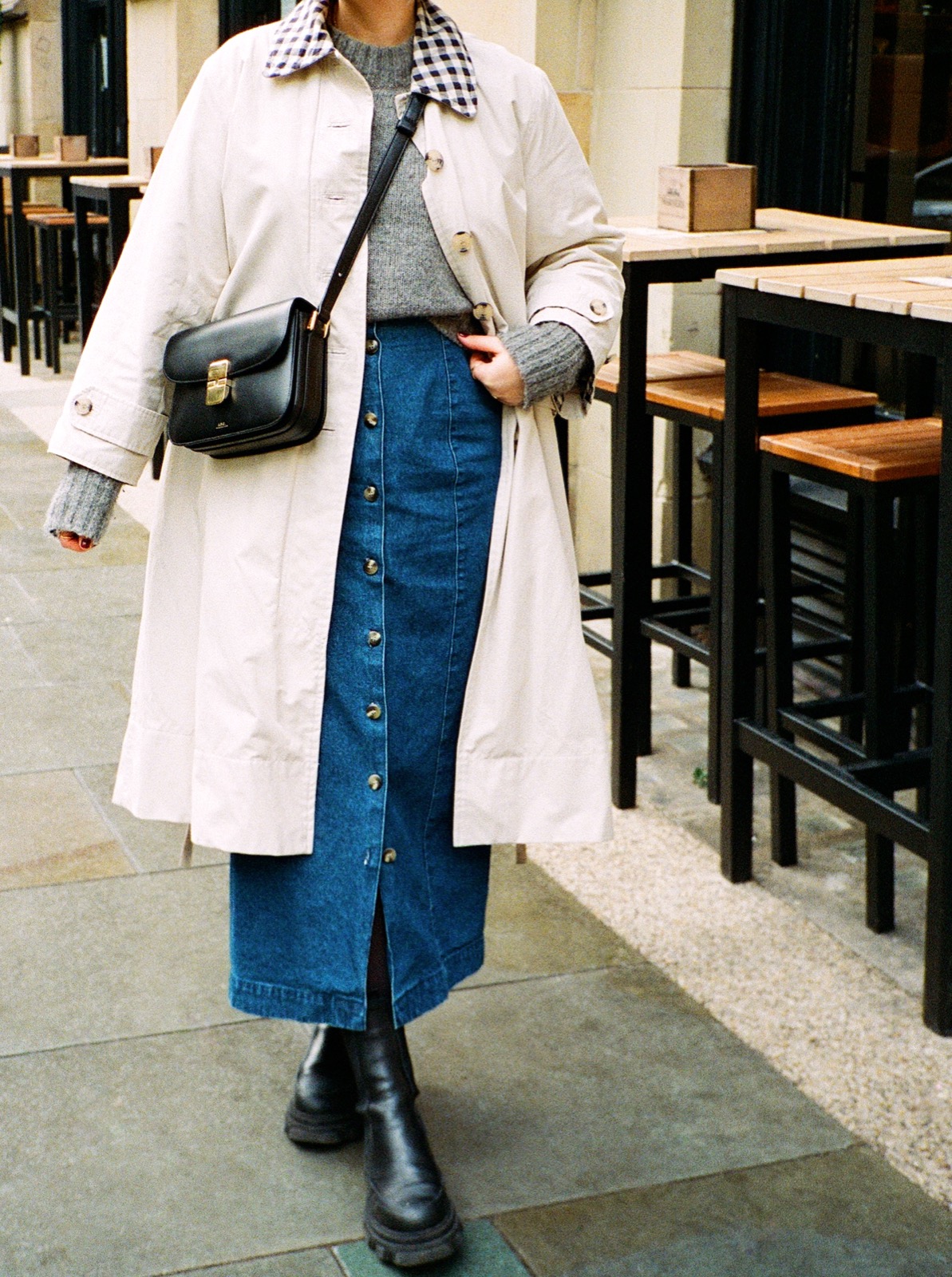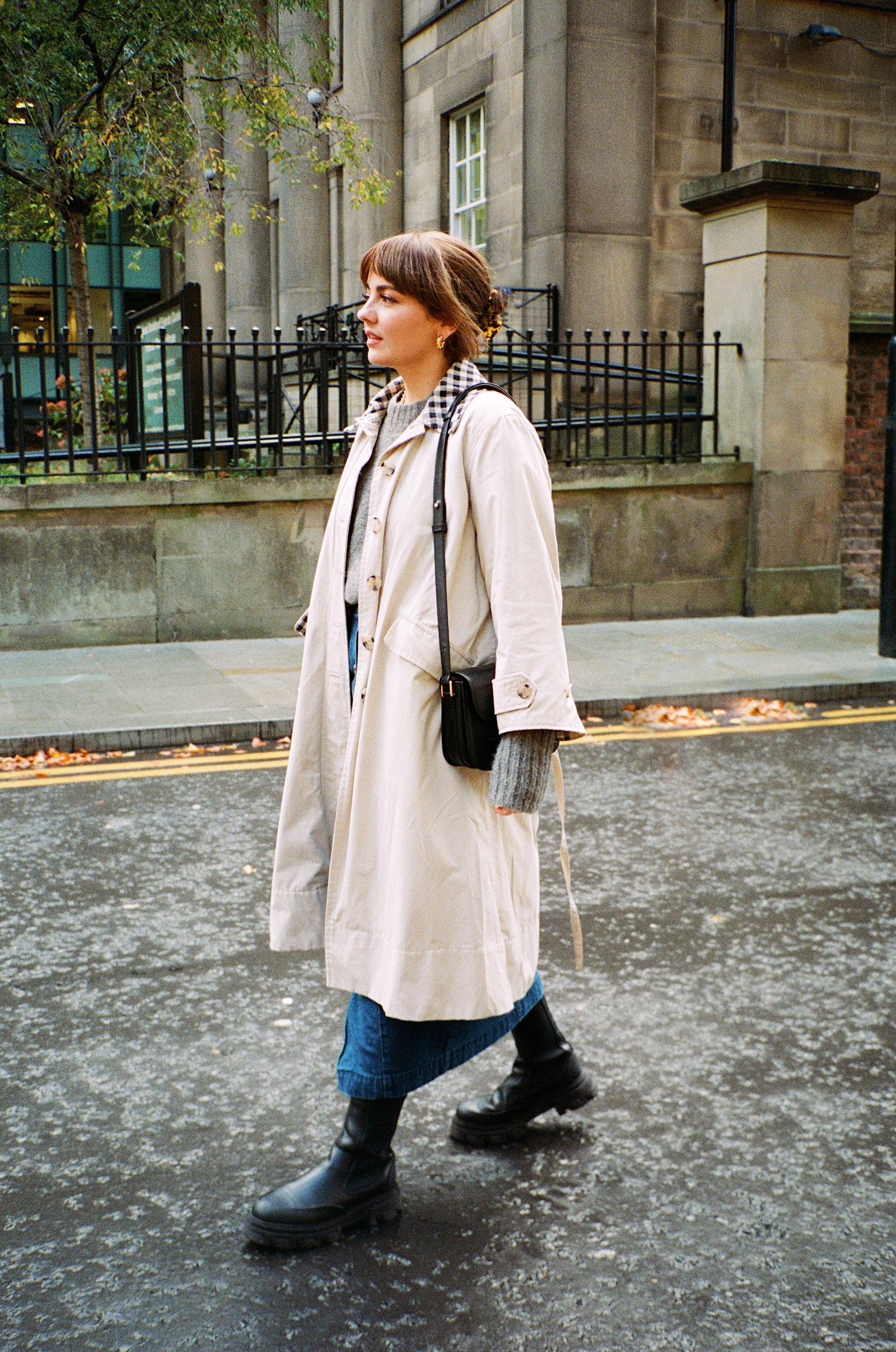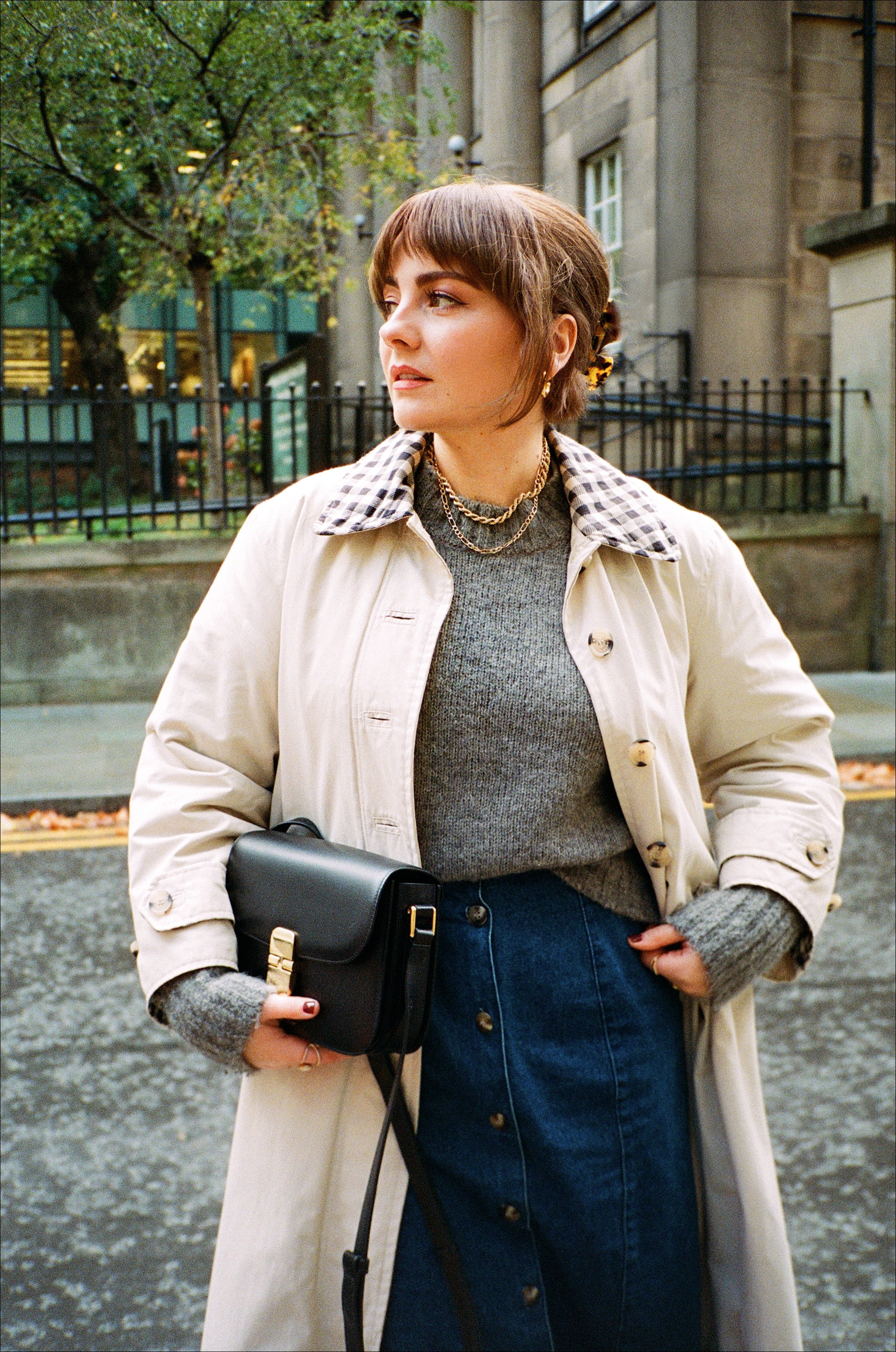 ---
STATEMENT LEATHER
Last but not least! Statement leather has become more of a *thing* in recent years – I'm seeing so many more colourful/playful leather pieces that have a real vintage influence behind them. From patchwork leather jackets to puffer coats, there's no shortage of interesting leather pieces to choose from…
A classic black leather jacket is a no-brainer for me. It's piece in my wardrobe that I utilise often, and feels like a solid backbone to my classic outerwear collection. In the last couple of years, I've invested in a couple of leather blazers which is new for me – I have a black one and an olive coloured one, both the same style by The Frankie Shop. I wear them way more than I thought I ever would, and it's nice to have those more statement blazers that jazz up an otherwise simple outfit. I currently have my eyes on this burgundy leather puffer jacket by Whistles – I'm really inspired by the shape of it. It's a modern take on a belted trench coat but still manages to look like something you'd find in a vintage shop…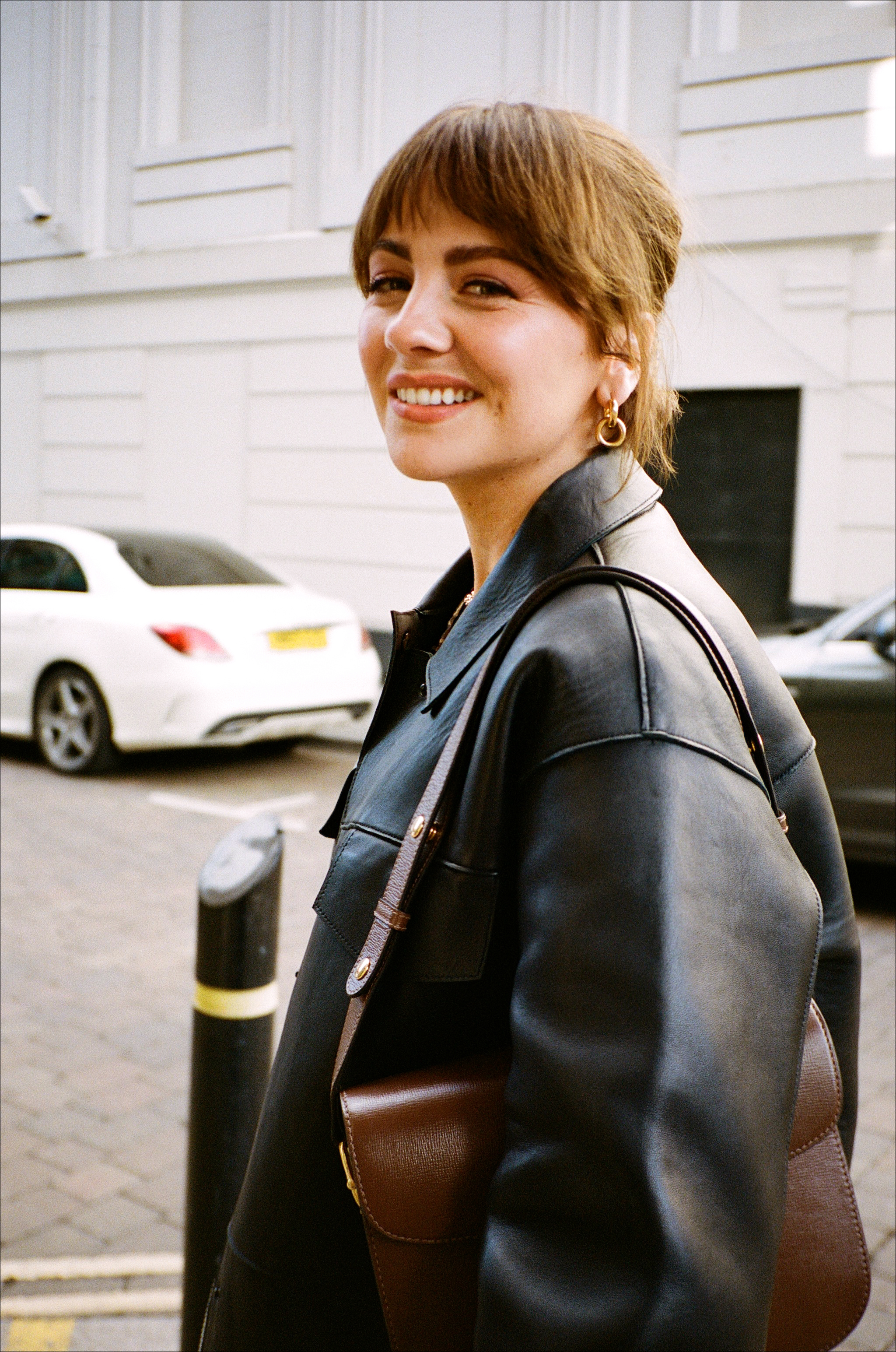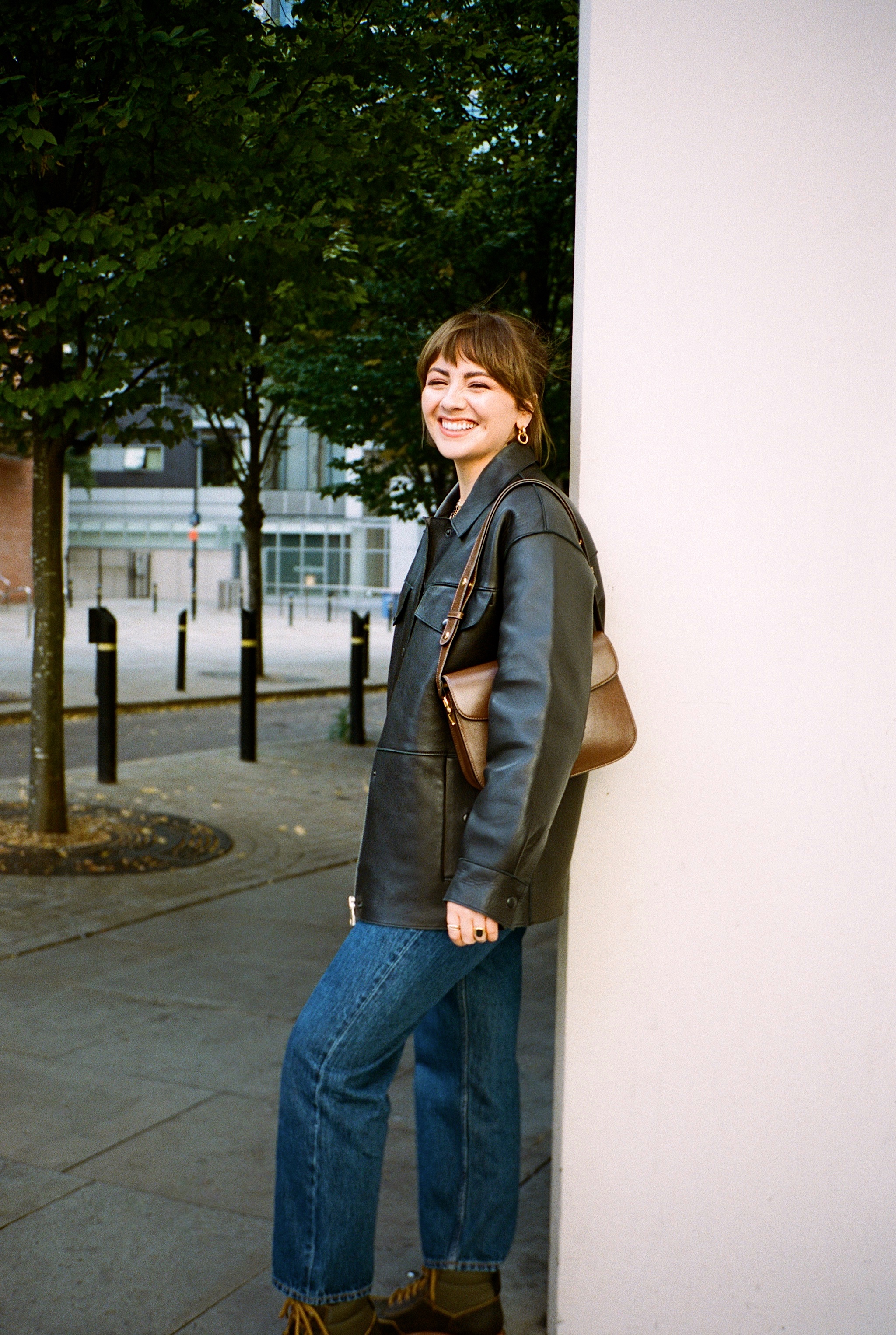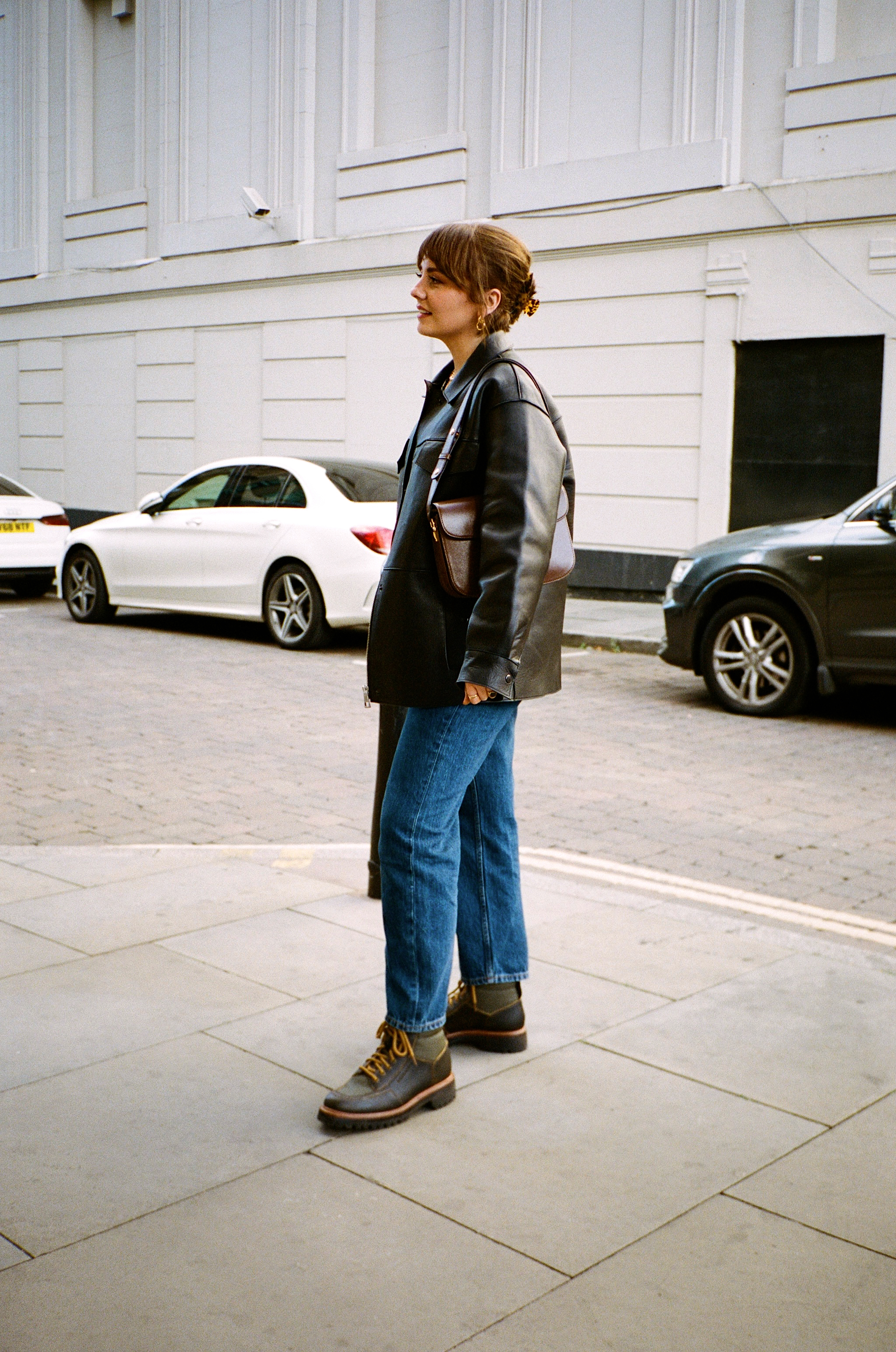 ---
Photographs taken on film | Contax T2 with portra 400 film! 
SHOP THE LOOKS