This blog post is sponsored by Beauty Pie but all words & imagery are my own as always! 
It's that time of year where we are all feeling in need of a little TLC! Heaven knows we deserve it more than ever after the weight of last year but throw in some extremely cold weather and another lockdown here in the UK and it feels like we all deserve to take some time out to reconnect with ourselves…
My favourite way to wind down after a stressful week is to treat myself to a pamper night. A couple of hours where I basically soak, scrub, and polish every inch of my body followed by fresh pyjamas and a film night or a quiet half an hour with my candles and a great book.  It's not a groundbreaking ritual by any means, but it always works for me and revitalises my mind and body so that I feel more present and calm! In a world over saturated with so many different beauty brands and products – Beauty Pie makes creating a personalised skincare routine less overwhelming. I first discovered them around a year ago and have been nothing but impressed with all of the products I've tried so far. They are essentially a one stop shop for beauty lovers and offer and exclusive membership that enables you to access luxury cosmetics and skincare but for a fraction of the retail cost. They basically cut out the middlemen and the celeb marketing and advocate for a simple shopping experience. All of the Beauty Pie packaging is so aesthetically pleasing but the products are even better. As someone with sensitive skin, I haven't come across anything that I don't get along with, and I absolutely adore the BP scents! It's also worth noting that everything Beauty Pie creates is cruelty free (a large proportion of their products are vegan too) which is more important than ever before when looking for beauty brands to support! All gushing aside, I thought I'd chat you through some of my hero products and why they have become staples as part of my self-care ritual…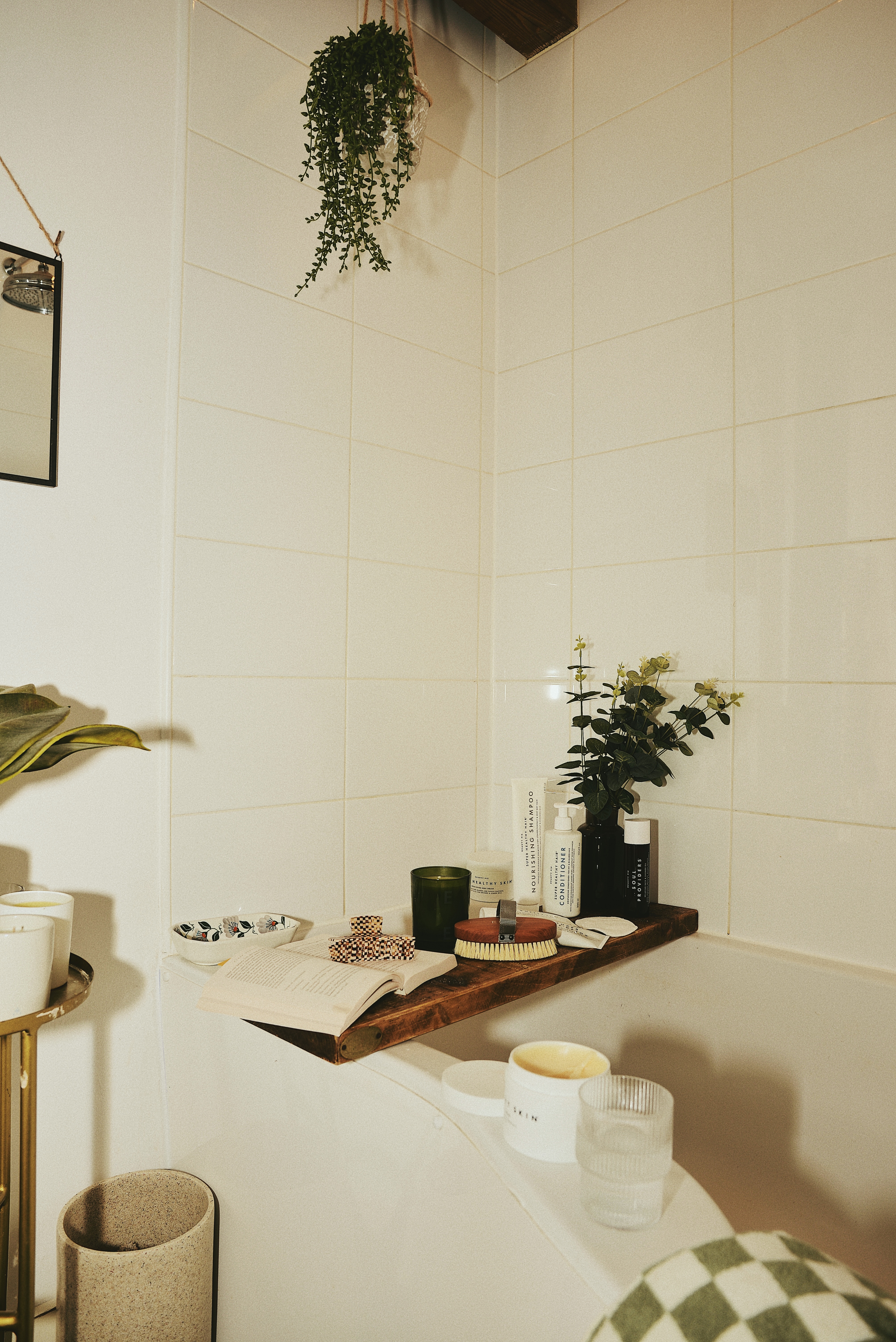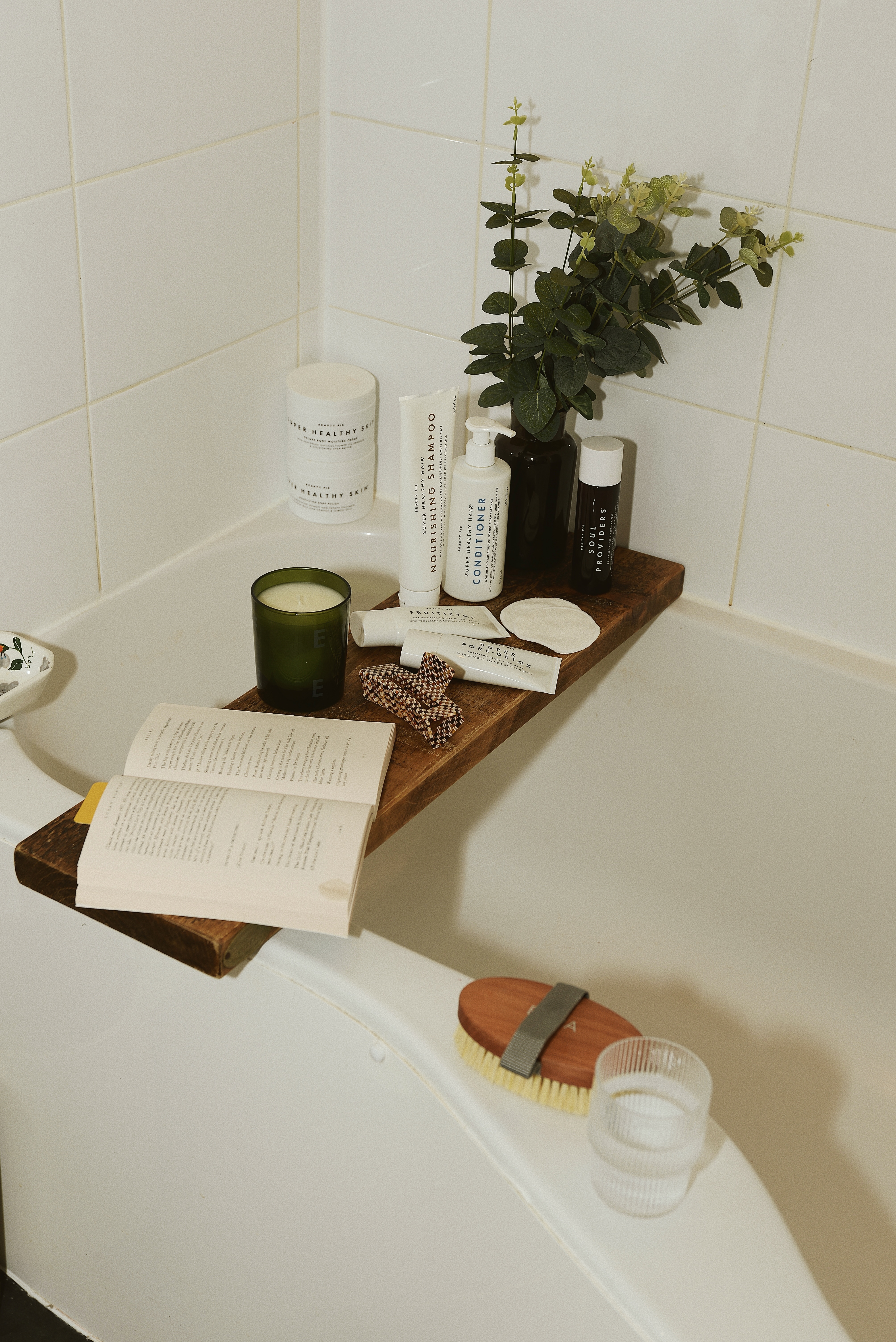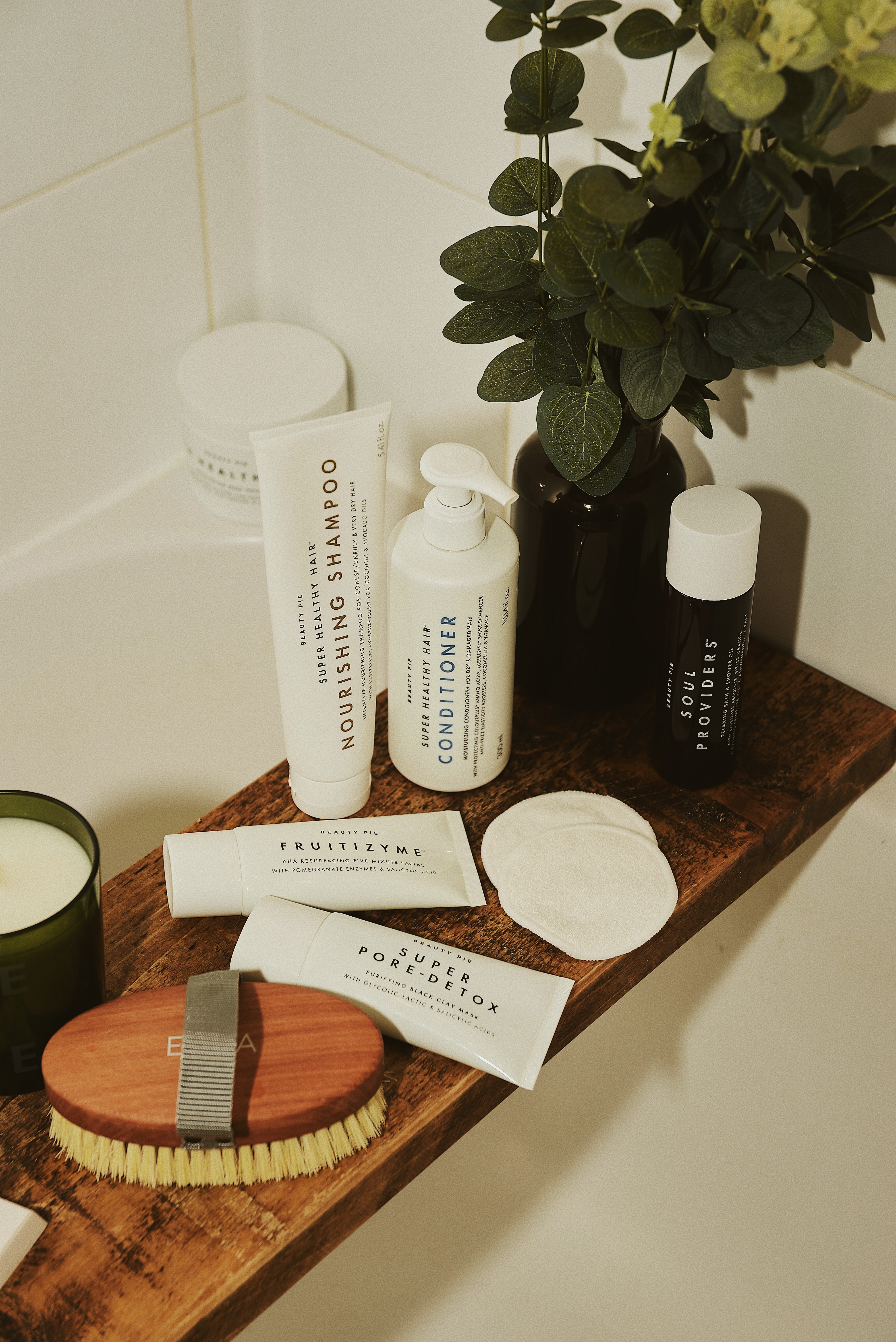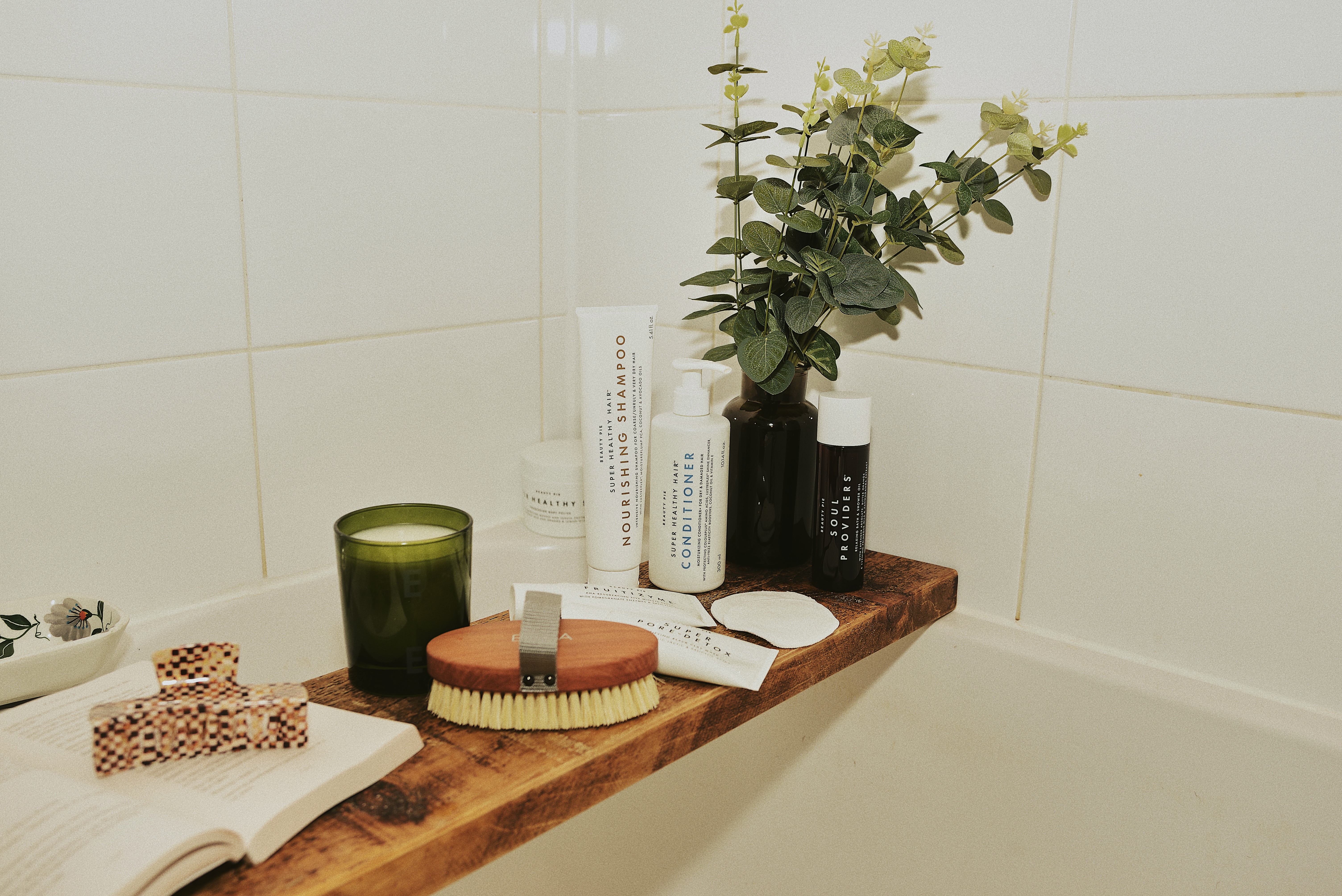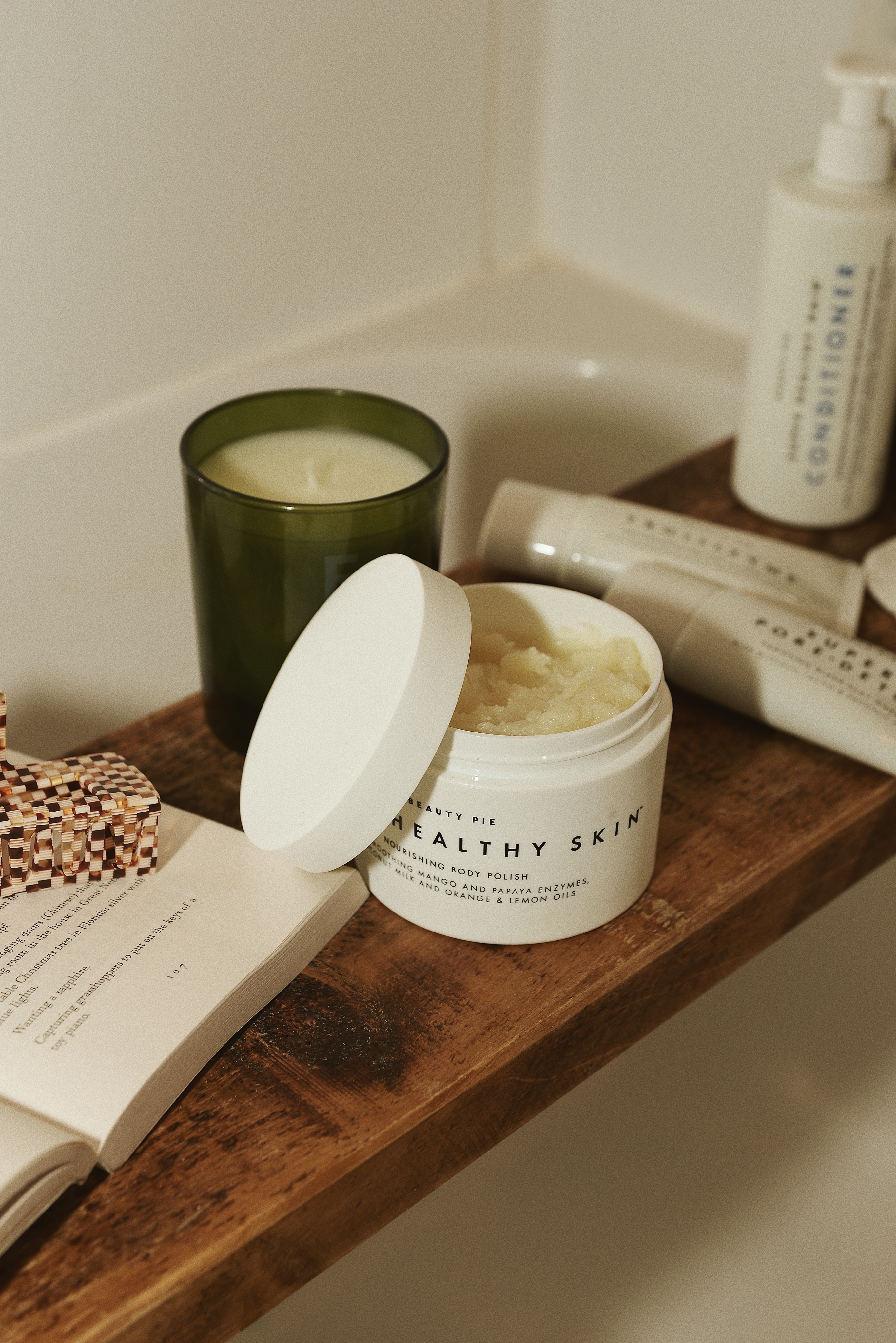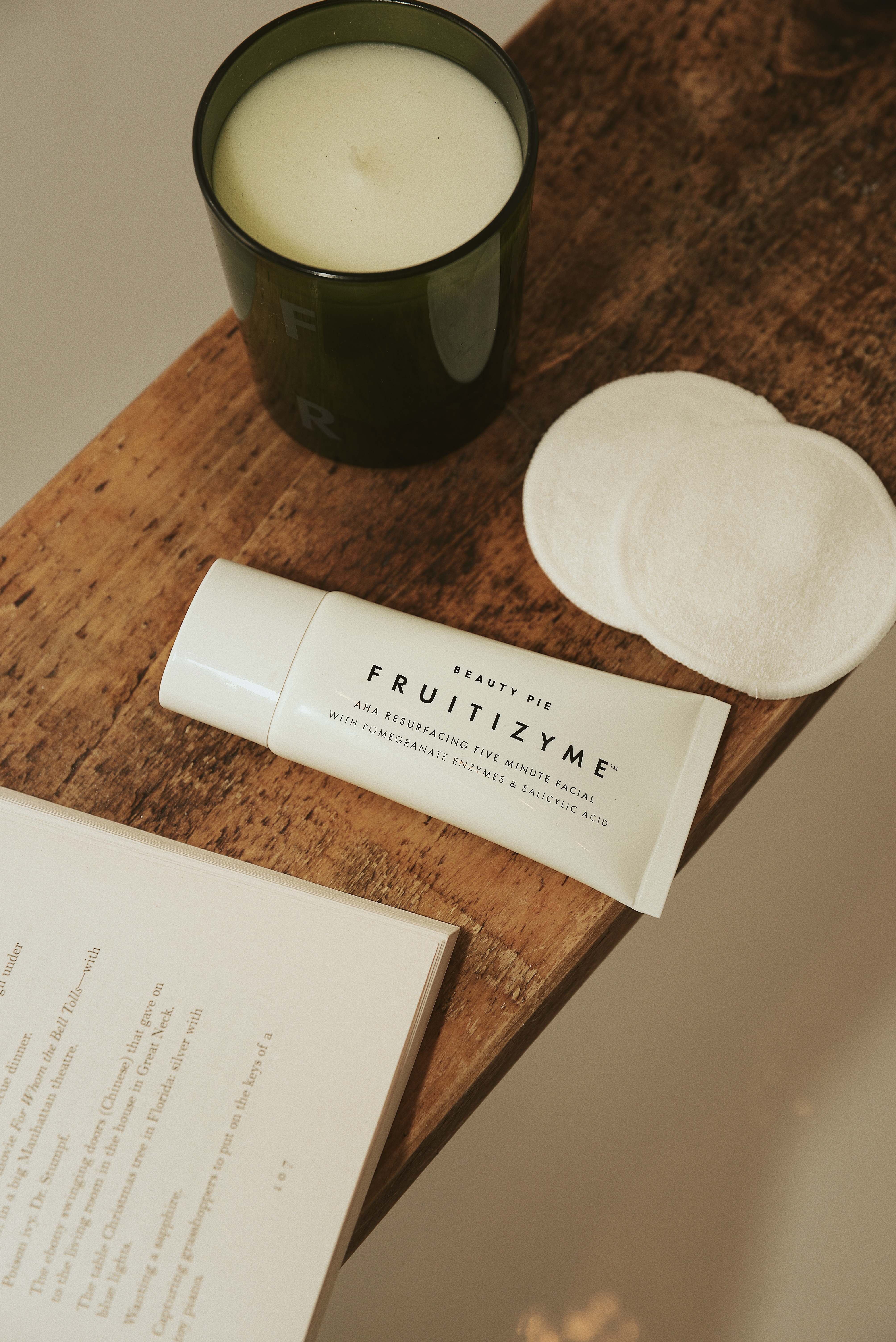 ---
SUPER HEALTHY HAIR INTENSIVE NOURISHING SHAMPOO – Firstly, if you have dry hair then this shampoo is a life saver! It's unlike any other shampoo in the sense that it feels somewhere between a treatment oil and a shampoo. At first I was worried it was too oily and would make my hair feel greasy and heavy but the complete opposite happened! It makes my hair feel so soft and shiny and I swear even my colour looks more glossy whenever I use this. It's packed with Avocado and Coconut oils and ideal for fellow curly haired girls…
SOUL PROVIDERS RELAXING SHOWER OIL – This is described on the website as
'If you could lie in a Lavender field on a sunny afternoon in Provence with the wind wafting Orange, Mint and Lemon into the air above you, you might' and honestly that was all I needed to add it to my basket! It's just the most gorgeous oil and I love using this in the shower and really taking the time to breathe in the scent. It really helps relieve stress and any tension in the body and I find that I sleep much better when I use Lavender based products. A luxurious staple for sure!
SUPER HEALTHY SKIN NOURISHING BODY POLISH – one of my absolute favourite Beauty Pie products! I'm now on my third tub of this stuff and I'd definitely recommend picking this up and also the matching body cream if you're new to the Beauty Pie world. They both have such a beautiful subtle scent and are packed with nourishing oils that really leave your skin feeling dreamy (This is currently out of stock but will be arriving back online on 1st March so keep your eyes pealed!)
SUPER HEALTHY SKIN DELUXE MOISTURE BODY CRÈME – one of the best body moisturisers I've ever come across! This stuff is like softly whipped magic to revive your winter limbs. It's infused with Shea Butter and Essential oils and just has the most heavenly scent. I use the body polish in the bath or shower and then finish with a generous layer of this massaged into my skin.
---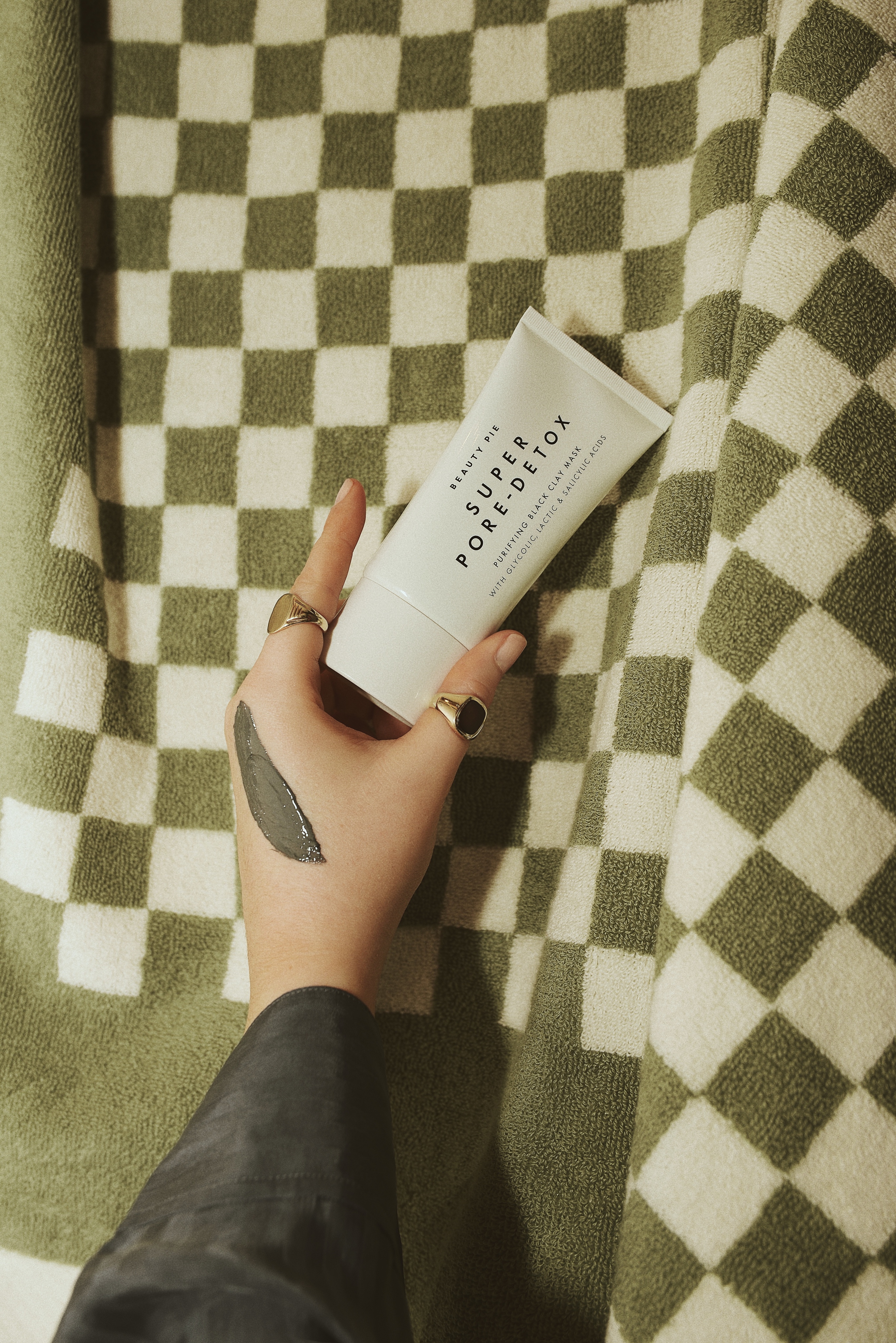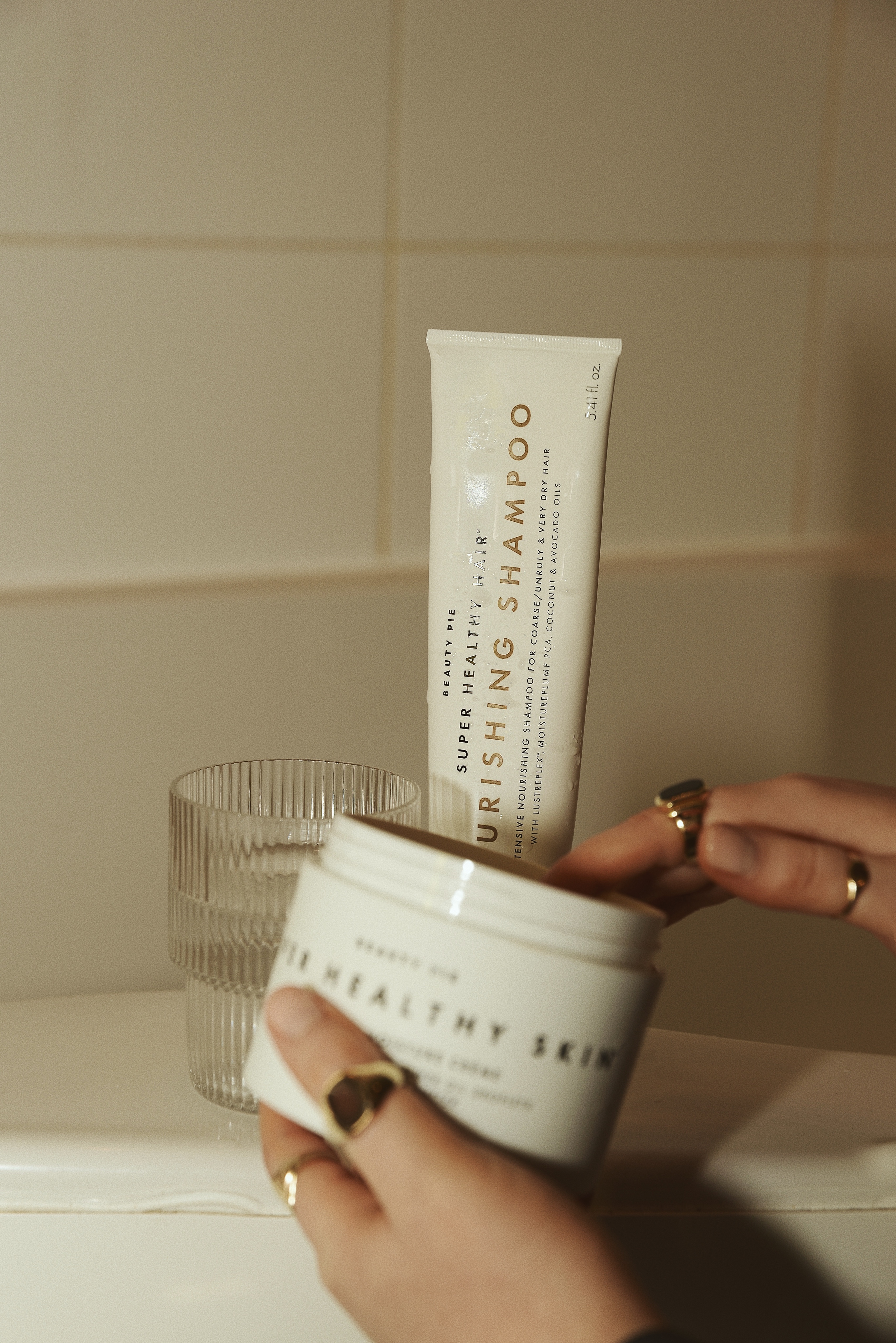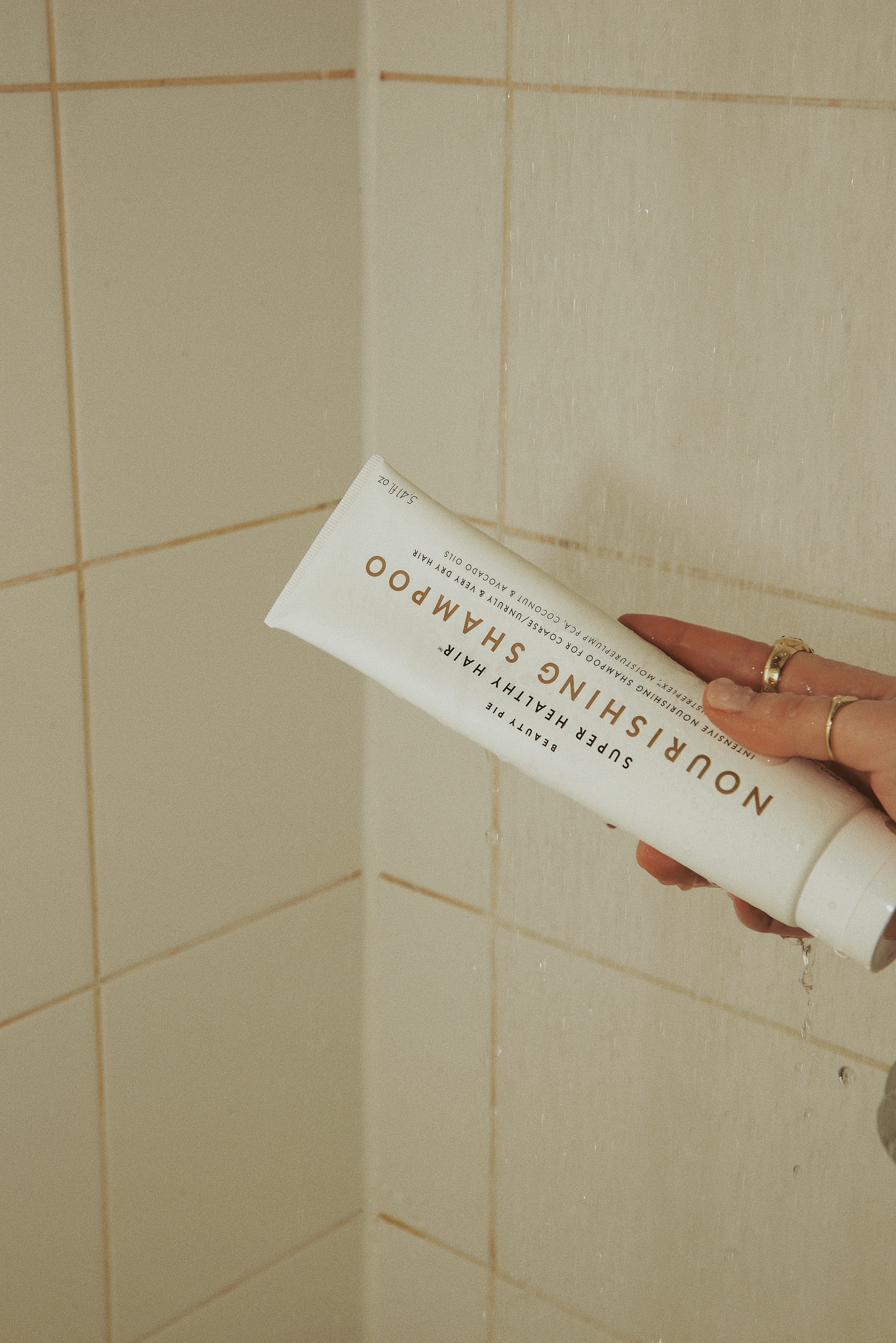 ---
SUPER PORE – DETOC PURIFYING BLACK CLAY MASK – this is another of my favourite products from Beauty Pie! I'm a hug fan of a great clay mask and this one ticks all the right boxes. It's a super powerful clay mask that also resurfaces the skin whilst drawing dirt from your pores. It includes Glycolic, Salicylic and Lactic Acids which are some of my favourite skincare ingredients when it comes to creating glowy/clear skin. I love putting this on in the bath for ten minutes before adding a moisturising sheet mask to really soothe and plump my skin afterwards…
ÜBER YOUTH HYALURONIC SHEET MASK – my go-to sheet mask whenever I have a little pamper evening! Hyaluronic acid is another of my favourite skin care ingredients and one that my skin absolutely drinks up – I love putting this mask on whilst I read and then massaging any left-over serum into my skin once removed. This mask truly makes my skin plump and hydrated like nothing else! I always have a few in my stash to use before big shoot days or events…
ÜBER YOUTH™ SUPER EYE ENERGY PEPTIDE-INFUSION CREAM – no pamper evening would be complete without a touch of eye cream! This is such a gorgeous one to apply post face mask and really helps to smooth out my delicate eye area. When I apply it in the evening it noticeably reduces puffiness overnight and really reduces the appearance of my laughter lines when I use it routinely!
---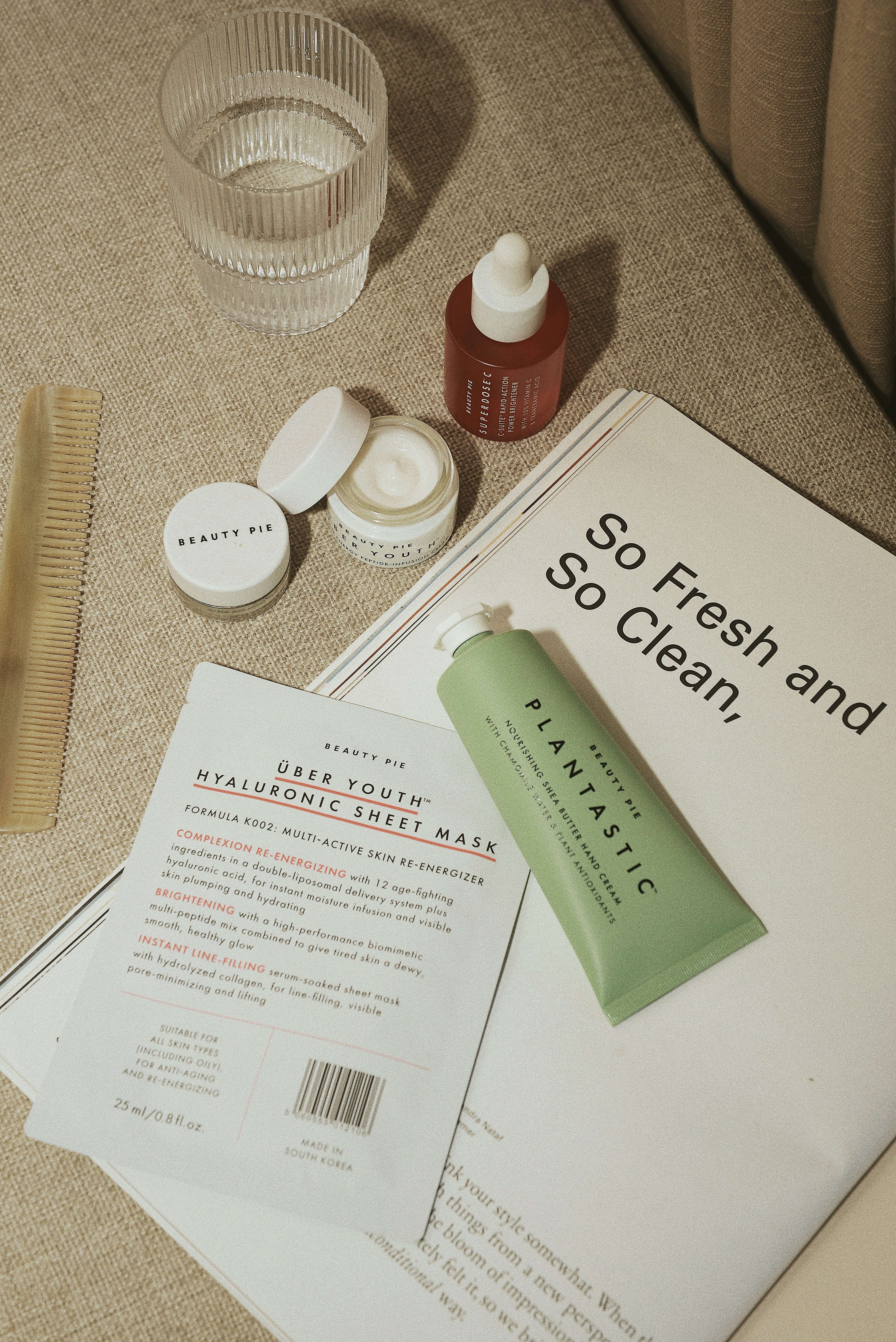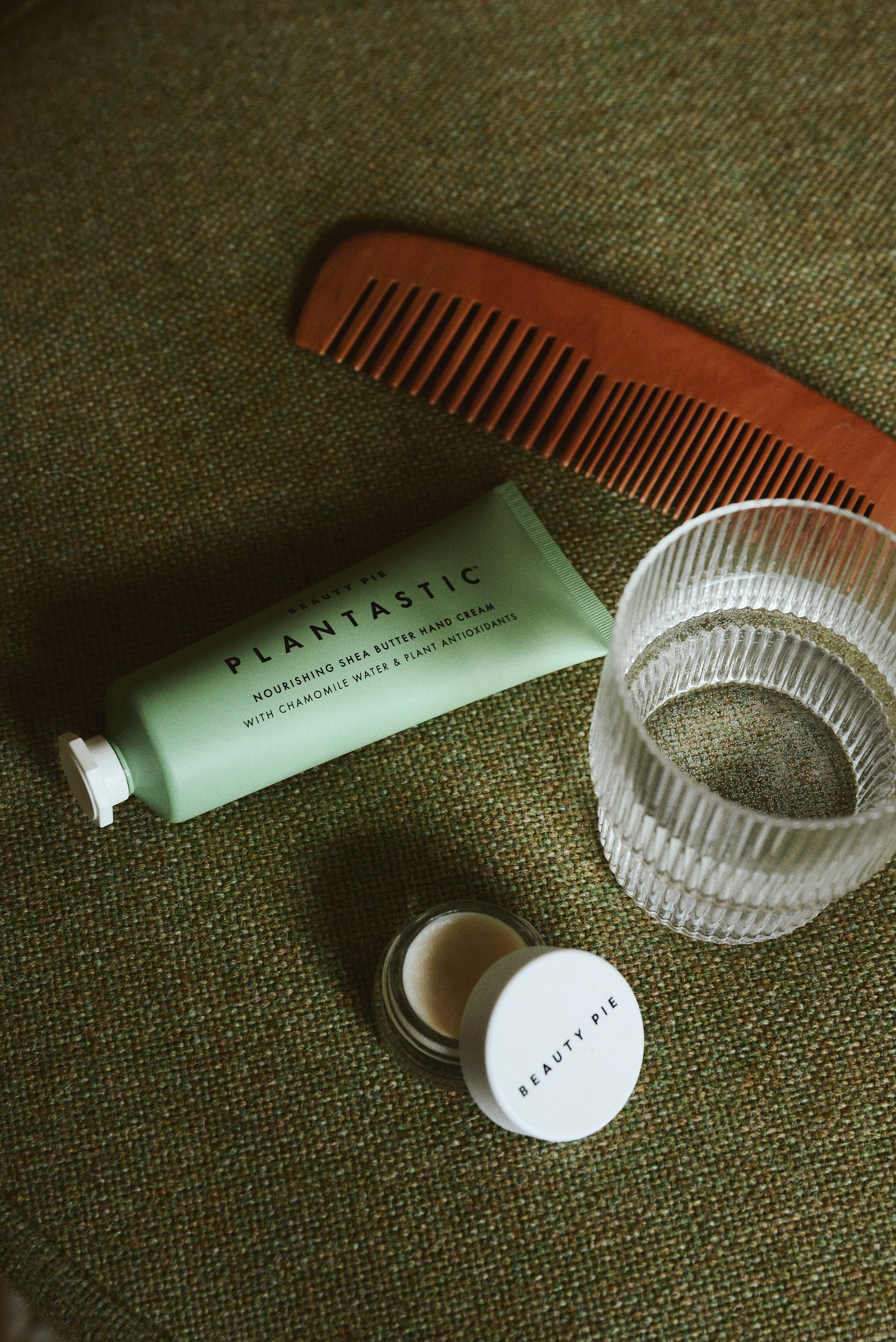 ---
SUPERDOSE™ C C- SUITE RAPID ACTION POWER BRIGHTENER – I use vitamin C as part of my daily skincare routine and it's an ingredient that really makes a huge difference to the overall appearance of my skin. It brightens any scars whilst also evening out any UV damage and generally just keeps my skin looking healthy! This is such a lovely one and also happens to be great if you have sensitive skin…
REVES D'EZE LUXURY SCENTED CANDLE – I couldn't write about Beauty Pie without mentioning their candles! I'm a bit of a candle fanatic and seem to have developed a hoarding habit as I've gotten older. It's one of the best ways to make your home space smell beautiful whilst also adding a cosy ambience that we all crave throughout the winter months. This one has notes of crisp green leaves and, ginger, and fresh mint oil – it smells incredible and is my favourite one to light by the side of the bath for glowy indulgence at it's finest!
PLANTASTIC™ NOURISHING SHEA BUTTER HAND CREAM – last but not least! The product we all need right now is a great hand cream. Our hands have taken a beating throughout this pandemic and washing our hands is still as important as ever. Not only does this one look beautiful sitting on my dresser, it actually keeps my hands looking soft and prevents them from turning into sandpaper. It's such a gorgeous non greasy formula with Shea Butter, Aloe Vera, and Chamomile Flower Extract.
---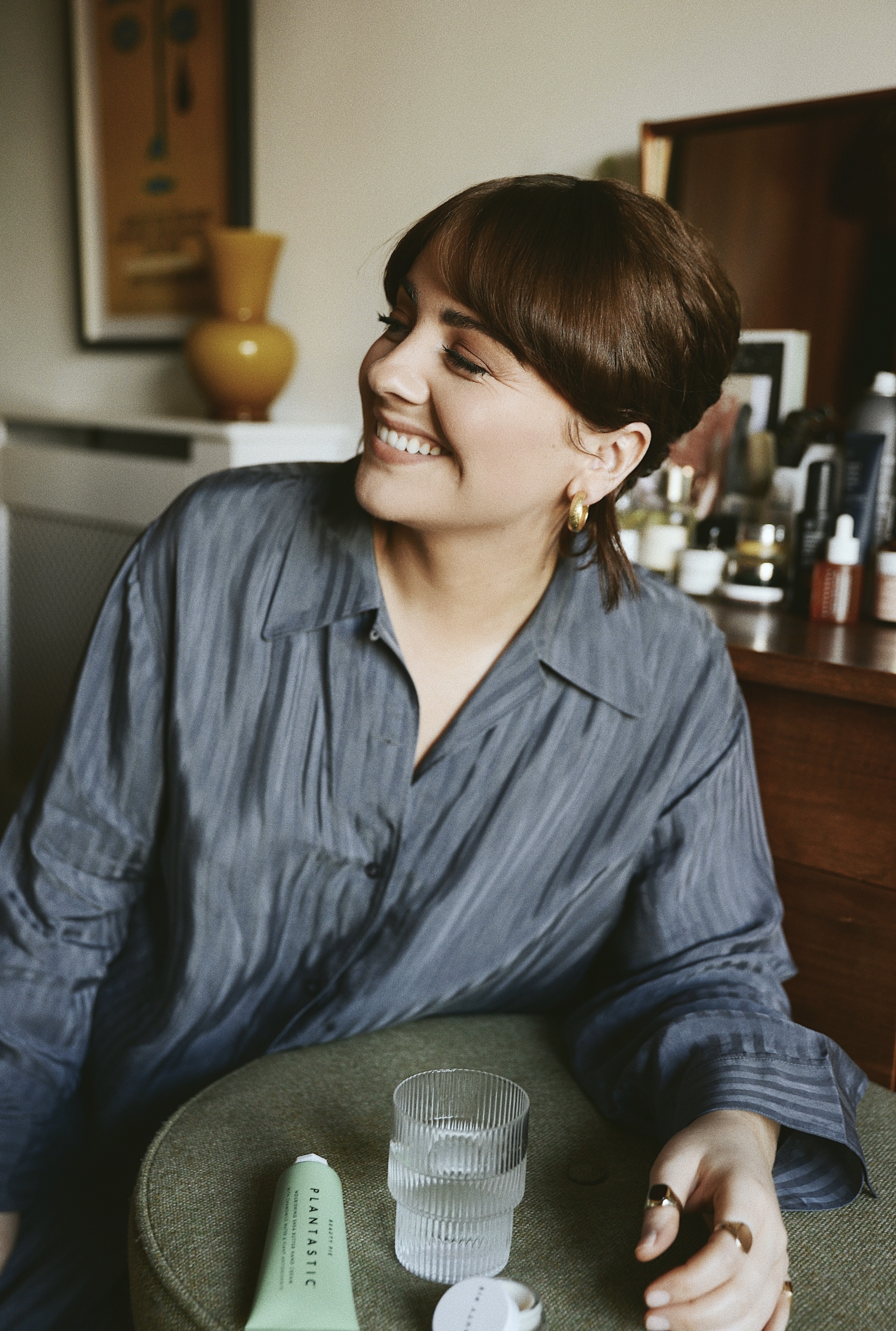 ---
HOW DOES BEAUTY PIE WORK?
When it comes to signing up for a membership you can cater it completely to your lifestyle and budget by selecting your monthly spending limit! I opted for the lowest spending limit membership to begin with whilst I got to know some of the products and then there's always the possibility to increase – this costs £5 each month with an additional £50 spending allowance. Think of it as the Costco for beauty! There are three membership tiers in total (and one annual pass), which all give you a different allowance dependent on how many products you want to purchase that month – then any unspent allowance is simply rolled over to the next month…
If you fancy trying Beauty Pie, you can use the code: ALICESENTME (allows new members £50 allowance when signing up)
---