Apologies for the radio silence on here last week! Blog posts are't flowing as easily at the moment and I think it's a product of being in the same space for a longer period of time. It felt good to have a week away and to just let the brain fog lift a little – I normally post two/three times a week on here, and sometimes it's nice to just take a step back and focus on other creative endeavours…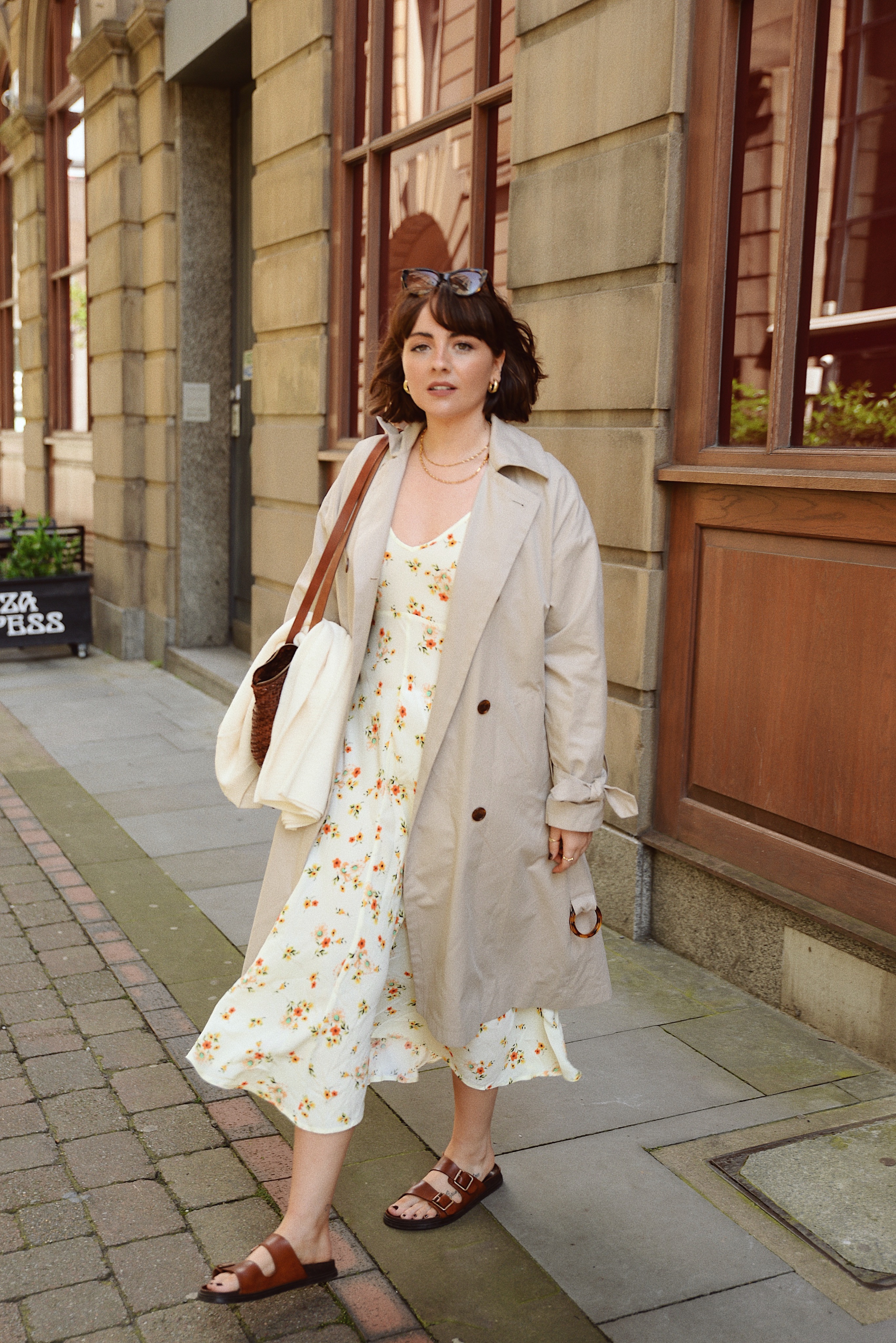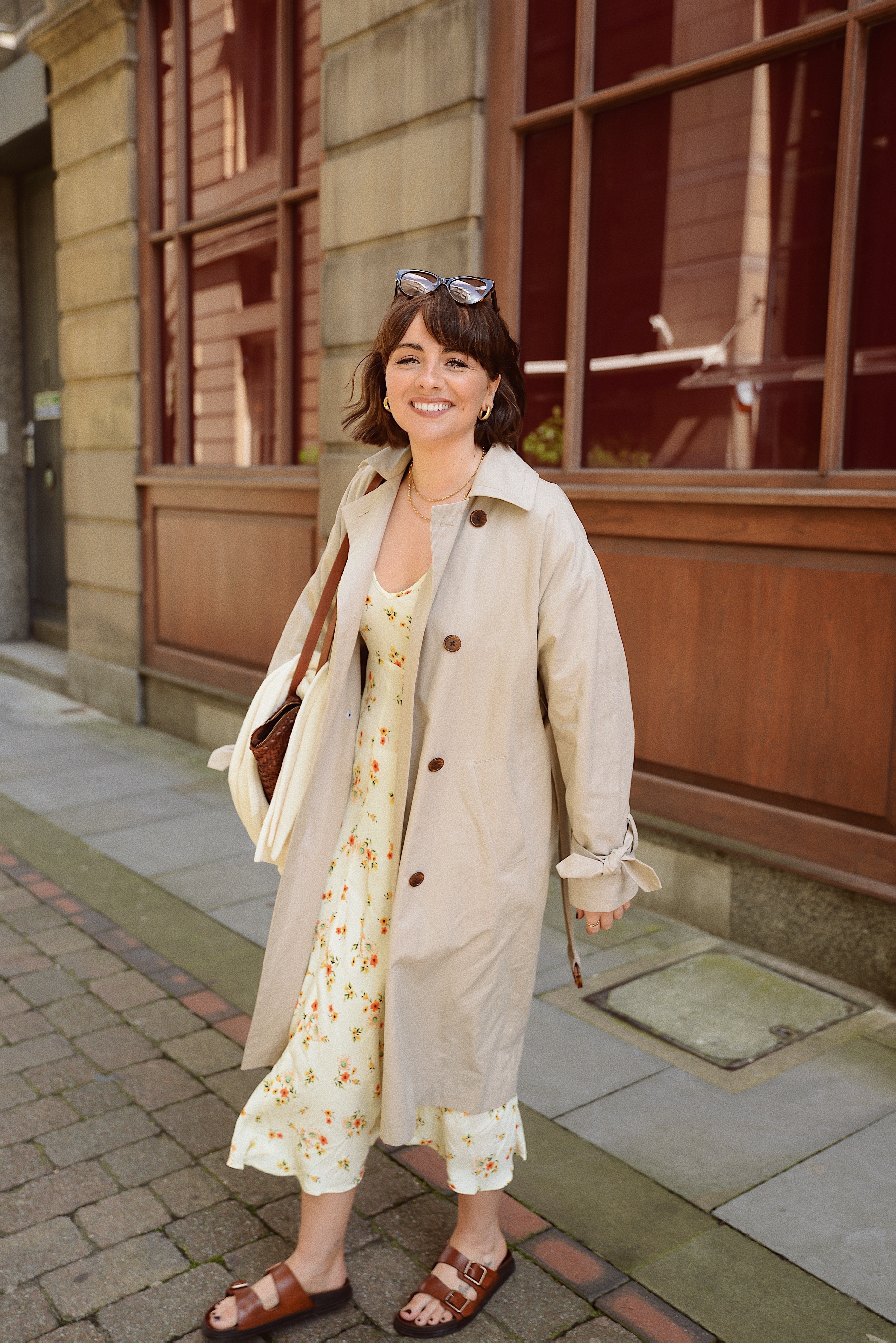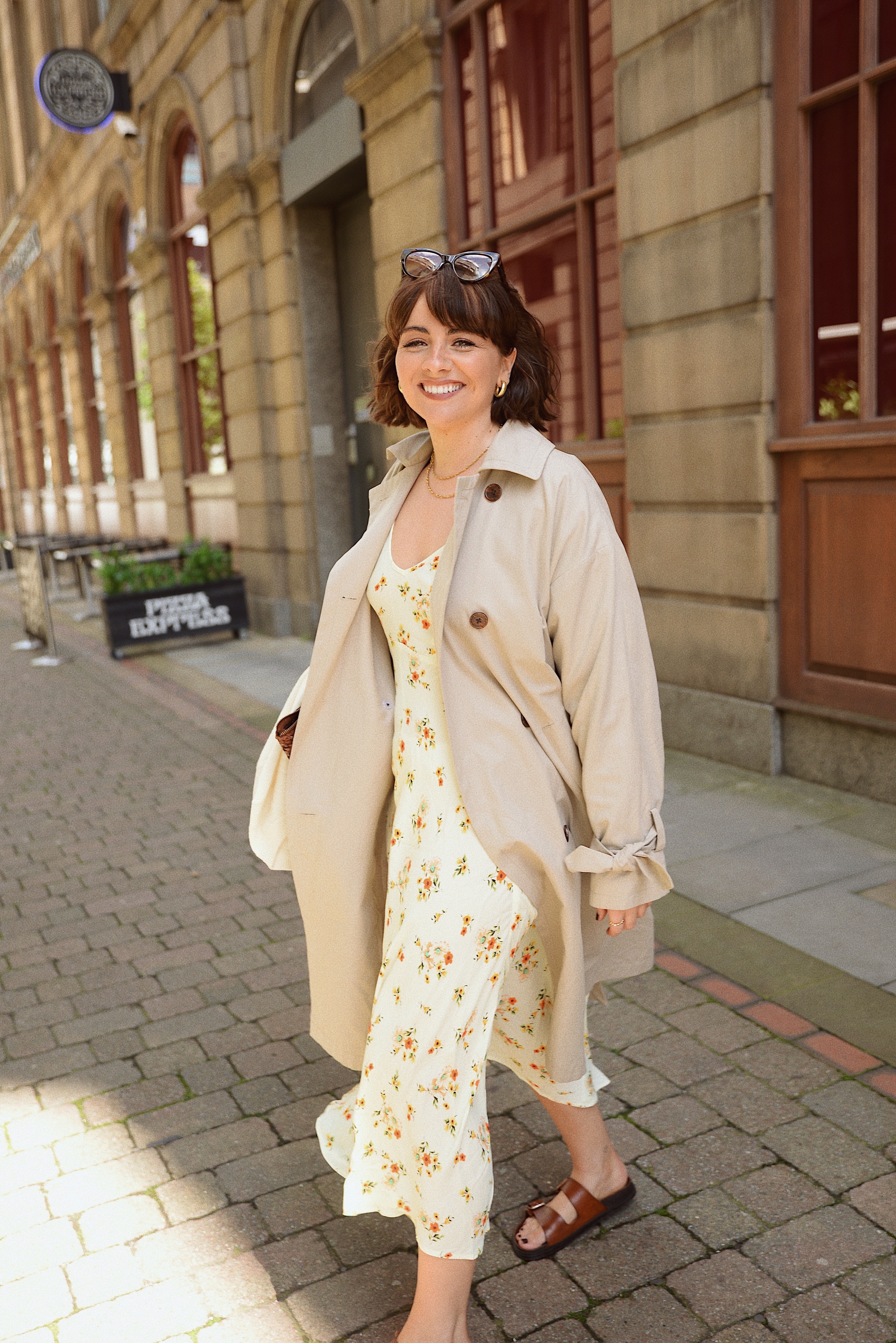 I've been trying to put less pressure on myself to churn out consistent content this year, and instead use a bit more of my working day to pour energy into things that have taken a backseat. There's one project in particular that I've been going and back and forth with for a while now, so I hope to have that launched sometime before the end of this year! If not then it will be early next year as the current climate has obviously slowed everything down (including our ability to chip away at our hopes and ambitions). I'm not going to give anything away just yet but I'm very excited about it and it's been such a nice little passion project that's been encouraged by more time spent at home…
The second project that I've wanted to bring to life for a while now is a curated series of interviews surrounding female health. So many of you were really supportive and encouraging of this idea when I mentioned it over on Instagram, but I think it's going to be something that I put on the back burner for now. I know that might be disappointing for some of you, but I've realised that it's a super heavy thing for me to take on whilst I'm also figuring out my own female health stuff. I've been toying with the idea of starting therapy again, and I really hope this project is something I can work on when I'm feeling in a more capable headspace. I have so many ideas about who I want to interview/the kinds of topics I want to cover etc, but it's very tricky territory to get caught up in when you're feeling fragile when it comes to your own trauma. I just wanted to be honest about that incase any of you were expecting it sometime soon! My hope is to work on it sometime next year and it will likely be in a podcast format based off what people seem to prefer…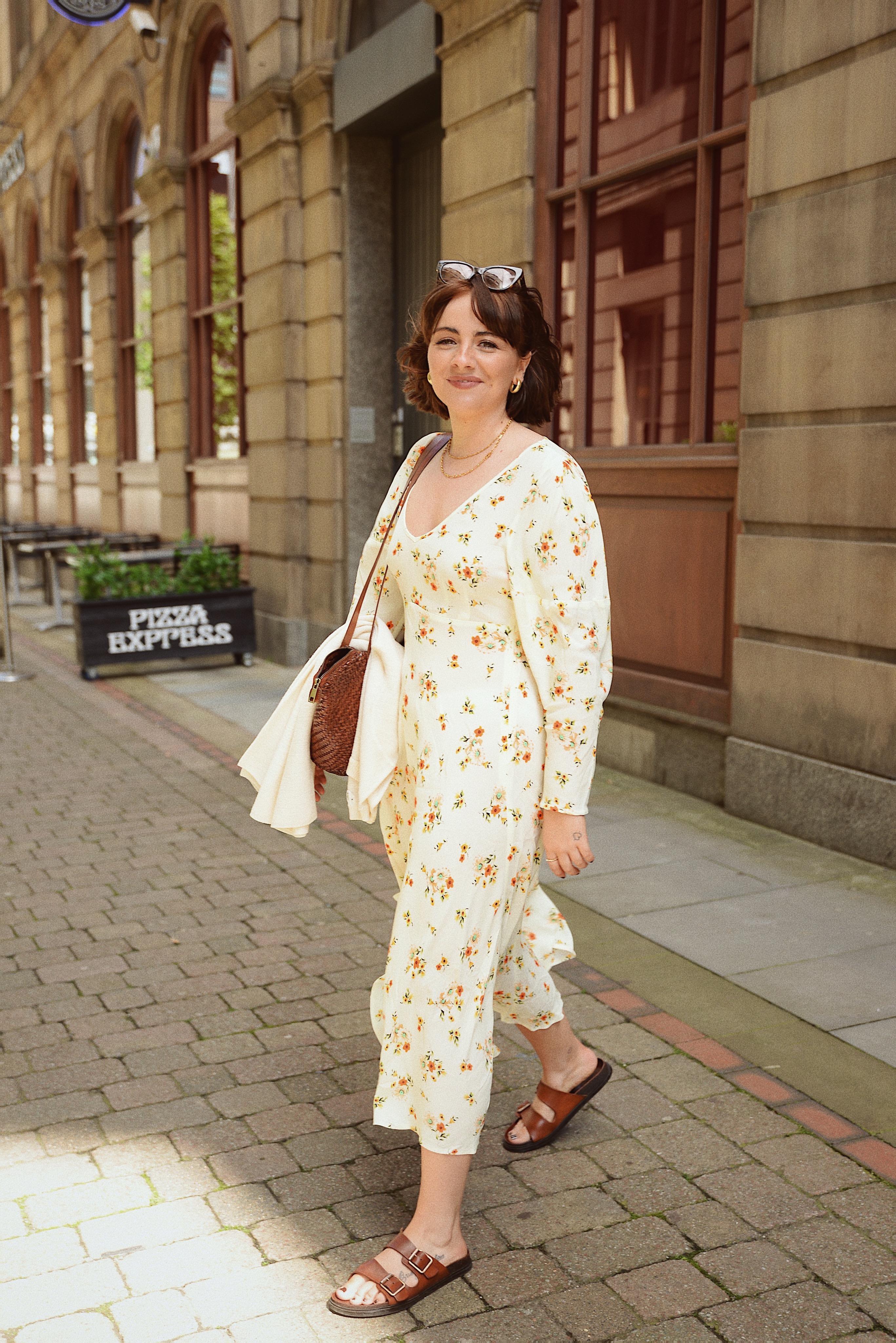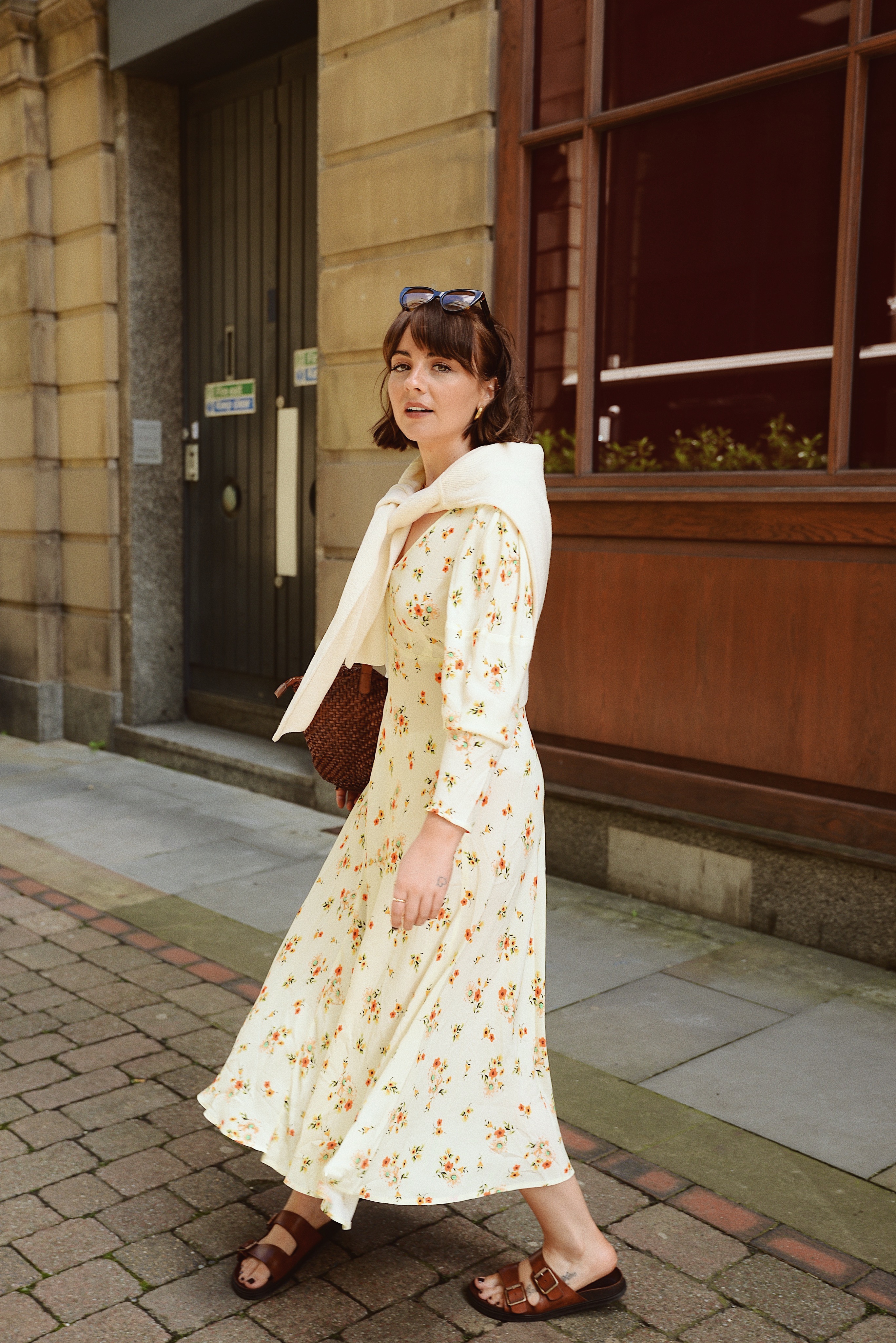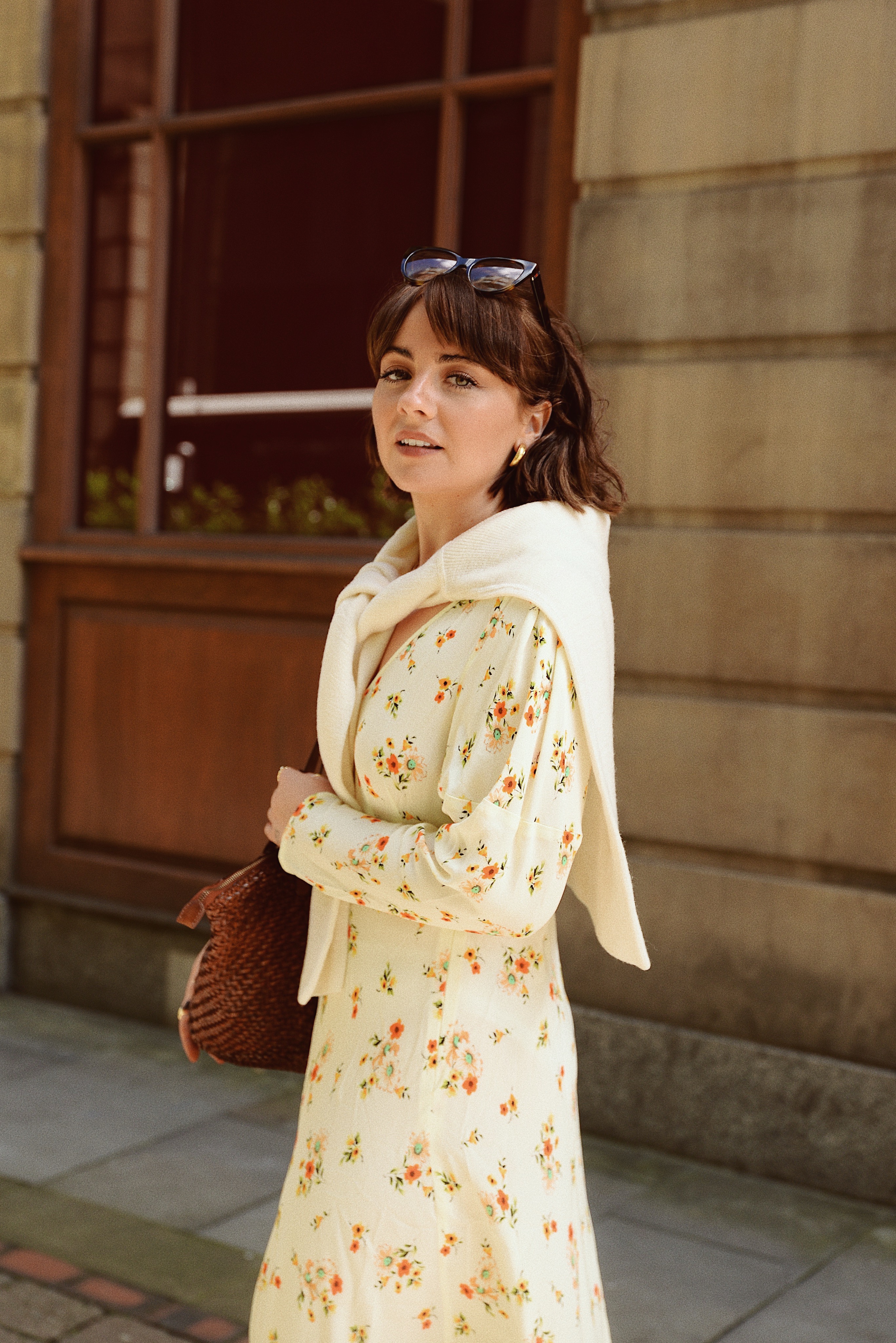 Anyway, it's nice to have ideas whizzing around my head, even if they don't come to fruition for a while! I'm generally quite impatient when it comes to getting stuff done, and when I get something in my head, I'm the type of person who needs to make it a reality as soon as possible. Although it's kind of a helpful personality trait when it comes to the nature of my job – it can also be incredibly stressful way to conduct yourself because life always has a way of disrupting your best laid plans.
Things take time, and often we need the help of other creatives to make things happen. If there's one thing this year has drilled into me – it's that good things take time. Social media has us believe we must push everything out into the universe as soon as it pop into our heads, but that's not a sustainable way to create, nor is it a sustainable means of finding the joy in the creative process.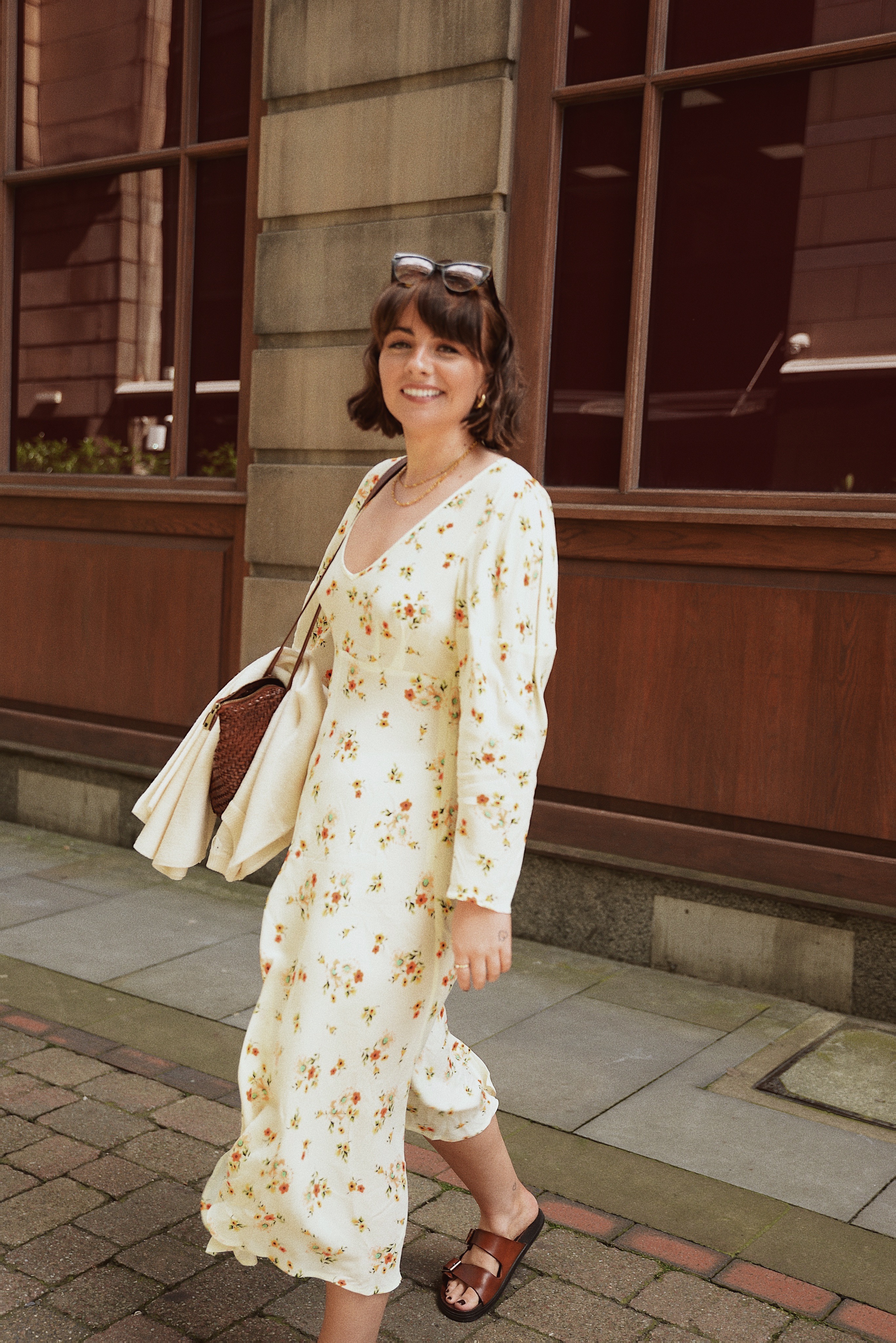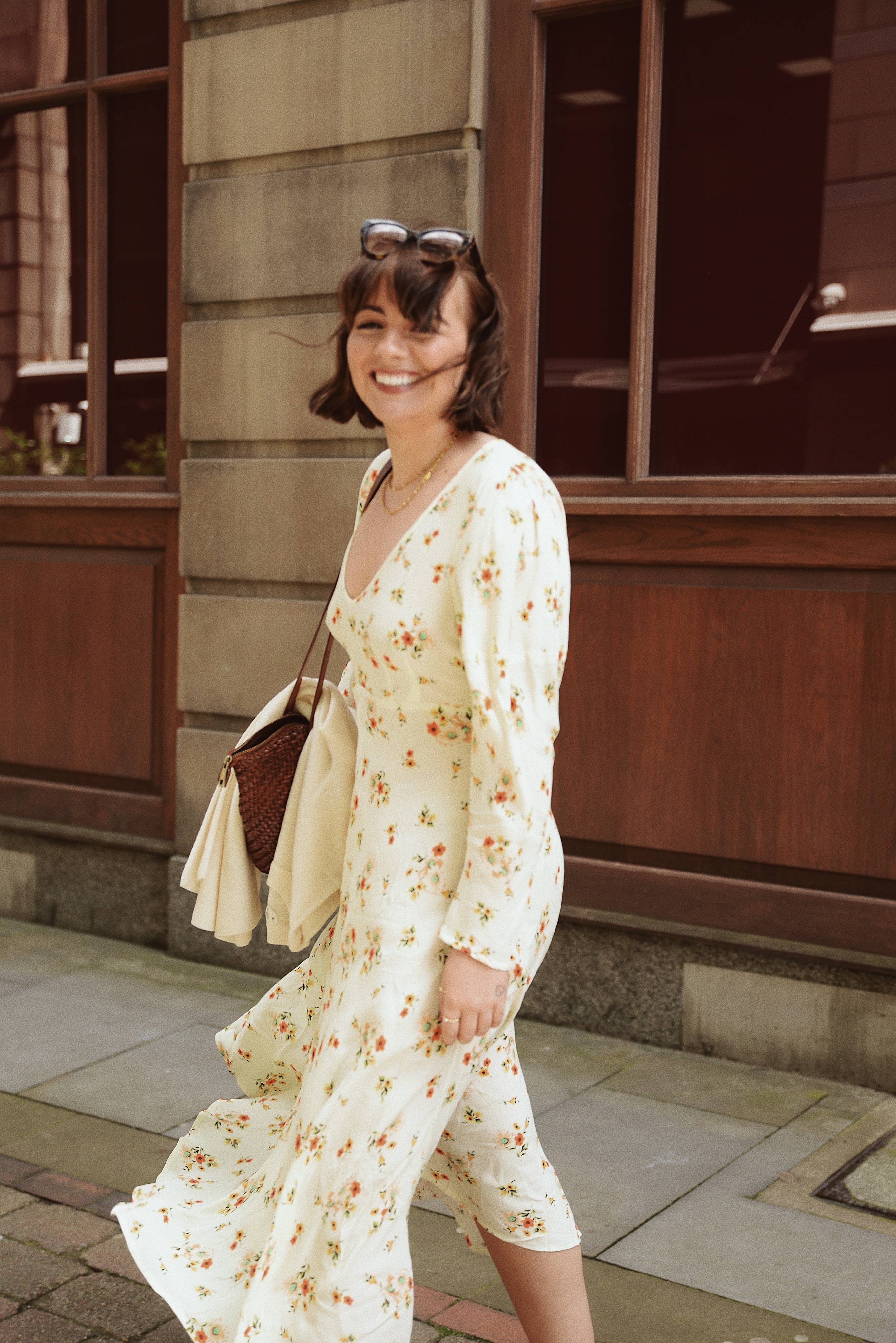 I feel in a much stronger headspace after taking a step back from what I do and just analysing what my soul is really craving. It's so easy for me to get caught up in the rat race of social media and just ignore what I need to be happy and healthy. I honestly don't know if I'd have made as much progress had this year not been so darn difficult! It's really pushed me to address things I'd been avoiding by rushing around and working on new content…
Anyway, I thought I'd bring you all up to speed and I really hope you're all taking the time to focus on the things you really need too. It's such a strange time but there are moments of joy to be found and there is progress to be made even though the world feels very still. I have a couple of staycations coming up in the next few weeks (fingers crossed they go ahead), so I'm looking forward to getting out of Manchester and hopefully sharing some new travel blog posts with you!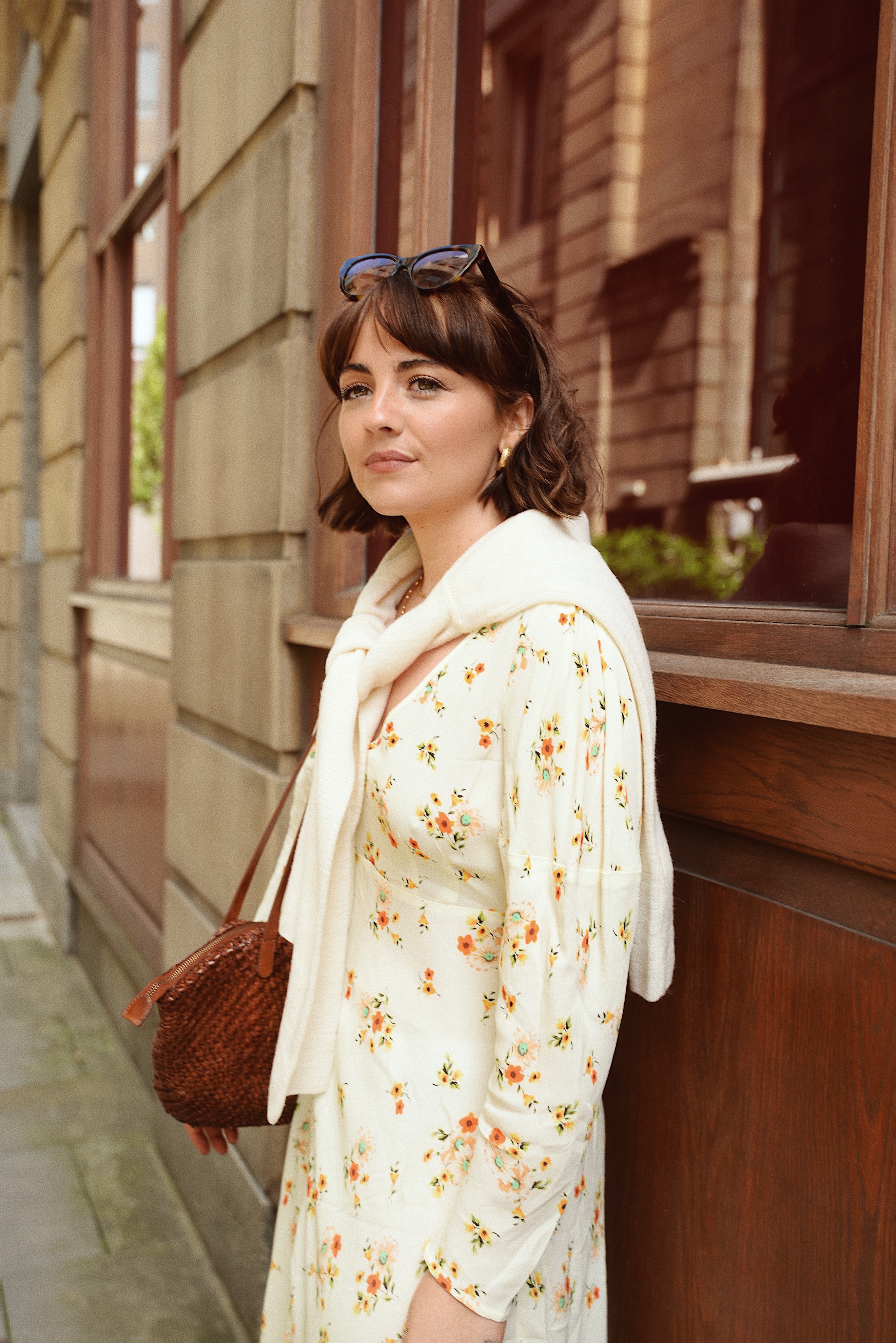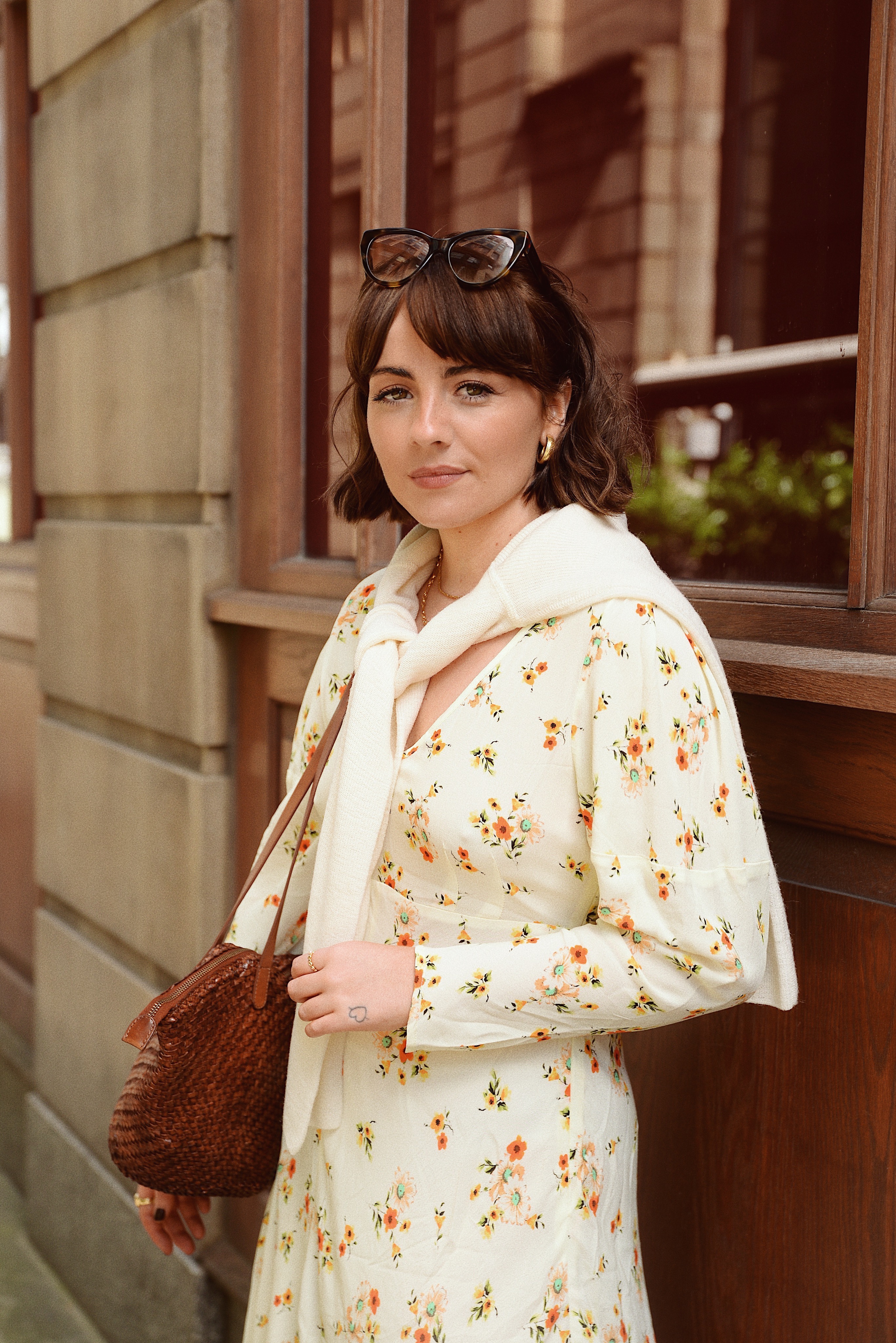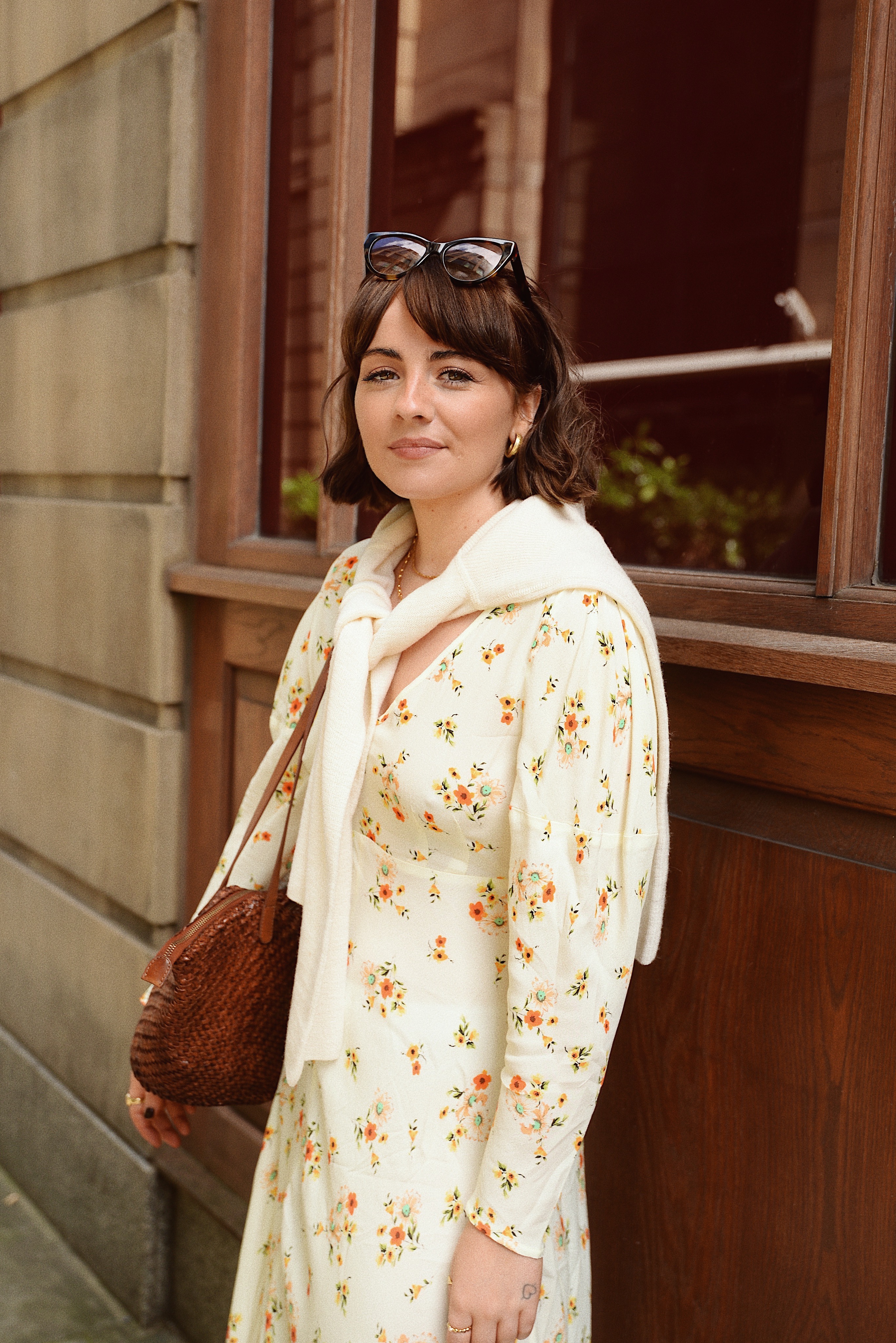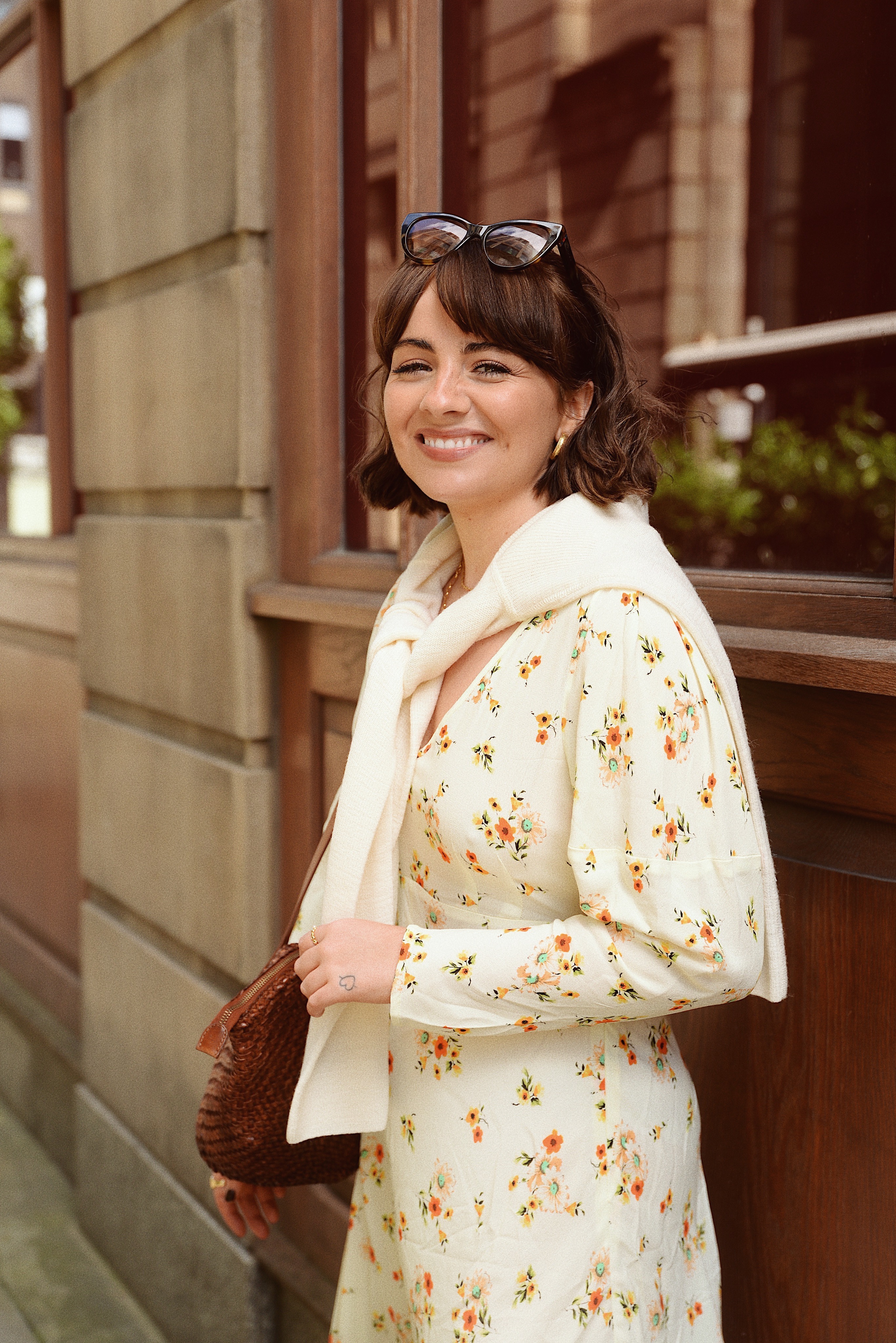 Talk about the damn dress I hear you ask! It's a floral Ghost number that I picked out from their new collection a few weeks back and it's very very lovely. Ghost are one of those brands that always pop into my head when I'm thinking about 'occasion wear' or I need something particularly fancy to wear (long gone are the days). They always have a beautiful selection of dresses that don't feel like they will just end up sitting in a dust bag post their first official outing. For instance, this particular dress would make for perfect wedding attire, but nothing will stop me layering it up with a trench coat and throwing on a pair of chunky sandals in the meantime…
A lot of occasions have been put on the back burner this year, but that doesn't mean we wear a dress on the grocery run, or to our local coffee shops. I refuse to let a dress as beautiful as this hang limply in my wardrobe!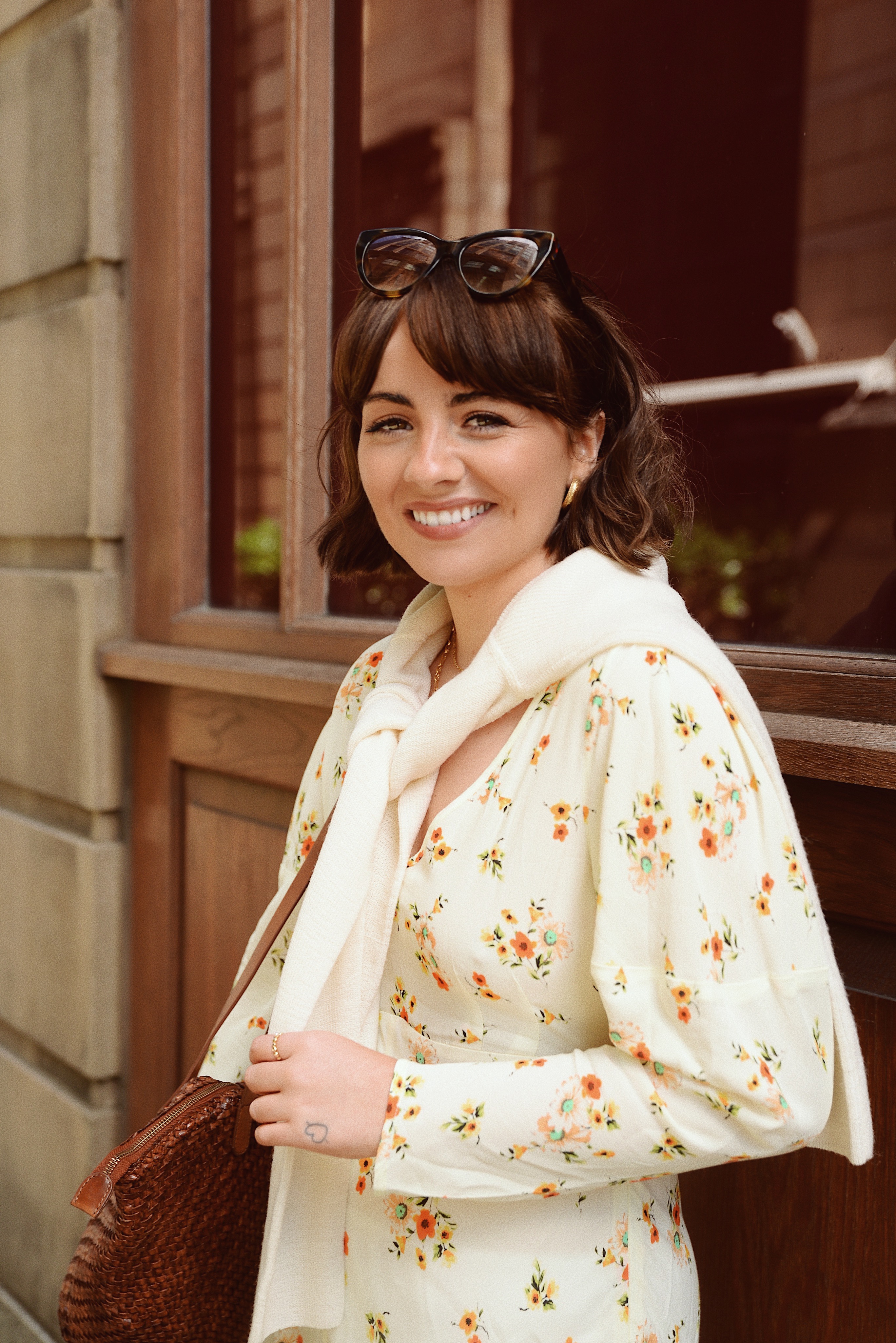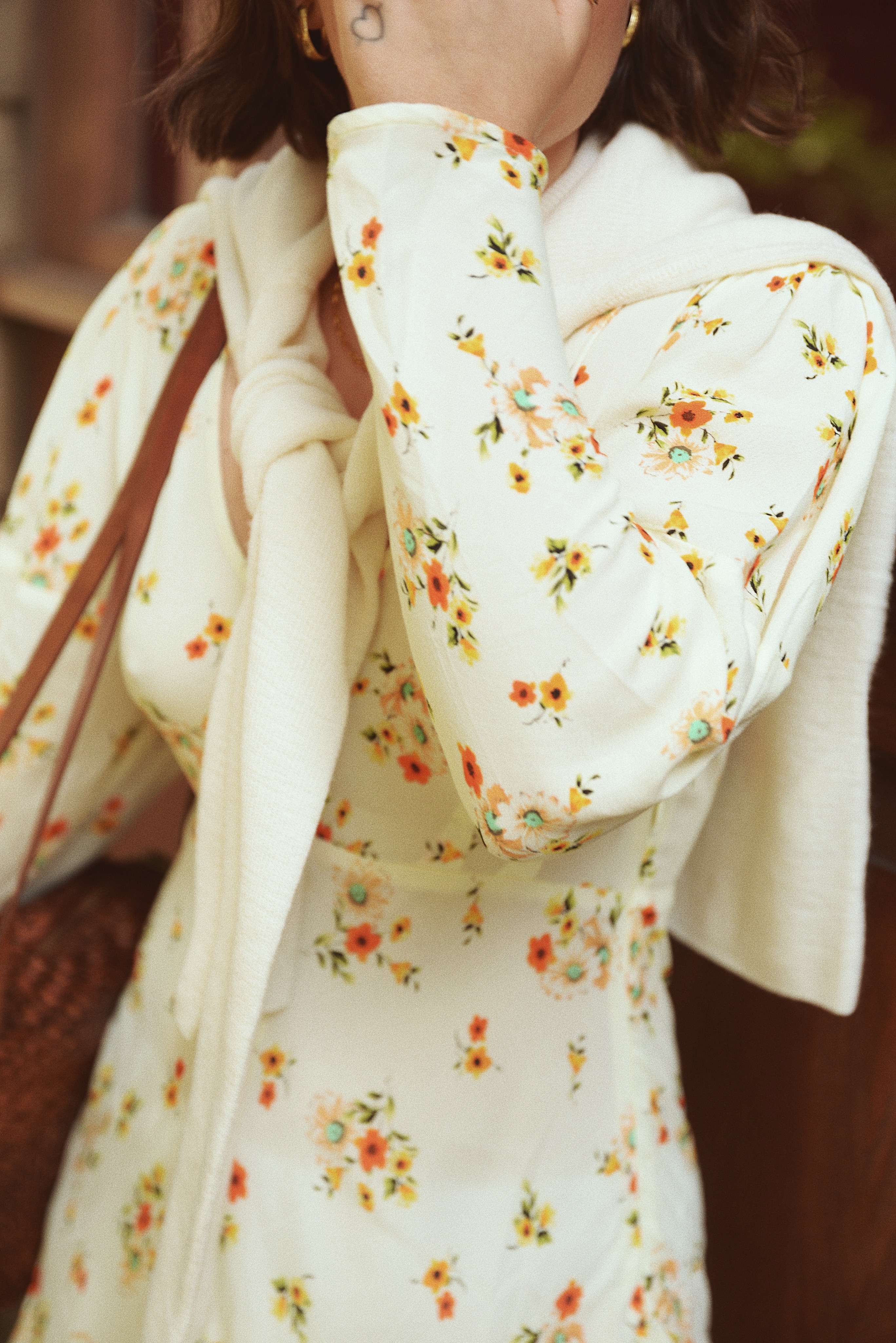 ---
Photographs taken by Catherine Booty 
Dress c/o – Ghost Fashion, Trench coat – Whistles (old season),  Jumper c/o – Arket (old), Sandals – Brador via Bellerose, Bag c/o – St Agni
SHOP THE LOOK