More time indoors means that I'm naturally making the most of all the incredible books, music, films etc that are at my fingertips. I feel like the past couple of weeks have been such a treat in terms of content consumption. I've found myself really consumed in various things for the first time in a while, and it's been reminding me how lucky we are to live in world where we can still share our creations with each other (even when things feel bleak and uncertain)…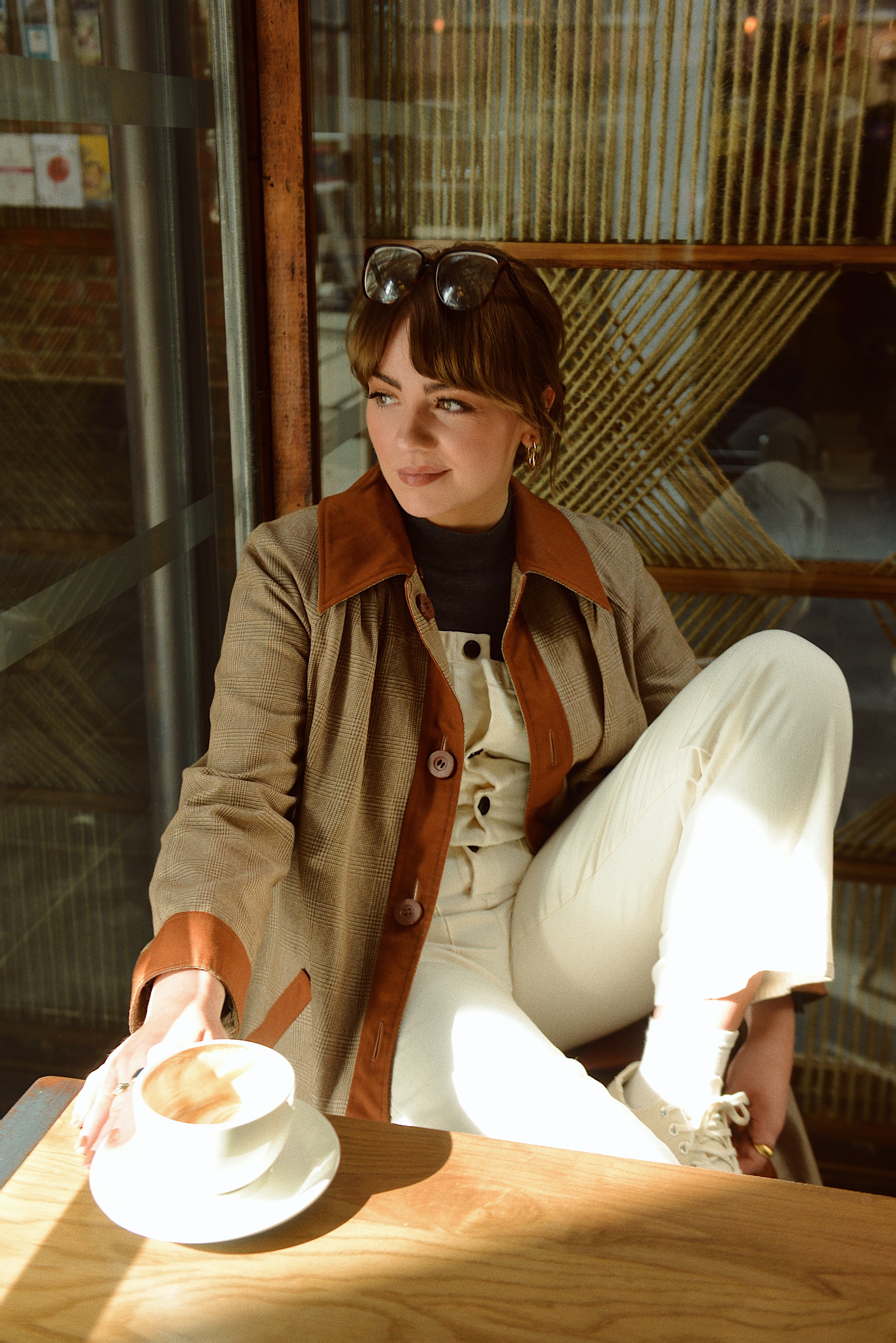 ON THE BIG SCREEN
My Dad dropped off an old projector that someone had given him a few years ago and we managed to get it working with the added purchase of an essential cable! I didn't have high hopes for the picture quality but it's pretty perfect – it's an Epson model from over a decade ago so I can only imagine that their newer models are cinema quality. I had a little look on Ebay and there's tonnes of the older ones for sale so I'd definitely recommend snapping one up if you fancy elevating your movie nights at home. We watched The Assistant which is a newly released film starring the always wonderful Julia Garner. I loved the cinematography and thought it was aesthetically ver pleasing despite showing the constant pressure and mundanities that come hand in hand with being an undervalued assistant for a big company. The film follows the main character (Jane) as she struggles with her suspicions against her predatory media mogul boss. There's a clear #MeToo era theme that becomes apparent during the conversations to be had after the film abruptly ends. I think it's one of those films that will divide people in terms of enjoyment, but I thought it was such a powerful but subtle take on the inner conflictions that many women experience during the workplace. Jane is one of many women who finds herself feeling like she doesn't have a voice and I really hope this film acts as an explanation as to why so many people don't have the courage to speak up.
It's been lovely to see quite a few films being released online throughout this period at home. Whilst it does make me feel uneasy as a huge lover of going to the cinema – it's been a treat to keep up with some new releases from the comfort of my sofa. I just hope that we never live in a world where this becomes the normal procedure as I love nothing more than sitting in a creaky cinema seat and picking popcorn out of my cardigan for long after the film has finished…
We also watched The Invisible Man which I would really recommend if you're into your Thrillers. It stars another favourite of mine (Elizabeth Moss) who is trying to convince those around her that she's being hunted by someone that no one can see. It sounds kind of stupid as a premise but I promise it doesn't disappoint!
I'd also recommend following the @indiewire account over on Instagram for film updates – they have been doing some incredible 'live chats' with numerous actors too which you can find on their IGTV section.
---
WHAT I'VE BEEN BINGE WATCHING (NOTEWORTHY TV)
Like the rest of the world, I binge watched the new Normal People adaptation in a matter of days and loved every heart aching second. It's based on the best selling novel by Sally Rooney, but if you haven't read the book yet, I wouldn't wait to sink your teeth into the series! It's just how I imagined when reading the book, and I picture huge things for both Daisy Edgar-Jones and Paul Mescal who absolutely floored me with their performances. I haven't felt like this about a series since devouring Fleabag and I think it's such a special thing when the characters stay with you long after the last episode has finished. It's just beautifully put together – everything from the soundtrack to the quiet moments that echo a thousand feelings you'll remember from your own experiences with navigating first love and all those painfully awkward moments in-between… 
I've also been watching Little Fires Everywhere which is another TV series that's been adapted from a bestselling novel. I haven't read the book in this case, but I really want to now that I've finished the series! I didn't absolutely love this series but I did really enjoy it as something quite different other series I've watched recently. The narrative deals with many important themes such as female solidarity, transracial adoption and abortion. There's also important conversations about sexuality and racial appropriation – there's definitely a lot to unpack but ultimately it's a story about motherhood and well worth a watch!
I'm also a few episodes into Run which I wanted to give a quick mention because I'm really enjoying it so far and I think the concept is really unique. It stars another two actors that I love (Domhnall Gleeson and Merritt Wever) and Phoebe Waller-Bridge had a hand in producing it which always sparks my interest. Again, it's not a perfect series and the main characters are quite unlikable at times, but I have been enjoying the episodes! Everything feels slightly flat after finishing Normal People, but that can only be testament to how bloody great it was…
---
PODCASTS 
Buxton is back earlier than anticipated with perhaps one of my favourite episodes to date – I urge you all to go and listen to his chat with Tash Demetriou if you're in need of a good laugh this week. I think she might be one of the most naturally funny people ever, and I love how silly the whole conversation is amidst the seriousness of everything that's going on at the moment. There's also a new episode with Louis Theroux (which I just finished listening to this morning) and definitely recommend for afterwards! I love it when they get together and you always get a glimpse into a much sillier side of Louis.
On the subject of Theroux – Louis also launched his own podcast recently 'Grounded with Louis Theroux' which I think we can all agree is the gift we all needed! His first guests include Jon Ronson and Boy George so I'm very excited to see who else he has lined up…
I also wanted to mentioned Brene Brown's podcast for anyone who's struggling mentally at the moment. I think she might be one of my favourite people on the planet – she has such a unique way of making the noise inside my head feel a little less intense. 'Unlocking Us' has been a real vice for me on those days when I've needed some comforting words from someone who approaches every issue with kindness and understanding. Brene is the beacon of light we all need at the moment.
---
READING IN BED 
I've finally been able to get back into reading again after a few weeks of feeling too distracted to concentrate on anything for more than five minutes. I read 'Where The Crawdads Sing' by Delia Owens and it's completely made me fall back in love with reading again – it was one of those beautiful easy reads that I couldn't quite tear myself away from. I also read 'My Year Of Rest And Relaxation' by Otessa Moshfegh which I really enjoyed despite it having such mixed reviews. It's so well written and sometimes that's the most inspiring part of a book for me! I love exploring how different Authors like to craft their work and it really encourages me to keep writing. Speaking of which, I'm currently reading 'Blue Nights' by Joan Didion – it's about the death of her daughter and I wanted to read it following on from 'The Magical Year Of Thinking'. She writes about grief so beautifully and it never feels depressing or downbeat, she just has this life affirming quality to her writing and is generally just someone I hold in very high regard when it comes to writing inspiration. 
---
MUSIC TO MY EARS
Asides from the Normal People soundtrack (which makes for a very chilled working from home soundtrack), I wanted to leave another link to my Spotify account here too so you can see what I've been listening to/what playlists I've been creating…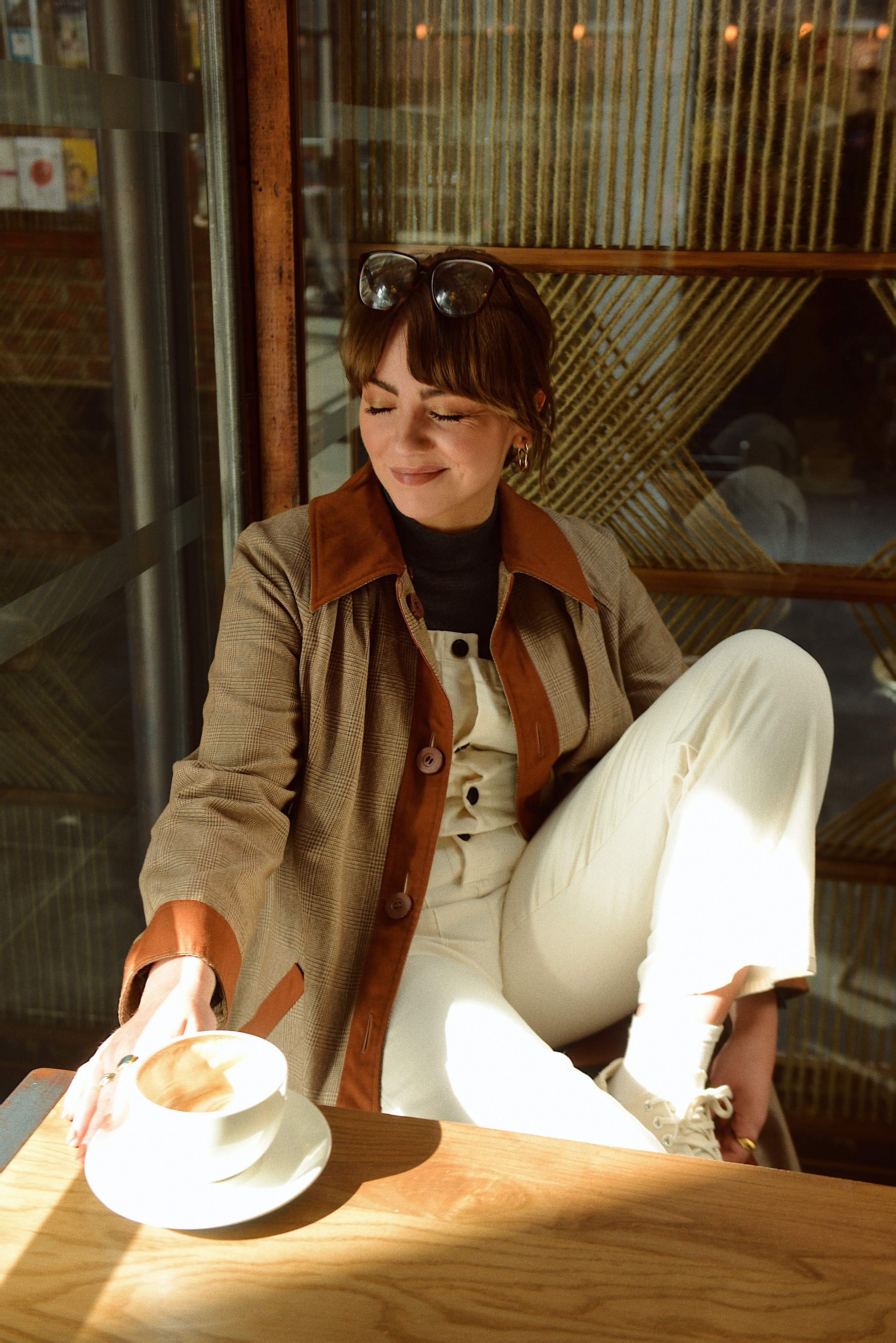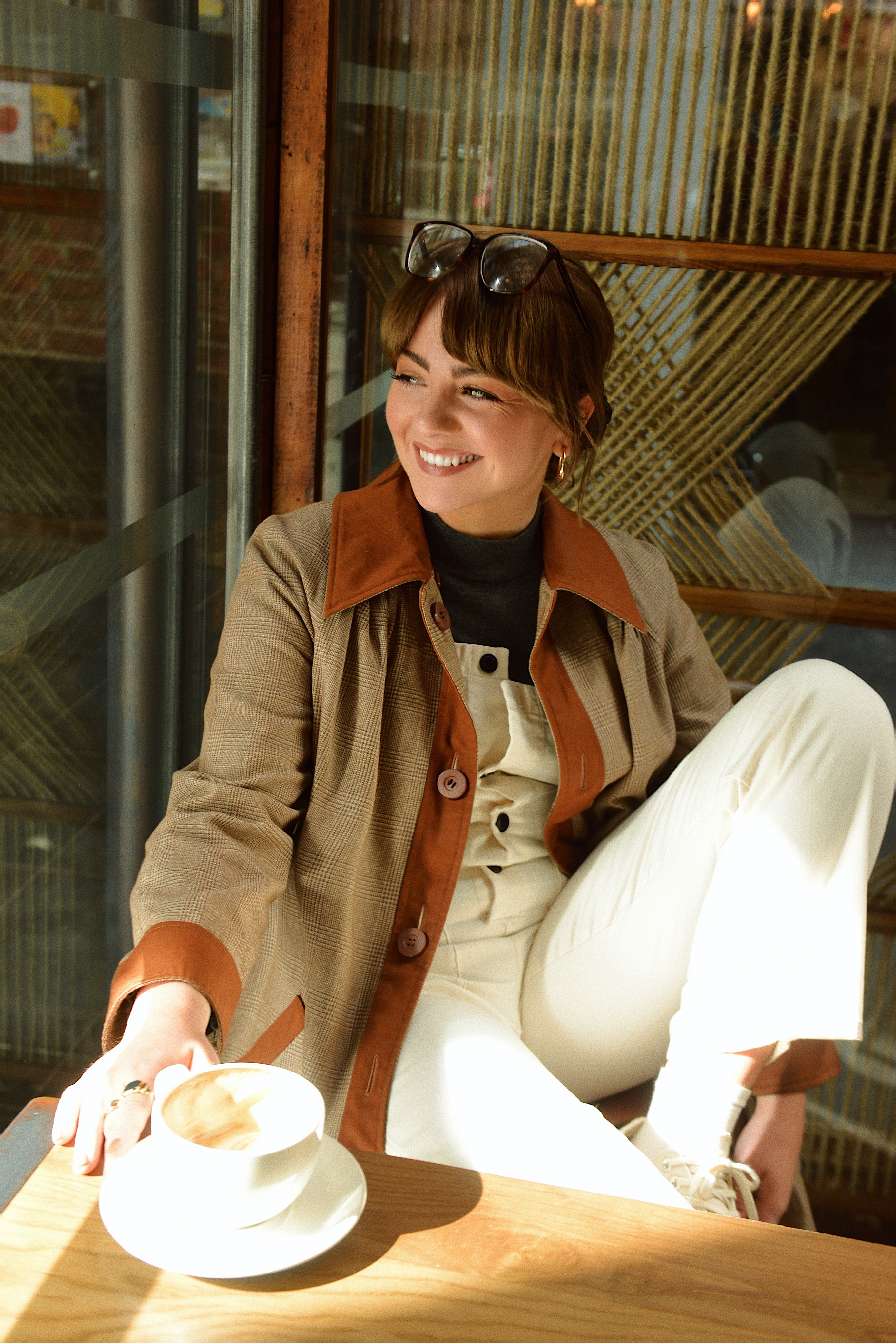 ---
Photographs taken by Catherine Booty 
Dungarees – Bellrose, Trench coat – vintage, Glasses – Celine, Shoes – Converse
SHOP THE LOOK