When I think of my wardrobe as a whole, I wouldn't say that my style is particularly trend lead – I have a strong admiration for classic pieces that I wear time and time again. Most of the pieces that I purchase will be similar to something I've owned in the past – maybe pieces that I got bored of and got rid of, or pieces that needed to be updated in some way. The last few years have felt huge in terms of vintage revival trends, particularly the Nineties and Eighties. I've slowly felt myself moving away from A-line skirts and winged liner, and into a more grown up version of myself…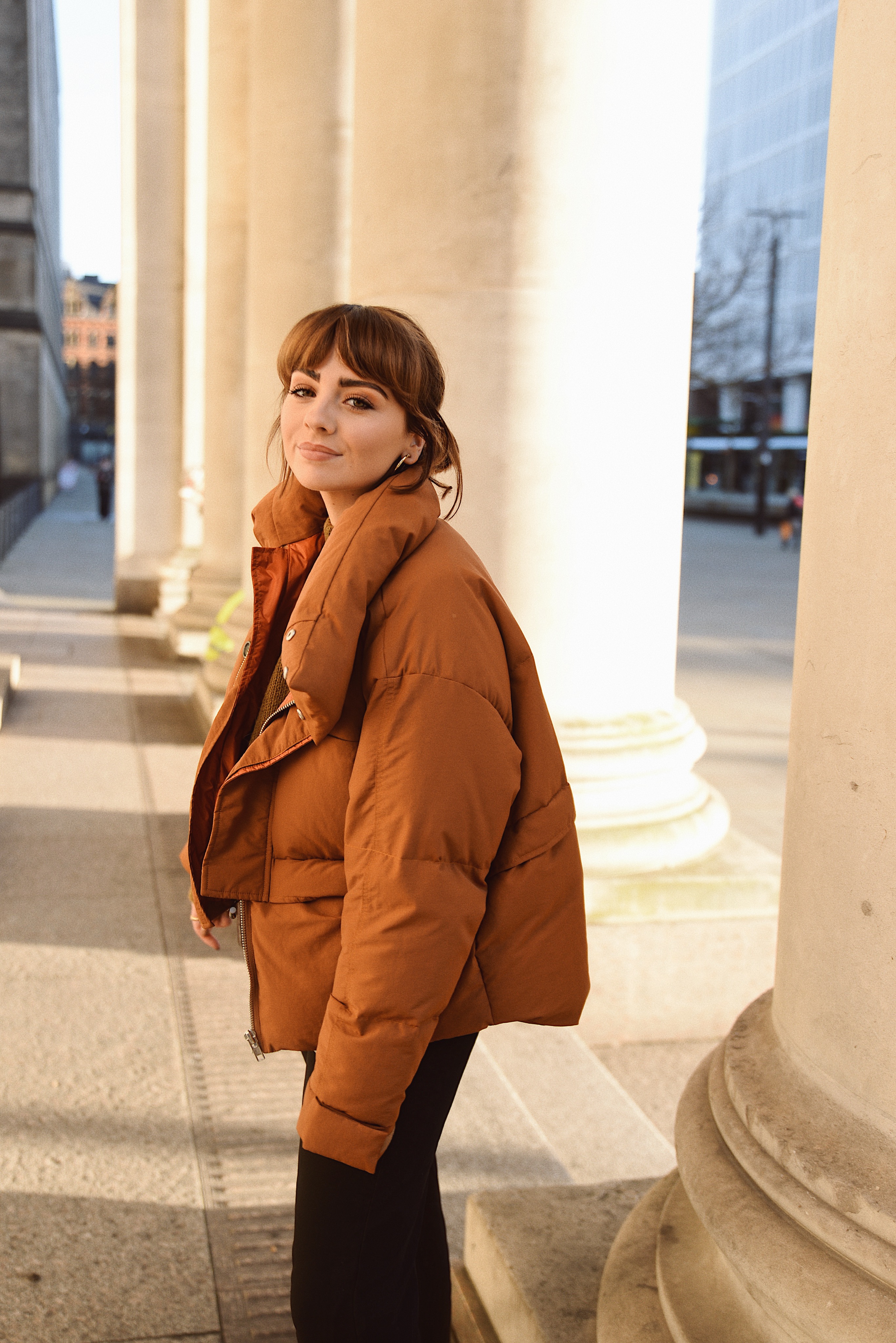 That's not to say that I'm getting rid of my skirt collection or love for winged liner anytime soon, but I definitely feel as though I don't need to stick to one particular uniform in order to have a strong sense of personal style. I've realised that there's way more fun to be had in expressing different sides of my personality, and my admiration for Jane Birkin and all things Sixties is just one of those sides.
Besides, I always think having a fringe makes anything look a little bit Sixties – yep, even a puffer jacket.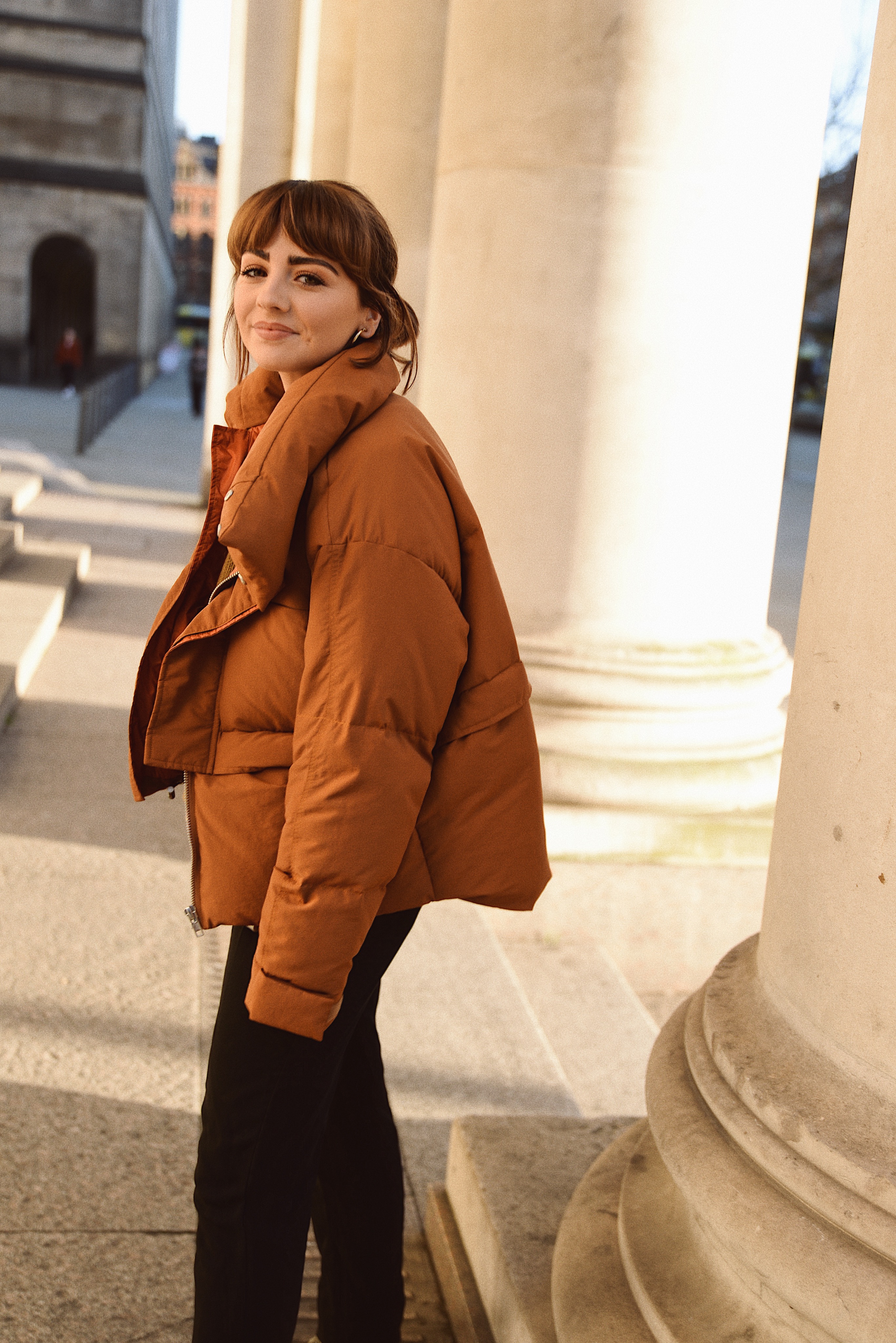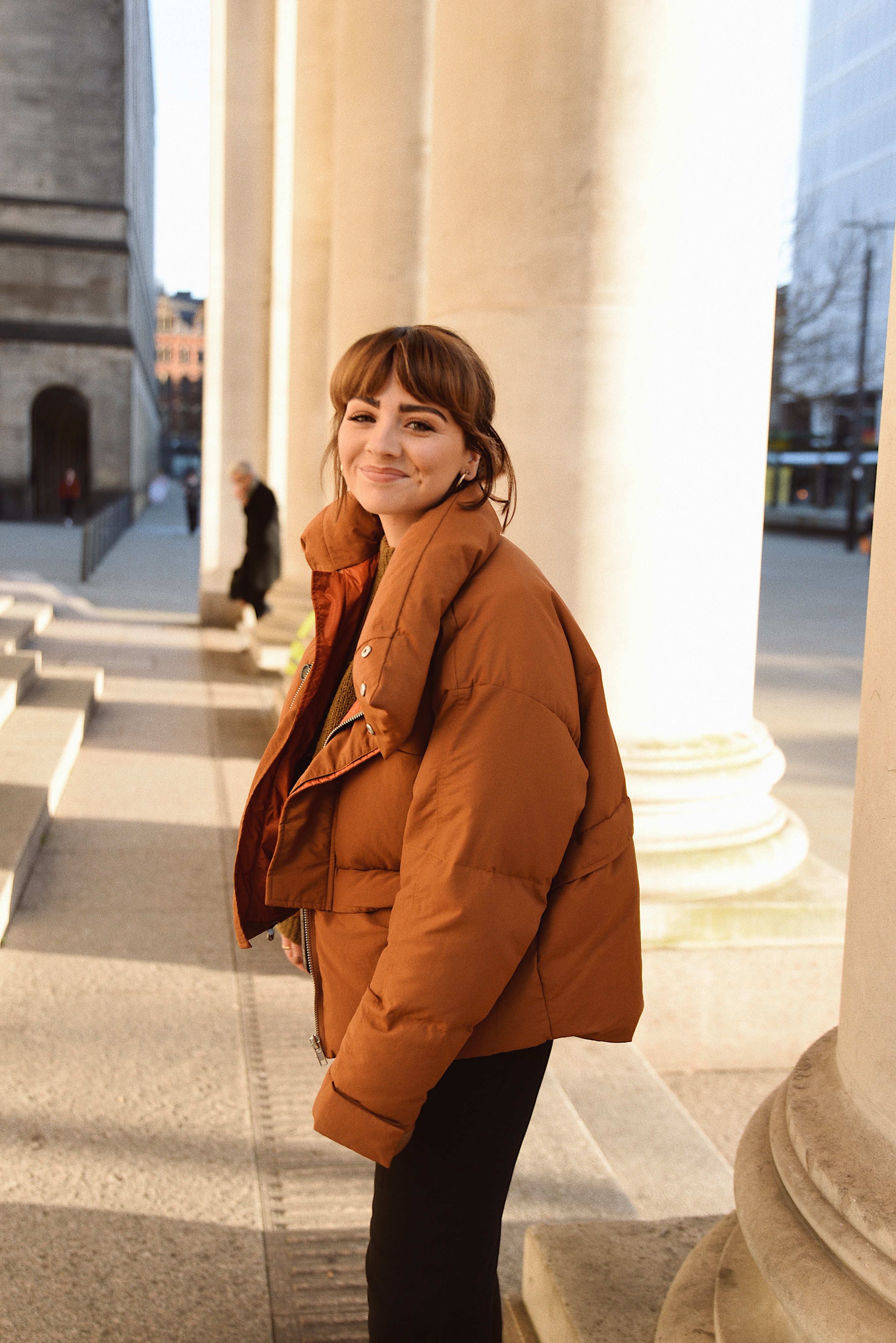 In fact, there's not many eras of fashion that I don't find myself being attracted to – I love the tacky/ugliness of all the Eighties revival at the moment, and I love steering myself away from stereotypically flattering silhouettes and trousers that 'flatter my bum'. After all, life is to short not to enjoy different outfits because you're more concerned with how your body looks instead…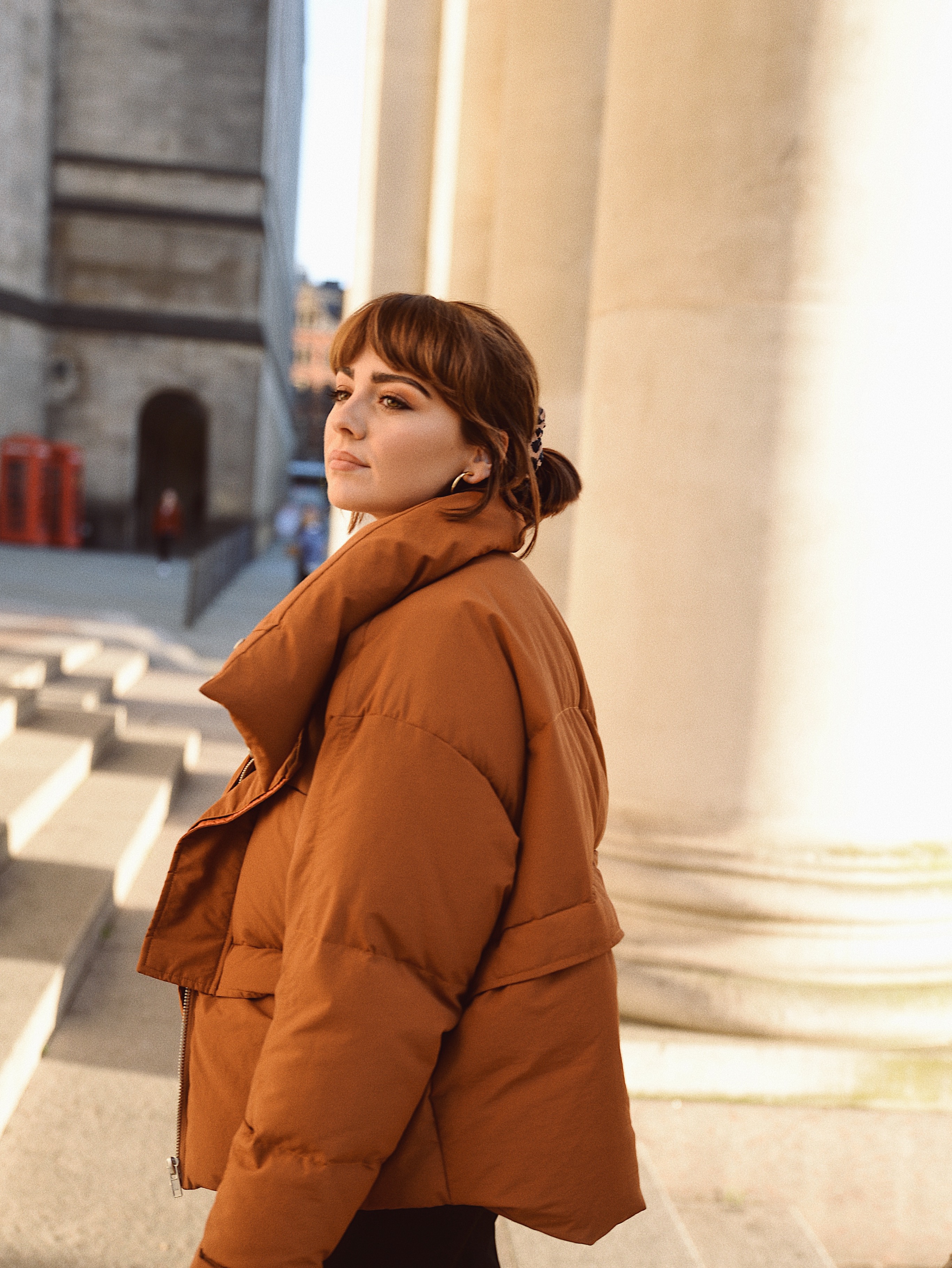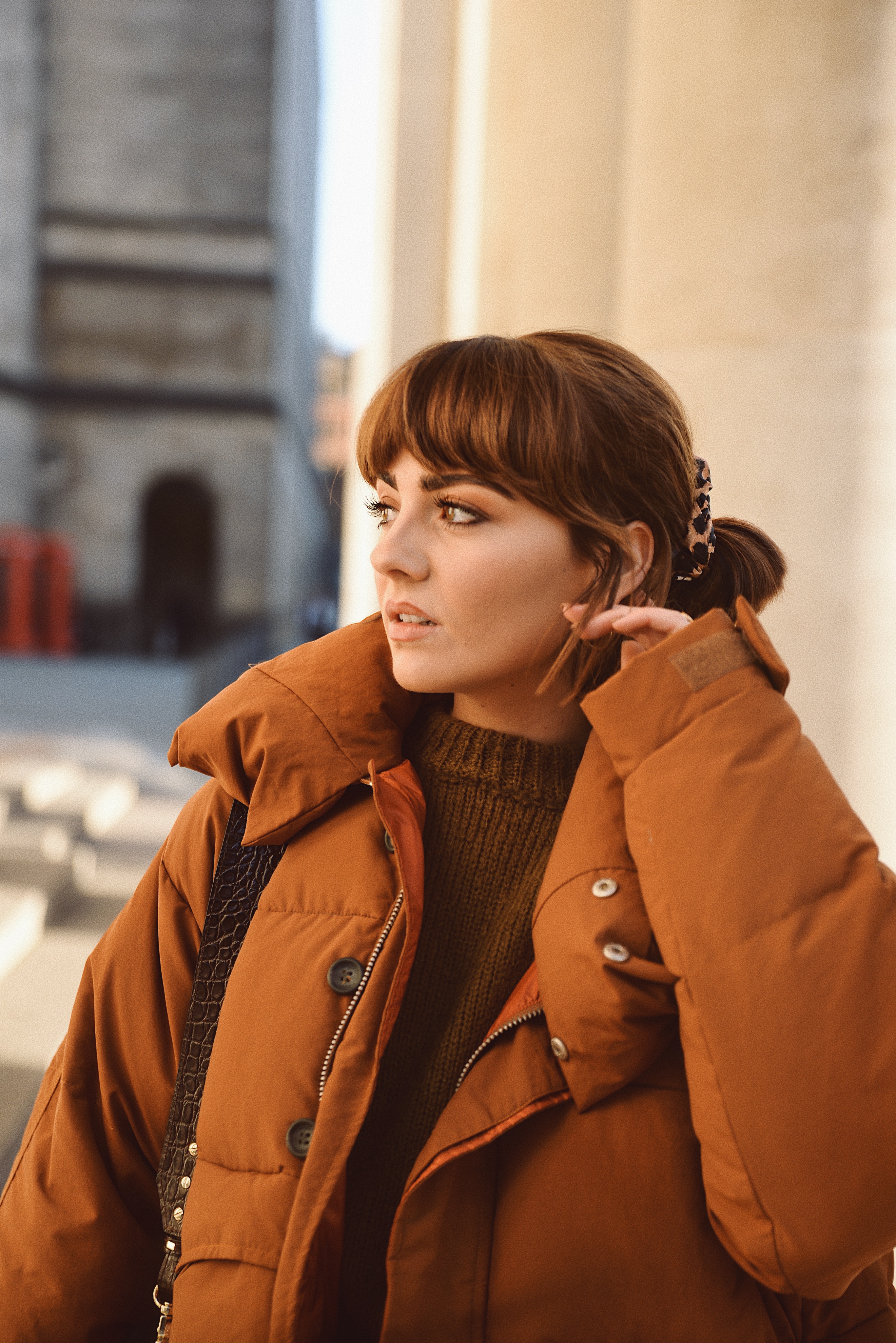 All this sentiment aside, I have been enjoying the 'great outdoors' trend that seems to be rife this winter – it basically consists oversized jackets ( the kind that you were forced to wear as a kid during an awkward family hike), boots that are so chunky they rival your favourite Dr Martens, giant scarfs, zip up jumpers, and a whole host of weird and wonderful beanies…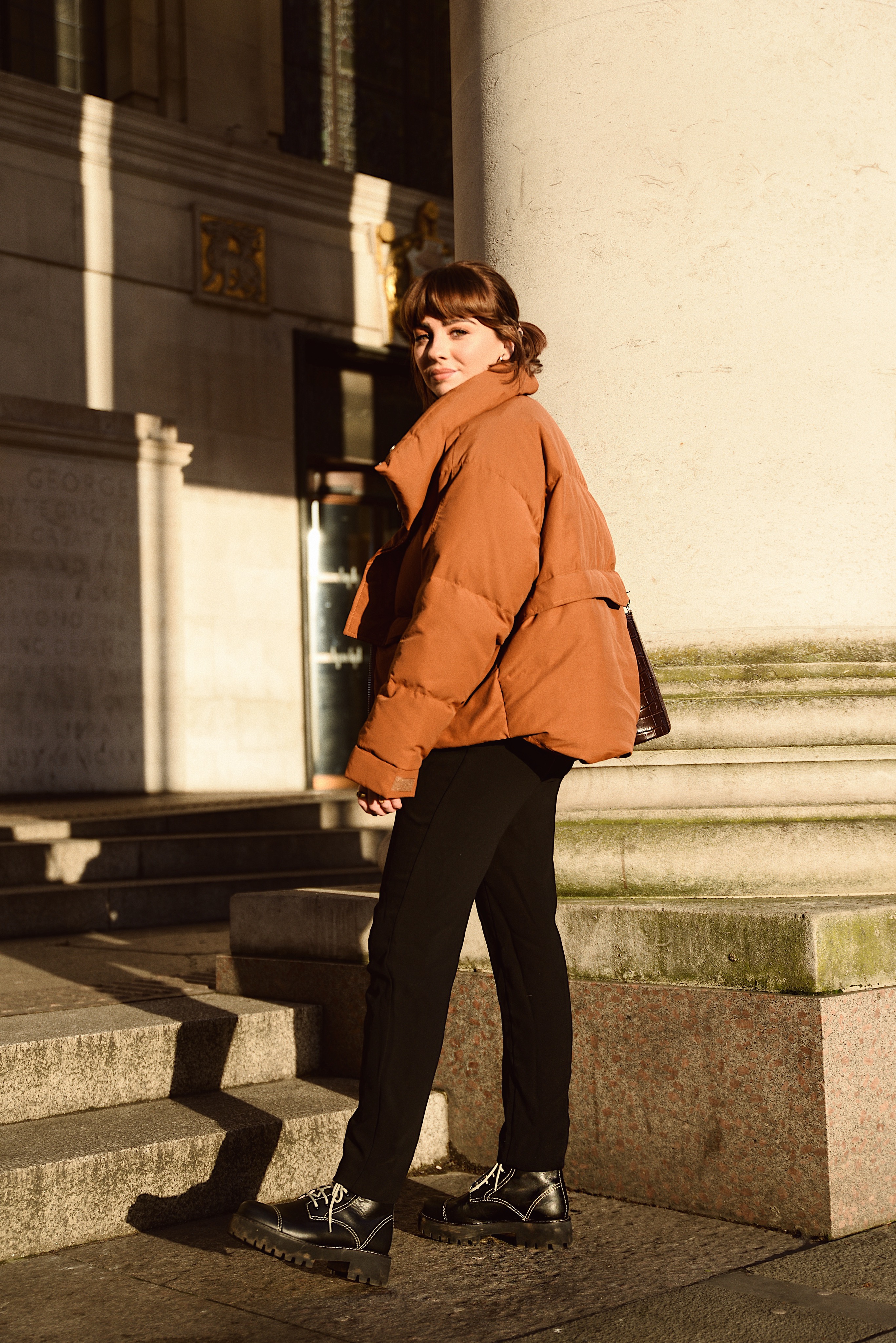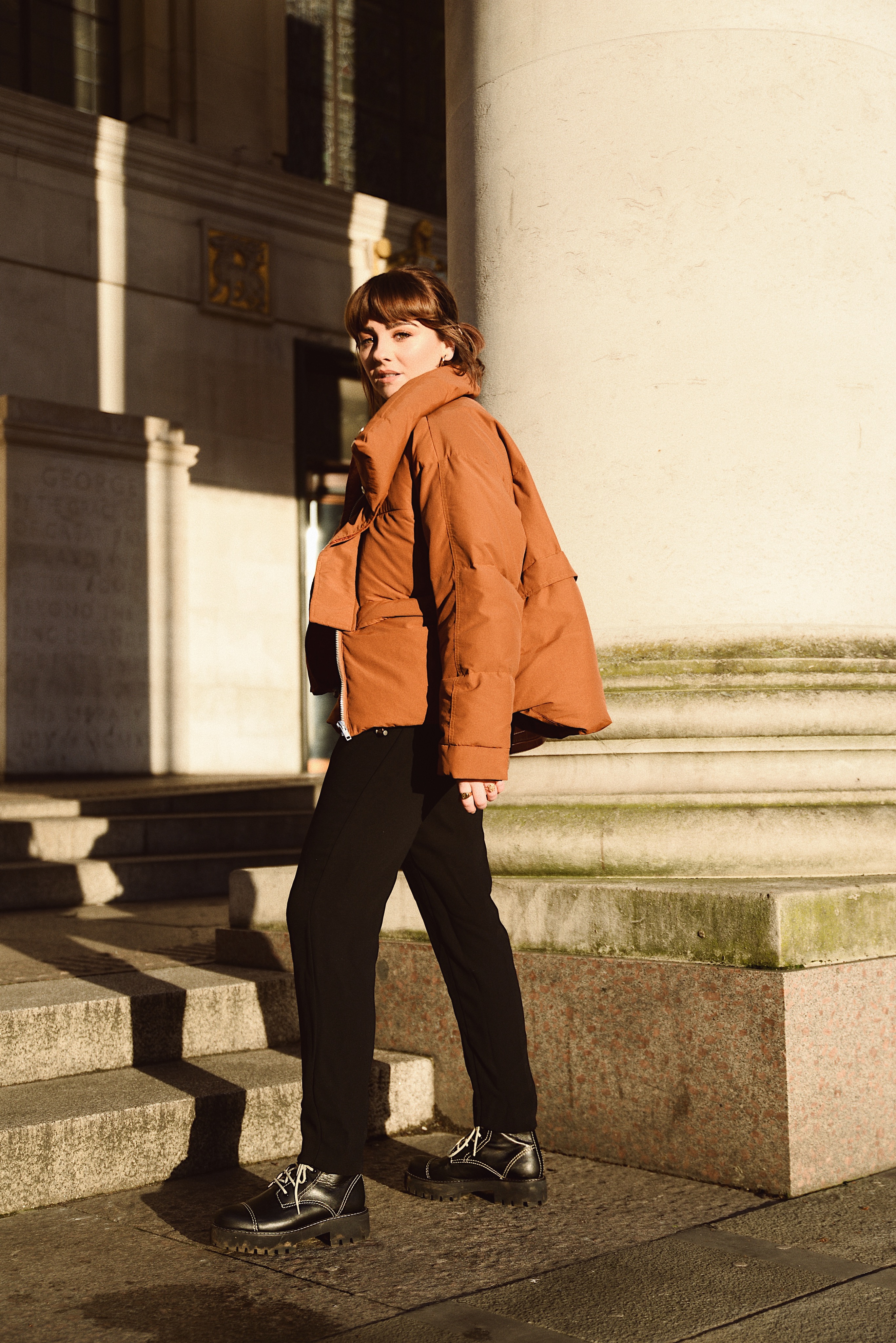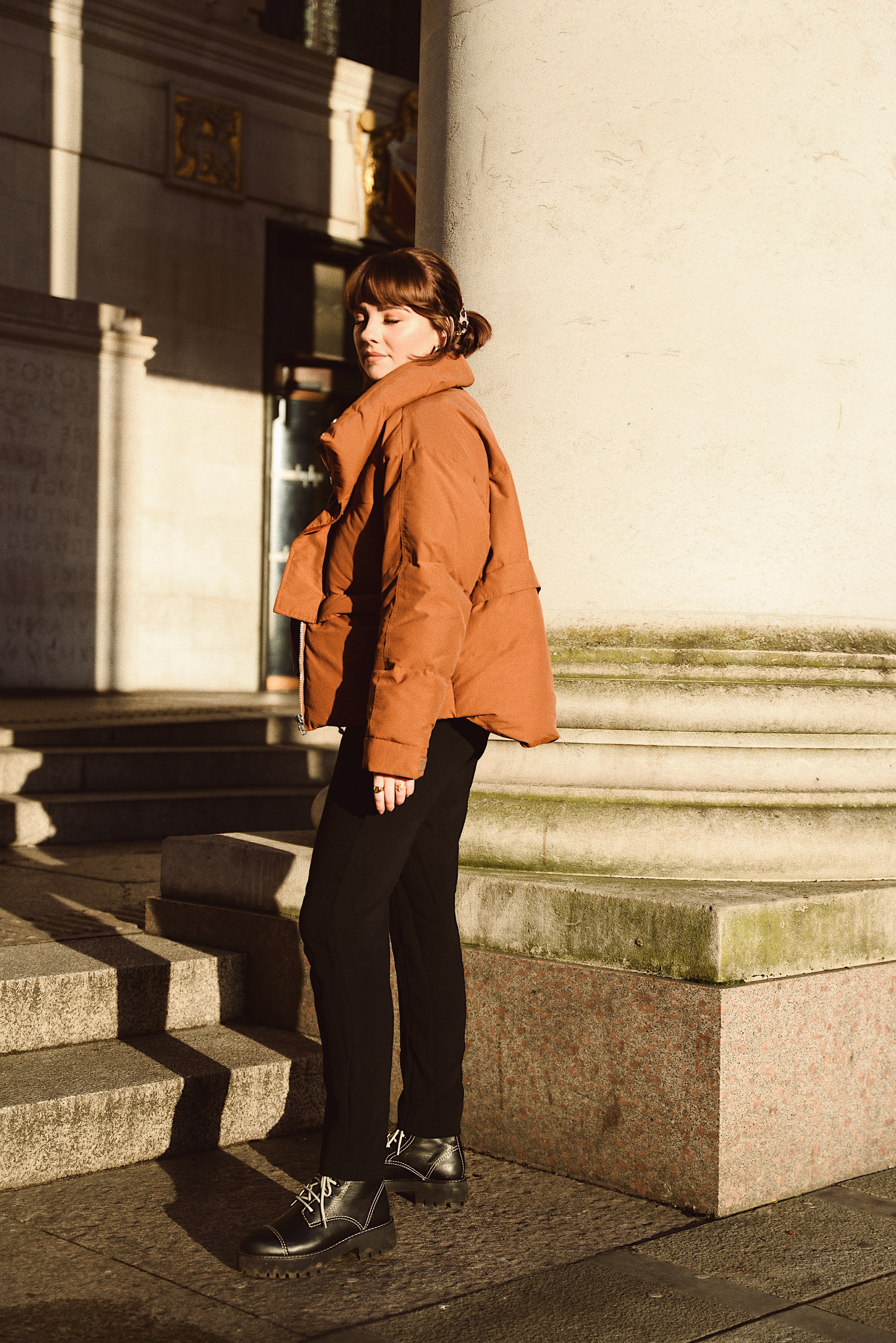 Finally it seems we are embracing the cold winter months and succumbing to outfits that feel not to dissimilar from a sleeping bag. As a lover of being outdoors in general, I am all for this practical trend – long may it last, and I'll definitely be making use of my chunky boot collection at this years Glastonbury festival. That's the great thing about British summer, you can still rock ankle boots and a little summer dress without feeling out of place…
Man, I really can't wait for summer.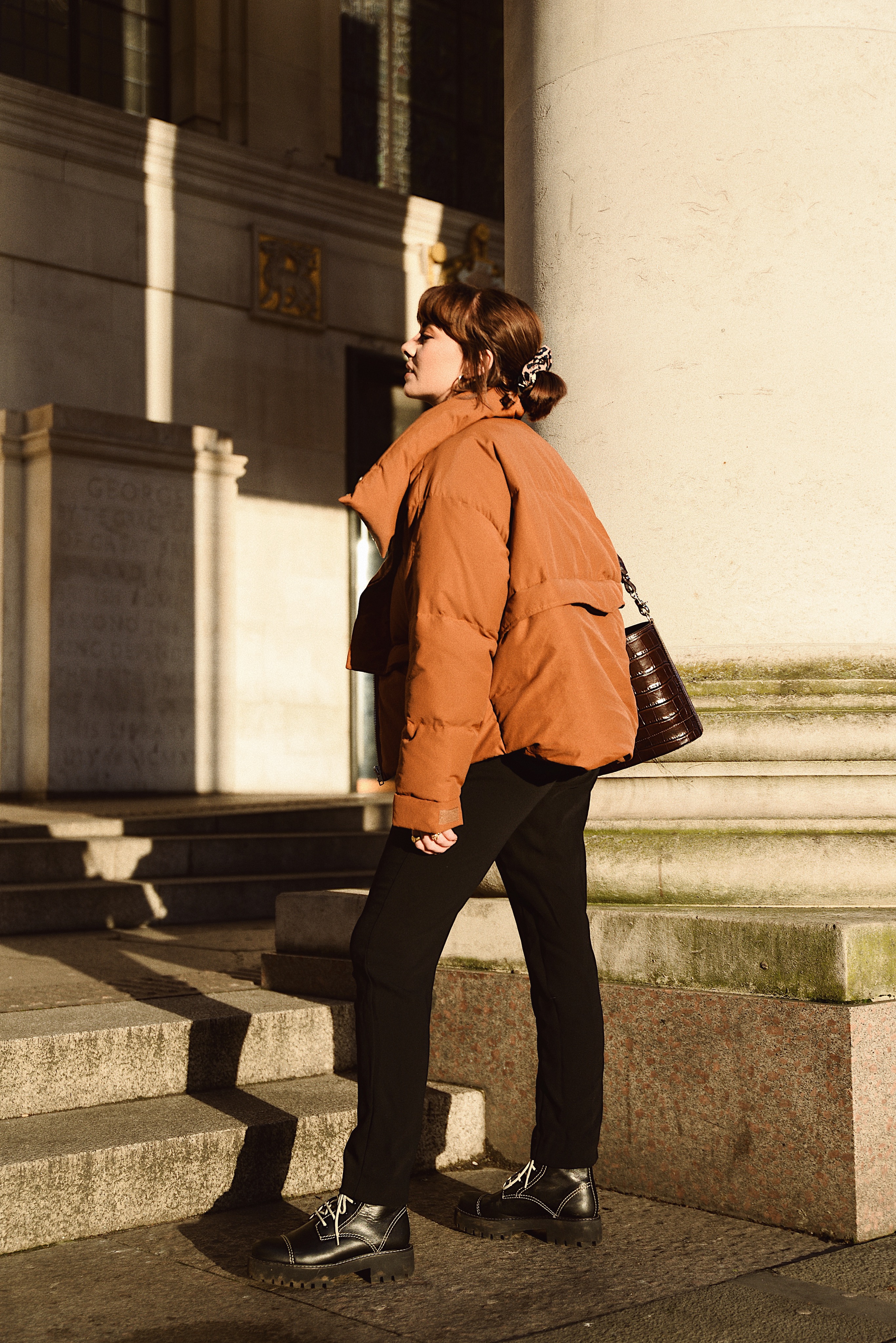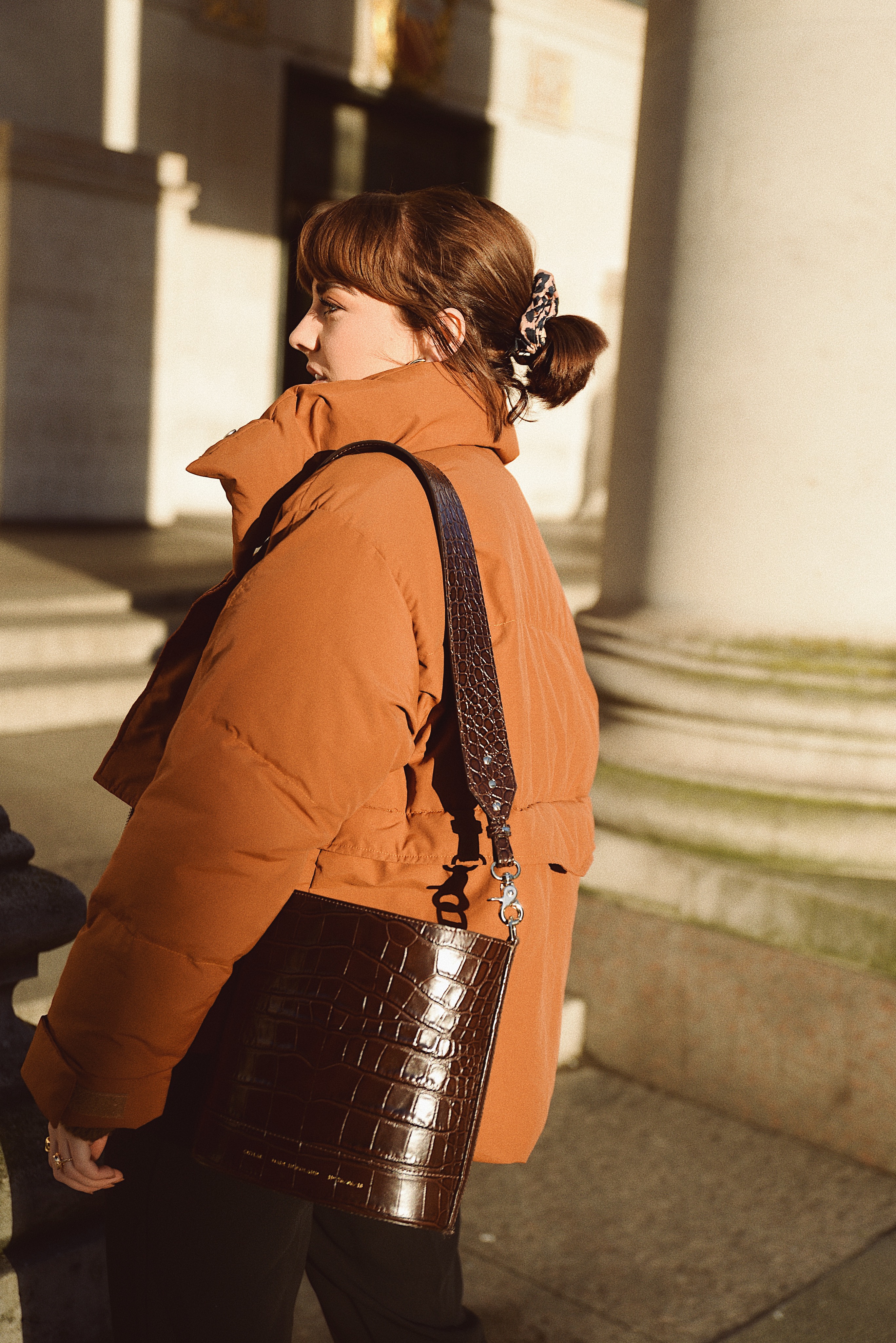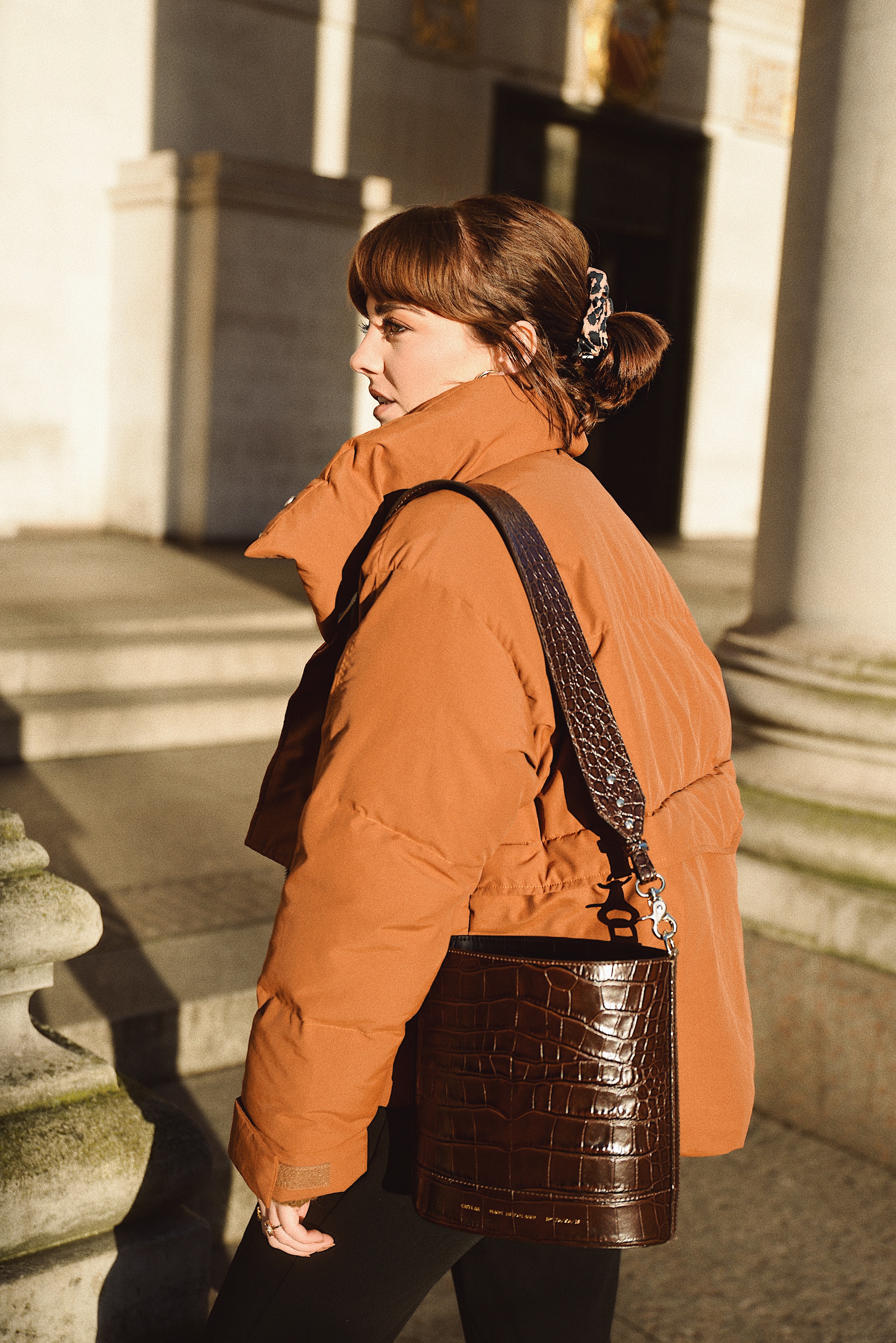 As much as I'm excited for summer adventures, this Frankie Shop puffer jacket has been keeping me pretty content with the gloomy Manchester offerings. It's a 'one size' fits all kind of affair which I'm not really a fan of, but it turned out to be the perfect kind of oversized fit on my frame. I'd say this jacket would fit anyone from an 8-14 whilst still looking slightly oversized. Just something to bare in mind if you're thinking of ordering as they only have stores in New York and Paris currently.
I love how it looks in contrast with these Alexa Chung boots too – it's such a simple outfit but the vibrant rusty orange and the white laces really make it feel chic. I'm all about accessories at the moment too, I think it's an easy way to update your looks whilst not being the owner of an overflowing wardrobe of pieces you don't need. Give me scrunchies in abundance and interesting bags instead please…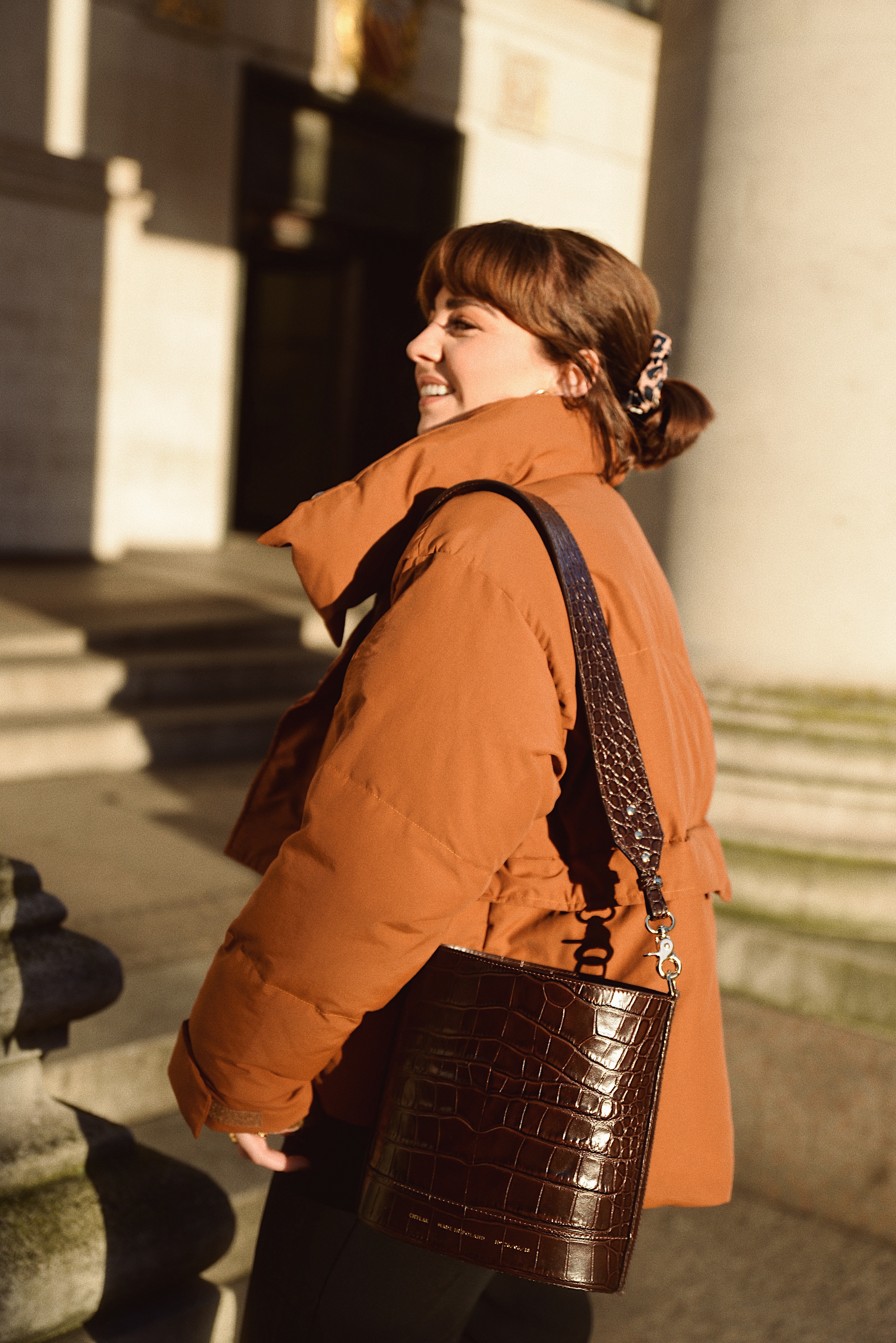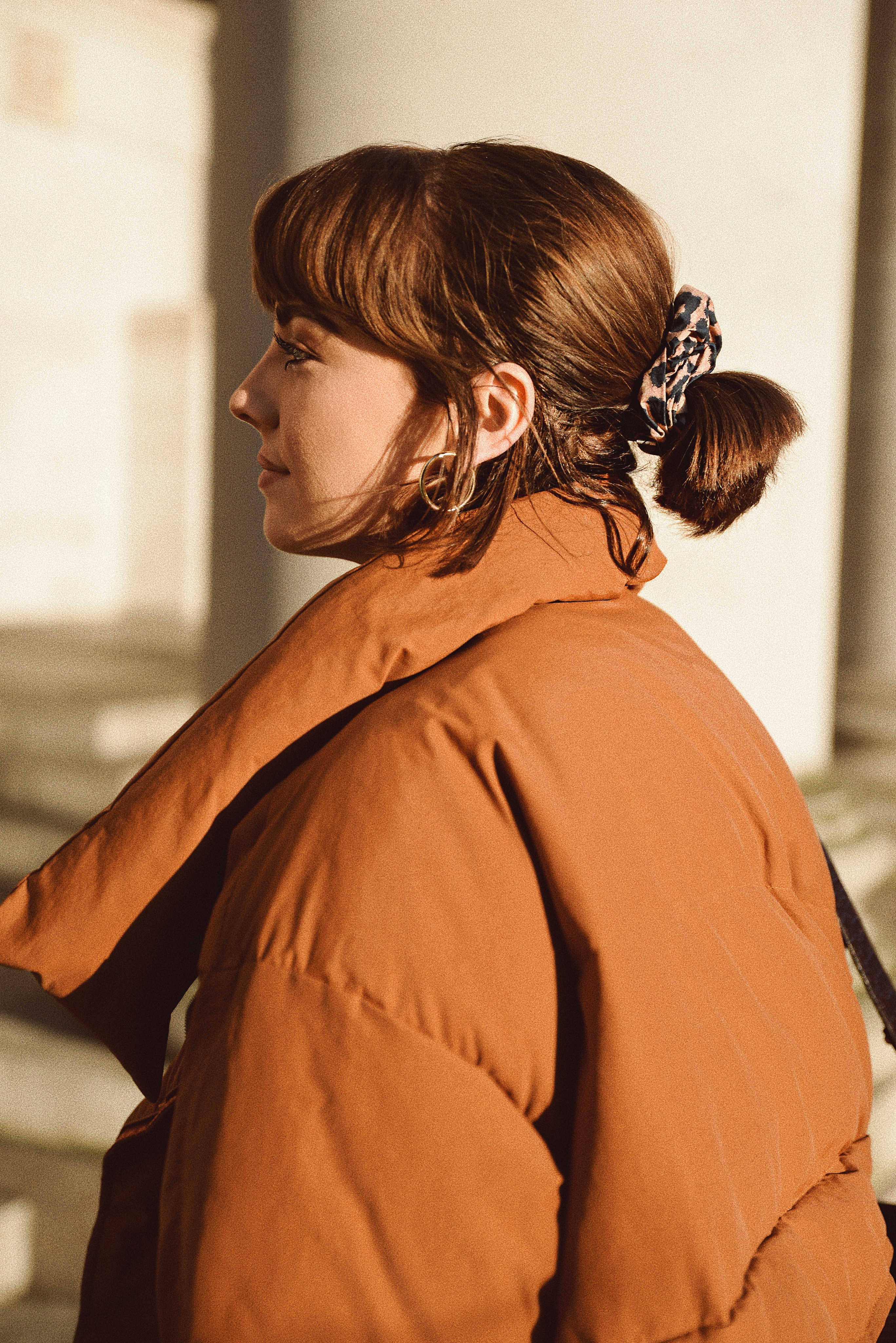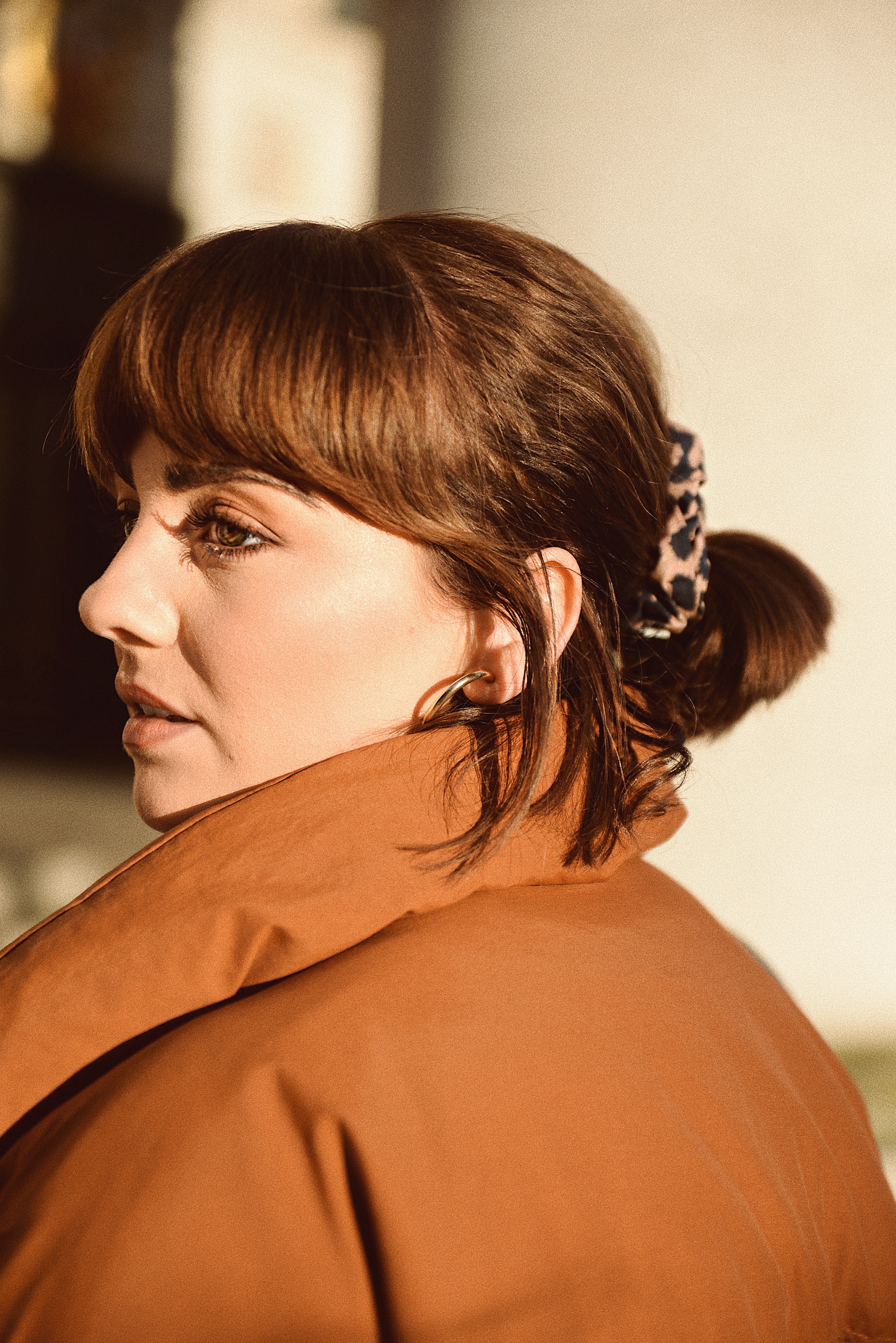 I love this Chylak bucket bag and the Ganni Leopard scrunchie together. They transform the look into this off duty Nineties supermodel kind of vibe. Not that I'm saying I'm anywhere close to Cindy Crawford status here (lets be real), but I really do love that era of bushy browns, brown toned lips, and 'I just threw this giant bundle of clothes together and managed to look hot'…
Anyway, here's to the kind of fashion that keeps me warm and makes me feel powerful this winter. I'm very much here for that.
---
Photographs taken by Catherine Booty
Jacket & Jumper – The Frankie Shop, Trousers – Mango (similar here), Boots – Alexa Chung, Bag – Chylak, Scrunchie – Ganni
SHOP THE LOOK