We just got back from a week well spent in beautiful Ischia – it was a break spent beach hopping, reading, and eating all the pasta and pizza in sight. I hadn't had a proper holiday in a long while (not one where I fully switch off anyway) so it was nice to be somewhere that encouraged me to chill out. We chose Ischia because it seemed a little less raved about, and I liked the idea of discovering somewhere that felt like the underdog, or that just wasn't as popular on my Instagram feed. We had also read that parts of The Talented Mr Ripley were filmed there, which has to be one of my favourite films in terms of how aesthetically pleasing it is. If you haven't watched it before, give it a watch, and I can guarantee you'll be subconsciously planning your next trip to Italy…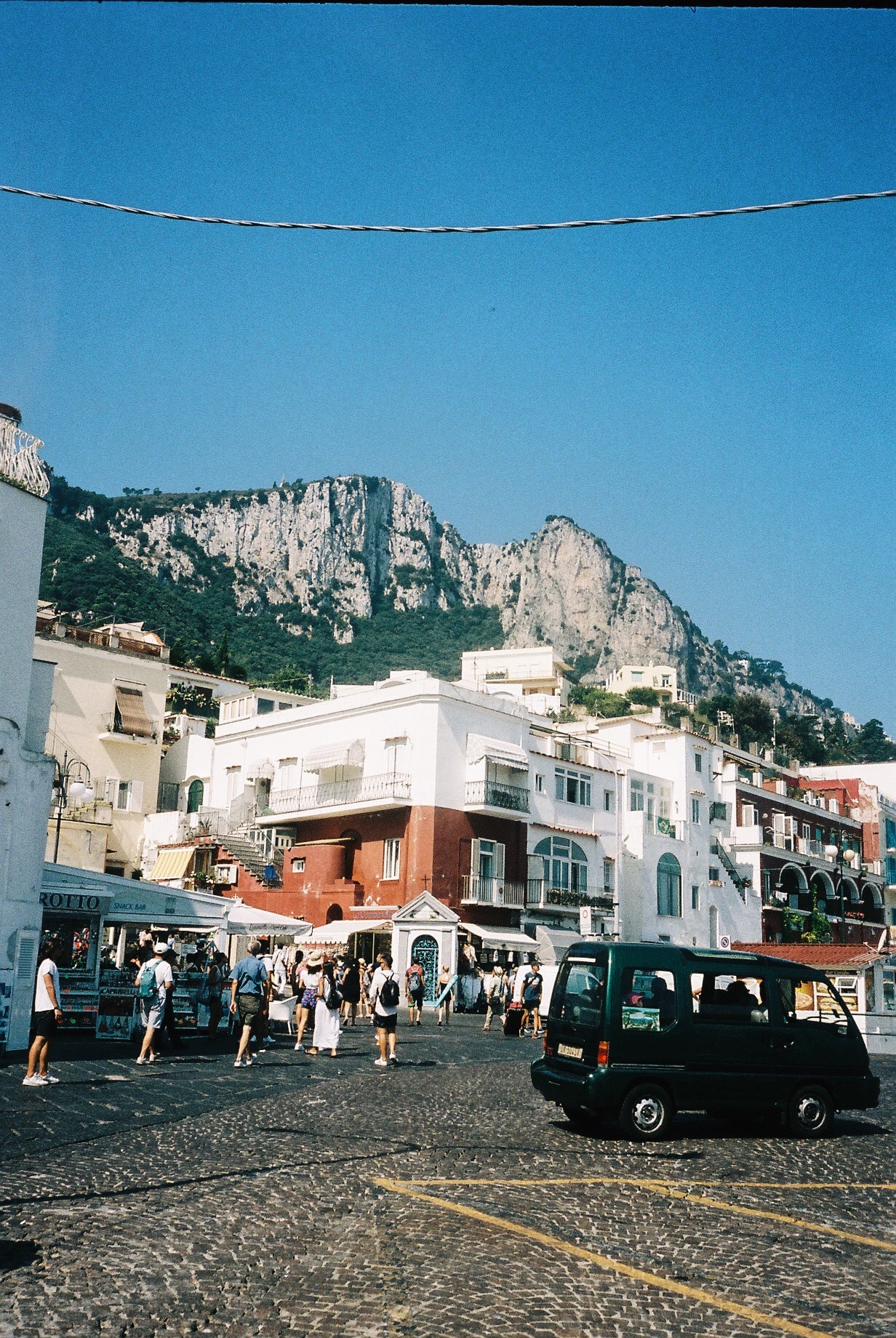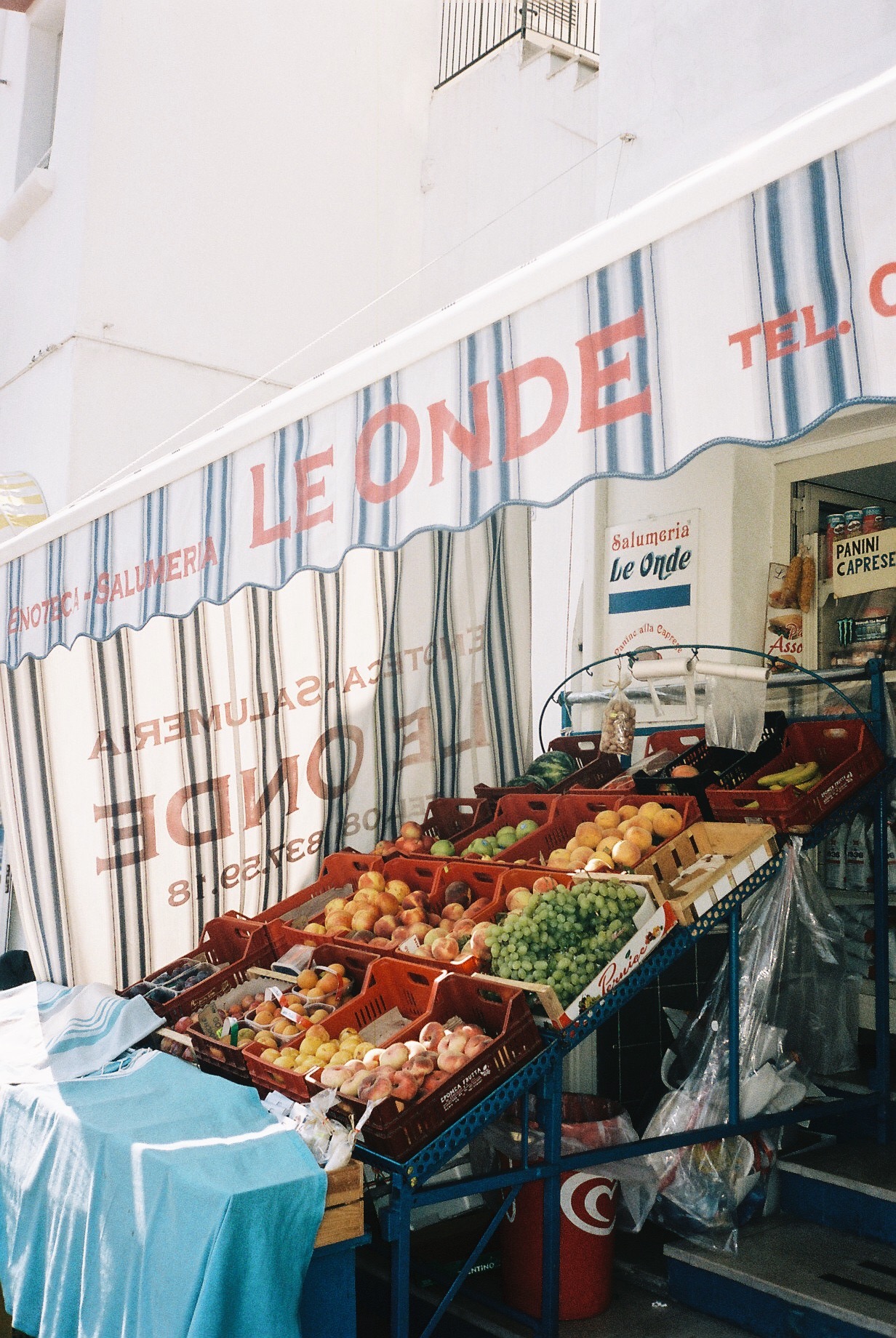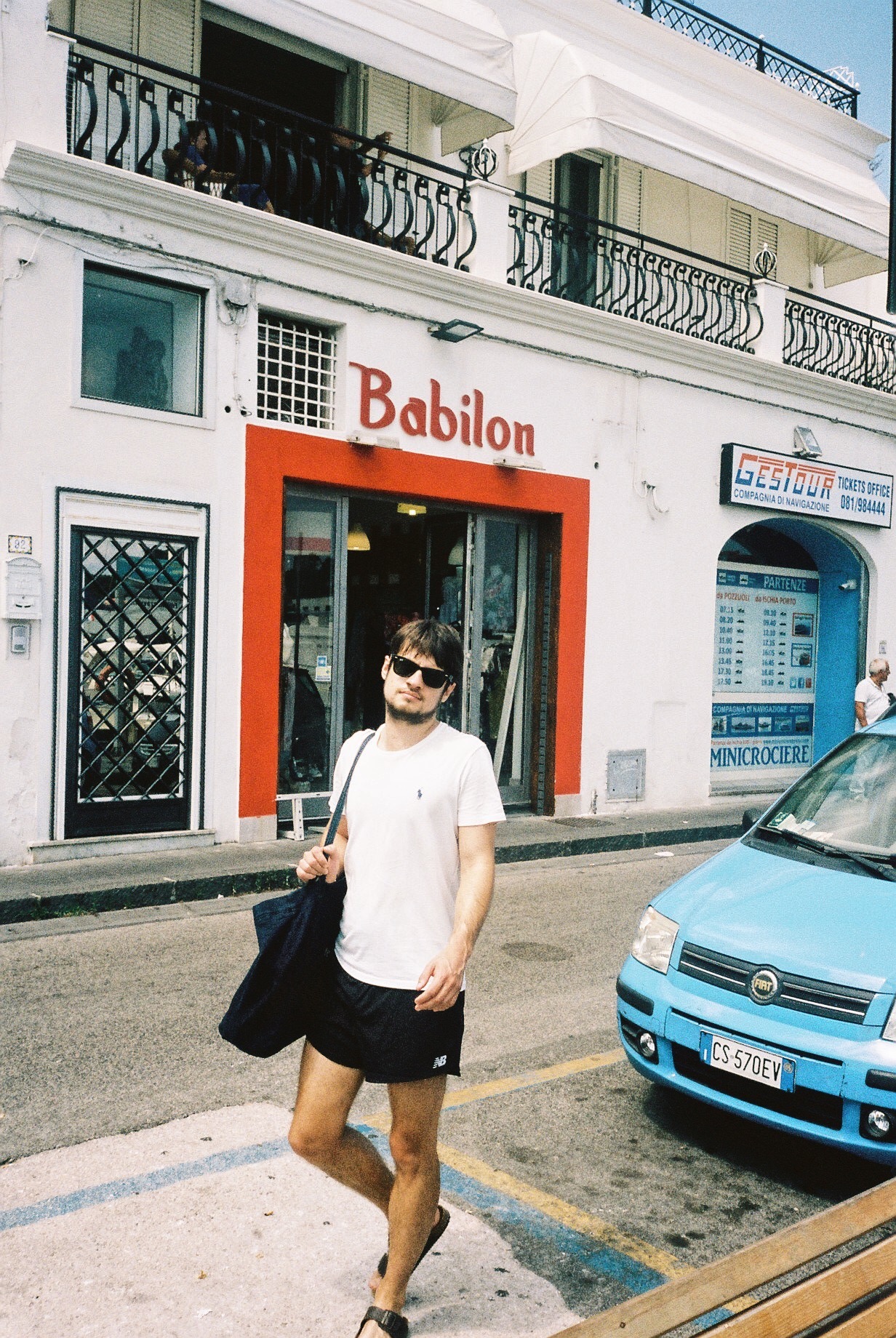 Ischia is classed as the gulf of Naples, but it's actually a good hour on the ferry before you reach the little island. We had a bit of a nightmare getting there, and actually ended up losing the first day of our holiday – I'll just say don't ever fly with TUI airlines and leave a long, boring story at that. We were basically stranded in Naples at midnight, and dropped in a very run down area without anywhere to stay. We can laugh about it now, but at the time all I could think about was how much money we had wasted on missing the first night of our hotel, and forking out for a new hotel room in Naples wasn't exactly ideal. Plus, when you're only heading somewhere for a short week, you kind of pin your hopes on everything running smoothly…
Despite everything, we had an amazing little holiday, and Italy is just somewhere we are both itching to see more and more of as the years go by. We have made so many amazing memories there already, and my wishlist of places to visit just keeps on growing…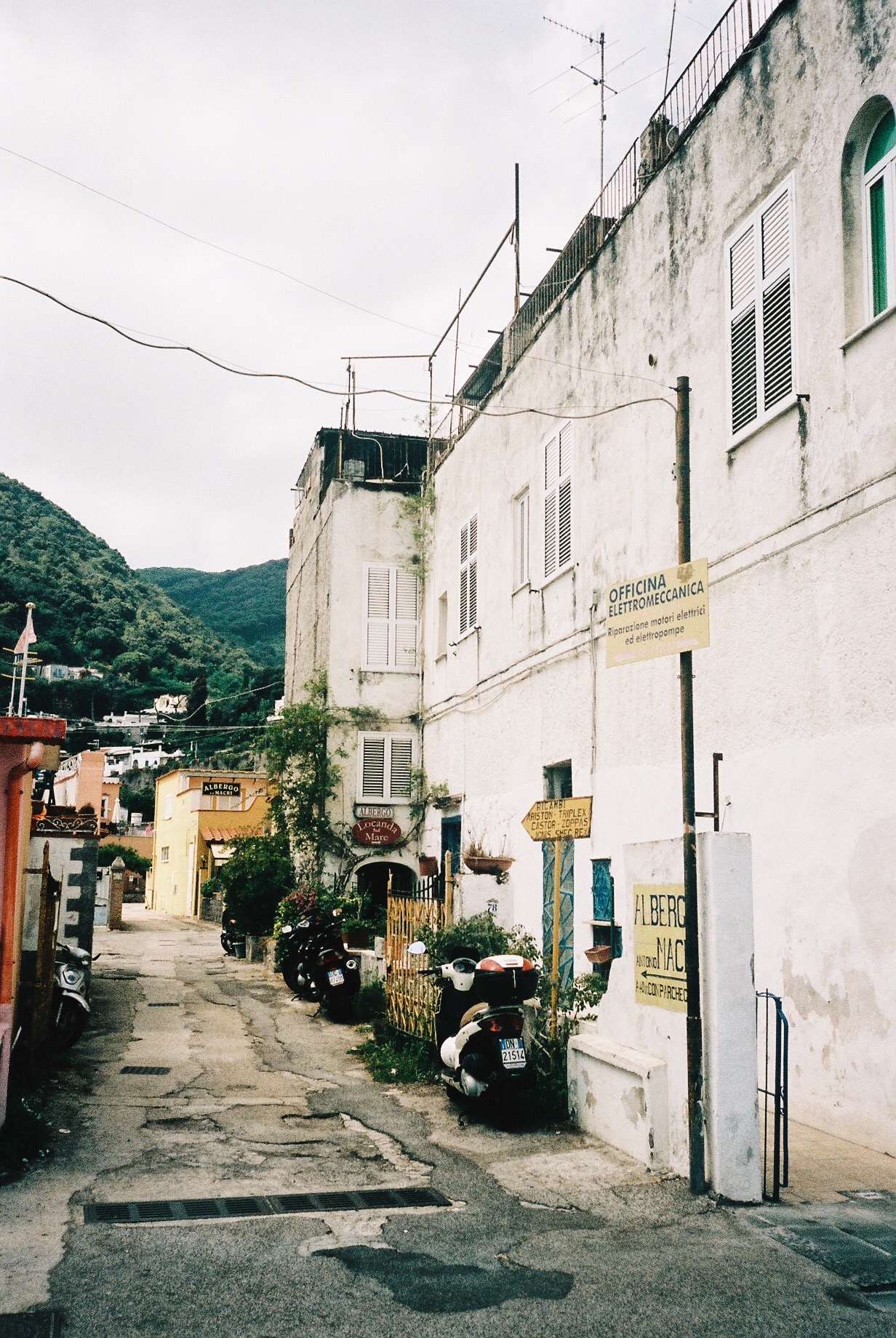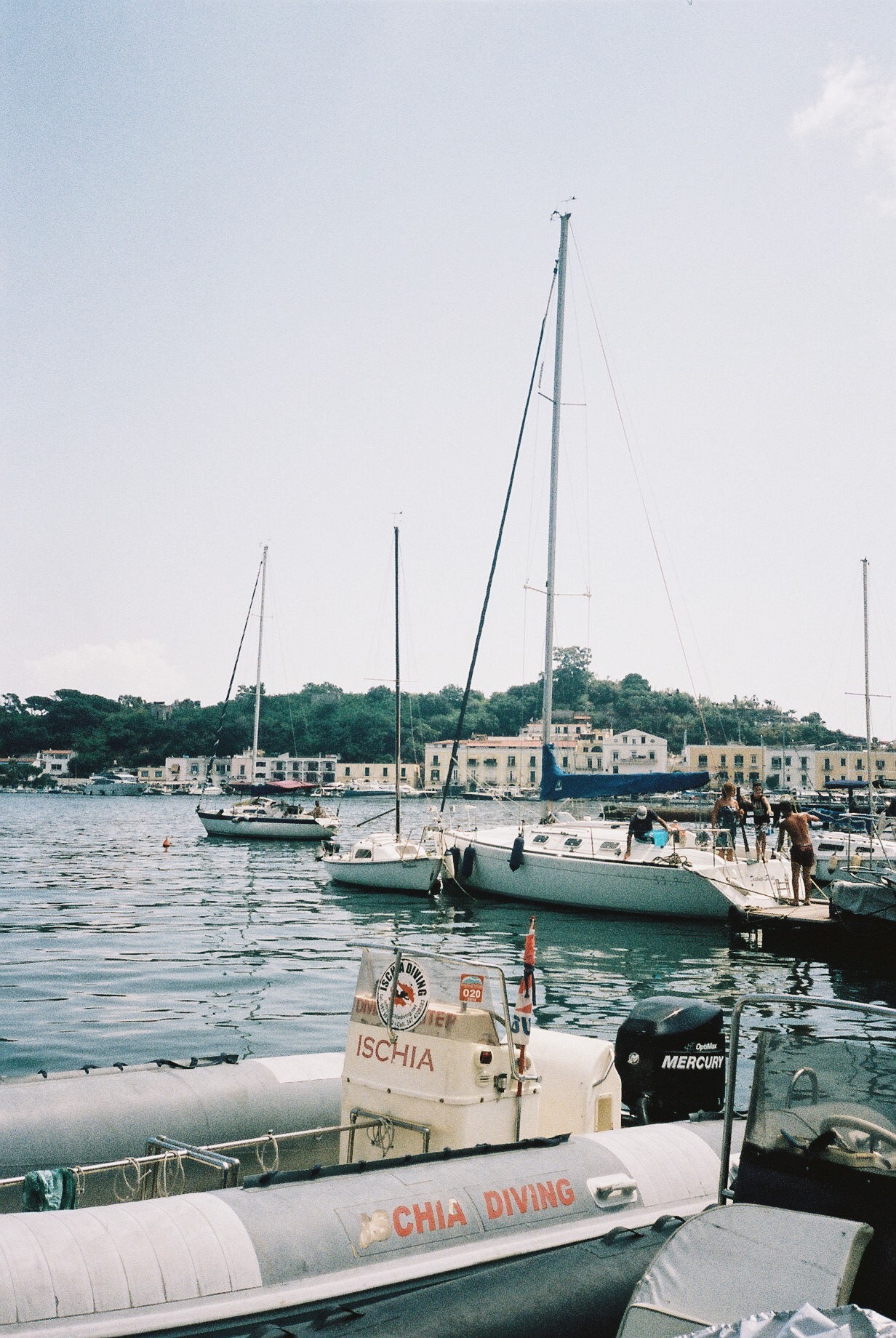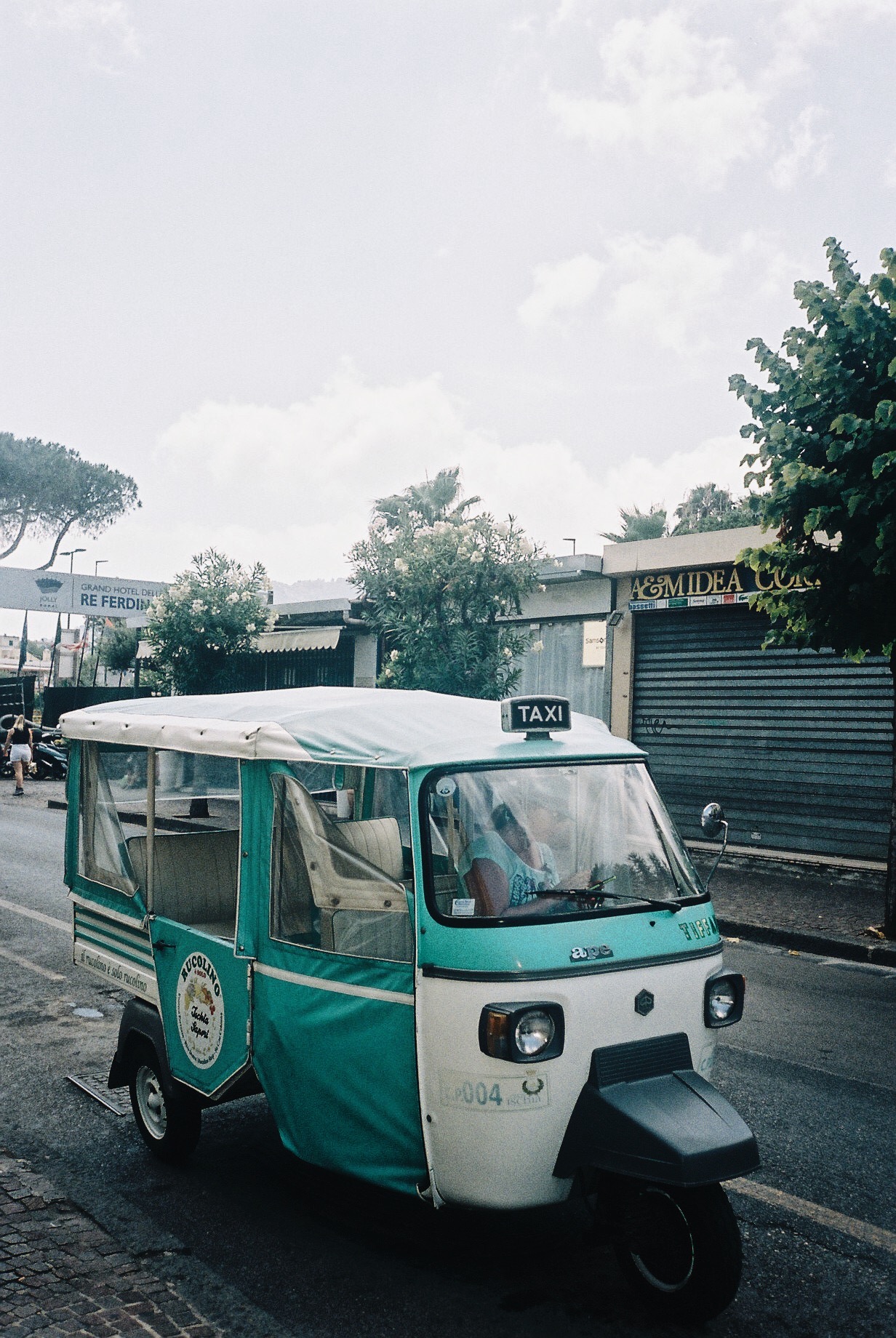 WHERE WE STAYED
We booked pretty last minute (a couple of weeks before leaving) and decided to stay at Hotel Moresco – a spa hotel resort with its own little private beach. I knew that I wanted something as relaxing as possible, so the spa part seemed very appealing. In fact, a lot of hotels in Ischia offer spa features – the island is known for its healing thermal pools, something which brings a lot of tourism to the island. Hotel Moresco is situated in Ischia Porto and is rated as a five star hotel – having stayed there for a week, I wouldn't say that it was worthy of all of those stars, but it definitely had its perks.
Sometimes the service left something to be desired – we got turned away from the hotel restaurant one night because Sam was wearing shorts for instance, but this wasn't mentioned anywhere when we booked. It was around 30 degrees the whole time too, so ain't nobody got time for a suit in that heat. We ended up skulking off and ordering room service that night because I wasn't feeling well – 'lemon chicken' was basically bland chicken and chips. Hardly worth being suited and booted for, so a tad frustrating. The hotel room was lovely though, and the balcony view was incredible – couldn't really fault the room apart from the shower was really basic and either ran scolding hot or super cold. Again, nothing that ruined our time there, but definitely not five star status. Just something to bare in mind before parting with your hard earned cash – a lot of these 'grand' hotels aren't always as grand as they seem. You can't always guarantee what you're going to get, but that's part of the fun of going away and experiencing new places…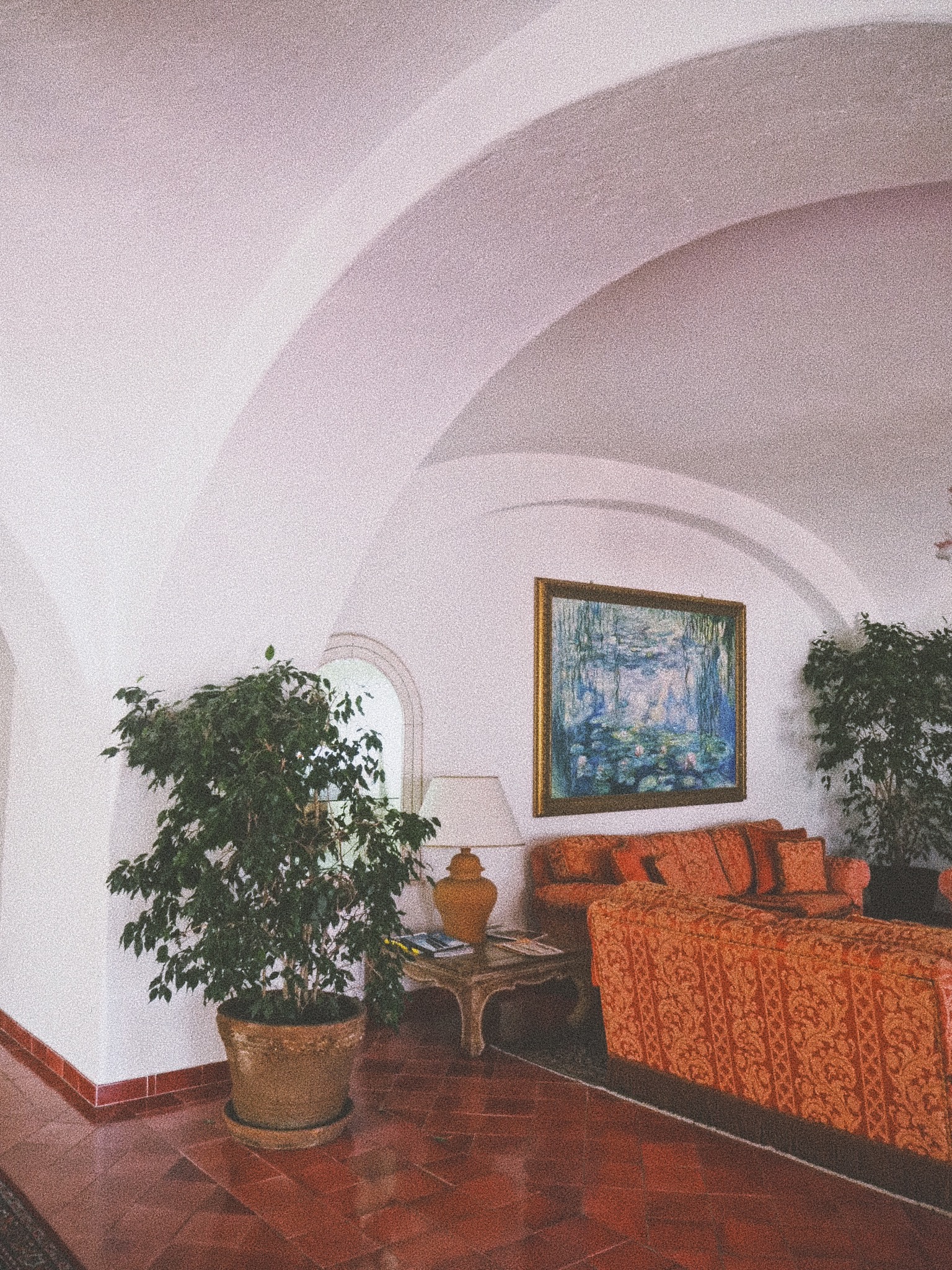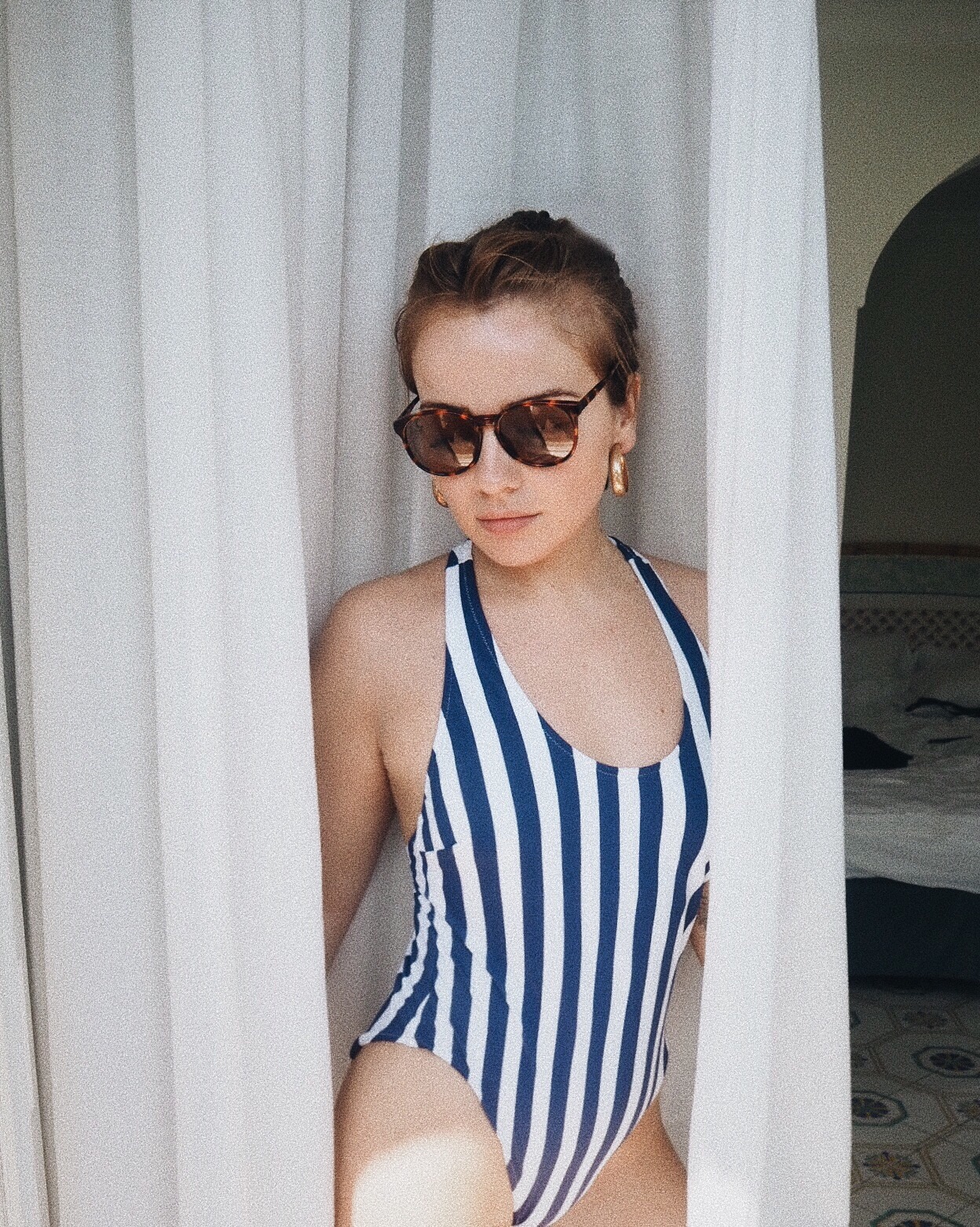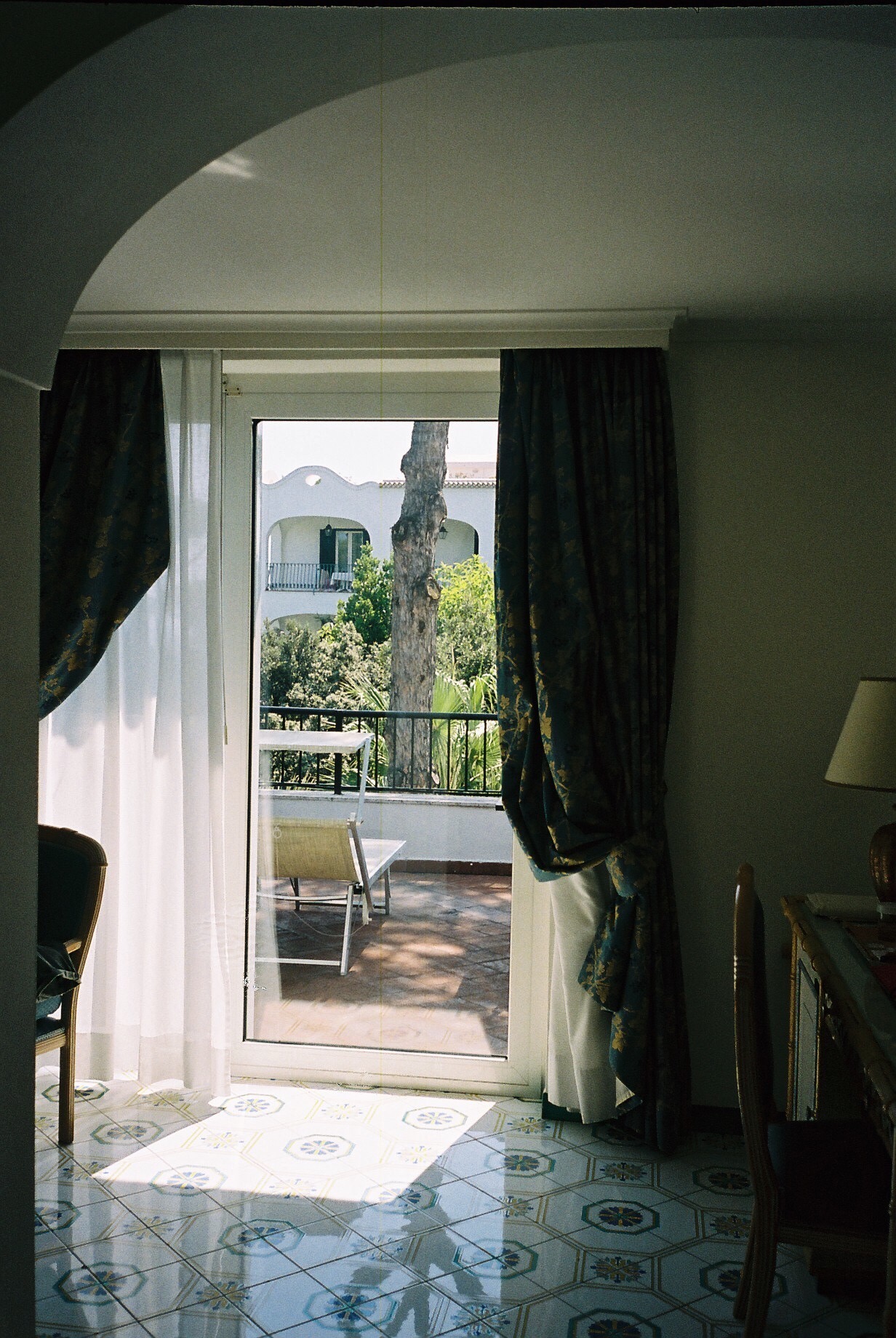 I was really smitten with the quite traditional Italian decor that the rooms boasted. It won't be to everyones taste, but it definitely felt like home for the week. We ate breakfast on the balcony most mornings, and listened to the surrounding wildlife…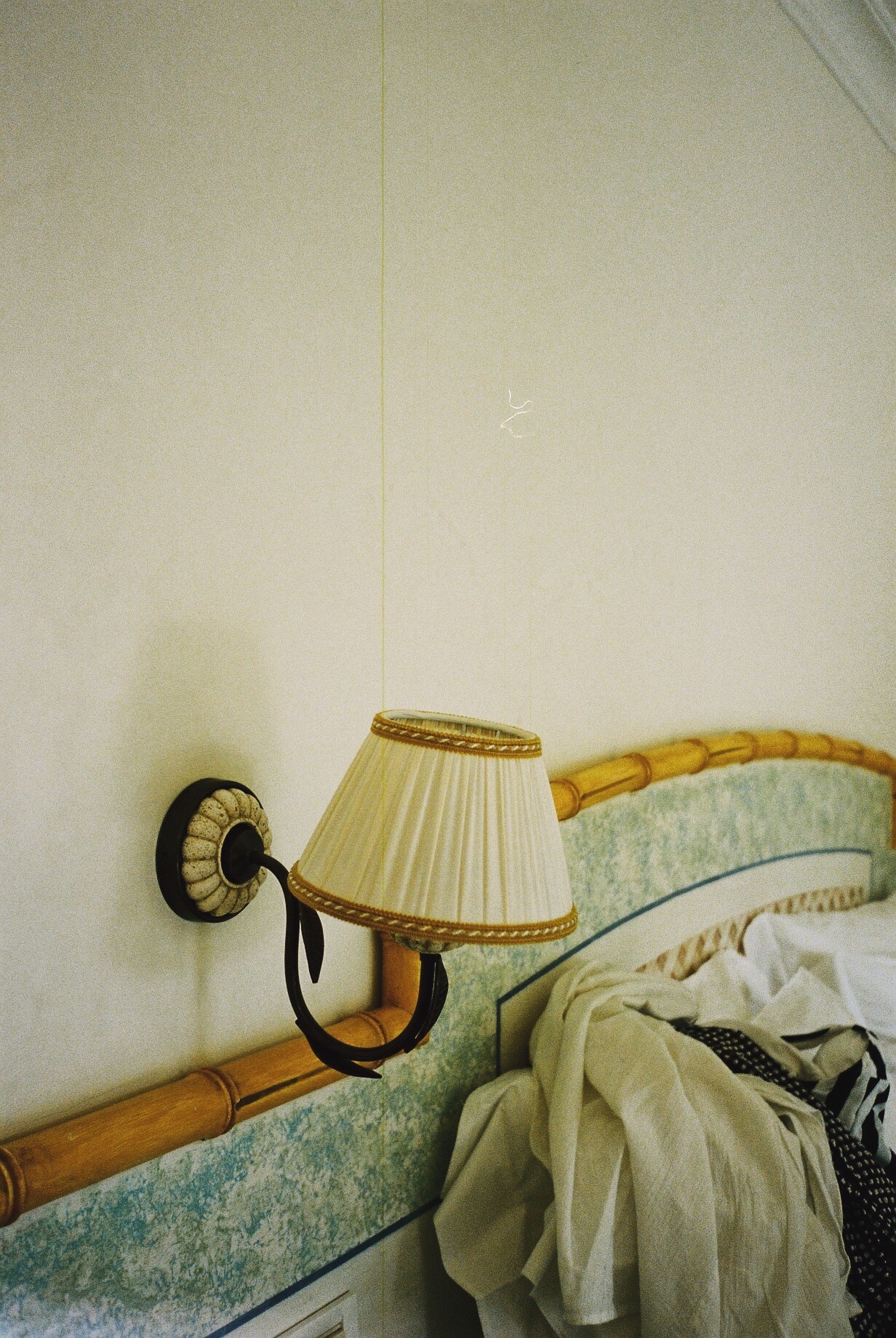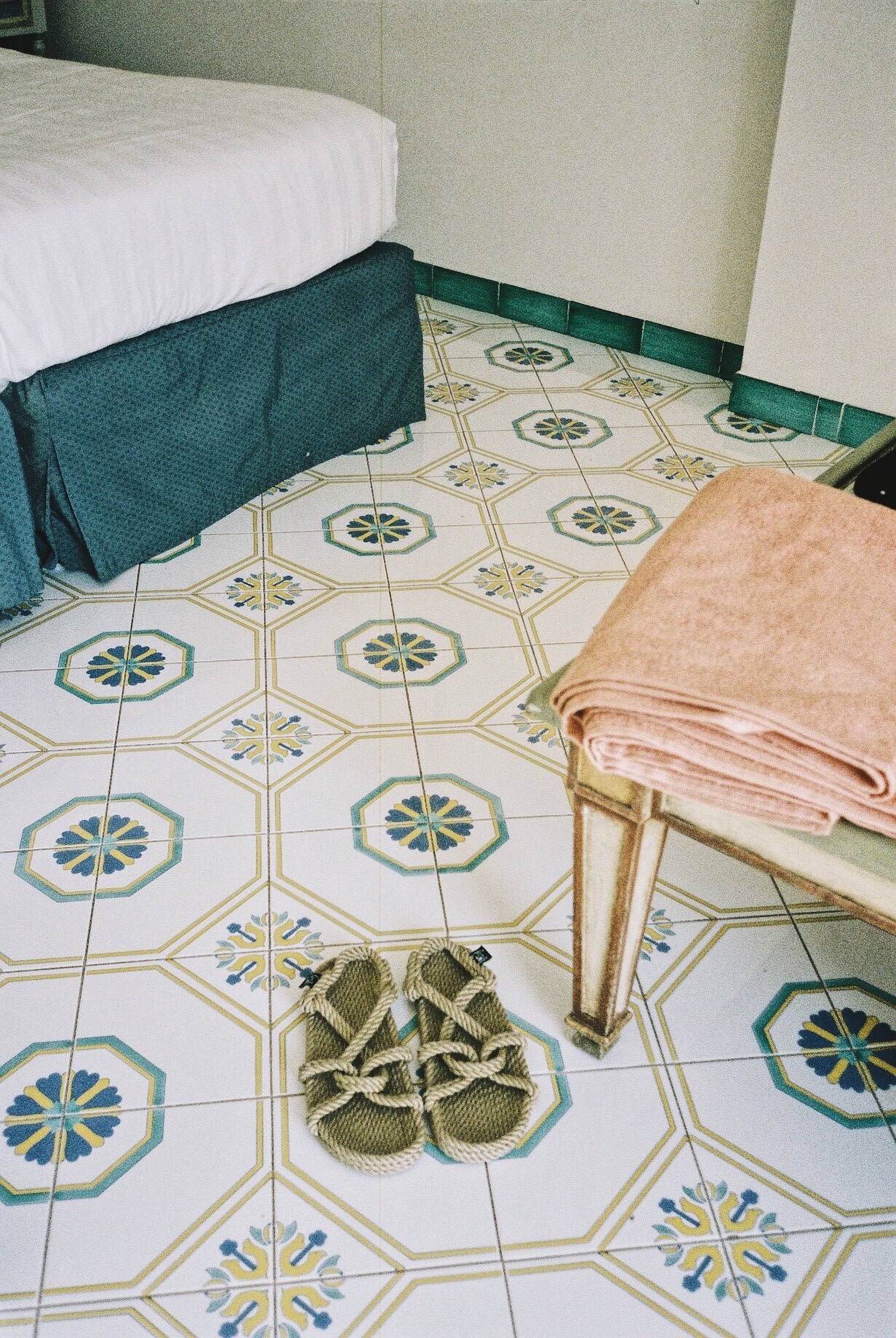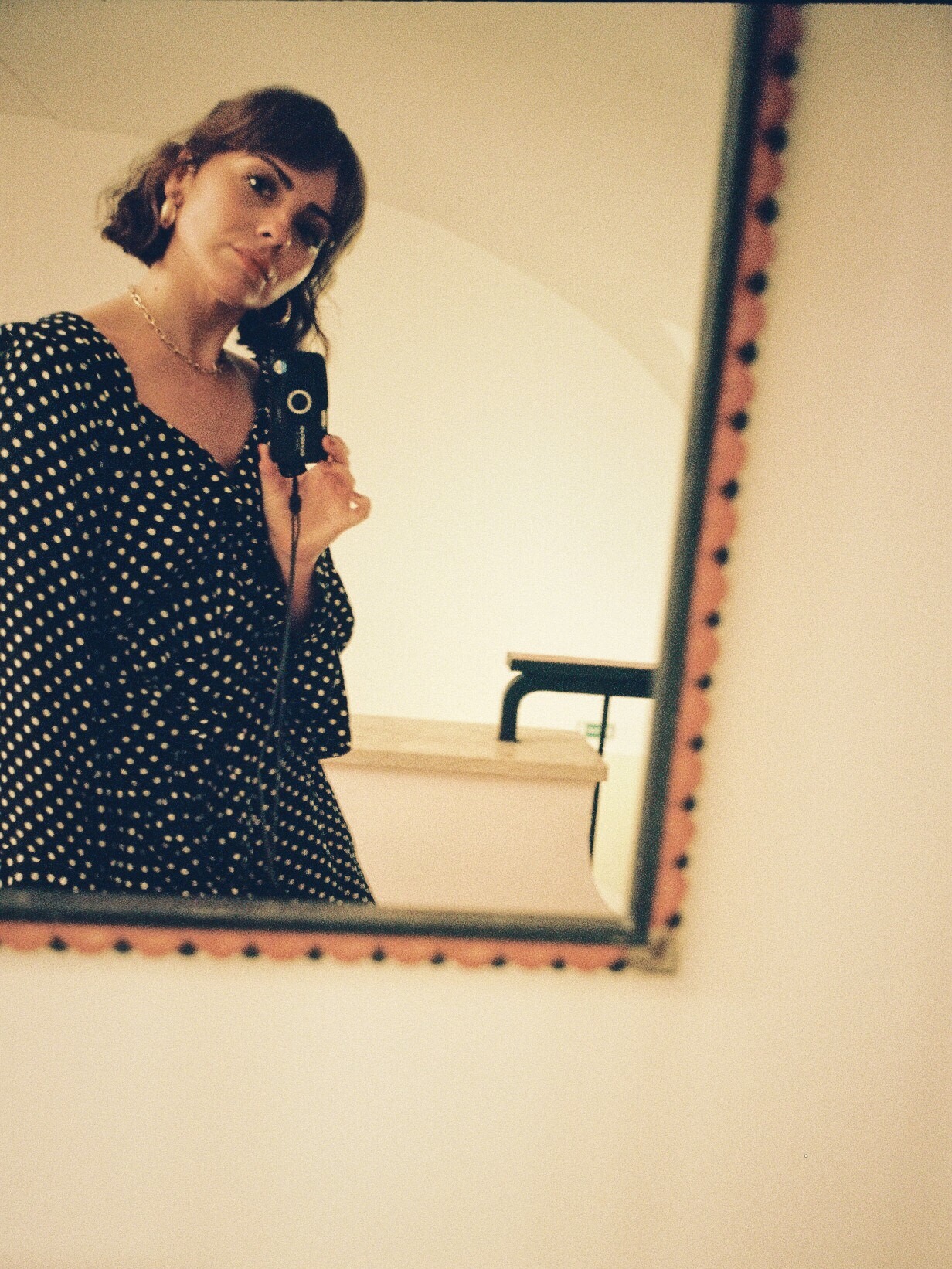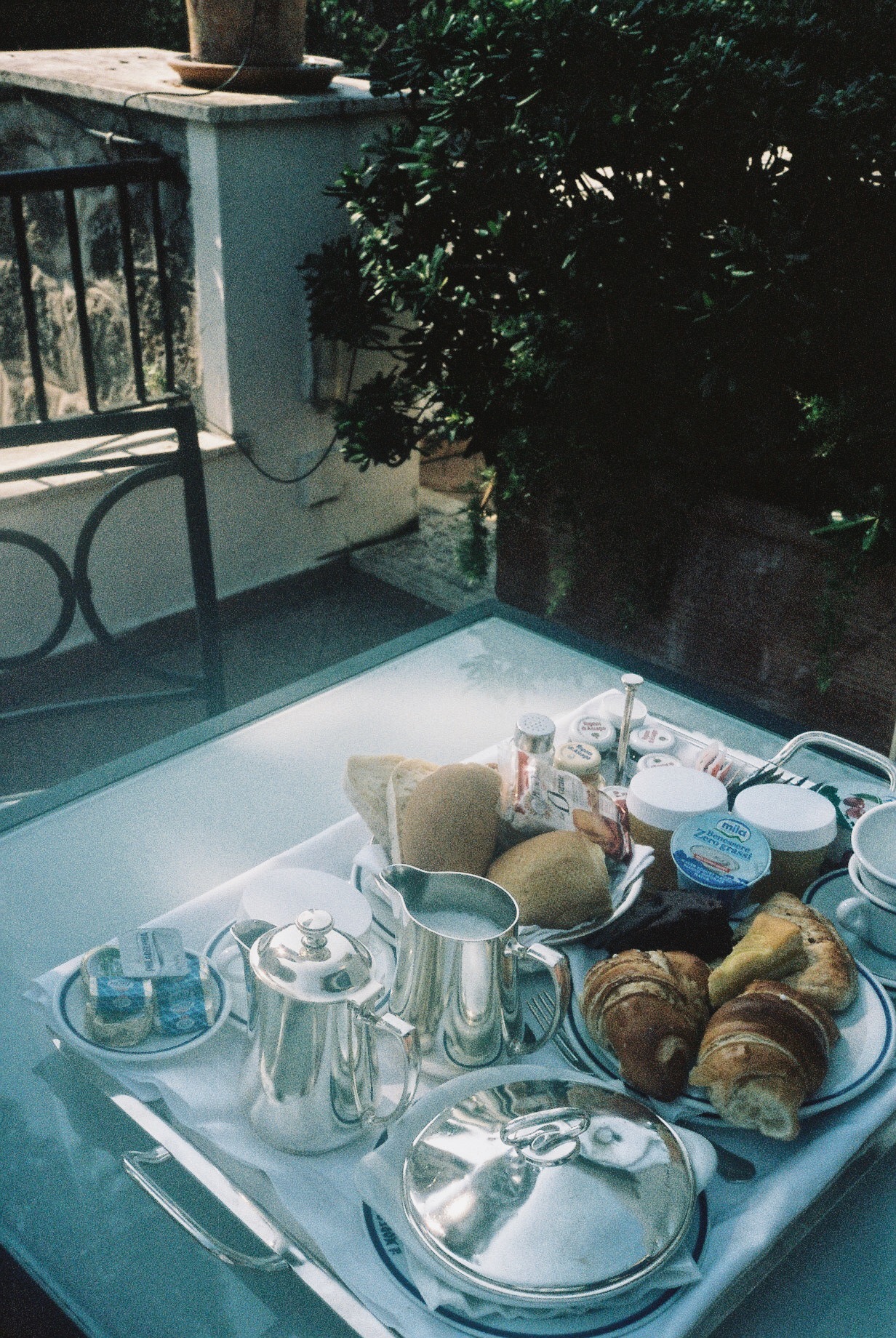 My favourite part of the hotel was the pool area – it was so beautiful, and all the staff were really friendly and attentive. There was also a private beach which was much appreciated because August is a super busy time to visit the island. The beaches were always pretty busy, but evenings spent in the town never felt too crowded at all. Where we stayed was just a short walk before the shops and restaurants started to appear – little boutiques selling the usual shell adorned attire and gelato in every colour of the rainbow.
It was really easy to walk around and explore, but there's also taxis everywhere if you fancy saving your feet, or heading somewhere a bit further away. It's a small island, so wherever you stay, you can still travel to all the main beaches/sights without too much fuss. That's really the great thing about Ischia, if you're not in love with the place that you end up in, somewhere with a completely new vibe is never too far away…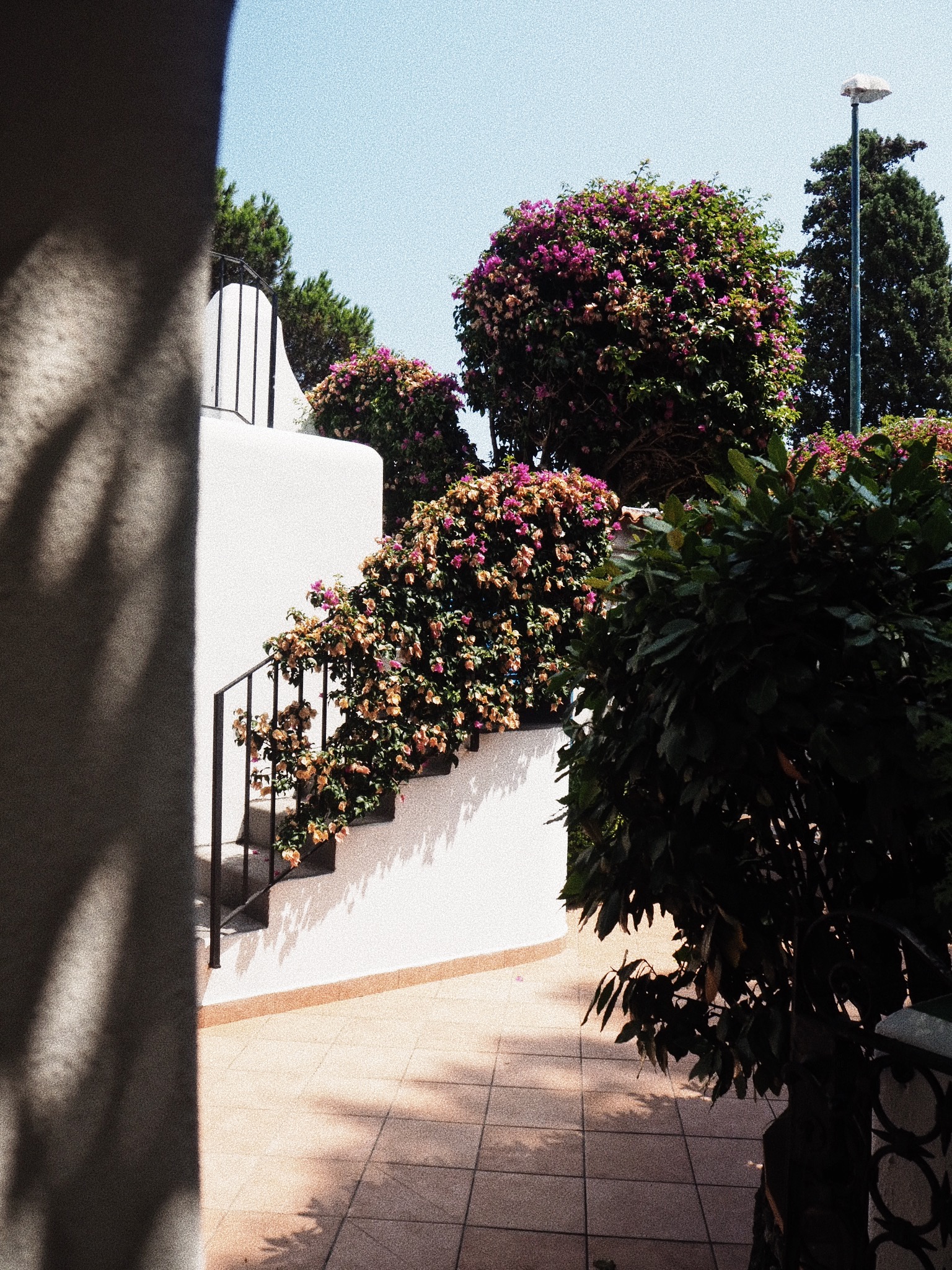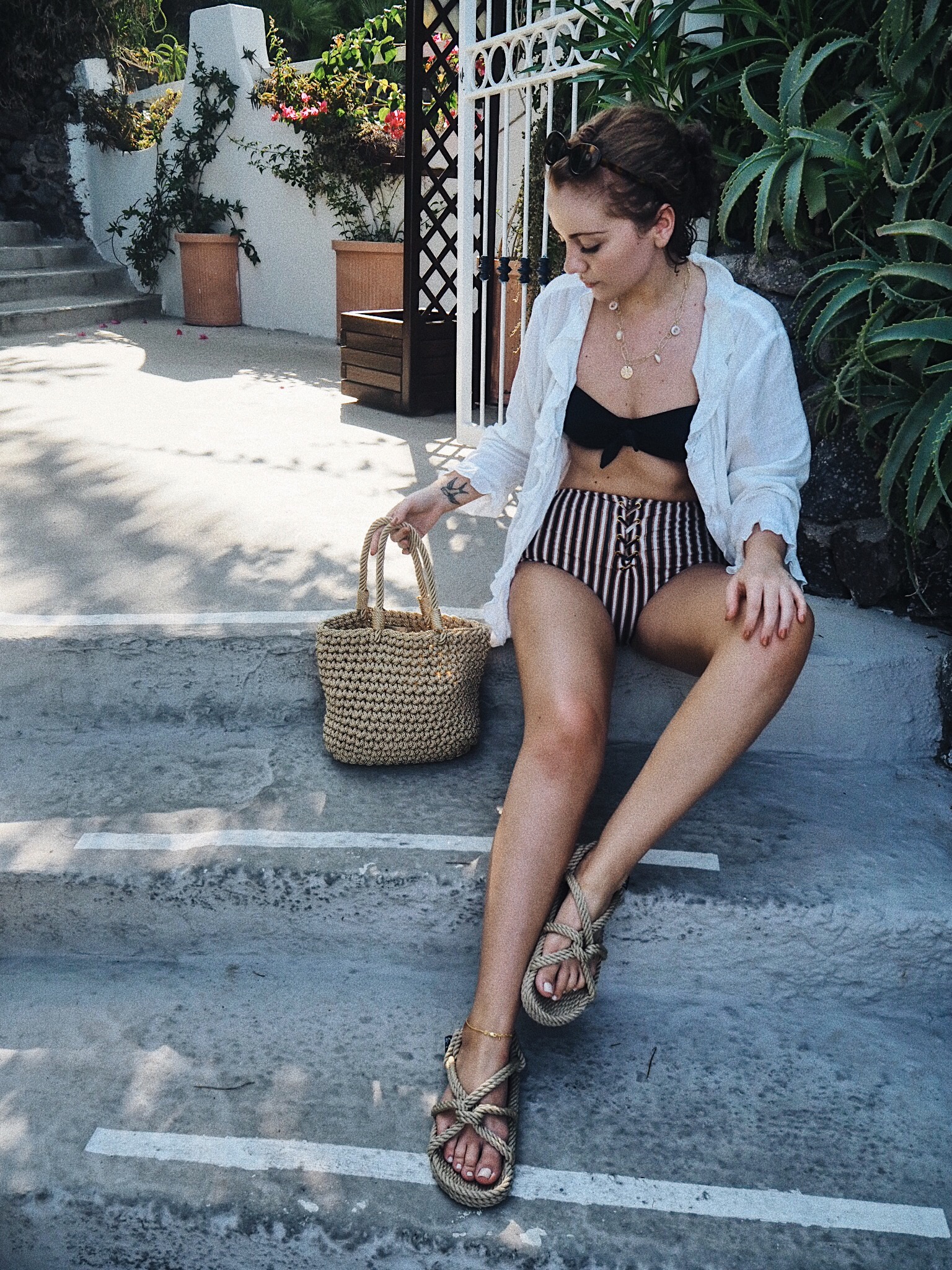 ISCHIA PORTO & ISCHIA PONTE
The main town is divided into two parts – Ischia Porto and Ischia Ponte. This can make it quite confusing when you're trying to book accommodation as it's tough to really know where's best until you get there. We decided on Ischia Porto – it's home to the more luxurious/spa style hotels which really appealed to me as I'd saved up for something that felt a bit more on the luxury side. It's got a street full of boutique shops and enough restaurants and bars to keep you happy during your stay…
Ischia Porto is situated on the North East side of the island, and the easiest way to remember it is to just think of the main port – it's where you get dropped off from Naples, you arrive straight into Ischia Porto…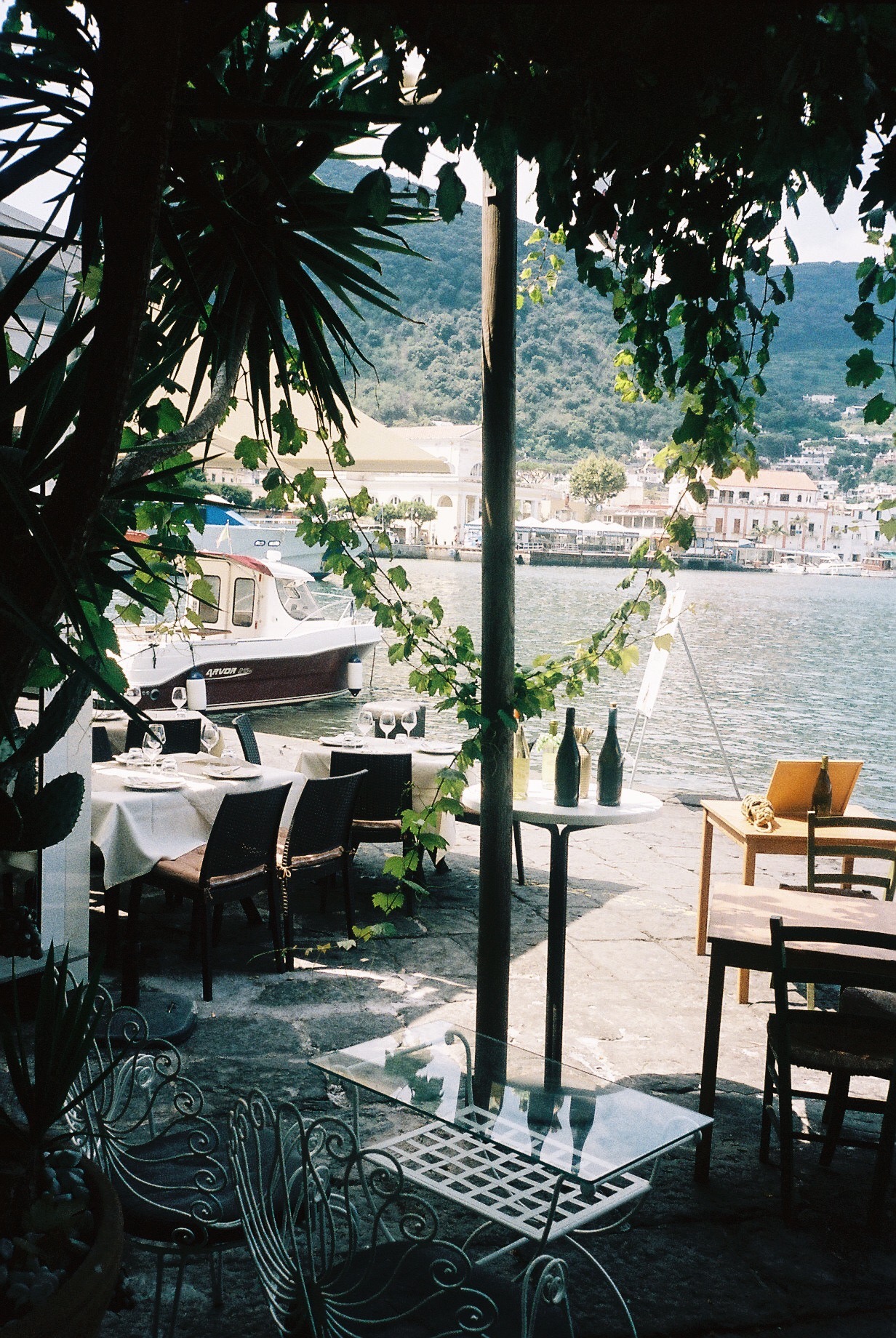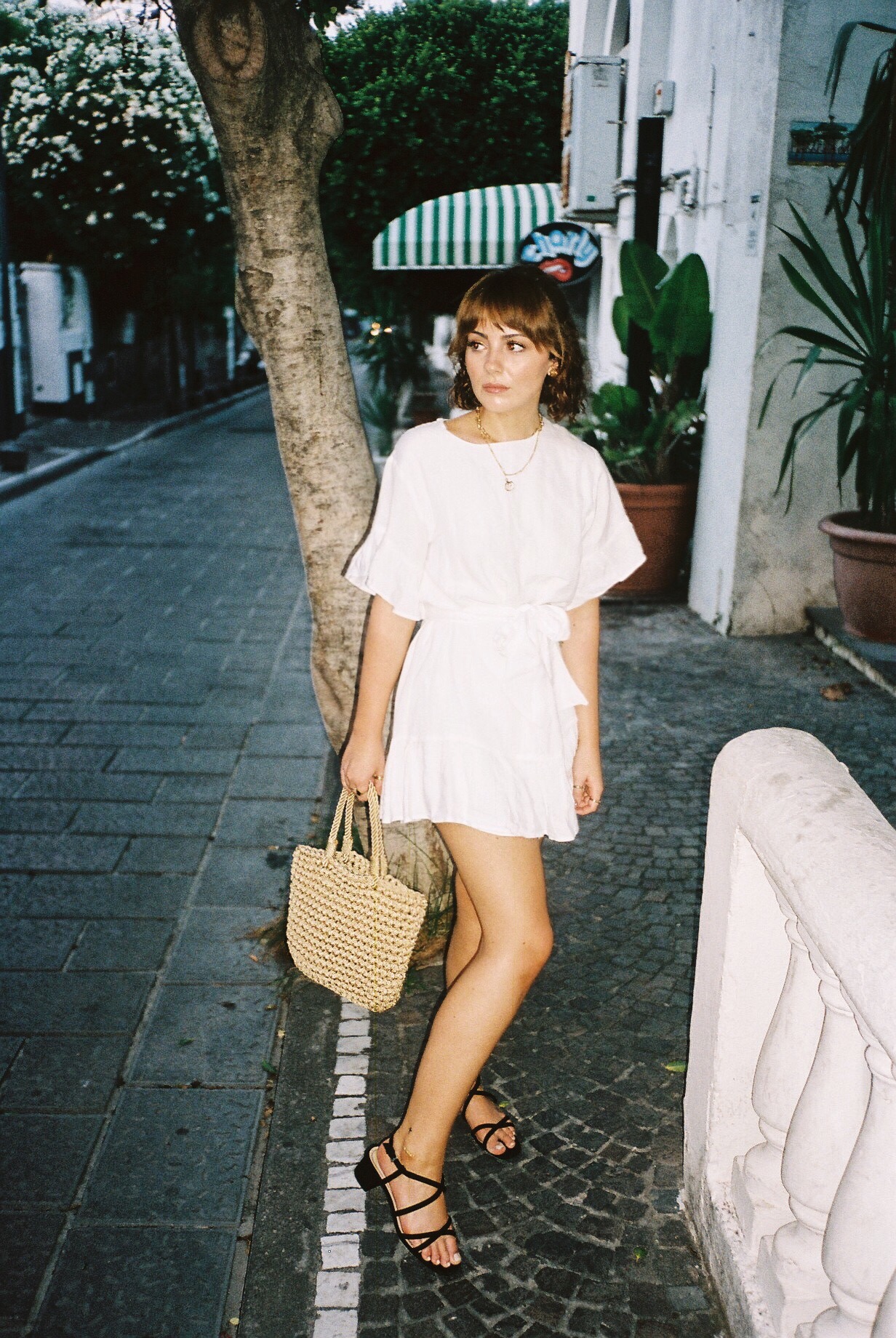 Although we stayed in Ischia Porto, it was Ischia Ponte actually ended up being our favourite place to walk to in the evenings. I don't know if it's just the time that we visited, but we felt it had much more of an atmosphere, and much better restaurants to choose from. It has lots of winding streets, and in general is just a bit more interesting to look at. It's also home to Castello Aragonese – a medieval castle that you can see from some of the beaches. You can cross the bridge from the main square of Ischia Ponte and pay the castle a visit – the main square is very romantic at night time when its all lit up and filled with street musicians…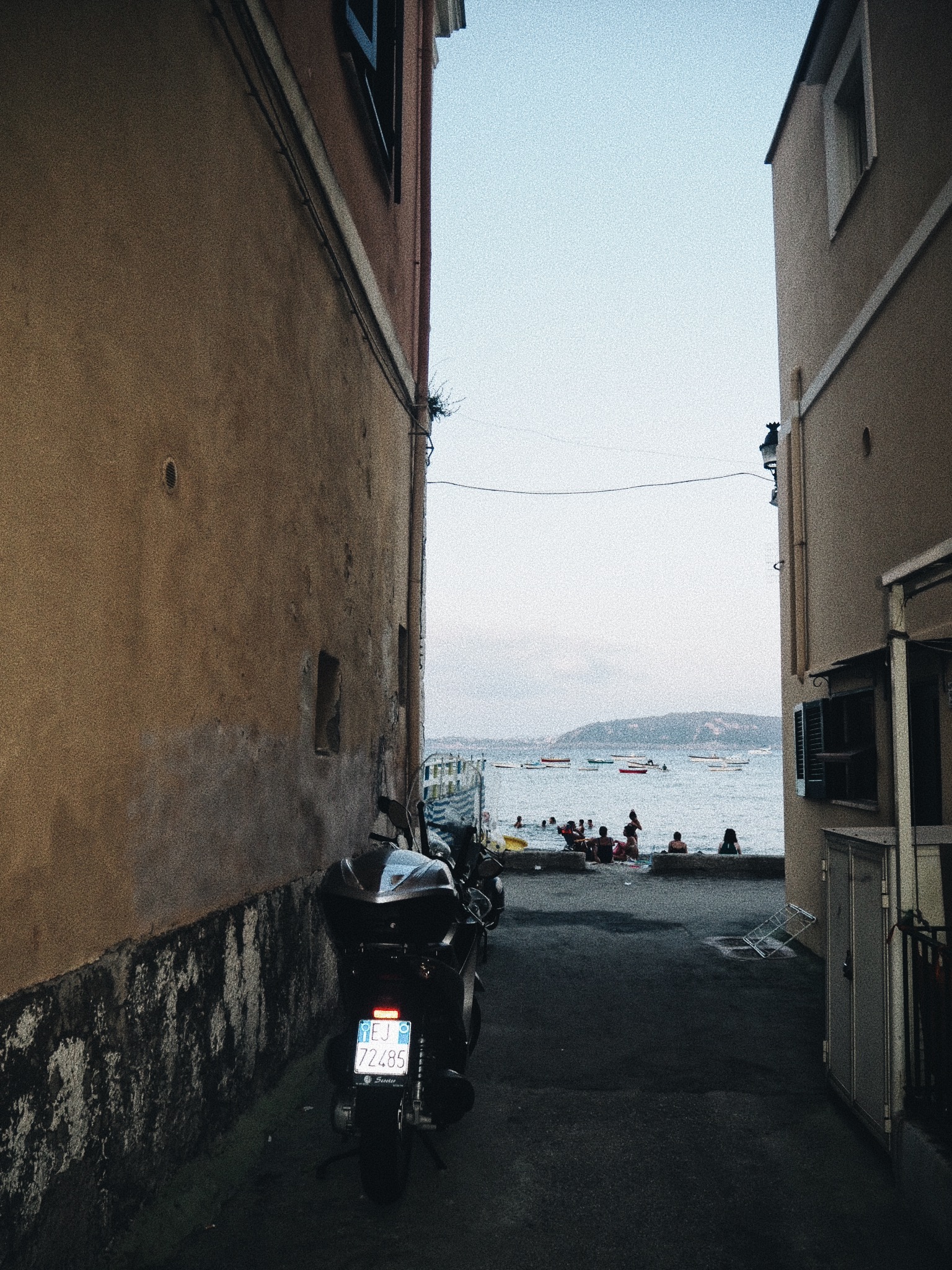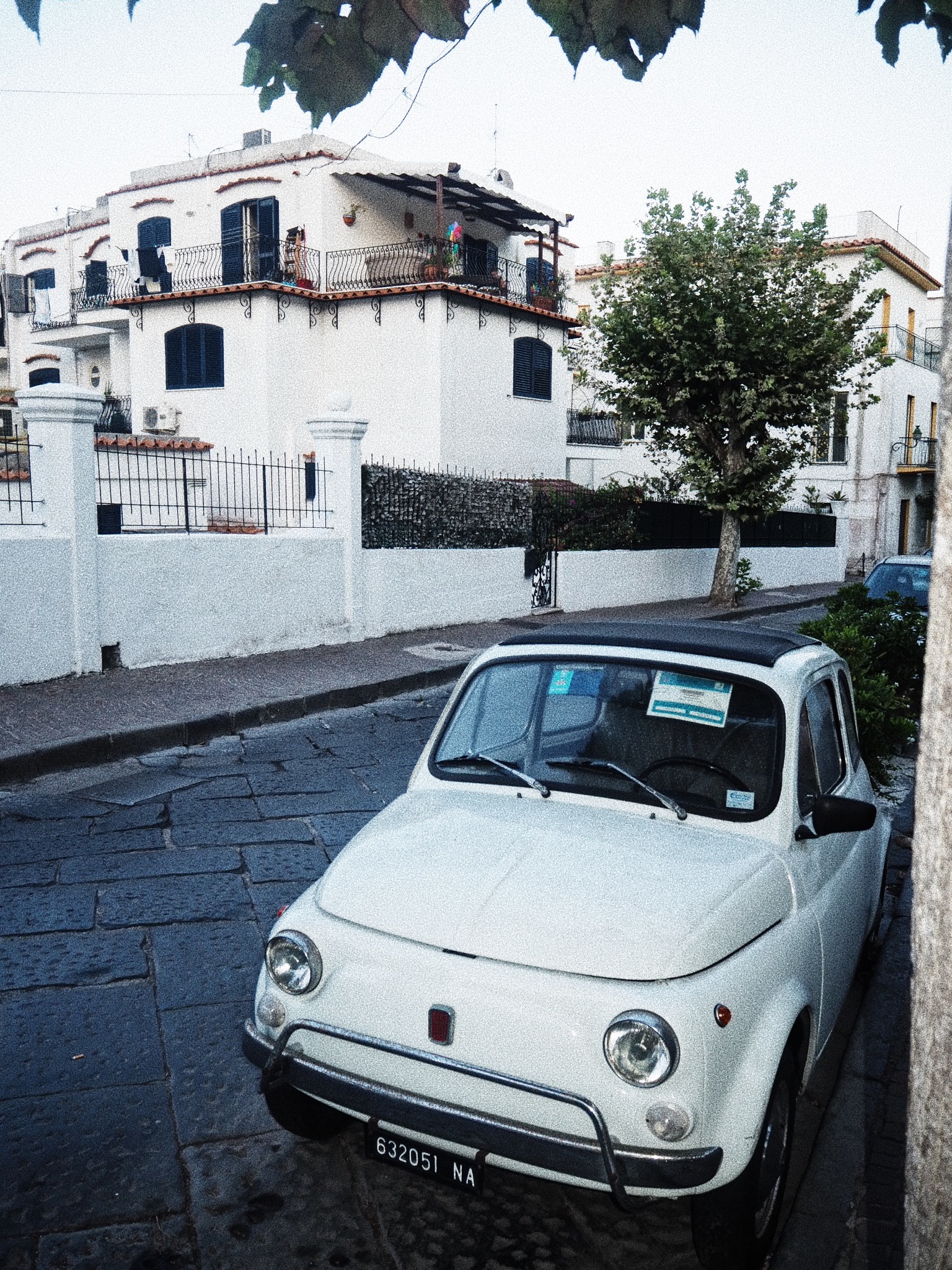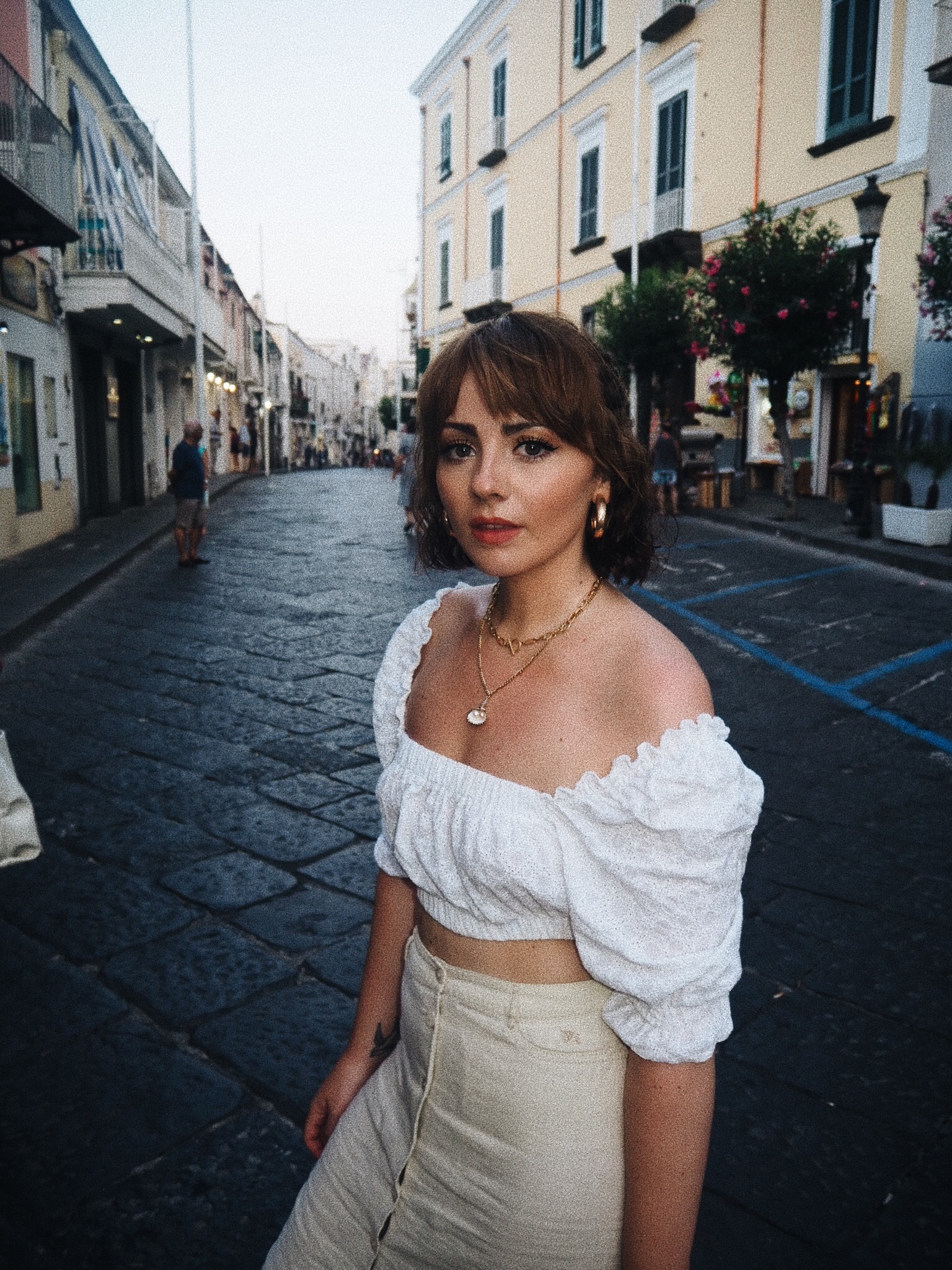 Most of these pictures were taken during in our evenings spent in Ischia Ponte by the castle. I had some amazing swordfish at Da Ciccio which I would highly recommend for both food and atmosphere. Check out my Instagram story highlights for some live holiday action if you're not someone who has the time to read blog posts – I always update my stories lots when I'm travelling because I have so much fun putting them together …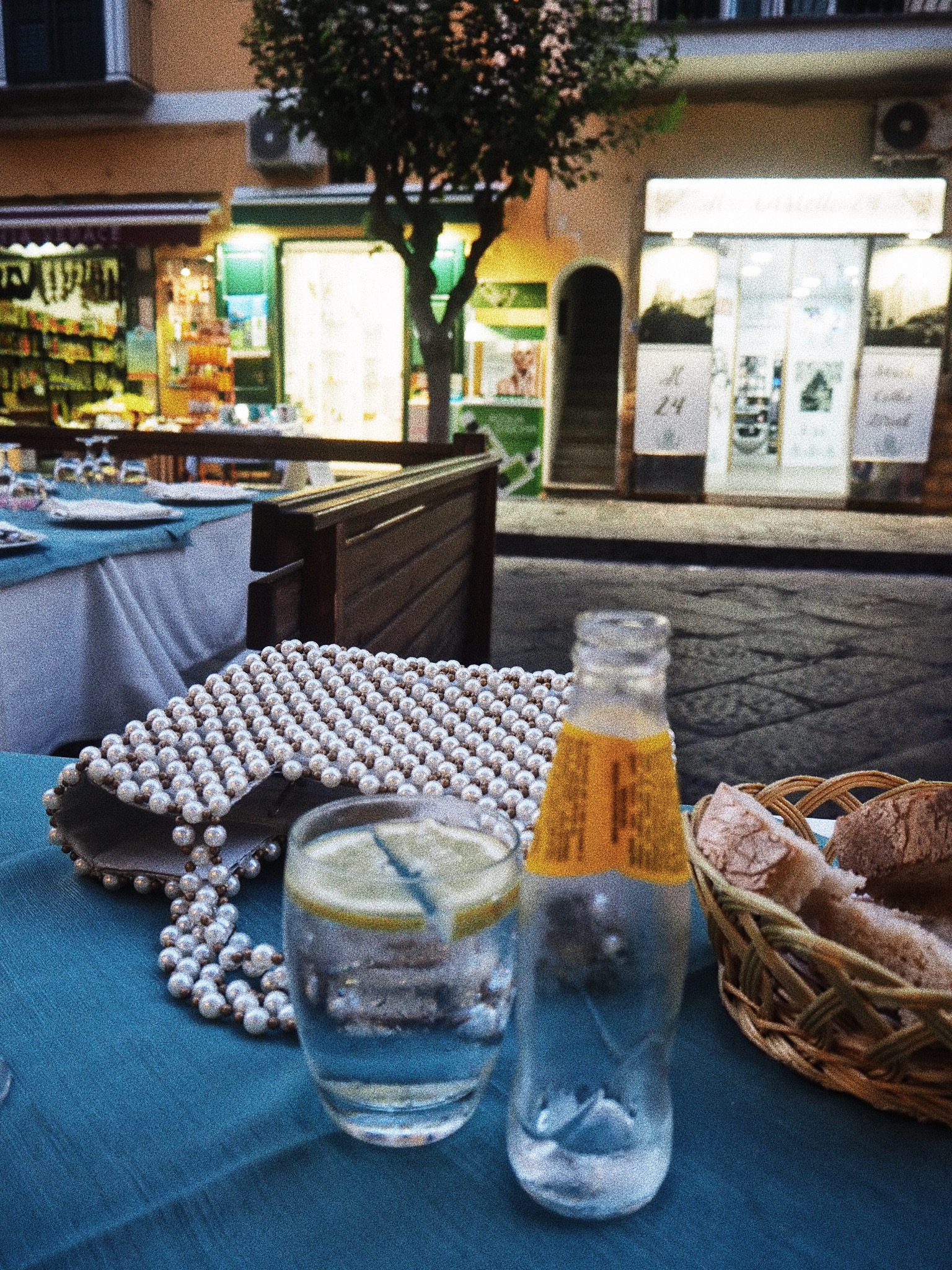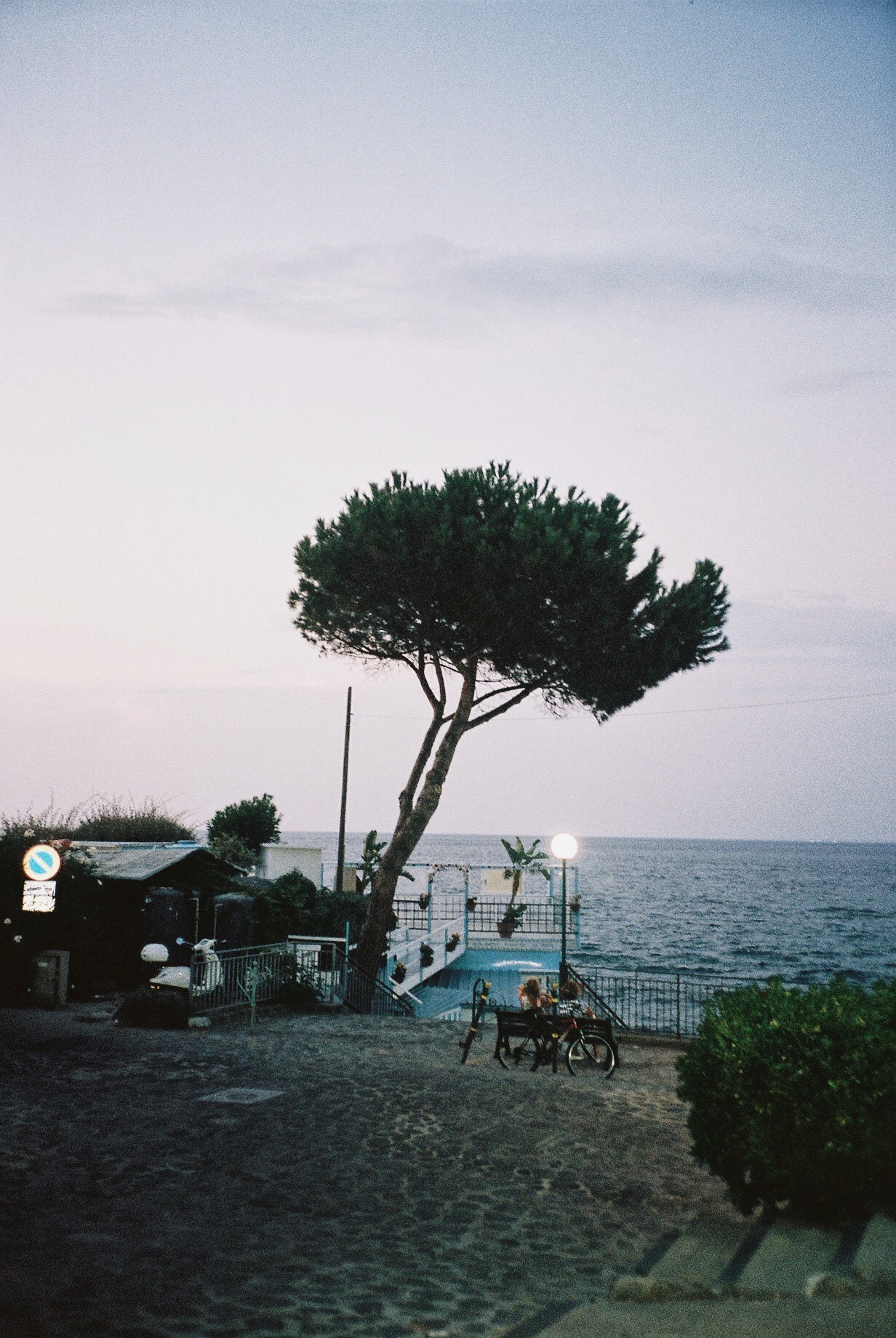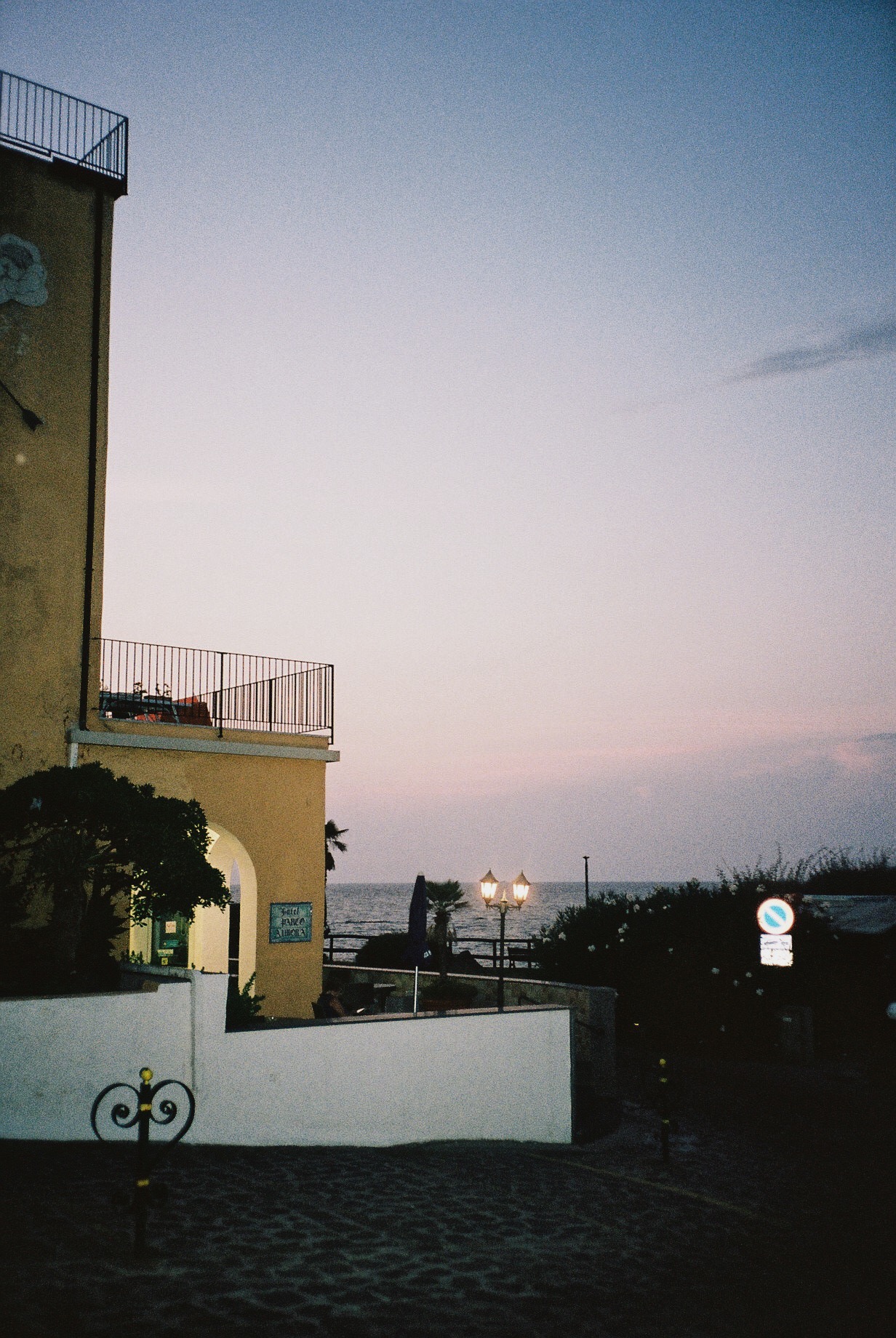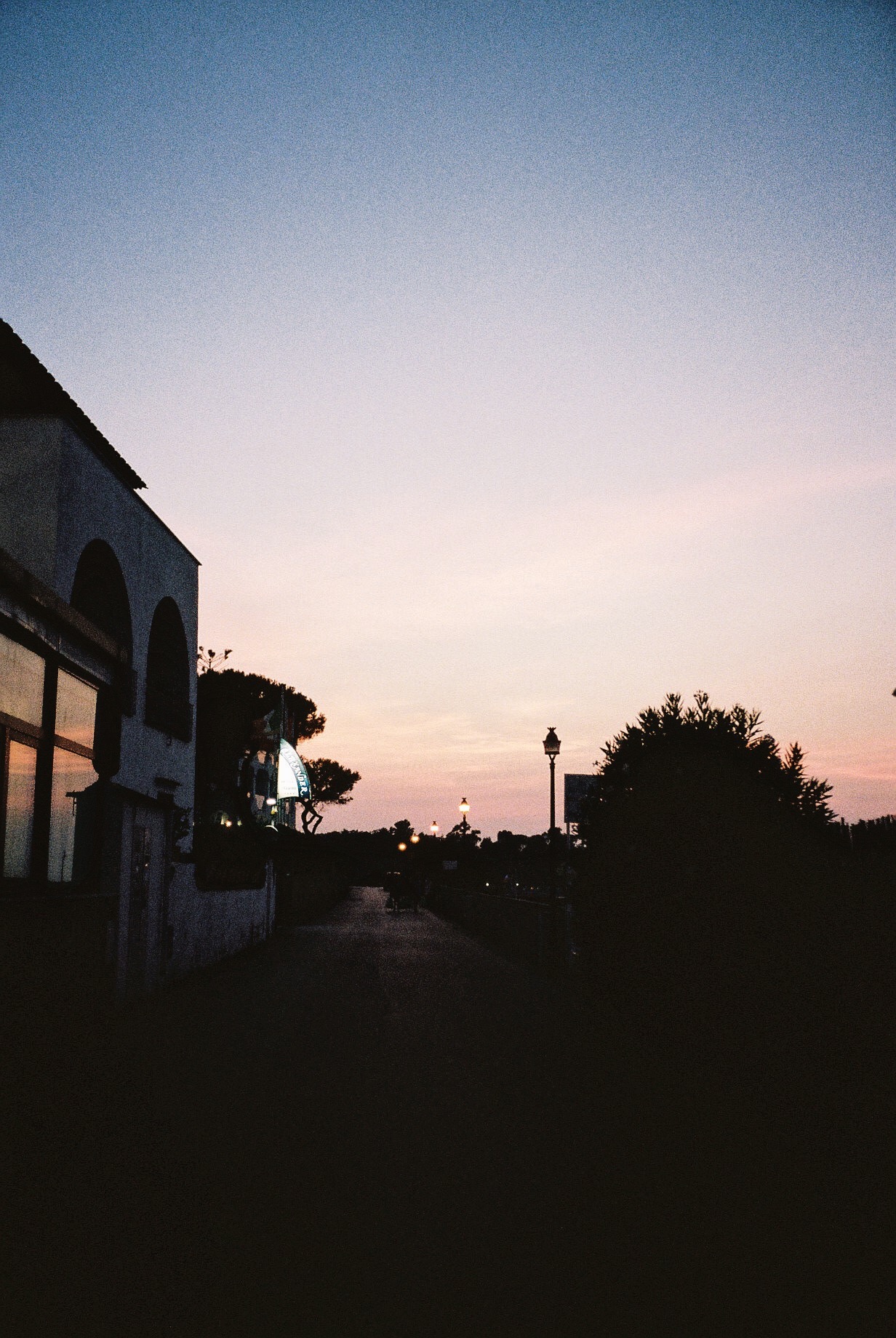 A DAY TRIP TO CAPRI
This was definitely my favourite activity of the whole holiday because it was just completely spontaneous. We had planned a little day trip to Capri via ferry, but when we got there it was super busy and overwhelming. The first thing we spied (before we had even got ourselves a drink) was a little boat hire place. For something really cheap like 60 euros, you could hire a boat for two hours and drive all the way round the island. It was a proper boat with an engine and an anchor and everything – little miss failed her driving test five times is apparently very at ease with driving in the sea though…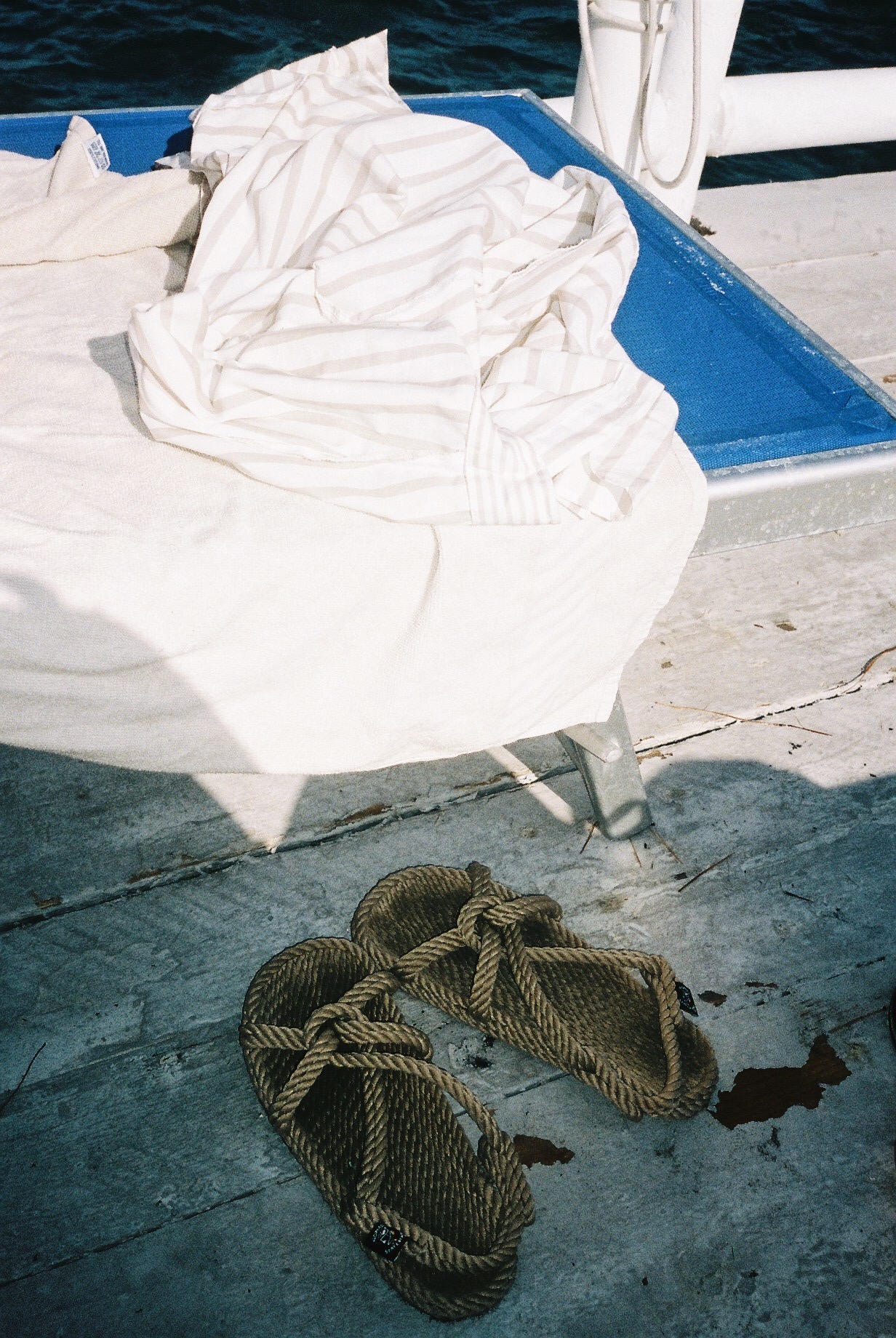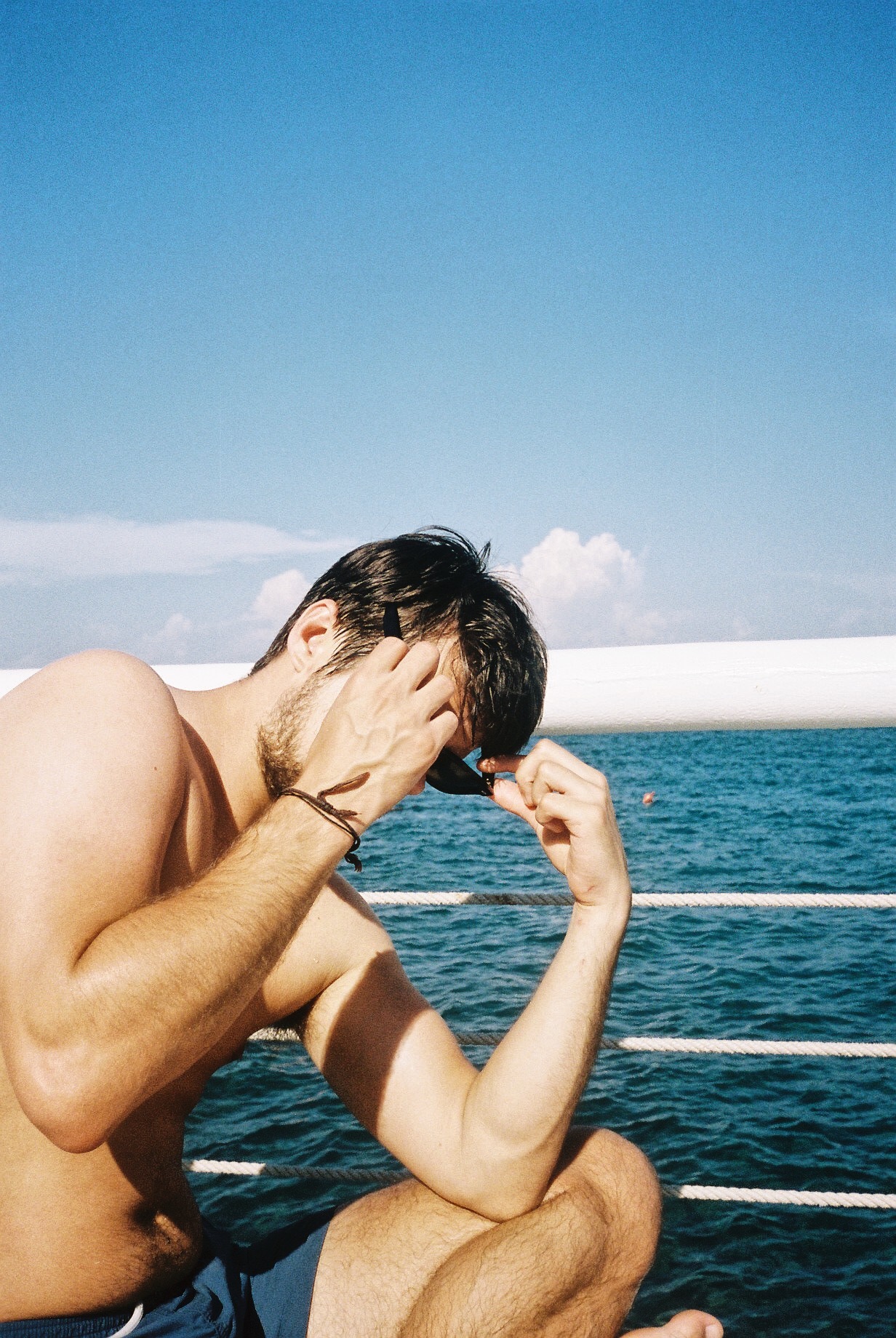 I can't guarantee how safe this was by the way (side eye emoji), I did find myself thinking a few times that it's all fun and games until the weather turns, but there was lots of other boats around, and we soon got used to what speed was best. We stopped off at a couple of the grottos along the way – there's The Blue Grotto and The Green Grotto, we were told the Green Grotto was usually less busy but just as beautiful. If you're going to hire a boat – make sure you take a high SPF, enough water, and some snacks just incase you end up being out for longer than originally planned. It's pretty hard work when you're doing it for a couple of hours and stopping off to swim along the way…
but so so worth it.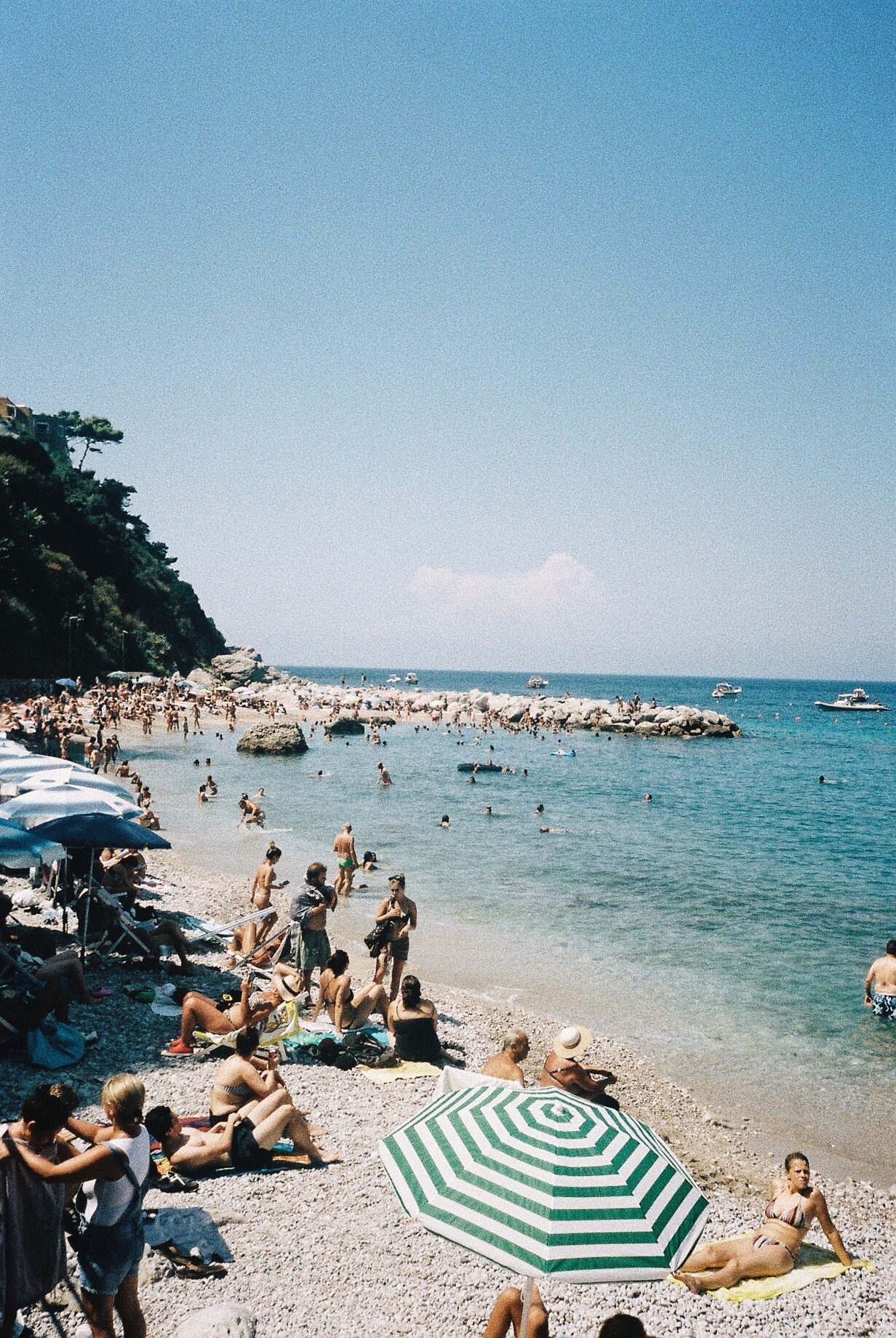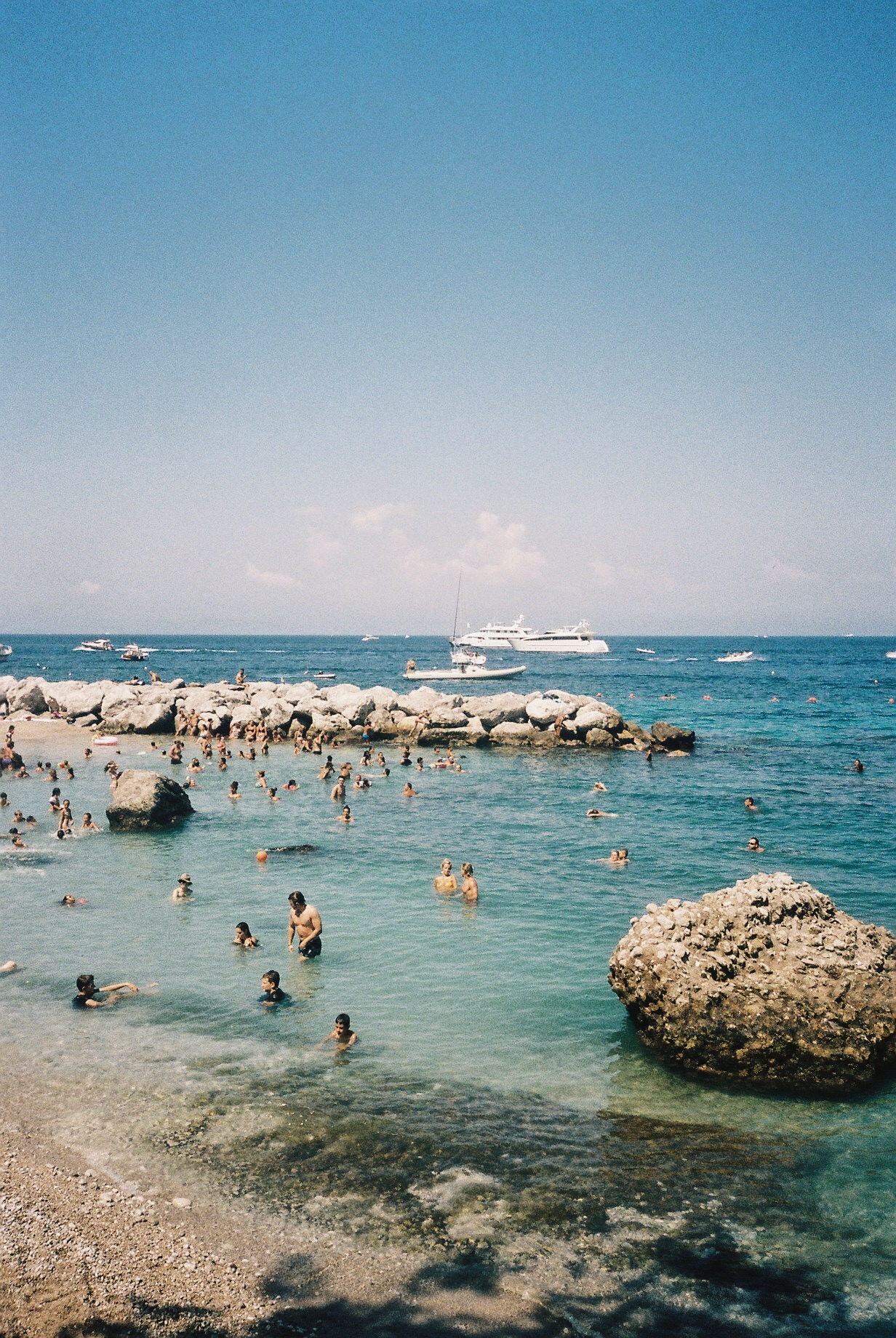 As you can see from the above snaps – Capri was packed, but we did visit in August which is high season for travellers and holiday makers. It didn't stop us from enjoying our time there though, and there's so many day trips available from Ischia if Capri doesn't appeal to you. We also looked at Positano and other places along the Amalfi coast – pretty much all of the day trips from Ischia were under a hundred euros, and I definitely would have booked a couple more if we had been there for more than a week. My main priority of the holiday was to take it easy (which I never quite manage to do as much as I'd like), and switch off from reality a bit – again, something I'm still trying to master…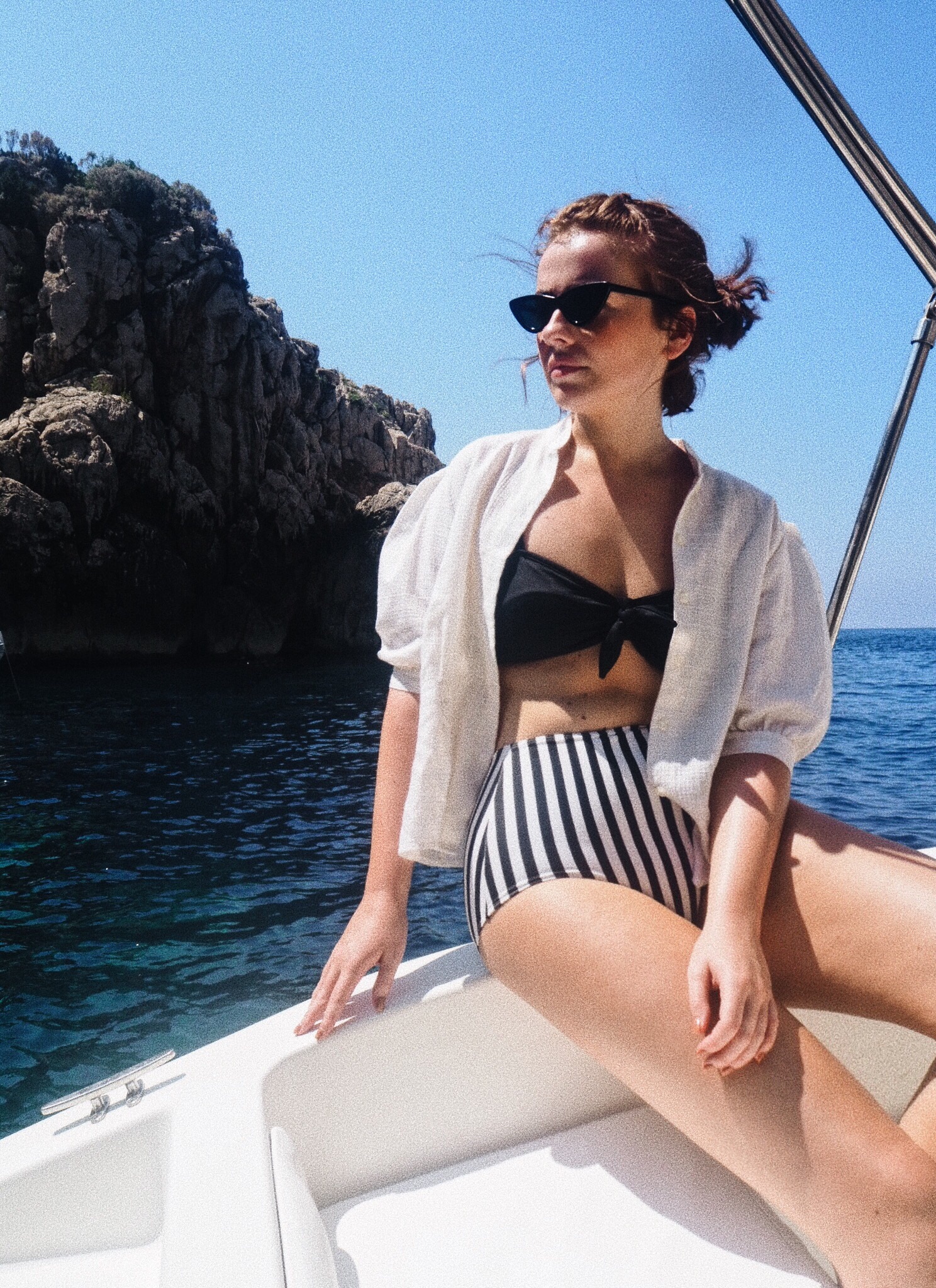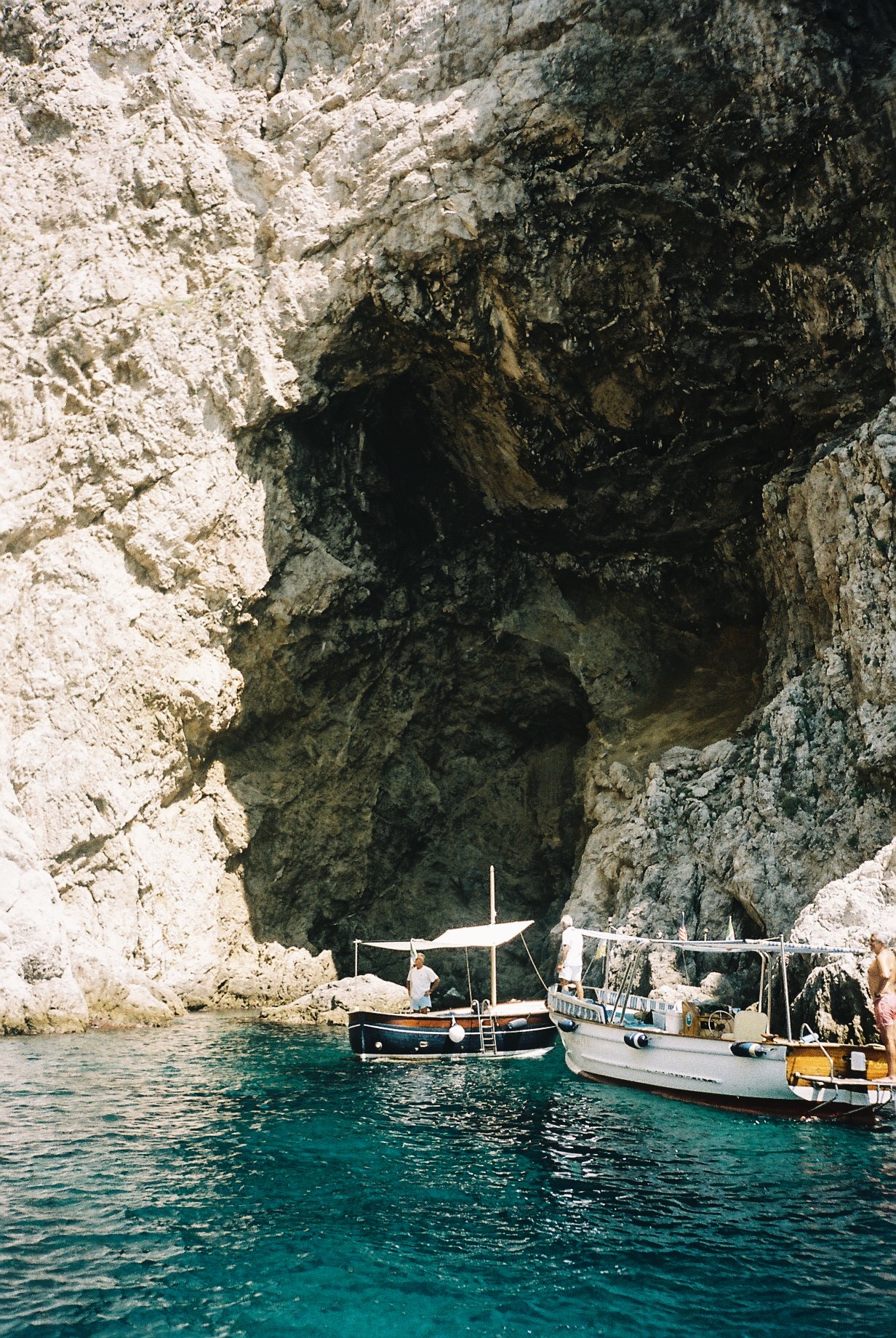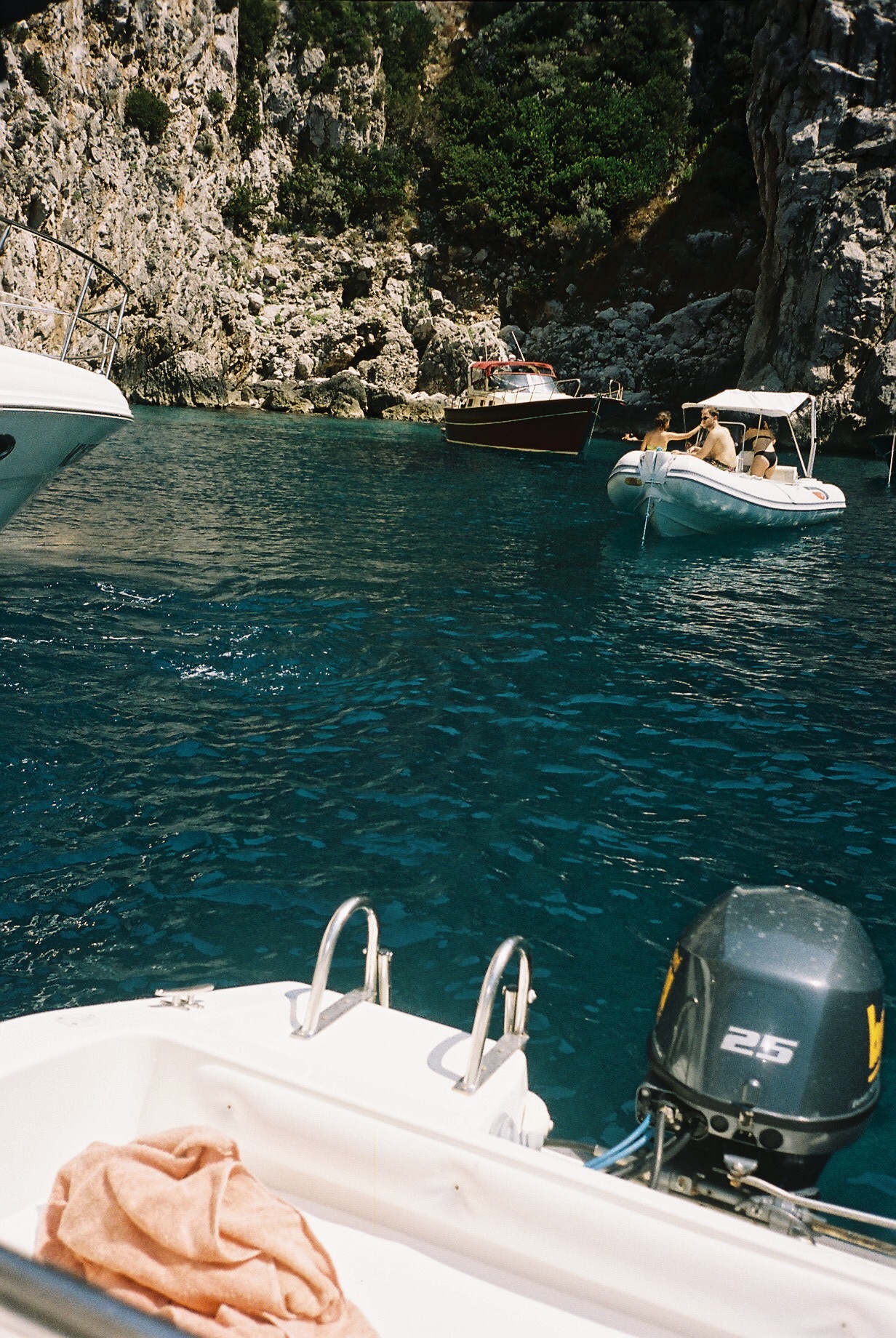 We visited a few other beaches whilst we were there too (that I don't have images of), but a lot of them look quite similar to be honest. Taxi drivers/locals are always best to ask when it comes to what beaches are best, as they usually have a favourite place in mind that they head to cool off on the weekend. Maronti beach was lovely, as was Chiaia beach, but mostly we just found ourselves heading to the private area that Hotel Moresco owned. It meant we had the sea pretty much to ourselves, and didn't have to pay extra for sunbeds. Another beach we heard a lot about but were told to avoid due to how busy it got was San Montano. It's right near Negombo – a collection of thermal baths that you can buy a morning or afternoon ticket to and then head to San Montano afterwards.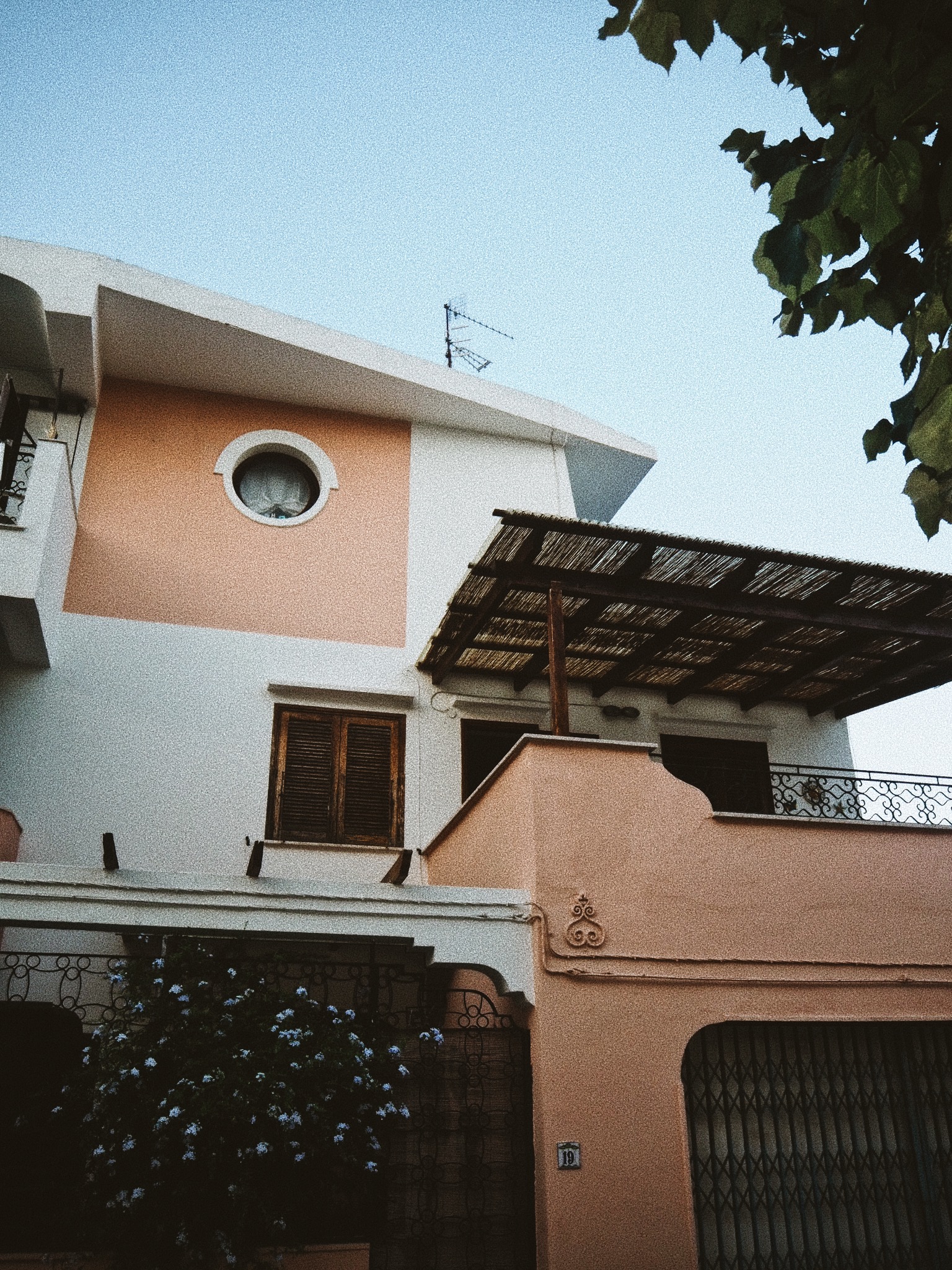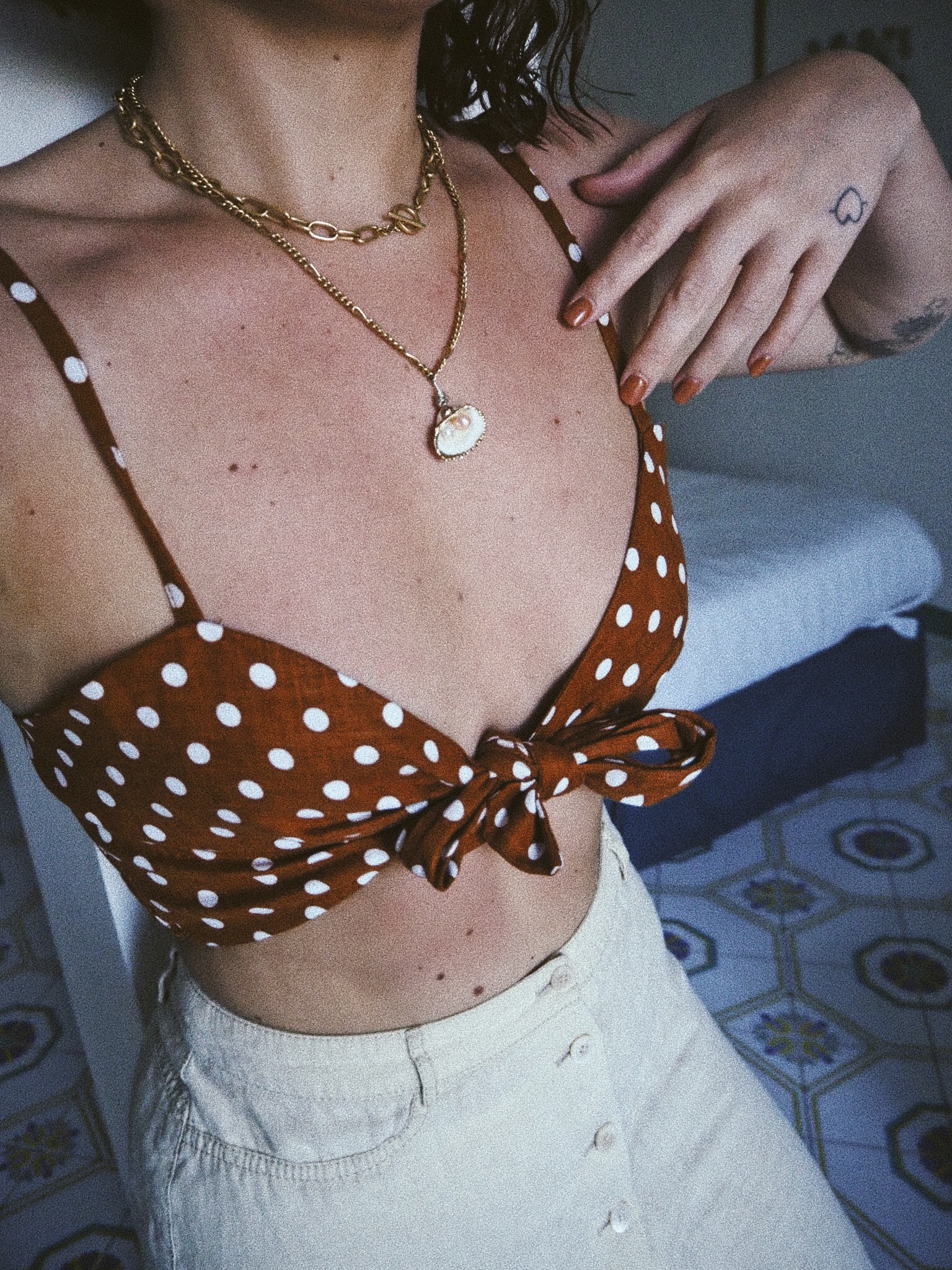 LA MORTELLA GARDENS
La Mortella Gardens – we decided to pay this place a visit after hearing how beautiful they were, and they didn't disappoint. La Mortella is the former home of English composer Sir William Walton and his Argentinian wife, Lady Susana Walton. They were opened to the public in 1991, and are absolutely stunning to wander around in the heat – there's so much shade to be found, and little water features around every corner. The gardens are home to plants from all over the world, and it's the perfect way to cool off if you fancy a break from the beach…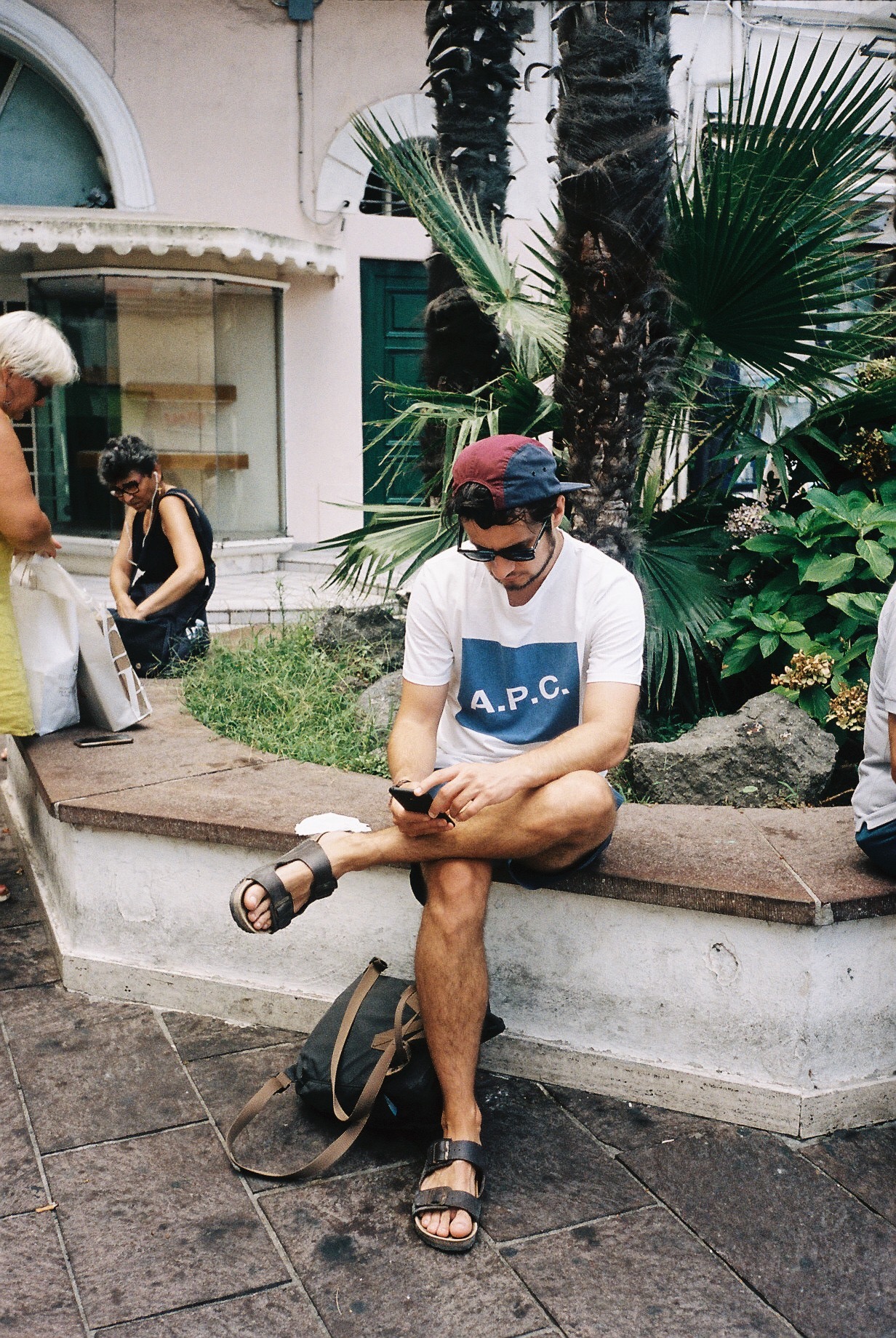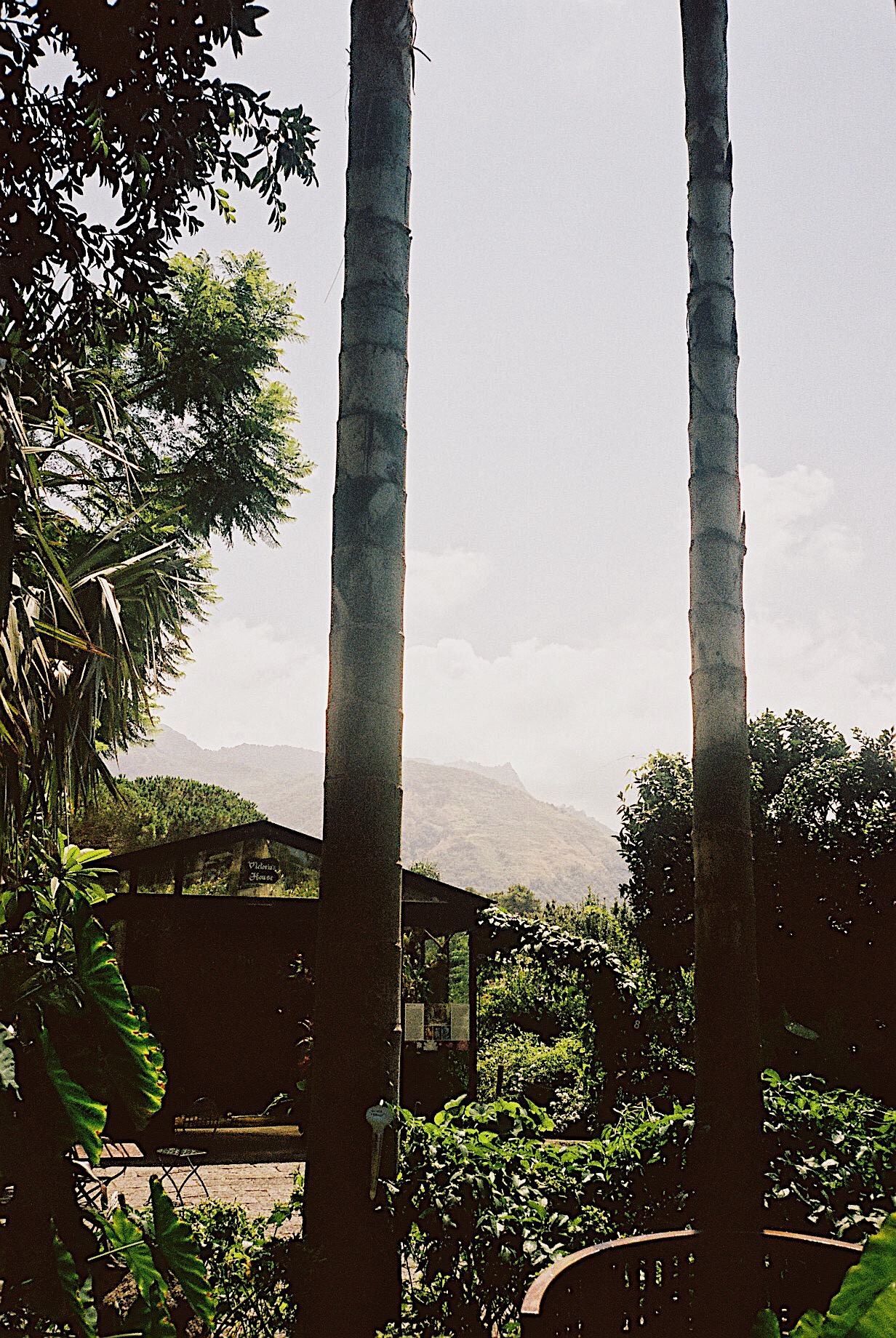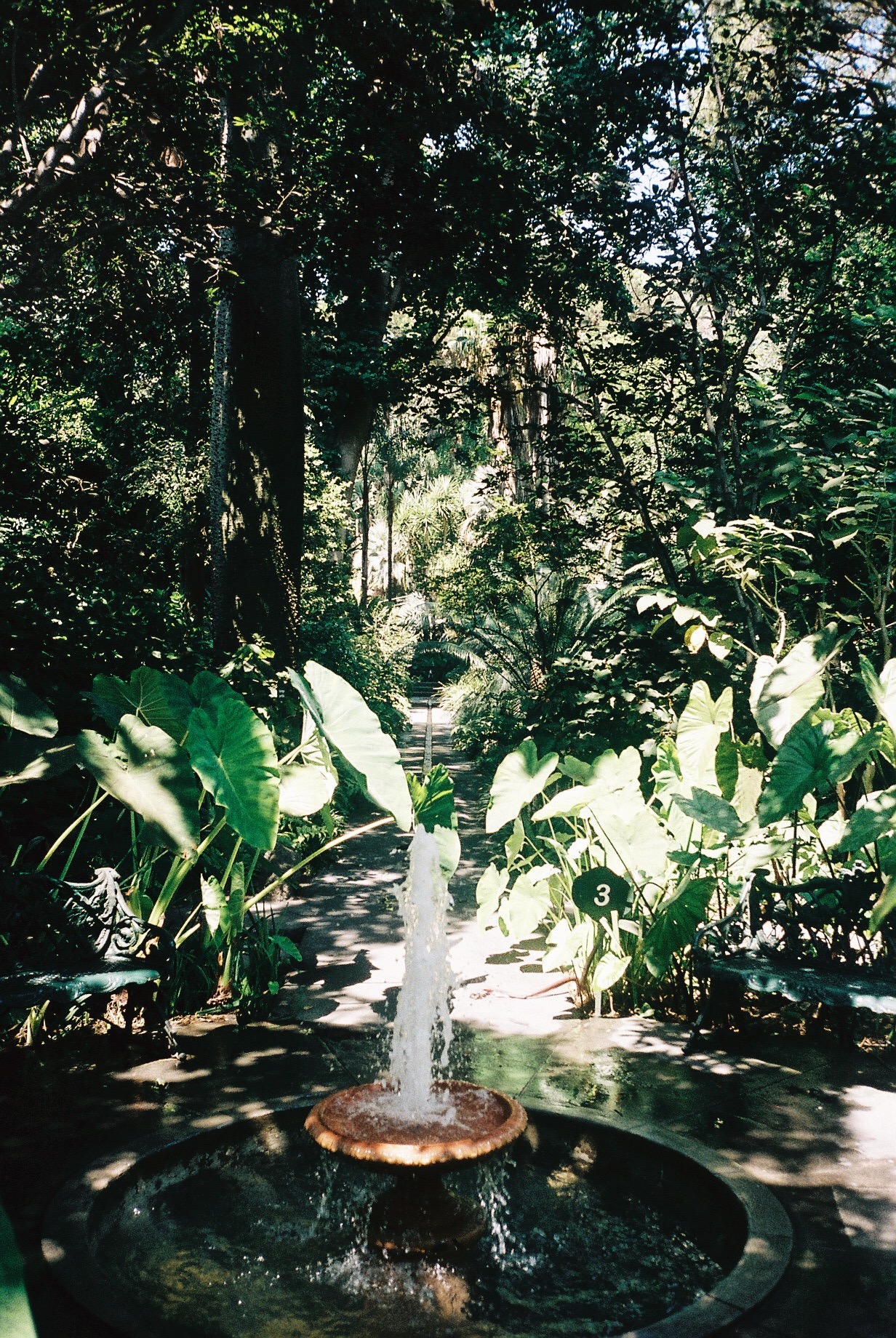 If you made it to the end of this post then you deserve a medal – thank you for reading! I hope you enjoyed this holiday round up, and I can't wait to share my next adventure with you. The next few months have shaped up to be rather exciting indeed…
---
Photographs taken on my Olympus MJU II & Olympus Pen EPL9
SHOP MY ITALIAN SUMMER EDIT