It's been a none stop couple of weeks, and any kind of a routine has been put to the back burner. We have slowly been settling into the new place, and getting a feel for the new area. It's still an area that we very much know and love, but everything feels slightly askew when your daily surroundings change. I have to say, being internet free for a few days has been kind of wonderful – that along with the distraction of unpacking have meant that I've spent way less time staring at my laptop and scrolling through various social media apps…
I kind of started to forget that my job is to share content with the internet – for a few days, it felt like a much needed reset. I feel so much happier and lighter in this new place – I don't know if that makes sense at all, but after months of waiting to move in, everything feels how it's meant to be. At least for the immediate future anyway – it's one of those rare periods of contentment in life that I'm trying to let myself just enjoy…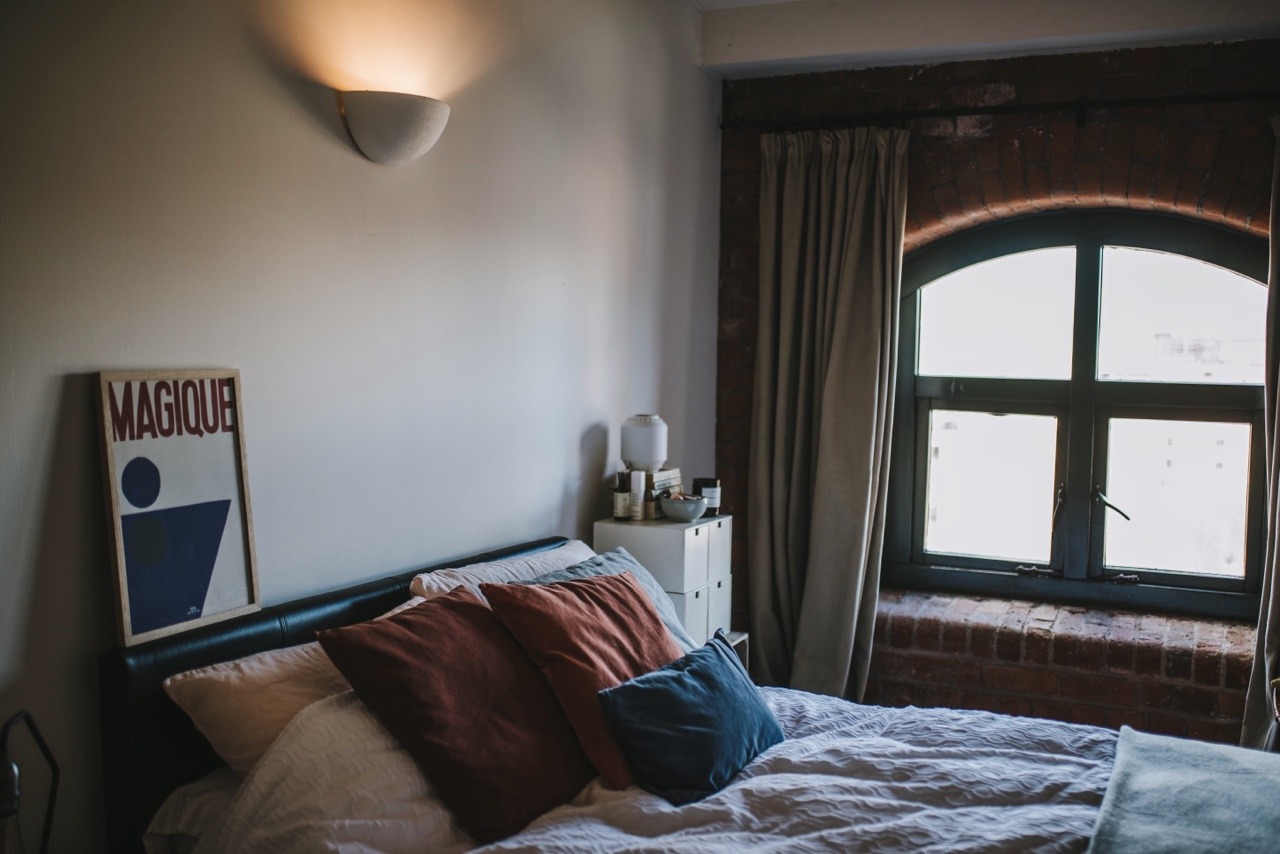 Print – Hotel Magique | Cushions – H&M Home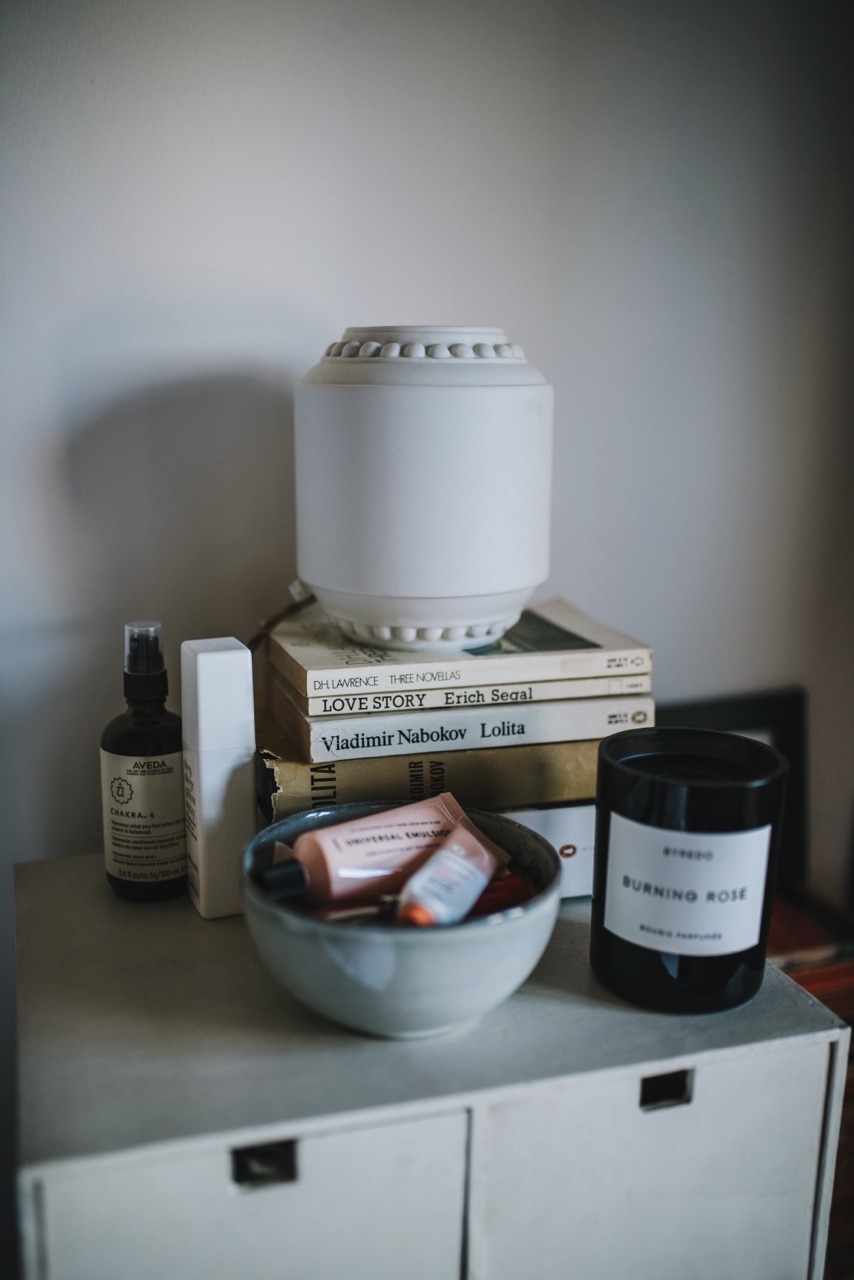 Lamp – Sézane | Burning Rose Candle – Byredo 
Bed linen – West elm | Bedside table crates – EBay 
For now, my head is filled my all things interiors, and outfit ideas seem to have taken a backseat. I've resorted back to the bare bones of my wardrobe – denim, white shirts, and slouchy jumpers that feel comforting/usually don some variation of stripes. I'm slowly constructing some kind of organised wardrobe space in the spare room – it feels so strange to have a spare room! I feel so lucky to finally have a space to get ready and plan outfits without everything ending up in complete chaos by the end of the week. Everything is slowly becoming more organised, and it's already taking a massive amount of stress out of freelancing life.
Having that little bit of extra space to create content is something that makes all the difference – just being able to close the door at the end of the day and retreat to the bedroom has caused a massive shift in the amount of anxiety I hit the pillow with…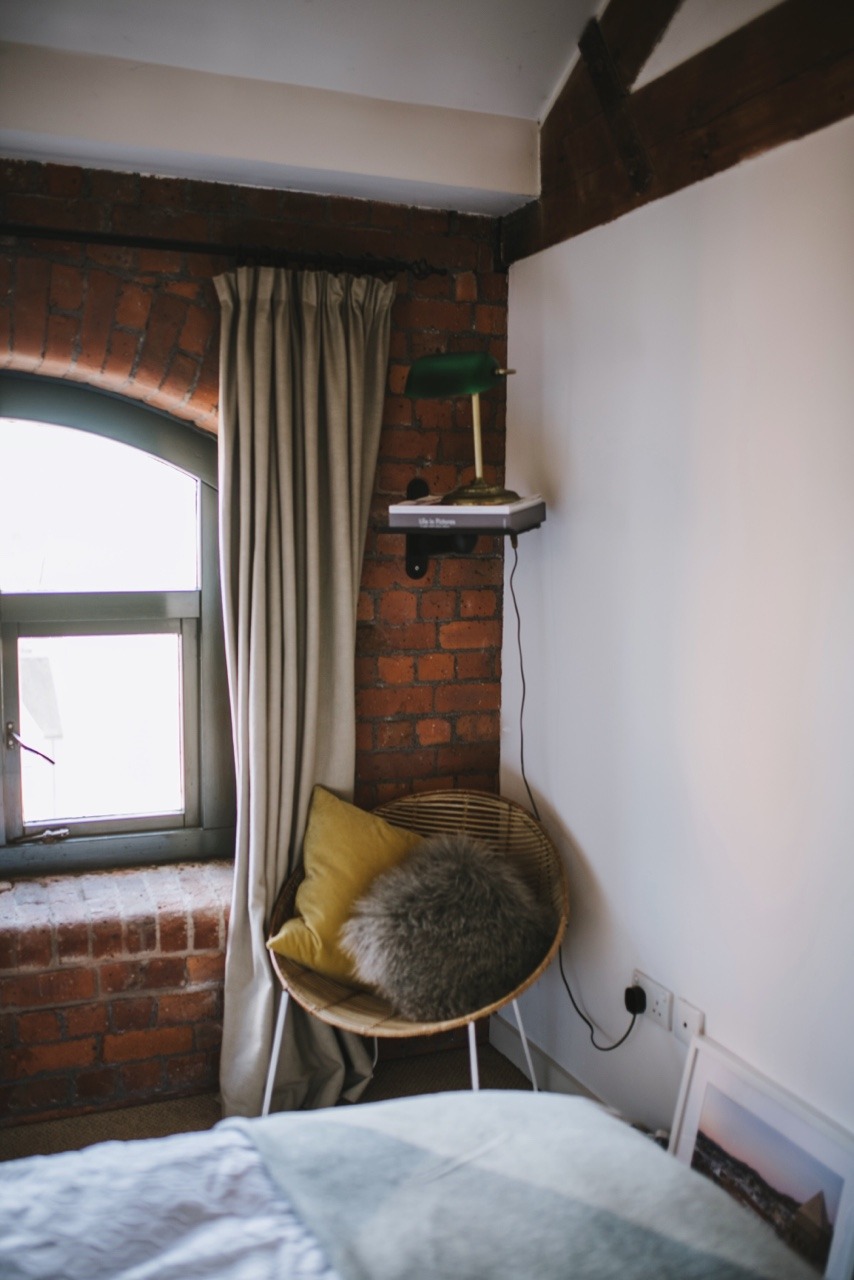 Chair & fluffy cushion – Pad Lifestyle  | Yellow cushion – Trouva | Old Town print – Emma Hoareau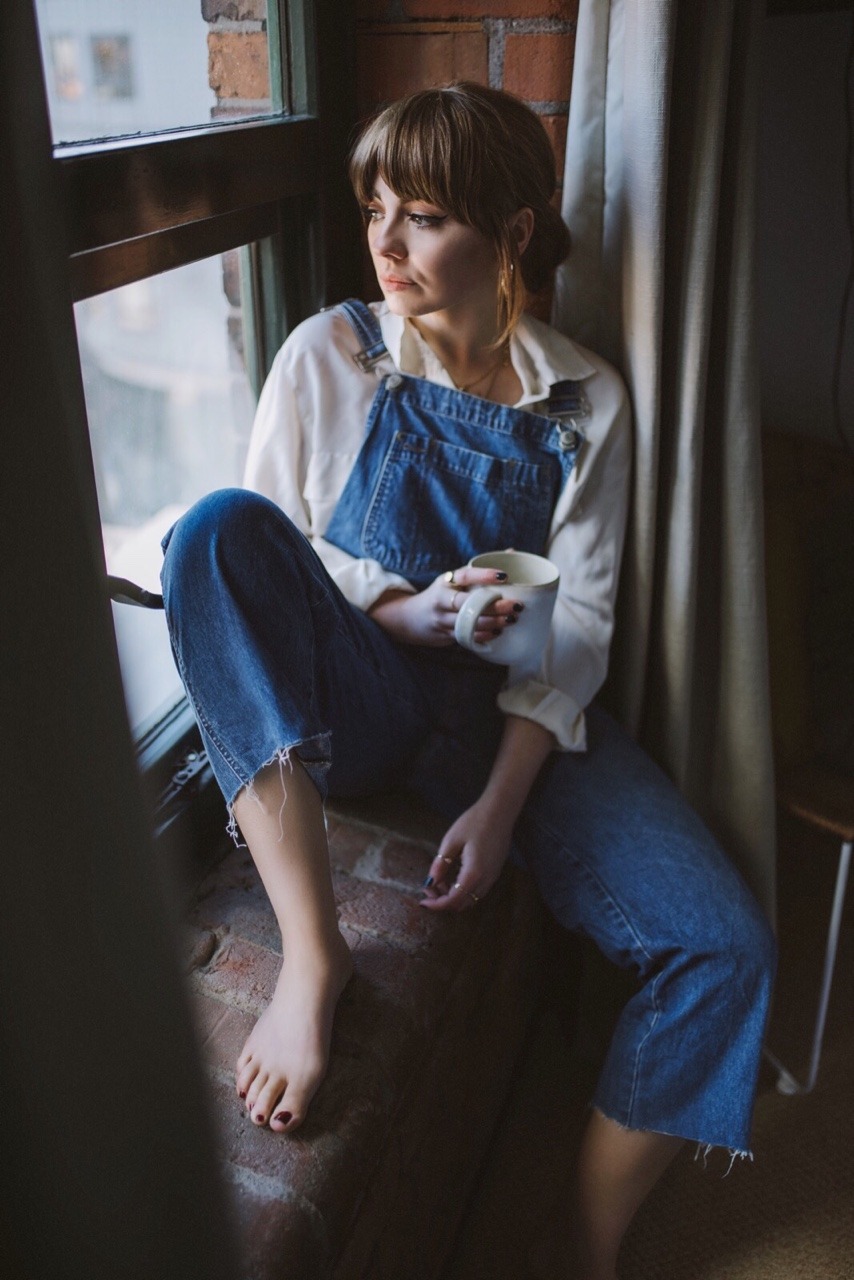 It's a relief to finally be able to compartmentalise work and personal life under the same little roof. Interior wise, I wanted to keep the bedroom as minimal as possible. I wanted a space that feels peaceful and encourages me to switch off and pick up a book – the bed is the main feature (as it should be), and then there's some cosy details that tie everything together. There's a little reading corner that I'm obsessed with, and lots of books piled up opposite that currently need a bookshelf to call home.
I've always wanted my own bookshelf – sounds like something so small, but my books are forever covered in dust, and heaven forbid you fancy reading one at the bottom of the pile, all hell ensues and it's like non consensual game of Jenga.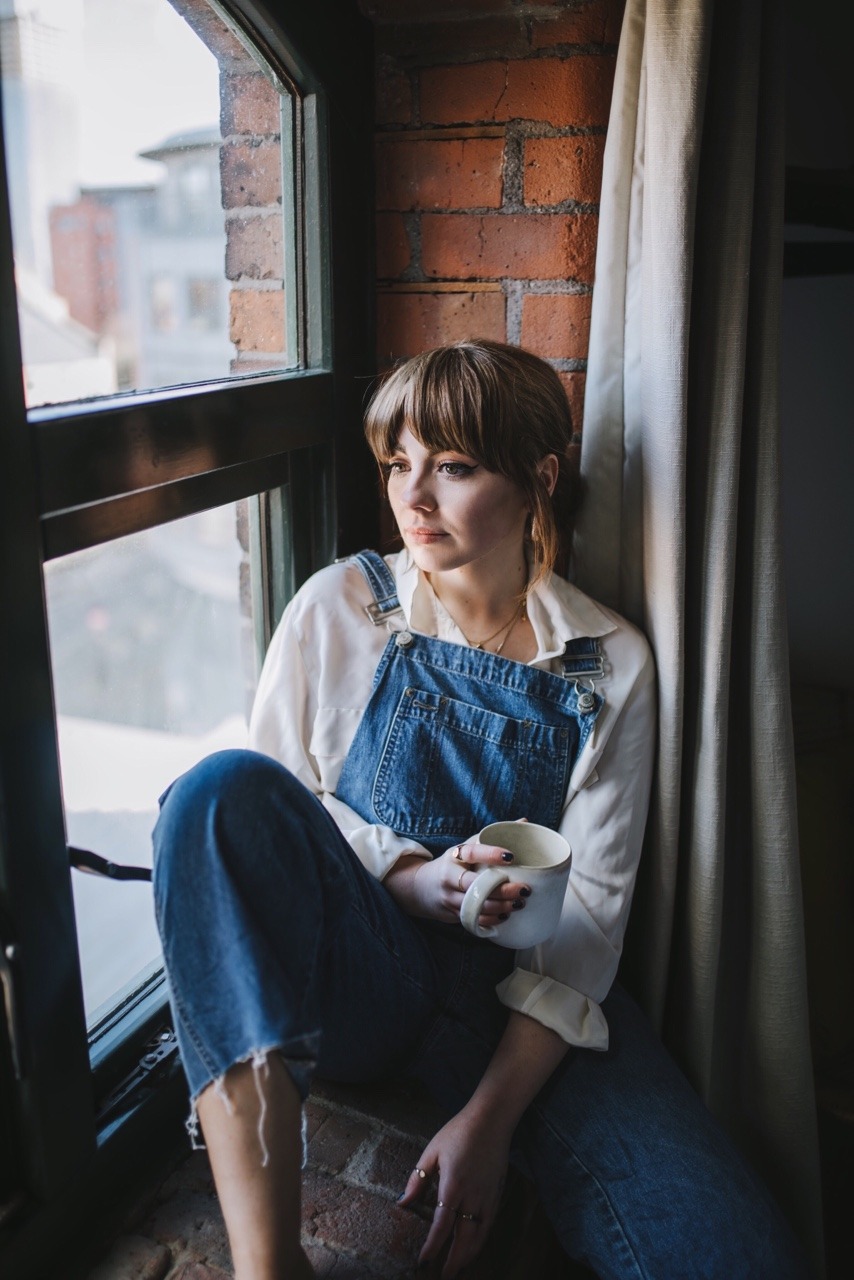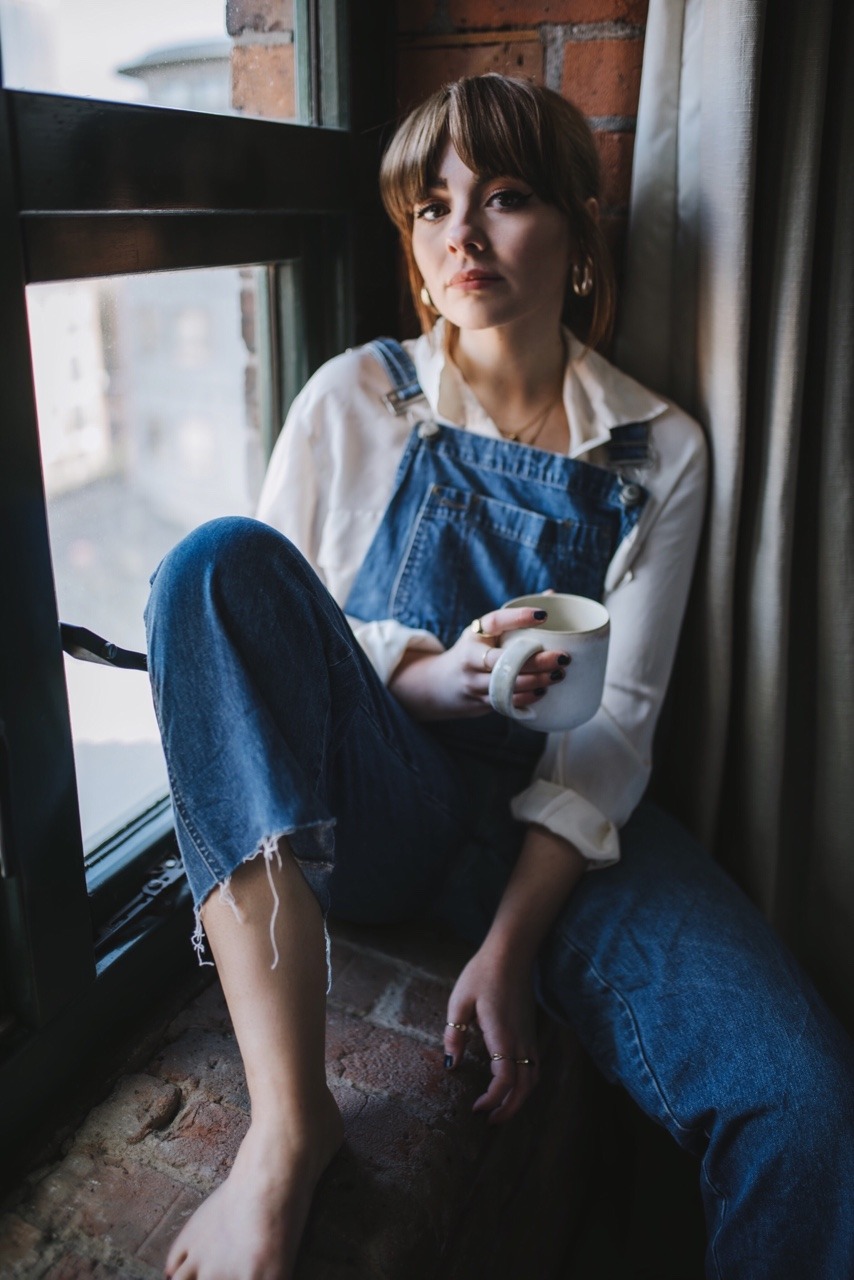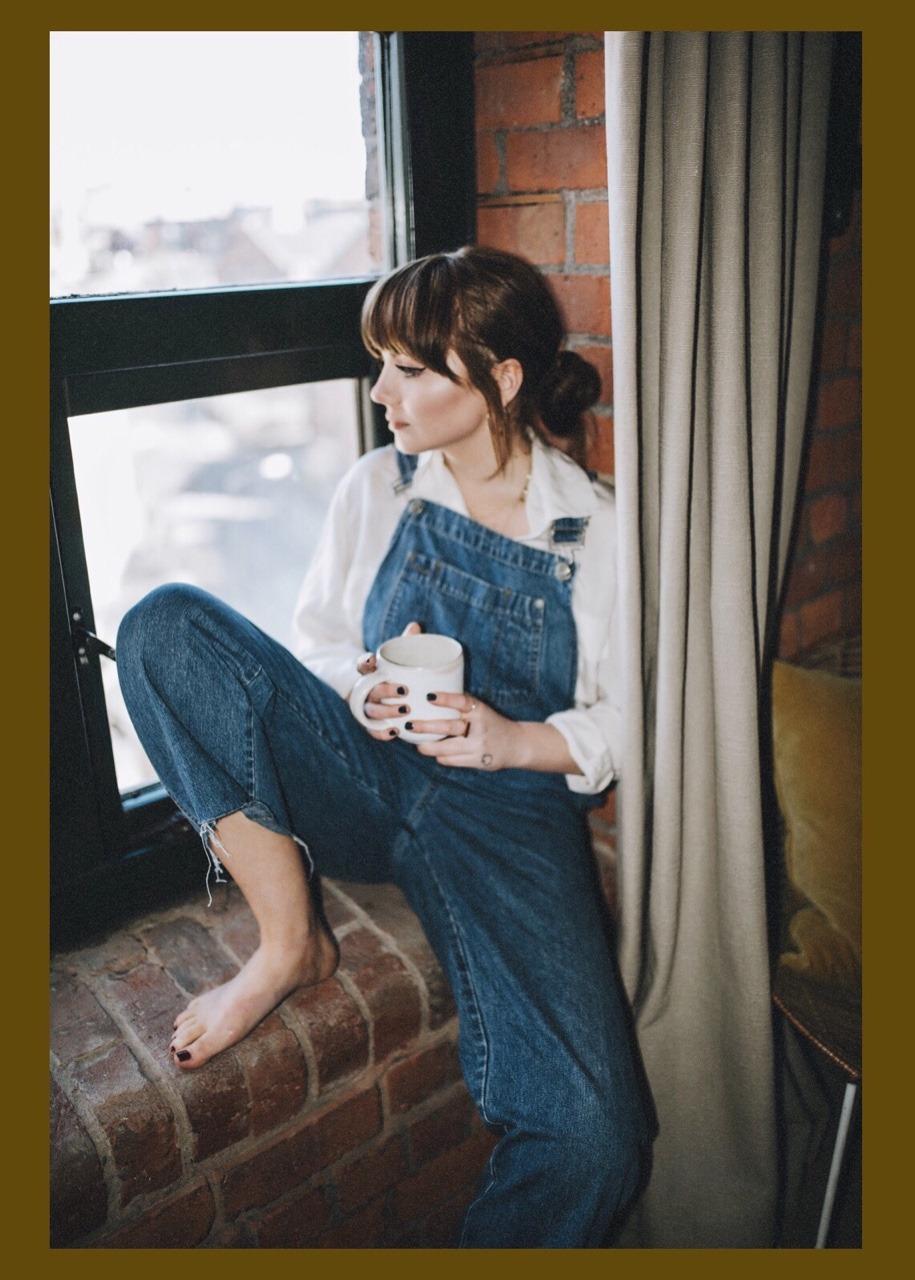 Next up, there's a little chest of draws with a vintage mirror – I'm obsessed with these mid century modern style ones with the original wooden backing. I snapped a few up on Etsy before we moved, and they just add character to the walls. The building is an old converted mill, so there's lots of beams everywhere, original brick wall window features, and high rise ceilings. If you've followed me for a while then you'll know how much I love all things vintage – a lot of the pieces that we already owned just slotted into place, so I haven't found that anywhere looks too naked…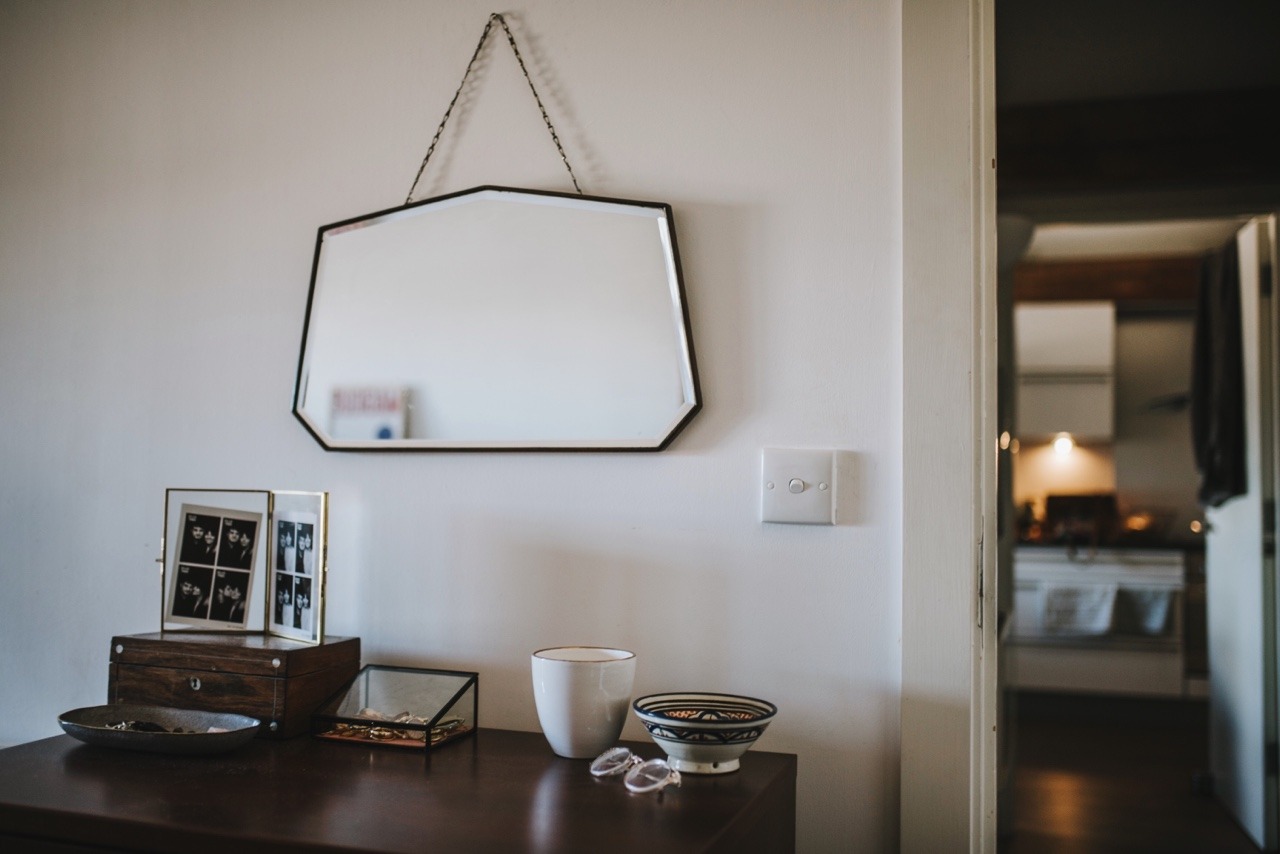 Glass frame – Oliver Bonus | Jewellery storage – Oliver Bonus | Grey dish – Oliver Bonus | White Candle – Sézane 
Oliver Bonus are one of my favourite destinations when it comes to homeware accessories – I have a few of their glass frames and they are perfect for storing all those polaroid strips of photographs that you have hanging around. Assembly time is around two minutes, and it's nice to have a home that personal and lived in – I love nosying at other people's photo frames, little memories on display, and not just confined to the Instagram grid. They also have some beautiful glass jewellery storage – I love this little black one with the pink material lining, it's quite unusual and just adds a bit of colour.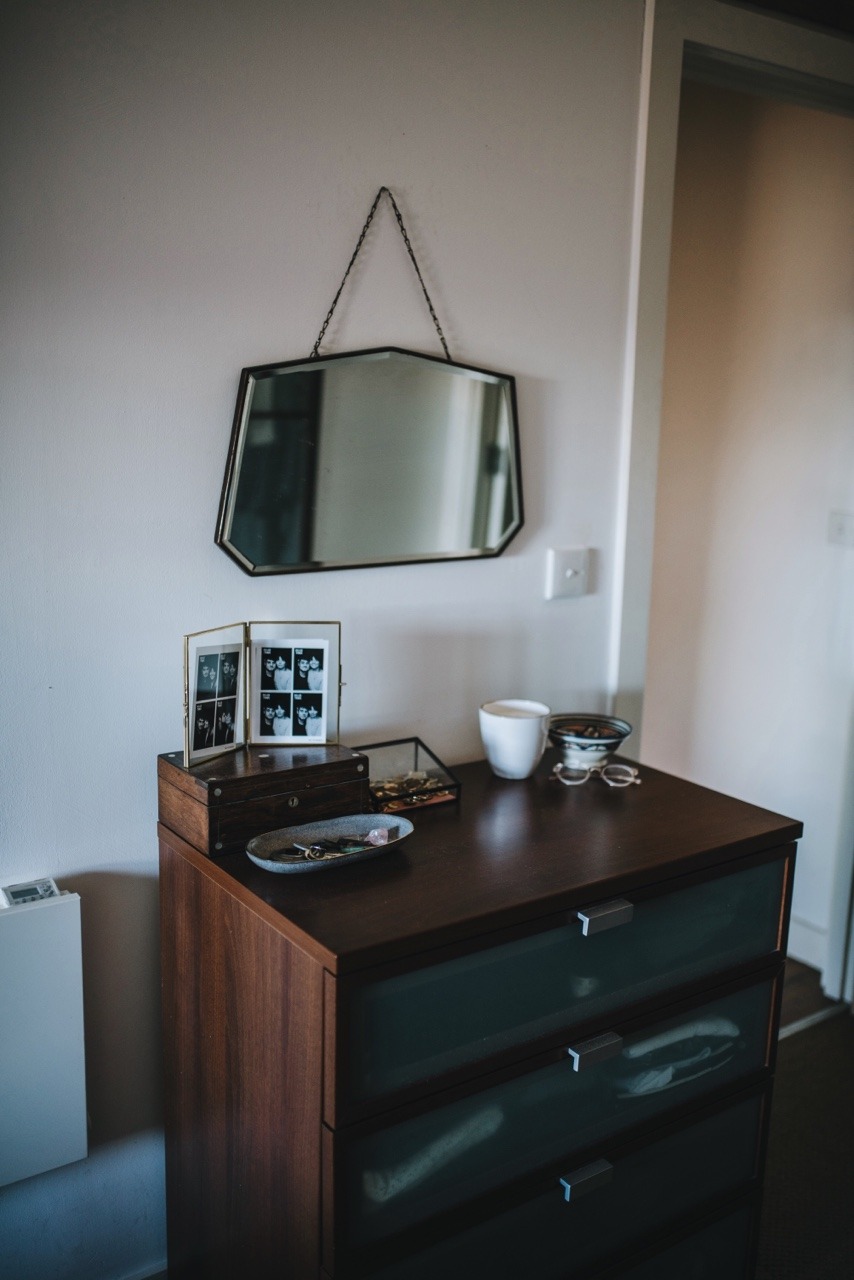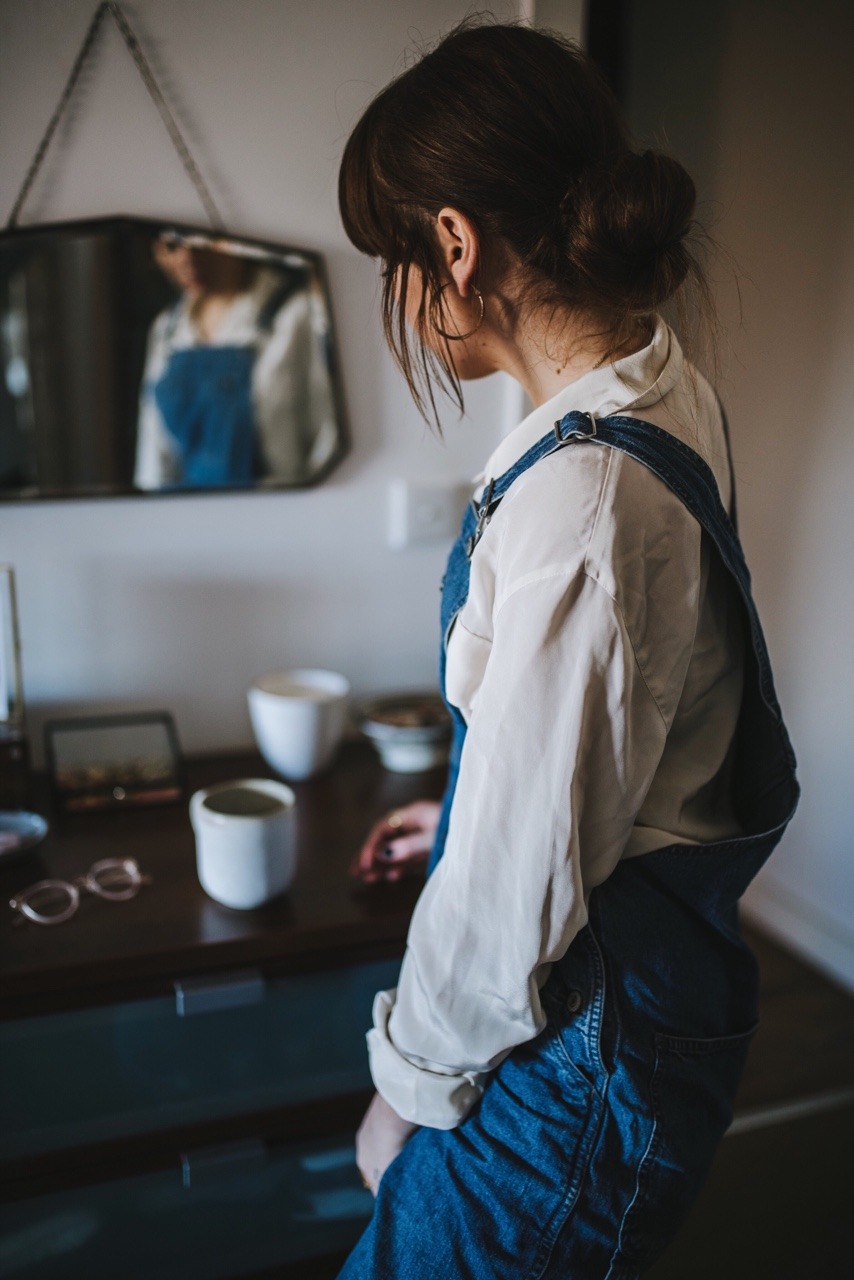 For bedside tables, I've been using the same wooden crates that we had in our old place. They are really affordable from a seller on EBay, and definitely do the job for now! We even have a couple of them as a makeshift TV stand. The little white draws are ones that I've since I was around sixteen – me and my sister each got a set from Ikea in our shared bedroom, and would fill them with various beauty products (roll on glitter and hair mascara). Somewhere along the line I painted them white, and since then they have been everywhere with me. I love how they look on top of the wooden crate with a few books piled on top, and this amazing Sézane lamp. It feels simple but cosy – we get a perfect amount of daylight, but when night falls it gets very dark, so having the right lighting is essential. I've just invested in a couple of floor lamps which make such a difference if you live in an old building – Next have some really affordable ones if you're on budget too… 
The next thing on my shopping list is a coffee table (I already have my eye on one so I'll keep you updated), and I need to create some sort of desk area. There's a little cove in the living room so I'm thinking there could be ideal – I had to leave my old desk behind, so I'm really craving somewhere sturdy to sit with my laptop – it makes all the difference when you need to power through some work! My favourite part of this new place has to be the view at night time. When I'm lying in bed I can see the city skyline all lit up, and the trains and trams look like they are travelling through the the clouds. It's beautiful beyond words, and something I don't think I'll ever tire of – it's far away enough to be completely peaceful, but close enough to see that everything is in motion. It's not meadows filled with flowers and woodland creatures, but it's oddly comforting to watch the world go by whilst I'm tucked up in bed…
Alice x
---
Photographs by Adriana
Blouse & dungarees, both vintage 
SHOP THE LOOK