The Eighties often gets mentioned in a negative tone when it comes to the world of fashion – if an outfit looks a little too vibrant, or the shoulder pads come up a little too large, we often feel in danger of emulating fancy dress attire. I'm sure many of us have looked back at old family photos of our parents who fell victim to a bad perm, or a questionable case of acid wash denim. Whatever your opinion on Eighties fashion – it definitely wasn't an era that fell short of self expression, iconic dance moves, and polka dot hair bows…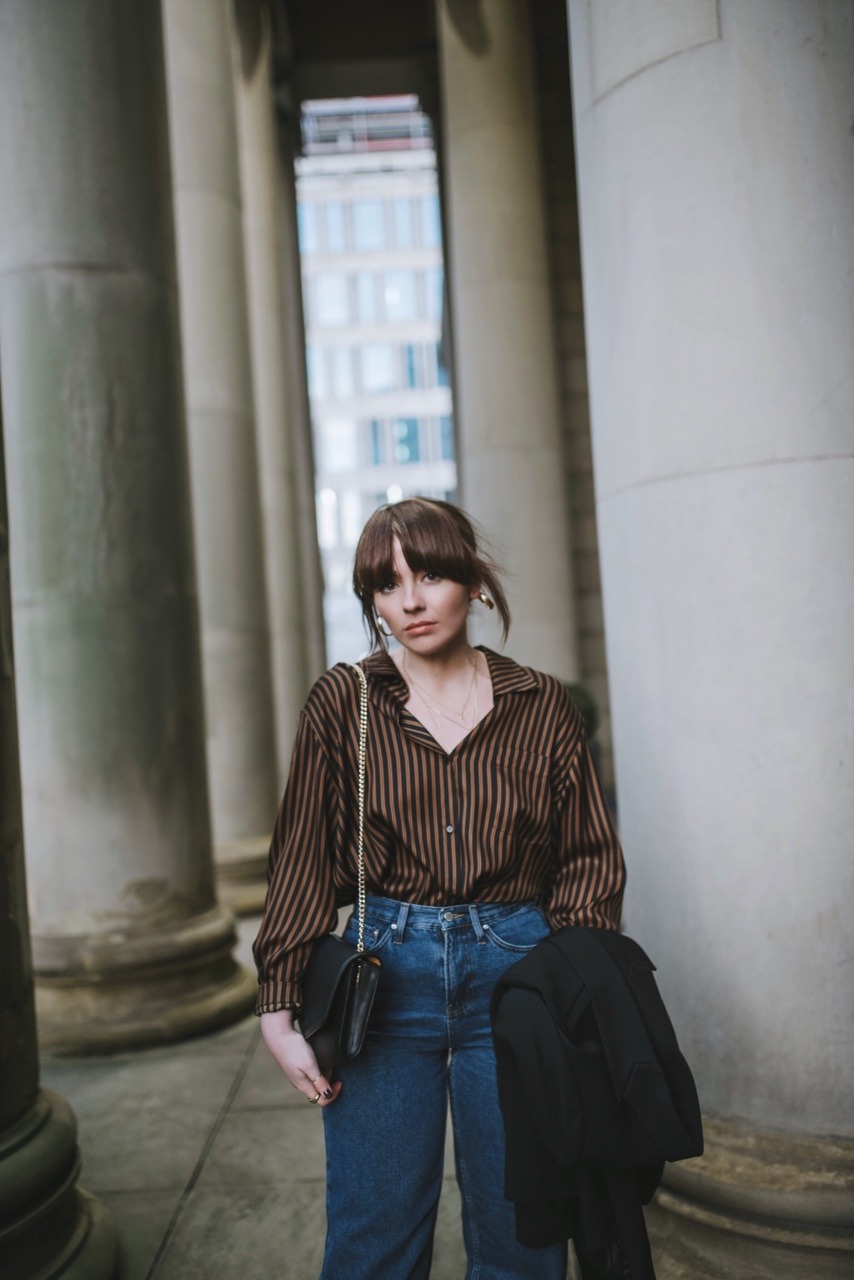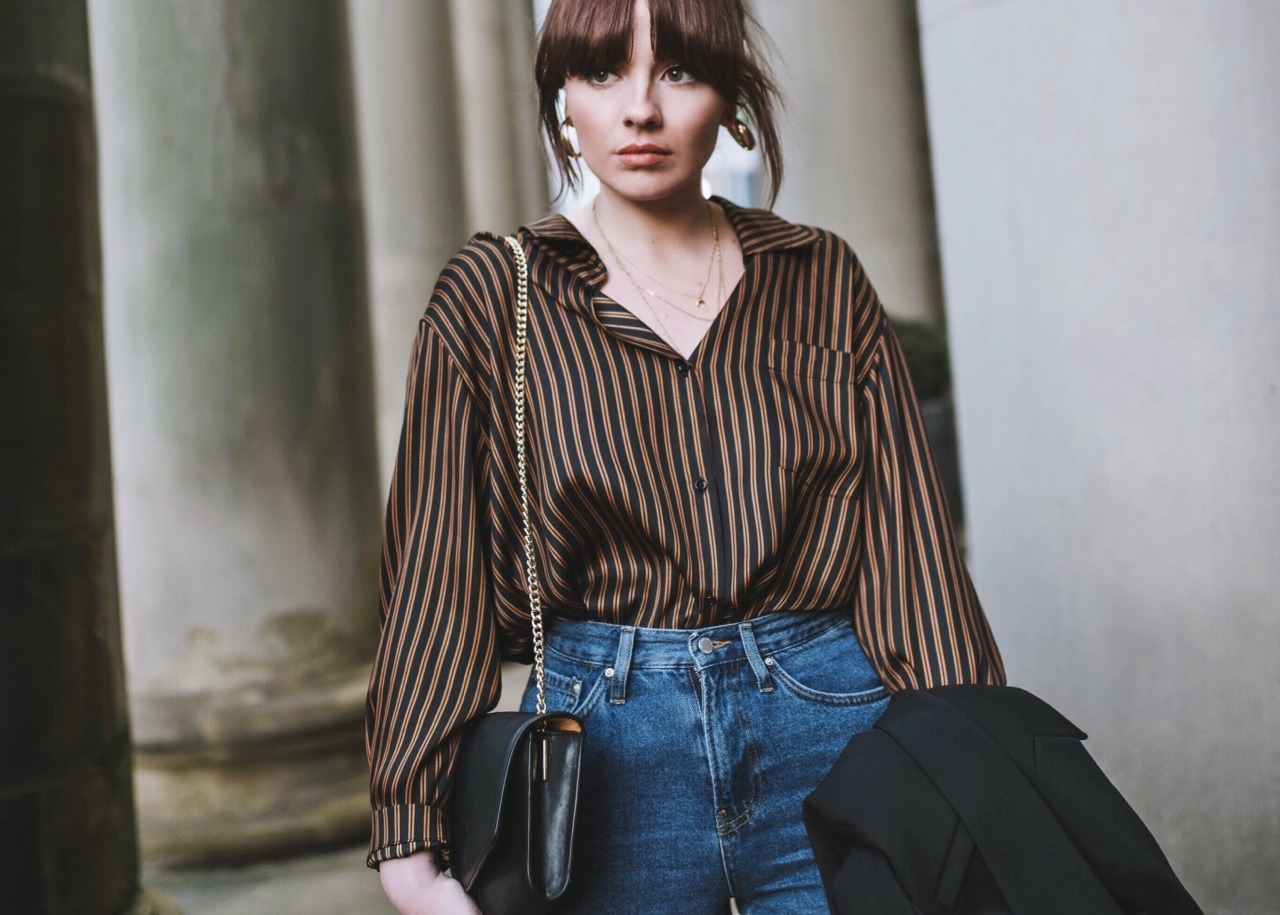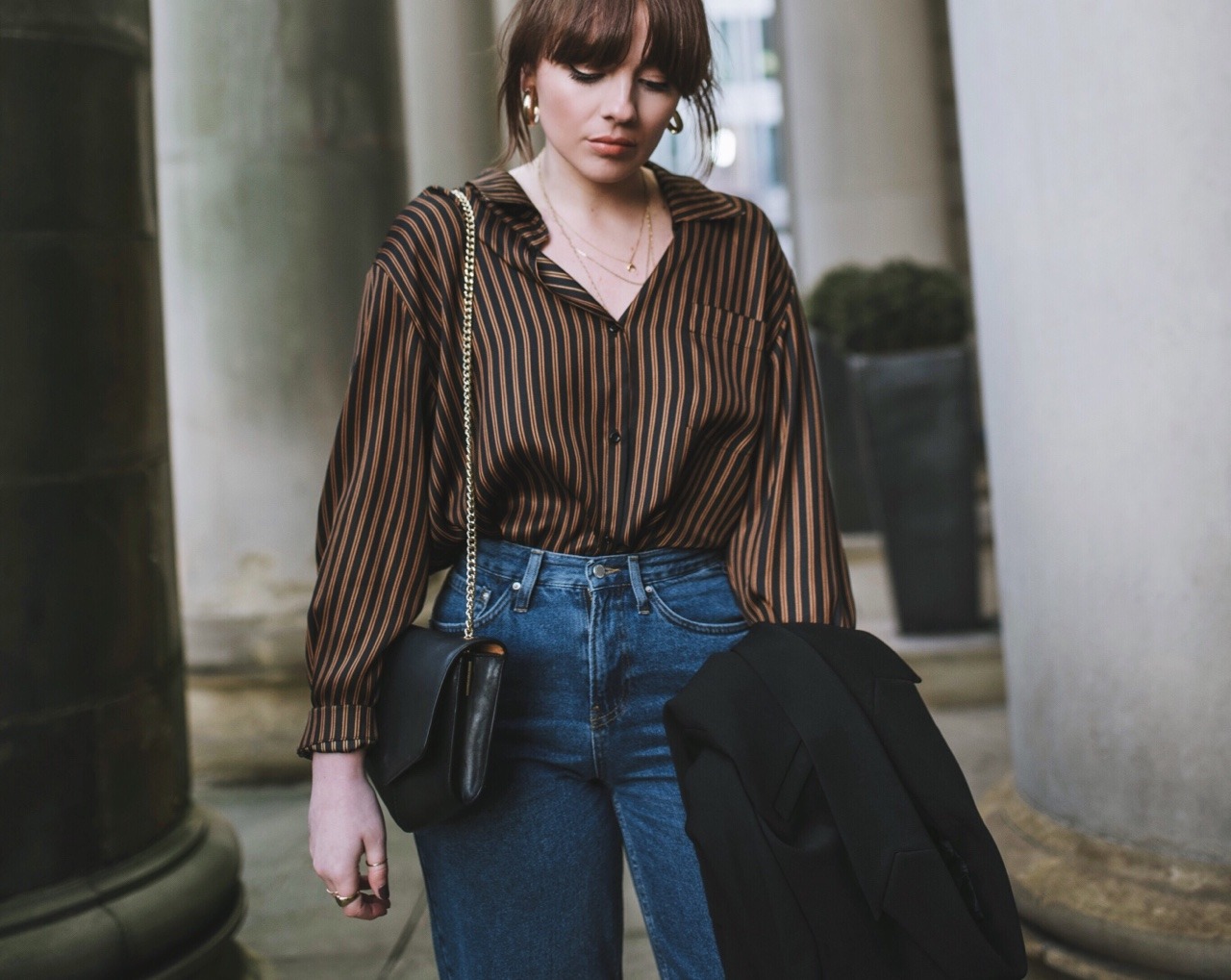 As someone who waxes lyrical about the Sixties and Seventies, it may come as a surprise to you that I have a strong admiration for the Eighties – particularly the music, films, and of course, how can anyone not love Prince?
It was an era full of personality (and slightly questionable haircuts), but there's something about the spirit of the Eighties era that makes me want to throw on an oversized blazer and forget all about flattering proportions…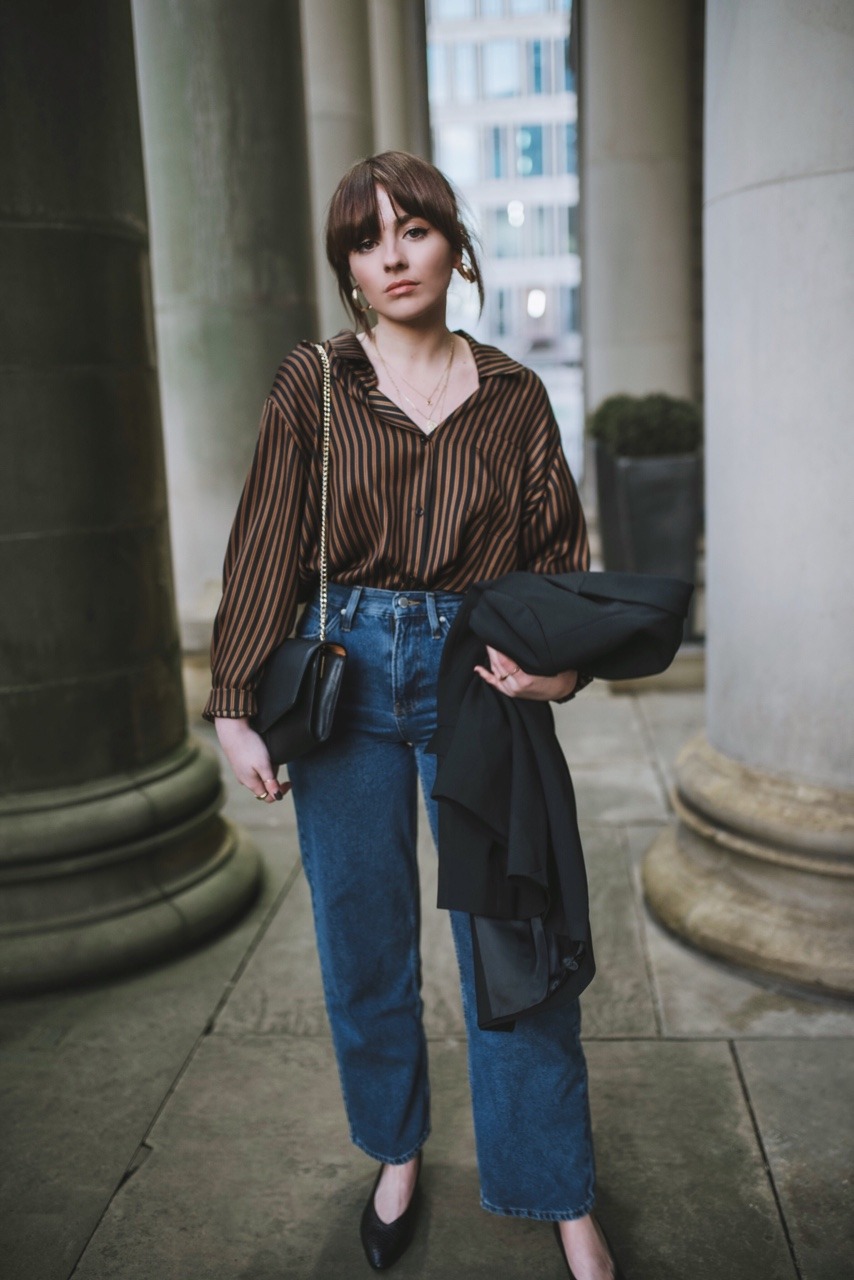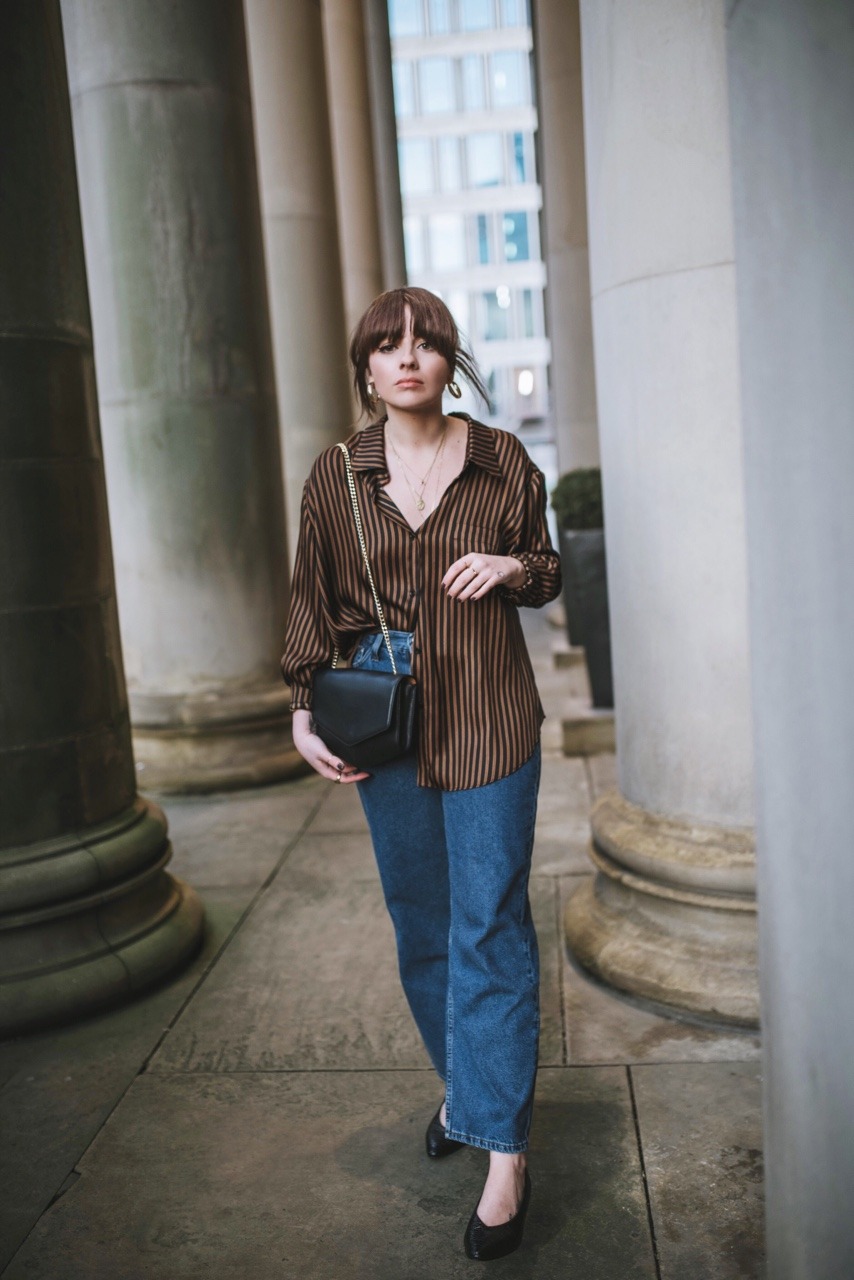 I stumbled across this shirt whilst online shopping on Zara a few weeks ago – I instantly fell in love with it and added it to my basket without a moments hesitation. The satin sheen of the material, the humbug stripes, and the oversized fit – everything about it just screamed out to the vintage lover in me.
I love pieces like this because they are so versatile to work with against denim – you've heard it a million times from me by now, but it's the kind of piece that can easily be dressed up or down depending on the occasion.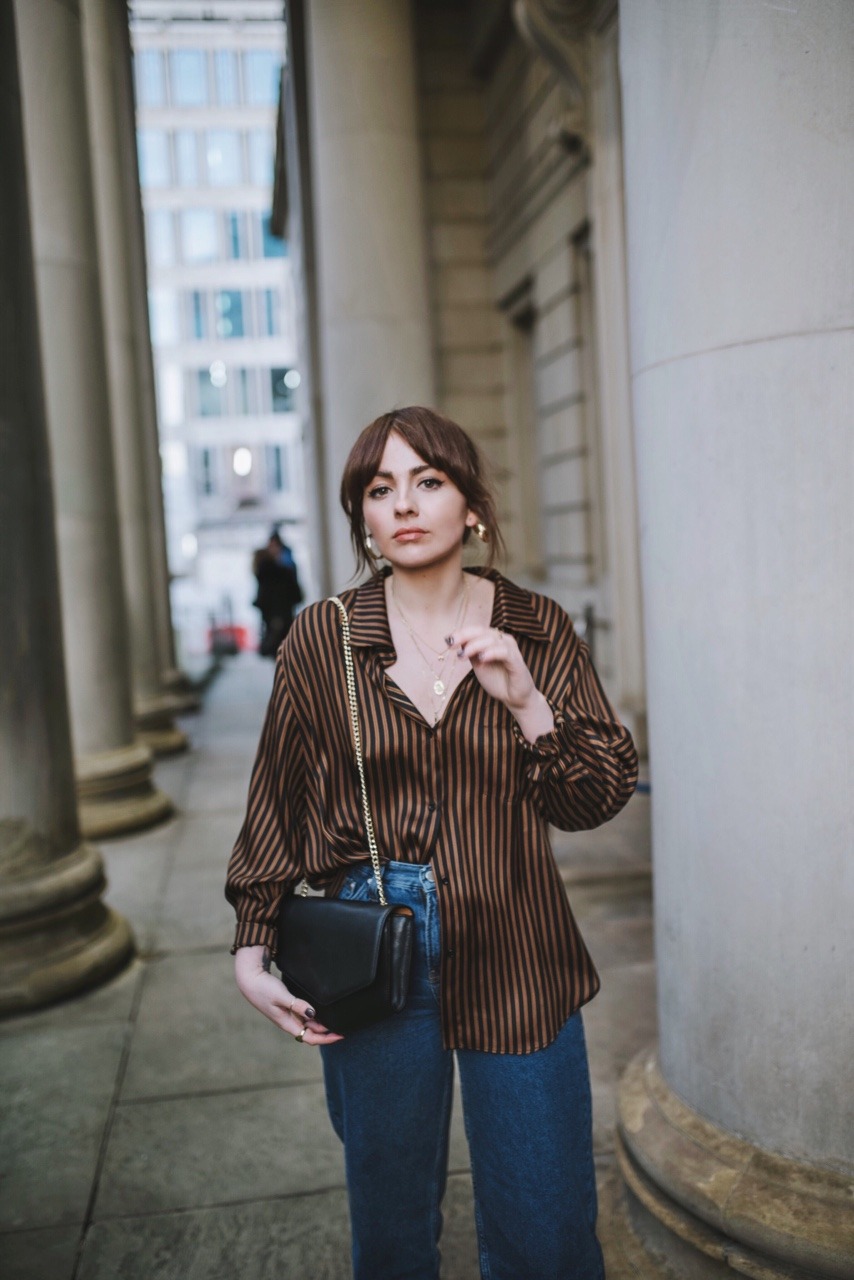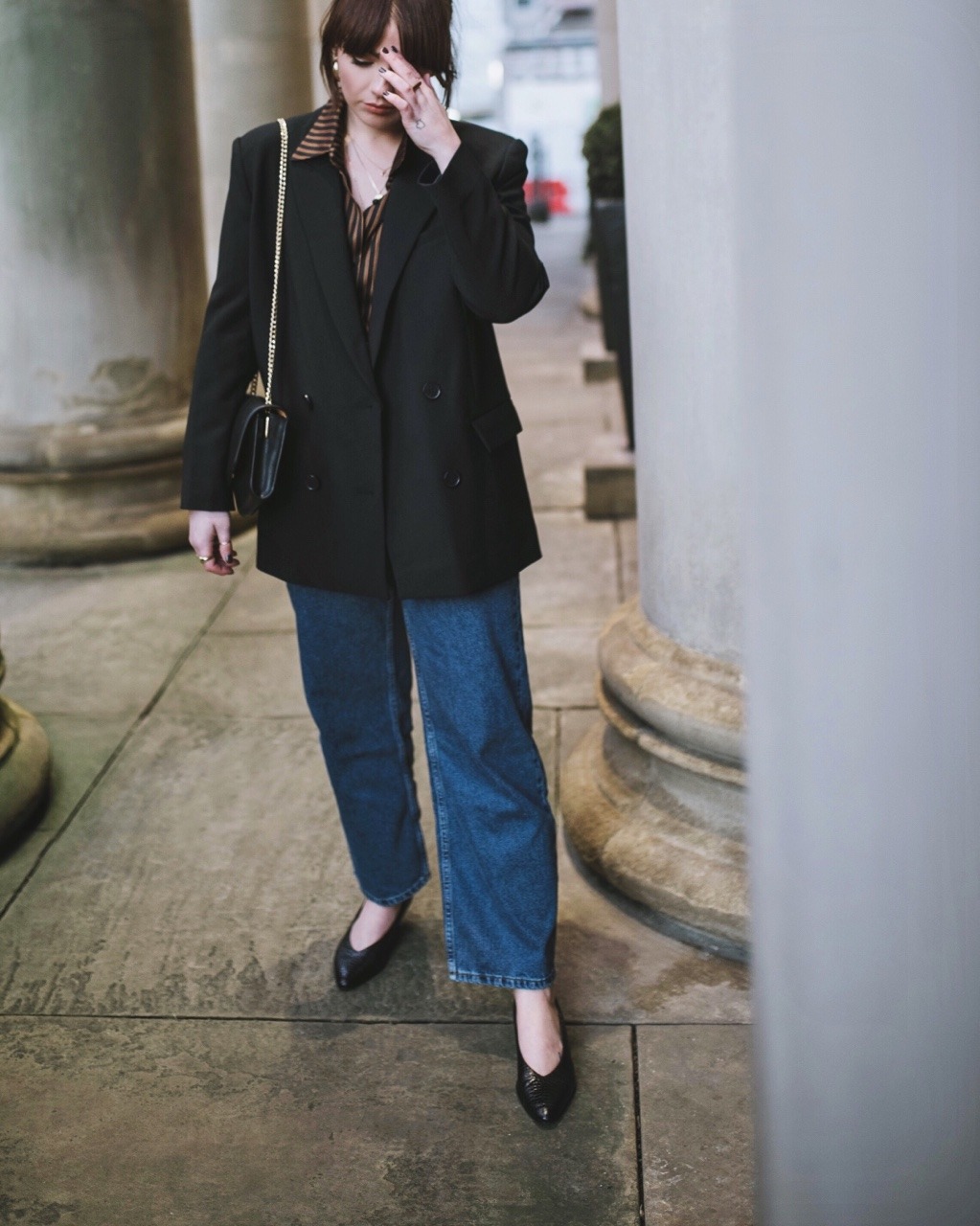 It's that floaty fit that just looks effortless teamed with some gold accessories for evening drinks – it definitely has a modern feel to it, but throw on an oversized blazer with the collar peaking out, and it transforms you into an Eighties power house. This particular blazer is new in from And Other Stories, and I'd definitely recommend checking it out if you're in the market for the perfect black blazer. It's just the right amount of over-sized, and I can fit thin knit jumpers underneath it too – always a bonus for the inner old lady in me…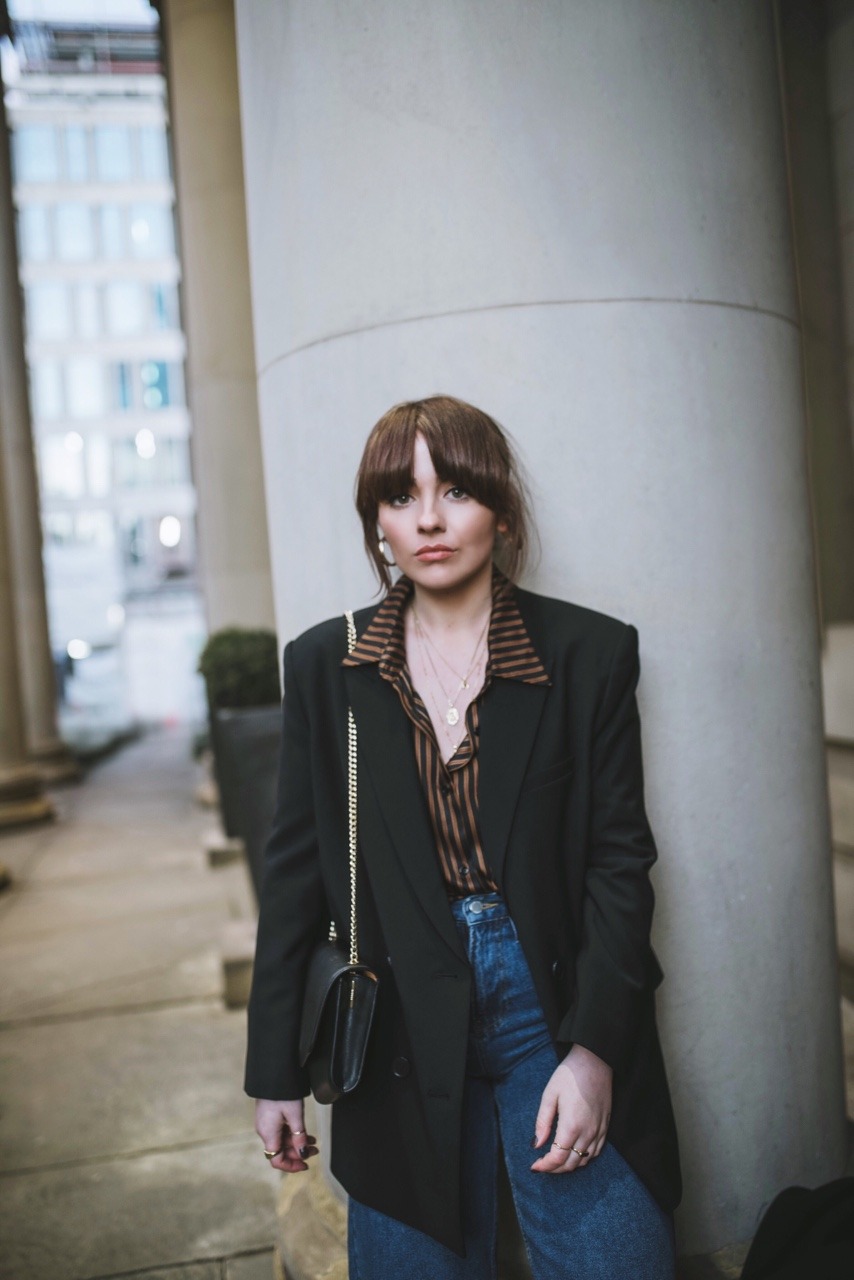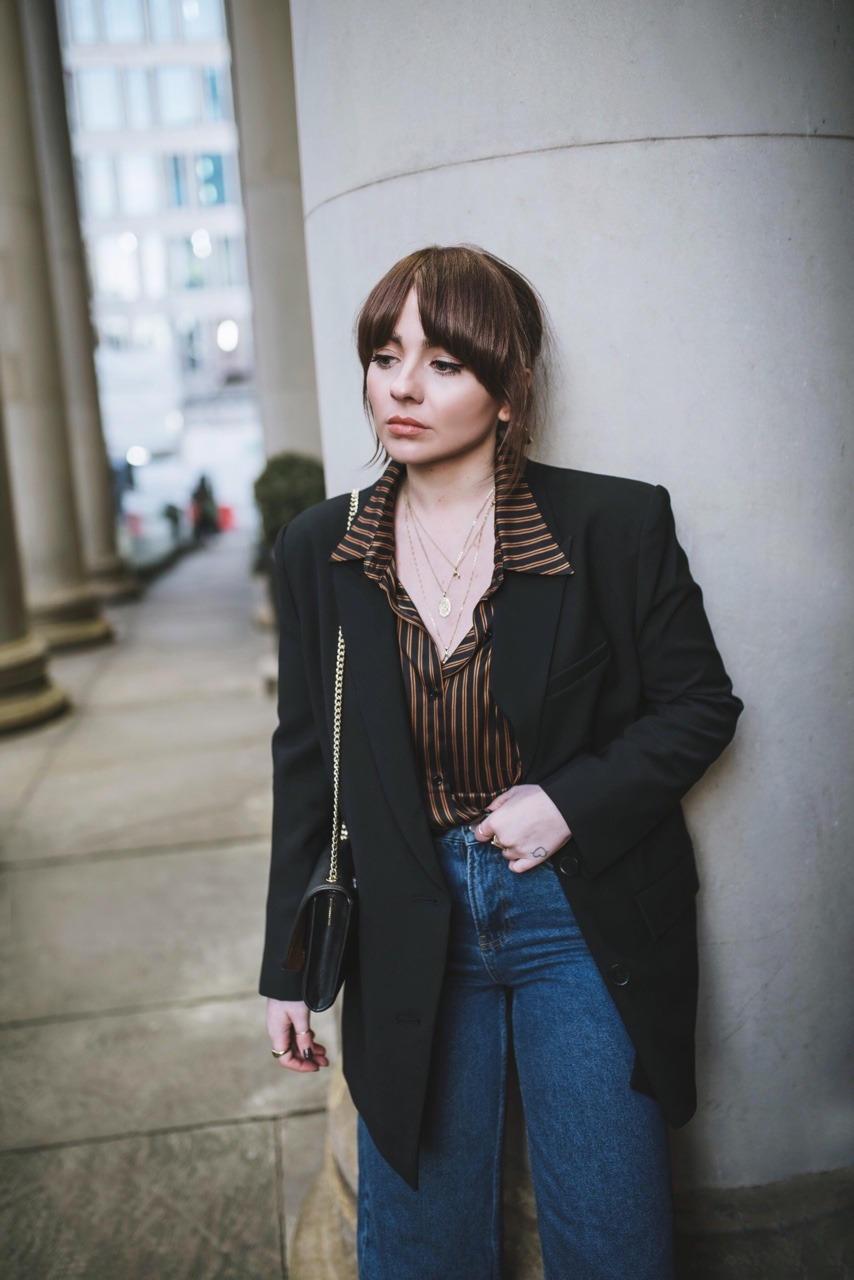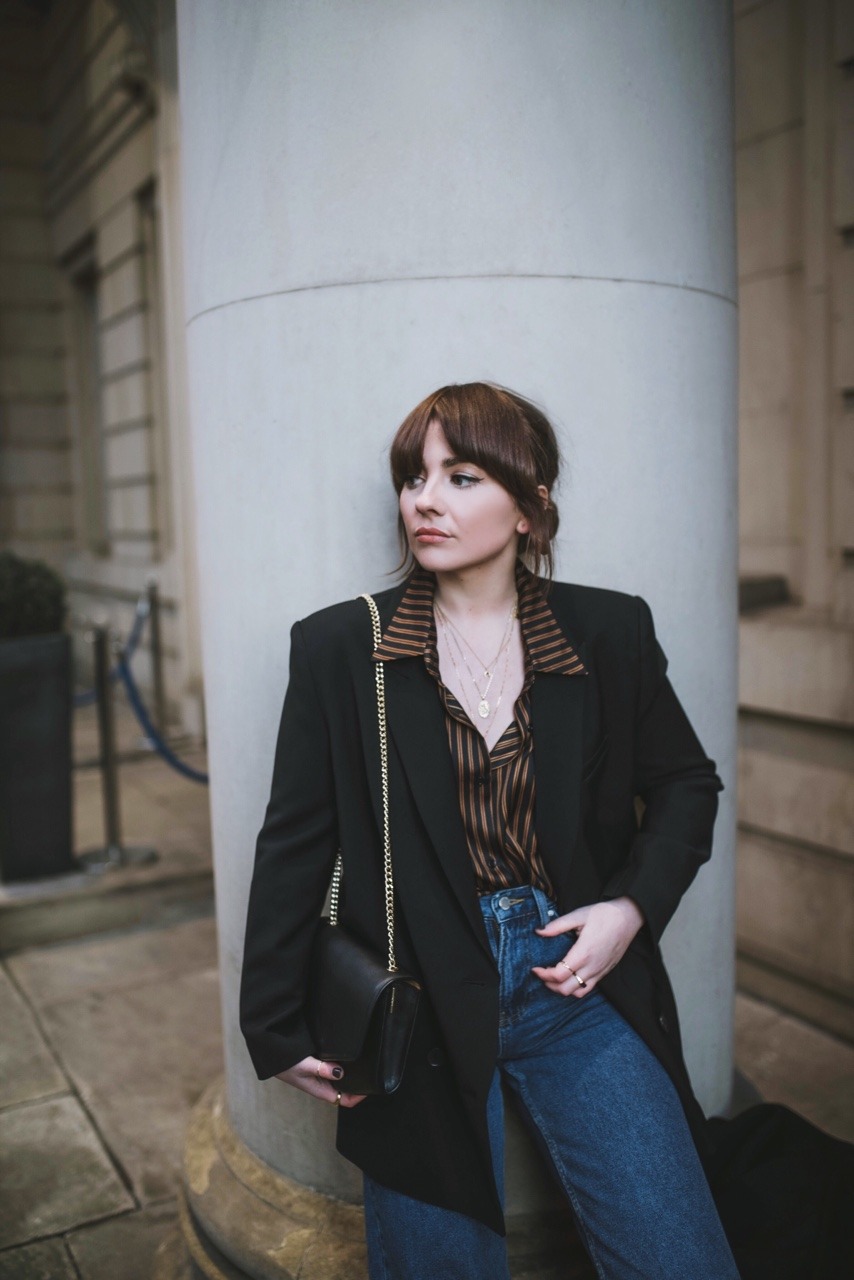 Whilst I'm on the Eighties theme, I thought I'd talk you through some of my favourite Eighties fashion icons. It's basically an excuse for me to sit at my laptop and get lost down Google images for a good hour, but without further adieu, here are some of the enviable get-ups that are permanently etched in my memory…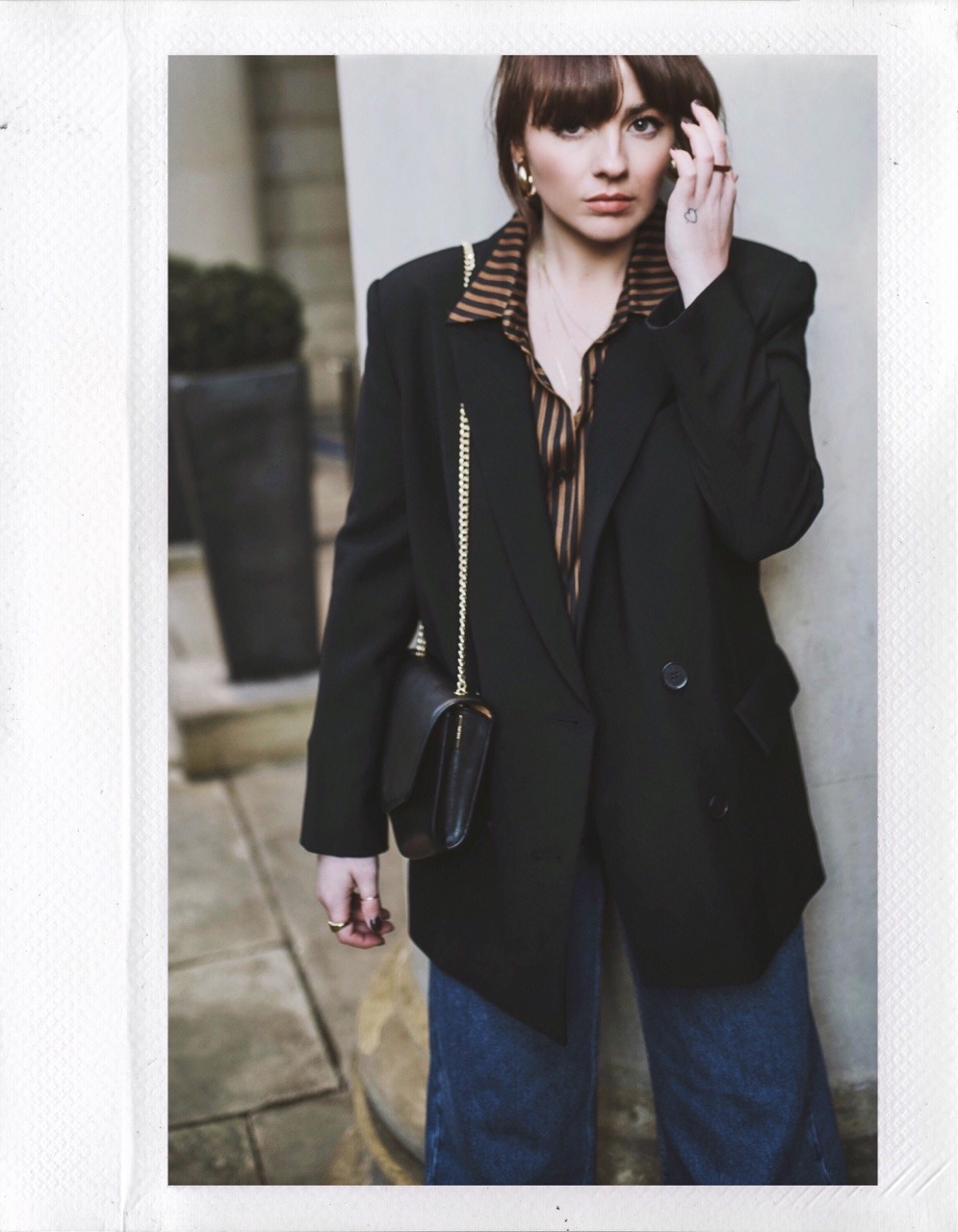 Heathers always springs to mind when I think of great examples of Eighties fashion – it happens to be one of my favourite films ever too. It has some really cool one liners, and feels like the original Mean Girls but with a darker edge. If you haven't seen it already, you'll have to watch to understand what I mean – I promise you regret it! Winona Ryder and Christian Slater are amazing together, and there's an array of rainbow coloured blazers to feast your eyes on throughout. In fact, I've always wanted to dress up as the Heathers girls for Halloween – maybe this year will be the year…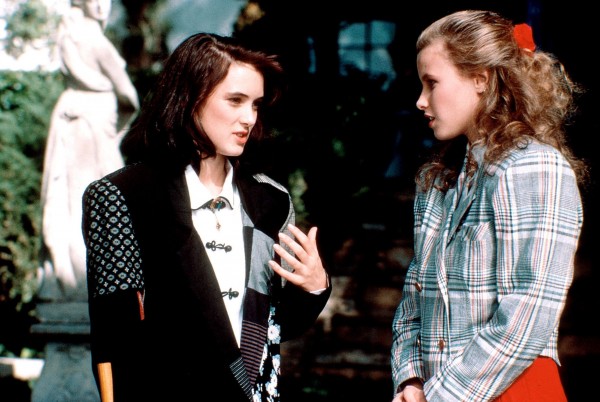 I couldn't do an Eighties post and not give Dirty Dancing a mention – if you're anything like me, you watch it a few times a year, and it just gets better and better each time. It's a classic for a reason, and the characters wardrobes have become just as iconic as the dance moves. Baby's collection of denim shorts, knotted tops, and Grandma esque cardigans are reason enough alone to fall deeply in love with this film. Not to mention Penny's gold strappy dream shoes, red bodysuit, and general off the shoulder top wonderfulness. Between the two of them, I could never decide who I wanted to be more – if you haven't watch Dirty Dancing yet, you're seriously missing out…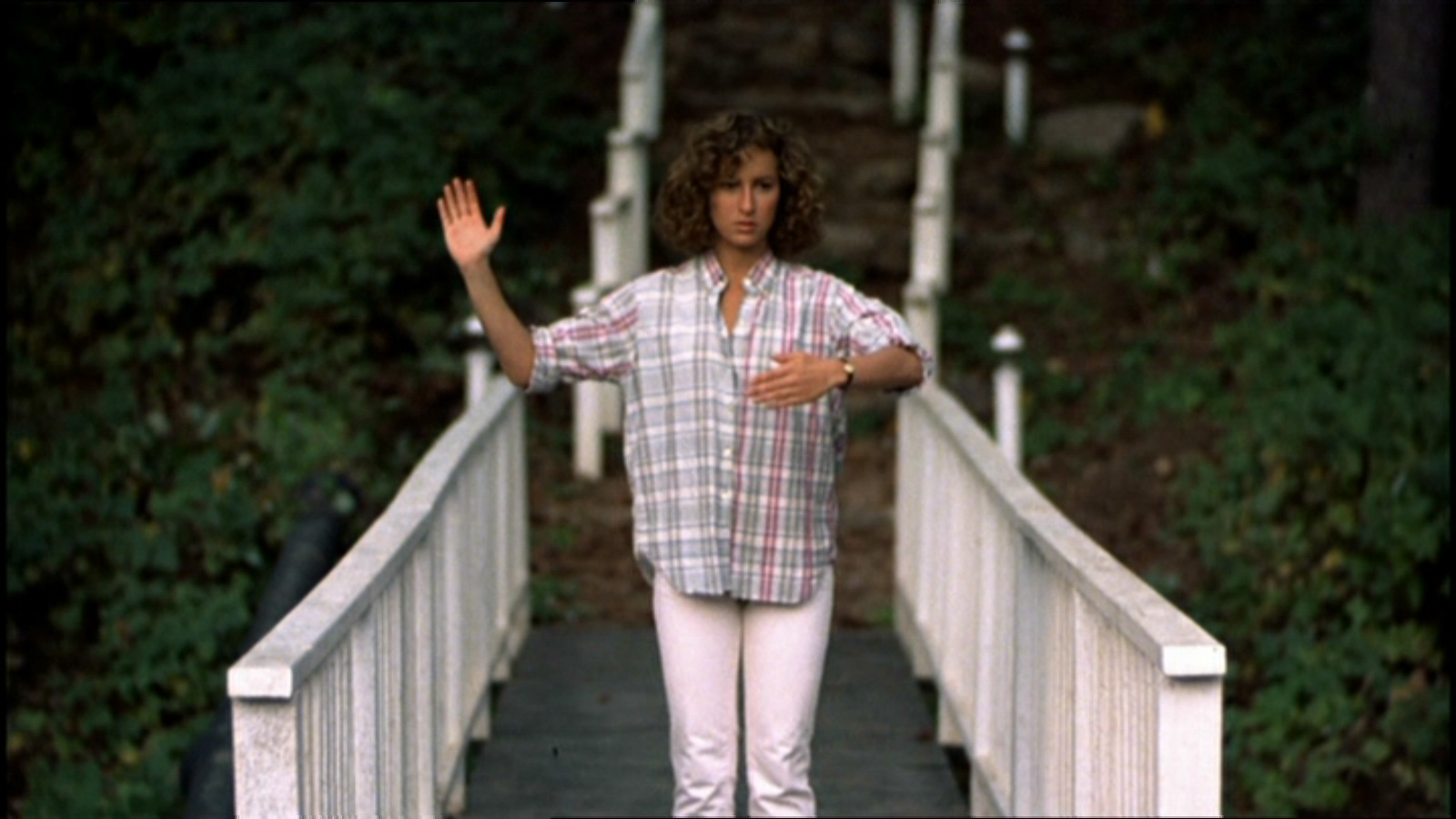 I think a lot of our minds wander to Molly Ringwald when we think of the Eighties – she was pretty much queen bee of Eighties 'Brat Pack' fashion, and with good reason too! Films like Sixteen Candles, Pretty In Pink, and The Breakfast Club are perfect places to start if you want a taster of Eighties cult viewing. Molly Ringwald had a special skill for making old lady style florals and ugly costume jewellery look chic and cool. I think of her whenever I add a tacky pair of vintage clip on earrings to my outfit – I just don't think I'll ever be able to pull off the colour pink the way she does though! Like me, she is someone who seemed to feel most sexy when the outfit does the talking, and avoided anything too revealing. Whenever I see her on screen, she definitely reminds me to embrace the quirkier side of my style – life is too short not to have fun with the way you dress…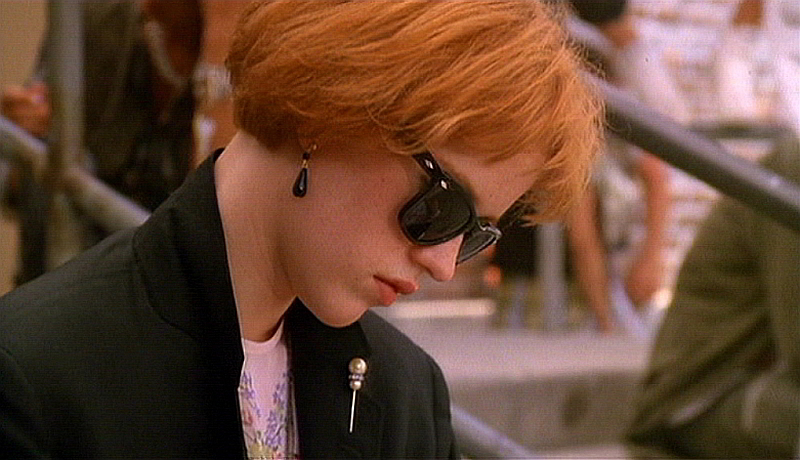 When I think of Eighties music – I pretty much think every karaoke song I've ever drunkenly blasted out at 3am – power ballads, Toto – Africa, Like A Prayer, and David Bowie galore. The Human League, The Police, and dancing badly around my living room to New Order and Cyndi Lauper. Whitney Houston, Michael Jackson, George Michael, Hall And Oates – I could sit here all day and list the music that we have the Eighties to thank for. It's some of my favourite music to dance to on those rare times that I get dressed up and go out, and it never fails to put me in a better mood than before I listened to it. Blondie and Prince had some of the best wardrobes around – not to mention that picture of Kim Wilde where she wears sheer tights and a leather jacket. I still think that's way up there with one of the sexiest looks I've ever laid eyes on…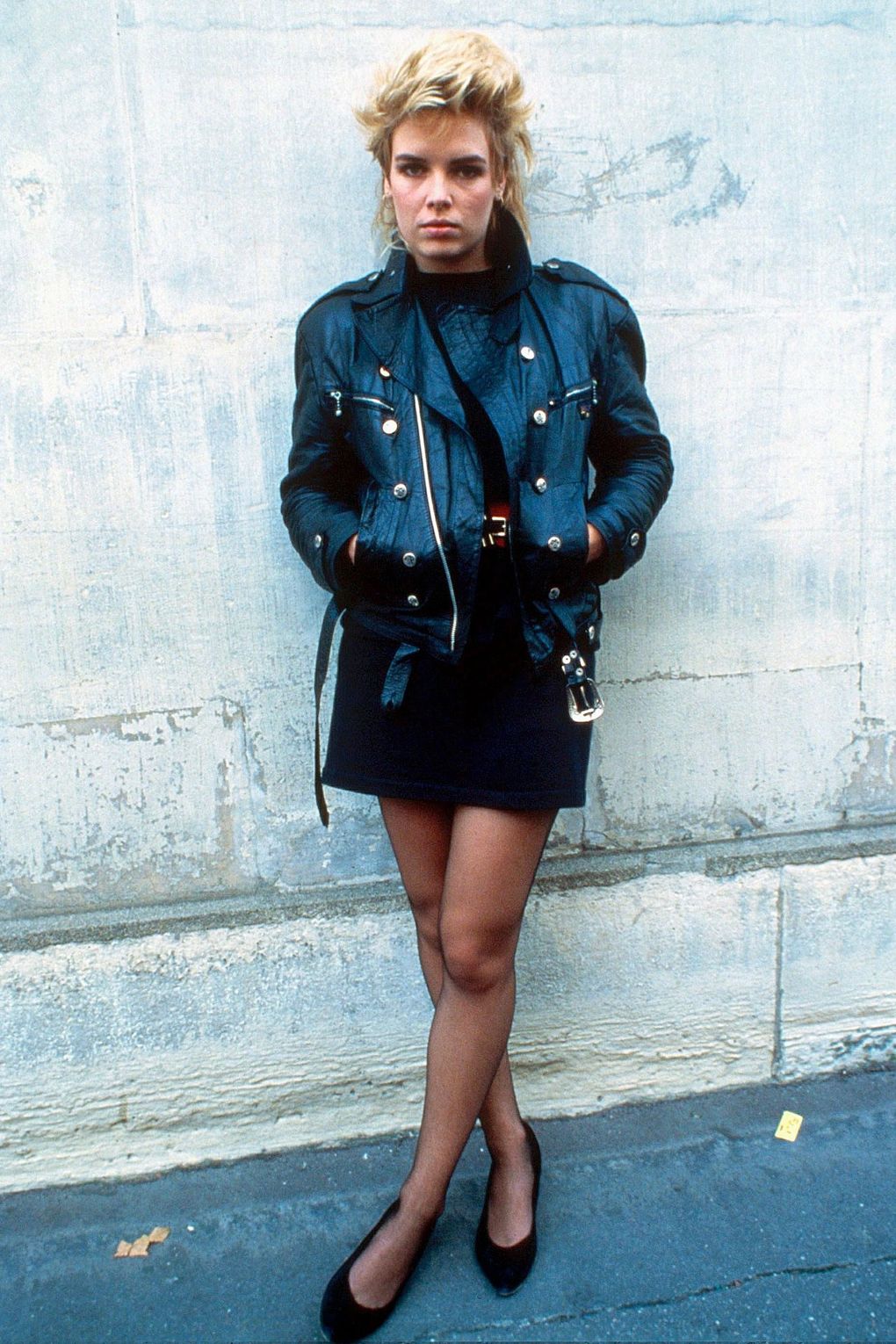 I had to mention Princess Diana for obvious reasons – not only was she the coolest royal ever, but we also happen to share the same birthday. If you look up images of her personal style back then, it's just as fashionable and accessible by todays standards – the balloon sleeves, oversized check blazers, and high waist denim seem to endlessly come back around in circles. They are those pieces that your parents keep telling you 'they would have kept in they had known' – everything seems to come back around again eventually, which will be my excuse for hoarding everything until the very end. I'll forever be in awe of Diana's beauty – she was unapologetically herself, and the kind of Princess that I would love to be best friends with…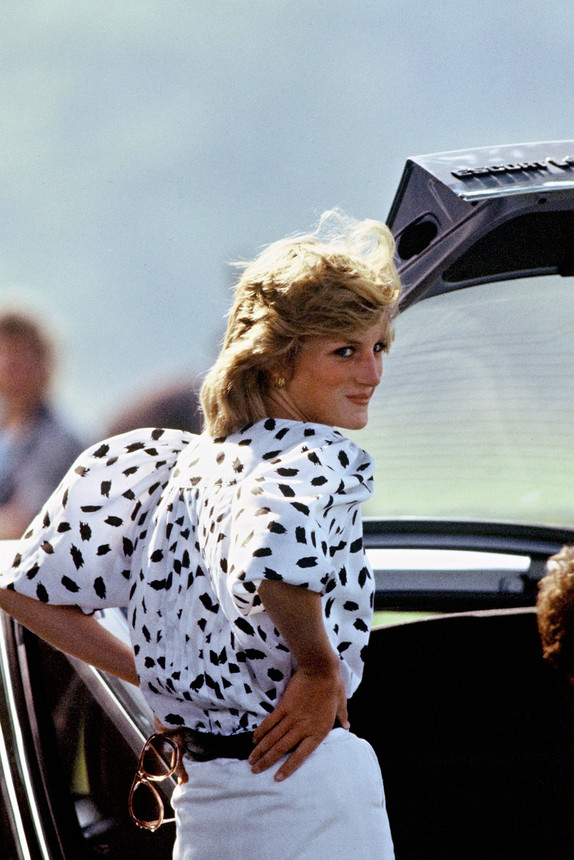 Last but not least, I had to mention the influence of 80's supermodels – they just don't make them like they used to ey? There's something ethereal about models of that time – Lauren Hutton, Cindy Crawford's legs, and Brooke Shields eyebrows (I literally have daydreams about those eyebrows). Now don't get me wrong, I'm not one for championing societies idea of the perfect woman – beauty standards can be ridiculous, but If I'm going to admire any era of the supermodel, I think it has to be the Eighties gang. You really got a sense of their personality – they were athletic, fierce, and boy did they know how to power dress…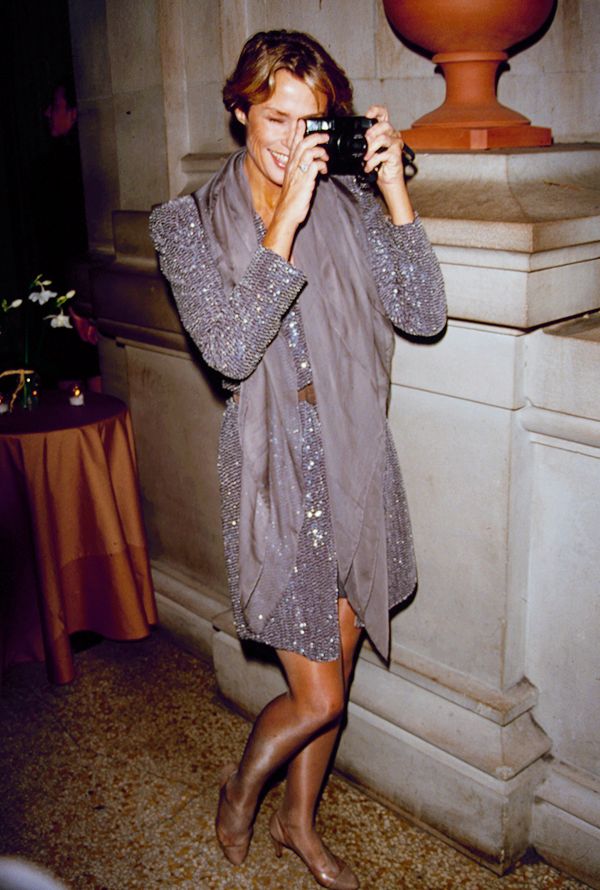 I could go on and on with this post – it's safe to say that there are a lot of things to admire about the Eighties. Fashion didn't take itself too seriously back then, it was exaggerated and the details were magnified in the most wonderful way.
People wanted to be noticed with their outfits and there's something really playful and exciting about that – the patterns and fabrics were bold and daring – when you scroll though endless images of the fashion back then, you really get the impression that people didn't give a f**k who was watching or what you had to say about their outfit. Amen to that… 
Alice x
---
Photographs by Adriana | All Inspiration images taken from Pinterest & Tumblr
Stripe Shirt | Zara
Blazer c/o | And Other Stories
Jeans | Topshop Boutique
Shoes c/o | Russell And Bromley (sold out/similar here)
Bag c/o | Sandro
SHOP THE LOOK