Hello you wonderful lot, I hope you're all well and truly feeling festive/getting ready to take a well deserved Christmas break! I have had a pretty none stop week, but I'm finally starting to feel like I'm on top of everything! This week I got invited to a Farfetch event in London which was a nice little day break from life in Manchester – I also got to travel with Sophia Rosemary which is always a pleasure as we get to catch up and have a good old natter. This usually involves giving each other little pep talks, and discussing the bags that we have been dreaming about…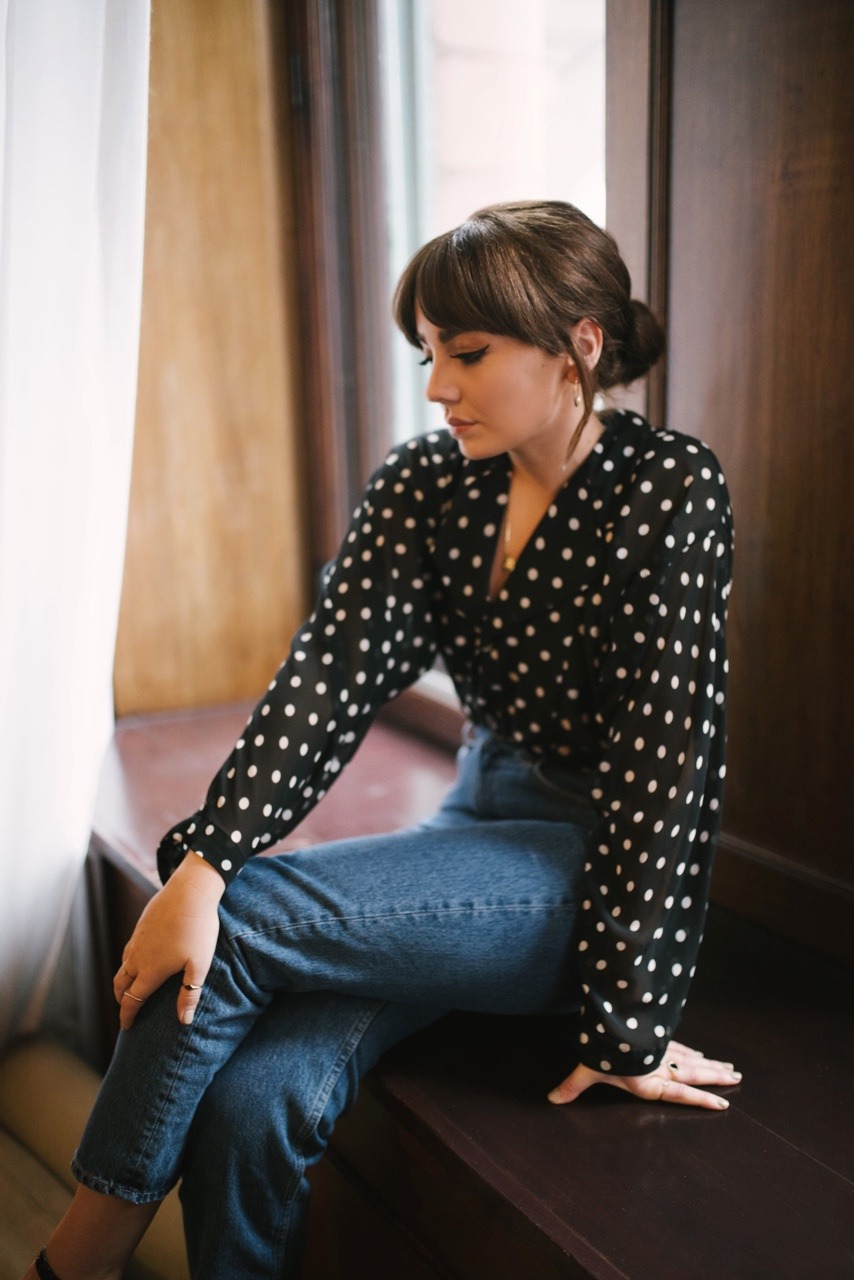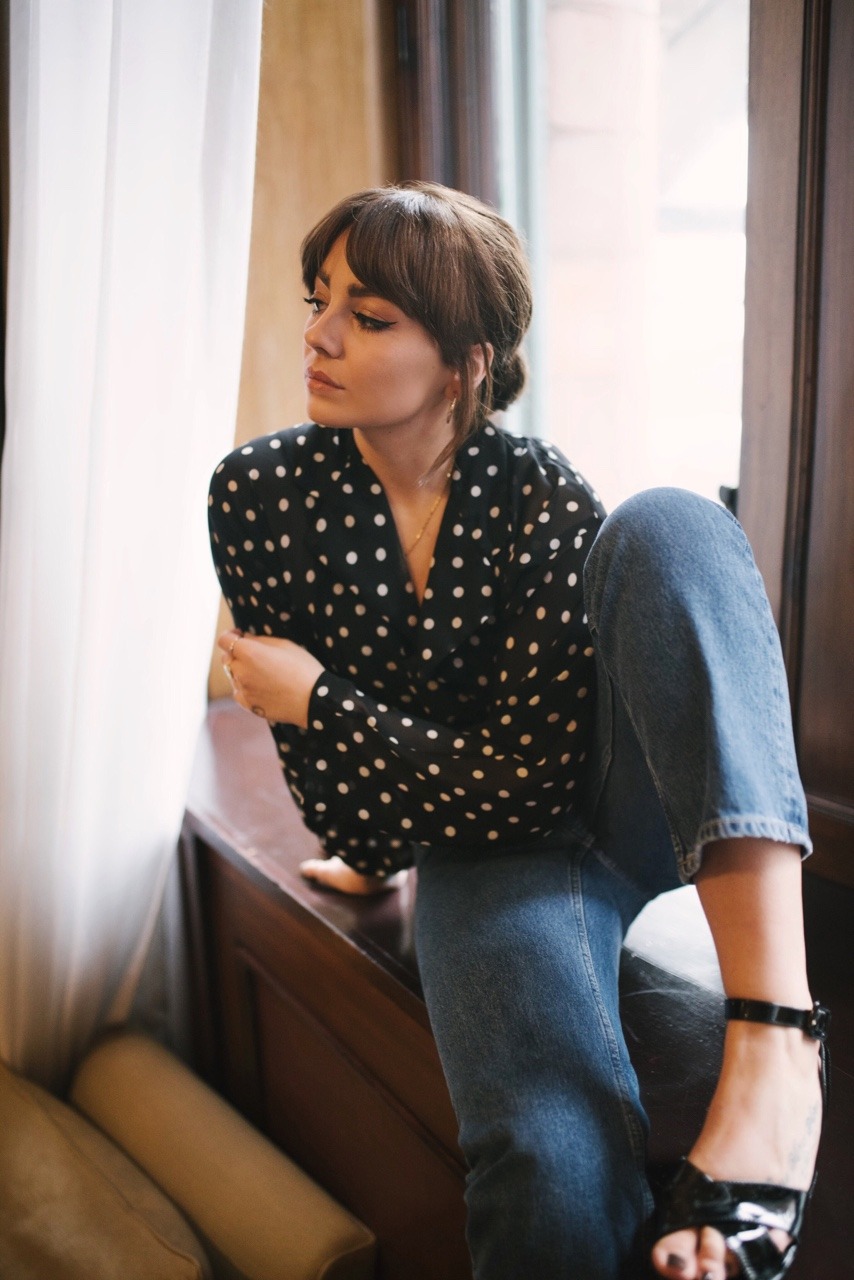 The day was full of festive surprises, and they even kindly let us pick some pieces out from House of Liza – I opted for this dreamy polka dot Comme Des Garcons blouse, because I clearly don't own enough polka dots already? I also picked out some amazing gold clip on earrings which I'm sure I will feature sometime soon! I'm seriously reliving my youth at the moment in terms of my clip on obsession – I just can't get enough of them! Whether it's my amazing brass ones by Pamela Love, or some two pound clip on hoops from Ebay, I've pretty much been wearing a pair everyday. In fact, the tackier the bloody better in my opinion – Christmas is all about appreciating the tackier/cheesier things in life, and I've always been in favour of a Christmas tree that looks electric with personality, rather than straight out of a lifestyle catalogue…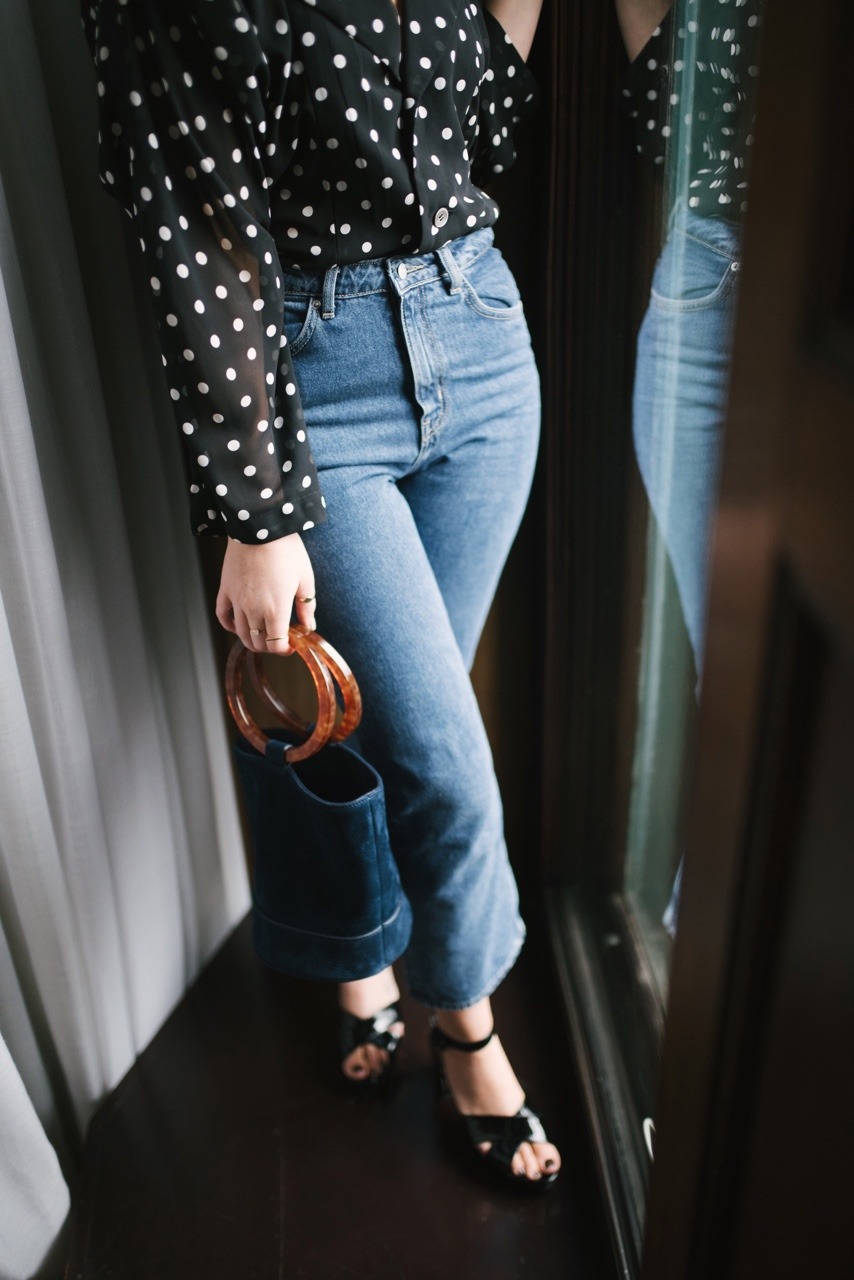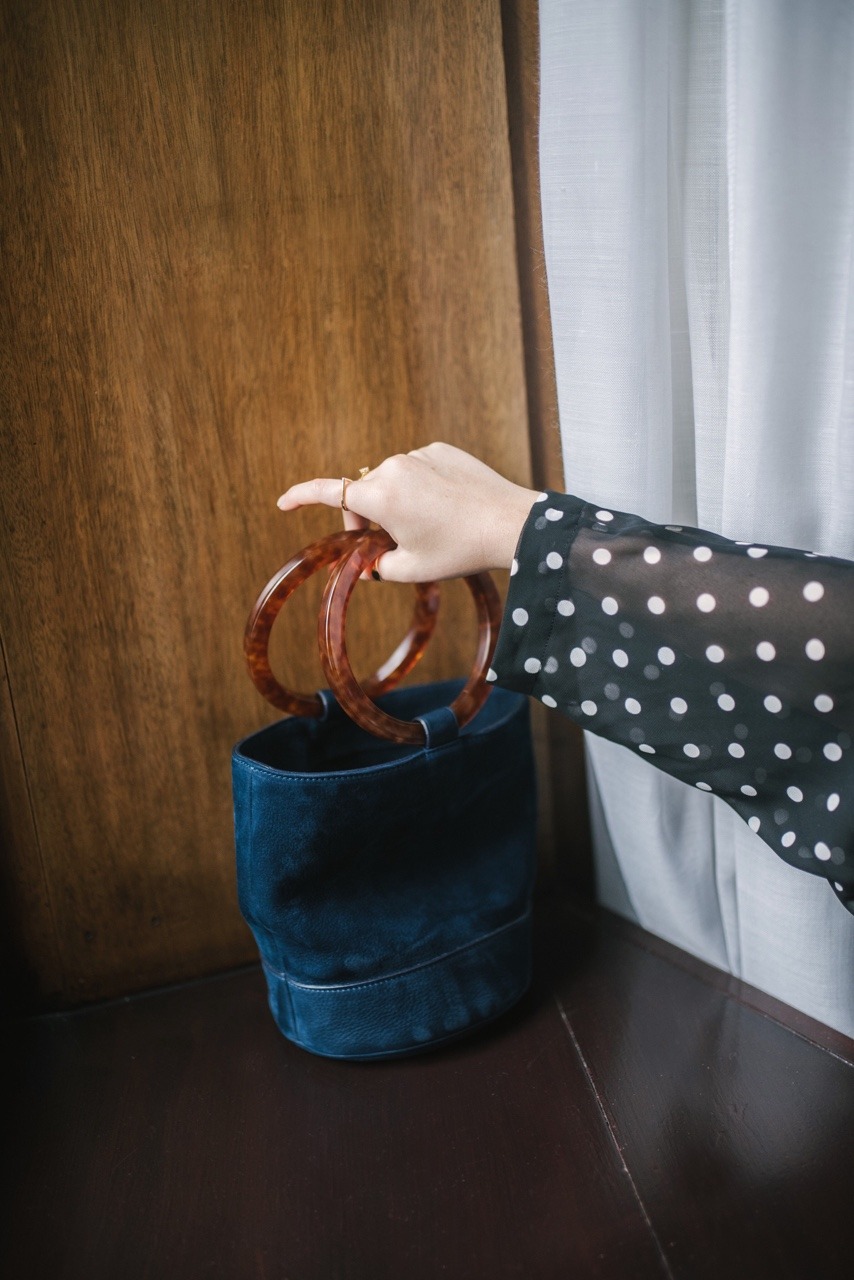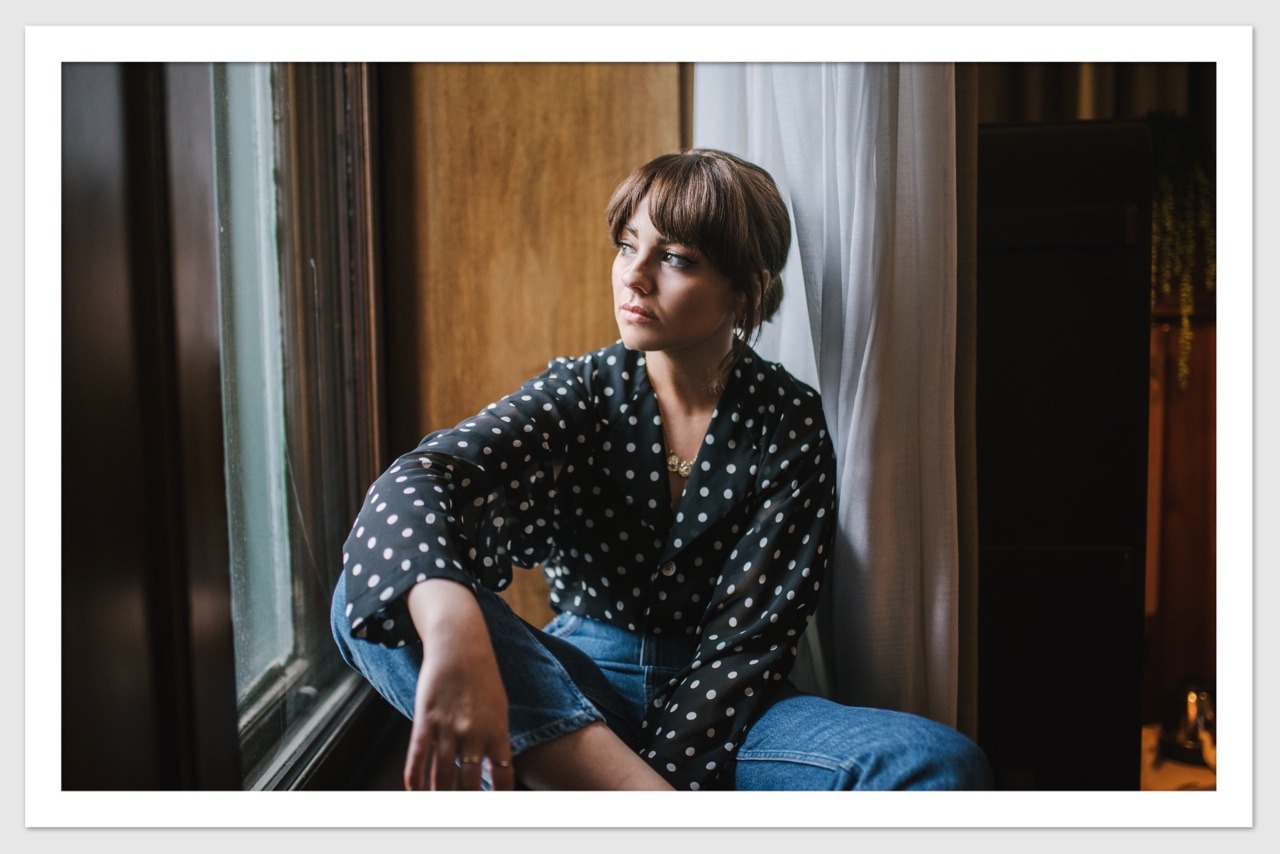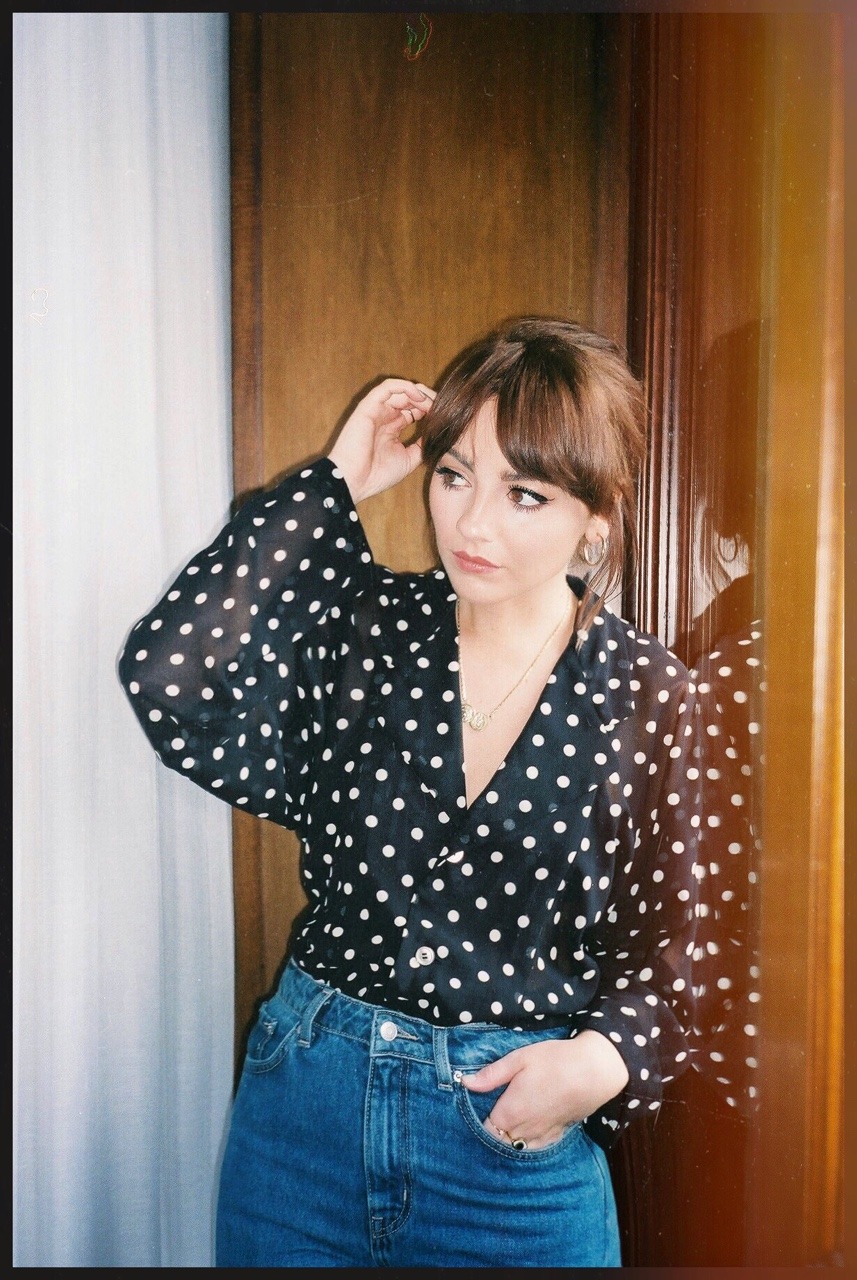 I paired the blouse with my Weekday jeans, and some patent platforms for an easy Christmas look inspired by the girl who's got five minutes to switch up her daytime attire – add a fancy bag, some gold accessories, and you're good to go! As far as I'm concerned, December is most definitely the season for 'jeans and a nice blouse' – you don't always have to succumb to the pressure of dressing up to the nines with all the glitz and glamour. Sometimes it's as simple as putting on a sheer blouse and a pair of comfortable heels, and just leaving the itchy sequins back home.
Don't stress if you don't have a fancy dress, or you don't have enough time to put something extra special together – Christmas is all about having a good time with those that you love most, therefore the clothes you wear most are welcome to come along too…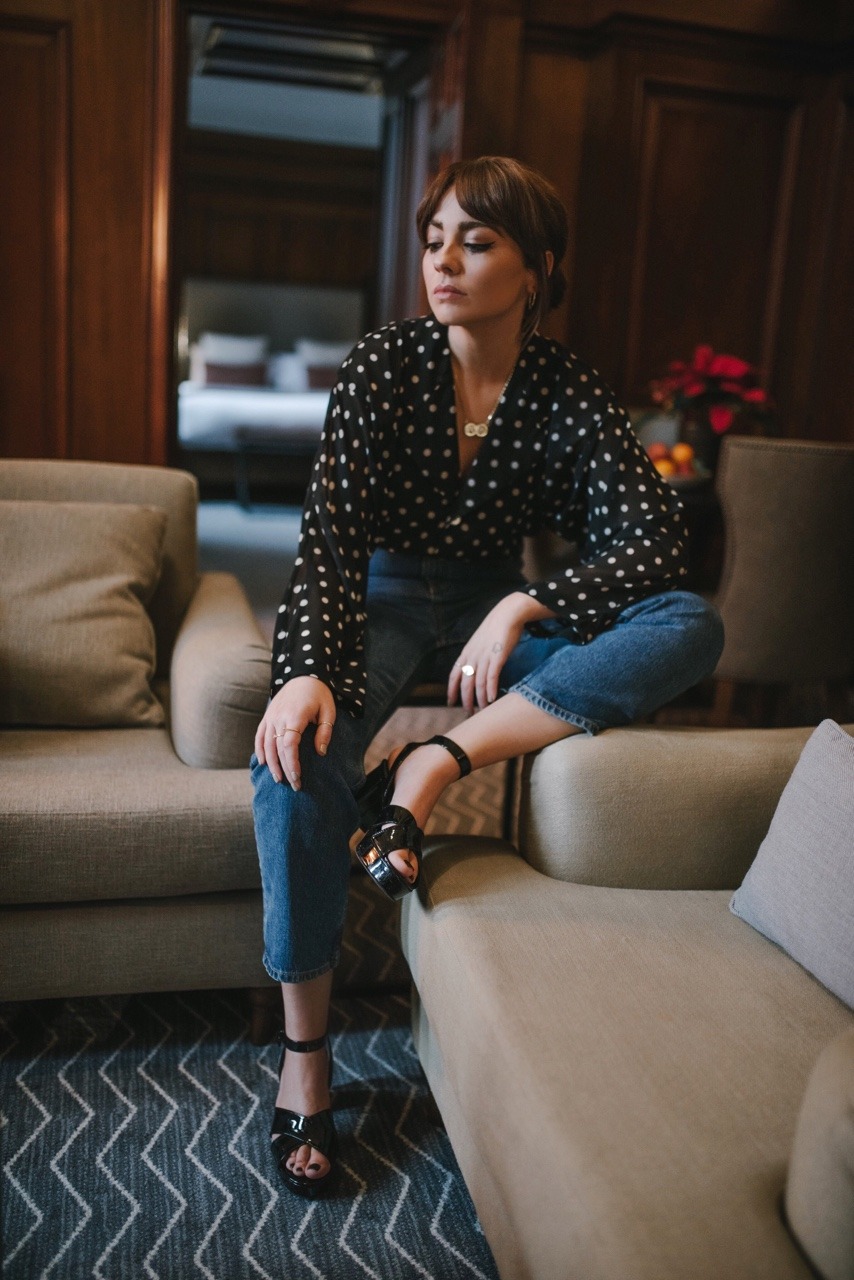 In the spirit of festive nights out galore, I've put together a whopping Christmas playlist for you all to get ready to! I have been listening to it all weekend, and I have to say, it might be the greatest Christmas playlist that I've ever made. There's a little something for everyone, and not one single Michael Bublé song (sorry mum). It's nothing personal by the way, I just realised as I was listening to it, and by that time, it was too late for changes. Lets face it, you can't escape Mr Bublé at this time of year, so this playlist will provide your ears with a nice little break! It's full of my absolute favourites, and I hope it has you dancing around your living room… 
"There is nothing in the world so irresistibly contagious as laughter and good humor." – Charles Dickins
Wishing you all the most magical Christmas!
Alice x
---
Photography by Adriana
Location, The Principal Hotel – Manchester
Vintage Comme Des Garcons Blouse c/o – Farfetch | Jeans – Weekday | Shoes – ASOS (old/similar here) | Bag – Simon Miller
SHOP THE LOOK