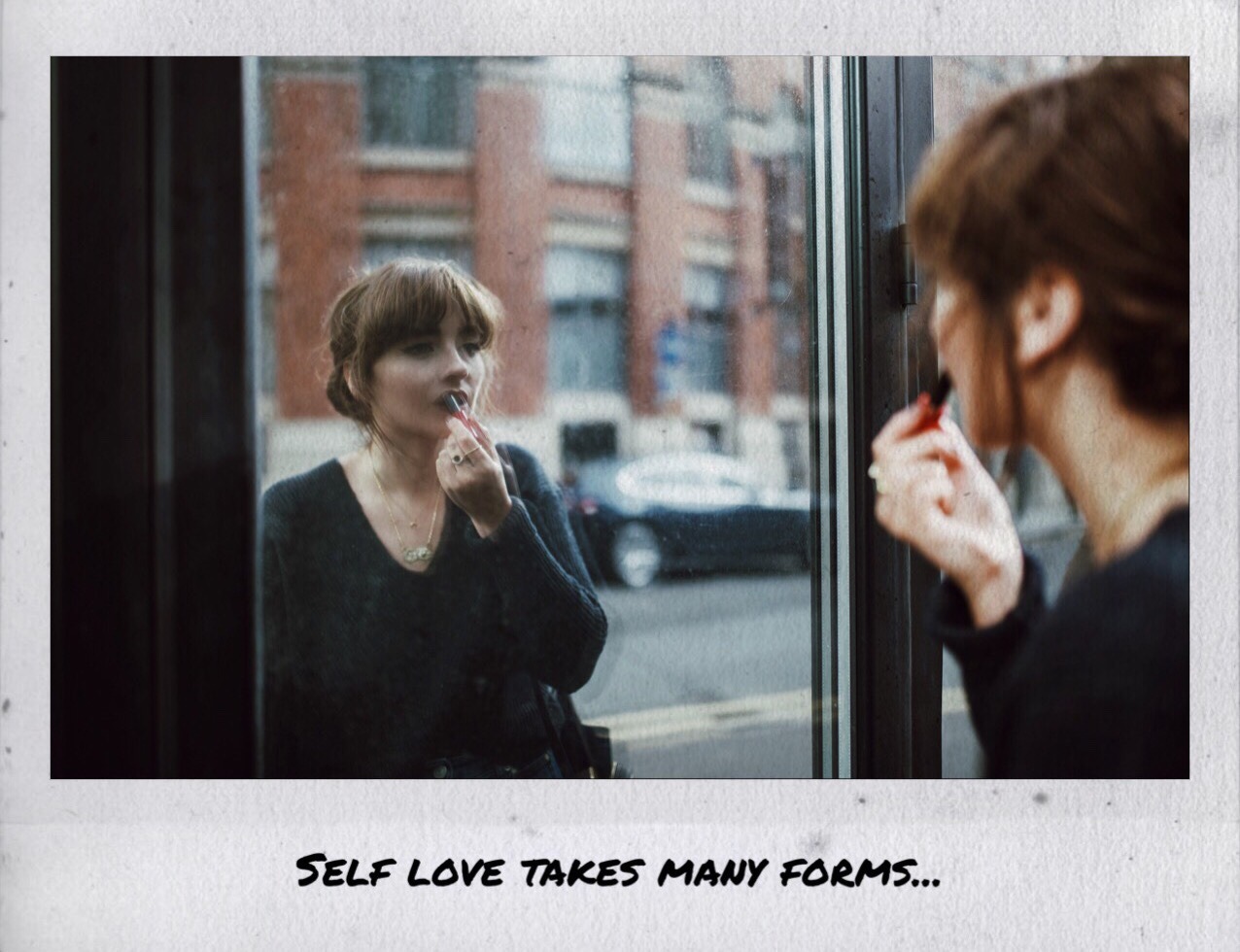 I'll let you in on a secret – I'm scared to death to write this post, but I feel as though I owe it to my younger self to be open and honest. My blog is a place I feel safe, and I dislike the feeling of having to dilute my personal experiences to the extent where I feel removed from my own writing. I want to look back on my blog in years to come and reflect on how far my little self has travelled during my time on earth, and if I can provide comfort to just one other woman, well that's the most satisfying way that I could ever quantify success…
I guess I should start at the very beginning. I remember starting my period for the first time (I was around 15 I believe), and this often resulted in me feeling like the baby of the group, like I was somehow endlessly uncool and inexperienced because I was constantly being passed down information rather than discovering it for myself. I remember rushing home and being excited that I finally reached some sort of bodily function related milestone – it was a relief to know that my body was working the same way as my friends, and I now felt that I could join them in their period related woes. After all, nothing quite bonds women like being on your period at the same time, or saving the day of someone who hasn't quite turned up prepared! Women help each other like this every single day and I love that about us – it's something that men will just never quite have the same empathy for.
We are superheroes armed with tampons, chocolate and puppy memes for whenever our fellow women in need may require them. I've never been afraid to talk about periods – there should be zero stigma attached, and the fact that some men consider them to be gross is still a reminder that we have a little way to go in terms of allowing women to feel comfortable about their own bodies. Personally, I could never marry someone who wasn't prepared to nip to the shop for period related supplies! Anyway (I digress), a couple of months passed and I finally decided I wanted to try a tampon to see what all the fuss was about. I couldn't seem to make it work no matter how hard I tried or how hard I 'relaxed' – everyone around me was using them with minimum effort, even my younger sister. I remember feeling stupid, but I tried not to take it to heart and instead just settled for towels or pads…
A few more years and a couple of boyfriends later – I was privately experiencing a whole new set of troubles. As you can imagine, this was now affecting me sexually, meaning lots of awkward/frustrating encounters, lots of tearing up by myself and wondering what the hell was wrong with me. Luckily, I have never had anything but loving boyfriends who were understanding and patient with me, and I'll forever feel thankful for this. However, it was little comfort at a time when I felt completely foreign to my own body – somehow I didn't understand it and nobody else seemed to either. I'd turn my back to boys on nights out (not just the creepy ones) but anyone who would generally take an interest who could have been perfectly nice – I was terrified of having to explain to people that I was different. It affected my self confidence and body image massively – I hated myself for years because I didn't recognise it, it felt physically and mentally restrictive, and throughout university I let it know exactly what I thought of it. I was cruel to myself, I put on lots of weight, I self harmed at times, and had some pretty dark days that felt like they would never end. I didn't want to be this person – I wanted energy to be the thoughtful, funny, creative person that I knew I could be.
I finally plucked up the courage to go and get myself professionally examined, but this was also difficult, and mentally quite a traumatic experience. My brain would cause muscles to spasm as an emotional response – something I later learned was Vaginismus. There are different types of Vaginismus and a multitude of life events and circumstances that can trigger it. For some, it's a minor thing that can be healed with a  few appointments, for others it can stem back to something awful they experienced as a child. You can develop it after any kind of trauma basically, so the hard part is trying to face this trauma head on, and to retrain your body to work as it should naturally. It's an exhausting process, and one that I feel there just simply isn't enough help for.
For five or six years, I tried a few different forms of therapy and hopped from doctors surgery to doctors surgery in a vain attempt that one of them would tell me it was some kind of joke. It was of course, a huge strain on my relationship throughout the years too – I refused to admit there was a problem, and I wasn't in the right frame of mind to get myself better. I didn't know how to get myself better, and I was constantly torn between whether it was a mental issue, a physical issue, or both making me suffer at the same time like some kind of ongoing battle for my own body. 
However, Sam still remains firmly by my side, and I have never been more thankful for a human being in my life. He has shown me what real friendship and love truly is – he has held my hand every scary step of the way, and never expected more of me than I can offer. In no way do I believe that you need a man to be secure by yourself, but had it not been for him, I don't think I would have pushed myself enough to get to the root cause of the issue. He recognised that I deserved better, even when my head was flooded with negative thoughts. Ultimately, he encouraged me not to give up on myself, and to keep searching for answers…
As many of you might be aware by now, this year was the year I quit the job that was making me miserable, and decided to pursue blogging full-time. After a few months, I was able to save more money that I had ever had in my bank account before – I'm not talking millions here, but I was able to put aside some funds for my future, something which my other jobs had never allowed before. I started saving for a deposit for a house, and there was a certain confidence in finally feeling like I was providing for myself and being able to help others around me. For the first year in my life I hadn't needed to ring my mum for emergency money – I was able to start giving back to her and to start investing a little more in my hobby that I was now lucky enough to call a career.
This new found independence (along with a genuine love for the job I had created for myself) seemed to massively shift my mentality – although my job is by no means secure, I started to feel that I had a purpose, and that I wasn't just floundering on the outskirts of womanhood. I was now becoming part of a community of girl bosses that would continue to be nothing but welcoming and supportive. I was finally (at twenty five years old), starting to stand on my own two feet and pave my very own way through this daunting but exciting new industry.
Fast forward a few months of being on cloud nine and excitedly checking my email box each morning (I still get excited, is that sad?), reality started to sink in, and I still had this empty space inside that needed tending to (not an intentional innuendo for my vagina but let's roll with it anyway). It was finally suggested to me to be put under general anaesthetic so that someone could properly examine me and hopefully rule out anything more serious than Vaginismus. The waiting lists were endless – I will never ever complain about the NHS because it's one of the most precious accomplishments the UK has to offer, but experts in Vaginismus seemed niche throughout my journey. Time and time again my appointments would be cancelled – I'd psyche myself up just to be sat in a flood of tears again when I got the cancellation news.
This happened again recently, so I decided to take matters into my own hands, and I started researching private care that was available to me. I came across a clinic (super close to where I live) and immediately booked an appointment. I wasn't sure if it would be money well spent or money wasted – I had zero expectations at this point, and had almost given up hope of ever feeling comfortable in my own skin. Just under a couple of hundred pounds allowed me a full hour of private examination and analysis of my case. I was (for the first time ever) examined throughly, and things slowly started to move forward. Without getting all surgical, I was told that I had some skin that had fused inside of me (almost like a septum situation) that was making everything extremely painful. In addition to this, my Fallopian tubes weren't fused properly, and I had a sensitive skin condition that was causing the opening to be problematic. None of this was visible from the outside over the years – my periods and general day to day functioning had been normal. In fact, I liked the way my vagina looked, I just hated the way it didn't work.
It was these undiagnosed physical abnormalities that had apparently caused my Vaginismus over the years – but I had also spent years trying to uncover some kind of mental trauma from my childhood or teenage years. I'd spent years soul searching, beating myself up, and being told to just try and relax and put on some fucking candles. It's safe to say that every part of my being felt instantly relieved – someone had finally told me that I wasn't stupid after all, that I was right to feel that something was wrong, and I could finally stop exhausting myself mentally and sending myself into a spiral of despair. She told me that my fears were justified and that I could now start the journey of being kind to my mind and body. I felt this overwhelmingly bittersweet sensation – everything seemed like it was finally starting to move in the right direction, but I felt sad for younger me. I felt sad for other women that were still searching and still suffering. I didn't know how to feel, I just knew that I had to keep moving forward, no matter how unsexy and ashamed it had all made me feel inside.
27.11.17
Today is Monday and possibly the Monday that will forever stand out as the scariest Monday ever. I feel like all of us have had one at some point – an almost doomsday feeling that everything is about to change, or at least it feels that way at the time…
I had been offered a private operation which I would have to spend all my savings on, or I could go back to the NHS and be put on a waiting list again. The doctor told me that it could all be over with before Christmas, and that was pretty much all I needed to hear to part with my hard earned money – there was some vain part of me that wanted to enter 2018 and leave as much of this issue as possible behind me. For once, I just wanted to stand there on New Year's Eve and feel optimistic about the year ahead. I don't know how much I believe in fate and all of that spiritual jazz, but it did somehow feel like someone was watching out for me this year.
I guess I'm not sure that everything happens for a reason – sometimes life is impossibly shitty and unfair, and then it suddenly isn't so bad again. We learn to make peace and move forward, we are stronger than we ever give ourselves credit for…
I almost felt guilty for turning up to the hospital and handing my debit card over to the woman sitting at reception. My heart kept ached intensely for younger me who would have never been able to get together the money, it ached for all the young girls and women over the world who wouldn't be able to either. I kept tearing up and torturing myself with do I really deserve this? It's a strange position to be in, and I haven't encountered many people with the same issue. It's understandably a set of issues that people wouldn't want to shout from the rooftops about, but I think it's important to break down these stigmas, and make people feel less alone. I know that reading the stories of other women online was a huge comfort to me at times – I felt less alien and less pessimistic about the future existence of my body.
Going into theatre I felt lonely but somehow strong – as two men tried their best to find a vein and give me the good stuff (it took a couple of attempts), I stared at the clinical looking clock in front of me and took a deep breath. I suddenly felt this amazing sense of calm fall over me – that life was going to get a little better each day after this. That no matter how many more sad times I'm inevitably faced with, I'd be able to face them feeling stronger.
Every rejection and heartache would now be less of a sting because I wouldn't constantly be doubting myself. I wouldn't constantly feel like I was a little bit less worthy of happiness than every other girl I encountered. I wouldn't feel pathetic and afraid to be sexual and spontaneous – I wouldn't be afraid to truly let loose and live as we are meant to, without crippling self doubt and anxiety.
I woke up in recovery feeling sleepy but surprisingly in good spirits – I wasn't in too much pain, and I can't explain to you the sense of relief that I was feeling. That I still feel. I feel like I've given myself the best Christmas present I could possibly receive – a new beginning, another milestone in my journey to self love. I hobbled out of the hospital and into an uber home wearing a combination of comfortable loungewear and Converse. The sun was shining intensely all the way home (and I kid you not), Oasis – Don't Look Back In Anger was the first song that came on the radio. I laughed to myself at how ridiculous this moment felt and Sam turned to me and smiled too. It felt like I was finally coming out of this reoccurring nightmare with a good chance that it wouldn't happen again – or like prising my way out of the upside down for a pop culture/Stranger Things related reference.
I won't go into all the surgical details of the operation as I'm not even certain I remember exactly what happened myself – I kind of glaze over in these situations and just go into survival mode. I have a follow up appointment in two weeks time, and there might still be a little way to go in terms of being completely healthy, but the surgeon was positive and what needed to be removed/fixed was all able to be done successfully. I was told that having children should be okay in the future, and that once I'm healed, I should feel a huge difference. I'm not going to link information below because everyone's story is completely different, and I still don't feel like I have all the facts about my own diagnosis. However, I do want to use my journey to help others in any way that I possibly can, and I'm sure that I'll figure out a way to do that eventually. Whether that's training as a therapist in the future, or just continuing to keep the conversation ignited for as long as I'm blogging.
I wasn't sure if this post would be over-sharing, but I just had this overwhelming feeling of wanting to type out everything out as soon as I got back home – I guess that's partly the blogger in me and partly me wanting to make peace with what I'd been through. If these words can resonate with anyone, or inspire someone to get help or to keep searching for answers… it will be one of the most important posts that I ever hesitate to click publish for.
I guess I just wanted you all to know that whatever happens in life, whatever dark times you endure – you are worthy of real love, you are worthy of self love, you are worthy of life!
Be gentle with yourself.
Alice x