Autumn is definitely one of my favourite times of the year – it takes me back to being a kid and getting excited over the possibility of going shopping for a brand new coat. Back then it was usually something quite classic that would age well and keep me cosy on those bitter cold mornings. Not much has changed at twenty five – I still seek out coats that are well designed, but I also feel like I want something more adventurous. I was much more conscious about what people would think when I was younger – now I'm more bold in my choices and wear what makes me happy. Free People are a brand that always seem to just get coats right – their attention to detail is second to none, and I always feel like they manage to add a new spin on timeless favourites…
LOOK ONE - THE TEDDY COAT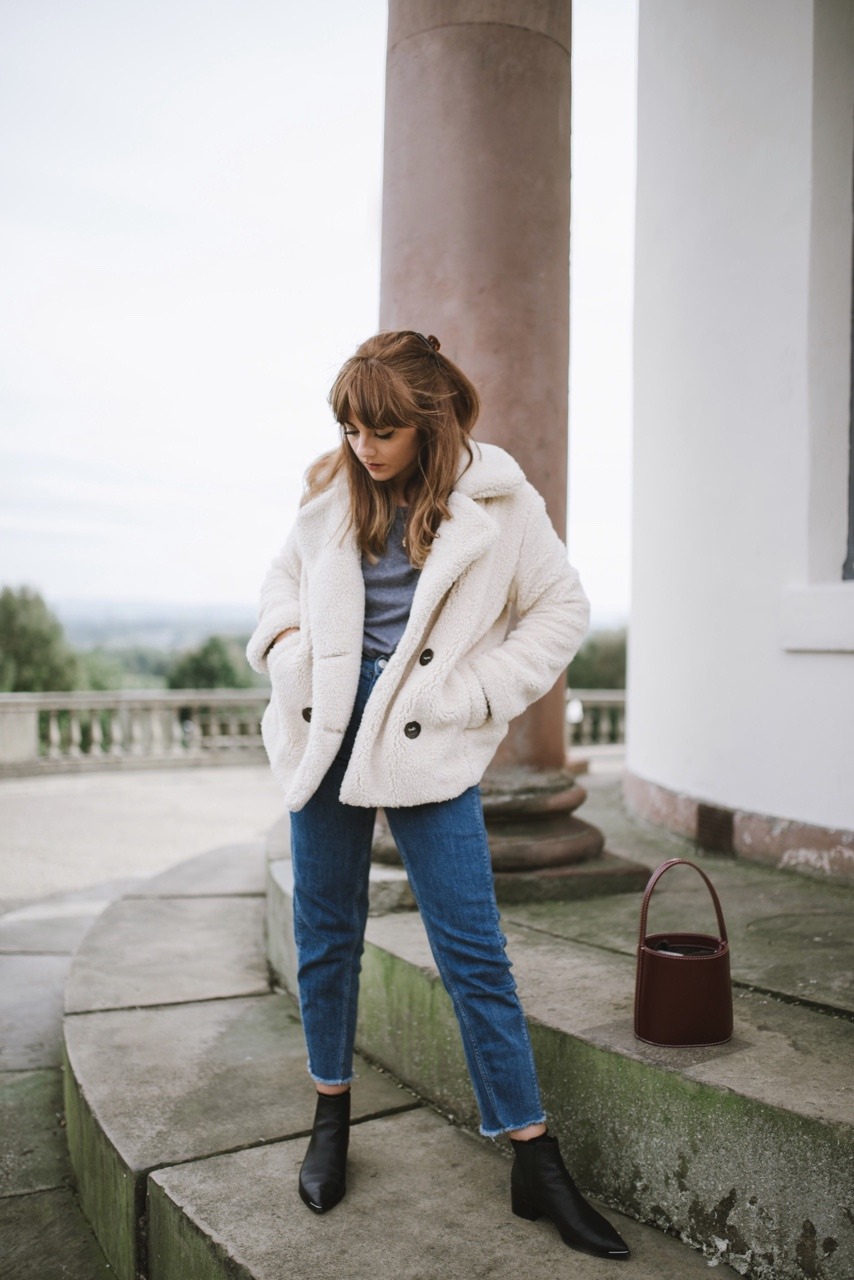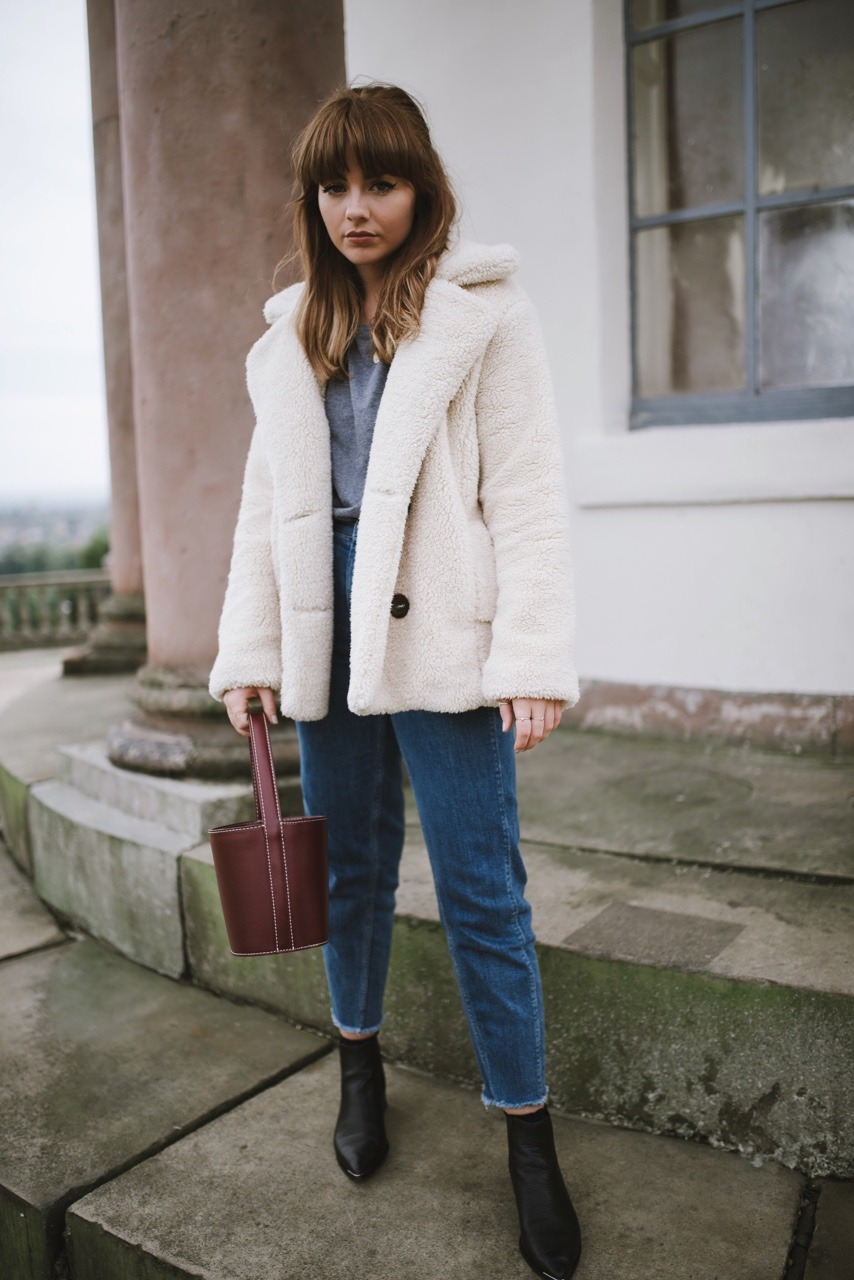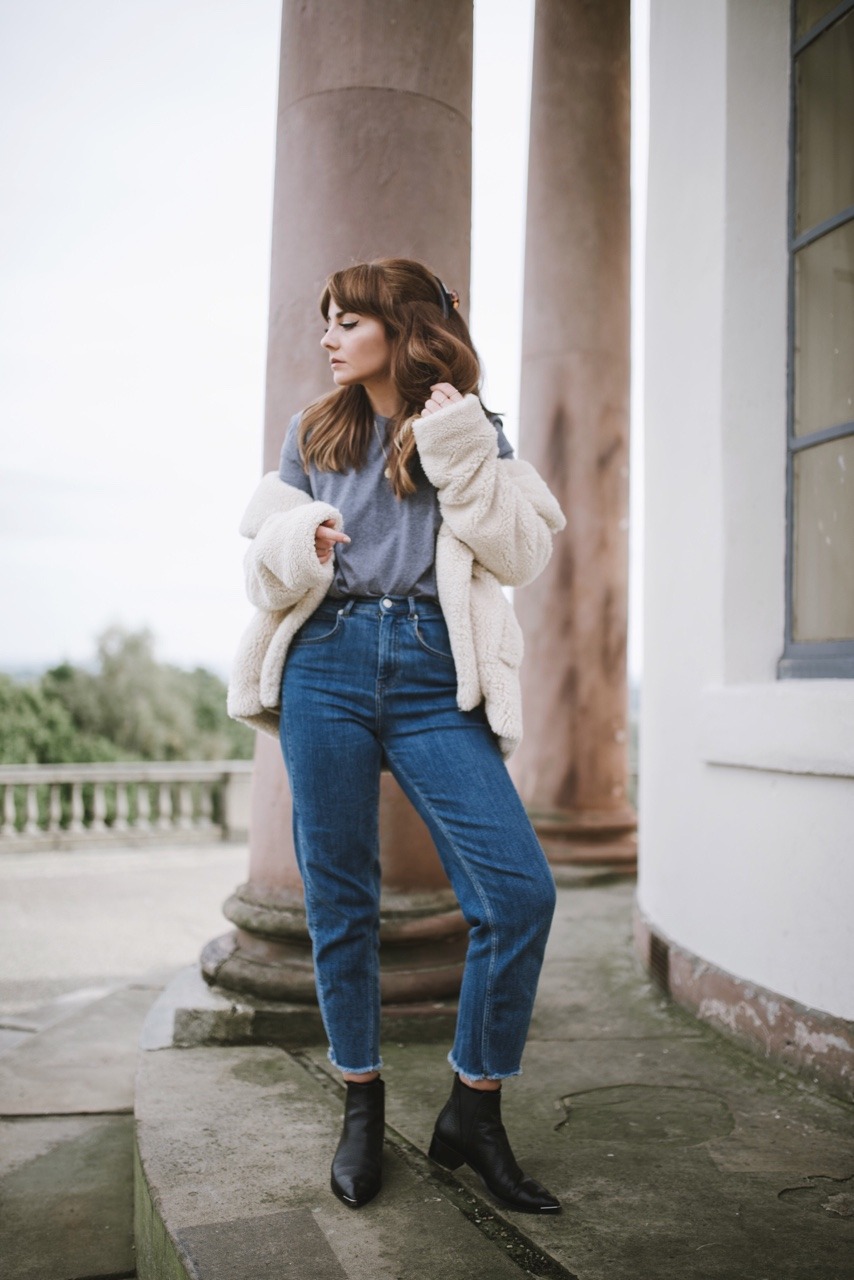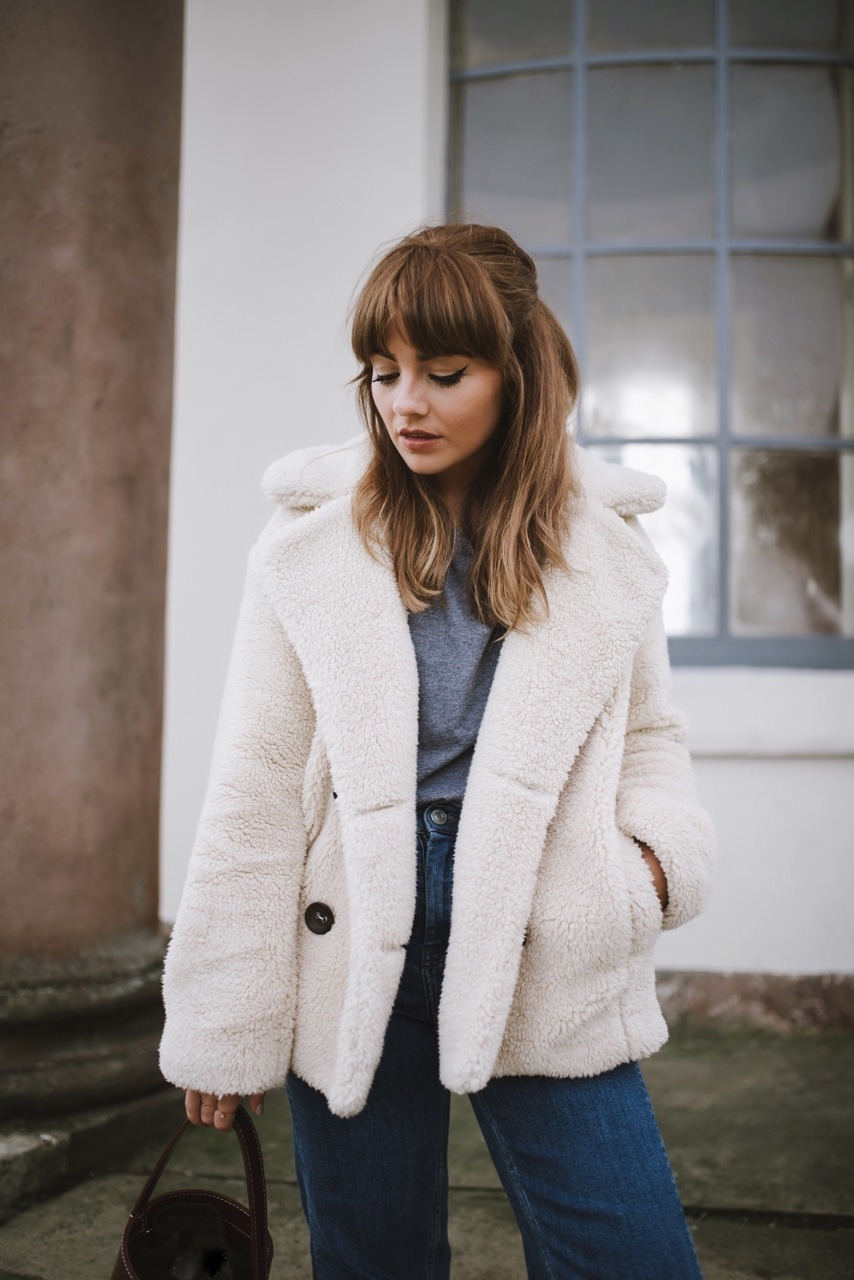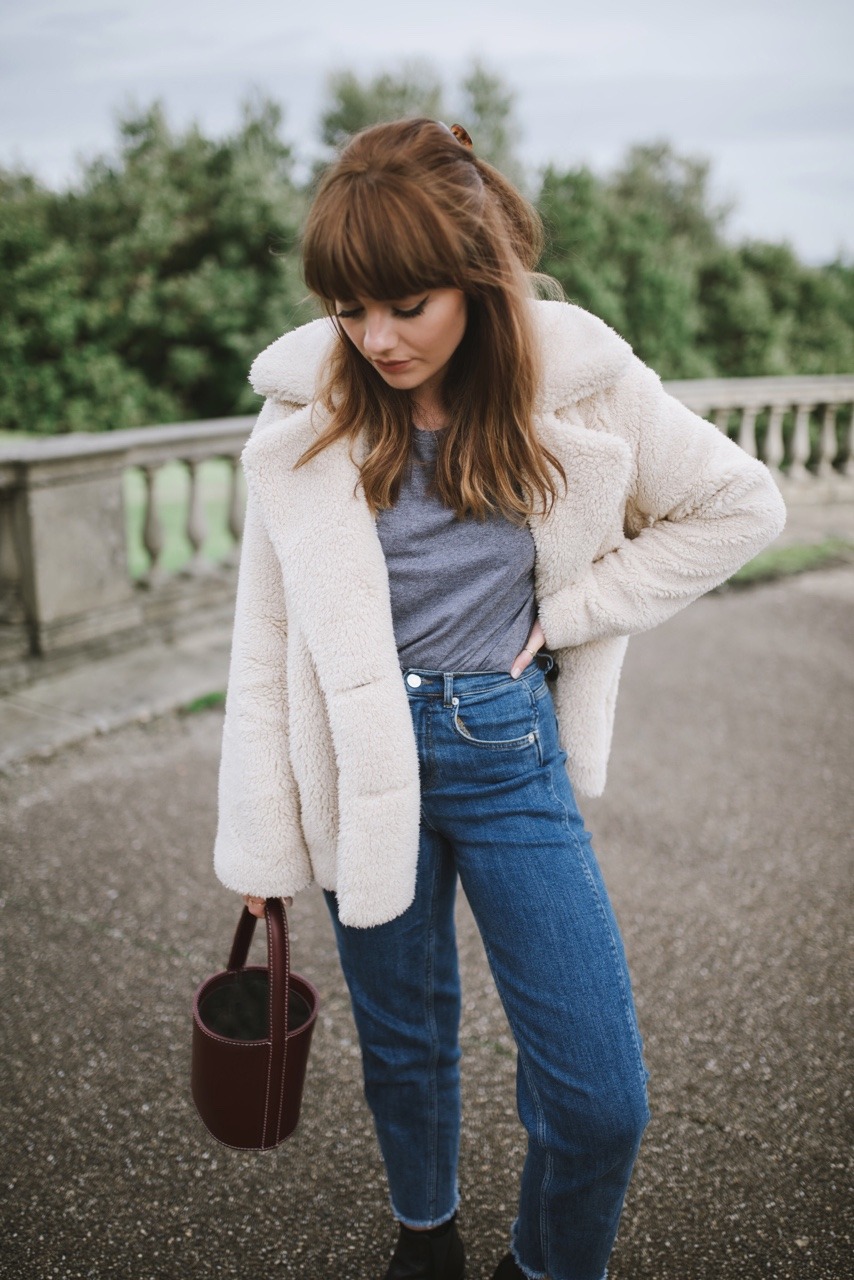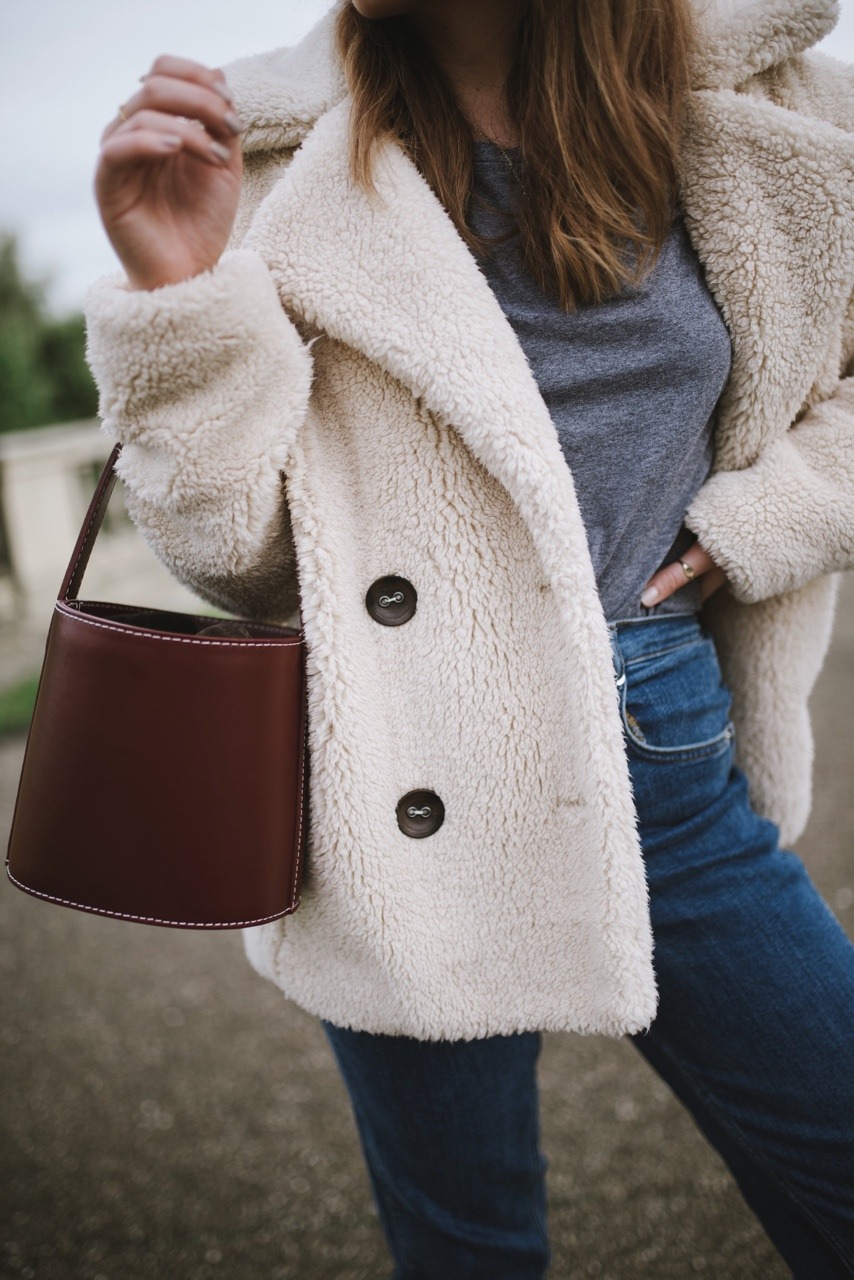 Teddy Coat c/o – Free People | Top – 12 Storeez | Jeans – Whistles | Boots – Acne Studios | Bag – Staud Clothing 
Being a blogger often means starting to shop for the season ahead a little sooner than the rest of the world – sometimes this can be a chore, and other times I really enjoy it. It's safe to say that I've already acquired enough coats to last me the season ahead, and I'm really excited to style them up in different ways. The first statement coat I wanted to feature in this post was a shearling style coat – or a teddy coat seems to be the most recently adopted name. They have been huge over the last couple of years and show no sign of disappearing anytime soon – even if you aren't a huge fan of the way they look, you can't deny they are cosy as hell if you ever happen to try one on! I've personally never been one to shy away from an oversized coat – I know some people aren't a fan of outerwear that makes you appear five sizes bigger, but I have always been of the opinion that oversized stuff just looks cool. Especially when it's the right amount of oversized like this one – It's super cosy and doesn't feel heavy when you're wearing it. It's definitely the type of coat I'd reach for on a frosty morning when simply nothing else will cut it – I'm picturing it with an oversized grey scarf, black crop flares, and a huge stripe jumper in the depths of December…
Teddy coats are really popular again this year, so it's a great time to start shopping around – as much as summer only felt like yesterday, there's nothing worse than still searching for your perfect winter coat when the weather has already dramatically dropped. Okay so there are lots of worse things in life, but you get my drift – or you can sense my excitement for autumn/winter at least! I love summer with all my heart and I'm really not a fan of it starting to go dark at 5am, but one thing I love most in life is autumn/winter fashion. My style really relies on layering, and I feel that it's so much easier to experiment with fashion once the temperature drops. Suddenly a whole new world of fabrics, textures, and colours come out to play…
LOOK TWO - THE POET TRENCH COAT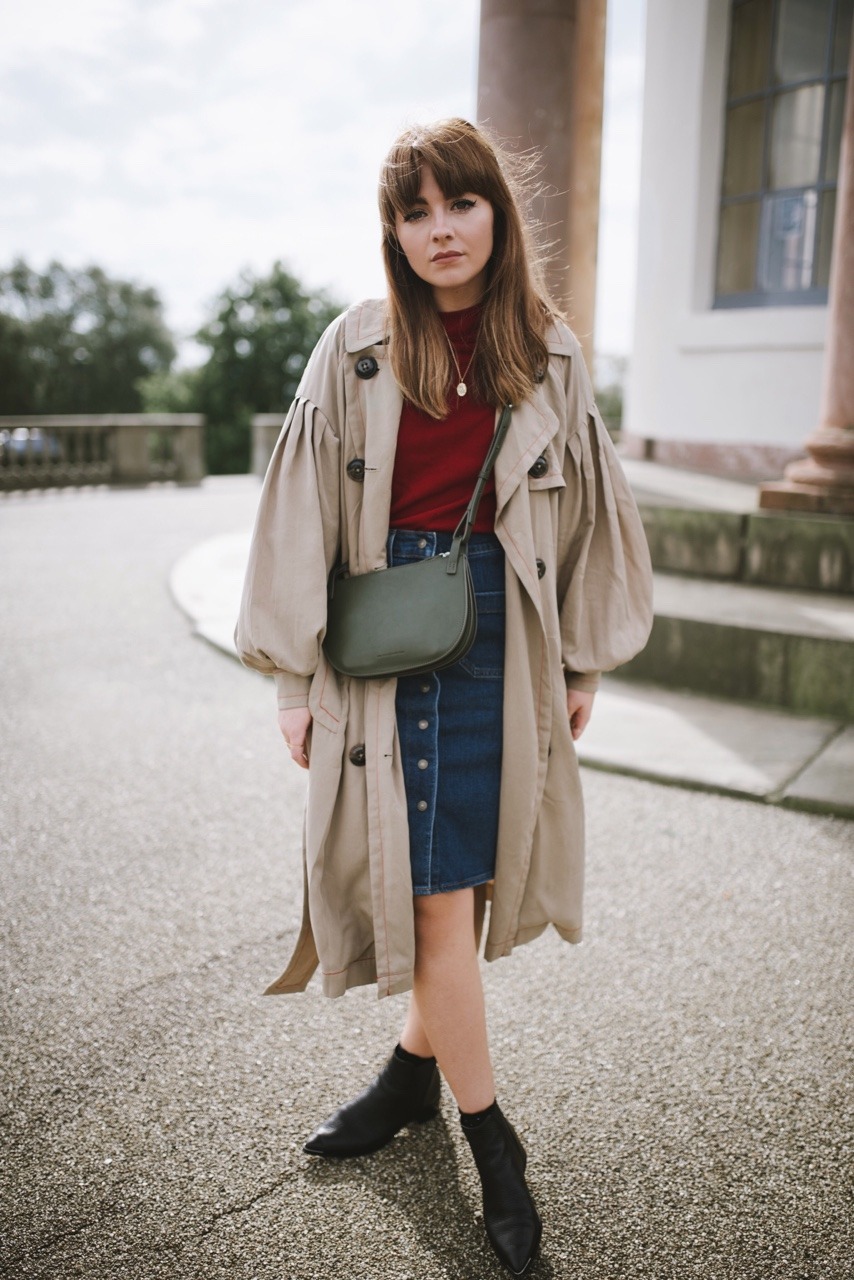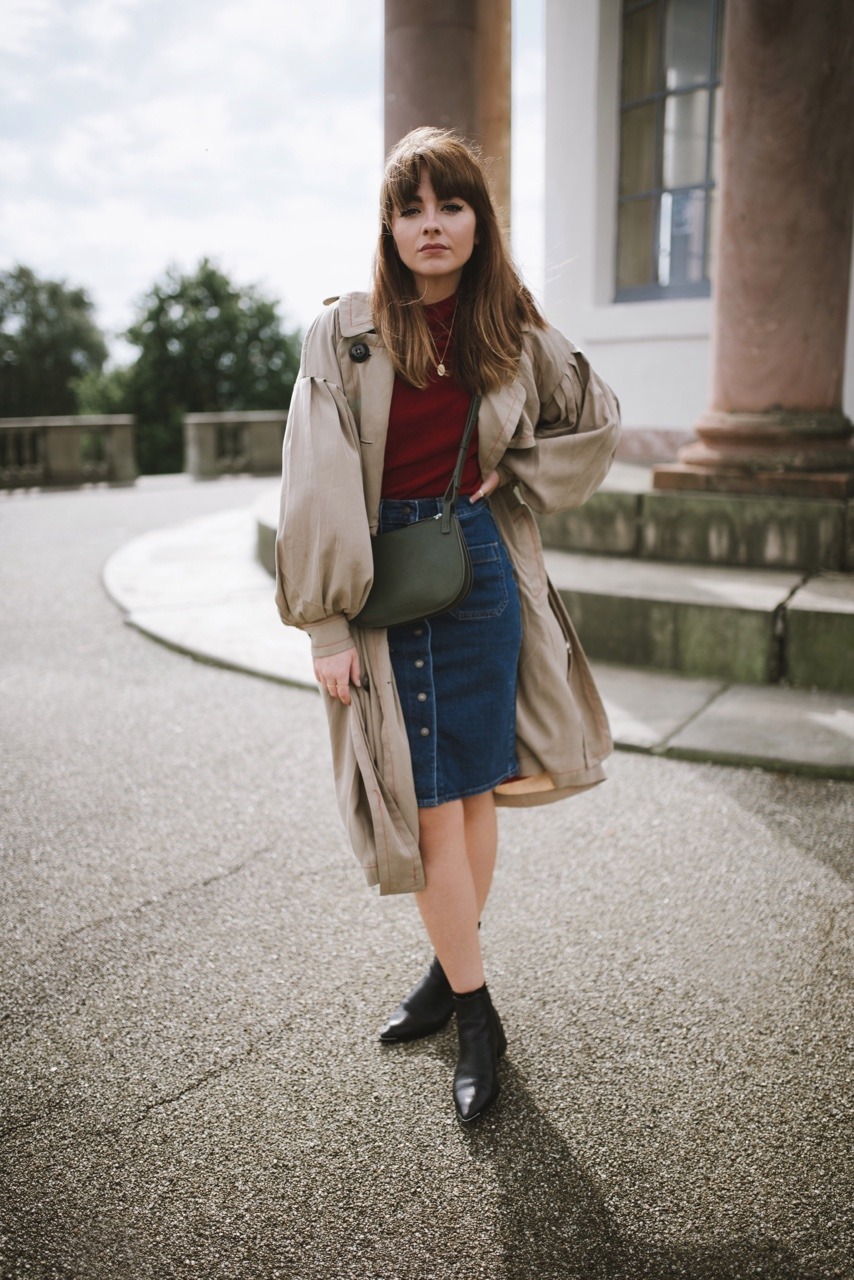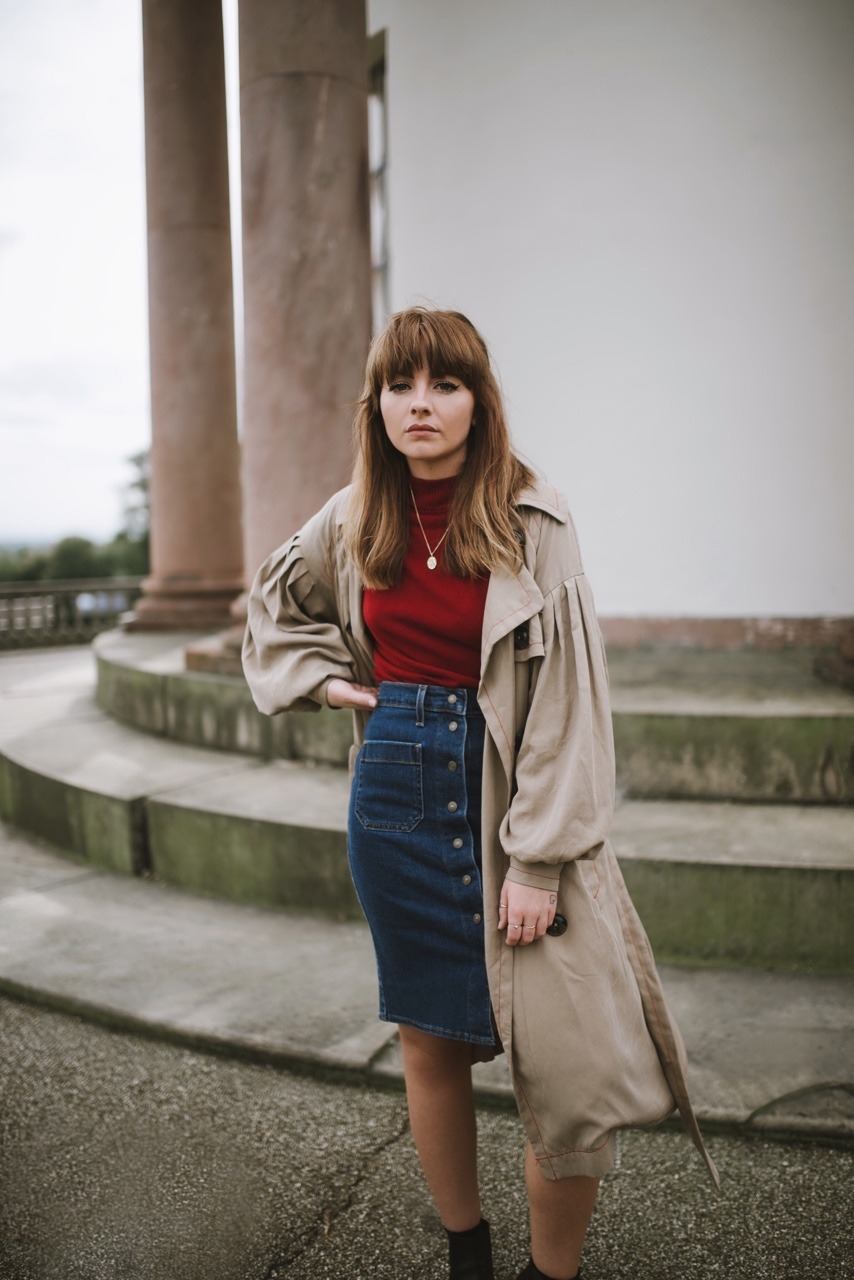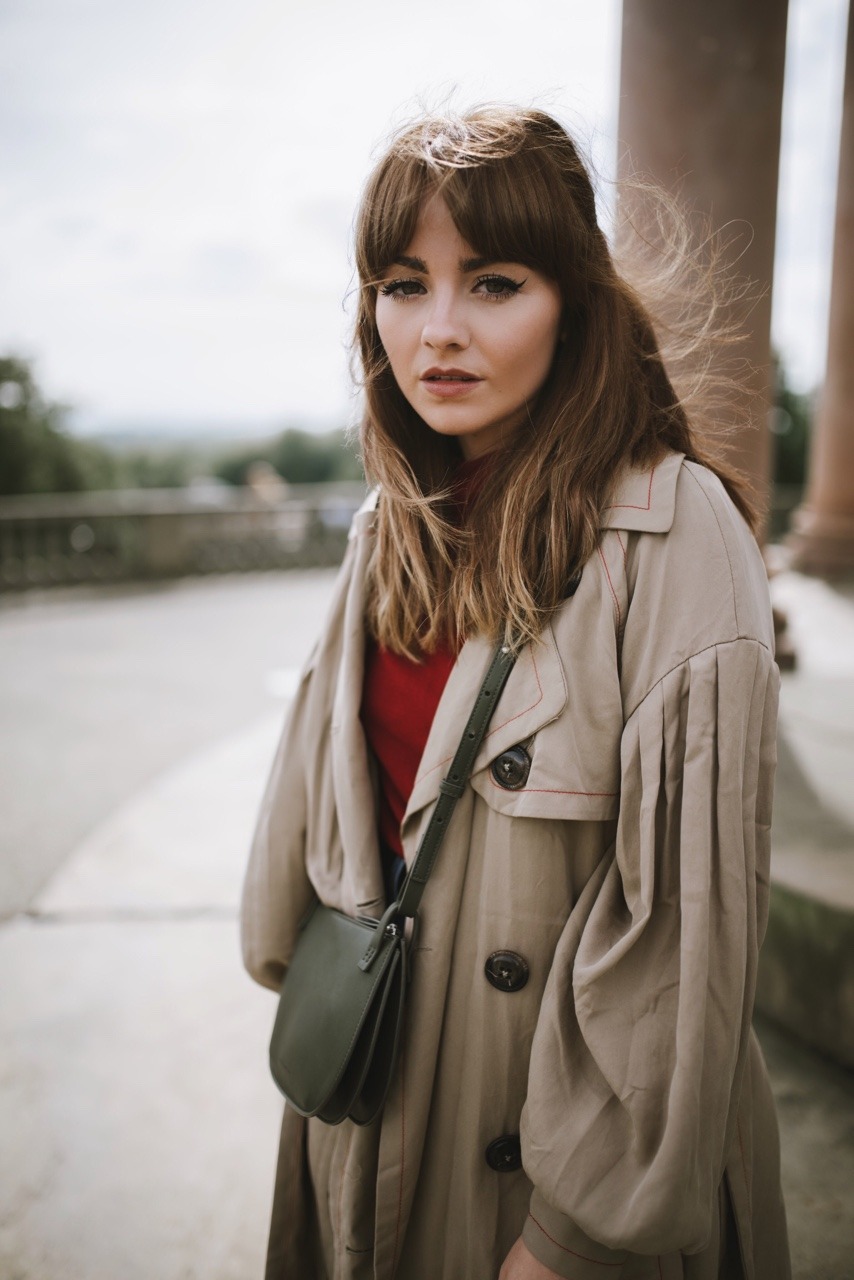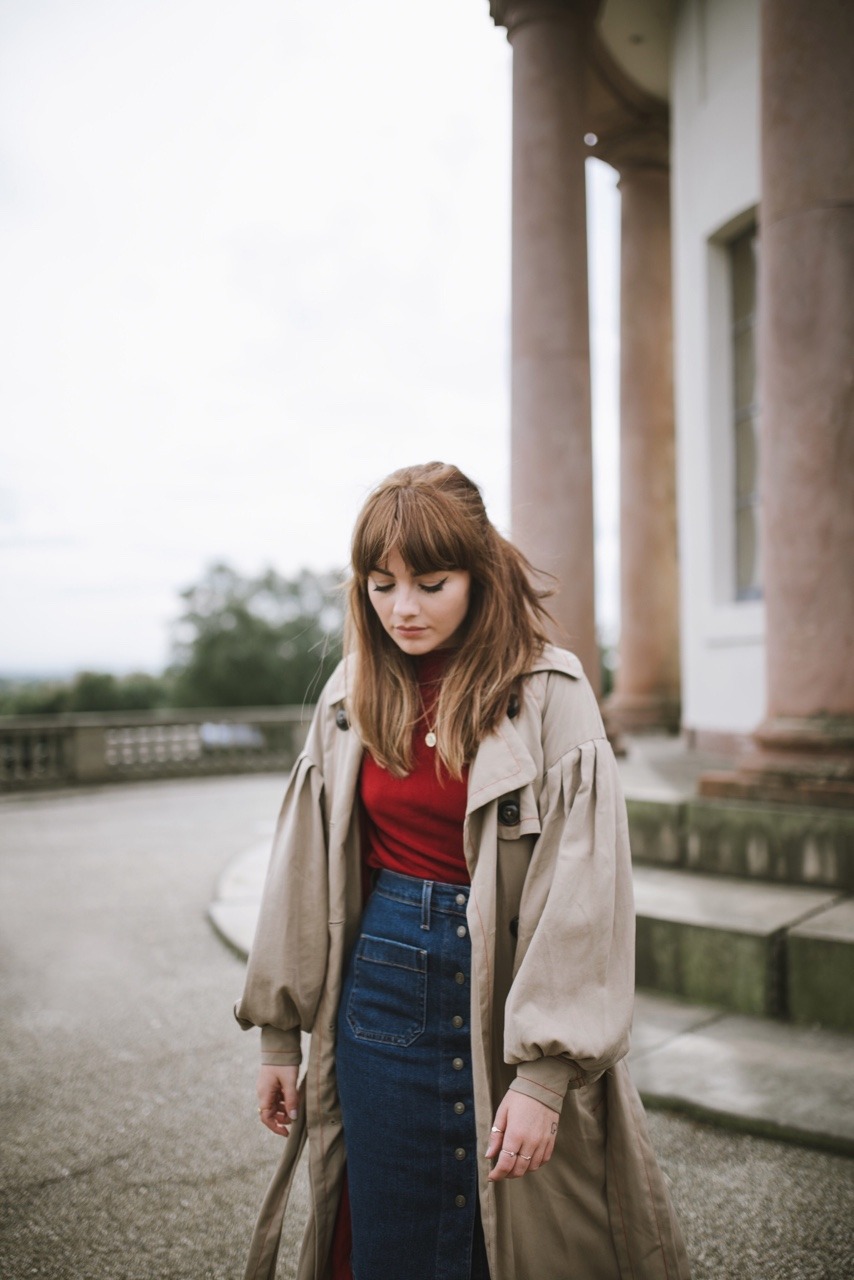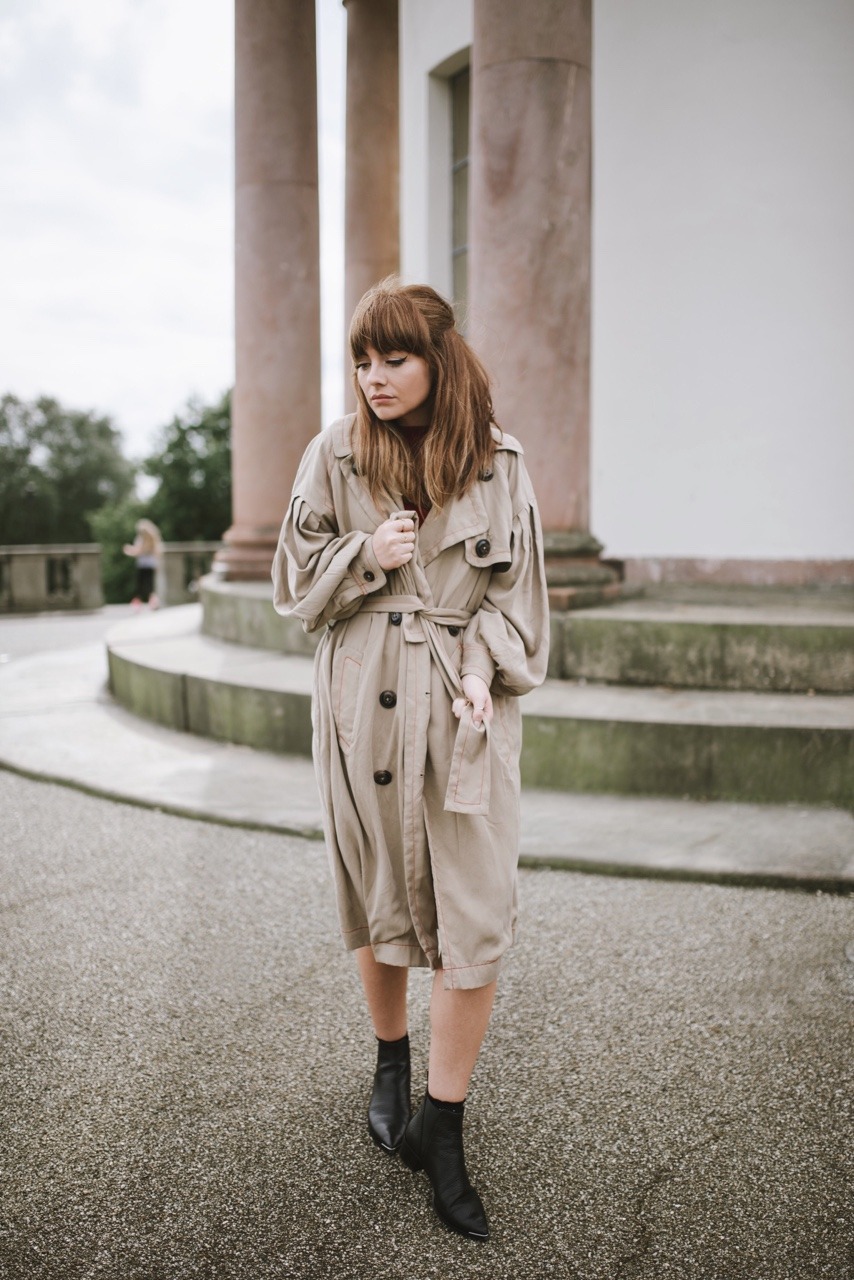 Trench Coat c/o – Free People | Jumper – Vintage | Skirt – Levis  | Boots – Acne Studios | Bag – French Connection
 The second coat (that you might have seen a few times over on Instagram already) is this amazing balloon sleeve trench. I was drawn to this one for obvious reasons – it's the classic Parisian trench coat that never goes out of style, but it's also an art piece in it's own right. The intricate red stitching, the ruffled sleeves, the contrasting interior – it's just the ultimate statement coat for right now. By right now, I mean this sort of in-between weather we are experiencing here in the UK that's not quite summer but not quite autumn yet either. I've been throwing it over the top of jeans and a simple T-shirt on warmer days, but it's also loose fitting enough to wear over the top of a chunky knit jumper too.
There's just something effortlessly elegant and undone about it. I wore it on a recent trip to Paris over the top of a midi dress with bare legs and boots – I'm just obsessed with how a trench coat looks with bare legs and ankle boots. There's something really masculine and cool about it – the coat drowning your limbs but then those flashes of leg as you walk. There's a really romantic feeling attached to it, and I'm really into these poet like sleeves that are everywhere at the moment – they add something extra and completely elevate anything you wear underneath. It's definitely becoming my go-to night out coat of choice, but also looks incredible for the daytime too. It's basically just the perfect trench coat I've been searching for, and I've been telling anyone who will listen about it!
I hope you enjoyed this little look book of sorts, and have fallen in love with these statement coats as much as I have – would love to know which is your favourite in the comments below! Also, one thing to note about Free People is that their sizing tends to run quite big (at least in my experience anyway). I have both coats featured in size extra small (which I'm definitely not), so just something to consider before investing! These images were shot in Manchester's Heaton Park last weekend and I love how they turned out – it was such a beautiful warm day with clear blue skies, but the ground was already scattered with burnt orange leaves. It's got me pretty excited for all the autumn/winter outfit possibilities that lie ahead…
Alice x
Photography by Adriana
This post is sponsored by Free People! 
SHOP THE LOOKS