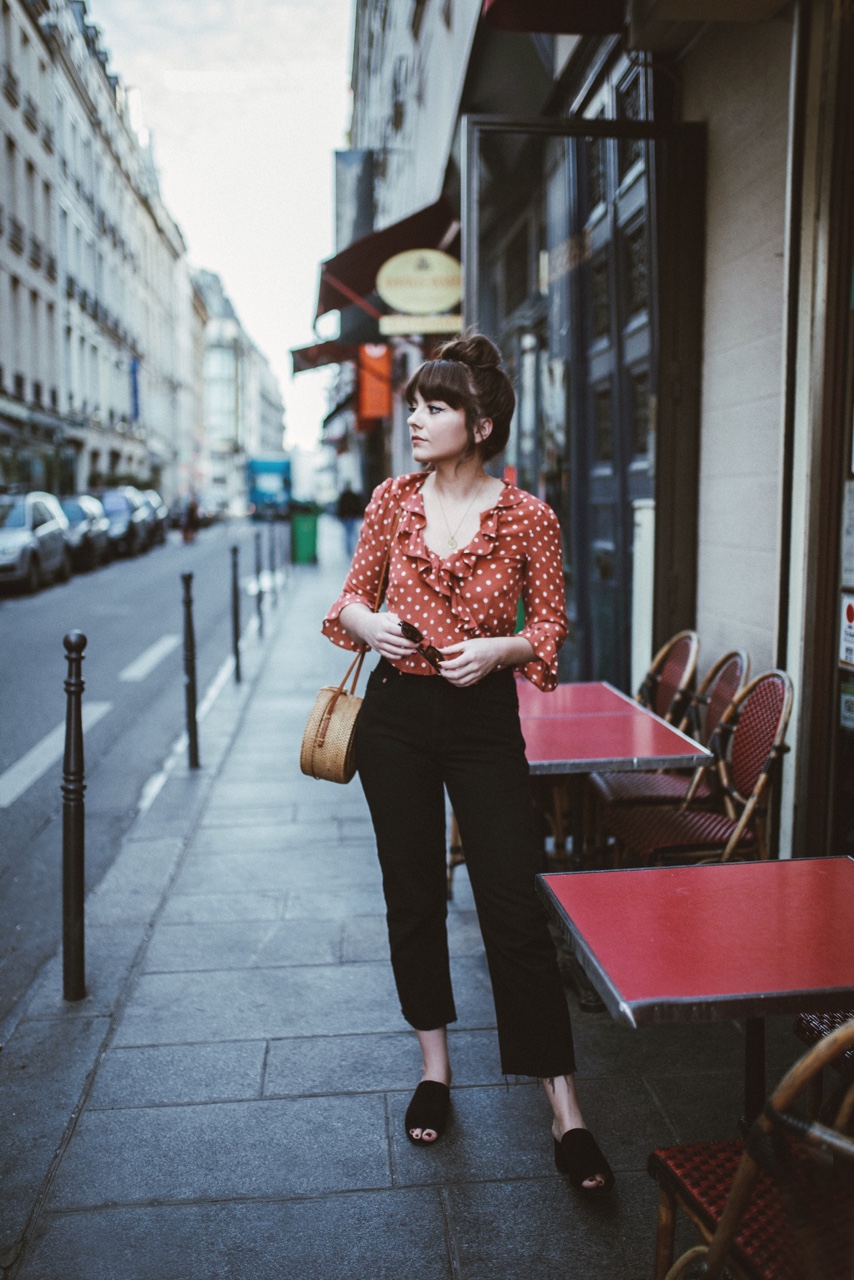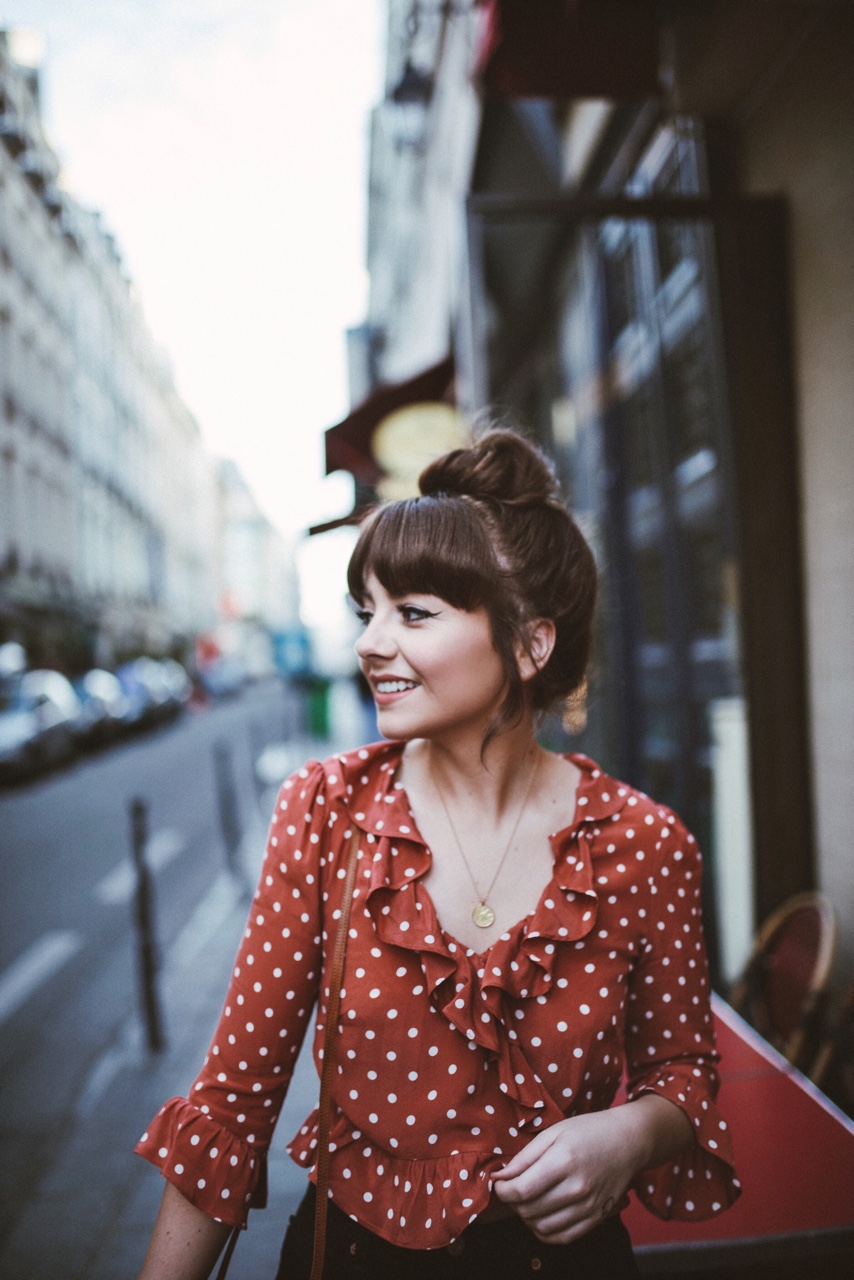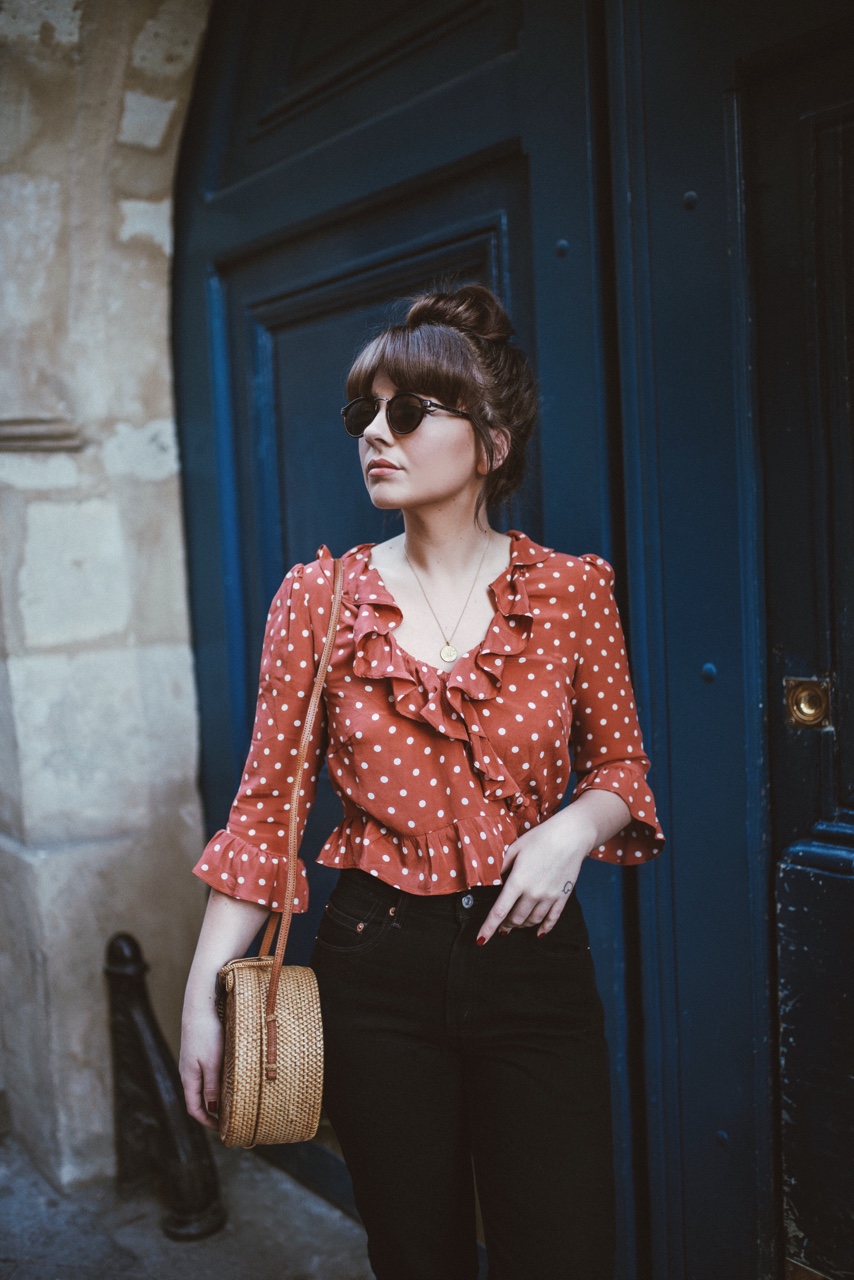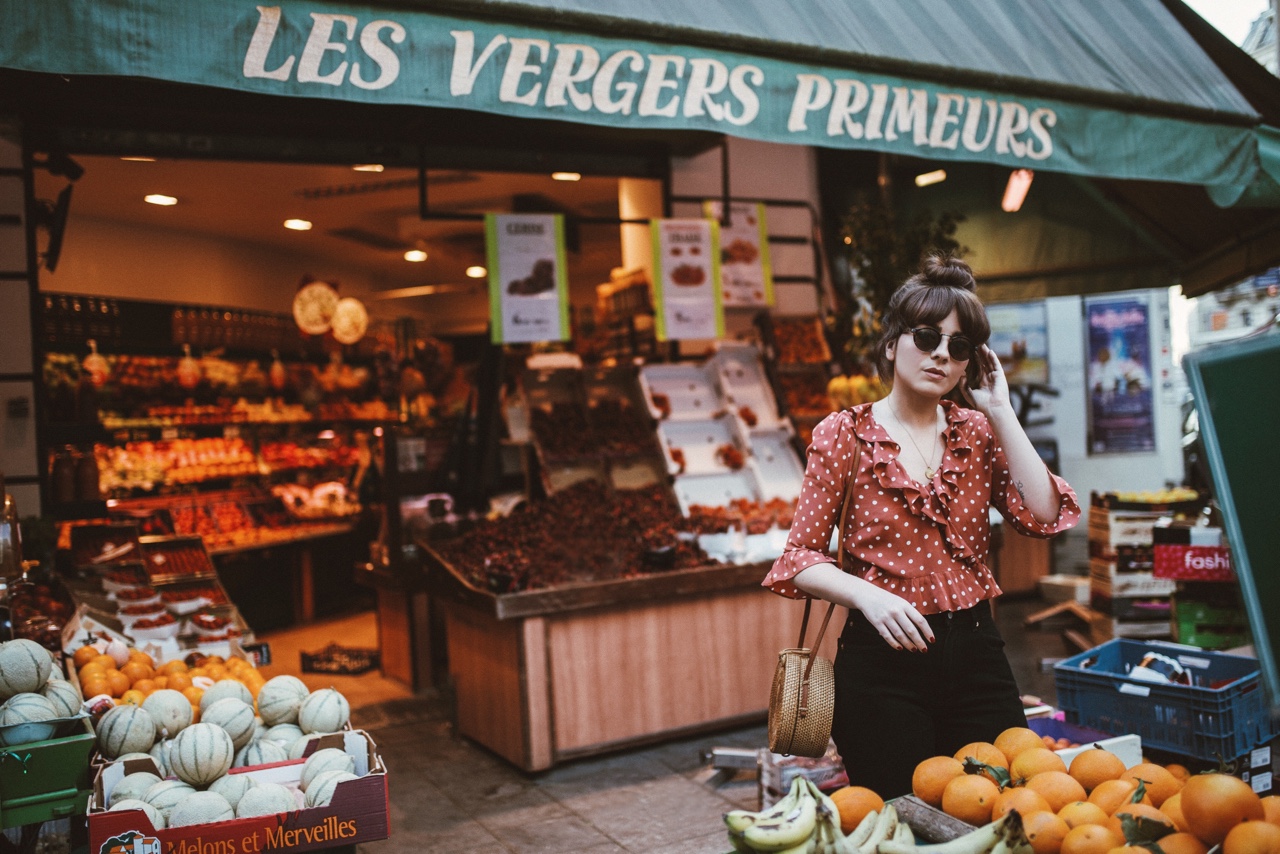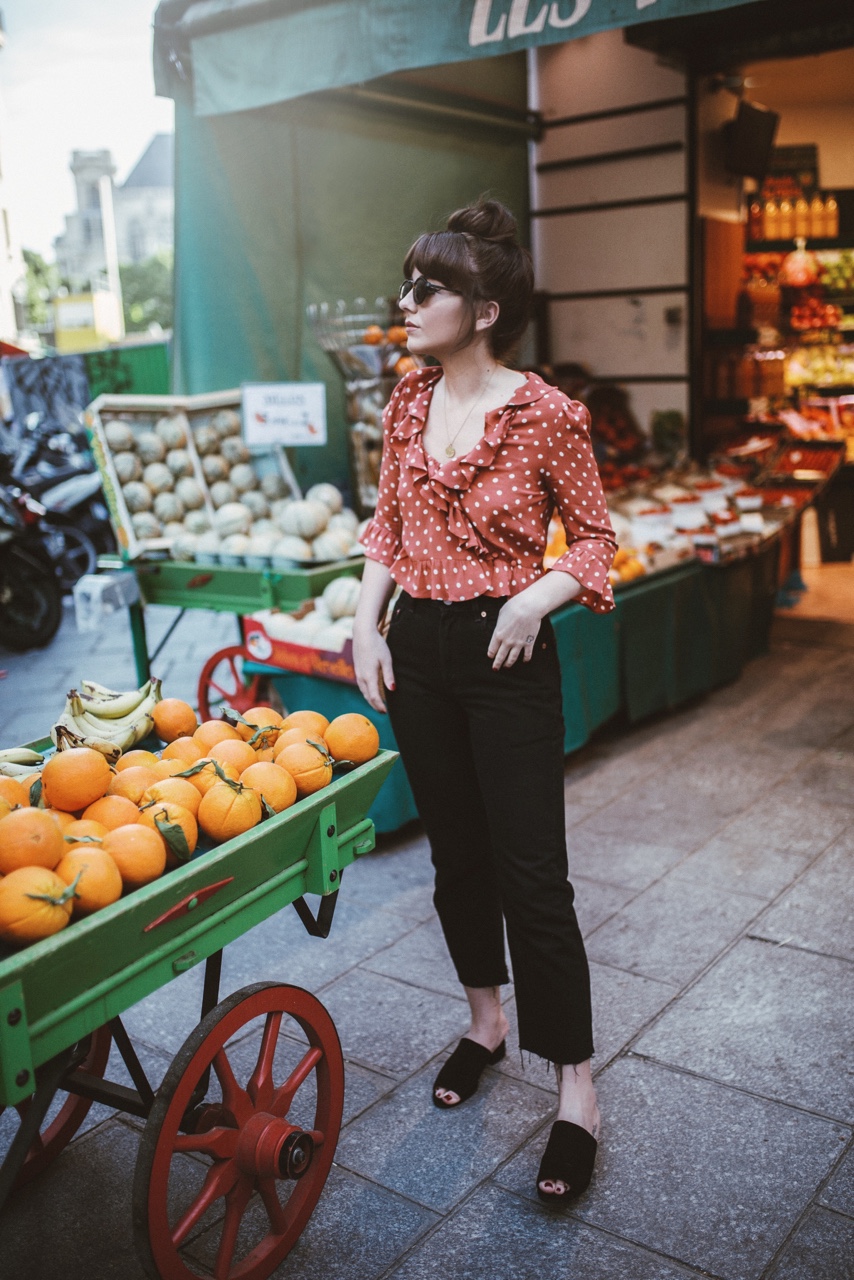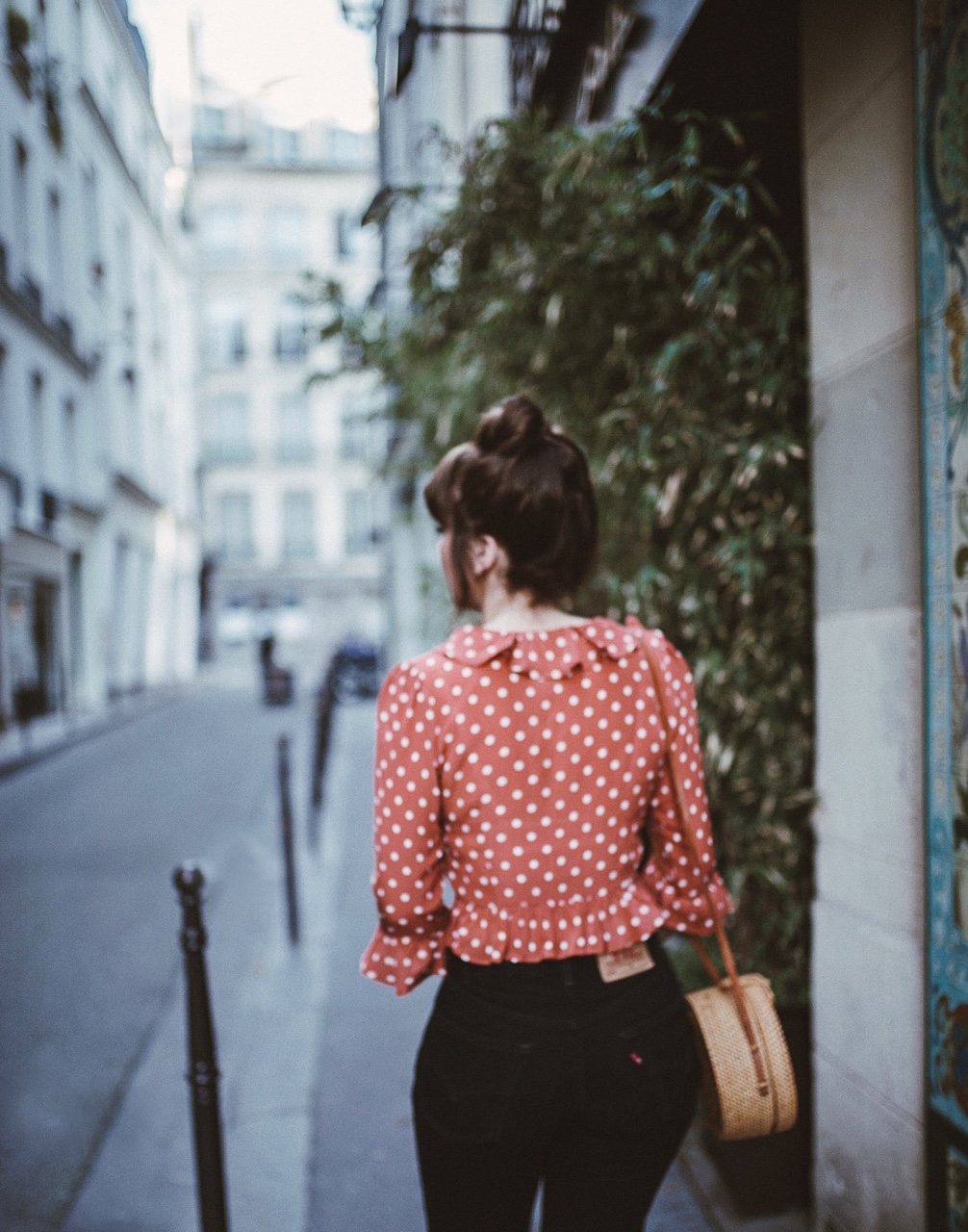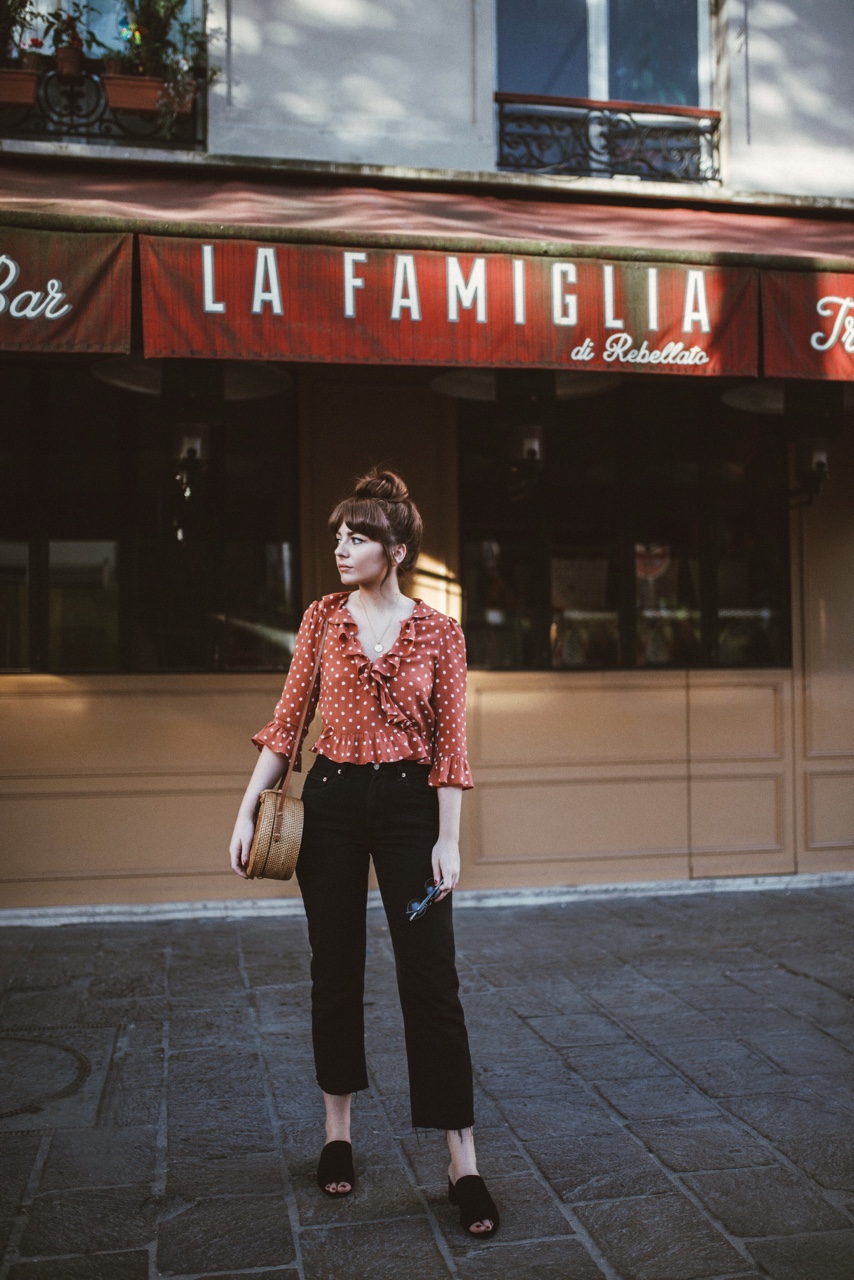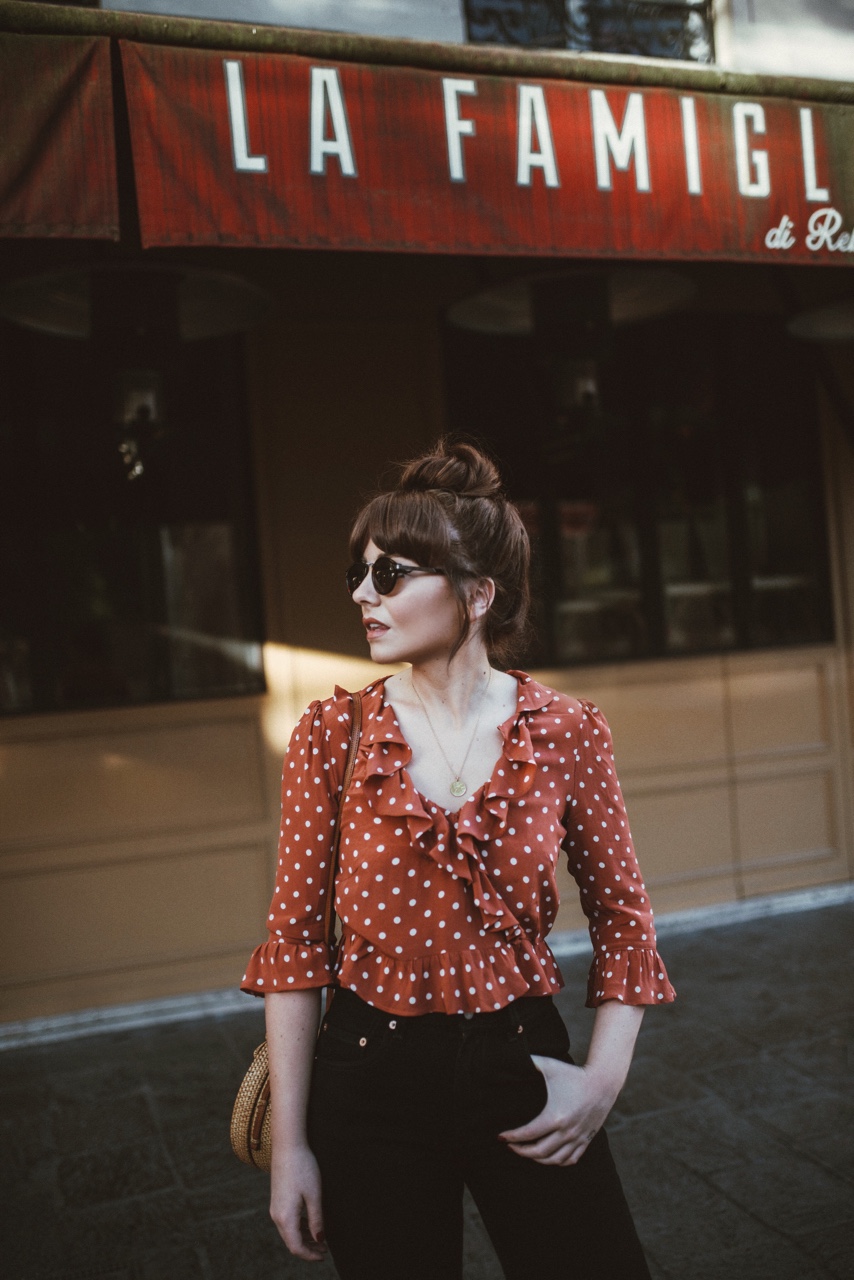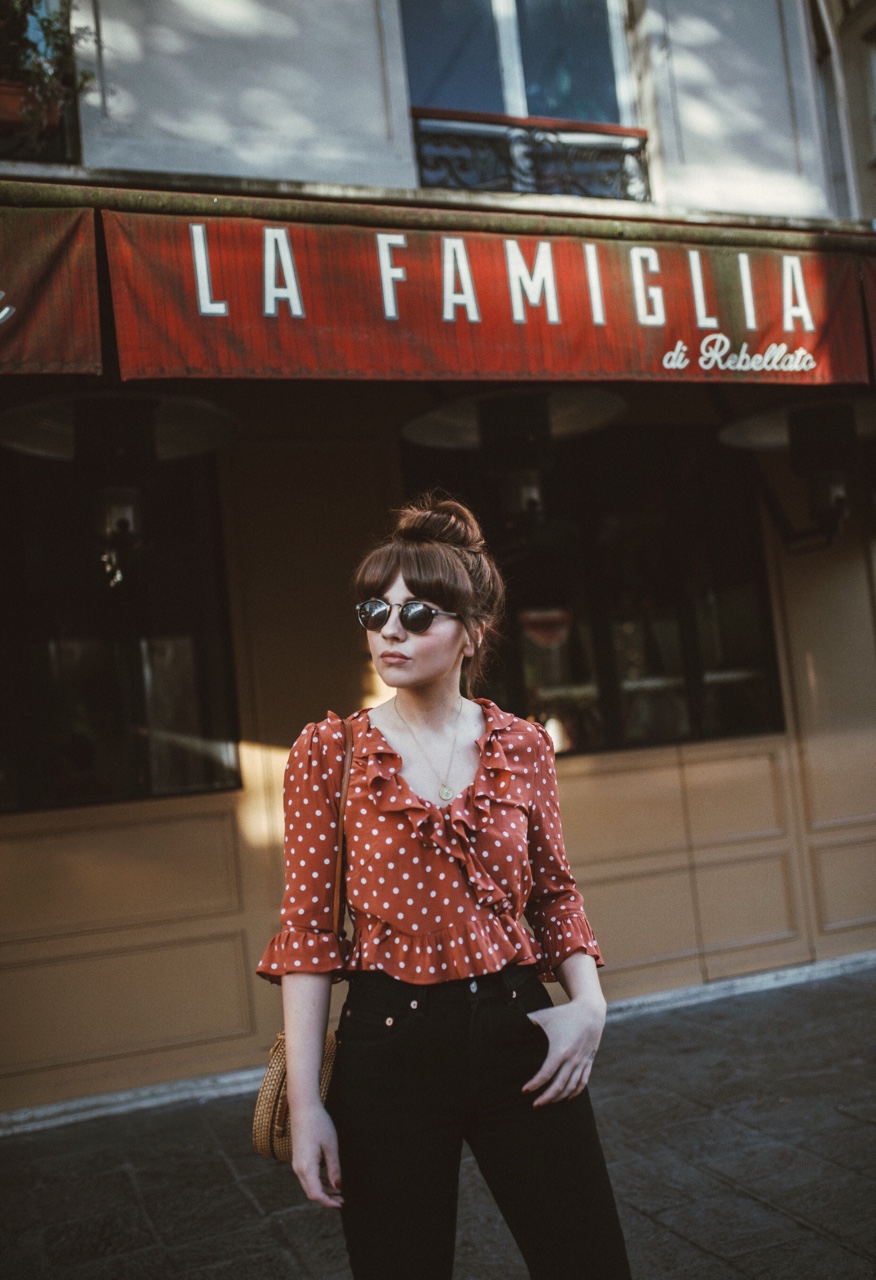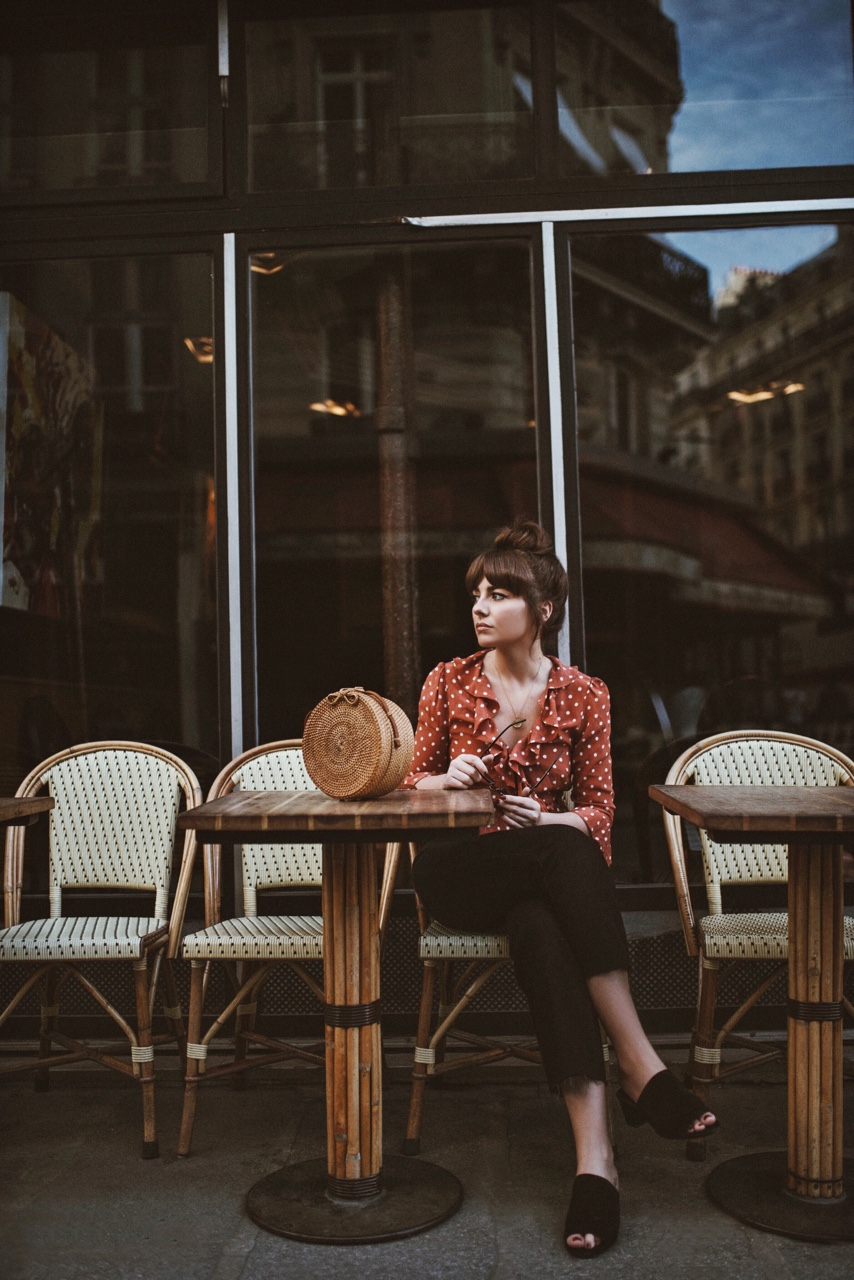 It's a nice feeling to set yourself little goals and accomplish them – no matter how small they are or how long it takes. I have been wearing this blouse none stop since it arrived in my post box, and it's everything I could have hoped for and more. If you've followed me for a while, then you'll know I have a thing for blouses – they just make me feel good. Combined with polka dots and made by a dream brand I've been lusting after for ages, I can't see myself loving an outfit more than this one for a while! These photos were shot at around 7am in Paris before the city woke up – It was so peaceful to wander the little side streets, and I don't think we could have wished for a better location for this dream blouse…
Realisation Par have been making the rounds on social media for ages now – they seemingly helped kick off a star print trend, and their designs are highly sought after by many. I had put off ordering from them for ages for a couple of reasons – firstly, I had no idea what size to get or how they would fit, and secondly, I don't think I've ever spent that much on a blouse before and the idea of spilling something over it (likely for me) was enough to give me nightmares. Then recently I thought screw it, I've worked harder than ever these past six months and wanted to treat myself to something special. Something that was on my 'if you manage not to spend all your money on food this month wish list' and that would mark a bit of a personal milestone for me.
I messaged the brand on Instagram to ask about sizing first and for this style of top (the 'Cher' blouse), they recommended to size up. A size small is an 8 I believe, so I opted for the medium in hope that it would be just right. Apparently this one runs smaller than the other styles and is slightly more narrow fitting on the shoulders. The medium couldn't fit me better – it's fitted in the right places but still has that floaty look to it, I really hate it when blouses look too snug! I just think they look so much more elegant and flattering when the material hangs loose from the body slightly. Anyway, it arrived in a little black dust bag and I immediately paired it with my vintage black Levi jeans. It just felt like a match made in heaven, and will definitely be my go-to evening outfit of choice from here on out. If you've been weighing up weather to invest in a piece from Realisation Par then I would definitely recommend – the quality is amazing and the shipping was super fast! A few people also asked me if I received any customs charges etc and the answer is no, it was a completely fuss free transaction and overall rewarding online shopping experience!
I also wanted to talk about these black suede mules – I've been in a bit of a shoe rut lately and have been trying to introduce some new styles into my wardrobe. I tend to forget about shoes and end up just wearing the same pair religiously out of comfort. I spied these on the And Other Stories website and fell in love – I wanted some that weren't too high so that they were suitable for walking around in all day, but could easily be dressed up for the evening too. I ordered them in my usual size and they not only fit like an absolute dream, but also happen to be the most comfortable shoes in my current collection. There's also something about mules that just instantly makes me feel stylish somehow – I've been loving wearing them with denim and a stripe blouse, or even just a white shirt slightly un-tucked. It's a combination that makes me feel like some kind of off duty painter/artist, and I'm all for playing out different characters with my outfits and taking on different personas.
I feel like mules will continue to bounce back into the current trends category – they really are a timeless shoe in my opinion. One that's easy to slip on with a multitude of different looks, and don't have to look '90's mum' even though that's a look I'm definitely on board with. I'm a bit obsessed with how they look teamed with a midi dress/skirt, and I could honestly walk for miles in these babies! They would also make the perfect Spring/Summer work shoe if you're not down with wearing sandals to the office. Just enough height to elongate the legs, and super soft leather material that won't leave your feet begging for a break come mid morning!
I should probably mention THE BAG – I mean, how could I not? Basket bags used to be difficult to come across a few years ago, you'd have to stay up till midnight searching away on eBay for the perfect vintage find, only to be out bidded at the last minute by the next basket bag enthusiast. Now they are everywhere and each brand is adding their own spin to the Birkin inspired favourite – as an avid basket bag fan, I am all aboard this basket bag train! Having said that, so many places seem to be selling them with an extortionate price tag attached – often the case when an item becomes so popular/sought after. Thus, I have stuck to my old fashioned ways and got hunting on eBay/Etsy for the perfect new circle style addition to my collection. I came across a seller on Etsy called Ellen and James and instantly fell in love with their designs – I have linked them below as always and you can also find them over on my blog shop. Although the shipping was expensive, the bag itself was the most reasonably priced I've come across so far for this type of design. It's very akin to the ones I'd been lusting after by Posse and Bambien, and I couldn't be more pleased with it! It fits all the essentials and doesn't attack my skin when I reach inside like some basket bags tend to do. There's just something about a circle shaped bag that added a certain something something to an outfit and elevates any look…
Alice x
---
Photography by Adriana | Images shot in Paris
Blouse – Realisation Par (similar here) | Jeans – Vintage Levi (similar here & here) | Mules – And Other Stories (similar here) | Bag – Etsy | Necklace – Chupi
SHOP THE LOOK