I don't know about you, but I'm fully over Winter clothing and ready to start embracing the warmer weather! We recently had a full weekend of sunshine in Manchester, which is a very rare occurrence indeed – it got me really excited for the months ahead, and got me brainstorming some of the key pieces I want in my wardrobe for the new season. My style doesn't really change much during Spring/Summer – I tend to just introduce some floatier items, my gingham obsession is fully revealed, and my Birkenstock collection is out in full force. I thought I'd share with you some of the items/looks that I'll be looking forward to in the form of an inspirational post – an ode to one of my favourite french ladies, Francoise Hardy. Described once as Mick Jagger's 'ideal woman', she epitomises effortlessly cool tomboy meets French-girl chic…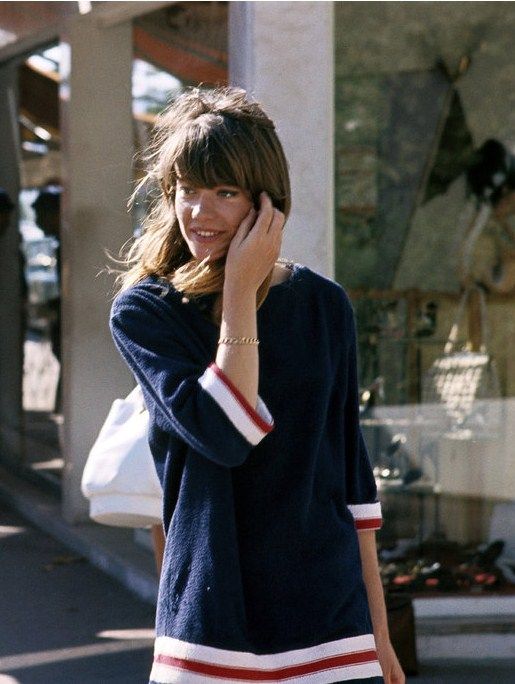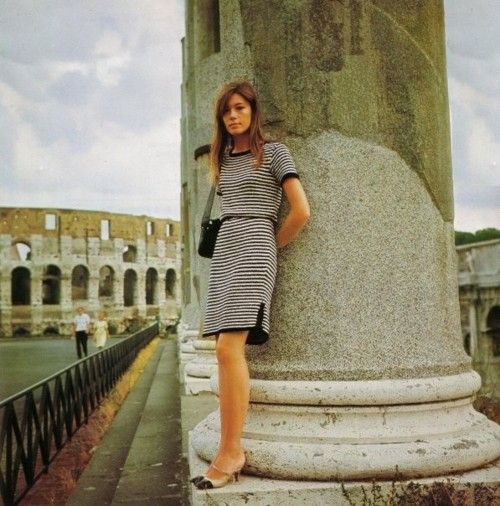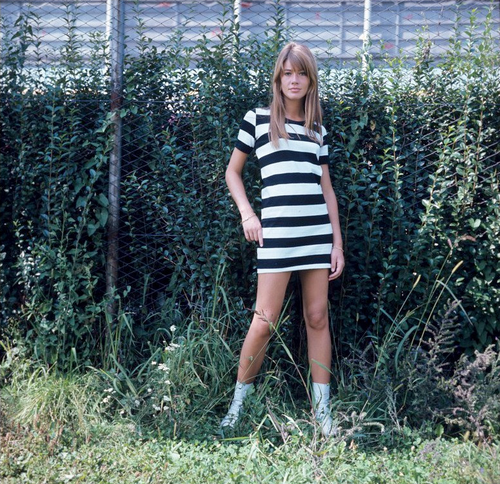 1) Laid back statement stripes
When I make reference to 'laid back', I'm referring to the type of stripes that look effortlessly cool, but still put together. I've seen a lot of simple thin knit jumpers around with (dare I say it) a pop of colour either around the neckline or cuffs. I really like the style of jumper, it adds something interesting to an outfit, and it's a great way of introducing a bit of colour into your wardrobe. The dress Francoise wears above is a great example of this – I love the red and white detail against the navy, it's really nautical inspired but manages to remain very modern and on trend. I'm also (always) into really boxy striped t-shirts – I've seen loads of these around lately, particularly in an array of pastel colours. I think they look amazing with a simple pair of light wash denim jeans and some sandals for an easy daytime summer look…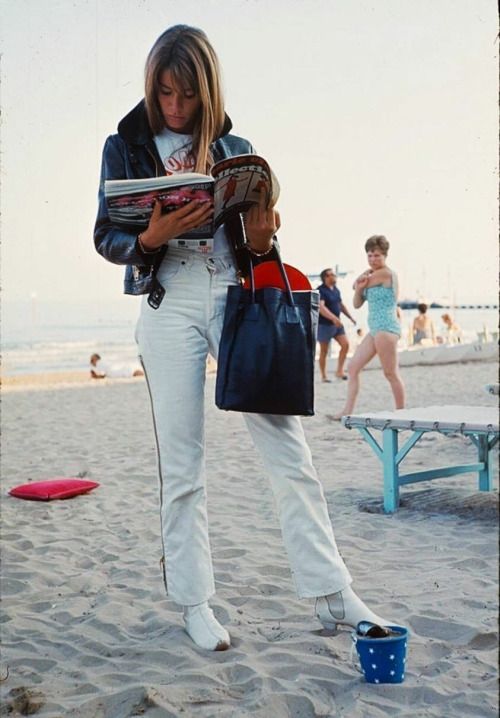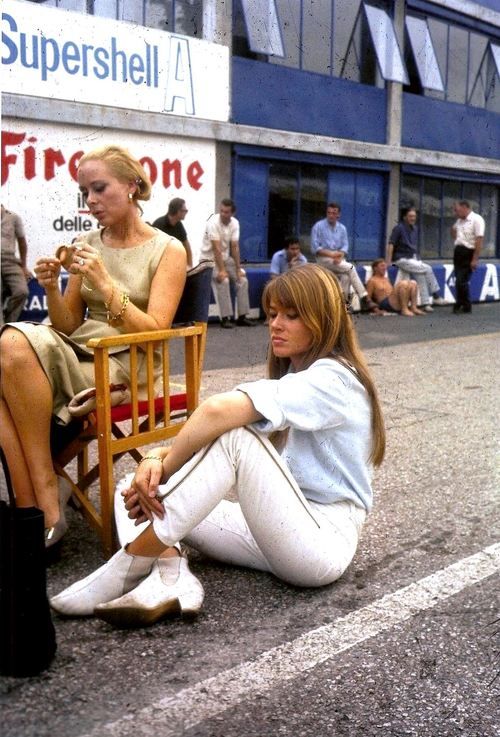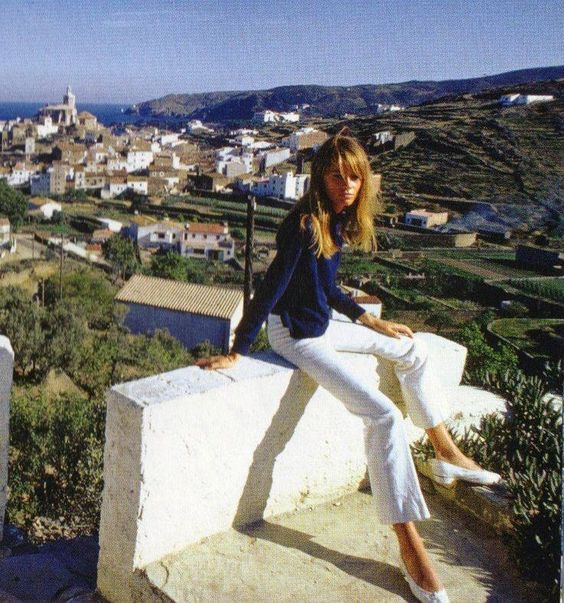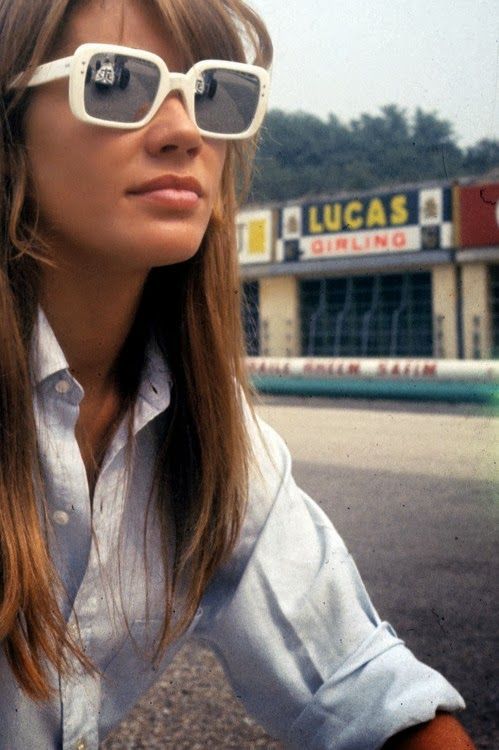 2) White denim | White everything
White denim always seems to make a come back around this time of year – I've seen loads of great denim culottes, frayed jeans, and jackets around that I'm itching to style. Francoise nails the full white look like no other – teamed with a tan and that perfectly undone/french-girl style hair, it's a winning combo that's hard to master. I'm currently on the hunt for the perfect pair of white, or even cream, Levi jeans so I'll let you know how that works out – I think they look amazing with a simple t-shirt and basket bag. I'm also dreaming of them with some strappy ankle shoes and a little gingham cami tucked in for evening Summer holiday vibes! I love how Francoise teams hers with a slogan t-shirt with a pop of red on the lettering – these are everywhere at the minute which brings me nicely onto my next key piece…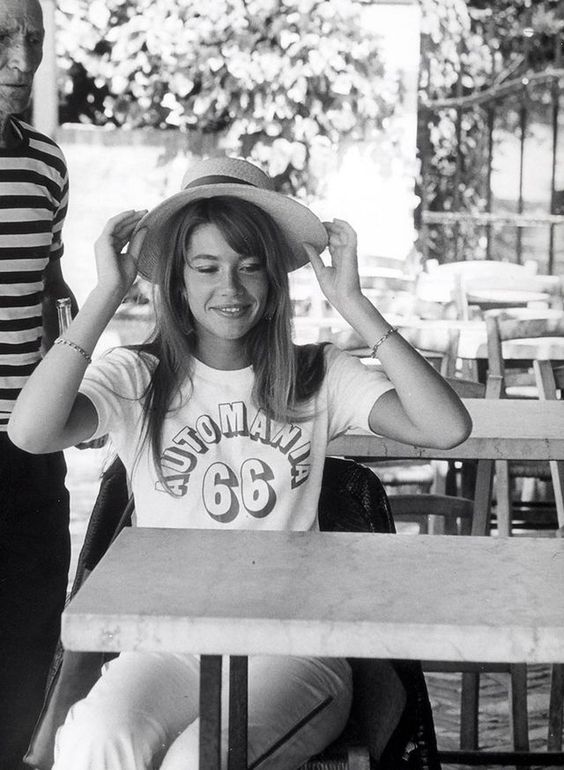 3) Slogan T-shirts
I think pretty much everyone has a slogan t-shirt of some kind in their collection at this point – there seems to have been a huge explosion of political statements, fun phrases, and snappy slogans that have found their way onto every style of t-shirt you could ever imagine. Band t-shirts don't seem to be as popular as the beloved slogan this year, it's a great way to express an aspect of your personality, your mood that day, or even a conversation starter in the street. I personally love the increase in French slogans/phrases that you can get everywhere now – Whistles have churned out some amazing ones, and I can't wait to add a few more to my collection…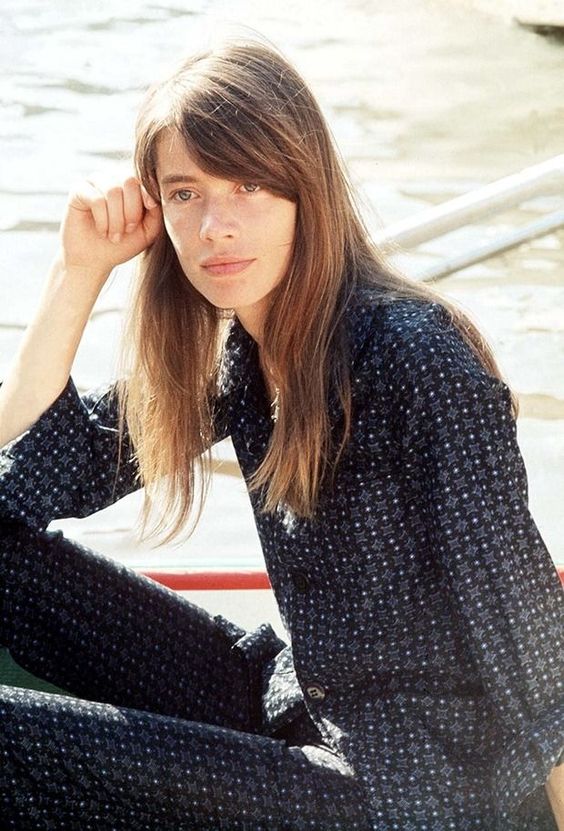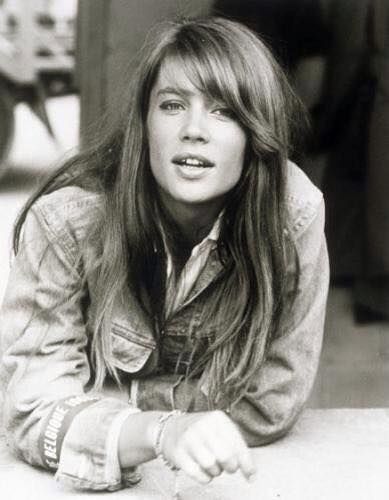 4) Masculine jackets with character
I'm already starting to phase out my thick Winter coats and store them away for another year – this means I find myself constantly on the hunt for new, weather appropriate jackets to pair with my outfits. I've been seeing so many amazing masculine style jackets – think tough denim, khaki utility, and enough blazers and trench coats to sink a small ship. The new season means new materials and new patterns – I love wearing a simple outfit, maybe some high waist jeans and a simple blouse, but then teaming it with a jacket that has a little bit of character about it. By this, I simply mean a jacket that really completes your outfit and adds that extra styled element to the whole look. These are definitely the pieces I'll be looking out for over the next month or so – I've seen lots of velvet being carried through to Summer which is interesting, and embroidered items seem to be here to stay, along with star print jackets and interesting takes on the classic trench coat…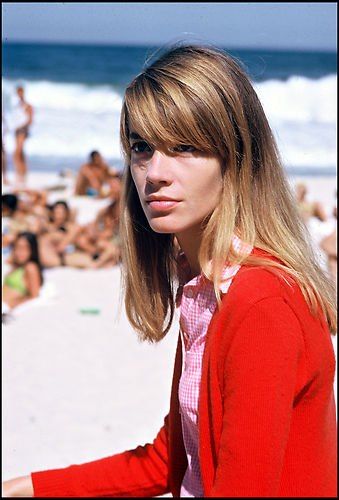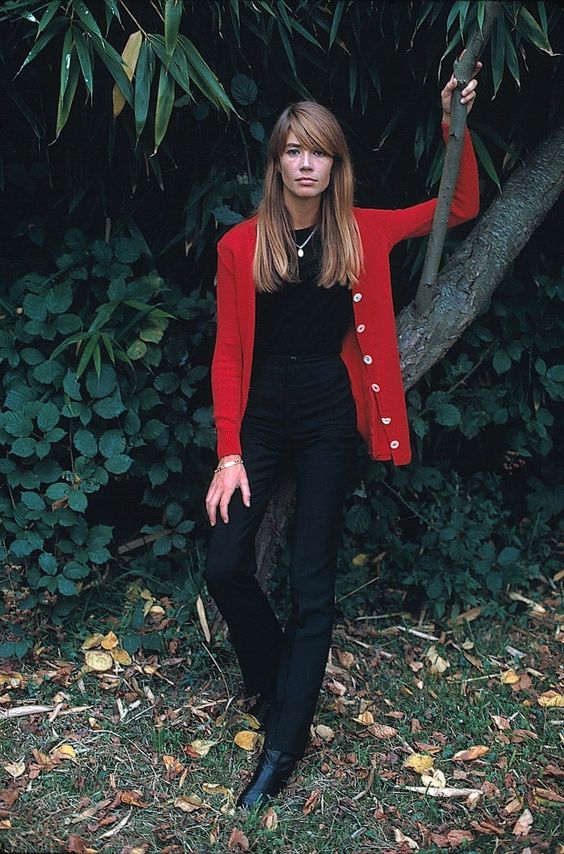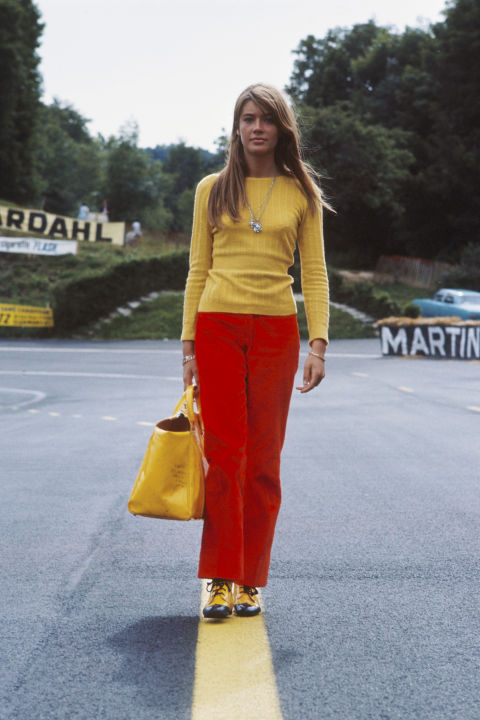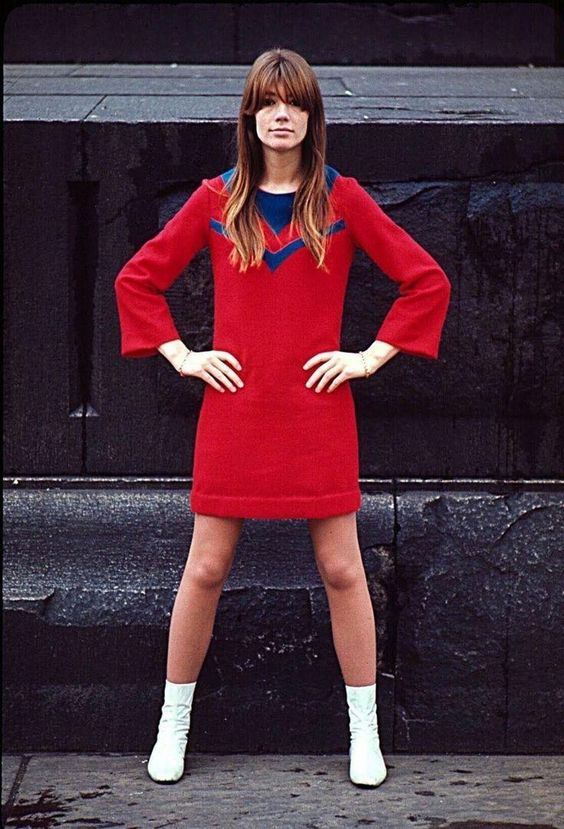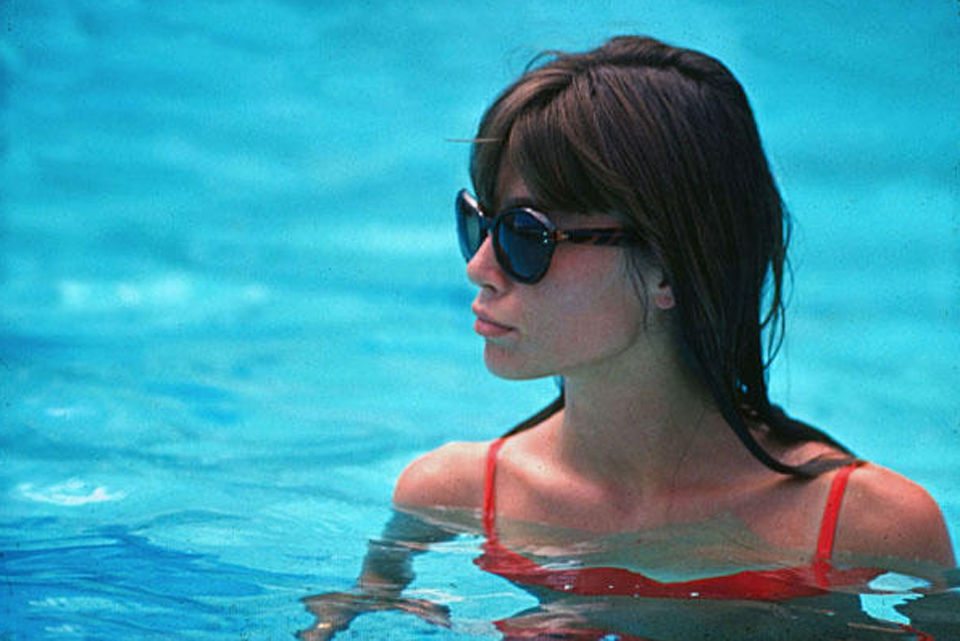 5) Red hues | unlikely colour combo
Red has always been one of the colours that I'm not afraid of wearing – I just think it makes any outfit look so stylish, and there's something really classic about it. I find myself more obsessed with it than ever lately, and I LOVE how it look against light wash denim (basically just give me all the red and denim things please). Whether it's a red cardigan over your Summer dress, some statement red shoes, or a simple red lip, red seems more popular than ever right now. I've also been loving how red looks against pastel pink (another big trend at the moment it would seem). I've just invested in a red mohair cardigan, and I can't wait to pair it with some pink strappy sandals and matching red nail varnish when it's sunny again! Don't be afraid of trying out something red if you're not usually the most colourful person like myself – even a simple cross body bag can really elevate an otherwise quite muted outfit…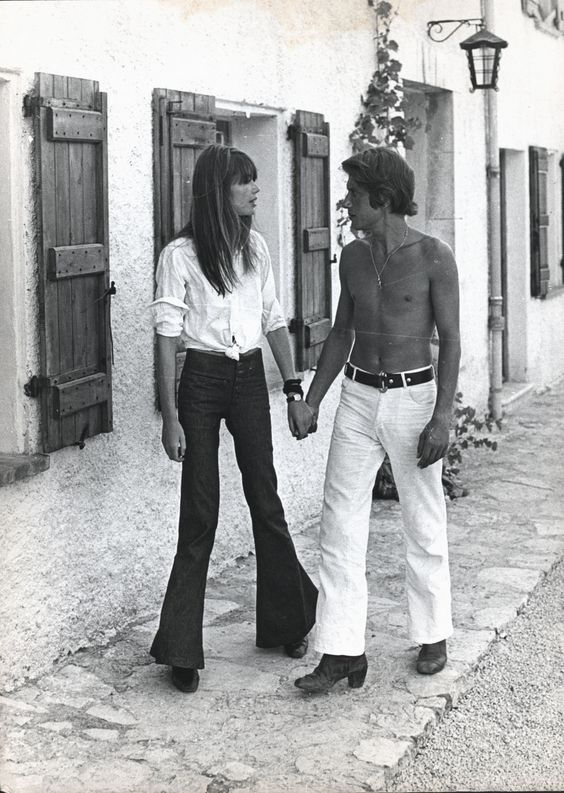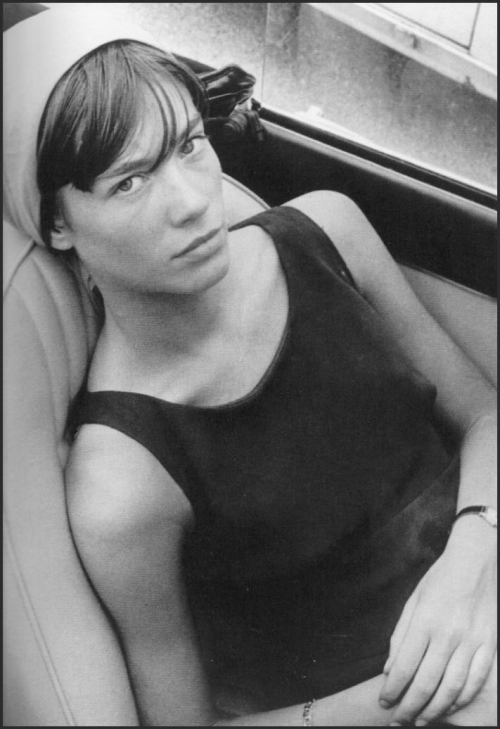 6) Simplicity
Back to basics – something which Francoise does so well, and no, simplicity doesn't have to mean boring! It's all about the fit/shapes of the pieces you pair together, rather than the pattern or colour. My personal style relies on these types of outfits, and I find even more so when the weather heats up. I'm talking crisp white/masculine style shirts and crop flares aplenty. I don't always tend to get on bored with trend pieces as I prefer to invest in pieces that I will keep for longer and won't get bored of. Having said that, off the shoulder shirts are everywhere right now, and I have to say that I really love how they look teamed with high waist jeans…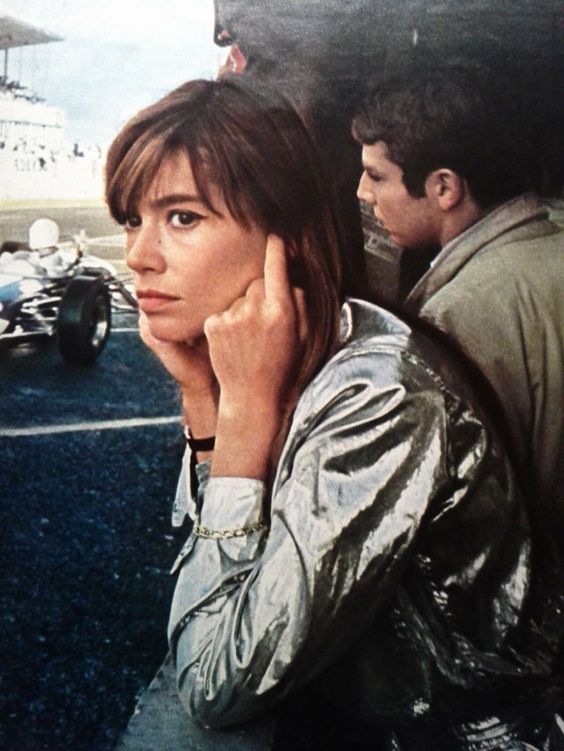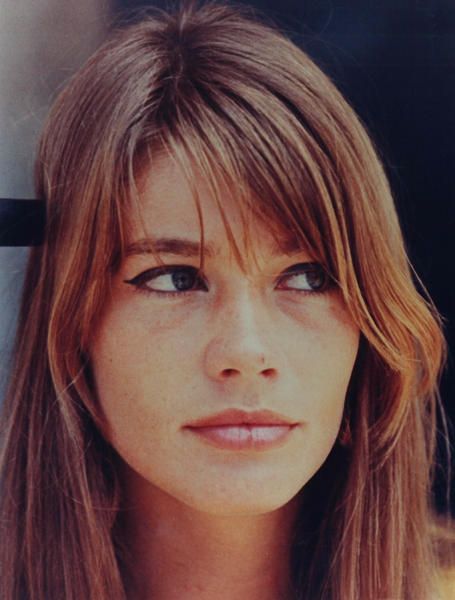 7) Metallics & glowy skin to match
I know metallics tend to get really popular around Christmas time, and I should be fed up of them by now, but I've really been enjoying how many pretty metallic shoes are still coming through on the high street. I know I keep raving on about light wash denim, but I think there's really nothing cooler than pairing it with a great pair of metallic shoes and a slogan t-shirt for that laid back seventies/groupie vibe. I've also been more into my skincare products than ever (you can catch my Spring favourites here incase you missed it), I've been enjoying wearing less make up and just having fresh/radiant skin as the ultimate accessory. Who doesn't want shiny heels and glowy cheekbones to match?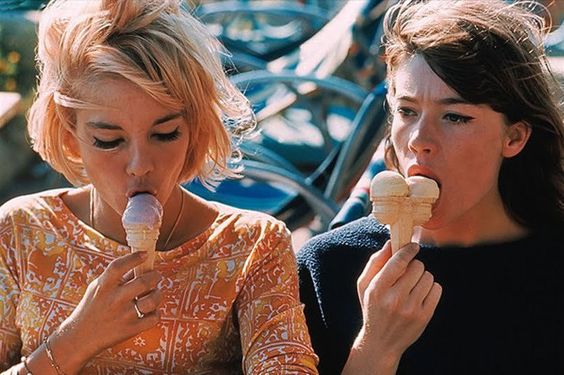 8) Obligatory ice cream with a best friend…
Alice x
---
All imagery sourced from Pinterest & Tumblr
Don't forget you can check out all the pieces I've been updating my SS17 wardrobe with here via my little blog shop – lots of item I already own plus a little preview into my current wish list. I also update it weekly in case any of you were interested!