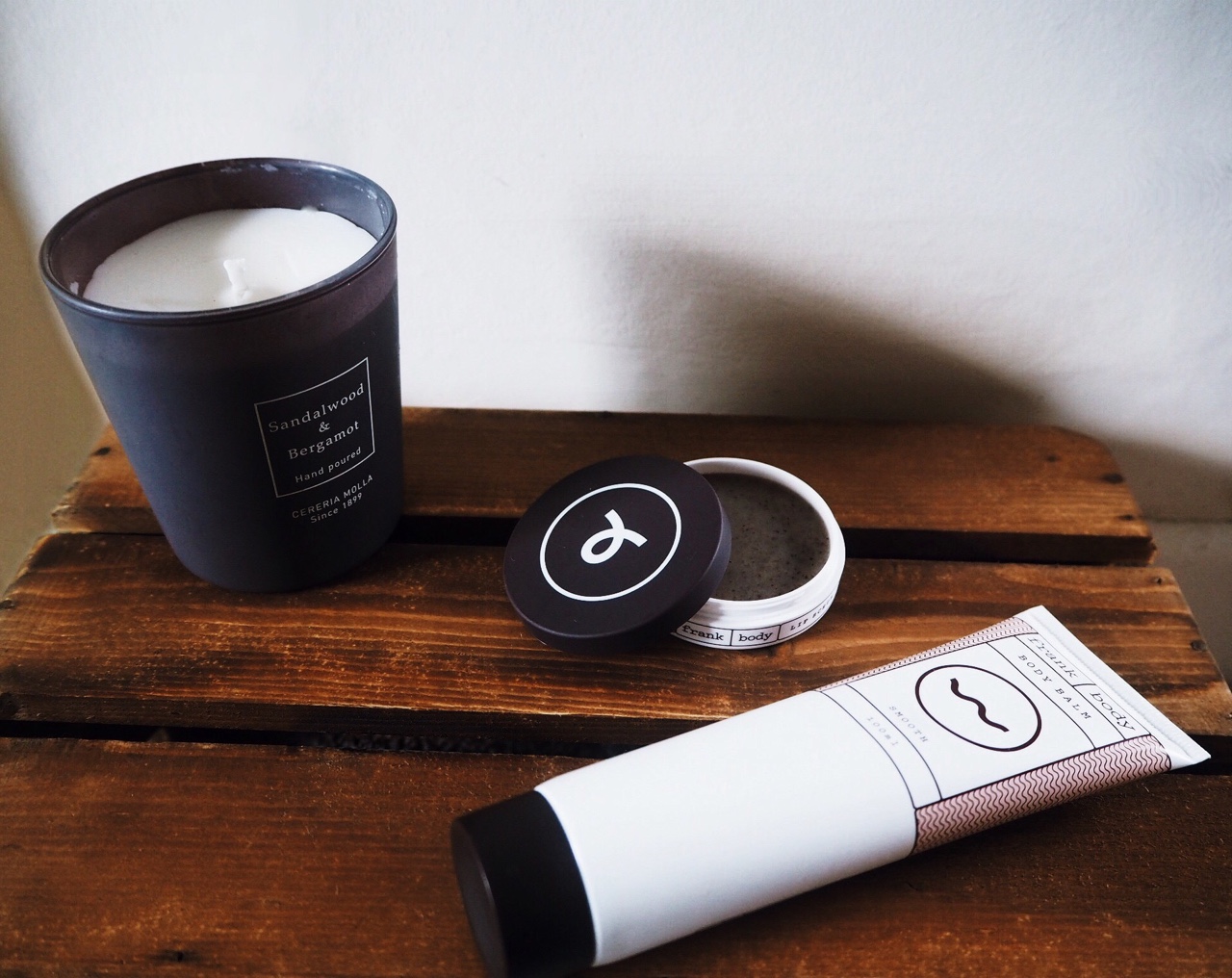 Frank Lip Scrub | Frank Body Balm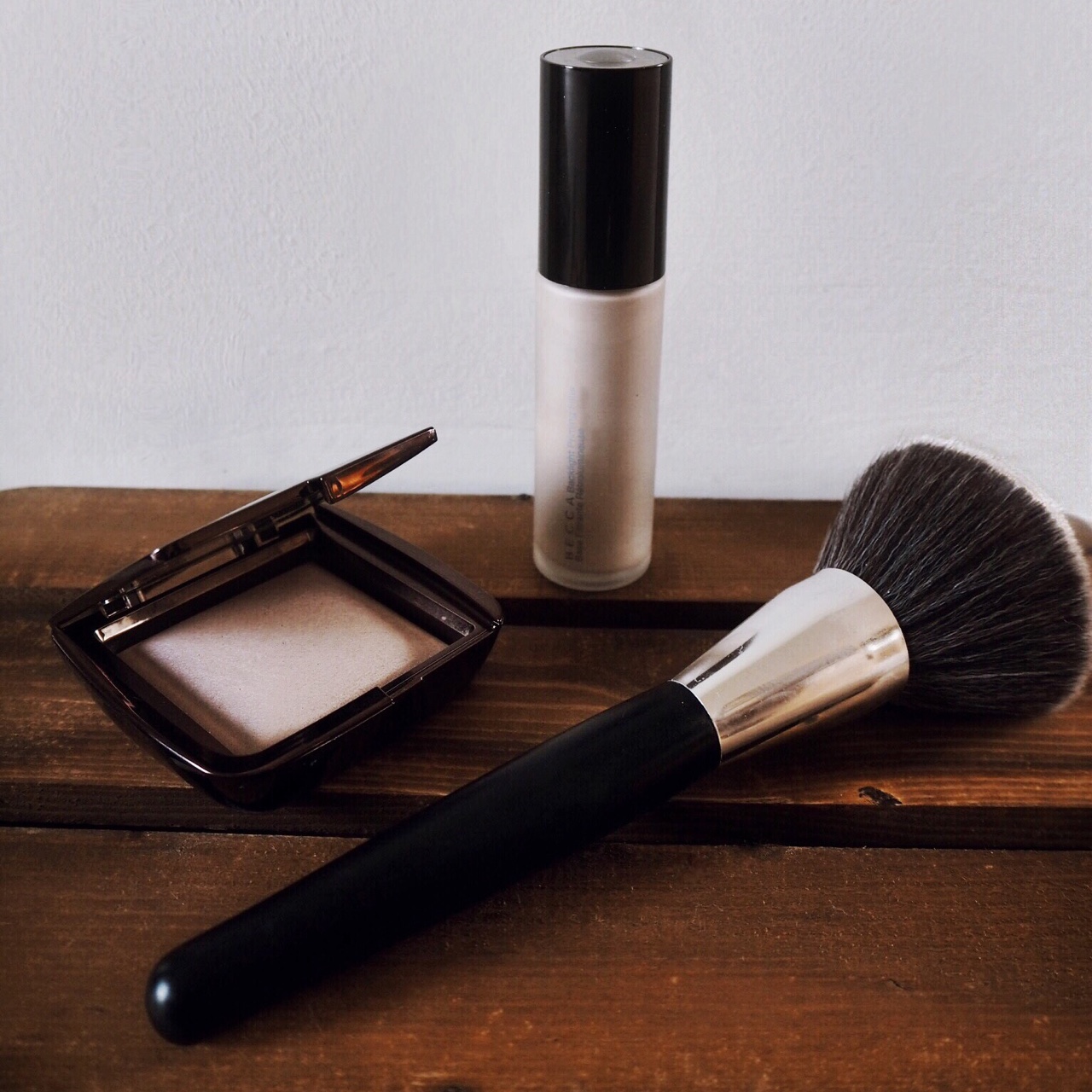 BECCA Backlight Priming Filter | Hourglass Ambient Lighting Powder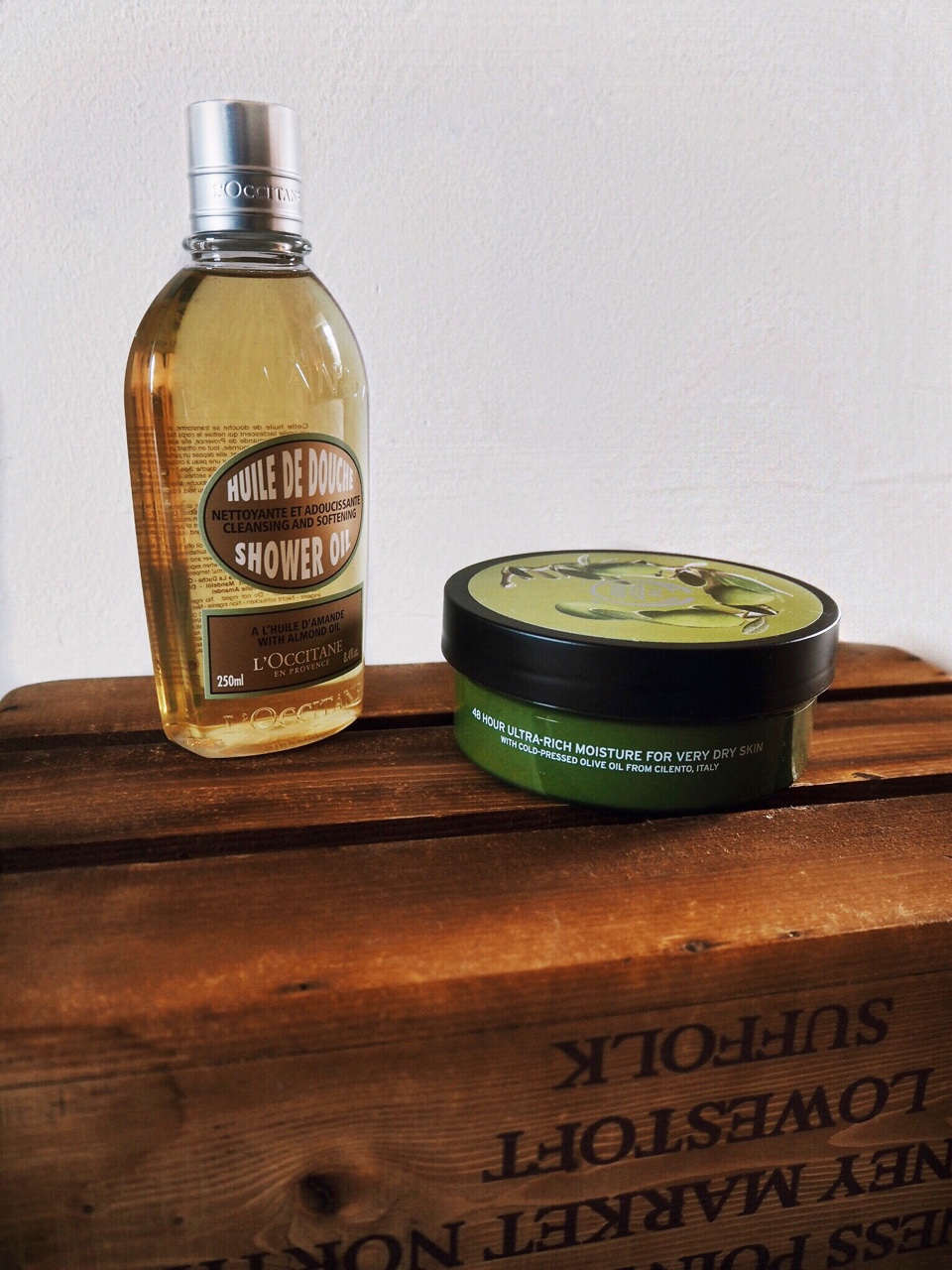 L'Occitane Almond Shower Oil | The Body Shop Olive Butter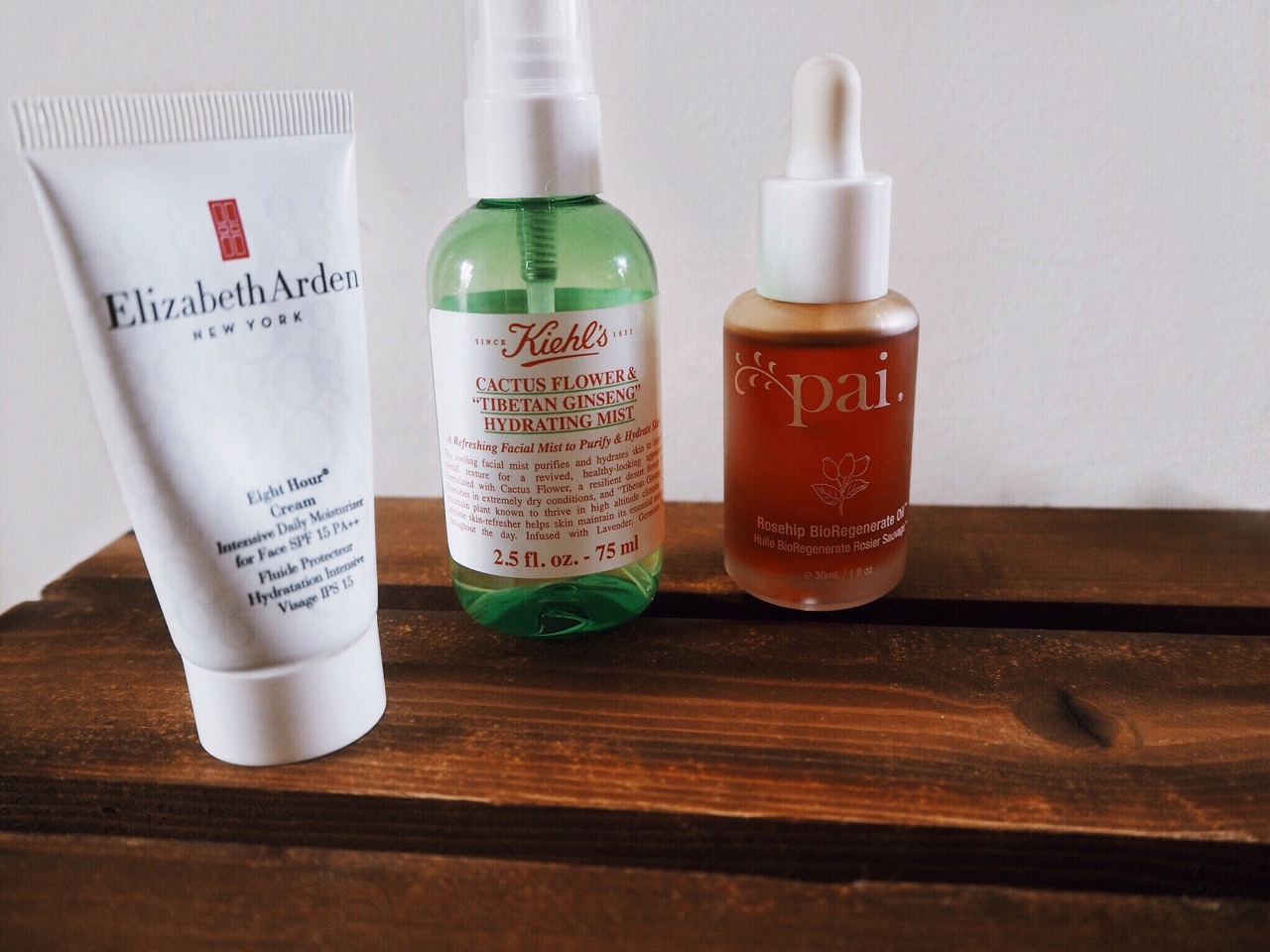 Elizabeth Arden Eight Hour Cream | Kiehl's Hydrating Mist | Pai Rosehip Oil 
---
When I started this blog, I vowed to throw in a few beauty related posts here and there to keep you updated on my routine, what works for me, and those little 'miracle' products that make getting ready in the morning that little bit more enjoyable. I'm a big fan of beauty and skin care products and I'm forever recommending things to my friends/family, so it only feels natural to share with you guys too. Admittedly, a little less exciting to write about, but I always find these kind of posts really informative when trying to decide on a new skincare item…
It tends to be the time of year when my skin is crying our for some TLC, and I find myself spending more time investigating those cult beauty products that promise to make the world of difference. My skin can get quite dry/irritated during the Winter months – the lack of vitamin D, bitter weather, and central heating eventually begins to take it's toll. This leaves me feeling like I need a few more indulgent products to take the edge off my usual routine, and that's where the above products come into play! These are all products that I have discovered in the last few months and have been reaching for most days – definitely game changers that I will no doubt continue to repurchase for as long as they keep rewarding my skin.
I hope you enjoy learning a bit more about the new products that have earned their place on my bathroom shelf, and hopefully there's something here that you might want to try out as we head into the new year!
Alice x
---
 Products Featured 
Frank Lip Scrub – An entire range of natural based products inspired by coffee. Frank happens to be a brand after my own heart and this scrub is literally good enough to eat! I'm a religious nude lipstick wearer, most days I'm usually sporting some shade of nude lipstick along with my cat eye flick. This gentle scrub keeps my lips nice and smooth, buffing away any dry skin and creating the ideal surface for my lipstick to stay put. The packaging is also rather cute and compact enough to travel with!
Frank Body Balm  – This stuff is a god send for any dry/troublesome patches of skin that tend to make an appearance during the cooler months. I love using this on everything from my elbows, cuticles, and shoulders. Yes shoulders – it gives such a lovely natural glow to the skin that I've become quite obsessed with. Packed full of natural oils, it's kind on the skin and still has that same amazing coffee scent. If you ever suffer with dry hands/feet, this one is great if you smother it on any problem areas and pop on a pair of socks/thin gloves whilst you sleep. Not the most attractive of scenes but definitely a worthwhile ritual every couple of weeks, or as often as desired to keep things silky soft.
BECCA Backlight Priming Filter – One of those cult products that seems to be more popular than ever and I now completely understand why. One pump of this worked on top of my moisturiser leaves me feeling perfectly primed and dewy. It really does make me feel like I have that 'lit from within' glow, which lets face it, we are all endlessly chasing. I even like to wear this on no make up days because it makes my skin look ridiculously healthy and prepped for the day ahead. I have tried a few BECCA products to date and they do not disappoint! Especially if, like me, you don't like a really flat/matte finish to your make up look.
Hourglass Ambient Lighting Powder  – This is another one of those cult products that I'd seen everyone shout from the rooftops about for a good few years before finally making the purchase online. My skin can often feel a bit dull with the lack of sunshine over here in lovely Manchester – so anything that beckons the promise of a natural glow has my full attention. I have this in the shade 'Dim Light' and simply dust it all over my face with a big fluffy brush as the last step of my make up routine. It gives my skin that extra flawless finish but with a really natural sheen that I only tend to experience after a holiday abroad.
L'Occitane Almond Shower Oil – This is something my mum has always used and she has the softest skin around – I always trust her opinion and we are forever recommending lists of products to each other when we catch up. I use this in the shower after cleansing and it has the most delicious scent. If you're guilty of forgetting to moisturise, then this is the time saving product missing from your life! I own three different sized bottles of this stuff which definitely isn't necessary but I'm thoroughly addicted. If you want to treat yourself to a more luxury shower product – this is the one!
The Body Shop Olive Butter – These have been around for years and I'm never without a tub in my collection – I use it every time I get out the bath/shower, and it leaves my skin feeling moisturised for days. Which is great if you tend to be a bit lazy with your body moisturising like me and find yourself giving up half way. I usually use the shea butter one – which is incredible – but this olive edition has officially taken it's place for now. I love anything that contains olive oil and find that it really works for my skin – it reminds me of holiday's in Greece and keeps my skin looking smooth and hydrated. It's also really affordable which means less guilt when you find yourself collecting a couple of different scents.
Elizabeth Arden Eight Hour Cream – Yet another cult beauty product that I had avoided purchasing until recently. I'm really particular about face creams, so I like to get my hands on the miniature version if possible before making any kind of commitment. The skin on my face is really sensitive and can often have nasty reactions to certain ingredients (I'm still not fully aware of which ones), so I can often live in fear of applying new facial products. Hence, the reason I try to keep my beauty routine as natural as possible and stick to products that have positive reviews. This cream claims to protect the skin from the effects of extreme weather/climate changes and contains something I always look for – spf15. It has a really different scent to anything else that I've tried but it hydrates my skin like nothing else. I tend to alternate between this and Kiehl's skin rescuer at the moment during the daytime. It also came in a set with the cream skin protectant which is a life saver for any dry patches of skin, and can even be used as a giant lip balm!
Kiehl's Hydrating Mist  – This was a present from my boyfriend who has picked up on how much of a dedicated Kiehl's fan I have become over the years. He gifted this to me just before Christmas and I've used it everyday since. I'd often thought this type of skin refresher or 'mist' was just a novelty fad that wasn't worth investing in, but now I can't imagine my routine without one. I usually alternate between this one and one by Avene – I spray it over my face/chest when I'm fresh out the shower just to calm down my skin and prepare it for my everyday routine. It also doubles up as a make up setting spray and is great for carrying around with you for those on-the-go flustered moments.
Pai Rosehip Oil  – The little bottle of oil that keeps on giving! This was sent to me by Free People and it's really helped my skin out recently. It's the first product I apply (post skin misting session) and it has a lovely herbal scent to it that really calms my skin. A couple of drops is more than enough to revive my skin and I've found that it really helps to reduce the appearance of any blemishes/scarring caused by break outs etc. Pai create products that are free from any nasty chemicals/parabens and have a reputation for helping out anyone with sensitive skin. I really want to try out some more products by them in the new year so will be sure to report back!
---
Disclaimer – This post isn't sponsored, all mentioned products were purchased by me unless otherwise stated, and all views are entirely my own. Although I have a keen interest in skincare/beauty, what works for me might not necessarily work for someone else.