I've found myself on the hunt for some really great basics lately – I think it's a combination of the pandemic easing whilst simultaneously just wanting to feel myself again post a pretty rough couple of years! As with most people, my body changed a bit throughout the pandemic. I'm definitely an emotional eater at times, and all the loungewear and elasticated waistbands made me care a lot less about consuming that extra portion of pasta from time to time. And that's perfectly okay! I thought this post might be helpful for anyone else that's trying to regain their wardrobe sparkle – basics are always the best place to start in terms of building wardrobe confidence, and these are some of the pieces that are helping me get back to feeling my best…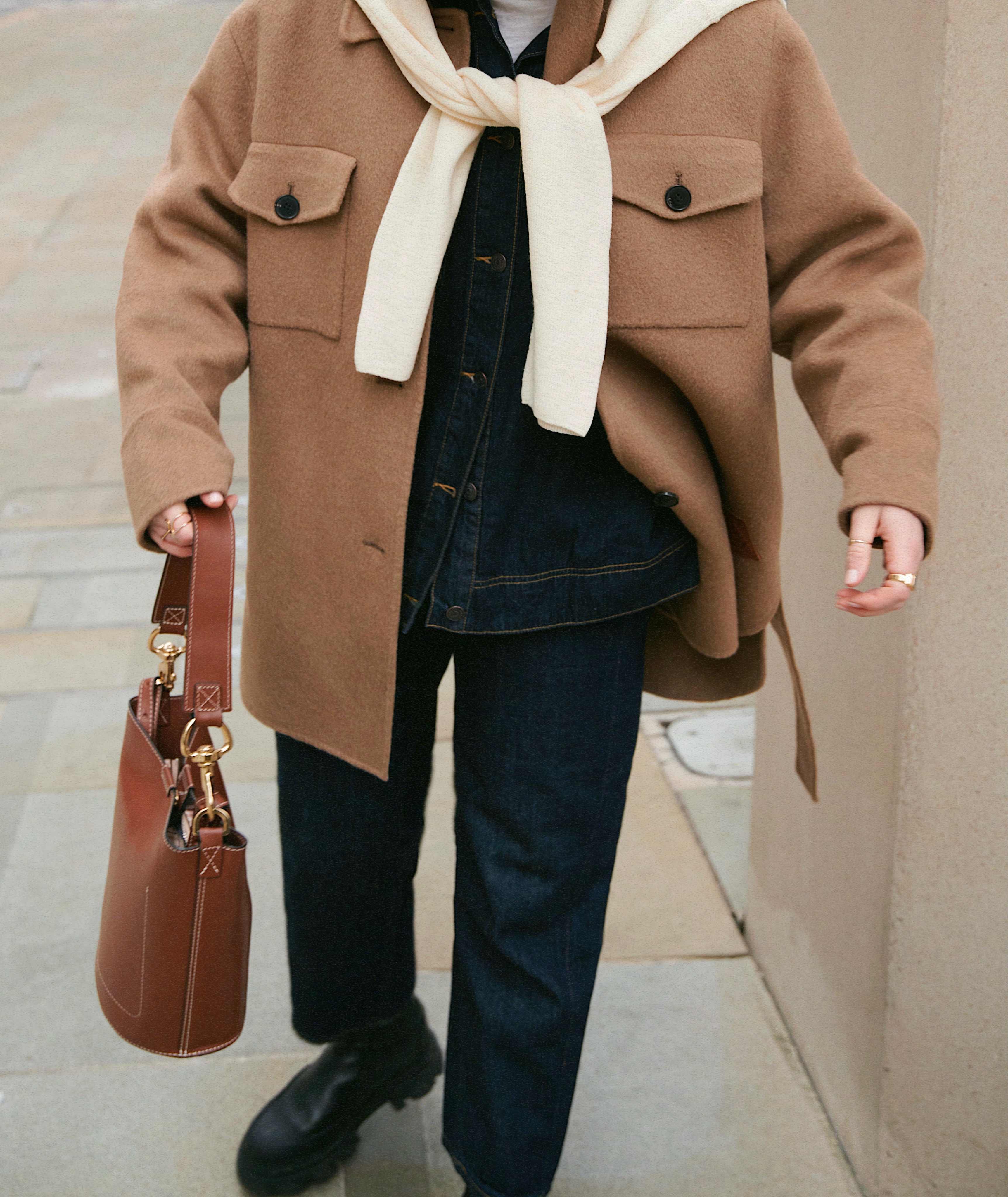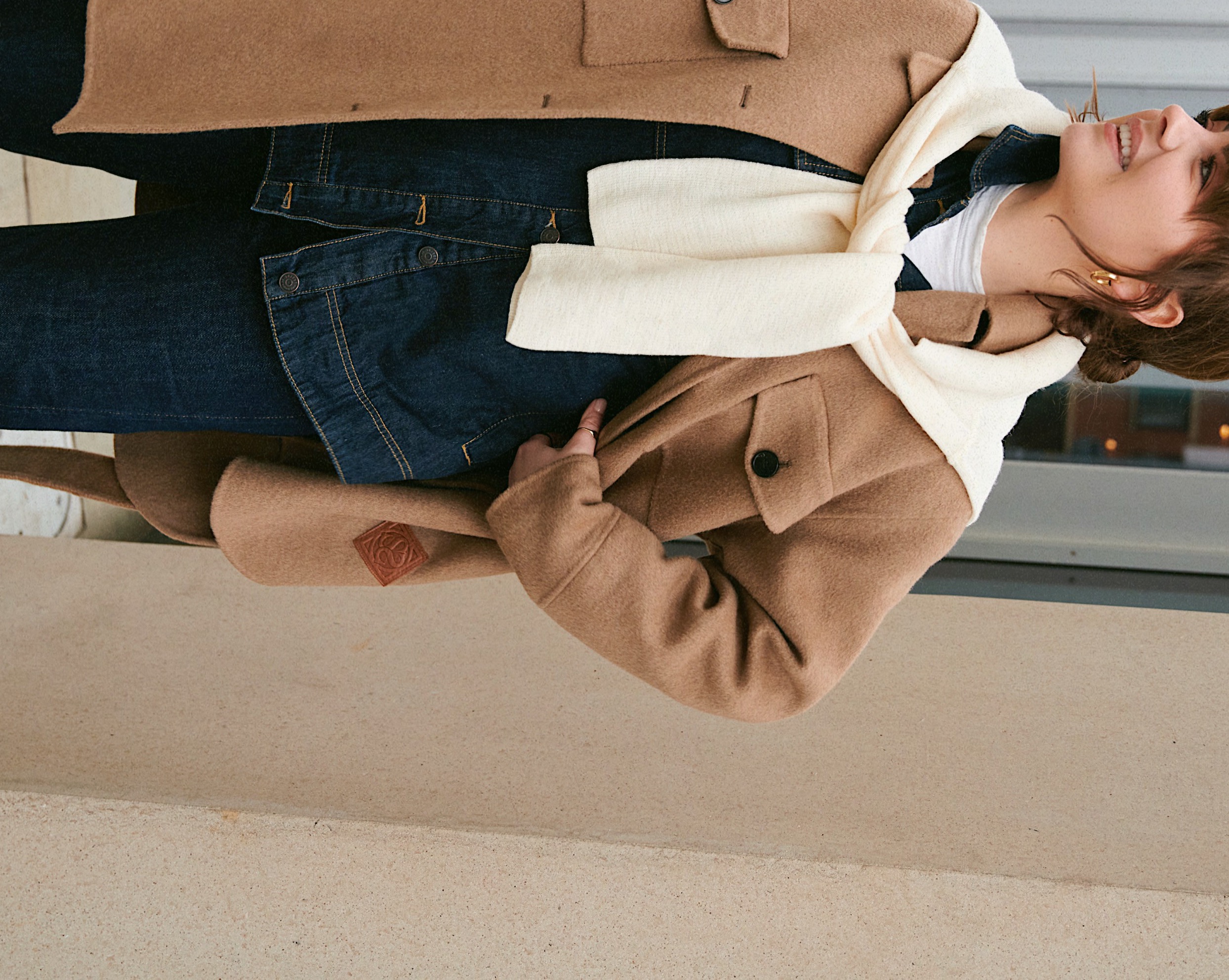 THE WOOL CAMEL COAT 
I personally never get tired of a wool camel coat! I love how it elevates a simple outfit underneath and makes everything look instantly chic. The one I've been living in lately is this Sandro Paris beauty – it gives me serious Loewe vibes with the brown leather patch detail, and I love that it has a handy waist tie as well as black buttons so that you can mix up the look. Although it's an over-shirt style coat, it's super warm and cosy – I've been wearing it during the daytime a tonne but it also serves as a chic evening coat over the top of a black slip dress…
---
JEANS (& FALLING BACK IN LOVE WITH DENIM AGAIN) 
Oh how I neglected denim throughout the pandemic! Jeans, denim shirts, and jackets have always been the backbone of my wardrobe, but after a a few lockdowns, it just didn't feel right sitting at my desk in a pair of jeans. For me, denim is that kind of material that's made for taking on the world – it's made for the day to day messiness of life and outdoor adventures…
Now that the world is opening back up again and I'm starting to feel more excited about outfit possibilities – I've been updating my jeans collection and donating/selling anything that doesn't fit! Everybody raves about the Levi Ribcage Jeans and they aren't wrong – they are the closest thing I've found to vintage jeans and they fit like a glove if you can work out your size. I like buying a slightly bigger size on the waist and a 27L and then I have them taken in a few inches at the tailors. I find this gives the best fit for me as someone with an hourglass figure who wants that straight leg/slightly loose vintage fit throughout the legs whilst still being nipped in at the waist. This won't be the case for everyone though as every body shape is different but getting jeans tailored is super easy so don't let that be a negative factor when your faced with jeans that are a bit too big/the previous size was much too small. Get them tailored and you've got yourself a personalised pair of jeans that fit your body! I have them in black and also the 'Noe Mineral Blue' style.
The other style of jeans that I've worn and loved for many years now are the Whistles Barrell Leg Jeans. Again, I feel like if you're someone that finds finding jeans hard work based on simply having curves – this style of jean is a safe place! I find them so flattering, especially when worn with chunky boots that are tighter around the ankle. They are loose fitting on the legs but fitted around the waist/bum area which I really like the look of. I wear mine all the time with knitwear or oversized shirts slightly tucked in.
---
THE CLASSIC STRIPE SHIRT THAT NEVER FAILS
I'm including stripe shirts within this winter basics roundup simply because a striped shirt is one of the few pieces I wear all year round – whether it's layered underneath a jumper in winter, or thrown on over a bikini in summer… 
The striped shirt is a huge part of my wardrobe and one of those pieces that makes a great foundation for so many outfits. When I'm exhausted or in a rush, a striped shirt is always the piece I know I can throw on and still feel like myself. In my opinion, it's one of those effortlessly chic staple pieces that looks good on everyone! You really can't go wrong…
I recently picked up this one by Mango that's really floaty and thin so perfect for layering underneath jumpers and knitted vests at this time of year. It's a really lovely blue shade with a subtle burgundy stripe detail running through it which I really love – the burgundy makes it feel winter appropriate but the fact that it's such a soft/loose fitting shirt makes it a great transitional piece too. I love how it looks layered underneath this cropped grey jumper by Cos – it's such a beautiful wool blend with slightly oversized sleeves that make it feel way more expensive that it actually is. A winning combination for lazy days when I want to feel smart!
I then picked up this beautiful off white/black striped shirt by Arket – another place I really recommend if you're looking for great shirts that will stand the test of time! I think this one might be currently sold out but it's worth saving the tab and checking back as Arket stuff often goes in and out of stock throughout the year.
I also pick up a lot of my striped shirts via Na Nin Vintage – they always have such a great selection and I'm rarely disappointed when I buy from them! I've been asked a few questions about their custom charges/postage costs etc over the years so I thought I'd leave some info here for those that are interested in their pieces but scared of any nasty additional charges. I get charged around 20 dollars postage to the UK and they ship via DHL so it's a pretty fast delivery service and I haven't ever received a custom charge on top of what I pay at check out. I normally wait until there's a few pieces in stock that I want to justify the postage a little more & they often have discount codes so it's worth looking out for those too!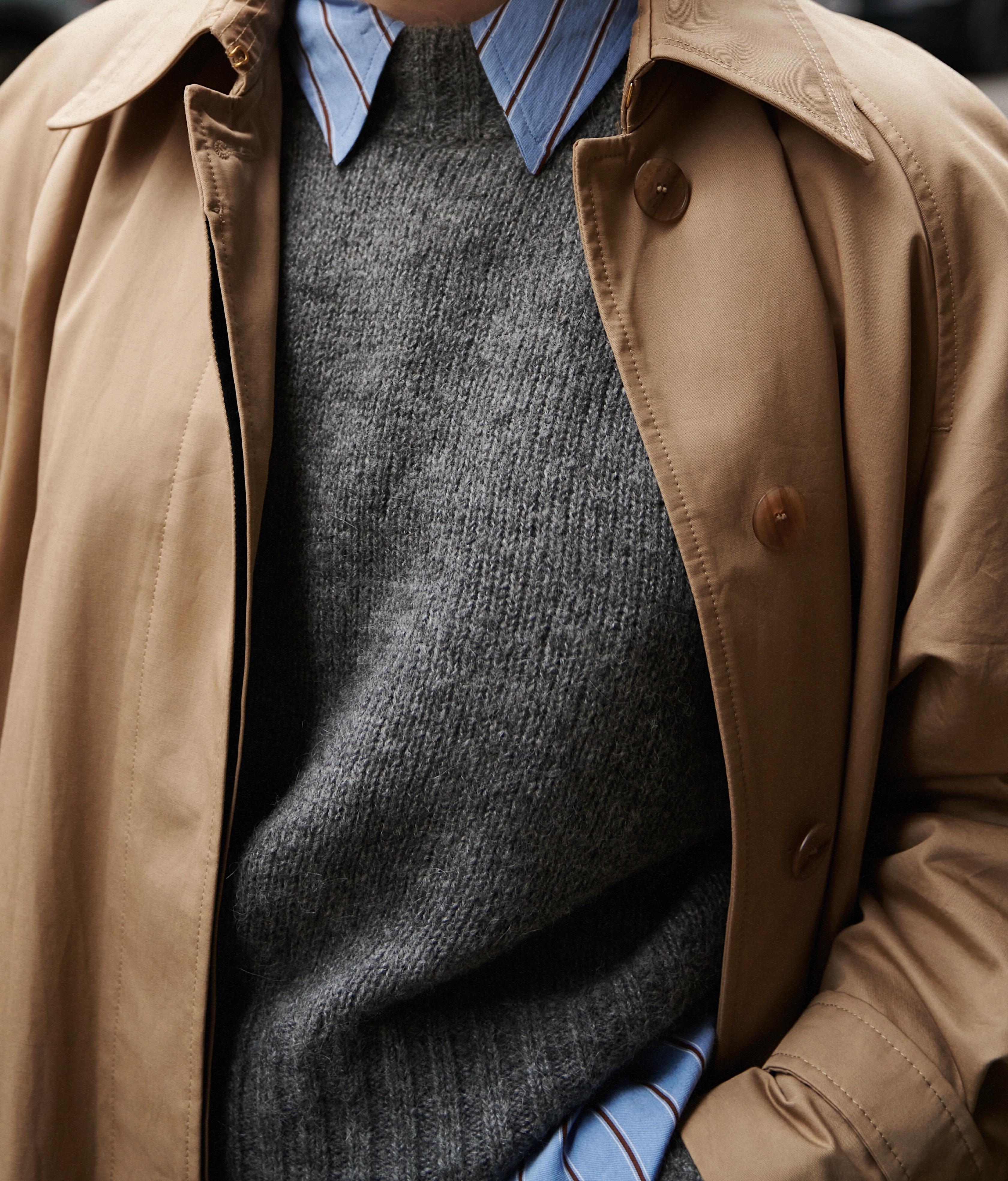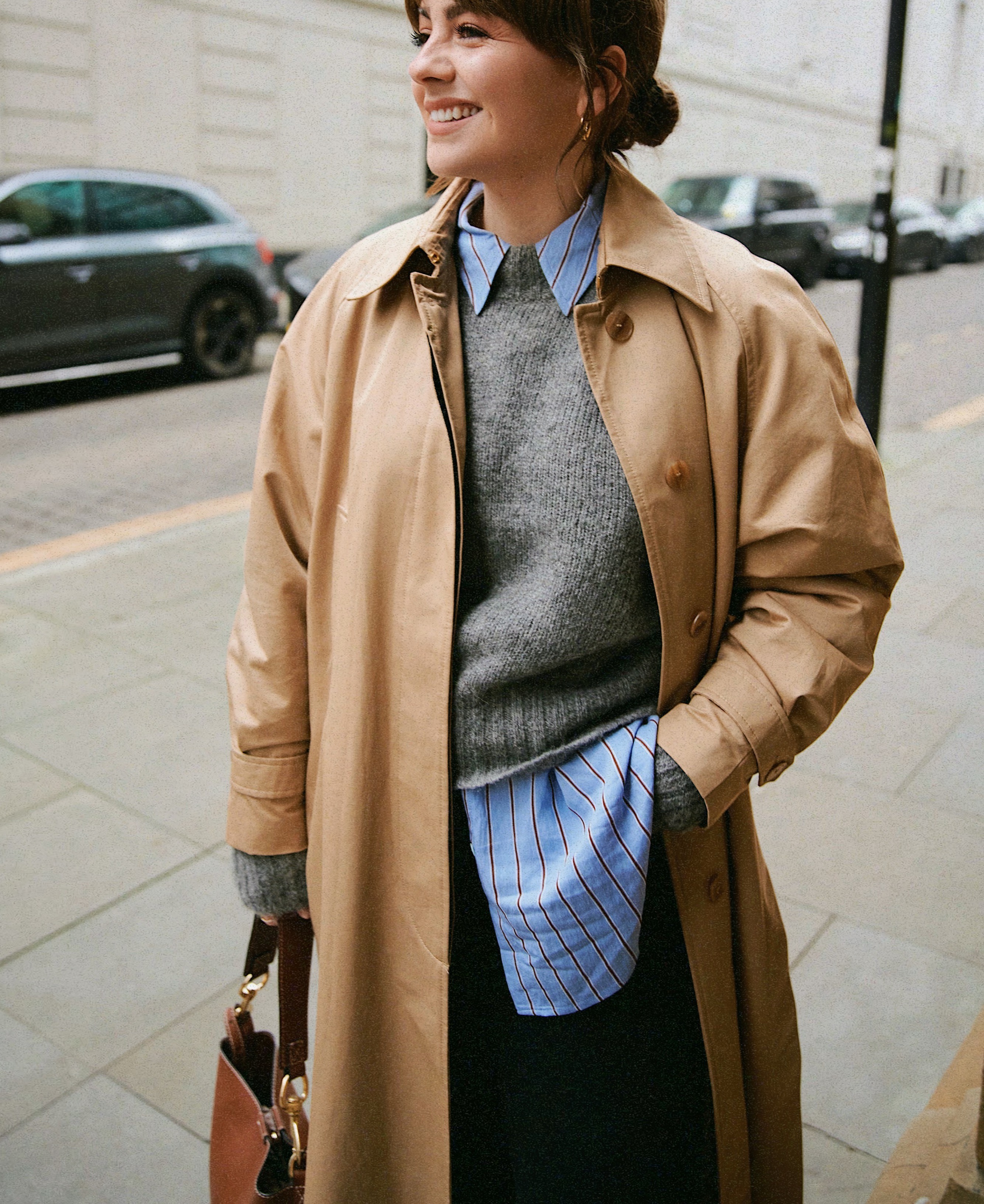 TRAINERS THAT WORK FOR WINTER 
I've always been a chunky boot kind of gal when it comes to winter shoes, but the pandemic really made me realise I was lacking in the comfortable winter shoe department! Chunky boots are great but sometimes you need something lighter on the foot that you can walk for longer in. I wanted some trainers but I didn't want to invest in anything that felt too clunky that didn't work with my current wardrobe. I opted for some black suede Addias Handball Spezial trainers that I'm in LOVE with – they look so great with tailored black trousers and oversized shirts/jumpers. They are just a chic alternative for those that aren't into trainers with super thick soles/anything crazy colourful.
I also recently picked up a pair of the New Balance 327's in a beautiful khaki/olive green style – I'm smitten! They are basically like slippers and I've never known comfort quite like it. I've always felt like the more 'sporty' looking trainer styles never really suited me but I love that these have a pointed front which makes they really flattering and easy to style with pretty much anything. I also recently spied them in this stunning new colour-way which would be so beautiful for spring! 
---
THE BUCKET BAG (FOR THOSE THAT DON'T TRAVEL LIGHT) 
Since the pandemic started, the amount of crap I carry around with me has become a little ridiculous – I think I feel (more than ever) like I need to be prepared for every situation. From hand sanitiser to spare face masks and way too many lip balms (why break the habit of a lifetime), this Jigsaw bucket bag has been housing them all.  It's a medium sized bucket back that comes in 100% veg leather with a magnetic closure and double strap options to suit your mood. I love how it looks worn as a cross body bag for days when I'm running errands and want to be hands free, but it also looks equally great with the shorter strap for more of a chic/statement look. It fits the perfect amount of stuff inside so it's quickly become my everyday bag and will be perfect for city breaks/any upcoming trips…
I love the Jigsaw bag so much that I also wanted it in the black style. I realised my wardrobe was lacking a black everyday bag that wasn't tiny! That was until I stumbled across the Hedda handbag by Flattered – it's similar to the Jigsaw bag in the sense that it's got two strap options and a magnetic closure, but it's a super minimal/no frills kind of black bag that makes it perfect for everyday. It also fits a lot more than the Jigsaw bag despite looking a similar size! I'm just really happy with it and love how it looks when worn cross body in contrast to a beige/tan coloured trench coat – very simple and Parisian. It also comes in a mini style if you're on the hunt for something a bit smaller…
---
GOLD HOOP APPRECIATION 
It might be boring but I just love a gold hoop when it comes to everyday earrings. I have them in an array of different sizes, and they just make everything else in my outfit look chicer and more expensive. Gold hoops have the power to elevate, and I think that's why I'm endlessly on the hunt for the perfect pair… 
I recently got this pair by Oak & Luna for Christmas and I can't recommend them enough if you're looking for a great of chunky gold loops that don't weigh the ear lobes down! Equally, this pair by Monica Vinadar are great if you want statement gold loops but nothing too heavy – I love the uneven texture/shape these ones have and they are ideal when I quickly want to switch up my daytime look to suit an evening occasion!
I've wanted some Laura Lombardi earrings for a while now and recently spotted some in the sale so snapped up a couple of pairs as a 'new year treat' to myself! If you're looking for something a little different to your usual gold hoop situation, I really recommend the Mini Camilla earrings – they are another gorgeous textured design that just look super high end and chic with everything. I also picked up the Gaia earrings which are basically just a perfect oversized gold loop but again with a textured silhouette that really makes them stand out compared to anything else in my collection…
---
Photographs taken by Catherine Booty 
SHOP WINTER WARDROBE BASICS