I've had these film snaps sat in my drafts for a while now and they completely slipped my mind until recently! For some reason I thought I'd given my two cents about the infamous Prada loafers, but it turns out I haven't! Probably because they were a birthday treat last summer, and amidst the blur of the pandemic, I'd totally forgotten to give you guys my mini review…
I don't often make big designer purchases – mainly because I don't think like things that are overly labelled or logo centric. I like more simple, subtle pieces that are likely to stand the test of time. The kind of pieces that I'll still be wearing in years to come and that will evolve with me through different chapters of my life!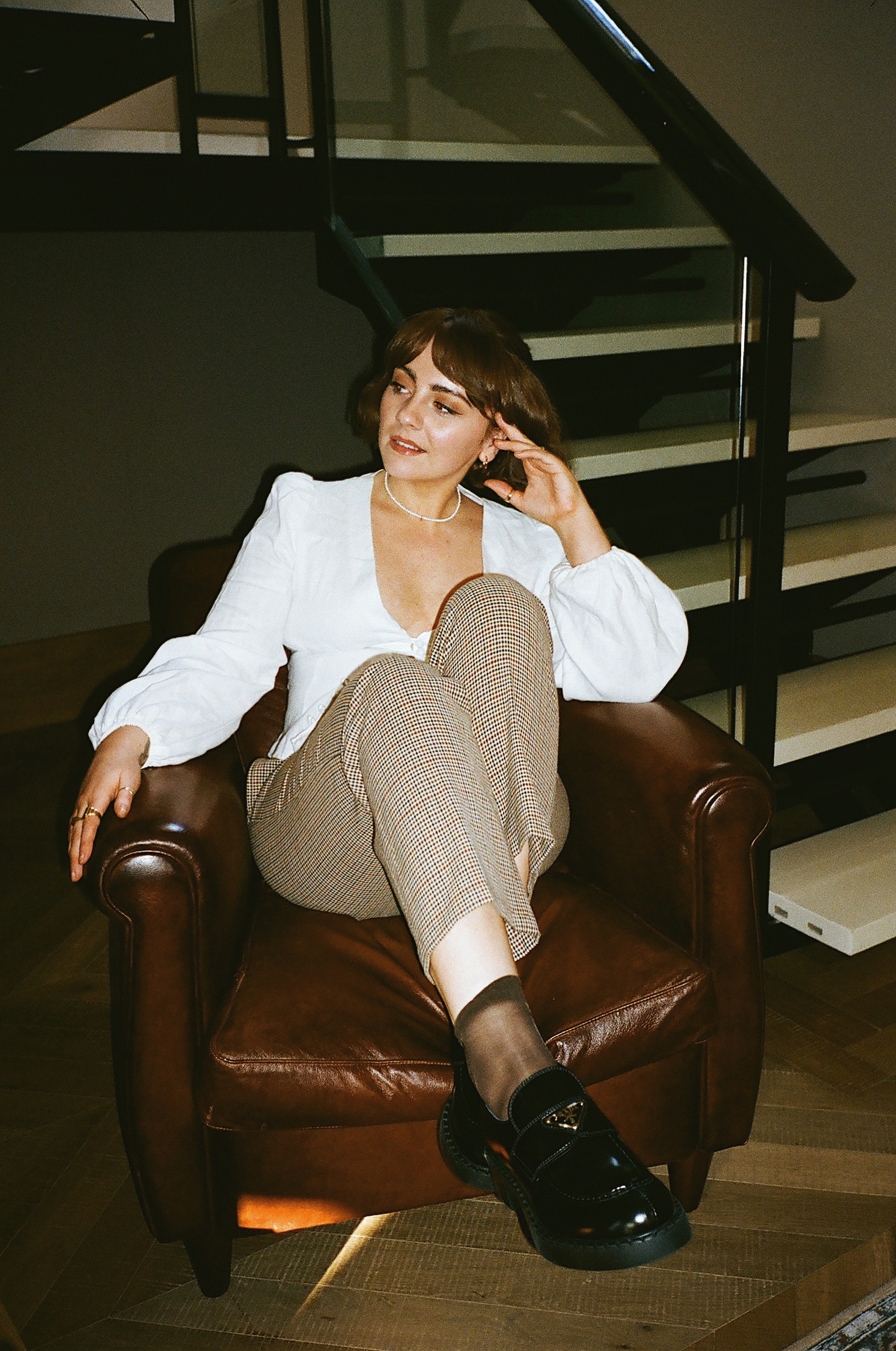 As soon as I saw these loafers, I knew that eventually I had to have them! It was love at first sight and I'd already been donning similar variations for most of my life, so I knew I wouldn't tire of them. A simple but chunky pair of shoes that feel casual enough to wear in the daytime but also smart enough for evening occasions? As a person that rarely wears heels, this seemed like a no-brainer investment.
After reading a million reviews online, I decided to just bite the bullet and order a pair to try on! The majority of reviews said they ran true to size but quite narrow but my previous experience with Prada shoe sizing had always been that they ran true to size/if not a little generous. I have quite wide feet so I went back and fourth for a while in terms of what size to get before opting for my usual size UK6. I figured this would just be a good starting point! They arrived and instantly I knew I wanted to keep them just by looking at them. As with all Prada shoes, they are just so beautifully crafted and made to last. What I love about this particular design is that they are chunky but extremely light on the feet. I also find this style so much more flattering than the classic Gucci loafers – I don't have super long/thin legs so I always find a chunkier shoe to be much more my jam.
Anyway, I tried them on and in a true ugly step sister style moment – they didn't bloody fit. They were fine length wise but just so so tight around the sides of my feet and I knew I just wouldn't be able to walk in them. I'm aware that leather loosens over time but I wasn't prepared to suffer for a pair of shoes with this kind of price tag…
As someone who can be between sizes (with wider feet) finding the perfect fitting shoes tends to be a lot of trial and error. I begrudgingly packages them back up and returned them for the 6.5 – this size fit perfectly (phew) but I knew that over time I might have to pop some insoles in to stop my feet slipping out slightly at the back. The first time I wore them with fairly thin socks and walked around seven thousand steps with no blisters/soreness whatsoever! They aren't typically a shoe I'll reach for when I know I'm going to be walking a lot because I want them to last, but they are definitely a very comfortable shoe once you figure out the right size. They also look good with everything!
I've really loved styling them with different socks and I love how they look with longer tailored trousers too. They just add a real preppy/slightly grunge edge to an outfit which is something I'm forever drawn to. Originally, I wanted the ones with the gold plaque logo but they weren't available anywhere – in retrospect I'm really happy I went with the silver style because the whole gold/black loafer thing can easily give me Santa Claus vibes (especially with this particular style of loafer). All in all, a very happy ending to this very boring story! I hope it's helpful for those of you that are considering them, and I'm excited to style them up more often as we head towards spring… 
P.S, I've linked a really great dupe here if you're looking for a great black pair of loafers on the high street!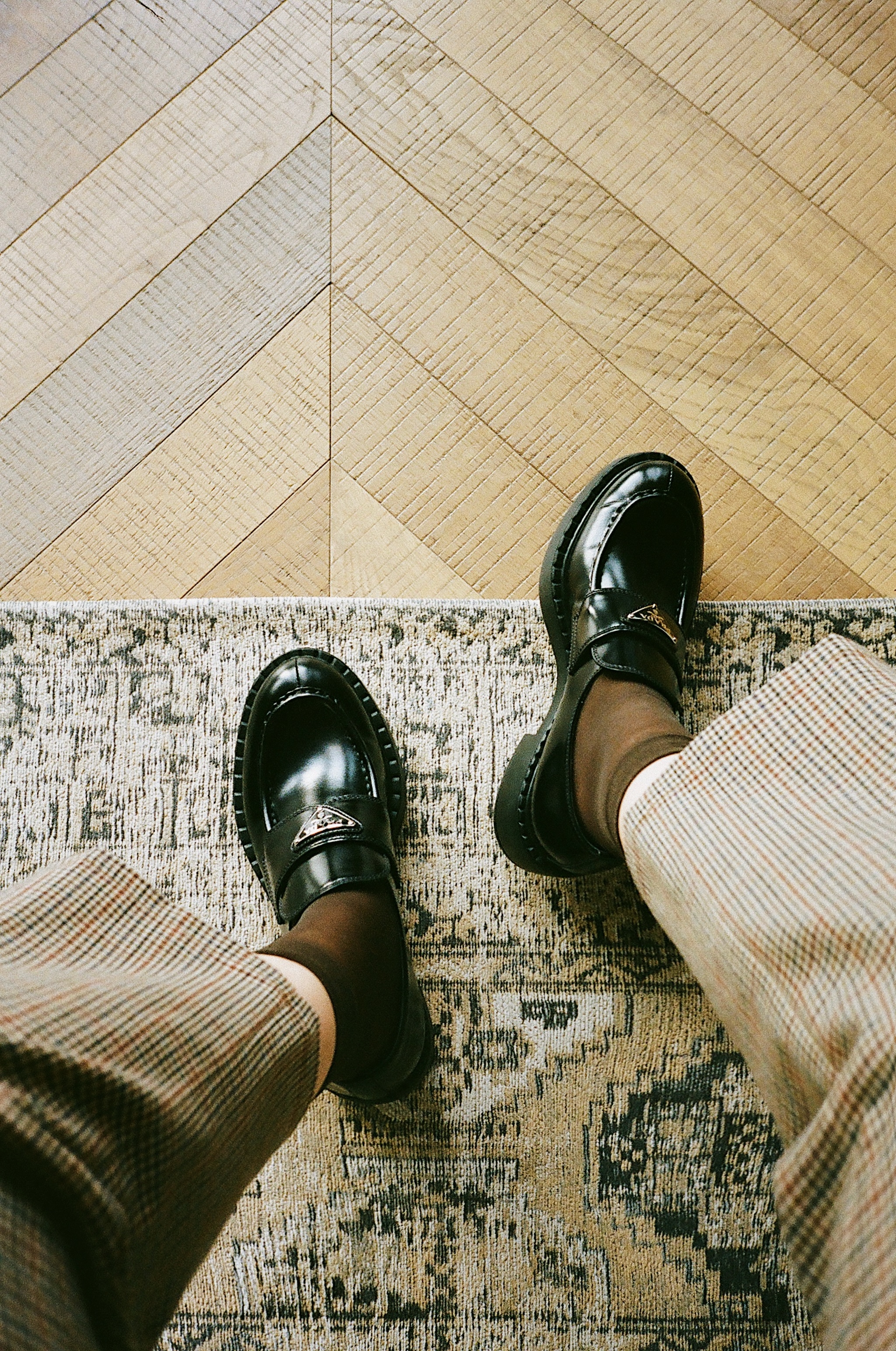 ---
Photographs taken on film (Olympus MJU II with Portra 400 film) 
Blouse – Reformation (old season/similar here), Trousers – A.P.C (old season), Shoes – Prada
SHOP THE LOOK