This week has felt like a last farewell to summer! The sunshine has been glorious and I've really been savouring the blue skies and being able to eat and drink outside. This summer has felt like one delirious blur (the whole year in fact), but I'm ready for the season to change, and to hopefully bring a new energy alongside it…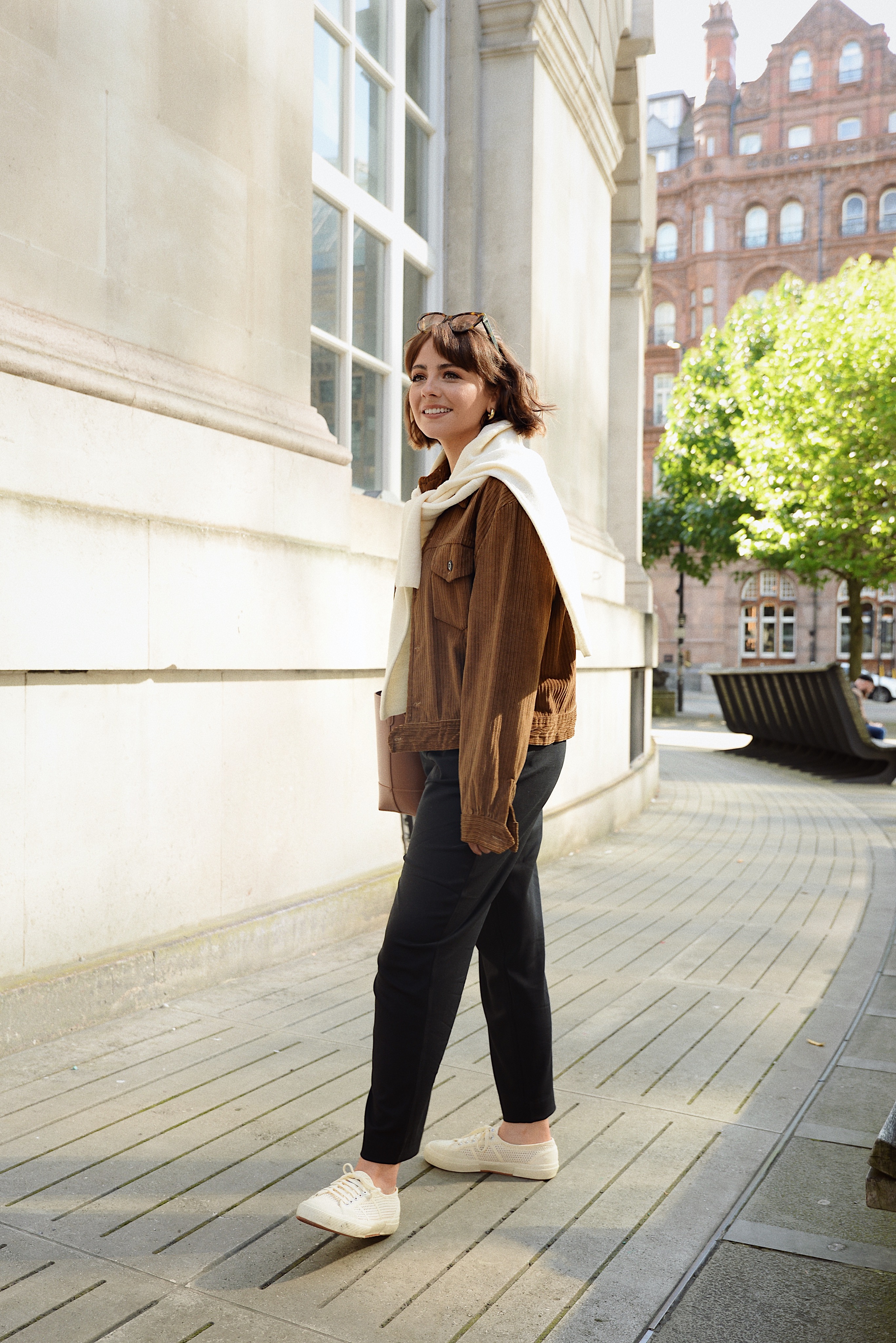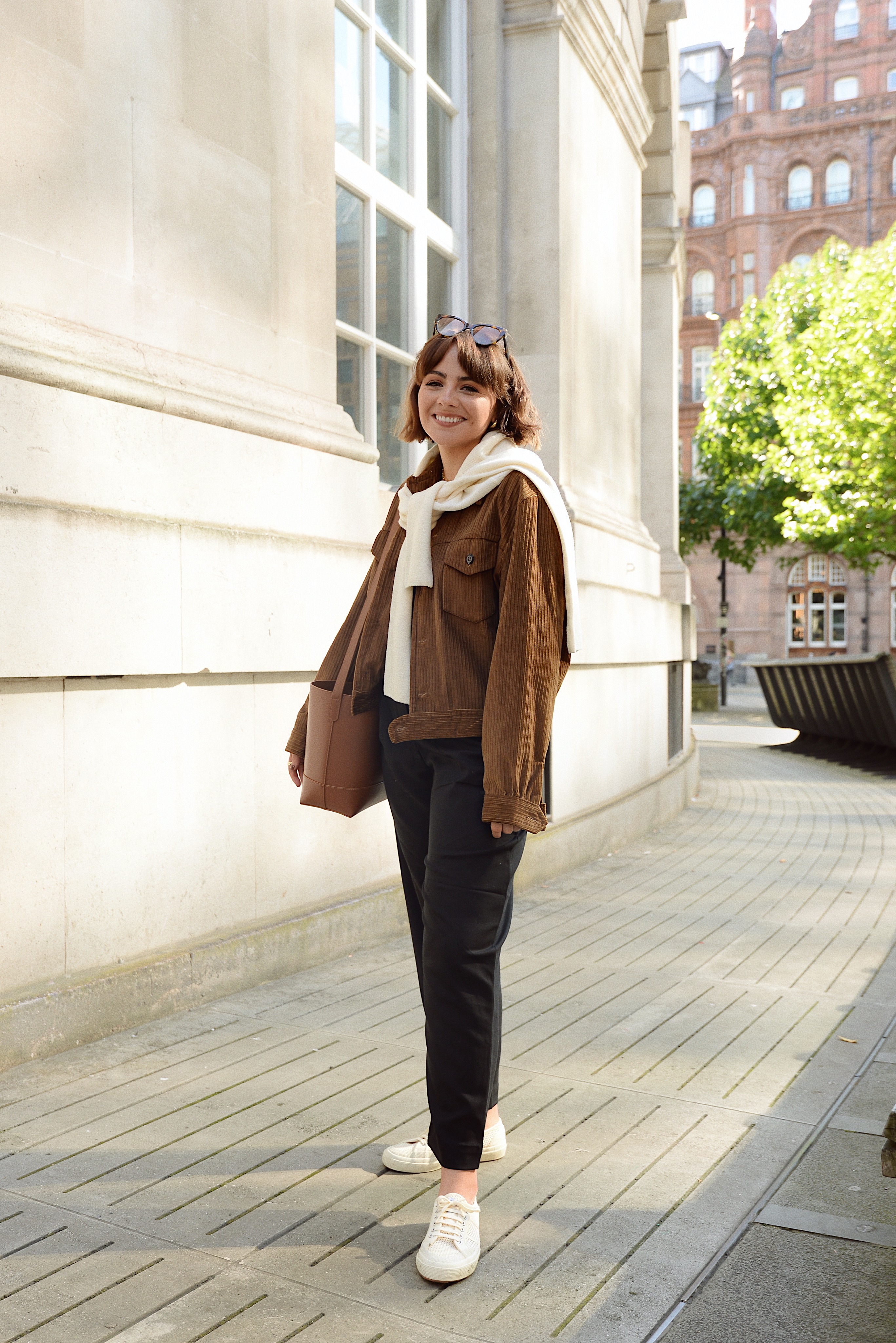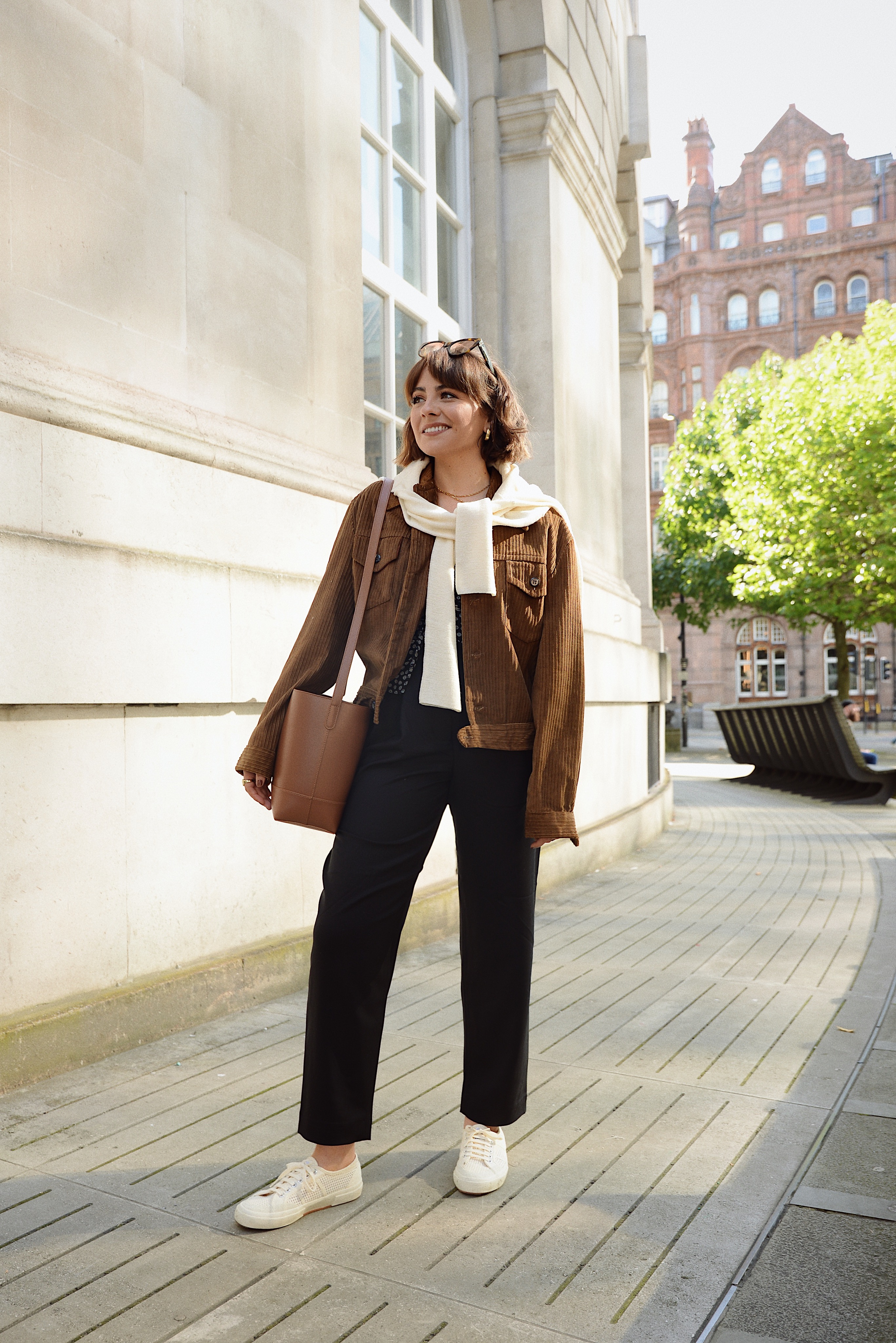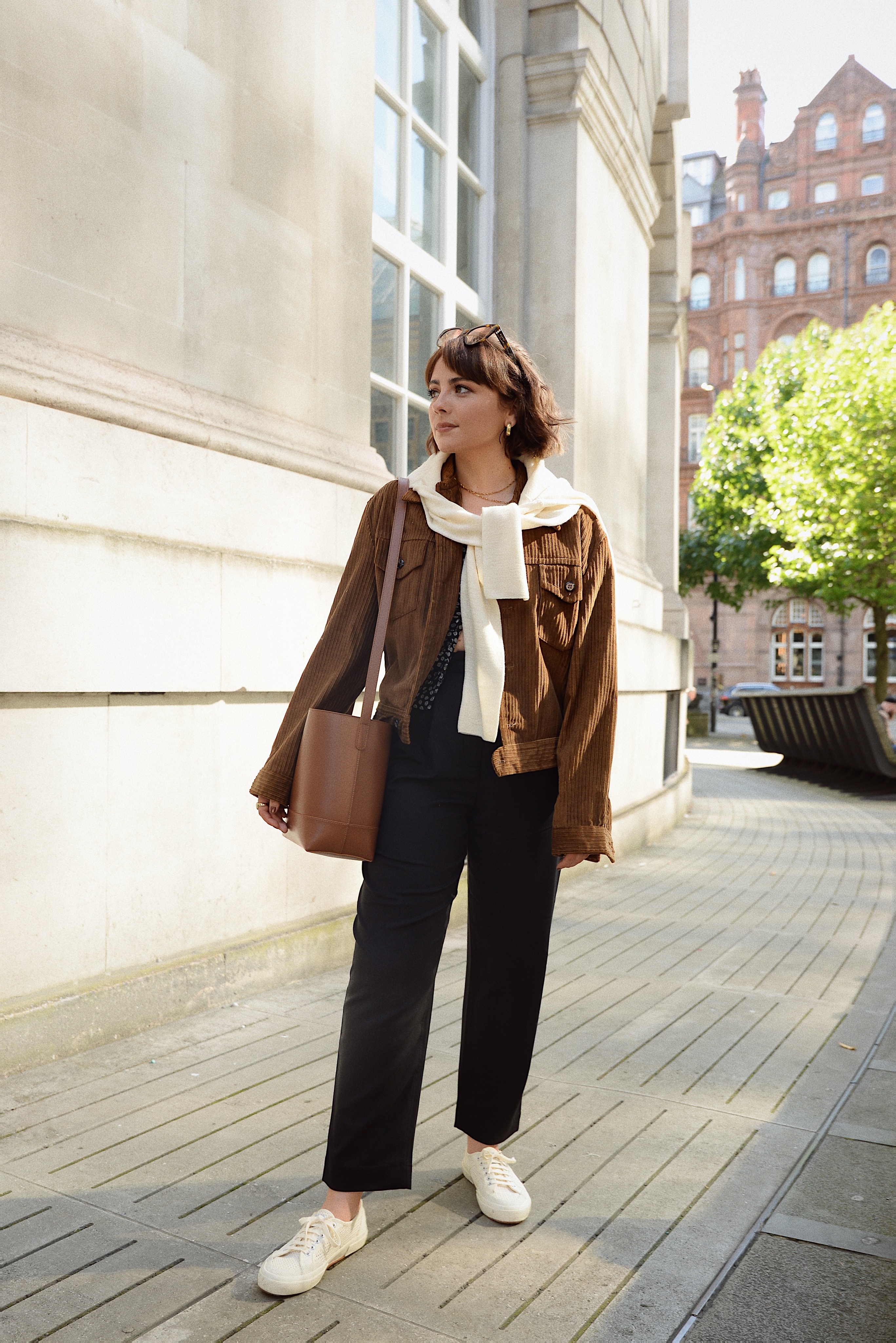 I've been living in tailored trousers lately and can't quite bring myself to dig out the denim after a long hiatus – these And Other Stories trousers might be the best black trousers I've ever had. I was missing a longer length pair like this from my collection and I love how they look with a trusty pair of cream/off white plimsoles. This is the kind of look I know I'll live in over the next few weeks! A blouse or shirt teamed with a pair of high waist trousers really has become my uniform over the years, and it's a combination that I never get bored of styling…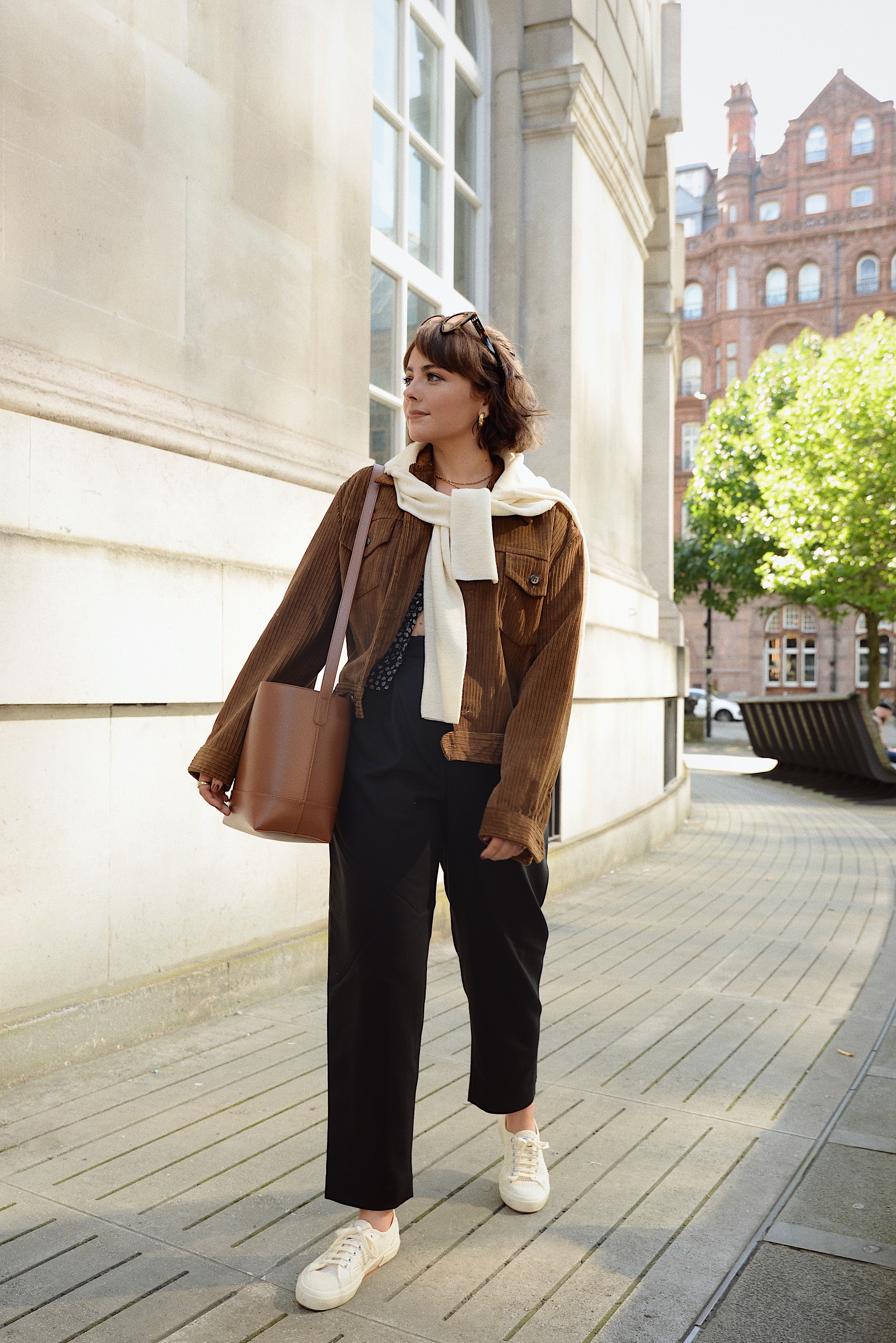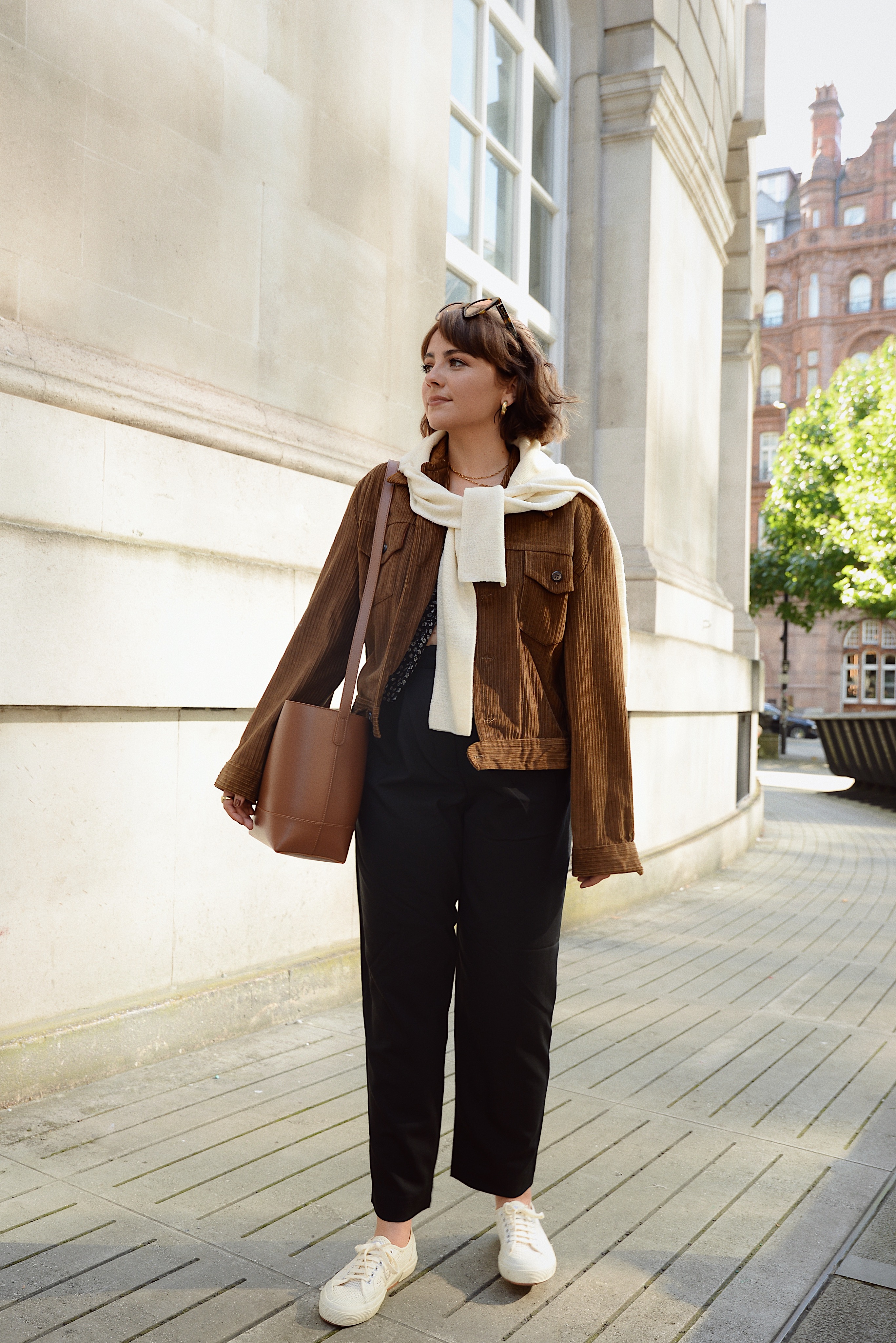 September/October is prime time for cropped jackets – I've been making the most of this vintage brown cord beauty that I got via the wonderful Retold Vintage. I really want a long brown cord jacket for the winter time so I'm hoping I stumble across the perfect piece at some point. Acne Studios did a gorgeous one last season but I want something a little more simple. A cropped jacket feels like just enough for the current Manchester weather – I've then been tying a light piece of knitwear over my shoulders just in case! I know a lot of people don't like this look or associate it with a rich/preppy/douchy kind of stereotype, but for me it feels like such a practical way to accessorise rather than something that feels too affected or obviously styled.
It's such a comforting way to wear a jumper and I love the depth/texture it can add to a simple outfit. It also means that you don't  run the risk of leaving it on a bench somewhere after deciding the sudden jump in temperature is out to get you – also great if you've had a coffee explosion down the front but still want to keep it as part of the outfit…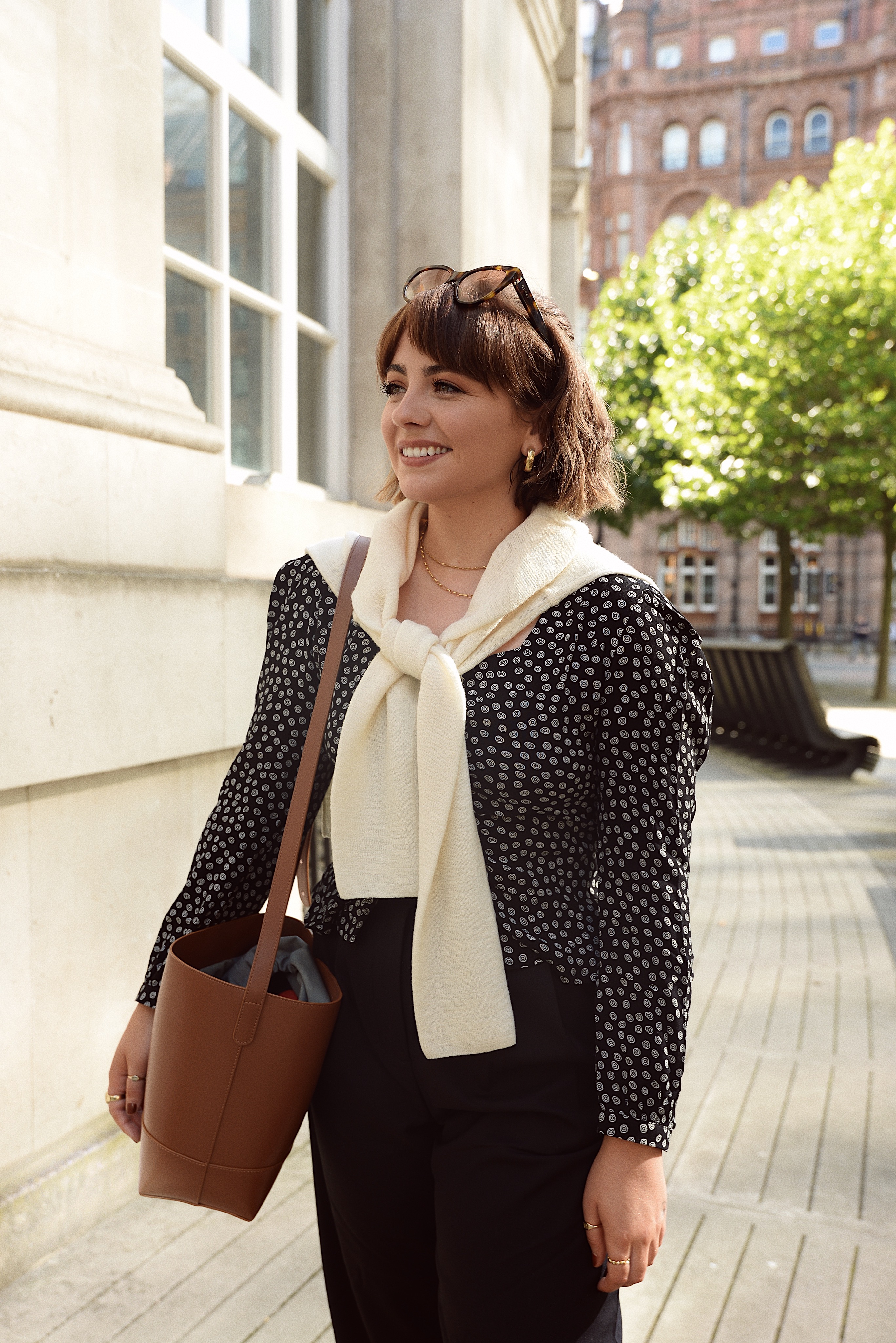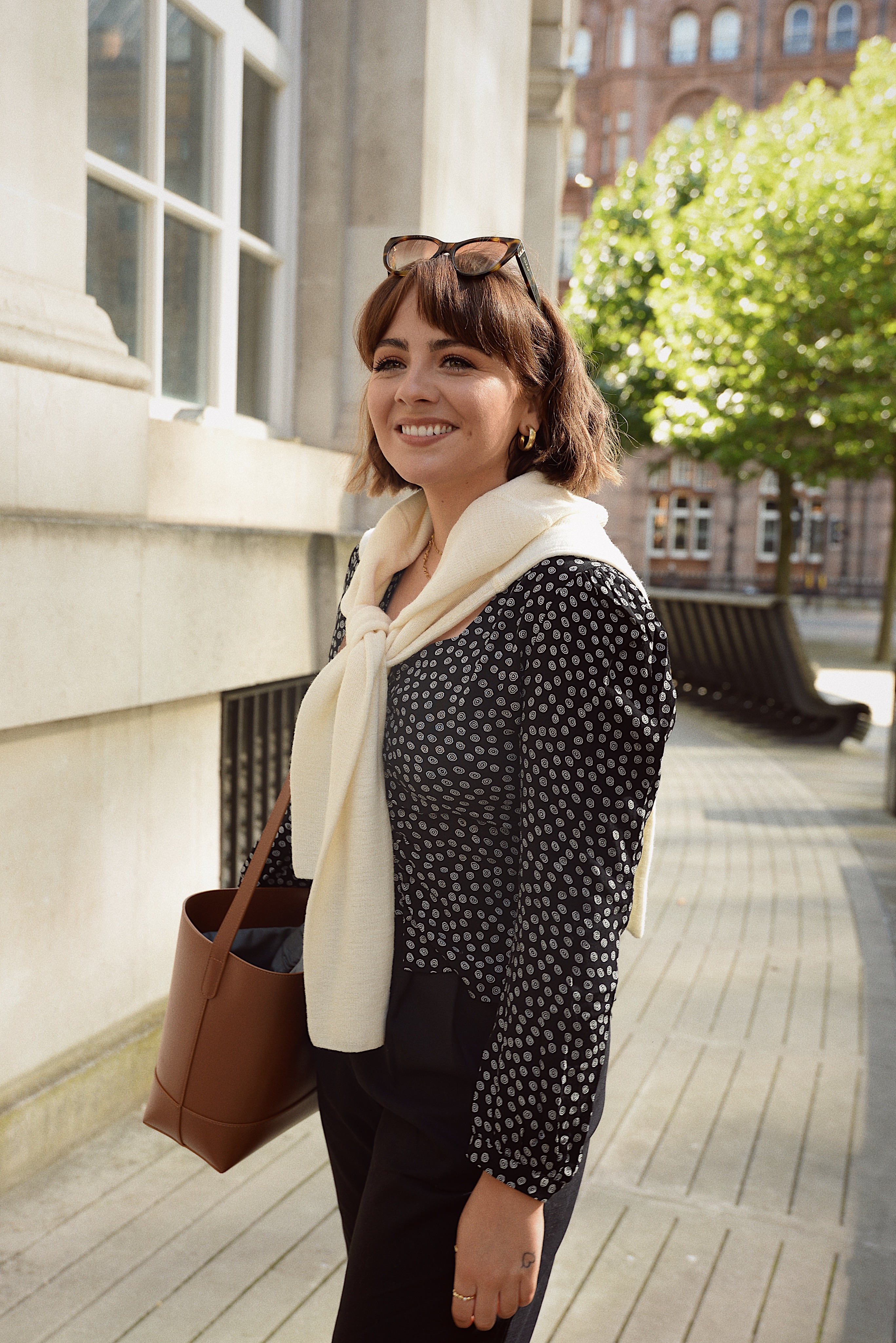 This beautiful Rouje blouse is from their new collection and it feels like the perfect transitional blouse because of the darker shade, but the sweetheart neckline still has that hint of summer! It comes in a cream/off white colour as well as a floral print, and the fit is beautiful. Very similar to a couple of the Realisation Par blouses that I live in during the summer months, but a much more wearable (and less transparent) version as we head into autumn/winter…
I also have this heart print blouse from their most recent collection which I also love! In general, the blouses always tend to be my favourite pieces from any collection that Rouje release – the prints are always fun/vintage inspired and I find that they add a 'feminine' touch to a classic pair of tailored trousers.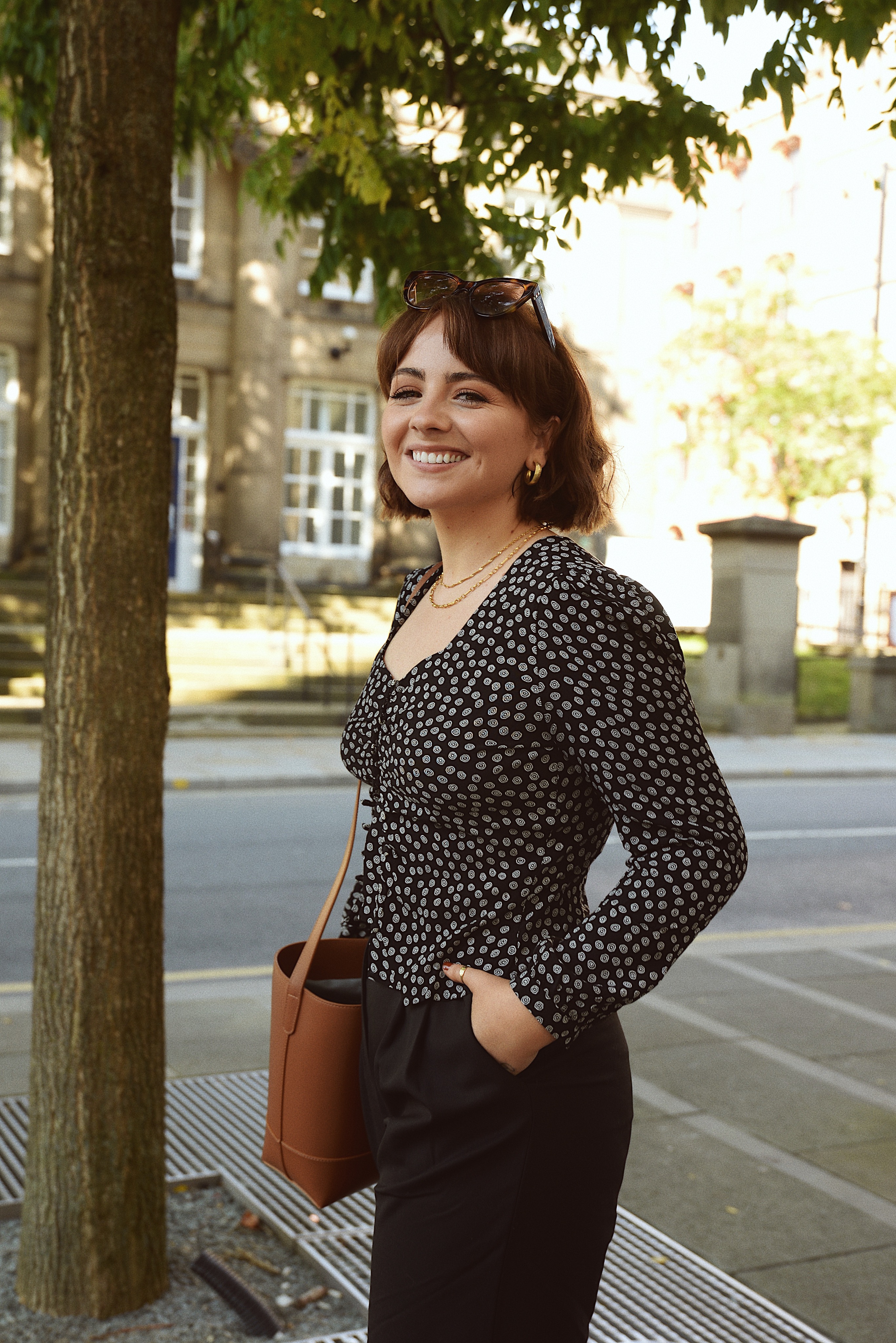 I'm heading to Wales tomorrow morning for a few nights which I'm so so excited about! I love my little Manchester abode but I can't tell you how much I've been craving a change of scenery. We don't have a private outside space here so the opportunity to be in the middle of nowhere for a few days sounds like absolute heaven at this point.
I'll of course be documenting the trip and putting a blog post together – it should hopefully be up towards the end of next week so I'm hoping I can get some nice film shots for you guys. I hope you all have a lovely weekend whatever you have planned – sending so much love & strength as always! This year continues to test us but I'm always so grateful for the sense of community online…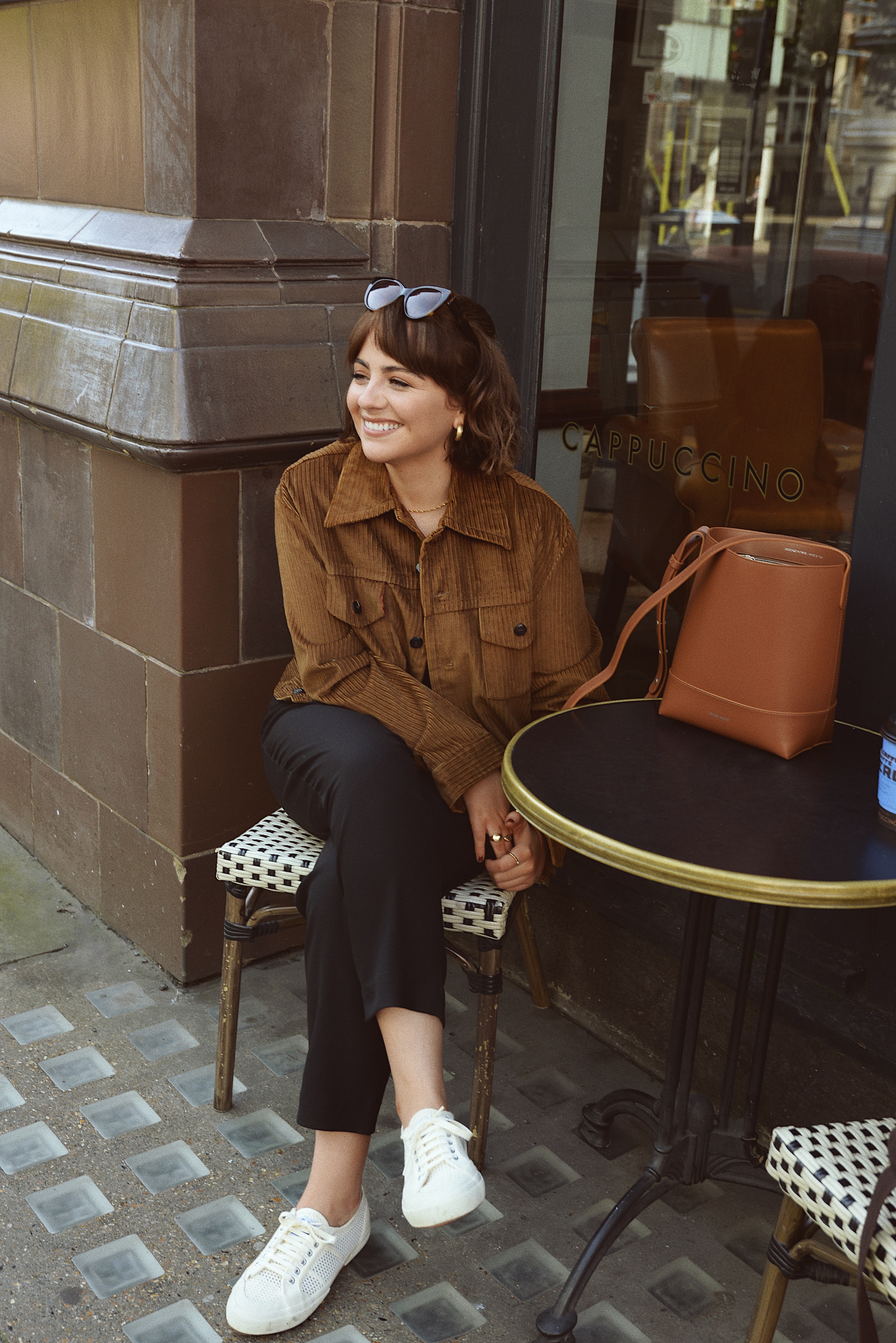 ---
Photographs taken by Catherine Booty 
Jacket – Retold Vintage, Blouse c/o – Rouje, Trousers c/o – And Other Stories, Bag c/o – Ateliers Auguste, Shoes – Superga X Oi Polloi 
SHOP THE LOOK