It's been a few months since we moved into our new place now, and it's really starting to take shape and feel like home. I've had quite a few weekends away from the flat over the last couple of months, so I'd fallen a bit out of love with getting it finished, and decorating had started to feel like a little bit of a chore. Fear not, the last week resting up at home has been a bit of a god send. Having an operation might seem like a bit of a downer, but it's actually kick started the home organisation fanatic in me, and I've been reaping the benefits…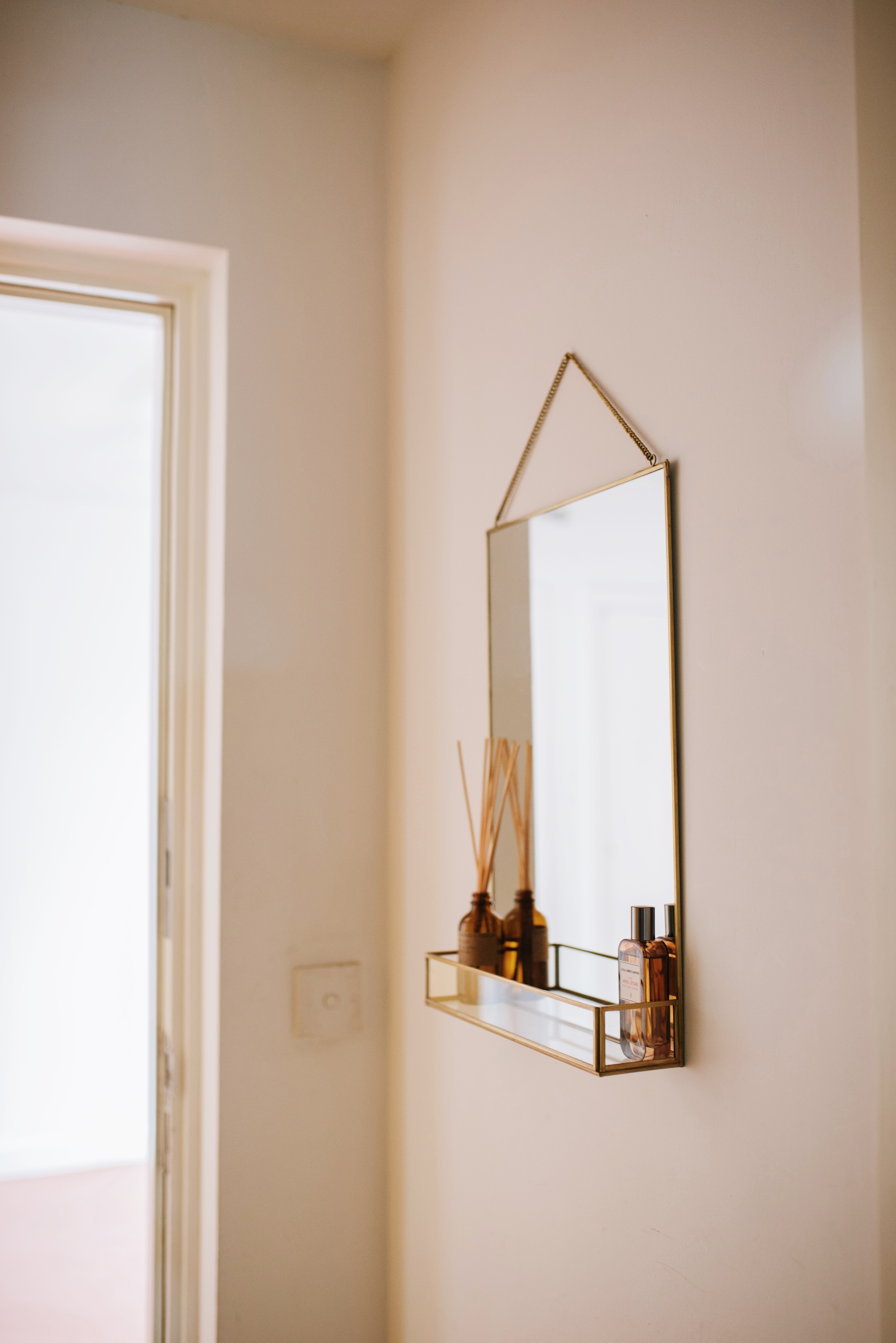 Mirror – Trouva | Room spray – Lola James Harper 
First up, we have this little hallway mirror from Trouva – ideal if your hallway isn't big enough for a unit or anywhere handy to leave your keys. I've also found that it's a great place to leave room spray or anything scented as it's then the first thing you smell when you walk through the door. It's also great for those last minute make-up touch ups…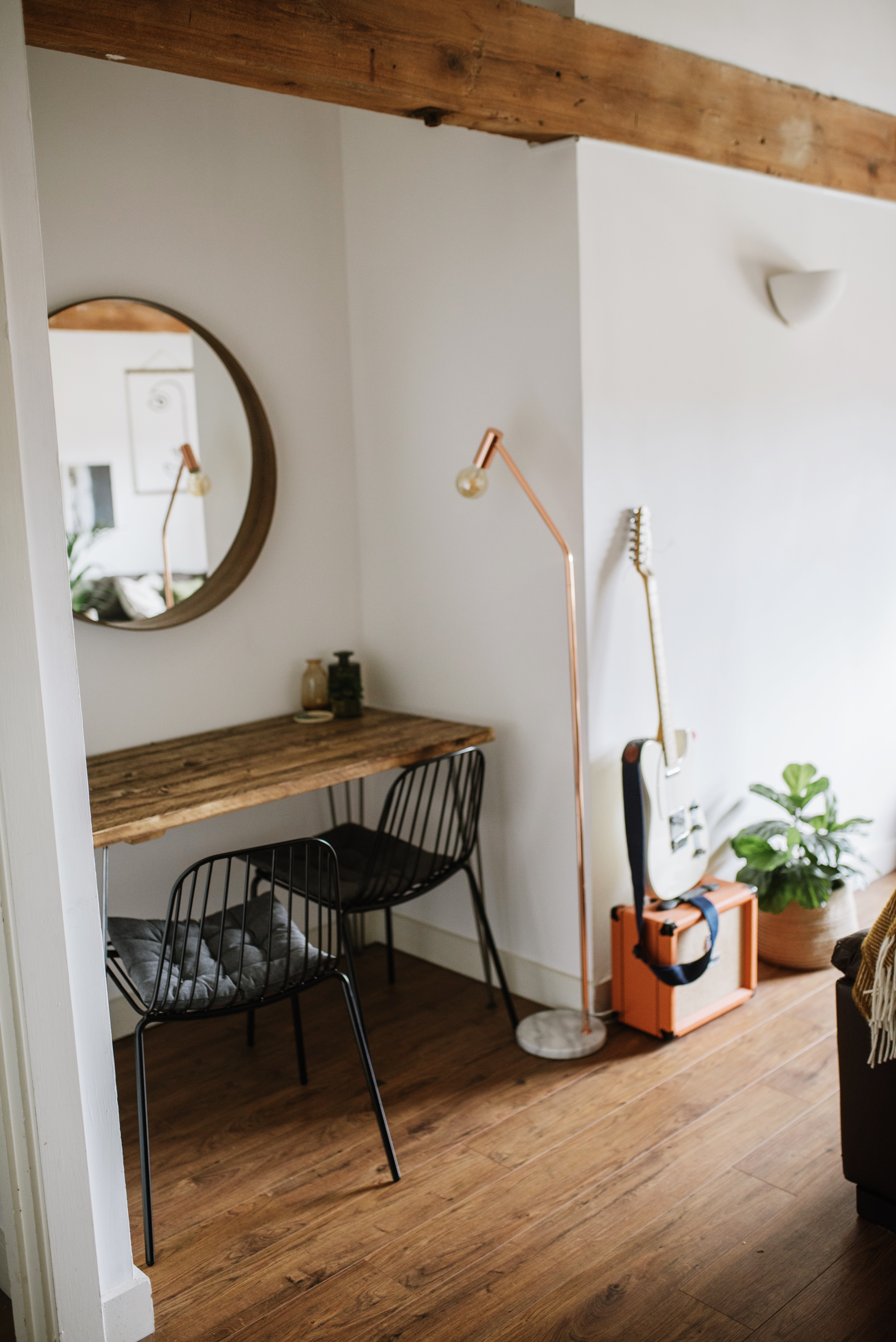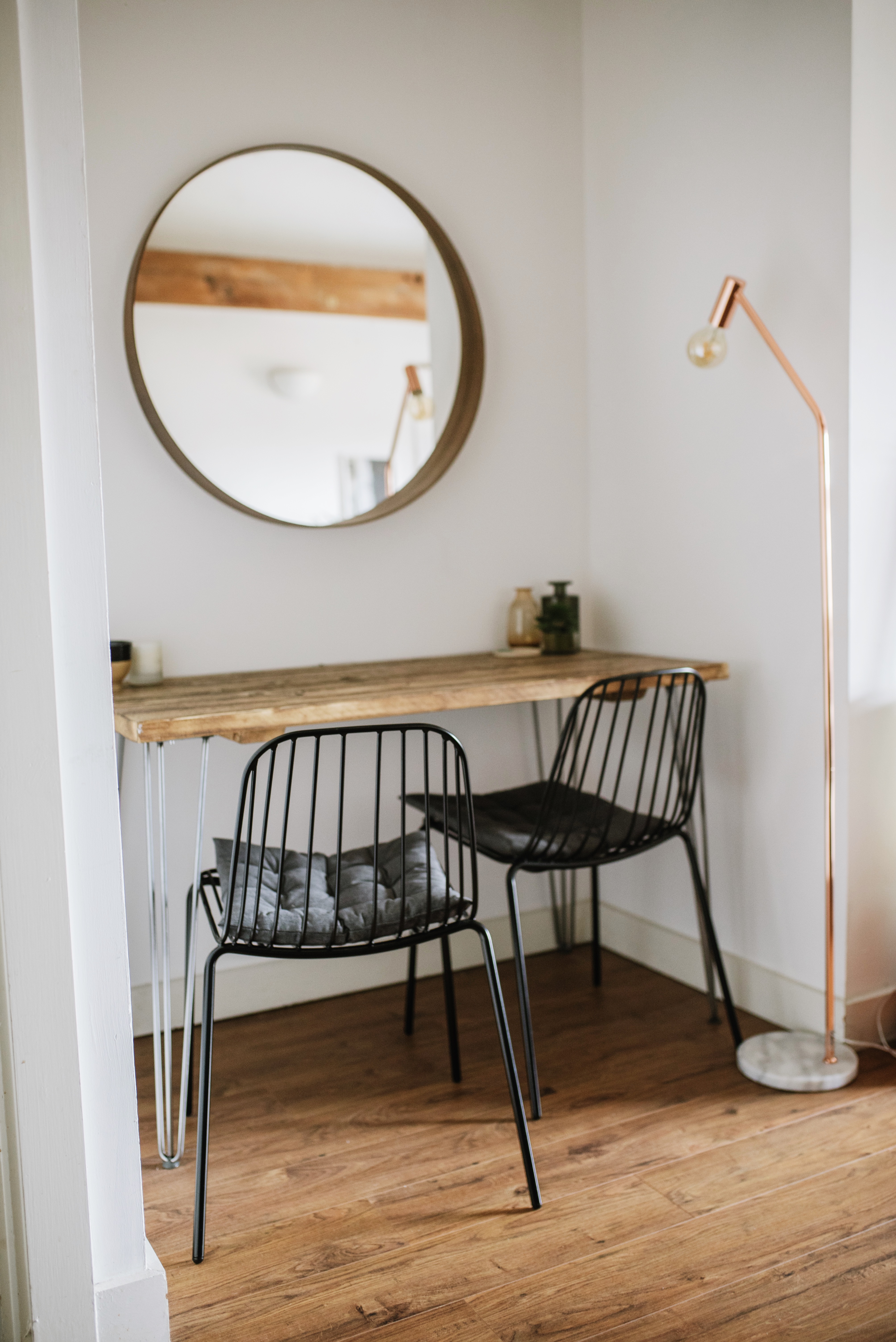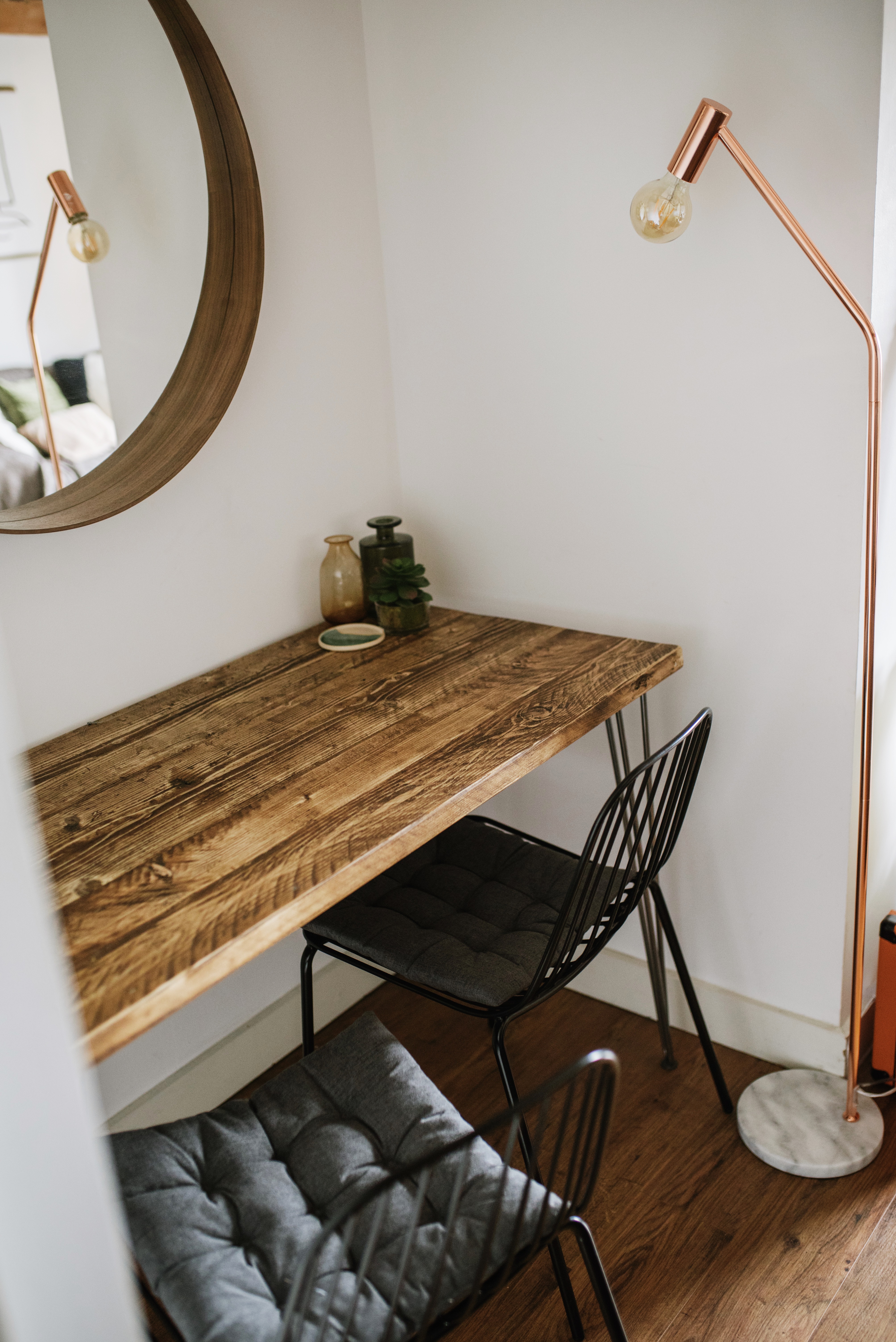 Table – Etsy | Chairs – LaRedoute | Cushions – Clas Ohlson | Mirror – Ikea | Floor lamp c/o – Next 
Next, we have our little breakfast area which I'm particularly proud of – this space was completely unused when we moved in, so I knew I wanted to make good use of it. I bought the table from a seller on Etsy who custom makes furniture in this style, and I couldn't be more in love with it. It's such a solid design and really feels way more expensive than it was – the chairs I picked up in the LaRedoute sale, and I think they match pretty well. Sam picked up the cushion pads from a place called Clas Ohlson in town – if you've just moved into a new place then I highly recommend paying your local one a visit because they literally have everything. The big round mirror that I've had since the old flat looks perfect hung just above the table, it really opens the space up and creates a space that I'm happy to work during the daytime. This floor lamp has since been moved to the hallway because we have now had some lighting fixed on the wooden beams above this area – extra lights are definitely needed when you live in an old building…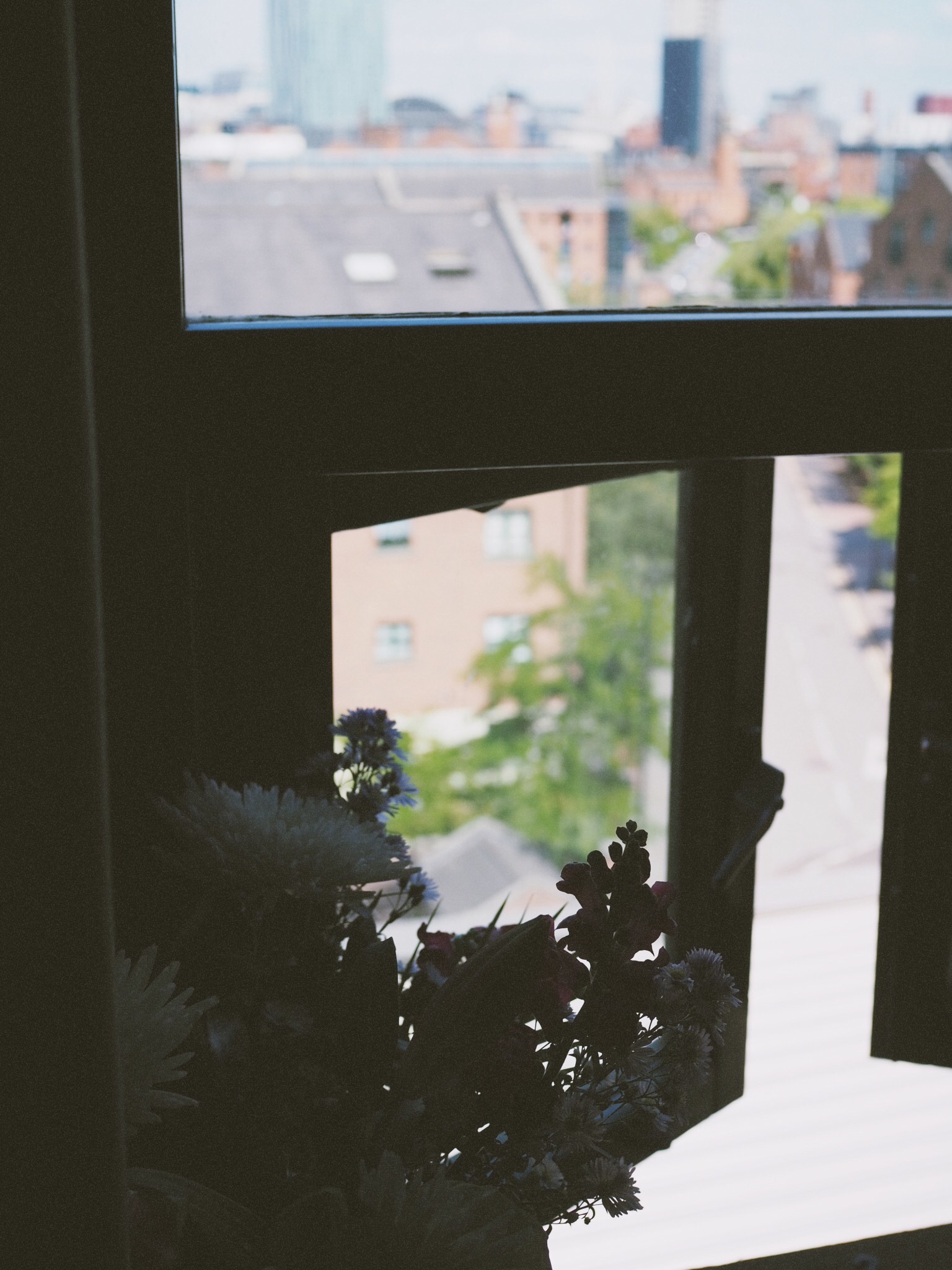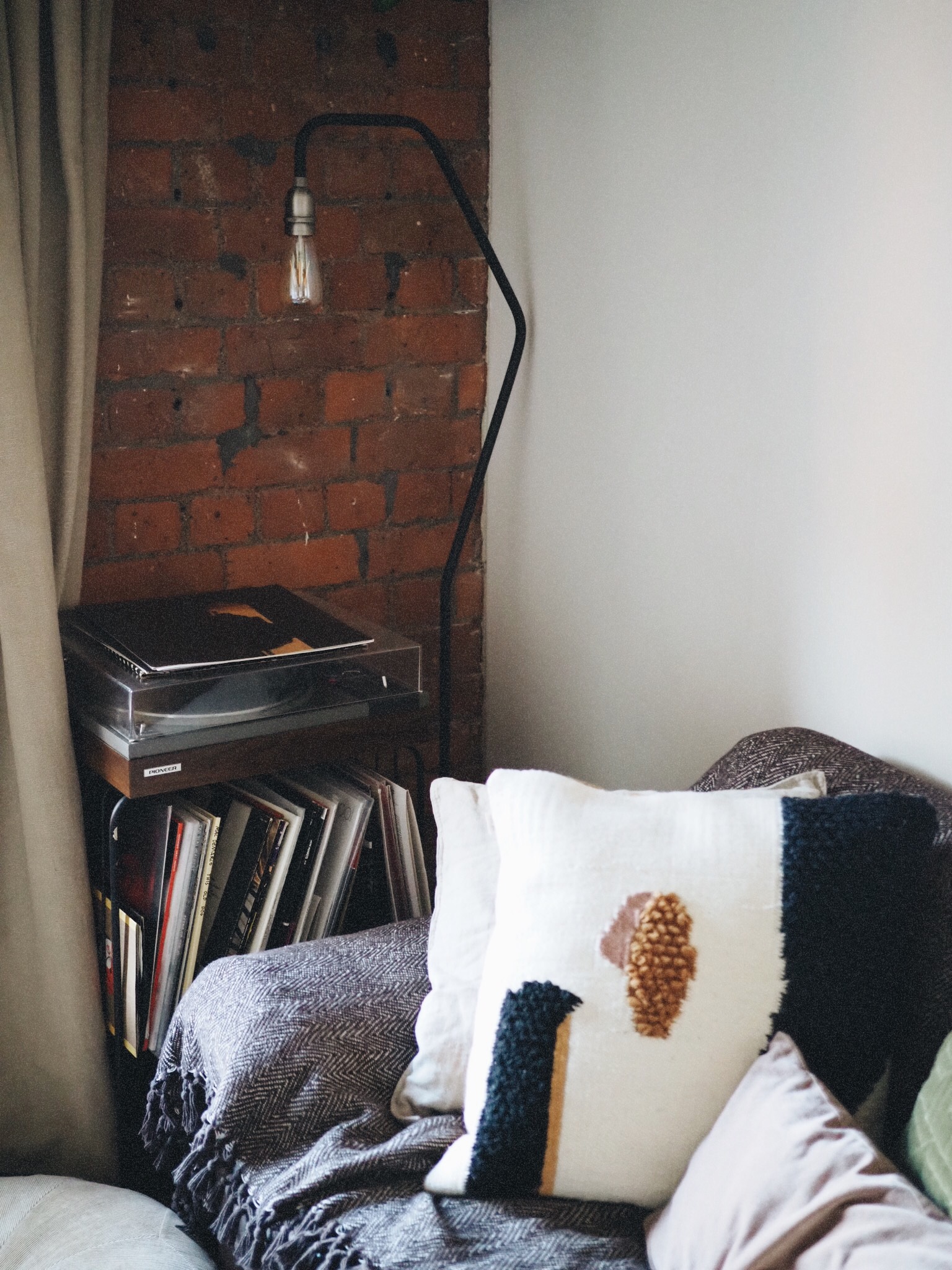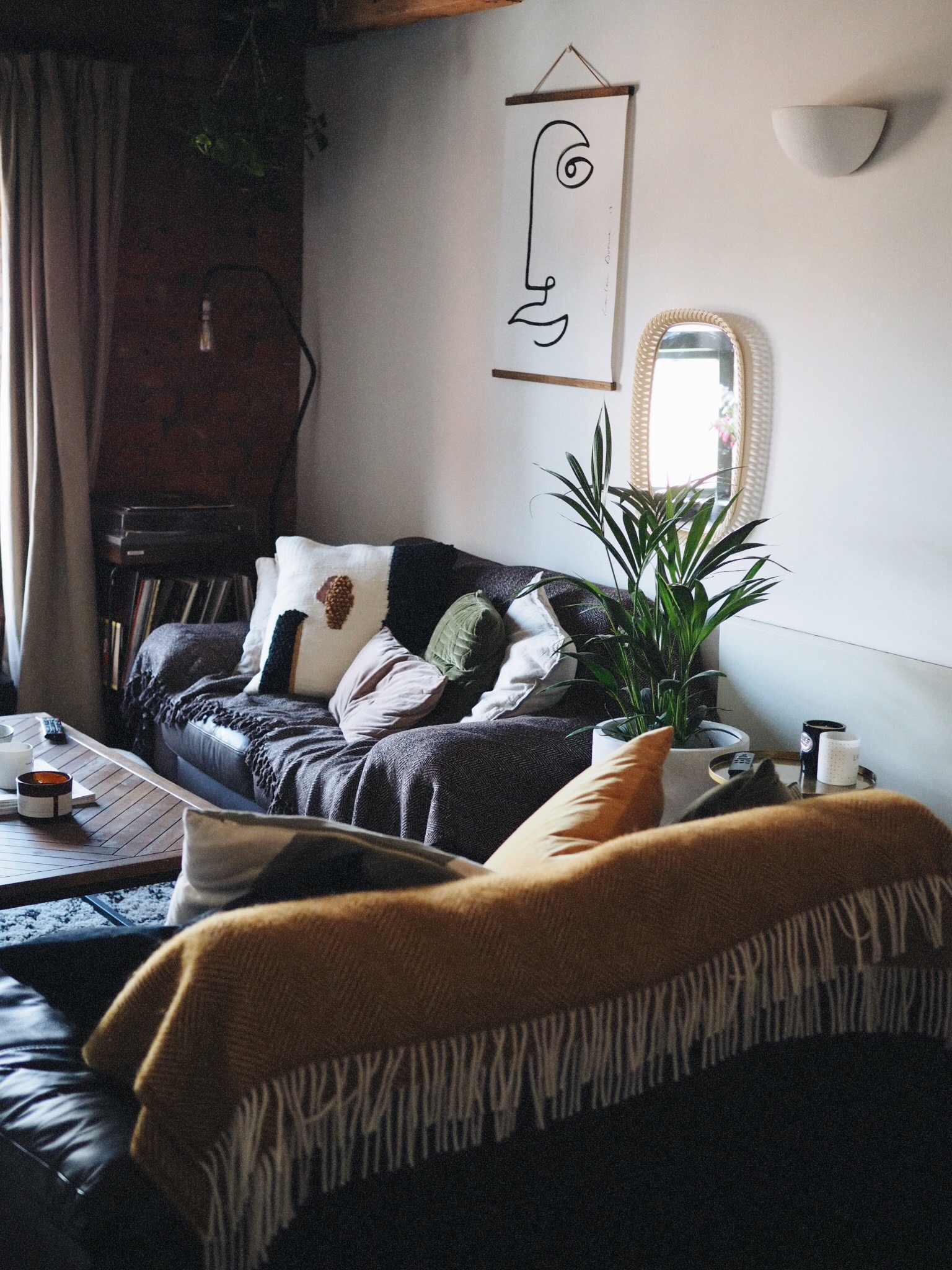 Cushions – Oliver Bonus, Ferm Living, H&M Home | Throw – Trouva | Floor lamp – Next 
The living room is still a work in progress – why does every rented apartment come with shoddy leather sofas that fit half a person on? Anyway, these will be gone at some point over summer, and will hopefully be replaced by a three seater of some kind, and maybe a little armchair if we feel that the space needs it. The fast way around cheap leather sofas is to just dress them with throws and interesting cushions – anyone who has experience student accommodation will have this down to a fine art.
It's currently a cosy space filled with our vinyls, plants, and numerous half burned candles. It feels how a living room should, but I can't wait to see how a more structured seating area will transform the space…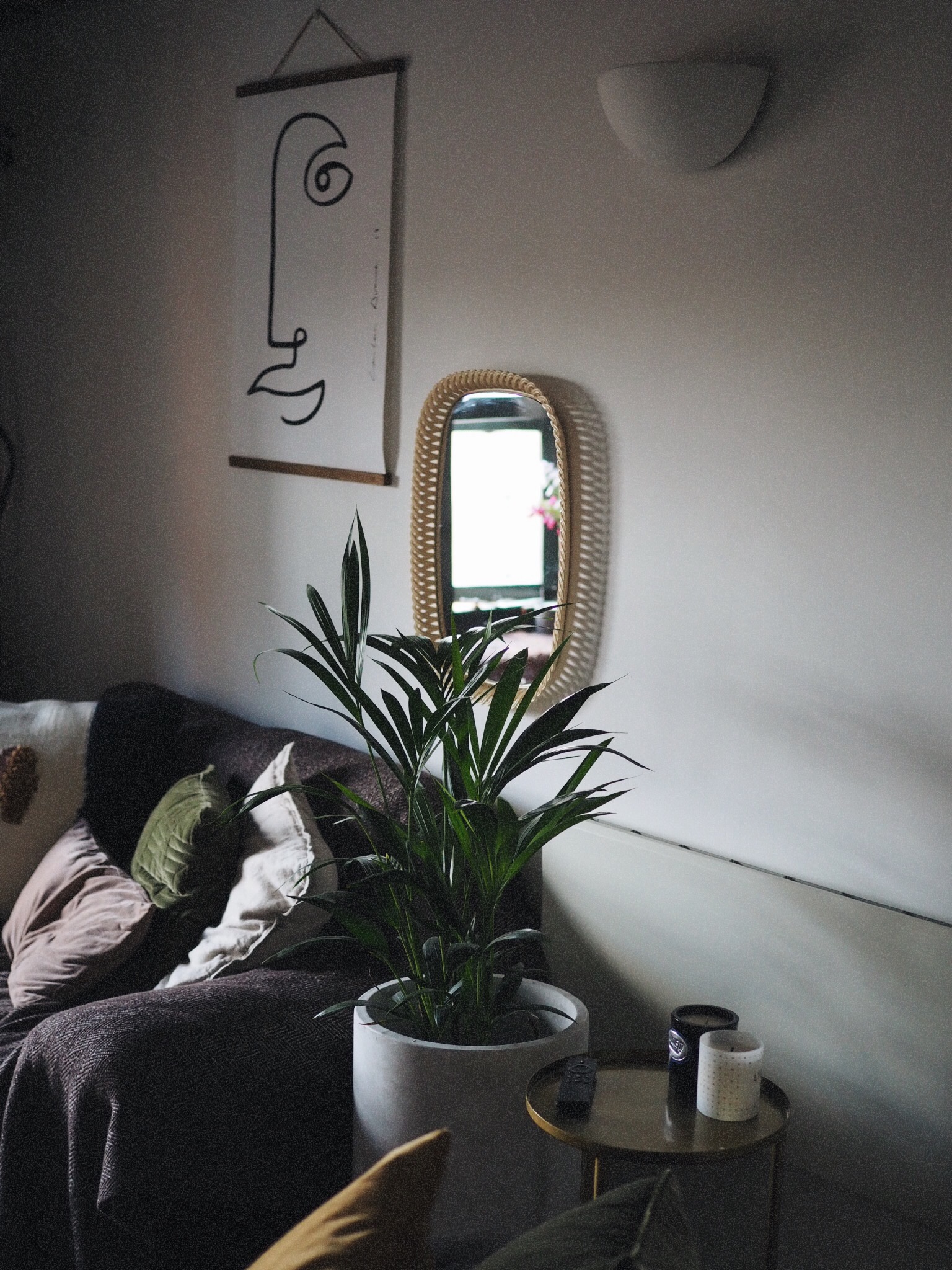 Larger planter – Next | Gold Table – Pad Lifestyle | Print – LouLou Avenue | Hanging frame – Trouva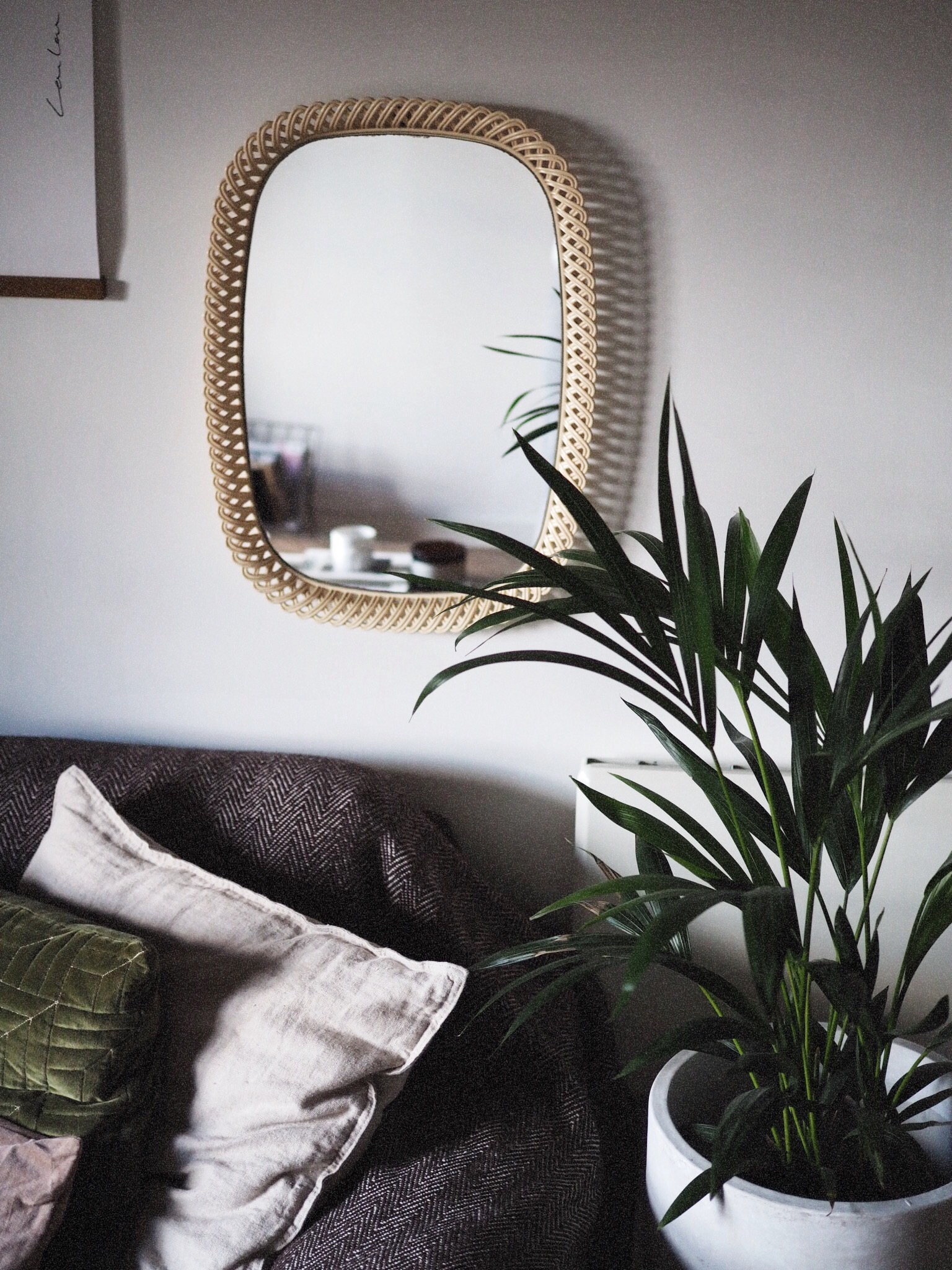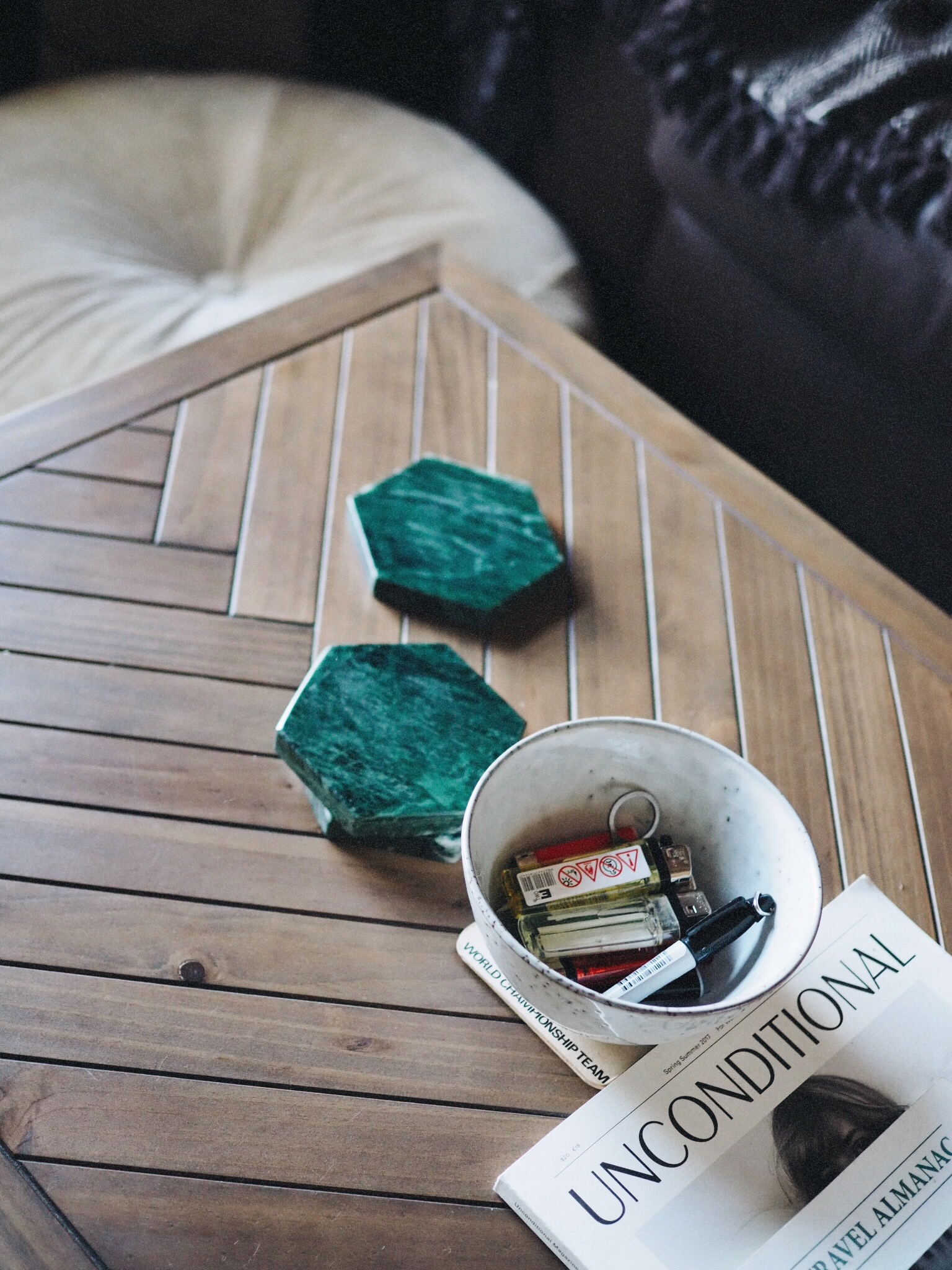 Mirror – vintage (similar here) | Coasters – Trouva | Table – LaRedoute | Bowl – Trouva (similar here)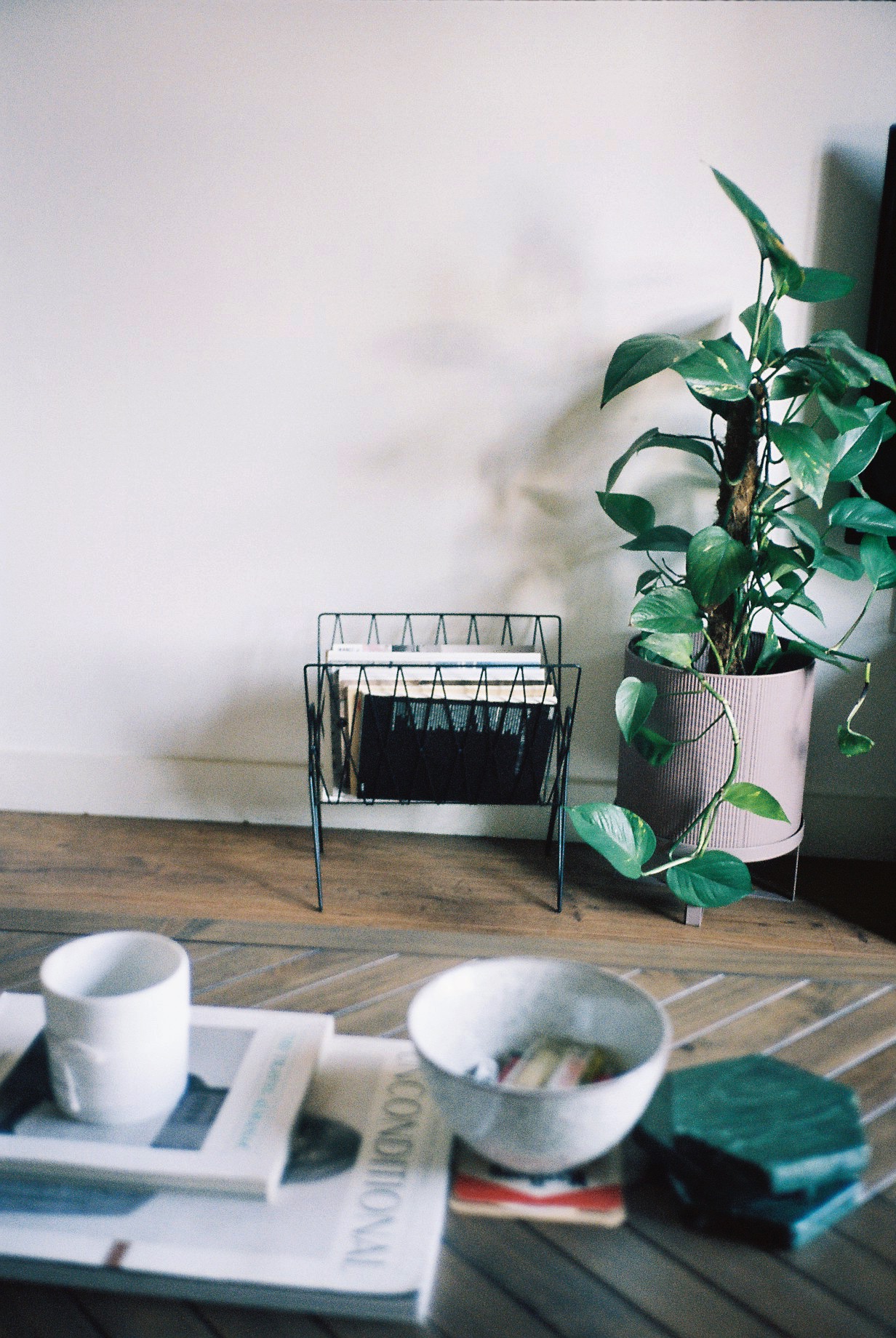 Magazine rack – LaRedoute | Plant pot – Ferm Living 
I like to try and buy as many vintage pieces as I can when decorating somewhere new – similar to the way I like to dress, I just think it adds a certain character that the high street can't offer. I want my home to be filled with conversational pieces that people pick up and ask about. One of my most recent finds was this tacky cream 50's/60's mirror that I've placed in the living room for now. Mirrors like this are great in the bathroom too, and then really create a nice contrast of aesthetics if you're home is quite minimal/modern…
If you've just bought a new coffee table and it's feeling a bit on the bare side – look no further than a couple of magazines and some quirky coasters. I found these ones on Trouva (as is the case with most of my best homeware finds), and they feel like little art pieces all by themselves.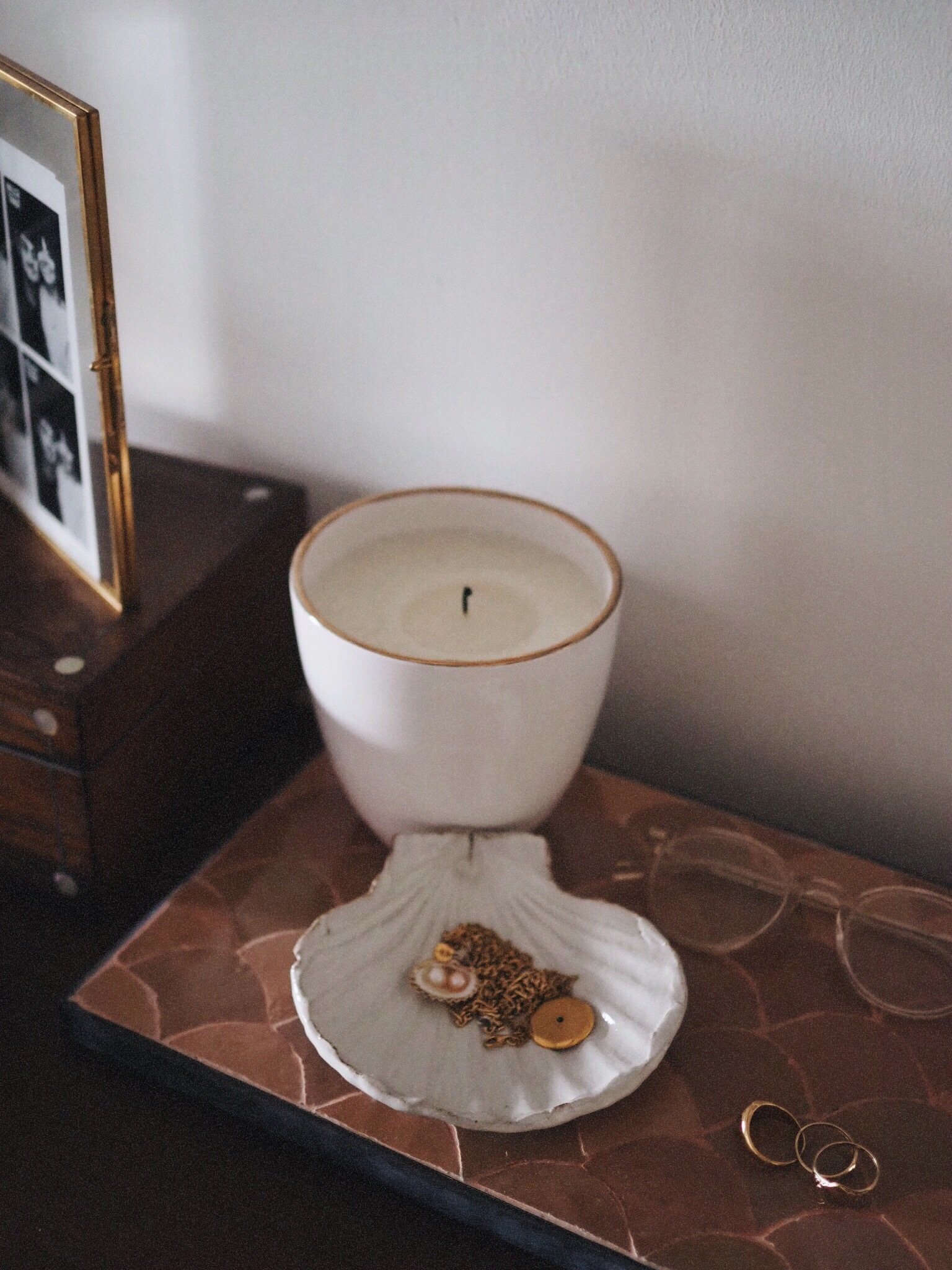 Candle & pink ceramic (sold out) – Sezane | Shell – Frances Costelloe 
Sezane has a homeware section to rival their beautiful clothing – not to be forgotten if you're a monthly browser on their website. I love the large candles that they do – perfect for setting the mood when you're winding down for the evening, and they last for ages too. However, this pink ceramic/shell style slab has really stolen the show for me in terms of best buys – it looks so pretty in the bedroom with my gold jewellery scattered on top. I don't always have time to put my jewellery away in a neat little box (who does?), so this is perfect for keeping tabs on them, whilst also not looking too much like an intentional mess at the same time…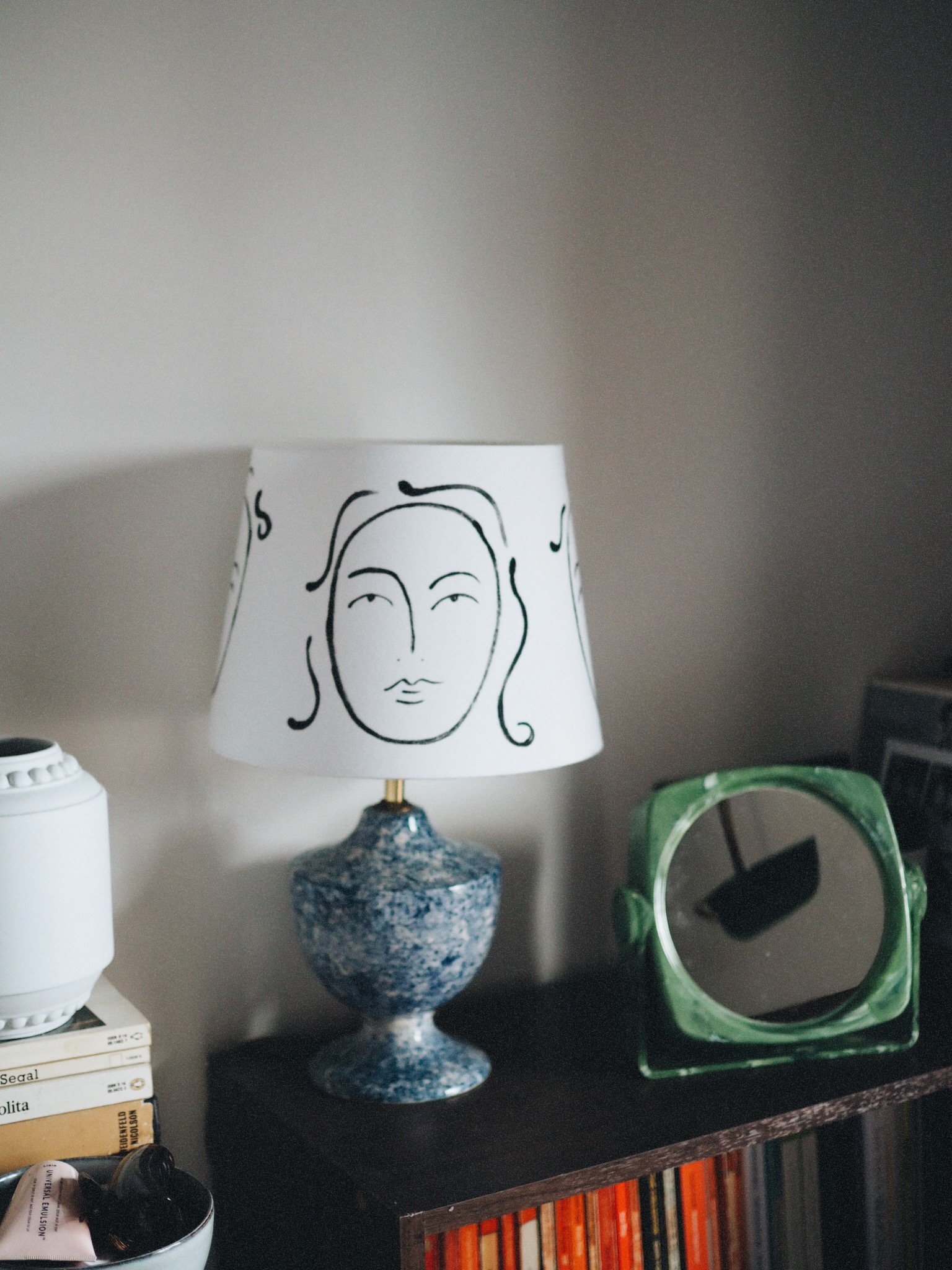 Lamp stand & green mirror – vintage | Lamp shade – Frances Costelloe 
I recently discovered Frances Costelloe on Instagram and knew that I had to purchase some of her work for the flat. I treated myself to this faces lampshade and ceramic scallop shell for my birthday. Line drawings are everywhere at the moment, so it's nice to purchase from independent artists who are doing things a little differently. I've always loved this style of art, so I know that it's not a piece that I'm going to tire of anytime soon. I also liked the idea of buying the lamp shade separately, and then looking for a vintage base online somewhere. I got lucky with this speckled blue one from a seller on Ebay who I also bought the retro plastic vanity mirror from. I think they work so well together, and they really add a bit of extra colour to the bedroom…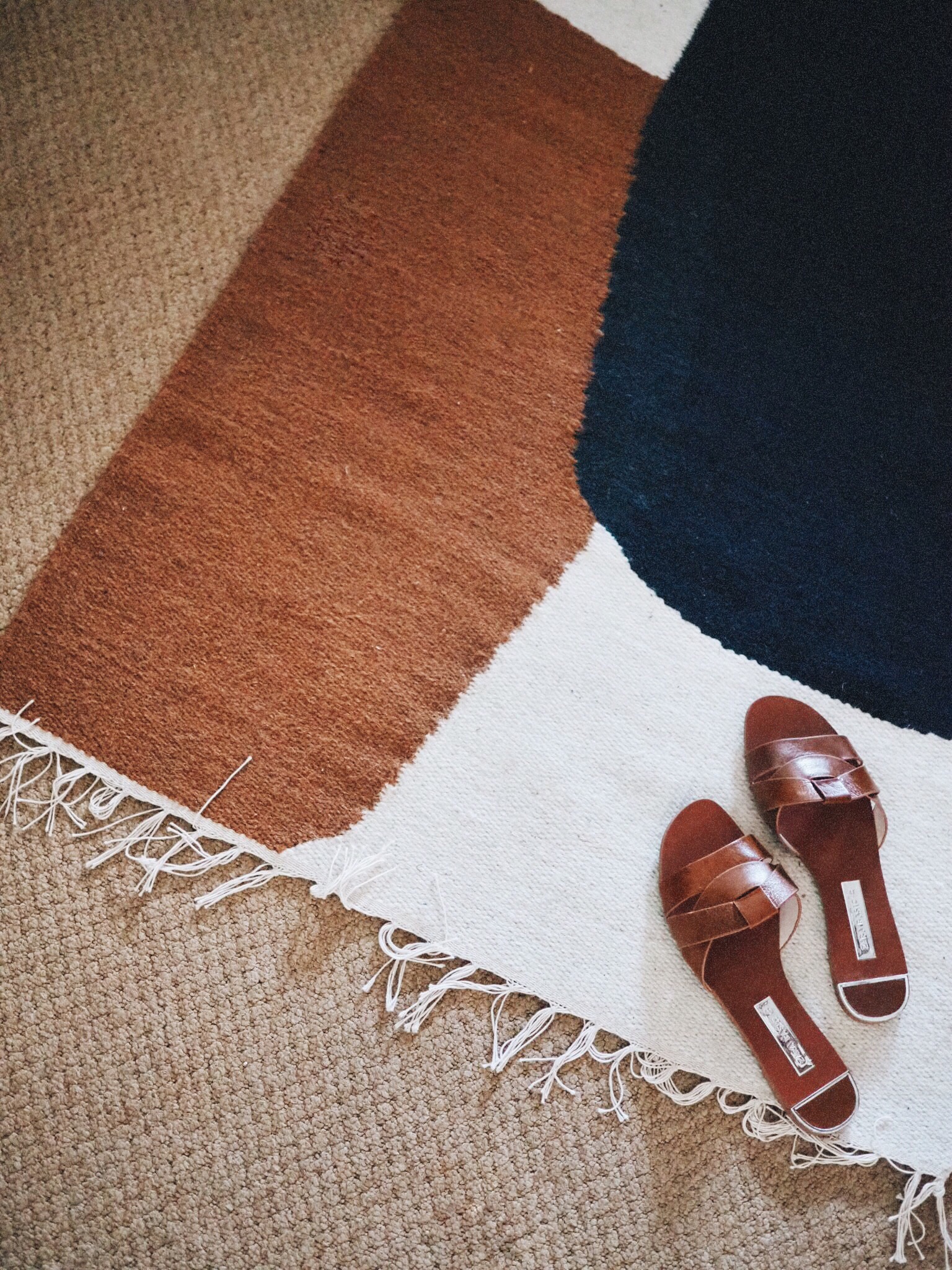 Rug – Ferm Living | Sandals – Zara (comfiest summer shoes ever) 
You might have noticed that I've linked Ferm Living quite a bit throughout this post – they have become one of my favourite brands stocked on Trouva, and aren't too hideously expensive either. I picked this rug up for the bedroom because I loved how simple it was, and it really works well with the rustic style carpet that we have running through the bedrooms. It's a bit of a bitch to hoover every other day, but rugs really add that lived in touch to any room, and it's proven pretty handy for an Instagram flat lay too (I hate myself)…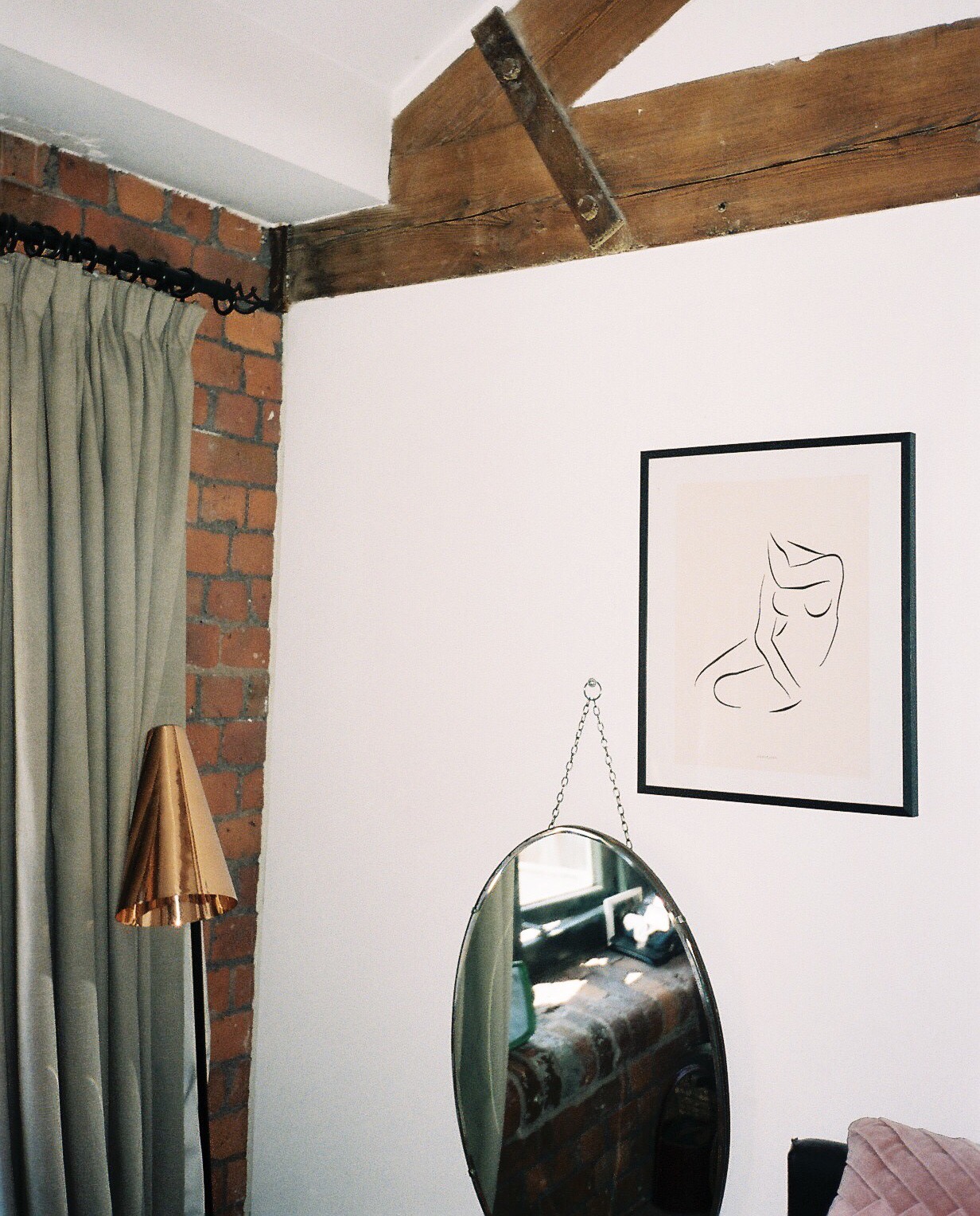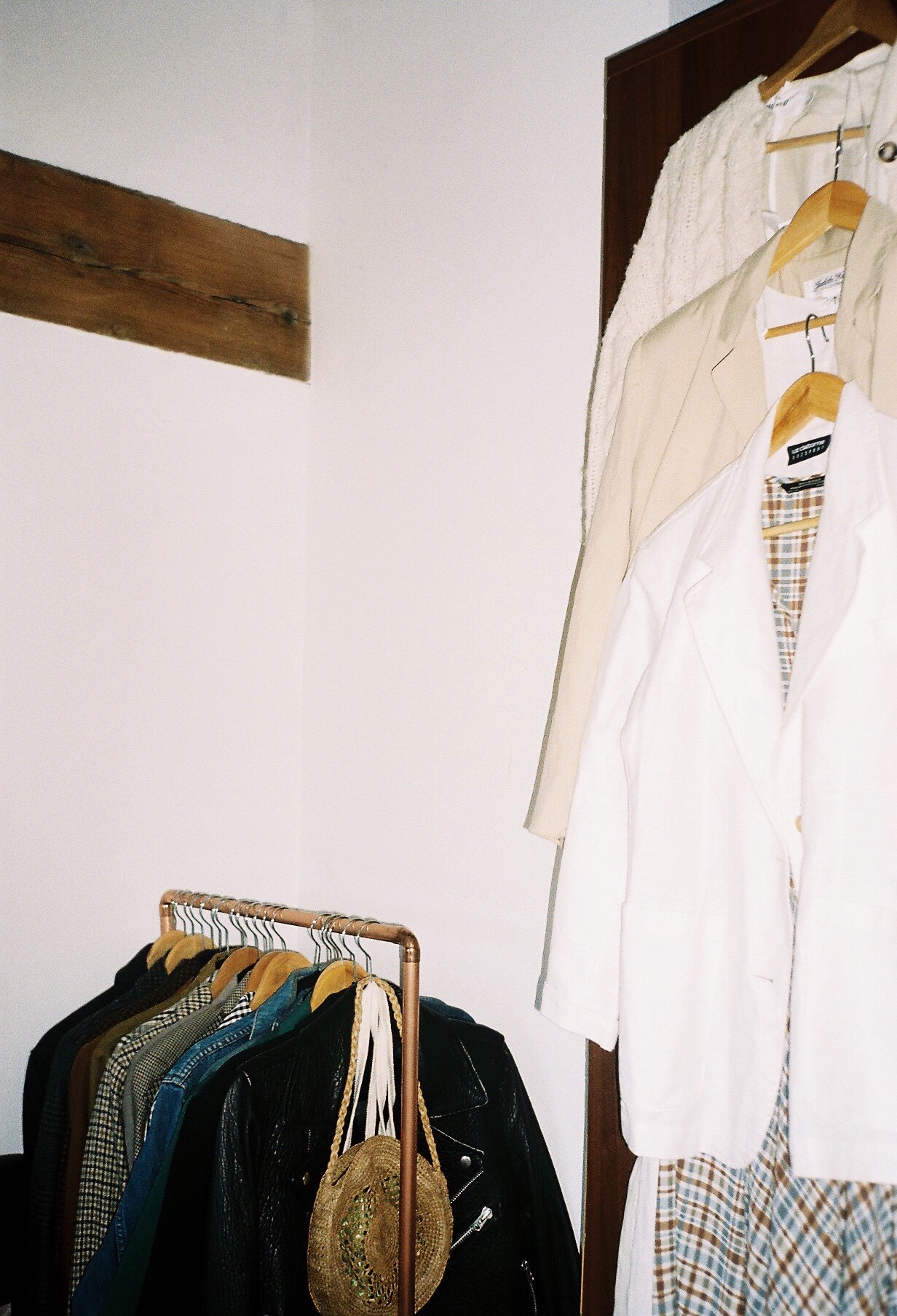 Copper lamp – Pad Lifestyle | Copper rail – Etsy | Mirror – vintage | Print – Vontrueba
The spare room is home to my wardrobe and work stuff – it's where I organise the outfits I want to shoot each week, and pretty much try and maintain some kind of order. At least once a week it looks like a tornado has stuck (hence the reason I'm only showing you a little snippet), but I really do love this room, and I've made it my little relaxation space. It's where I get ready each morning, and spend too much time staring out at the Manchester city skyline…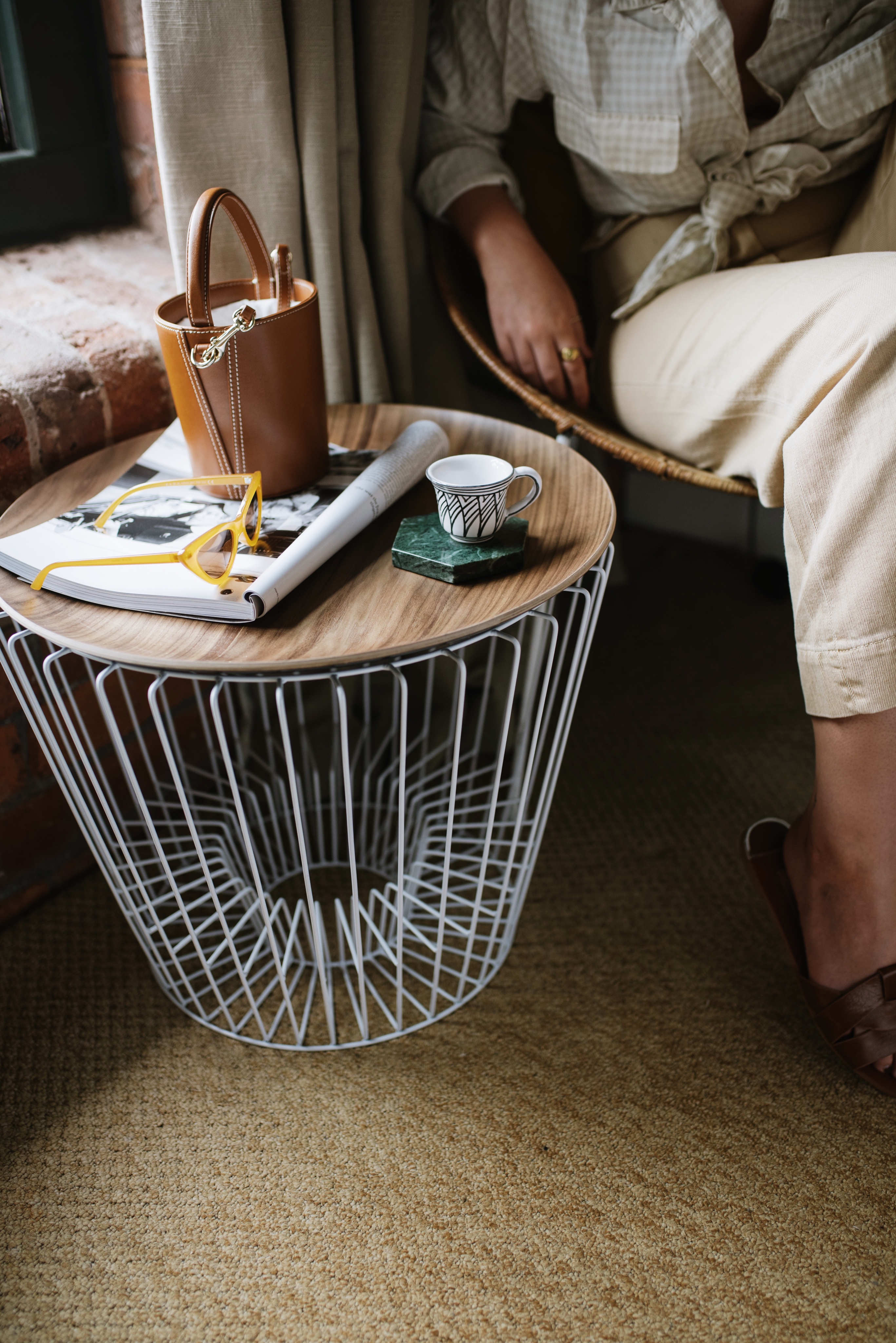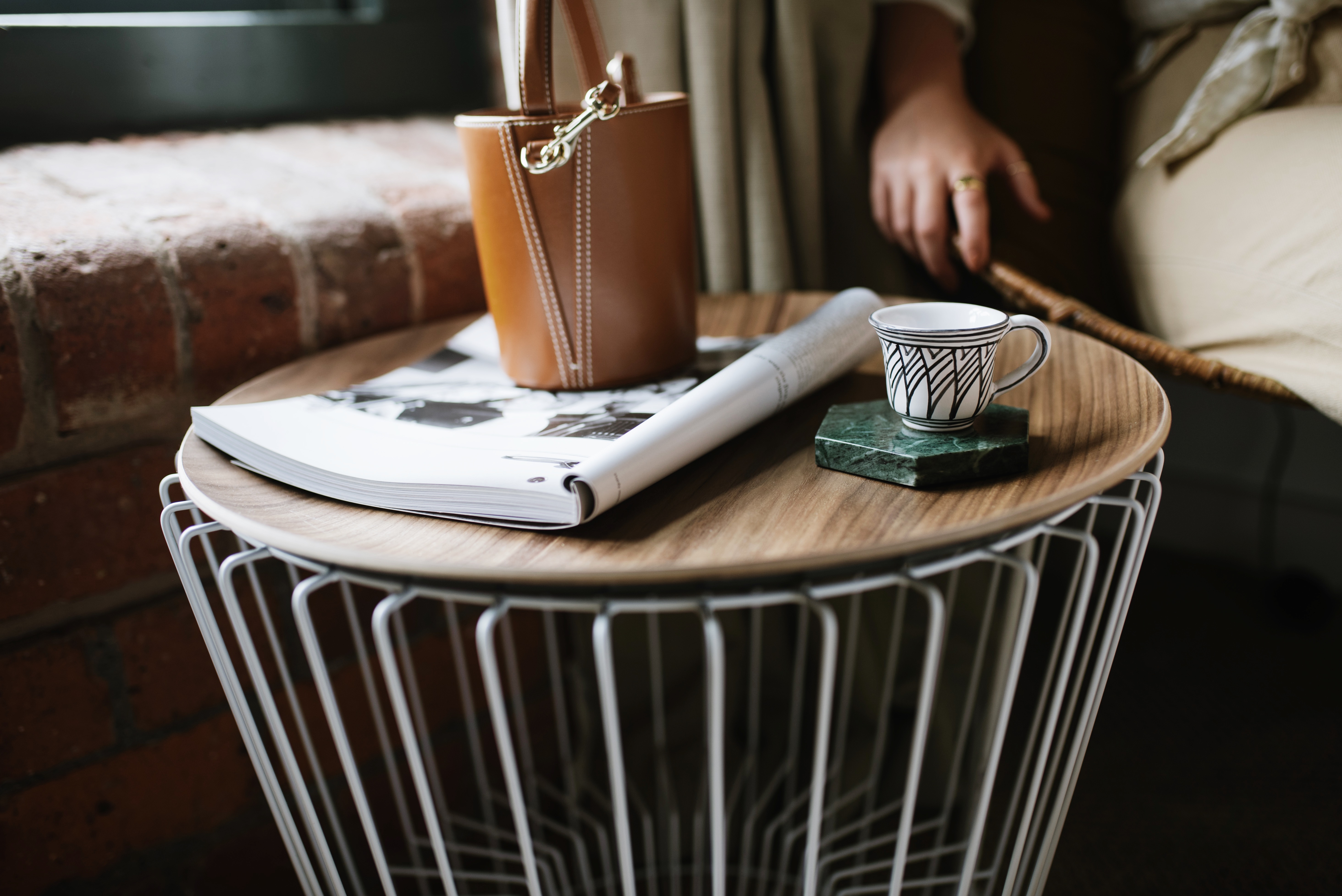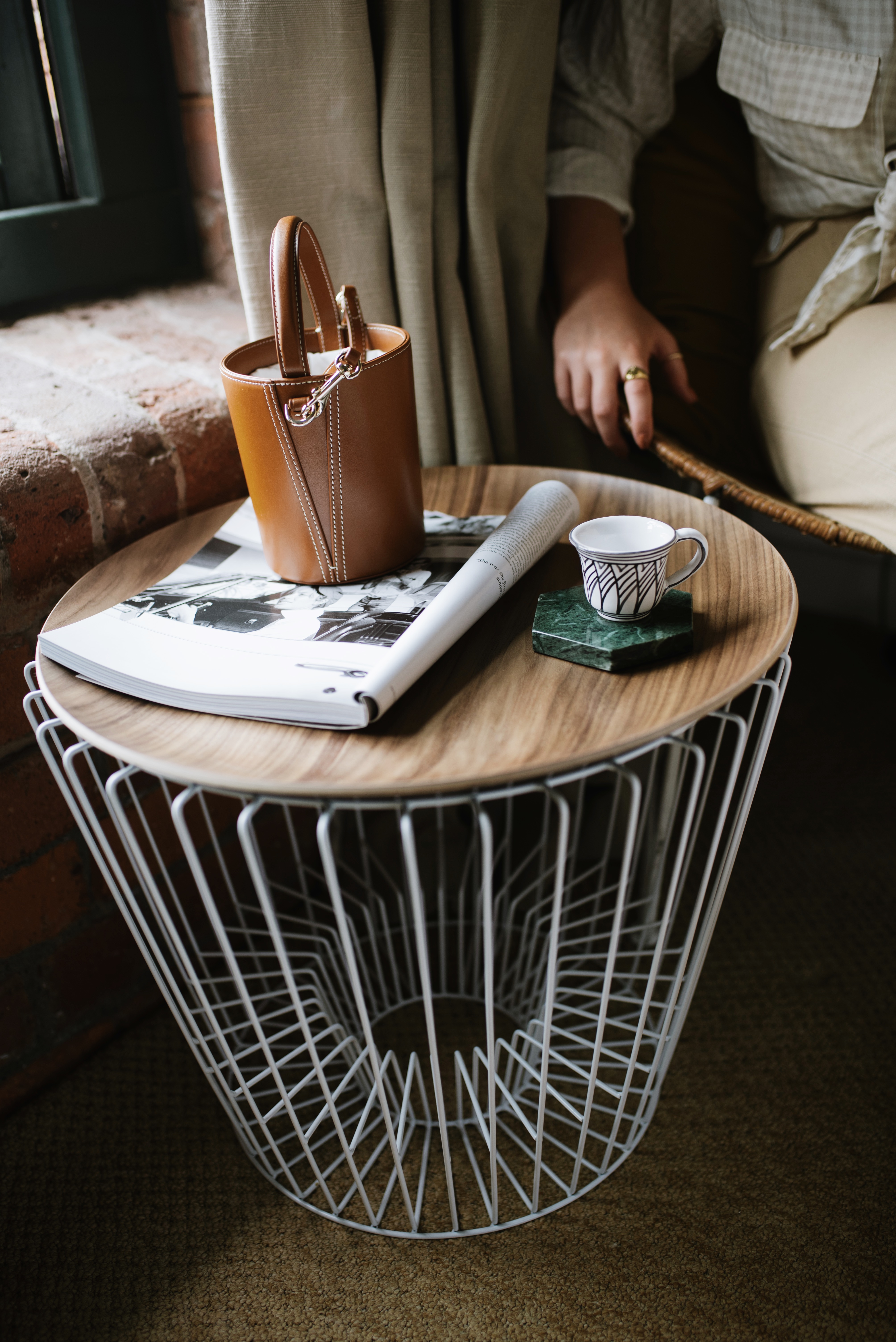 Table c/o – Trouva | Bag c/o – Cafune | Sunglasses – Zara | Expresso cup – bought back from Sicily last year
Last bit definitely not least, I wanted to mention this feature coffee table that Trouva kindly gifted to us. I didn't realise until recently, but it actually doubles up as a magazine rack which is all kinds of impressive to me. We have a little reading corner in the bedroom, so I knew that I wanted somewhere to balance a cup of coffee and a book on those inevitable gloomy winter days. This is perfect because it's not too chunky, and still keeps the bedroom looking relatively light and spacious.
So that's pretty much everything I have to update you on in terms of our little flat. I do plan on doing some kind of video tour at some point so that I can show you the bathrooms and the spare room in more detail when they are finished too – maybe that's something I can do over on Instagram TV? Anyway, I hoped you found this helpful in some way, I love putting these kinds of posts together, and promise to do many more of them in the future…
---
Photographs by Adriana & me 
A few pieces in this post are gifted, all words & styling are my own. 
SHOP HOMEWARE