I've spoken before about how heavily my style is influenced by the films and tv series I fill my spare time with. There's something about being sucked into a completely different world that makes me pine for what the characters experience, the surroundings they explore, and the clothes they wear along the way…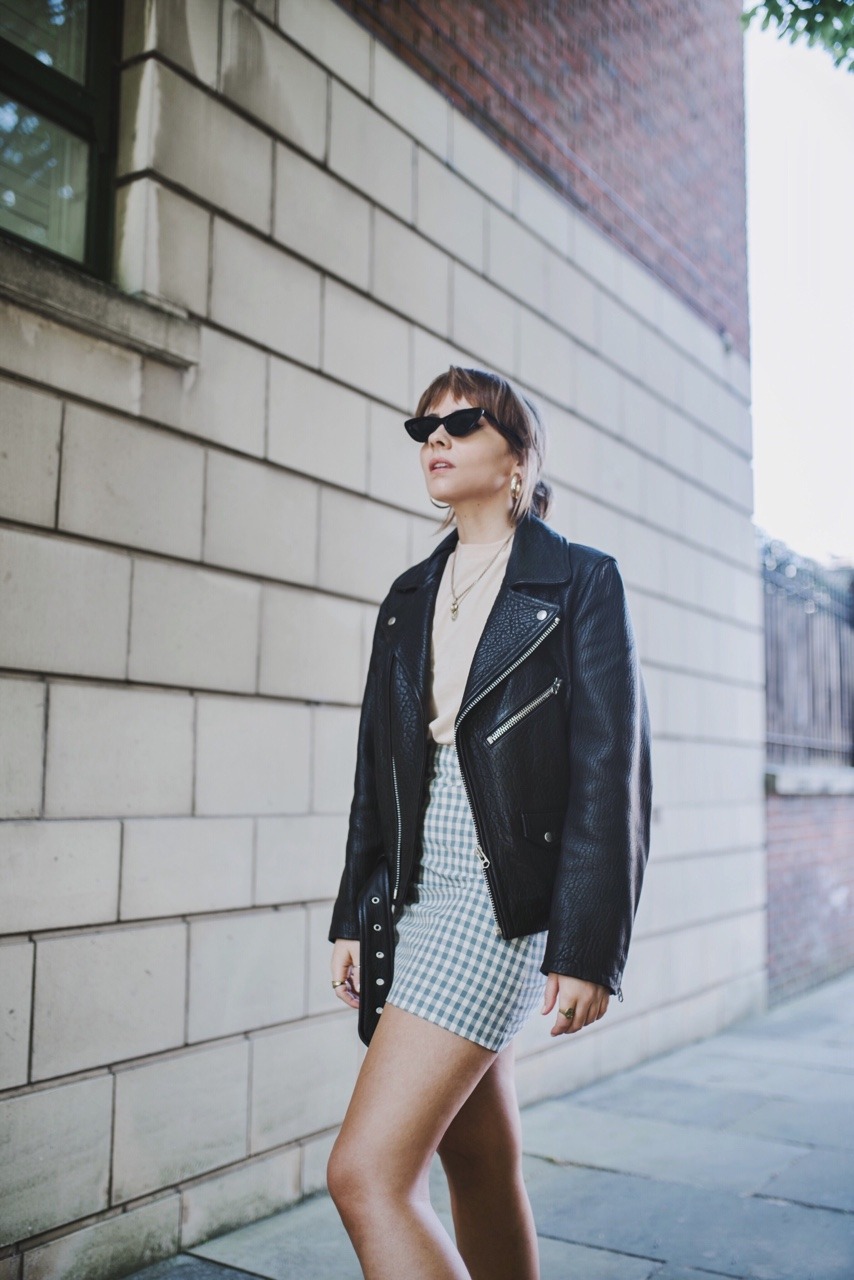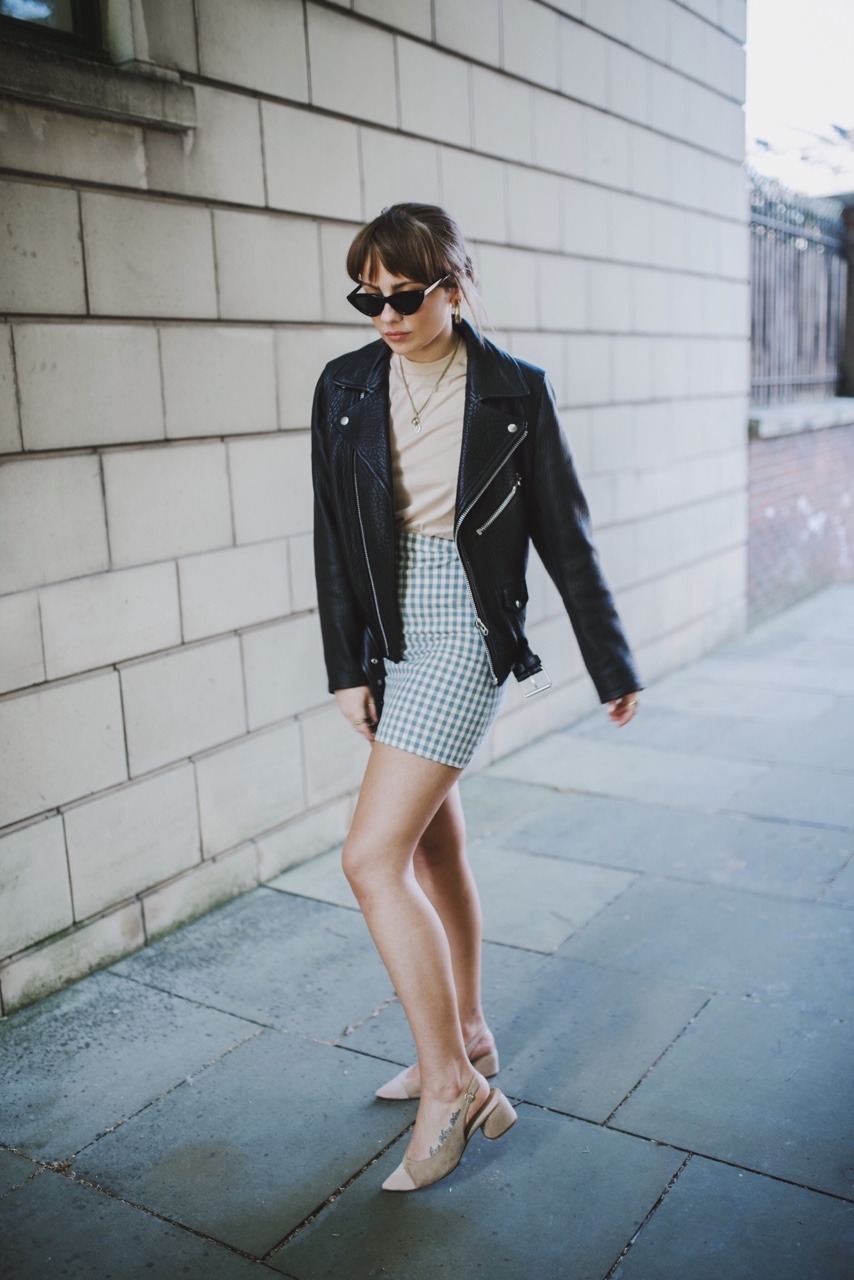 I recently went on a trip to the Cotswolds, and we watched a couple of films in the hotels film screening room whilst we were there (all very fancy). We opted for Dirty Dancing, which I was extremely happy with because I hasn't seen it for ages. Don't get me wrong, I've seen it an almost shameful amount of times in my life time (just kidding, no shame), but it's just one of those ones that never seems to get old.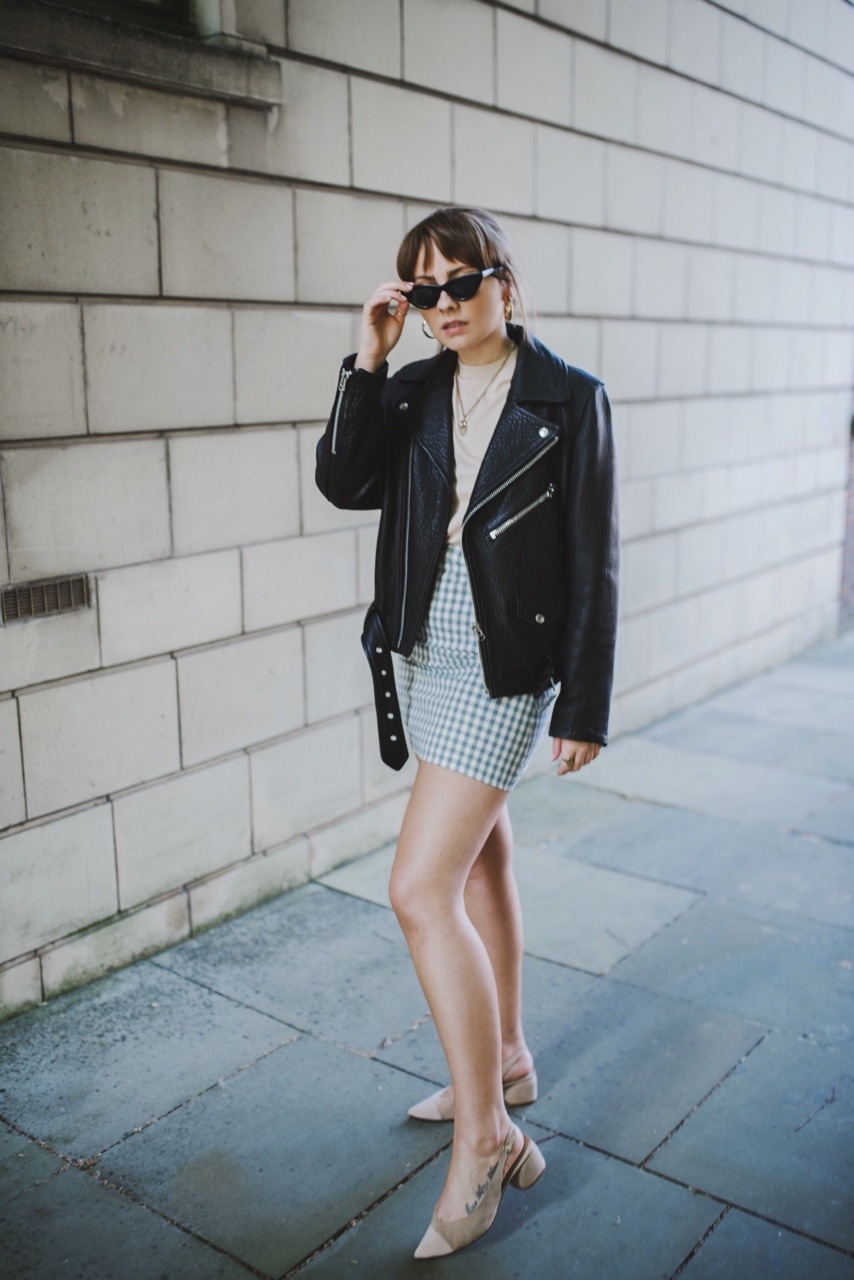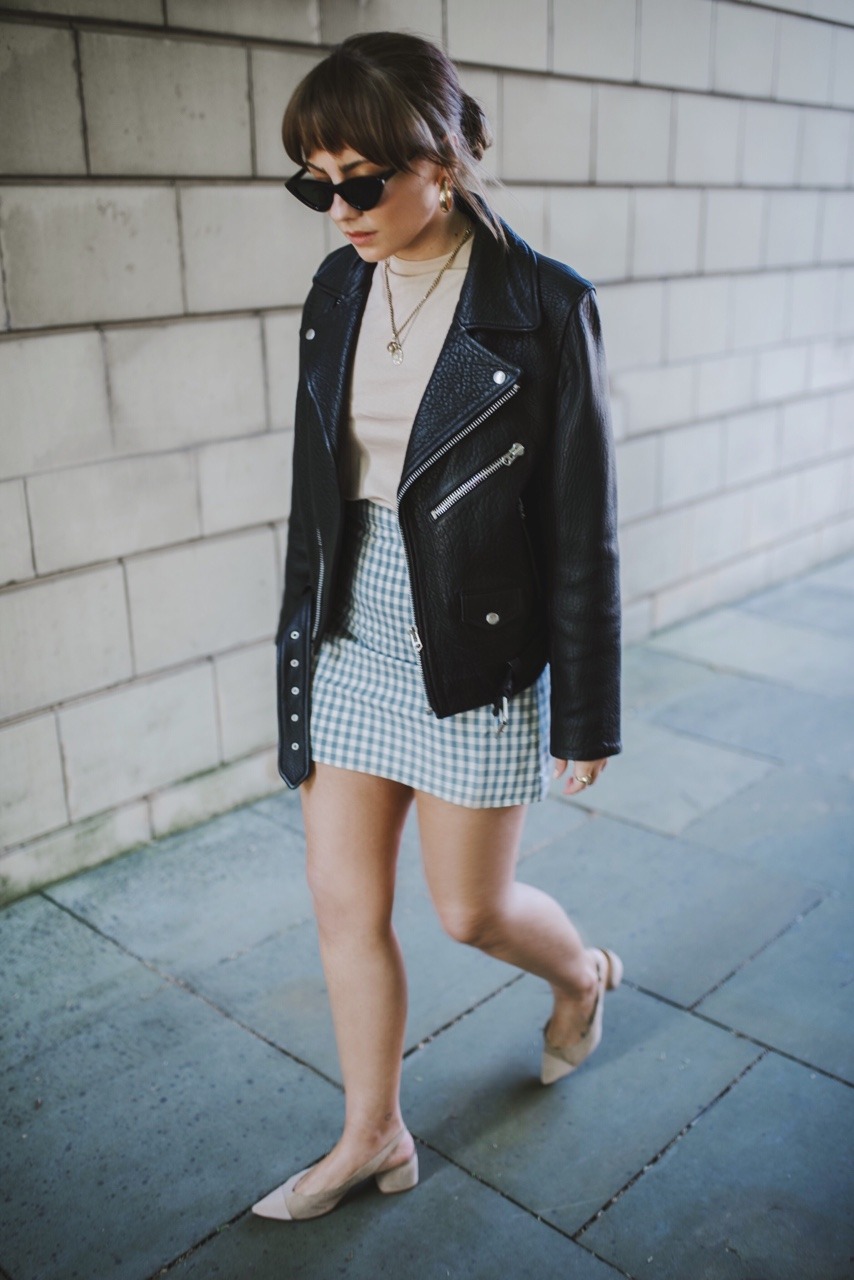 The resort, the music, the characters – everything is just so well considered and makes for one of those narratives that will stand the test of time. I love the contrast between Johnny and baby – both in aesthetic, and the way they view the world around them. No one pulls off a leather jacket, a black t-shirt, and black skinny jeans quite like Patrick Swayze does – it's the epitome of 'cool guy' dressing, but a combination that can sometimes look cheesy, and even a bit cliche in the wrong setting. Then there's baby who wears lots of pastel colours, plimsoles, and cute little crop tops. It's the classic clash of backgrounds, suggested to the audience  first by the way they are both dressed.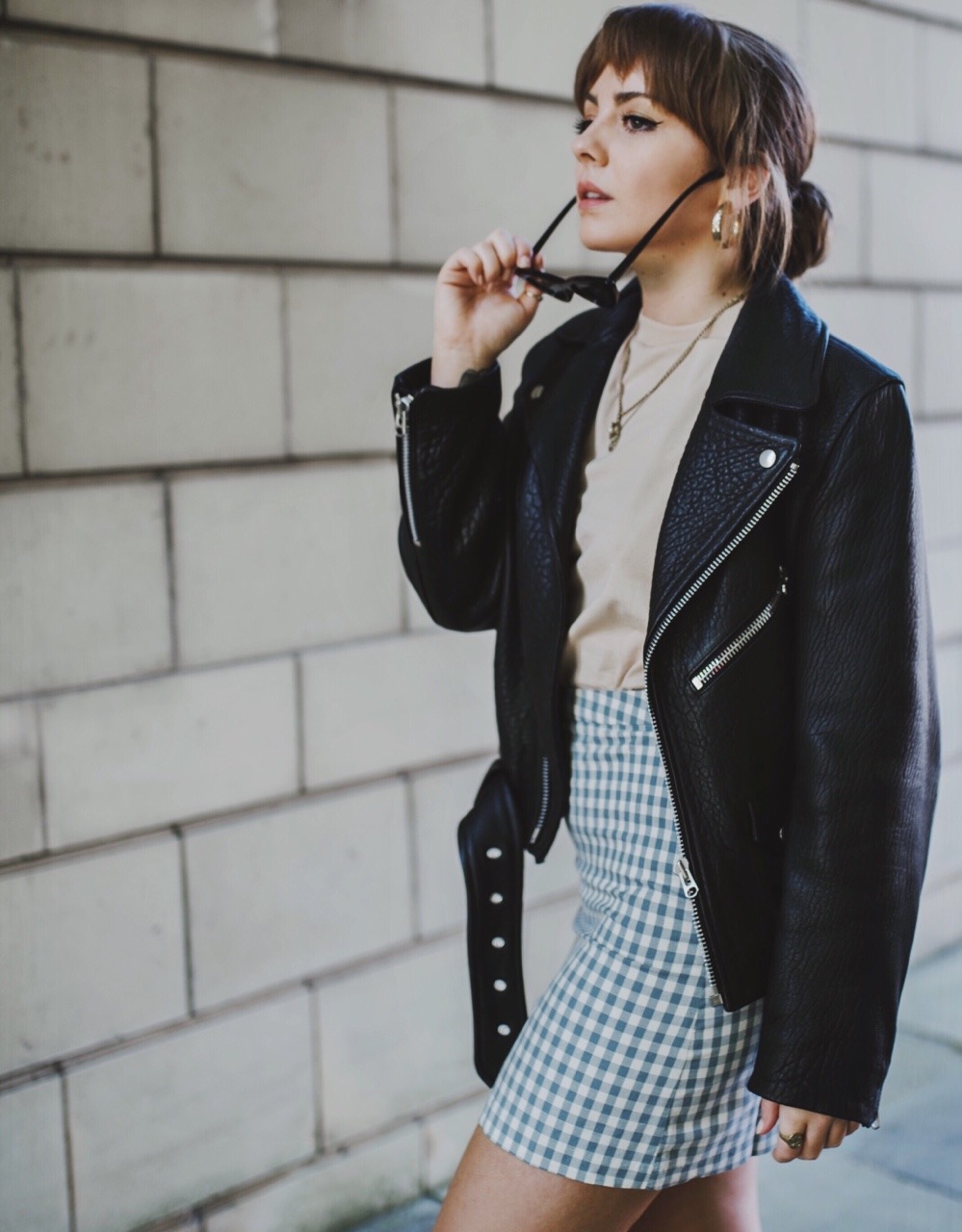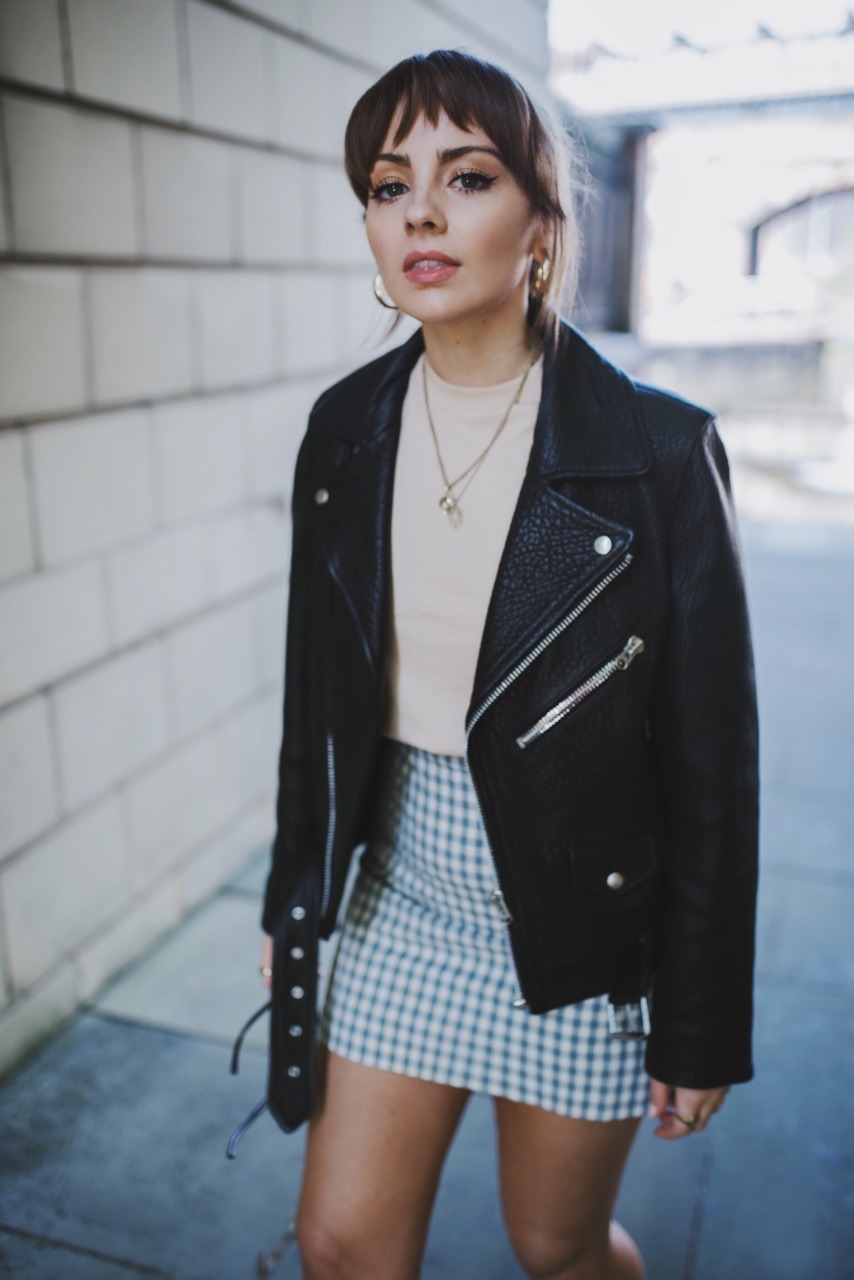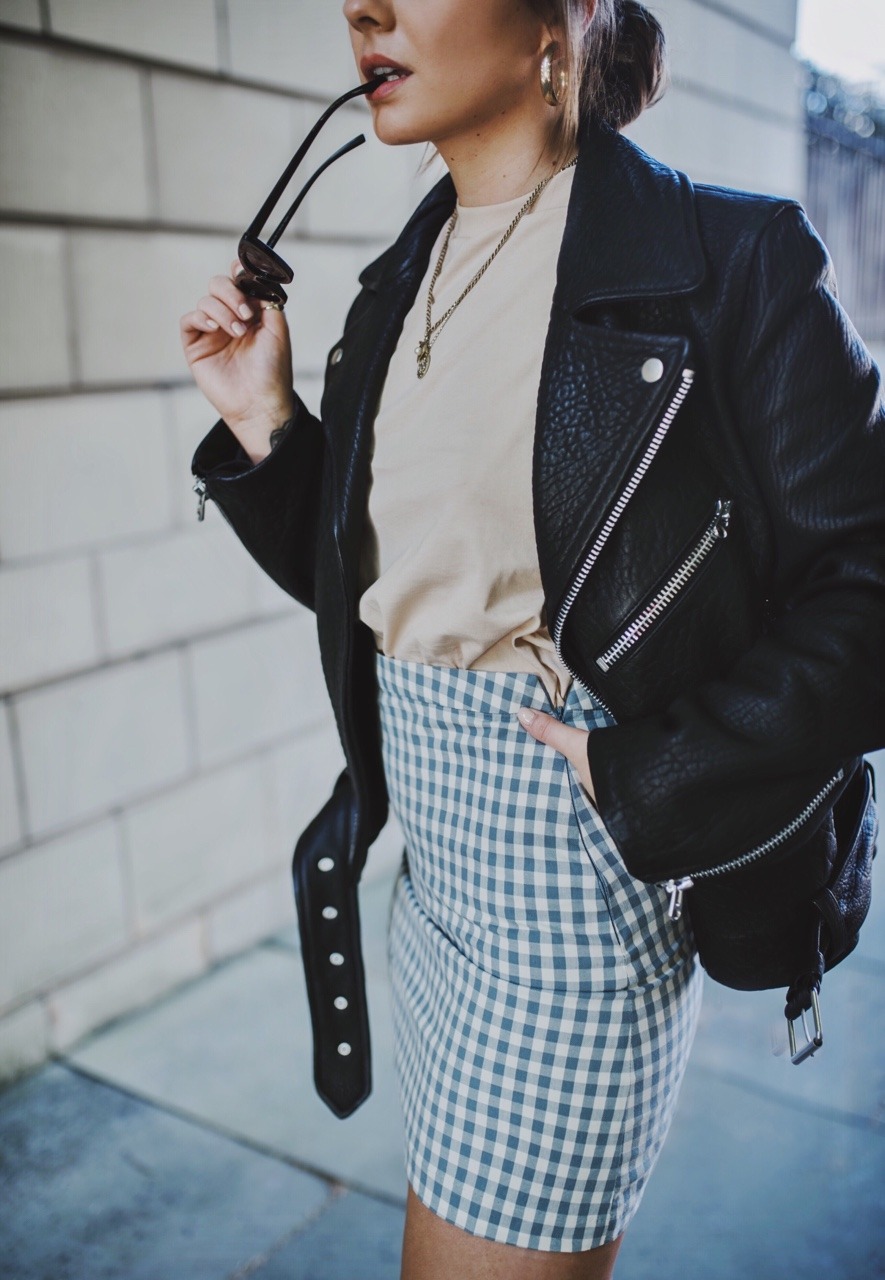 It got me thinking about how much my happy medium is between stereotypically 'tough' and playful 'feminine' pieces – somewhere between Johnny and baby. I thought it would be fun to style an outfit inspired by Dirty Dancing – using simple pieces that were already available in my wardrobe. I wanted the base of the outfit to be pastel colours, playful, and perfect for a whole realm of summer occasions that lie ahead. I'm really into this dusty pink shade of T-shirt at the moment, and combined with the blue gingham, it's the perfect base for some black accessories thrown over the top.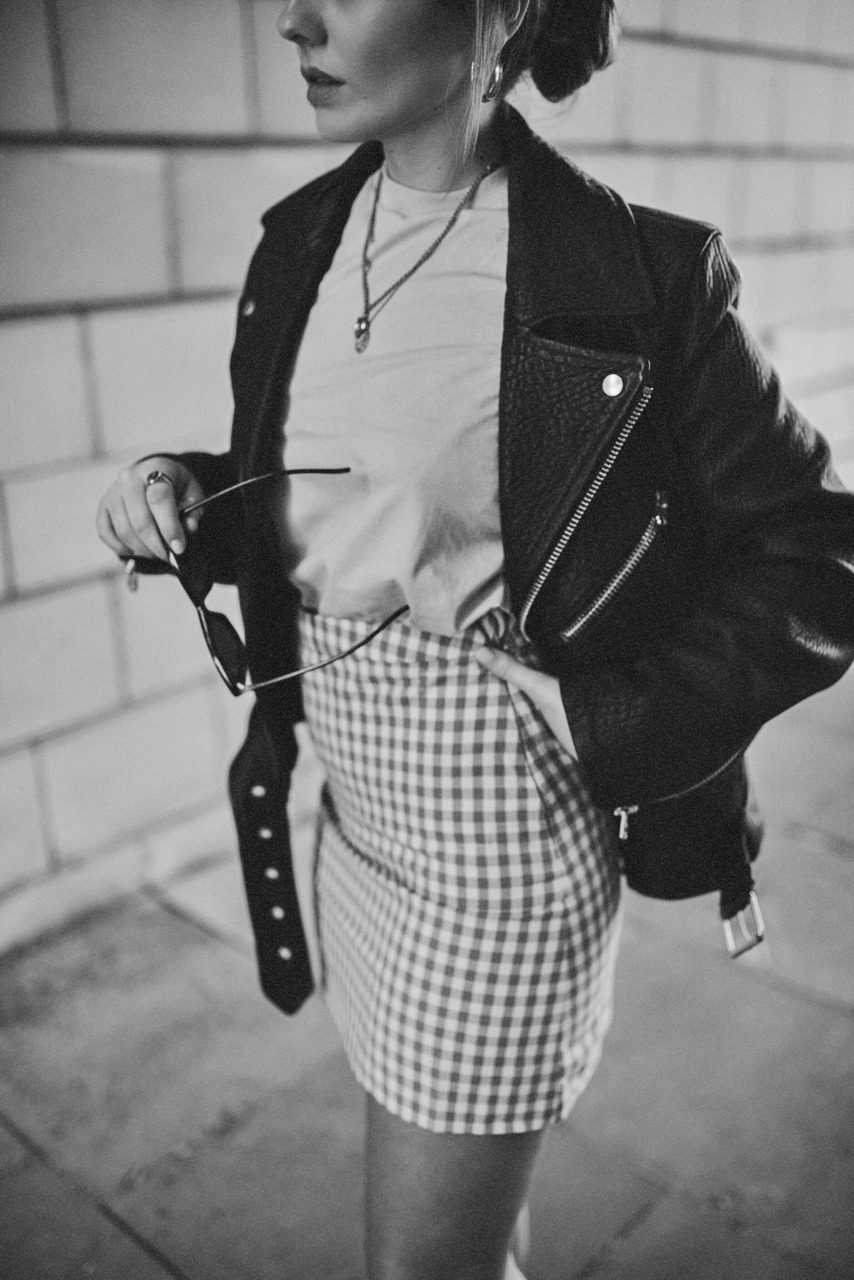 Obviously a leather jacket is key – along with some statement black sunglasses to tie everything together. I'm clearly not as cool as Patrick Swayze, but I challenge you not to feel your coolest self in an oversized leather jacket and cat eye sunglasses. The shoes are some simple nude Mango ones that I picked up last season – pointed nude shoes are my fail safe when I'm sporting bare legs. Leg lengthening, and match the T-shirt perfectly…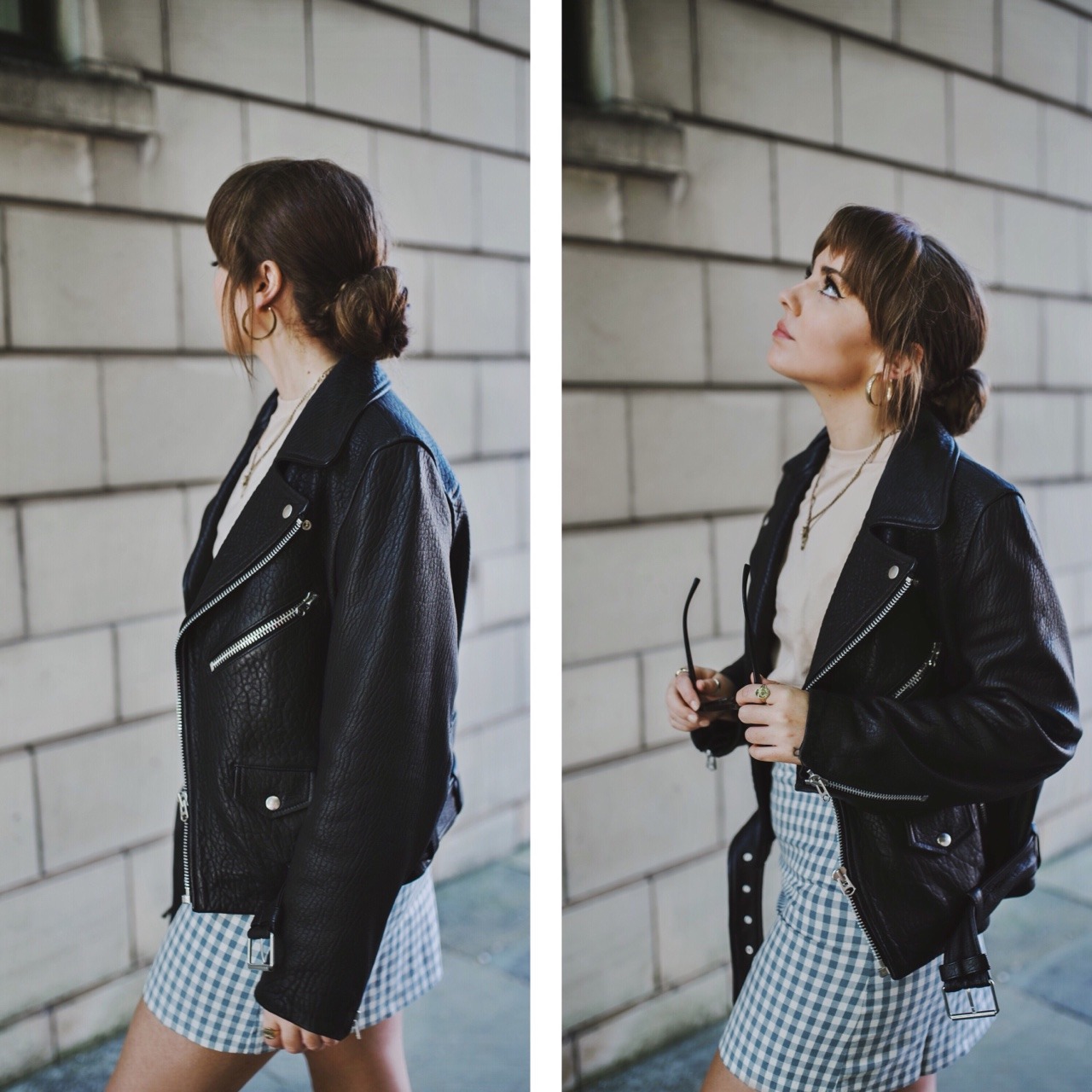 This look would work with so many colours – pastel yellow and a white T-shirt would work amazingly if pink and blue aren't up your street. Maybe some strappy gold sandals and beaded bag for a more evening time look – channel your inner Penny and you're on the right track…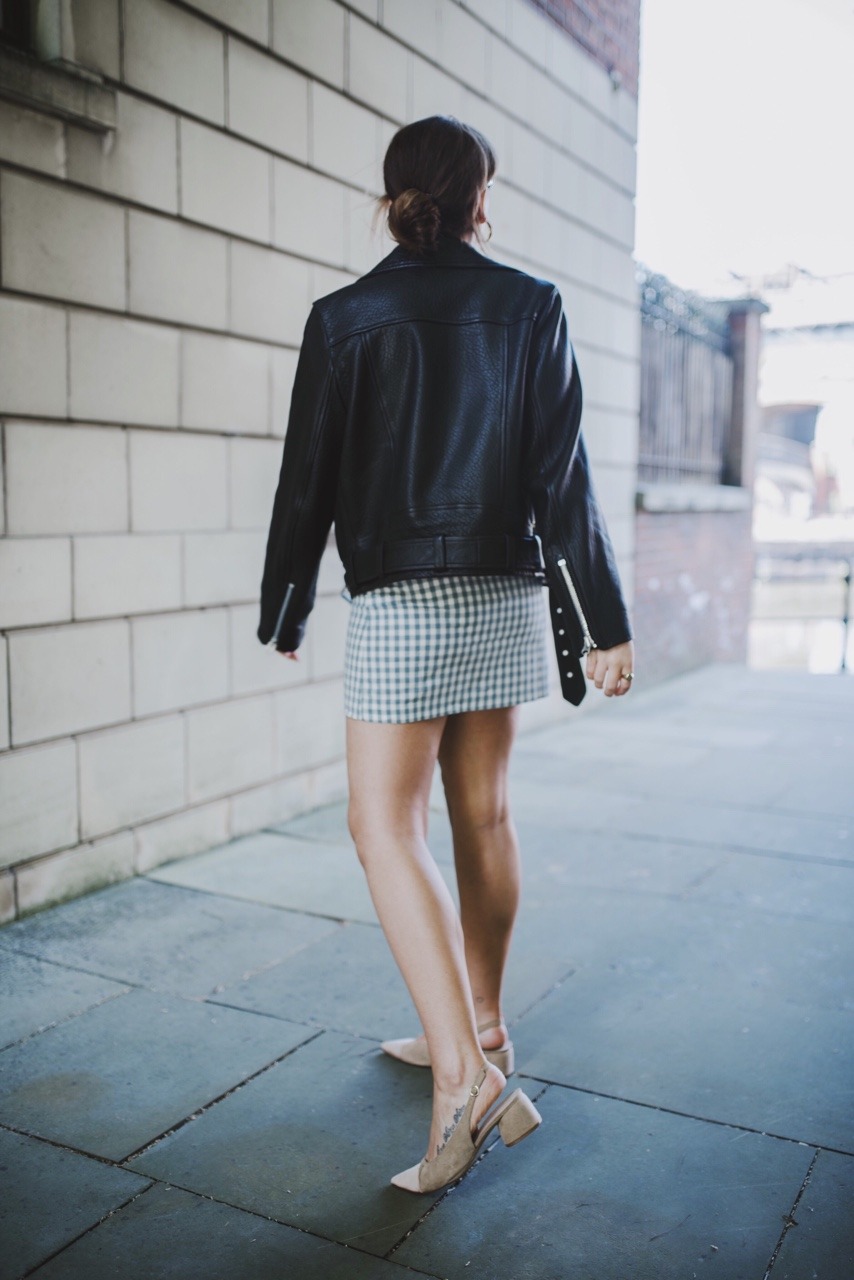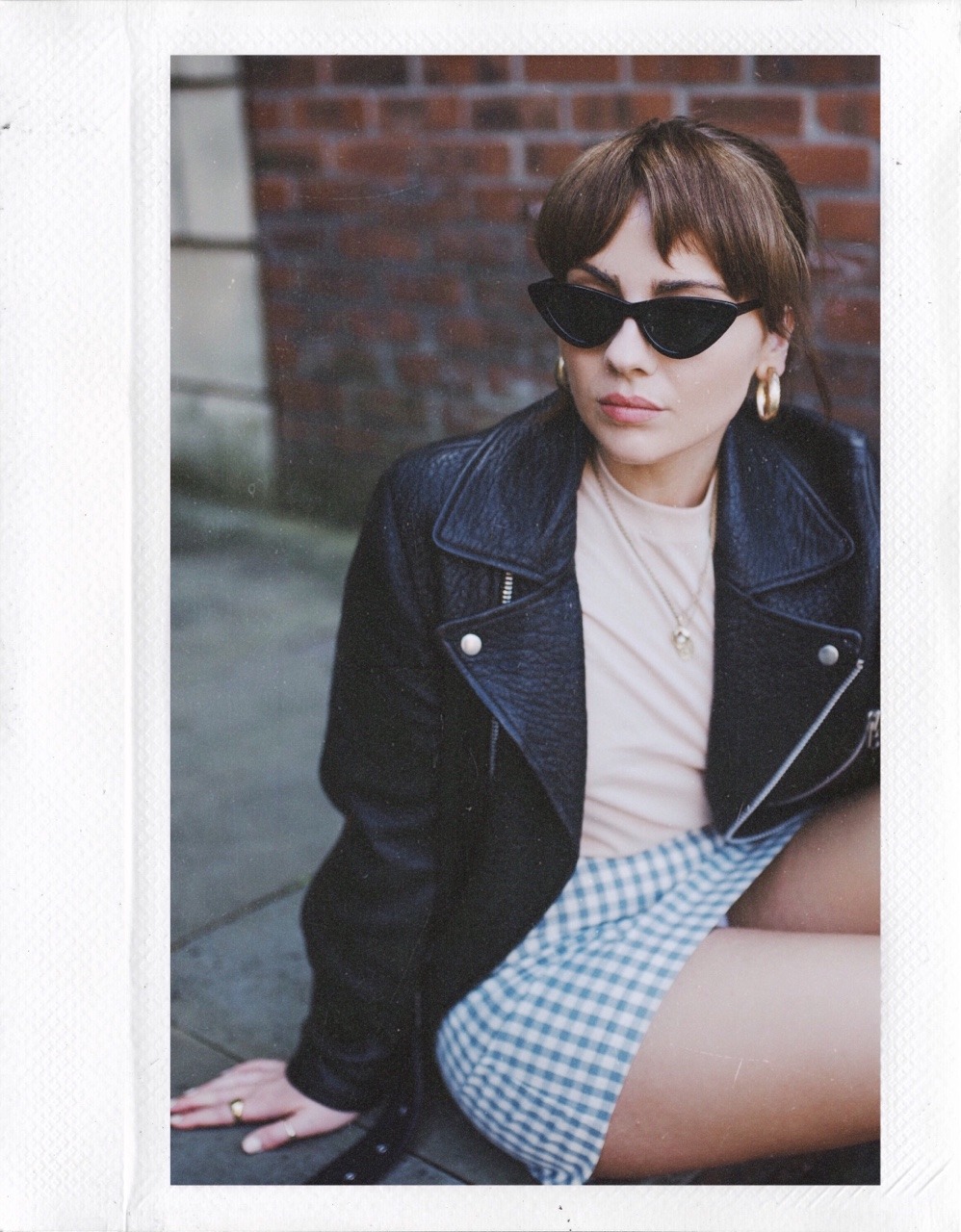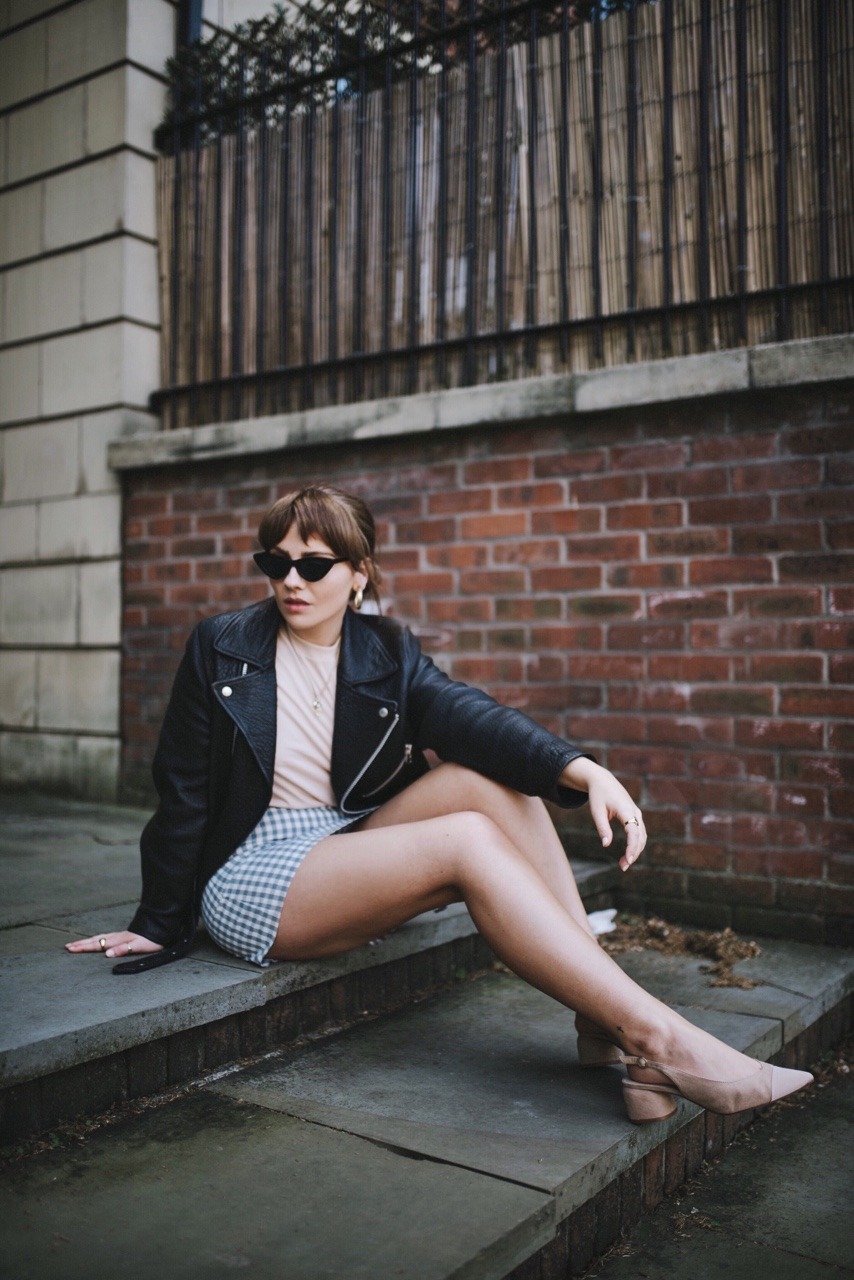 Taking inspiration from films is one of my favourite ways to branch out and try out new looks. I love it when people recognise this and reference your outfit in terms of characters too. I'd definitely recommend having a dig through some of the old classics if you're feeling in a bit of a style rut – cult films in particular are a great place to start. Identify the pieces that you like, and put them together in a way that suits your personal style. You never know, they might be pieces that you already own… 
---
Photographs by Adriana
T-shirt – And Other Stories
Skirt – Side Party
Shoes – Mango (old/similar here)
Jacket – And Other Stories (sold out/similar here)
SHOP THE LOOK