Whatever your thoughts on the humble black cardigan, I'm sure we have all owned one at some point in our lives. Whether it was forced upon you as part of your school uniform or not – I have a lot to thank the black cardigan for. It's one of those classic pieces that suits everyone, and I can't see myself ever tiring of it's companionship. The black cardigan has come along with me on multiple adventures, and it's one of those pieces that will always feel nostalgic to me…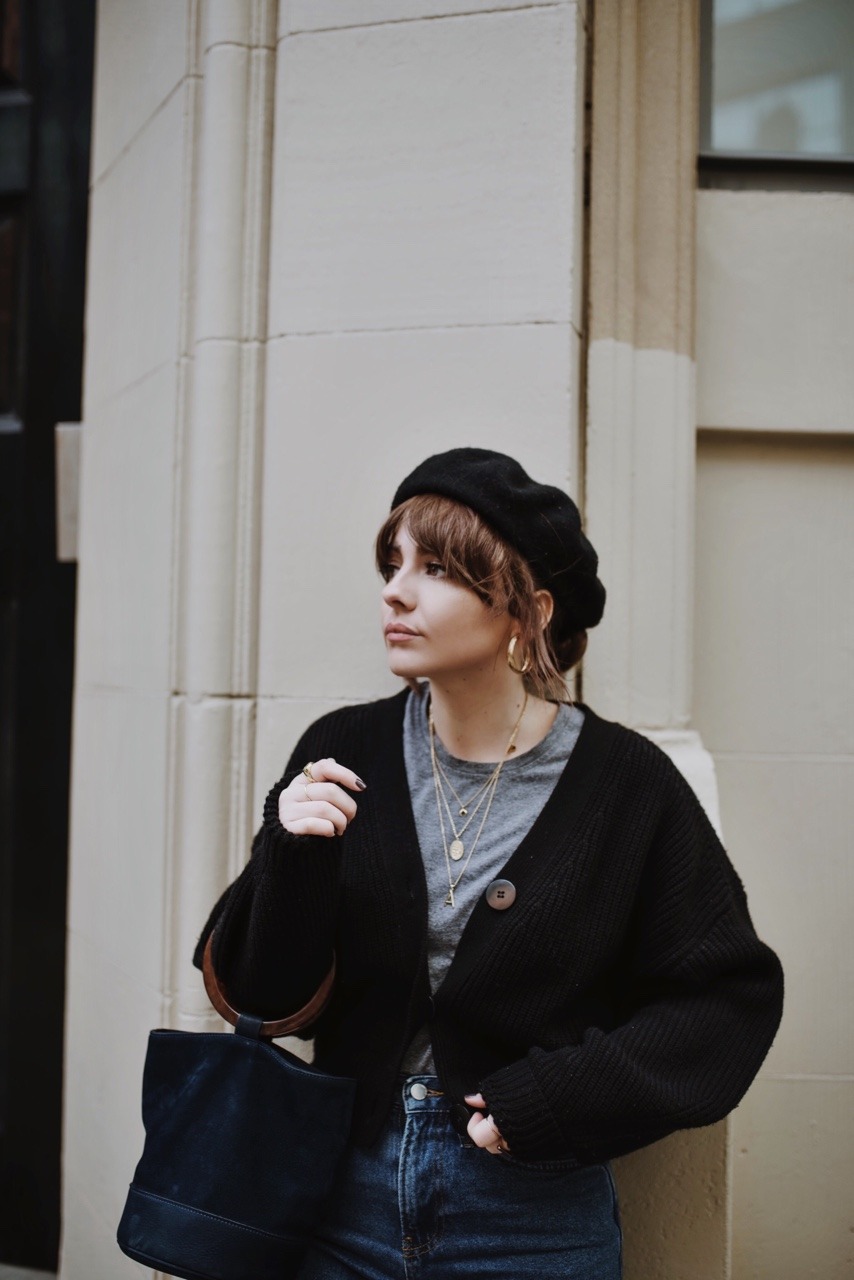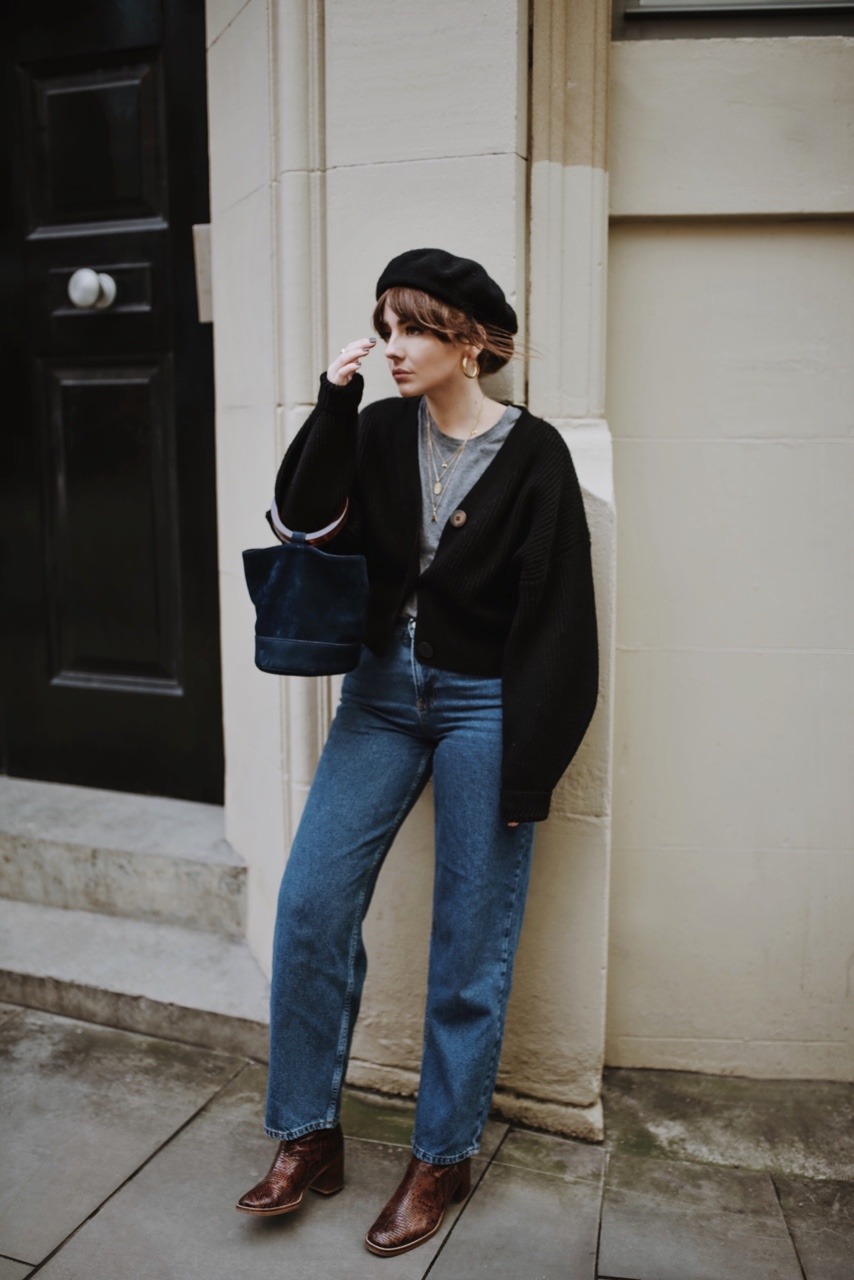 I think this is because my first experience of the black cardigan was a cashmere M&S number that I used to borrow from my Mum whenever she would let me – I'd wear it over cami tops and T-shirts, and it had these really Nineties, mother of pearl buttons that just improved any outfit I wore…
In fact, my Mum had a whole middle draw dedicated to cardigans alone, and my Gran always used to have the best chunky knit button ups that I have ever laid eyes on. The type that look really chic and have historic looking buttons – think mohair with black and gold detailing. I know cardigans are some peoples idea of a fashion nightmare, but I think they can make a casual outfit look really cool and understated.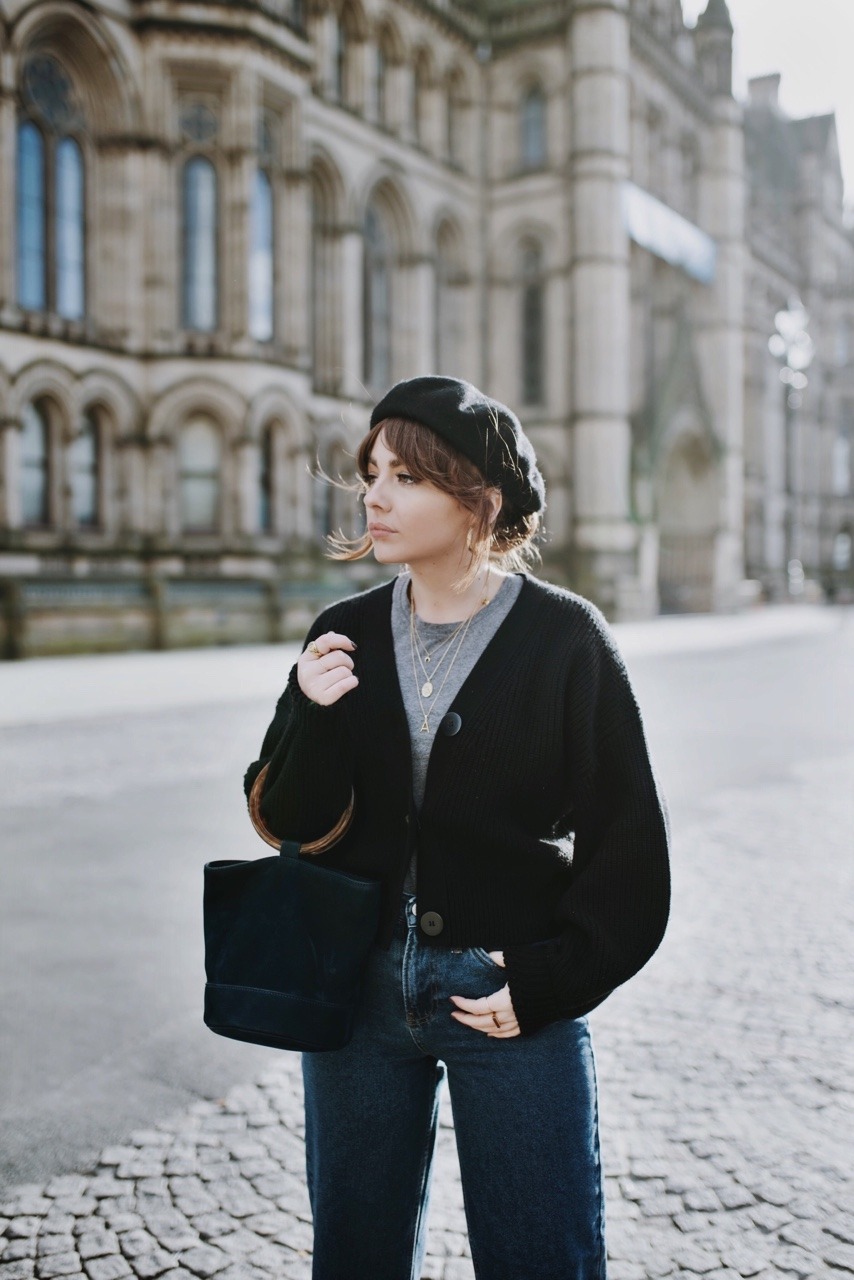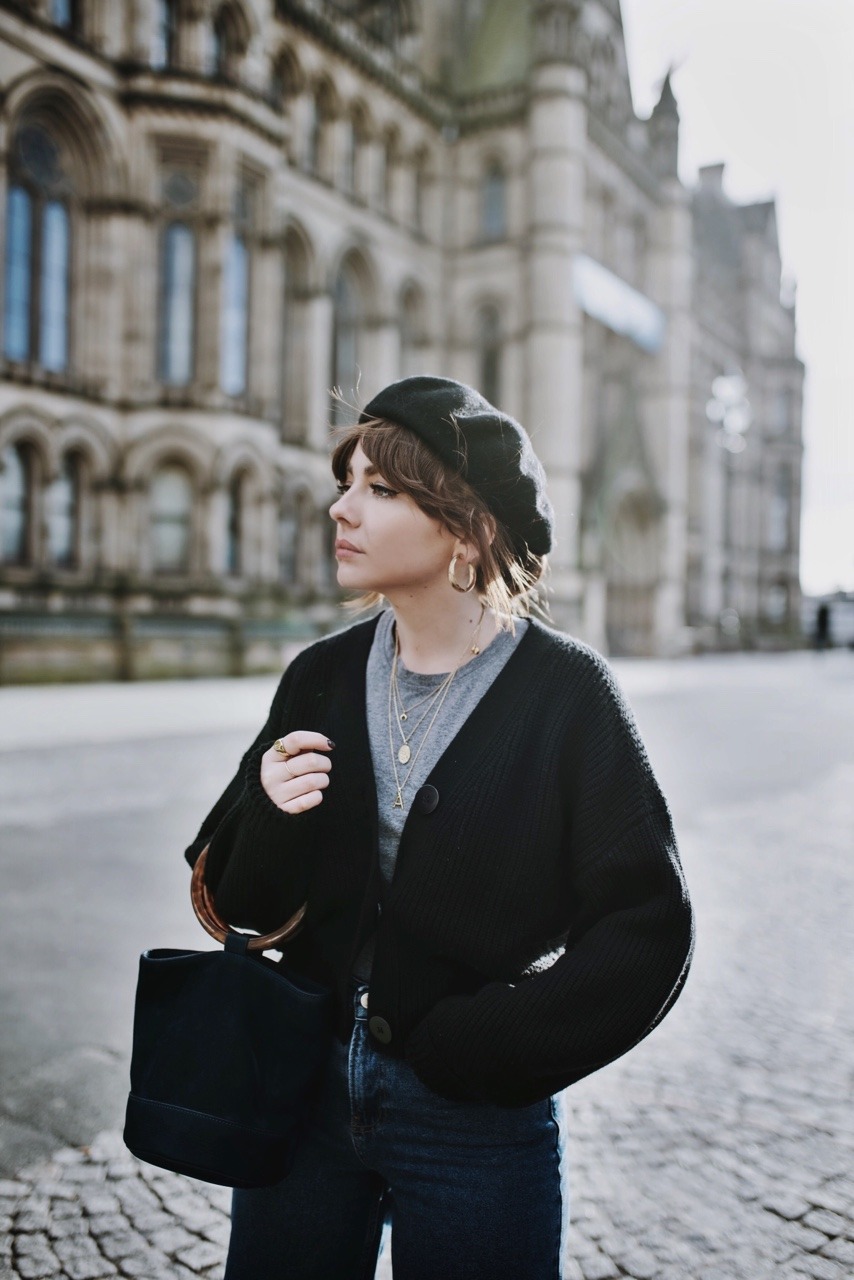 A cropped cardigan is perfect for breaking up a dull outfit – you can wear it slightly buttoned up to create a contrast between pieces, and it even creates a flattering hourglass silhouette. This is basically what I've done in these images – layer up some gold necklaces and add some statement accessories – no one will ever suspect you were in your pyjamas twenty minutes ago… 
Any old cardigan will look cool thrown over a satin slip dress – If you're struggling to feel good on your wintery Friday nights out, look no further than the trusty cardigan. Wear it slouched over your shoulders for added warmth – there's also something quite sexy about wearing it slightly off the shoulders to reveal a hint of the dress beneath, move over leather jacket…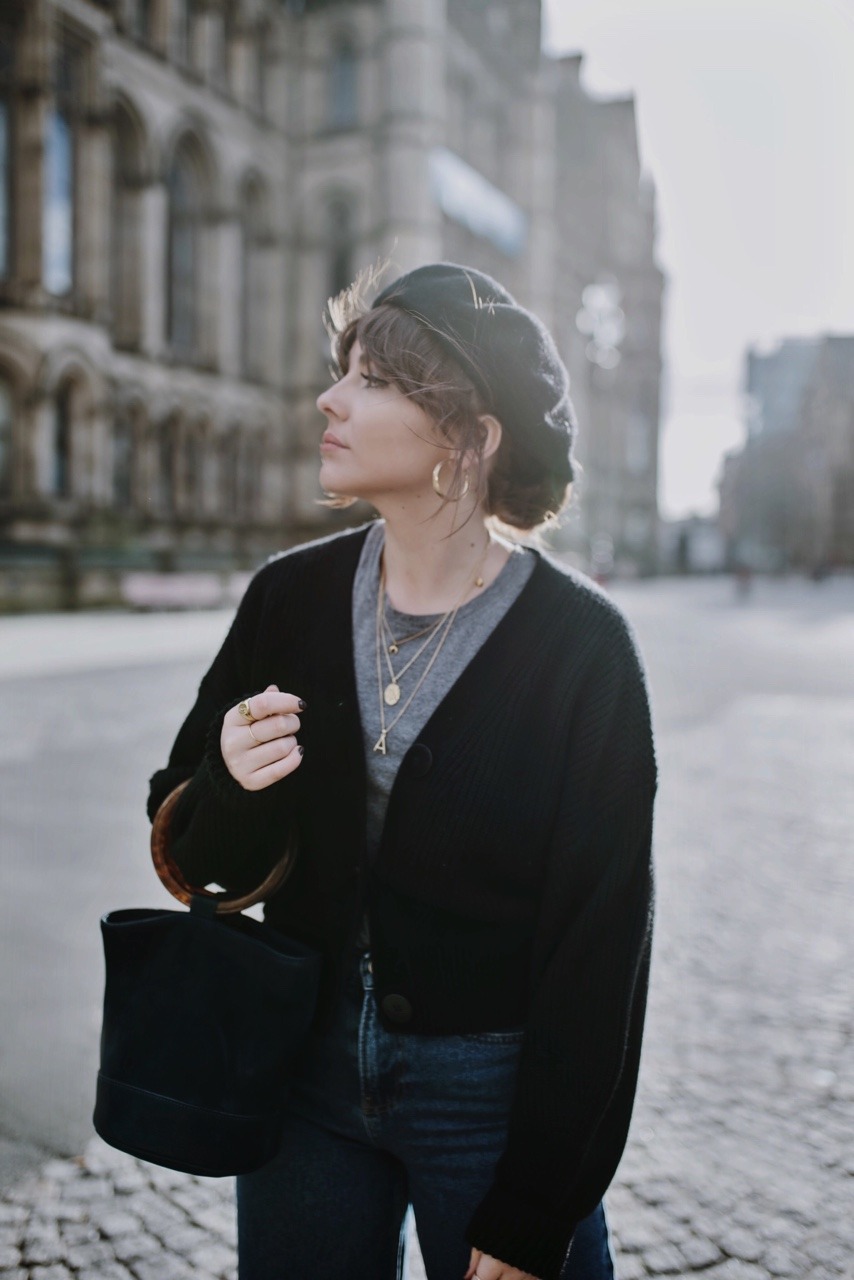 Invest in a big fluffy cardigan for Kurt Cobain vibes – statement cardigans are perfect on those days when you really can't be bothered to put together an outfit. White T-shirt, Jeans, and a big old cardigan to hibernate in – you're welcome.
Wear a slim fitted cardigan tucked into some high waist trousers – It's the ultimate classy evening look for this time of year. It keeps you warm, and instantly makes you look pulled-together. Button it all the way up to create a top, or layer a little cami underneath…
Wear your cardigan with a waist belt for a stylish update – It's a trend that's been everywhere over the past few months, and it's something I've played around with a lot. You can buy cardigans on the high street that come with their own matching belt, or you can create your own version of the look with a belt and cardigan combination that you already have lying around at home. If I belted cardigan isn't ultimate Granny-chic, then I don't know what is…
Alice x
---
Photographs by Adriana
Cardigan | And Other Stories
T- Shirt | 12 Storeez (similar here)
Jeans | Topshop Boutique
Boots | Miista
Bag | Simon Miller
Necklaces by, Theodora Warre | Edge of Ember | Missoma
SHOP THE LOOK