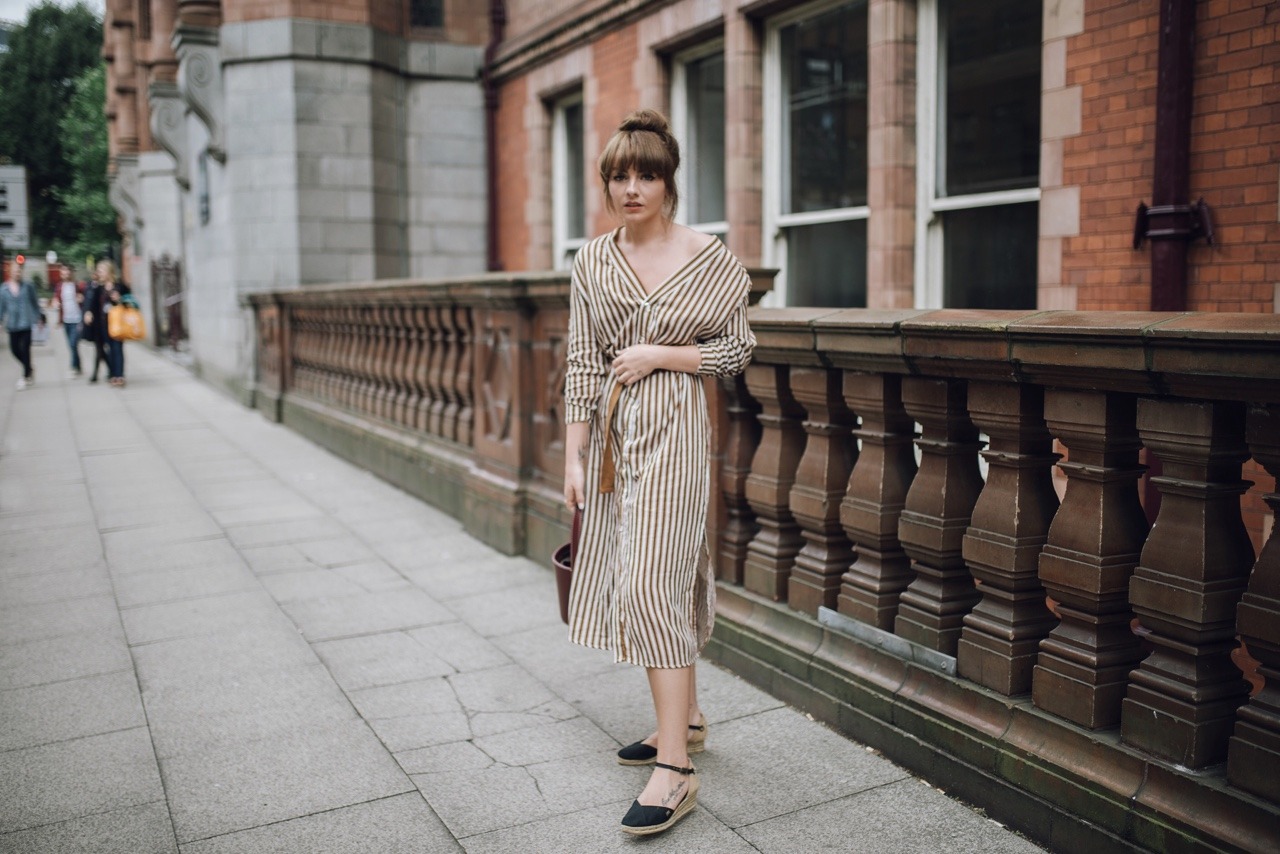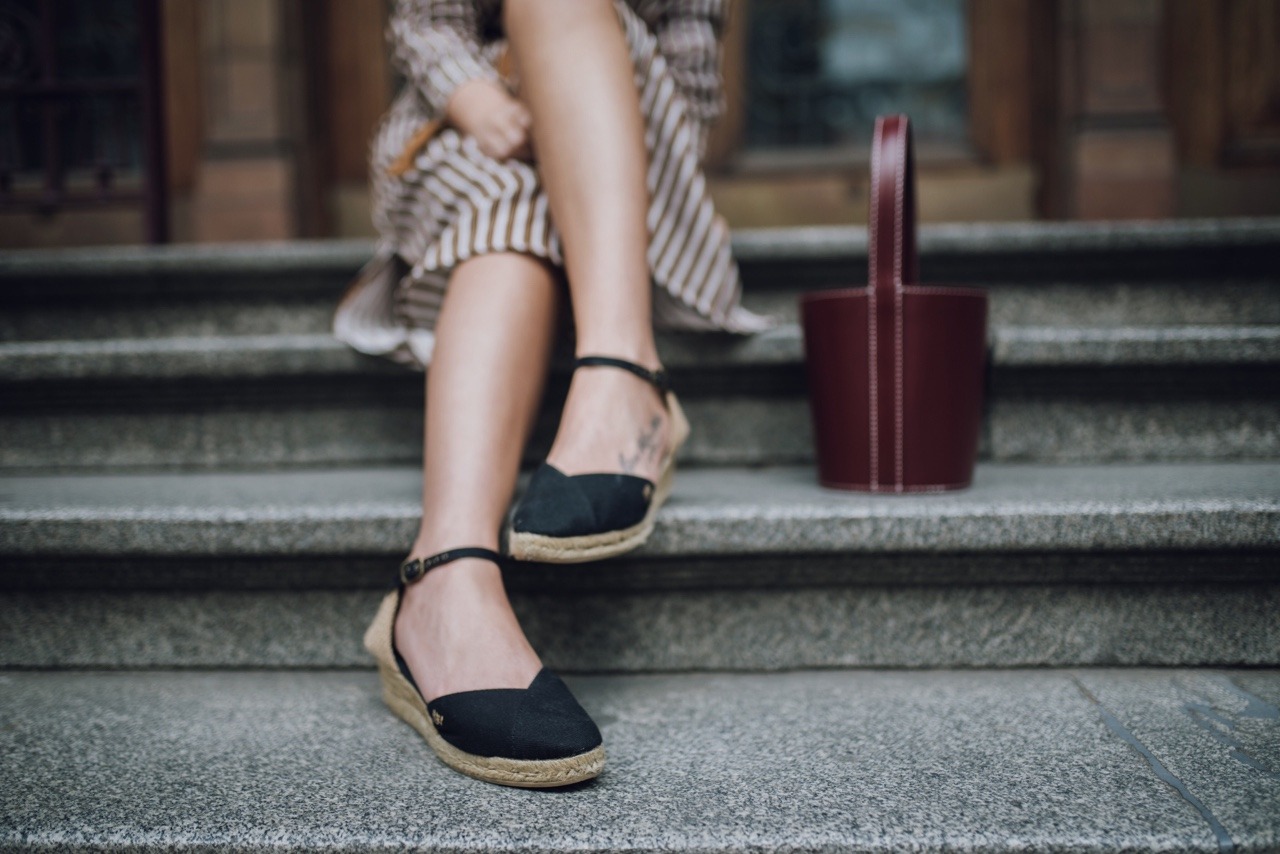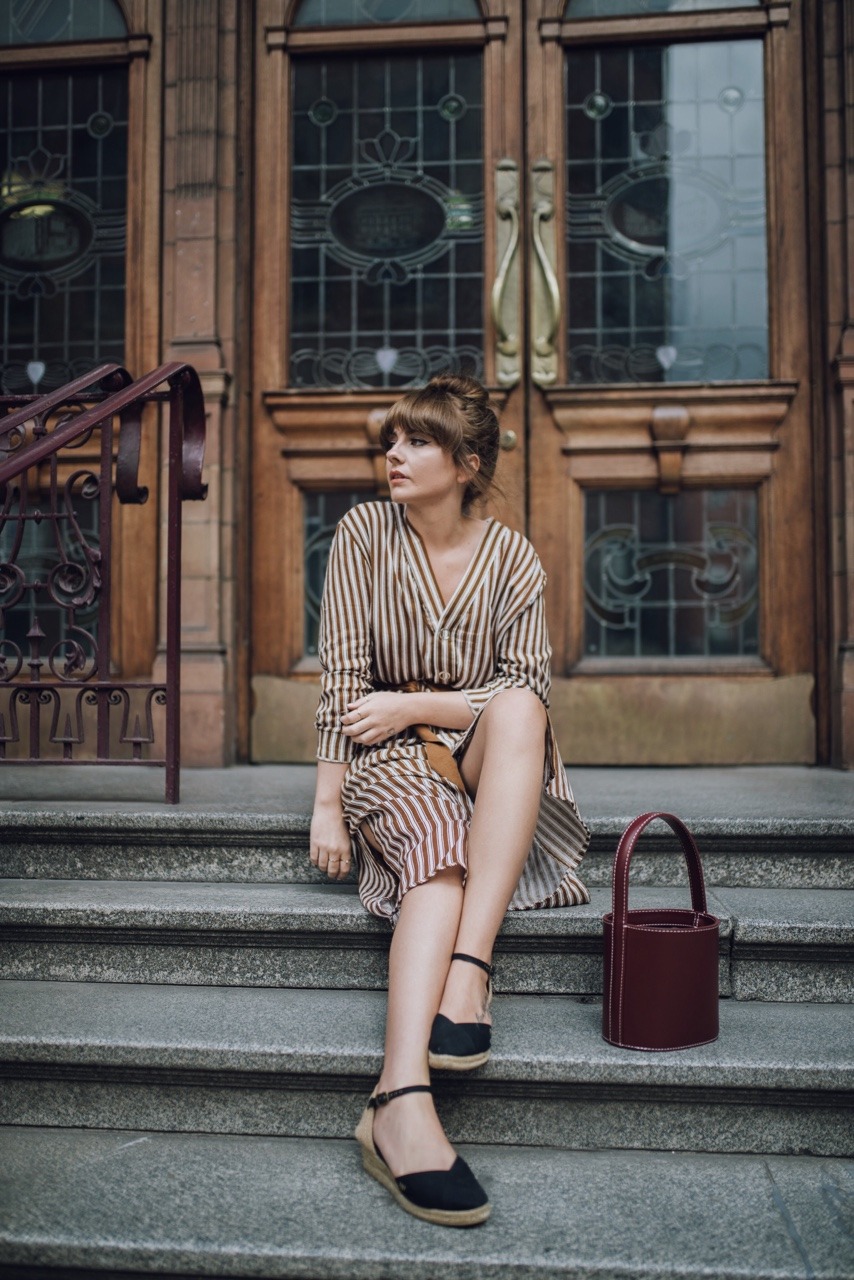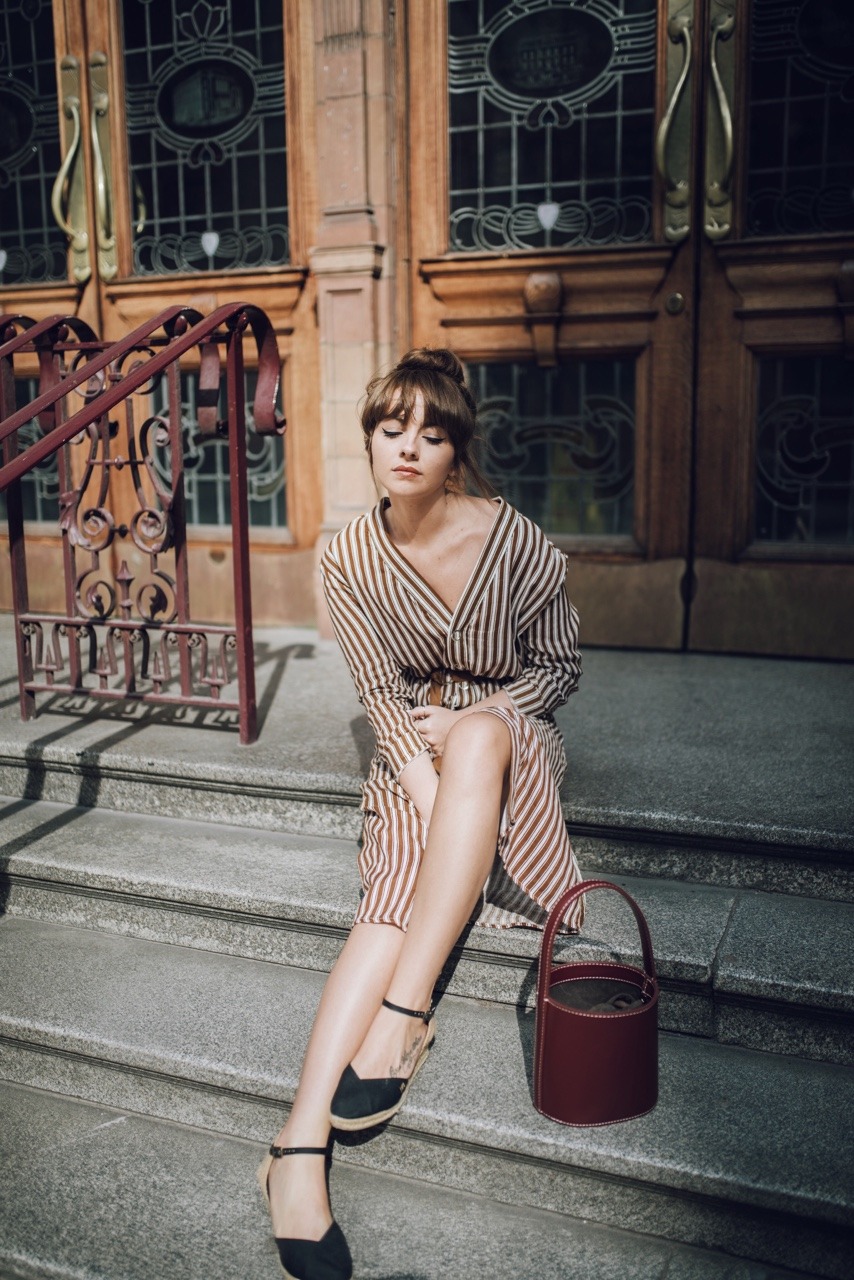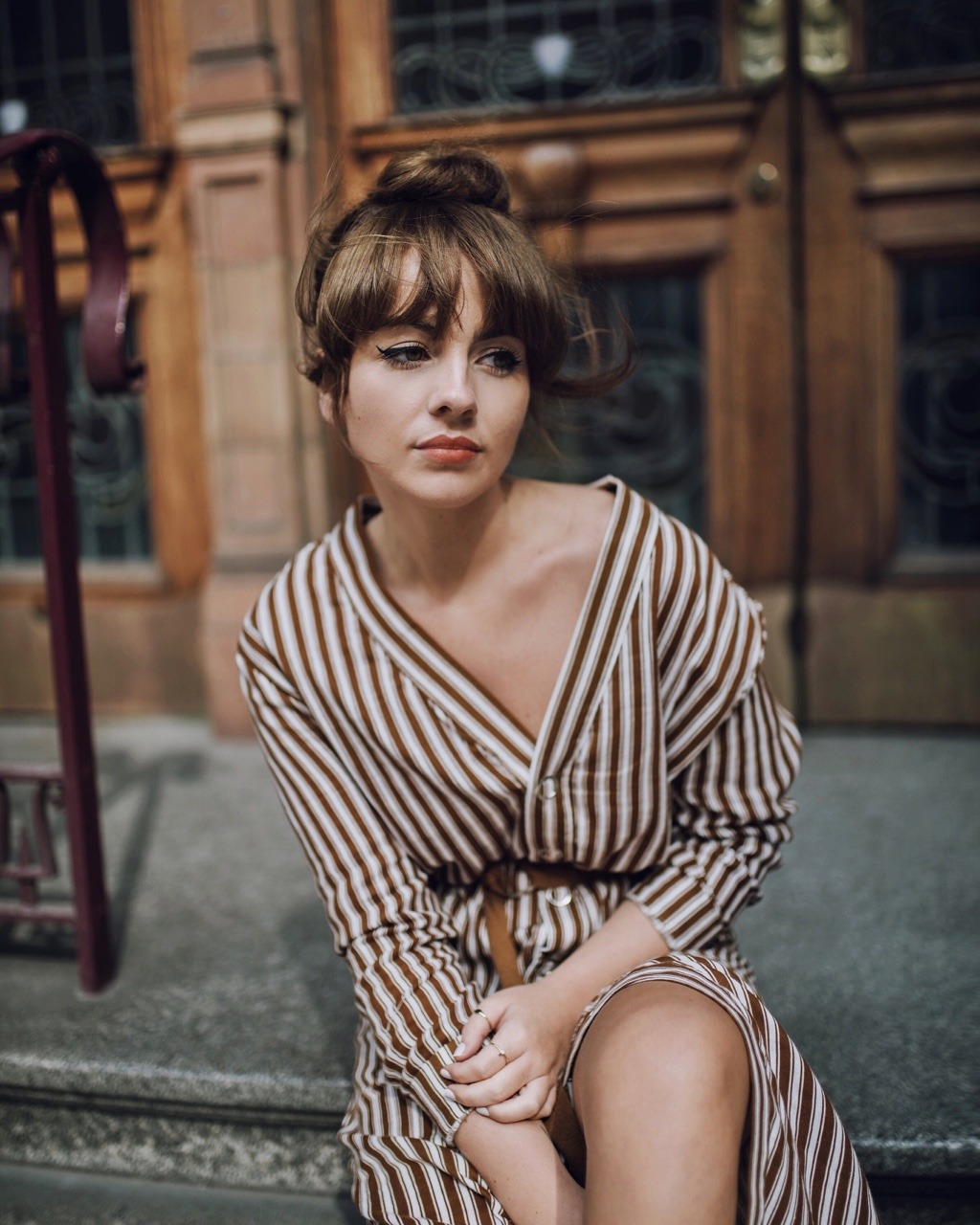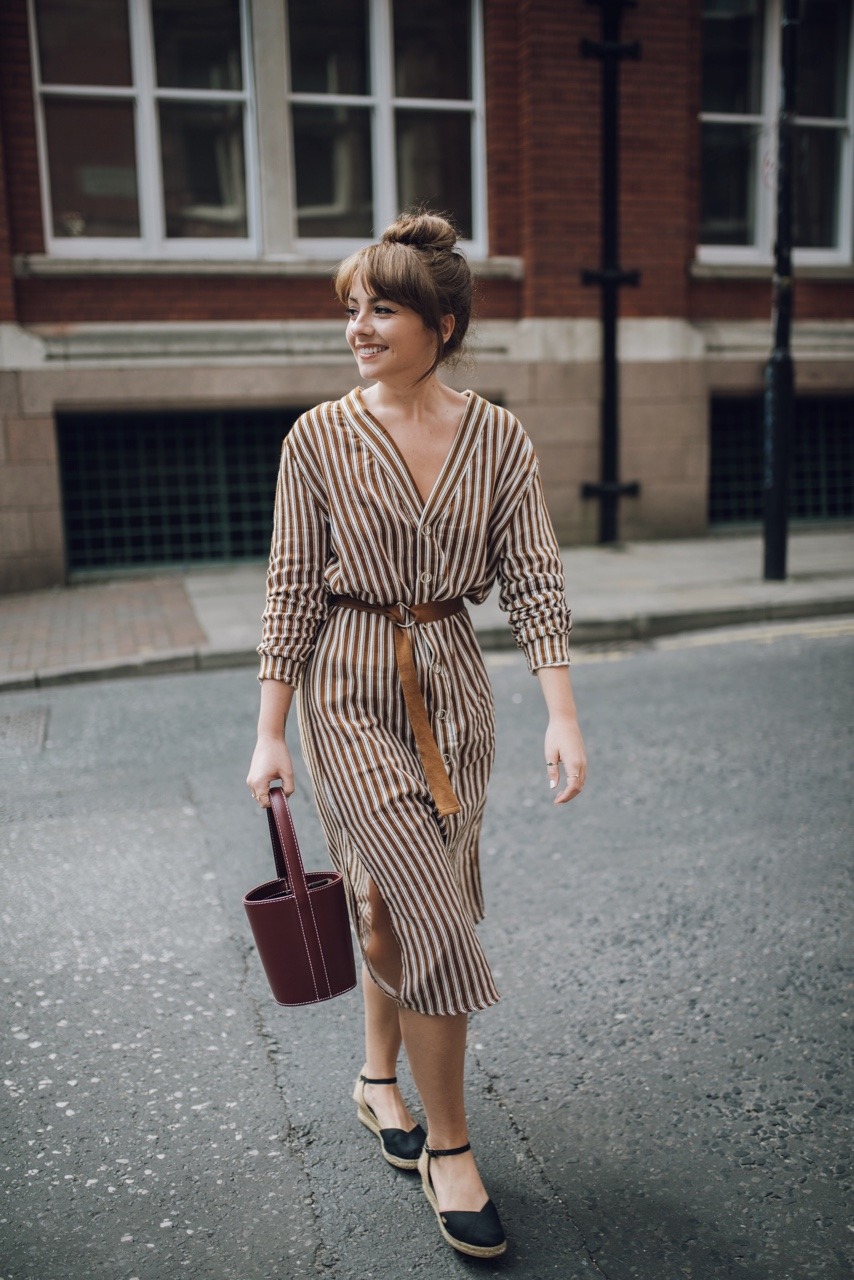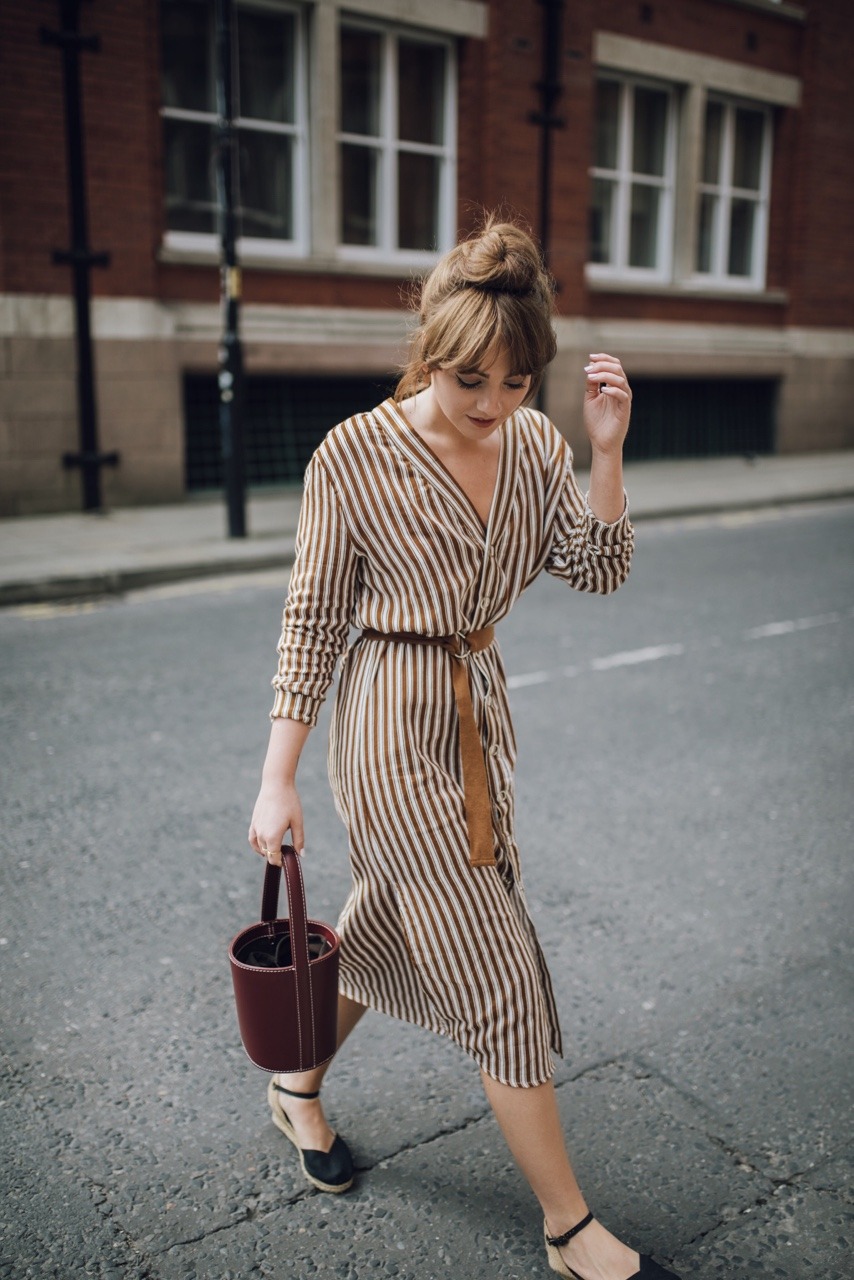 I've been widening my brand horizon a lot more recently – partly due to being a bit uninspired by what the high street has to offer, but mostly due to wanting to try out new designs and be a little more experimental in my outfit choices. I'll forever be a jeans and blouse girl (it's just my happy place), but there are times when I fancy something different, or I want to welcome pieces into my wardrobe that make me feel a certain way…
This dress for example – it's quite a bold all over print, and usually something I'd be self conscious about wearing, but I'm absolutely smitten with it and it makes me feel like I'm heading to some kind of seventies beach resort. I love the brown stripe pattern – it has a real vintage feel to it, and has proven to be the perfect sunny weekend strolling attire. I love that I can play around with the buttons and shape of the dress too – you can wear it slightly off the shoulders, or slouched just off the one shoulder, I can even undo some of the lower buttons for a bit more leg action if I'm feeling adventurous. It's just one of those pieces that I feel great in, and I don't think it will ever really go out of style. I'm really into minimal striped dresses – I just think they are endlessly classic and tend to suit everyone. The only thing to note about this dress is that it's very oversized (I have the small for reference), and could probably have gone for the extra small for a bit more of a tailored fit.
I kindly received a package recently that had a few Moon River items inside – an L.A based brand that I had never heard of up until now. I was pretty surprised to find that I loved each and every piece – I love that new feeling of excitement when you discover a brand that makes clothing that expresses exactly how you want to dress. If you follow me over on Instagram then you might have noticed a few other pieces that I've been wearing by them, including some dreamy striped shorts. It's safe to say the pieces I received have given my wardrobe a much needed refresh, and definitely have me excited for the months ahead. As much as I love summer, I'm definitely ready for the seasonal change in fashion – my style very much relies on layering, meaning I always feel most myself during the Autumn months. I think this dress will serve me well for the last of the summer evenings where I want to feel put together, but a little more covered up – I'm also really excited to wear the striped shorts with some tights, pointed boots, and a beloved turtle neck.
I hope you enjoyed this little outfit post and you're all having a great start to the week! I've been working on my first ever look book video which I'll be putting live very soon over on my YouTube channel – I'm not sure what kinds of video's I'll be posting, and I still have a long way to go on the confidence front, but it would mean the world if you subscribed and left some feedback once the video is up! I can't promise weekly videos but I will try my best to keep it interesting and finallyyyyy give you guys some sort of hair/make up related video too. As always, thank you for your endless support, it's definitely encouraging me to come out of my shell a bit more and challenge myself to new ventures…
Alice x
---
Photography by Adriana 
Dress c/o – Moon River | Shoes c/o – Viscata | Bag – Staud Clothing 
SHOP THE LOOK