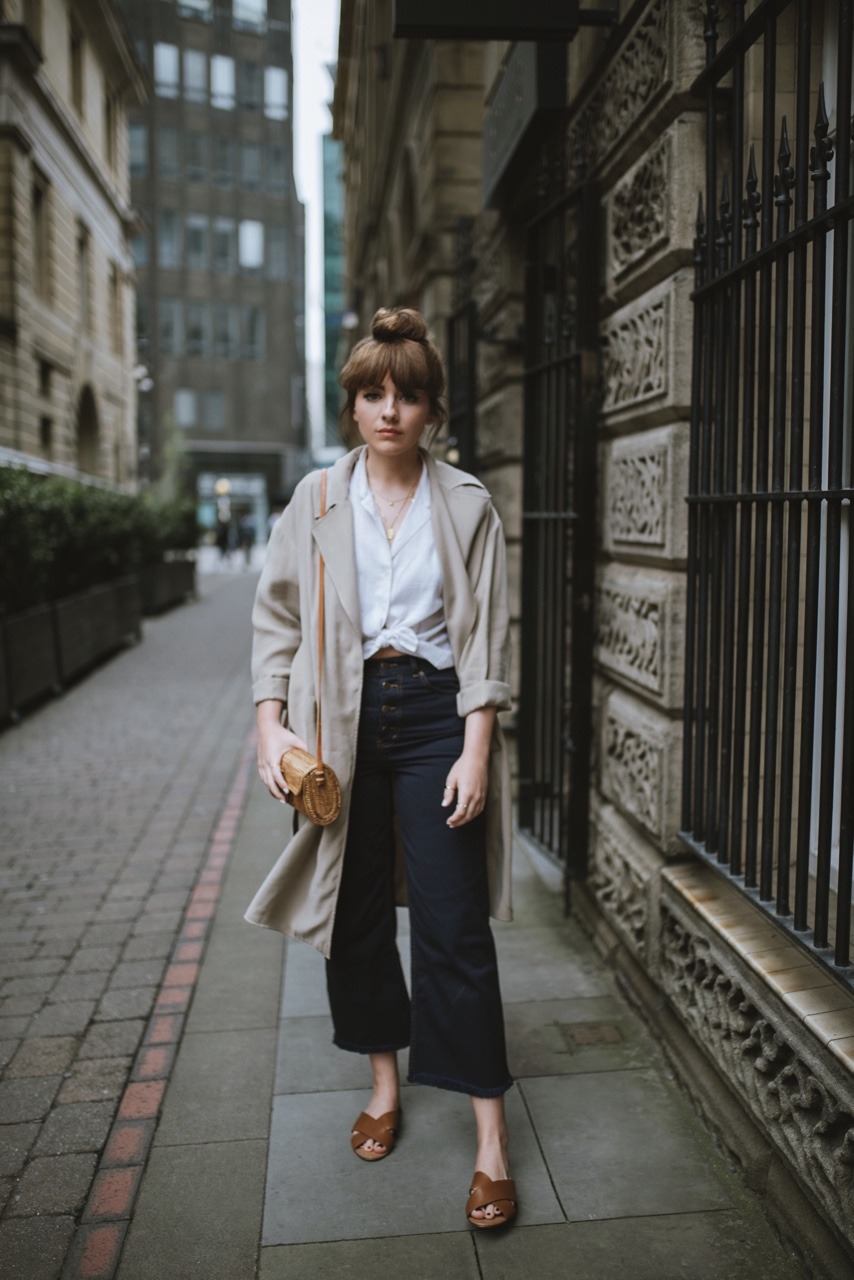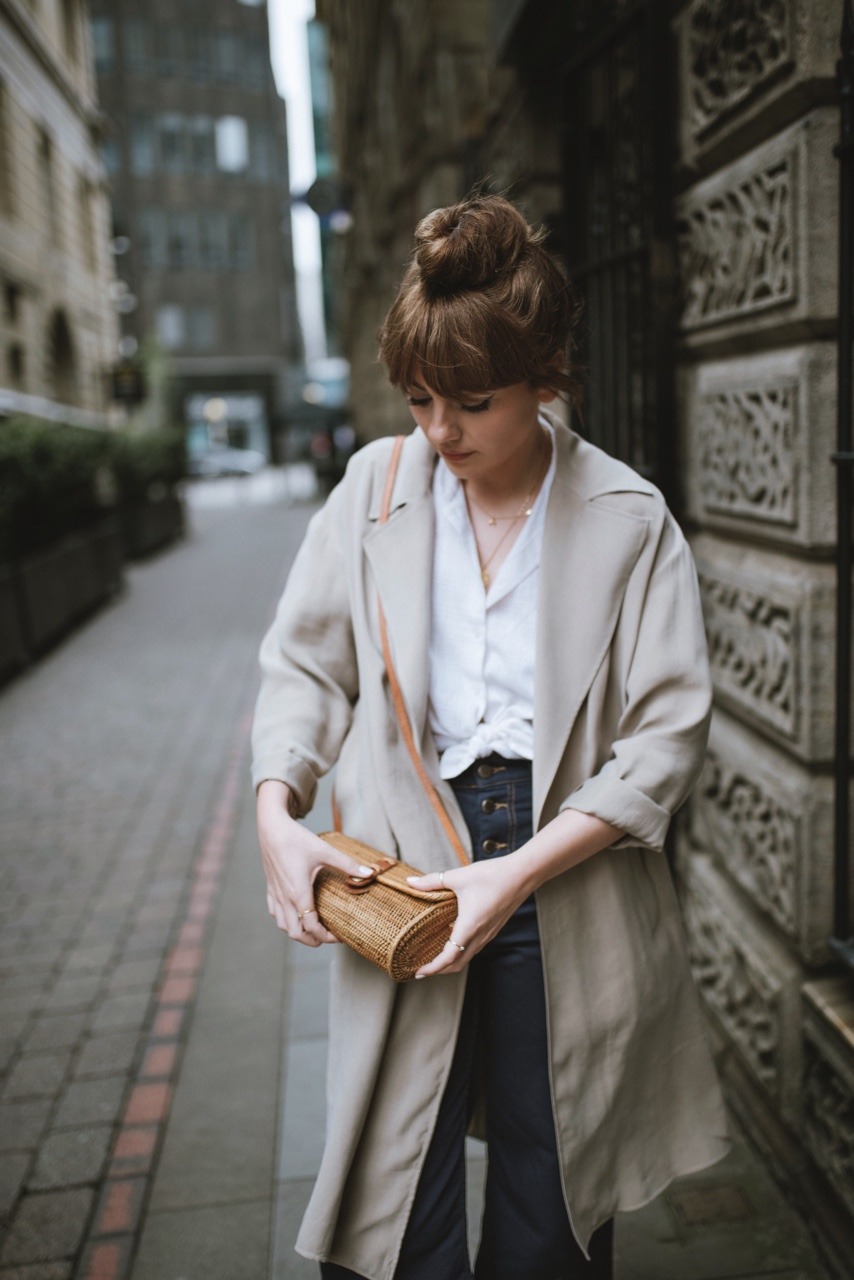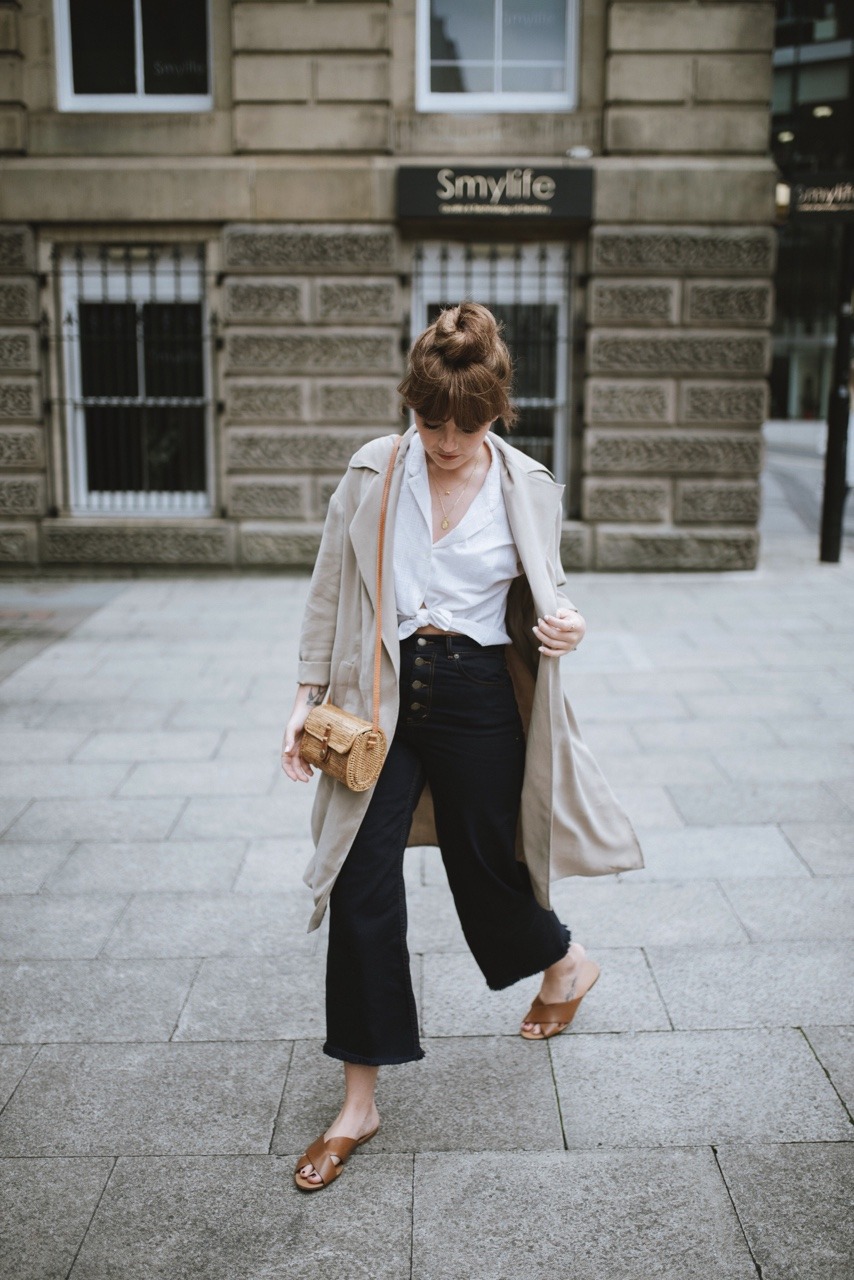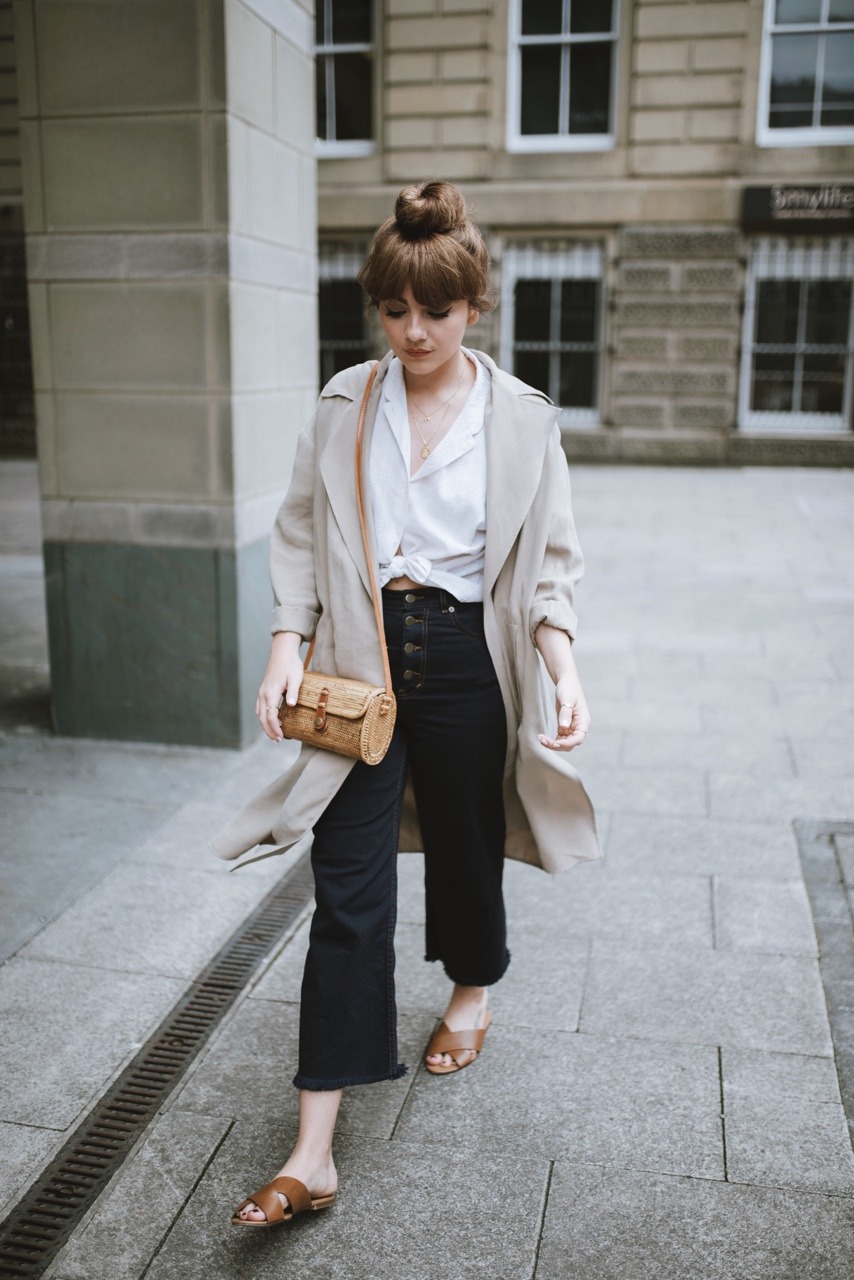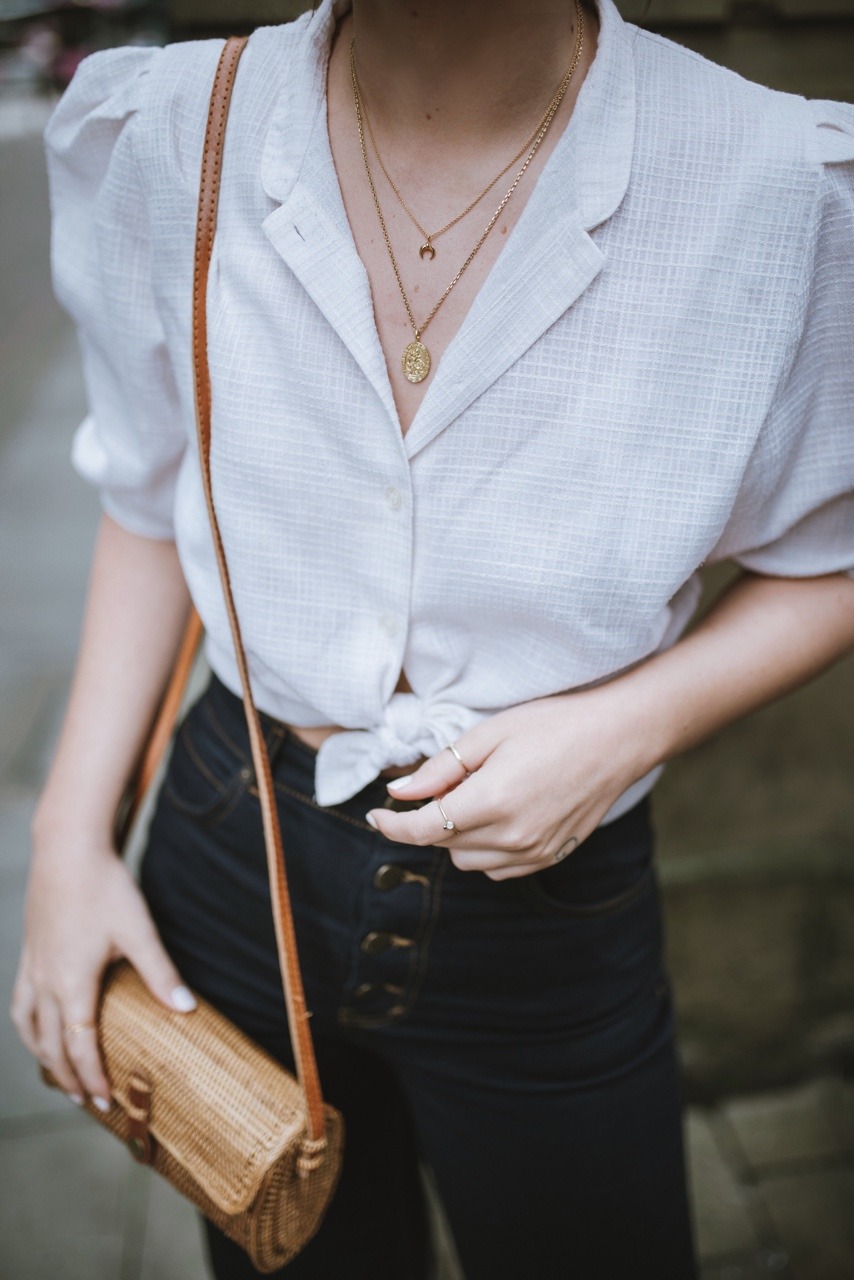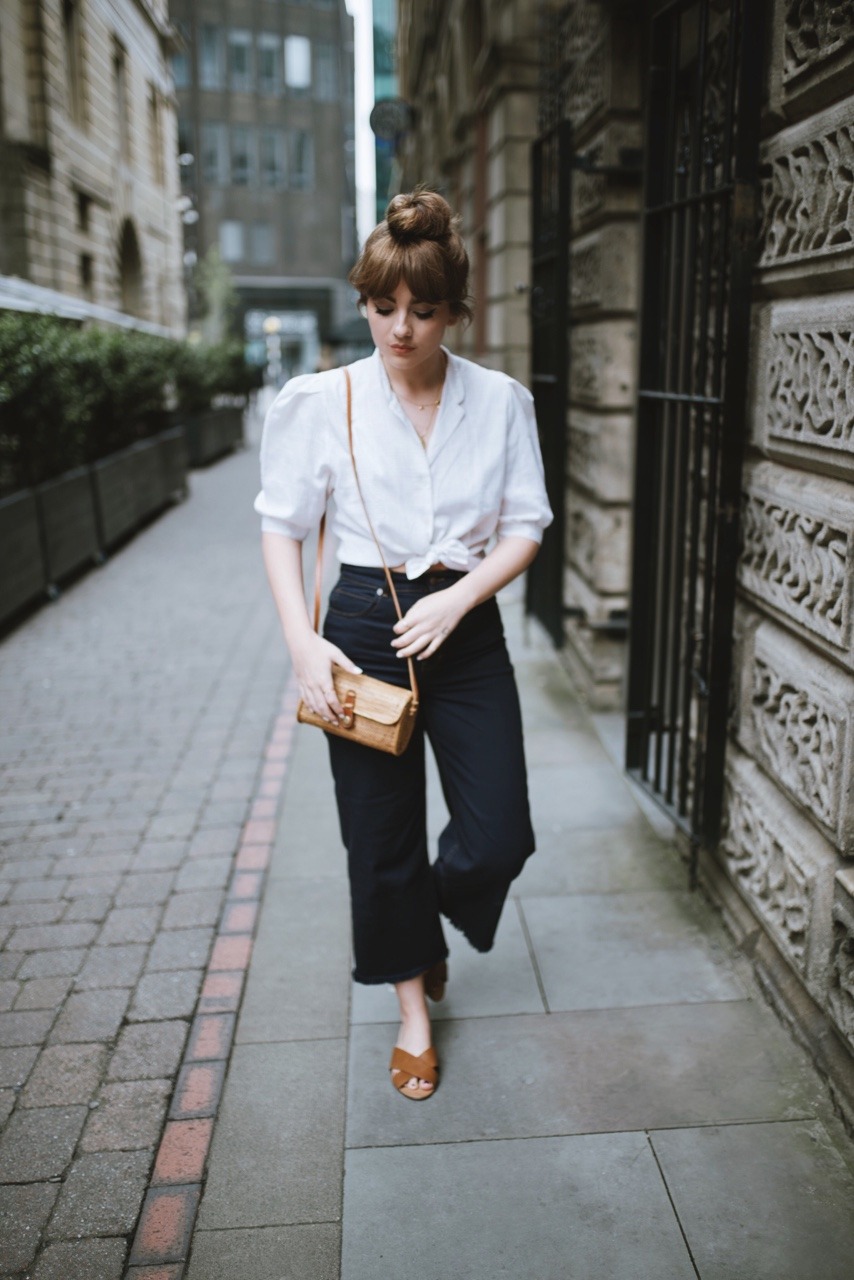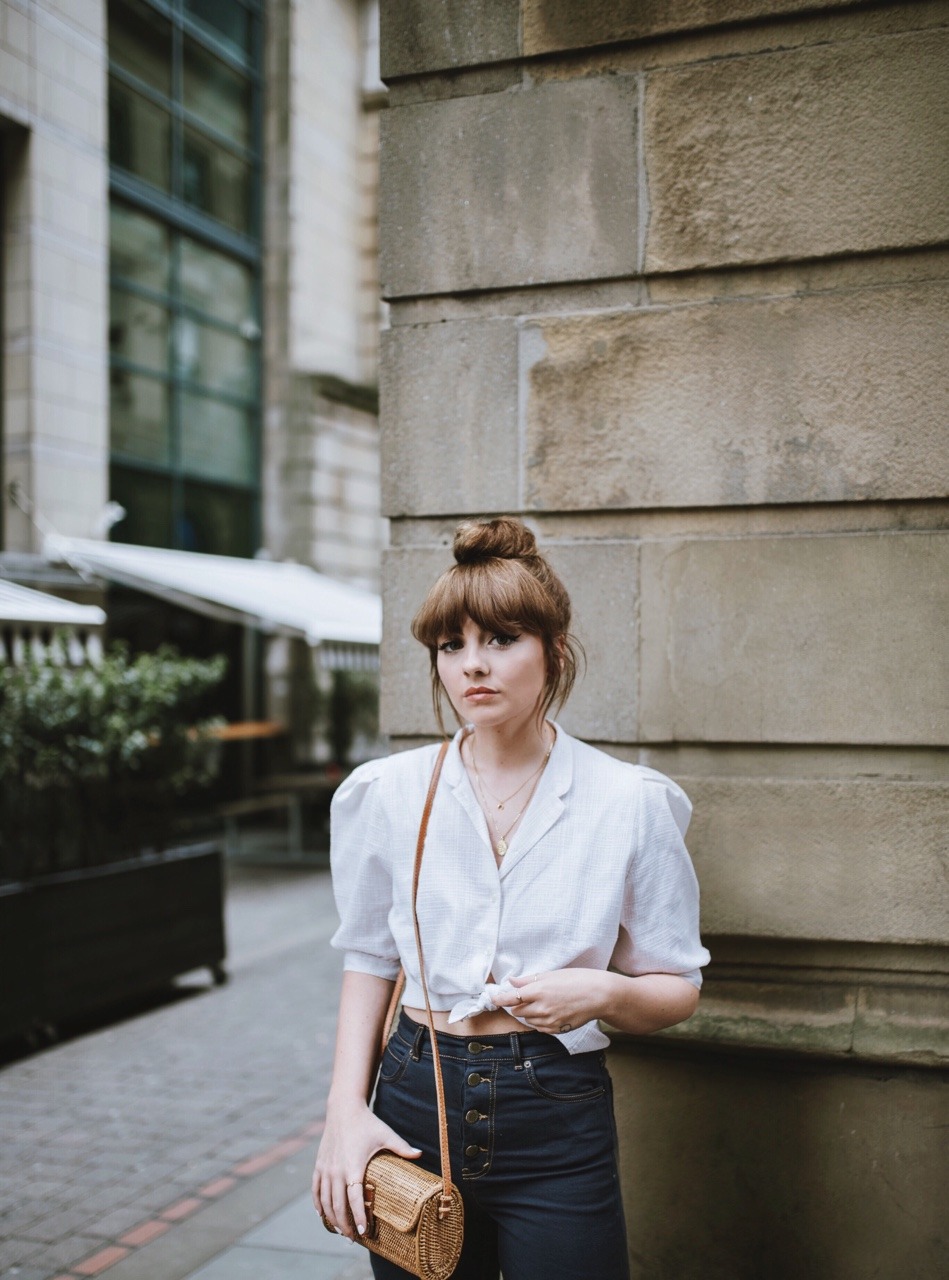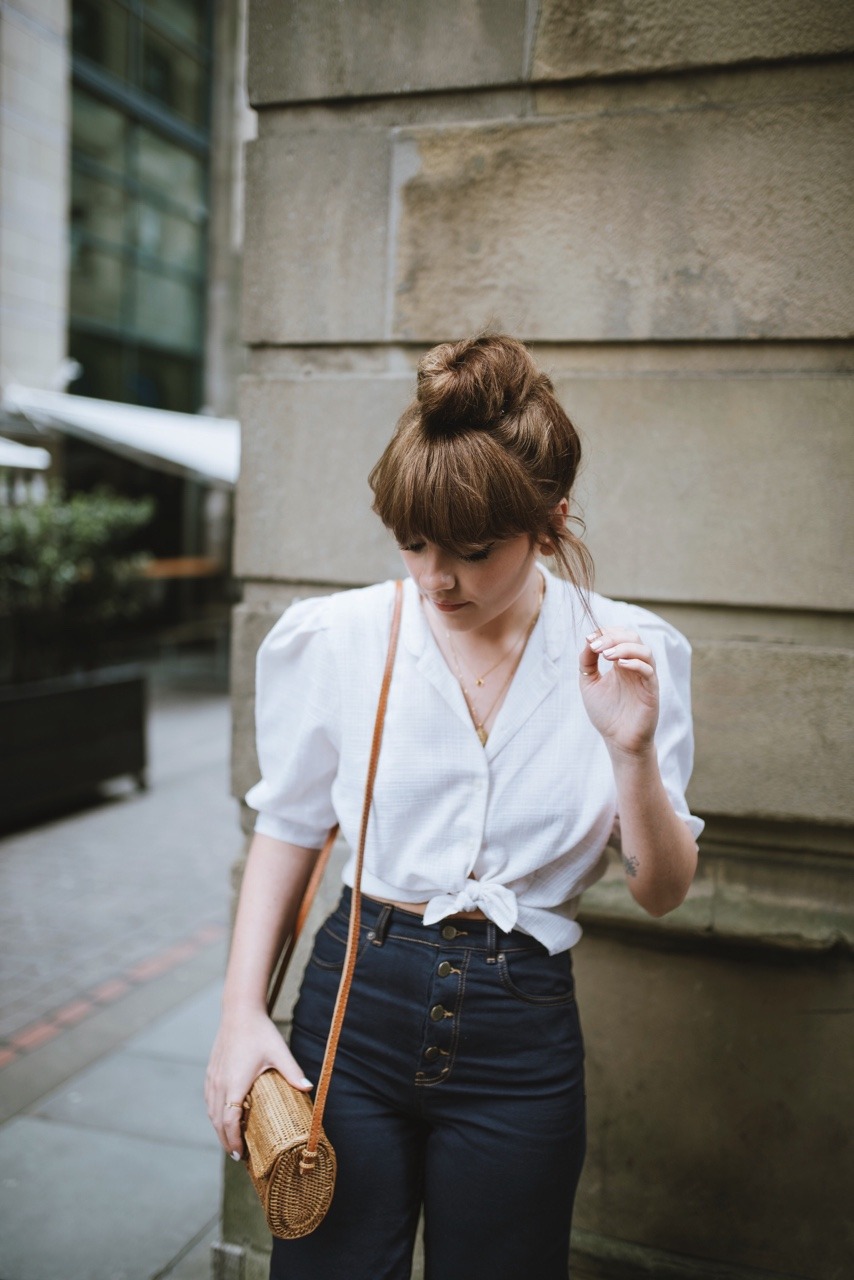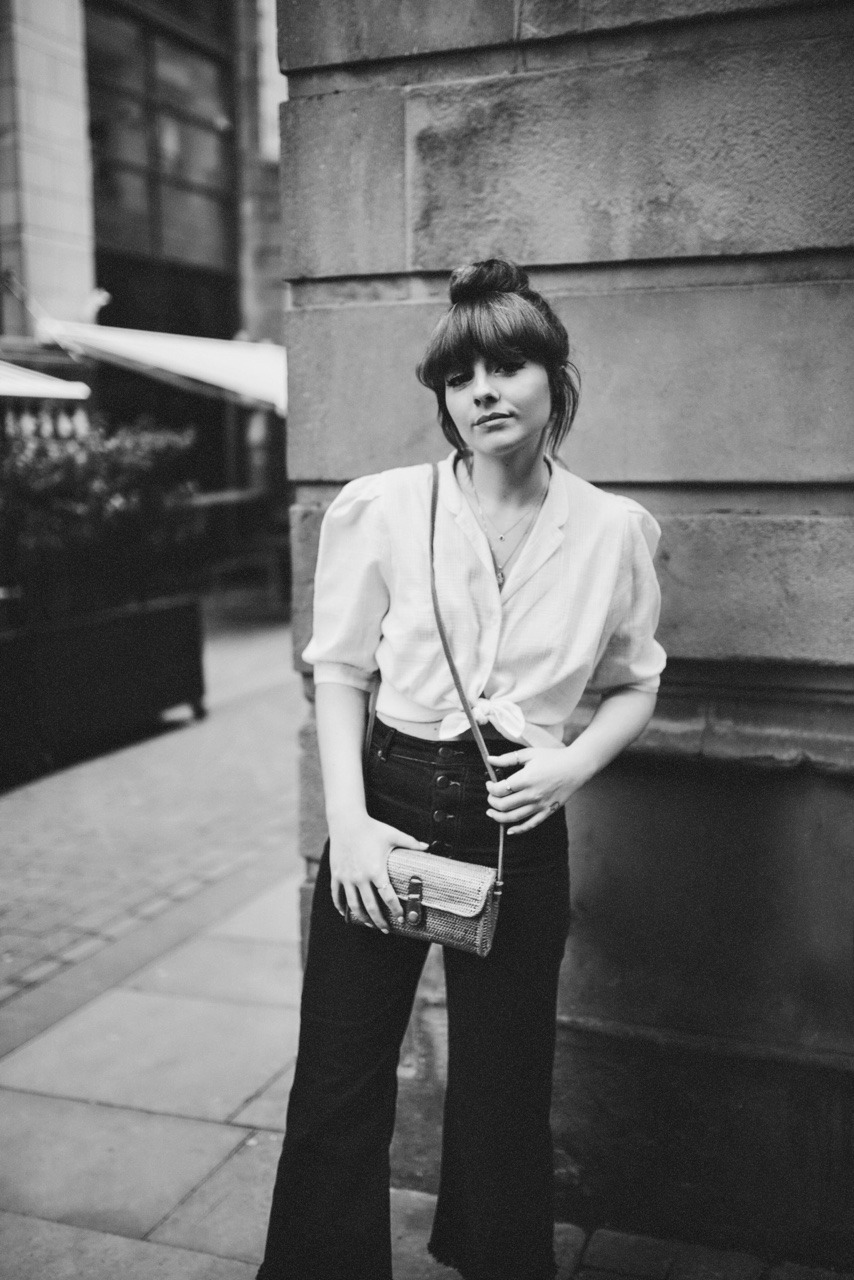 Big puffy sleeves are everywhere at the moment and I'm one hundred percent on board with it – I never thought of myself as someone who liked to attract too much attention with their outfits when walking down the street, but I feel like statement sleeves are fast becoming my happy place. They instantly make any outfit look more stylish, and happen to be a nifty fast fix for dressing up high waist denim…
This kind of half length puffy sleeve crop top is my ideal situation for the ultimate confidence boost when I'm feeling a bit rubbish. You might have recently seen the Ganni top I invested in, which looks very similar in design, but has a beautiful check print all over – if so, you can imagine how happy I was when I stumbled across this vintage beauty for under ten english pounds. I mean, I'm not a religious person, but sometimes these little vintage miracles happen and it feels like someones looking out for ya! But in all seriousness, this got me thinking a bit about how we are so quick to fast buy current trend pieces, when in actual fact, everything comes full circle. Ganni actually sell a top almost exact to the one I'm wearing above, but by shopping vintage I was able to find something ridiculously affordable, whilst still achieving the same look I'd been lusting after.
This is why I continue to recommend vintage – and will probably do so for as long as I'm living and breathing – it's just the best (and my favourite) way to shop. Granted, you do have to put in some ground work – this can come in the form of a cup of coffee and endless scrolling through pages of weird crap before finding something that makes you heart flutter a bit, or, marching down to your local vintage shops and getting hands on, but it's almost always worth it when you find that piece your wardrobes been missing! Whether it's a statement sleeve top, a silk cami, or little basket bag – it's usually all been around the block a couple of times before, and can be found for a fraction of the high street or designer pieces you've been frantically wish-listing. Although the print of my Ganni top is very distinctive and unlike anything else I have in my collection, would I have invested if had I found this one first? The sensible side in me says probably not. That's not to say I won't wear it and love it, but I did kick myself a little when I found this beauty!
So there's definitely a lesson to be learnt here – shop around! Try not to impulse buy and do your research – especially if you're on a budget and saving up for that summer holiday etc. I've also developed a 'one in, one out' system too – every month I sell/give to charity anything that I haven't been making use of – that way I can assess what I'm missing, and utilise the clothing I own to it's full potential. After all, there's nothing worse than amazing clothing just hanging in a wardrobe, it's there to be worn and enjoyed! I better just mention these new And Other Stories jeans before I completely go off on a tangent – I spied them on the 'new in' section and bought them without a second thought. I've been looking for something like this for SO long. They also look amazing with a T-shirt and some ankle strap shoes for a quick and easy daytime look! I'm forever loyal to my vintage Levi's, but I really needed something that wasn't so 'denim', and played the role of a 'sophisticated cousin'. These fit like a glove and are probably the comfiest pair of trousers I own right now, would whole heartedly recommend if you find yourself in the same predicament and feel like switching things up with a darker wash – perfect for dressing up too!
I won't rave about this trench coat anymore as I did pretty much dedicate a whole other blog post to it – but I will mention these new Aldo slides that I picked up in the sale recently. Admittedly, they had a lot of bad reviews, but I bought them anyway as I really couldn't see how they would be that awful. Truthful opinion, I love them and they haven't hurt my feet once! I was lusting after the YSL and Hermes sandals and wanted something brown leather with a similar vibe – these do just the trick and weren't unkind to my bank balance either! They also match with pretty much everything, and make a nice change to my usual black mules that I was getting a bit bored of looking down at. We fly to Italy for a week tomorrow afternoon, and I've vowed to not lug my laptop along with me and have a proper holiday! That's not to say I won't be keeping you all updated via Instagram – I might even try and be a little more talkative over on Insta stories so buckle ya seat belts for that one…
I'm so so excited to experience a new place with my best friend, and I have lots of content lined up for the week I'm back. I will of course be getting camera happy whilst I'm out there no doubt, so expect lots of Italian themed posts upon my return. When I'll probably also be sporting a tan and an extra roll around my middle (take me to the gelato and pasta). I hope you all have an amazing weekend planned, and as always, thank you for reading…
Alice x
---
Photography by Adriana 
Trench – Zara | Top – Vintage | Jeans – And Other Stories | Shoes – Aldo | Bag – Ellen And James
SHOP THE LOOK