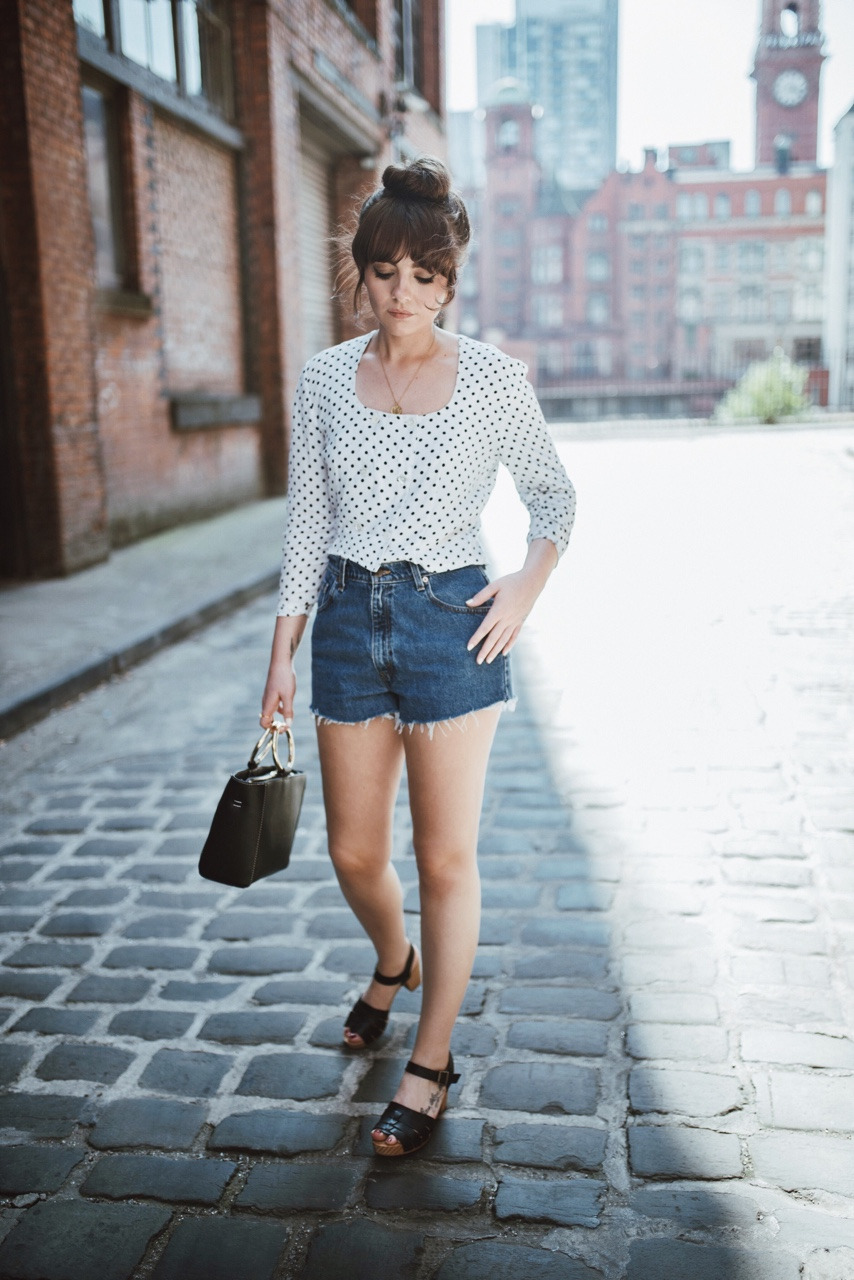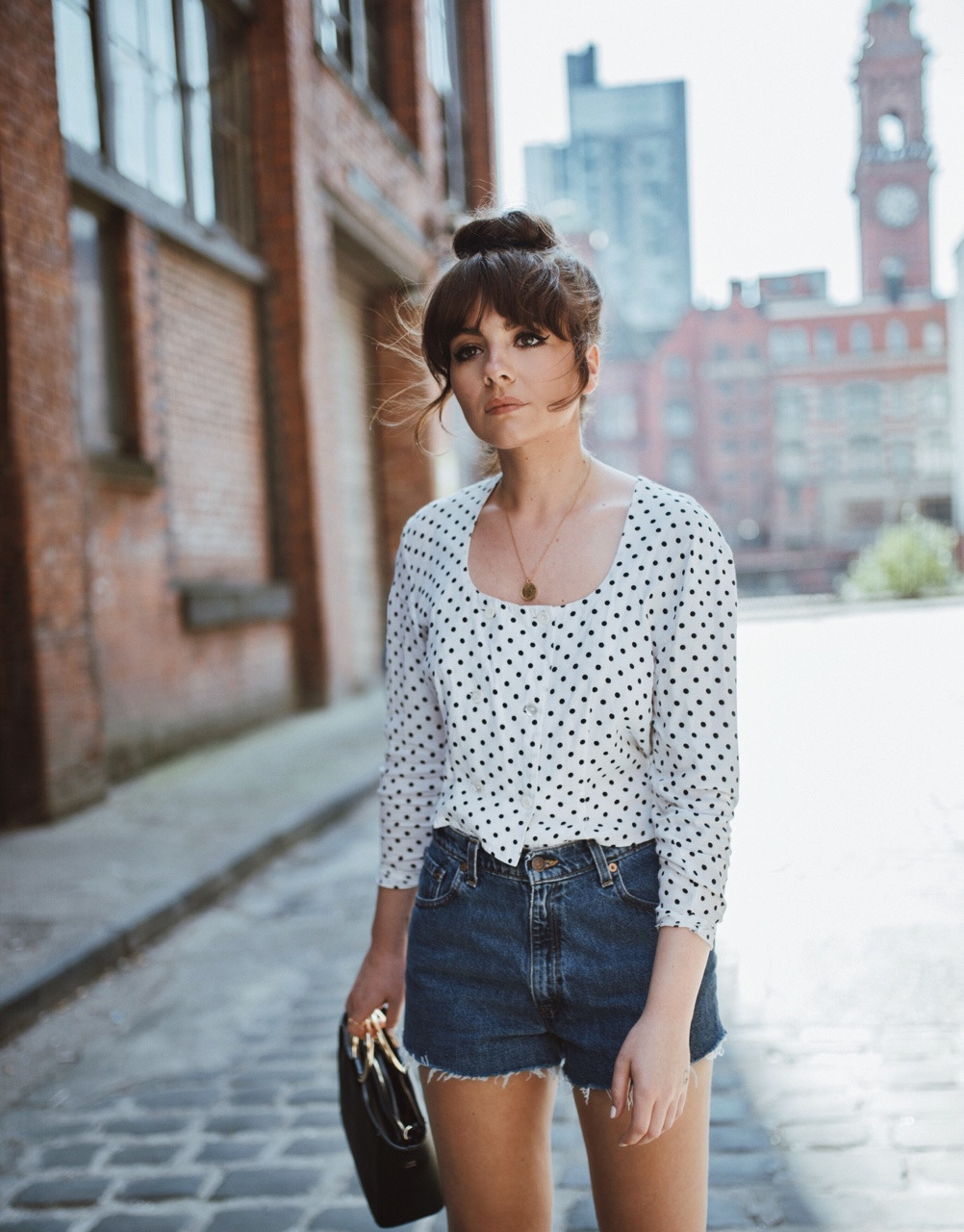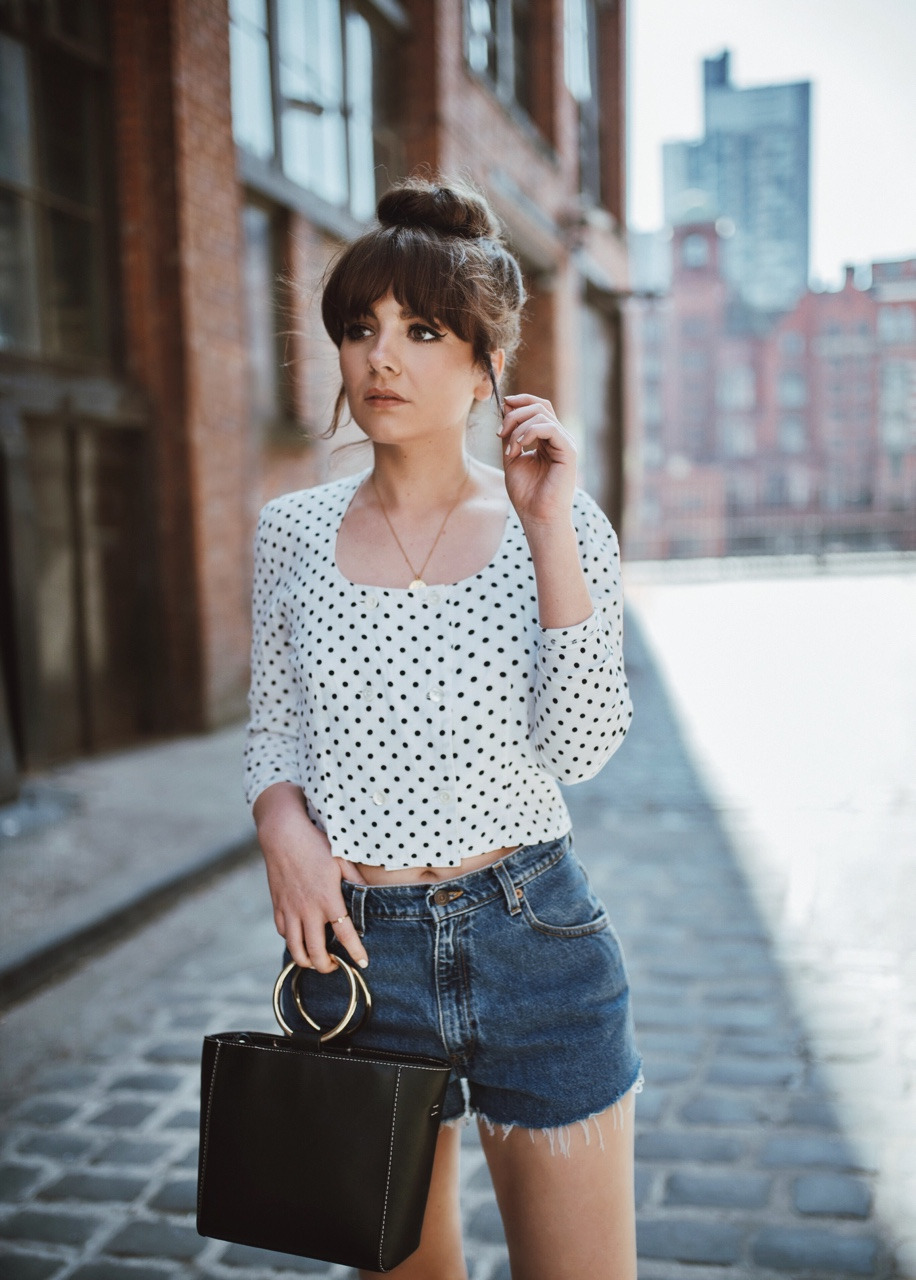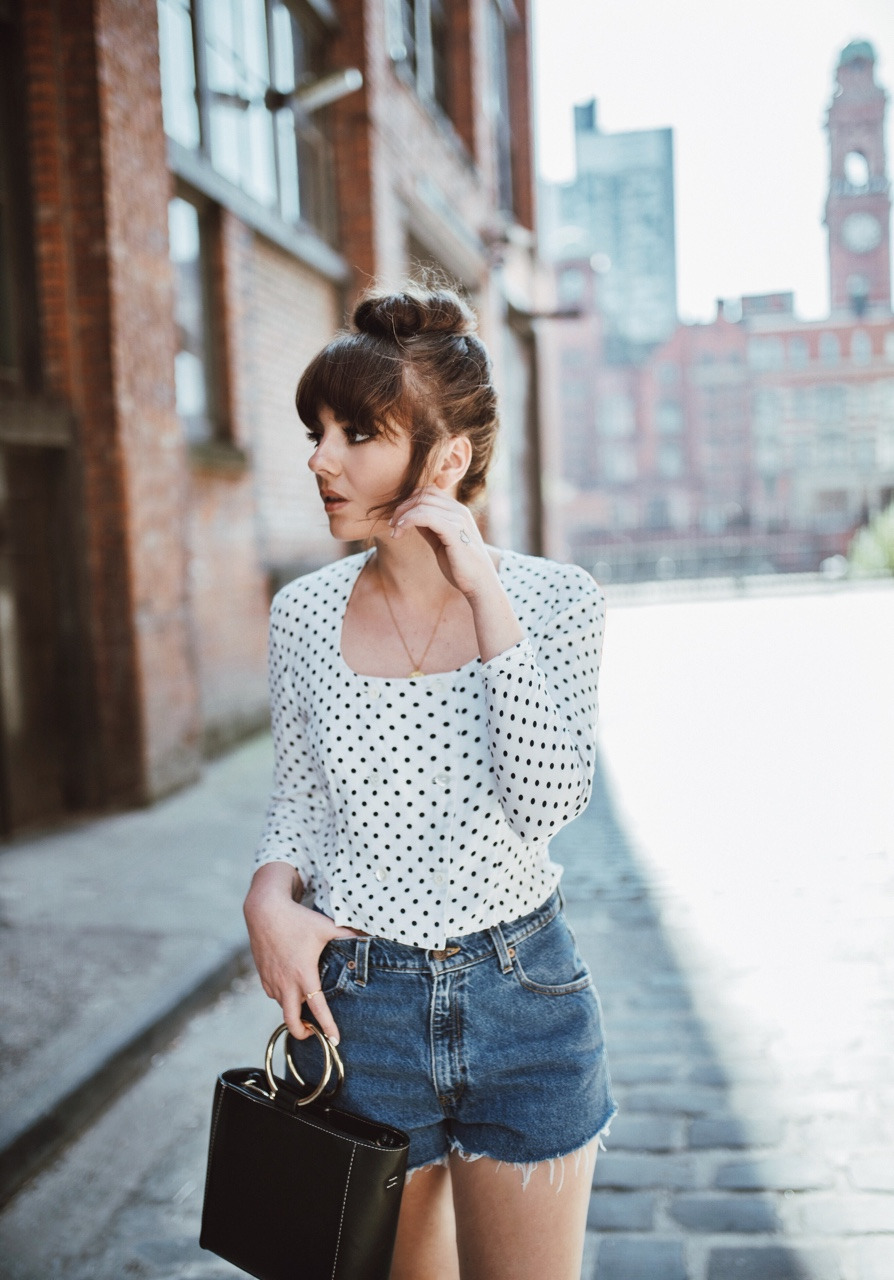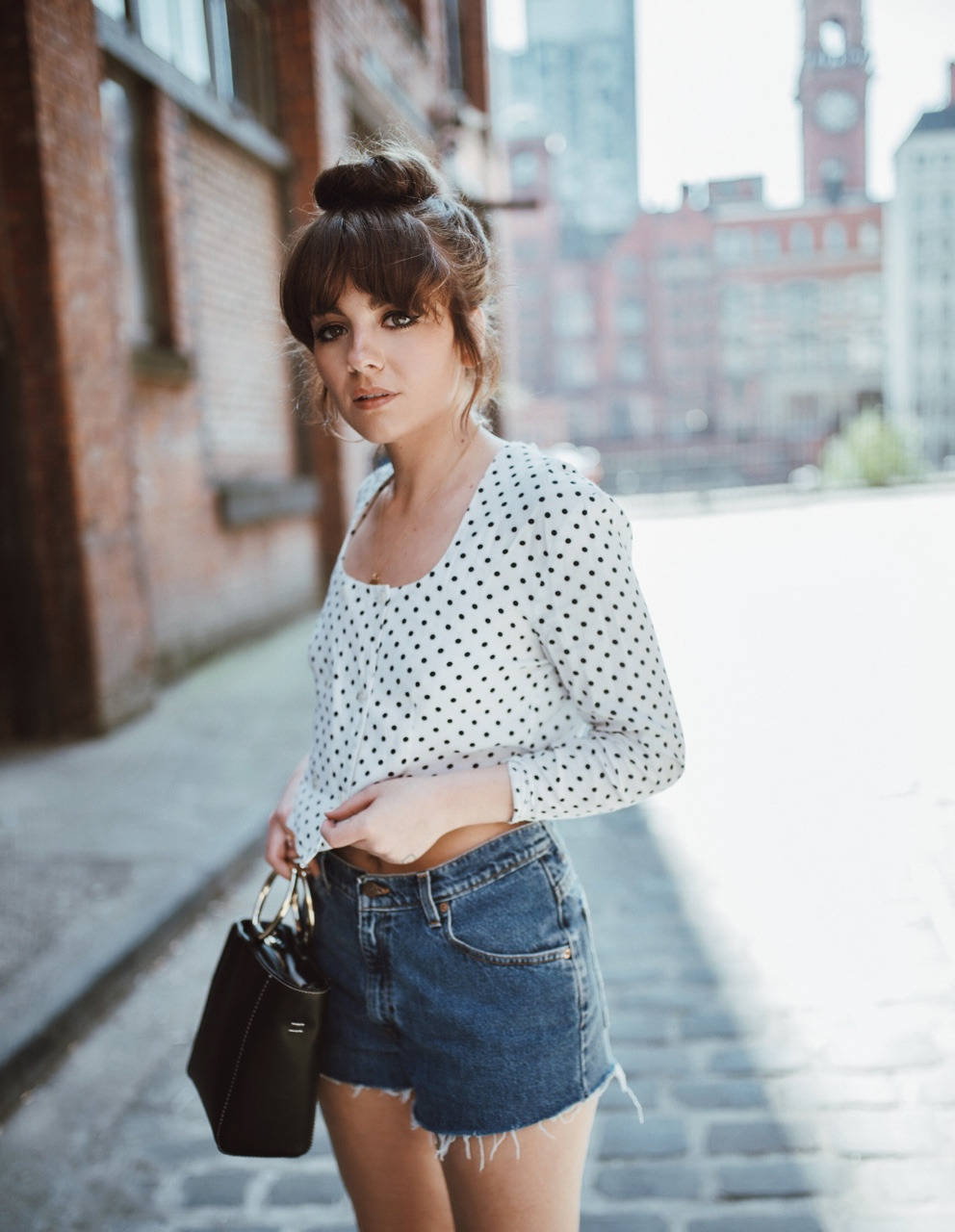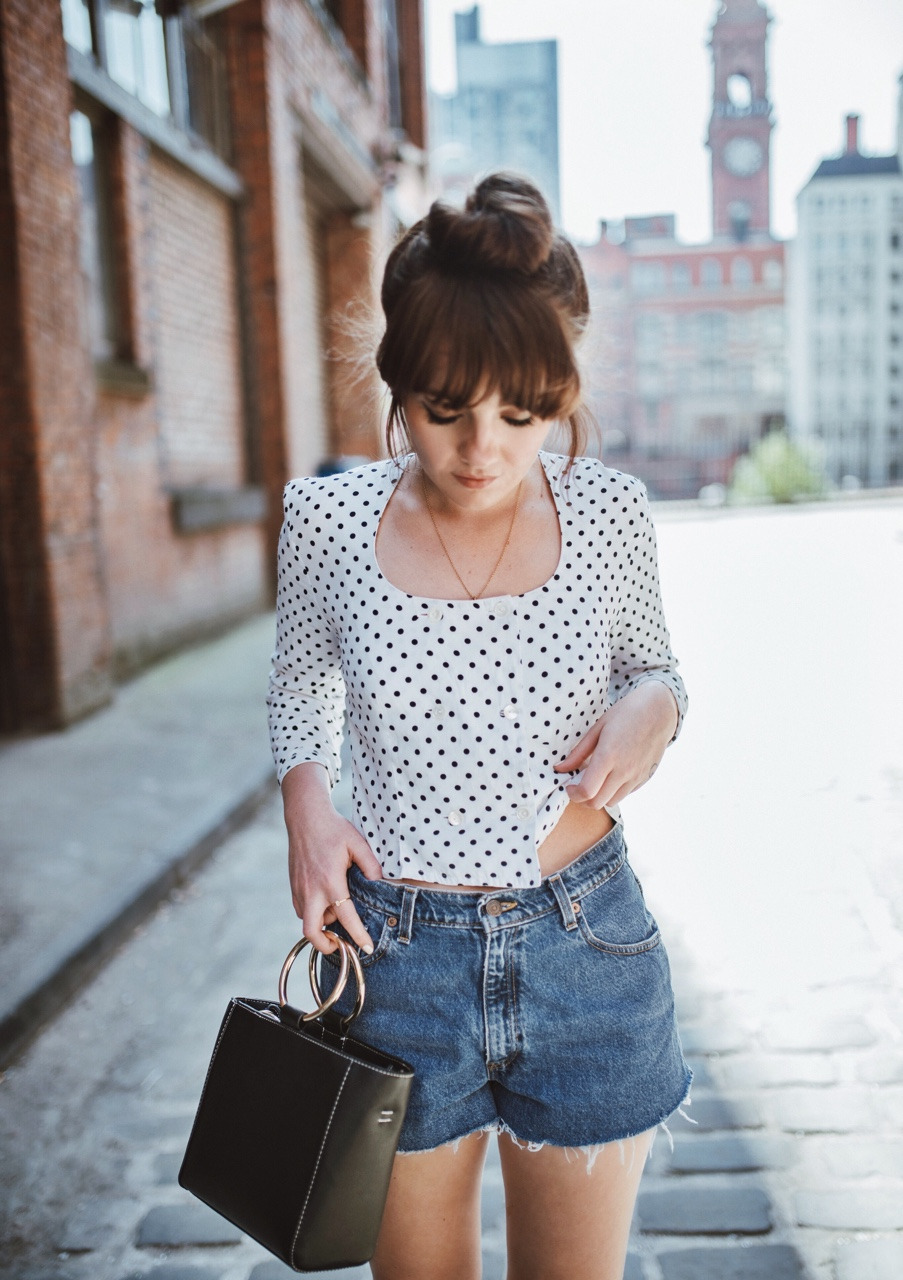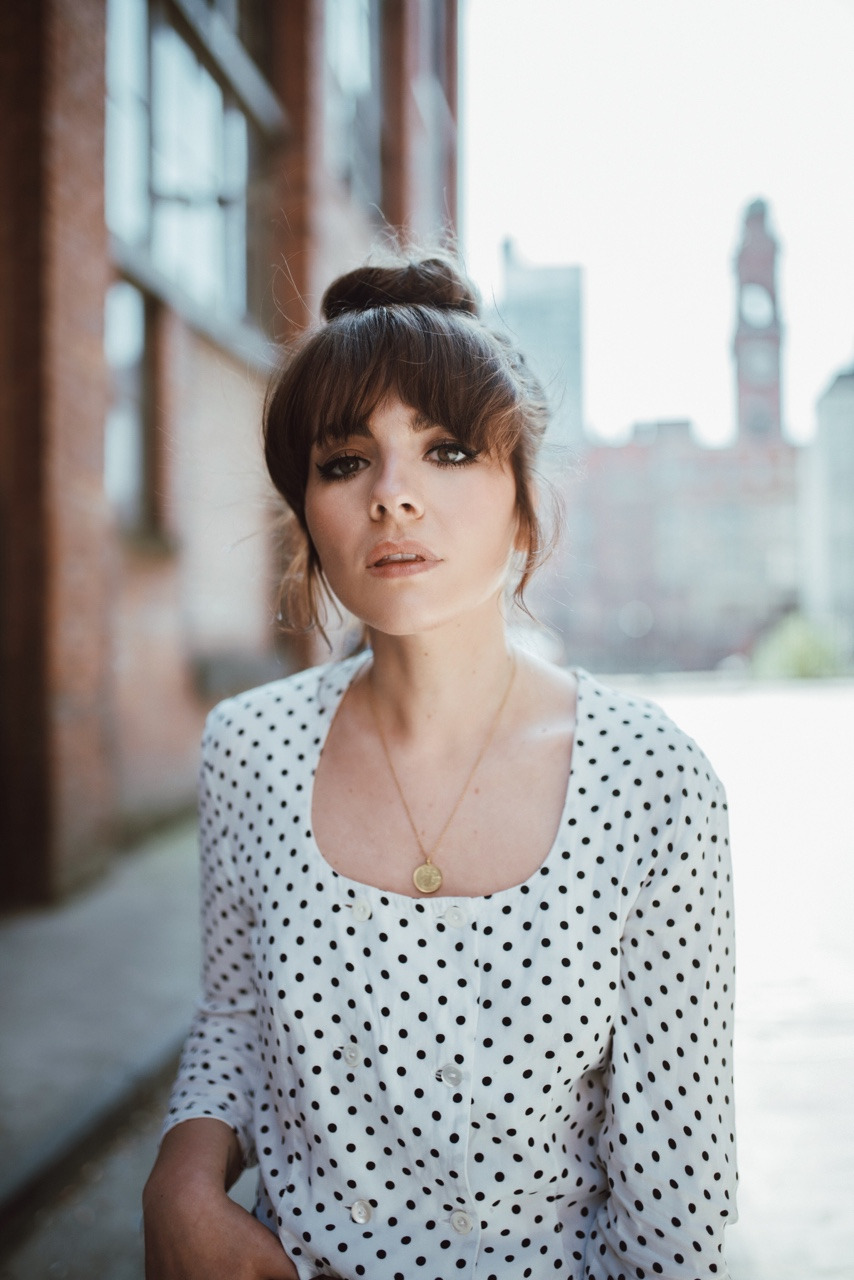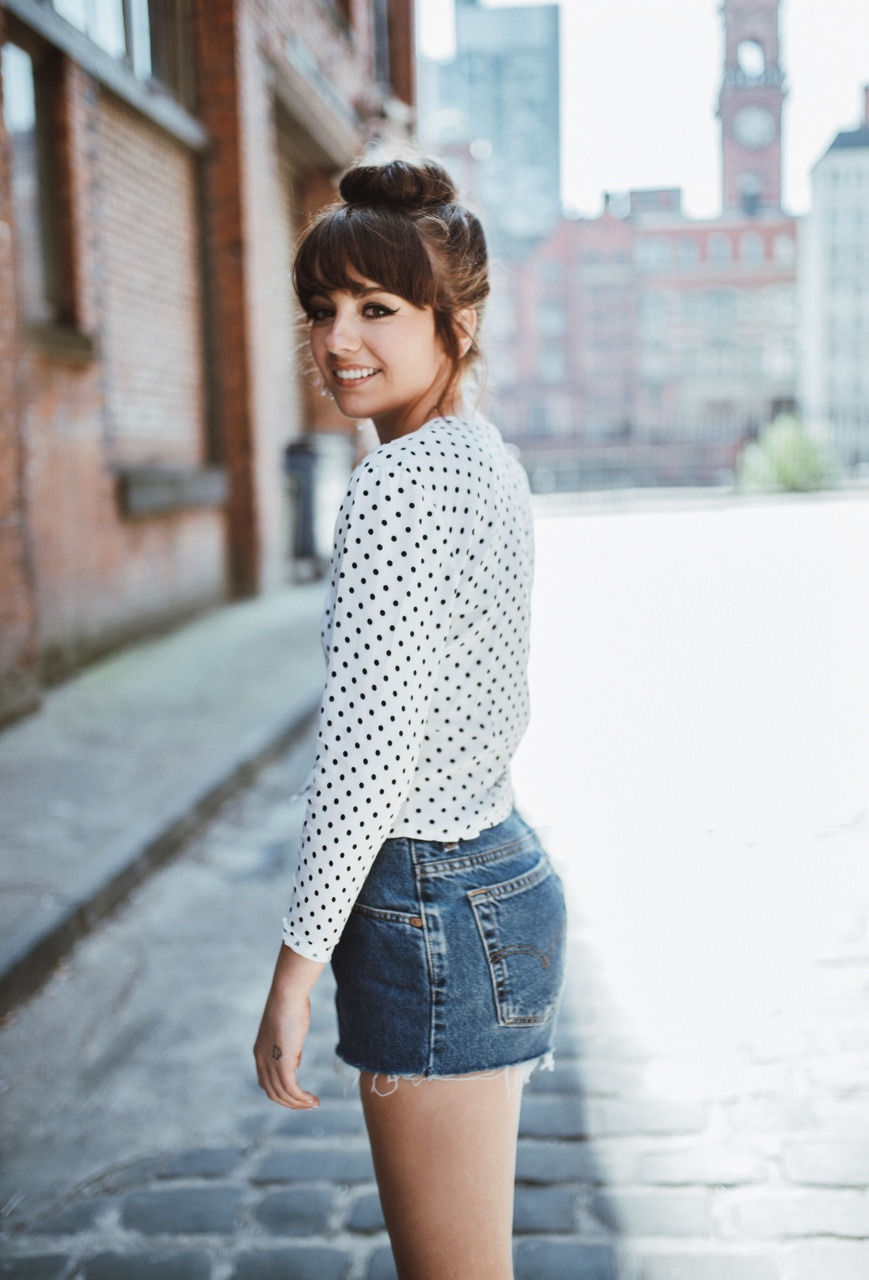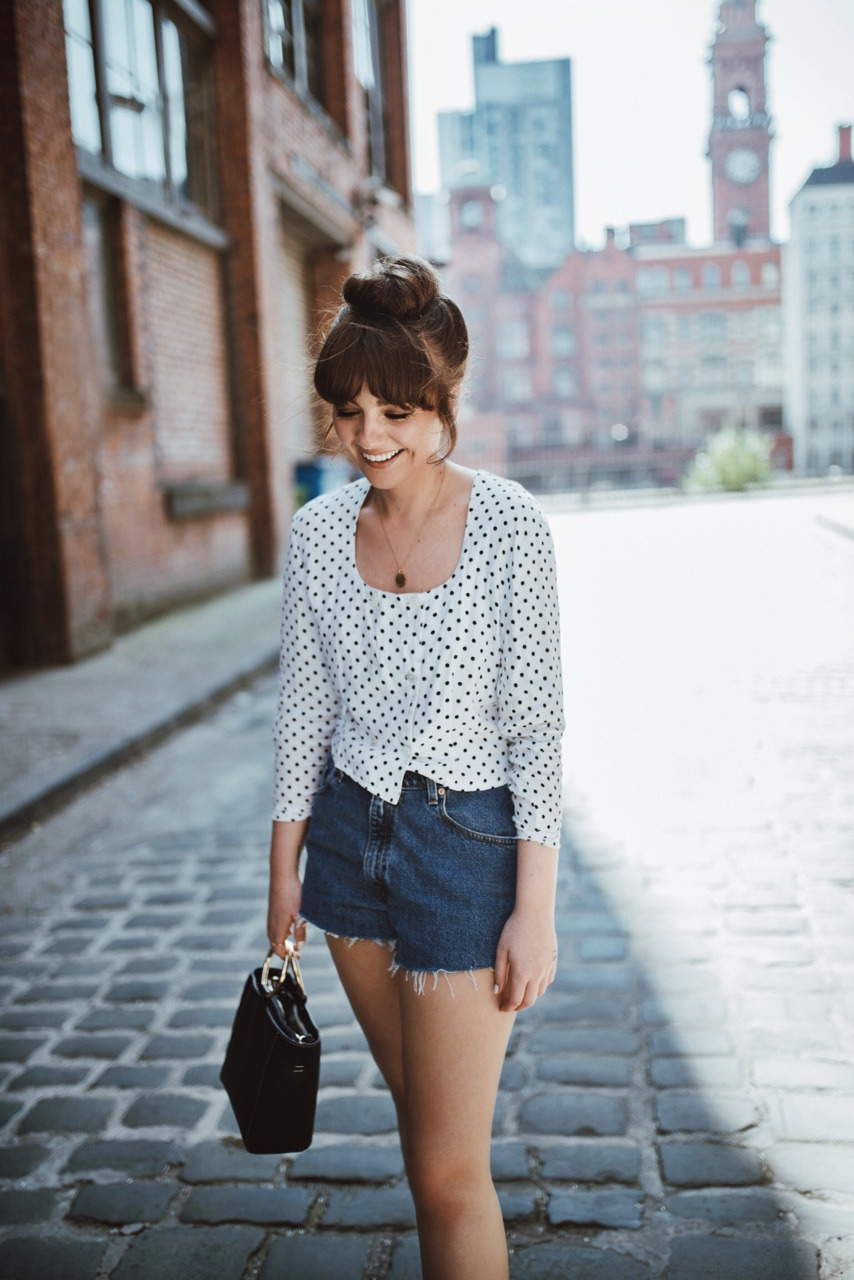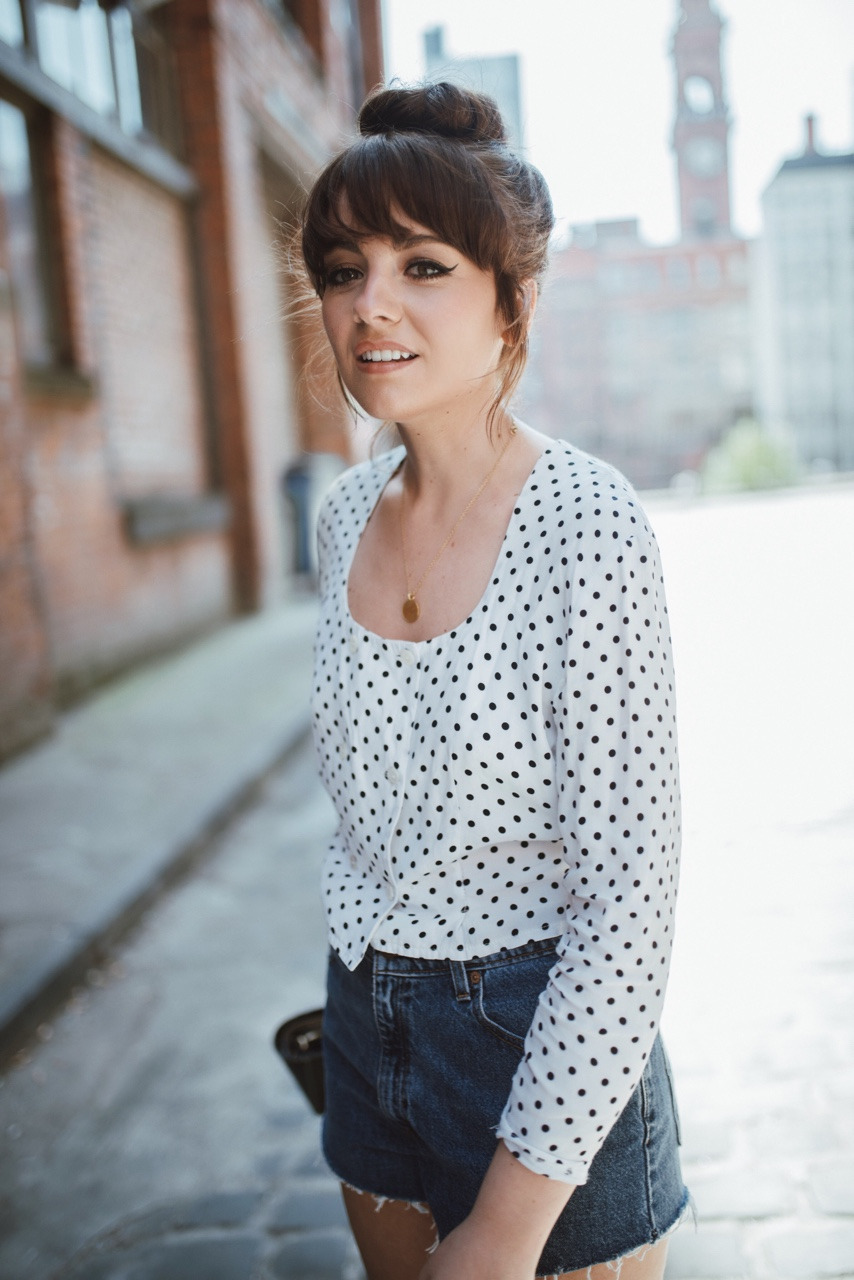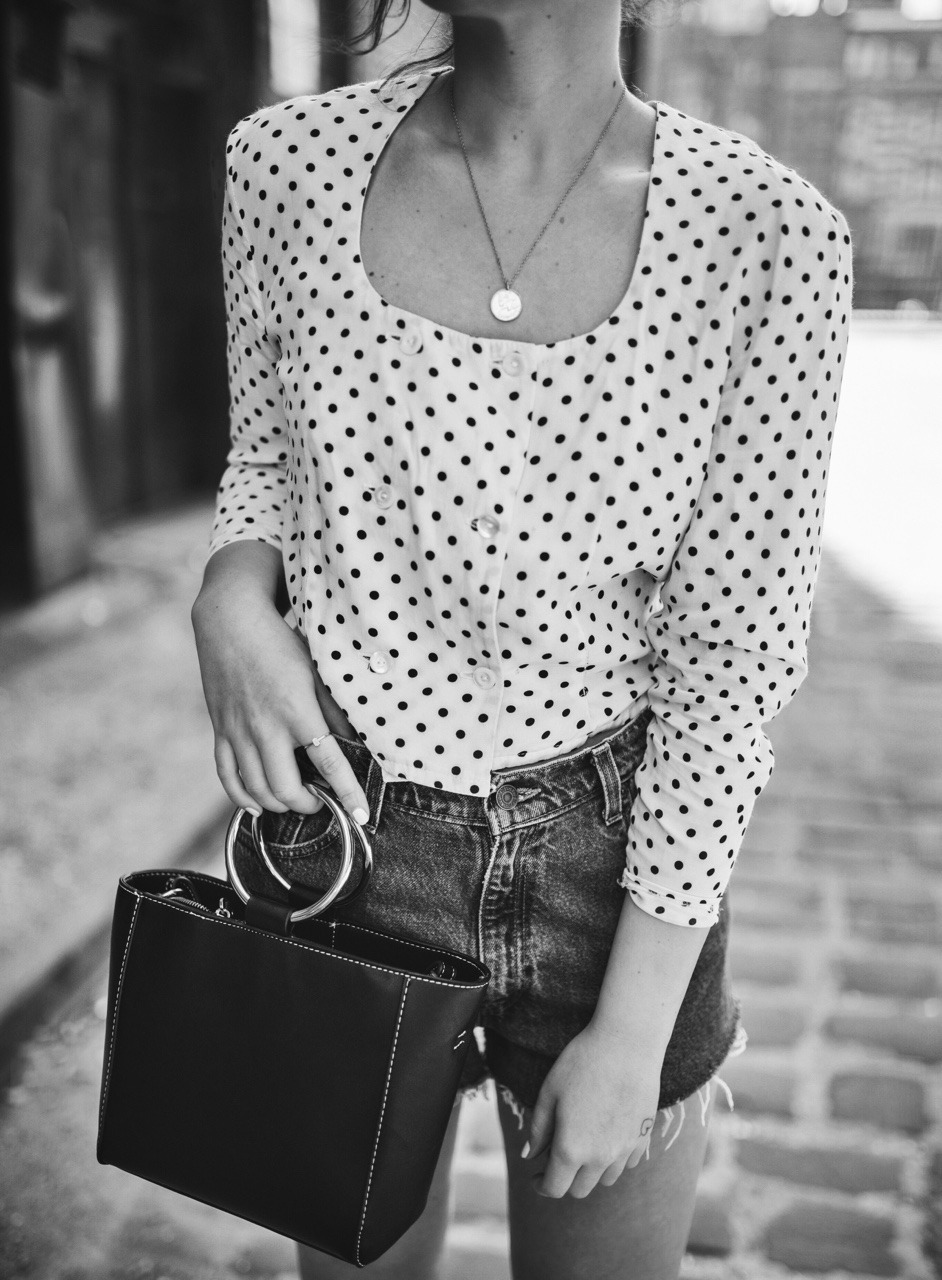 Another recent hot sunny day meant yet another excuse to whip out the denim shorts and pretend I was abroad. I remember how warm it was whilst shooting these images – the kind of heat that makes me resent living in a busy city centre, and makes me pine for seaside adventures, the kind of air you want to breathe in and it feels like it's doing your soul some kind of good…
This time I opted for something a little 'dressier' – it's funny how a black bag and matching black shoes can instantly make an outfit look more sophisticated. In reality, I'm dressed like a five year old girl, but add some 'adult' accessories and it's a look that could take me from day to night without any questions asked. Okay, someone might ask why I'm wearing denim shorts for a night out at the age of 24 – but, as far as I'm concerned, it's an acceptable look, so long as the bum is covered, but hey, I'm not here to judge.
I'm thoroughly obsessed with this little Mango bag – I picked it up in Paris and didn't expect to use it half as much as I have. I wanted something that had that Jane Birkin/basket bag feel, but without the traditional straw/woven look. I have lots like that, but sometimes it makes an outfit overly playful. I love the gold ring handles as they match with my current favourite jewellery and make me feel like I've made some kind of effort on the accessories front. I'm also smitten with this vintage blouse – the neckline of dreams! I don't have much in the way of a cleavage, so I always find an interesting neckline is really flattering on me. It makes me feel feminine, and I quite like showing that part of my body.
I love styling denim shorts for the simple reason that they are blatantly boyish. The tough denim and frayed edges balances out a pretty blouse like nothing else, and makes summer dressing quick and simple for the likes of people who find it difficult. A lot of my style revolves around layering, so the arrival of warmer weather can often get me in a bit of a panic. I've also found that adding a few midi dresses to my wardrobe has made getting ready in the morning a breeze! That, and going into shops more often rather than just buying online all the time – something which I have become guilty of lately. Especially when it's warm – I can't think of anything worse than sweating under the changing room lights in a heap of tangled up clothing. Having said that, it does help me to consider what I'm investing in more carefully, and really think about what I'd wear any new pieces with! Online shopping is often a case of just worrying about that part when it arrives…
I hope you enjoyed this look and the previous one I posted too – would love to know which your favourite was in the comments below!
Alice x
---
Photography by Adriana
Top & Shorts – Vintage | Sandals – Pepe Jeans | Bag – Mango | Necklace – Chupi | Ring – Carrie Elizabeth
SHOP THE LOOK