Hello my loves! I hope you're all doing well and looking after yourselves. It's officially cosy season which means (naturally) there will be more regular blog content for you on here because I'll be glued to my desk a lot more frequently with a peppermint tea in hand and a hot water bottle on my lap (I know how to live)…
I don't really have anything new or exciting to report from my end! We are still house hunting and just generally getting back into the swing of life again after the past few years. I'm not quite sure how to articulate it, but I've been feeling for a while now that I'm in this sort of limbo stage in my life – I feel like turning thirty has played a part in it (thanks patriarchy x societal pressures) but I can vividly sense that I'm ready for some lifestyle changes. My soul is just ready for the next chapter – whatever that looks like. I'm craving a slower, more meaningful pace of life and I'm just not quite sure what that looks like yet. We will definitely be moving out of the city centre when we find the right place but that's just one side of the chaos in my mind at the moment. I don't know whether I'm craving a change career wise or whether it's just a case of exploring new hobbies, but I can definitely feel myself drifting away from the fast paced social media life. It's never really aligned with my personality type or the way I enjoy creating – finding the balance between creating the kind of content that's authentic to me whilst also running the business side of what I do is a constant tipping scale of emotions!
Asides from that, I've been busy planning autumn/winter content to share with you guys and I have some nice outdoorsy/wholesome trips coming up that I'm excited to document on here. I always feel like this last part of the year goes so quickly – especially in this industry as we are always thinking ten steps ahead. Having somewhere to go that's a bit off grid and away from the buzz of the city centre tends to help balance me back out again. I'm pretty sure at some point in my life I'm destined to live somewhere particularly tranquil surrounded by endless greenery and water (I can feel my soul slowly edging towards it)…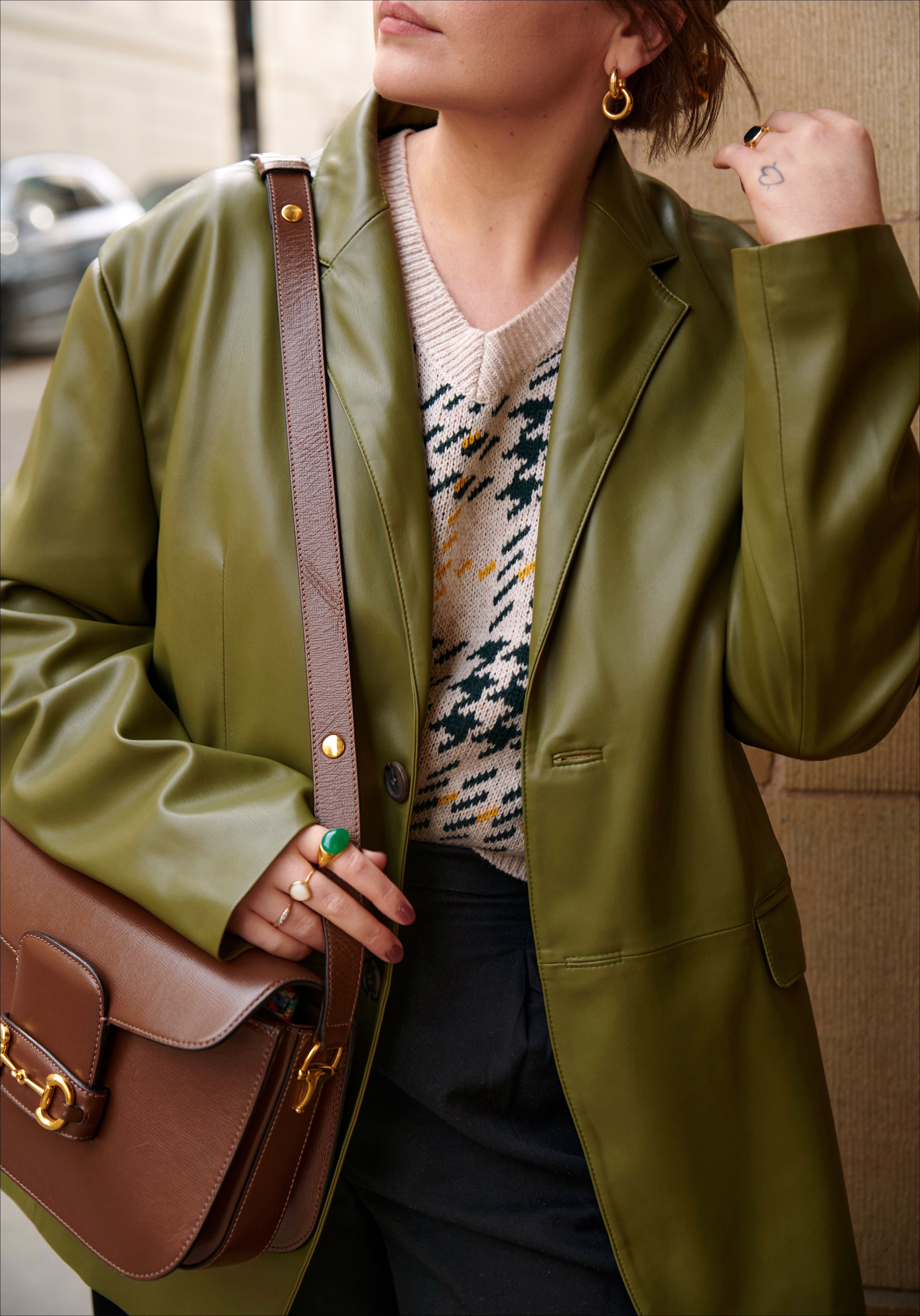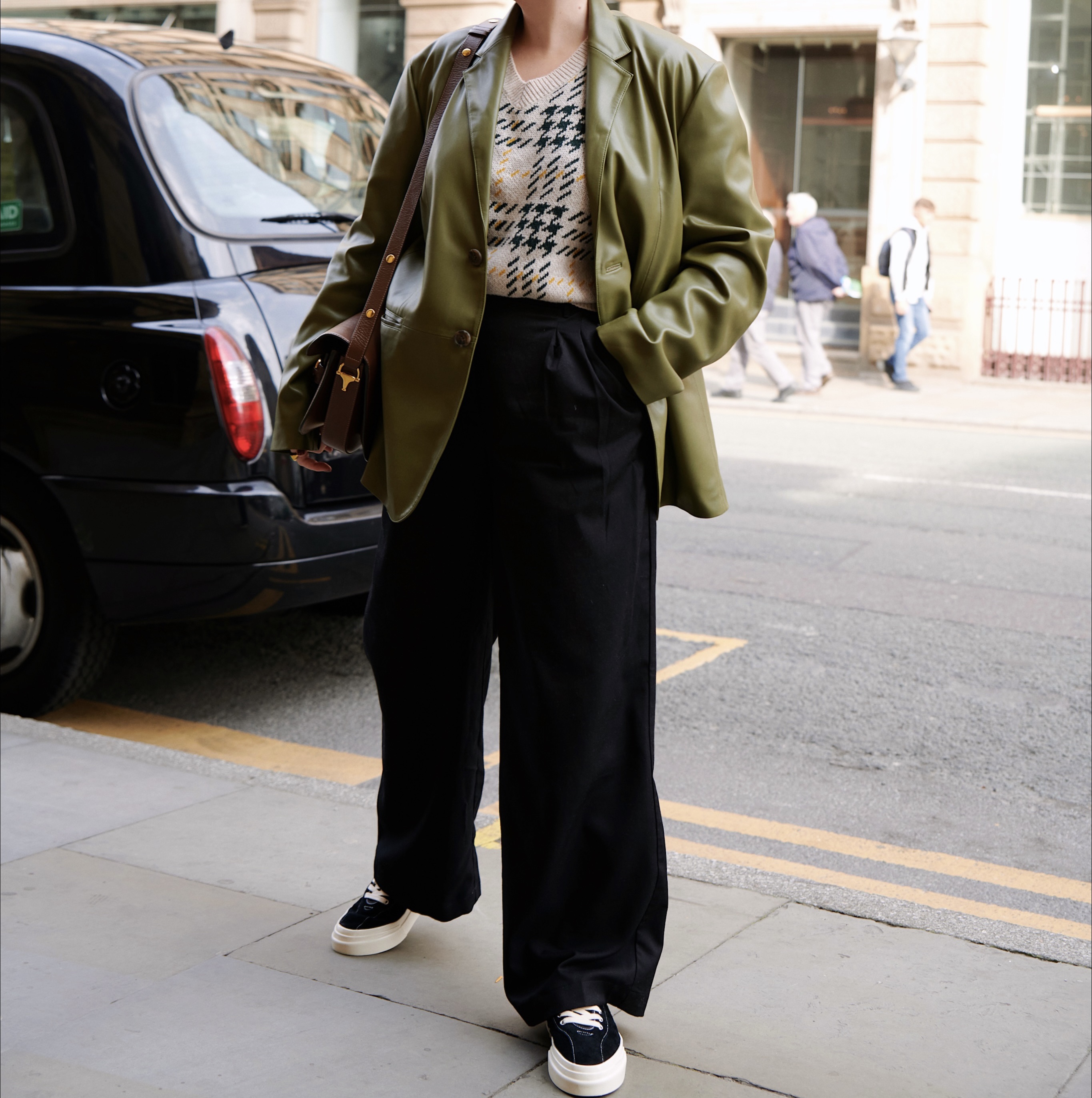 In terms of outfits I've been wearing so far this autumn – you can bet your bottom dollar they have mainly included knitted vests and leather jackets. I've also been obsessed with wide leg trousers and a chunkier/skater style trainer. Luckily for me, they are all pieces that fit together quite well aesthetically – it's a combination that feels very Nineties/off duty but still polished and put-together. A little Avril Lavigne/a little old guy that works at your local book shop… 
I used to be someone that could never take a leather jacket seriously during the daytime – it was reserved strictly for nights out and felt way too intentional and 'out there' to make it into my daytime looks. I think this is where coloured leather really comes into play because it's much softer and offers a more muted look in comparison to traditional black leather. I'm a big fan of The Frankie Shop leather blazers! This olive shade is so perfect for adding a bit of colour to a casual outfit but equally works so nicely over slip dresses for the evening too.
I love how it looks teamed with these Stepney Workers Club shoes! You all know by now that I'm a big fan of chunky footwear. I just feel like it balances the oversized pieces I wear on top nicely, and gives plain/wide leg trousers a bit of an edge. I really recommend this brand in general actually – I don't see too many people wearing them and they are like a more chic alternative to vans with minimal branding and a tonne of colour and texture options available. They are also like wearing slippers if you're interested in the comfort factor!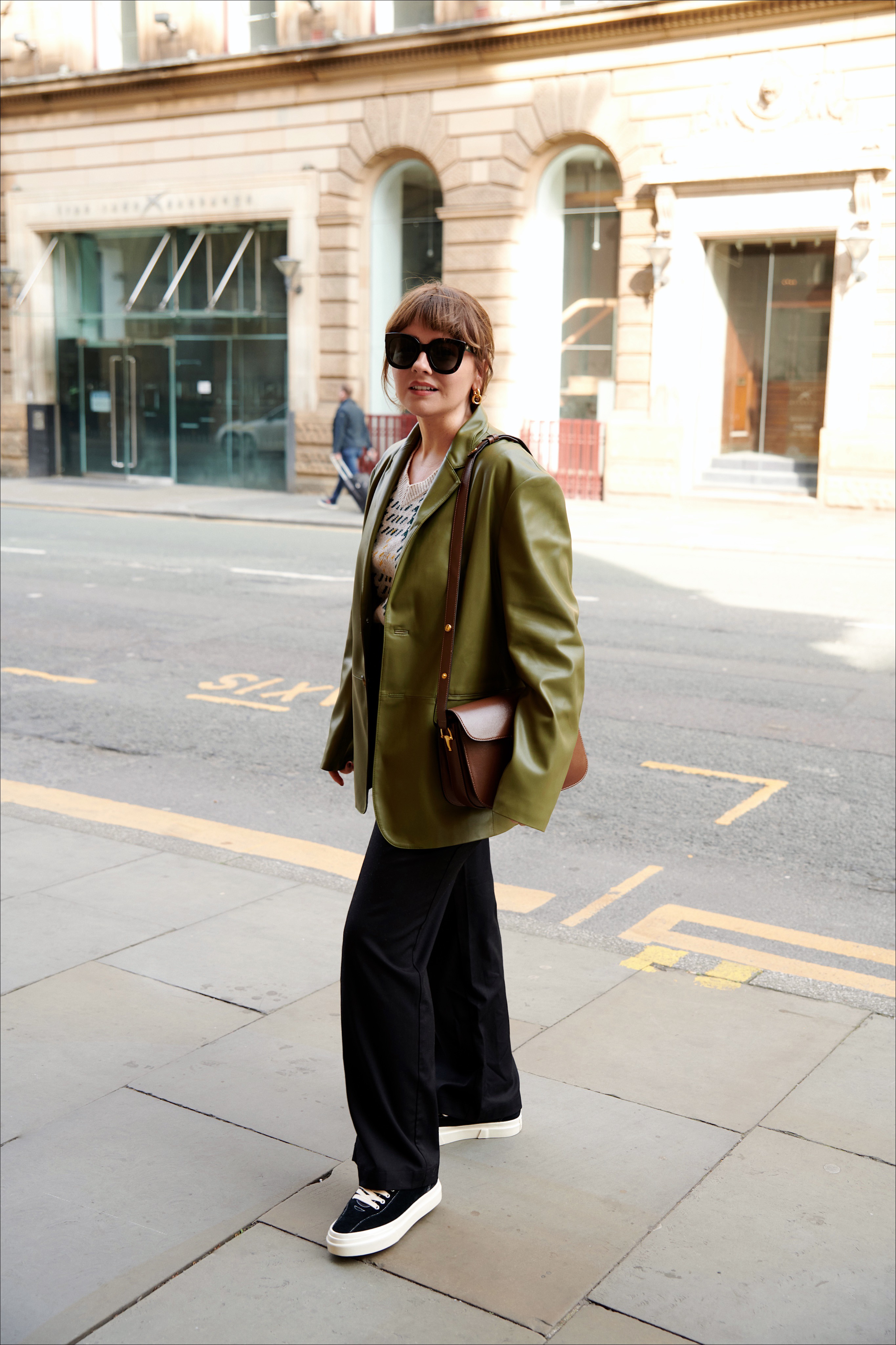 To switch this look up for the evening I just swapped out the jacket and shoes – black patent strappy sandals and a black leather jacket instantly make me feel in the mood to head out, no matter what I have on underneath… 
I then added some chunky gold accents to stop the overall look feeling too black and boring. A statement vintage necklace instantly elevates the neckline of a simple knitted tank and makes it feel more evening appropriate! And then I went for a sleek black belt with matching gold detail to break up the separate pieces whilst also tying in nicely with the gold on the bag! What I love about this Whistles black leather jacket (that I haven't stopped wearing since it came into my life) is that it doesn't have any fussy hard-wear – it means I can go to town on the accessories and really tailor the jacket to fit the mood of each individual outfit.
If you're investing in a leather jacket, I'd definitely advise to go with something simple! That way you're less likely to feel as though you have to save the jacket for a specific look or mood. I don't really like having pieces in my wardrobe that aren't versatile and this is (without a doubt) the best black leather jacket I've found to date!
Thank you for reading! 
*All outfit links below for you as always!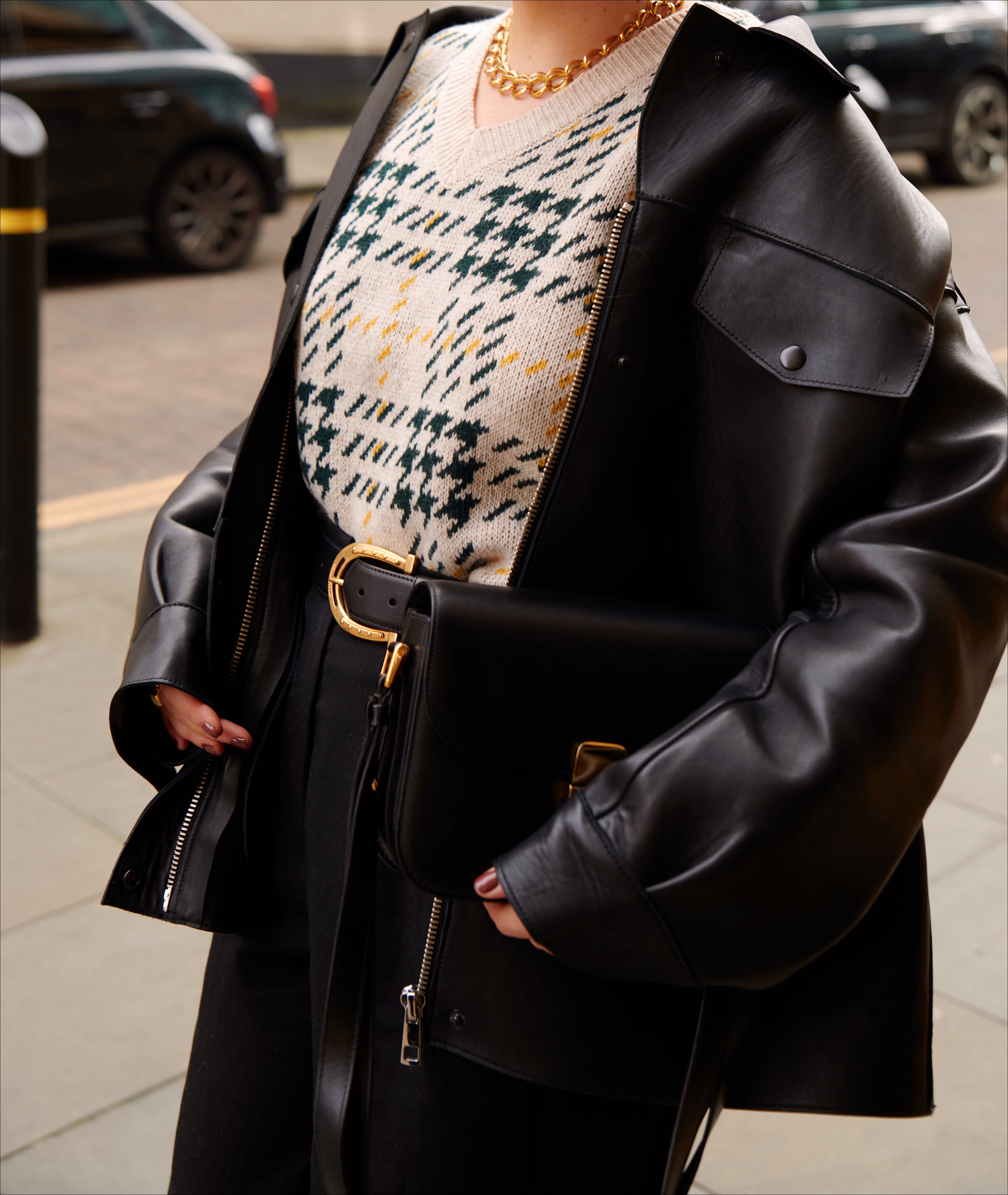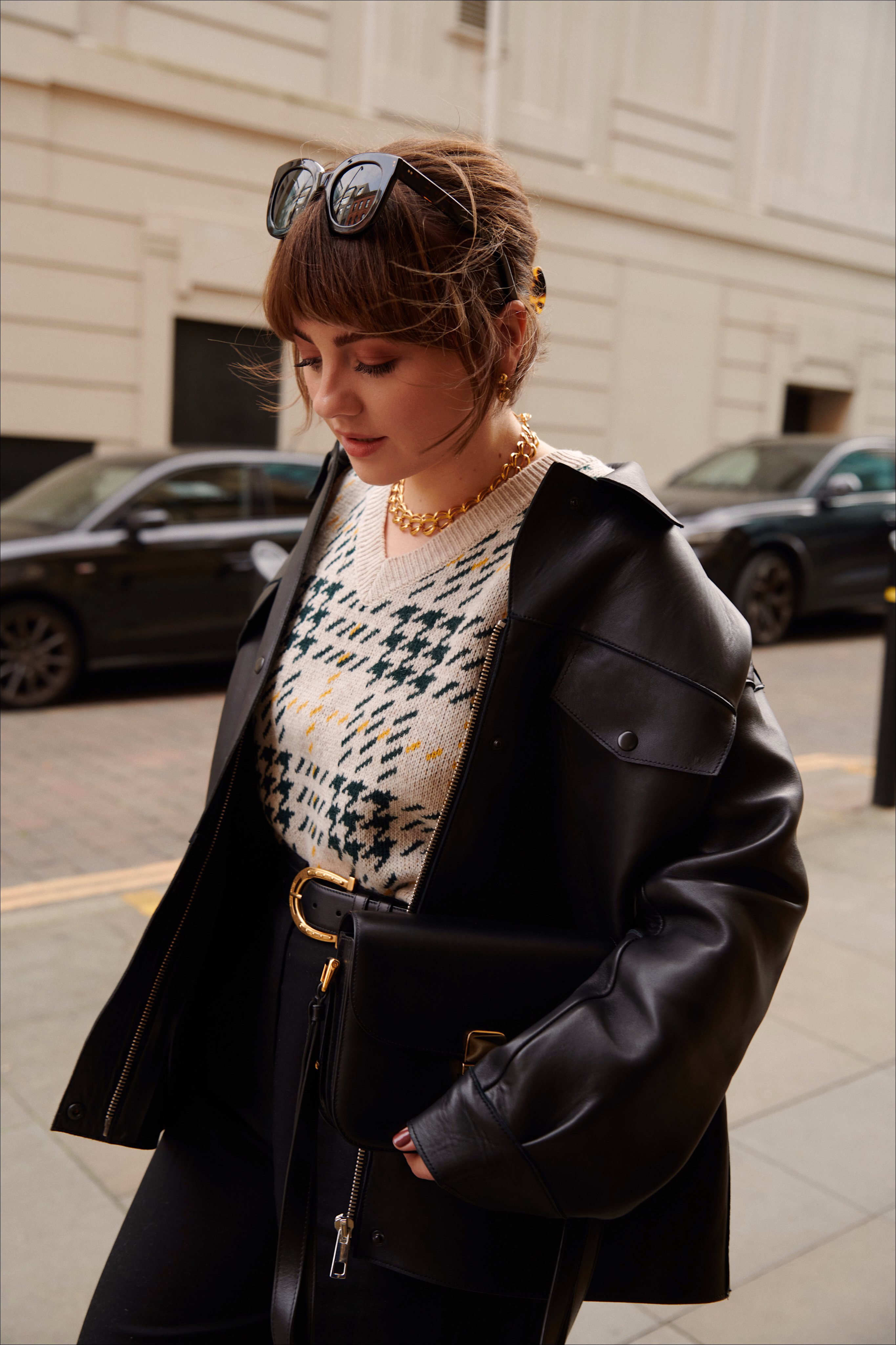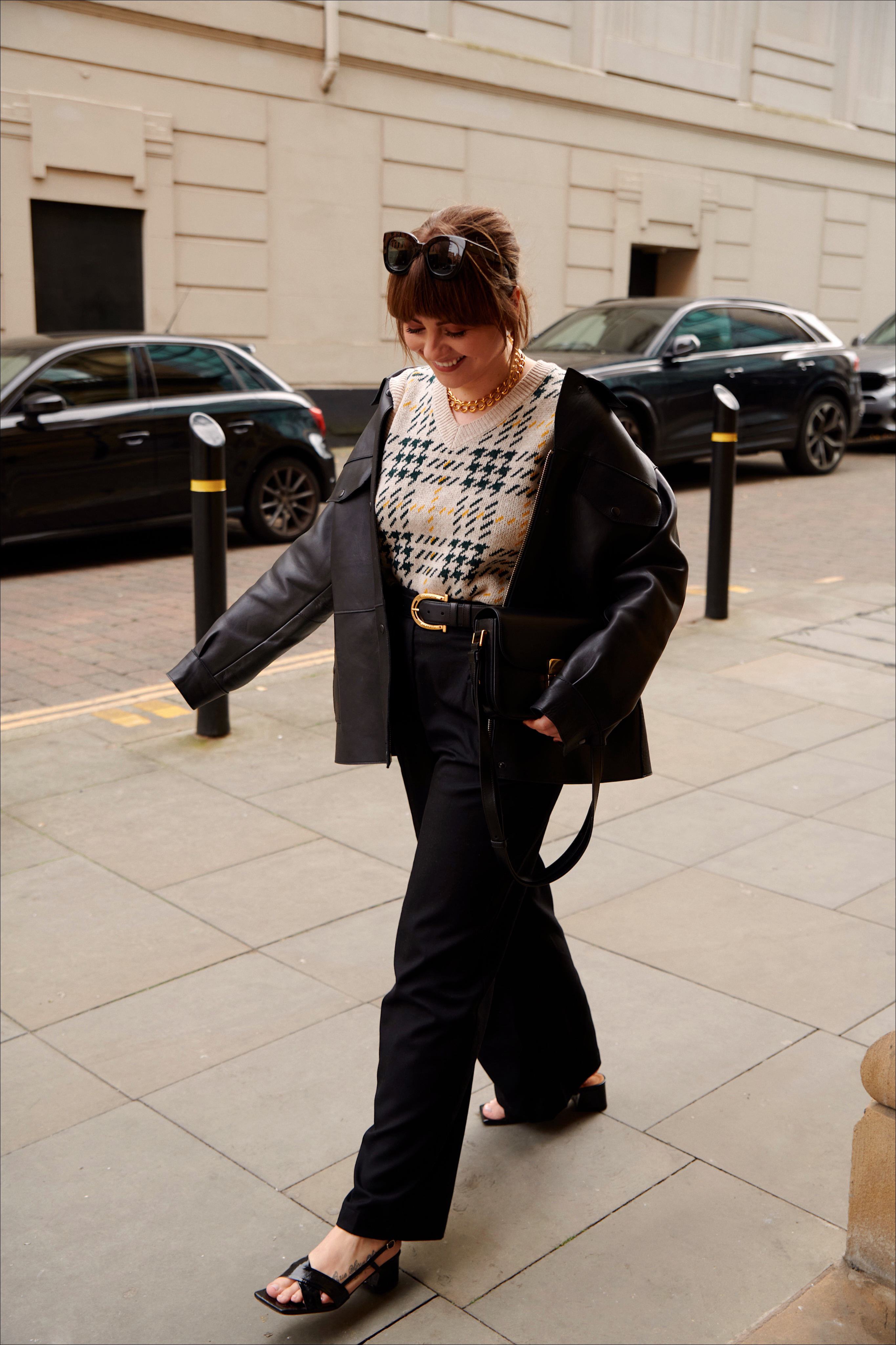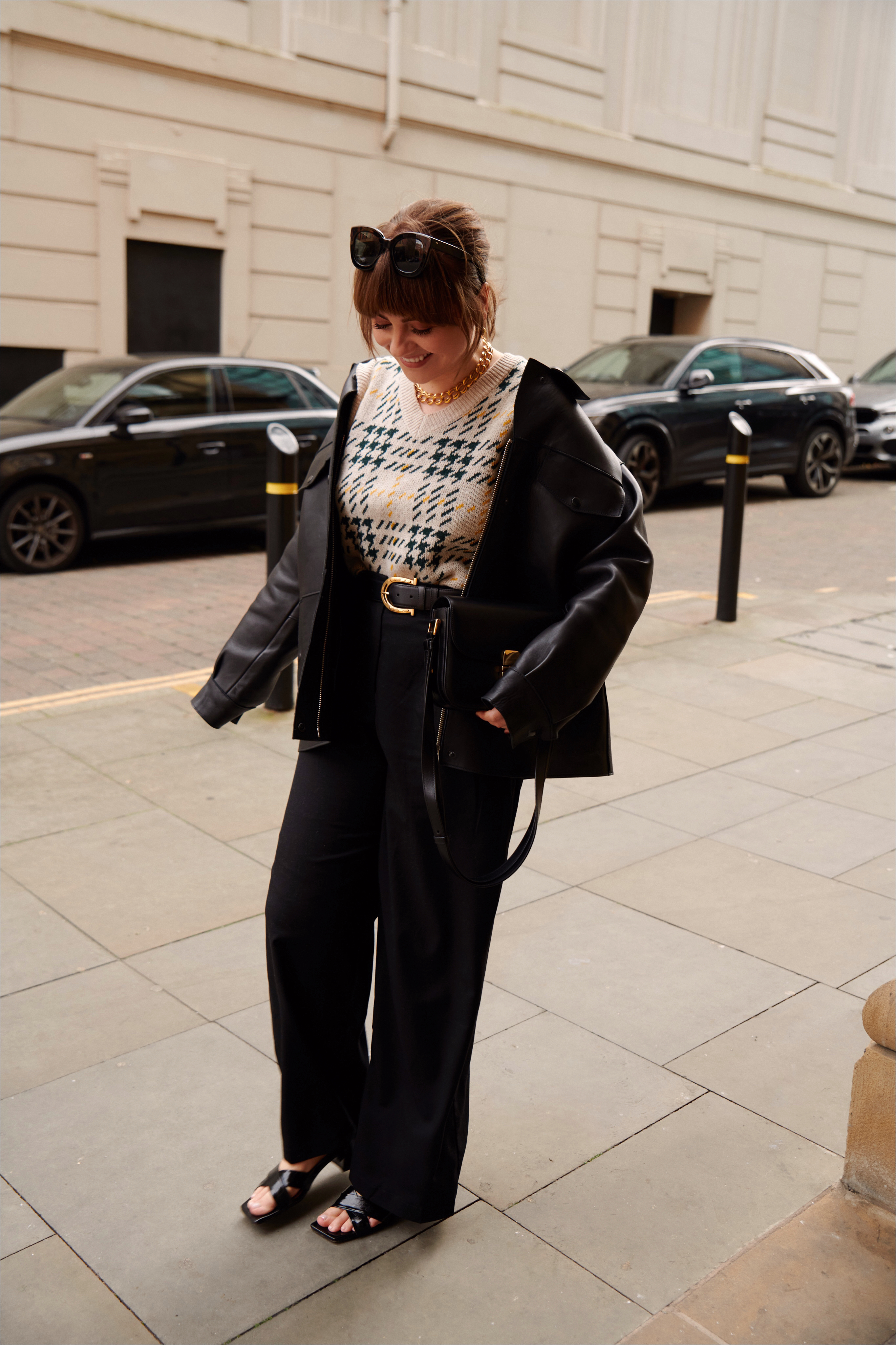 ---
Photographs by Catherine Booty 
Black leather jacket c/o – Whistles, Olive blazer – The Frankie Shop, Knitted Tank – Glassworks London, Trousers – Monki, Black trainers – Stepney Workers Club, Patent Sandals c/o – Jonak, Belt – Miu Miu (similar here), Brown bag – Gucci, Black bag – A.P.C, Sunglasses c/o – Ace & Tate
SHOP THE LOOK