I'm someone who finds myself talking about the weather quite a lot these days – maybe it's an age thing, or maybe it's because a huge part of my job is now reliant on the weather being decent enough to shoot. I've pretty much shot in all types of weather: the good, the bad, and the ugly (why am I starting to sound like Forrest Gump?). Anyway, I thought I'd talk you through one of the looks I have in the outfit bank for those days when I want to feel nice, but it's looking unpredictable outside…
Aka, most days here in Manchester.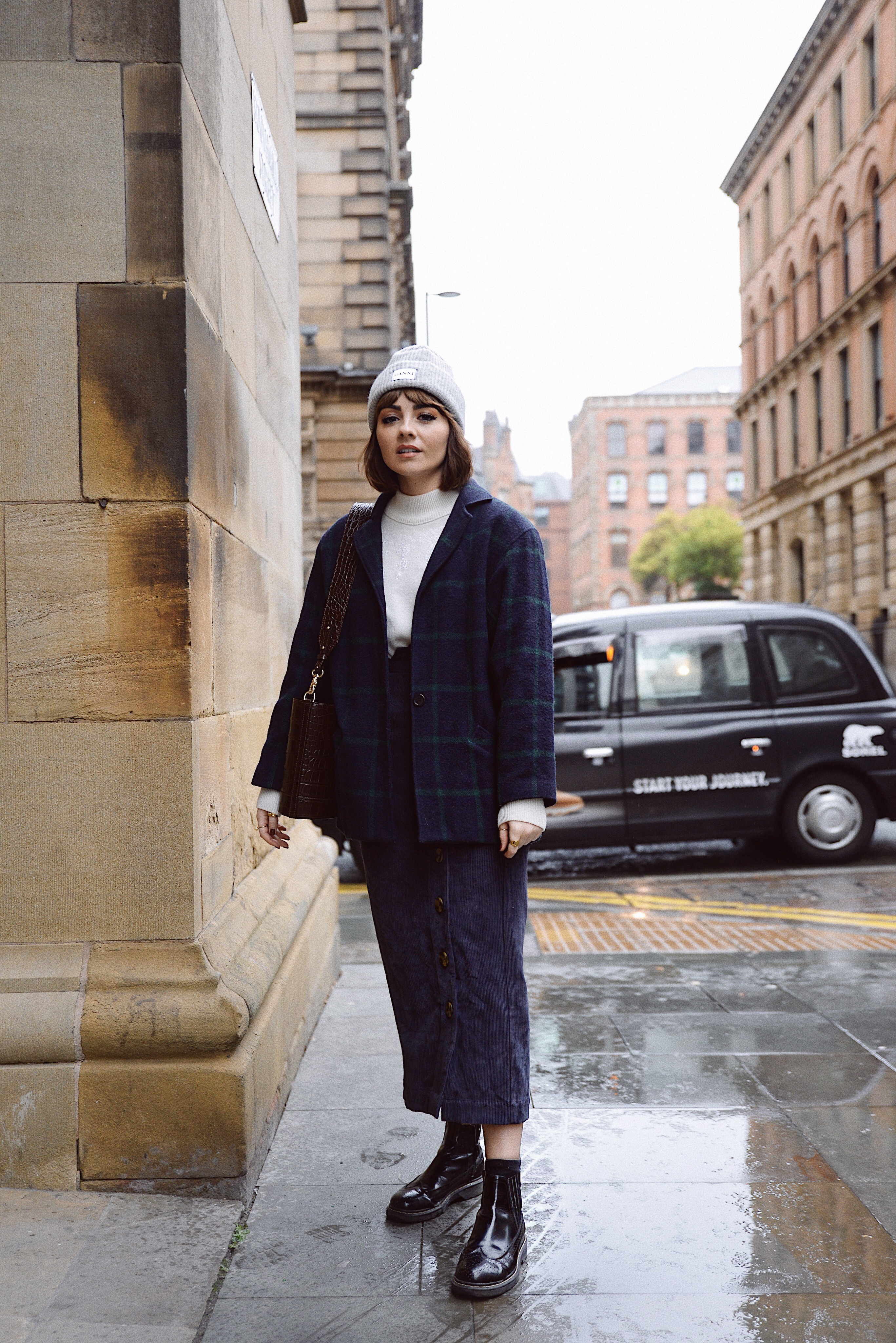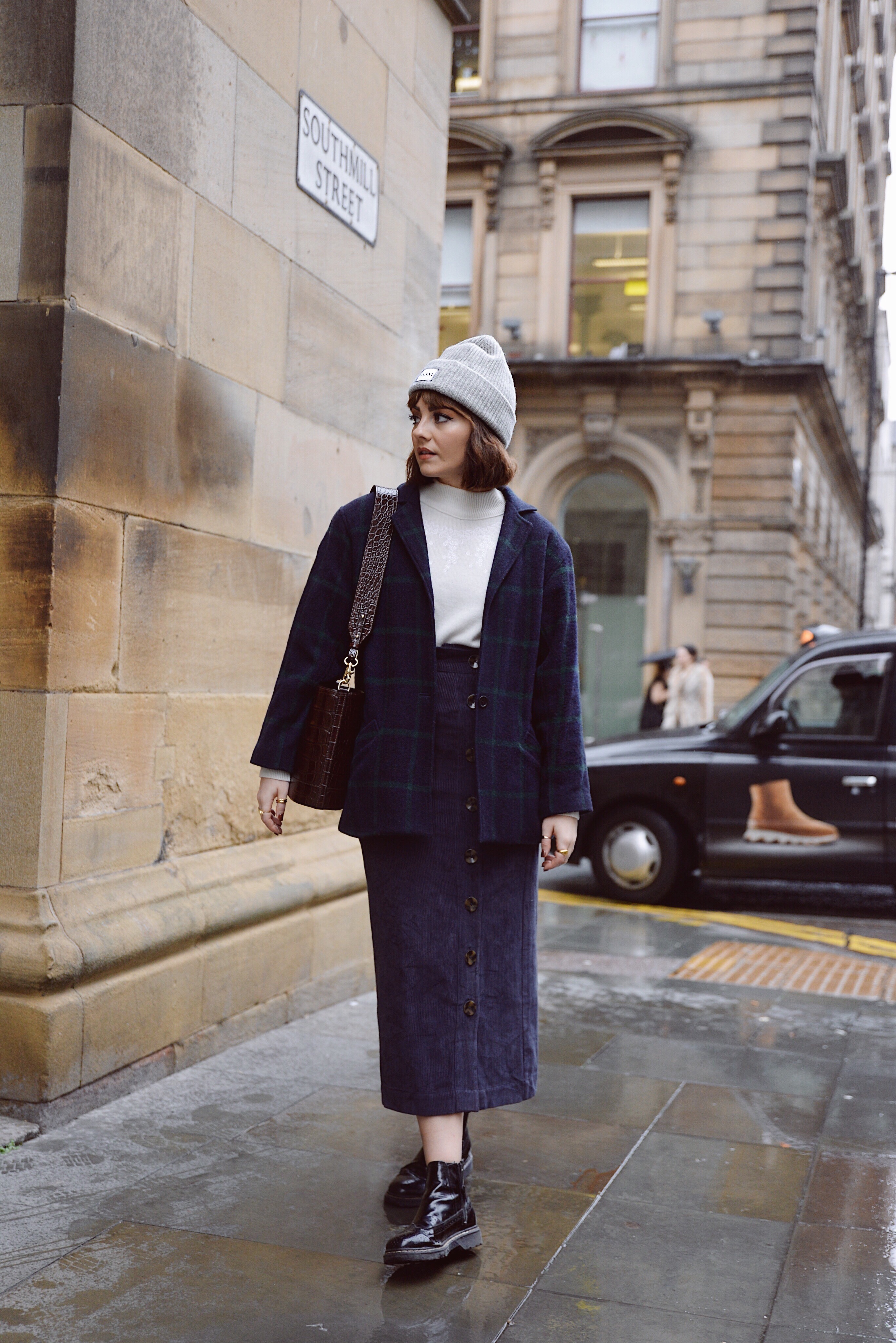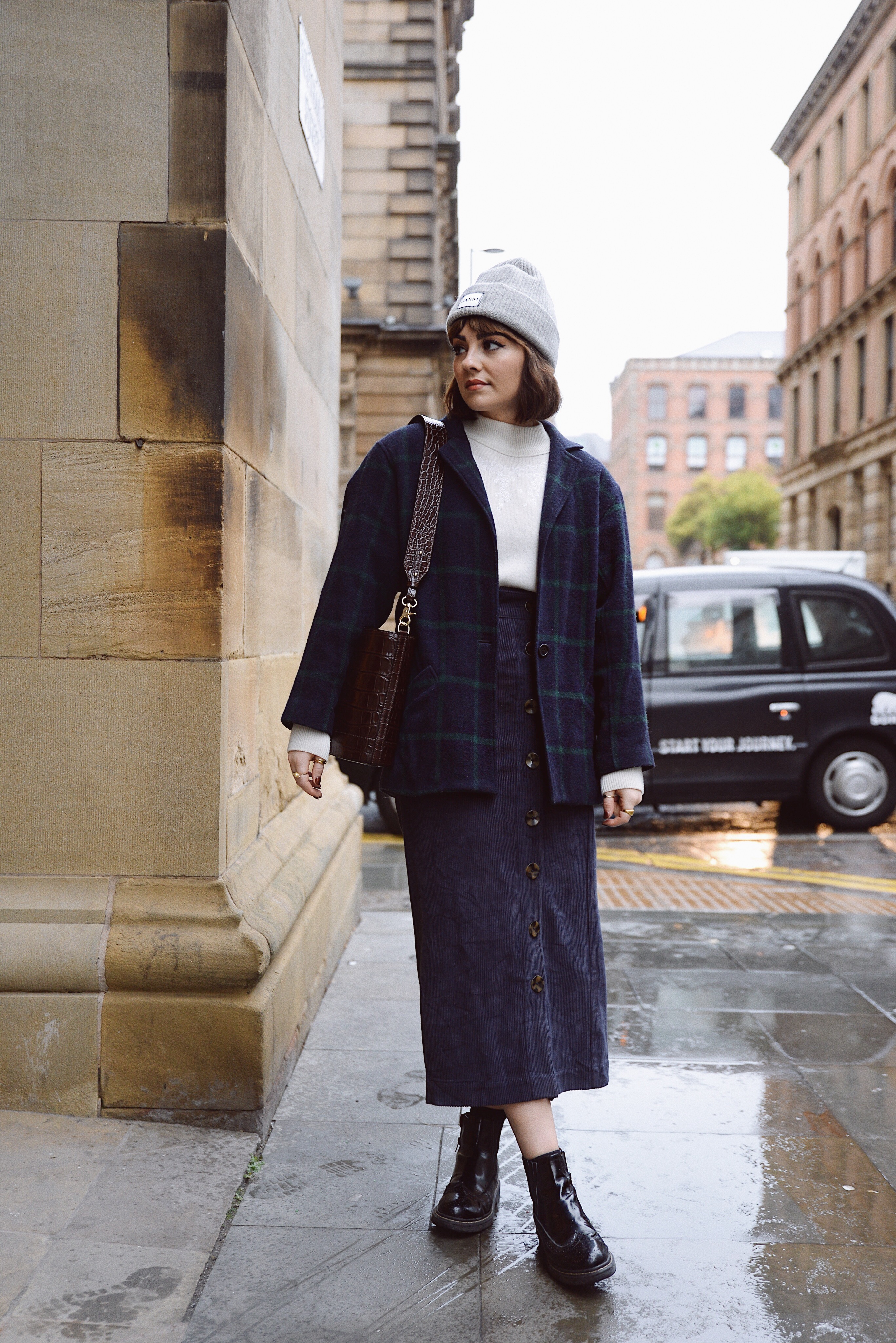 It seems like a pretty simple thing to point out, but hats really do open up your options and save you time during the winter months. Whether it's a bad hair day or your newly purchased umbrella has already blown inside out – hats hide a multitude of sins. Top tip – if you happen to have a fringe like me and find blustery days a down right nightmare, a hat will hold you're fringe in place. No extra strong hairspray needed.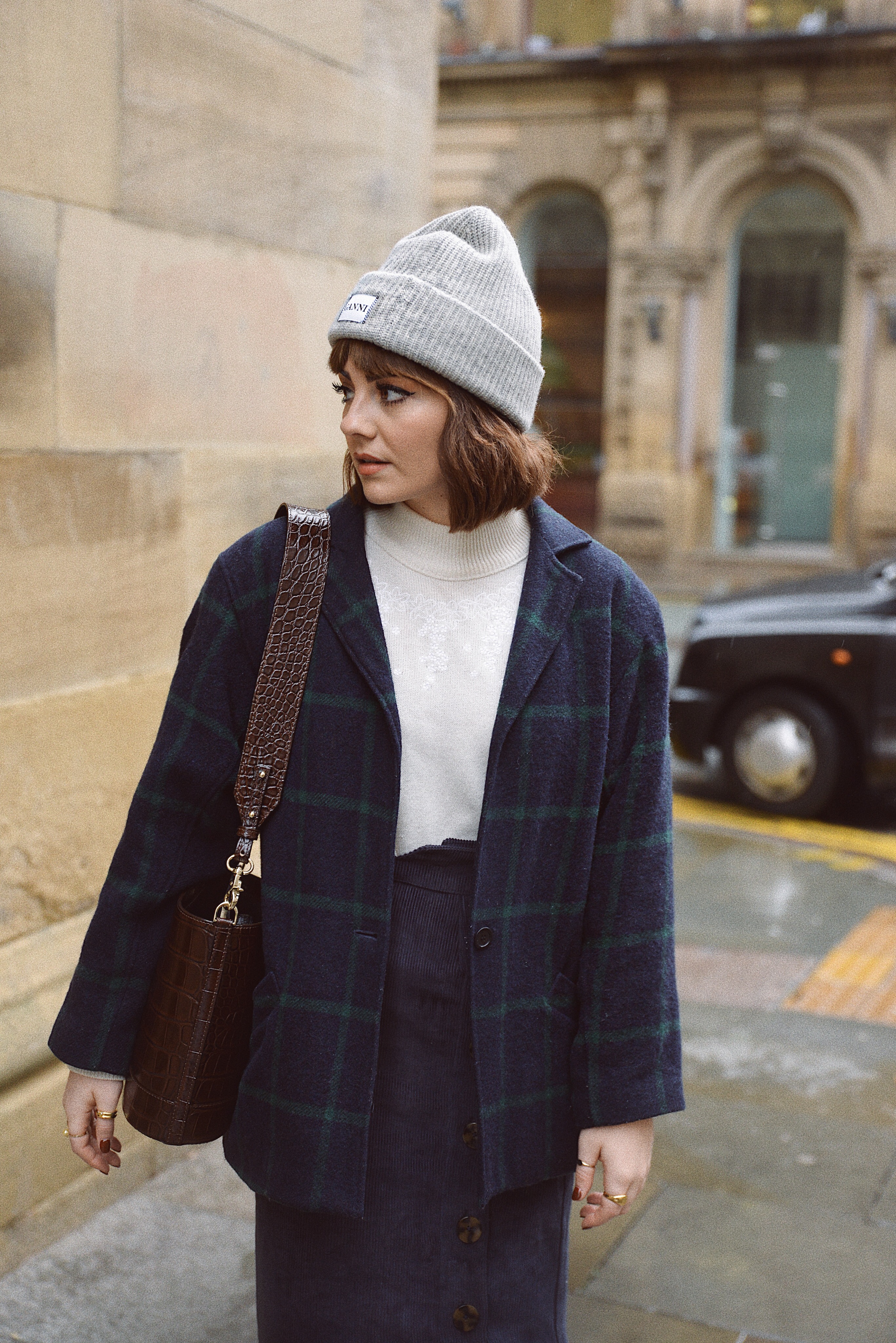 I love this Ganni one and couldn't recommend it enough if you're looking to invest in one that will last you for years to come. It's the perfect thickness and doesn't make my head look giant (I hope) – it also comes in a large array of different colours if you happen to be more adventurous than me. No matter what style of winter hat you're into, it's a great way to accessorise a simple look whilst still keeping you chic and warm. Beanies and berets happen to be my personal favourites. I do love a baker boy hat but I can't help feeling as though I resemble Oliver Twist whenever I try and wear one…
You know when you feel a bit like the hat is wearing you and not the other way around? Yeah that.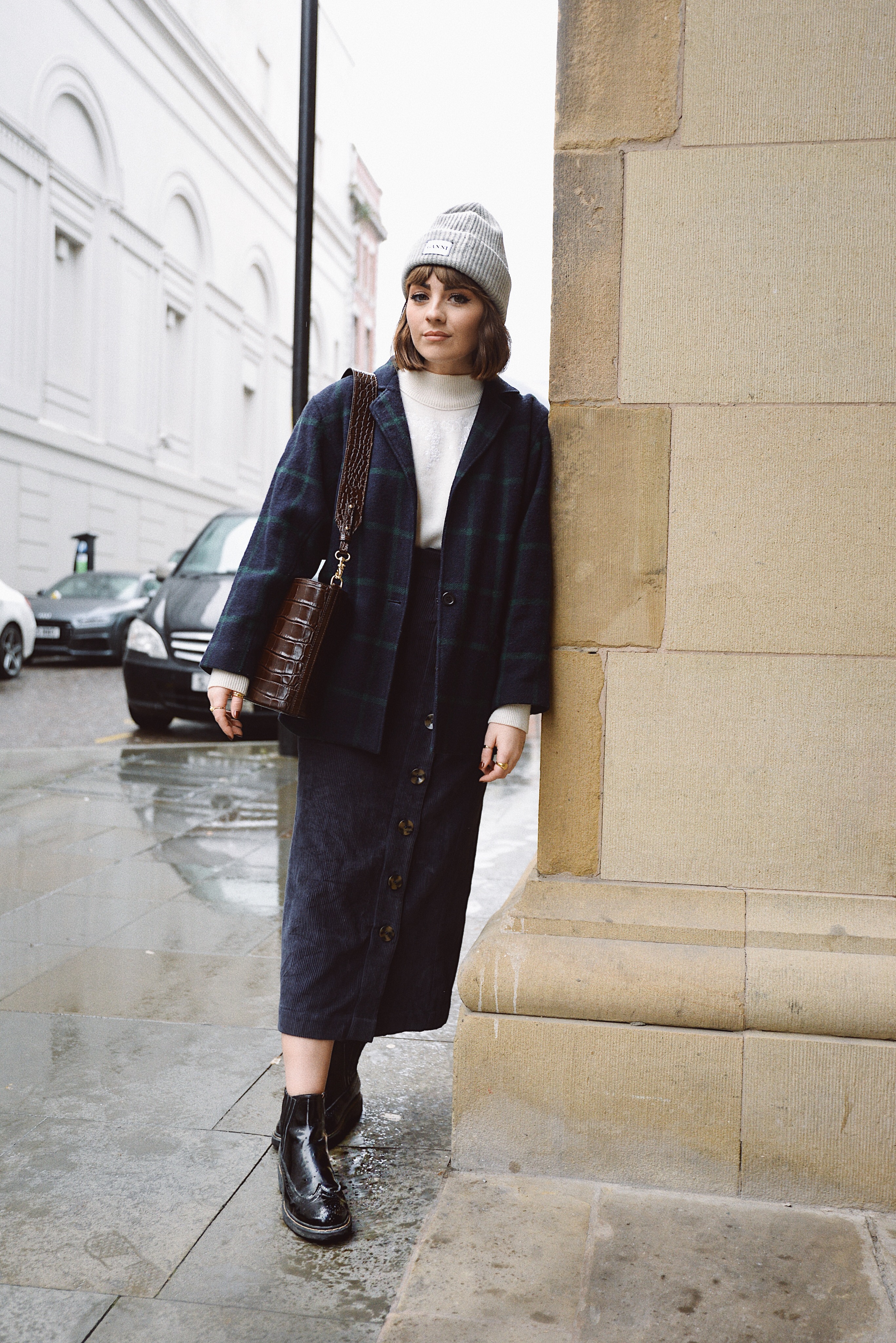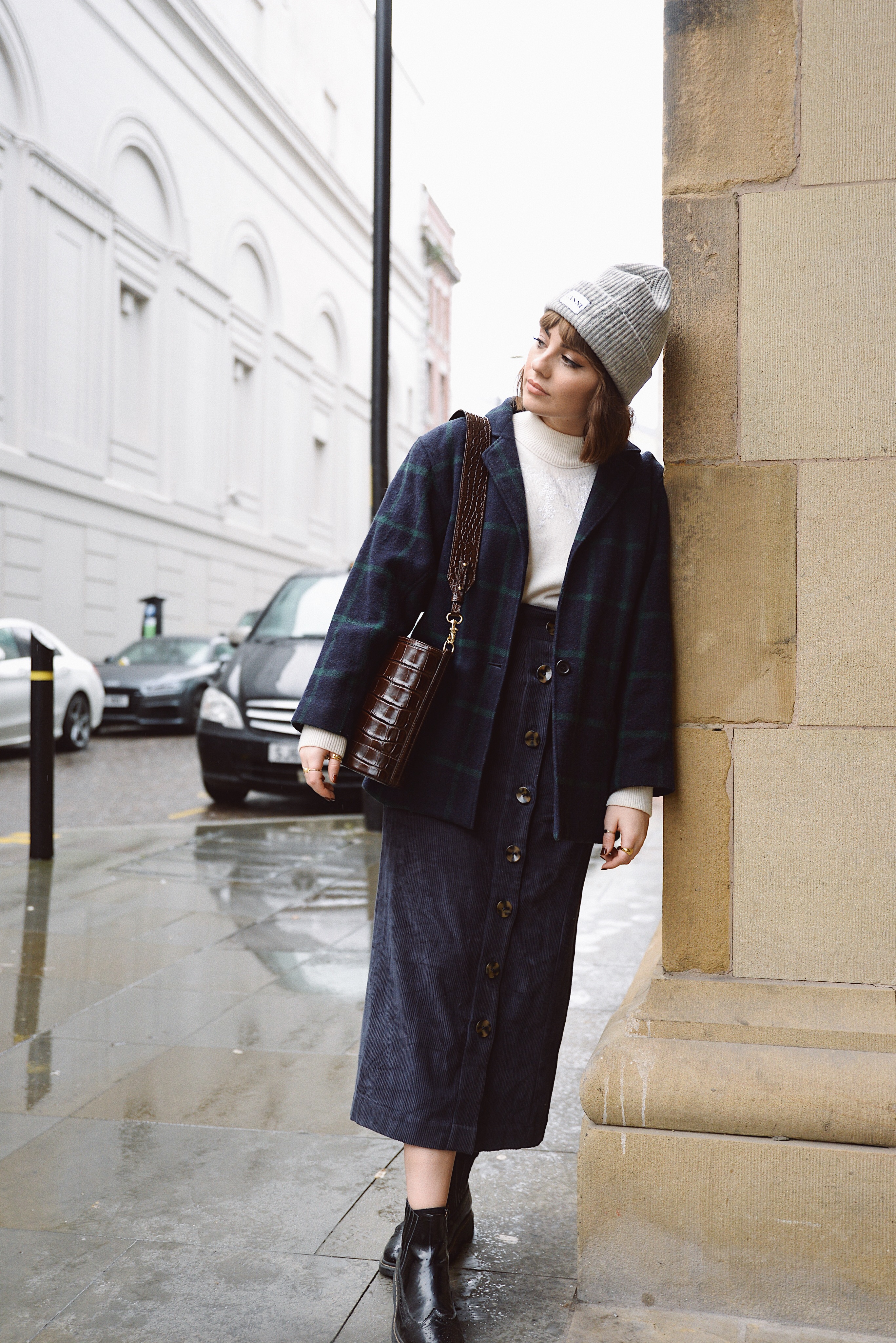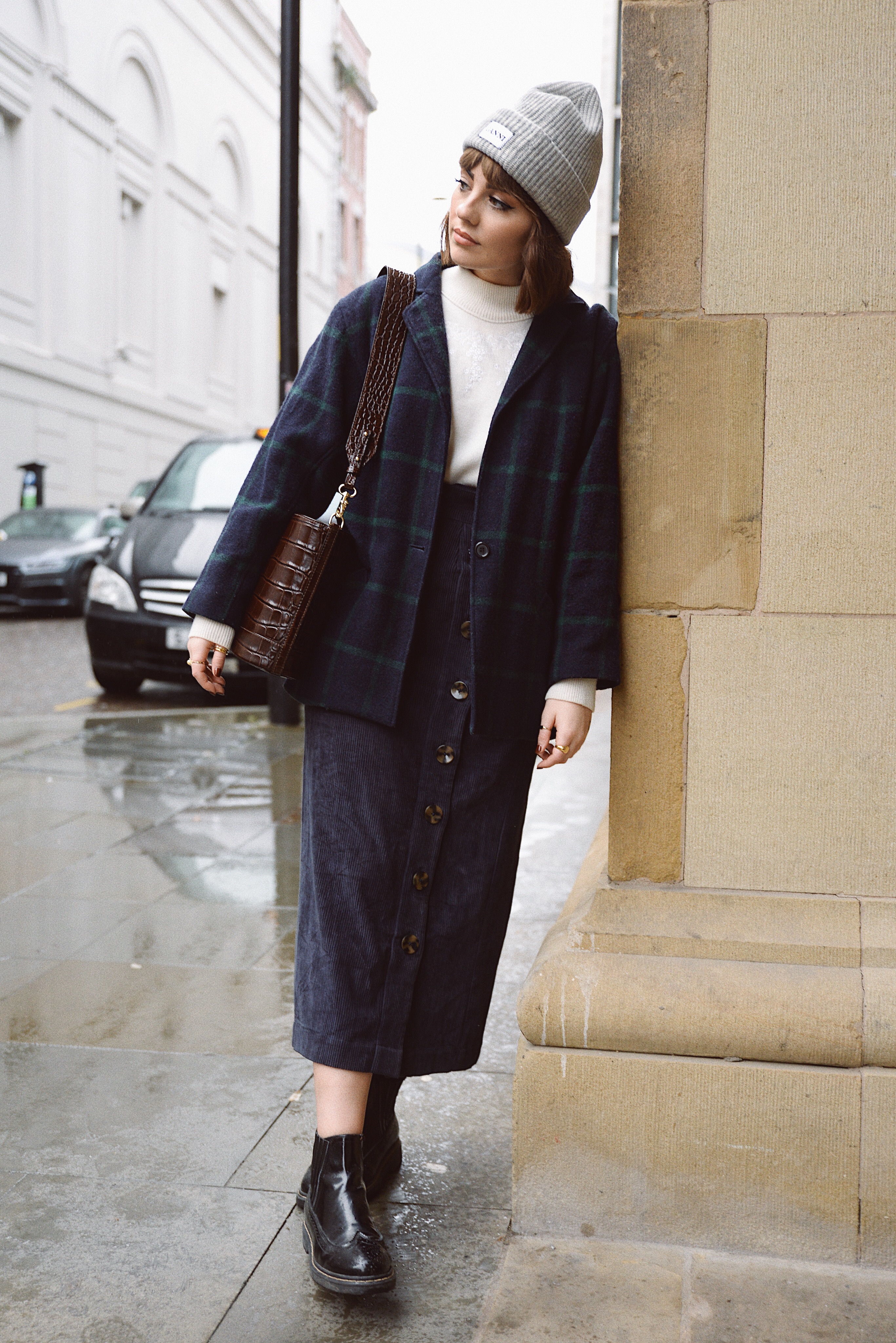 Call me optimistic if you will, but I totally think midi skirts can work all year round – yes, even in the snow. I love this cord one because it's extra thick and figure hugging, meaning it's a lot more substantial than all of the satin ones around at the moment. It wasn't that cold on this particular shoot day so I just styled it with chunky socks and some sturdy ankle boots. However, you could easily add tights for extra warmth, or even knee high boots and tights if you fancy – knock yourself out. Winter fashion is all in the layering, so the more you play around with different pieces in your wardrobe, the more you'll see how different pieces fit together. Trust me, there are days where I pretty much try on everything I own before I settle on a combination I feel comfortable in…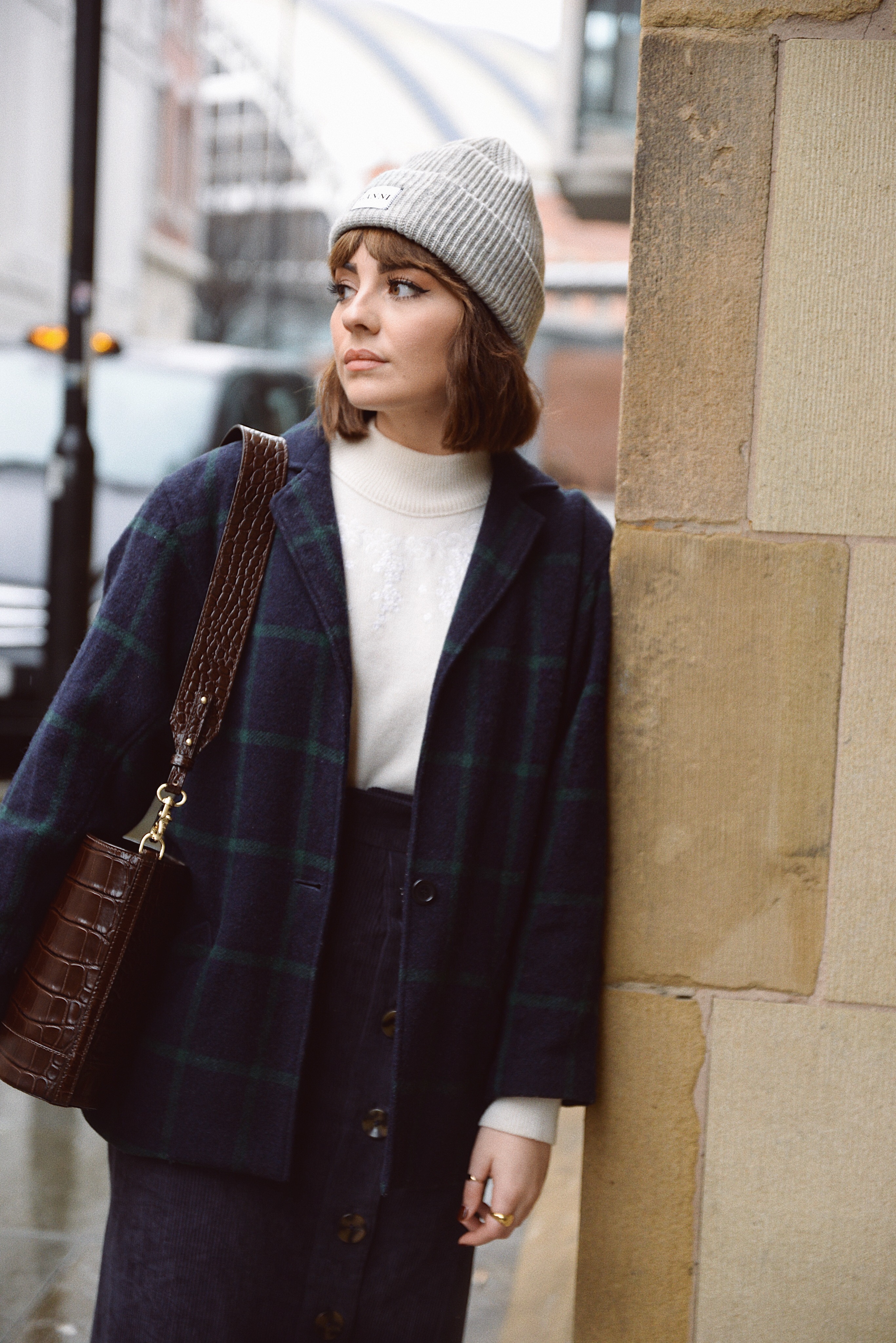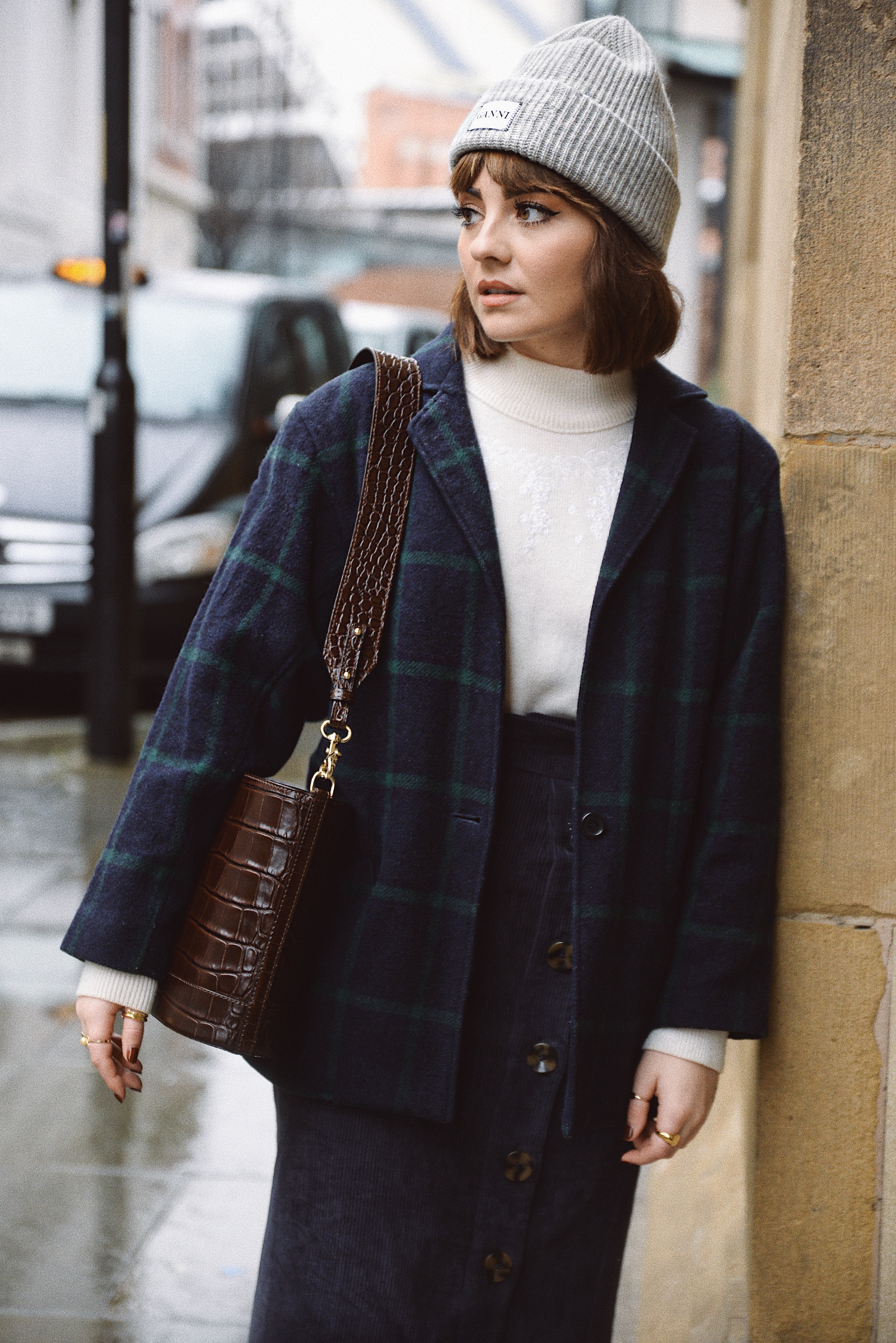 I can't stress enough how essential thin knit turtle necks/high necks are for the winter months. Clearly this is something I am very passionate about, so I guess I should tell you the reasons why…
An average jumper won't cover your neck area, and if you're used to shopping in the 21st century – it's likely to be cropped. We have the Nineties to thank for that. A great era for fashion, but not so much when it comes to keeping warm. Invest in a couple of good high neck jumpers and they will become pieces you reach for regularly. You can layer thick blazers over the top, and they prevent any extra heat from leaving your body if you tuck them into something high waisted. Take it from this Grandma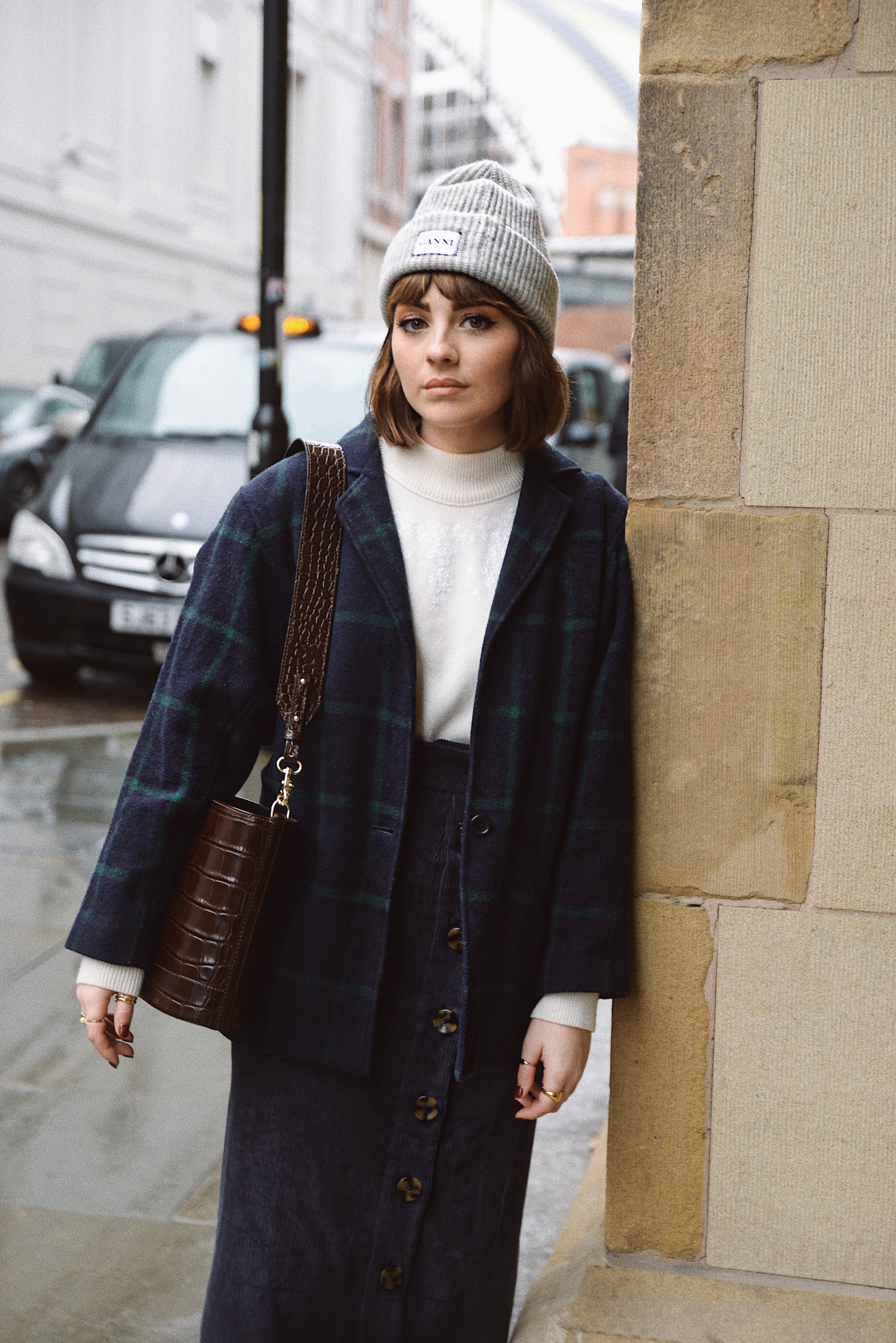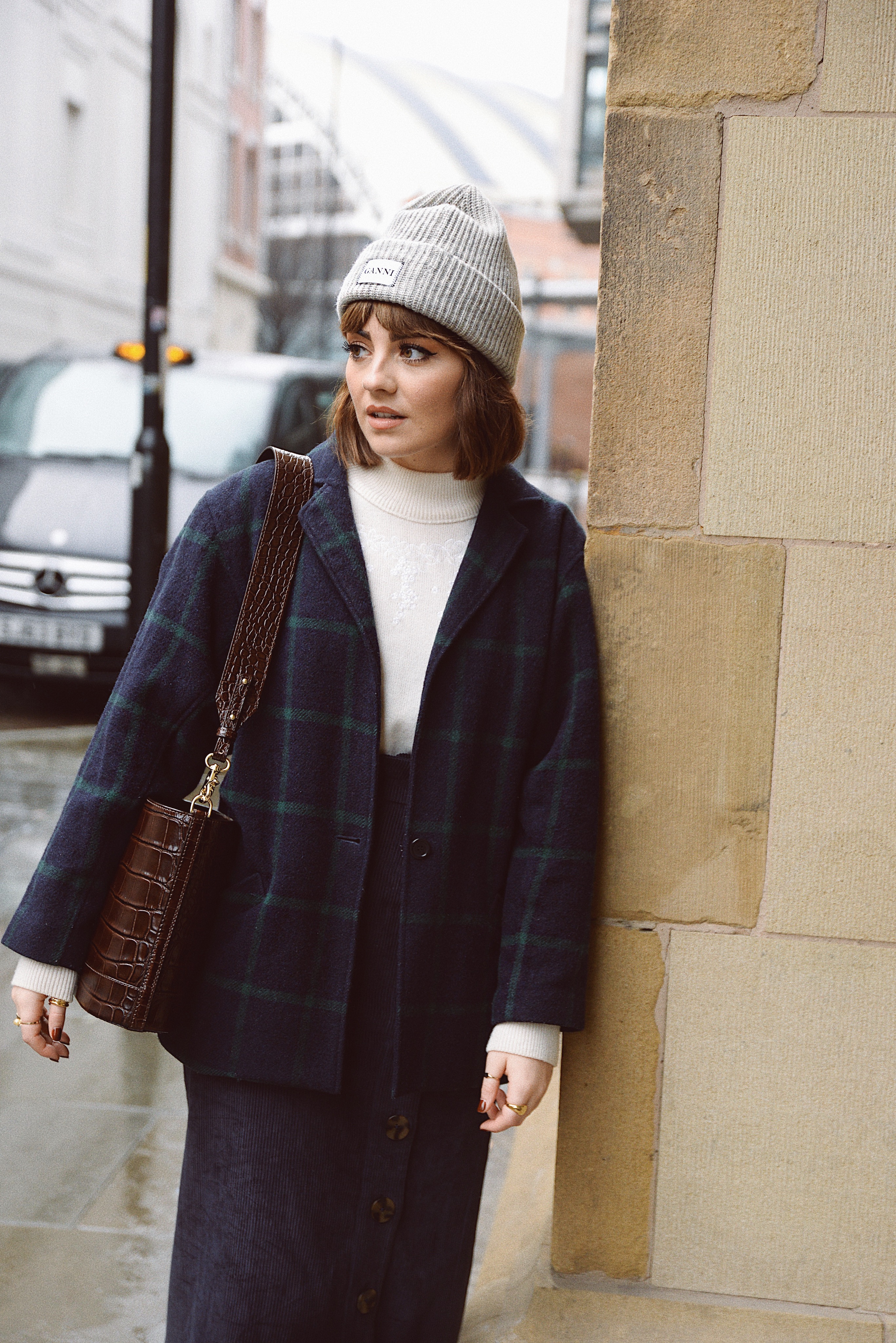 There may be days when we are fighting against the elements to get to that meeting or meet up for that drink, but we don't have to be in a constant battle with our winter wardrobes. It's all about being prepared for whatever the day (or the weather app) brings our way…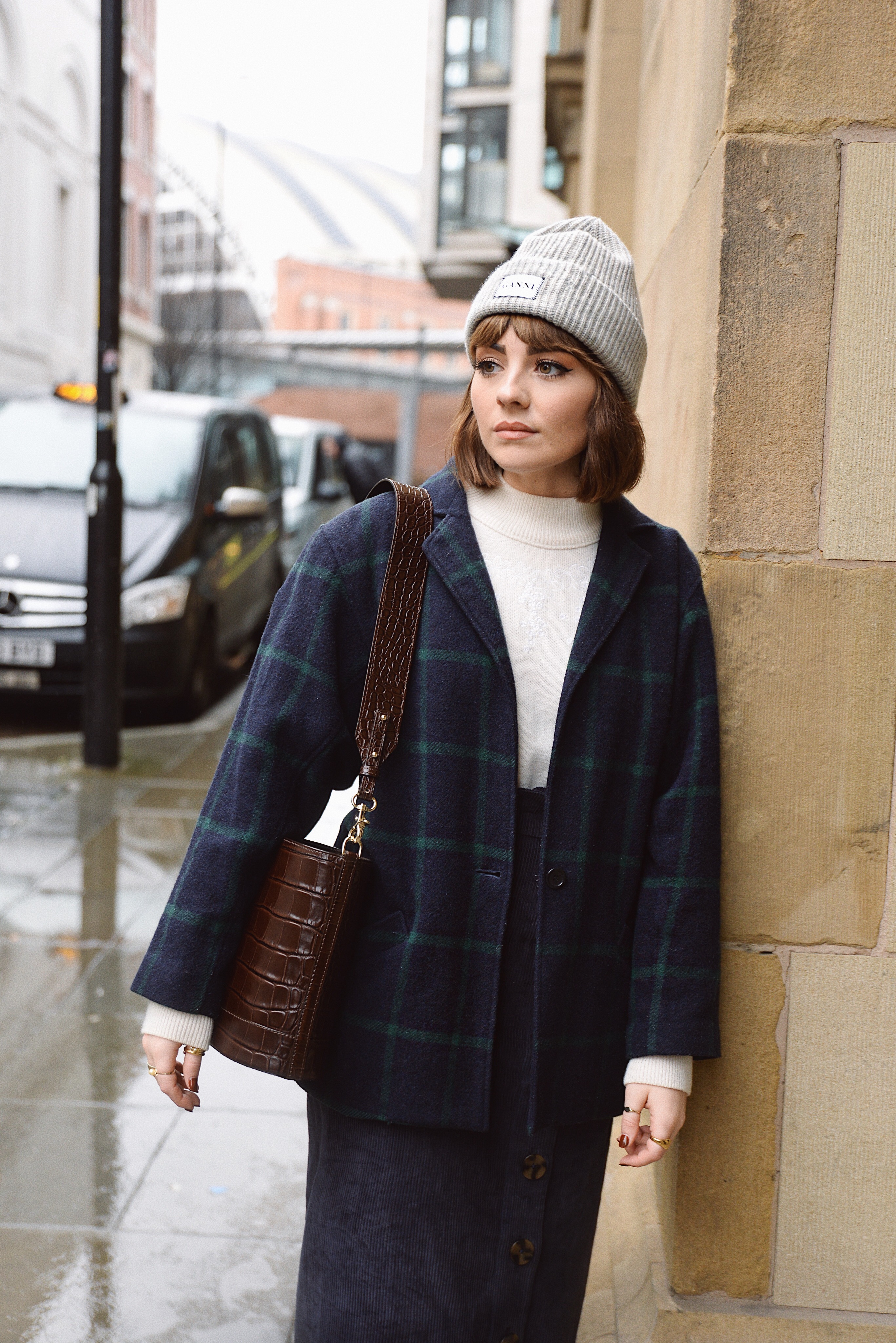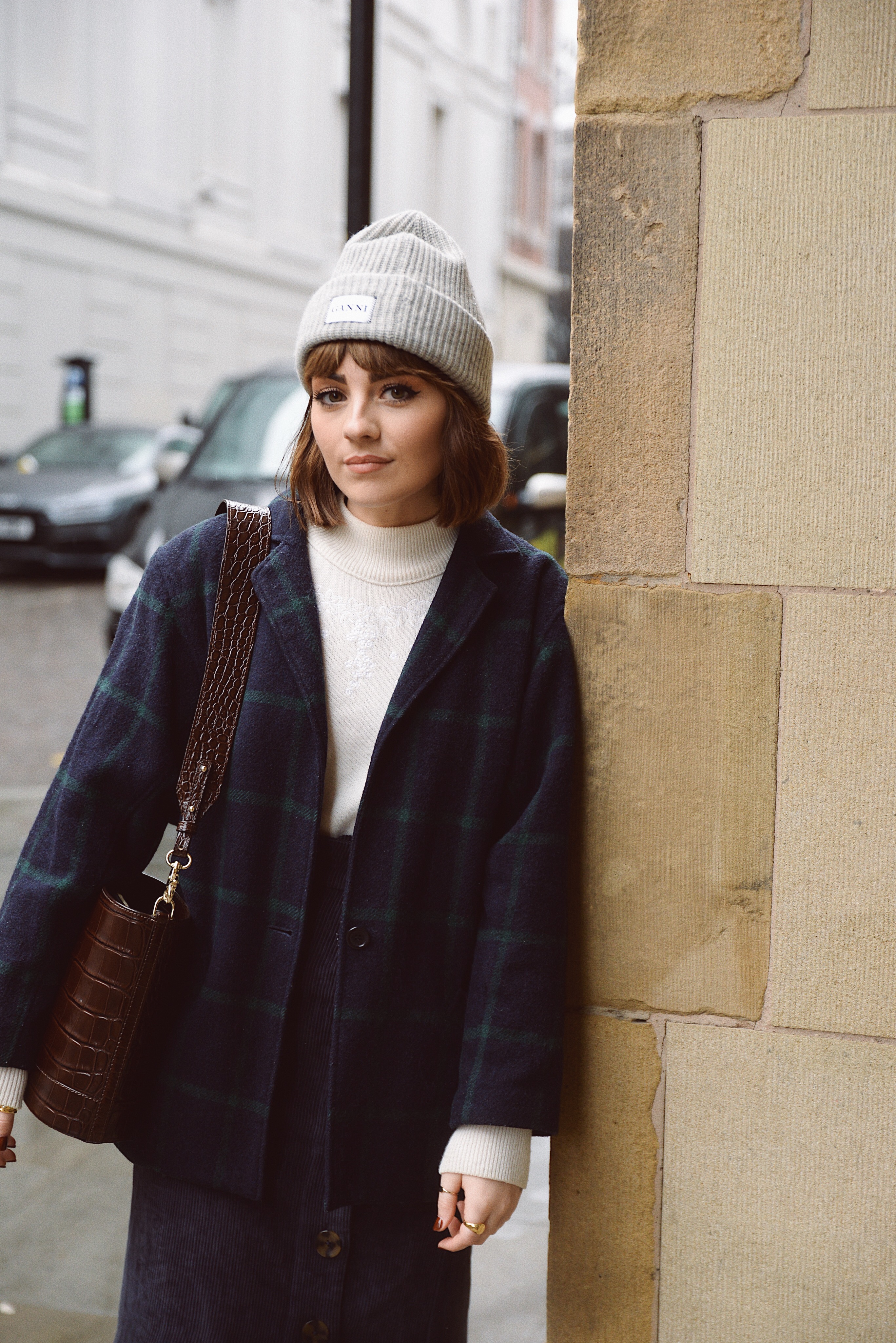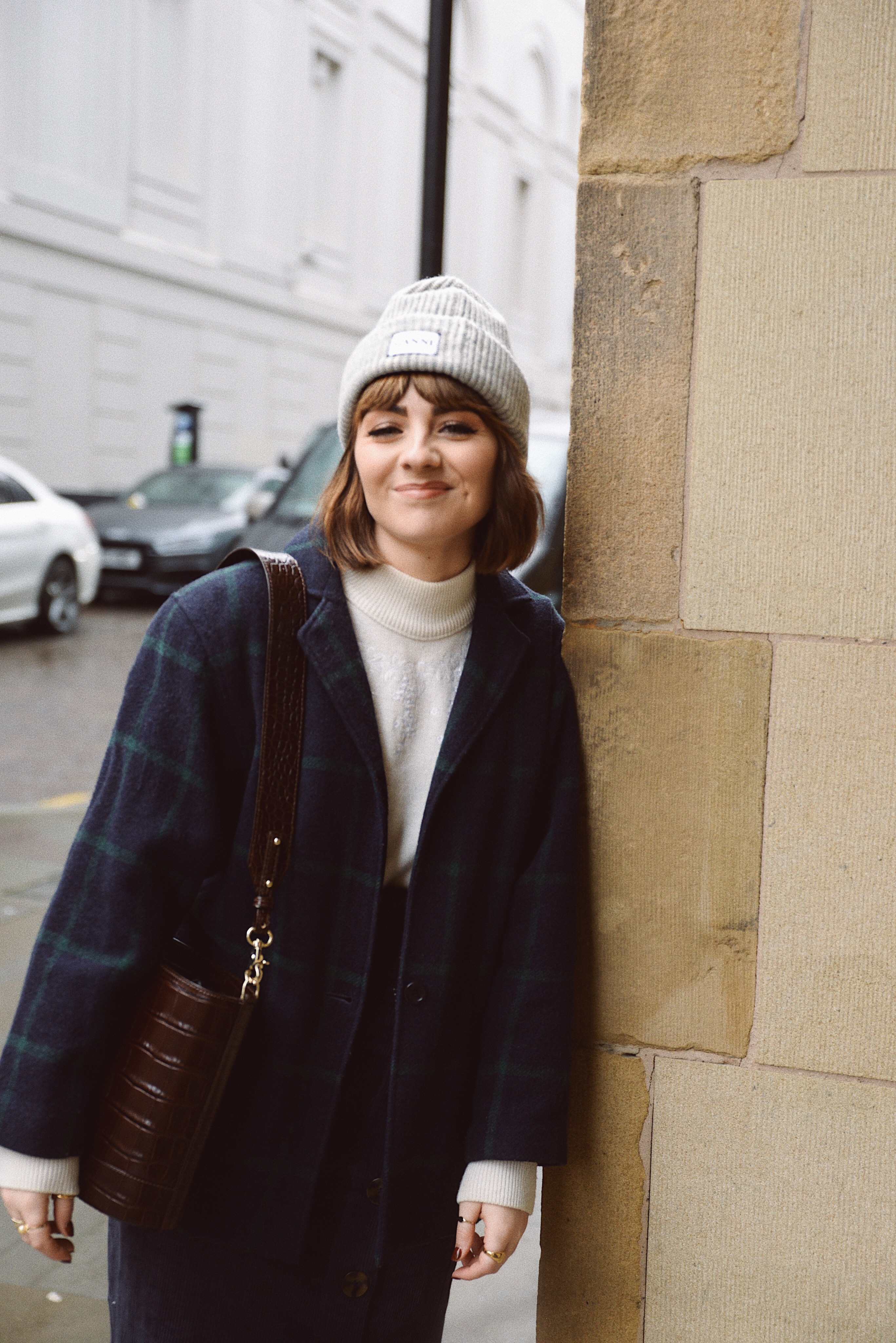 Last but not least – never underestimate the power of the accessories in your wardrobe. I like to wear ankle boots that have a bit of room in them so I can wear extra thick socks on really cold days. I also love a cross body bag in winter because it keeps your outerwear in place – especially if it's extra windy and you don't have a waist tie available…
Snug as a bug, but don't forget that umbrella…
---
Photographs taken by Catherine Booty 
Jacket – Nan Nin vintage, Jumper – Peneloppe vintage, Skirt – Ajaie Alaie, Boots – Joseph (last year), Bag – Chylak, Hat – Ganni
SHOP THE LOOK