If you have followed me for a while then you might have noticed that I'm a fan of all things Parisian – particularly French brands that capture everything Parisian girls portray in one effortless collection after the other. For me personally, Sézane feels like the perfect brand – time and time again I fall in love with everything on their website, the beautiful imagery, and the brand experience once my order reaches my doorstep is second to none…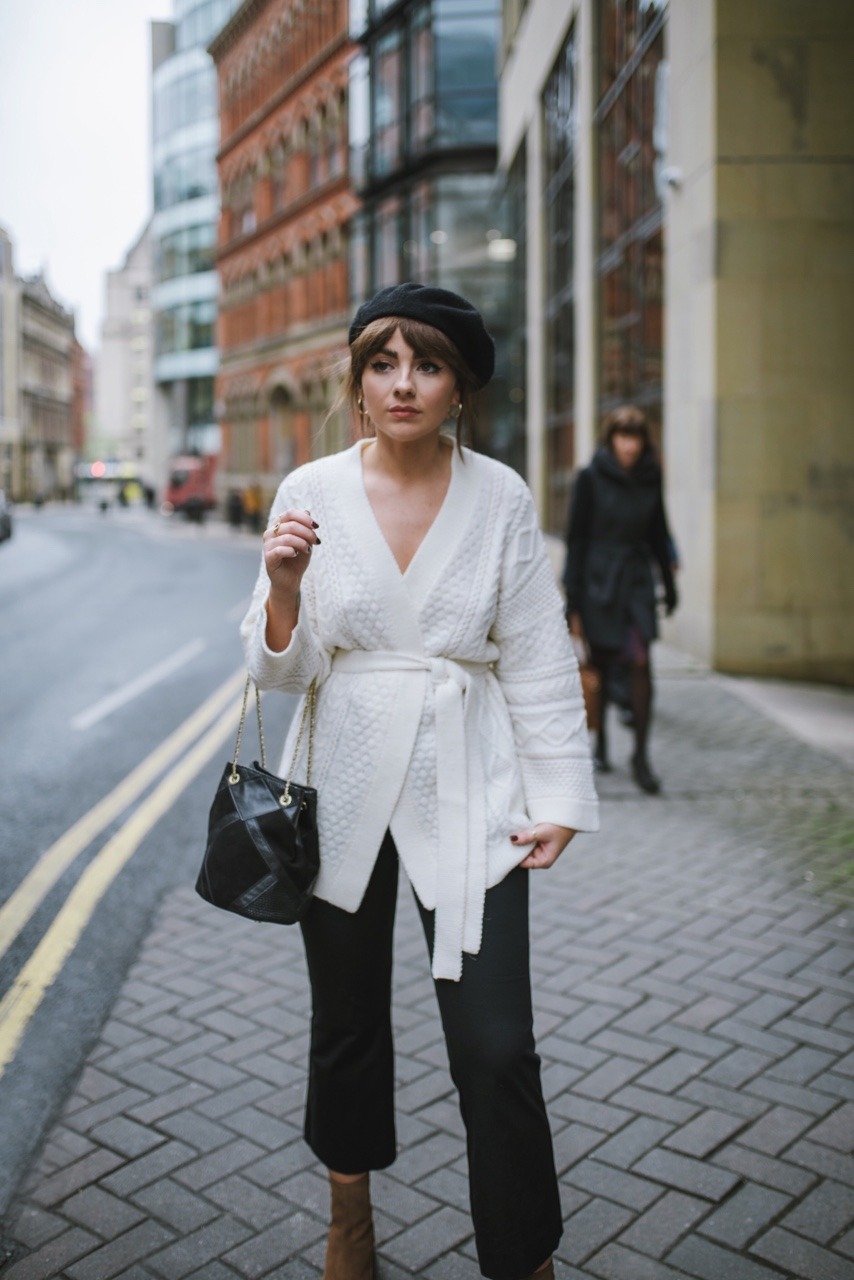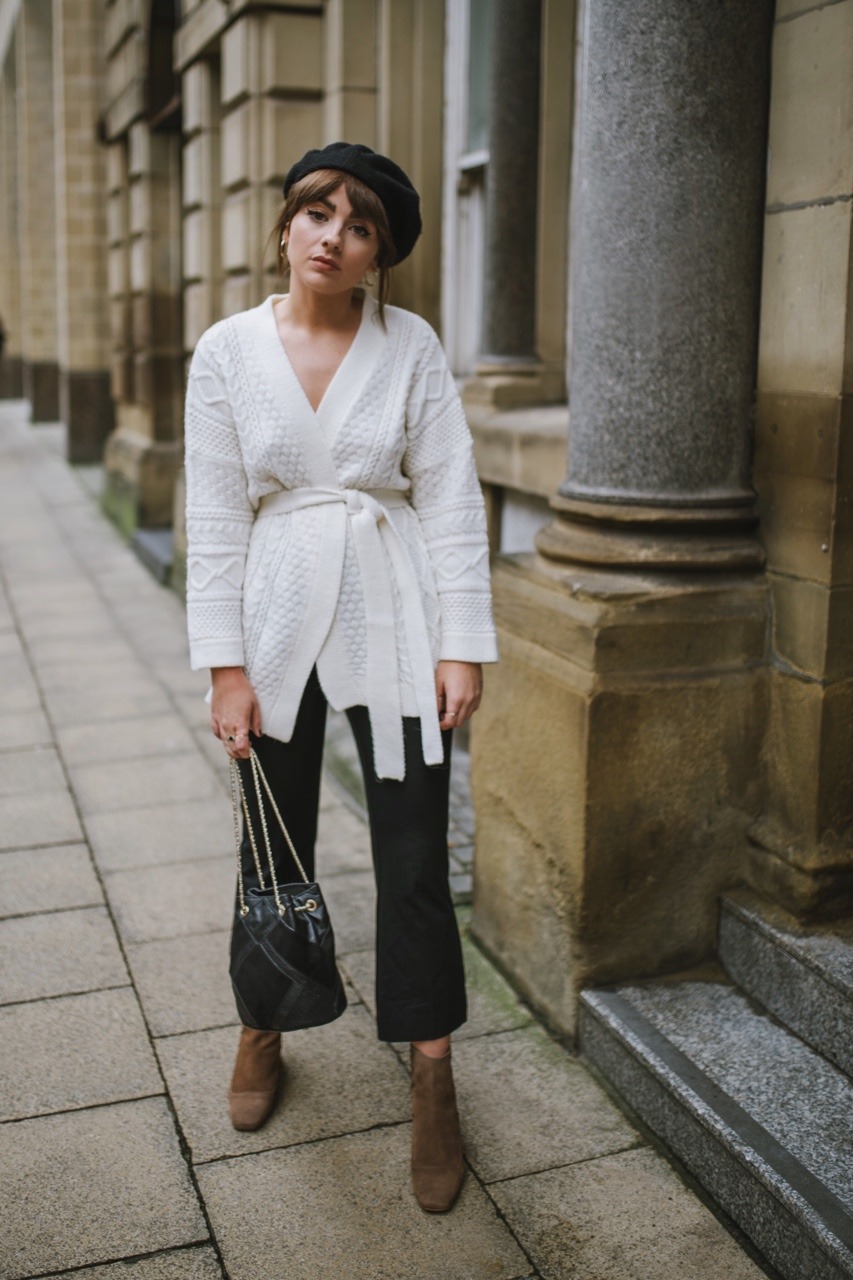 Each item comes perfectly wrapped or boxed – not just your average shoe boxes either, but aesthetically pleasing ones that feel painful to throw away. They put so much effort into their branding that it really does feel like a magical experience each time you place an order with them. Everything from the little postcards with classic French quotes, to the personalised tote bags they throw in with pretty much every order. Sézane really nail the whole customer experience and that's just one of the reasons that I continue to love and wear their pieces each season.
I appreciate how classic their designs are – it means that I'm likely to wear them year after year, and they slot into my everyday wardrobe with ease. Think silk pyjama blouses, the perfect little black cami, and that statement bucket bag you've been searching for…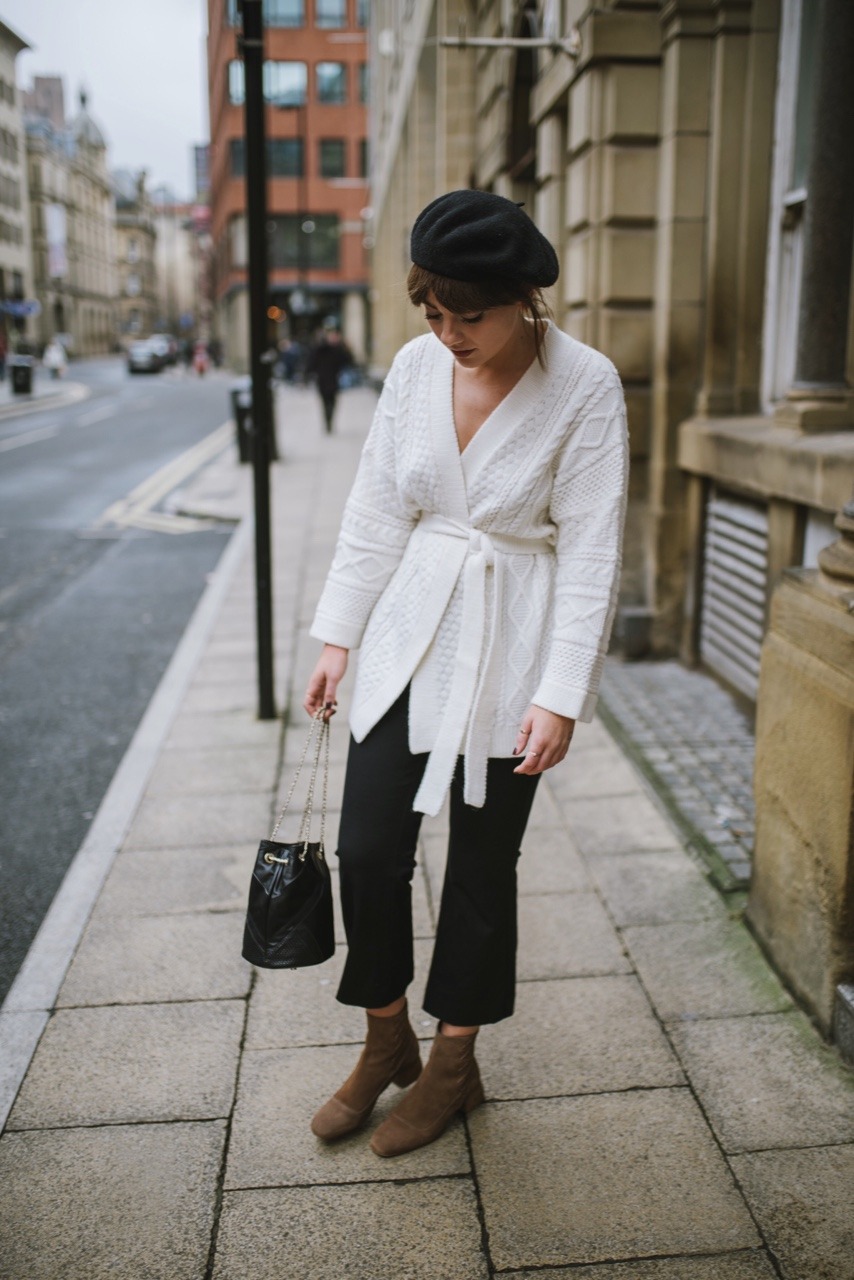 I feel like they have something for everyone and cater well to both the younger and more mature woman – something which many brands fail at. Having core classic pieces with the odd trend pieces fed through means they cater to a wider audience and create collections that are all inclusive time and time again. Not to mention, they have the most beautiful leather goods section that I have ever laid eyes on. I am lucky enough to have quite the collection of Sézane handbags and they do not disappoint.
It really feels like you own something designer but without the scary price tag – they all arrive with their own dust bags, beautifully boxed, and ready to be worn by the everyday woman who wants a little more out of her wardrobe…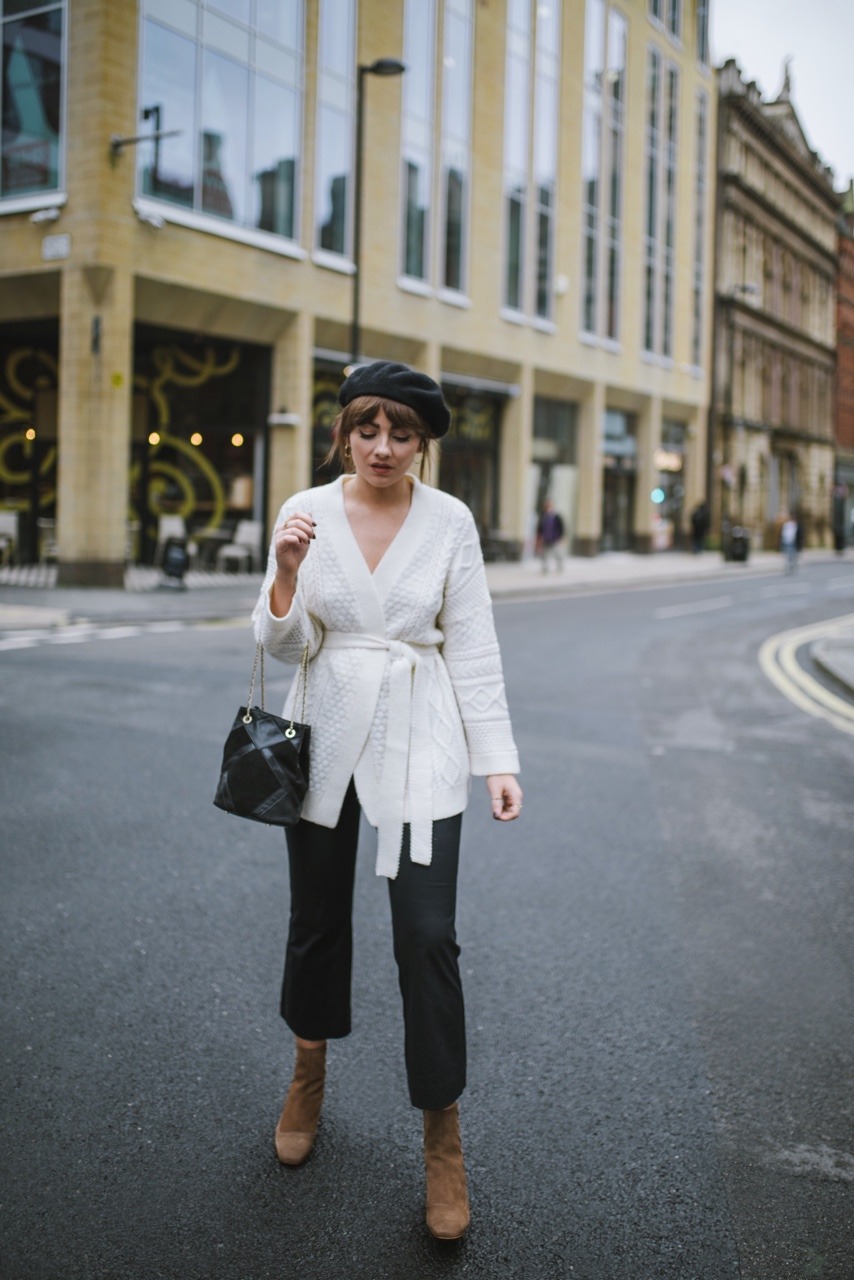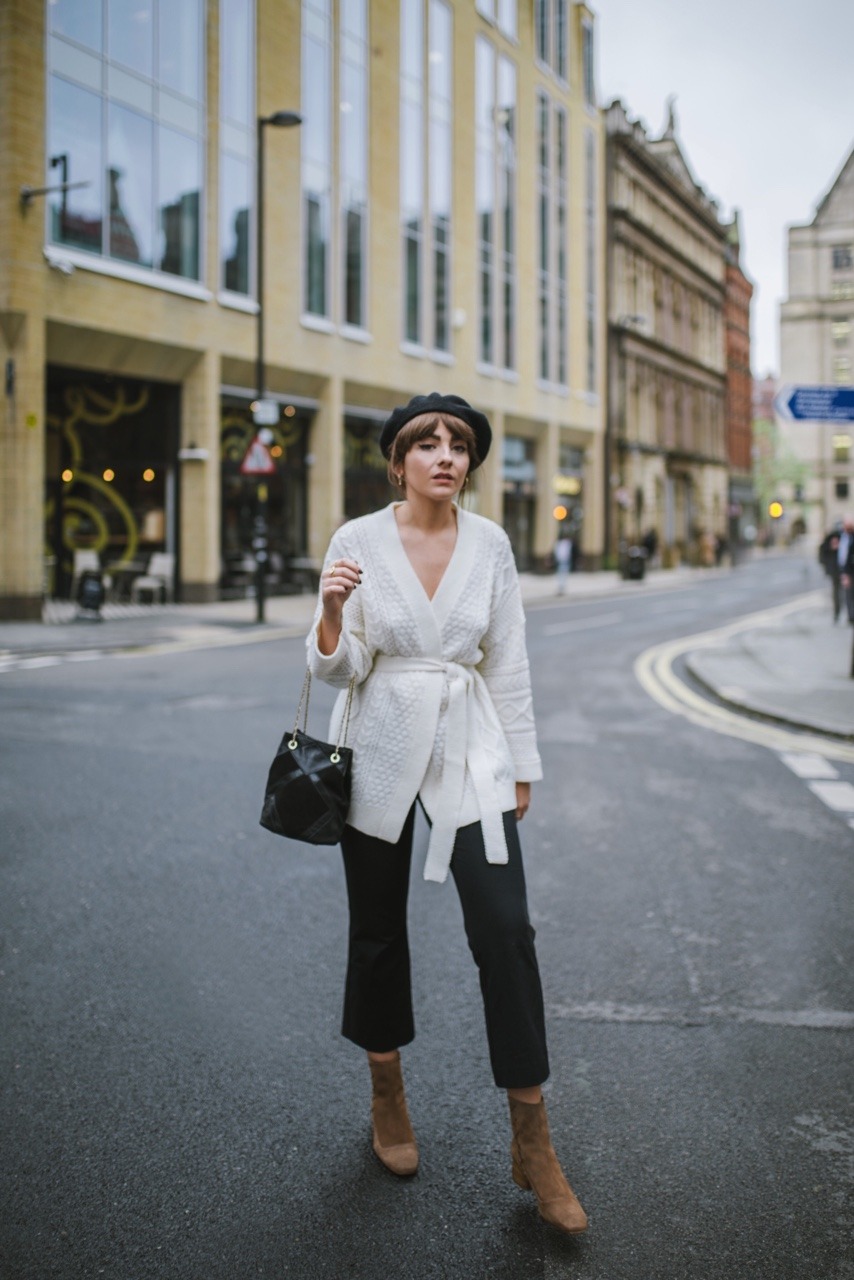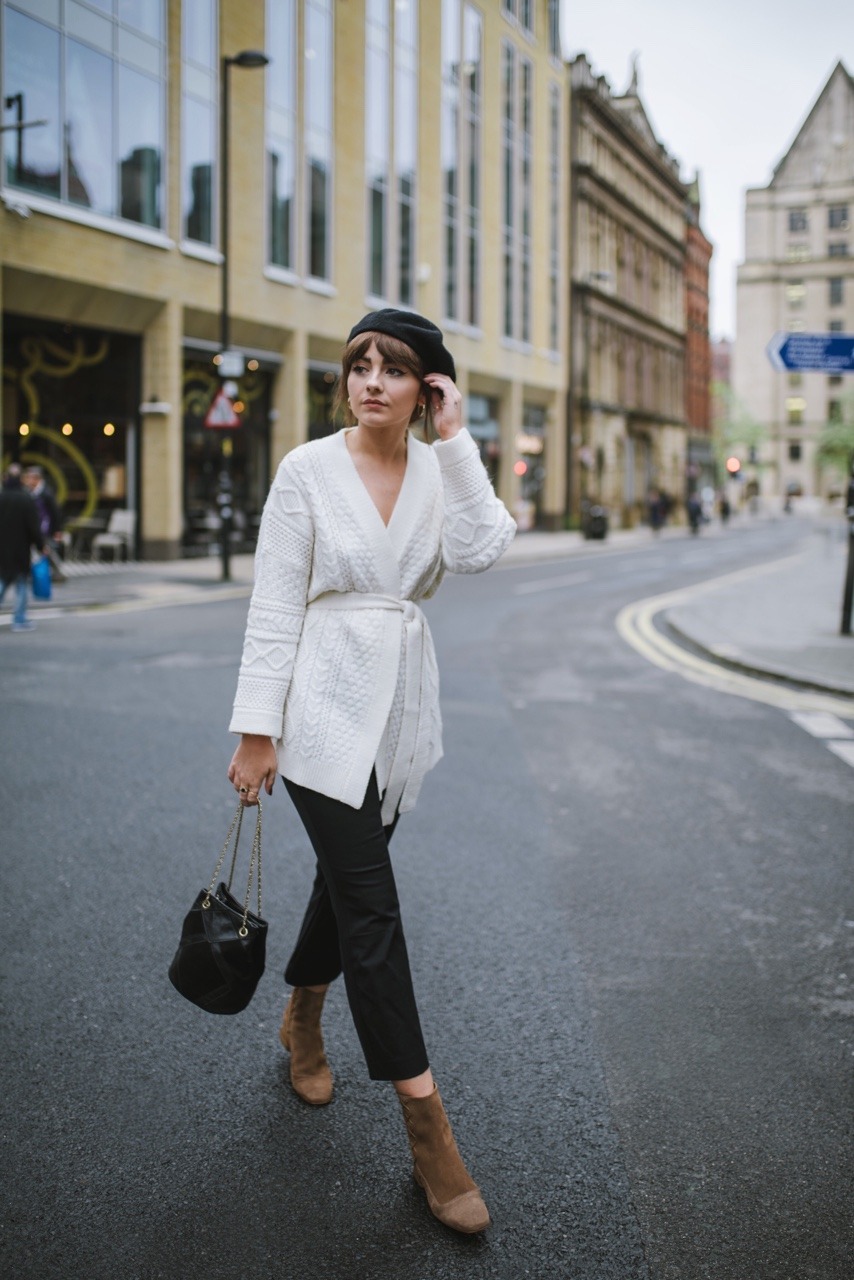 This cardigan for instance, the cream cable knit design make it a classic piece, but the belted feature adds that modern twist that makes the outfit more interesting. I love how it looks with some simple black crop flares to balance everything out – not to mention my new favourite Finery boots that may have to be surgically removed at some point! It's safe to say I'm pretty obsessed with this outfit, and it's one that I'm likely to be repeating over and over again. I love anything that's comfortable and easy to pick up (off my bedroom floor) and throw on each morning…
Alice x
---
Photography by Adriana 
Cardigan c/0 – Sezane (similar here) | Trousers c/o – Reiko | Boots c/o – Finery | Bag c/o – Sezane | Beret – Topshop
SHOP THE LOOK