I love a good pair of wellies come festival season. I'm a huge fan of how they look with a trusty vintage dress, and nothing could be more British when teamed with a waterproof parka. They have become the backbone of festival style, and luckily they look great with an array of different outfits/basically whatever the hell you feel like wearing whilst you're having fun in the fields. The right pair means we can stomp through the rain and mud until our hearts content, styling it out the way we do best, with a good sense of humour (and a thick pair of socks)…
I recently worked with Hunter on some imagery for their social media, which meant I got to style a few key pieces from their collection. As a long time Hunter fan, I completely jumped at the chance and the timing couldn't have been more perfect! I'm off to Glastonbury next week (I've mentioned it a million times now – sorry not sorry), so it meant the perfect opportunity to get outfit building and figure out some combinations that will see me through the week come rain or shine!
LOOK ONE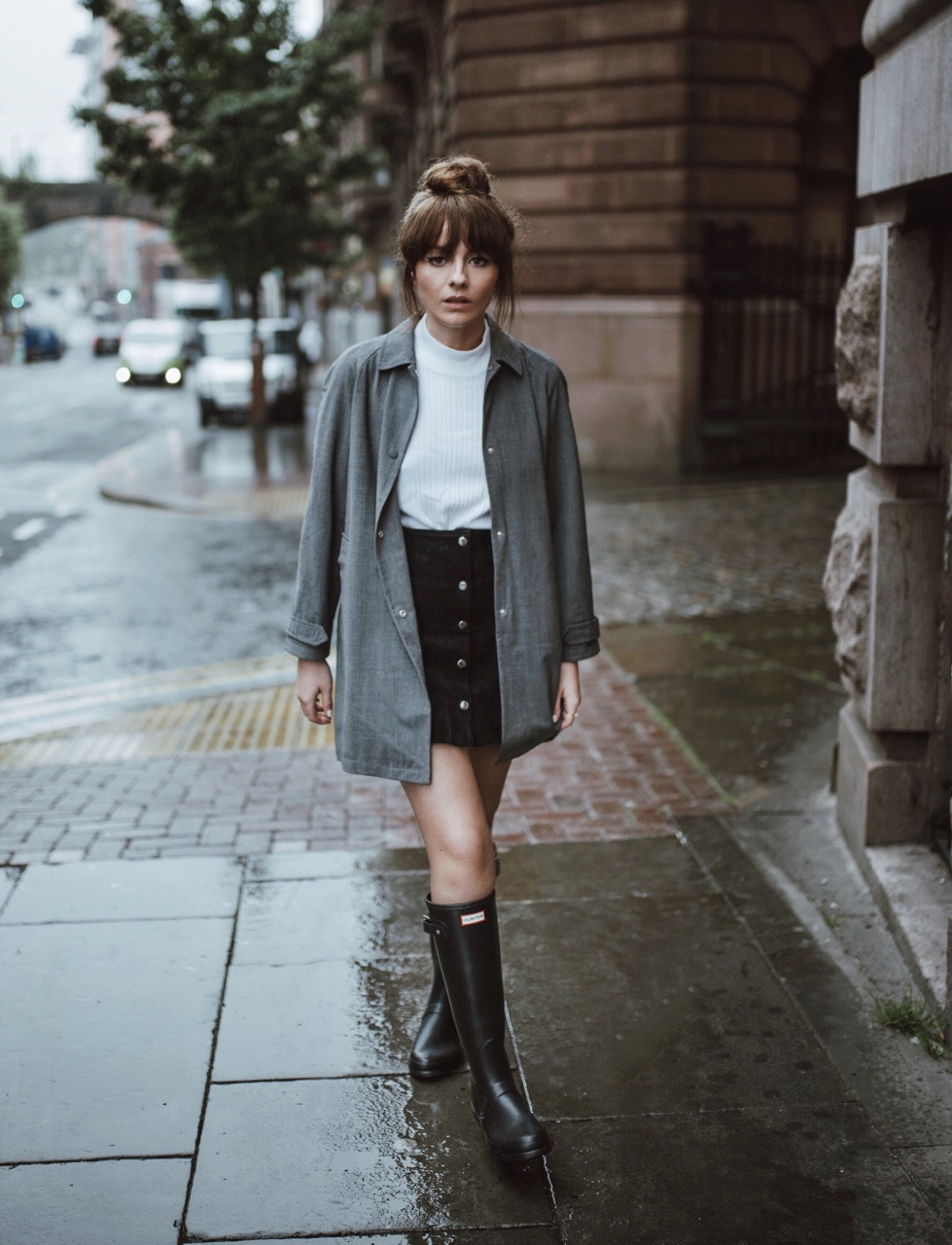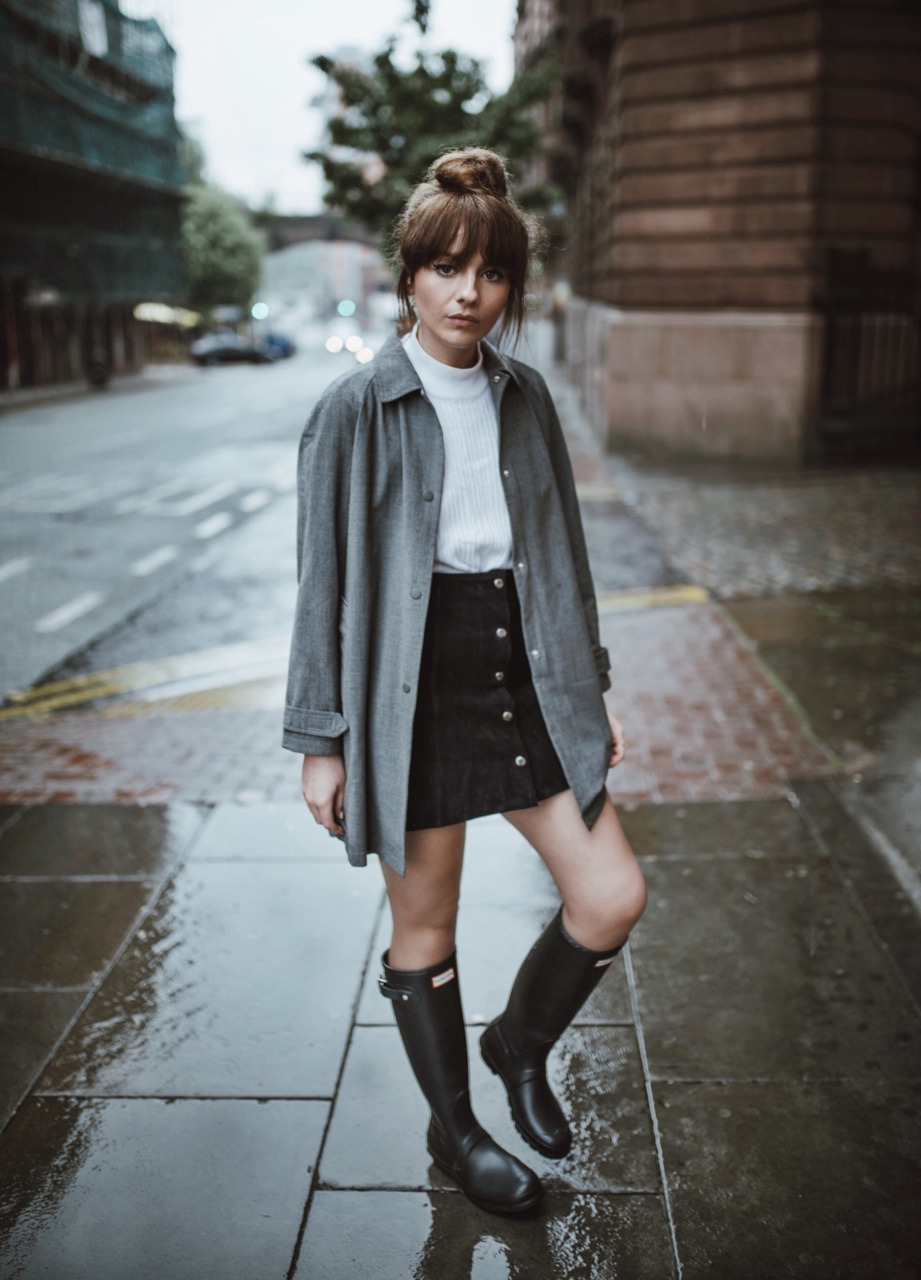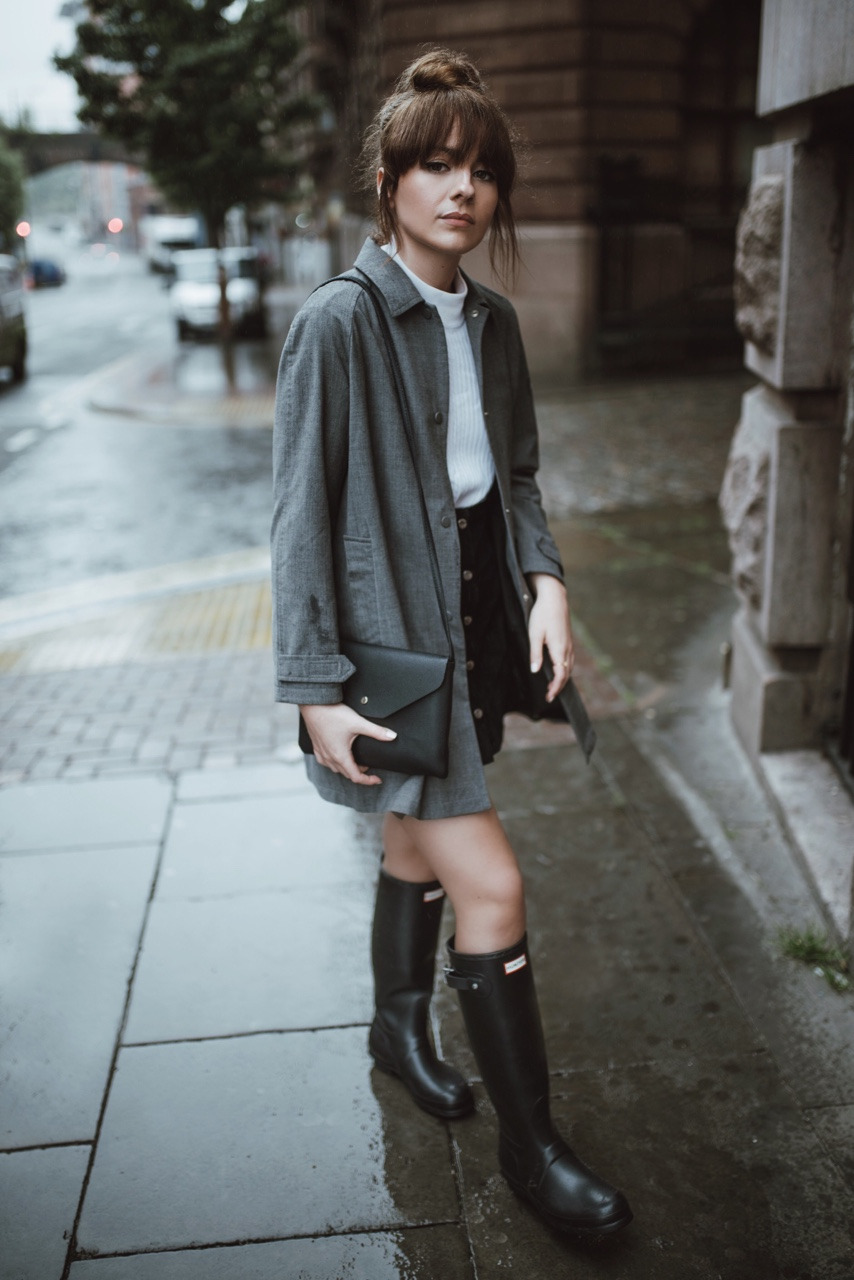 Top & Coat – Vintage | Skirt – Topshop (old season) | Bag c/o – New Look | Shoes c/o – Hunter
A little black A-line skirt is great for dancing the night away, and happens to be the perfect length to compliment a pair of wellies. It's difficult to feel nice/a little dressed up if you're at a festival, so a pretty skirt is a great form of compensation!
---
LOOK TWO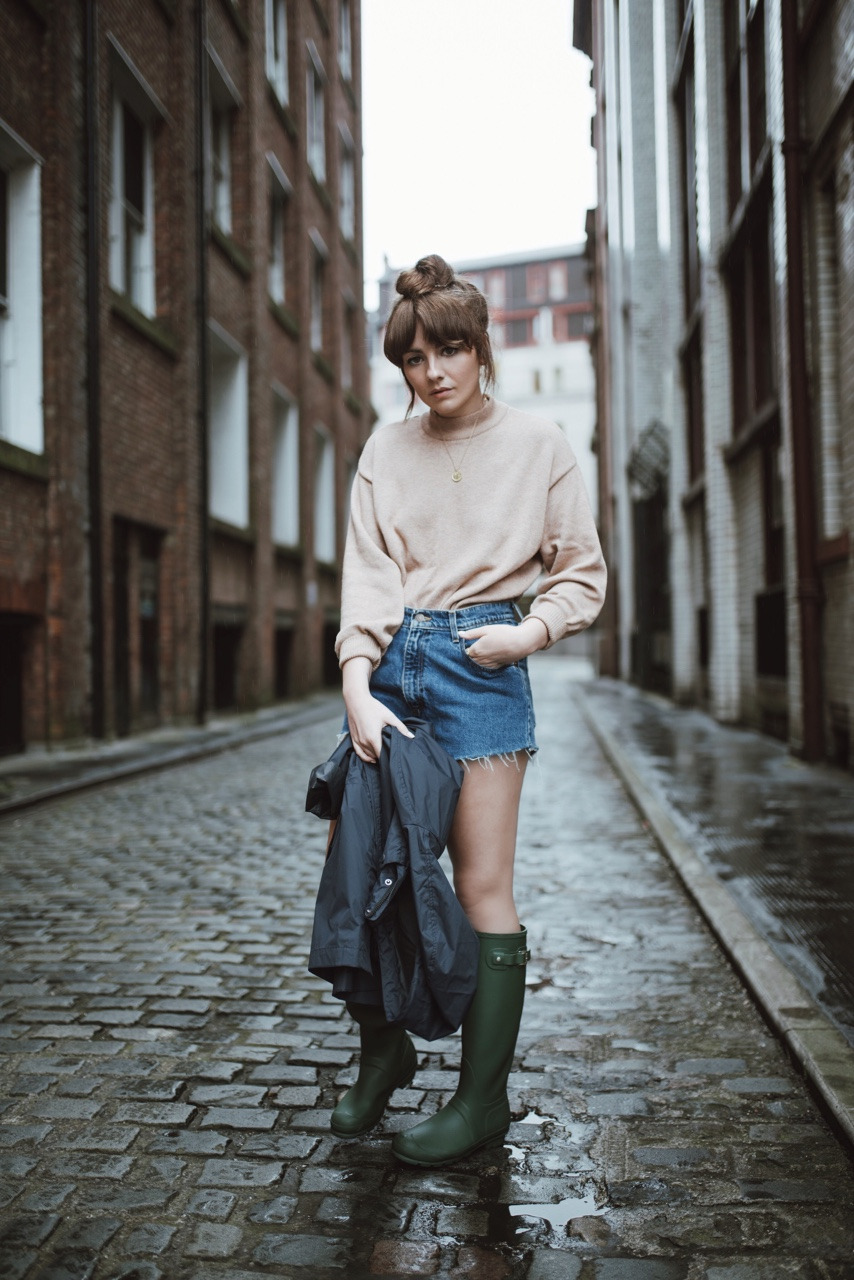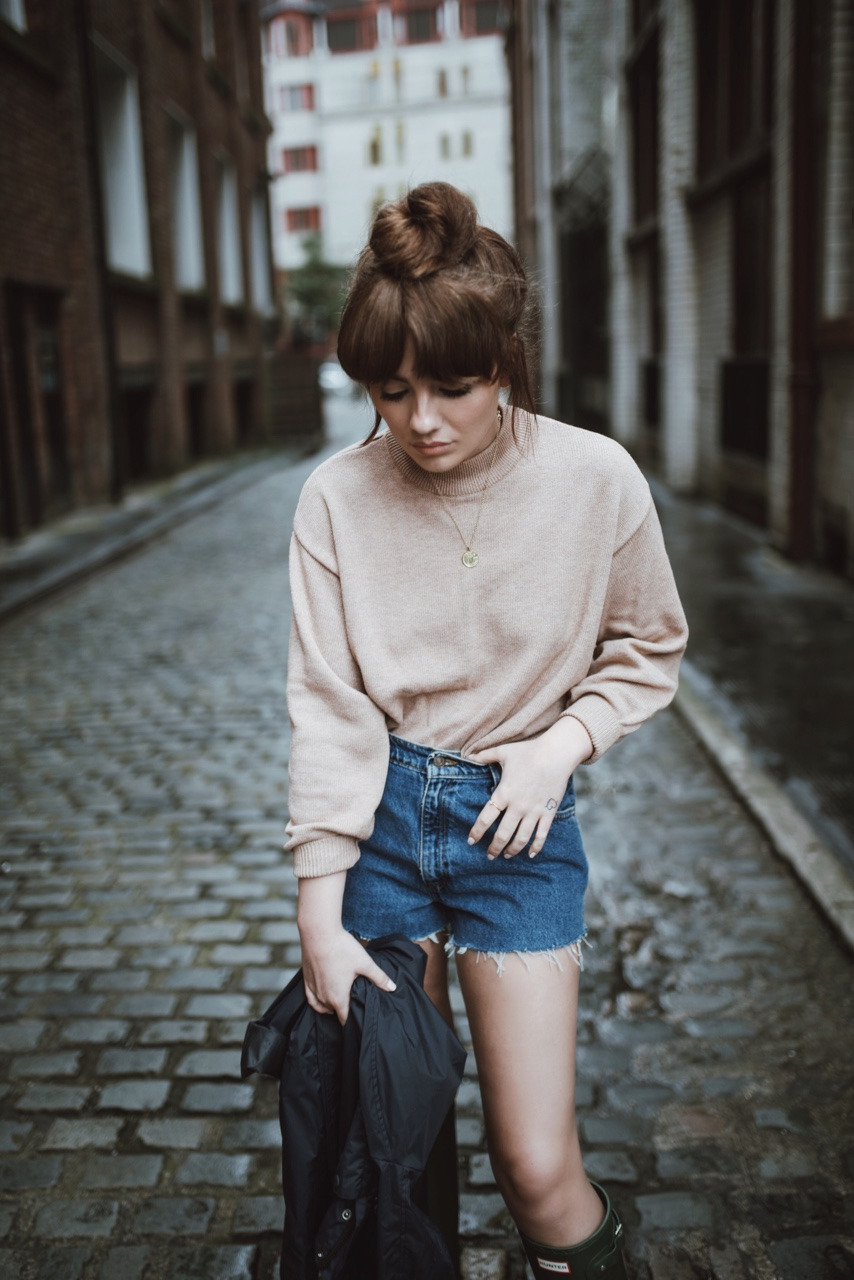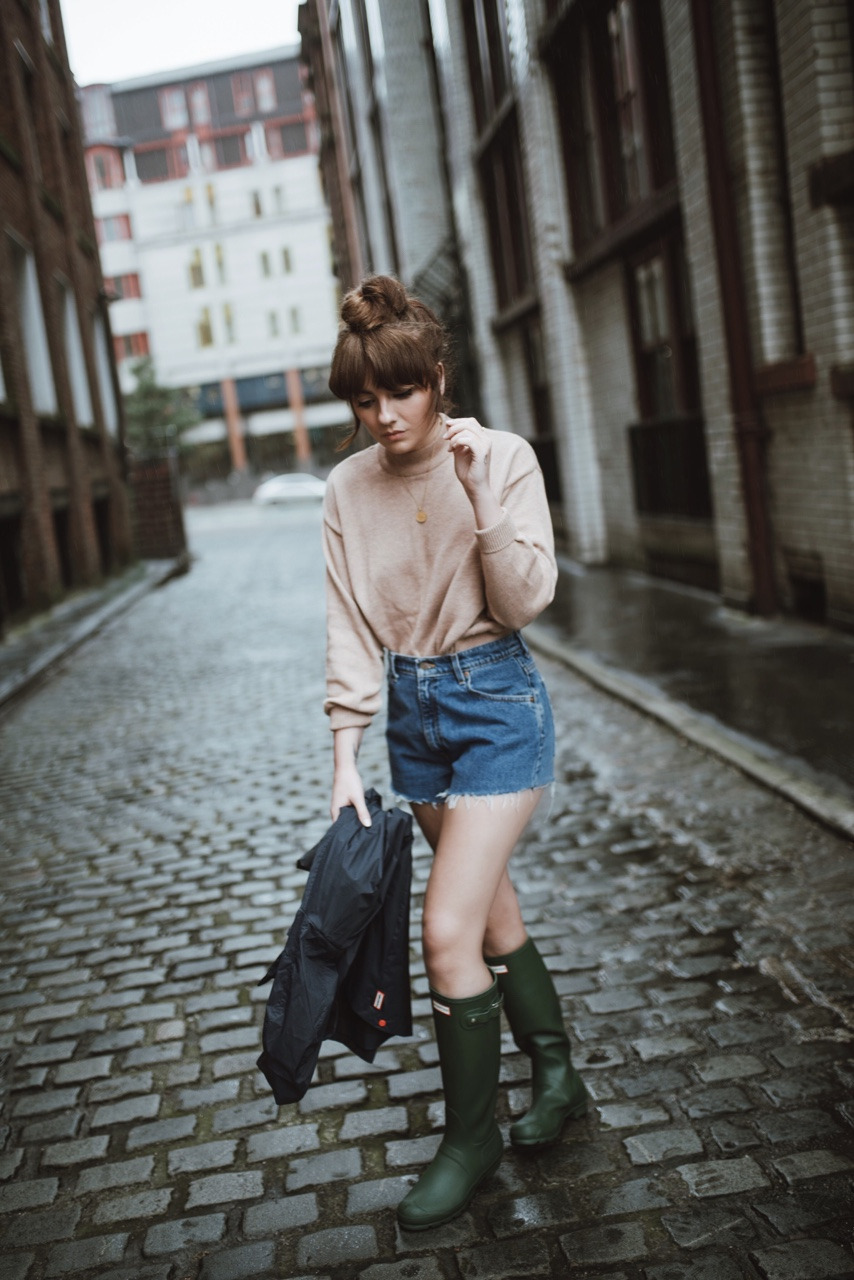 Jumper – H&M | Shorts – Vintage Levi | Shoes c/o – Hunter
Denim shorts and a jumper are a must among my festival attire – it's that 'in between' style of dressing that I've discussed quite a bit lately. A must have skill in order to survive the British Summer. It gets cooler in the evenings, so take layers, a thinner jumper, and a thicker jumper will always come in handy!
---
LOOK THREE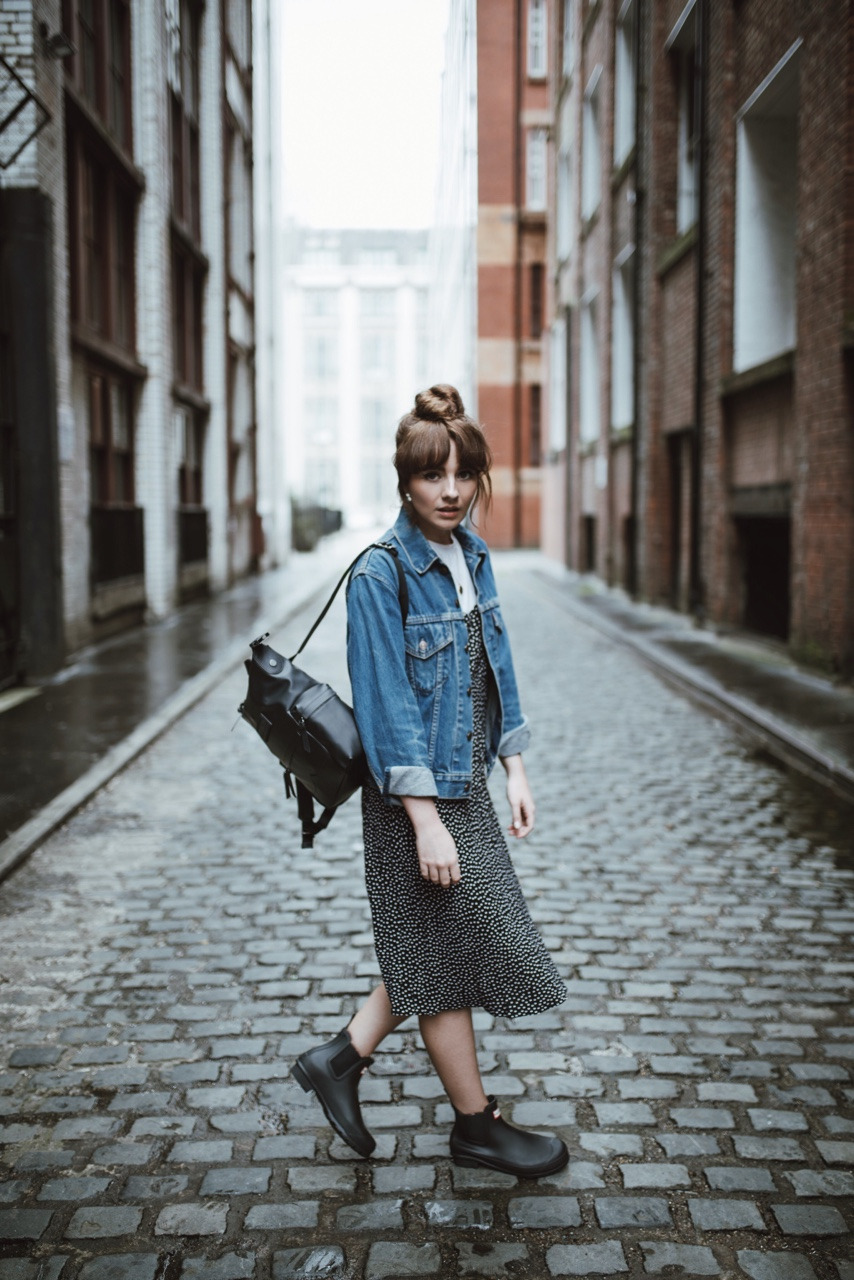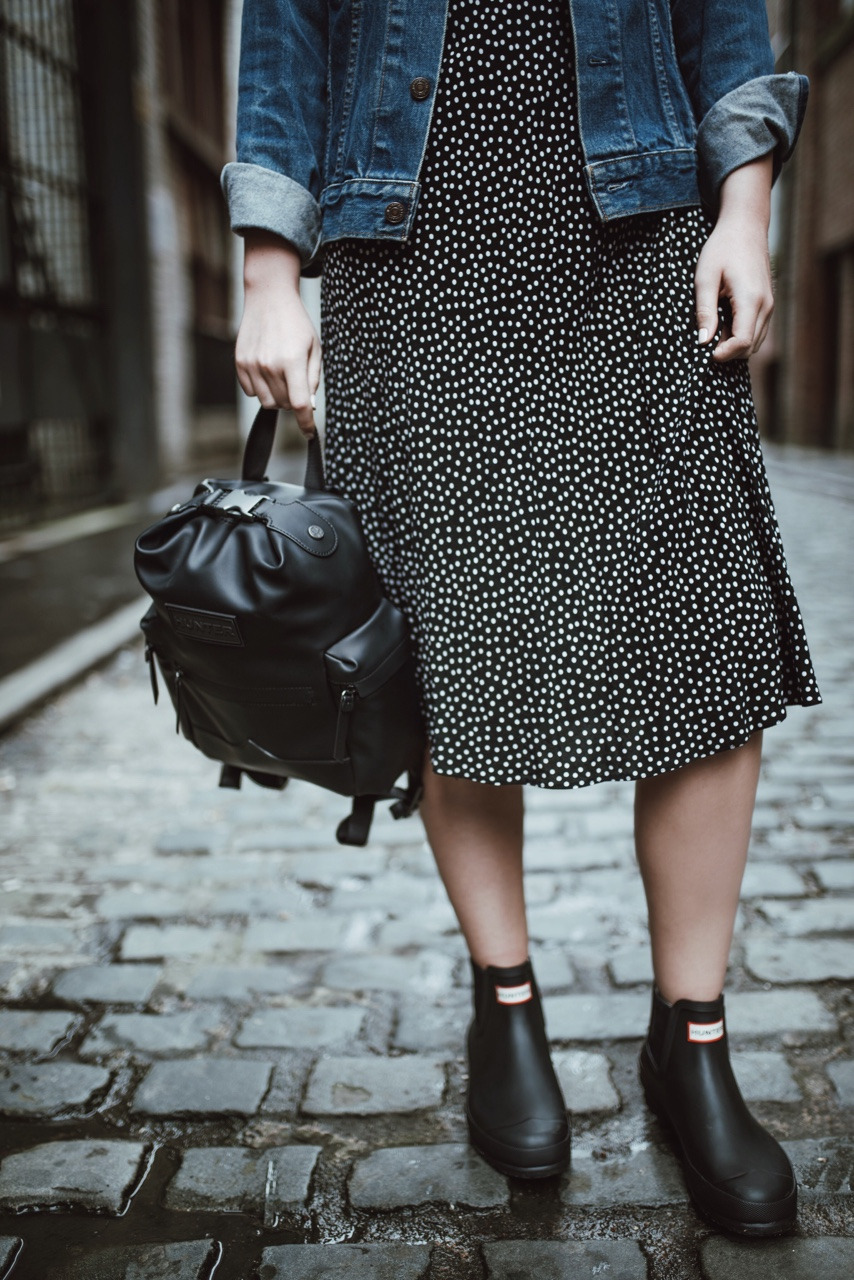 Slip dress – Vintage | Jacket – Vintage Levi | T-shirt – Ganni (sold out)| Shoes c/o – Hunter | Backpack c/o – Hunter 
I've had this polka dot slip dress for a few years now, and it still feels new every time I wear it. A classic midi slip is a festival essential. So easy to layer over t-shirts and it hides a multitude of sins! Throw on a trusty denim jacket and it's a look that will take you from festival day to night, no stressful tent changes included…
---
LOOK FOUR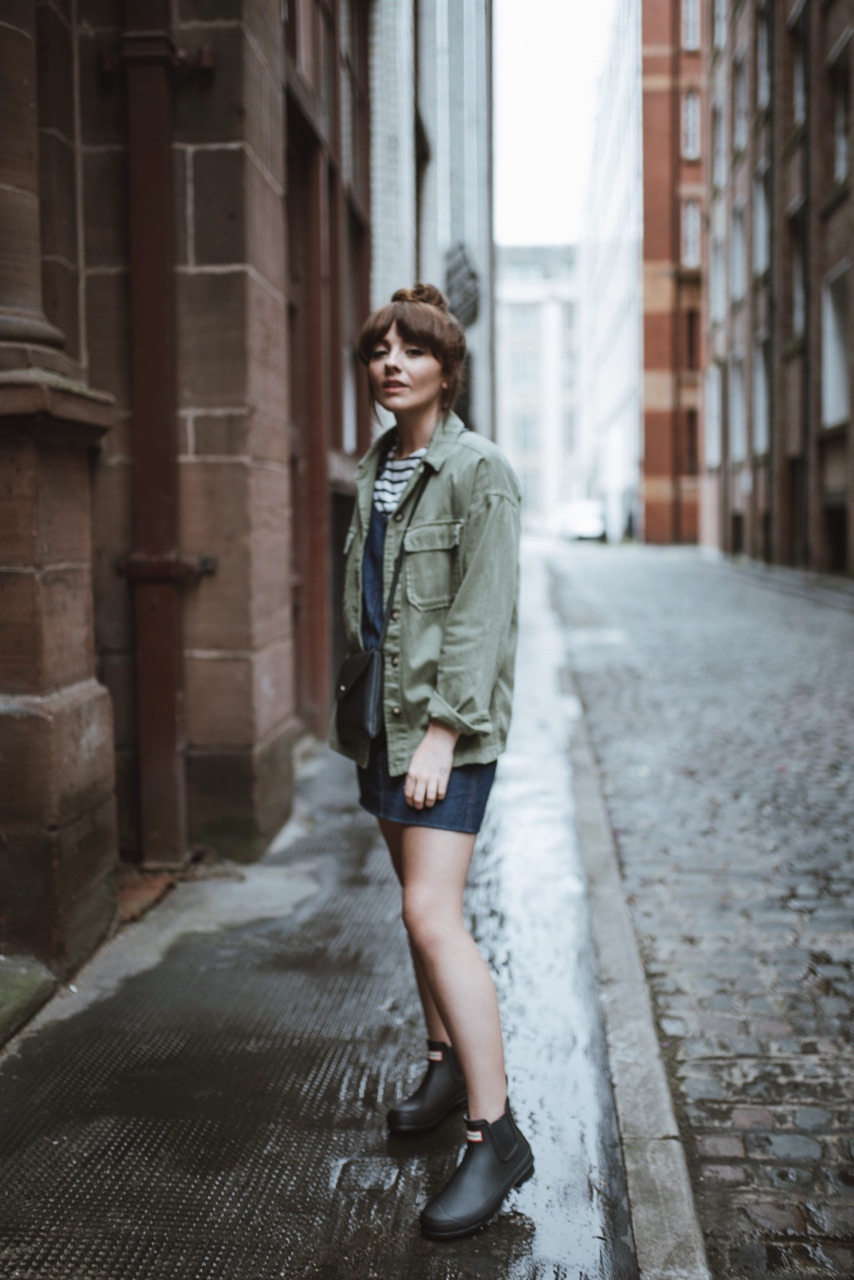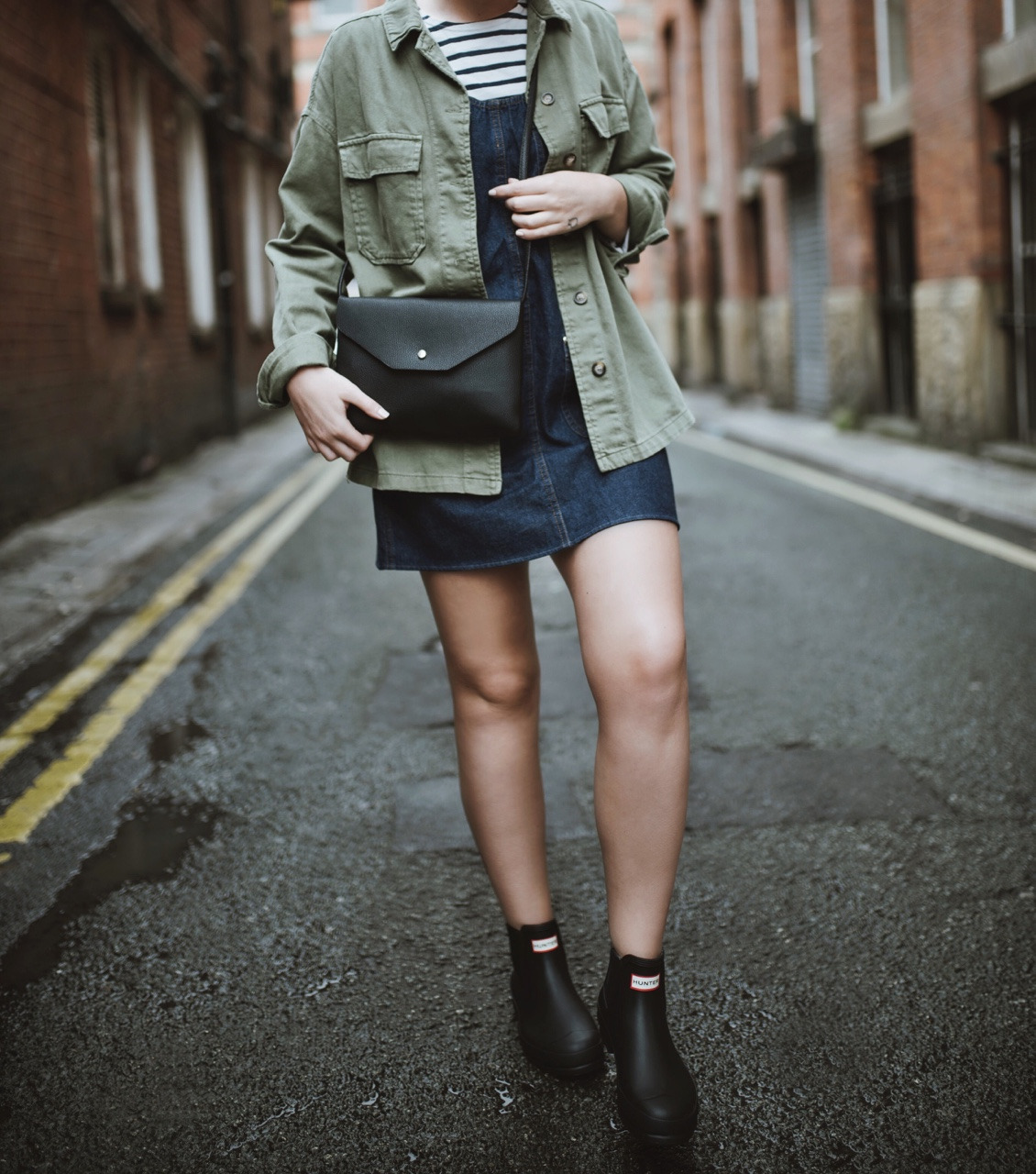 Pinafore & Breton top – Vintage | Jacket c/o – Urban Outfitters (old season) | Bag c/o – New look | Shoes c/o – Hunter
A denim pinafore, a simple Breton top, and a khaki jacket – all classic British festival essentials in my opinion, and happen to look quite cute teamed with these Hunter Chelsea boots. Traditional wellies are great and all, but if it's hot and muddy, these are a great alternative. You also wouldn't look out of place stomping around the city in these, and they happen to look great with a pair of crop flare jeans…
---
LOOK FIVE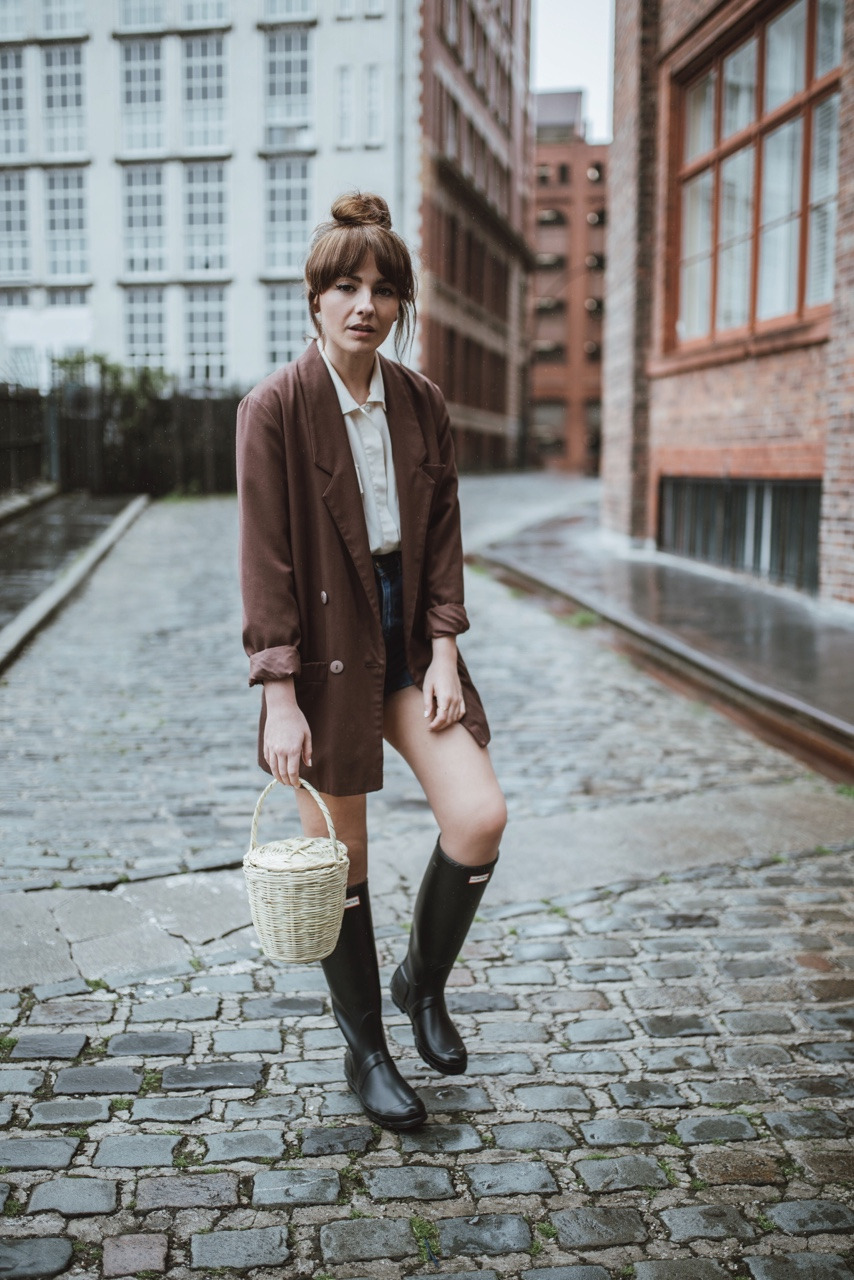 Jacket & Blouse – Vintage | Shorts – American Apparel | Bag c/o – Dream Baskets | Shoes c/o – Hunter
A white/cream blouse or shirt is great for when the sun is shining – easy to tie up in a knot to keep you cool, or wear it open over a little cami as an extra layer. Granted, it might not be the wisest colour choice for a festival, but it will look great for as long as it lasts. An oversized vintage blazer is a always a winner too – it doesn't matter what you have on underneath, an oversized jacket will automatically make it look cool.
I hope you enjoyed my 'British Summer' inspired looks – lots of great pieces for roaming around the city, or to pack for your next festival! Let me know which was your favourite combination in the comments below – would love to know what festivals you have lined up too…
Alice x
---
Photography by Adriana
SHOP MY SUMMER/FESTIVAL ESSENTIALS