It's not long now until Christmas – festivities are well underway, and it's now socially acceptable to wear sequins during the day. Elf costumes too apparently – my eyes have been treated to some delightful sights over the last couple of weeks and long may it continue. I thought I'd well and truly get myself into the festive spirit and start curating some outfit inspiration for the busy few weeks ahead! Think everything from the works Christmas party, the big day itself, or simply a leisurely trip to the markets for some mulled wine. These are some of the pieces I'll be turning to for all the previously mentioned antics, and possibly even New Year's Eve…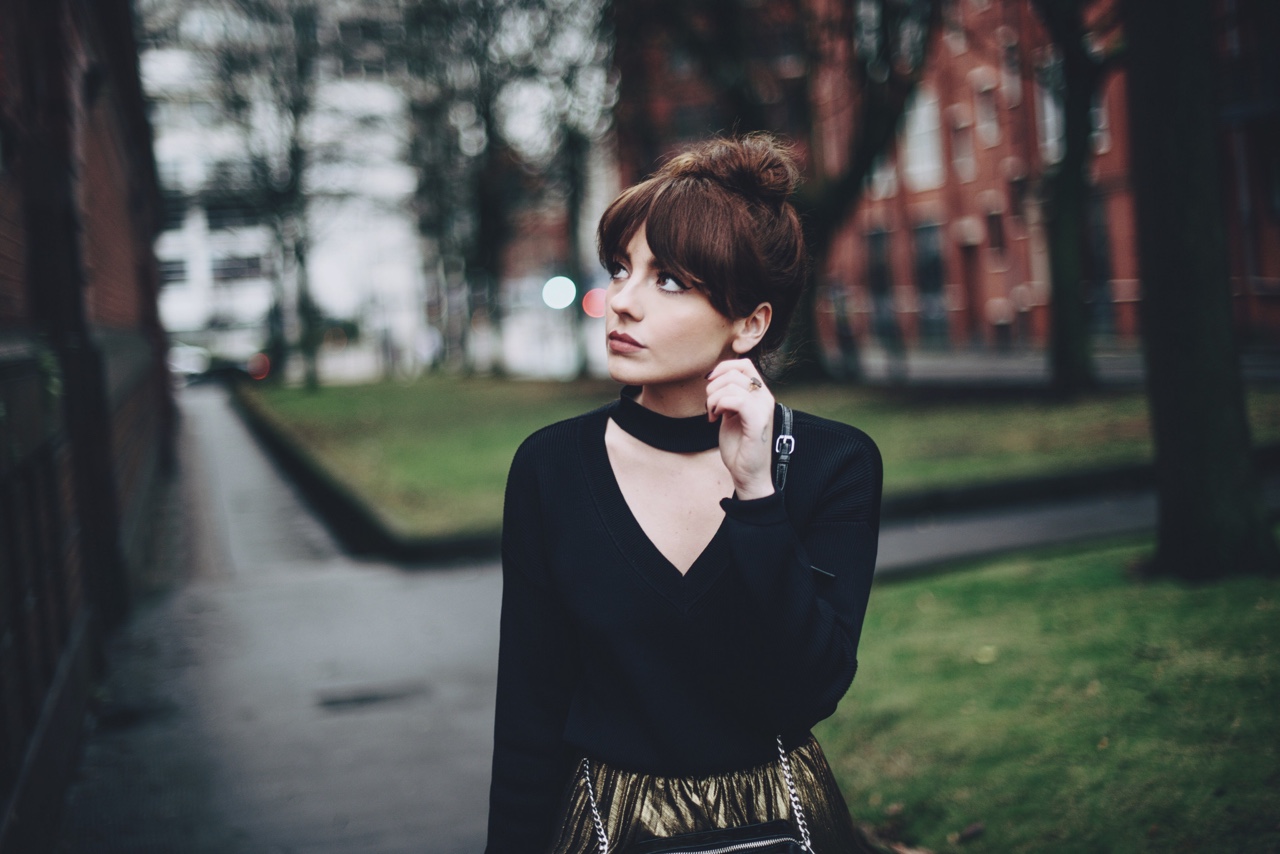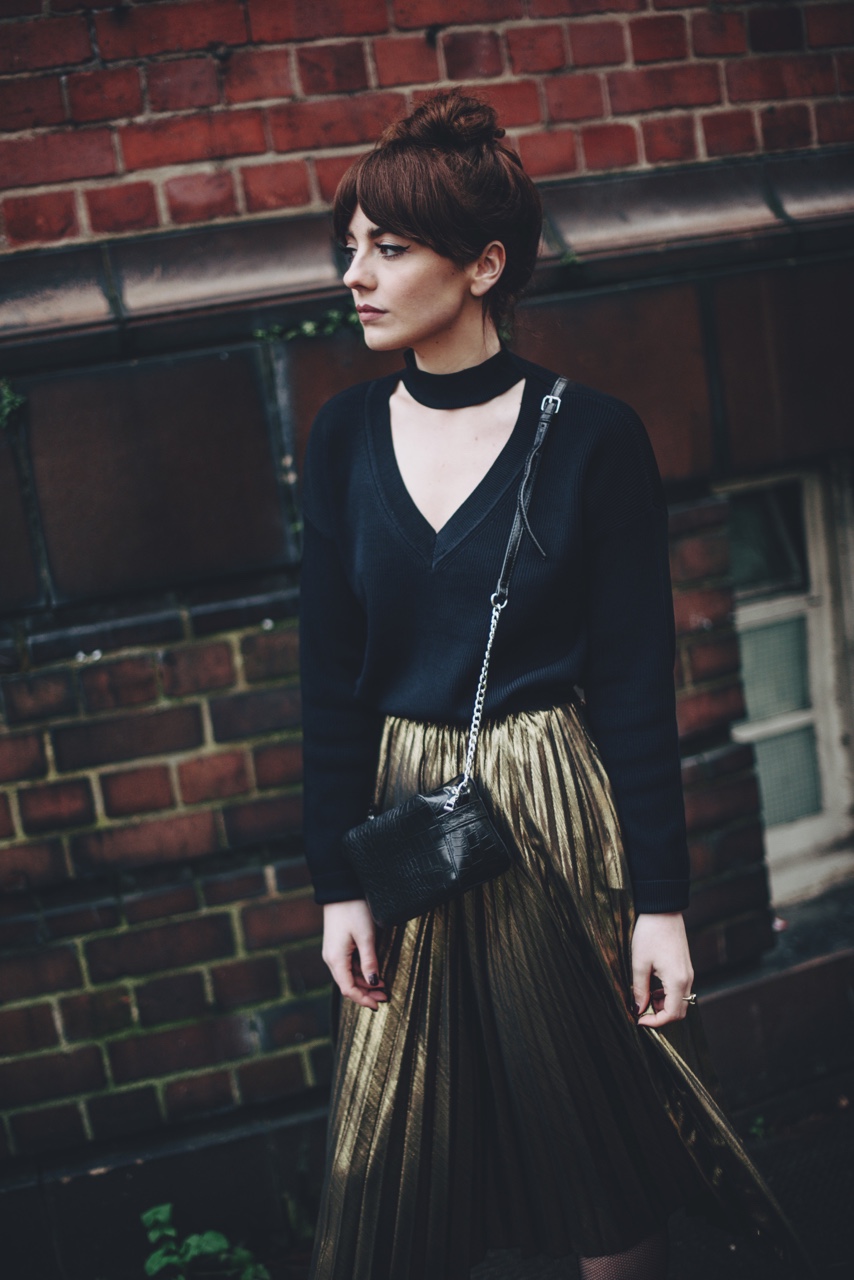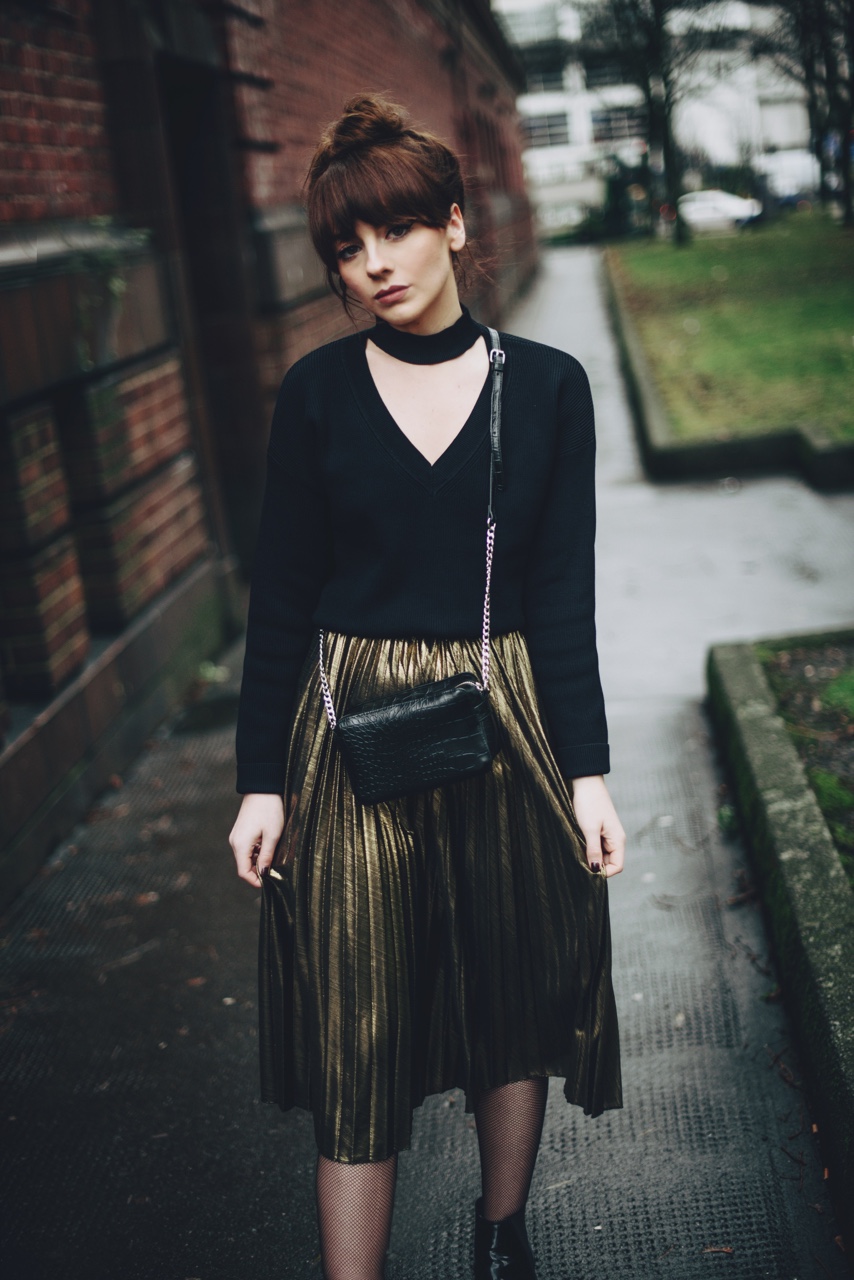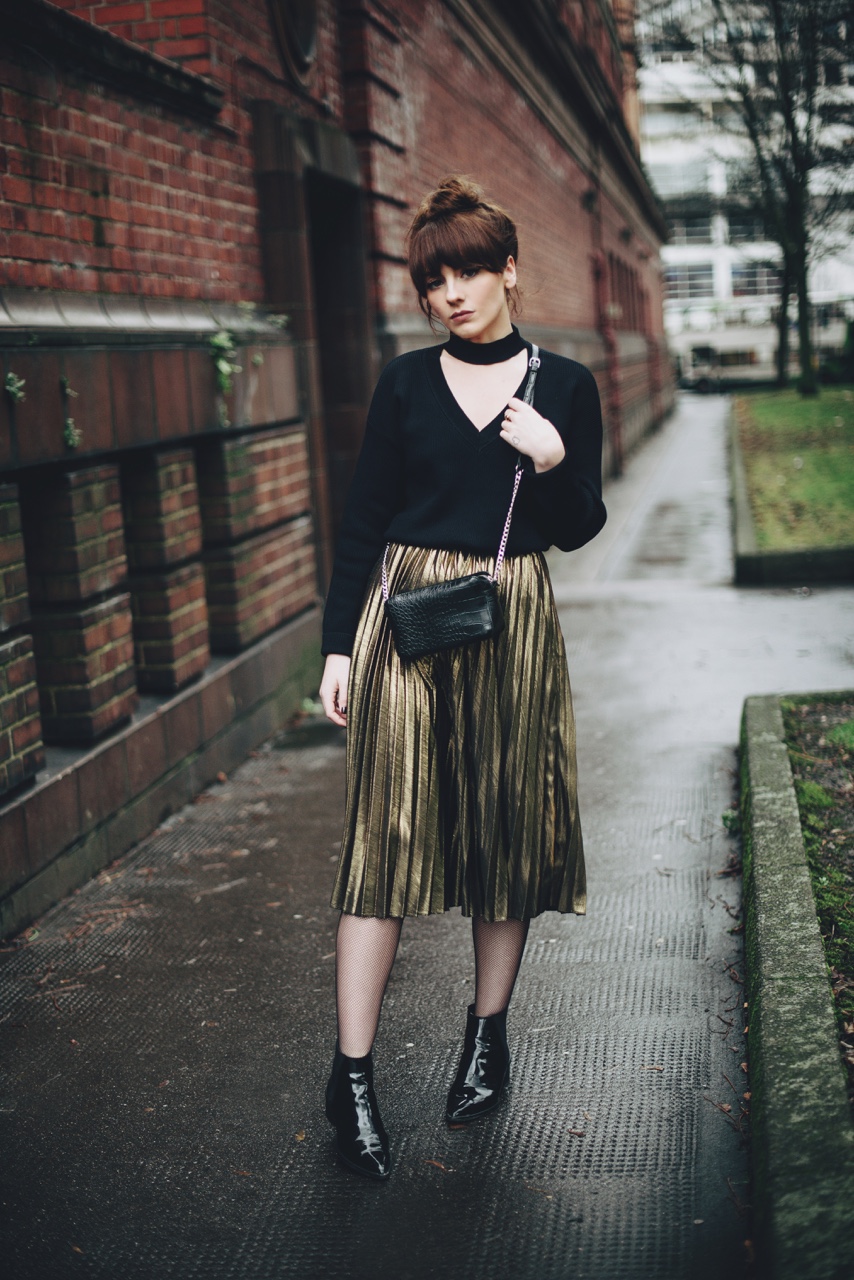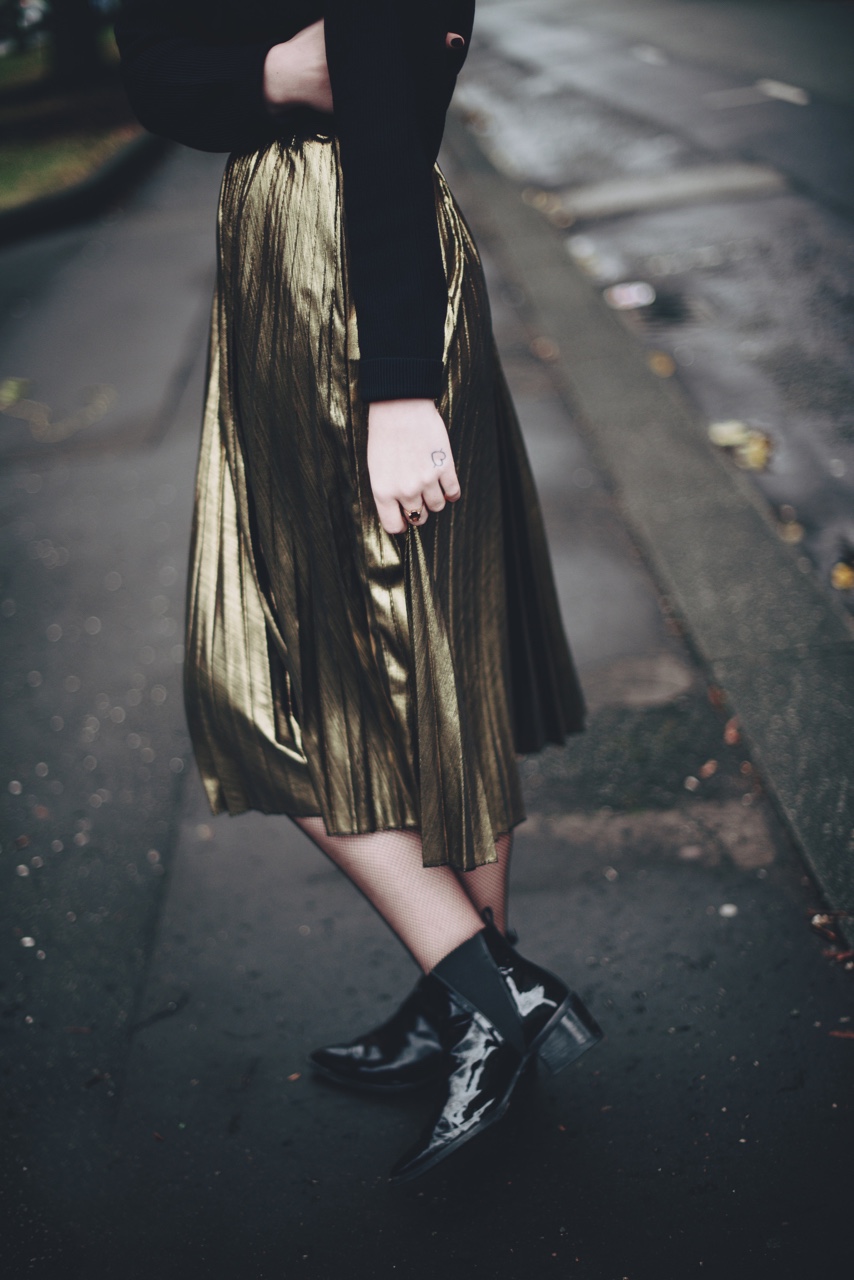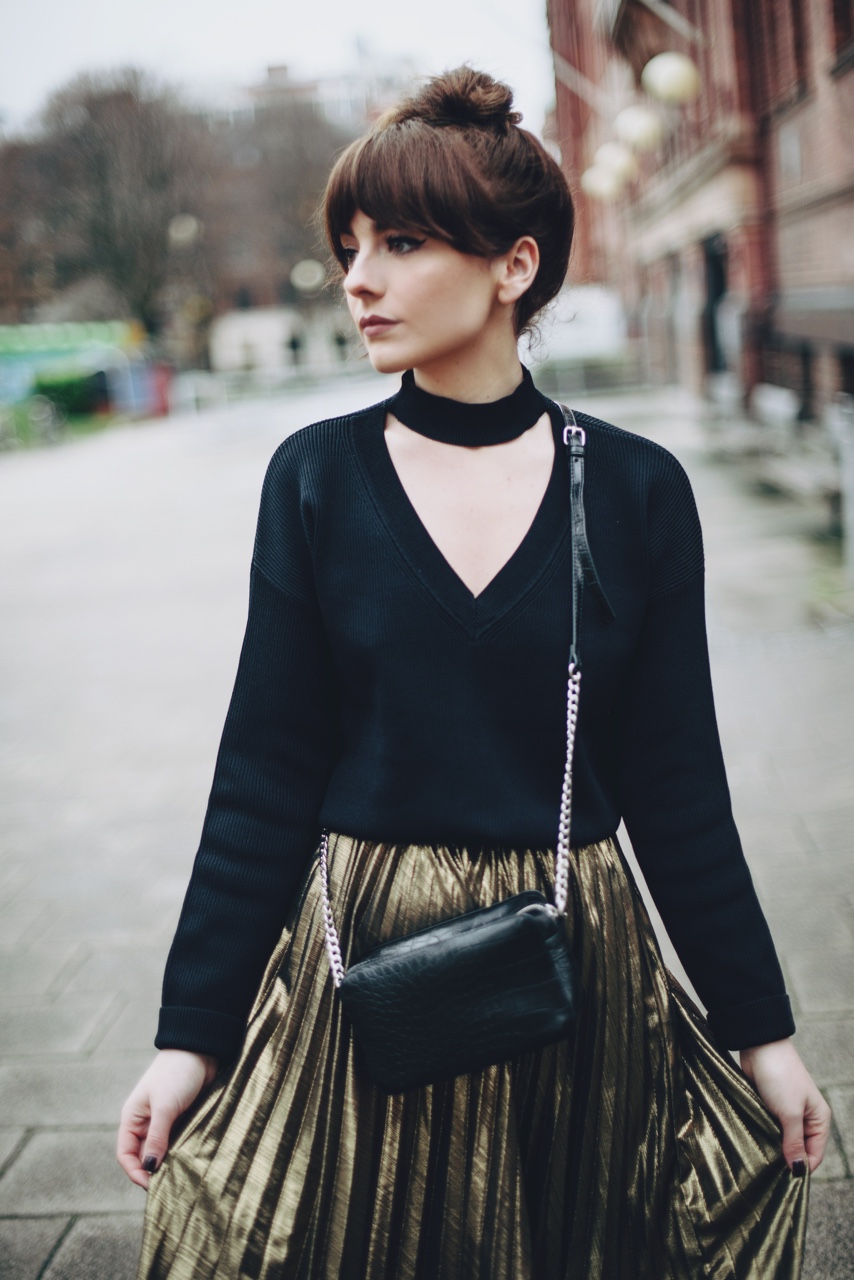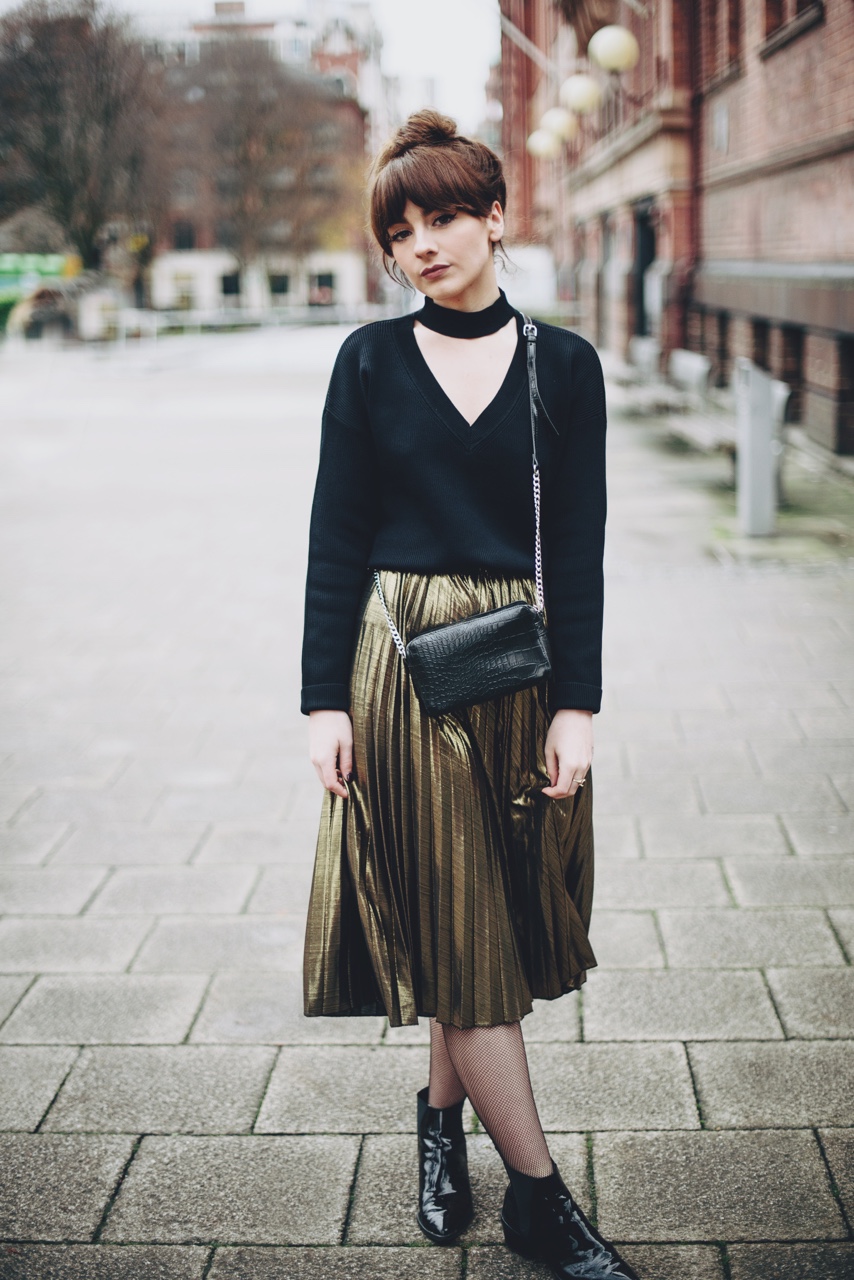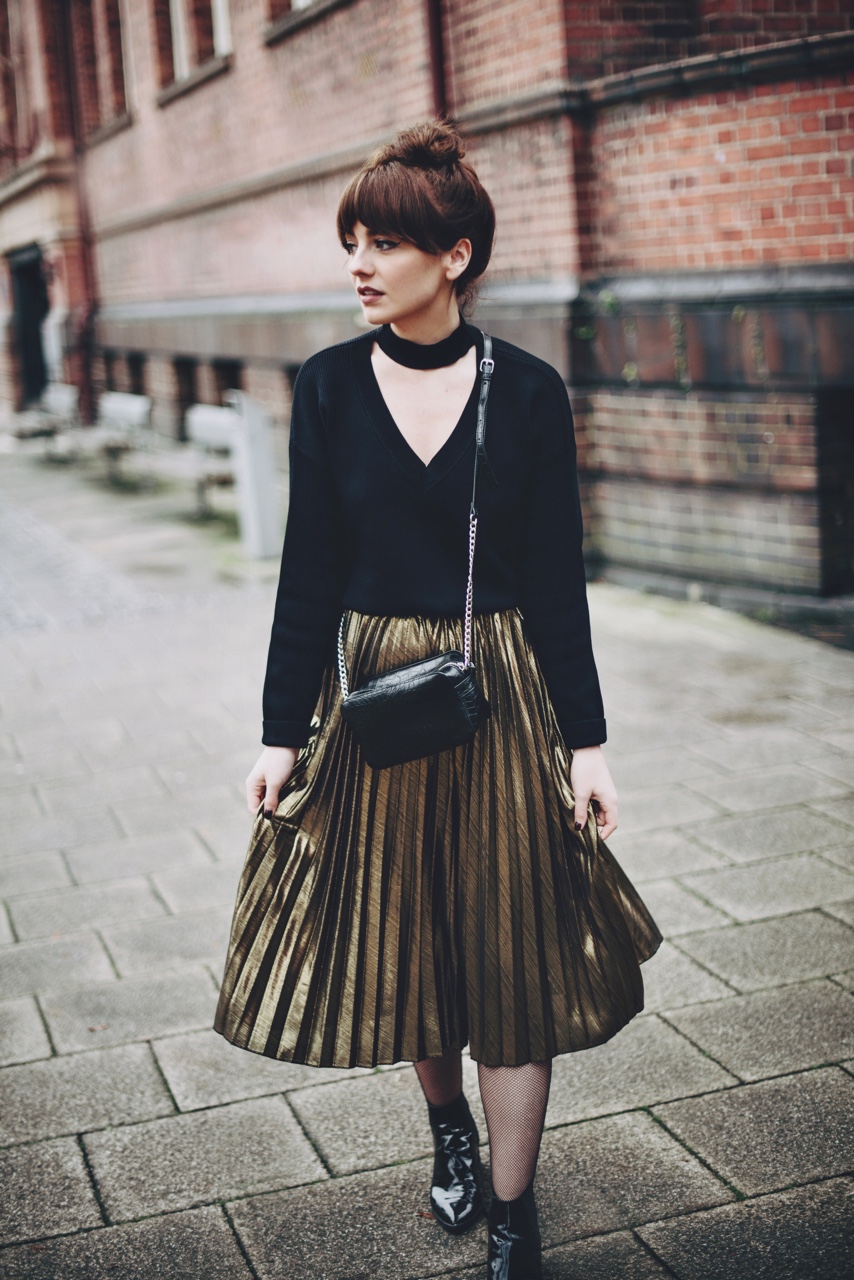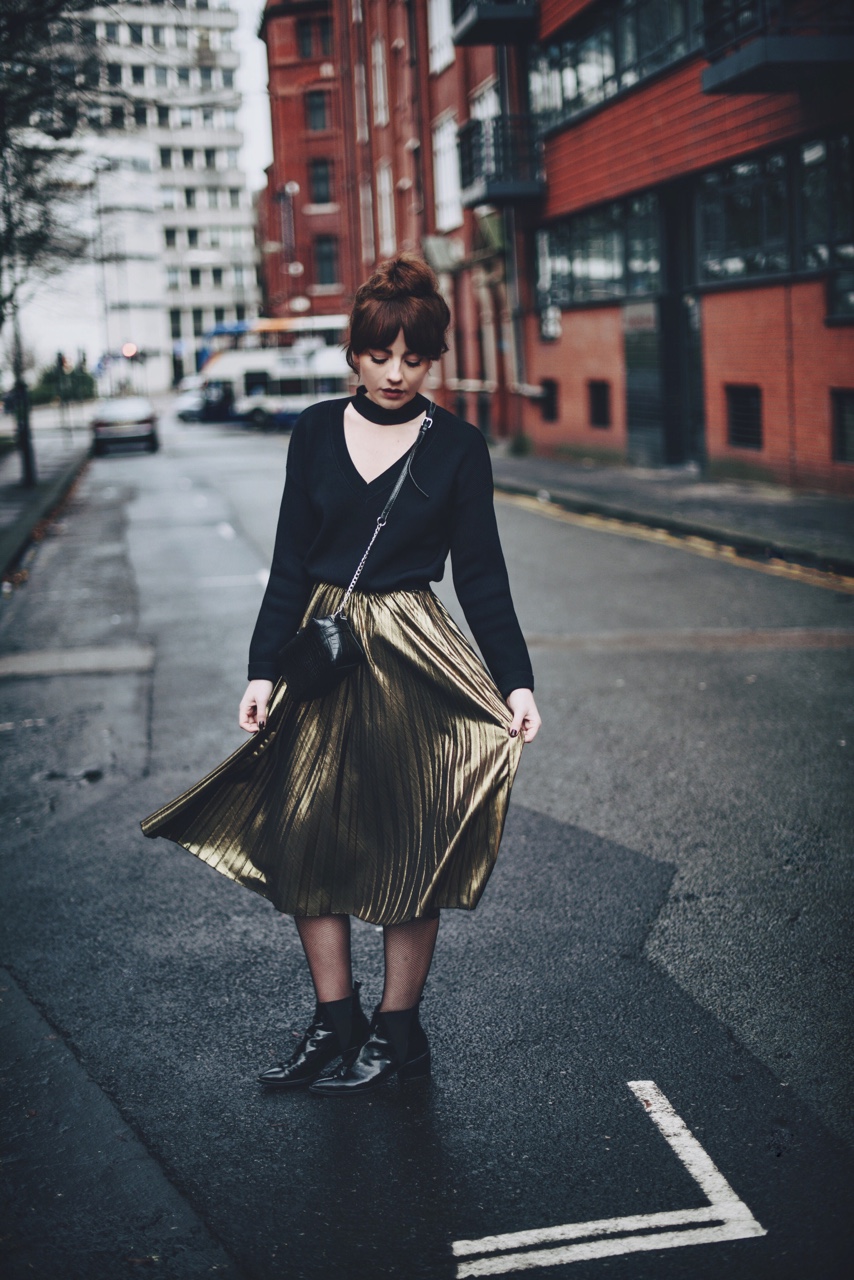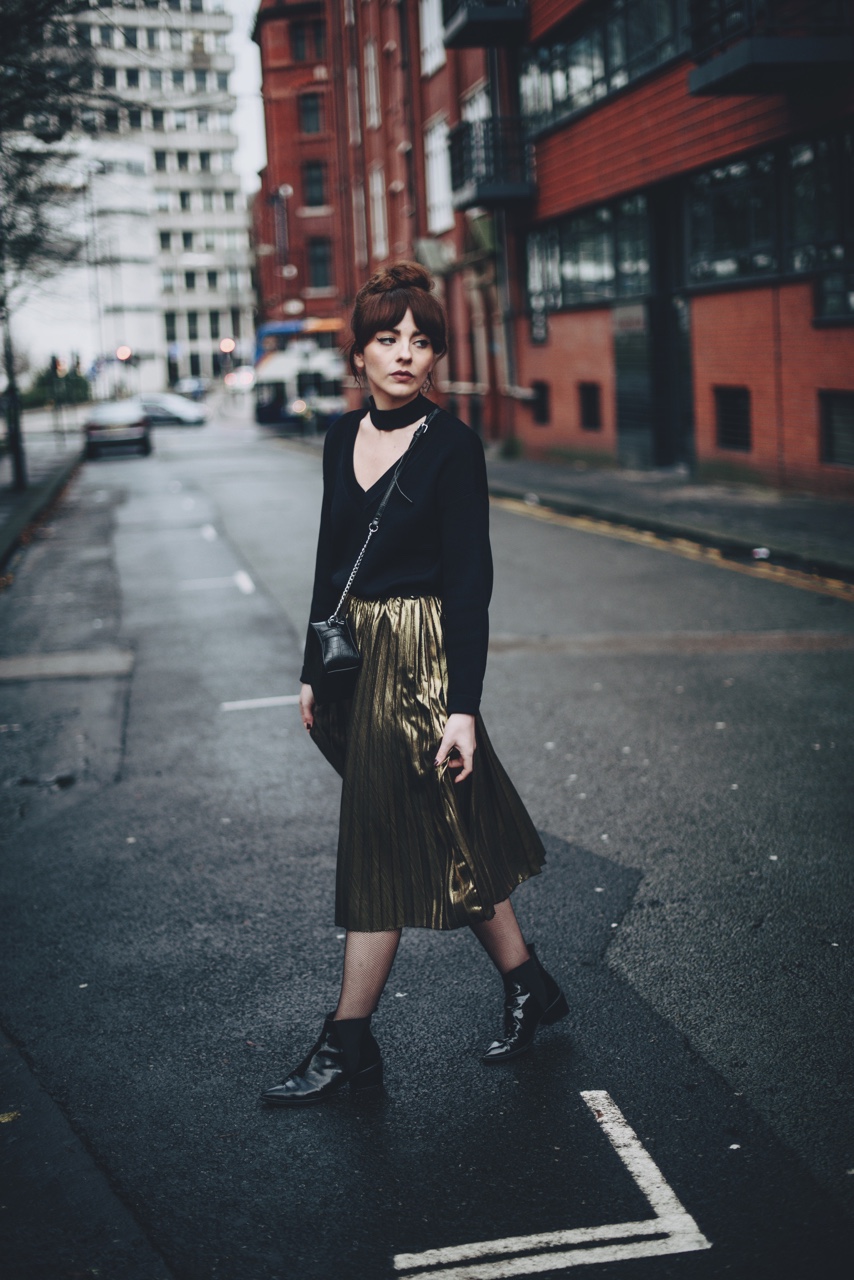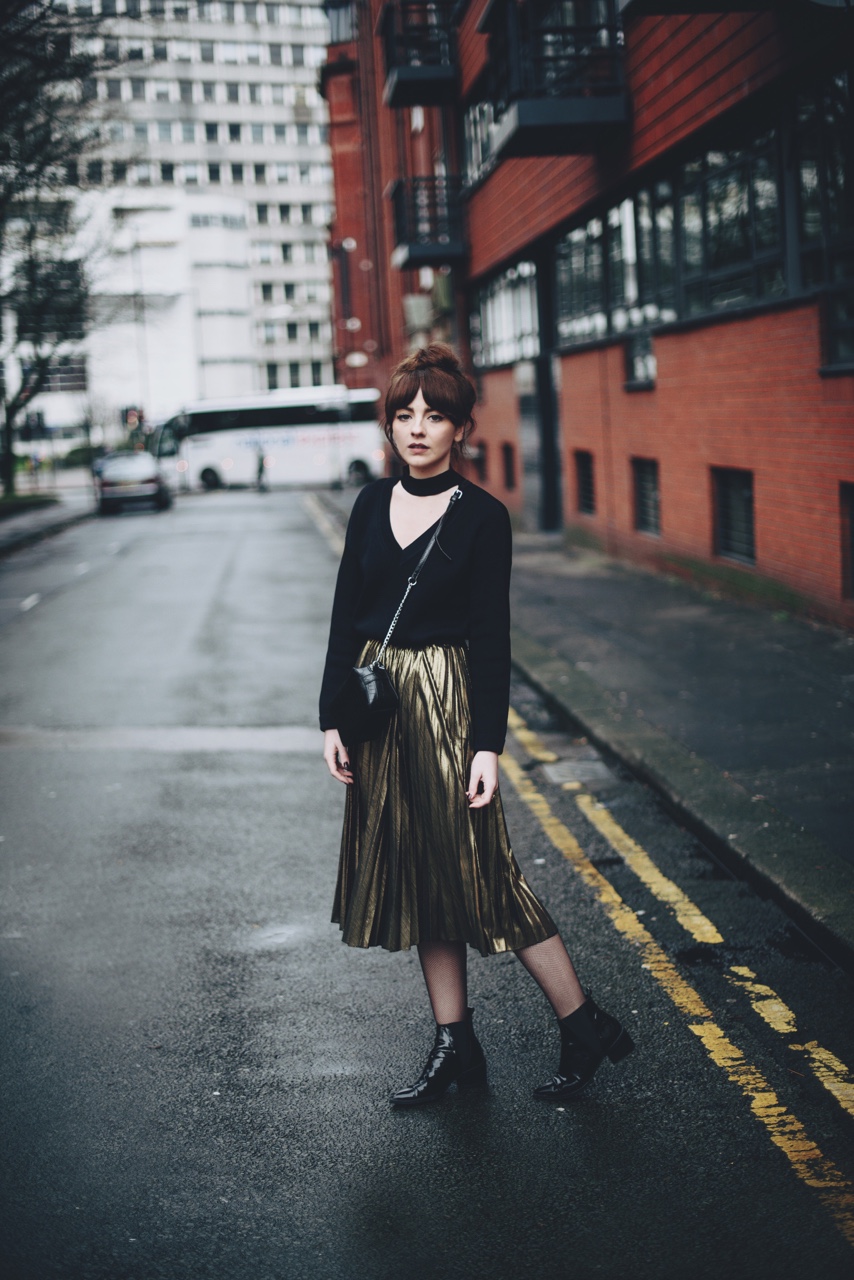 LOOK ONE – METALLIC SKIRT
I have always been a big fan of pleated material in general – there's something really vintage looking about it, and it always seems to make an outfit look instantly cool. Pleated skirts have been everywhere this season, and have joined force with the metallic trend to churn out an array of shimmering pieces for the party season that is now very much upon us. A lot of skirts I had come across in this style hadn't impressed me much, they all seemed to hang a bit comically, and look a bit on the tacky side. Now, I'm definitely not against a bit of tackiness around Christmas time, but I wanted a skirt that felt nice and floaty, and less 'giant quality street'. This beauty is the perfect happy medium, and is currently top of the leader board for my official Christmas day outfit – always something I consider very seriously. Up until post Christmas dinner that is, when the pyjamas are out in full force!
Paired with this black choker style jumper, it's the type of look that could work for a multitude of festive occasions. It's suitable for anything from Christmas Day to works Christmas party – it's laid back and comfortable, but still looks put together. The choker neckline and fishnets means there's that little bit of skin on show, and the patent boots add that extra Sixties vibe. If I wanted to dress this look up a little more – I'd probably opt for a black satin cami, teamed with some sheer ankle socks, and pointed court style shoes. Then maybe some red lipstick to really play against the metallic golden colour of the skirt! It would also look amazing with a crop black mohair jumper and some flat loafers to strip it right back down to daytime casual. I think I've mentioned this before on here, but I'd definitely recommend investing in a pleated midi skirt for the winter months – I have a couple now and they have become my go-to pieces. They always make me feel more confident, and they look incredible with any kind of crop jacket.
 Lets not skim over the bag – I mean just look at it! I'm obsessed with these little camera style bags that have been more popular than ever lately. You may have noticed that I love a cross body bag – and this cutie has been a very welcome addition to the family. They tend to look deceivingly small, yet this actually holds my camera and any other essentials I might need for the day ahead. I'm really impressed with the quality considering how affordable it was, and the silver chain detail just gives it that cooler edge.
Skirt – Glamorous | Jumper – Topshop | Boots – Whistles | Bag – Asos | Tights – Asos | Ring – BuckleBowPearl
---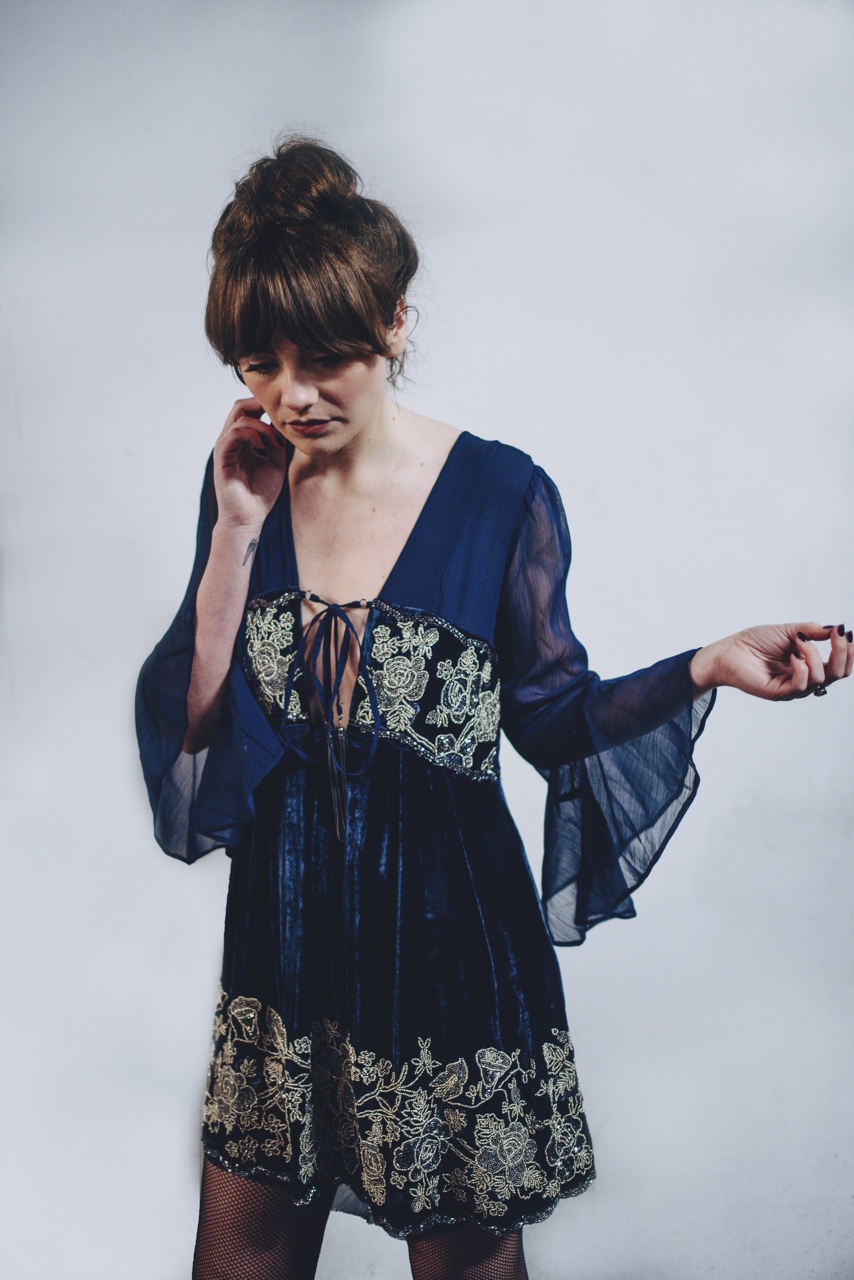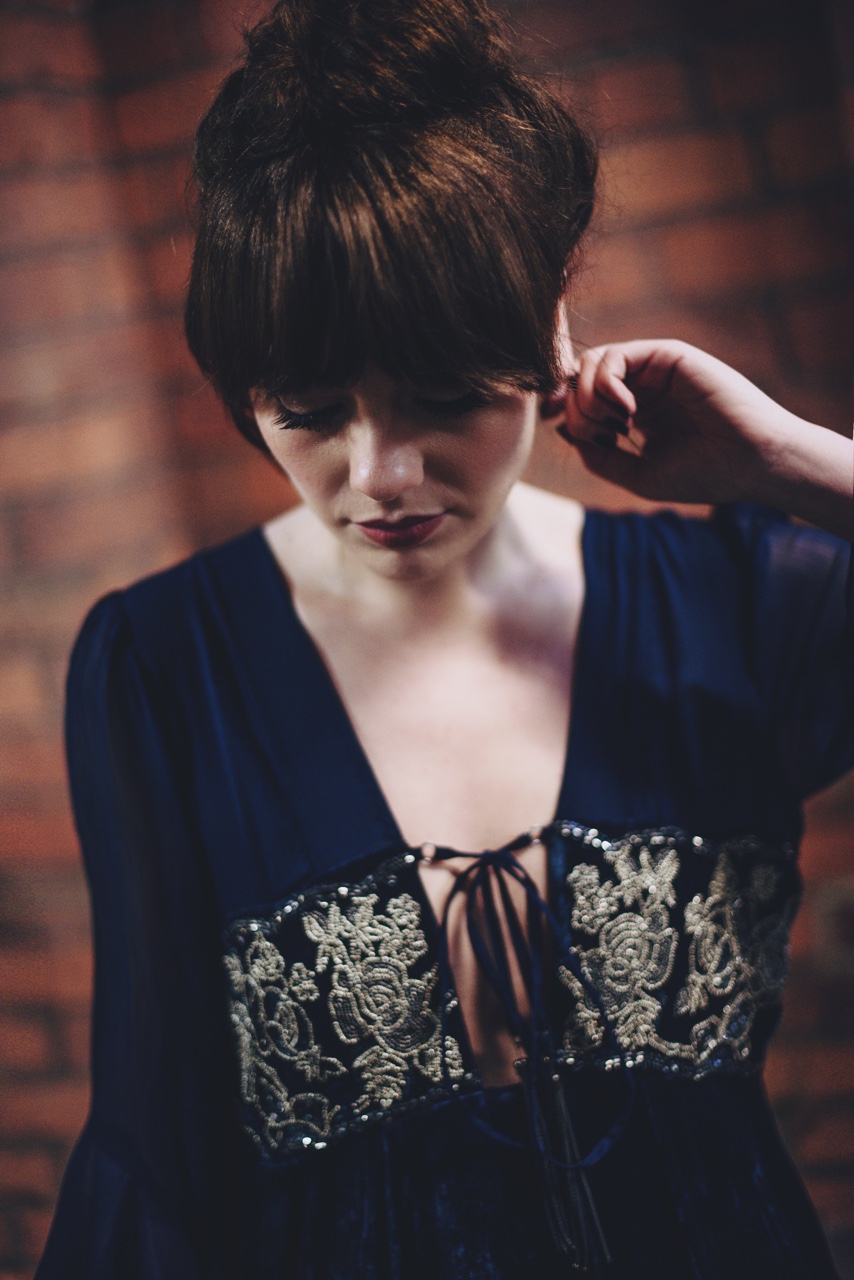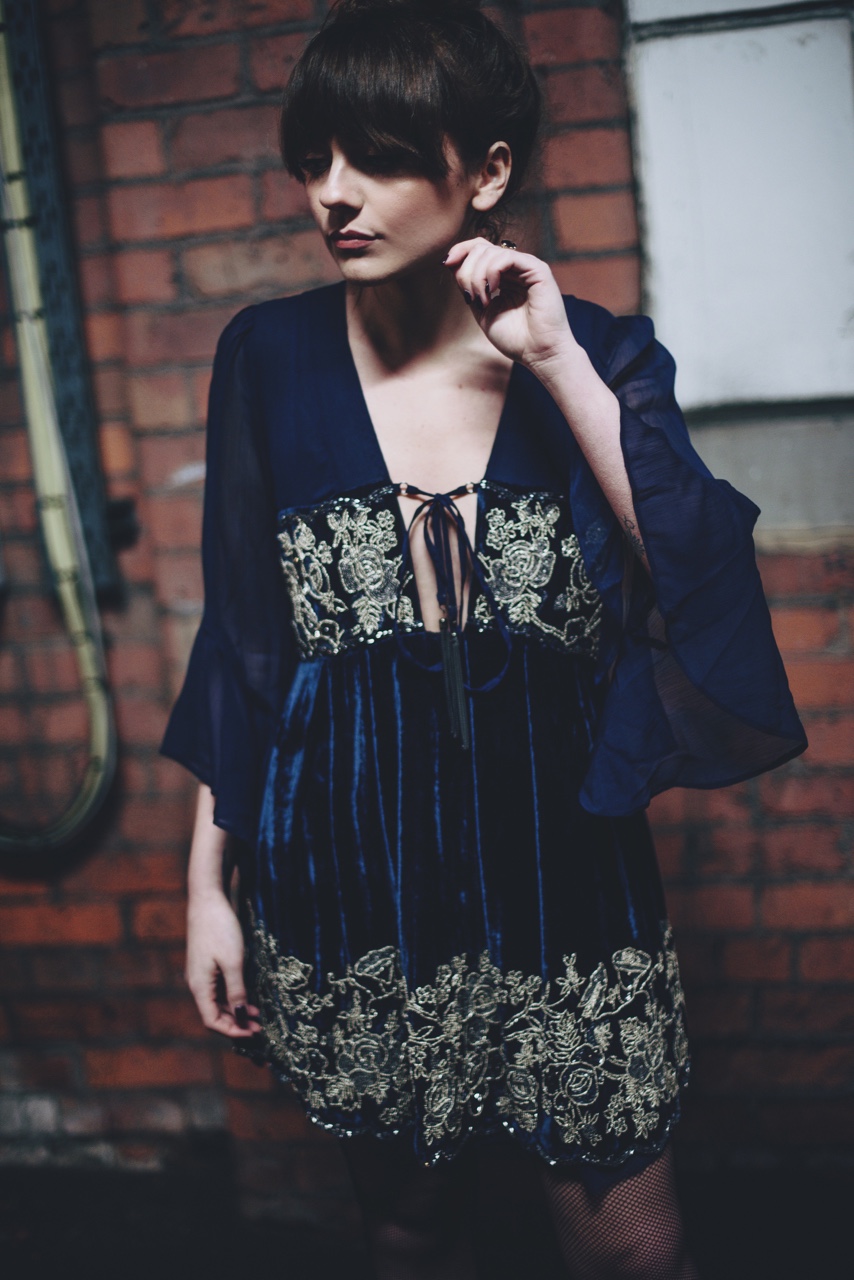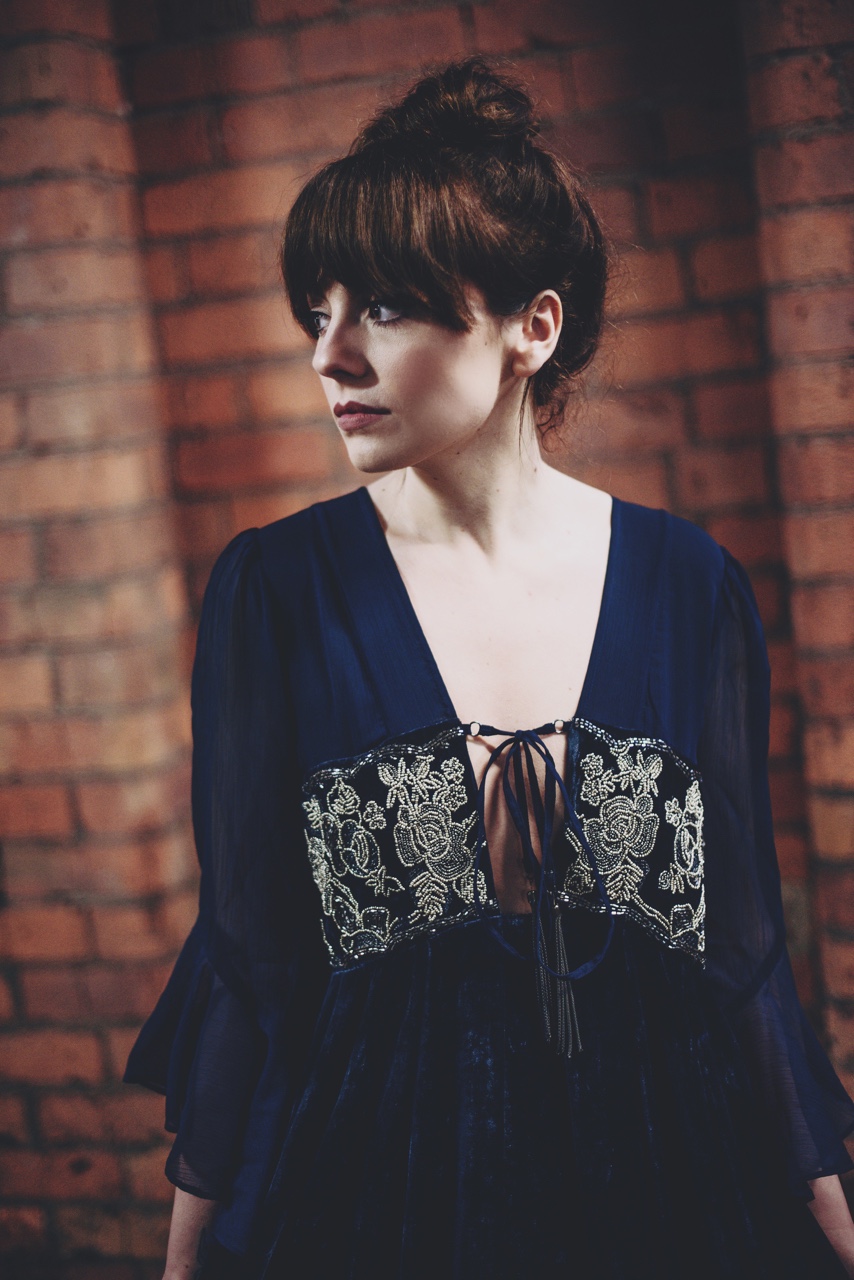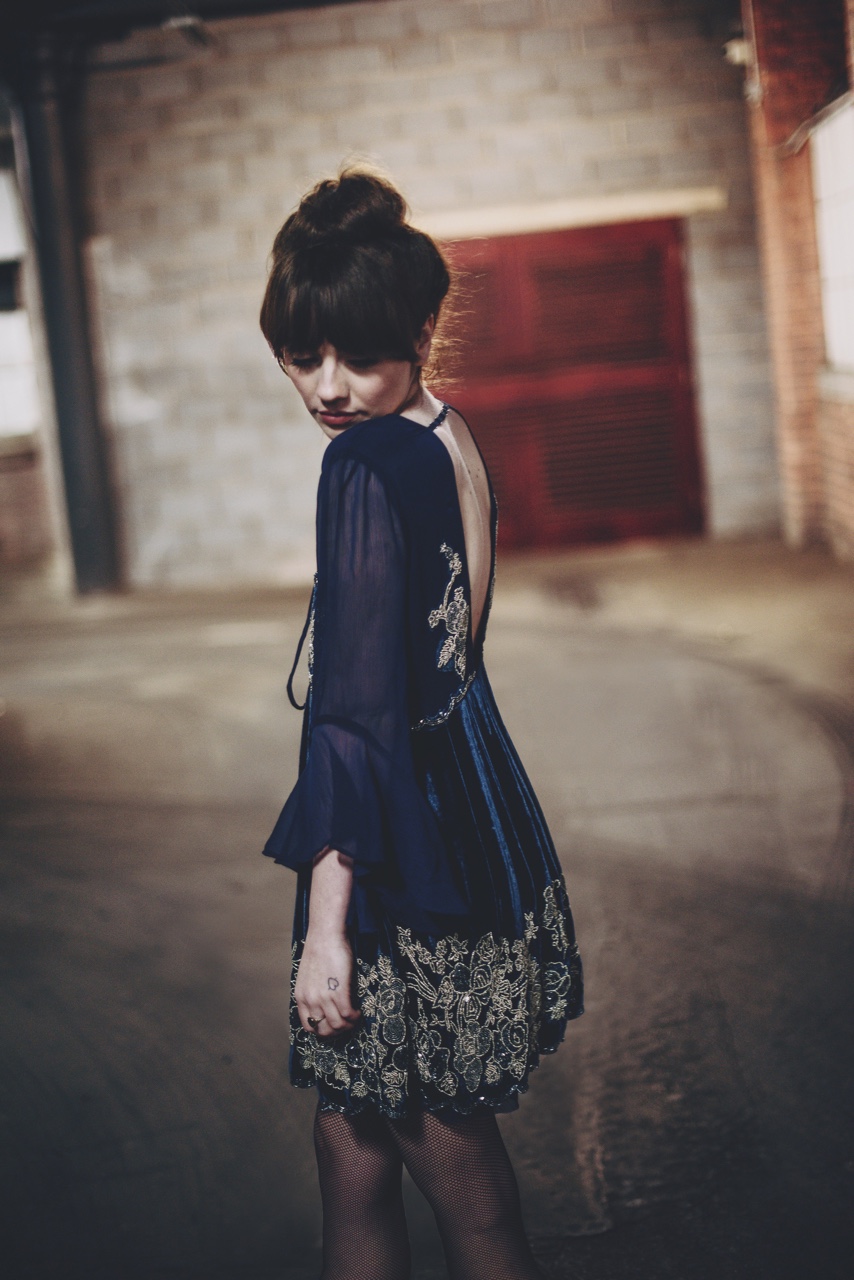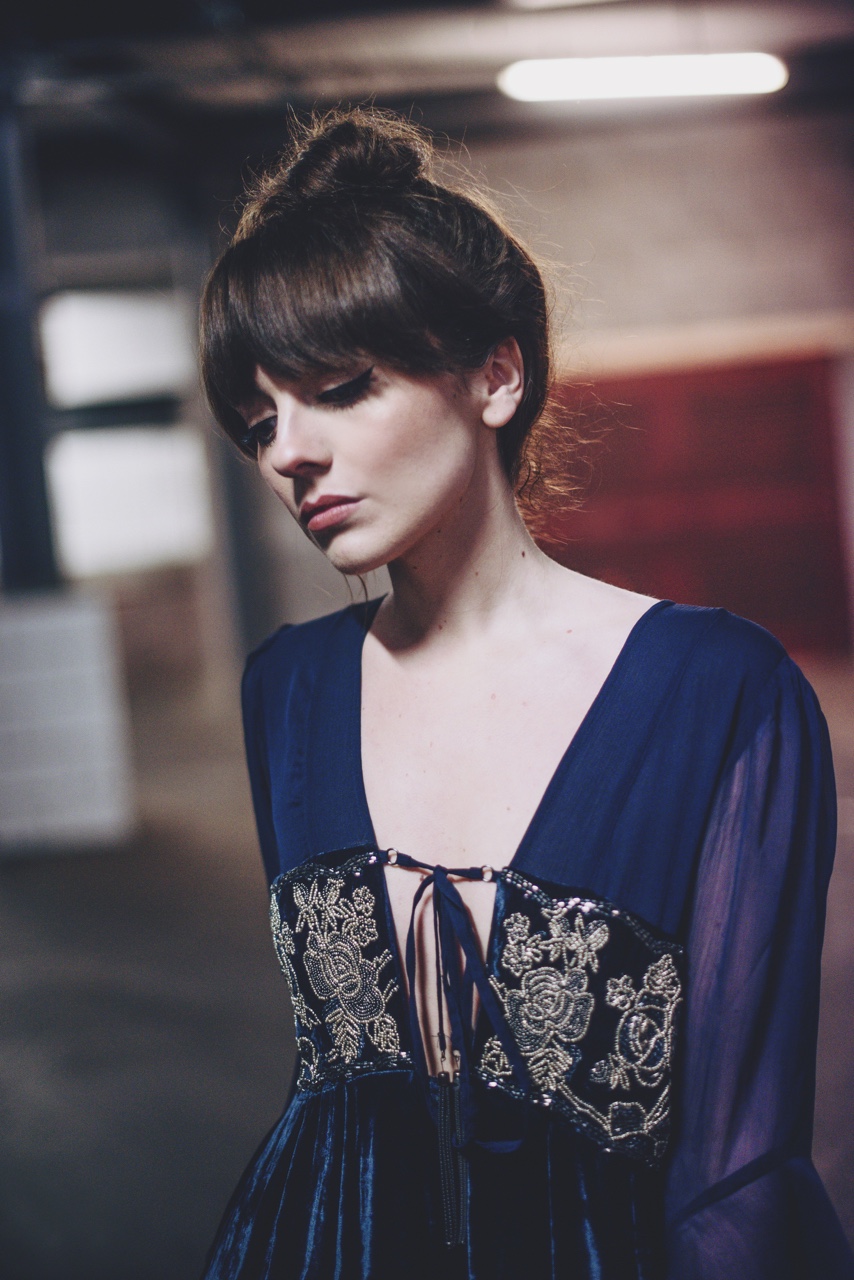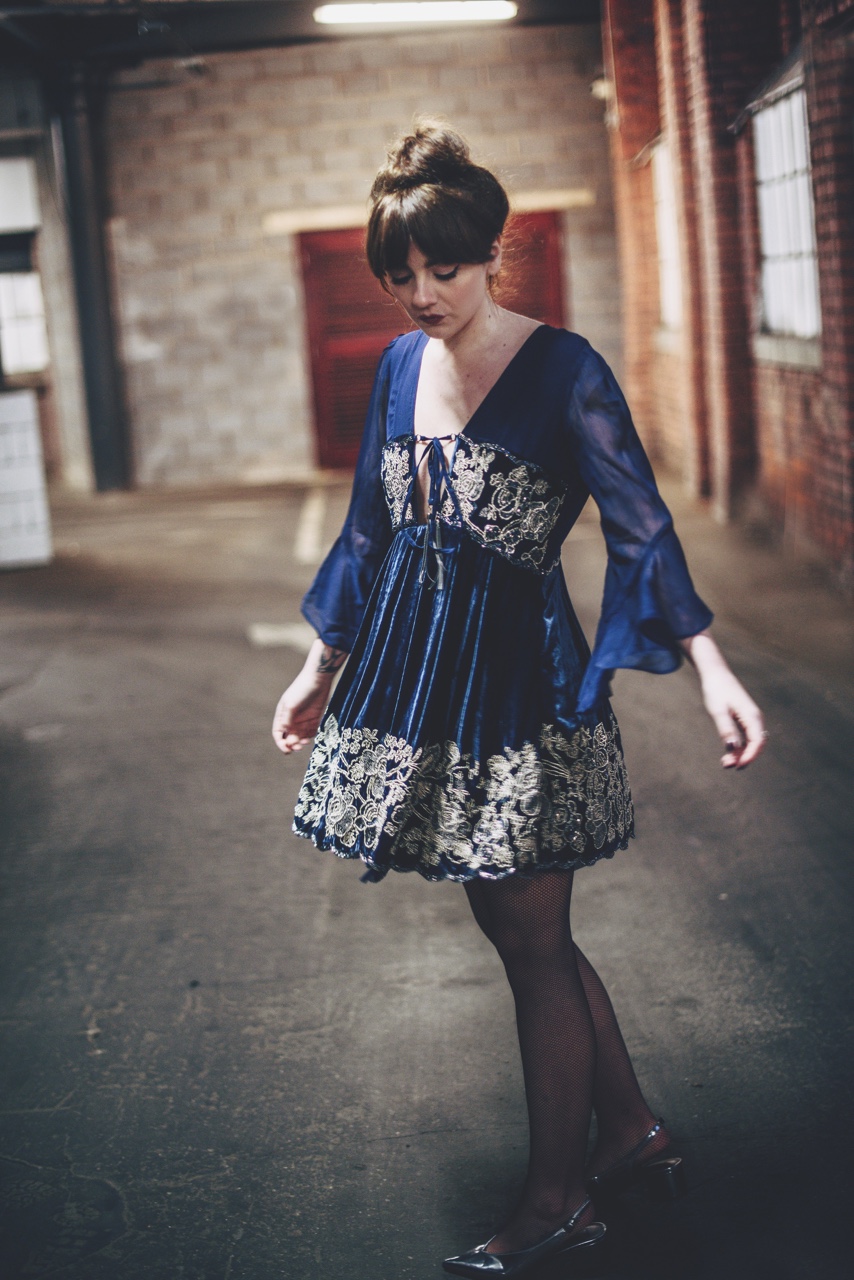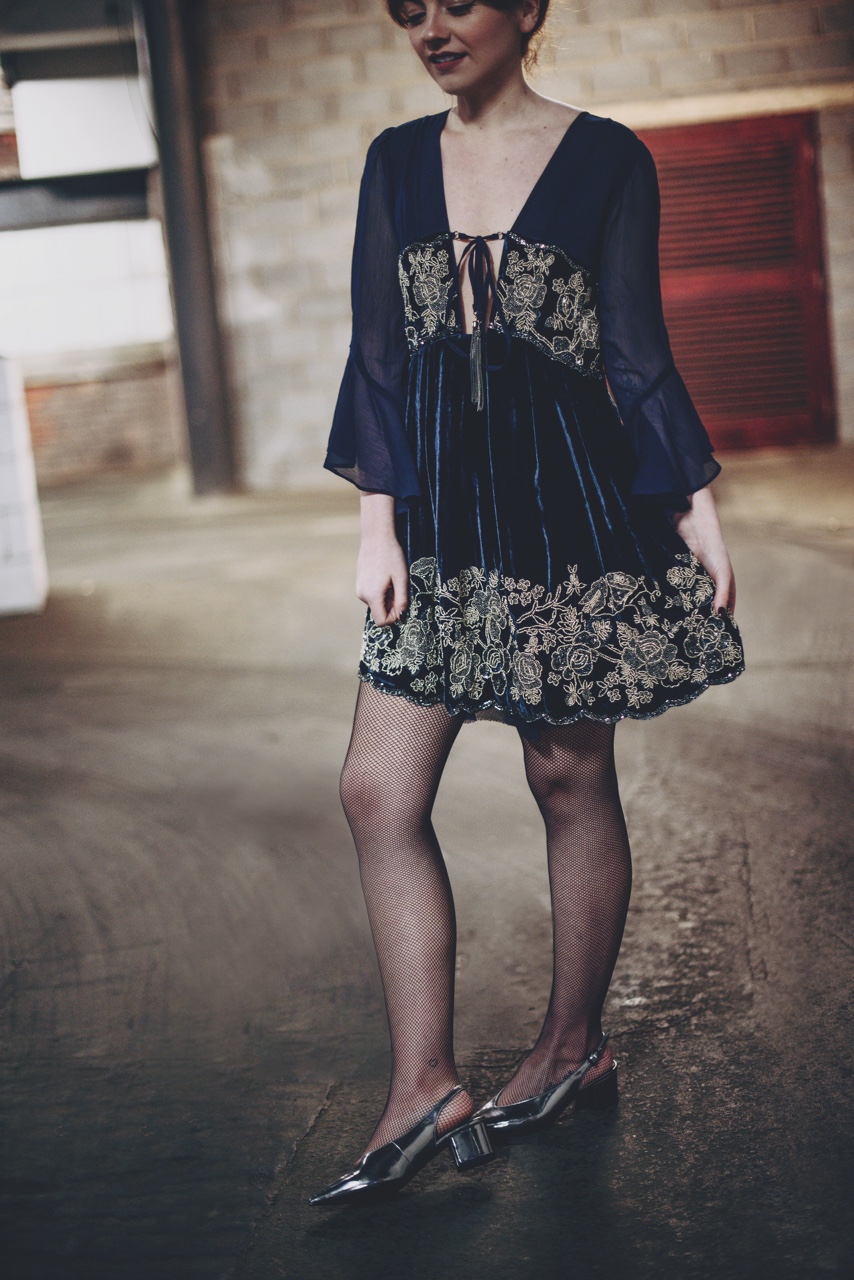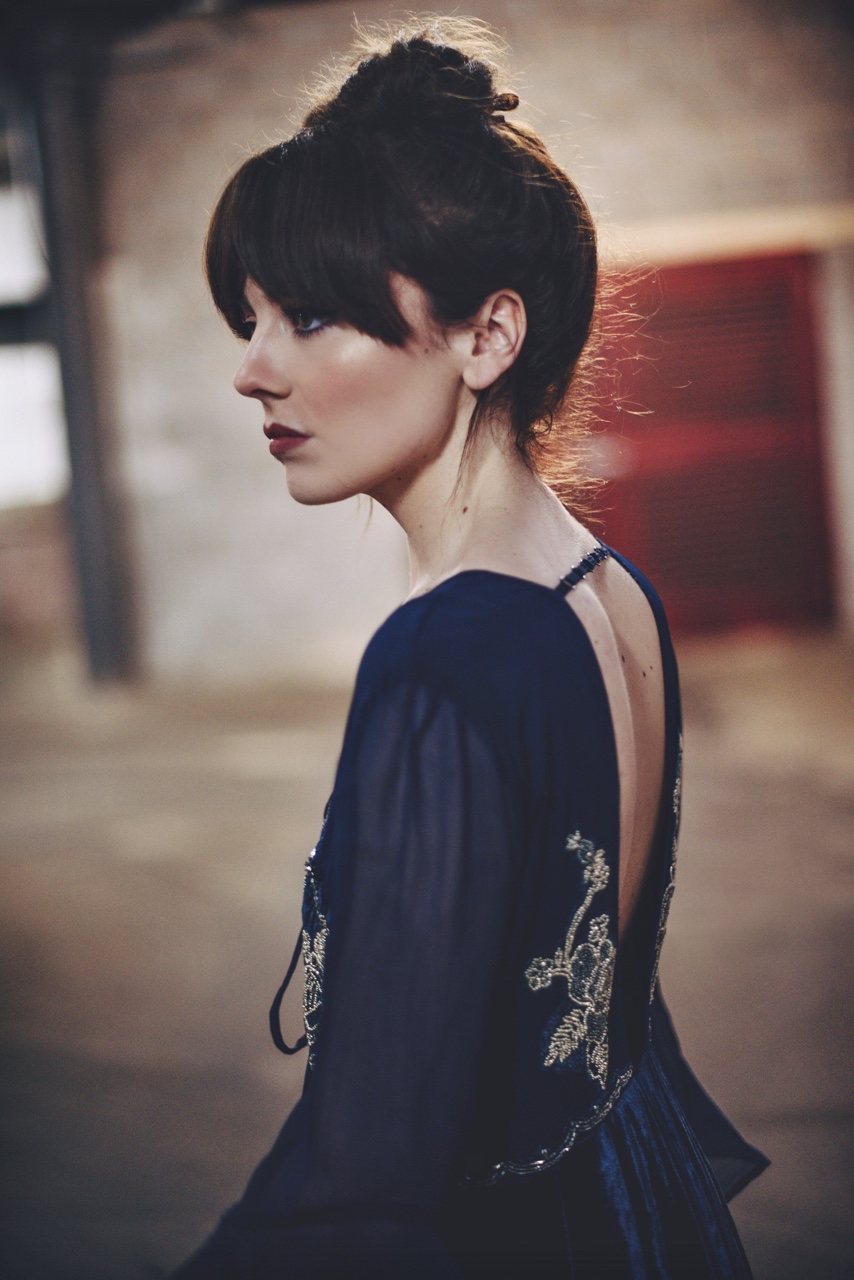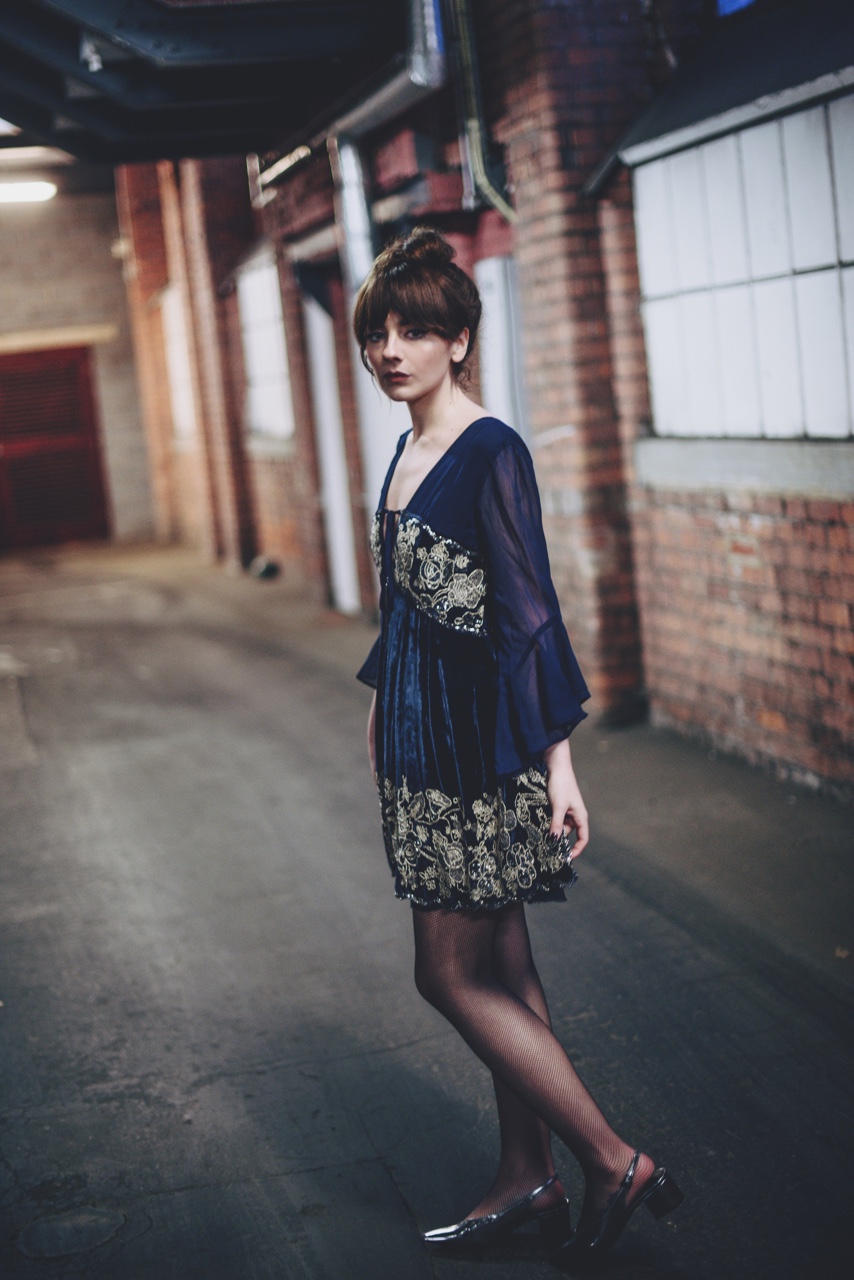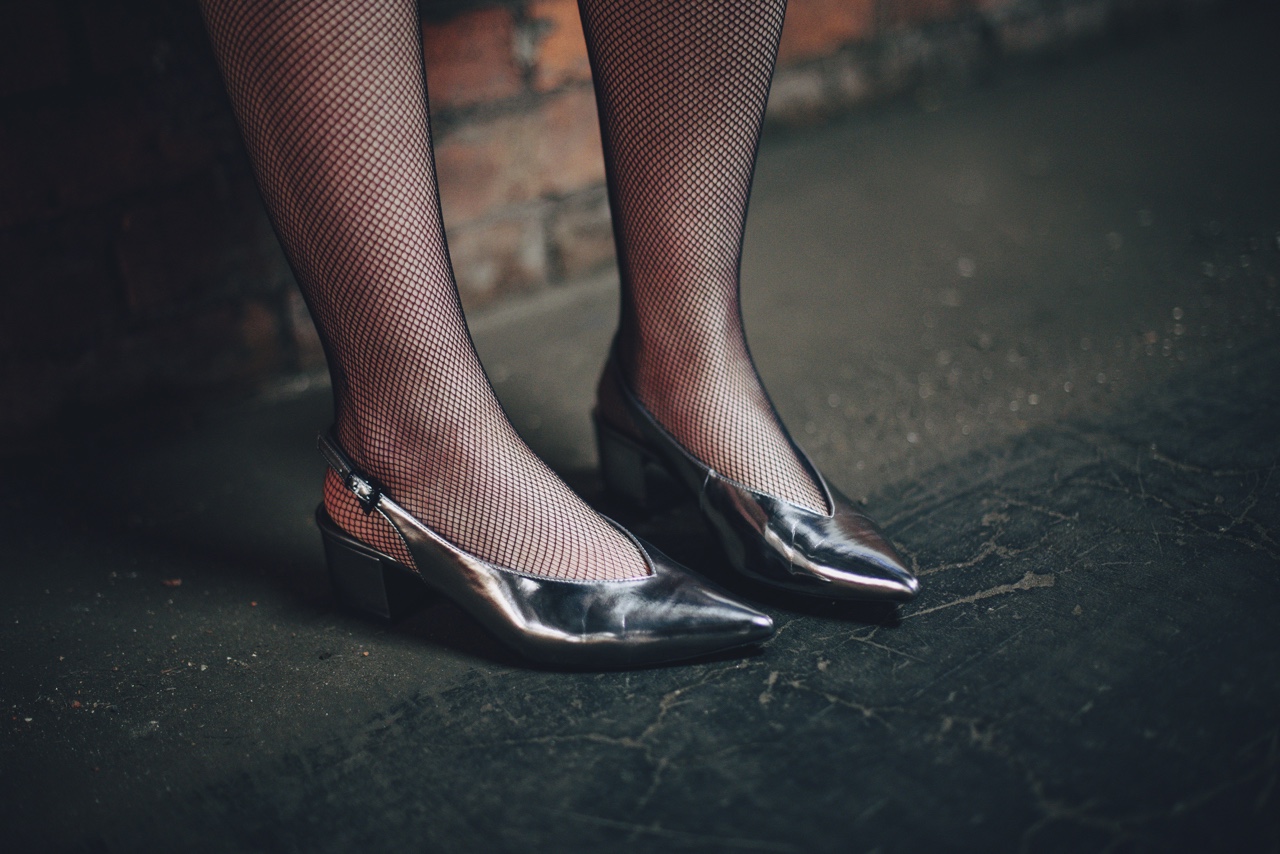 LOOK TWO – THE LUXE DRESS
This dress is definitely the most luxurious piece of clothing that I have ever owned, and a lot less suitable for a casual stroll down to the Christmas markets. This is the type of dress I'd dig out for that extra special event – or even New Year's Eve, depending on how my night pans out. The detail is absolutely incredible, and I feel like no amount of imagery could do it justice! It's a beautifully crafted blue velvet material, complete with floaty/vintage style sleeves that give it that magical feel as soon as you put it on. The bead work is noticeably heavy to wear, and I couldn't stop admiring the time that had gone into creating this piece of treasure. It's one of those dresses that makes you feel like a million dollars, and one of the only things I own that's worth purchasing a protective hanging bag for! I mean, it's no tatty turtle neck jumper that's for sure…
The low cut front/back details make it the perfect night out dress – it's a little bit sexy but still classy/interesting at the same time. Paired with some fishnets and a pair of metallic pointed shoes – it feels like the ultimate festive outfit from head-to-toe. I feel like I need to save this one for that extra extra special occasion, perhaps even a masked ball? I'm still clinging onto the idea that one day someone will invite me to one so that I can tick it off my bucket list/die happy. I'm probably (definitely) romanticising it due to various books/film scenes, but that's enough of that fantasy for one blog post…
Dress – Free People | Tights – Asos | Shoes – Asos
---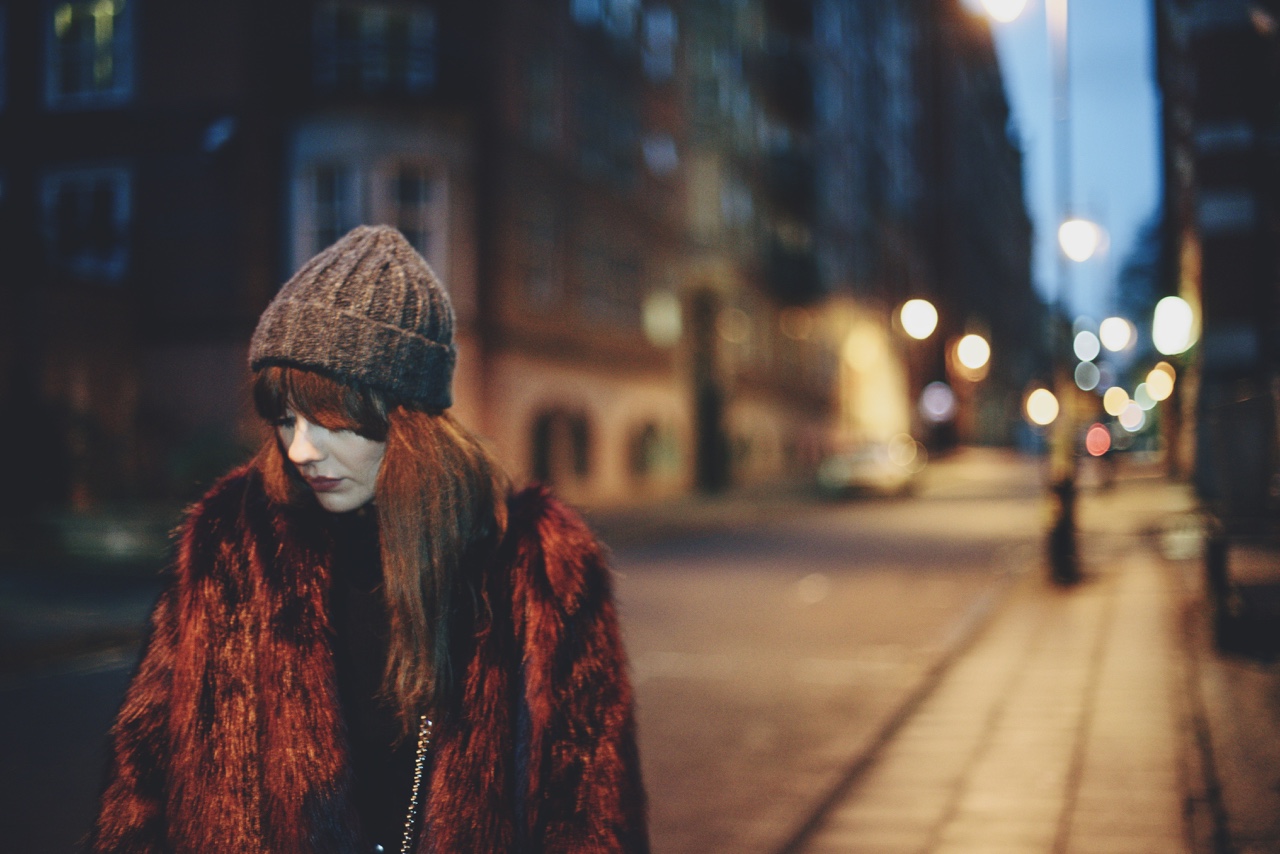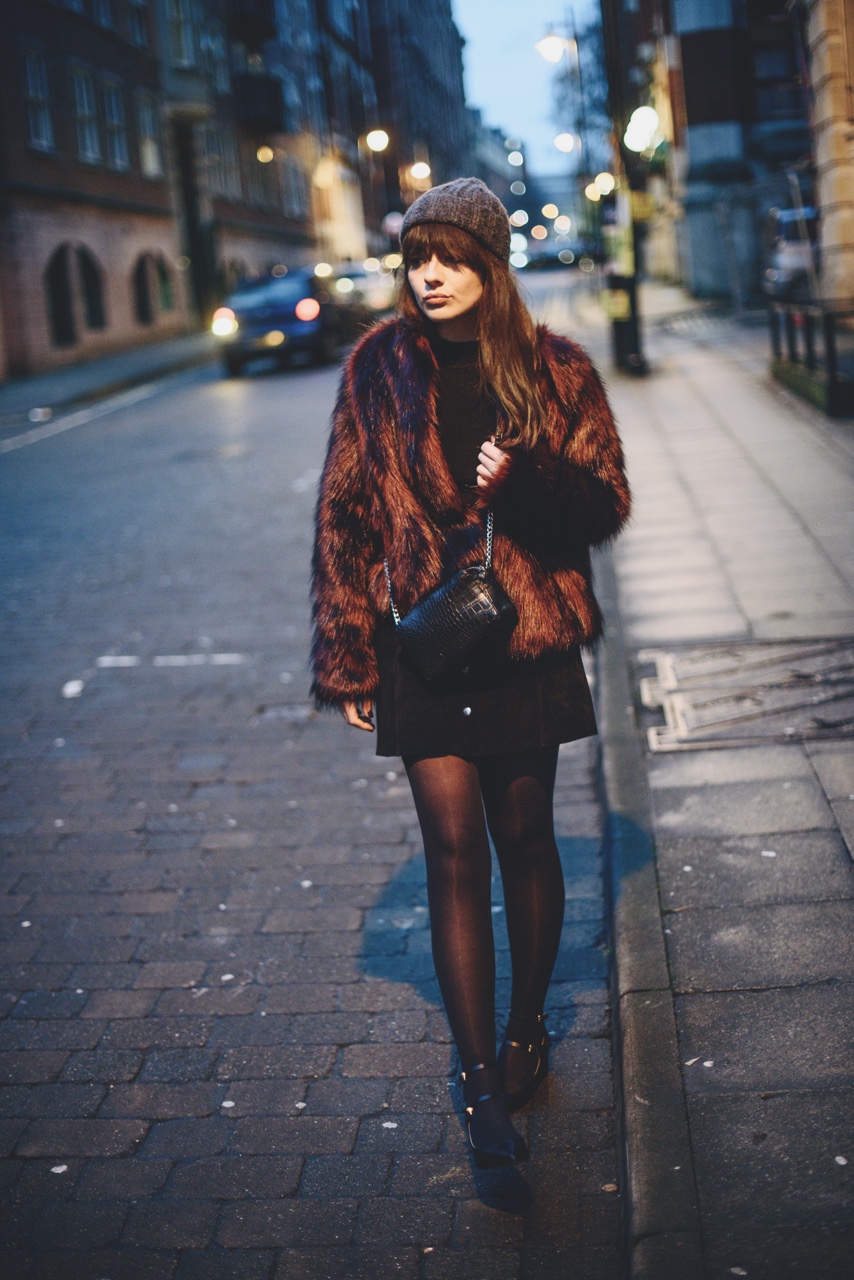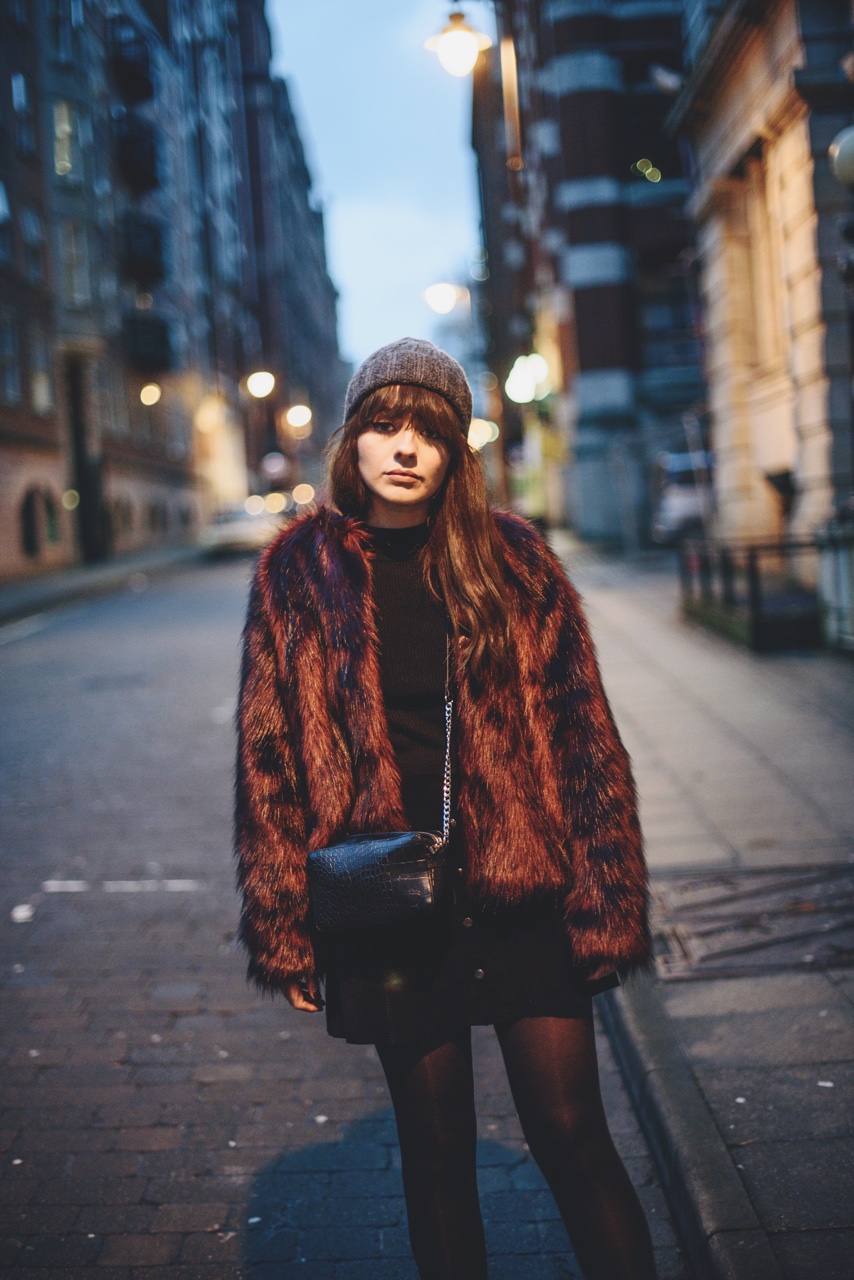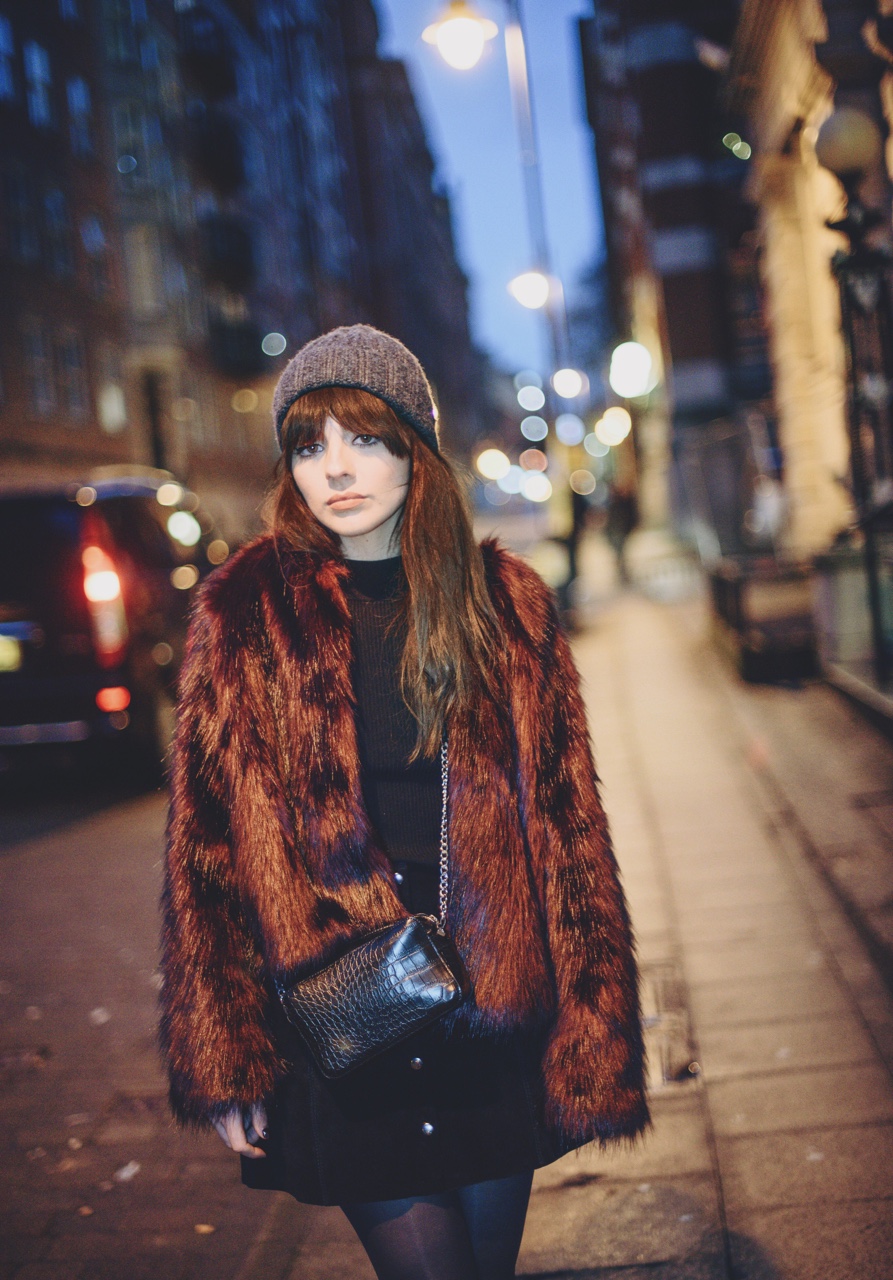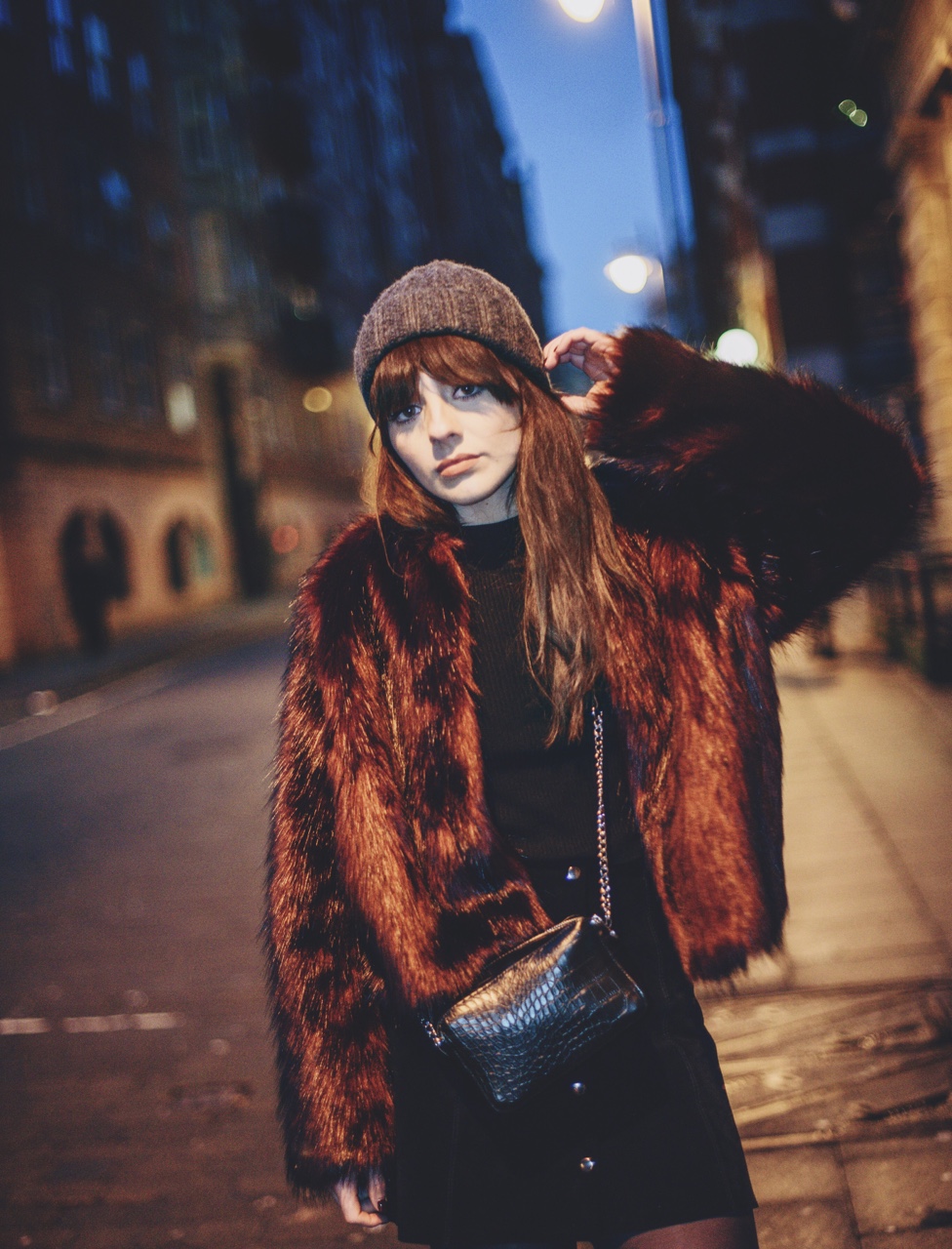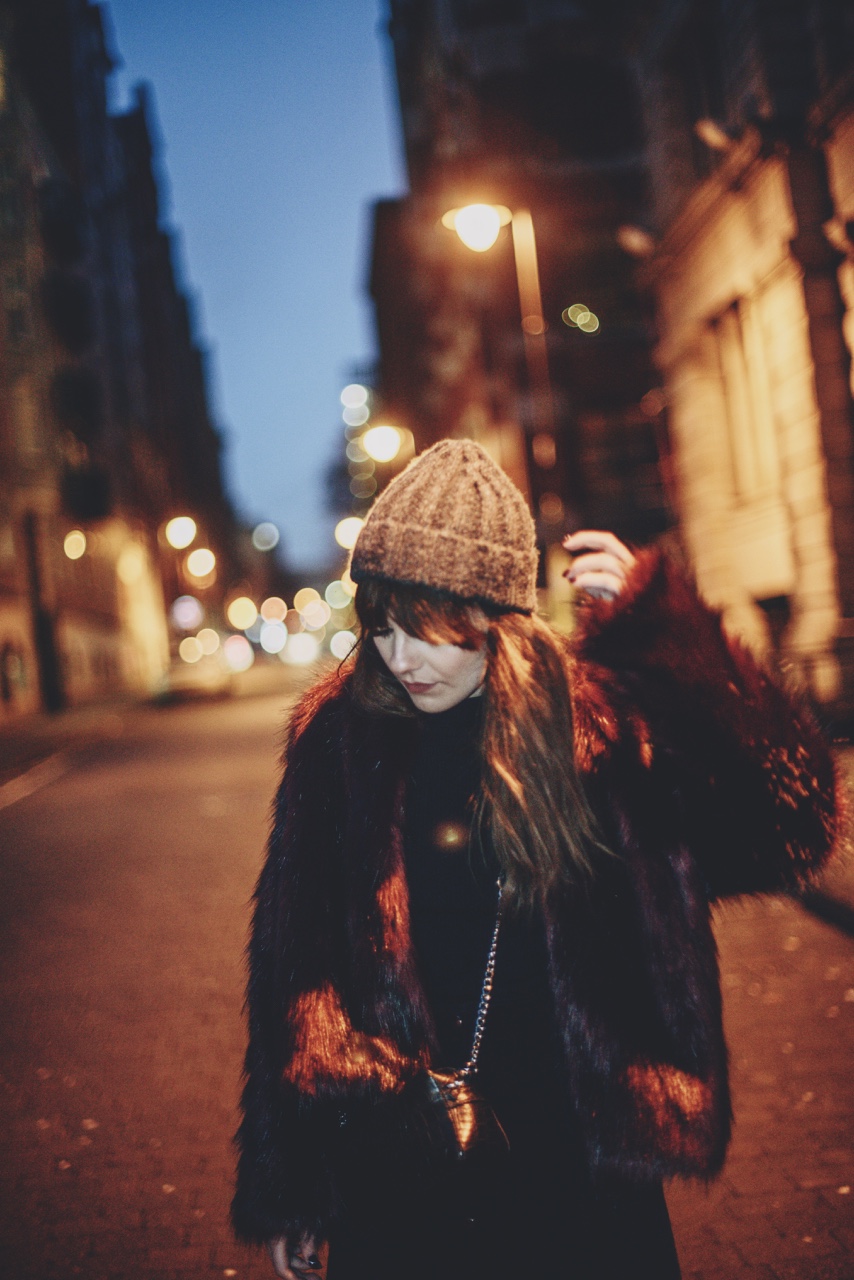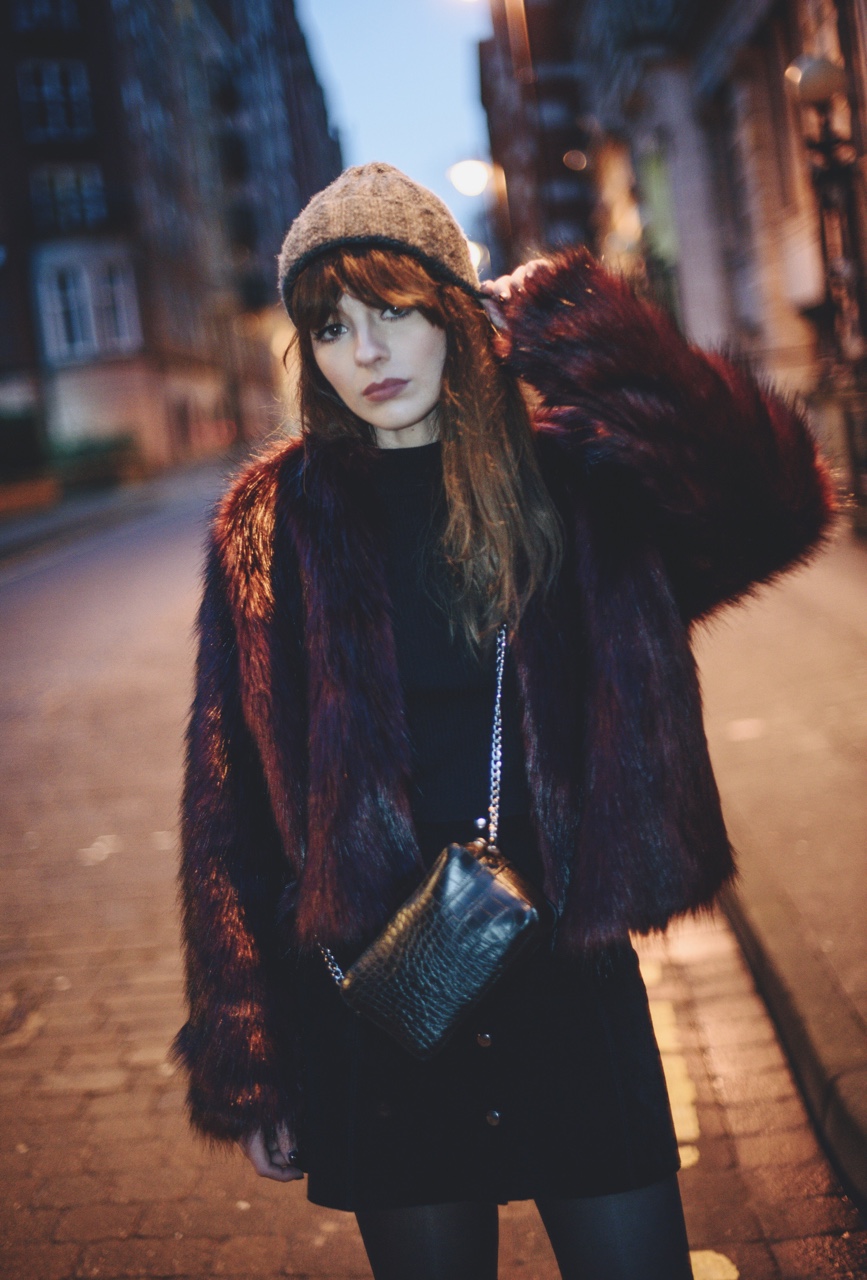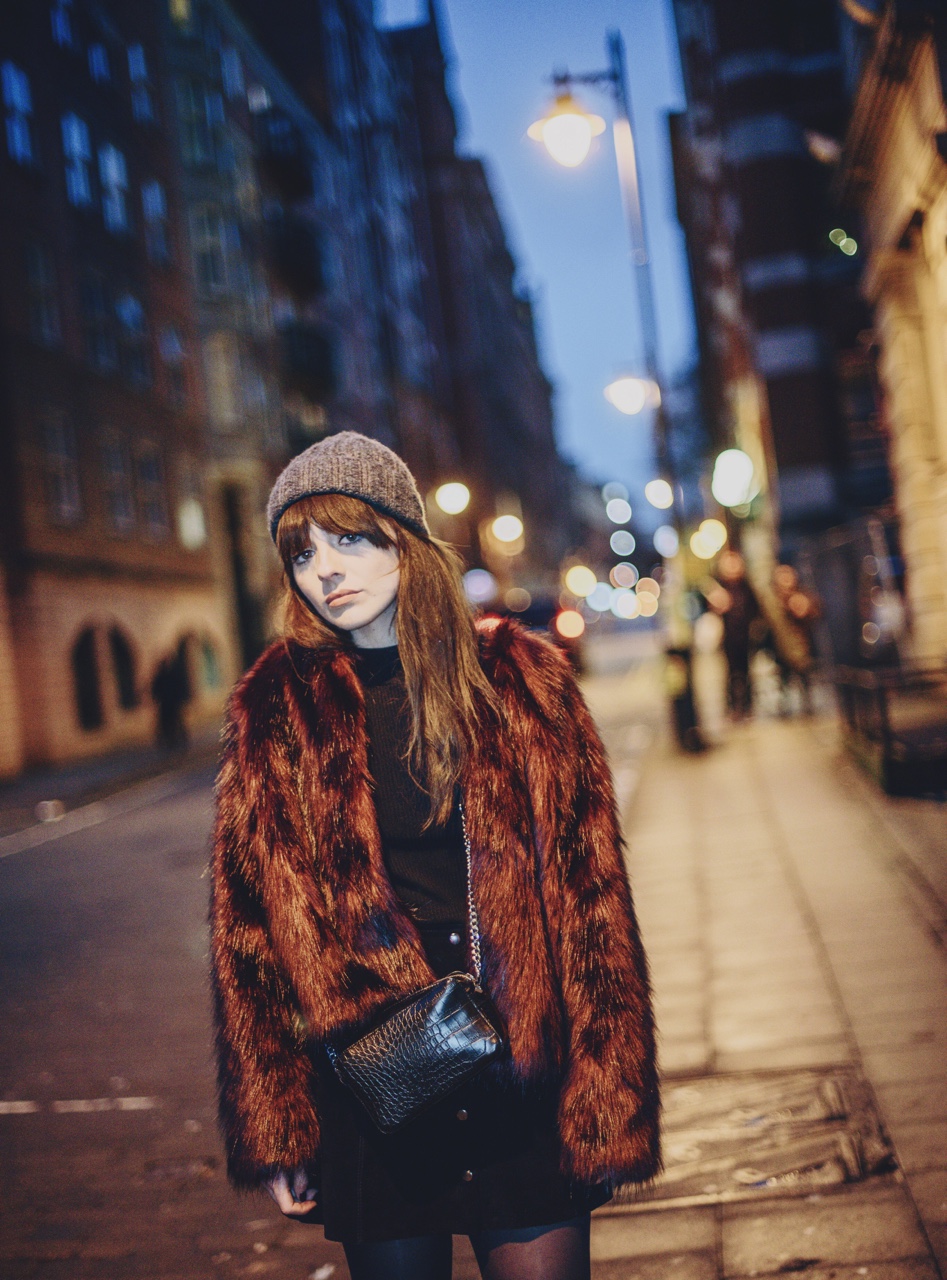 LOOK THREE – FAUX FUR
A faux fur jacket and a chunky knit hat are my weapons of choice for the colder evenings when you still want to feel remotely attractive. Sometimes layers upon layers of clothes can have you feeling less Pretty Woman and more Joey from Friends. And lets face it – we all want to feel nice around this time of year – especially when socialising with the people we love most. This faux fur red jacket is the perfect seasonal piece to inject a bit of festive spirit into your wardrobe – I like to wear this with something really simple and understated like vintage and jeans and loafers for instance, or a black turtle neck and a line skirt as shown above. It's such a statement piece, and I always feel that plainer items work well with big fluffy coats/jackets – it's seems right to let this one be the talking point of the outfit!
I like how my style transitions at this time of year, because I often feel like a serial outfit repeater and that for the most part – my wardrobe is quite plain/repetitive. There ain't nothing nothing wrong with knowing what you like/what suits you, but there's something about December that brings out the vintage magpie in me. Think metallics, patent, crushed velvet, and enough sequins to sink a small ship. Bowie, Bianca Jagger, and Edie Sedgwick all own iconic 'party wear' looks, and are always endlessly referenced in my head around this time of year. Think sheer tights, chandelier earrings, silver heeled boots, leopard print, luxe chokers, and satin dresses. If it's sparkly and Sixties inspired – one of the above three have worn it and made it their own. Long story short, I feel less minimal than during the Summer months when I live in jeans, Birkenstock's, and a slouchy blouse, and way more inclined to reach for something shimmery!
I hope this little lookbook has inspired you to start piecing your own festive outfits together, and I hope you all have some exciting occasions ahead in which to debut them! I also just wanted to say thank you to all of you who have taken the time to read my blog & comment with lovely things this year – I read every one of them, and it keeps me positive for what 2017 has in store! This time last year I was in a completely different place and I never imagined things would turn around so dramatically (it's Sunday evening and I'm gettin' all sentimental), my mindset for the new year has shifted considerably and I feel like I've done a shed load of growing up this year. My advice to those of you who are still trying to convince yourself to start blogging or take up that new hobby no matter what it might be – don't wait around because it might just be the lift that you need – you never know where it might take you or what it might turn into. I couldn't be more grateful for the opportunities I've had this year, and I appreciate every single one of you who have made it possible…
Alice x
---
Jacket – Free People | Top – Asos (similar here) | Skirt – Topshop (similar here) | Shoes – Miss Selfridge | Bag – Asos | Hat – Asos
Photography by Adriana
Disclaimer – All items by Free People & Glamorous have been gifted to me, but all other items have been purchased by me. This isn't a sponsored post, and I personally selected the pieces that were kindly sent out.